Garrett and Megan did something a little different for their wedding ceremony. Instead of facing the officiant during the sermon and proceedings, they turned and faced directly toward the crowd. Holding hands and standing a few feet apart, they looked around at the 200 plus friends and family that had gathered in the open meadow of the small Bommer Canyon surrounded by the scratchy Southern California hills while the pastor read stories that Garrett and Megan's family had written.
It was soooooo them.
There is so much that I could say about this wedding because Garrett has been interning and now working with us at The Youngrens during most of his relationship with Meg. We have watched them love, grow, fight, play, and commit much the same way that Jeff and I did oh-so-way-back-when. But I've found that the biggest compliment I can give to these two about their wedding day is that is was THEM. And the reason this holds so much weight is because what 'they are' is giving, loving, caring, and FUN.
What more do you need in a wedding day than to feel known, loved, and cared for while having a complete blast? In fact, during their engagement session Garrett gave Meg an enormous hug and told us, "We're not very good party planners, but we're really good at being in love."
Well Garrett, I'm afraid that I have to tell you that you're wrong. Dead wrong. Not only are you and Megan really good at being hopelessly in love, but you threw one heck of a party for your DIY wedding! In keeping with their rustic, community-driven vision, they held their wedding at Bommer Canyon, a park tucked in-between the hills and trees of Irvine. Don't let the term 'park' throw you though – this is one of those treasured finds when it comes to a wedding venue! They pulled together the park's rich wooden picnic benches into long family style tables, strung bistro lights in-between the tall trees, adorned the space with burlap linens and vintage vases, and enlisted the help of talented friends, artists, and musicians to complete the day including the crazy awesome folk band Moonsville Collective that ROCKED THE HOUSE (who was also voted best Live Band in the OC).
The images and details are going to make you smile, smile, smile but before we get there, let's begin with Gar and Meg prepping for the day.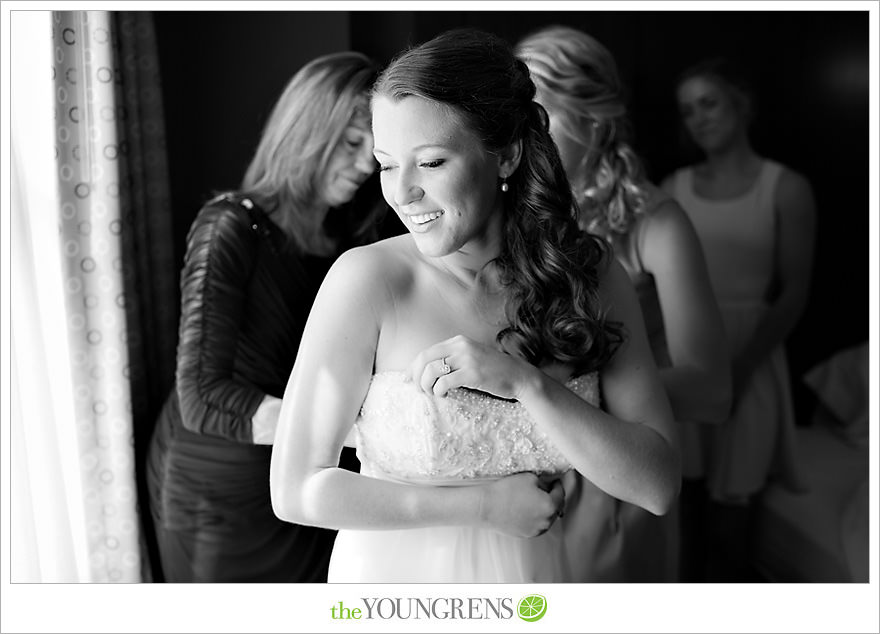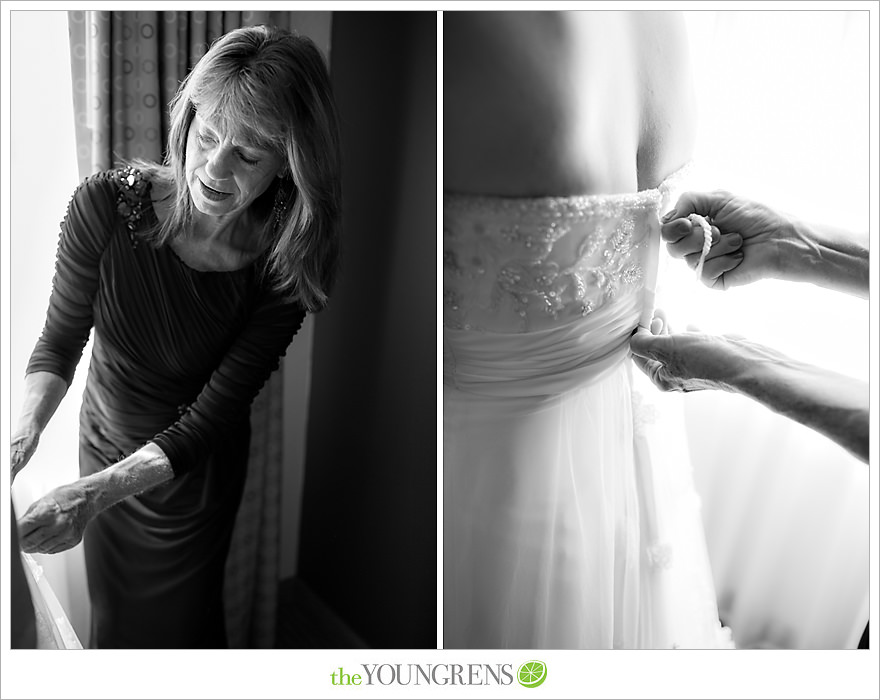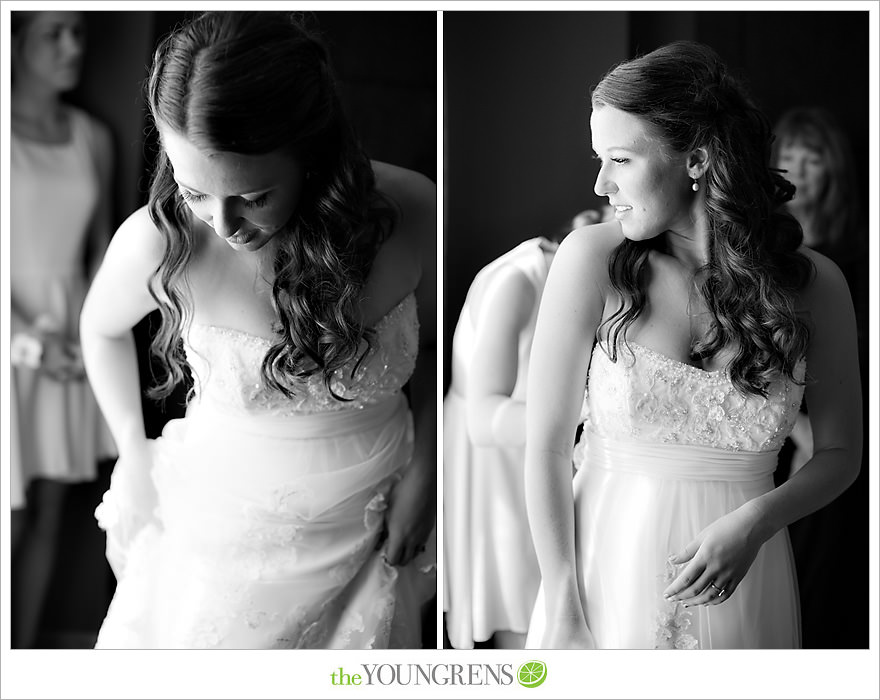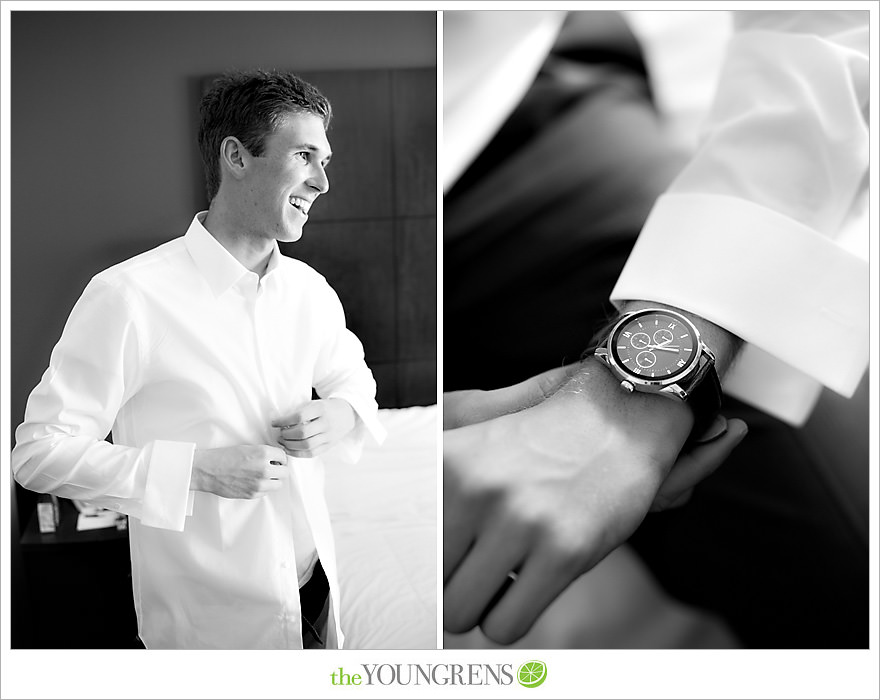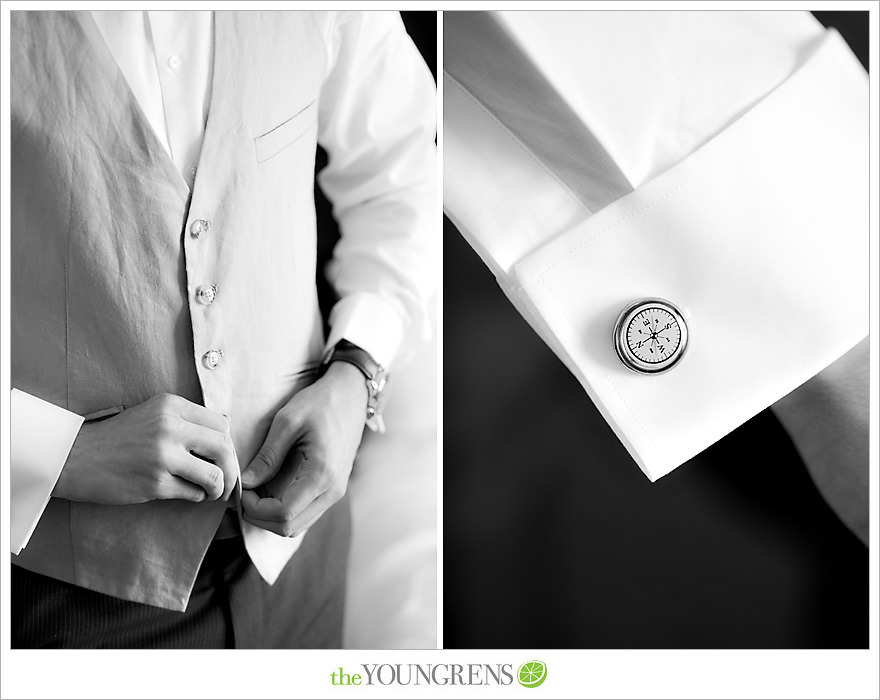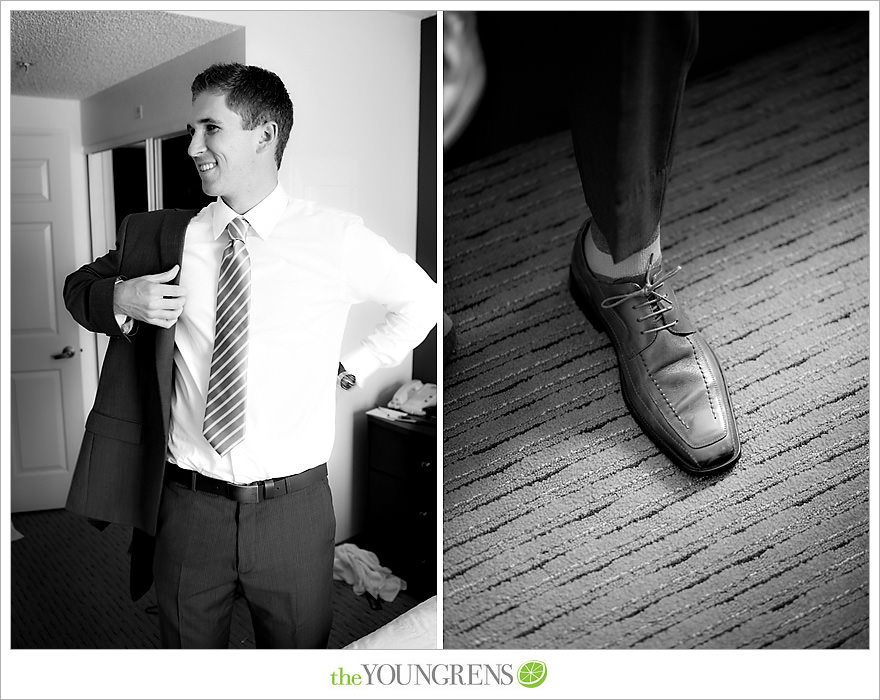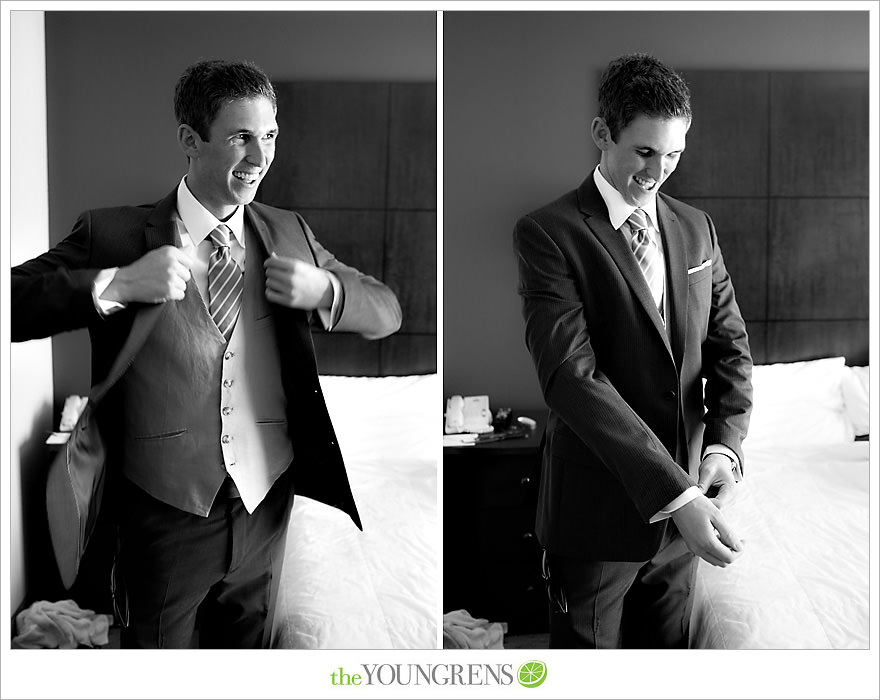 While we were in Tennessee in September, Garrett and I got to taste some authentic moonshine and Garrett picked some up for his guys. This stuff is fantastic but it's definitely strong!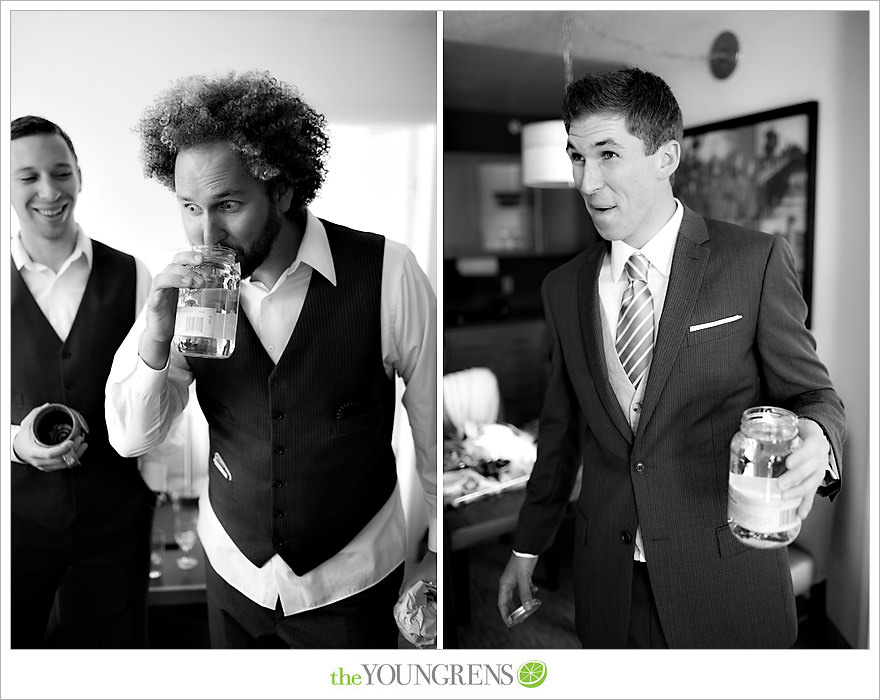 Loved the mugs that Garrett picked up for his groomsmen gift.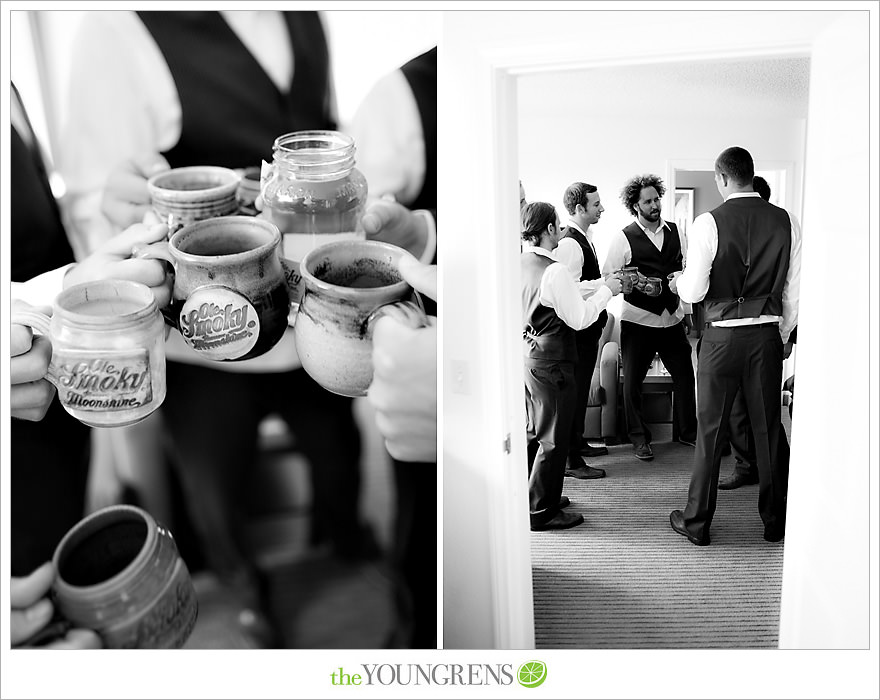 Speaking of gifts, Meg gave her girls the cutest gift baskets filled lots of spa goodness.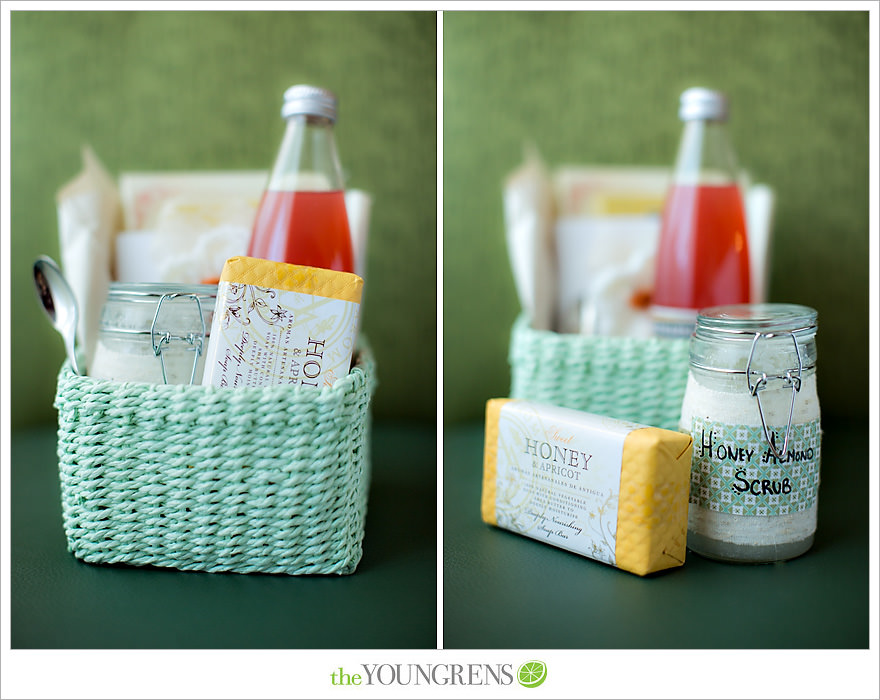 Years ago, Meg had made a list of the qualities she wanted in her husband. She came across the list while dating Garrett and realized that he fit almost every quality. During their First Look she gave Garrett the list and a letter about how so perfectly fit what she thought she wanted, but realized that he was so much more than she could ever imagine.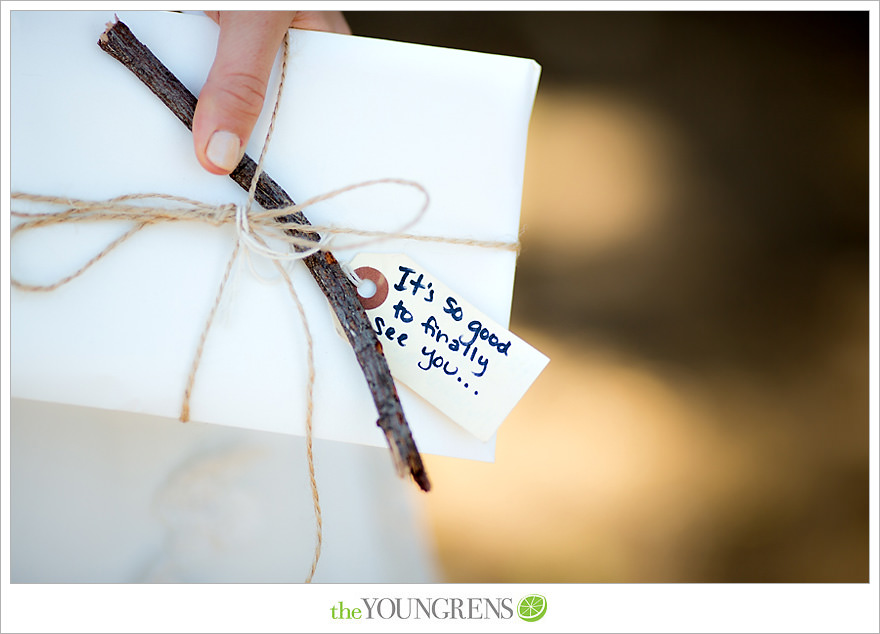 Their First Look was incredibly emotional for all of us! There were tears all around…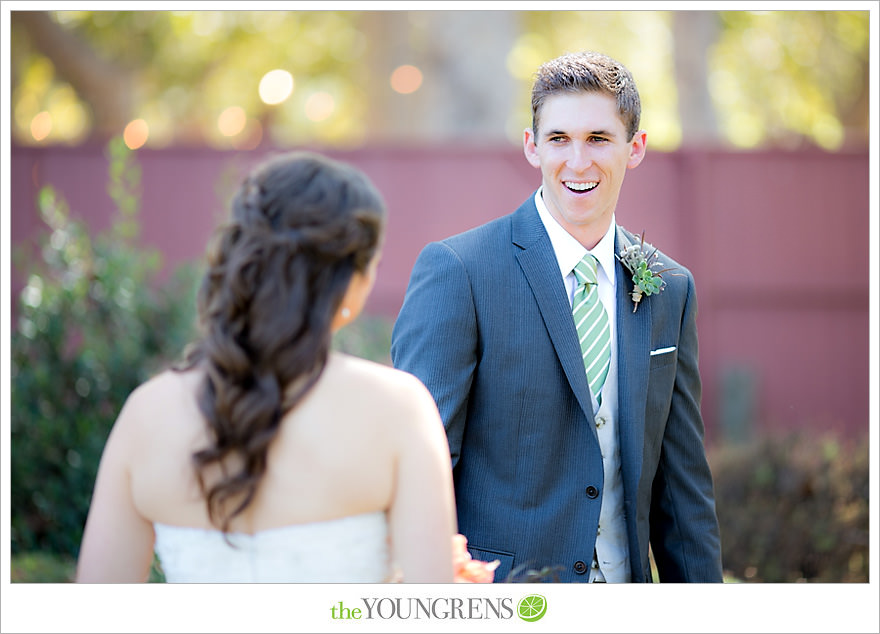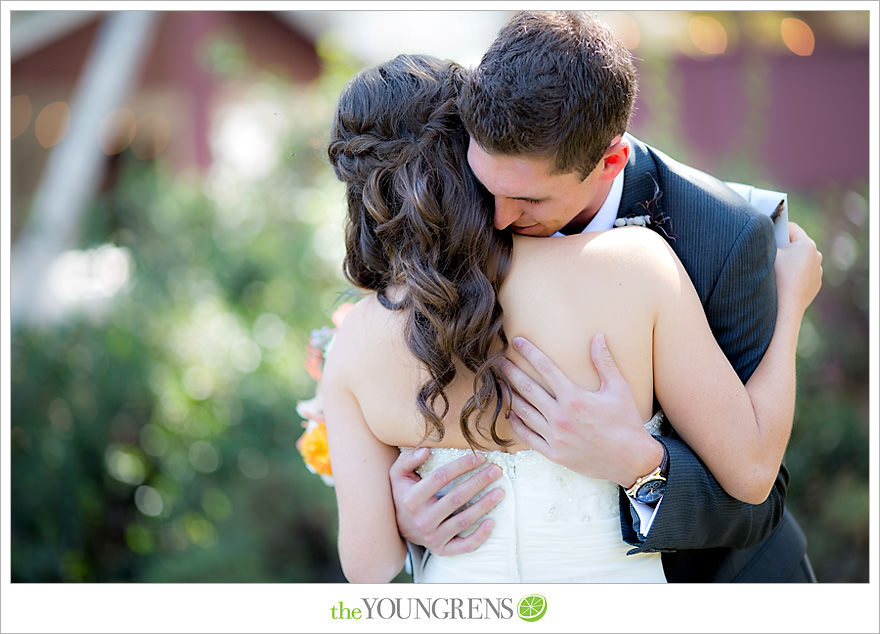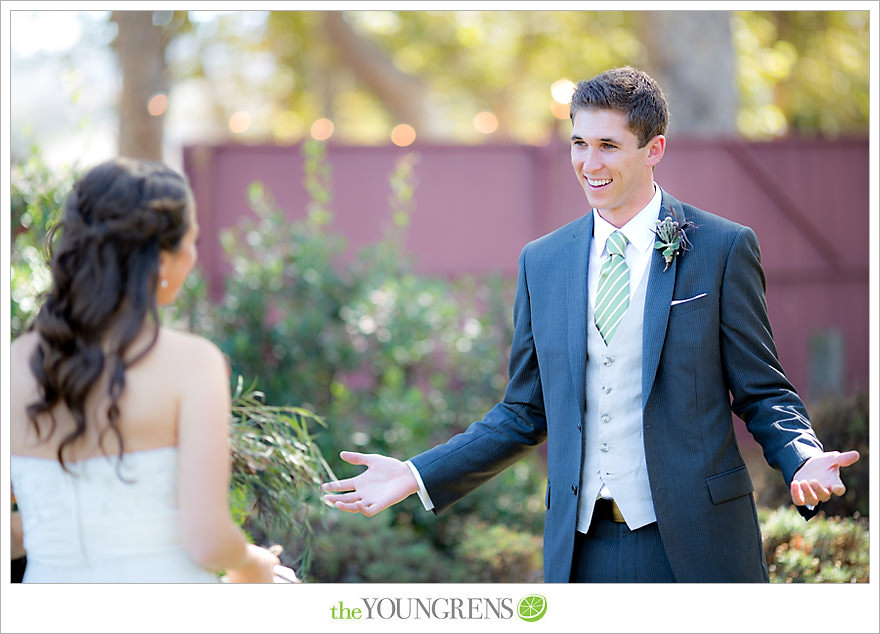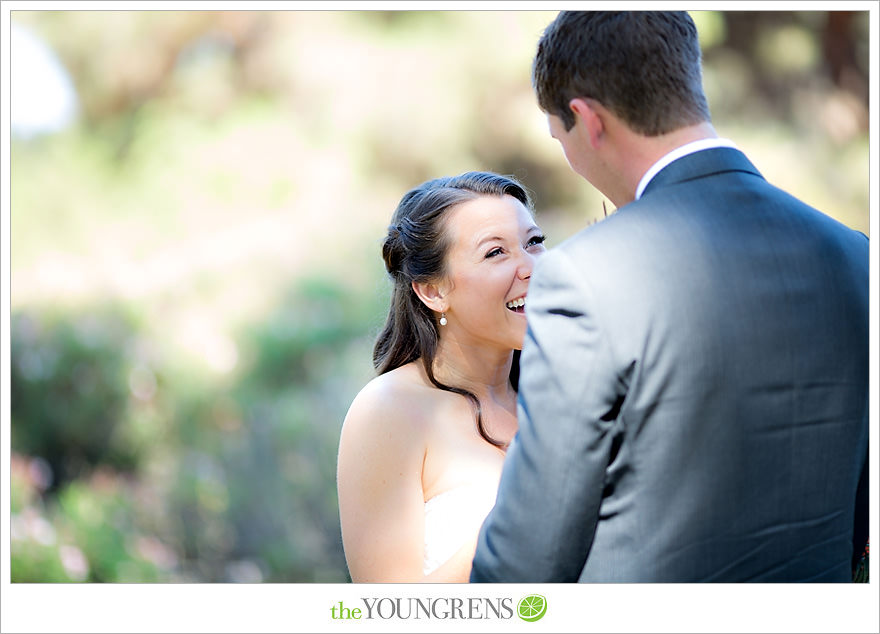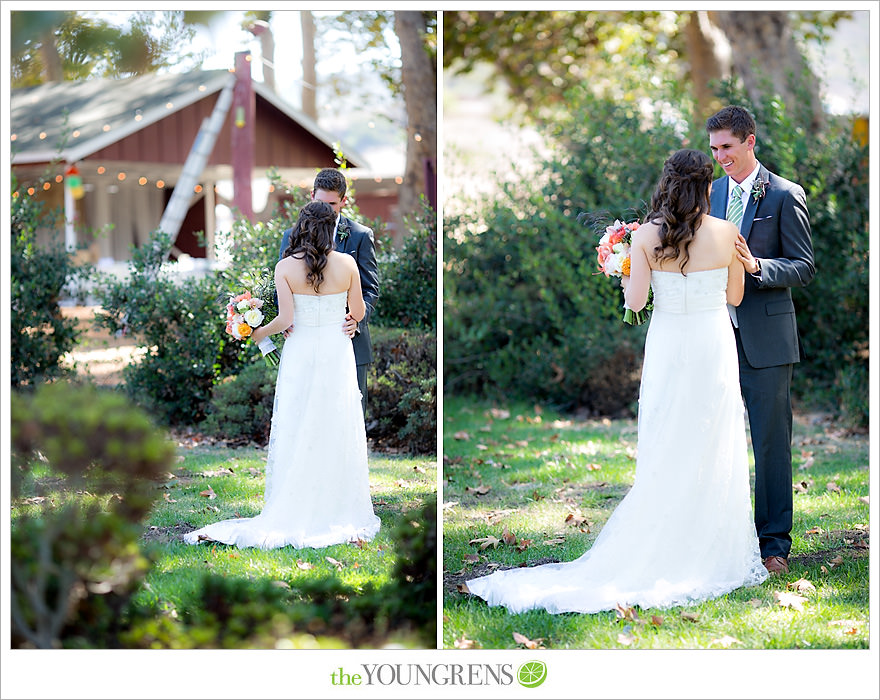 I love when our couples really embrace the First Look and use it as a time to give gifts, recite their vows, practice their first dance, pray together, or simply take it all in. These two spent their time reading the letter Meg had written and reflecting over their relationship.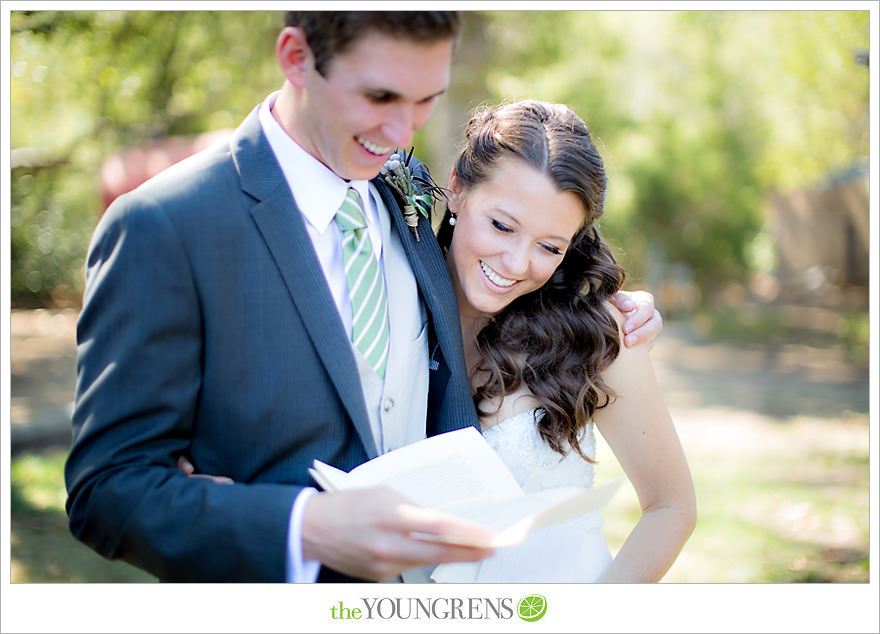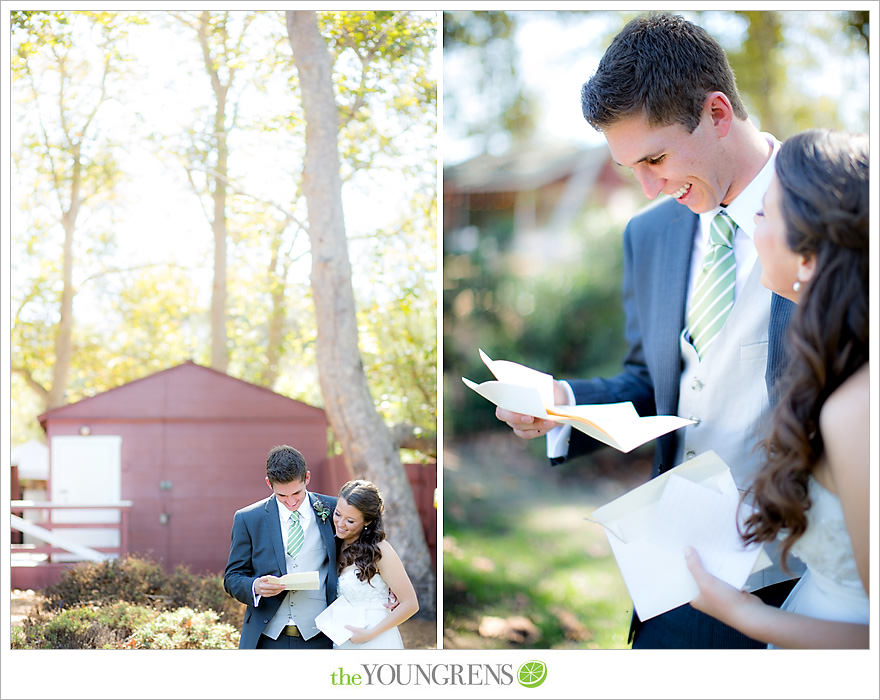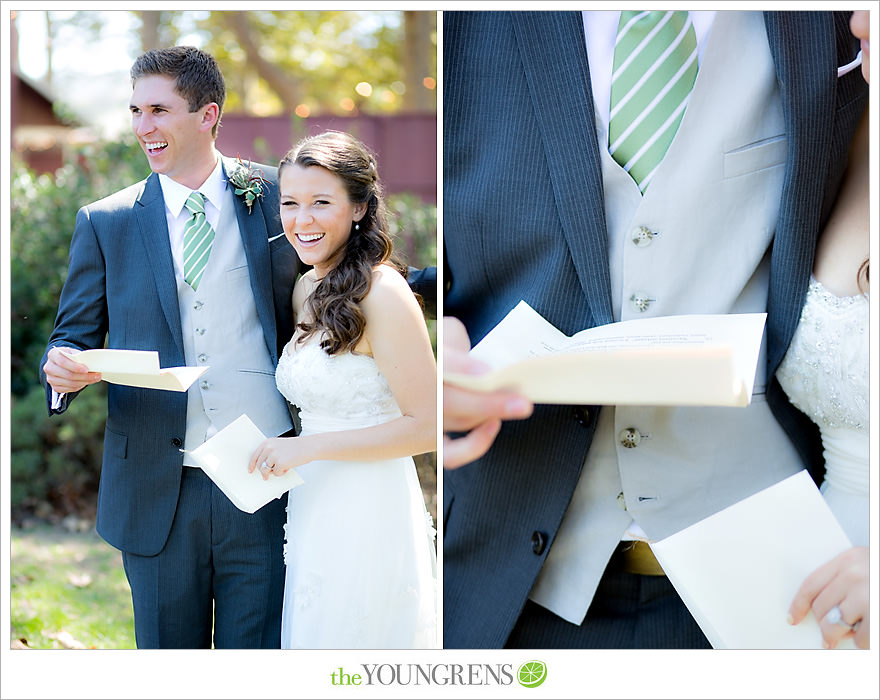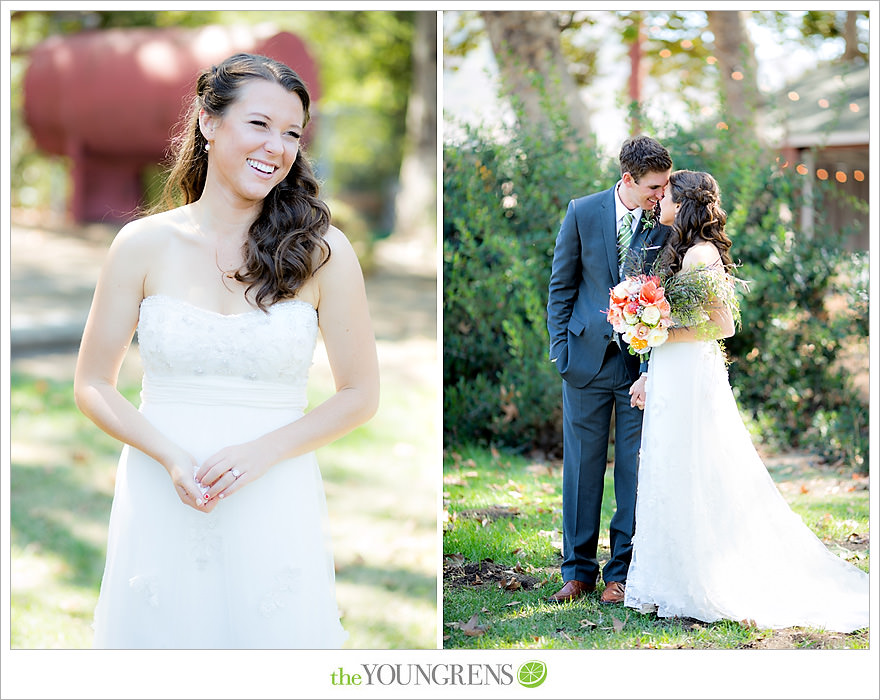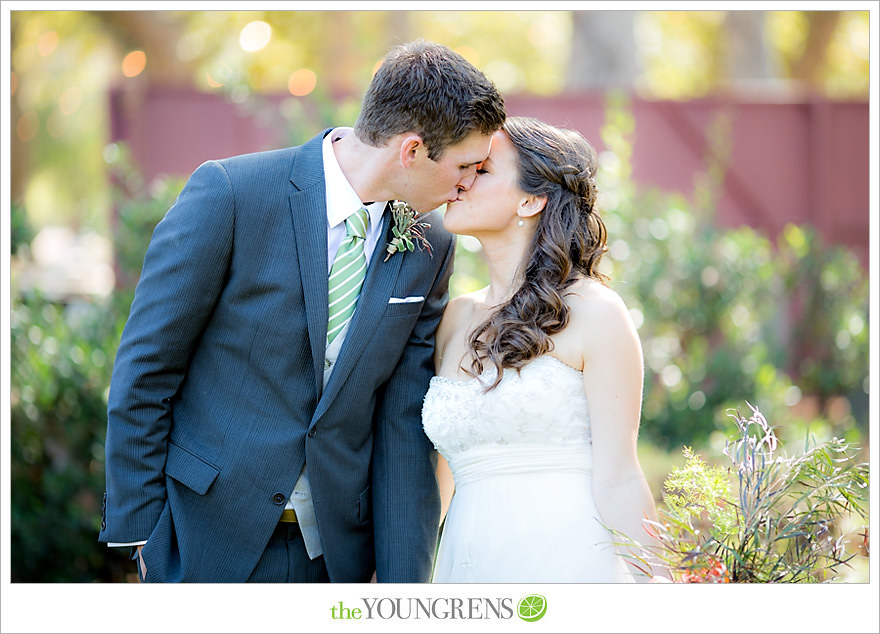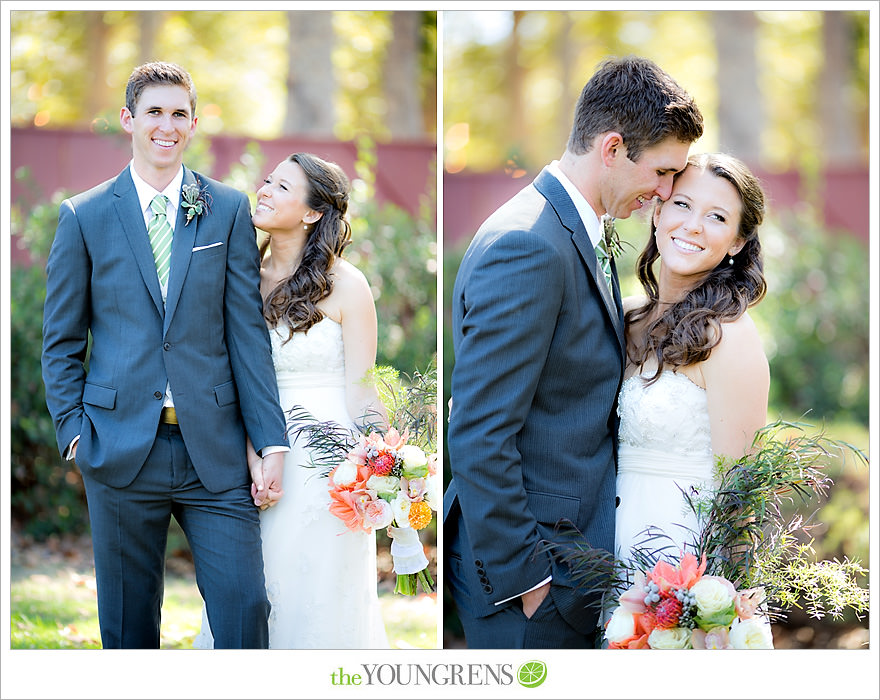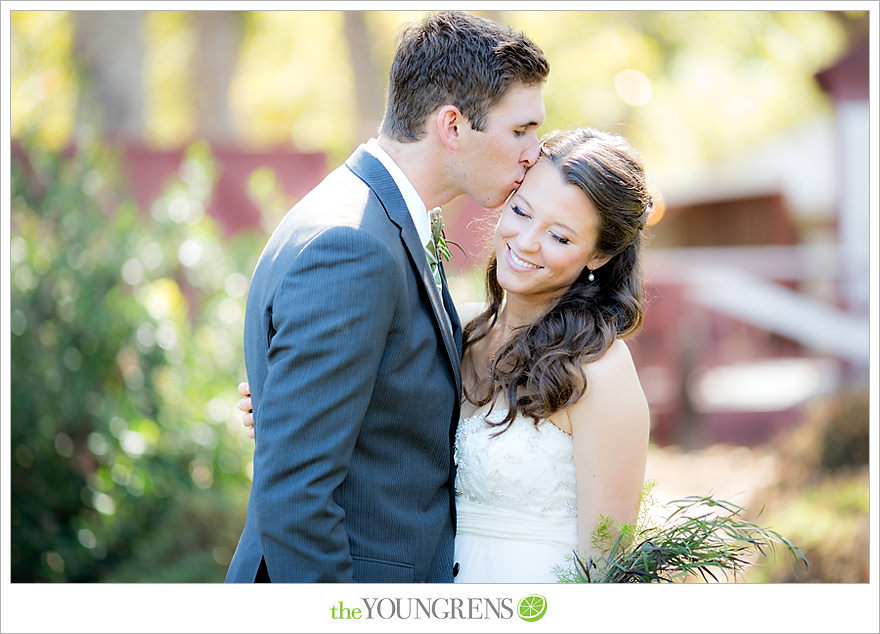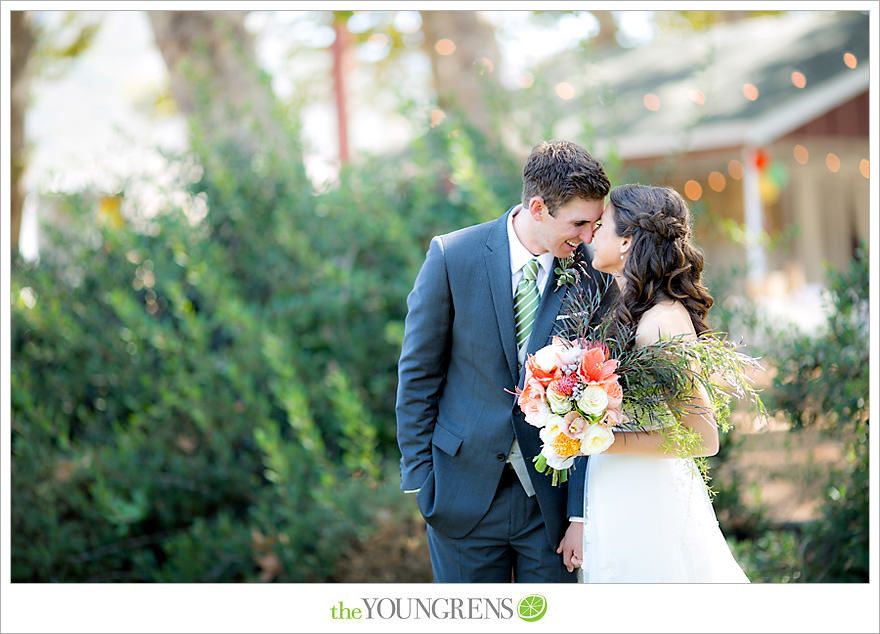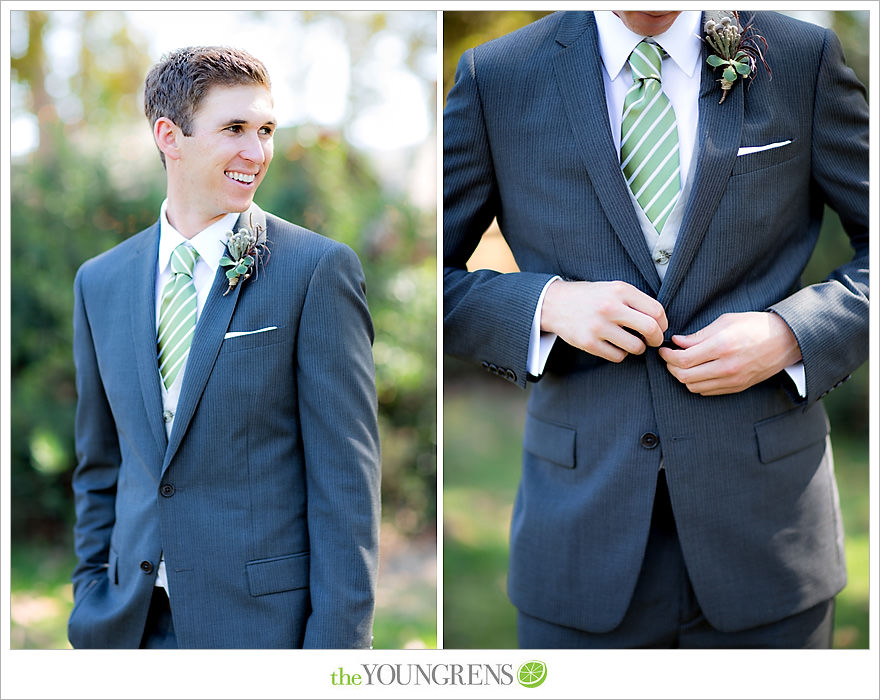 Ashlyn and Heather of Carter & Cook did an incredible job on the florals that incorporated the natural grassy hills surrounding them.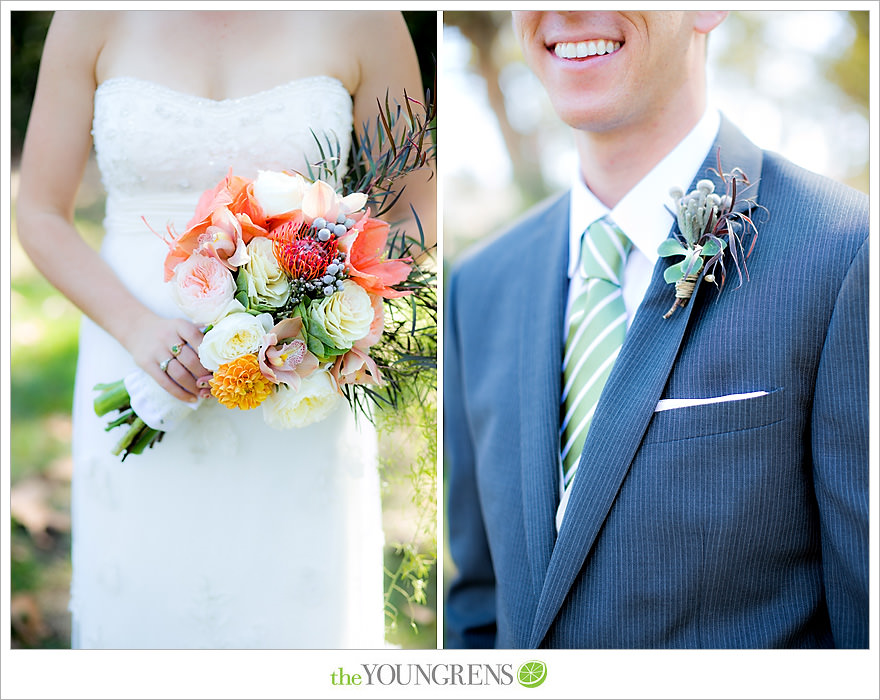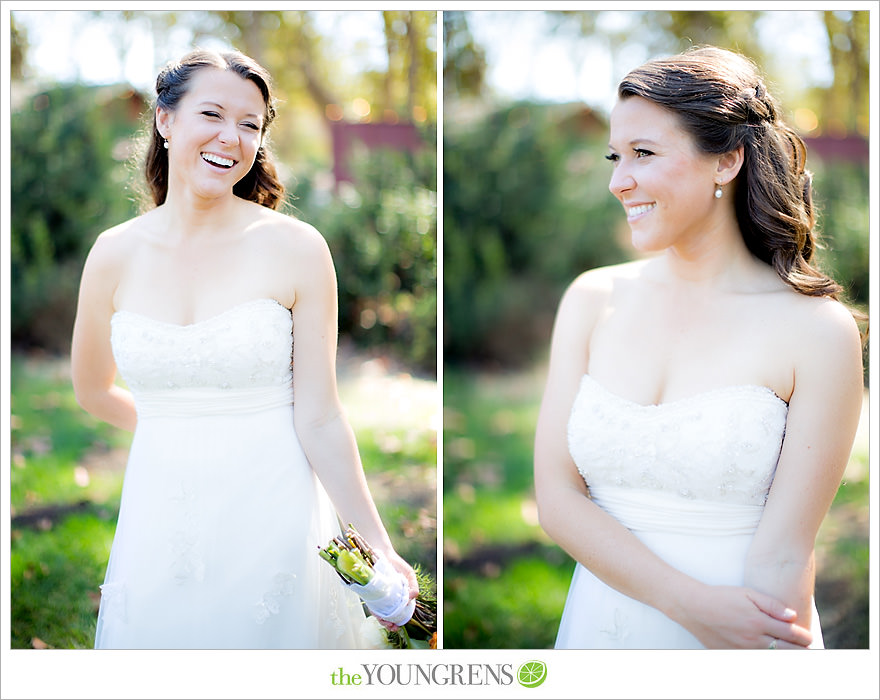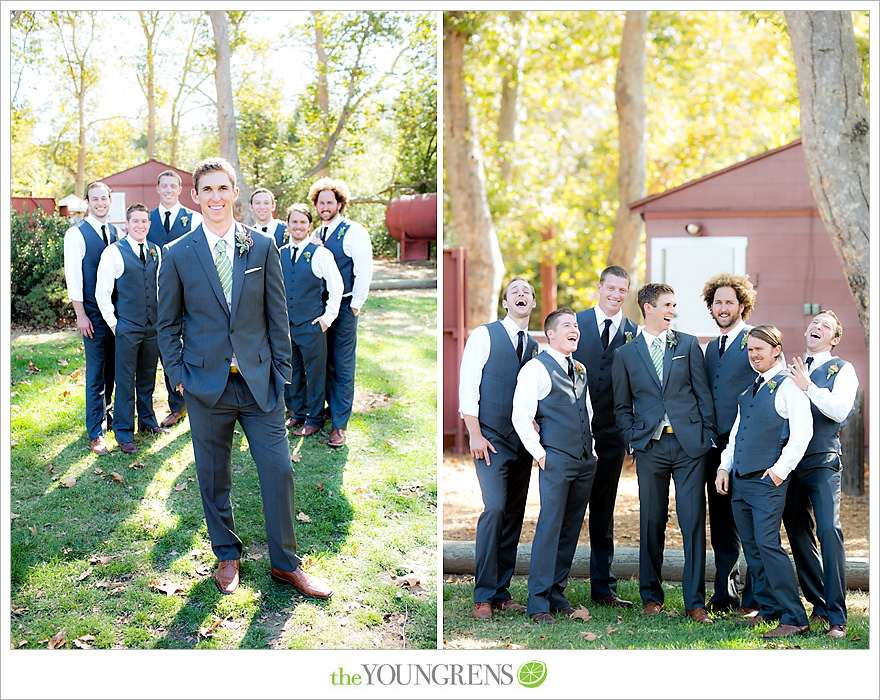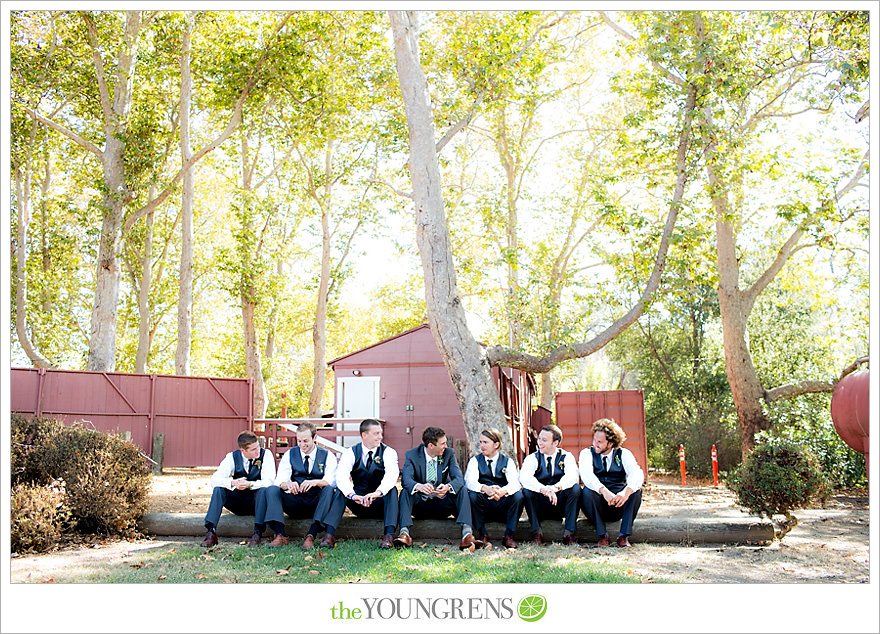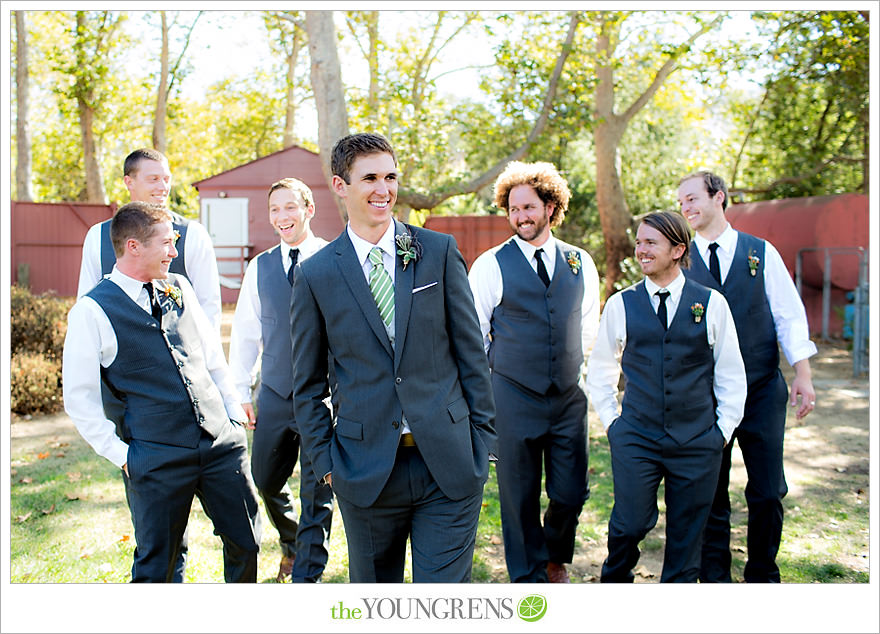 Each girl got to pick their own dress and I'm so impressed with how the colors turned out! Love, love, love!!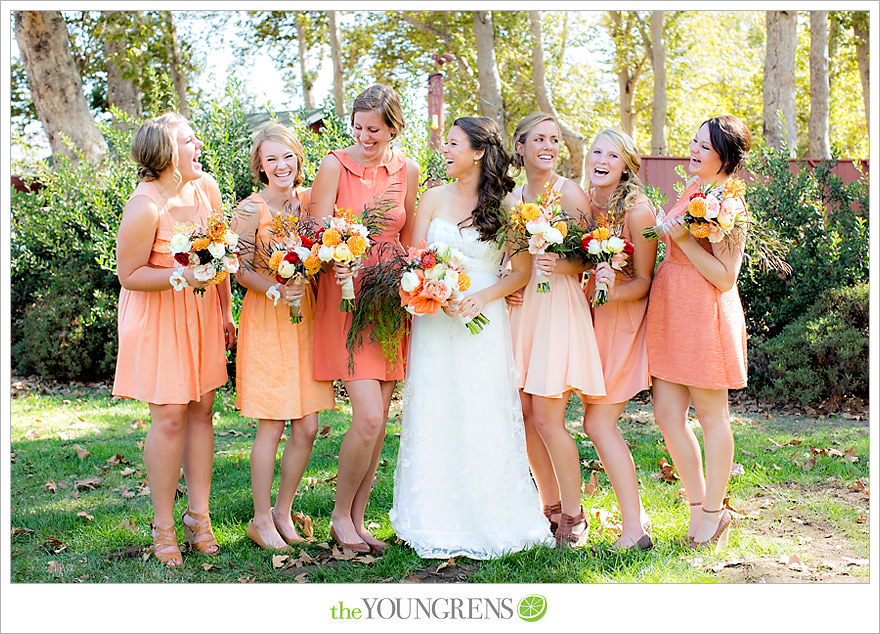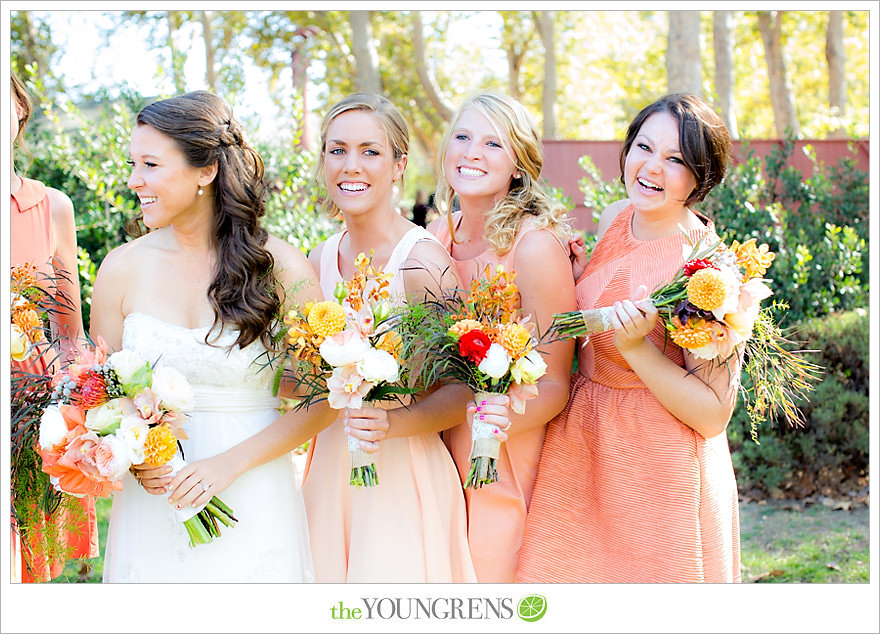 Garrett and Megan transformed Bommer Canyon into rustic wedding heaven. Instead of covering up their surroundings, they blended, incorporated, and celebrated the wooden barns and thick wooden tables and created a look that was personalized and soft.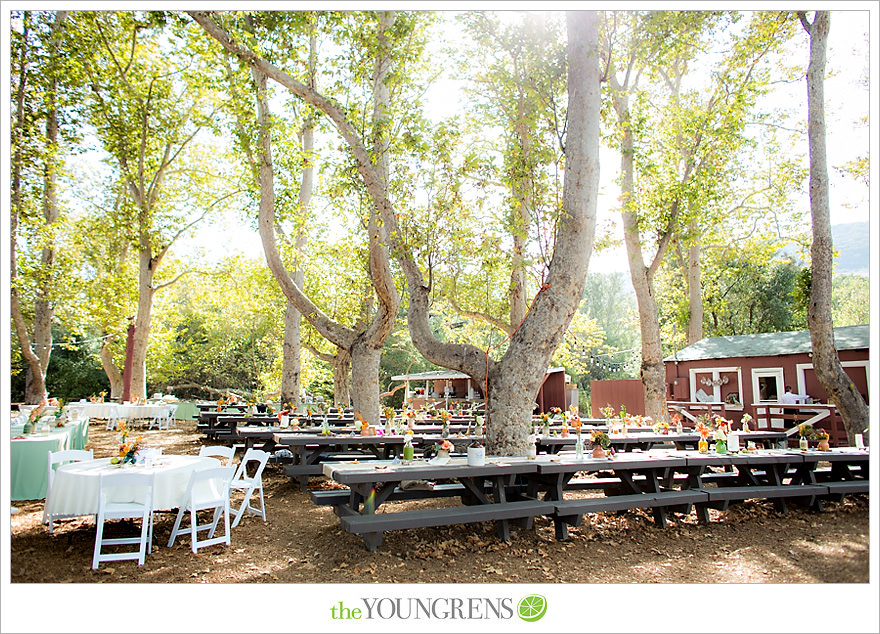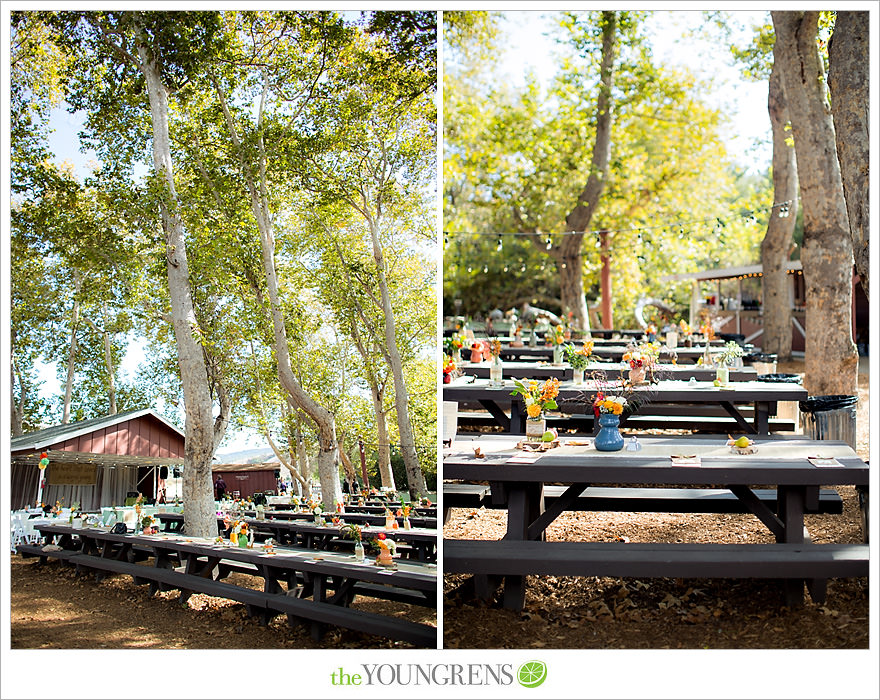 A huge thanks goes out to the talented team of Carter & Cook. They're pretty much ridiculously talented.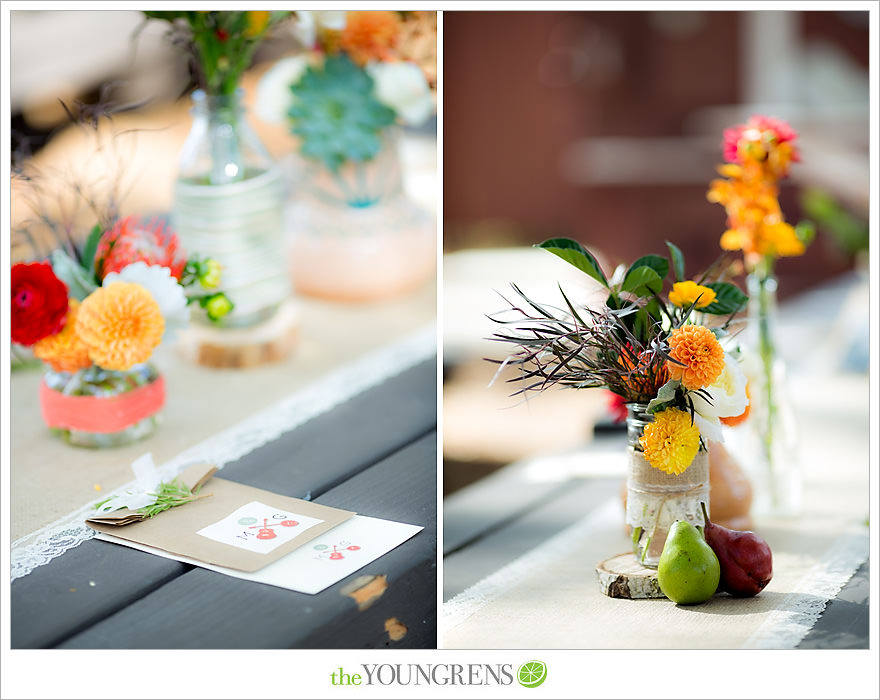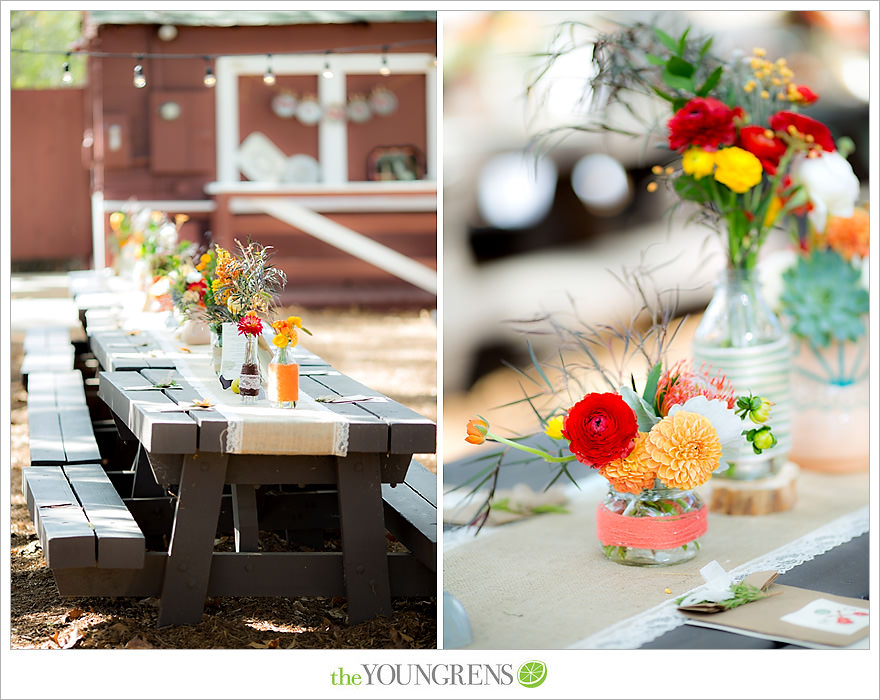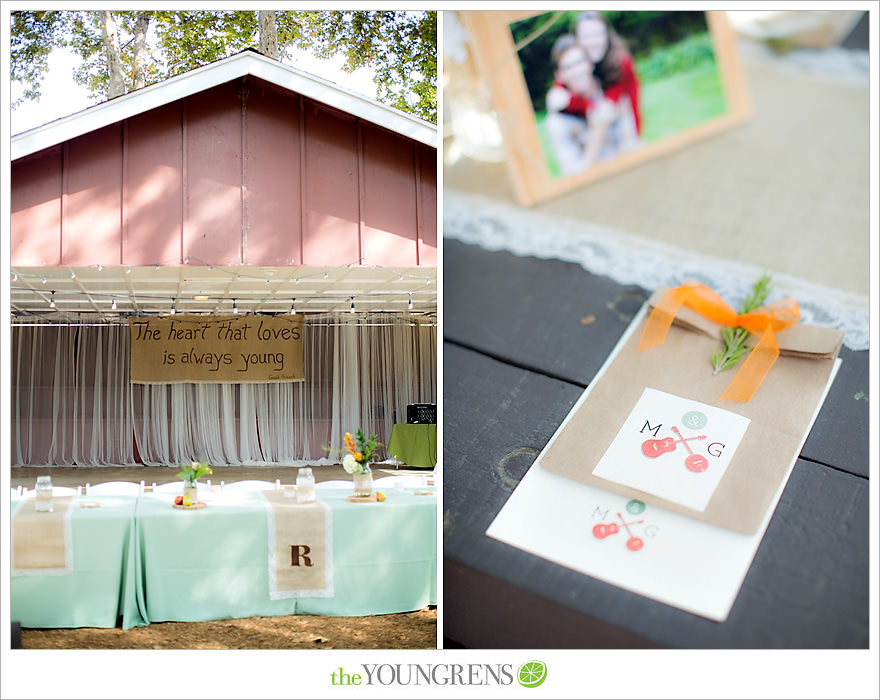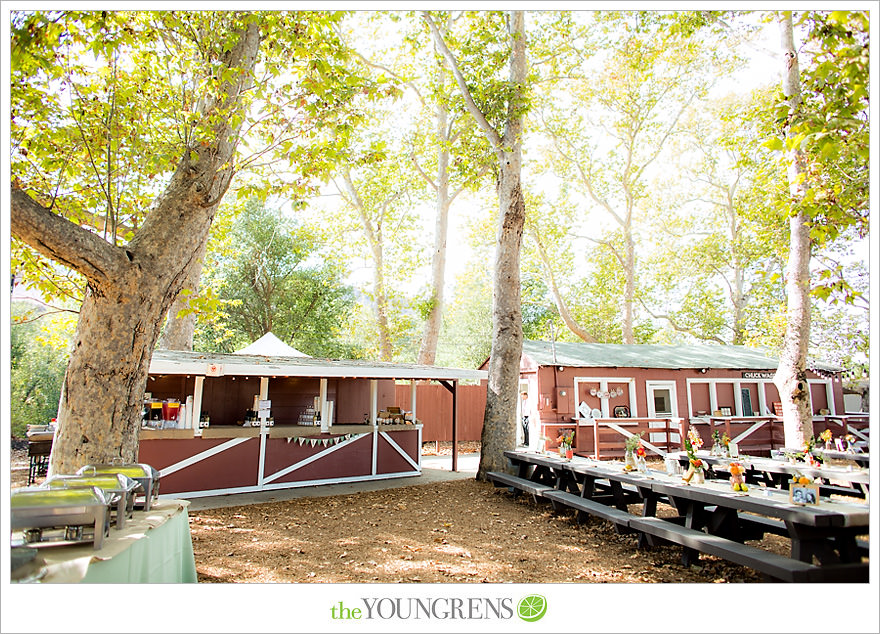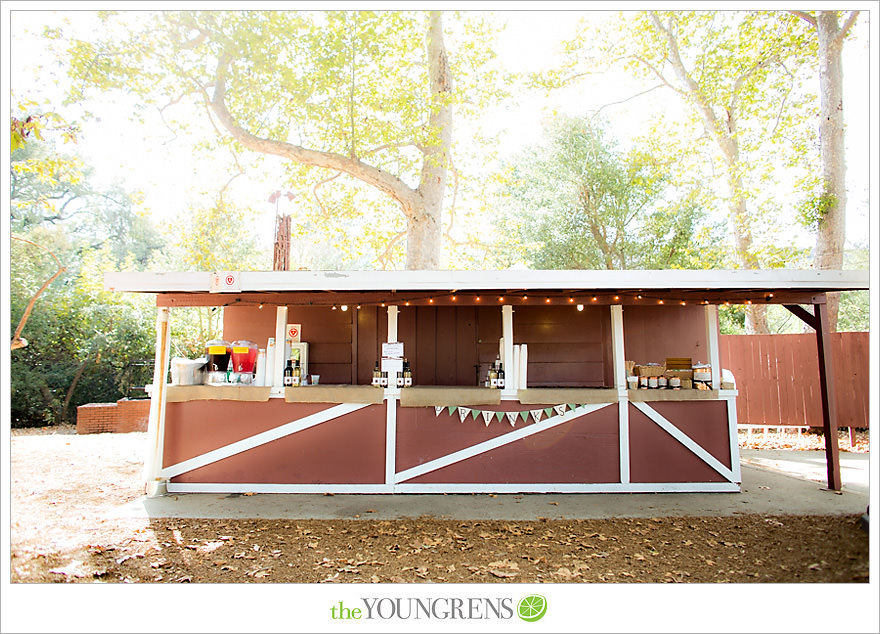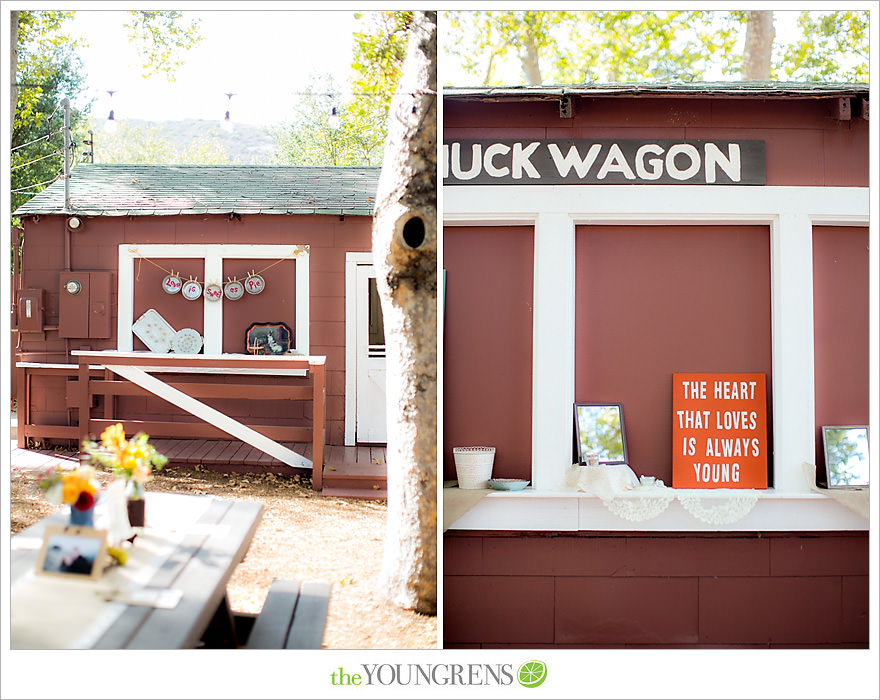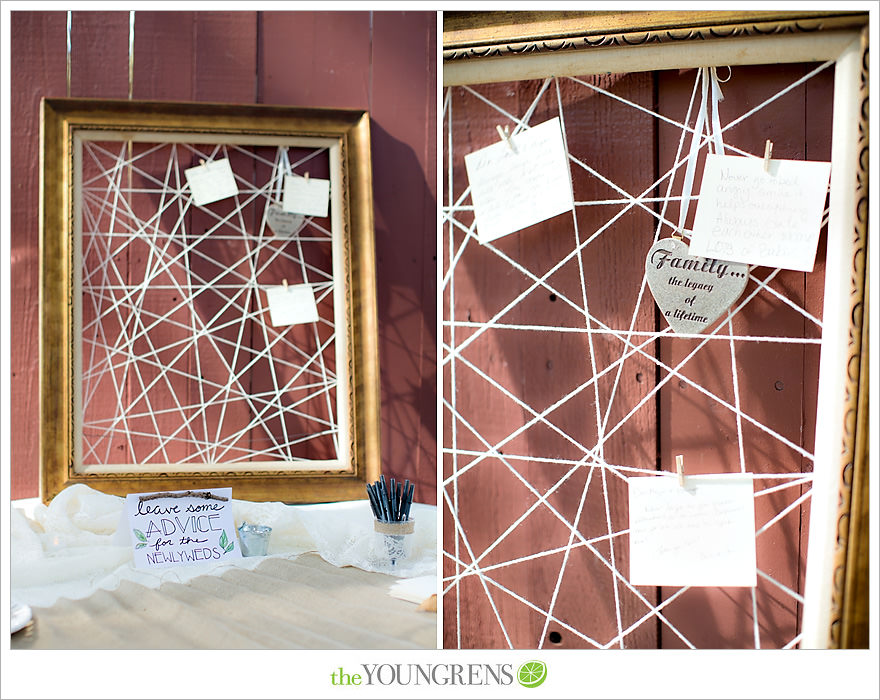 I loved the idea of a quilt guestbook – each guest wrote on a quilting square that would become a treasured memento in their home.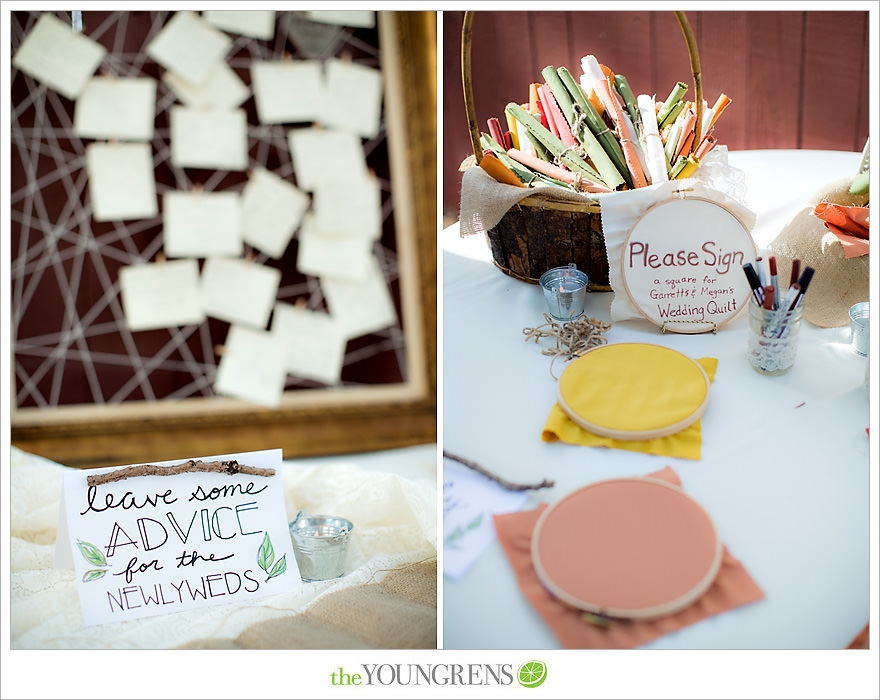 This wedding was so fantastic that it's totally earned a three-parter on our blog! WOOHOO! So there is TONS more to come from Megan and Garrett's rustic DIY wedding at Bommer Canyon and you're heart is going to melt with their sweet and simple ceremony, coming to the bloggy-blog tomorrow! See you then!
Hugs,
Erin
---
Wedding Photography : The Youngrens | Ceremony Location : Bommer Canyon | Reception Location : Bommer Canyon | Event Coordinator : Alex Hillier | Floral Design : Carter & Cook Event Co. | Cake : Saltwater Catering | Shoes : TOMS | Make-Up : Remba Productions | Hair : Remba Productions | DJ : Sean Sand | Cocktail Music : Moonsville Collective | Rentals : Persiano Events | Photobooth: Pridmoria
---