We have SUCH exciting news to share over here at The Youngrens because our lovable and wonderful Garrett that has been working for us here at the studio for the past year just got ENGAGED!! His now fiancé, Megan, is the most wonderful person you'll ever meet and we have been bugging Garrett to make this whole proposal thing happen since the moment we met her.
Jeff: "Garrett seriously – when are you putting a ring on that finger? You have to lock that girl down…"
Garrett: *blushes*
Well, the moment finally came last week, and we were so honored to be able to photograph the whole thing for these two and there was tons of help from friends and family, including Ashlyn Carter of wedding planning and design team, Carter and Cook, who designed an incredible Greek-themed tablescape because it was on a trip to Greece that these two fell in love. We're so excited to share the images here, but the whole story has to come from the newly-engaged themselves so we had Garrett and Megan write down the whole story. Here it is, directly from the couple:
 ————————————————————————————————-
"Megan went to Ukraine for three weeks. While she was away working with churches and kids and exploring new places, Garrett was busy preparing for the elaborate multi-step proposal.
Megan returned to the U.S. on May 29th after having no contact with anyone from home while she was away, including Garrett.  She had no idea what was in store
Garrett first took Megan on an elaborate romantic date the day before he planned to propose to throw her off the scent. According to Megan, it totally worked. The next day (the day of the proposal) when they pulled into the valet circle at L'Auberge Del Mar for lunch, an upscale boutique resort and a favorite spot of these two, Megan shrieked with joy and at the same time was a bit perplexed because it is such a "fancy" place for lunch and she wasn't expecting anything special since they had just had a wonderful time the day before. Nevertheless, they enjoyed a delicious meal at the ocean view restaurant at L'Auberge, and Garrett even ordered the most expensive thing on the menu so that Megan felt the freedom to order the salmon.  She did.  Over wine, steak, salmon and ocean breeze, the two caught up more from their three weeks apart. Meg had brought her journal to lunch and decided it would be a good time for her to share a letter she had written to Garrett while she was in Ukraine.  It was a beautiful moment as she read the letter filled with words of love, affirmation, hopes, and prayers for Garrett and their relationship together.
"Let's run wild and free and love God, people, and each other like crazy, okay?  I am in love with you.  I choose you.  I love you.  Everyday.  Always.  Love, Meg."  Little did she know how perfect the timing for this letter was.
After lunch they went to retrieve the car from valet and a silver scooter was returned to them instead of Garrett's Rav4.  Megan was confused at first but it didn't take long for her to start jumping with excitement.  "That was really smooth babe, nice work."  They rode down Pacific Coast Highway until they reached Torrey Pines Reserve, a place they have hiked before with each other and is a place of significance in their relationship.
(Time out: It was Jeff that had replaced one of our scooters at the valet for Garrett. Sneaky, sneaky boy. Ok, back to Garrett and Megan's story).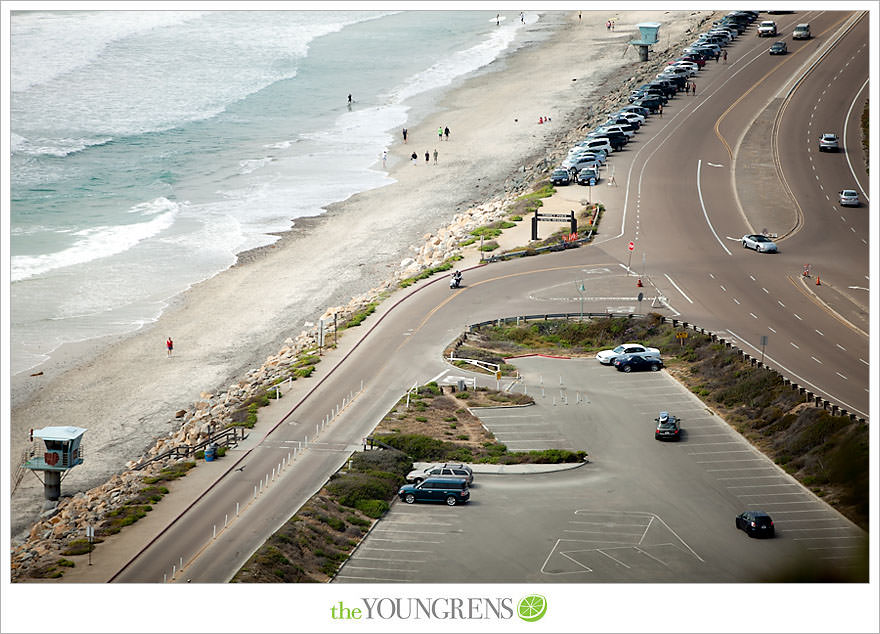 Garrett and Megan drove to the spot they normally hike, hopped off of the scooter and started to walk.  Then Meagan saw the first picture glued to a handcut piece of wood.  It was attached by twine to one of the posts that guides the trail.  It was in that moment that she knew without a doubt what was happening.  Instead of nerves or uneasy excitement, they both experienced a tranquil and joyful sense of peace.  It was just Meg and Gare, walking down a trail to a place that would signify the beginning of a new chapter.  It just felt right.
On the back of the wooden panel was an excerpt from one of their favorite books, the first one they read together called, "God Hides in Plain Sight," by Dean Nelson.  The excerpts on all of the pictures were from the last chapter of the book that speaks of the sacrament of service.  They continued on the path and took turns reading the back of every other picture.  The process was only broken up by laughter, hugs, kisses, tears evoked by certain pictures, and jumps of joy as what was happening continued to sink in.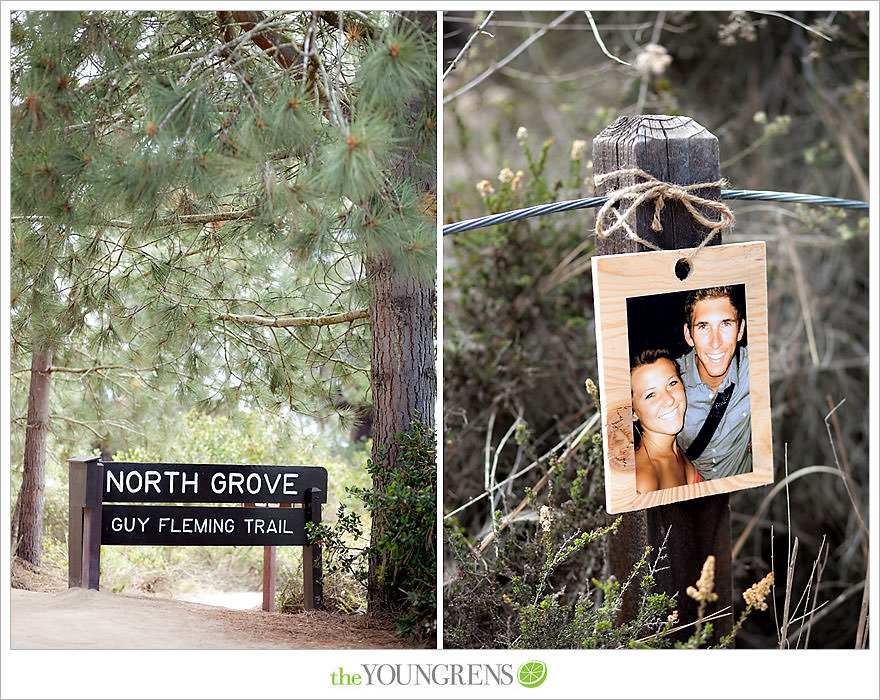 They eventually reached the end of the path, and Garrett led Megan, guided by a path of rose petals, to a lookout accompanied by a bench and an immense, expansive ocean view. She sat and he bent down to where a bucket of water, soap, and a towel lay.  "Meg, I want to serve and love you each and everyday as Christ came to serve and love.  I choose to commit to you.  Can I wash your feet?"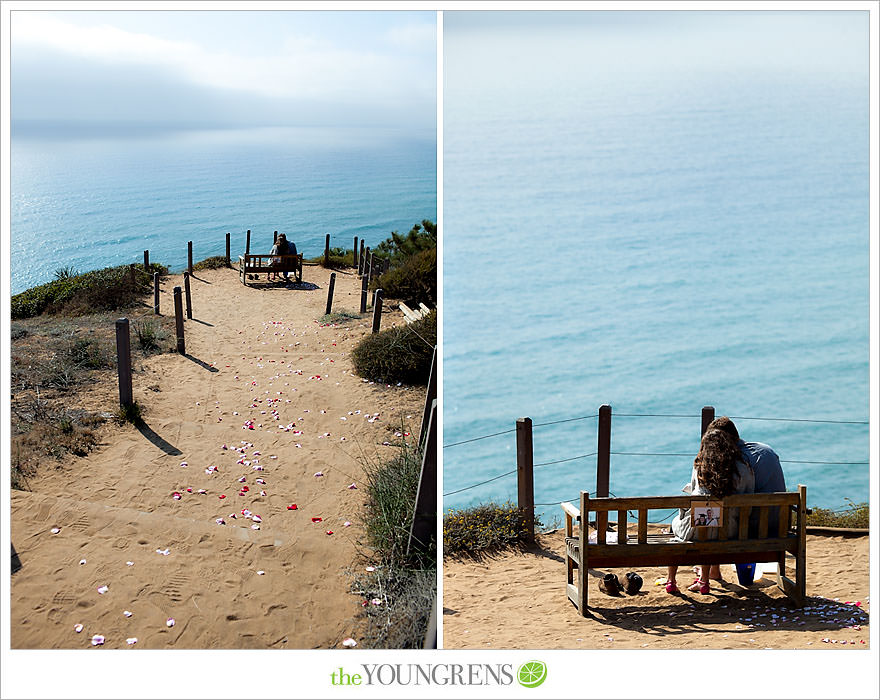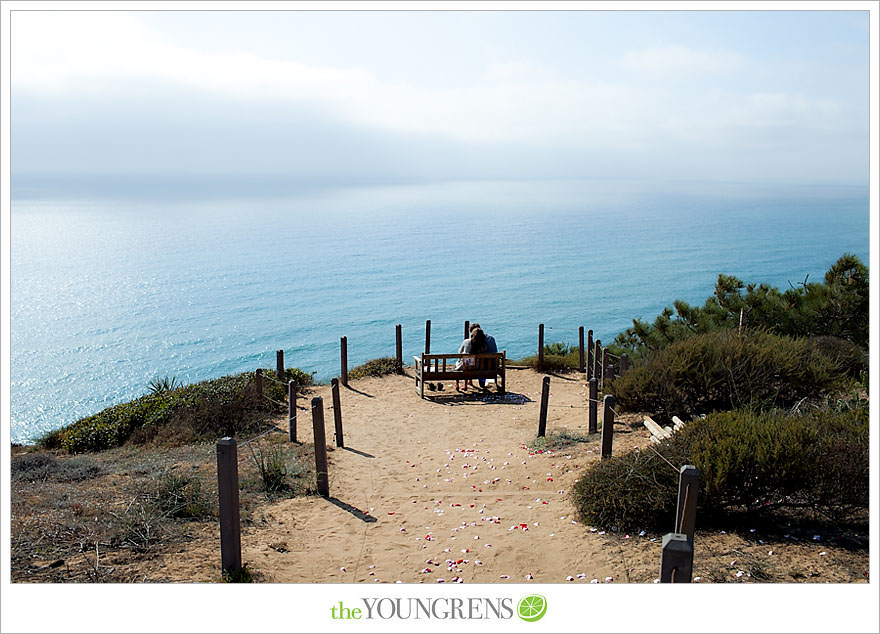 Speechless, she nodded.  He gently and lovingly washed her feet and dried them.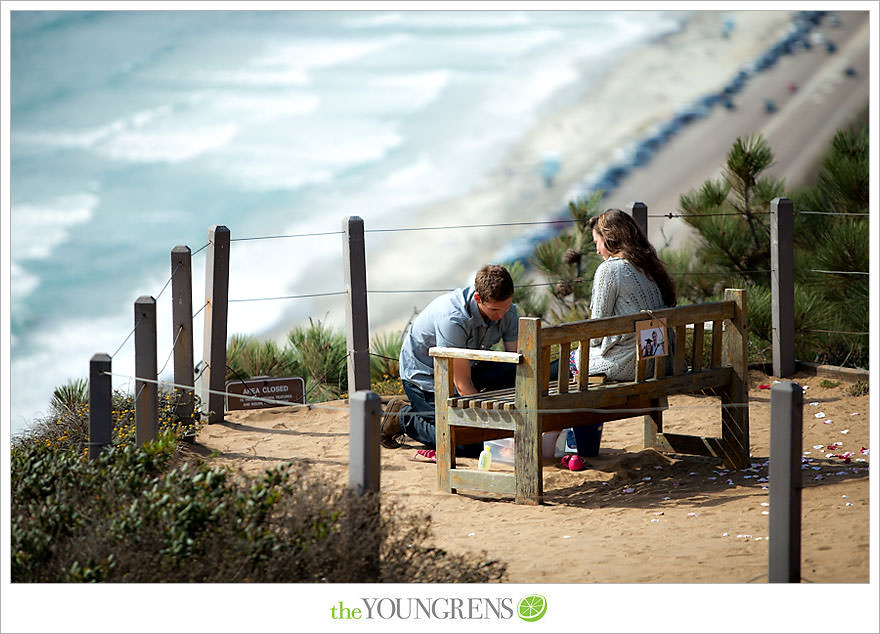 "Well, can I wash yours then too?"  "Um, yeah!"  They switched places and she proceeded to wash his feet.  He hurried her along out of excitement to just ask the question he had been dying to ask.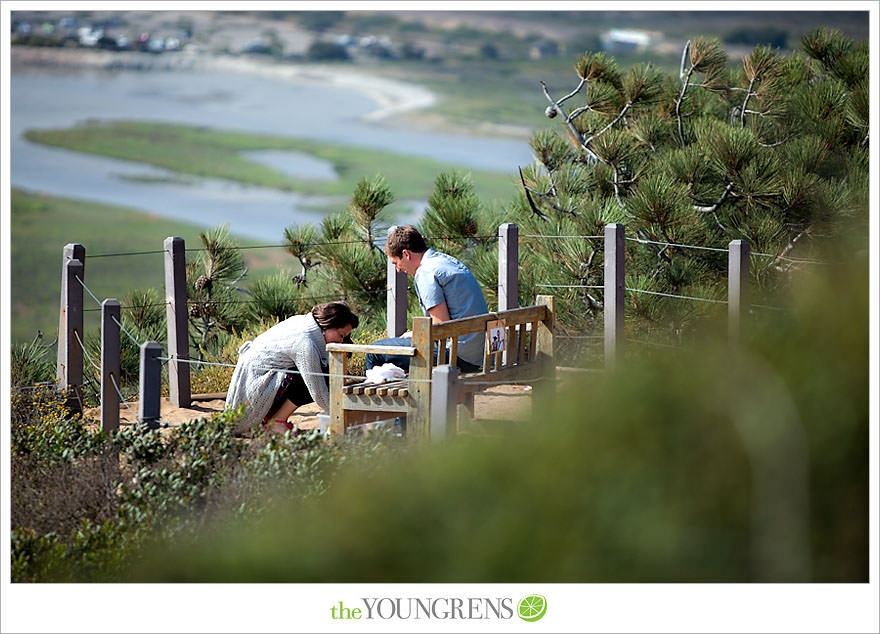 After the two shared these moments, Garrett couldn't wait any longer. He pulled the ring out of the blue bucket that had held the towel and got down on one knee, "Megan Christine Hallock, will you marry me?"
She hadn't cried yet, but at the sight of Garrett lowering to one knee, the intensity of the moment brought tears of overwhelming joy to her eyes.  "Umm yes! Duh! Yes!"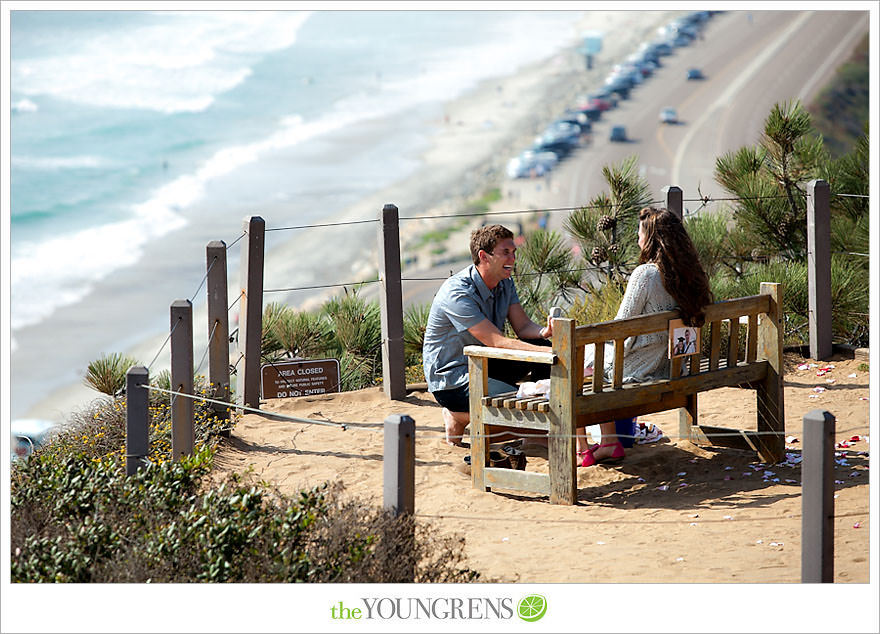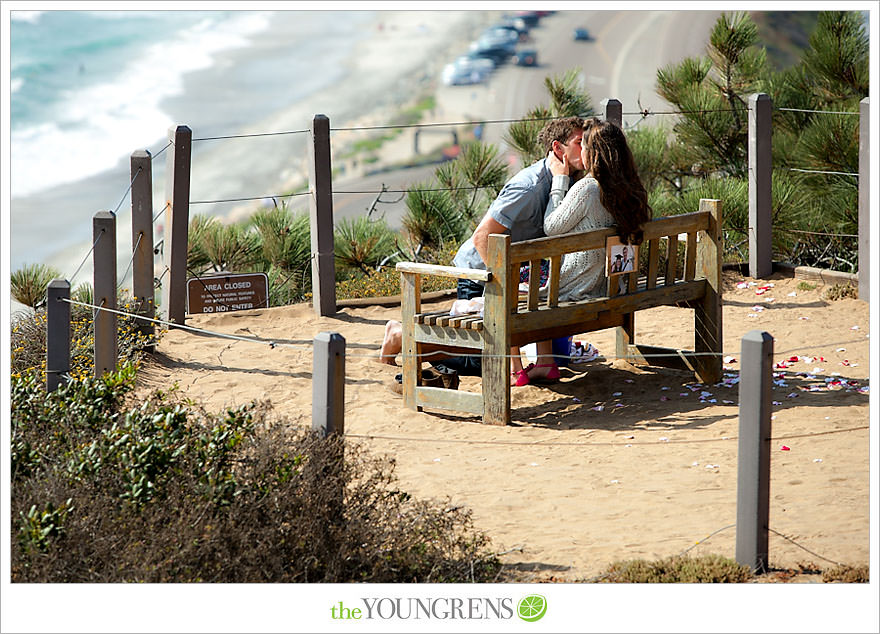 He put the ring on her hand and those who waited in the distance, Garrett's brother and two friends, came to join in the celebration!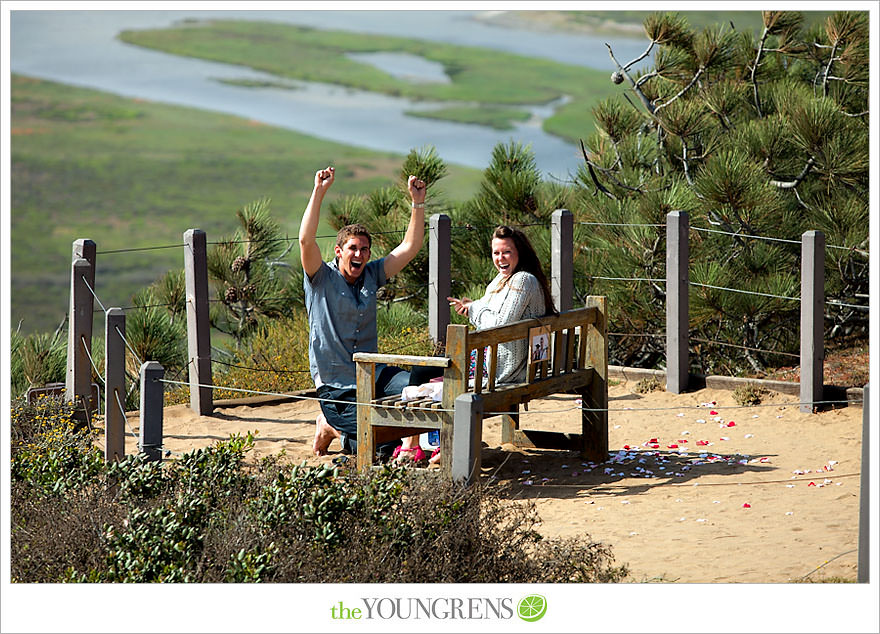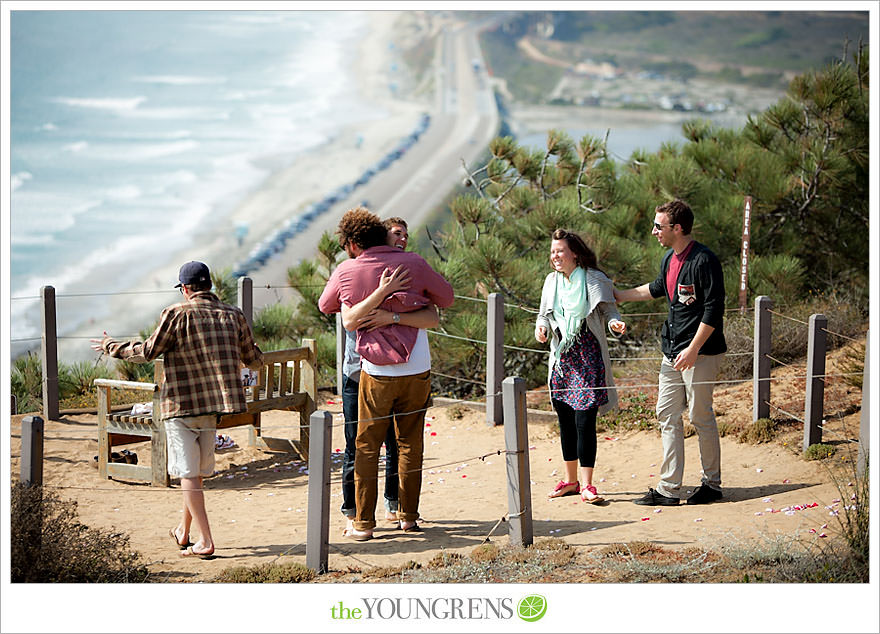 Jeff photographed the whole thing and took some extra pictures and then sent them on their way because Garrett had even more planned.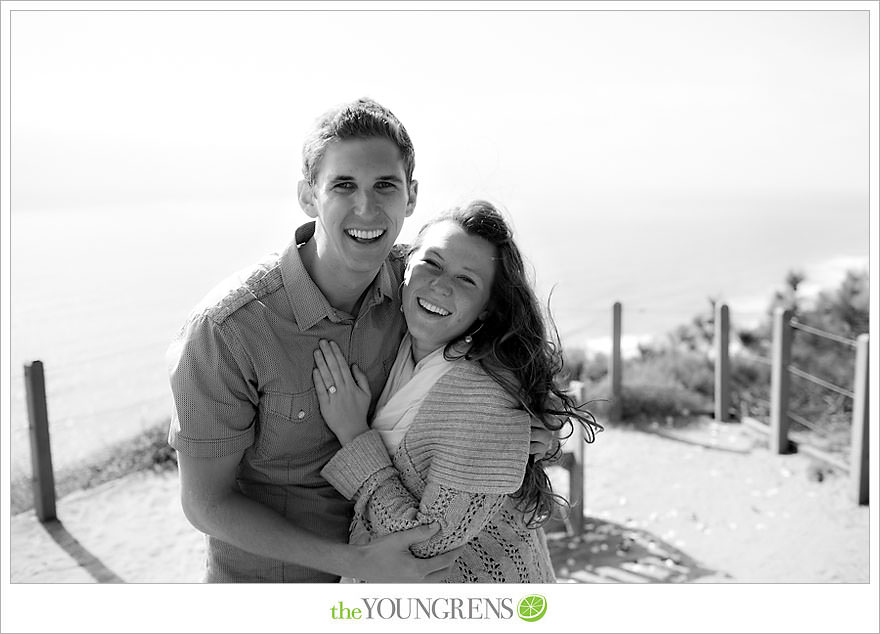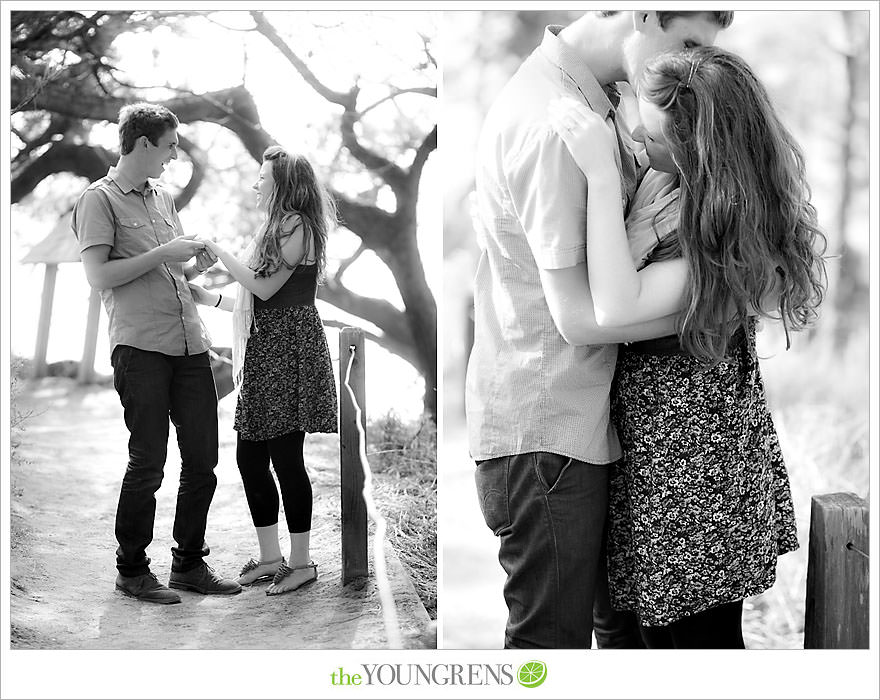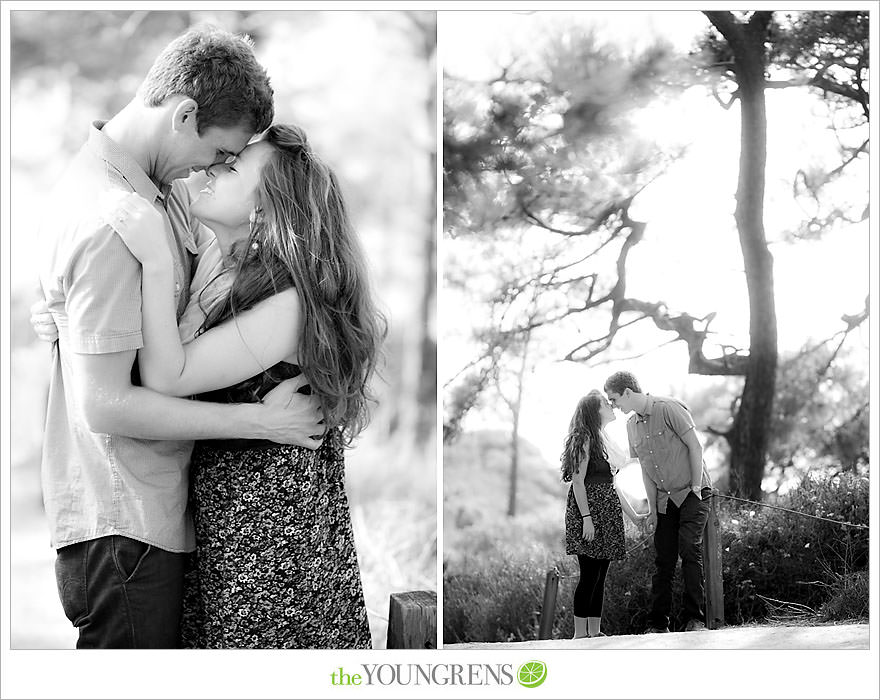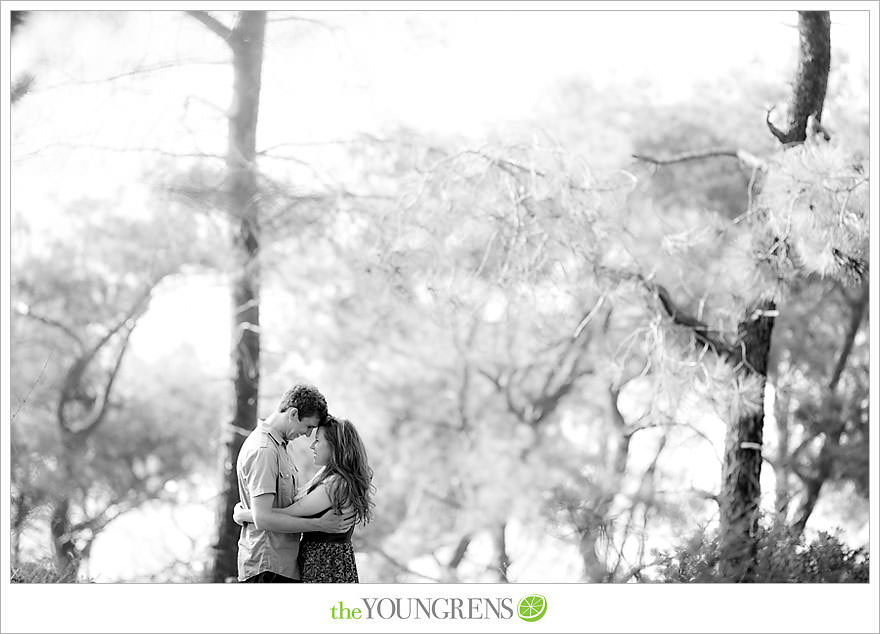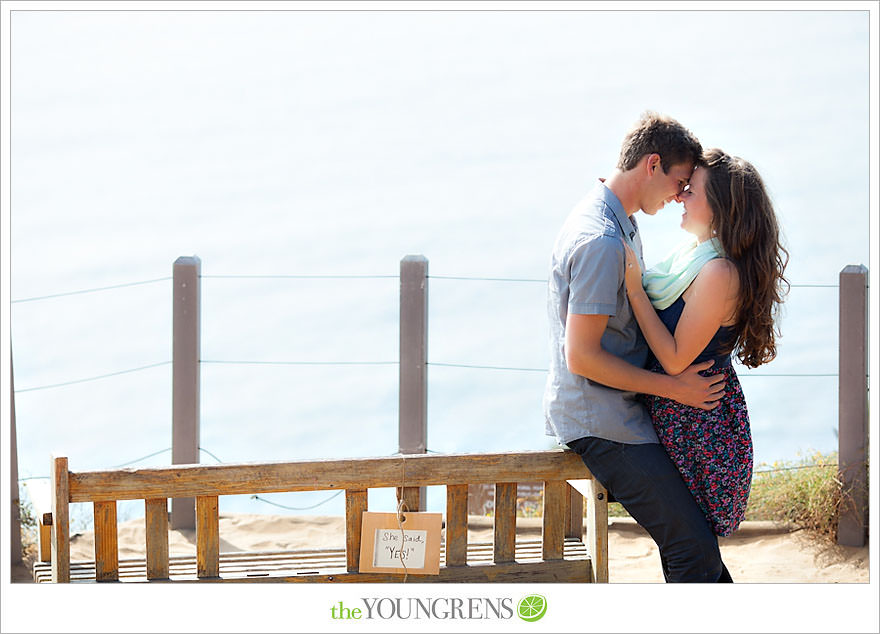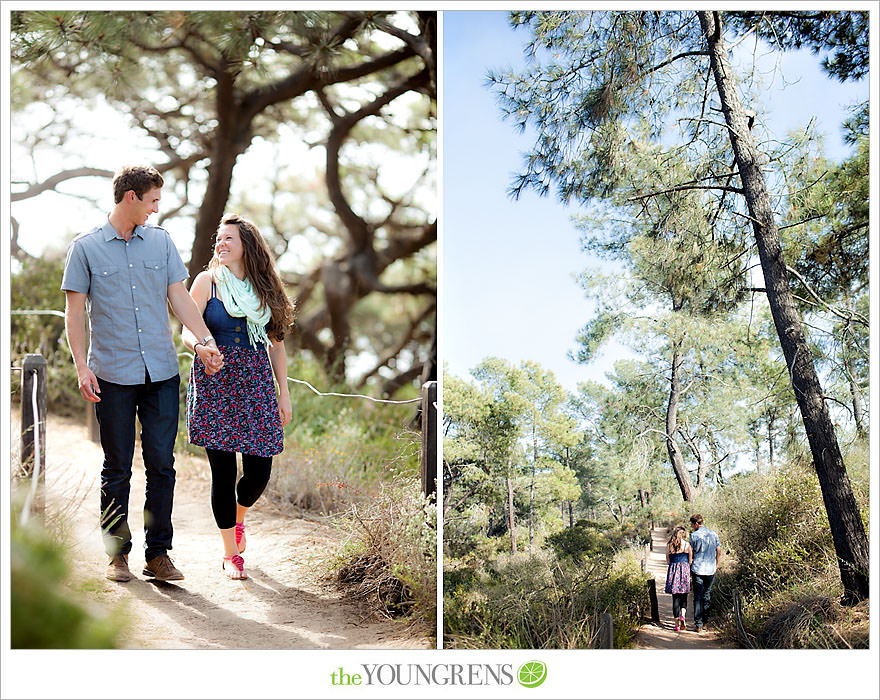 Over their year and a half or so of dating, Garrett and Megan would meet at a special tree on their college campus: for runs, walks, lunches, talks in between classes, etc.  It's located at Point Loma Nazarene University (where they both went to school), and overlooks the ocean above Sunset Cliffs. Garrett had contacted Carter and Cook, a fabulous wedding design team that Megan worked for, and asked them to help him set up a Greece-themed tablescape at their tree because it was on a trip to Greece that these two fell in love.  Ashlyn Carter did an amazing job and the scene was breathtaking.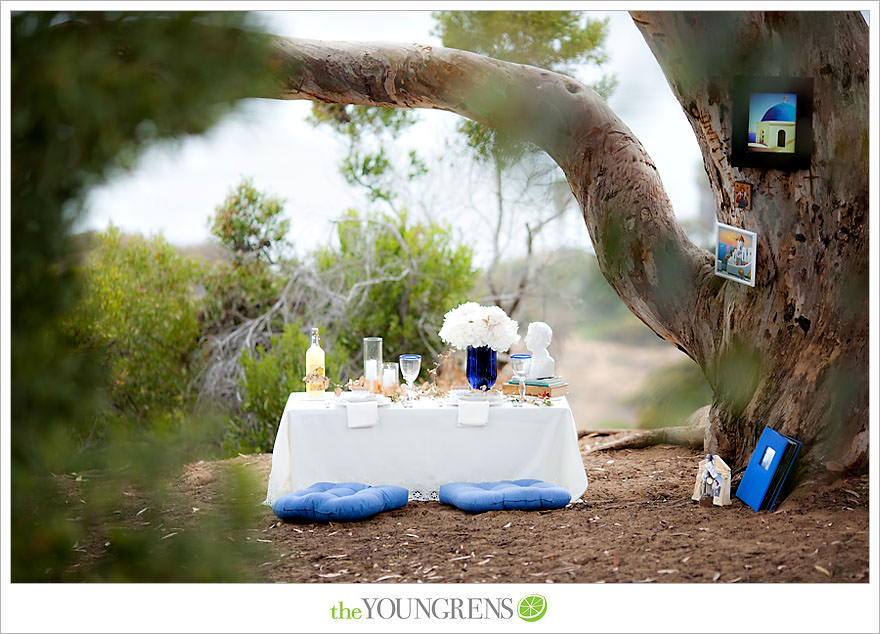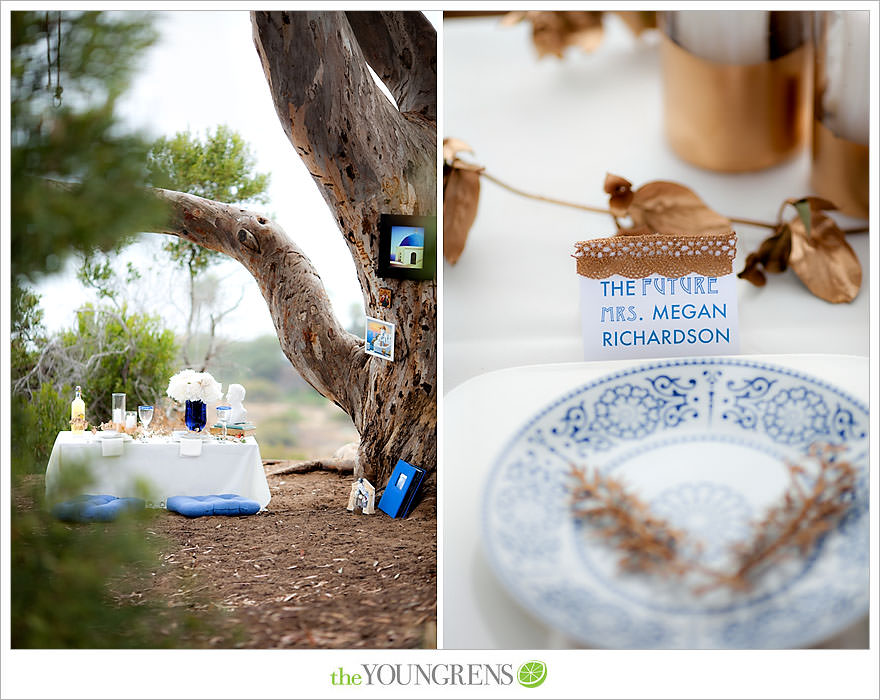 Hanging on the tree were pictures of Greece and of Garrett and Megan where their story first began.  Also by the tree was a photo album composed of Garrett's pictures taken in Greece.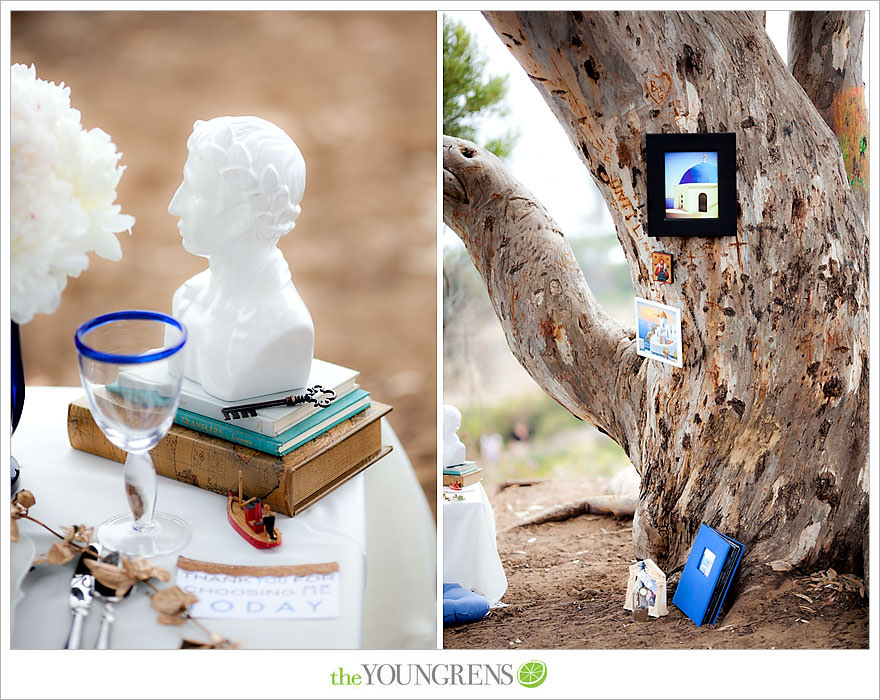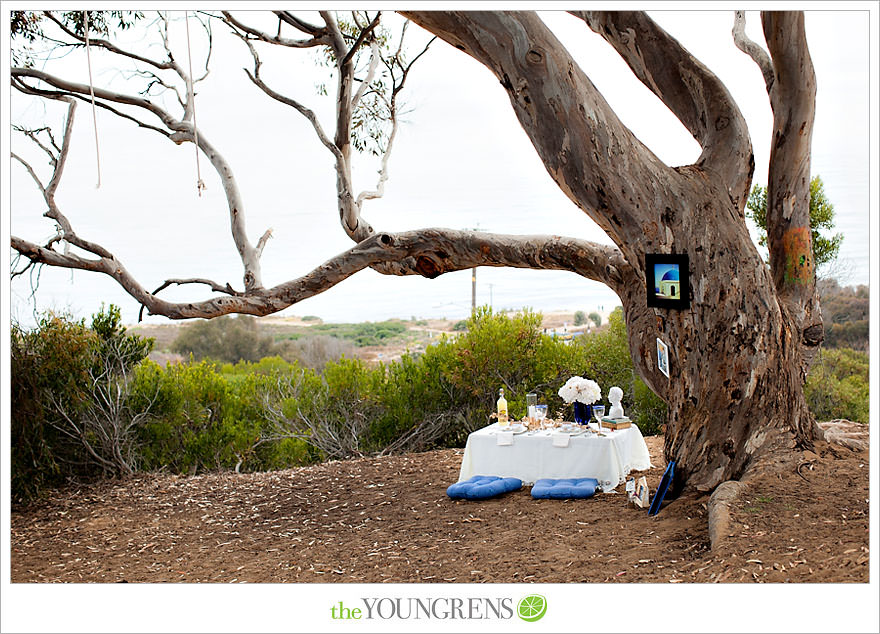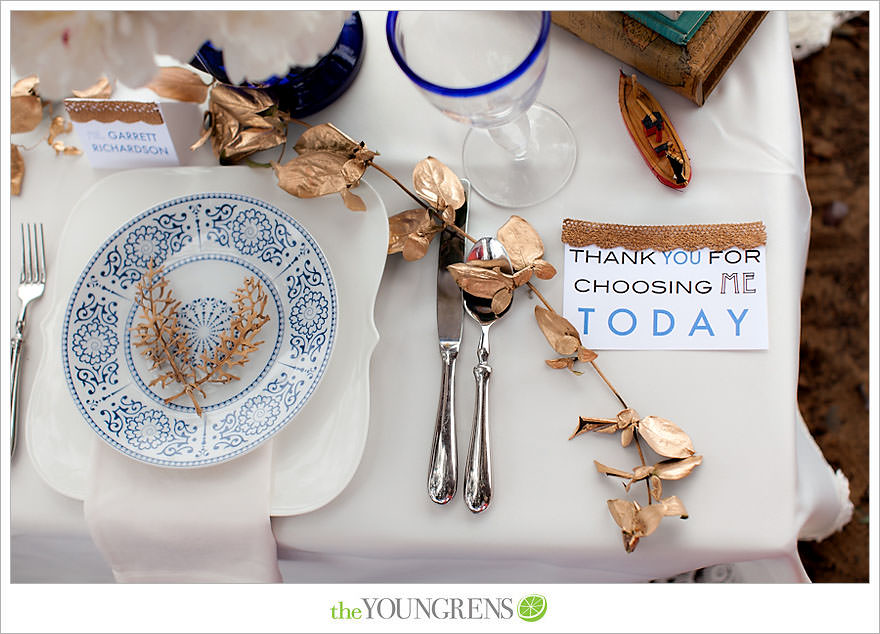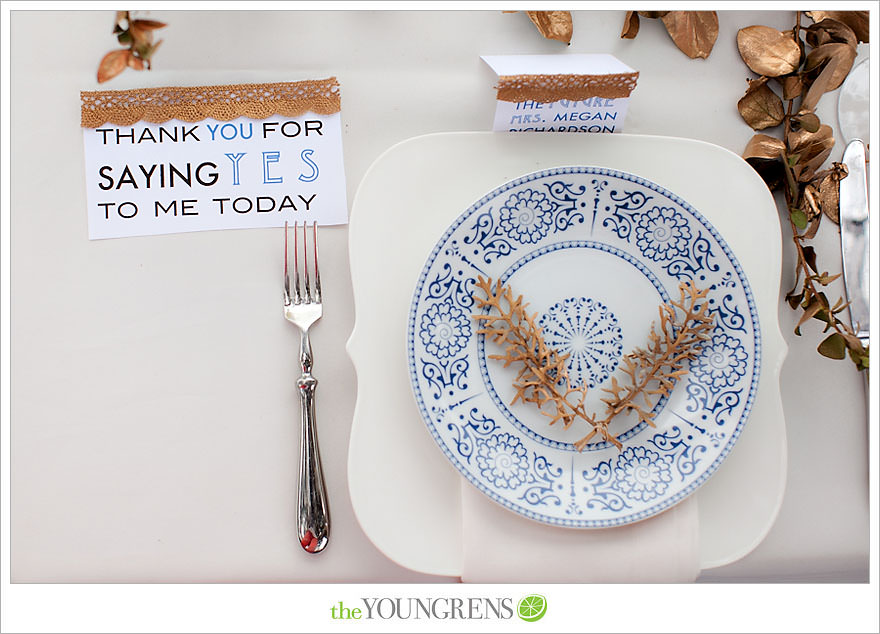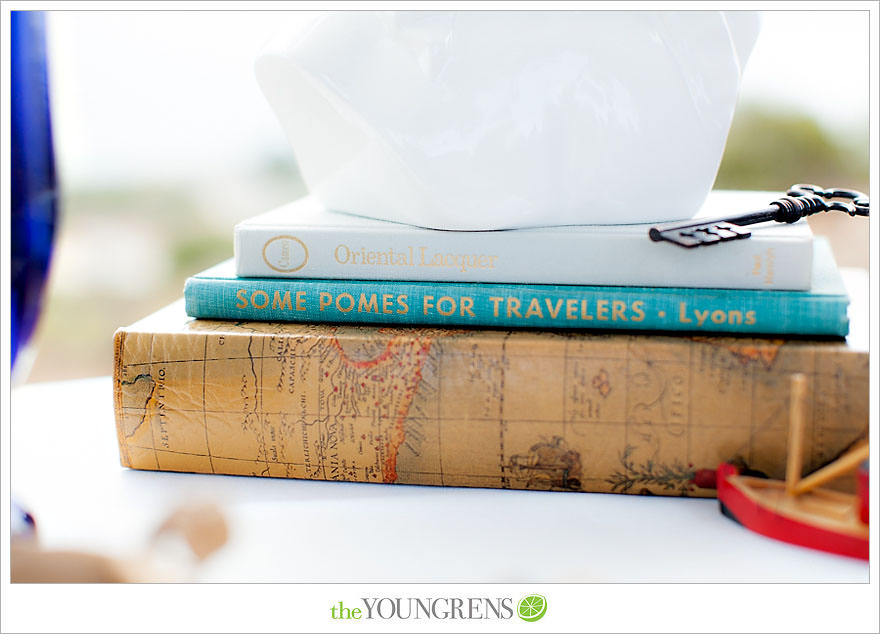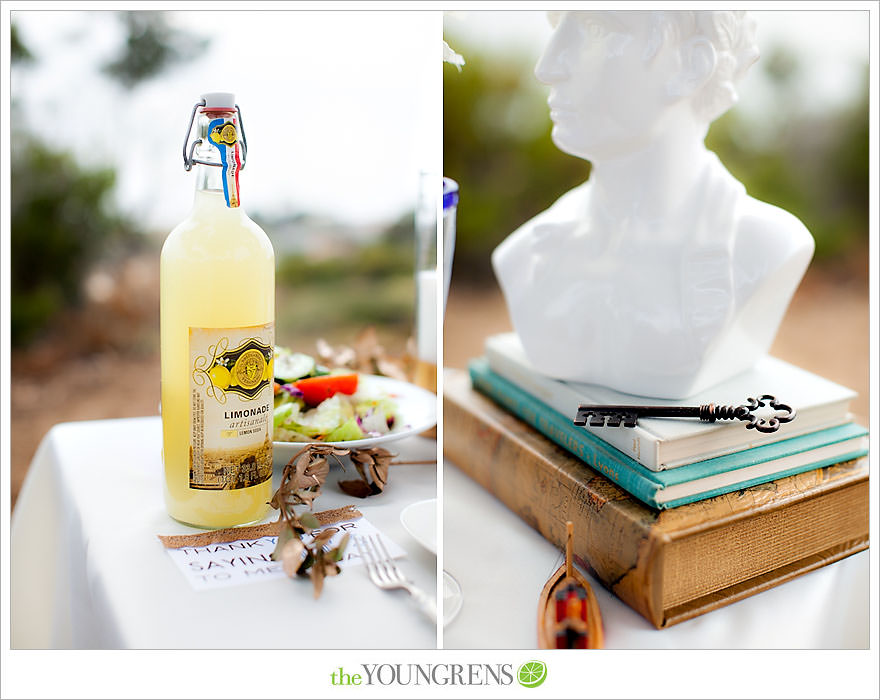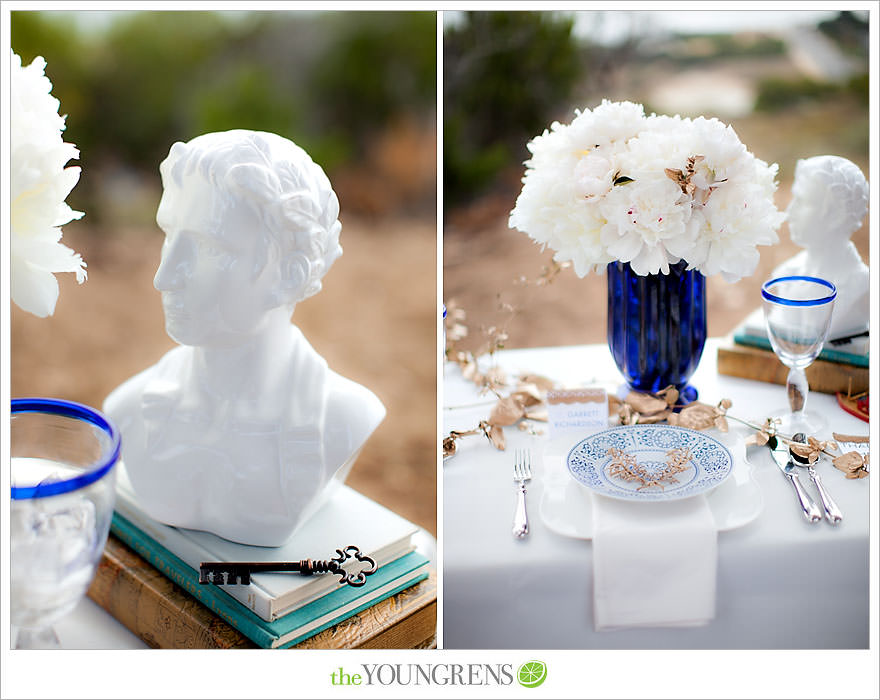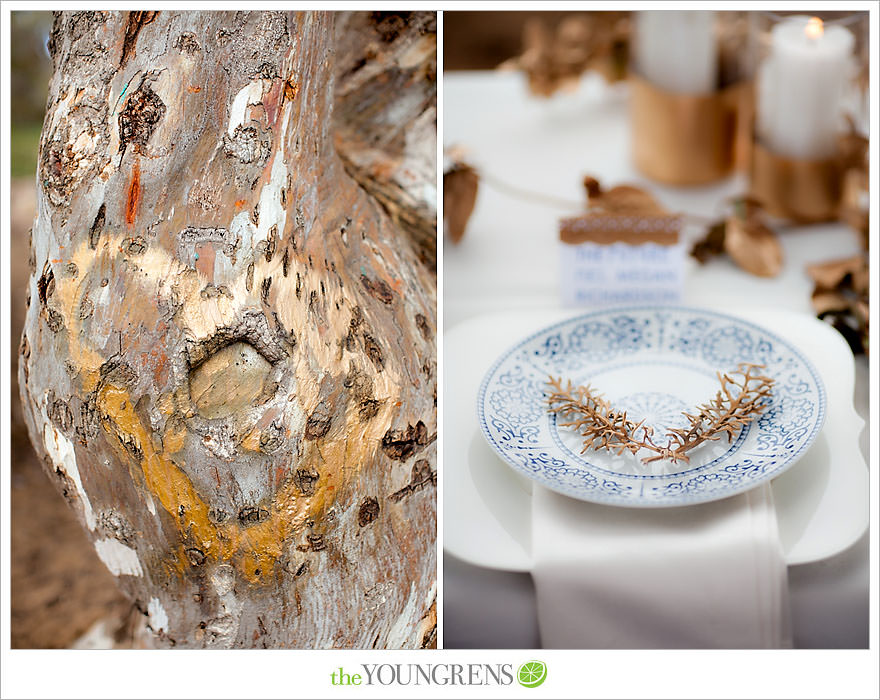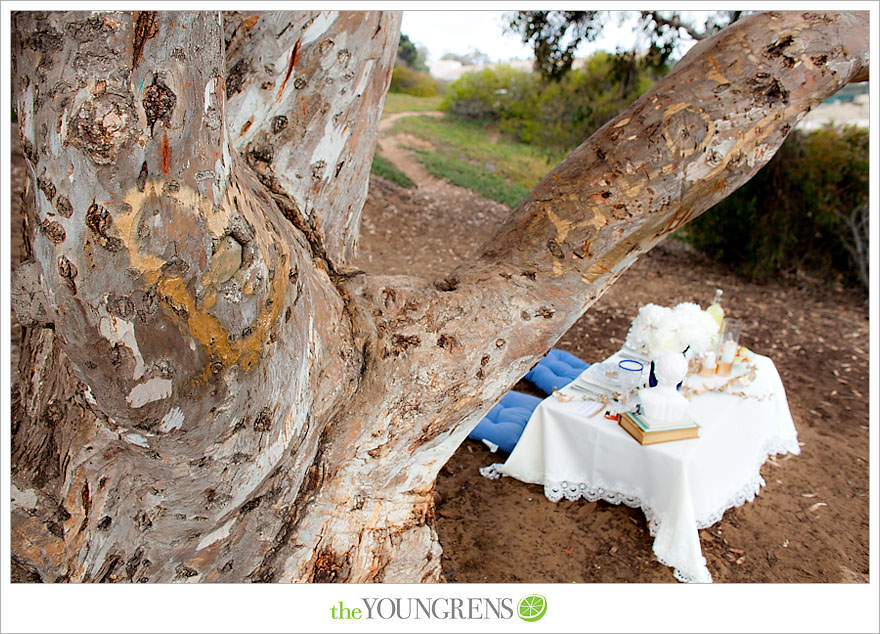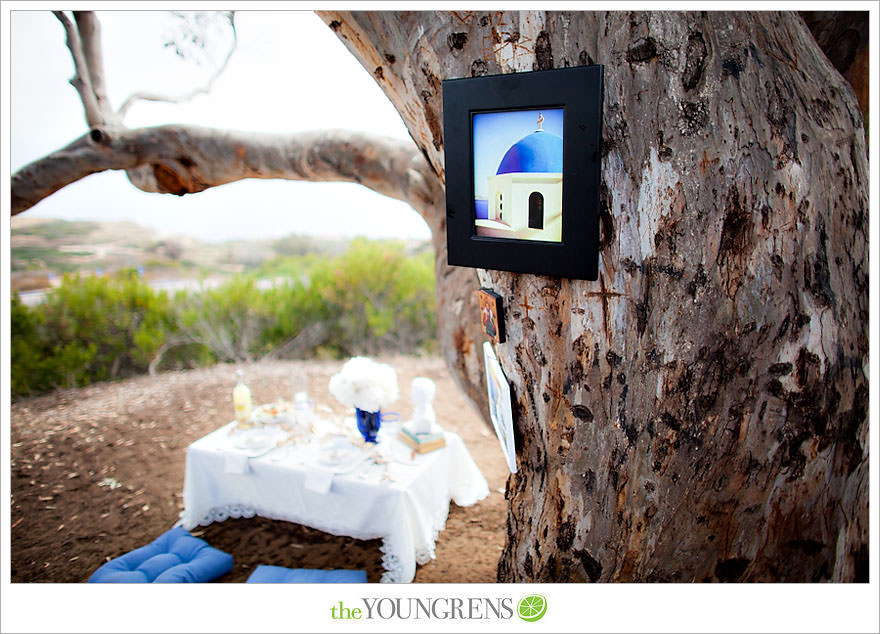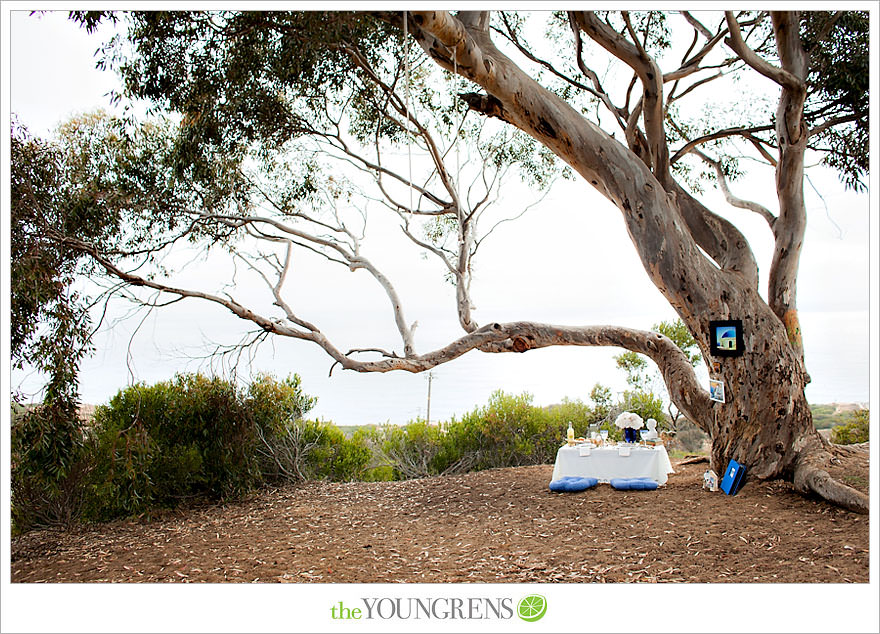 Garret drove Megan down to Point Loma and as they walked up to the tree, the magical setting became clear.  Erin was waiting to take pictures of them as Garrett surprised Megan with a beautiful Greek dinner delivered by another wonderful friend.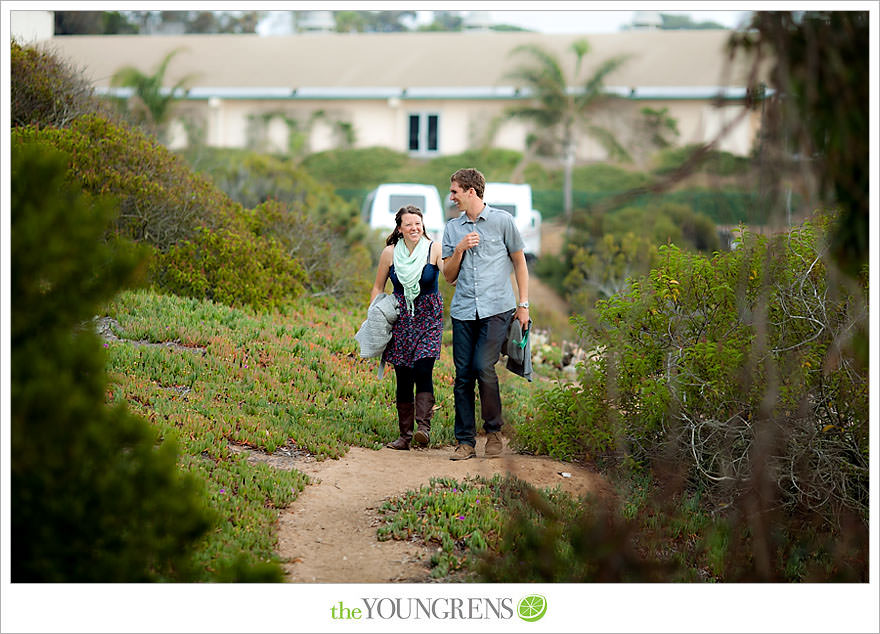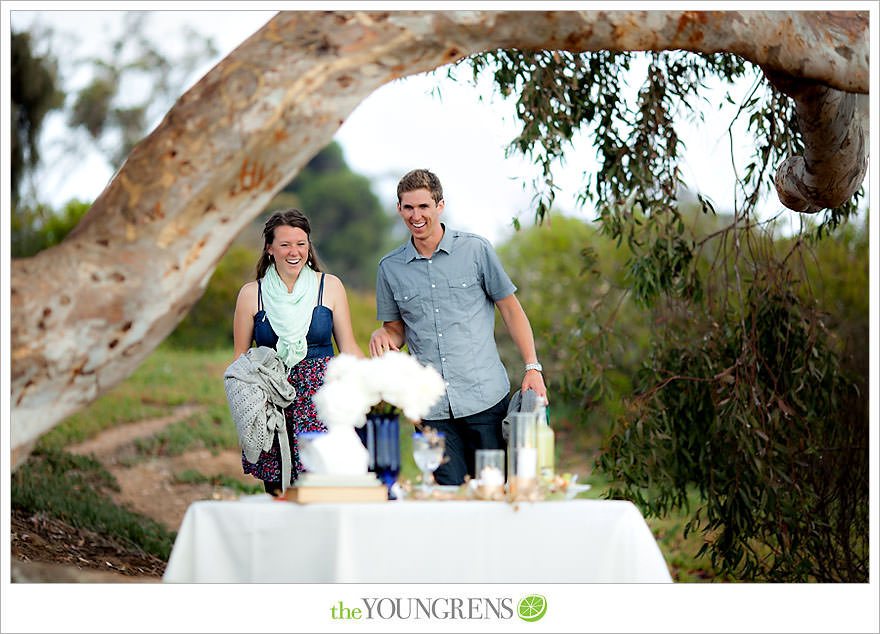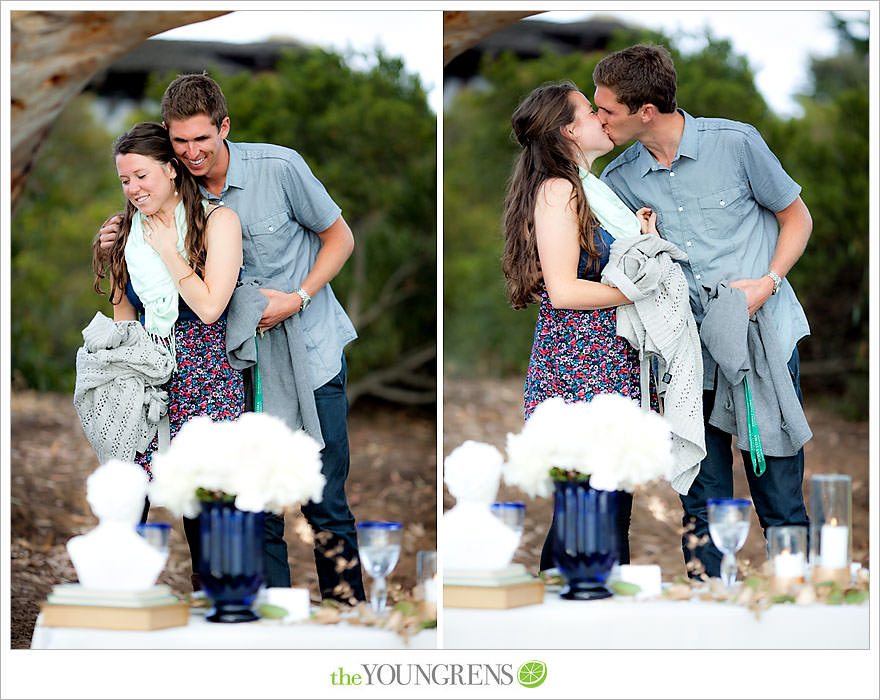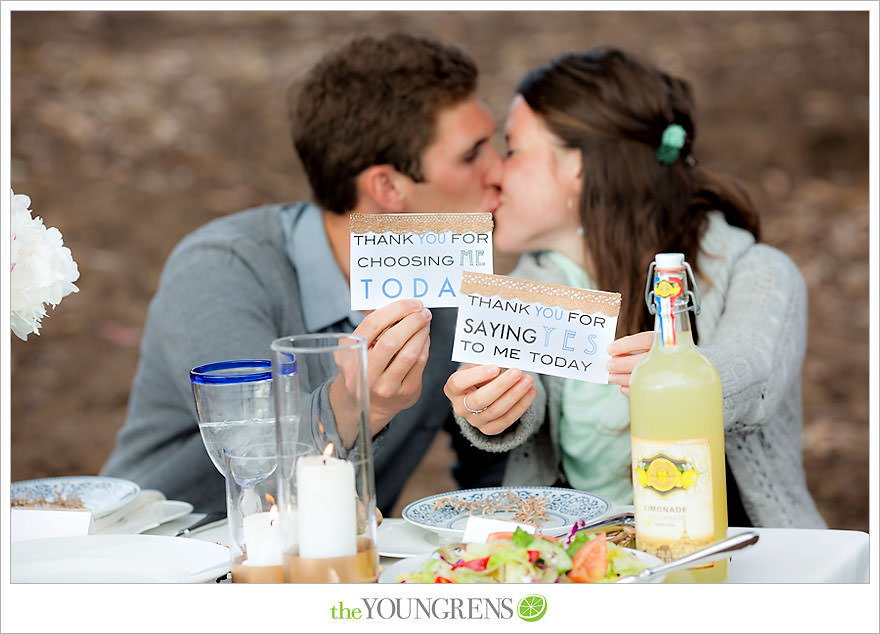 It was a special time to be still with each other in the midst of God's creation and to pray and be grateful for all of the past moments, the present moment by the tree, and the future moments to come.  The sun continued to set and streams of sunlight poured through the clouds casting bright pools of sparkle onto the Pacific below.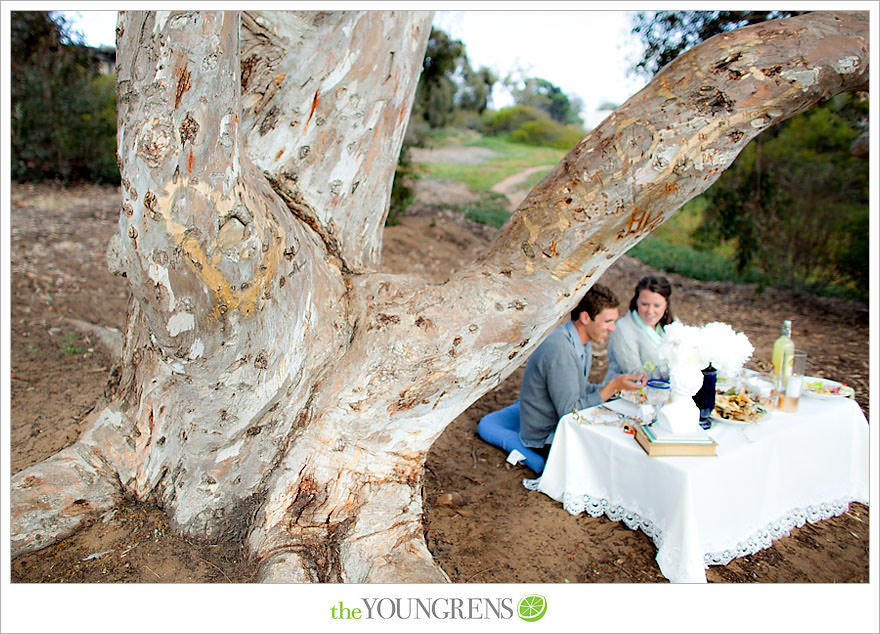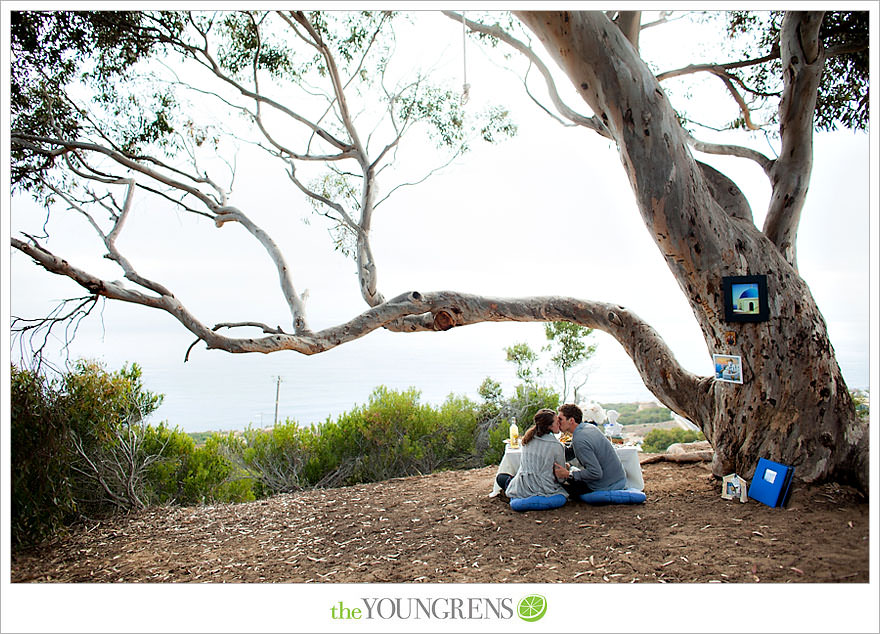 As dinner ended Garrett asked, "Ready for the next part of the adventure?"
"There's more??"
They hopped back in the car and drove to a friend's house where at least fifty friends and family awaited to celebrate with the newly engaged couple.  They walked through the house to the door leading to the backyard and as they turned the corner, screams and yells erupted from the large group of some of their favorite people.  The night was filled with storytelling, laughter, tears of joy, cake, apple cider, and dancing.  Megan showed off her ring, Garrett explained the craziness of the past few weeks, and by the end of the night both were overwhelmed with joy and gratitude and humbled by the people who showed incredible support of their relationship, their proposal, and their future together."
Riiiiiiiiiiiiiiiiiiiiiiiiight??????? How stinkin' sweet is that?? We're beyond thrilled for Garrett and Megan, and it was such an honor to capture their story. Hopefully, you'll be seeing MUCH more of these two on the bloggy-blog since we'll be elbowing our way into shooting their wedding and tackling anyone else that even thinks about trying (that's a not-so-subtle hint Garrett…).
Love you guys!
Hugs,
Erin