Yesterday we featured the stunning church wedding ceremony of Michael and Jamie at St. Peter's Episcopal Church in Del Mar. It's so important to frame your wedding around what is most important to you, and for opera singer Michael, the music was a big deal. The church fit that reverently romantic bill perfectly.
For the reception, they chose the Rancho Bernardo Inn – an amazing San Diego venue with tons of romantic Spanish character. Jamie is a loyal and romantic woman with a firecracker spirit, so the sweeping grounds covered in olive trees hung with old-style lanterns fit their tradition-meets-whimsy wedding perfectly.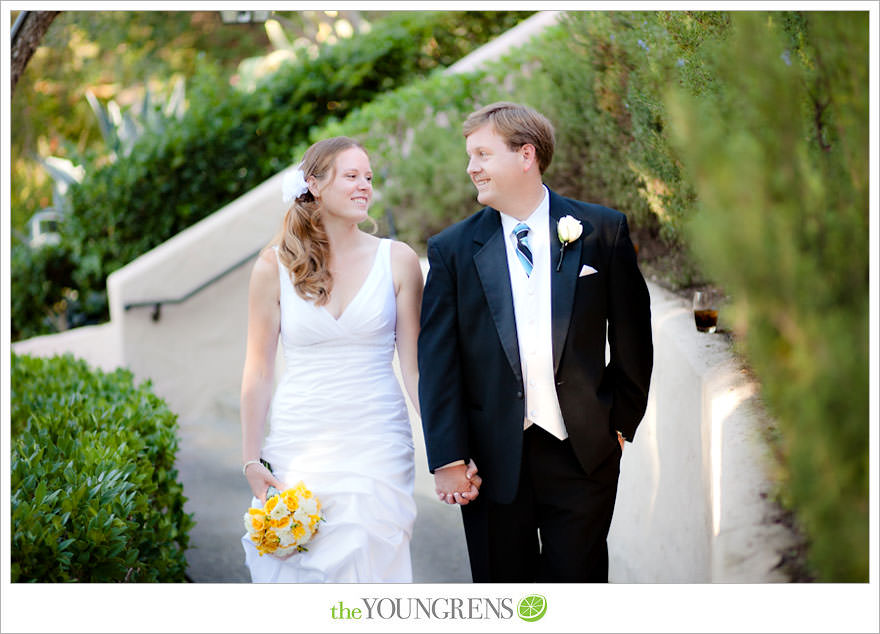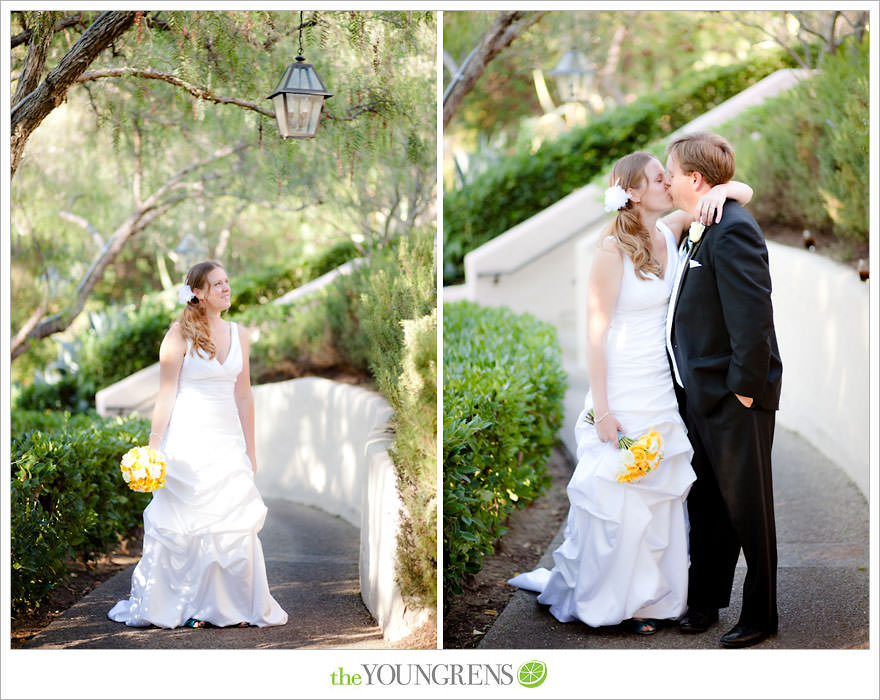 Love these ones! I could play in the olive trees and lanterns all day!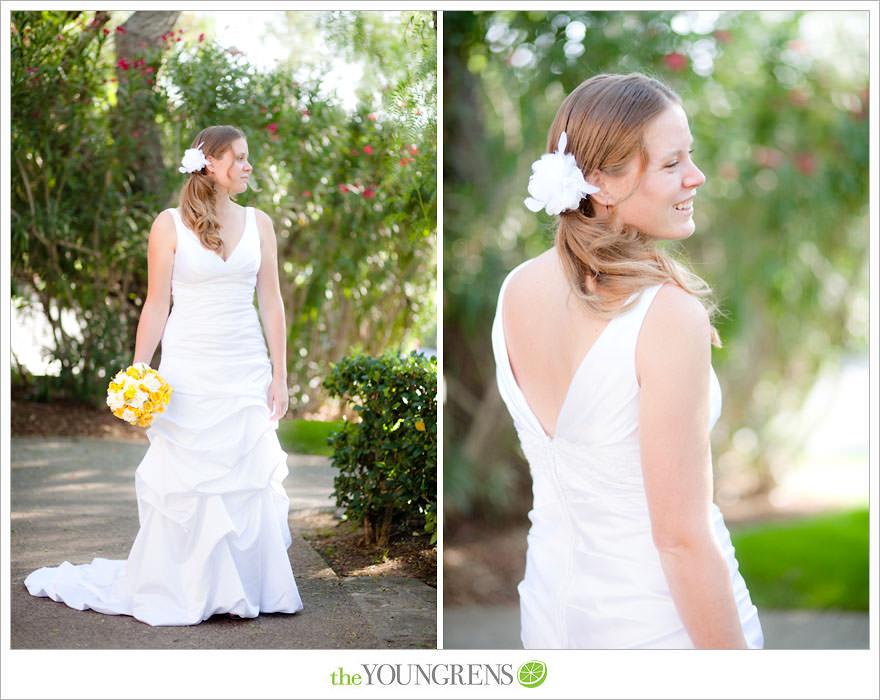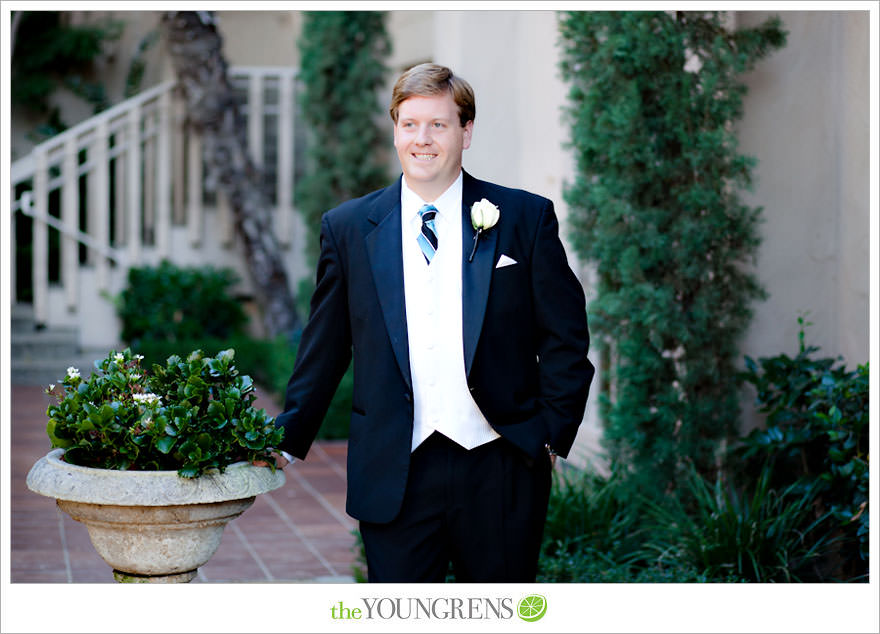 I really liked Michael's tie – apparently he bought it a few years ago and not only did it fit with the wedding perfectly, it's one of his favorites.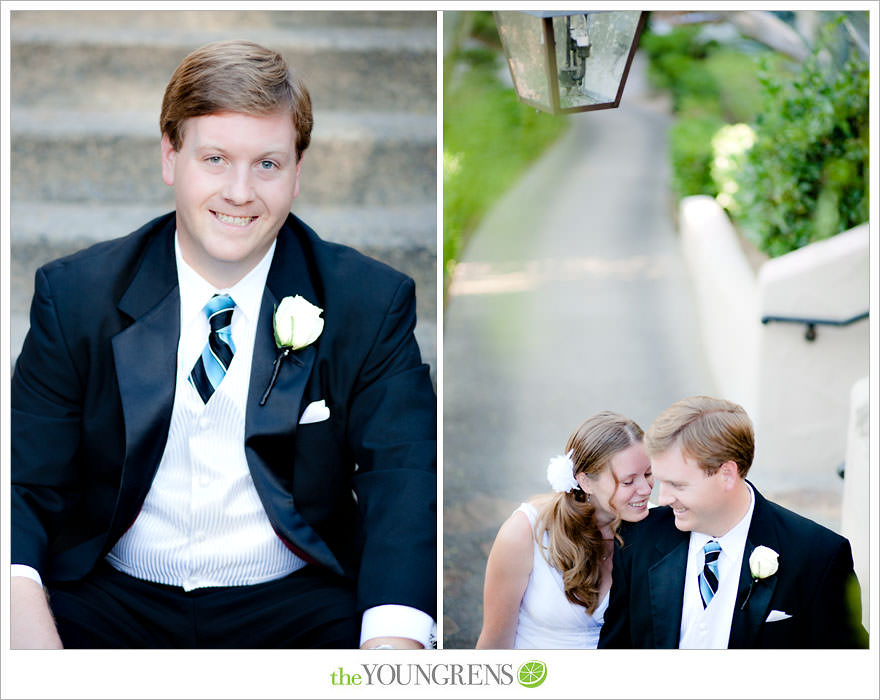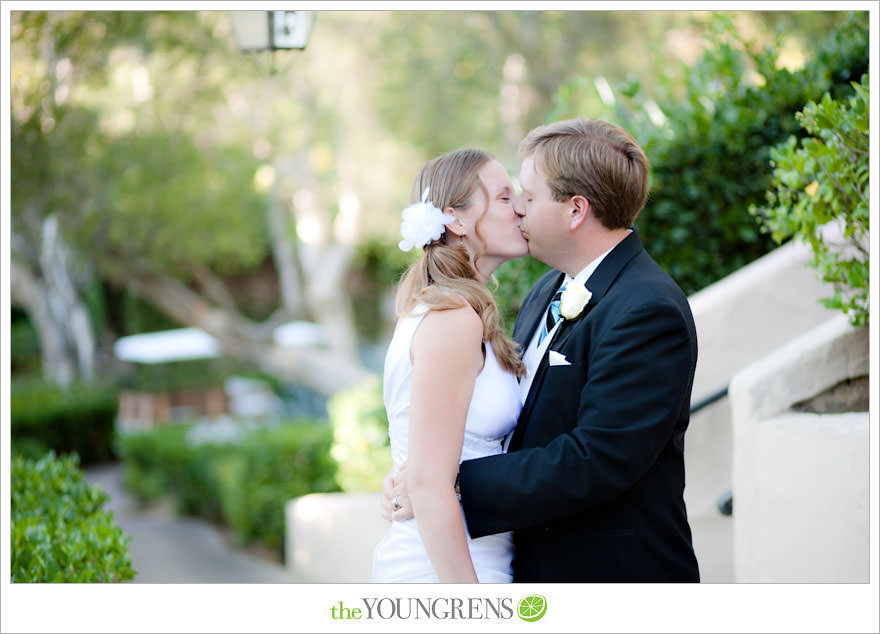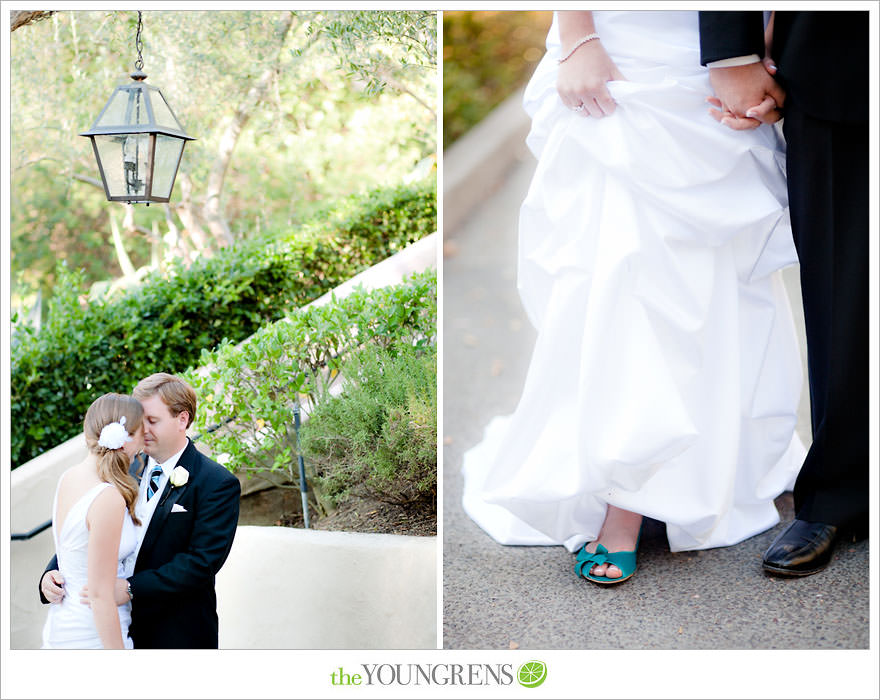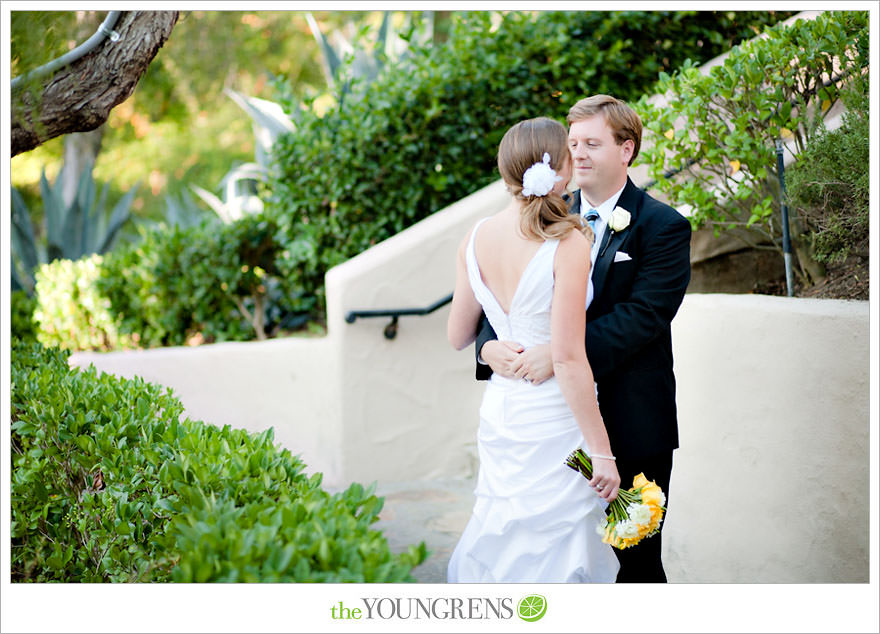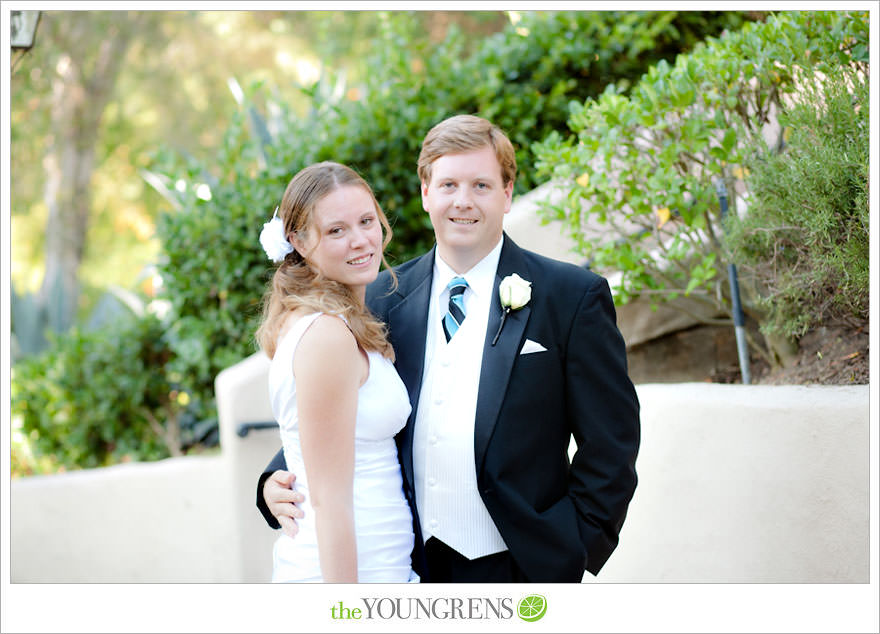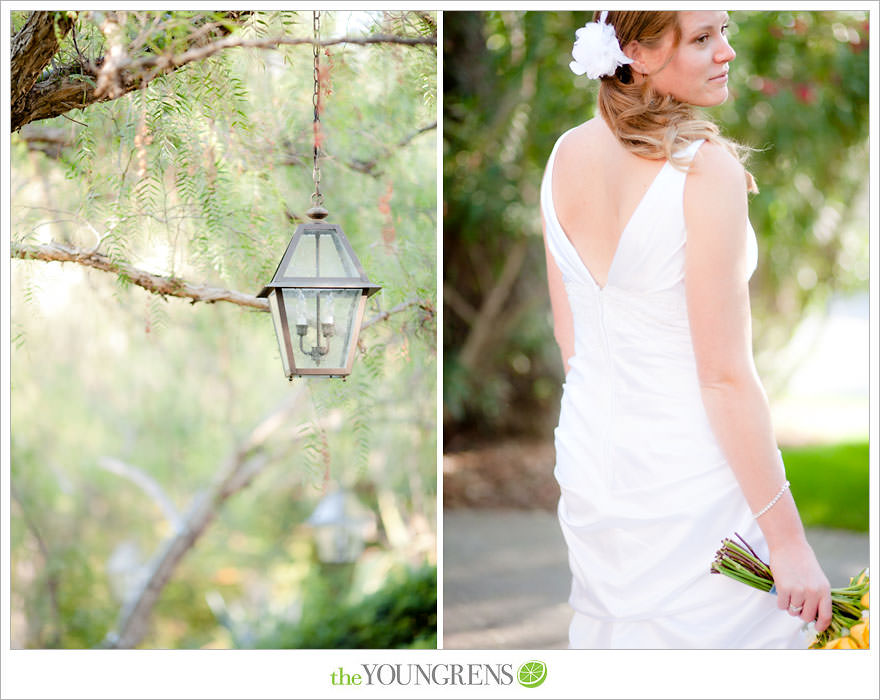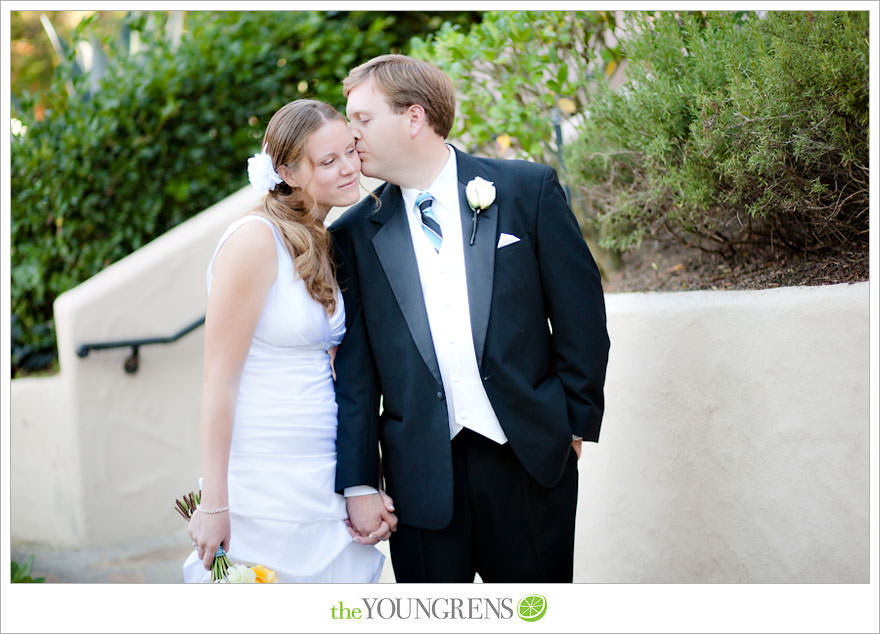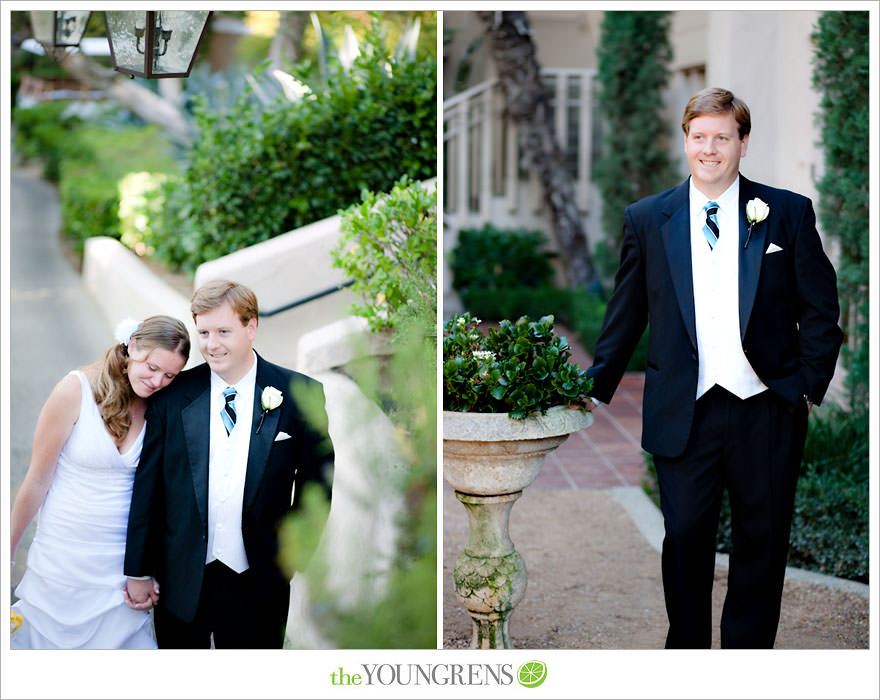 One of my favorites. These guys are so sweet and cute!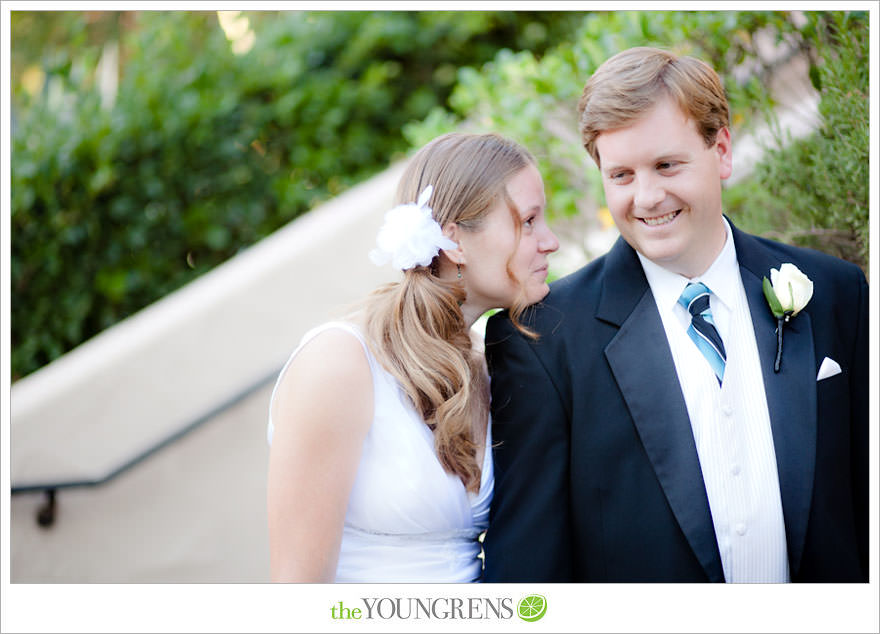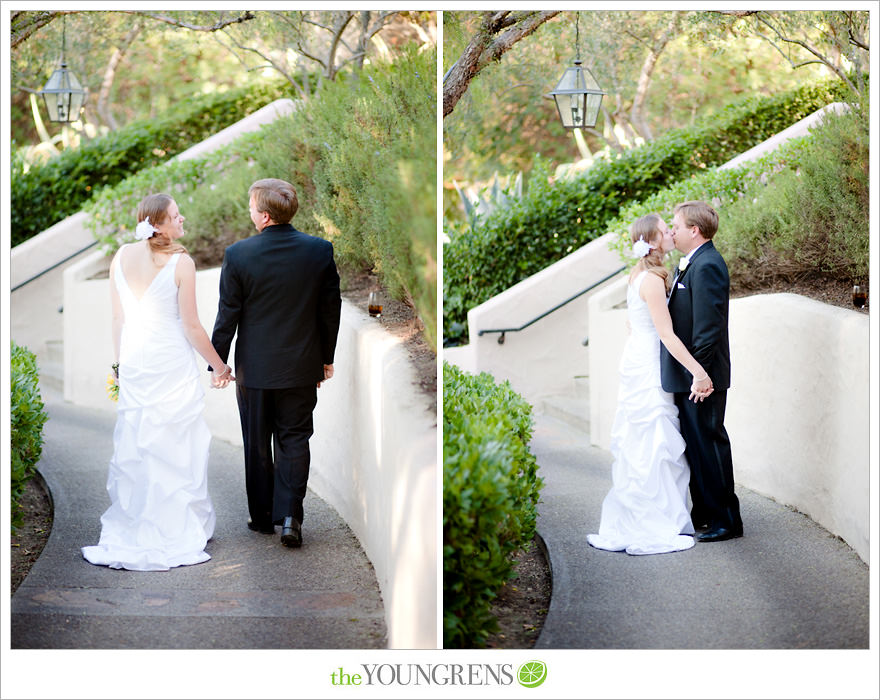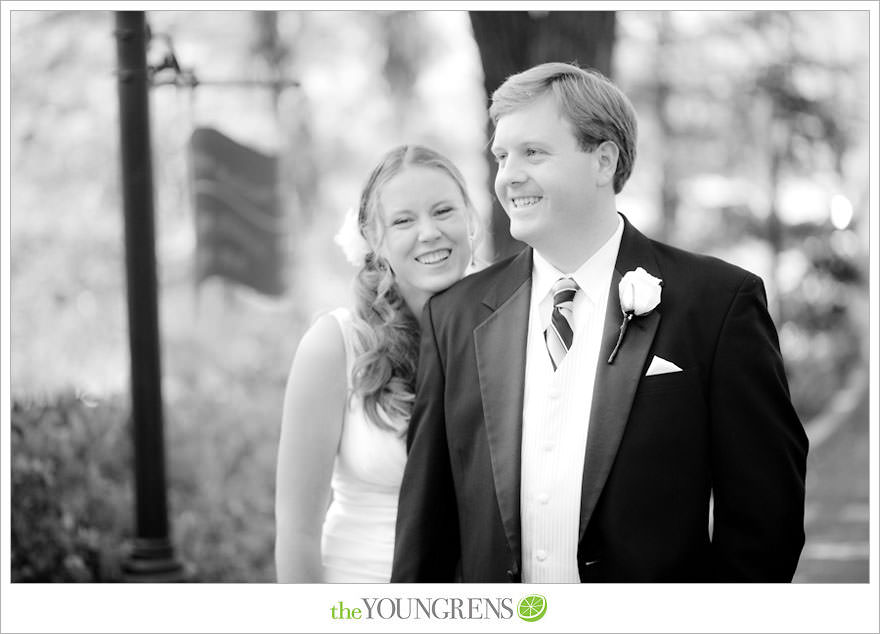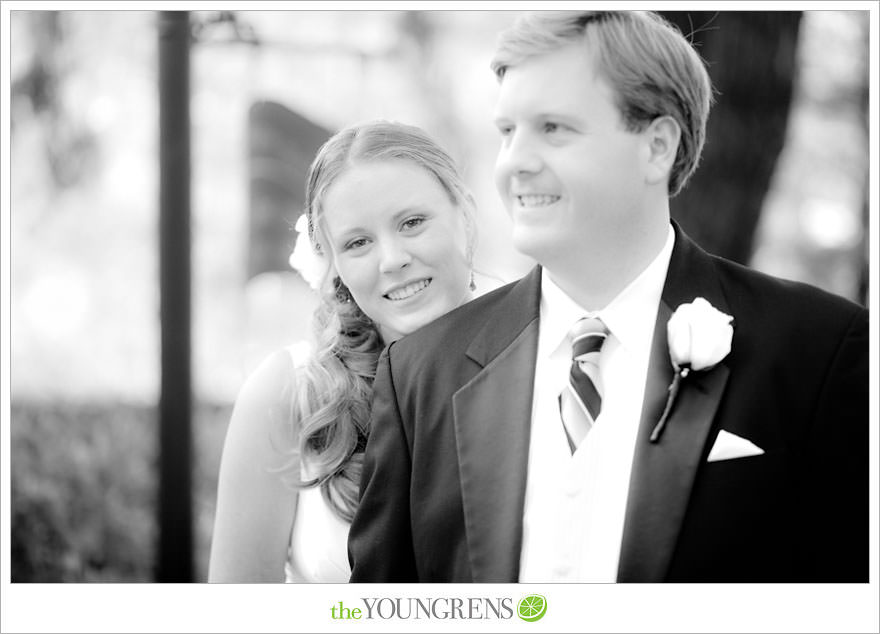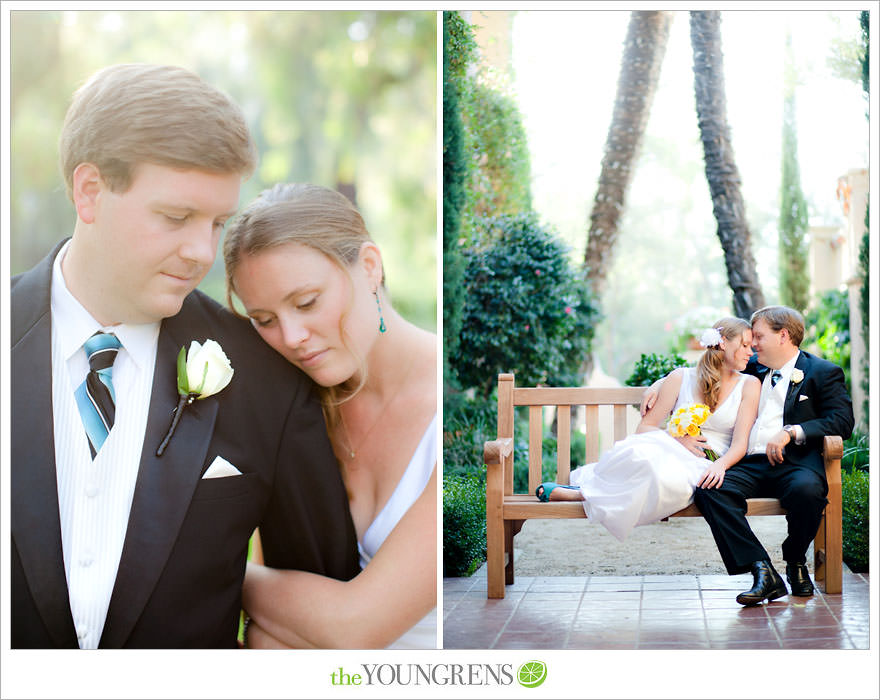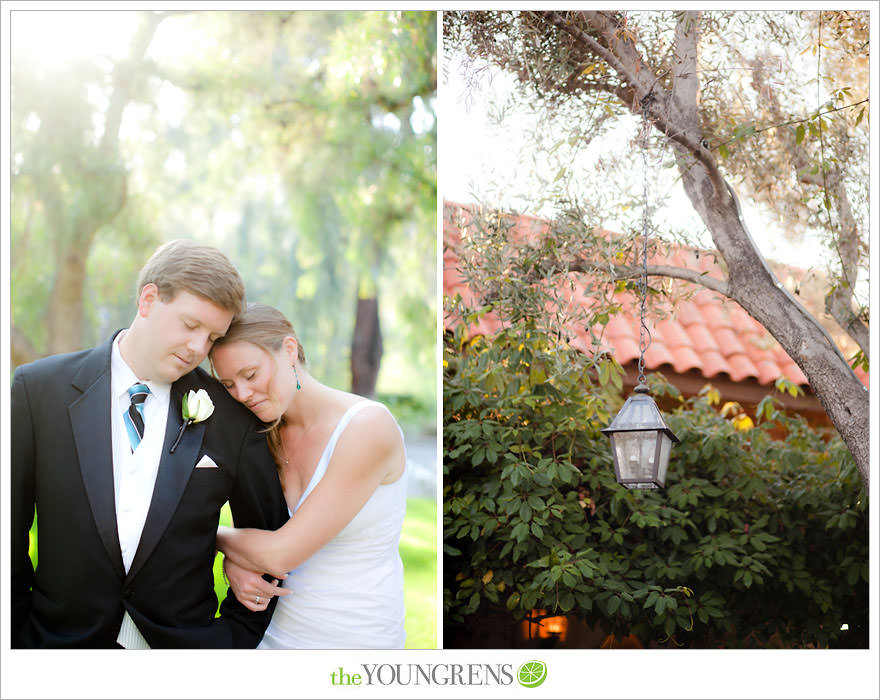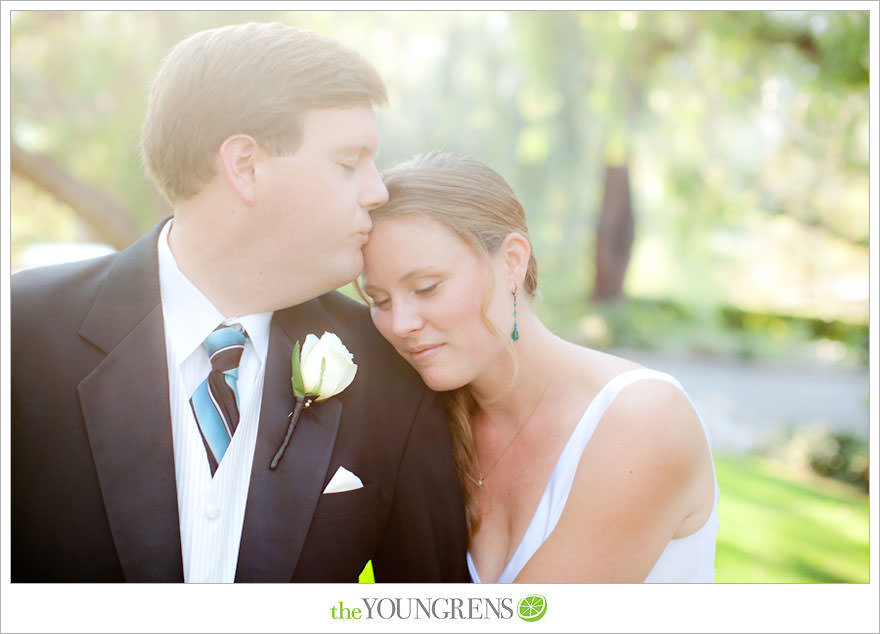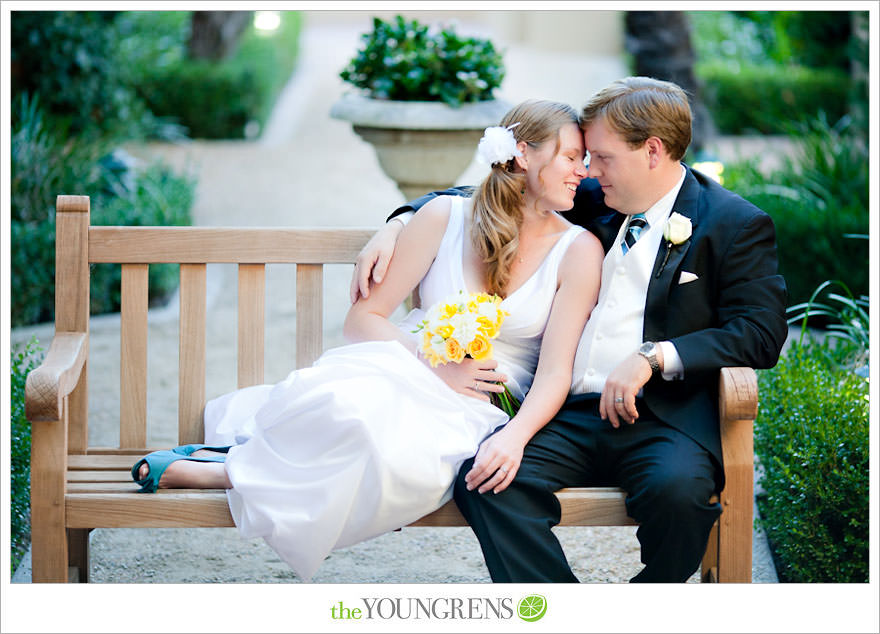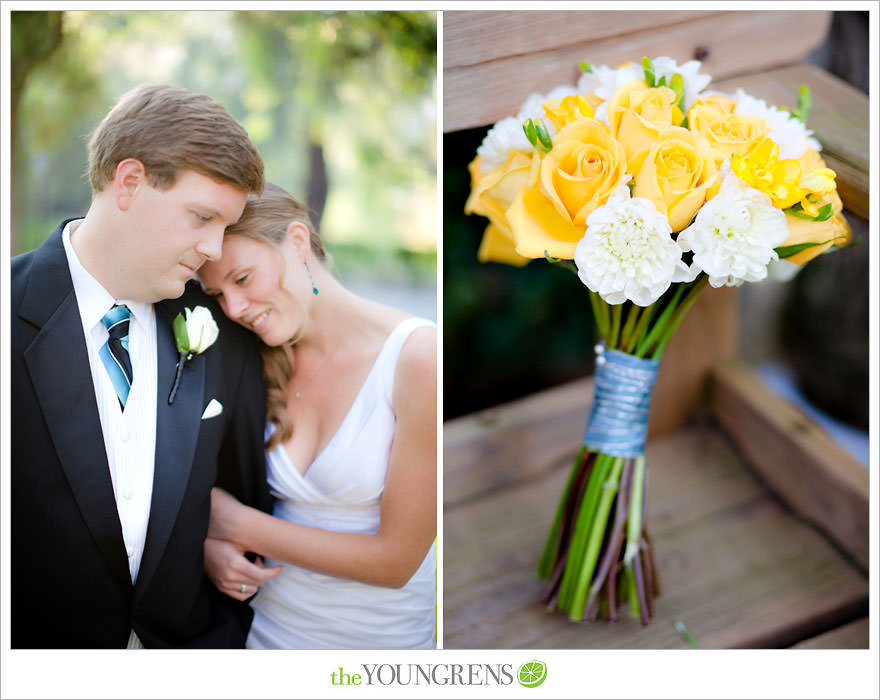 The girls got to wear a dress of their choosing, as long as it matched the teal color palette. This helped every girl look stunning!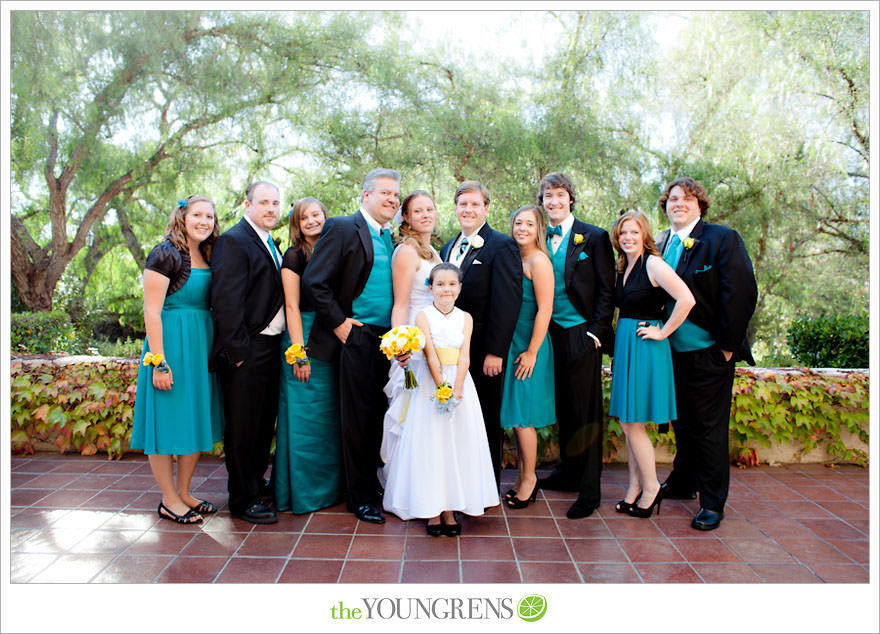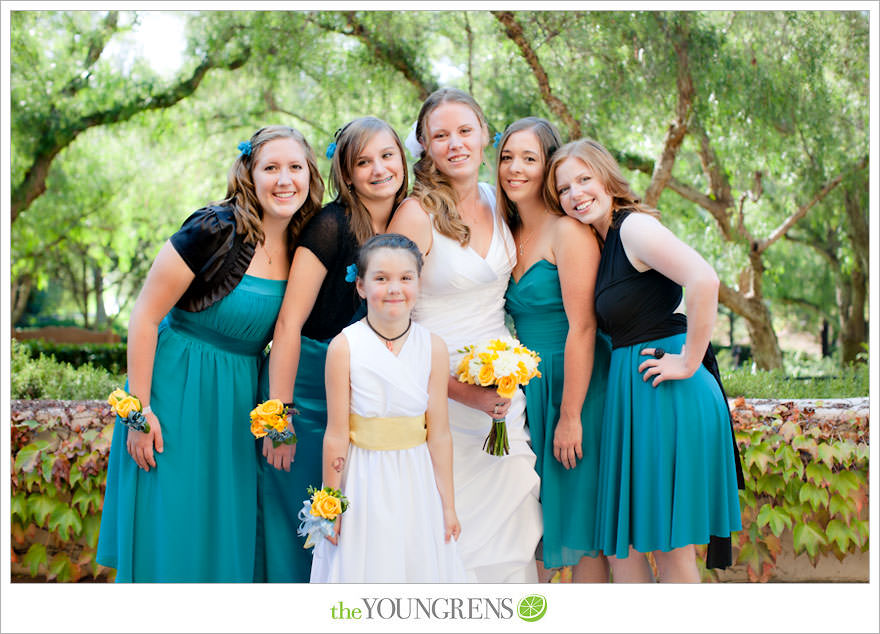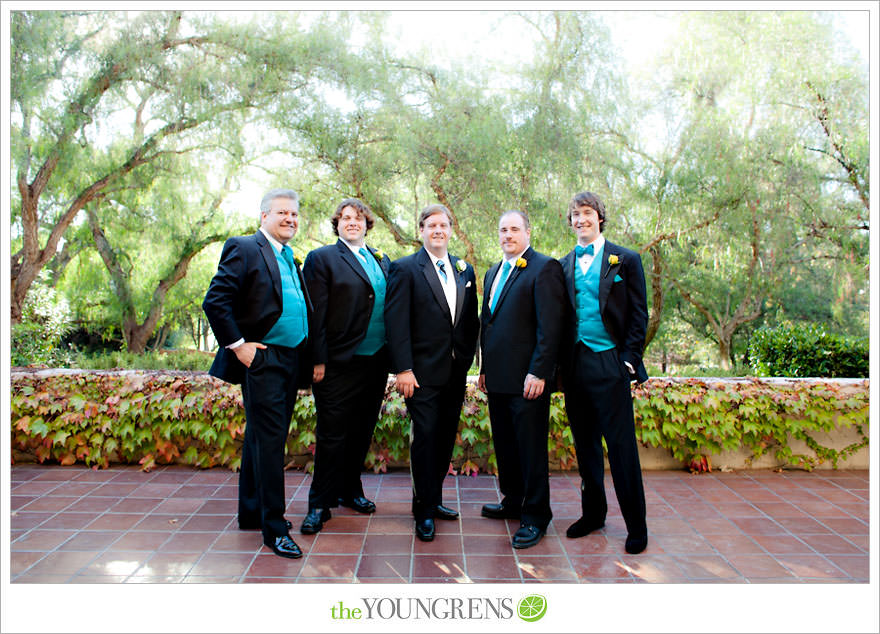 The girls also wore teeny hair pieces to tie everyone together – so cute!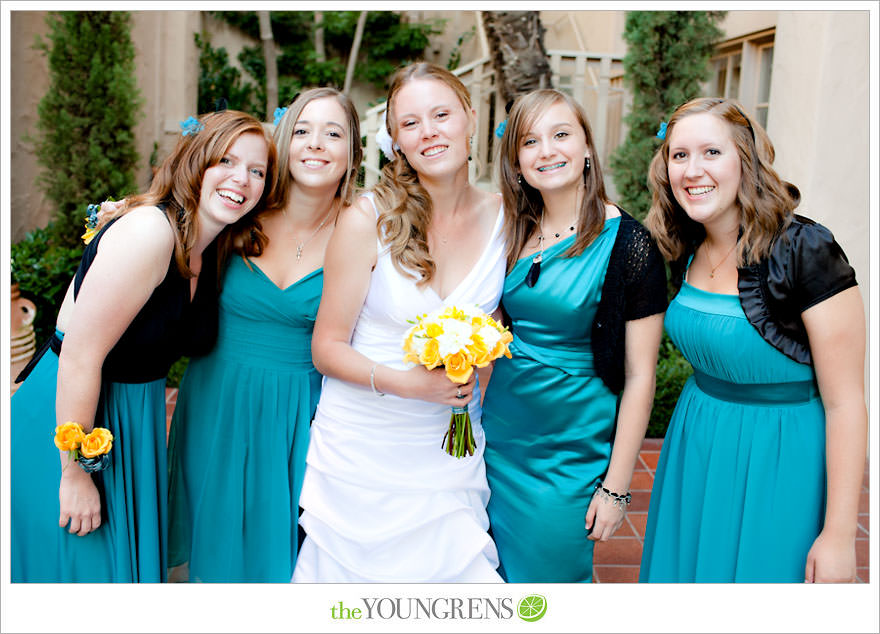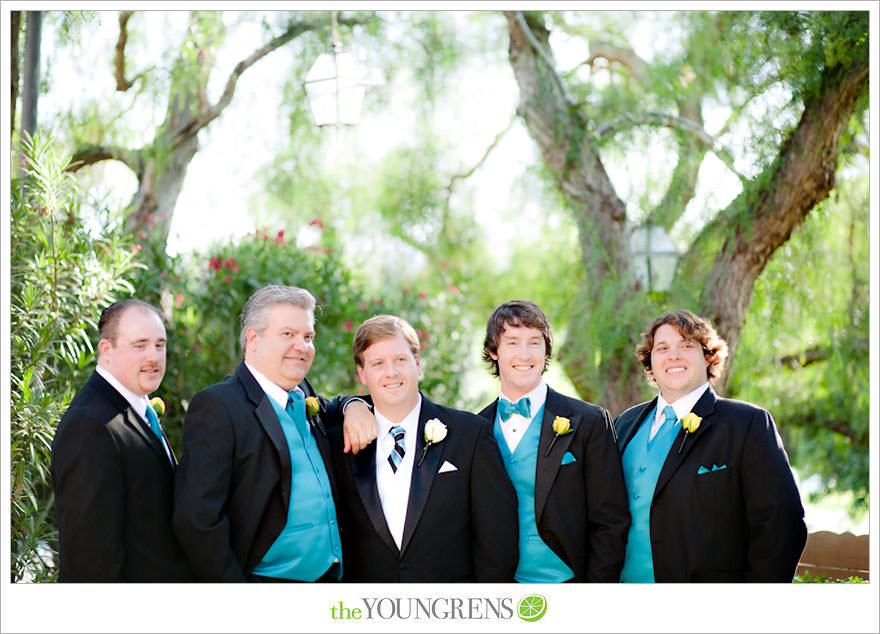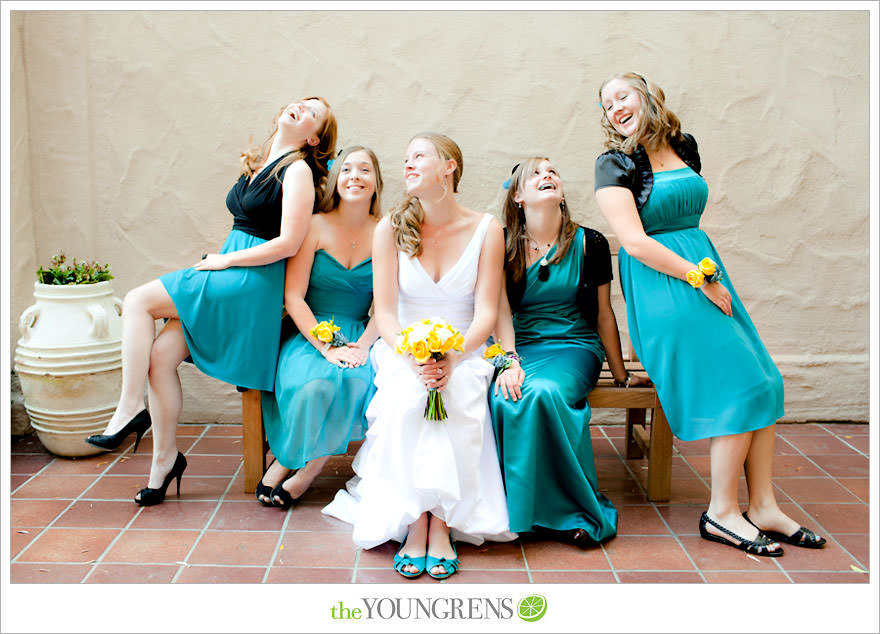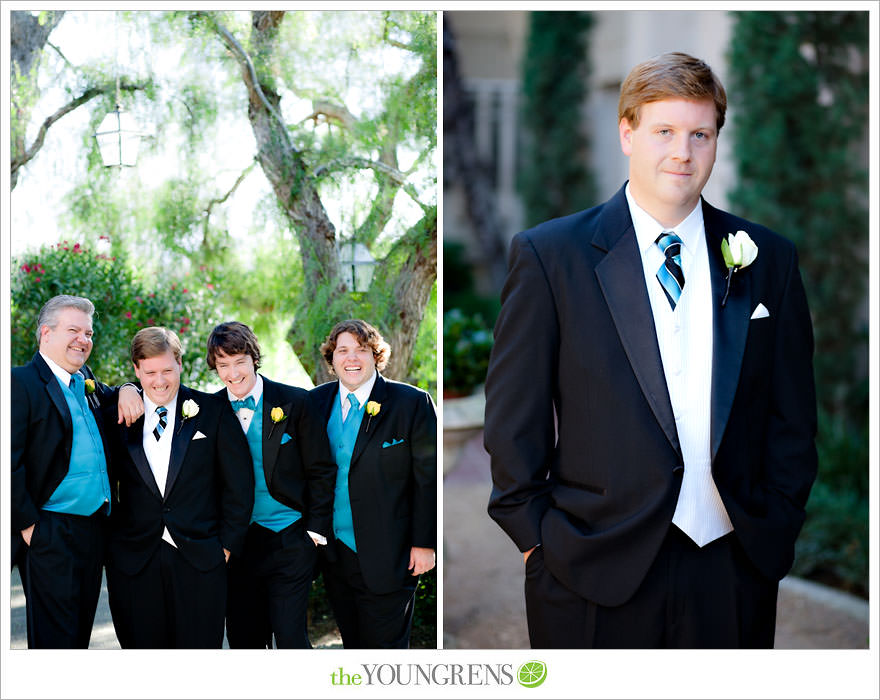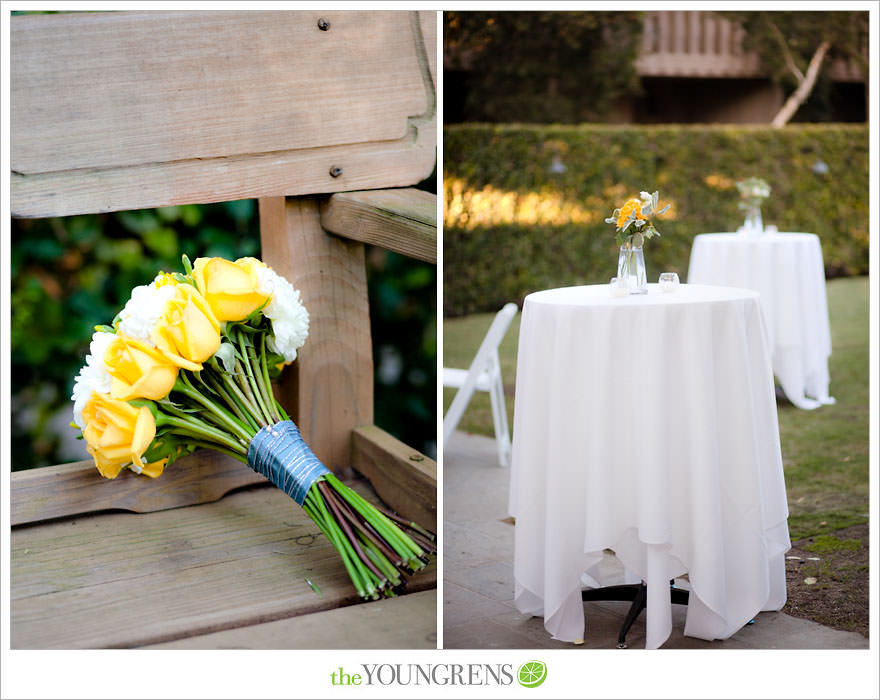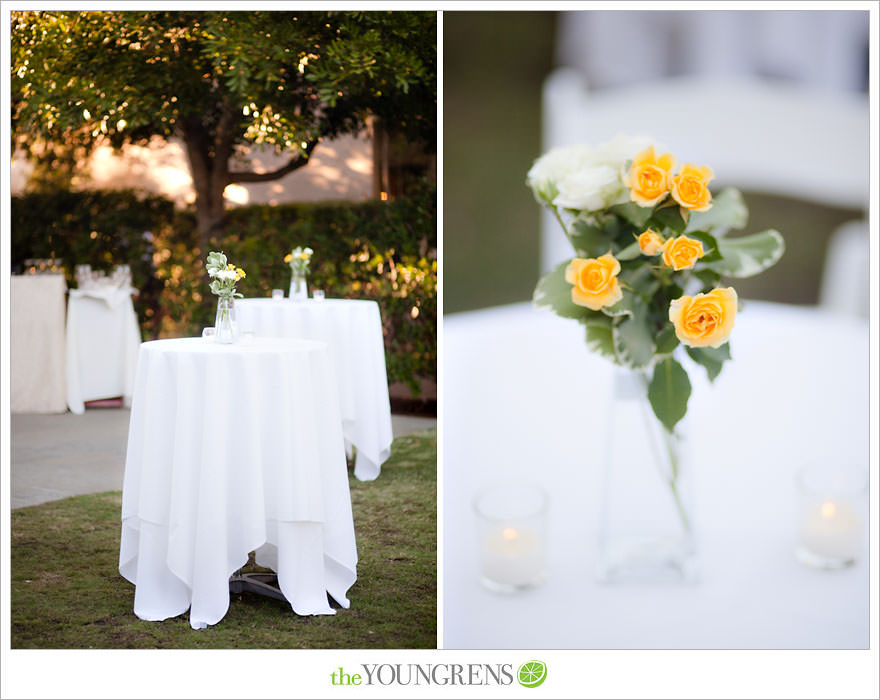 The reception kicked off with some sweet toasts…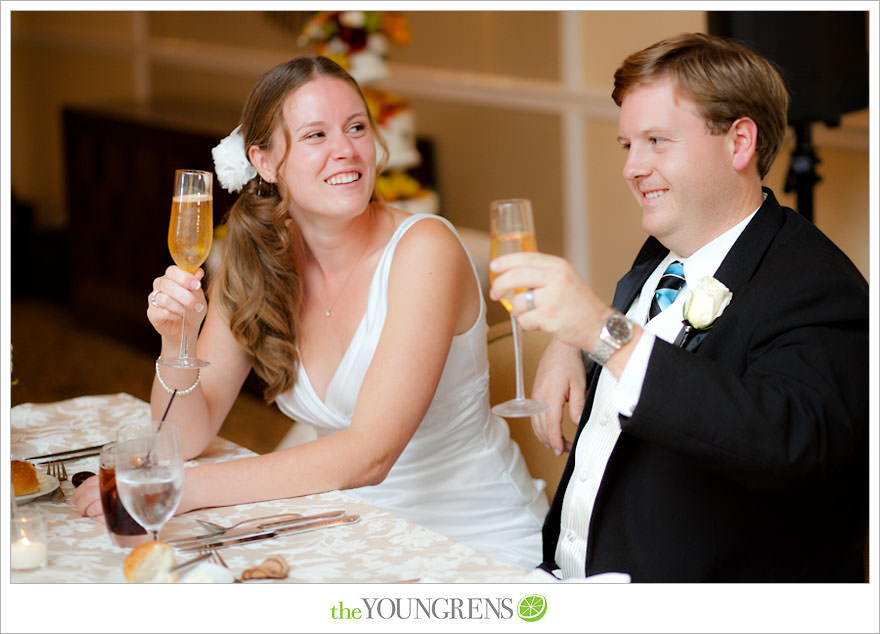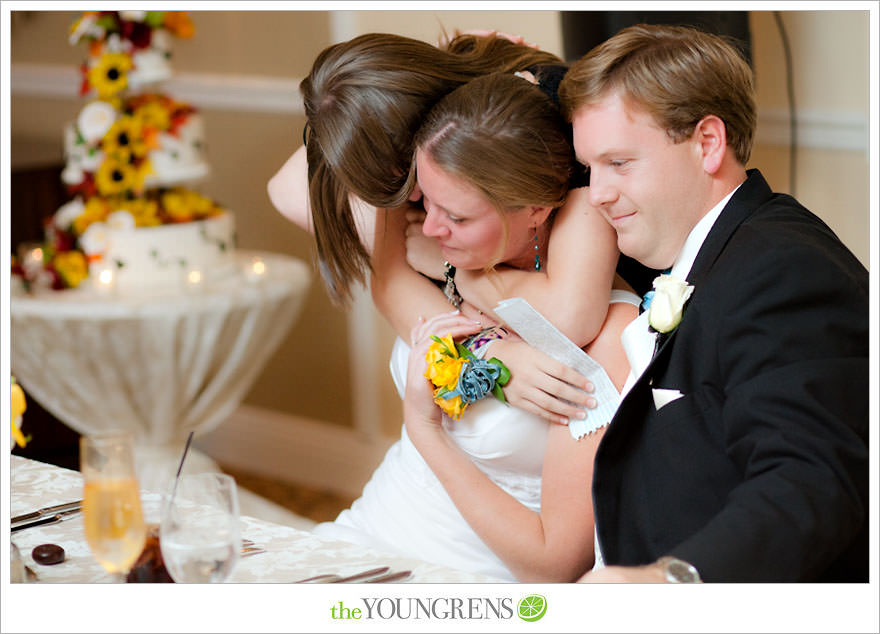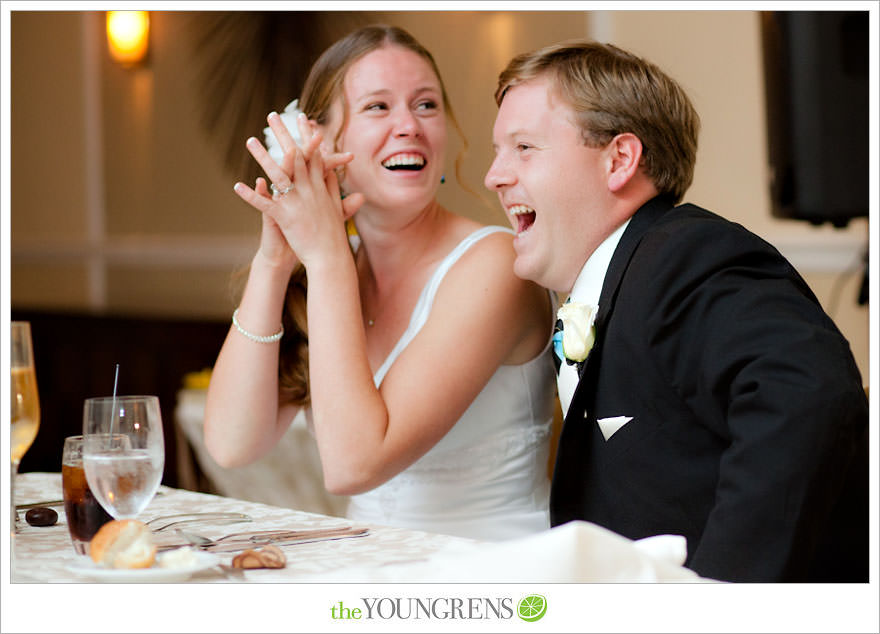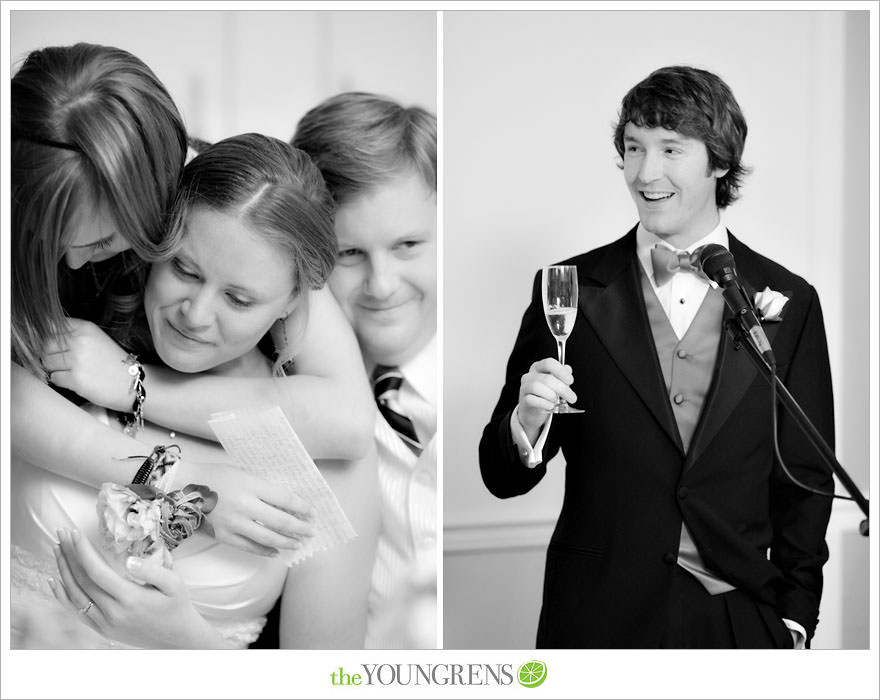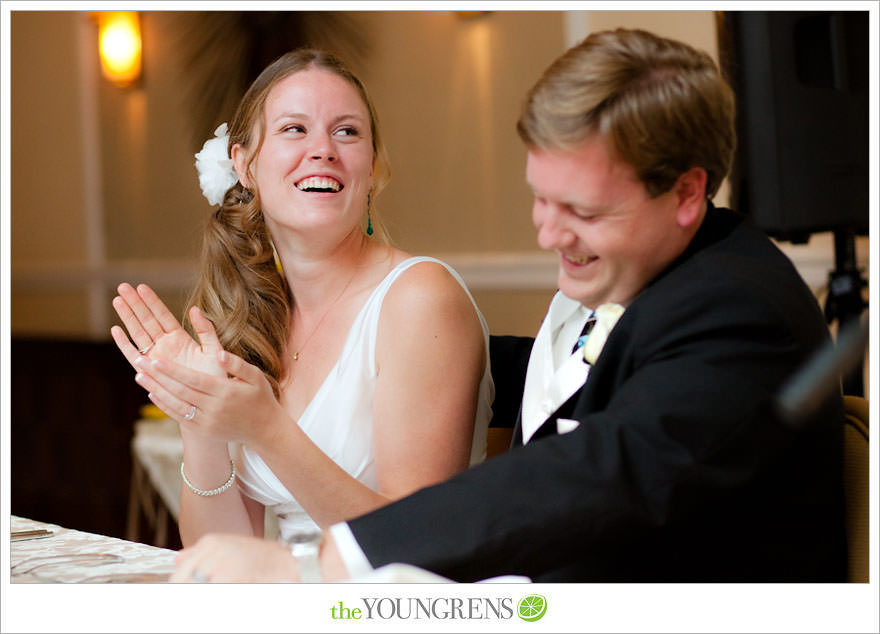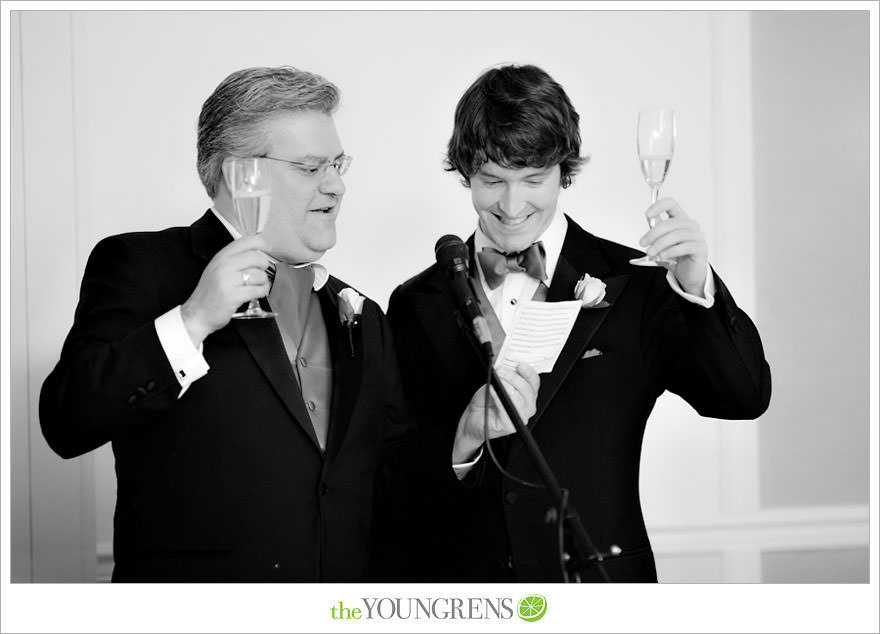 And a romantic first dance.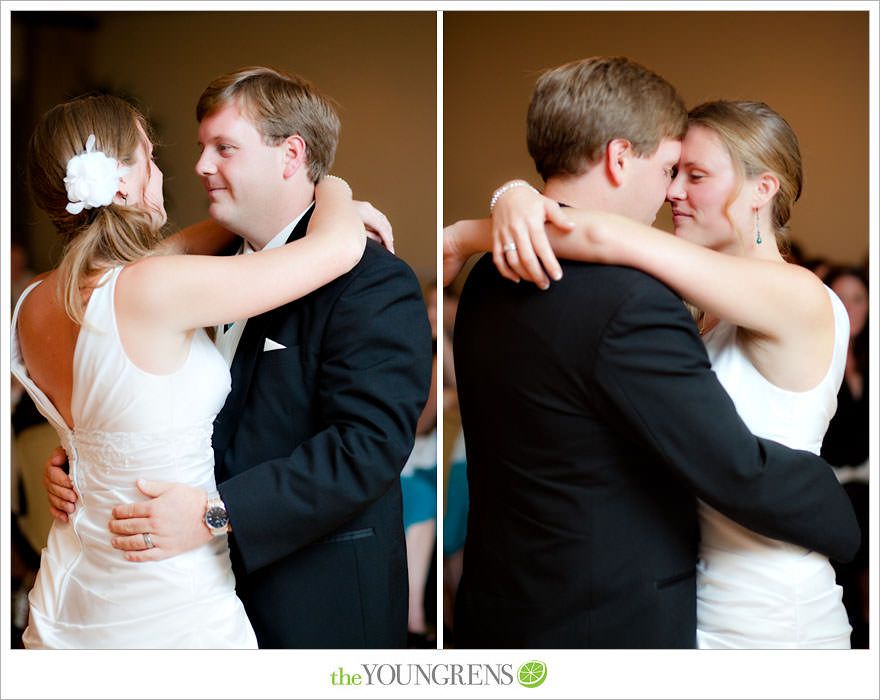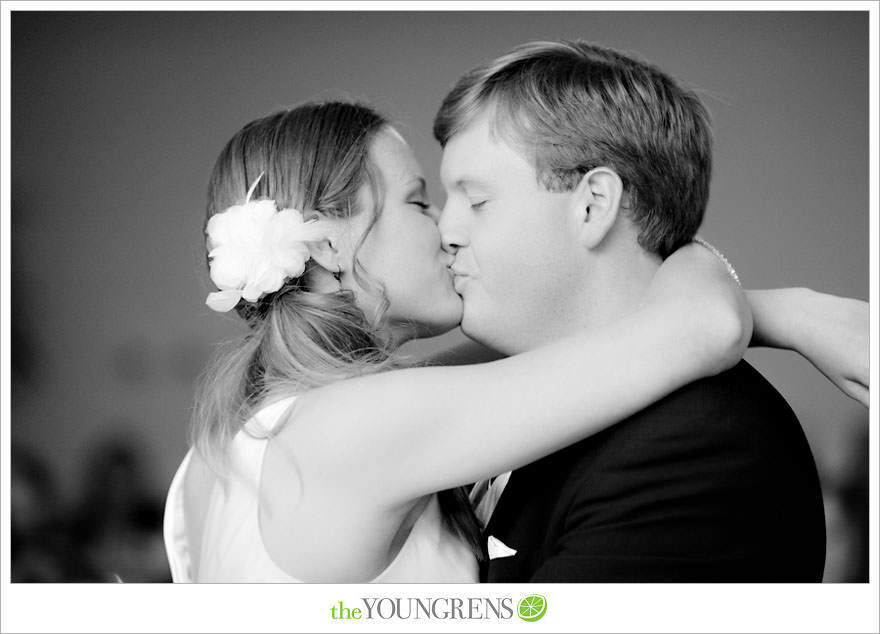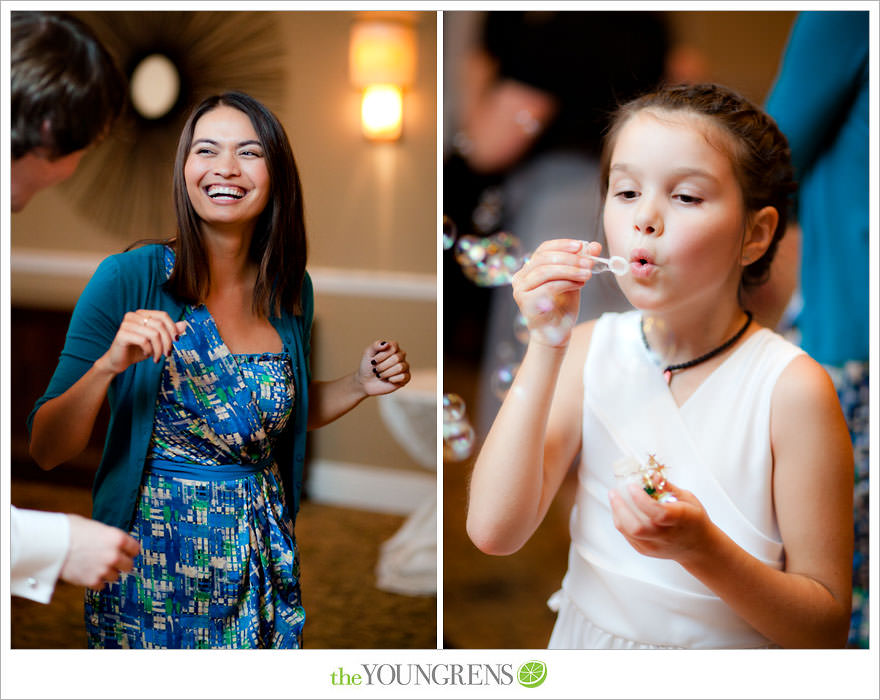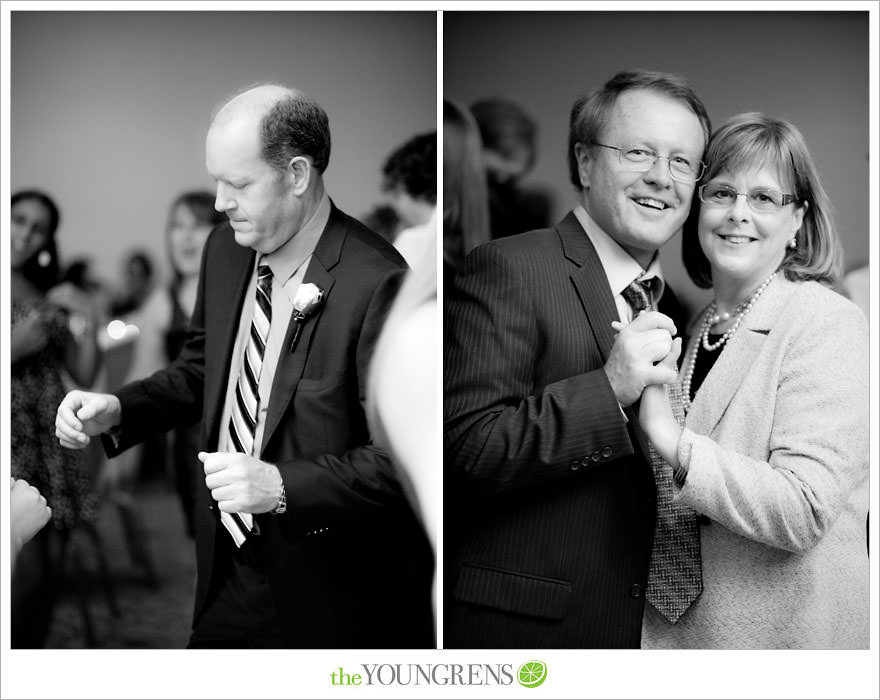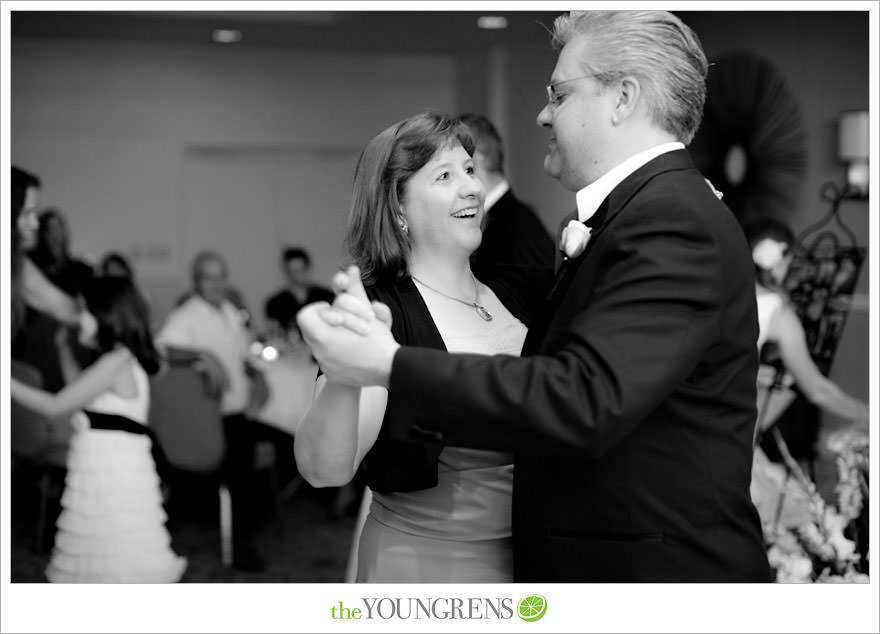 As Michael said during the reception, he couldn't go through the night without singing to his bride on their wedding day, so he sang "There But for You Go I" from the musical Brigadoon.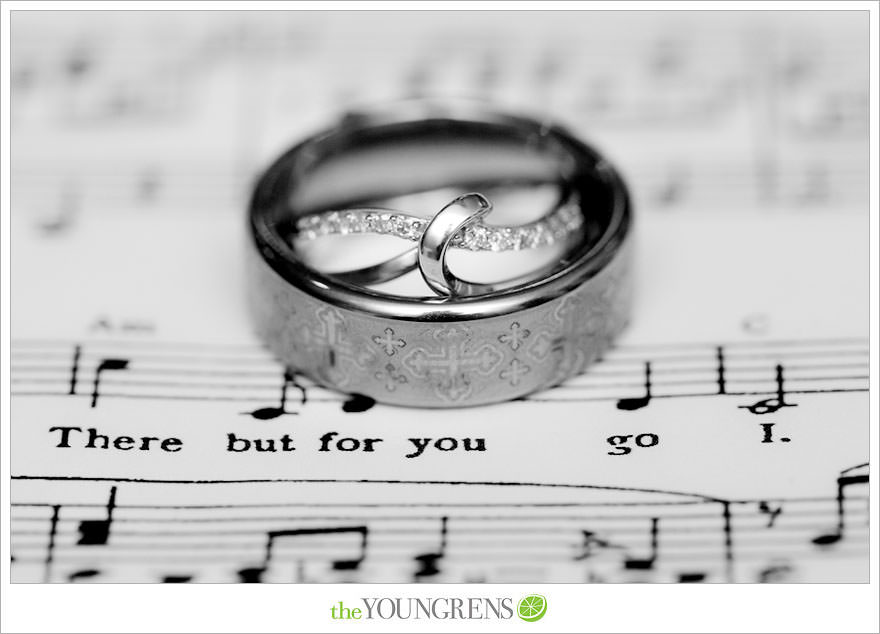 The lyrics to this song are so romantic and amazing that I couldn't help but share them here. I mean seriously, every girl would DIE to have their groom sing this to them on their wedding day! Right ladies??
"There But For You Go I"
This is hard to say, but as I wandered through the lea,
I felt for just a fleeting moment that
I suddenly was free of being lonely.
Then I closed my eyes and saw the very reason why.
I saw a man with his head bowed low.
His heart had no place to go.
I looked and I thought to myself with a sigh:
There but for you go I.
I saw a man walking by the sea,
Alone with the tide was he.
I looked and I thought as I watched him go by:
There but for you go I.
Lonely men around me, trying not to cry,
Till the day you found me, there among them was I.
I saw a man who had never known a love that was all his own.
I thought as I thanked all the stars in the sky:
There, but for you, go I.
Michael and Jamie: It's nothing but good times and tons of laughs when we hang out with you guys. We're SO EXCITED to finally hang out as married friends – we've got a bottle of wine ready to celebrate and can't wait to cheers to a long life of love and marriage with you two!
Hugs,
Erin
---
Wedding Photography : The Youngrens | Ceremony Location : St. Peter's of Del Mar | Reception Location : Rancho Bernardo Inn | Make-Up : Mimi Loran | Flowers : Wholesale Flowers and Supply | Hair Pieces : Michele Ma Belle | Catering : Rancho Bernardo Inn | Cake : Edelweiss Bakery
---