Jeff and I are in San Francisco for two weeks. Why? To dream.
Well, and to work our butts off. We're not shooting much in the next few months, so we're taking two weeks during our wedding off-season (January to March) to work on those projects that have taken a serious back burner status during the rest of the year. The kinds of projects that will be instrumental in moving our business toward that 'this is what I want my life to look like someday' dream. Right now, that point is just a hazy cloud, but these two weeks will be HUGE in focusing that cloud into reality.
Jeff and I have said it before – when you're in charge of business development, you need to give yourself time to, well, develop. But dreaming is no easy penny to chew. It's a big 'ol pile of early mornings, late nights, coffeeshops, laptops, and long hours in between. In other words, dreaming is tough work. Buh-lieve me.
But before we dove into the work, we had to take a day to explore one of our most favorite cities. I went on a bike ride through San Francisco and across the Golden Gate Bridge this past summer while visiting some girlfriends, and it wasn't just a highlight of that trip, it was a highlight of LIFE. So I had to take Jeff on the same bike ride when we came back for this trip. These photos were taken after conquering the bridge and Jeff was making fun of me for never taking off my helmet, even when we stopped and walked around.
I looked like I was a 'special' kid that needed to wear a helmet everywhere. All I have to say is safety first people. Well, and the helmet kept my head warm…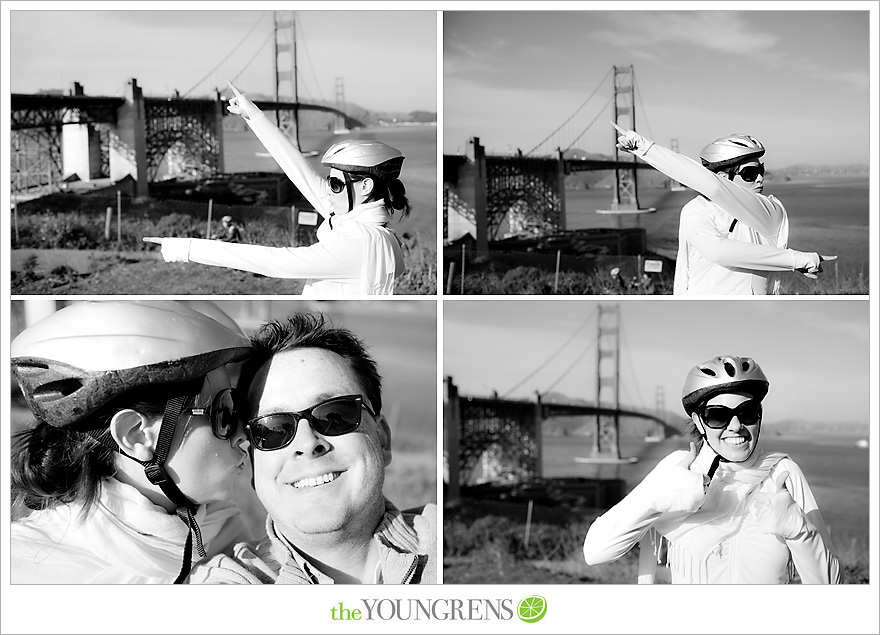 Happy dreaming everyone!
Hugs,
Erin