I simply can't believe that summer is coming to a close already. My teacher friends are back in school and Labor Day is coming up in just a short week. How did this happen so quickly? I feel like I just got in the groove of shorts, sunscreen, hats, and pools and now the summer daze is over. But I have to remember that I live in San Diego, and while the summer months might be behind us, the warm sun is still going strong and the weather is about to be perfect for early fall backyard dinners.
I found this recipe a while ago while perusing my beloved Martha Stewart Magazine, and I'll be pulling this dish out particularly for Labor Day and throughout the fall months. I have to say that I was skeptical at first that this would actually work – broiling pork loin for just a few minutes in the oven. But not only did the meat taste juicy and fantastic, the combo of the broiled pineapple, roasted scallions, and ginger-lime sauce over rice was MAGICAL. Those that love a hit of intense spice tossed a few Thai chiles on top and were in Southeast Asian heaven!
The ingredients are simple and you definitely need a high heat oil like Safflower oil. Otherwise, there'll be smoke coming out of your broiler in minutes!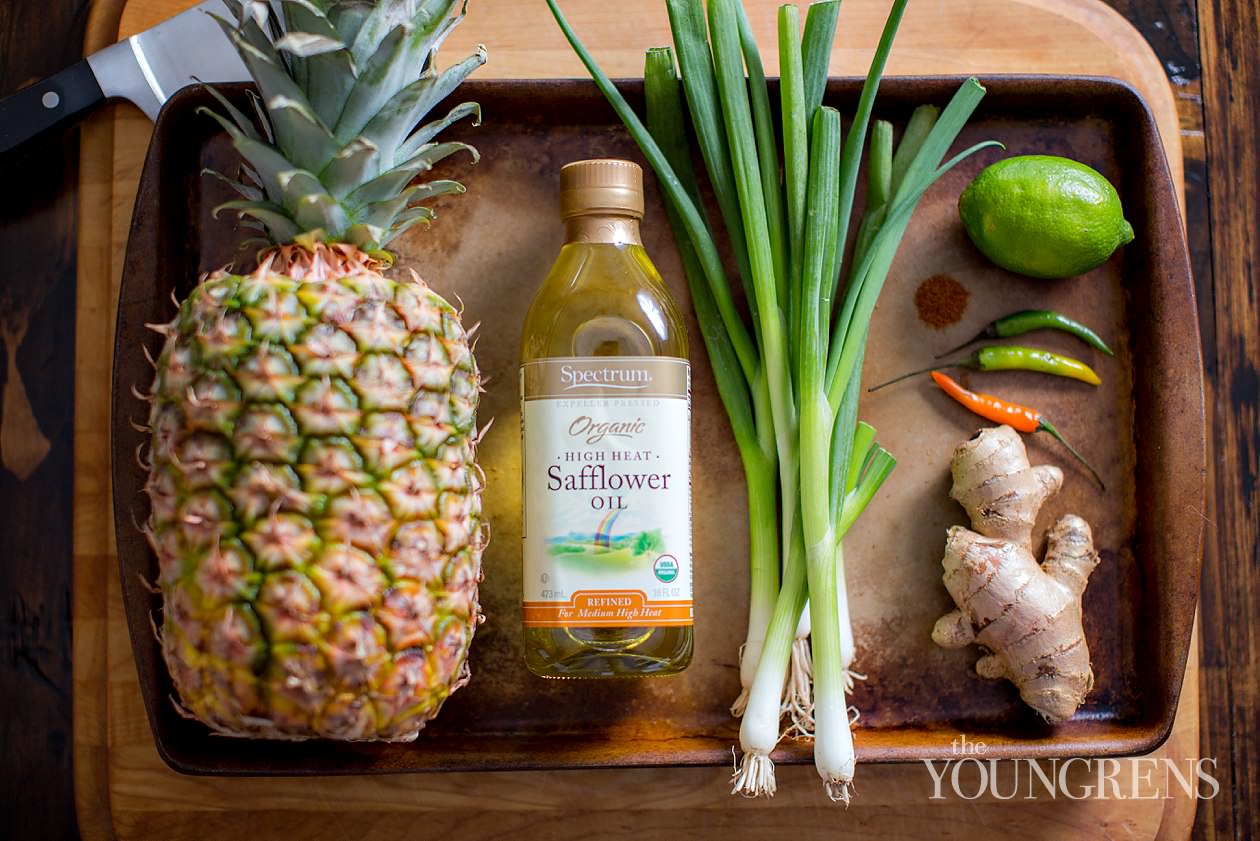 Fresh ginger is key along with fresh lime juice, pineapple, and scallions.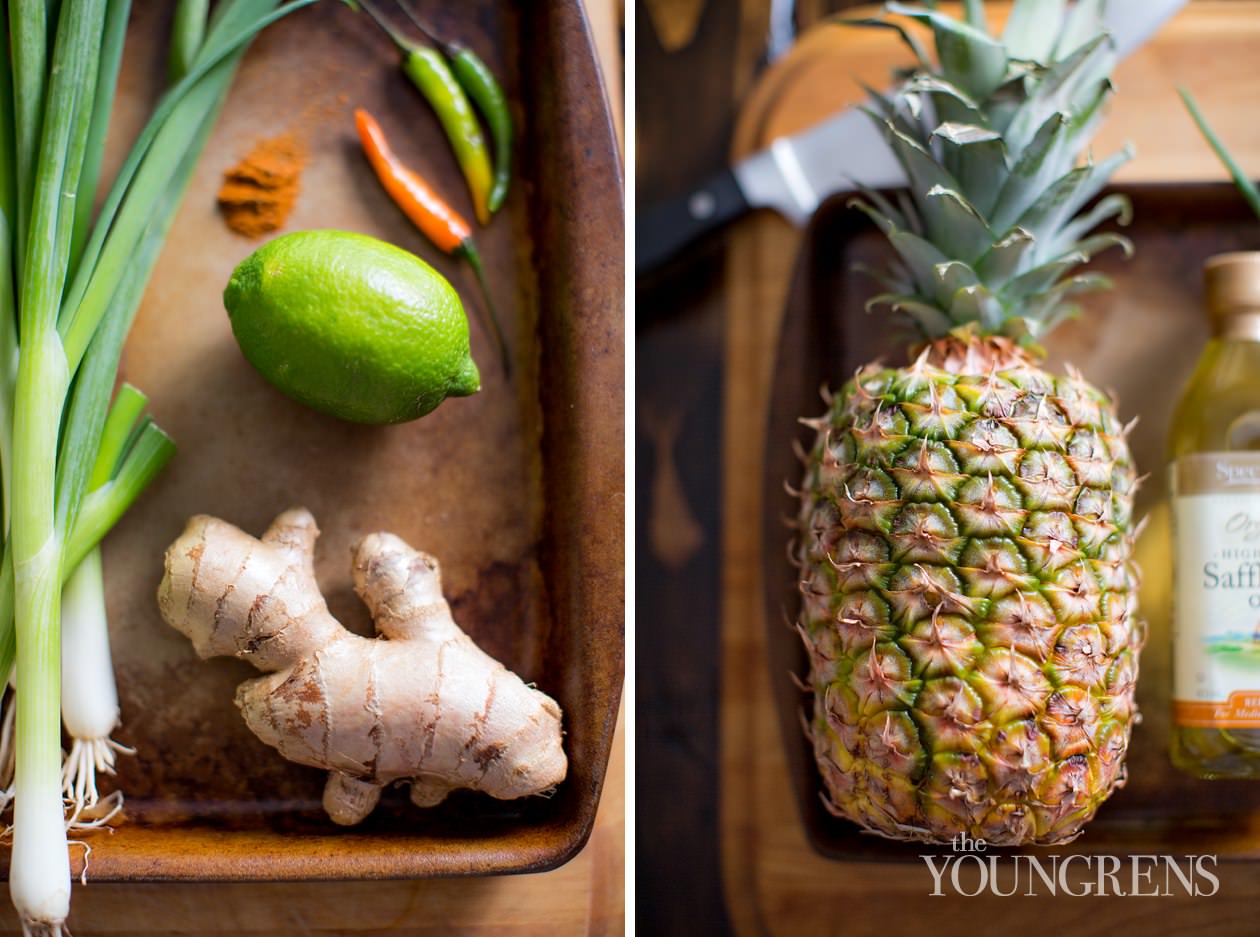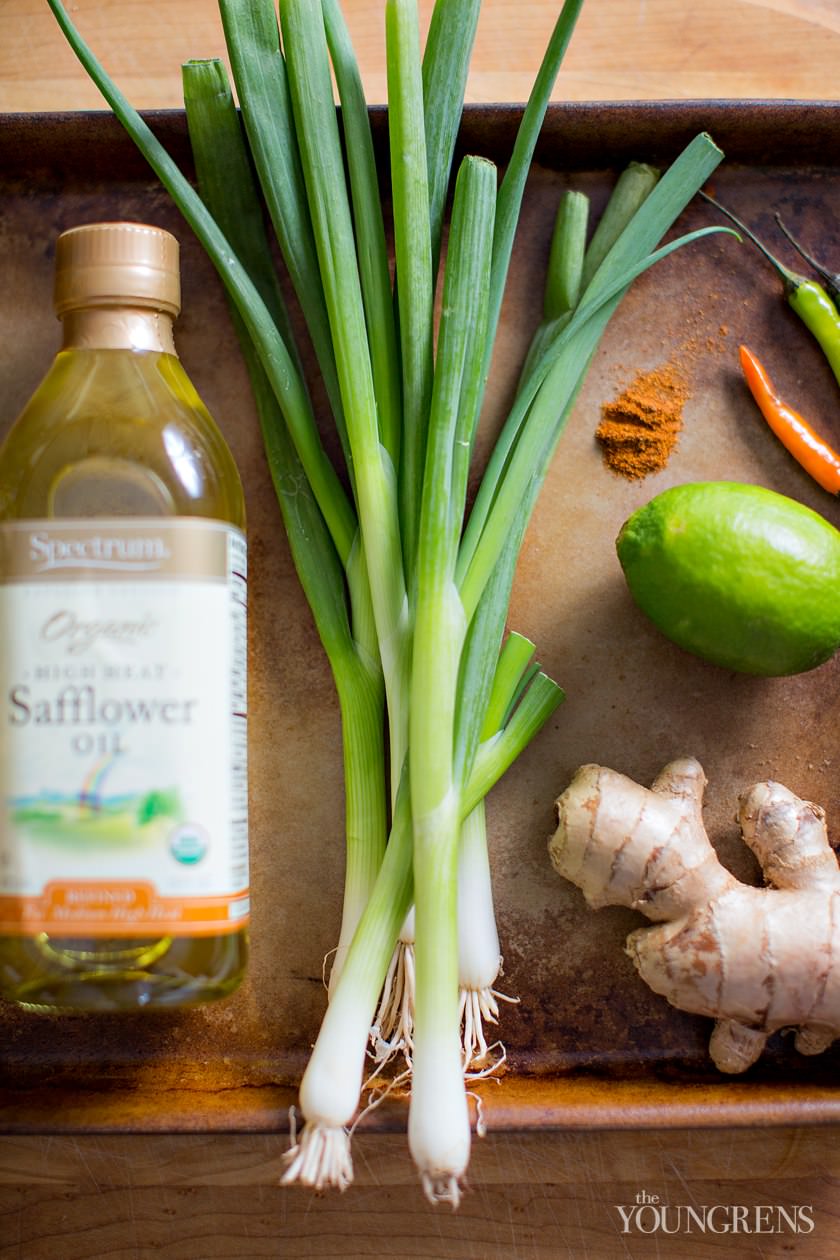 Before starting anything, I prepped all of the ingredients since the cooking moves quickly, and started the rice in the rice cooker. First, trim the scallions, squeeze the lime juice, slice up the pineapple and Thai chiles, and dice the ginger.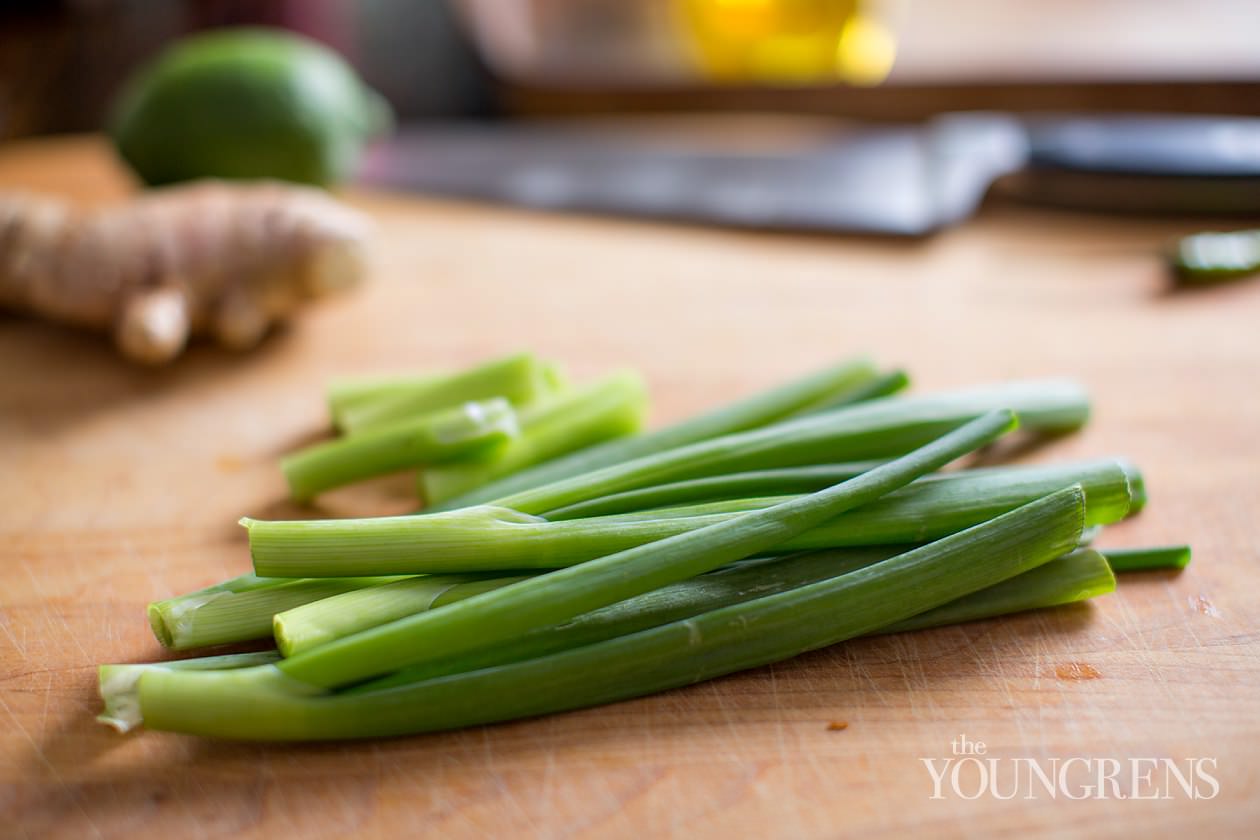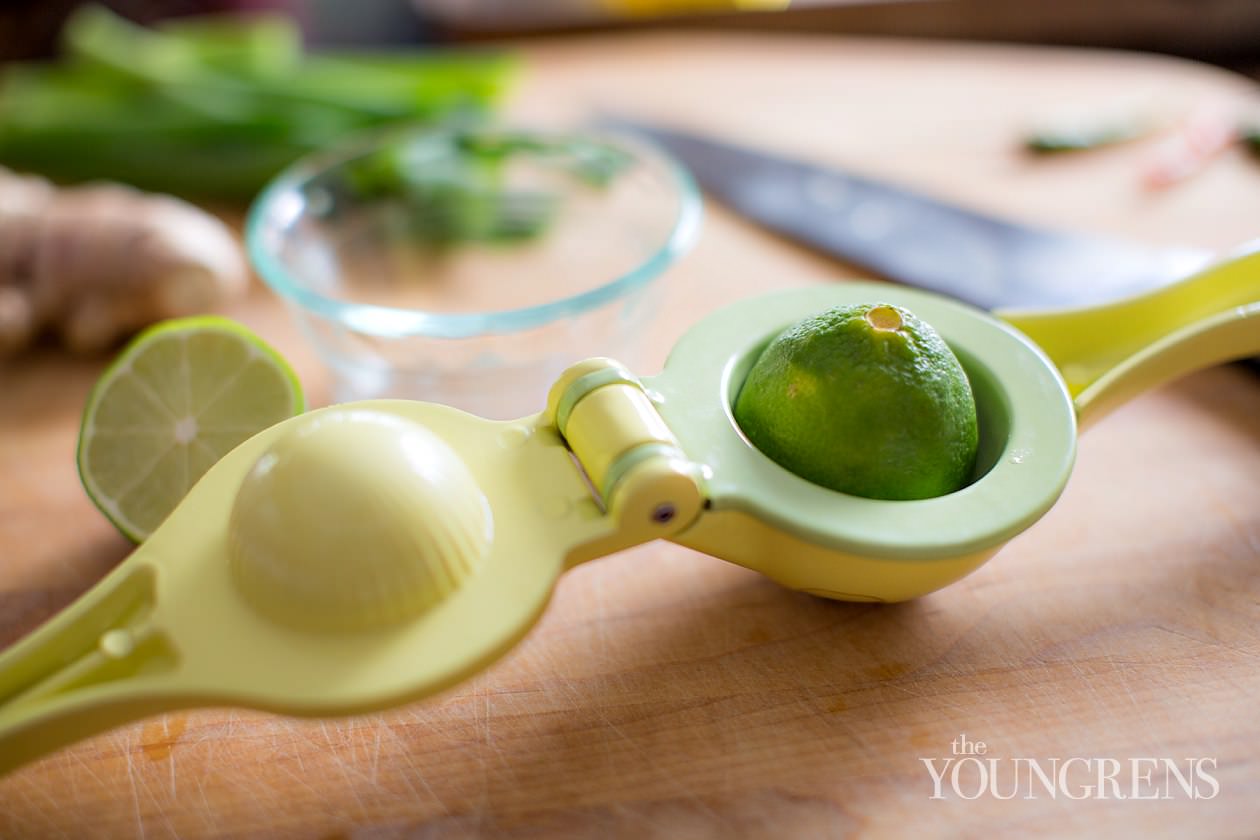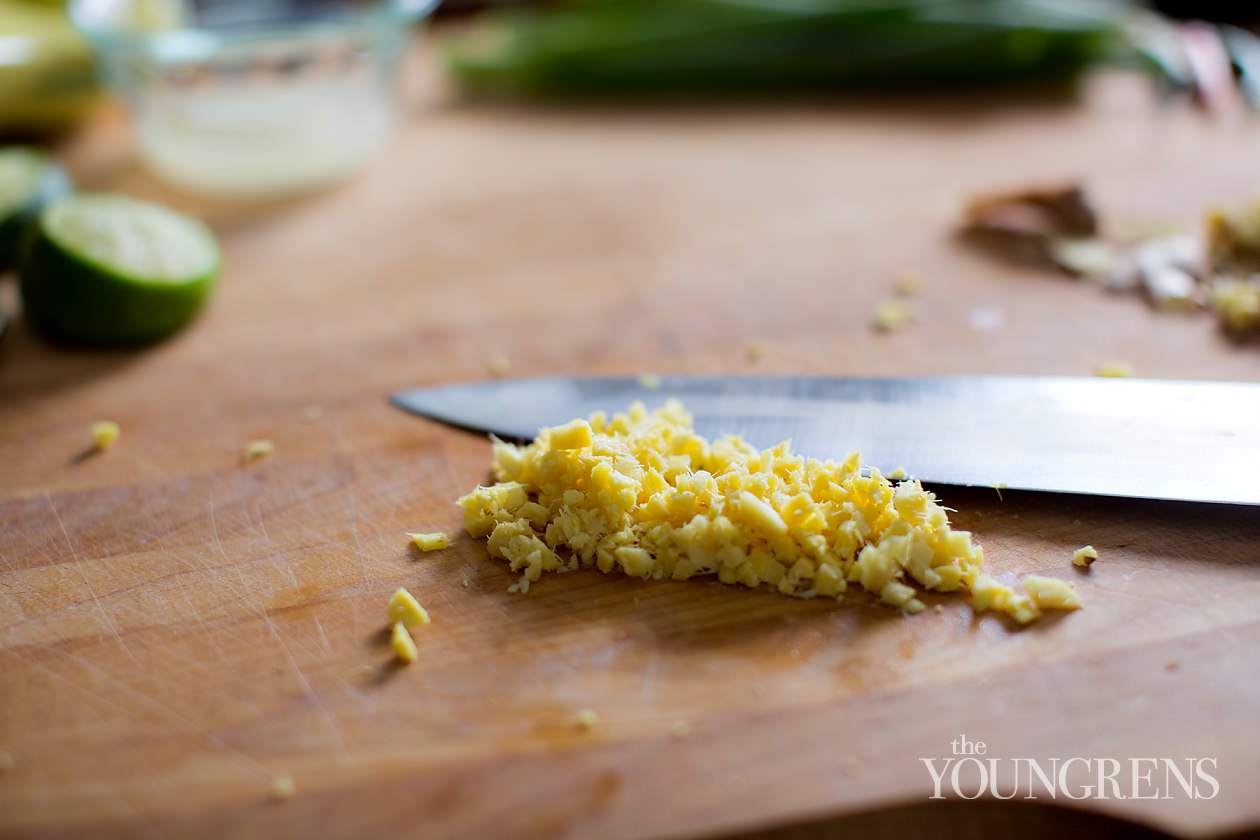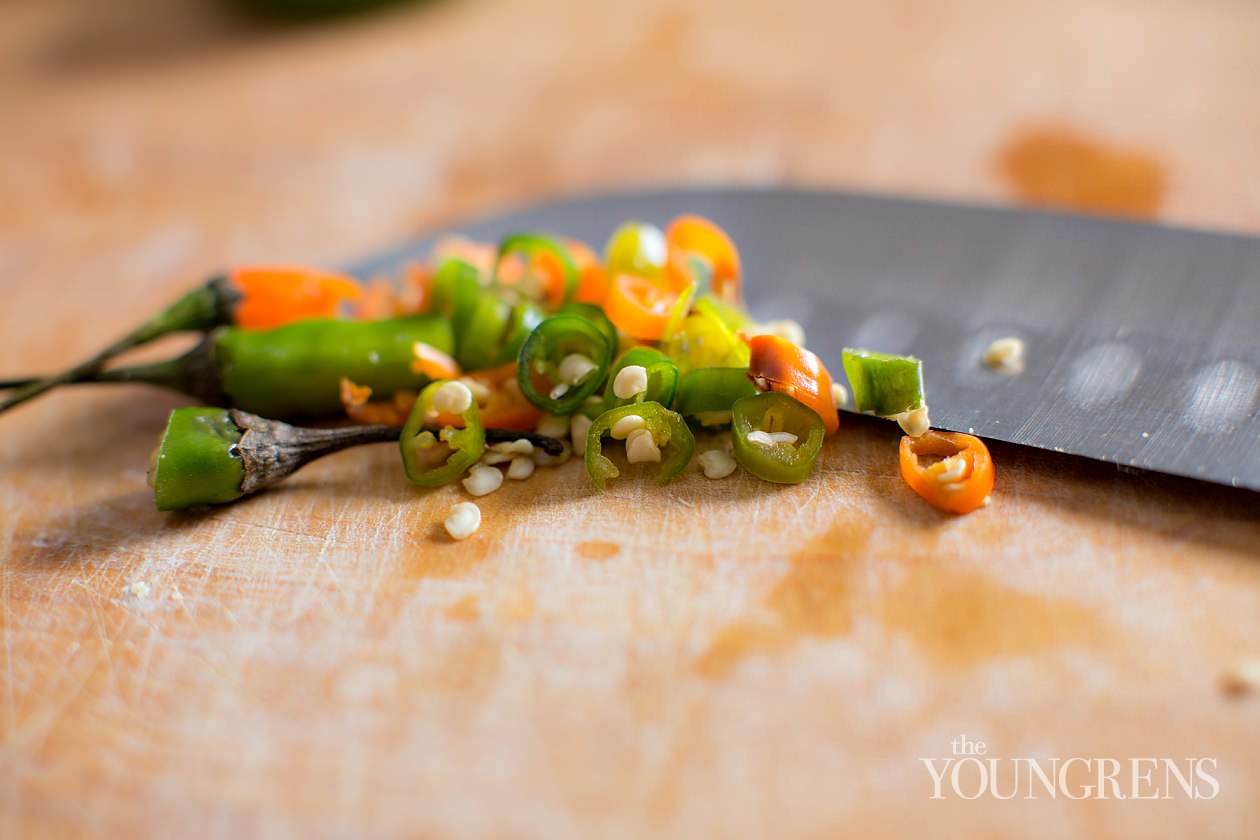 Then season the pork loins with salt and pepper, and toss the pork and scallions in the safflower oil. NOTE: I used bone-in pork and you definitely should use boneless. It still turned out tasty, but the broiler causes the pork to contract on one side, so they came out looking not so pretty with the bones until we cut them up.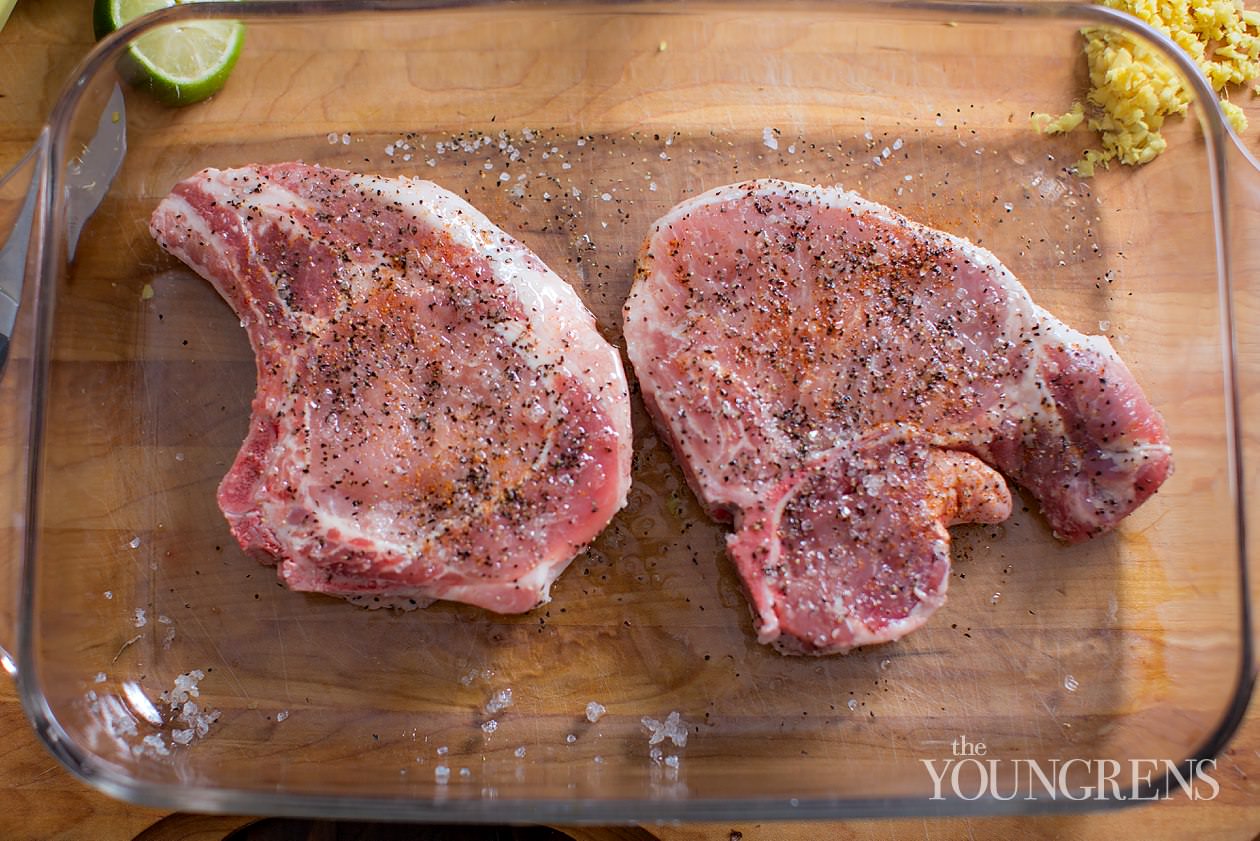 Then add the slices of pineapple and season them with cayenne and salt.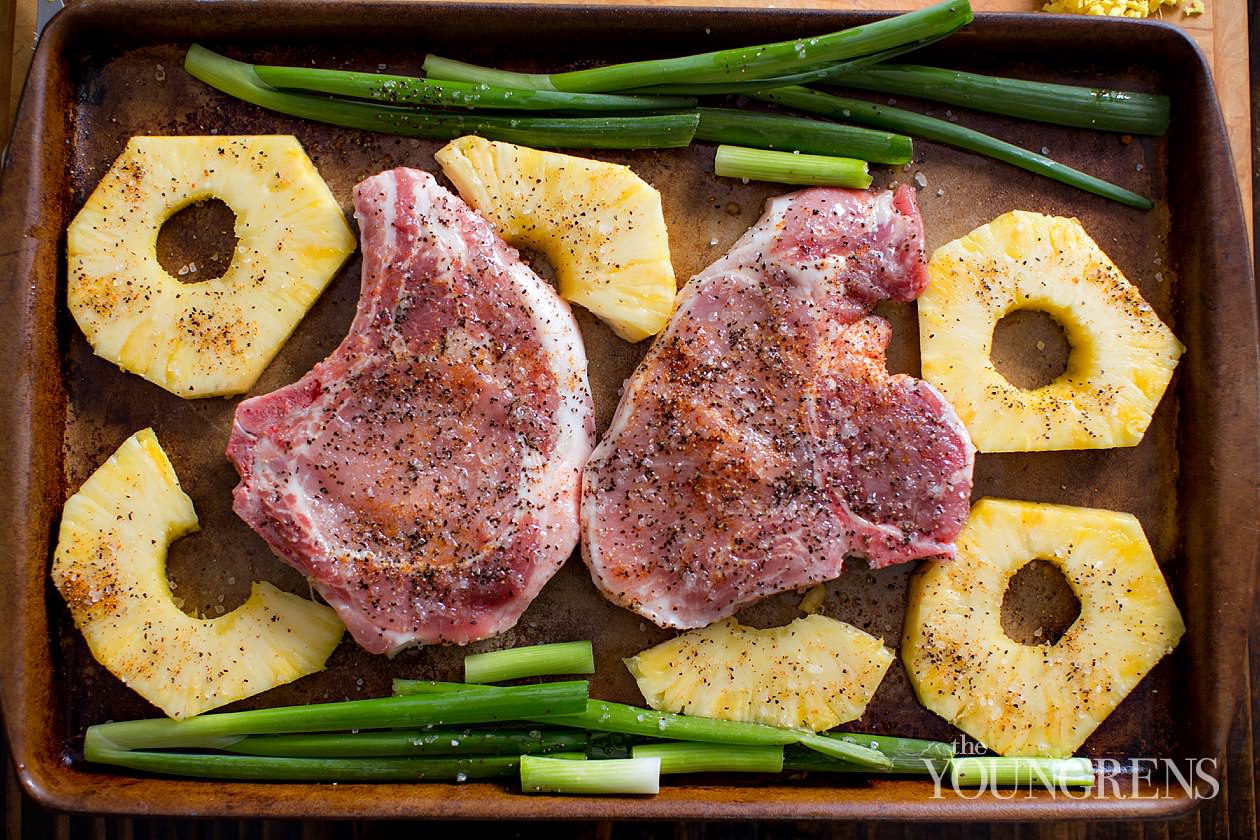 Place the pan in the oven just underneath your broiler and broil until the pork is just cooked through. It took us about ten minutes. Then remove the meat from the pan, let the meat rest for a minute or two, and keep the scallions and pineapple under the broiler for another few minutes.
Once the pineapple is cooked, remove it from the oven and collect any juices from the resting pork and the pineapple in a small bowl for the sauce. Chop up the pineapple and scallions into smaller chucks.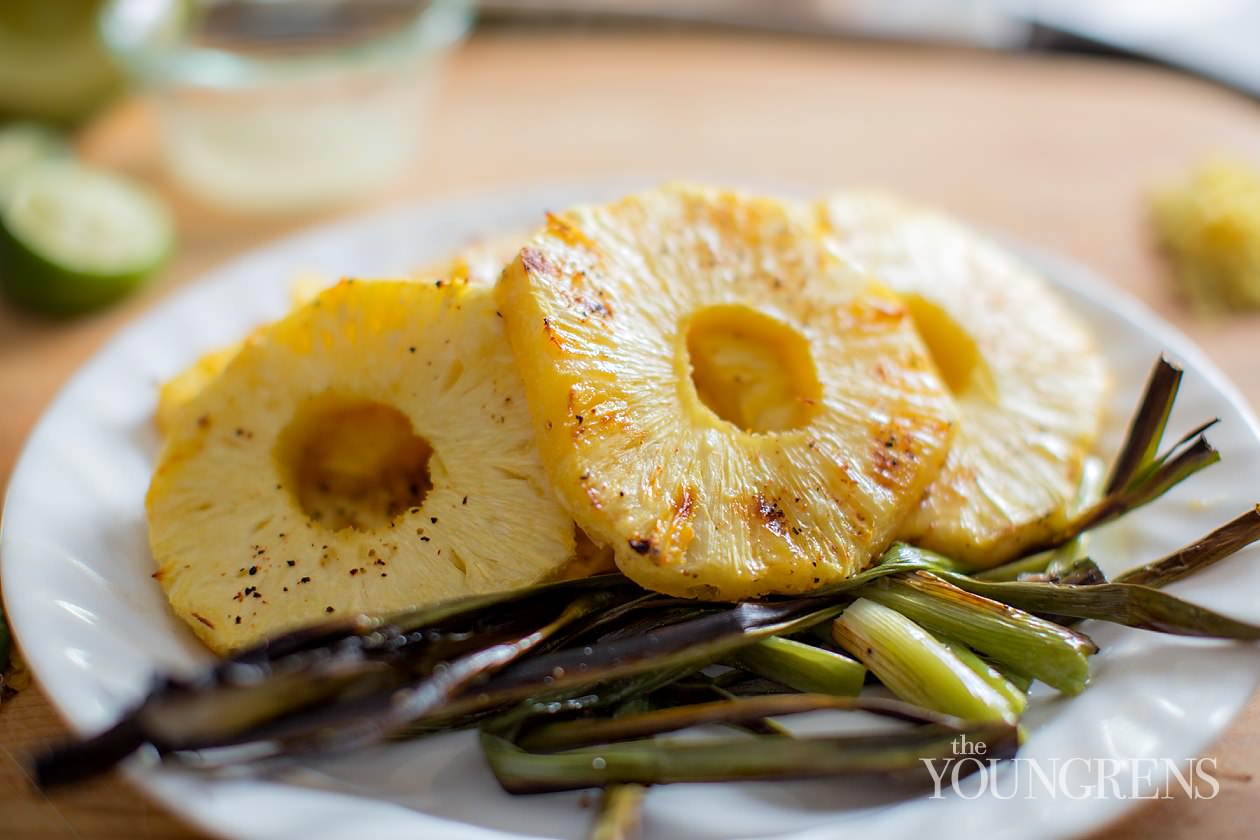 Whisk the ginger and lime juice into the reserved juices.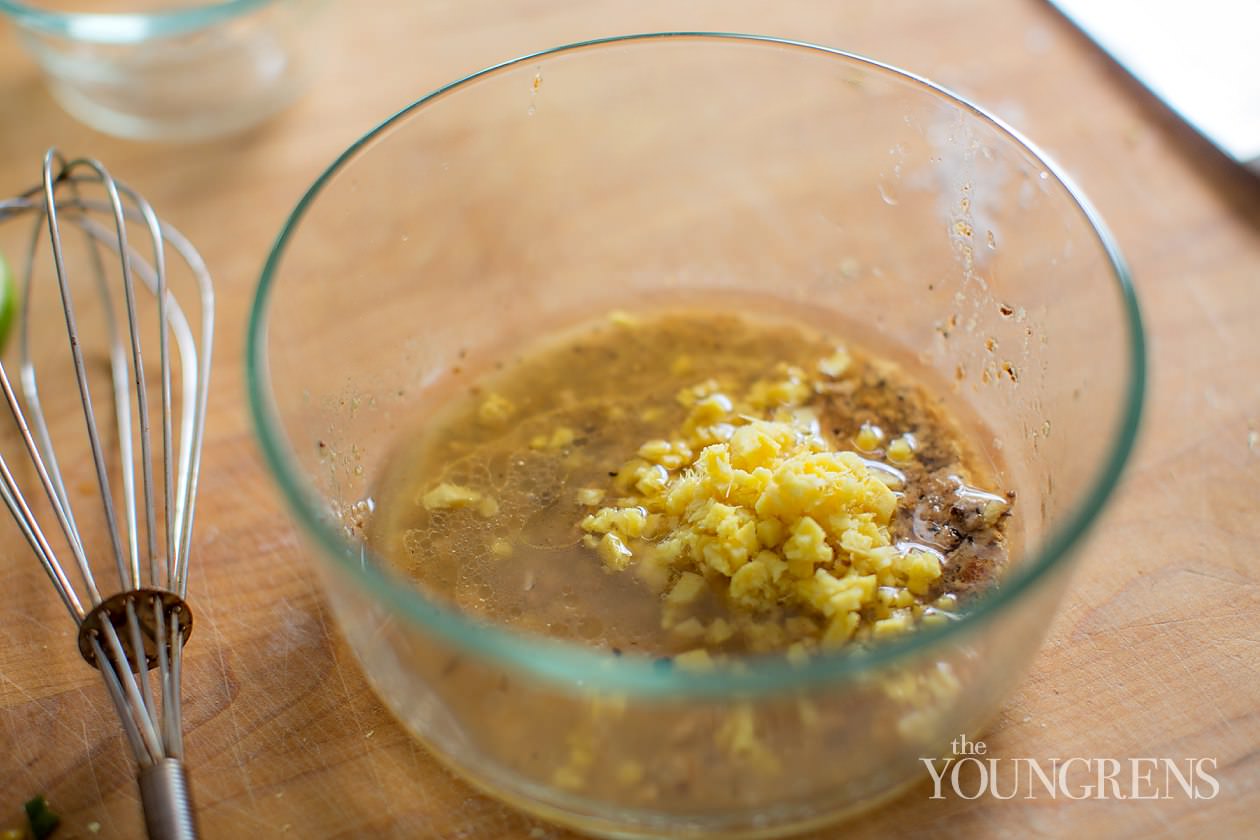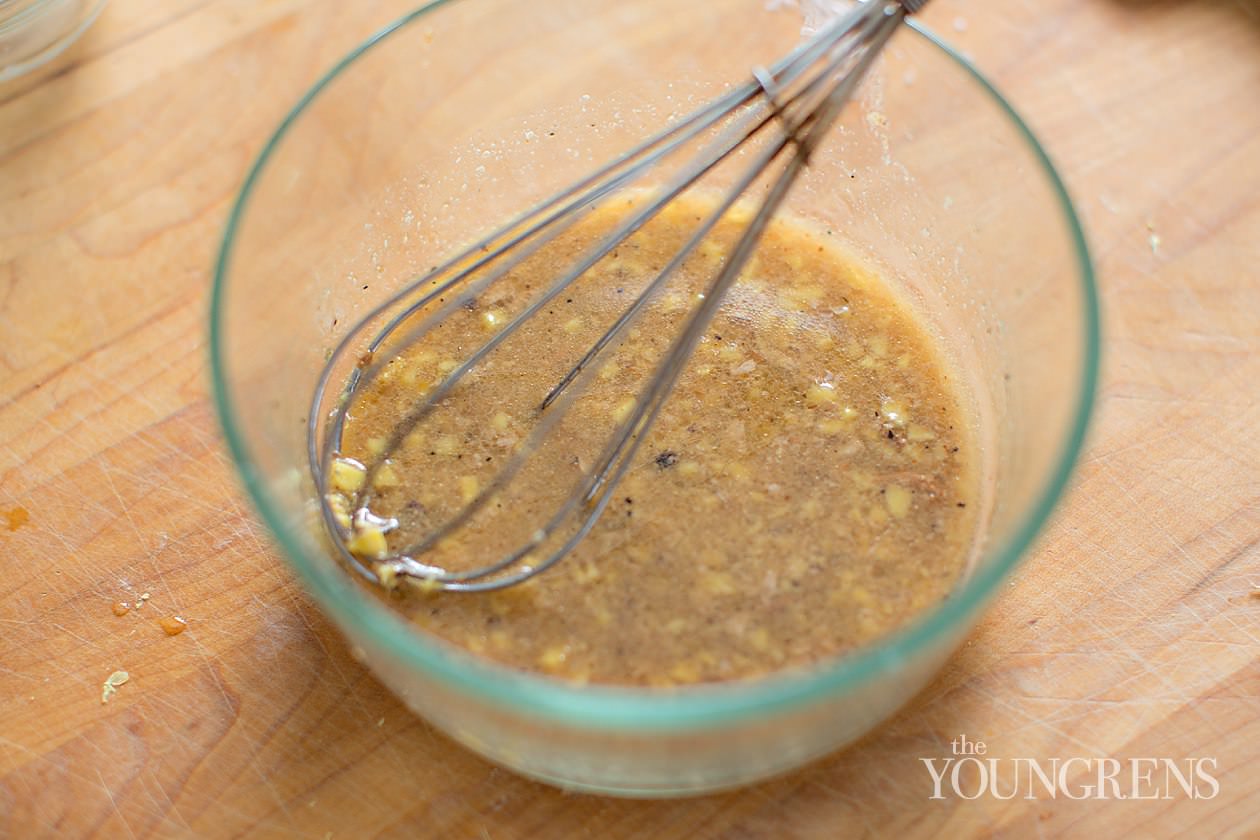 Once that's all finished, the meat will be ready to slice up. I would serve this will all of the elements separated and people can pick what they want to put on their rice and then dress it with the ginger-lime sauce. The sauce is soooo stinkin' delicious over the juicy seasoned meat and sweet pineapple. I love every second of cooking and devouring this dish!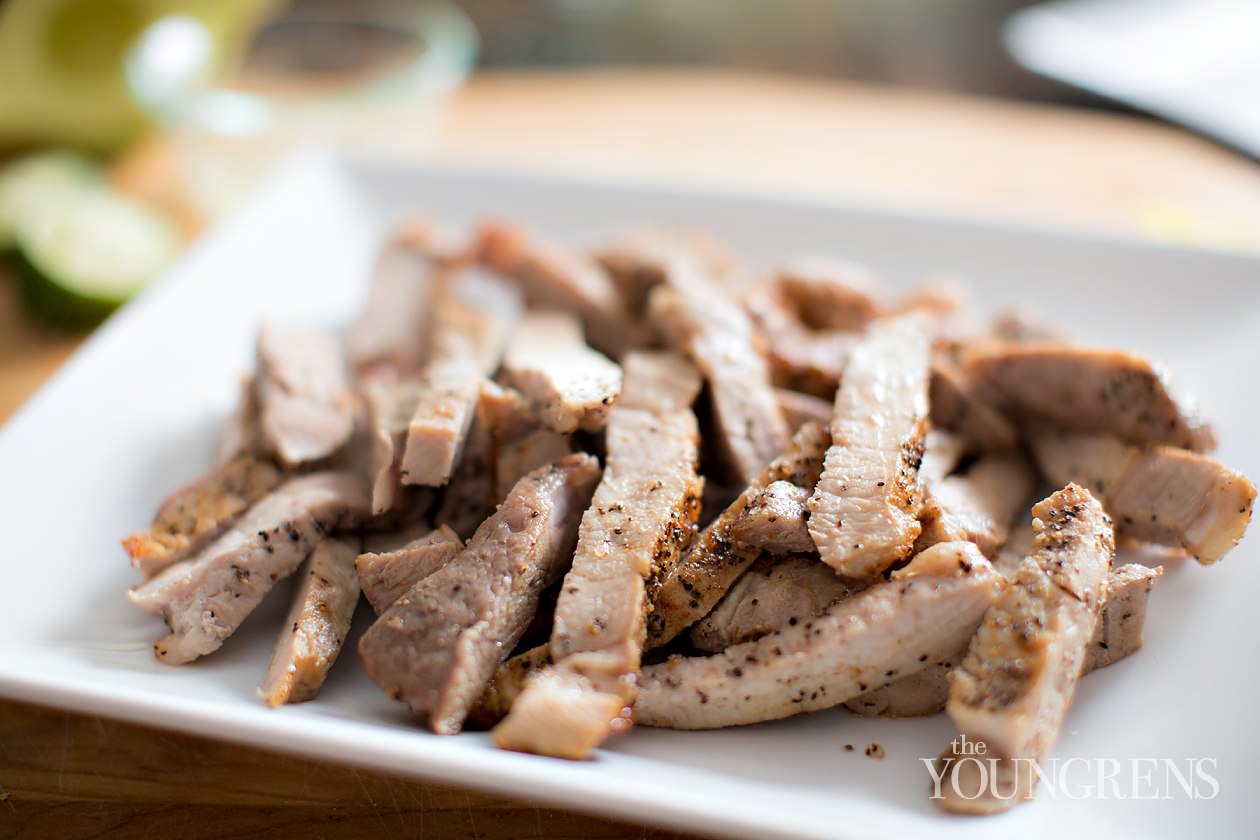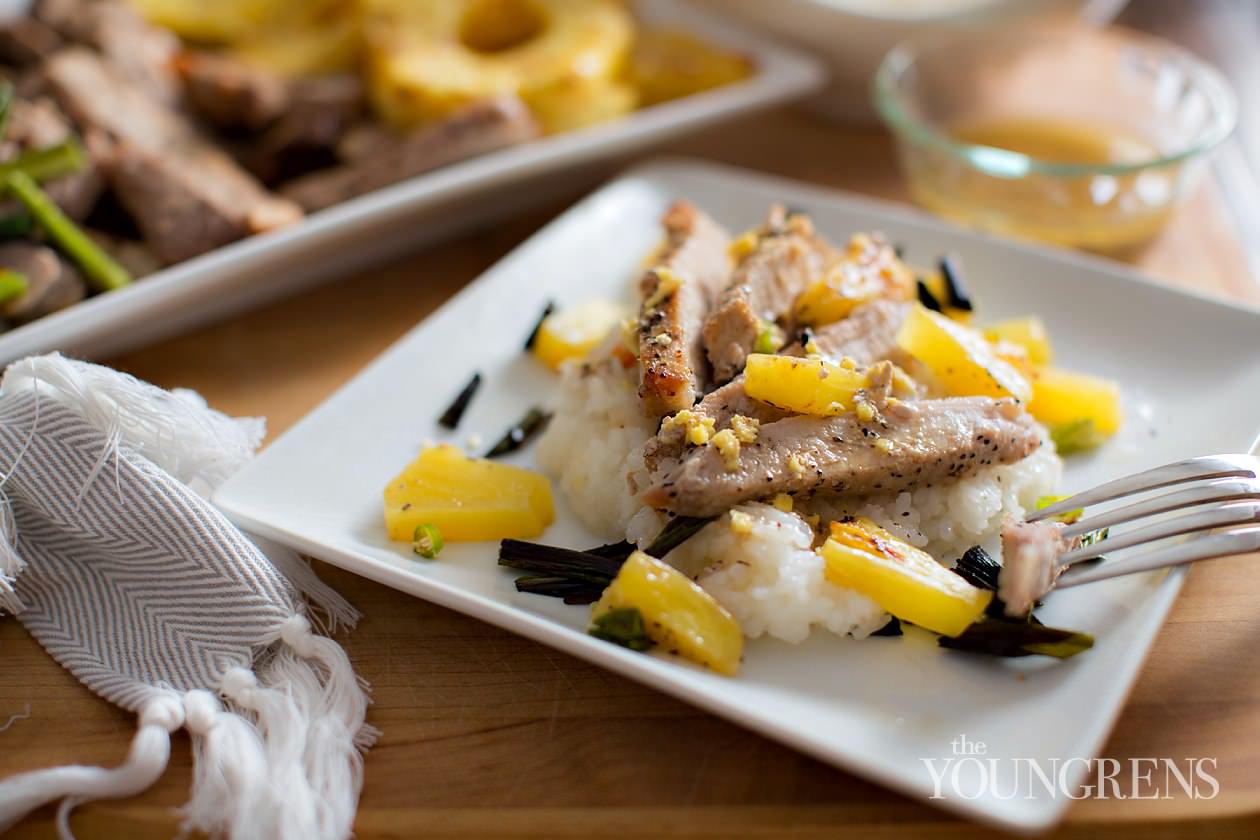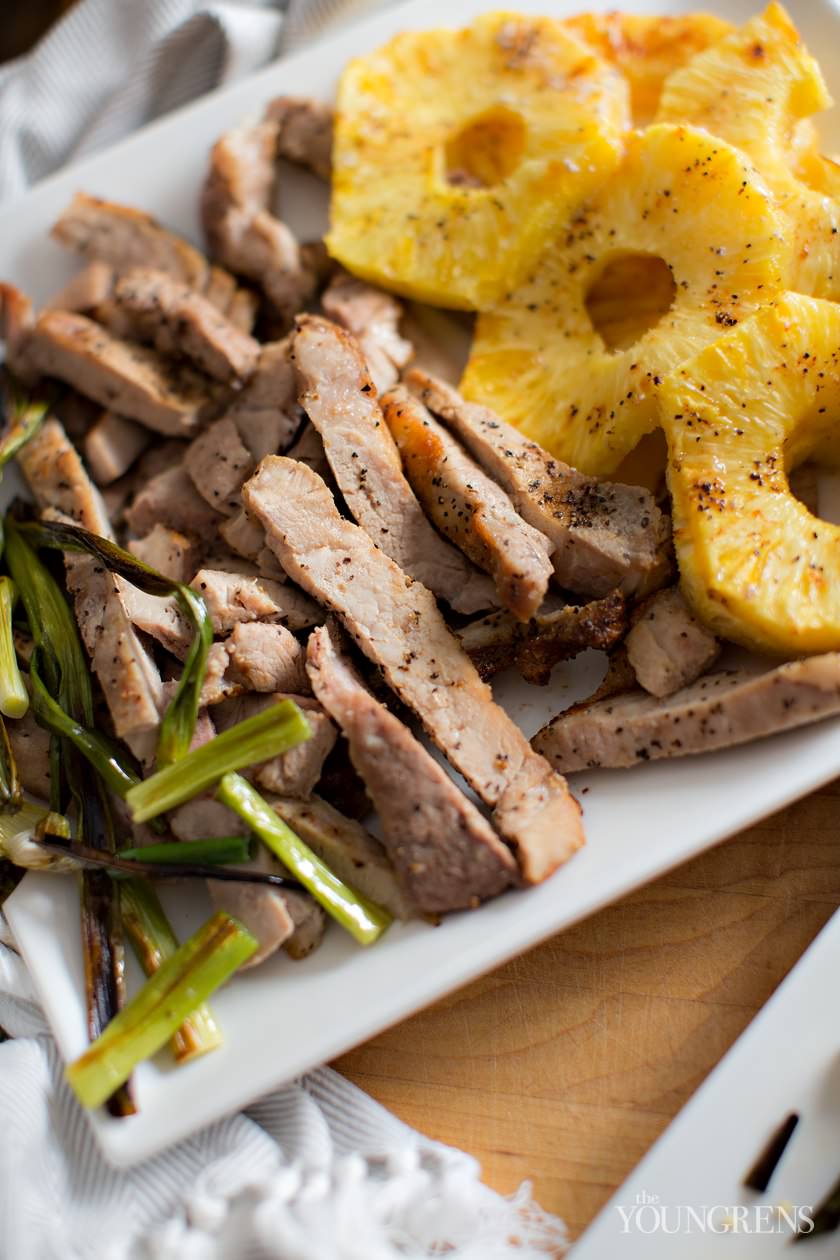 Broiled Spicy Pork and Pineapple
(view original recipe from Martha Stewart)
4 boneless pork-loin chops (each about 4 ounces and 1/2 inch thick)
1 bunch scallions (about 7), trimmed
2 tablespoons safflower oil
Coarse salt and freshly ground pepper
1/2 pineapple, peeled, cored, and sliced into 1/2-inch-thick rounds
1/8 teaspoon ground cayenne
2 teaspoons minced peeled fresh ginger (from a 1-inch piece)
2 tablespoons fresh lime juice (from 1 lime)
Steamed rice, preferably sticky, for serving
Thai chiles, thinly sliced, for serving (optional)
Directions
1. Preheat broiler with rack 4 inches from heating element. Place pork and scallions on a rimmed baking sheet and toss with 1 tablespoon oil; season with salt and pepper. Add pineapple to sheet, spreading all ingredients in a single layer. Combine cayenne and 1/2 teaspoon salt in a bowl; sprinkle evenly over pineapple.
2. Broil until pork is just cooked through, 3 to 4 minutes. Transfer pork to a cutting board. Reserve accumulated juices in a bowl. Continue broiling scallions and pineapple until blistered in spots, 6 to 8 minutes (remove scallions earlier if blackening too much). Whisk ginger and lime juice into reserved juices. Slice pork; chop scallions and pineapple. Serve over rice with dressing and chiles.
Hugs,
Erin