I have the WORST luck when it comes to baking with yeast. There's always something that goes wrong – too hot, too cold, too much flour, too much water, too much kneading, not enough rising – sheesh. So high maintenance. In fact, it was after yet another batch of rock solid potato rolls in our first year of marriage that I gave up baked goods altogether and decided to really learn how to cook, which is so much more forgiving than the exact science of baking. I mean, baking skills definitely come in handy at the holidays, but pumpkin scones for dinner just won't cut it for very long, you know?
But if there's one sweet treat that I still love, it's these Candy Cane Rolls. For some reason, these little gems are the only things that I've never managed to totally mess up. They've always pulled through for me, so I've kept this recipe on hand in my holiday arsenal when I need a yummy and unique baked good for the Christmas season.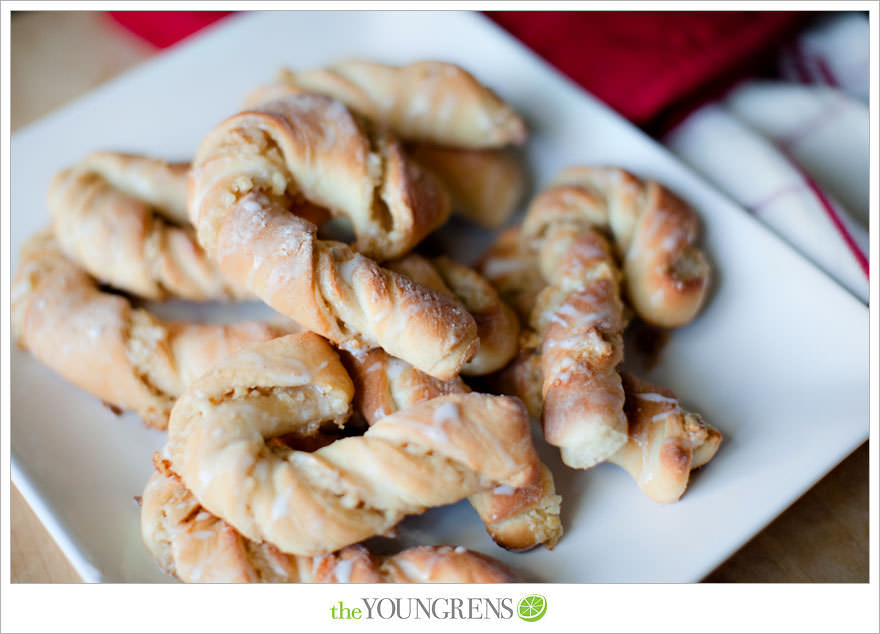 You'll need all of the usual suspects from the baking shelf in your pantry – flour, sugar, yeast, and salt, along with an egg, butter, and sour cream from the fridge. Walnuts, sugar, and butter make the tasty filling.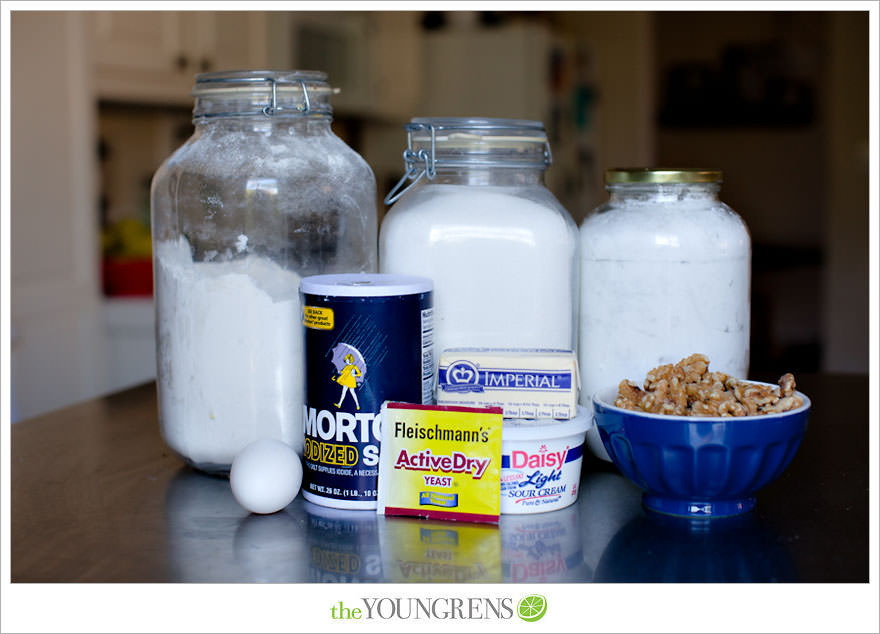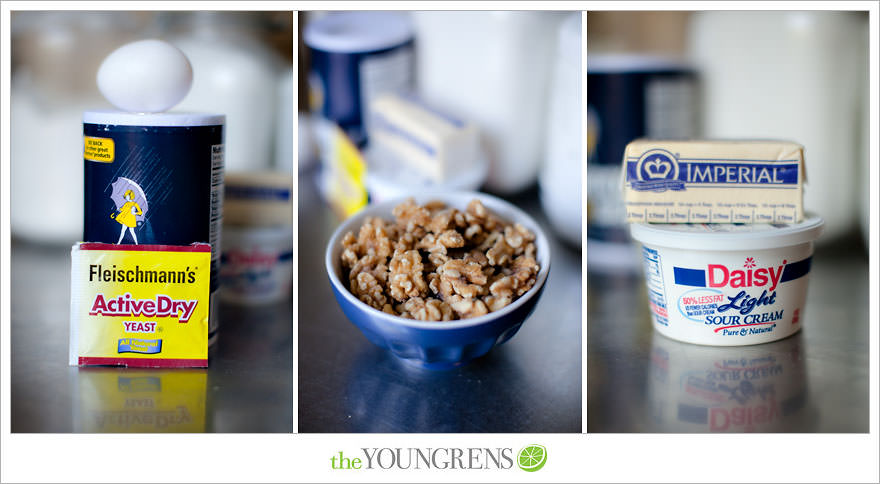 First, combine your dry ingredients and the yeast in a large bowl, and melt the sour cream and butter in water in a saucepan until they're hot to touch. I recommend using a thermometer to make sure you hit the right temperature for the yeast (125 to 130 degrees F), and keep in mind that the butter doesn't need to melt all the way. If the liquid is too hot, it will kill the yeast and you won't find out until way late in the game when you've done a ton of work and the dough won't rise. This my friends, will slowly kill your love for baking. And we don't want that.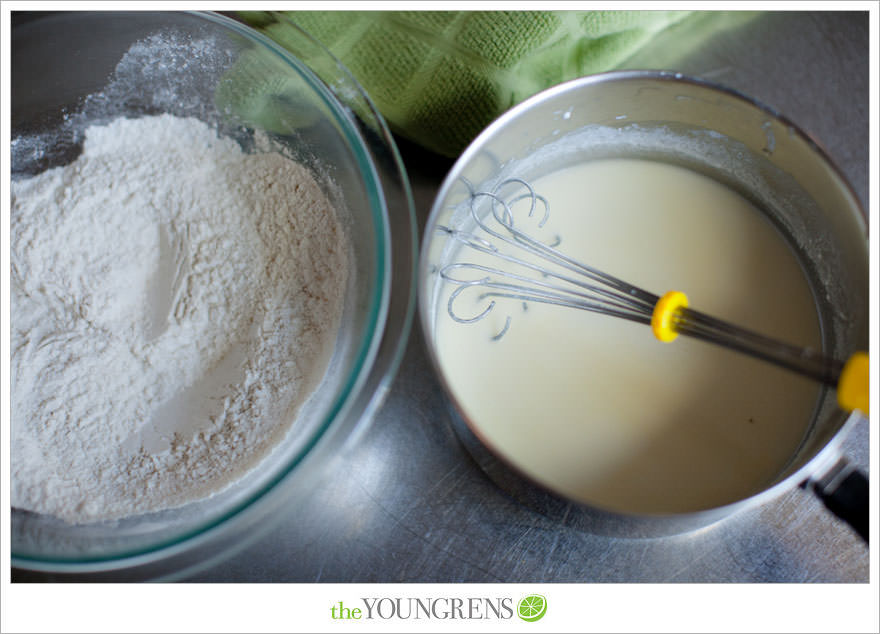 Gradually add the liquid ingredients to the flour mixture, and beat about 2 minutes at medium speed. Add the egg and half a cup of flour and beat two more minutes at high speed.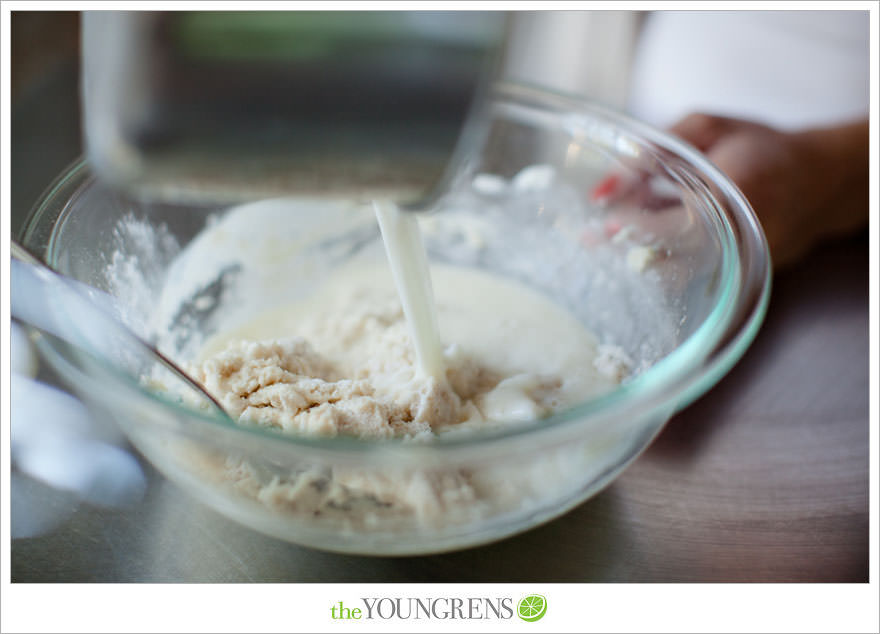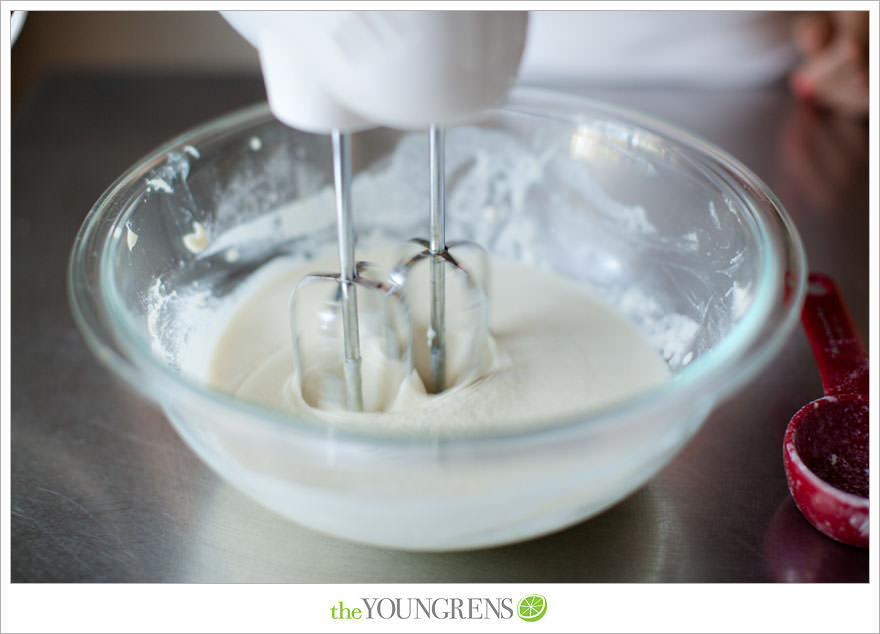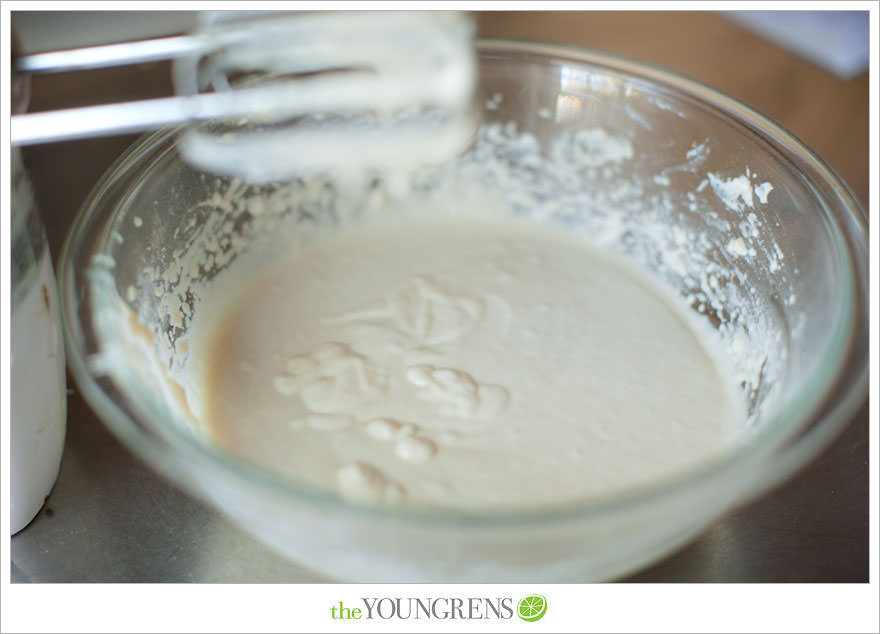 Then slowly add in just enough flour, stirring with a spoon, to make a stiff dough.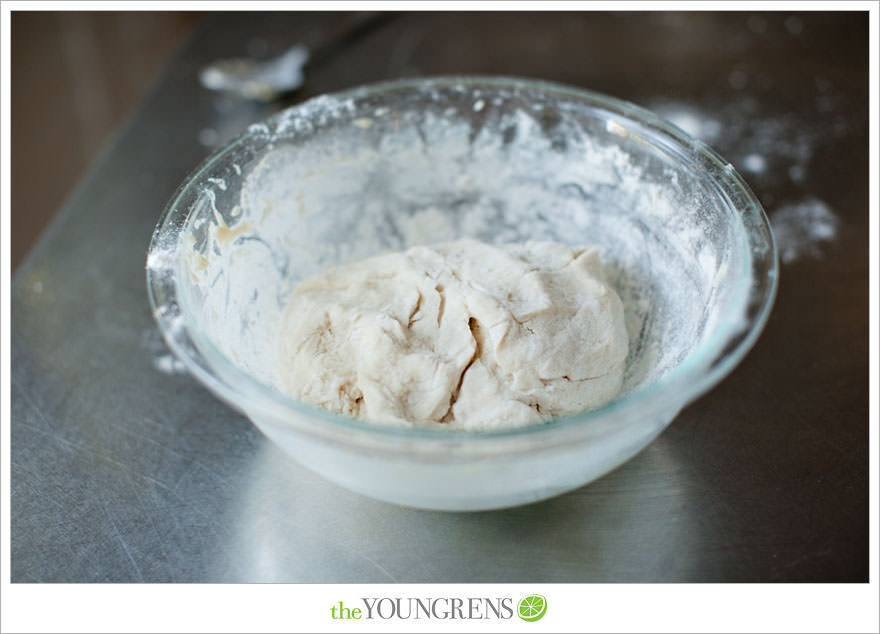 Then it's time to knead the dough. It will only take 3 to 4 minutes to make the dough smooth and elastic, and you don't want to over work it. Add in little bits of flour as you go along to get rid of any stickiness, but use it sparingly.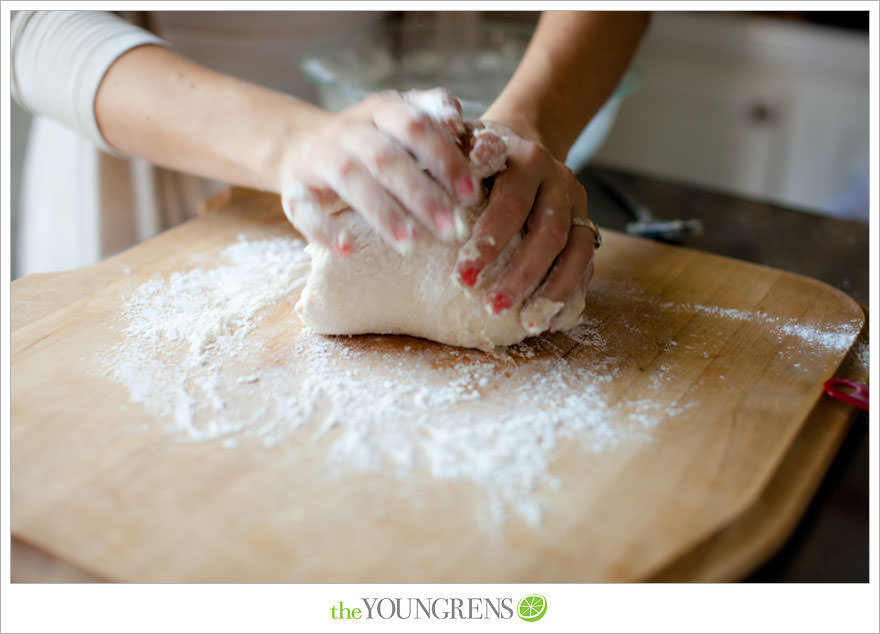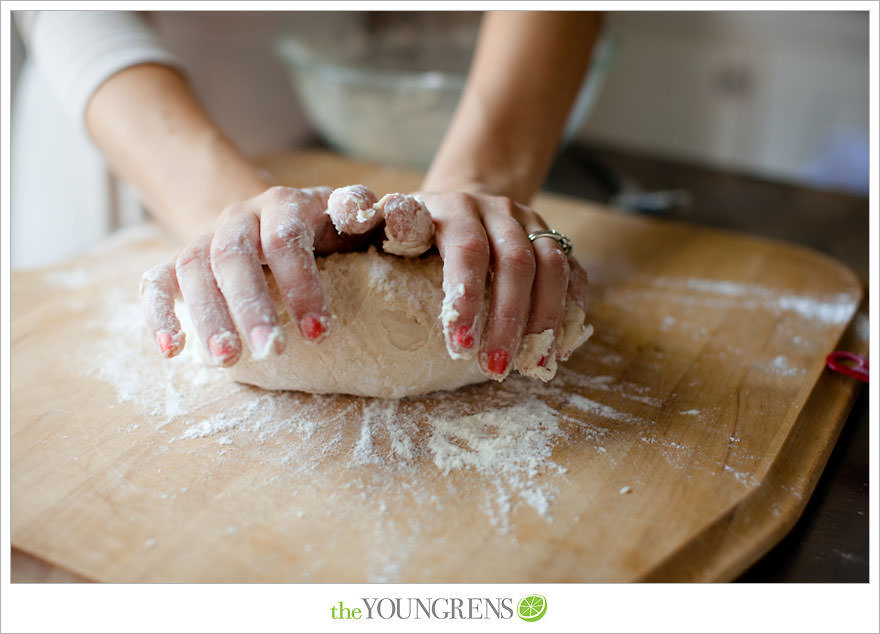 Once the dough is smooth, grease that same bowl you were using with cooking spray, plop the dough in, and turn it once to coat it. Cover the bowl and put it in a warm spot (I sometimes use the oven, turned off) to let it rise until it's doubled in size, usually about an hour.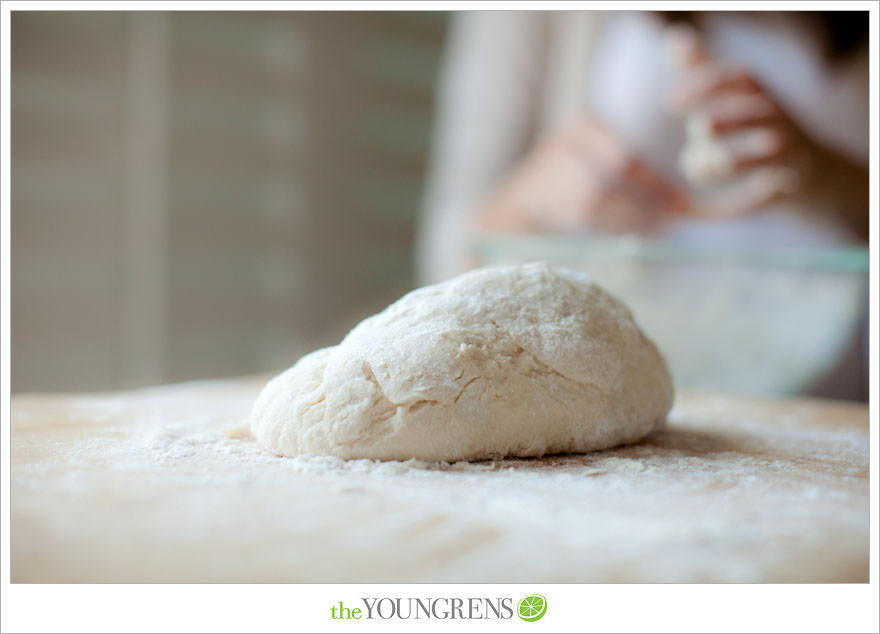 While I'm waiting, I clean up my baking area, wash dishes, prep for the next steps, grease two baking sheets and prepare the nut filling.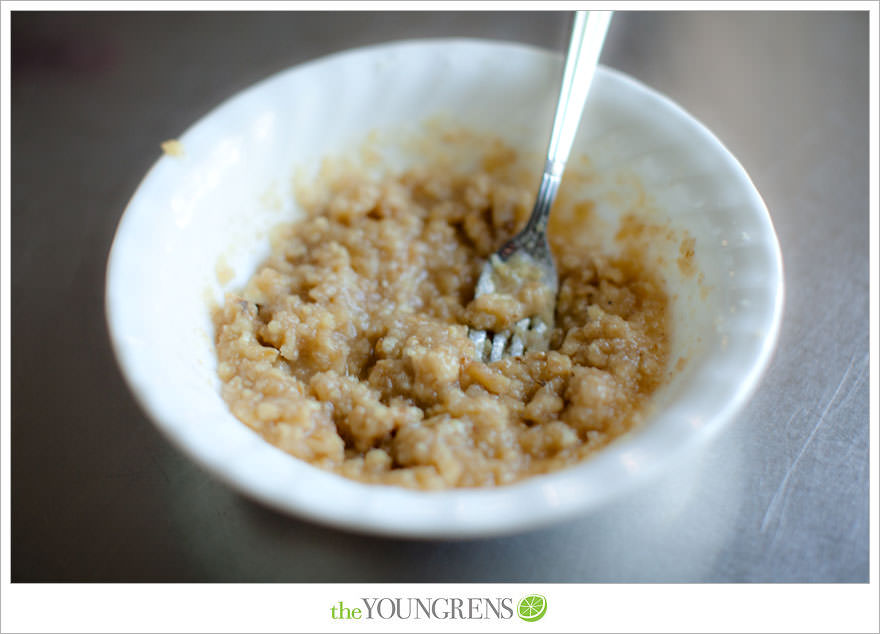 Once the dough is doubled in size, put a full kettle of water on to boil for raising the dough when this step is finished, and preheat your oven to 375 degrees. Then punch down the dough with your fist to release the gas that's built up.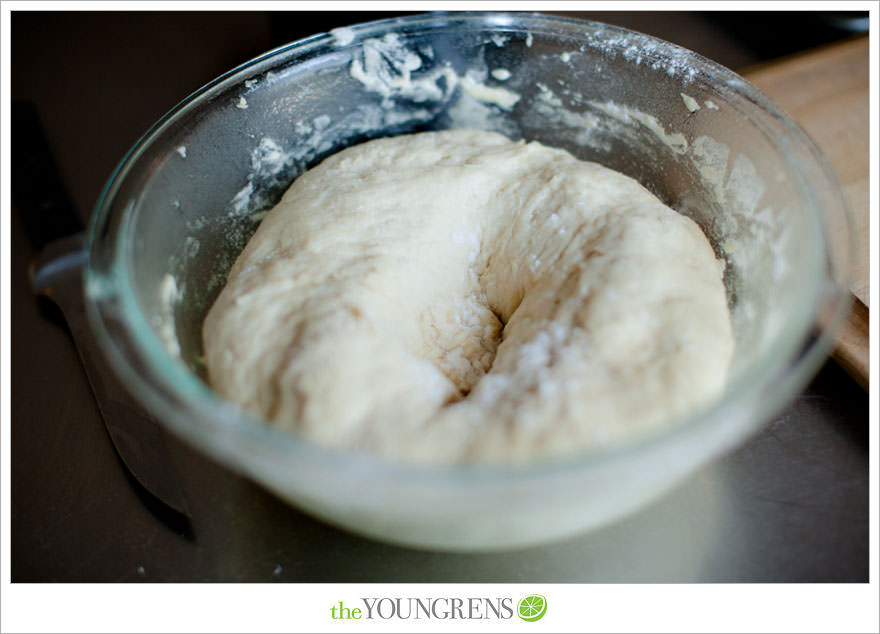 Divide the dough in half and use a rolling pin to roll each half into a 12- by 18-inch rectangle.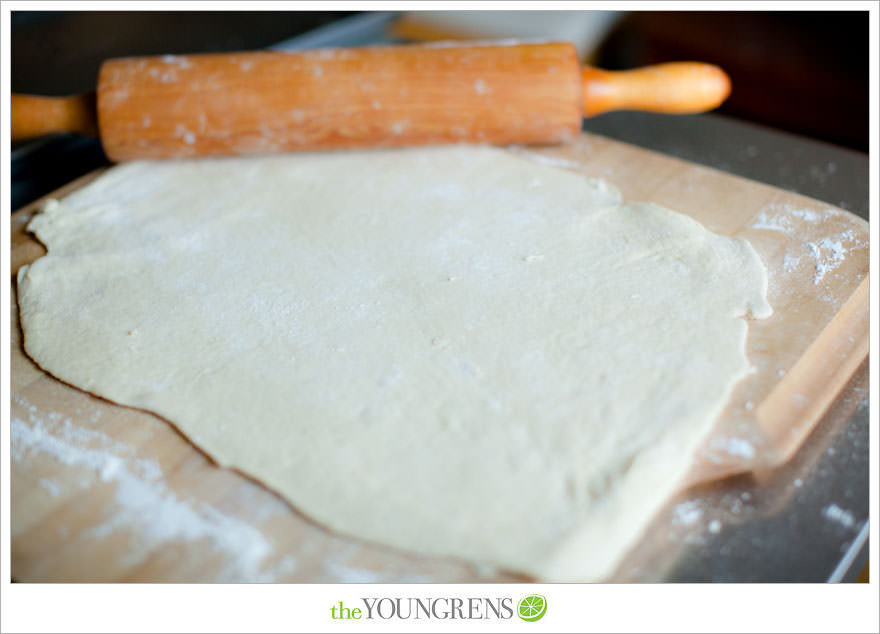 Spread out the nut filling leaving a bit of room at the margins.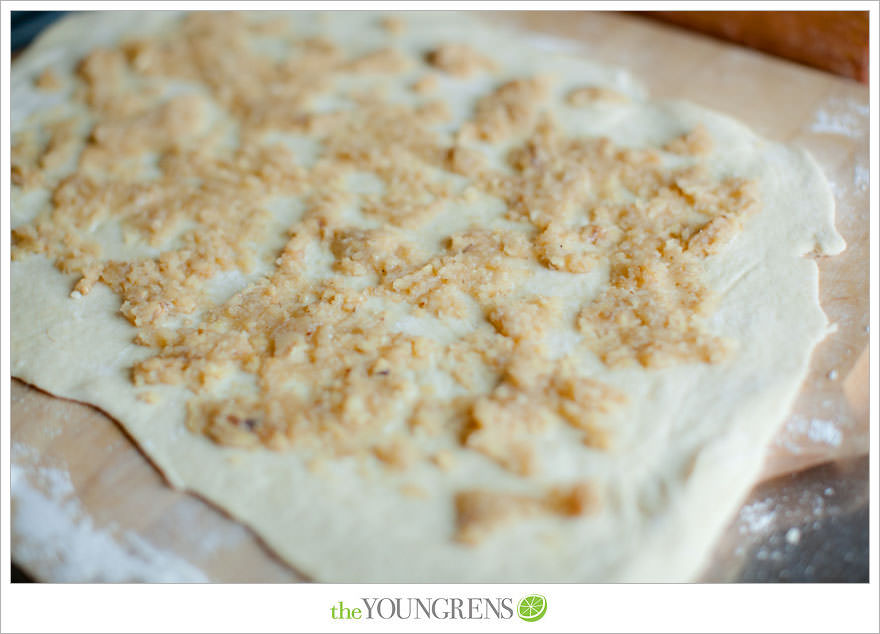 And fold the entire thing in half, pinching the dough at the seam to seal.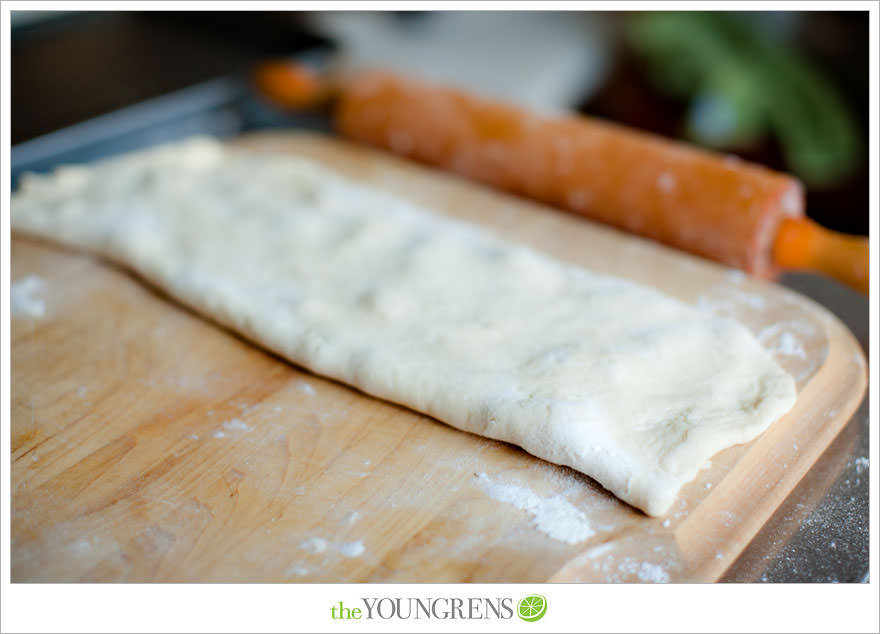 Using a sharp knife, cut the roll into 1/2 inch strips, or the best estimate of 1/2-inch strips. Mine can be a little off… Ok, a lot off, but I tell myself that it adds character.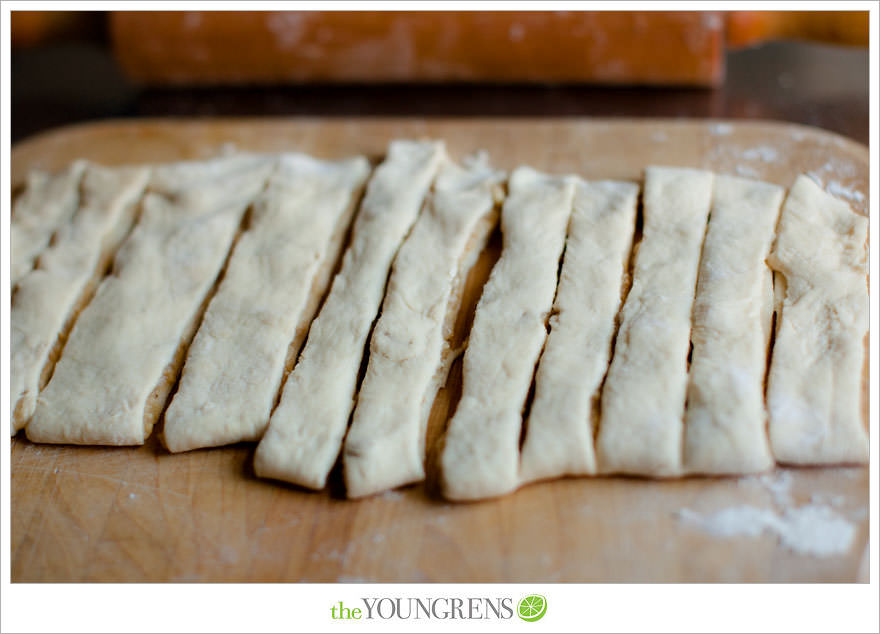 Then take each strip at the ends and twist it in opposite directions 4 or 5 times, curving one end to look like a cane.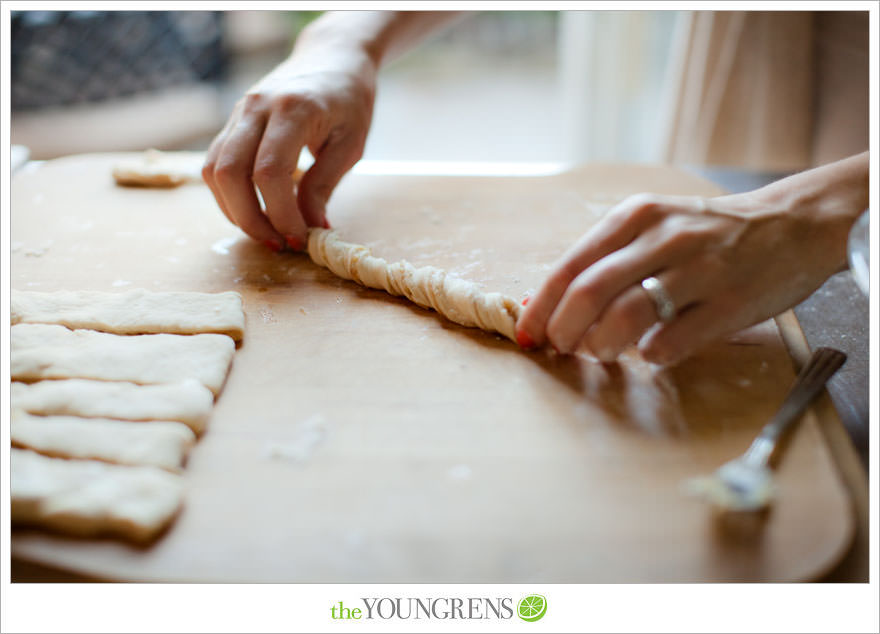 Awwww! So cute! It's got the twisty lines and everything!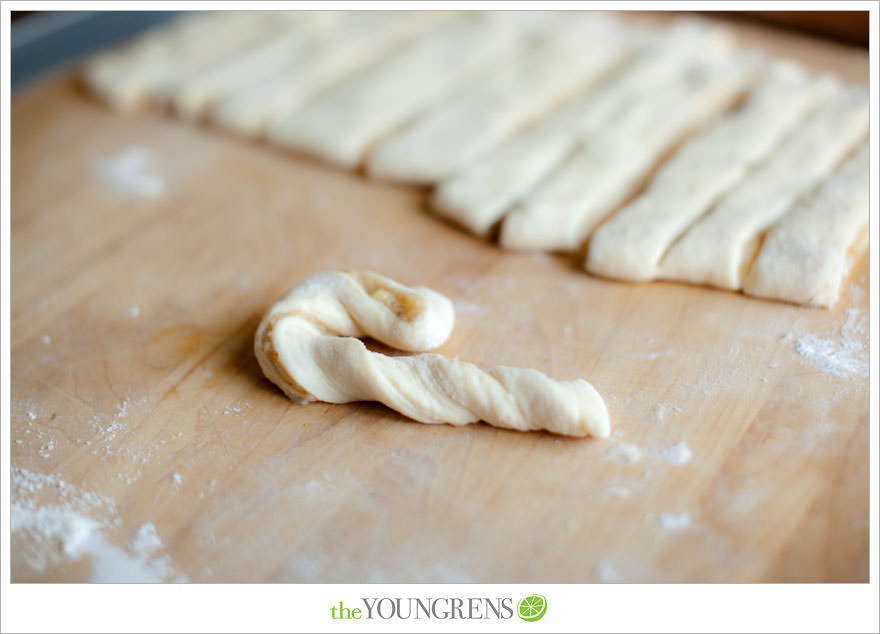 Place them on the greased cookie sheets, leaving a little space between them to give them room to rise.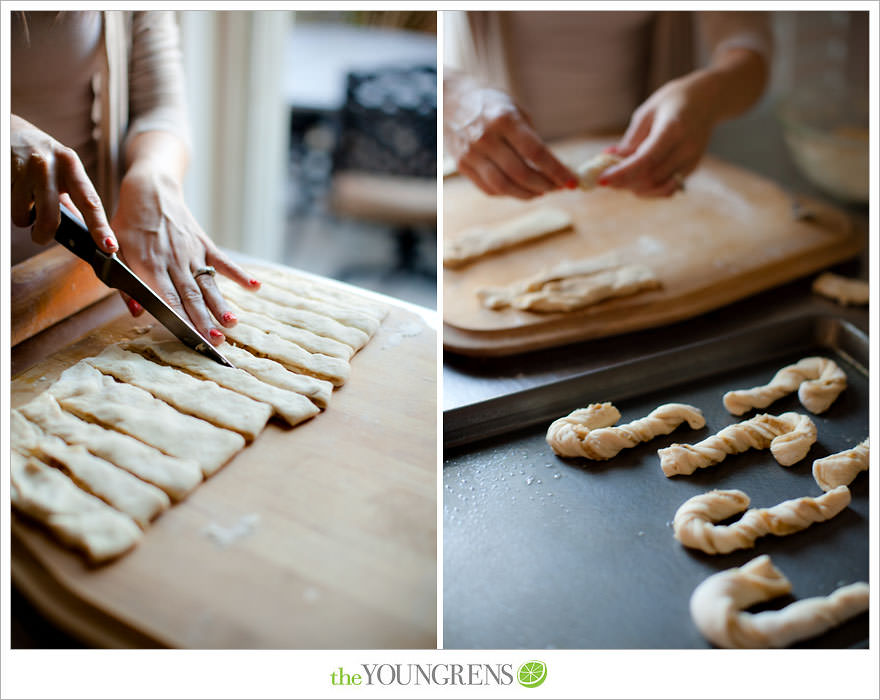 Cover each cookie sheet with a thin dish towel, then half-fill two large shallow pans (I use large casserole glass baking dishes) with the boiling water. Place the covered cookie sheets on top of the pans and let the dough rise from the steam for 15 minutes or until the canes are doubled in size. Then pop them in the preheated oven for 15 minutes.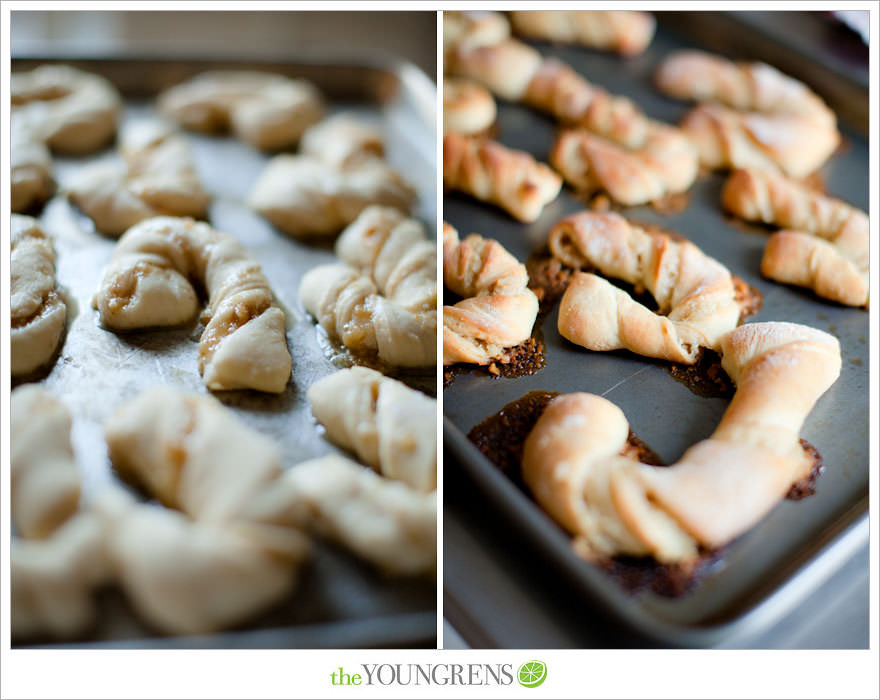 Be careful not to over bake these suckers or they'll turn rock hard, so keep an eye on them and pull them out just as the tops start turning brown. Every oven is different, so it may be shorter or longer than 15 minutes. Once they're done, let them cool. I tend to let them cool on the cookie sheets because they're too warm to pull off without wrecking them and the icing part is easier on the pan, but if you can get them off and don't mind an icing mess, let them cool on wire racks.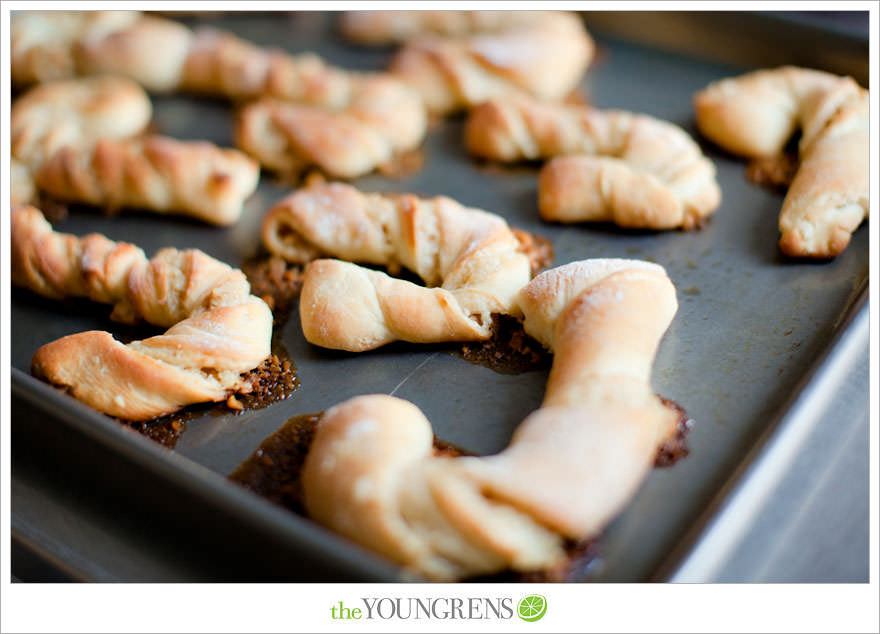 While the canes are cooling, make your Confectioner's Sugar Glaze with a cup of confectioner's sugar and 3-4 tablespoons water. Drizzle the canes once they're completely cooled. If they're still hot, the glaze will melt right off.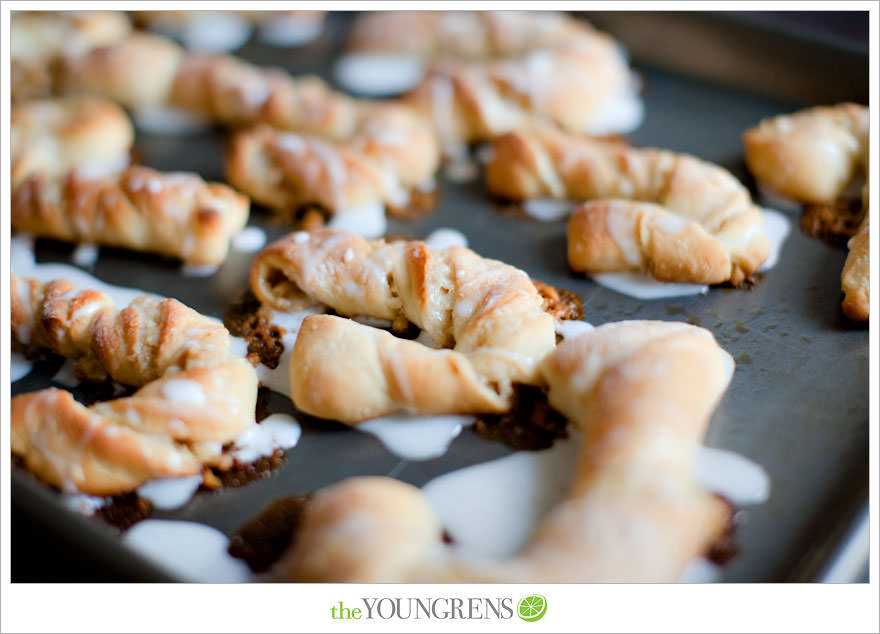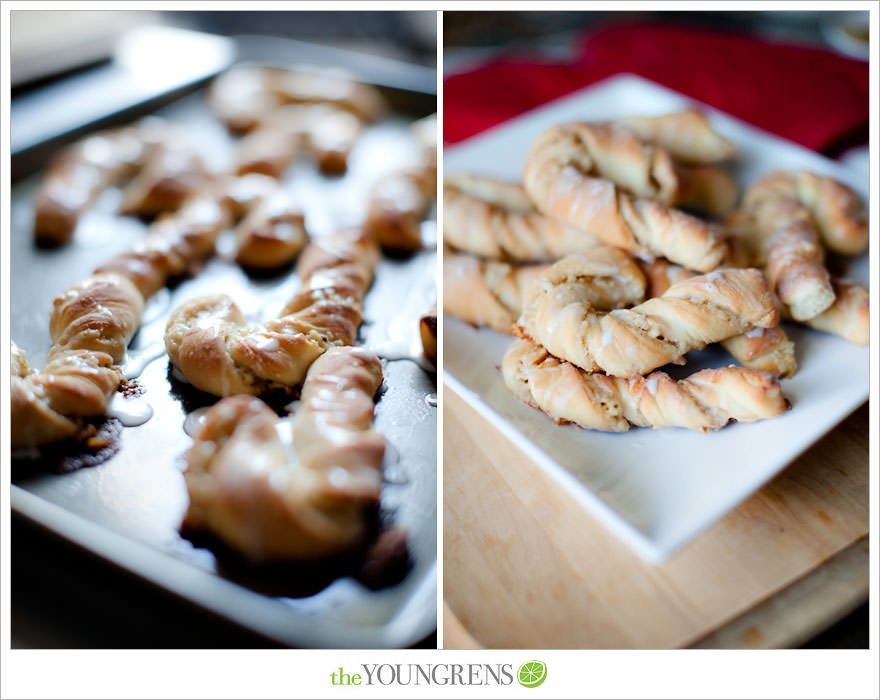 These canes are just so stinkin' sweet and crunchy – just slightly chewy and with a bit of fluff all at the same time. Store them in an airtight container so they don't dry out and harden, and we love heating them up in the microwave for a fifteen seconds before eating them.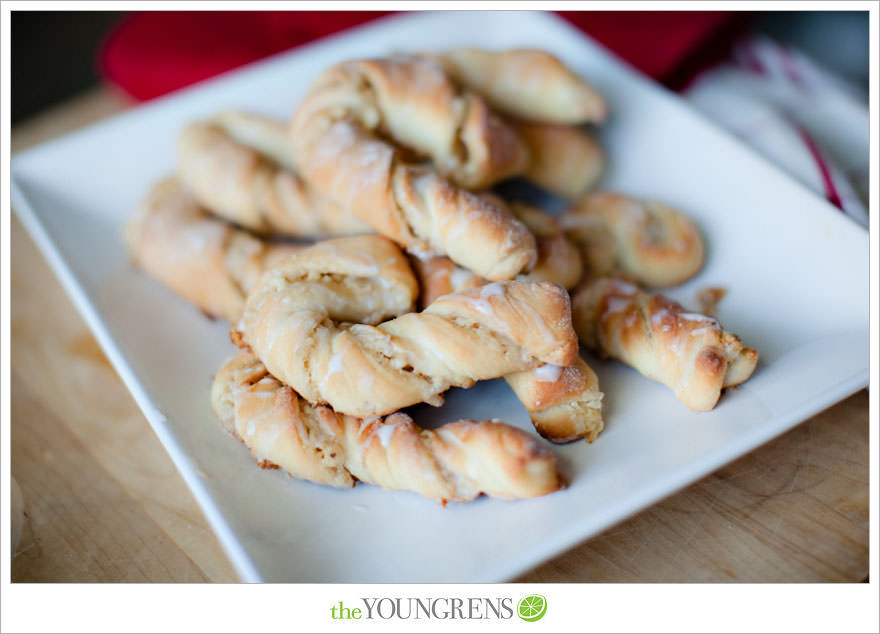 And they'll go FAST. These were barely finished and Jeff couldn't resist…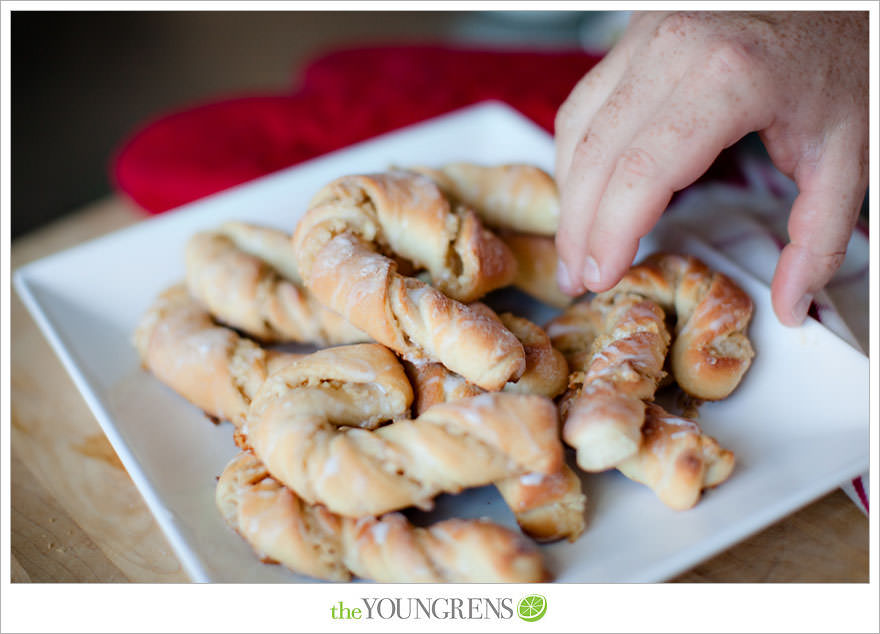 Candy Cane Rolls
3 cups all-purpose flour, divided
3 tablespoons sugar
1 package (1/4 ounce) active dry or quick-rising yeast
1 teaspoon salt
1/2 cup water
1/3 cup sour cream
3 tablespoons butter or margarine
1 egg, at room temperature
Nut Filling 
1/2 cup chopped walnuts
1/3 cup sugar
3 tablespoons melted butter or margarine
Confectioner's Sugar Glaze
1 cup confectioner's sugar
3-4 tablespoons water
1 teaspoon vanilla (optional)
1. In large bowl, combine 1 cup flour, sugar, undissolved yeast and salt. In small saucepan over medium-low heat, heat water, sour cream and butter until hot to touch (125 – 130 degrees F); butter does not need to melt. Gradually add liquid ingredients to flour mixture. With electric mixer at medium speed, beat 2 minutes, occasionally scraping bowl. Add egg and 1/2 cup flour; increase speed to high and beat 2 minutes, occasionally scraping bowl. With spoon, stir in enough additional flour to  make a stiff dough. Transfer dough to lightly floured surface; knead about 4 to 5 minutes until smooth and elastic. Place dough in greased bowl, turning to grease top. Cover; let rise in warm, draft-free place until doubled in size, about 50 minutes if using active dry yeast. (For quick-rising yeast, cover kneaded dough and let rest on work surface 10 minutes).
2. Meanwhile, prepared Nut Filling. Grease 2 cookie sheets. Punch dough down; divide in half. With rolling pin, roll each half into a 12- by 18- inch rectangle. Top each with half the Nut Filling, leaving a 1/2-inch margin at long edges. Fold dough lengthwise in half; pinch long edge to seal. Cut each roll into twelve 1/2-inch wide strips. Holding both ends, twist each strip in opposite directions 5 to 6 times. Place on prepared cookie sheets, curving top end of each strip to form a cane; cover canes with towel. Place 2 large shallow pans on counter; half fill with boiling water. Place baking sheets on pans; let dough rise 15 minutes.
3. Preheat oven to 375 degrees. Bake canes 15 minutes or until golden-brown. Remove to wire racks to cool. Meanwhile, prepare Confectioner's Sugar Glaze; drizzle on top of cooled canes.
Hugs,
Erin