Did Thanksgiving sneak up on anyone else this year? Or was it just me? And was anyone else feeling this exact same way last year? I mean, yesterday was Halloween and the day before that was Labor Day, so I don't know what's happening to the yearly calendar as I get older, but apparently time starts to move into warp speed at age 30. It's like time is just slowly getting moving for the first 20 years of life, hits its stride at 25, and then blasts into overdrive – well – right about now…
I feel like I'm clinging onto a doorjamb as time goes flying by.
So in an effort to slow down and make this year a bit more memorable, we're going to try something a little different with our Thanksgiving menu. Jeff and I like to try out full menus from different sources for Thanksgiving instead of taking a grab bag of recipes from all over. After all, chefs and experts have gone through great effort to develop a line-up of holiday dishes that when put together onto one plate at the dinner table will compliment everything well. We've made Rachael Ray's Thanksgiving in 60 many times (DELISH), I've sworn by Martha Stewart's menu planning, and this year, we're trying out the list of recipes from Bon Appetit.
First on the menu is a spatchcocked turkey –  flattening the bird for maximum juiciness (if you haven't seen our post about spatchcocking yet, you can't miss it), then we'll be creating our own roasted poultry stock for the gravy, and today we're tossing together this deliciously rich sourdough stuffing you see here. This stuffing is chock full of drool-worthy Italian sausage plus the crunchiness of roasted chestnuts and finished off with the tang of sourdough bread, so it's a hearty wintery flavor bomb that will pair perfectly with a roasty-herby gravy like this one from Bon Appetit. The flavors blended well in this stuffing and it's definitely a stuffing that's on the rich, wintry, and roasty side of the flavor profile versus light and sweet, and has a bit of spice to it from the sausage and chiles de arbol. That's why you should definitely pair this with a rich gravy versus something light, spicy, or sweet.
Grab a loaf of sourdough, a bunch of fresh sage, chiles de arbol, roasted chestnuts, and your choice of Italian sausage (we like spicy vs sweet) along with the usual suspects like celery, butter, apples, garlic, and onion. We have lots of Mexican markets around here to find the chiles de arbol, but feel free to substitute if you can't find them in your area.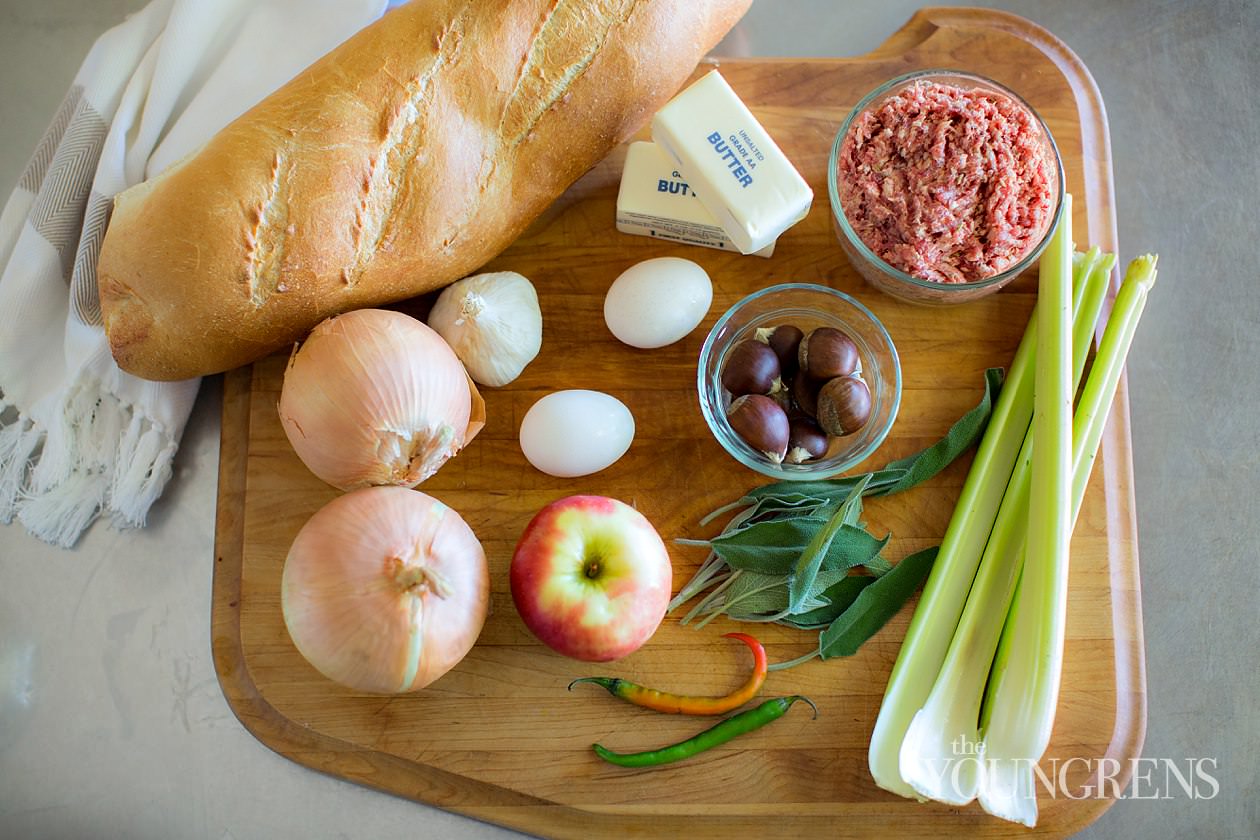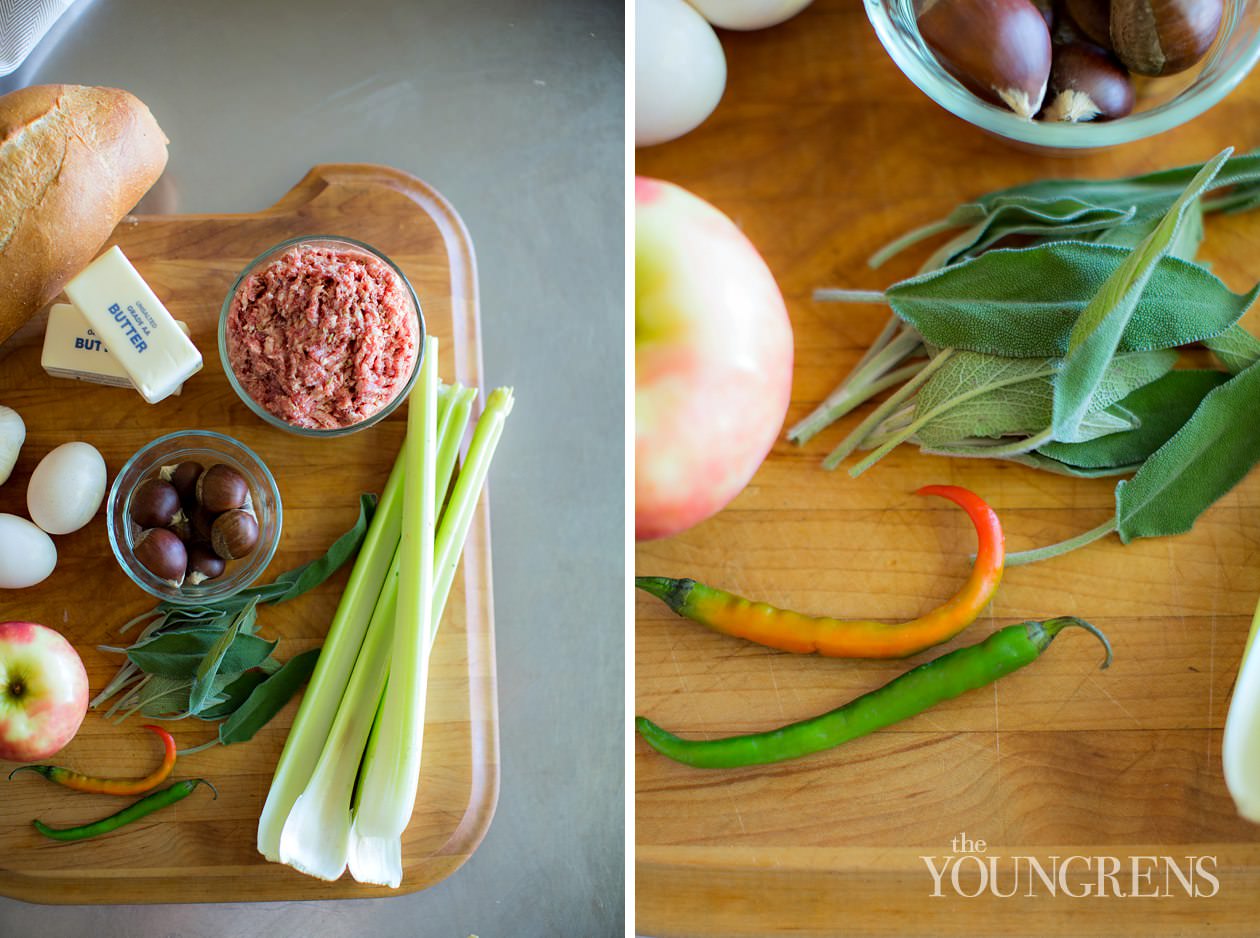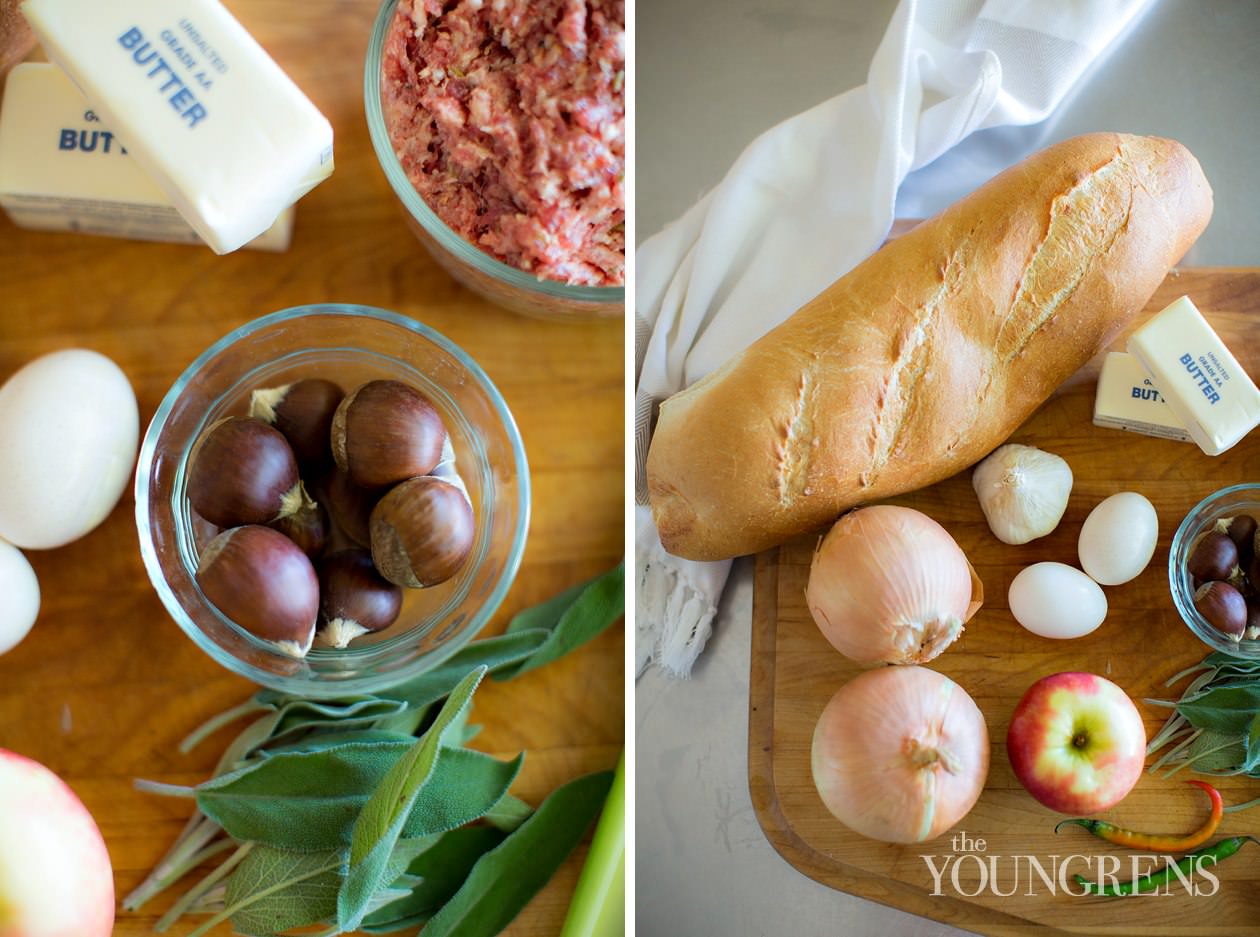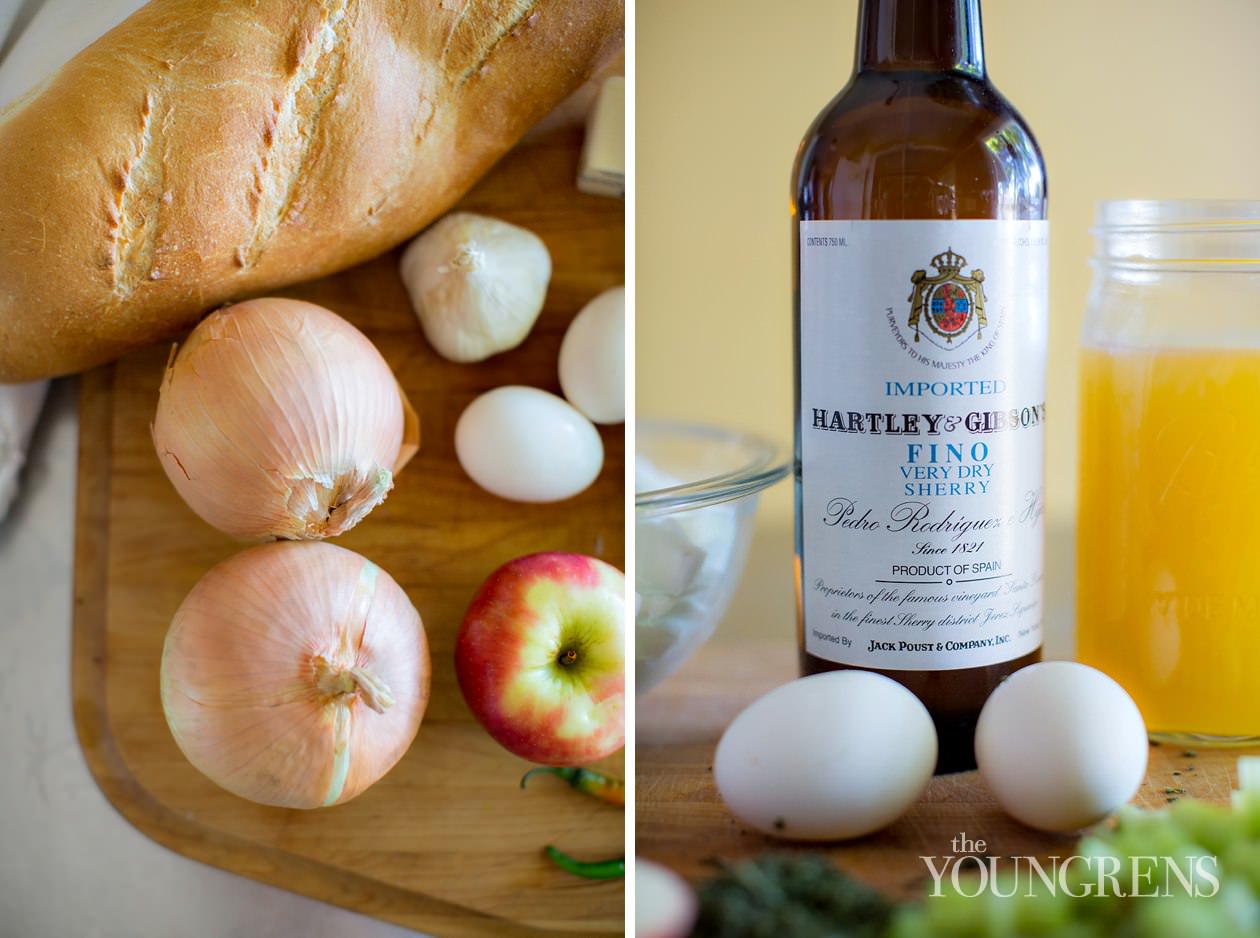 The store didn't have roasted chestnuts quite yet, so we had to roast them ourselves. Just cut the shell 3/4 around and place on a baking sheet to roast in the oven. Then let the shells cool and remove the nut from inside. This was the first time I've roasted chestnuts, so I turned to my trusted Martha Stewart to learn how.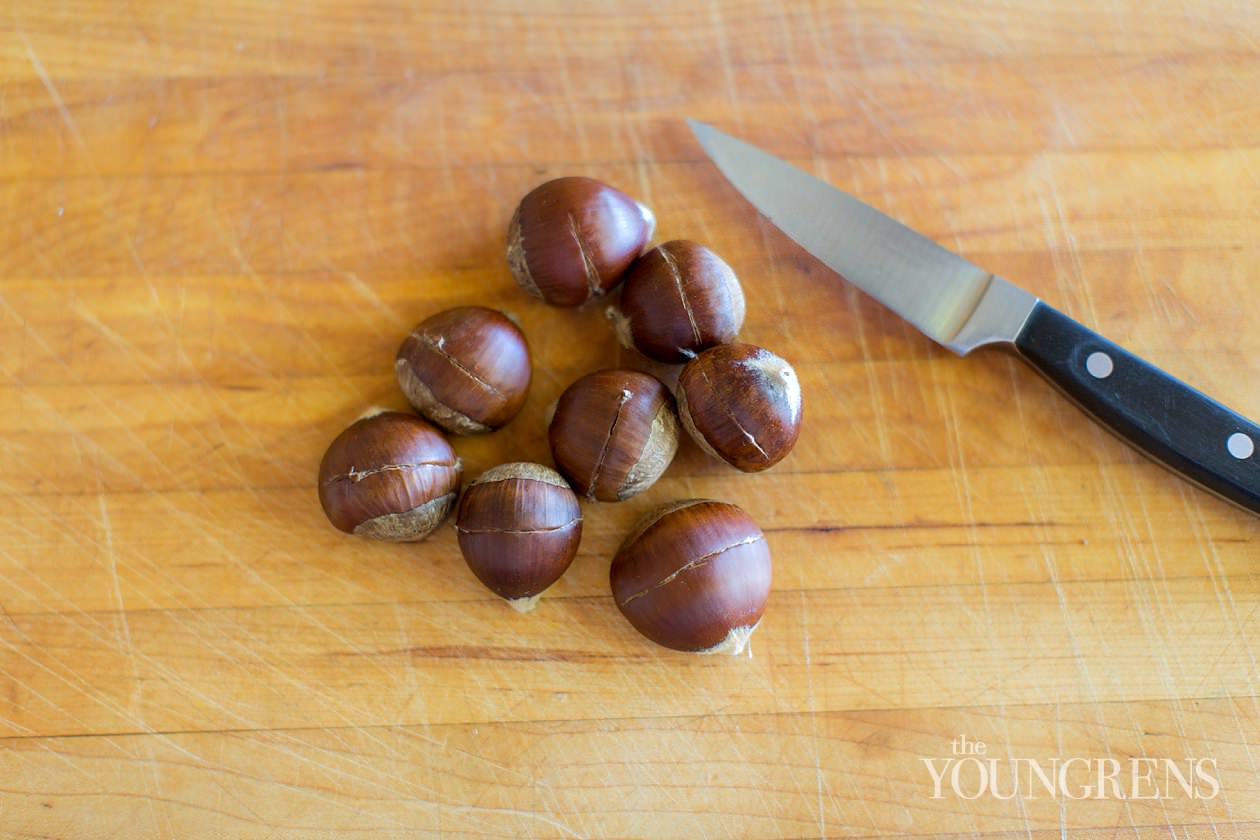 Alright, we're ready to begin! Start heating up your oven to 350 degrees, butter a baking dish, and butter one side of a large piece of foil, then chop the rest of your ingredients and heat up a skillet with some oil.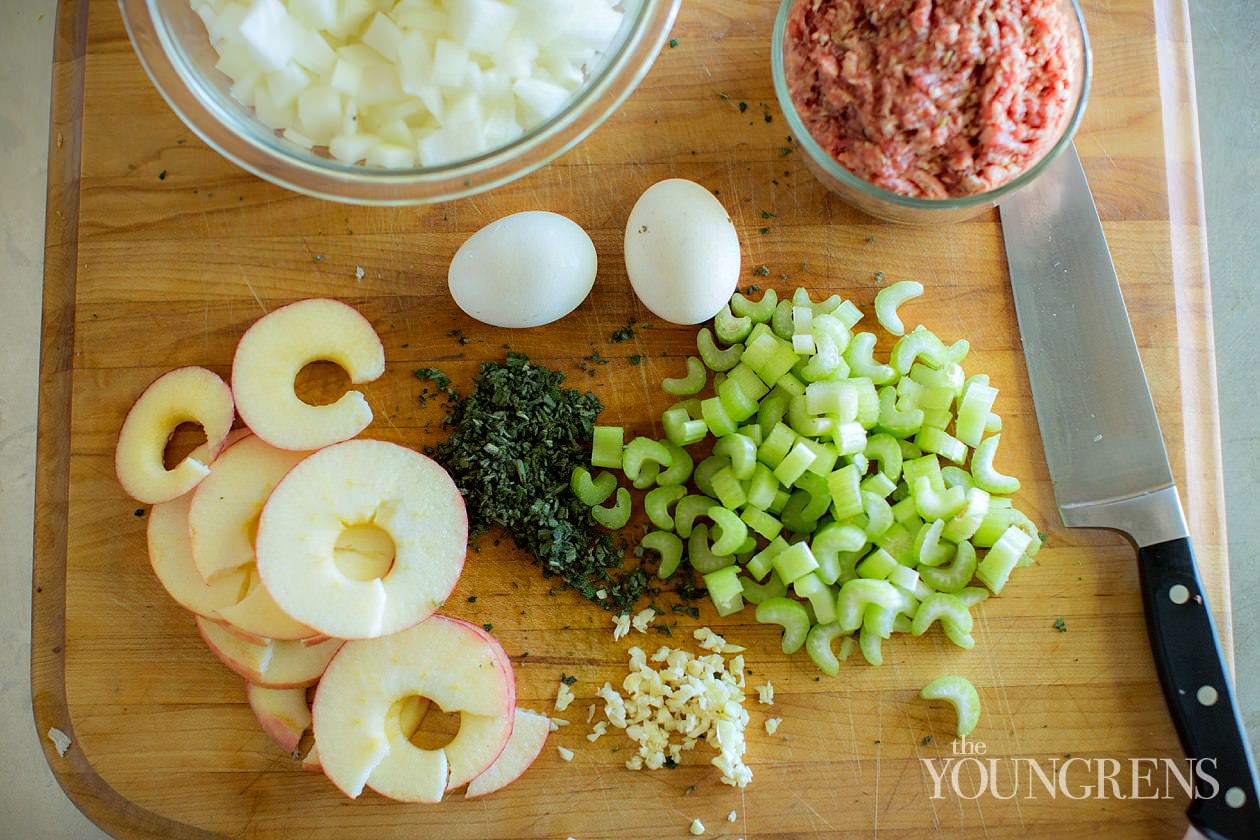 First, put your pieces of dried out sourdough in a large bowl, cook the chestnuts briefly in the pan, then add those to the bowl. Then cook the sausage in the same pan, and put it in the same bowl when it's finished.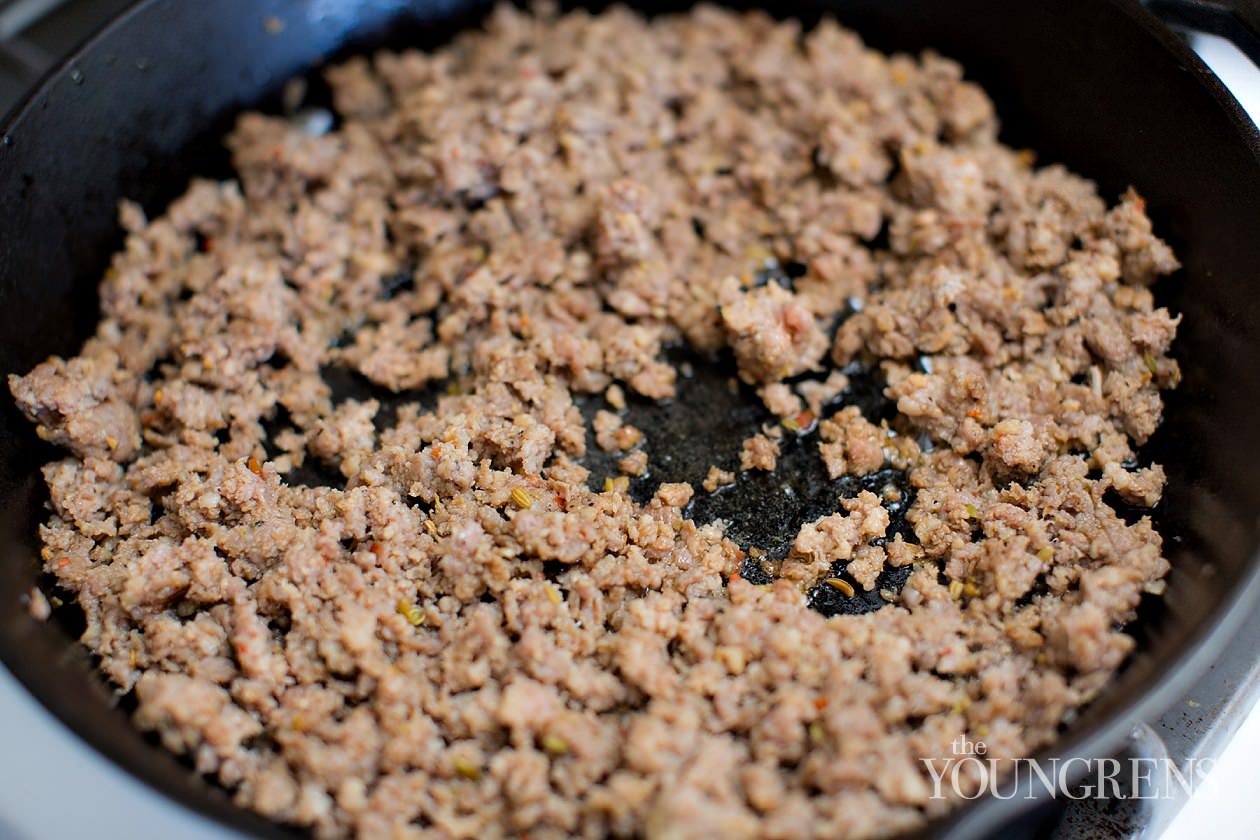 Add all of your veggies, apple, sage and whole chiles to the pan in stages, and cook until the onions are translucent. Remove the whole chiles and then add the mixture to the bowl.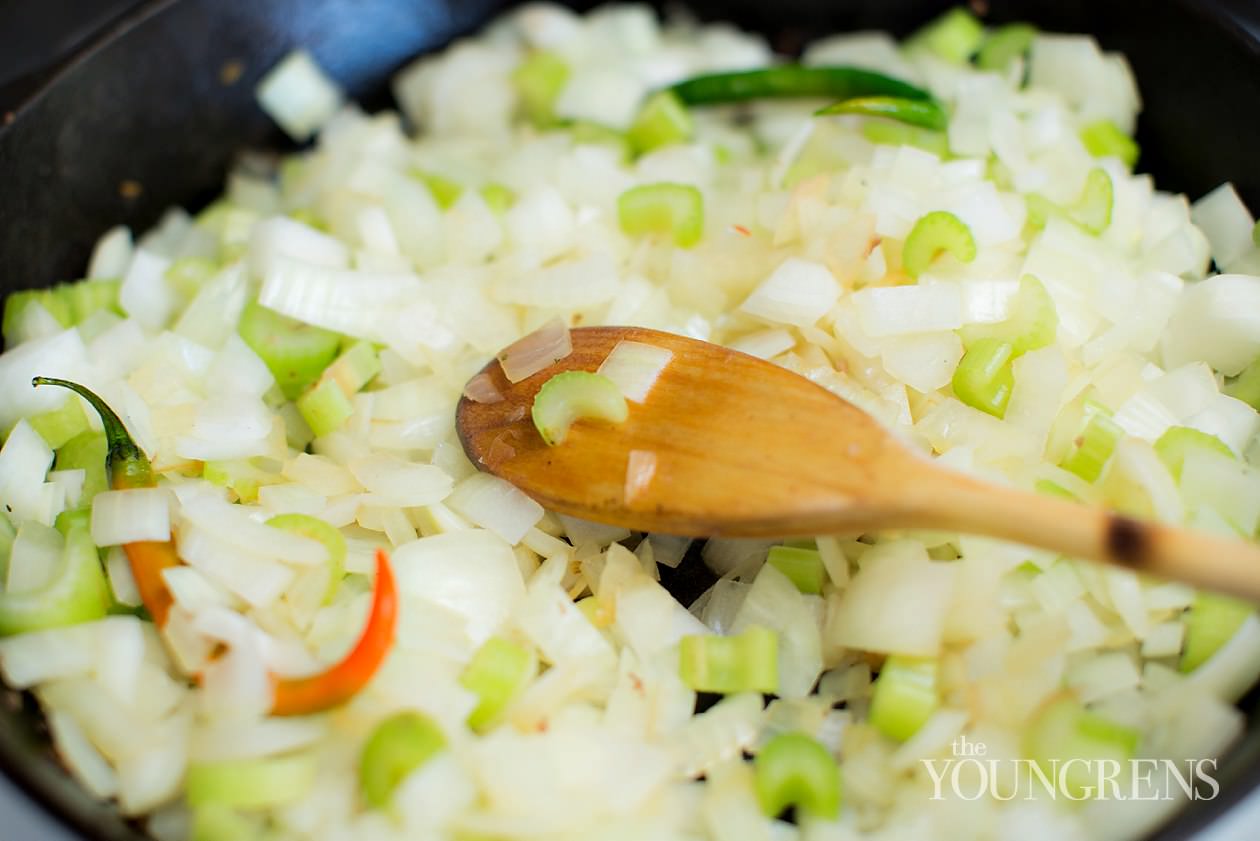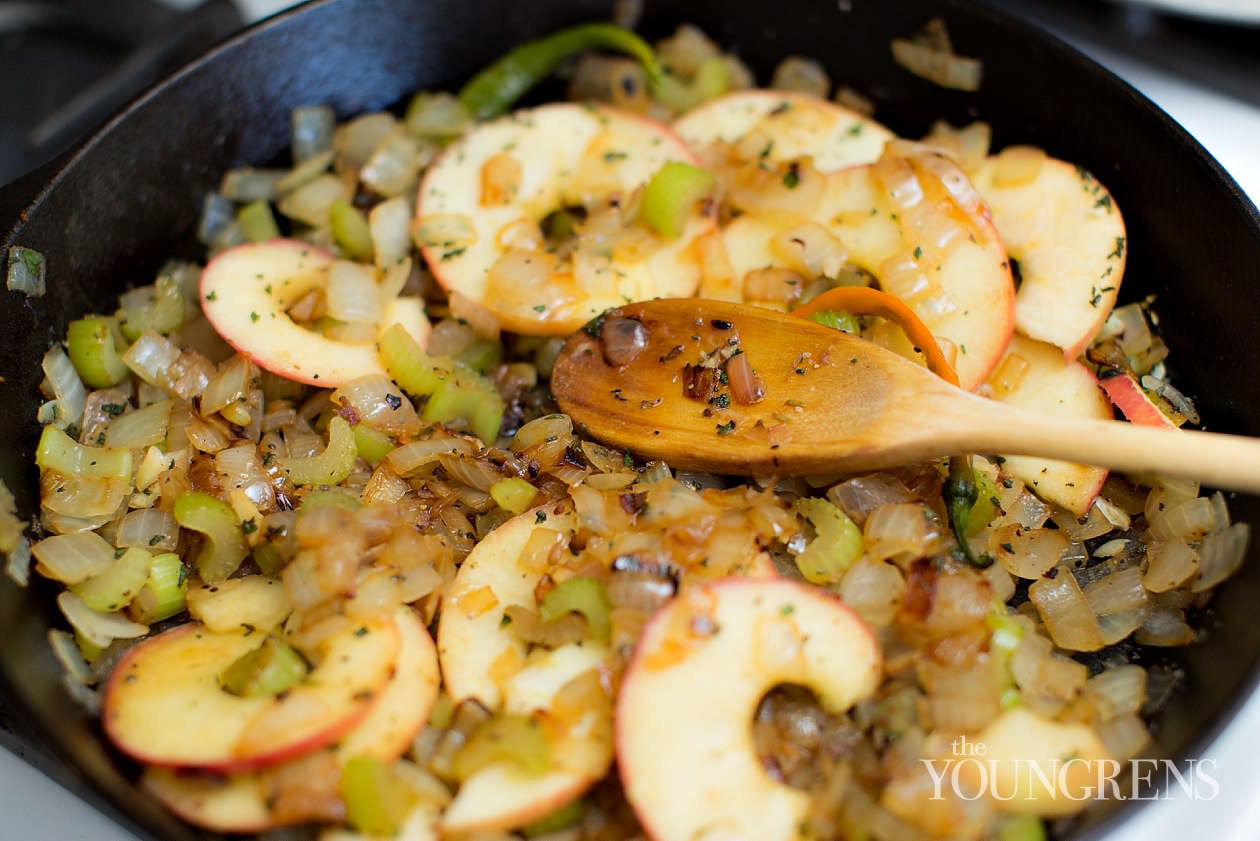 After the pan is emptied, you'll add the sherry to the skillet to remove all of the browned bits and flavor from the bottom of the pan. Add the butter, get it nice and melted, and add that to the bowl as well. This will have tons of flavor, so don't skip this part!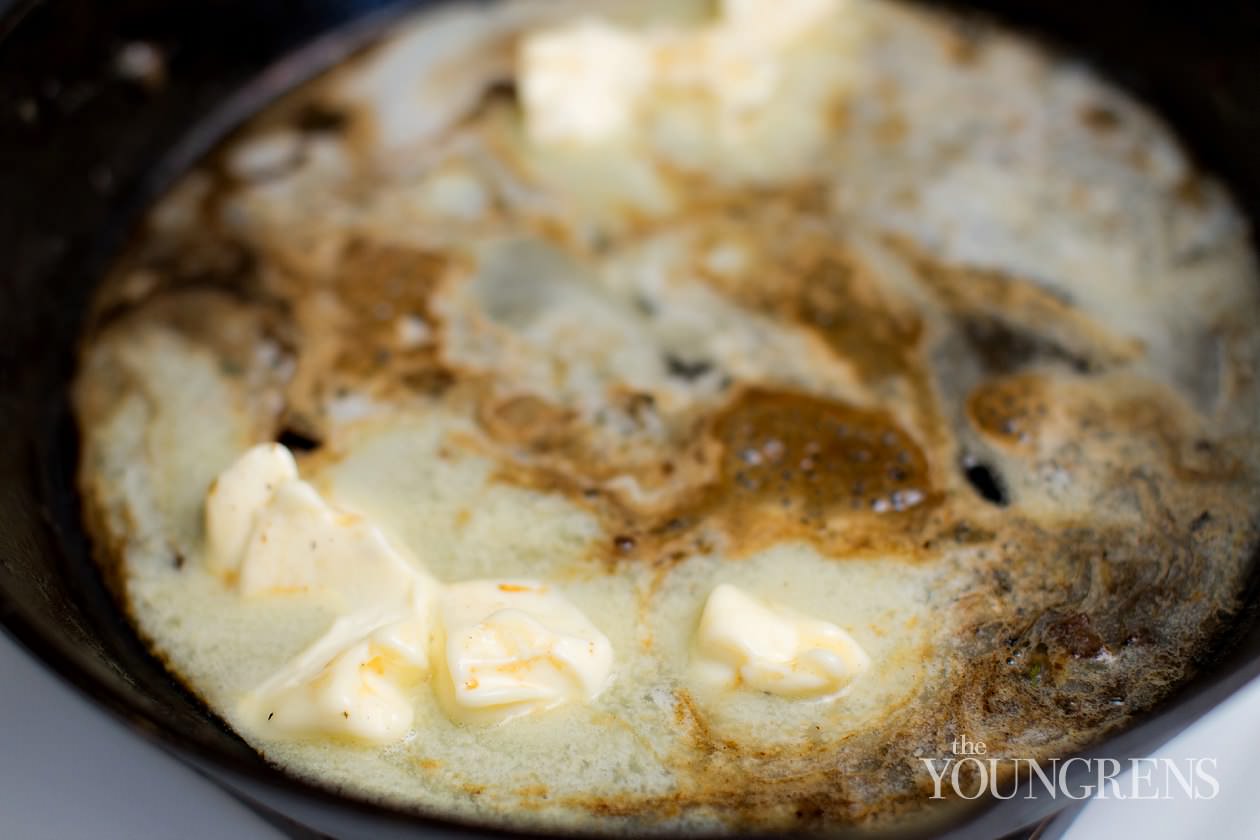 Whisk your eggs and 2 cups of the stock together and then pour it over the bread mixture.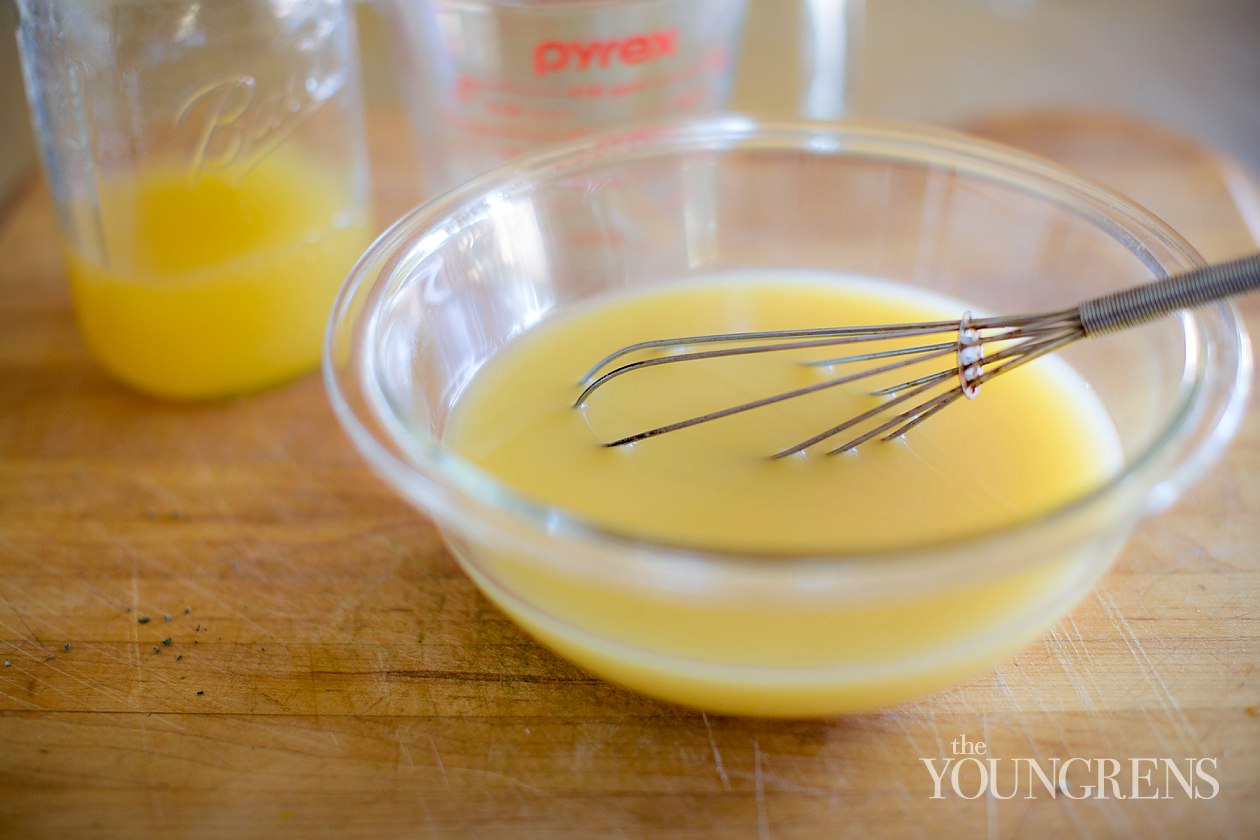 Toss the mixture together until everything is moistened. Add more stock if you need to, but don't go overboard. You want the bread to be moist, but you don't want the pieces to become mushy and fall apart.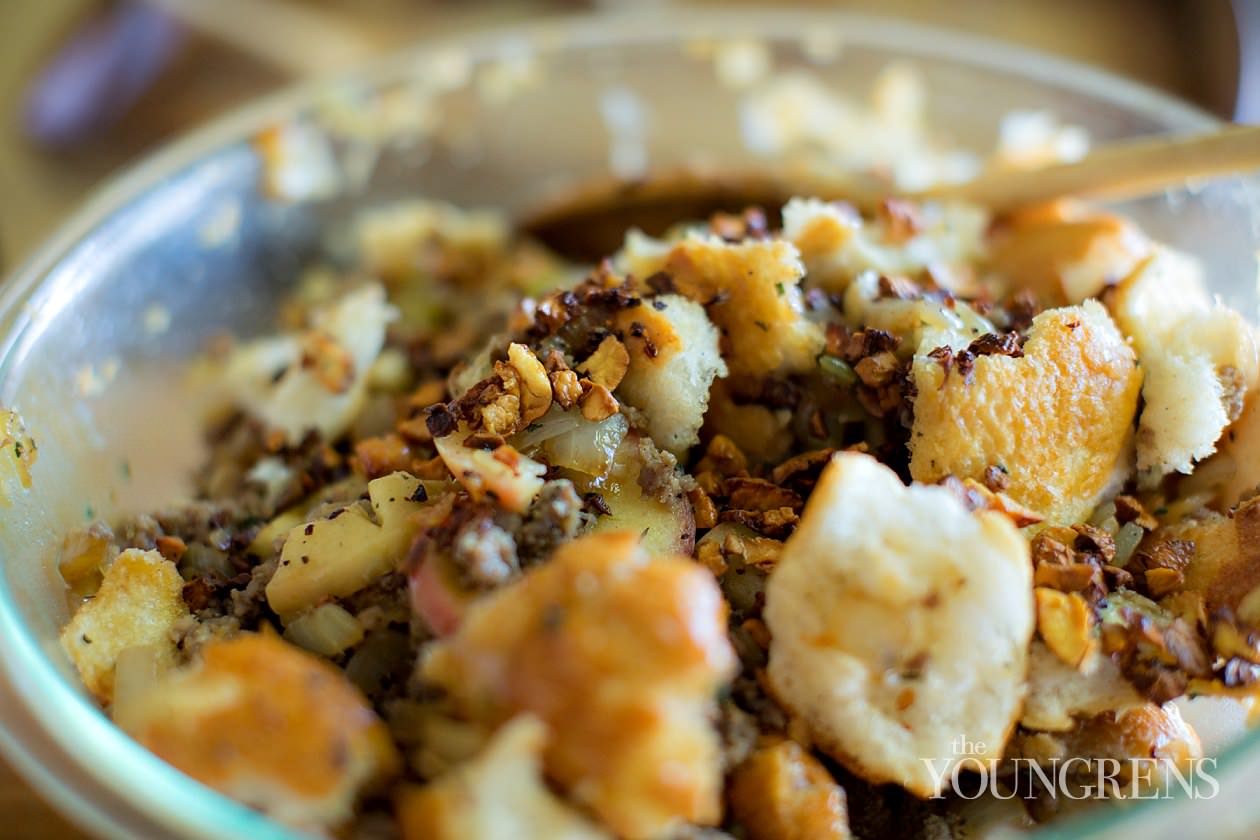 Transfer the mixture to a baking dish and dot with butter. Then cover with the buttered piece of foil and put in the oven to bake at 350 degrees fro 30-35 minutes. Side note: This is the do-ahead cut-off. Once you put the mixture in the baking dish, you can cover the dish and chill overnight. Then just bring it out the next day and pop it into the oven when you're busy preparing the rest of the meal. We're definitely fans of do-ahead dishes!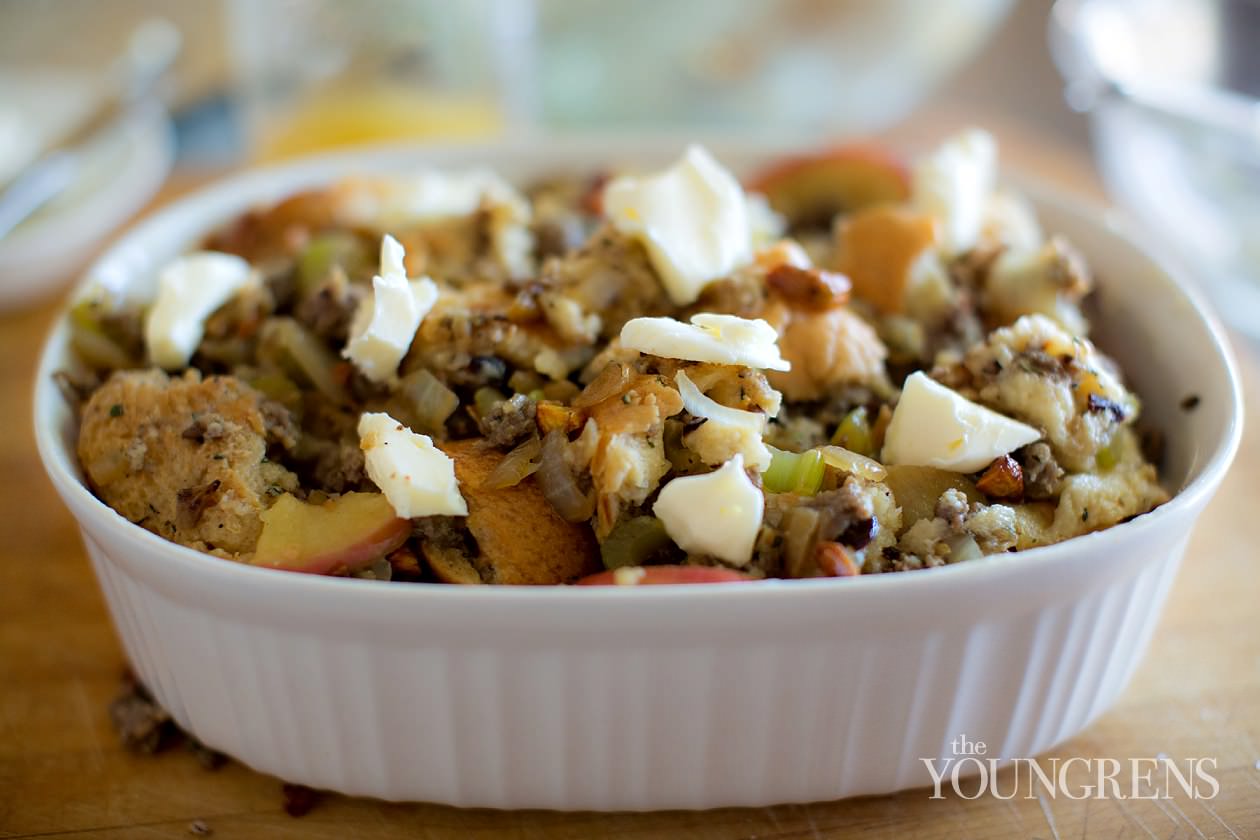 After baking for 30-35 minutes at 350 degrees, stick a paring knife in the center of the dish and make sure it comes out hot. If it's not hot in the center of the dish at this point, you need to cover it up and cook the stuffing more, which we definitely had to do. The center of the stuffing can come out wet and sloppy if it's not cooked all the way through, so this step is important. Once the center of the stuffing is nice and hot, turn the oven up to 450 degrees and remove the foil to brown the top for 20-25 minutes more.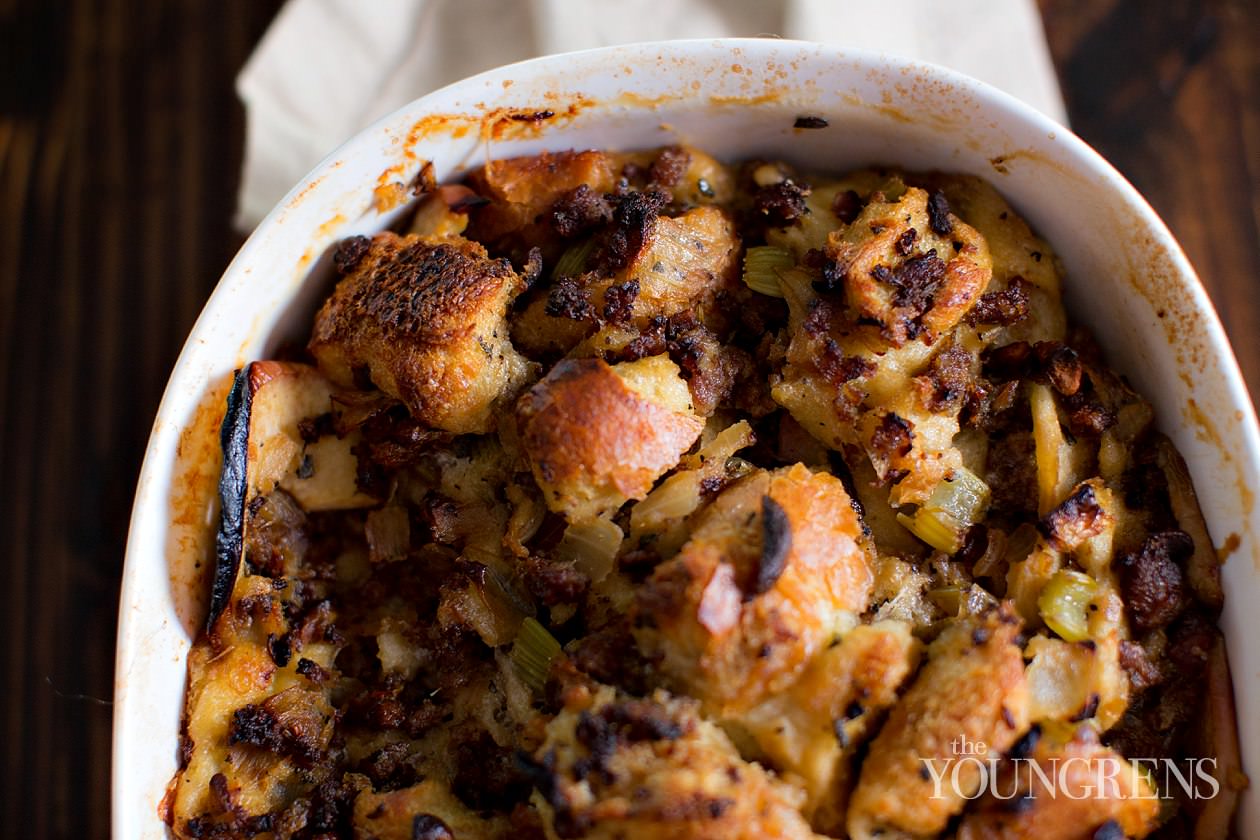 This crunchy, rich stuffing is amaze-balls! We loved it so much, especially when paired with the Rich Turkey Gravy. This recipe is definitely worth keeping around for another couple of holidays!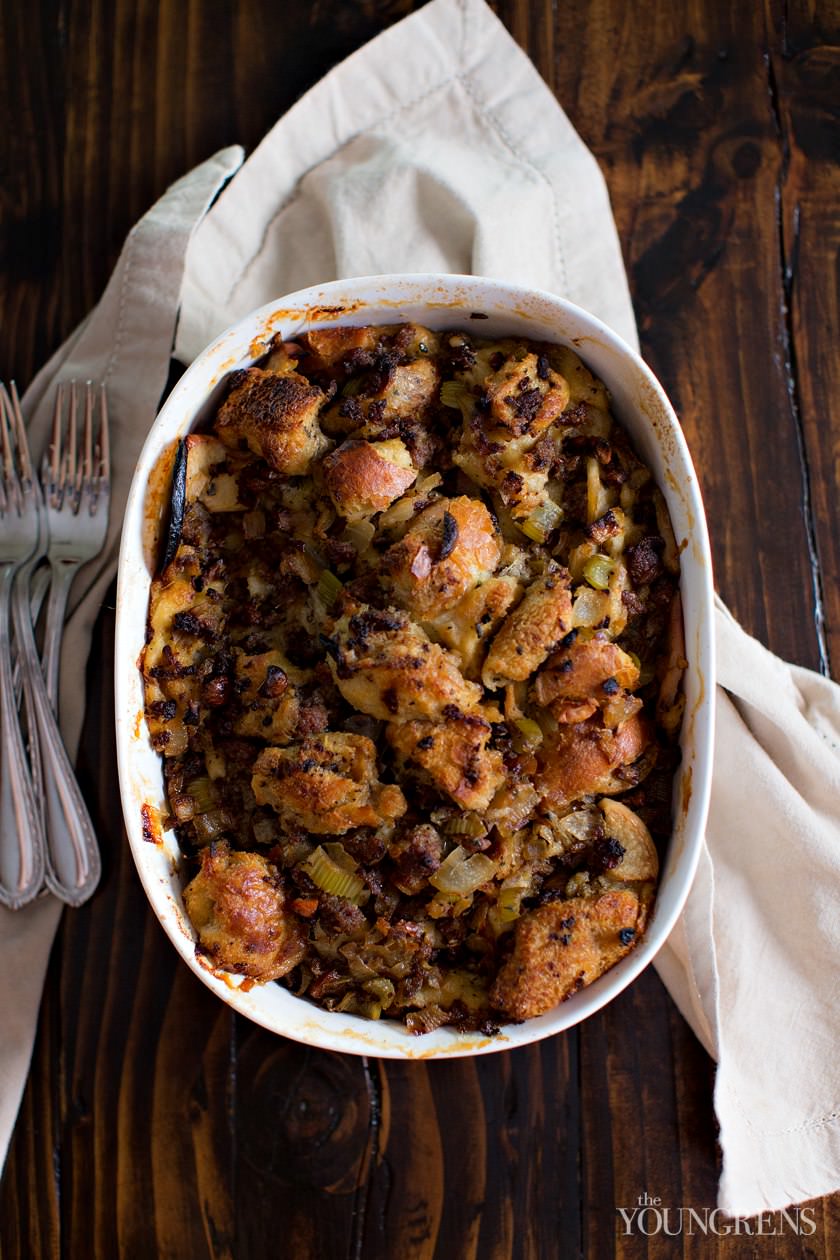 Sourdough, Italian Sausage, and Chestnut Stuffing
(View Original recipe from Bon Appetit)
3/4 cup (1 1/2 sticks) unsalted butter, cut into pieces, divided, plus more
10 cups coarsely torn sourdough bread, dried out overnight
2 Tbsp. plus 1/4 cup olive oil
1/2 cup chopped roasted chestnuts
Kosher salt, freshly ground pepper
1 lb. sweet Italian sausage, casings removed
2 medium onions, chopped
4 celery stalks, chopped
2 chiles de arbol
1 large Pink Lady apple, thinly sliced
2 garlic cloves, finely chopped
1/4 cup finely chopped fresh sage
1/2 cup very dry sherry
2 large eggs
3 cups chicken stock or low-sodium chicken broth, divided
Directions:
Preheat oven to 350 degrees. Butter a shallow 3-qt. baking dish and a sheet of foil. Place bread in a very large bowl.
Heat 2 Tbsp. oil in a small saucepan over medium heat. Add chestnuts, season with salt and pepper, and cook, stirring often, until chestnuts are golden and crisp, about 5 minutes. Transfer to bowl with bread with a slotted spoon.
Heat remaining 1/4 cup oil in a large skillet over medium-high heat. Add sausage and cook, stirring occasionally and breaking into small pieces with a wooden spoon, until browned and cooked through, 8-10 minutes. Transfer to bowl with slotted spoon.
Add onions, celery, and chiles to skillet, season with salt and pepper, and cook, stirring often, until onions are translucent and soft, 5-7 minutes. Discard chiles. Add onion mixture to bowl.
Reduce heat to medium and cook Sherry in skillet, scraping up any browned bits, until almost all evaporated, about 1 minute. Add 1/2 cup butter; cook, stirring, until melted. Drizzle over bread mixture.
Whisk eggs and 2 cups stock in a medium bowl; pour over bread mixture. Season with salt and pepper and toss, adding more stock 1/4-cupful at a time as needed (you may not use it all), until combined and bread is hydrated. Transfer to prepared dish and dot with remaining 1/4 cup butter.
Cover with buttered foil; bake until a paring knife inserted into the center comes out hot, 30-35 minutes. Increase oven temperature to 450 degrees. Uncover and bake until top is golden brown and crisp, 20-25 minutes. Let sit 10 minutes before serving.
Do ahead: Stuffing can be assembled 1 day ahead. Cover and chill.
Enjoy!
Erin