Benny wouldn't say that he is an emotional guy. Necessarily.
It's not that he isn't warm and kind and genuine – because he definitely is. It's that he has never found an emotional home, a place for his heart to find peace, acceptance, and rest.
Until Marion.
Marion is a graceful woman with a brilliant mind, and she wouldn't describe herself as emotional either – until she met a charming boy halfway across the world, and they ate popsicles together on a sunny afternoon.
When it comes to Benny, she has found her emotional home, too.
Benny and Marion's relationship began in Shanghai, developed through Harvard, and endured long distance as Marion finished medical school in Chicago and Benny dove into business. They are a graceful pair of souls that operate with confidence and passion, and they chose the picturesque Cafe Pinot tucked in the heart of downtown Los Angeles for their wedding.
This black tie celebration was nothing less that elegant, and friends – I'm so in love with this wedding. The moments, the details, the couple – everything felt so right for these two, and Jeff and I felt incredibly inspired by their genuine hearts.
Cafe Pinot is one of those outdoor garden venues that feels like you're inside because it's so cozy being surrounded on all sides by the romantic buildings and skyscrapers of Los Angeles. The walls are the buildings, the ceiling is the sky full of stars, and the warmth is the blurred sounds of the bustling city all around.
A huge thanks goes out to Caroline Cha and her team at Serenity Events for designing and coordinating this wonderful day, and to Flower Allie for the sweetly charming florals. We began with the guys and the girls getting ready at the Millennium Biltmore Hotel, then hopped over to the Walt Disney Concert Hall for their First Look and portraits, then celebrated under the stars at Cafe Pinot for their classic black and white reception.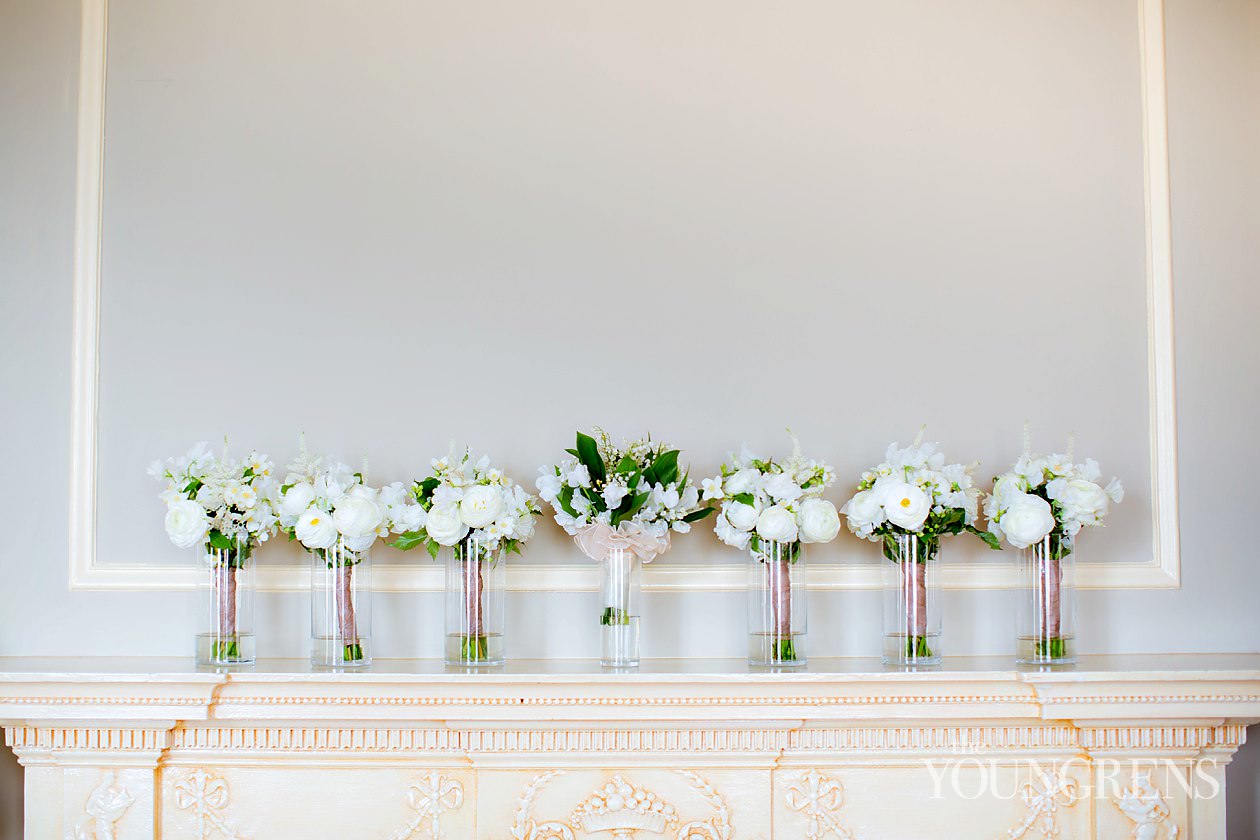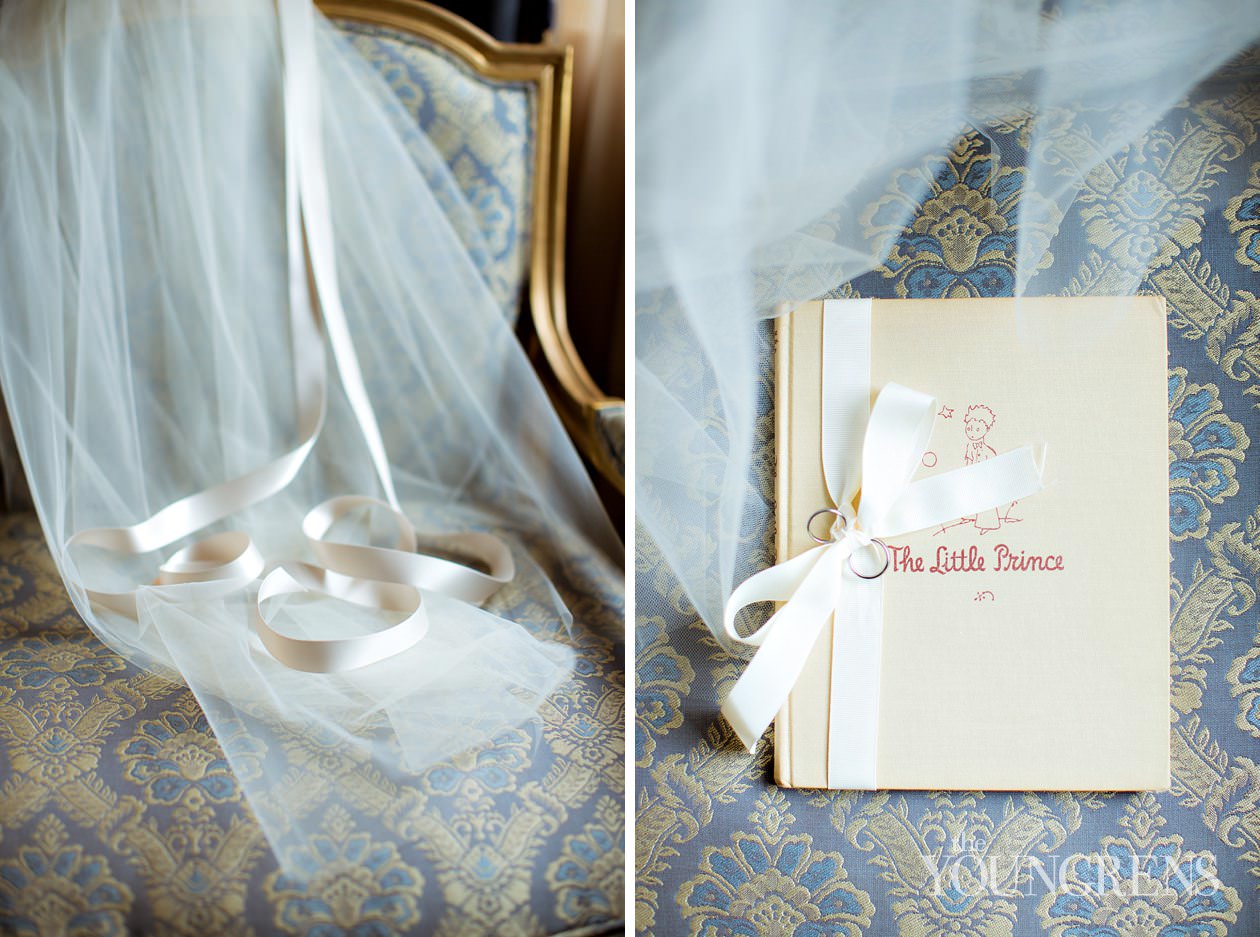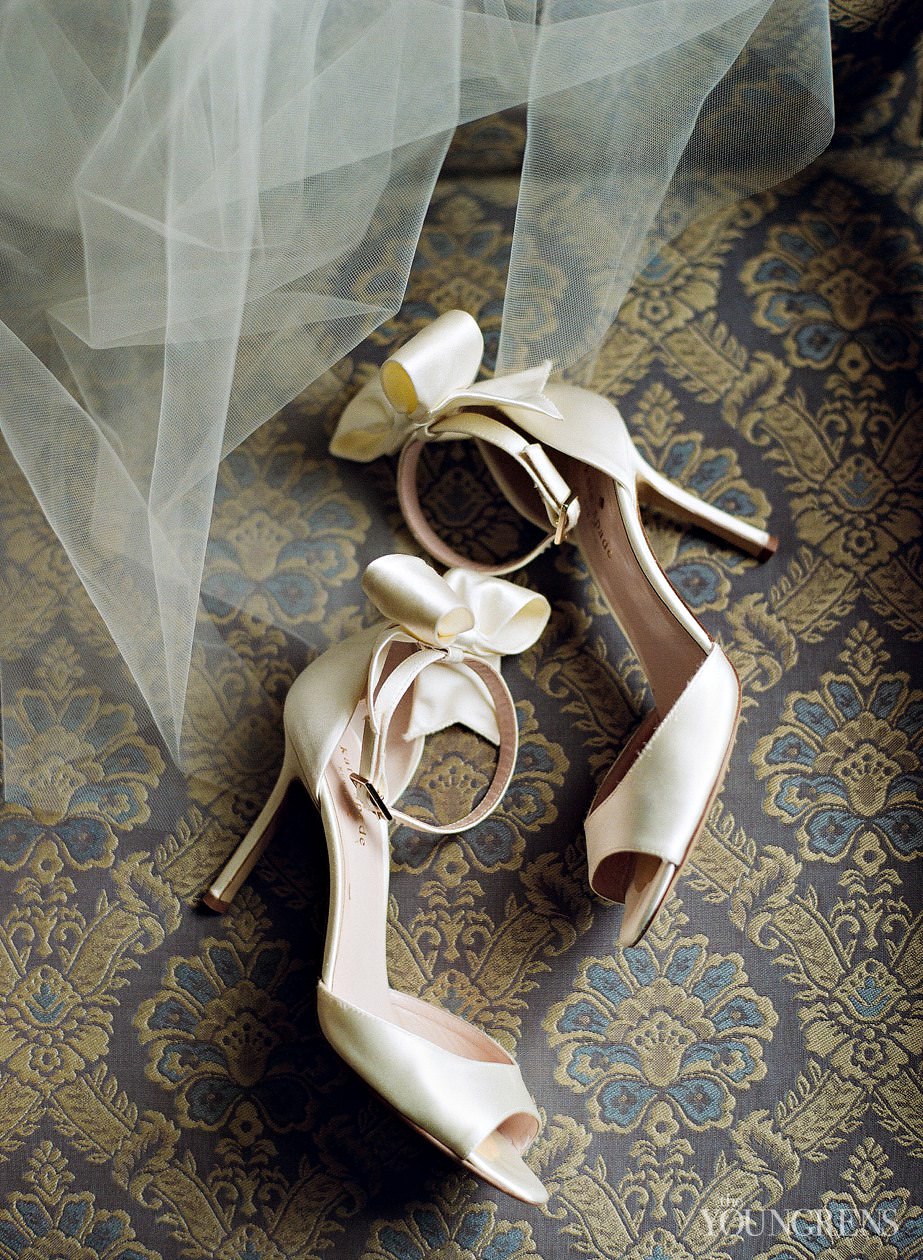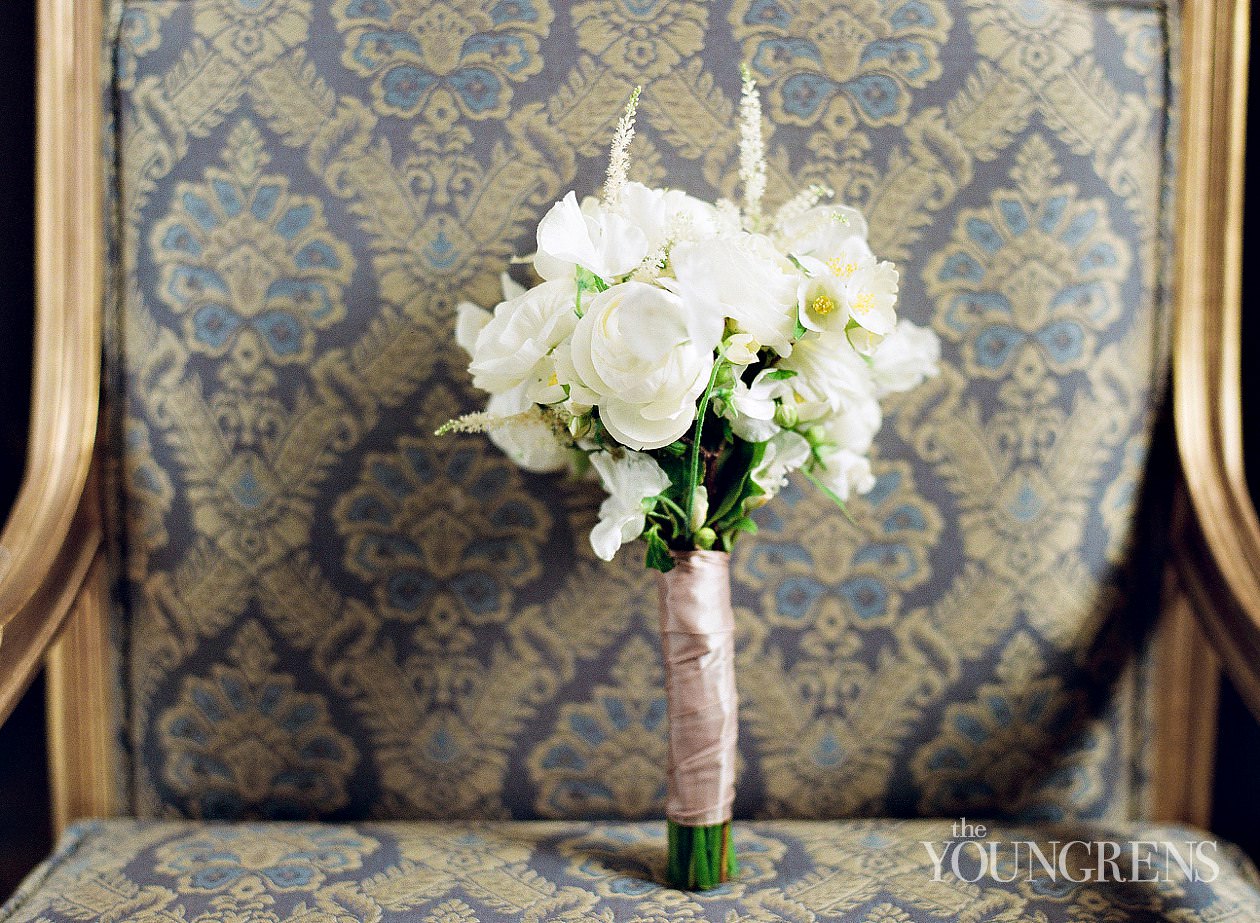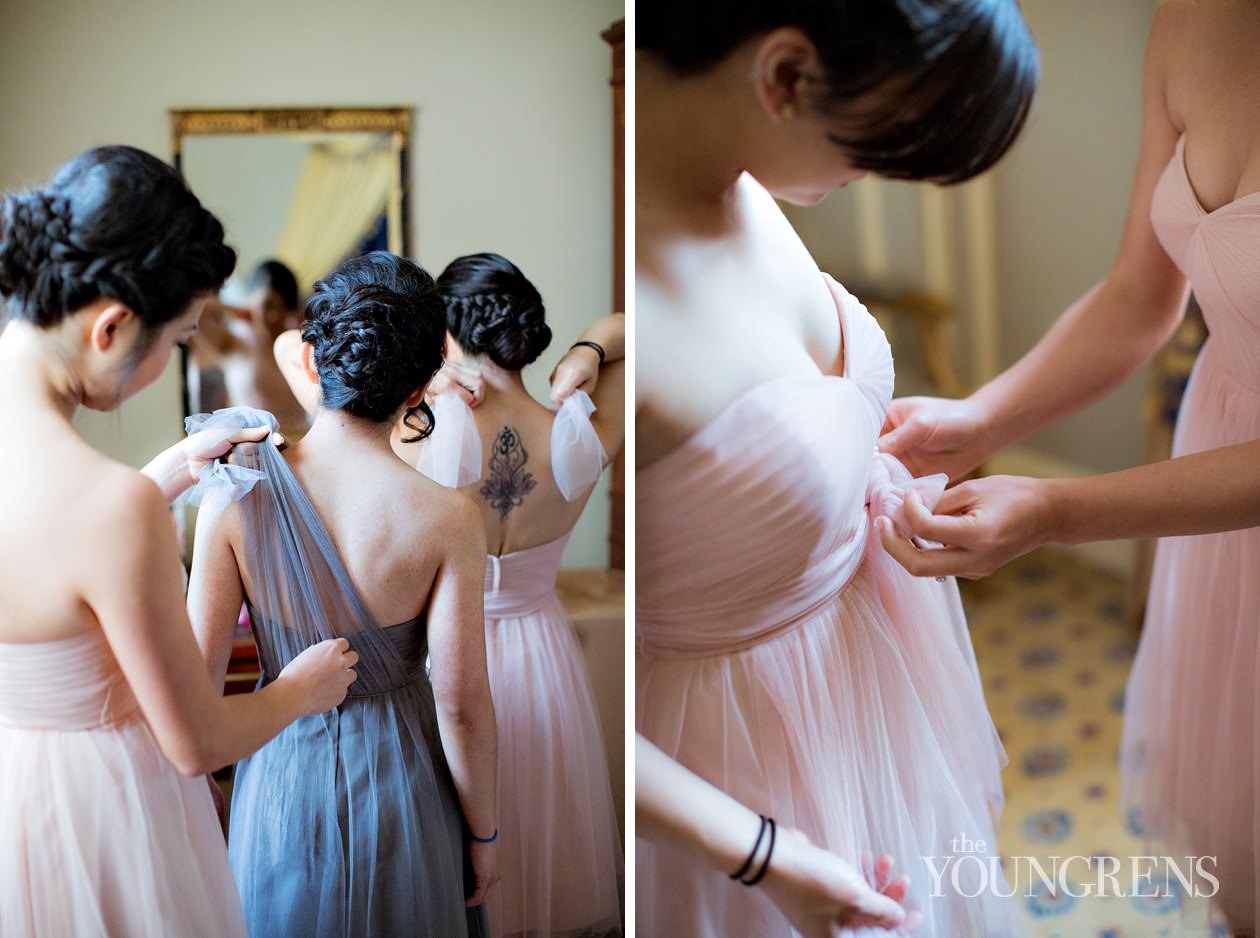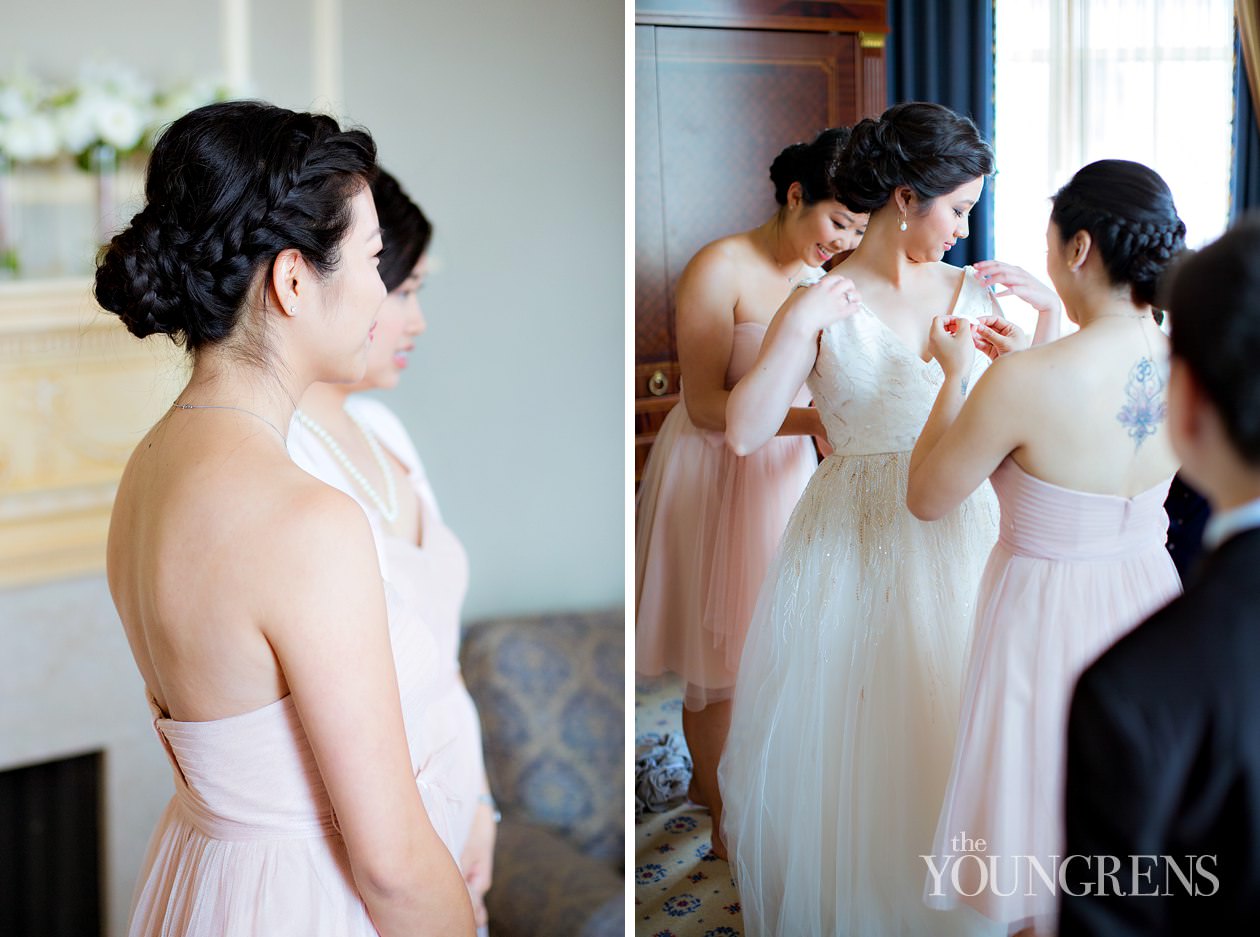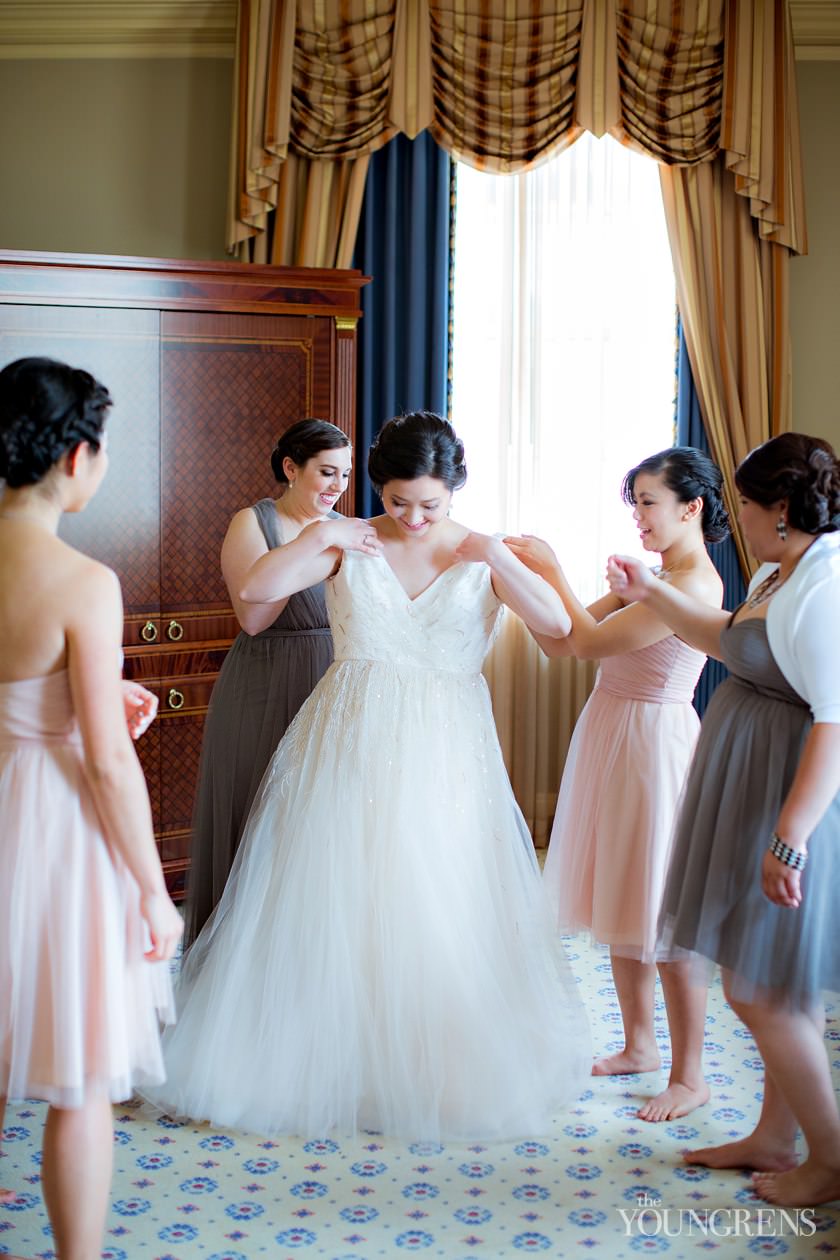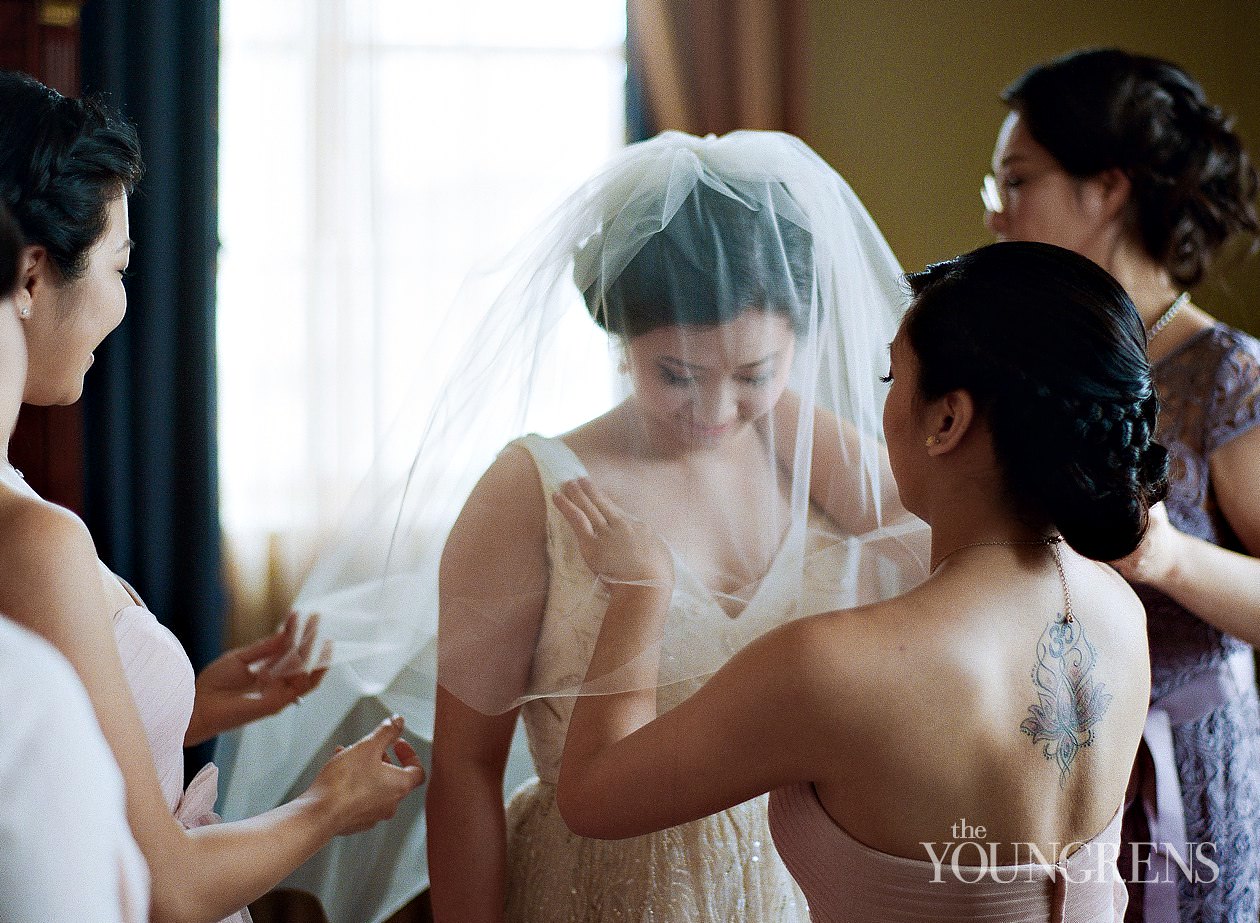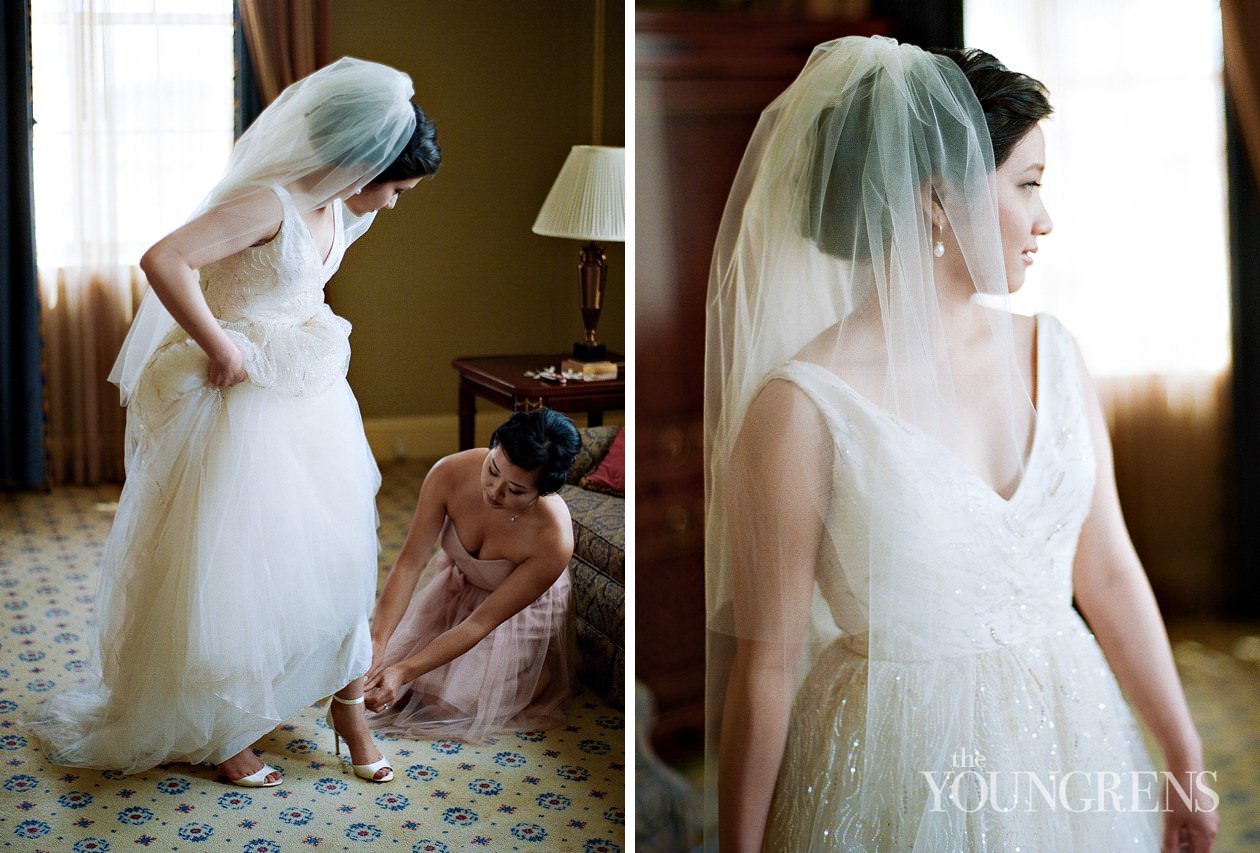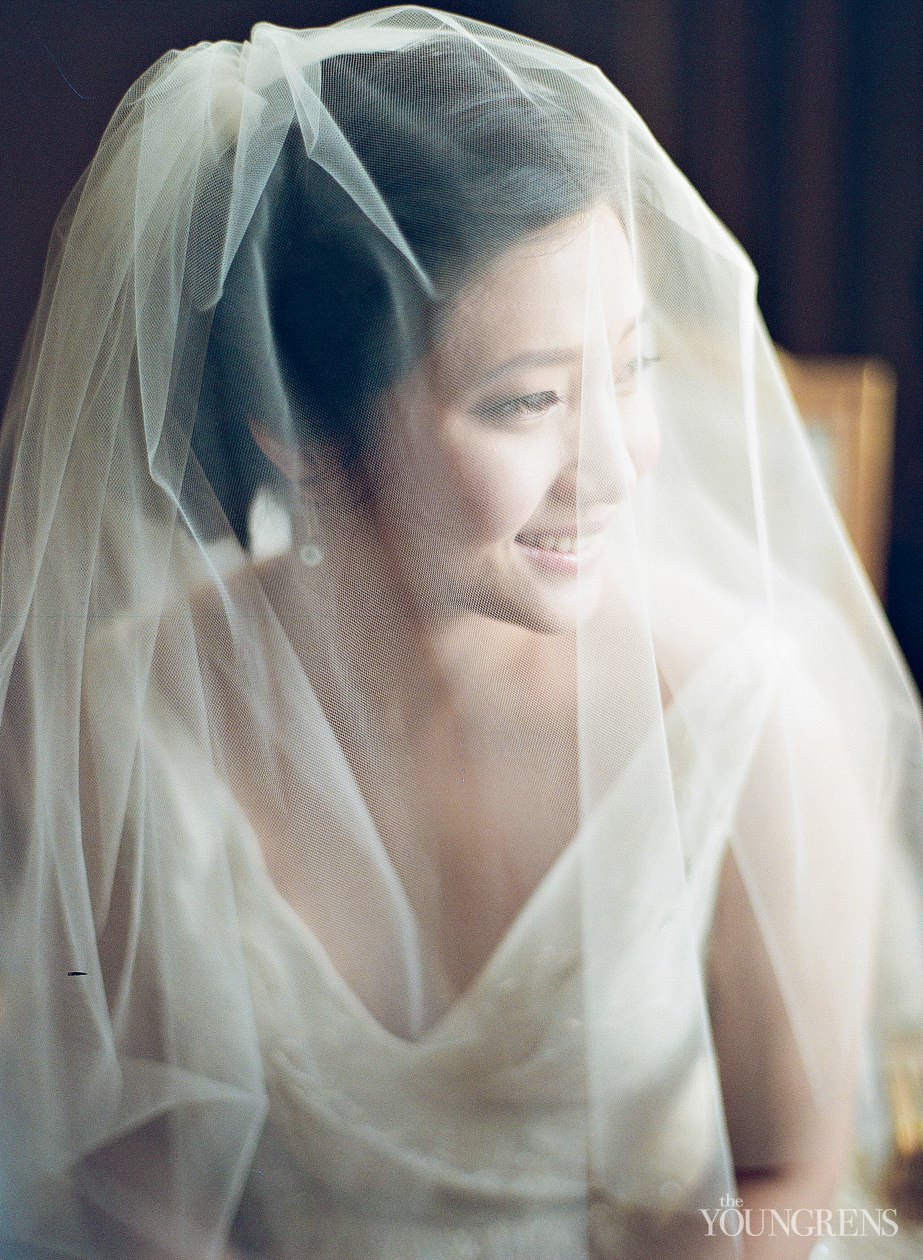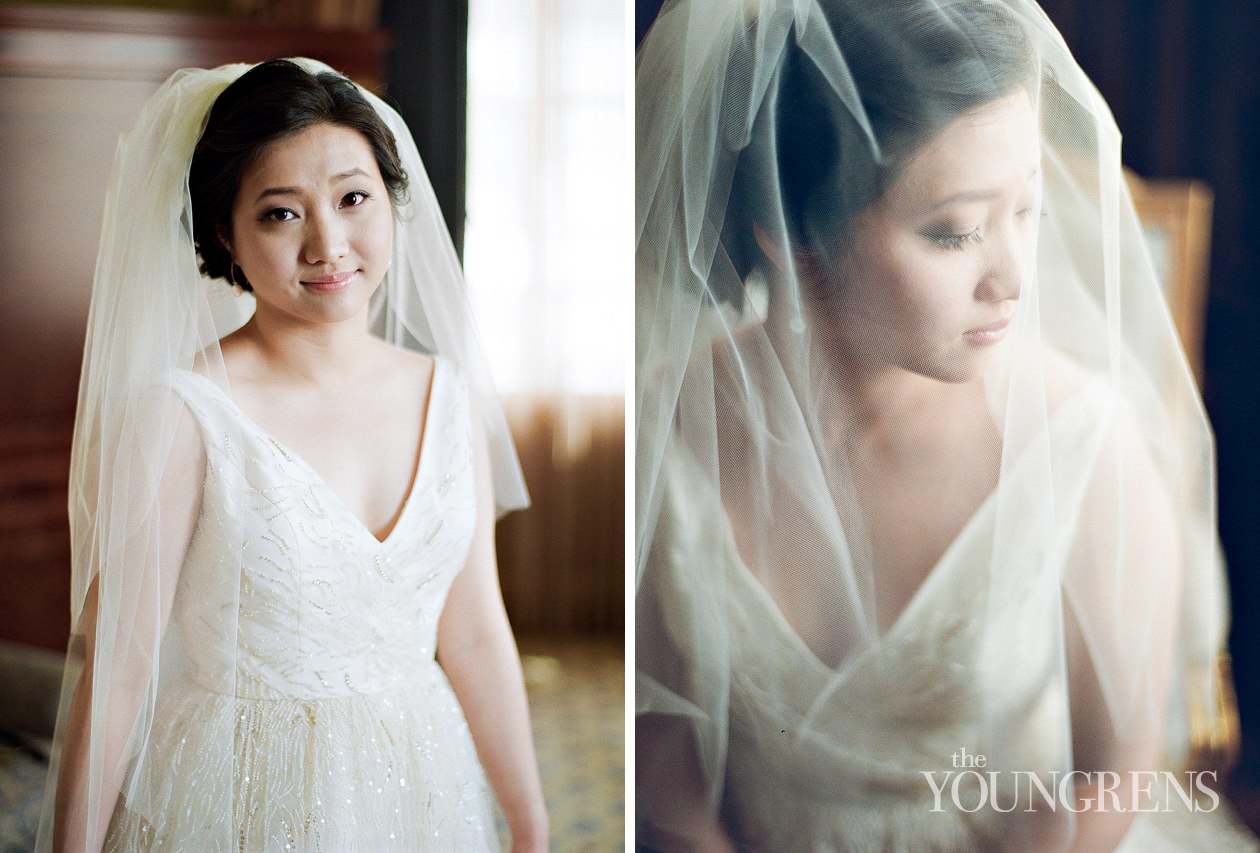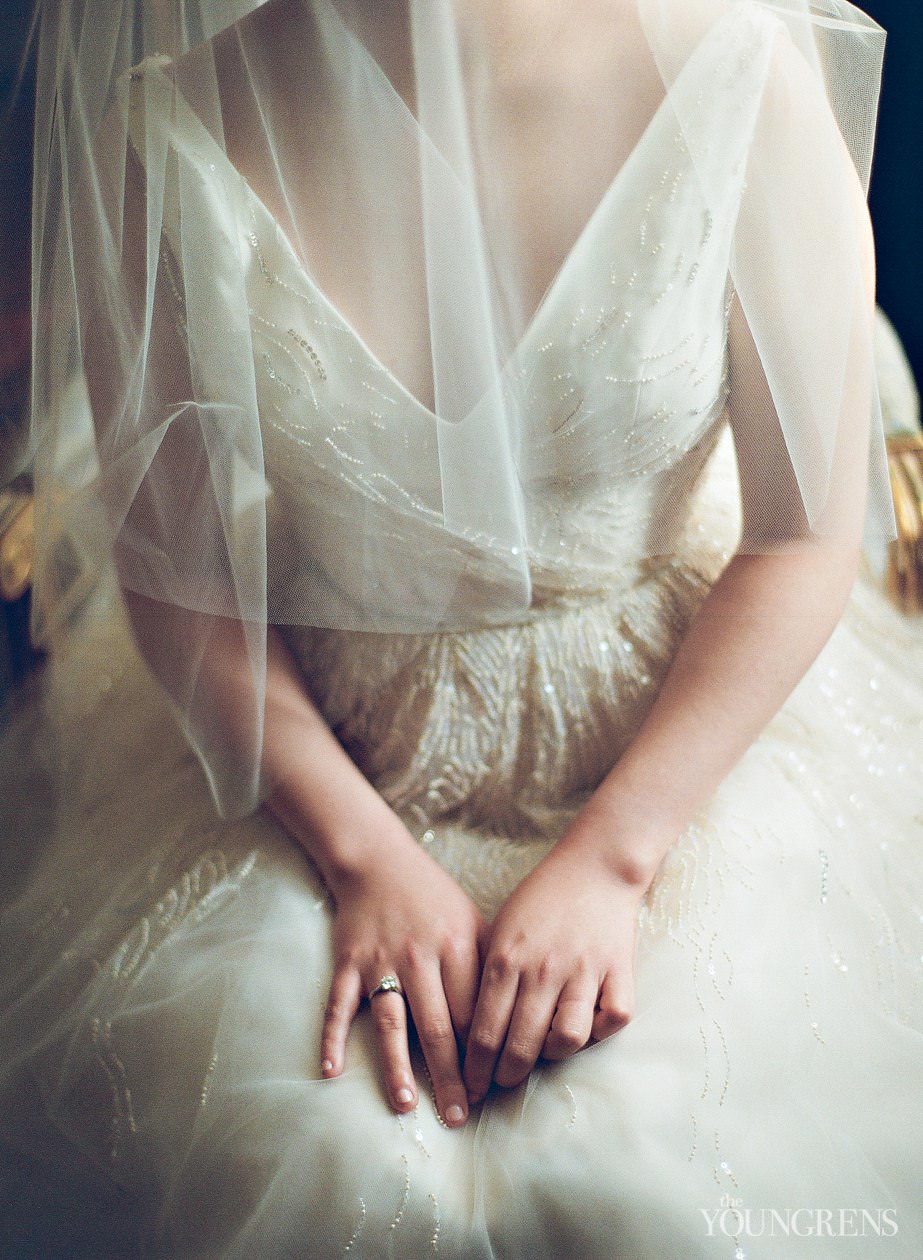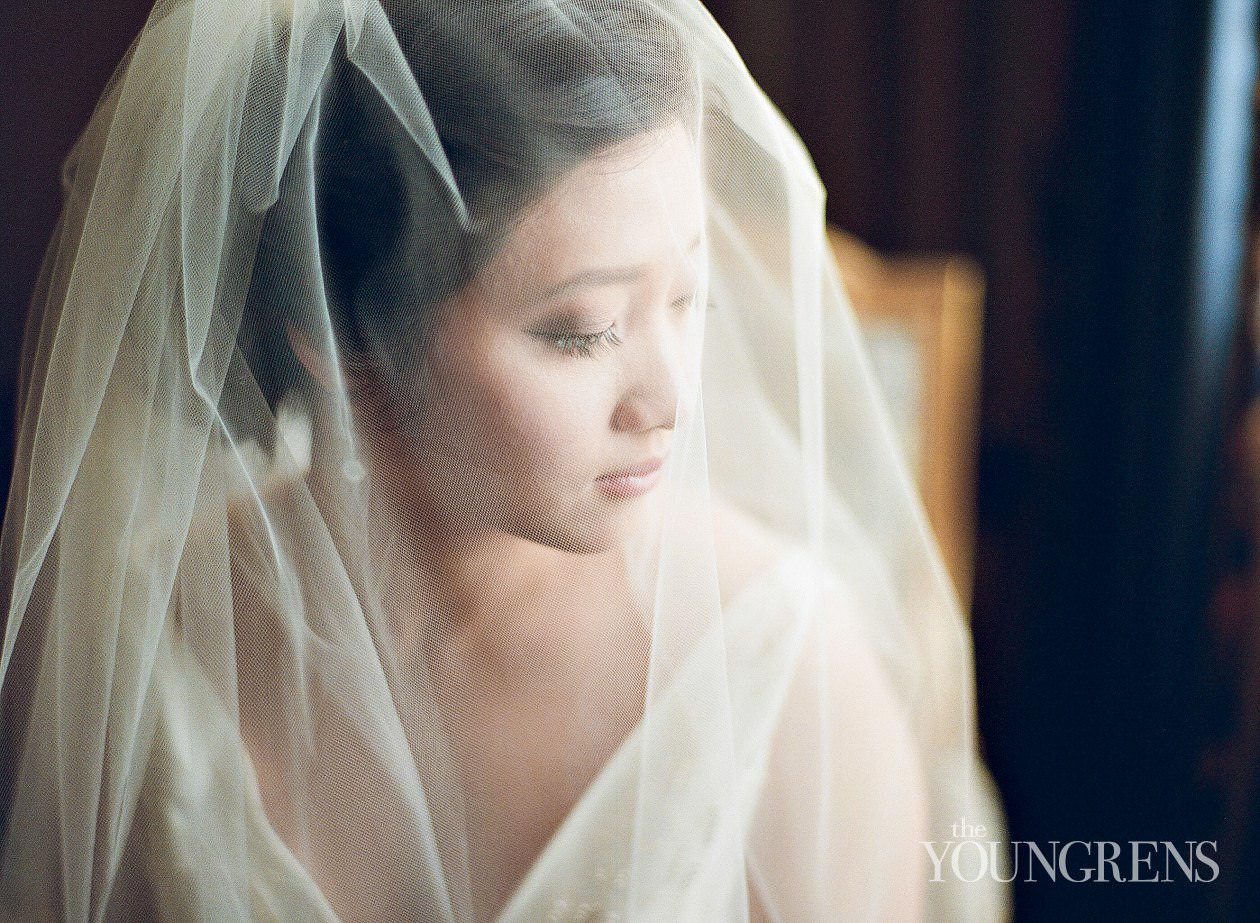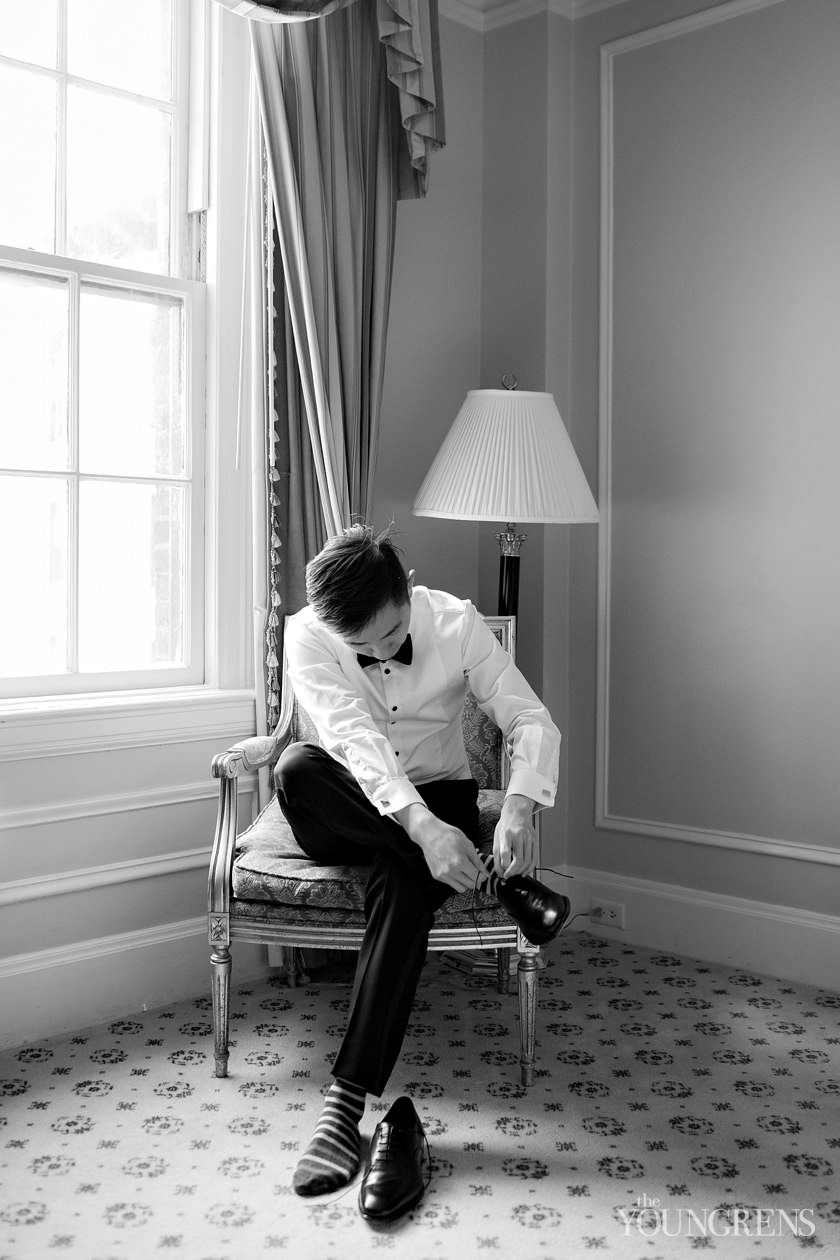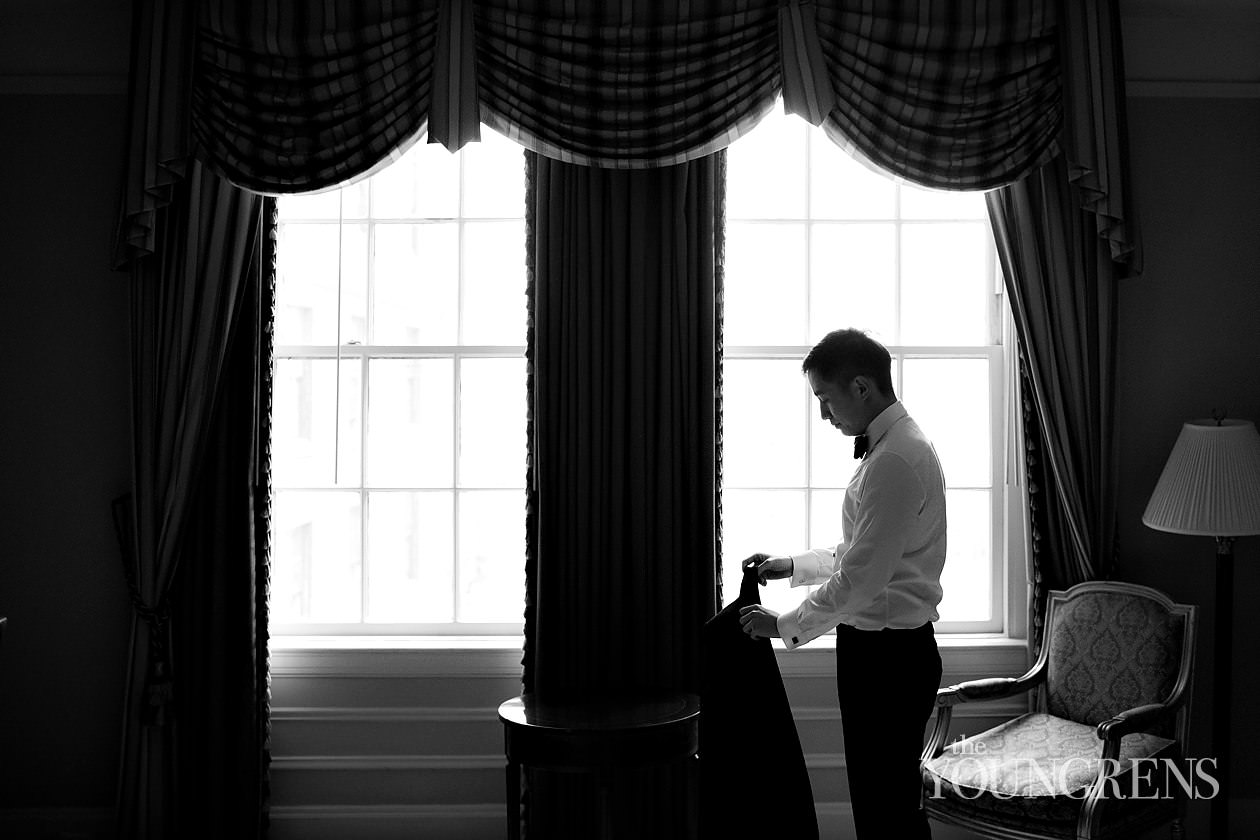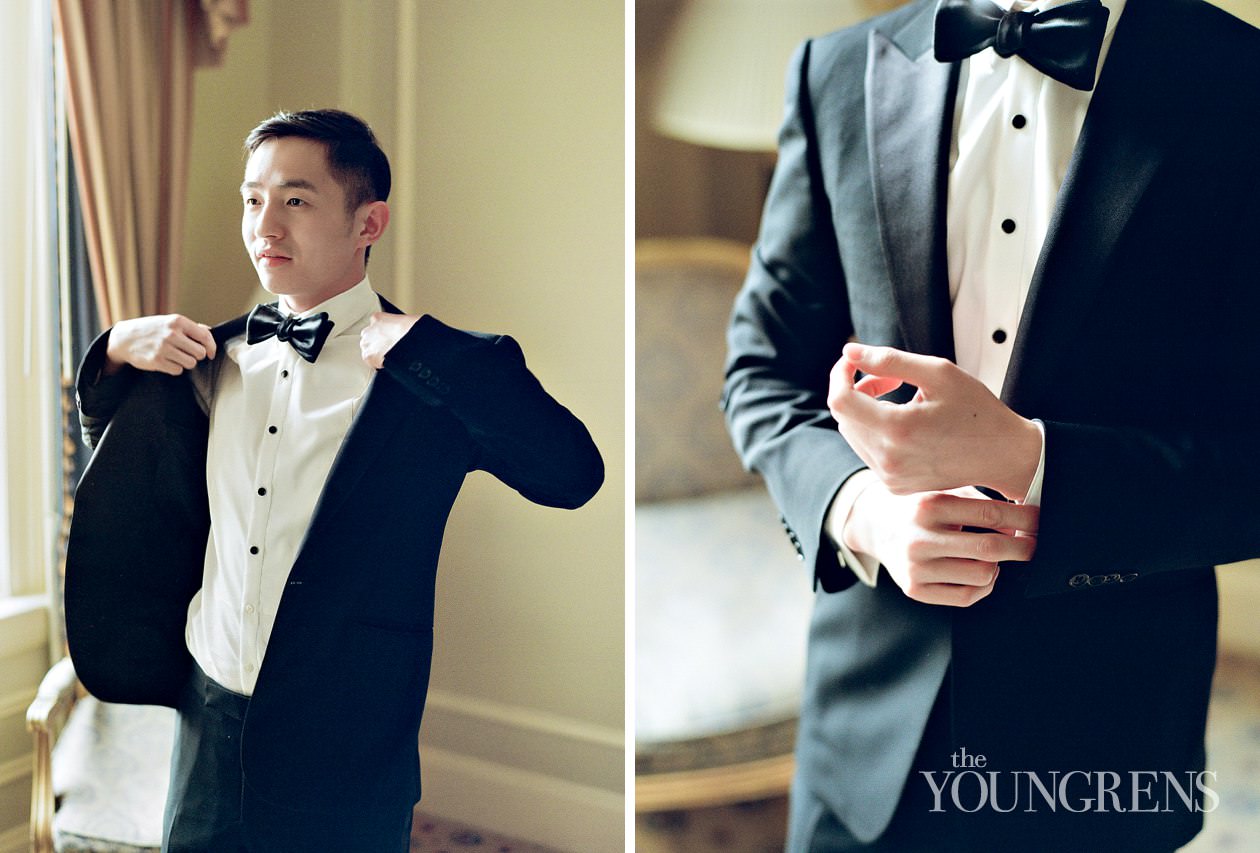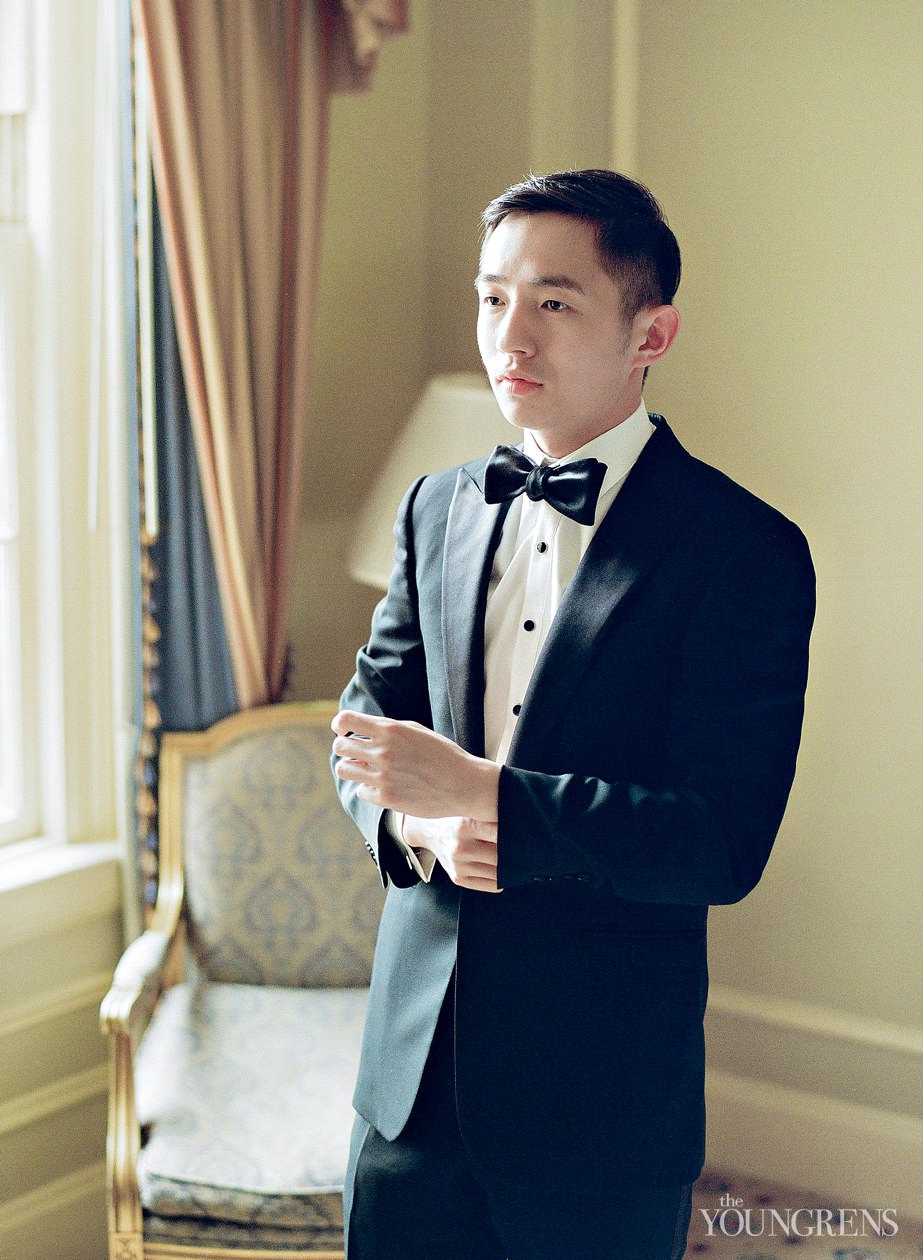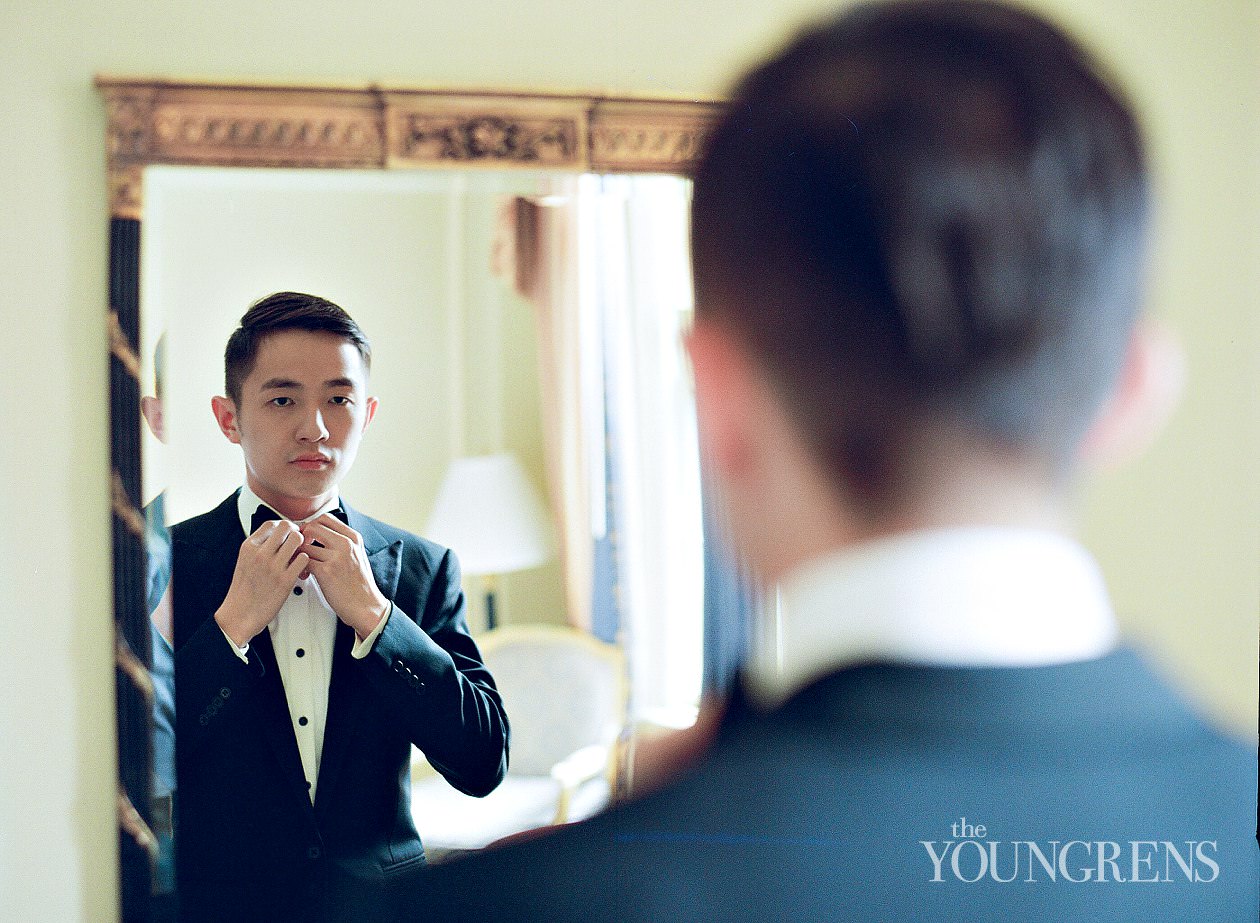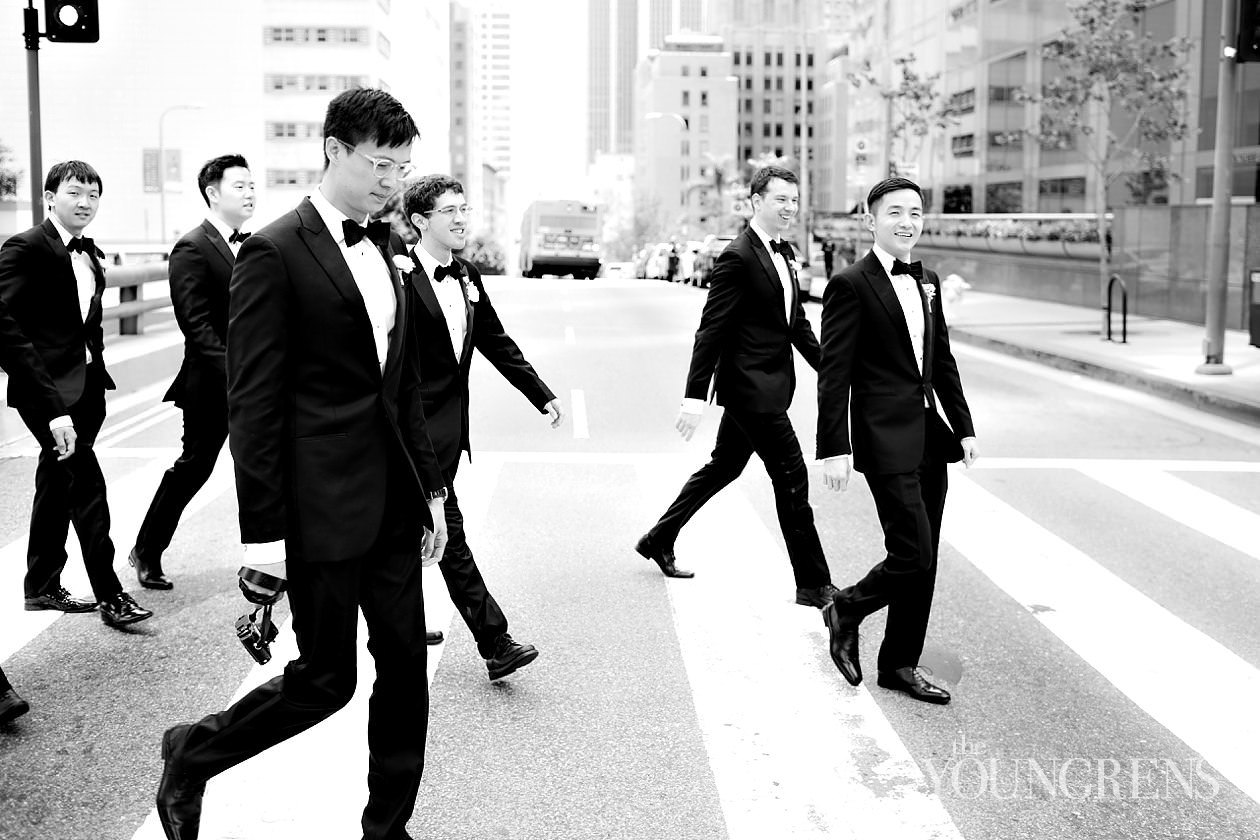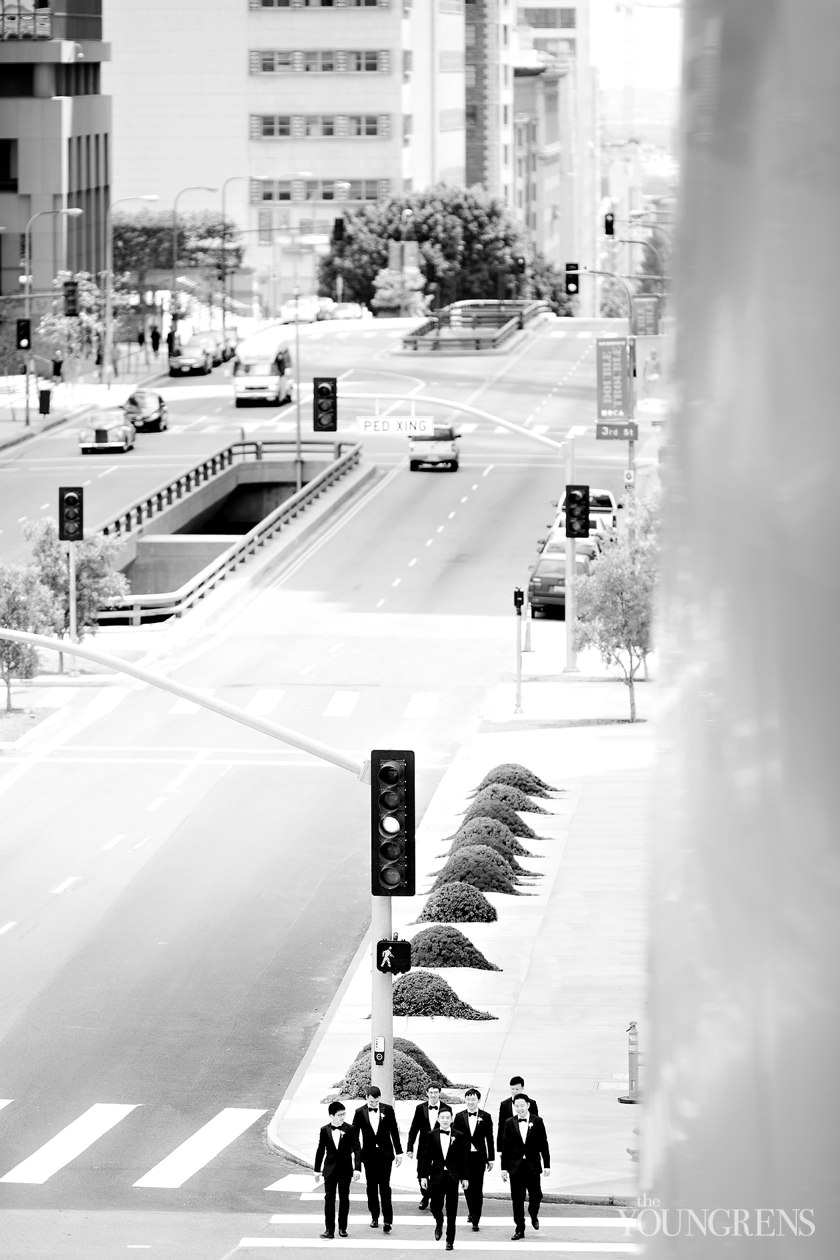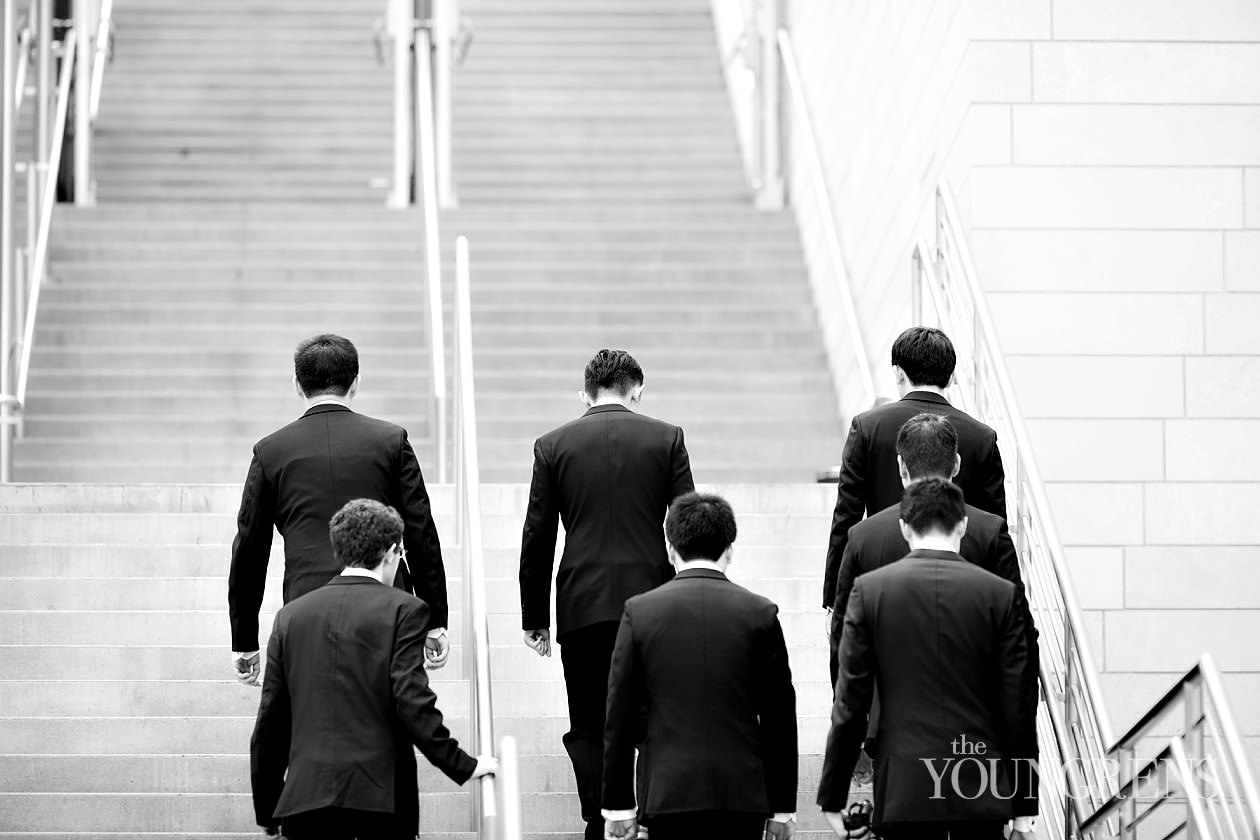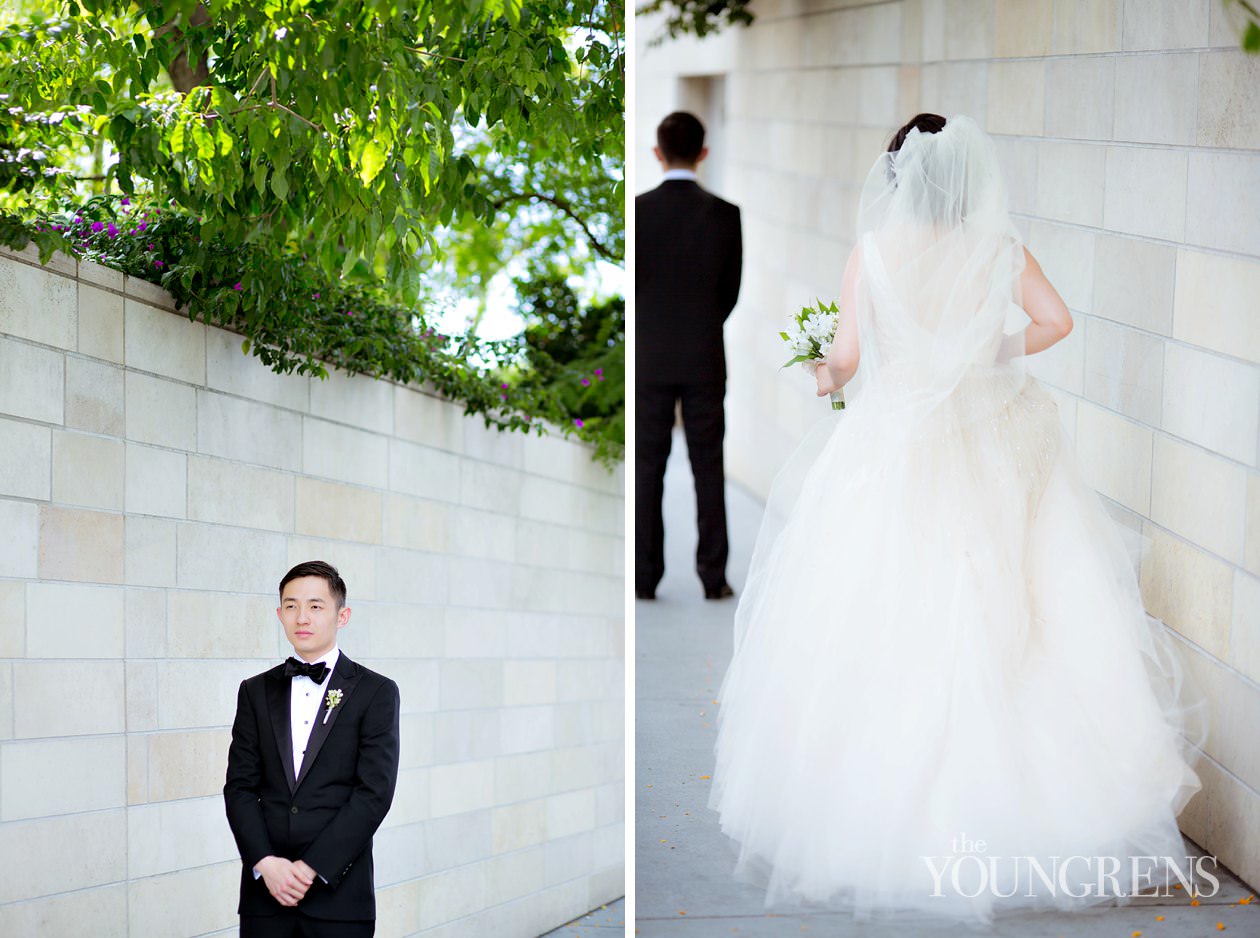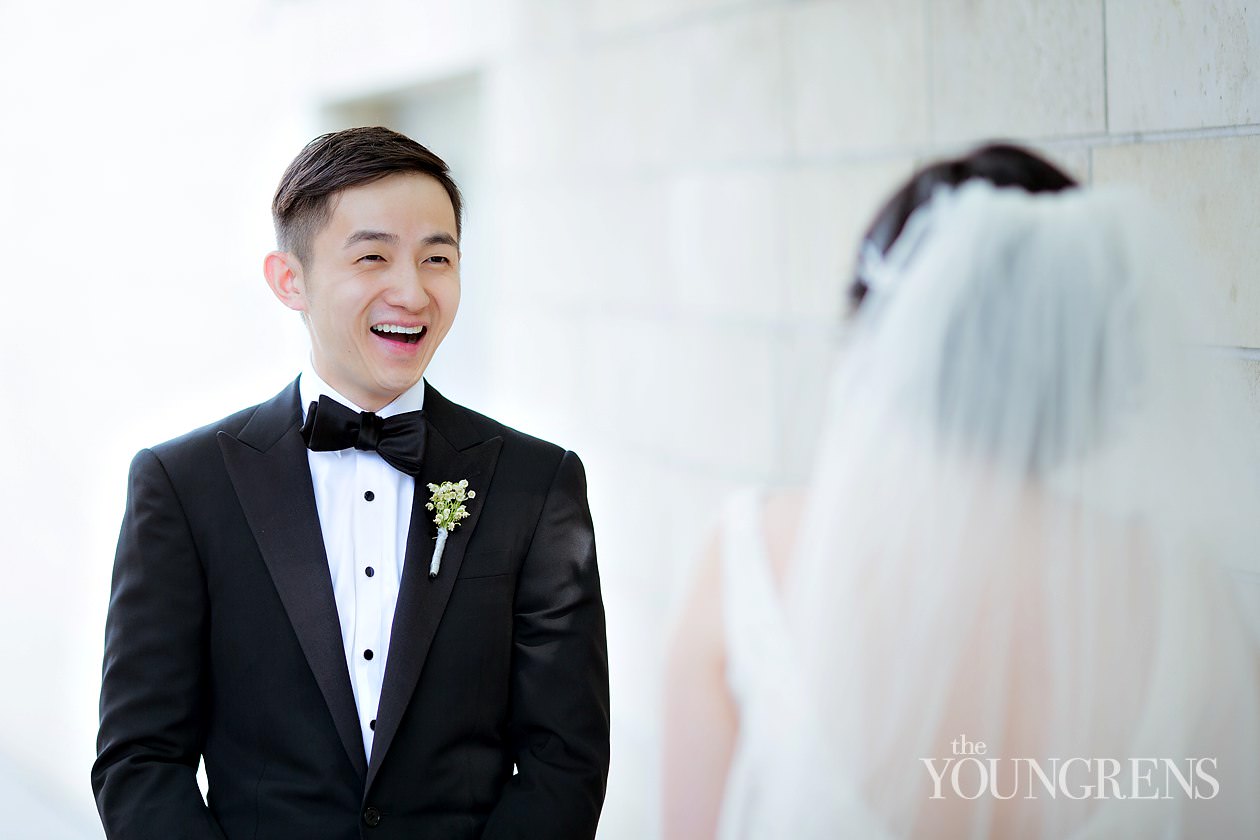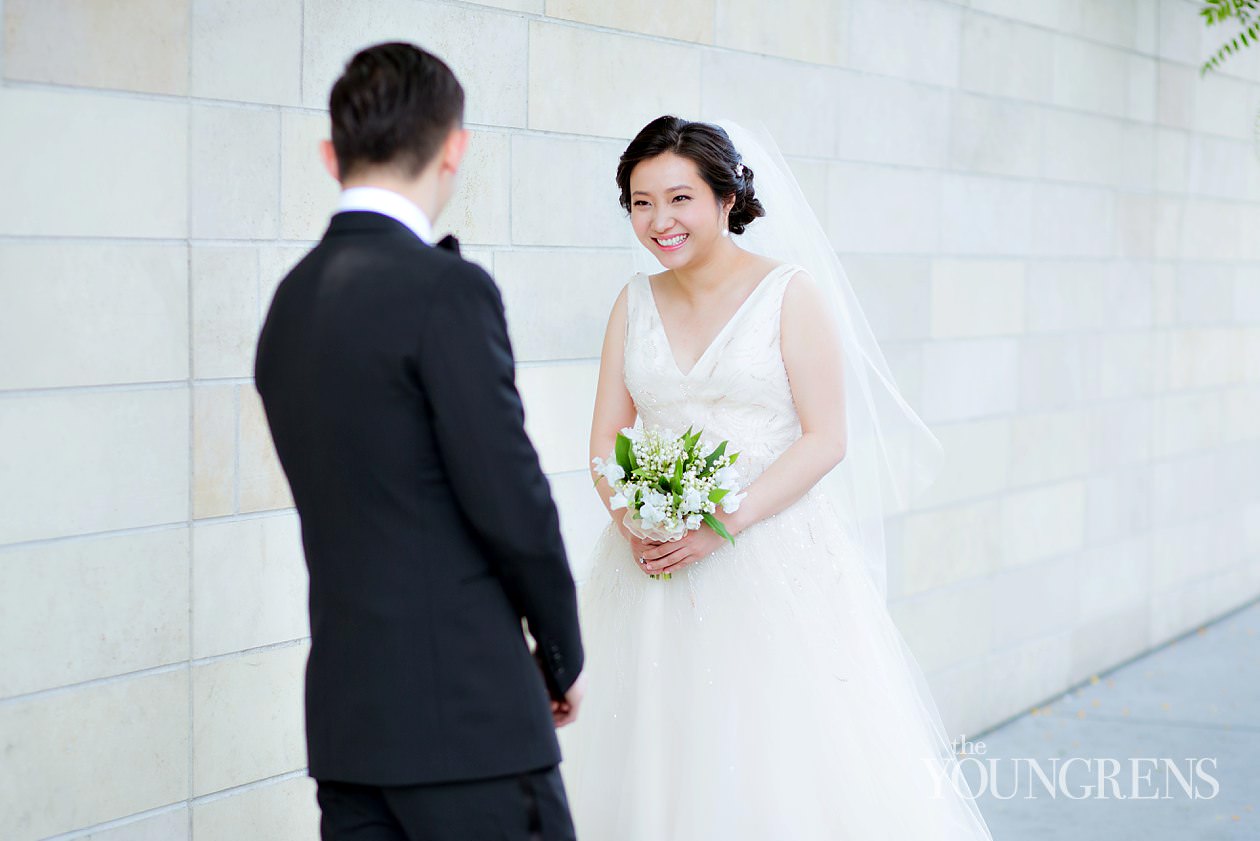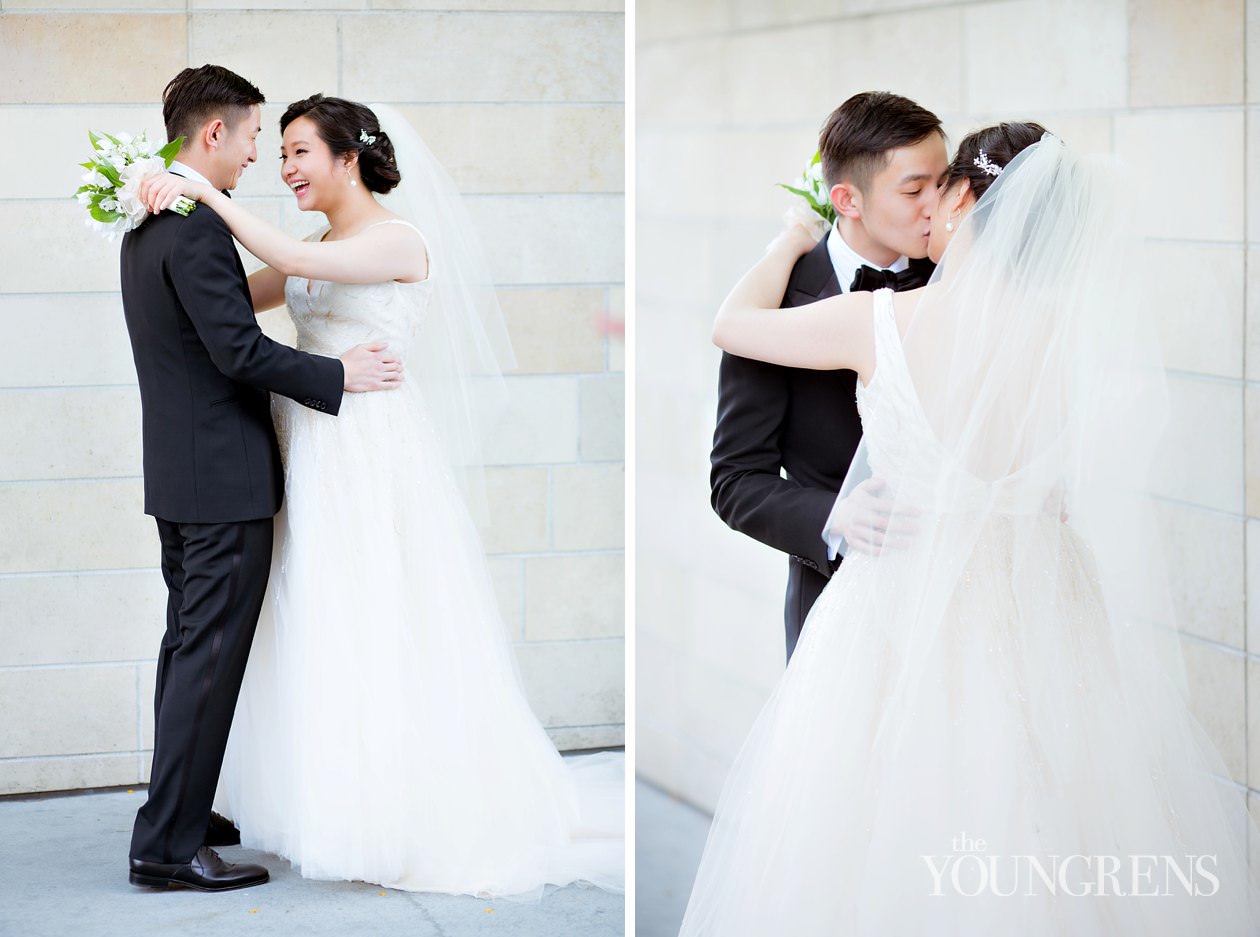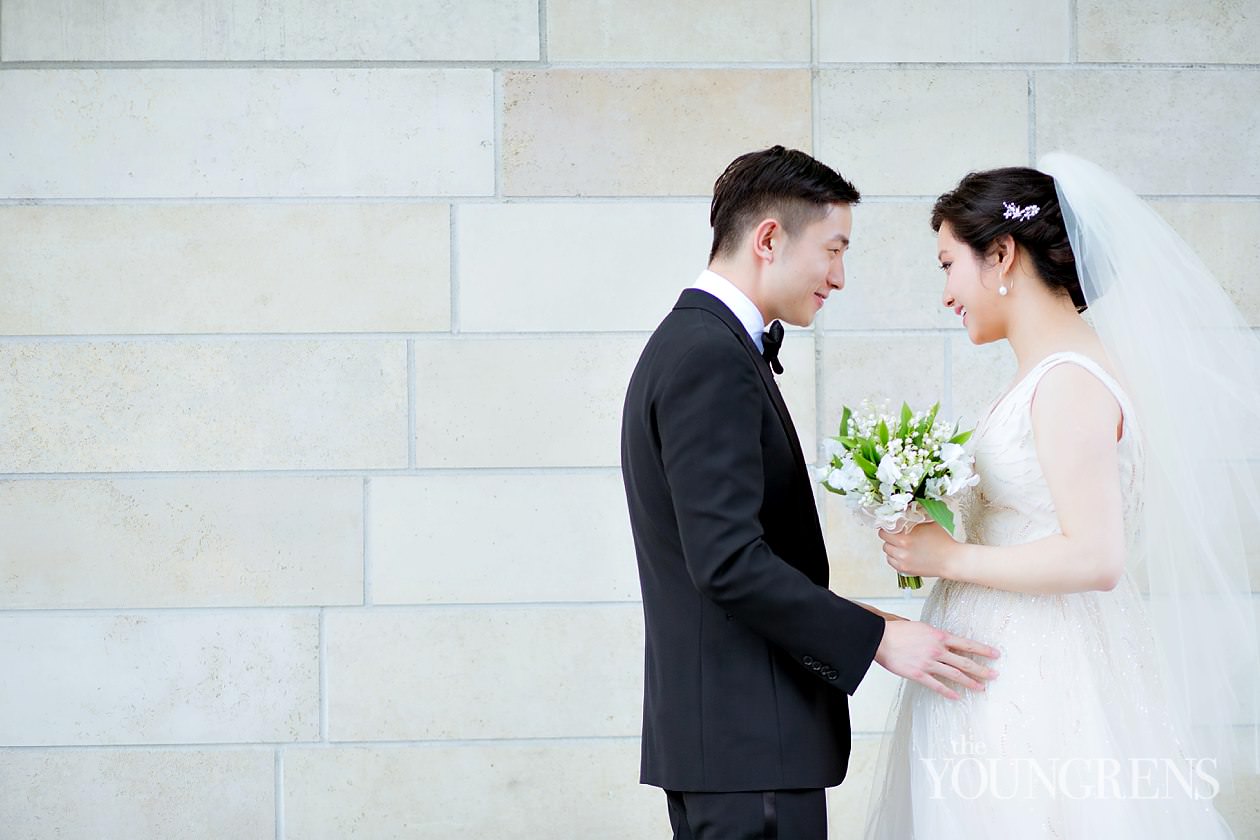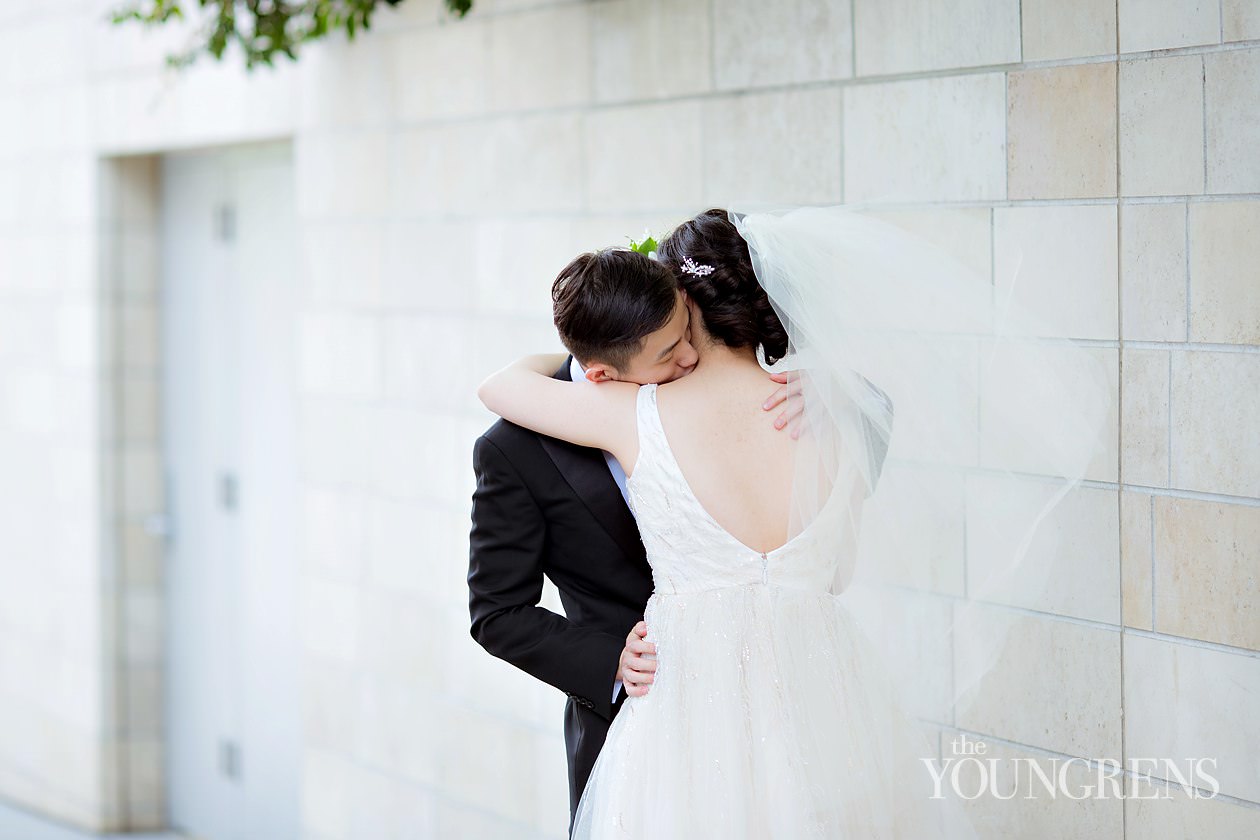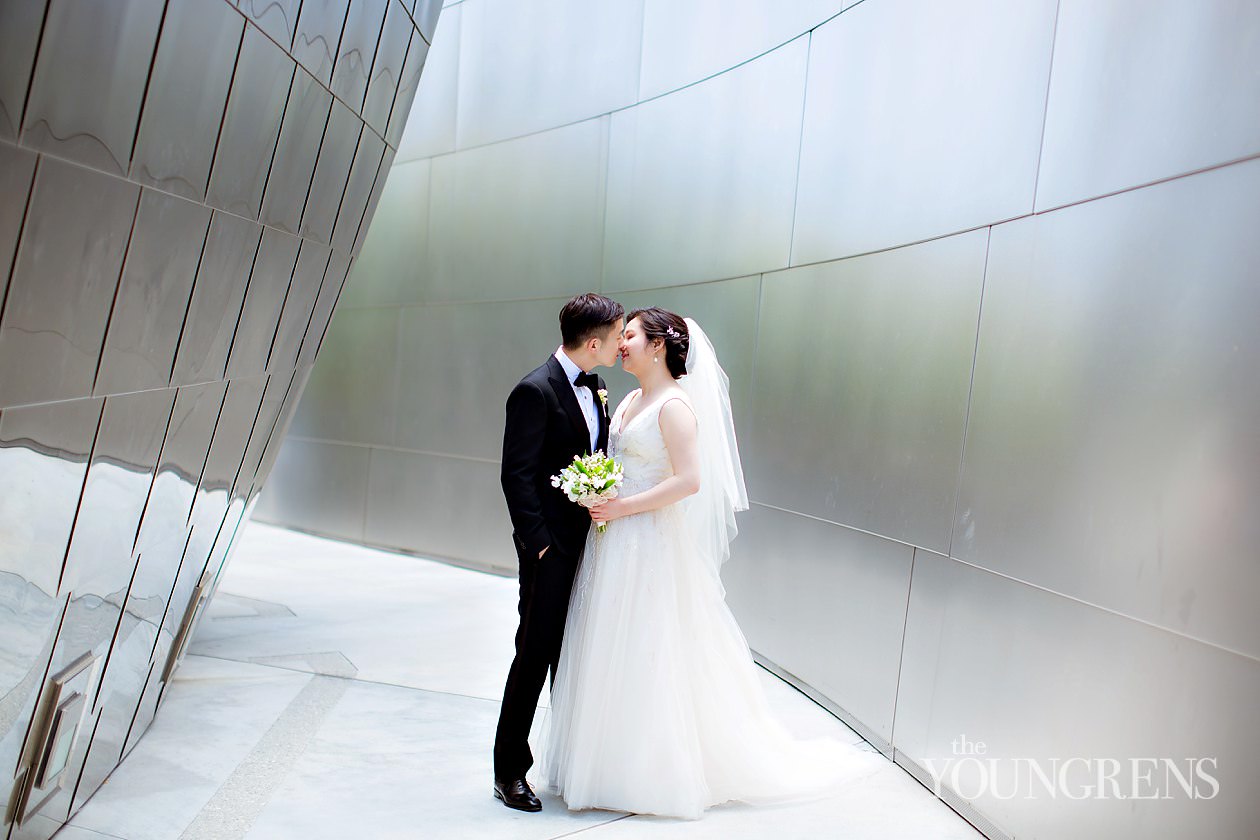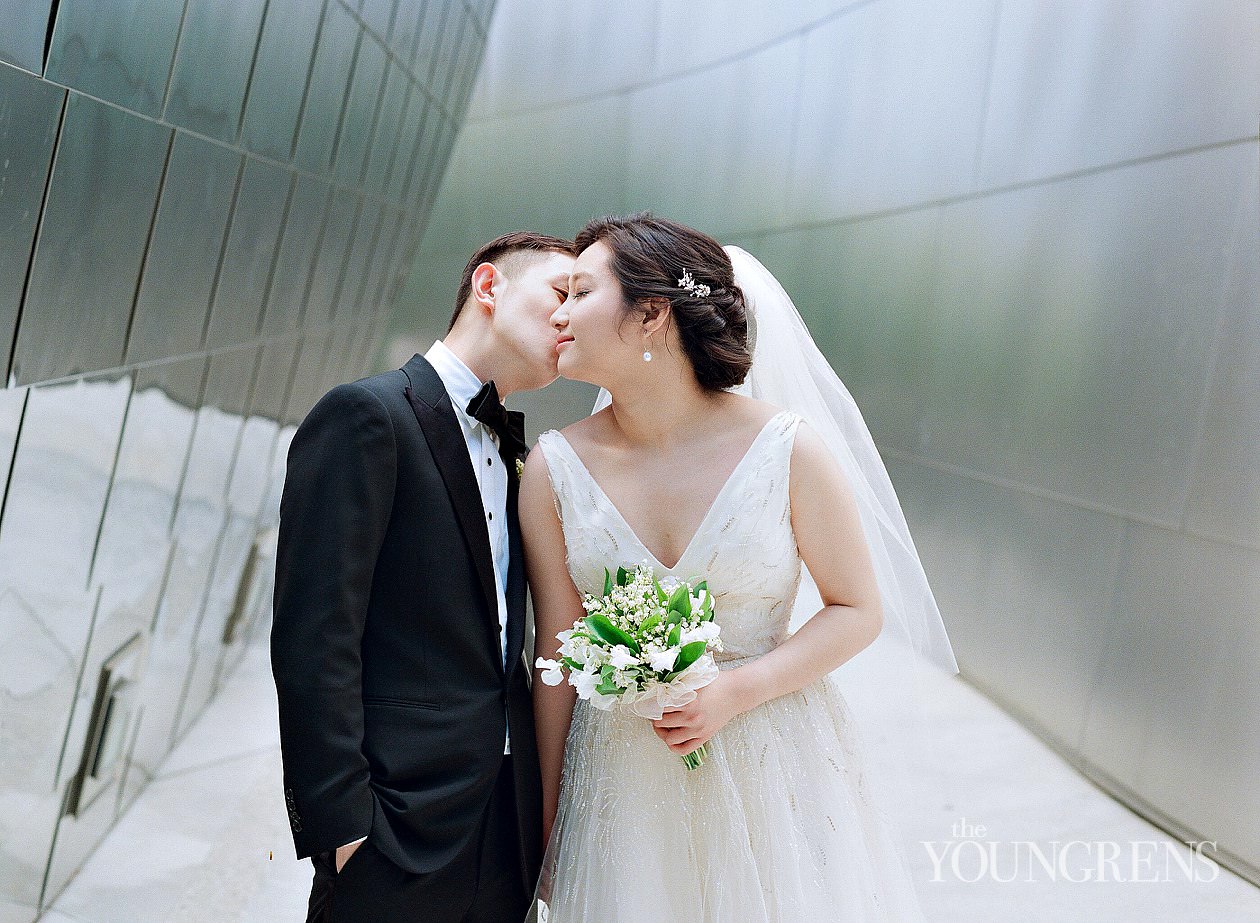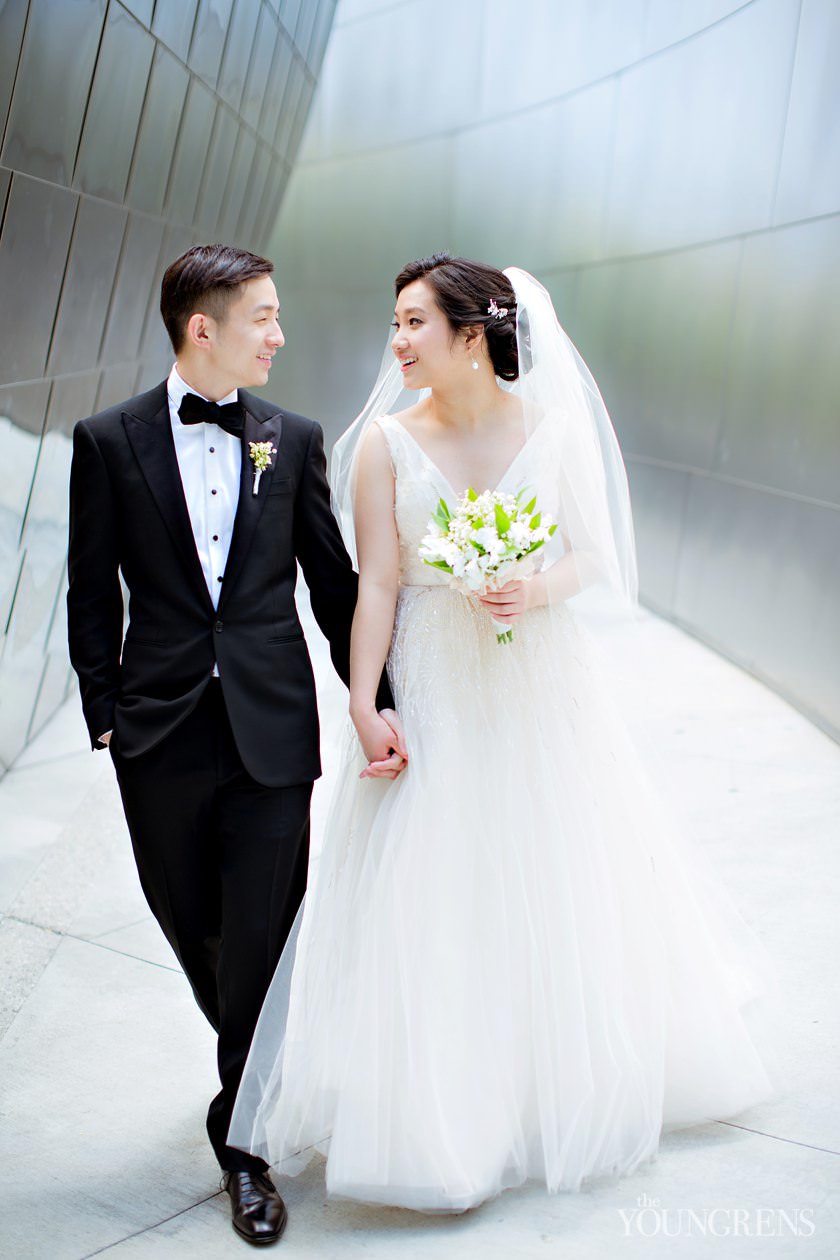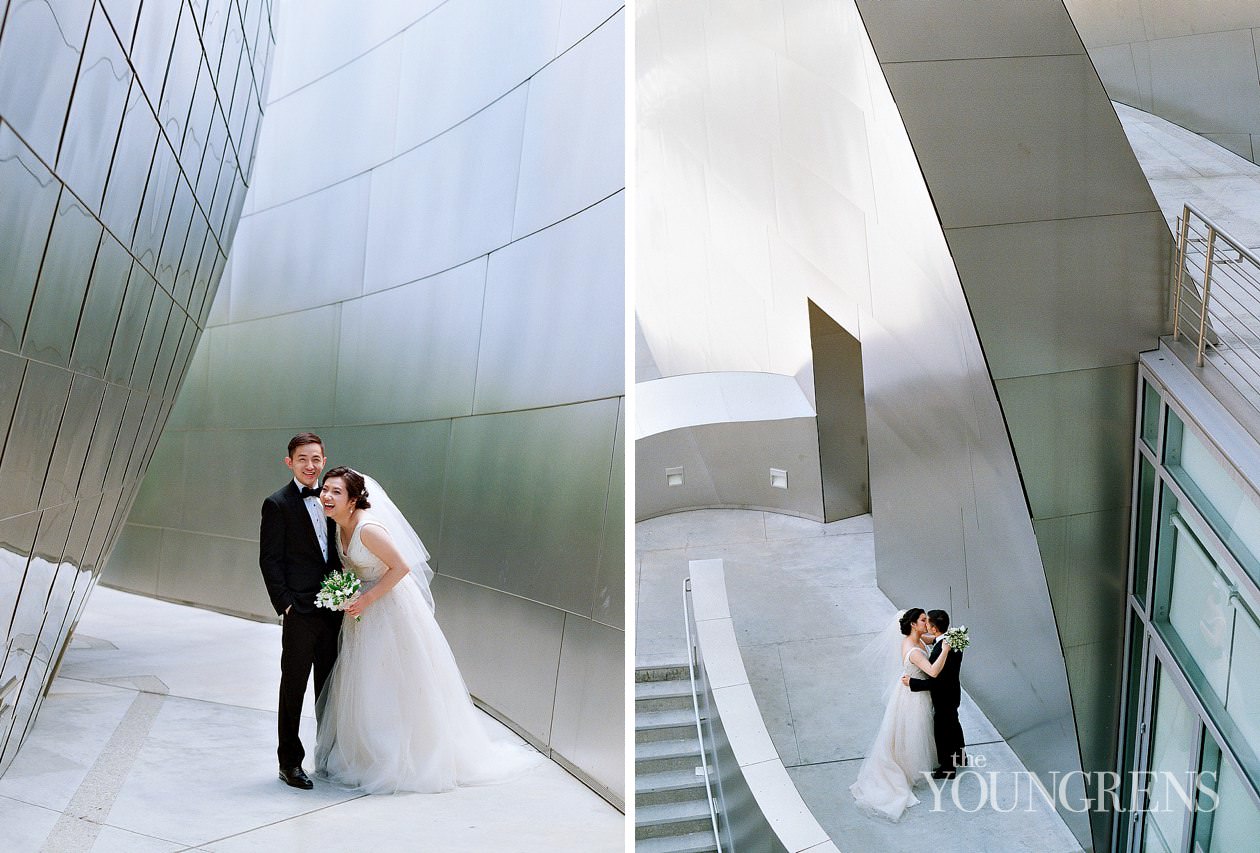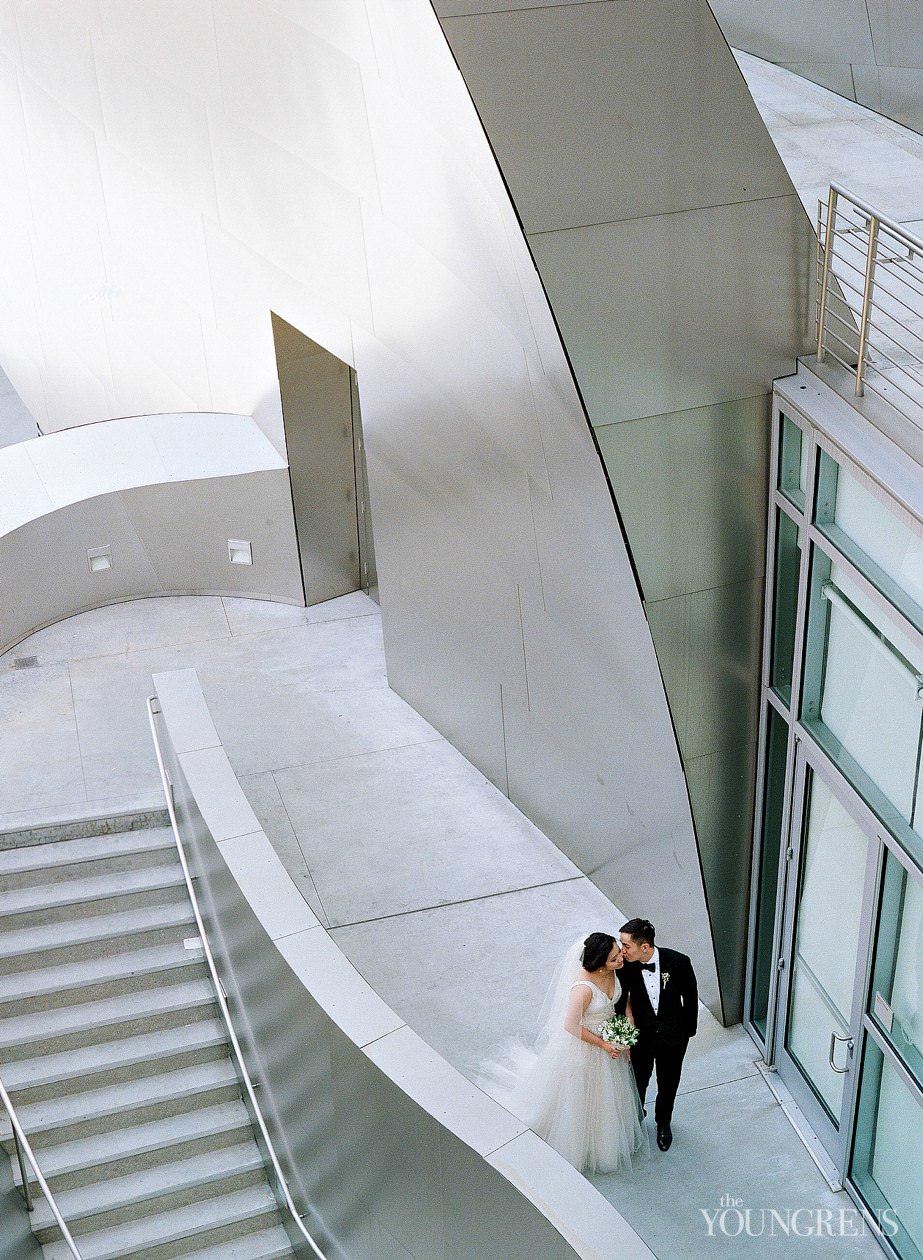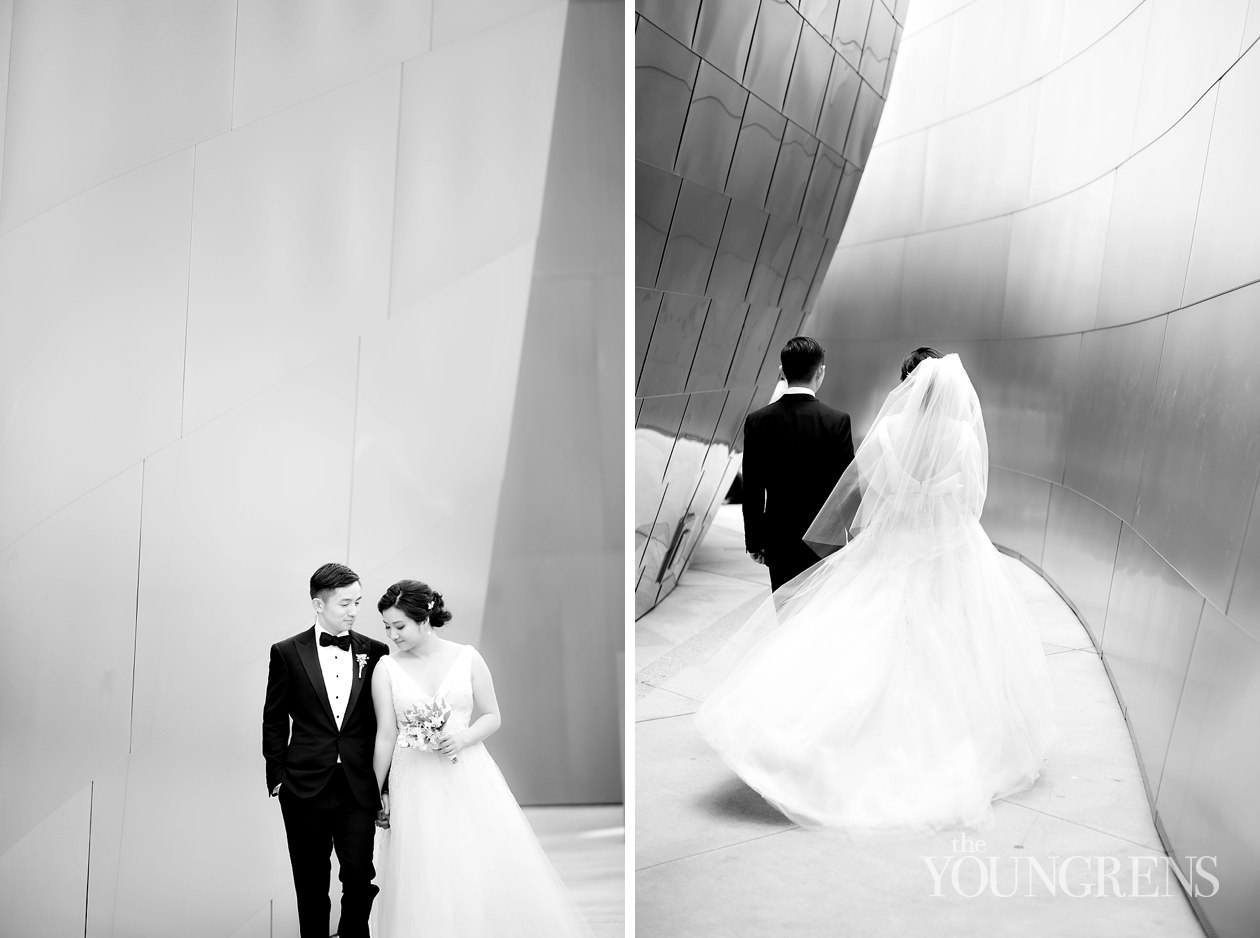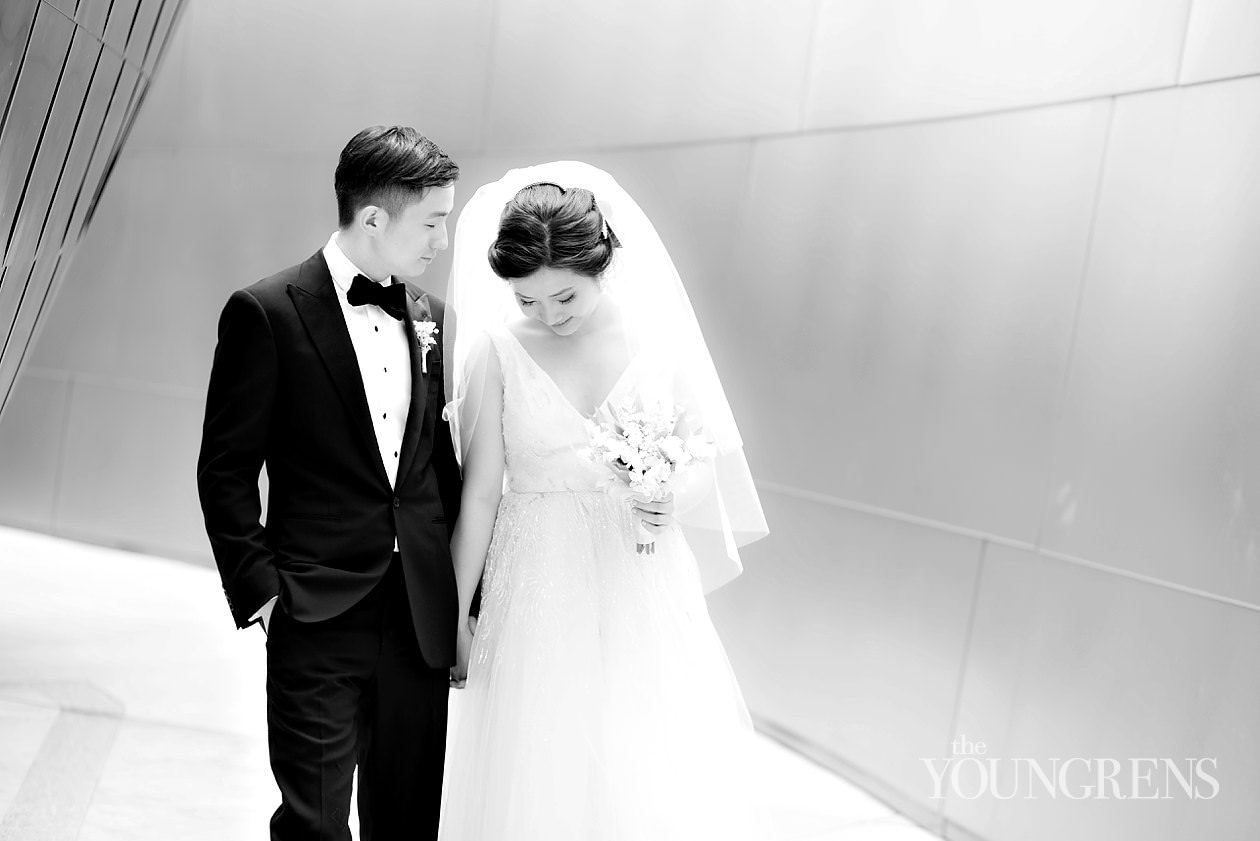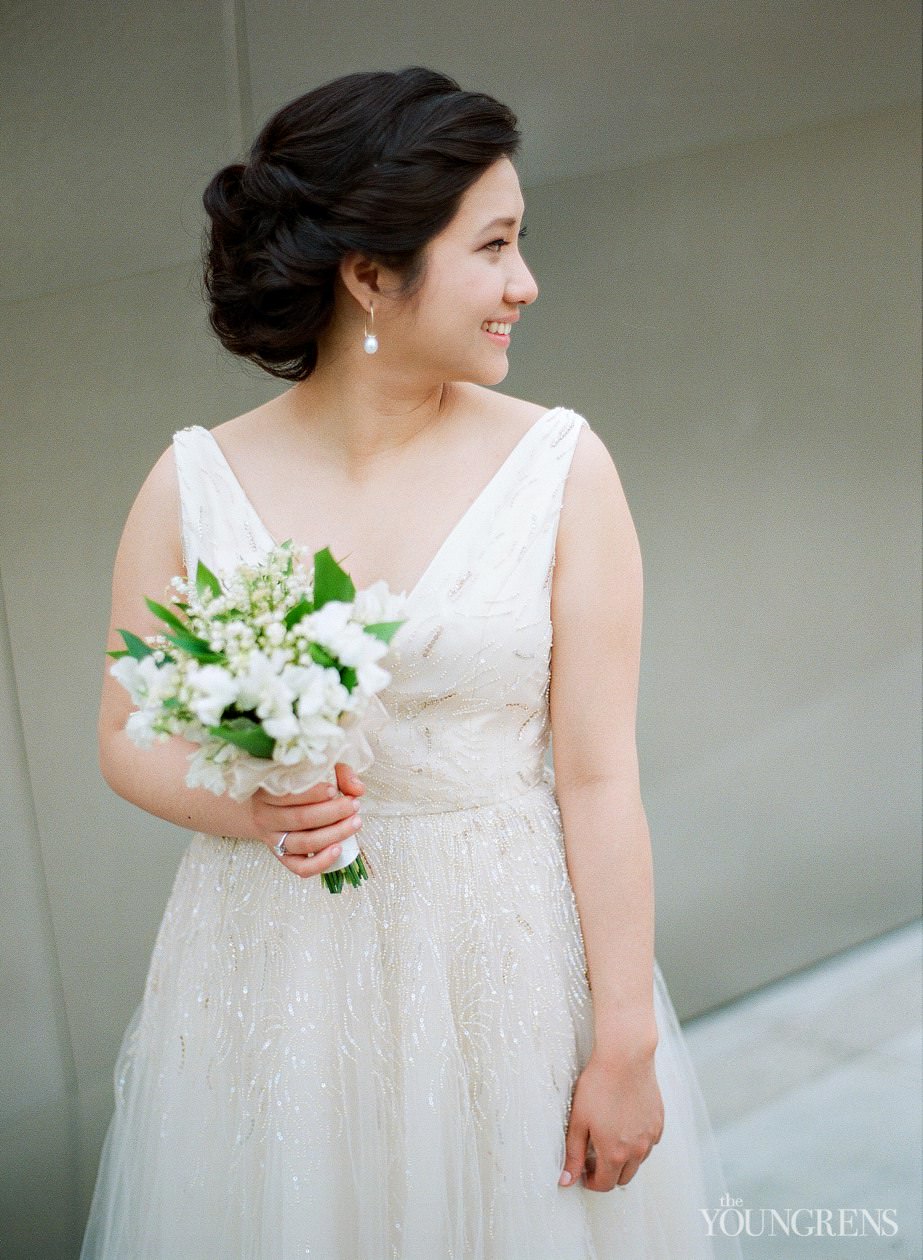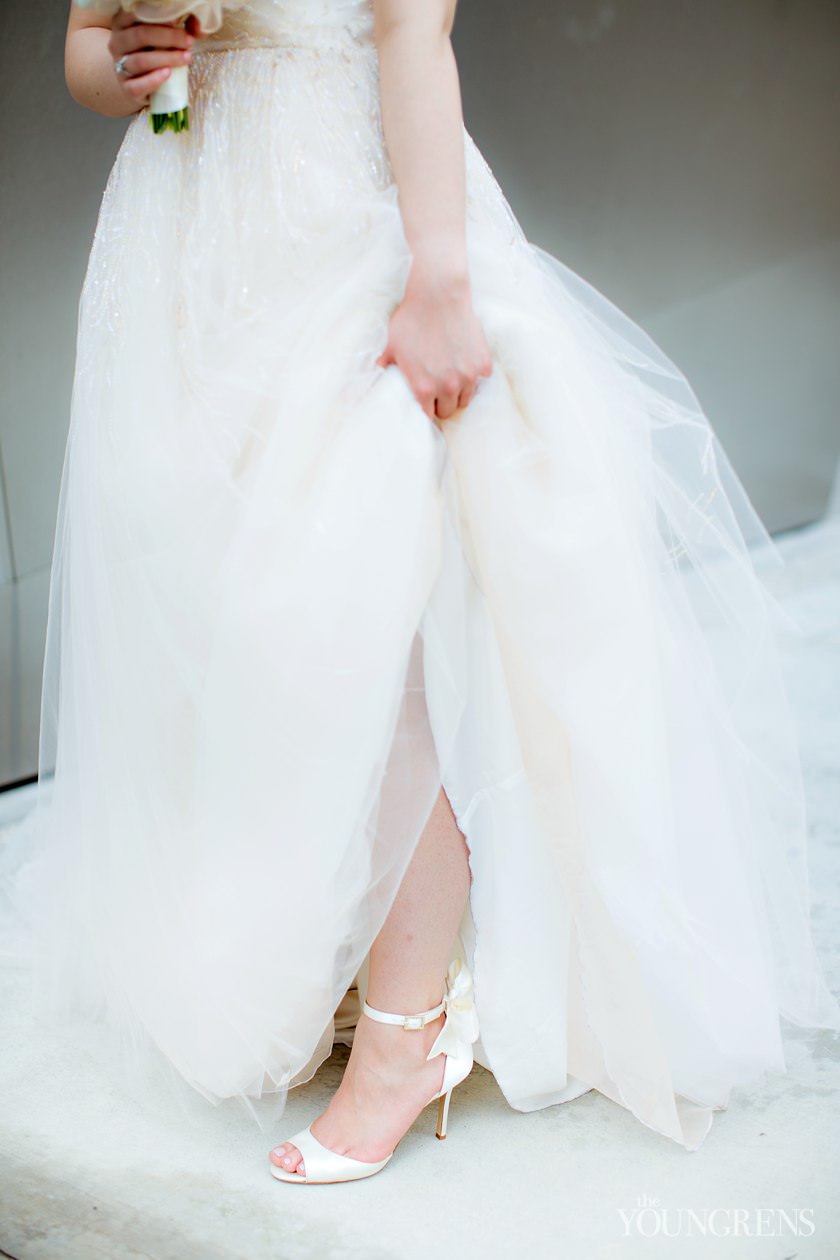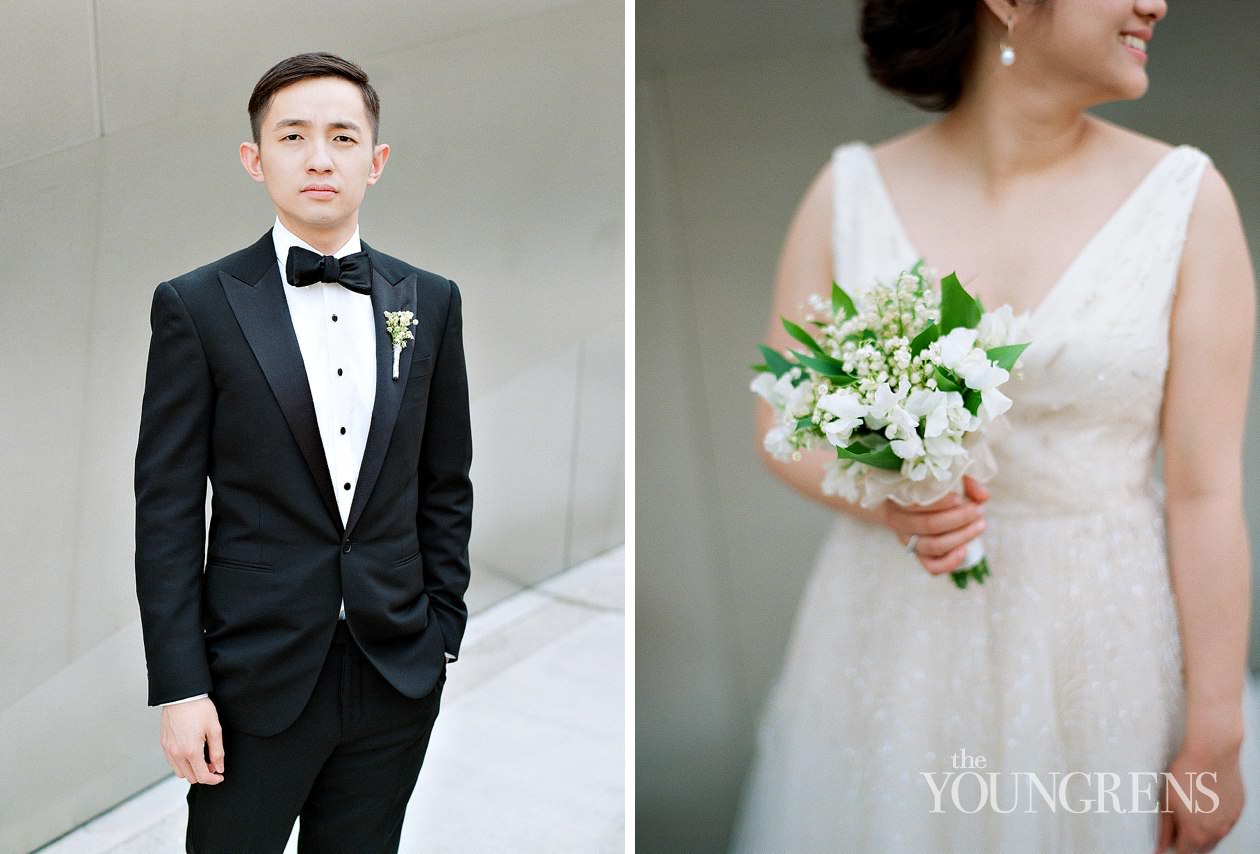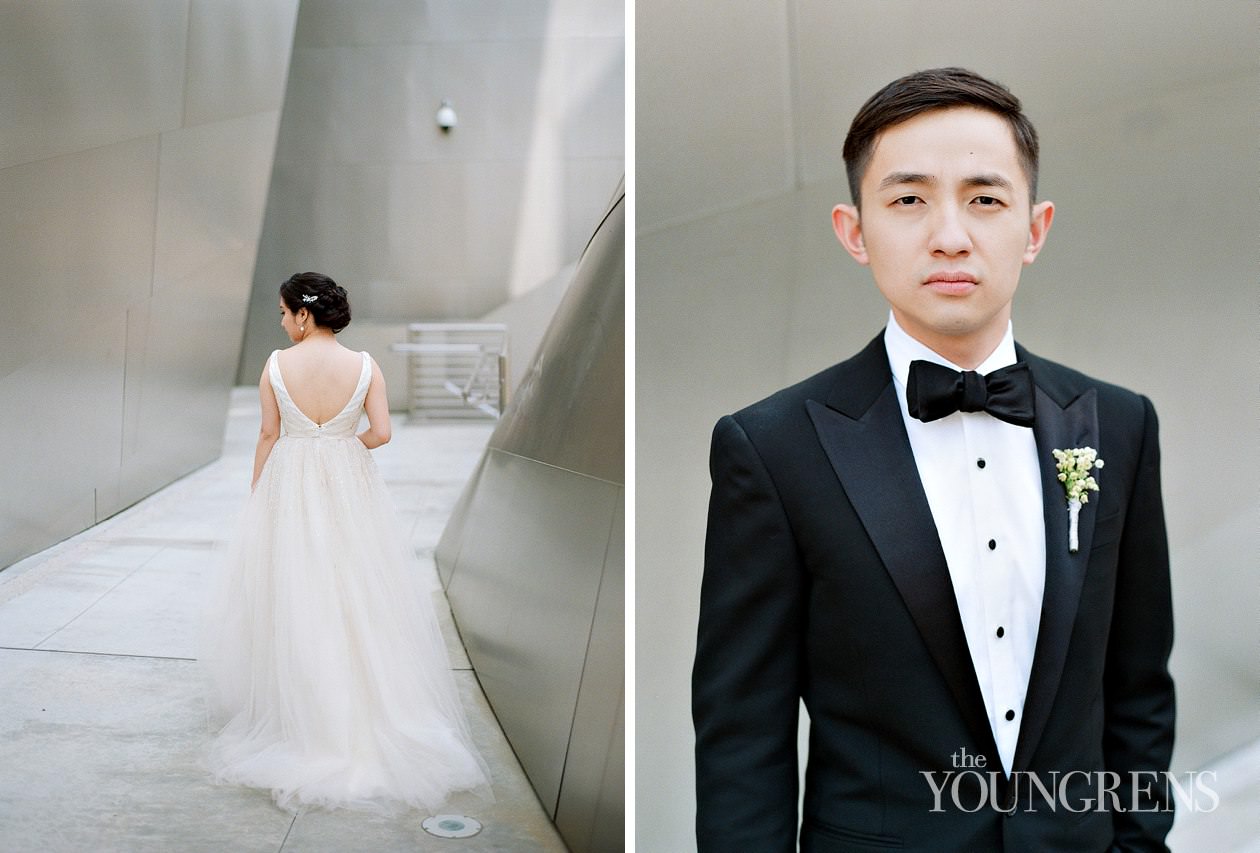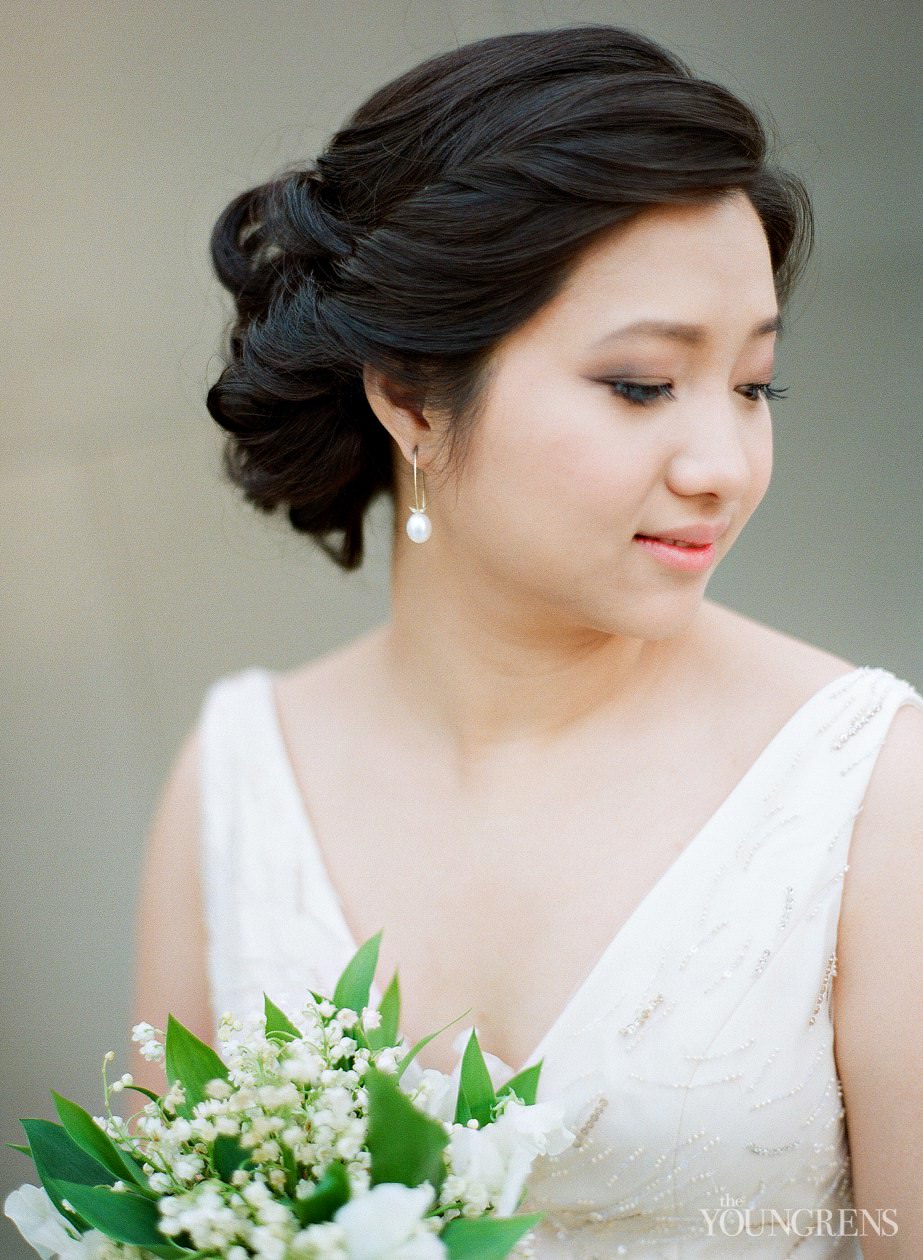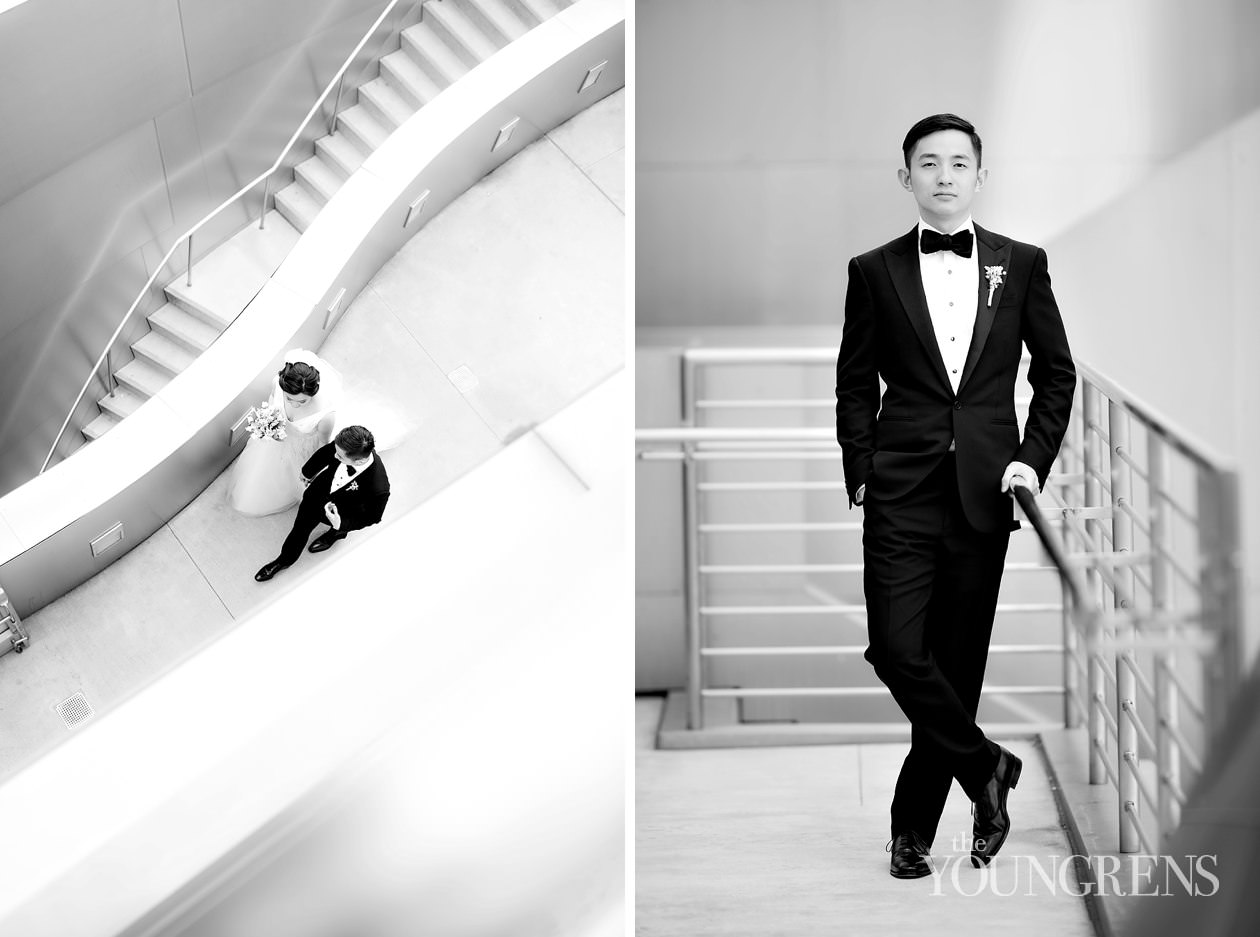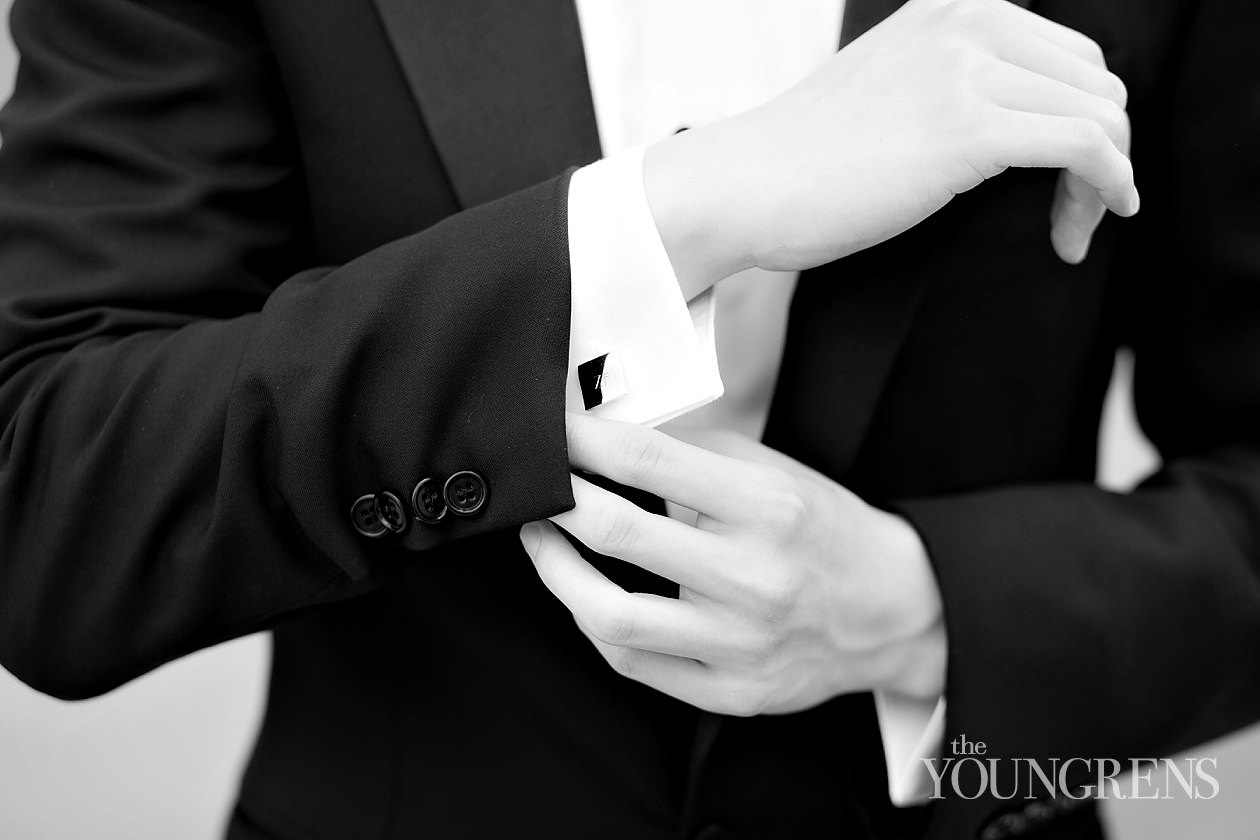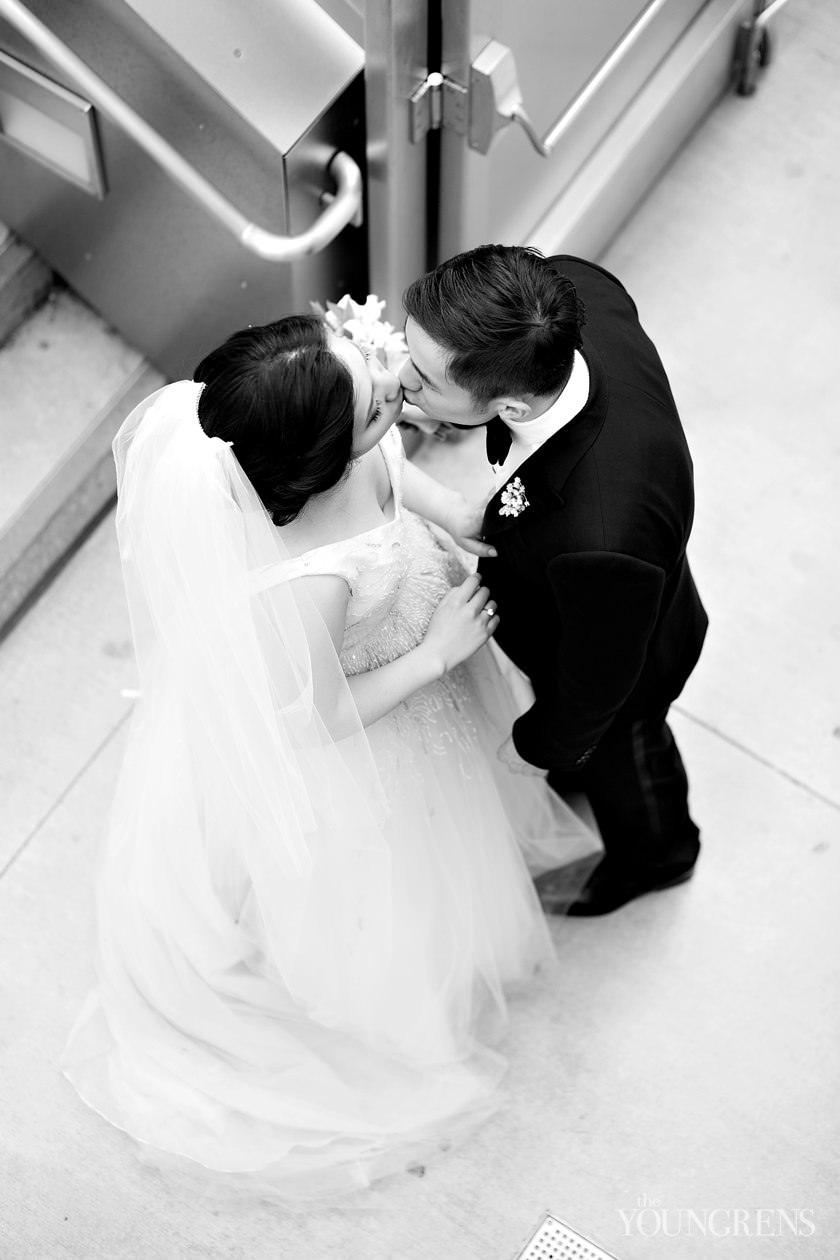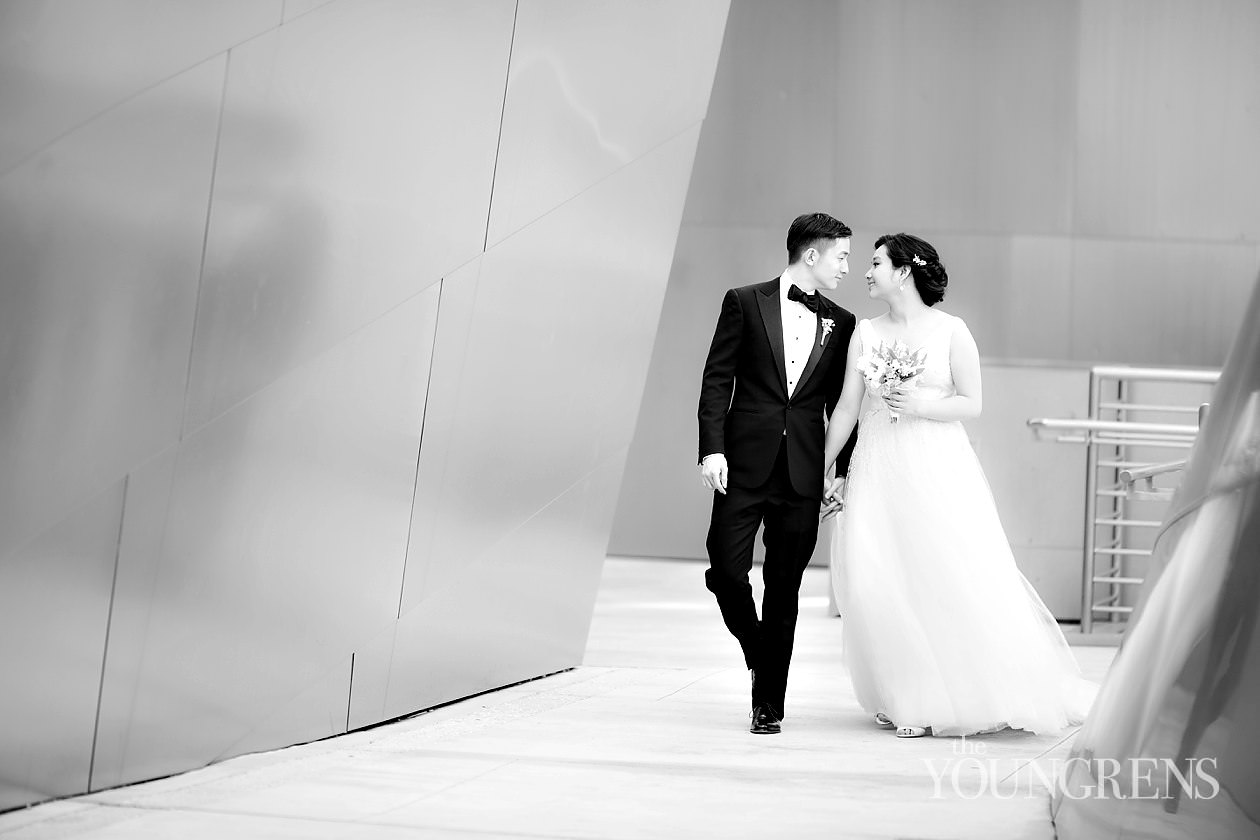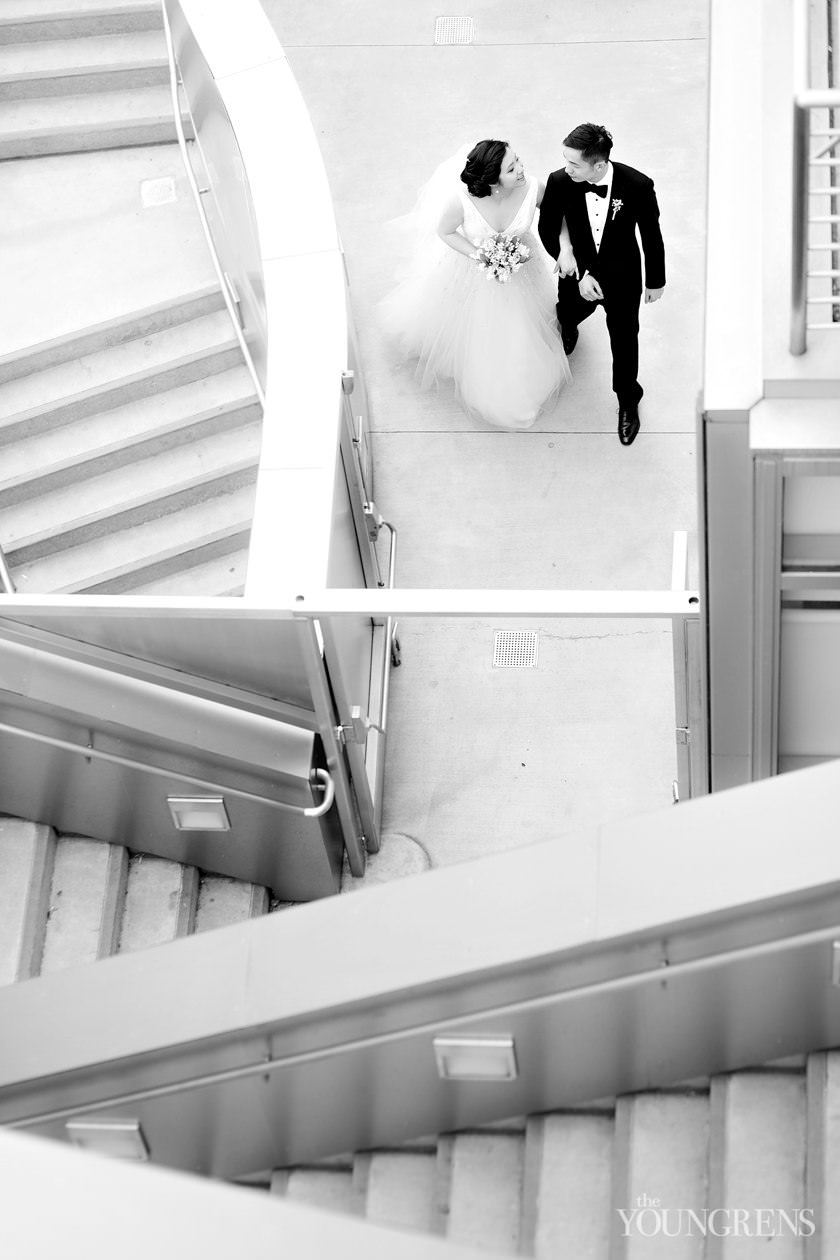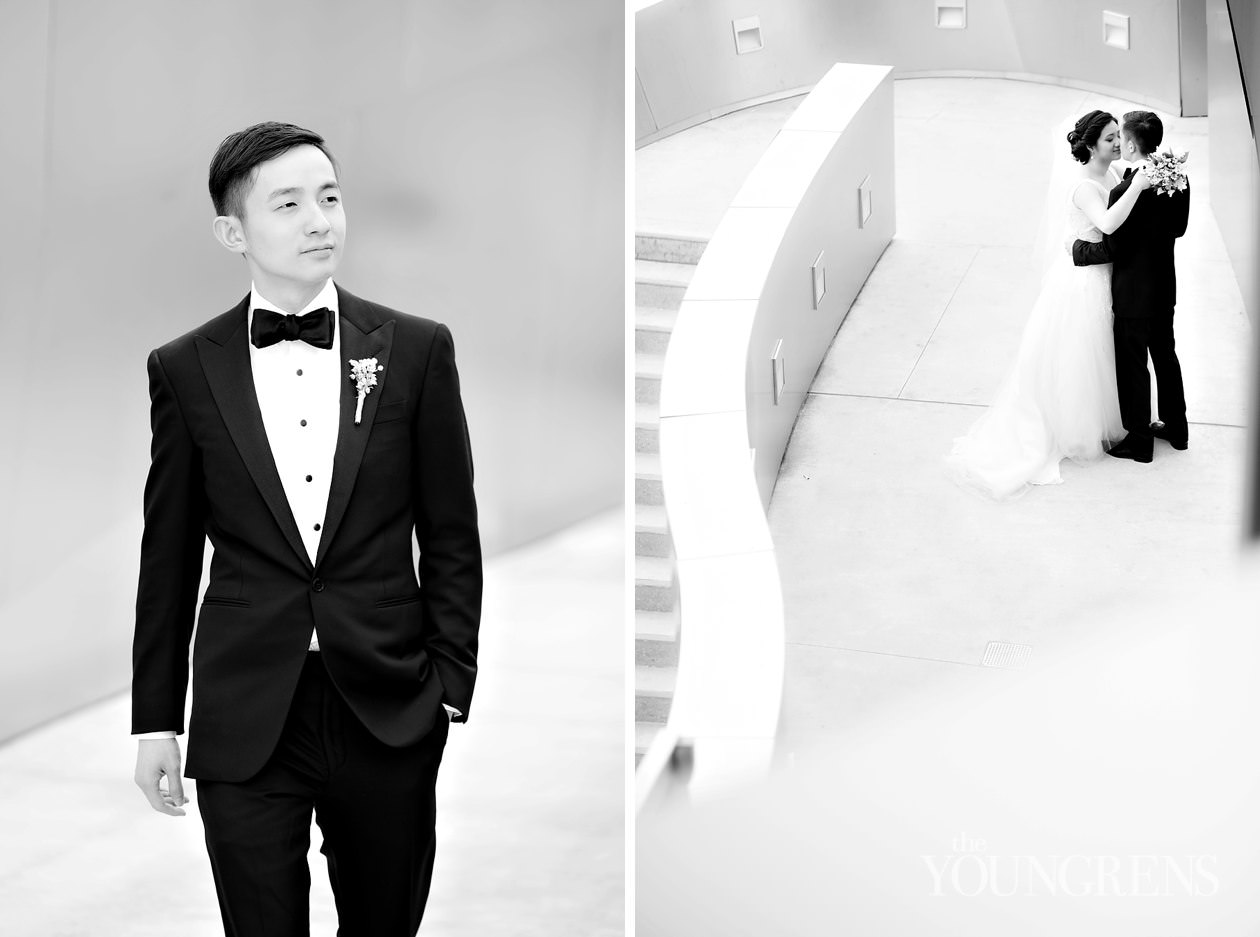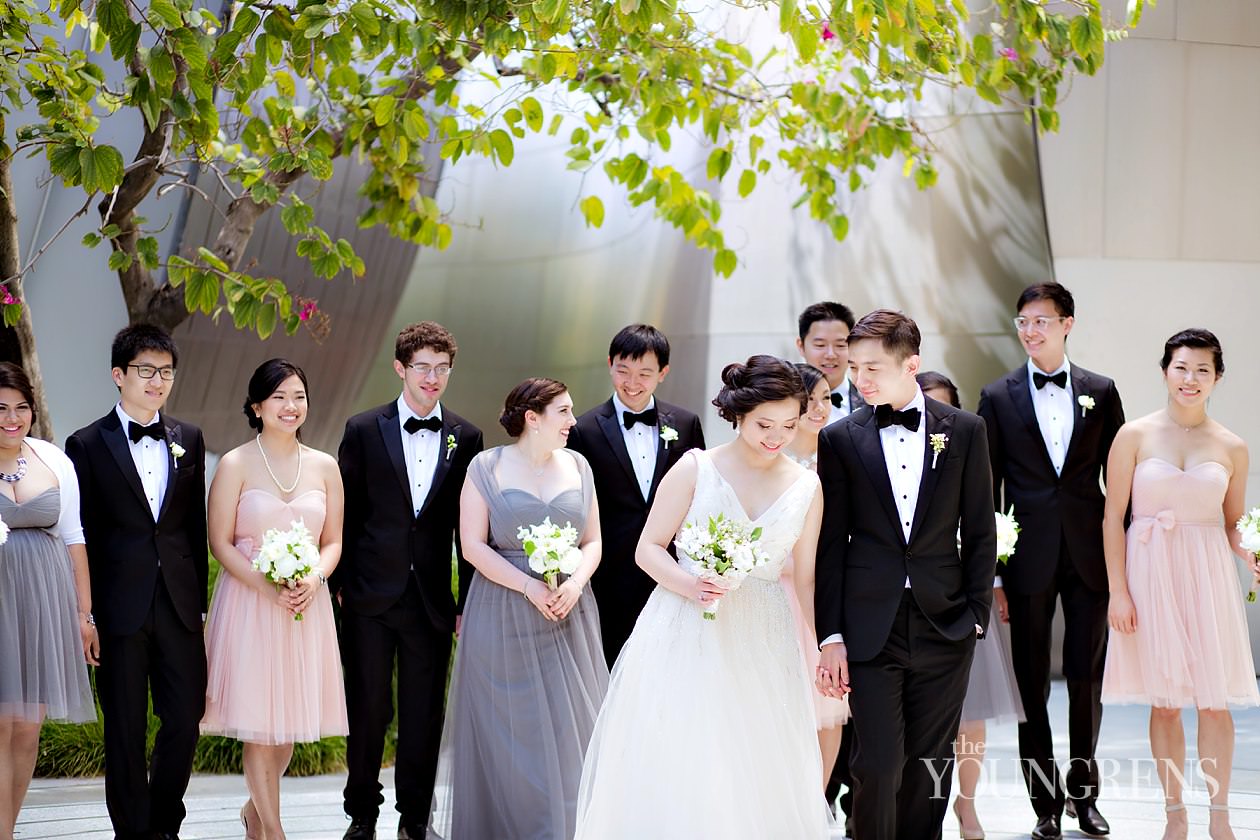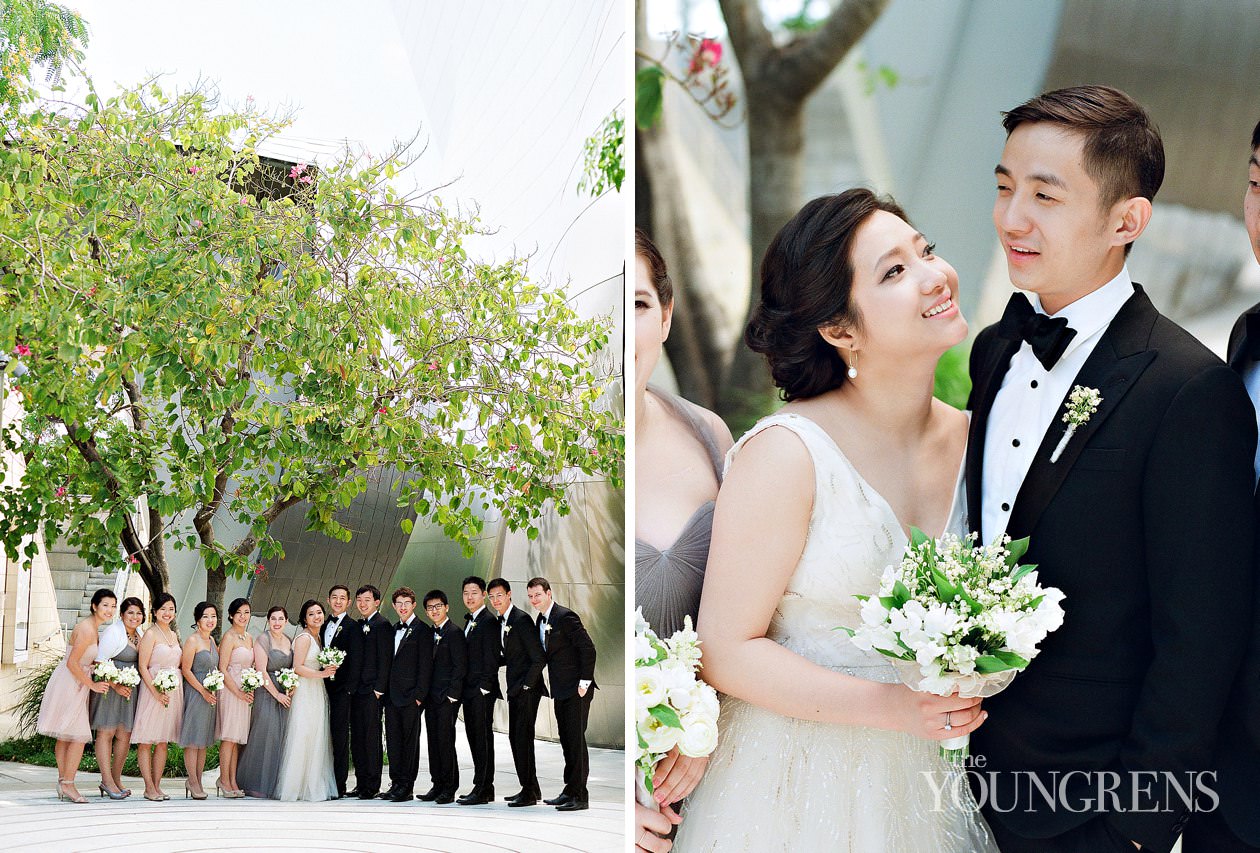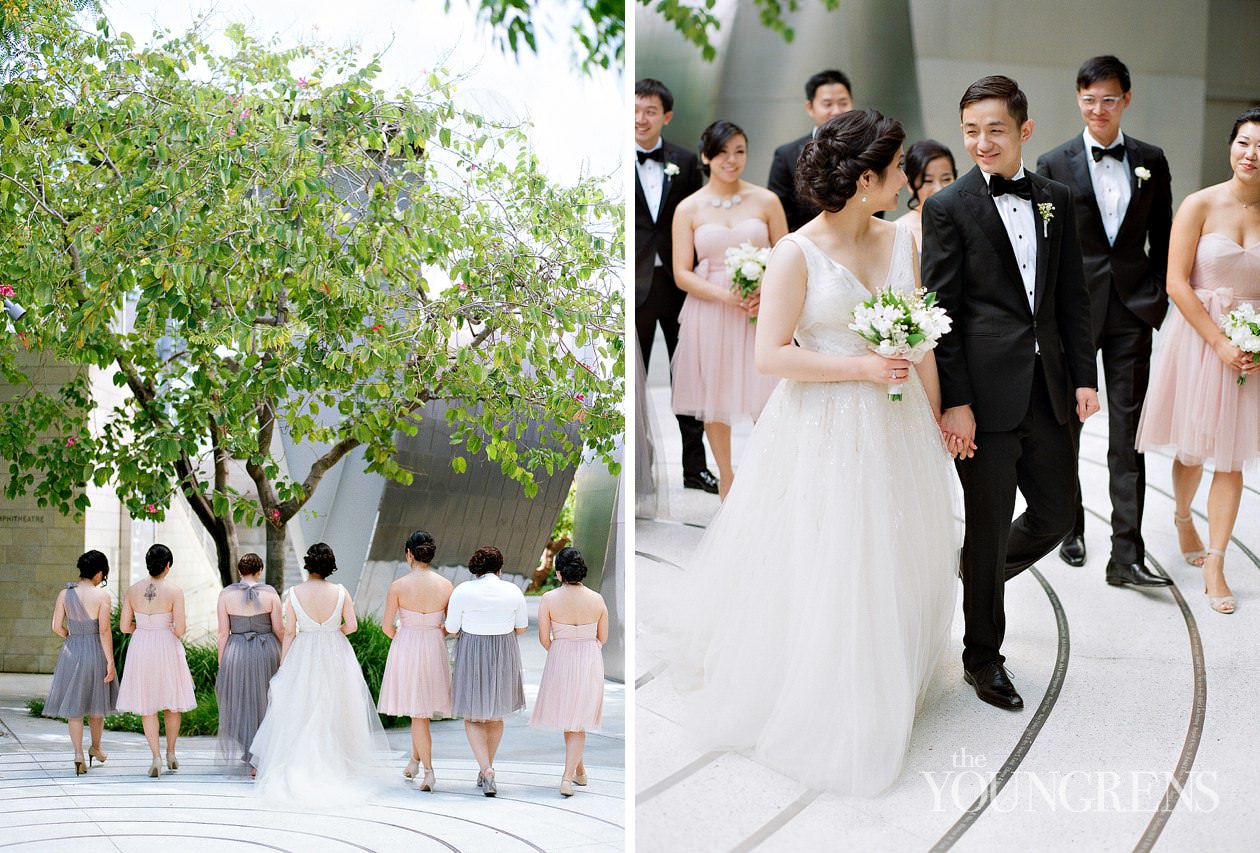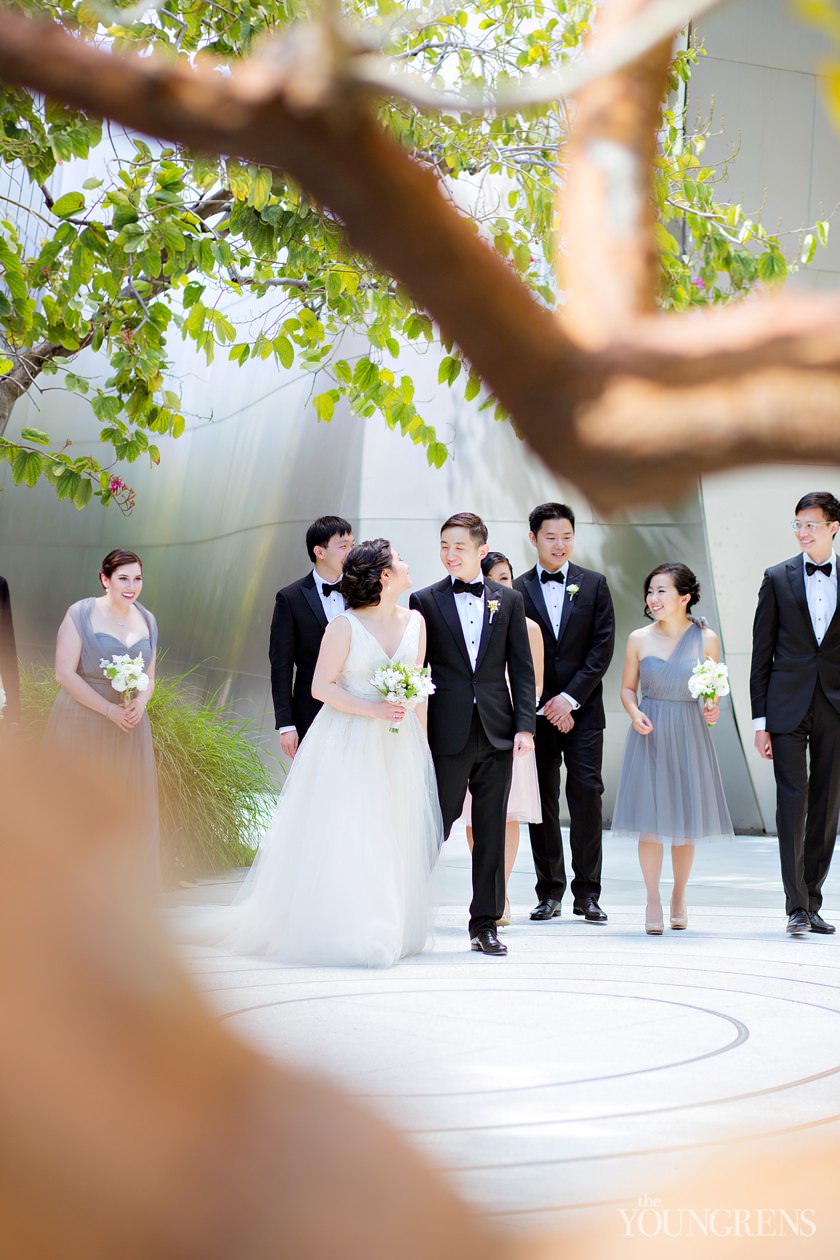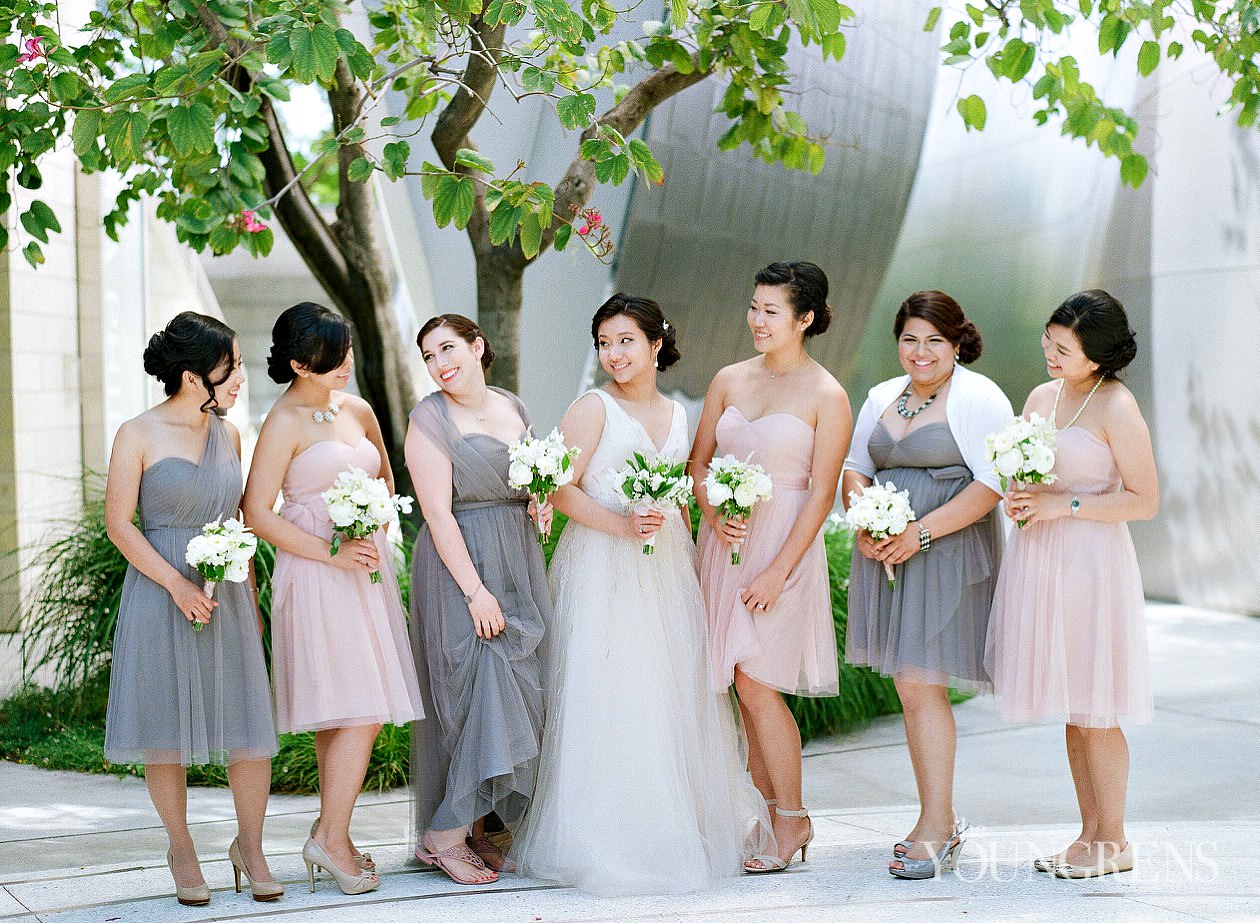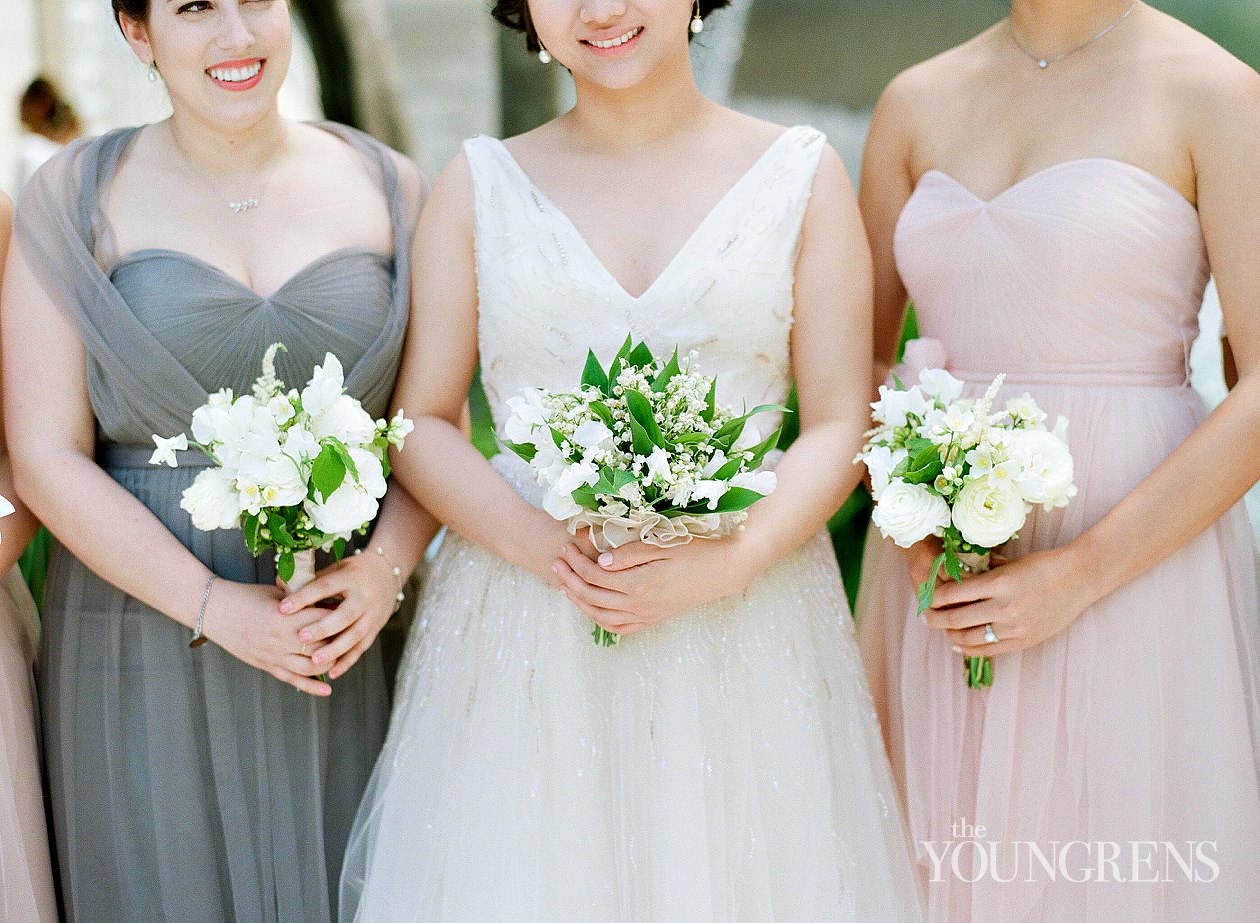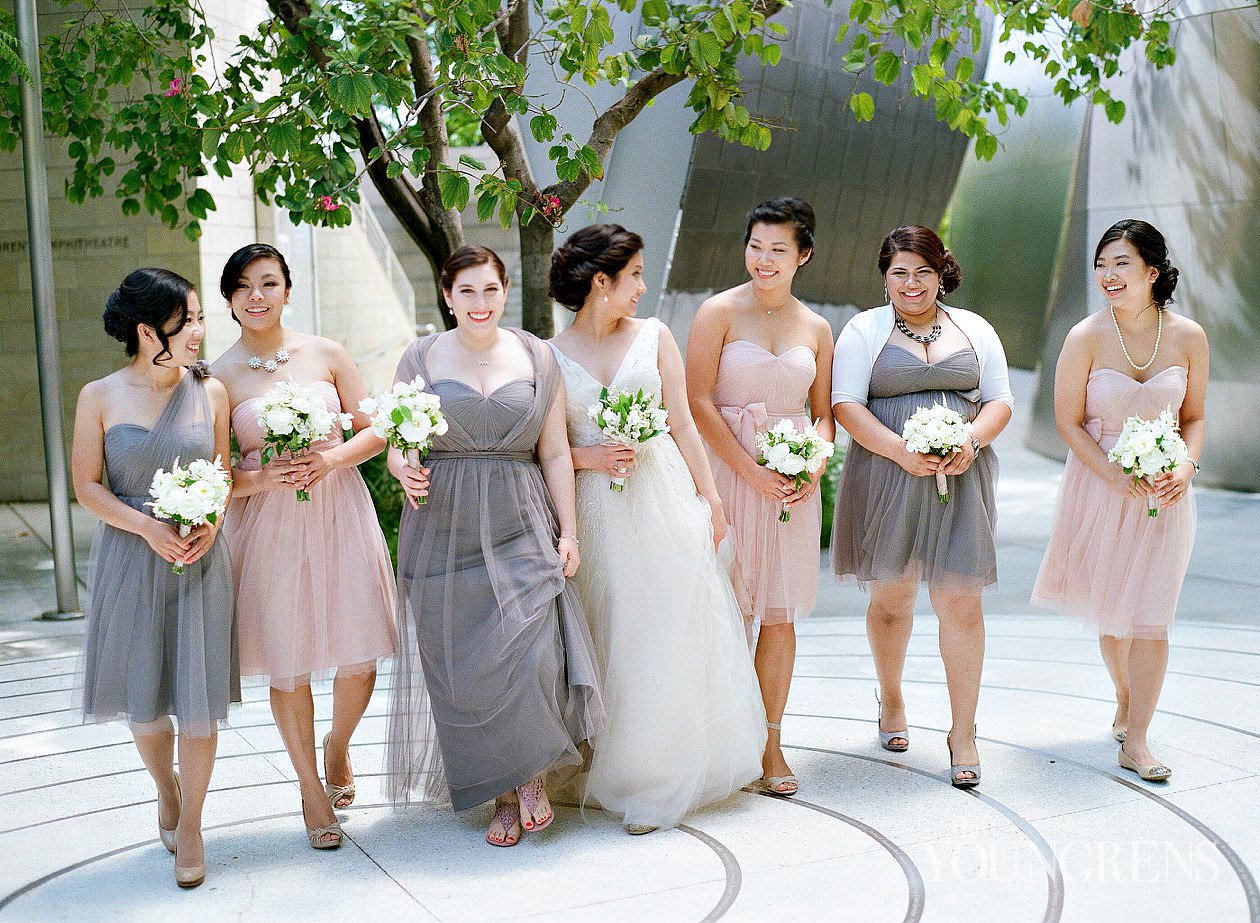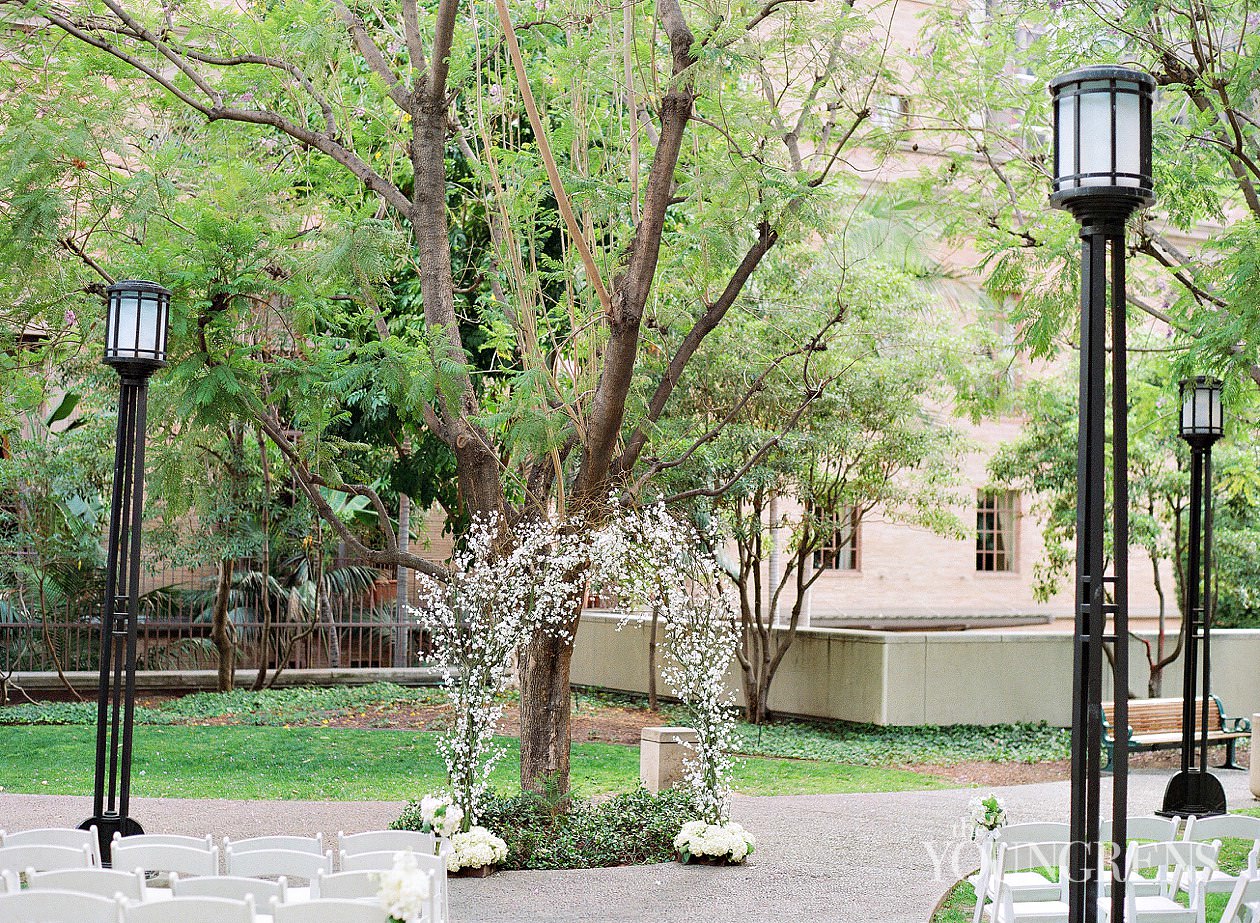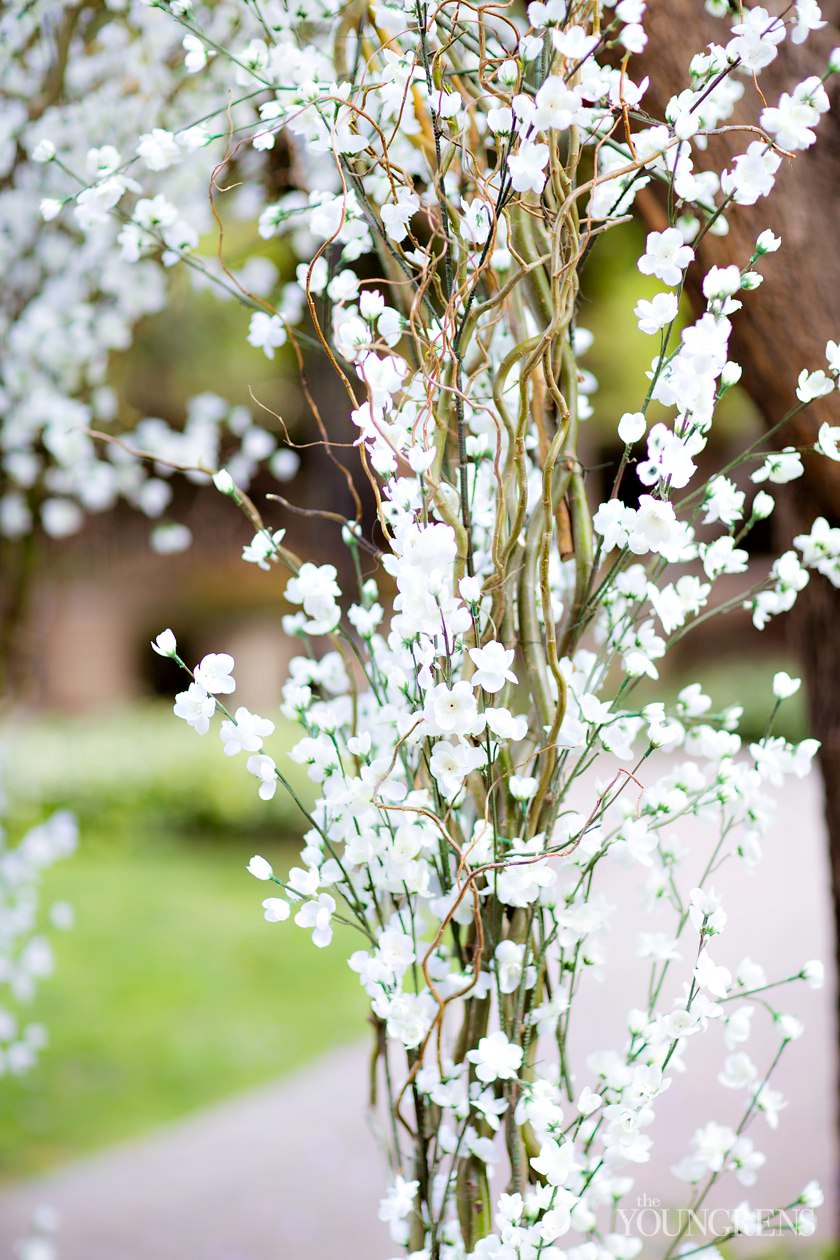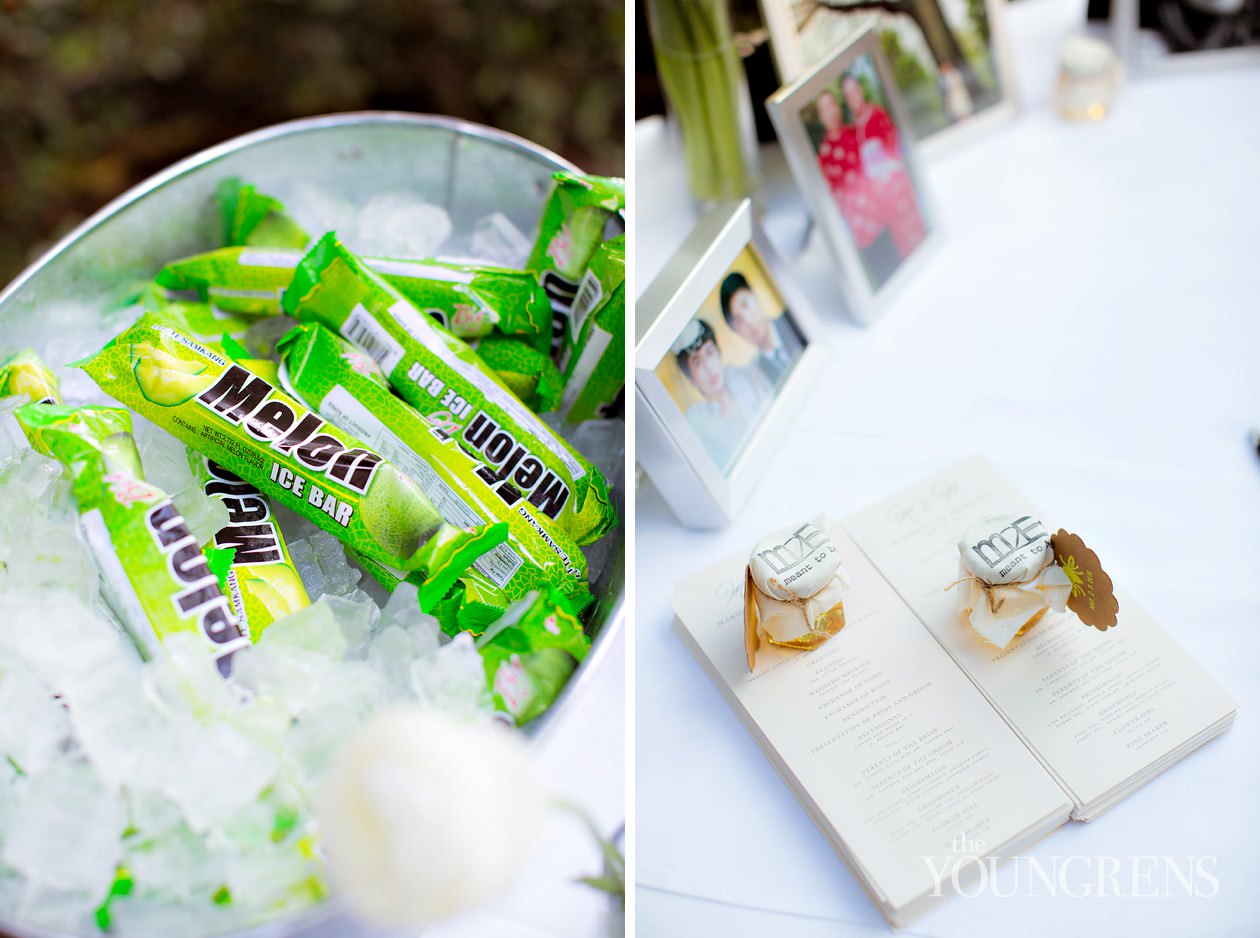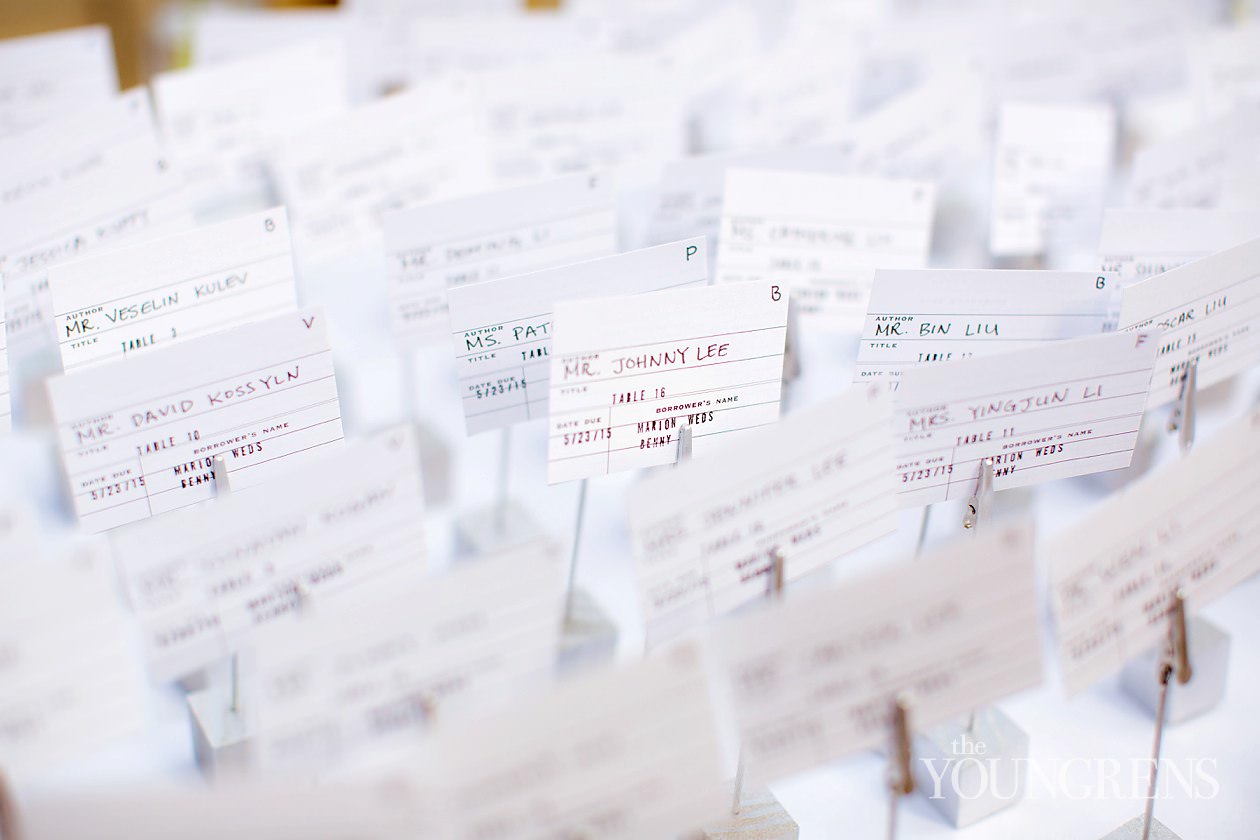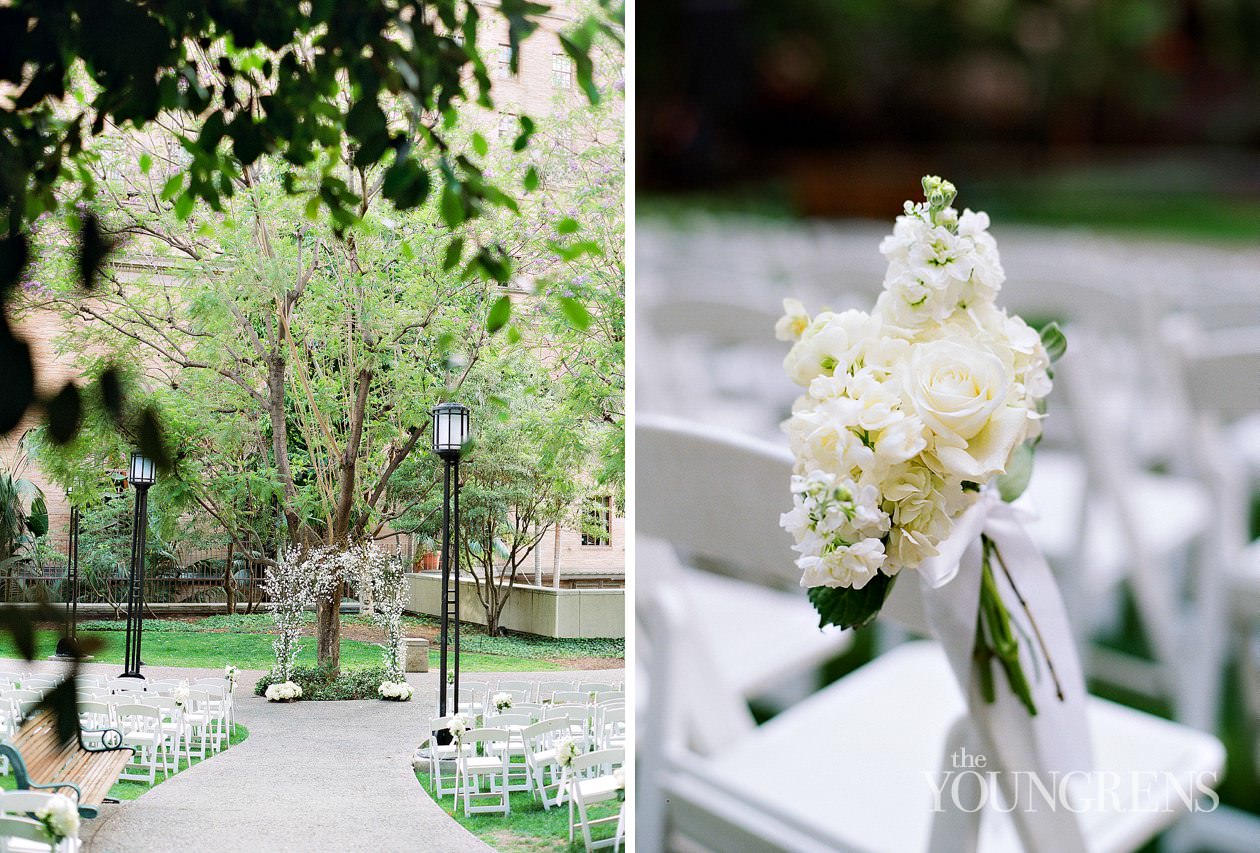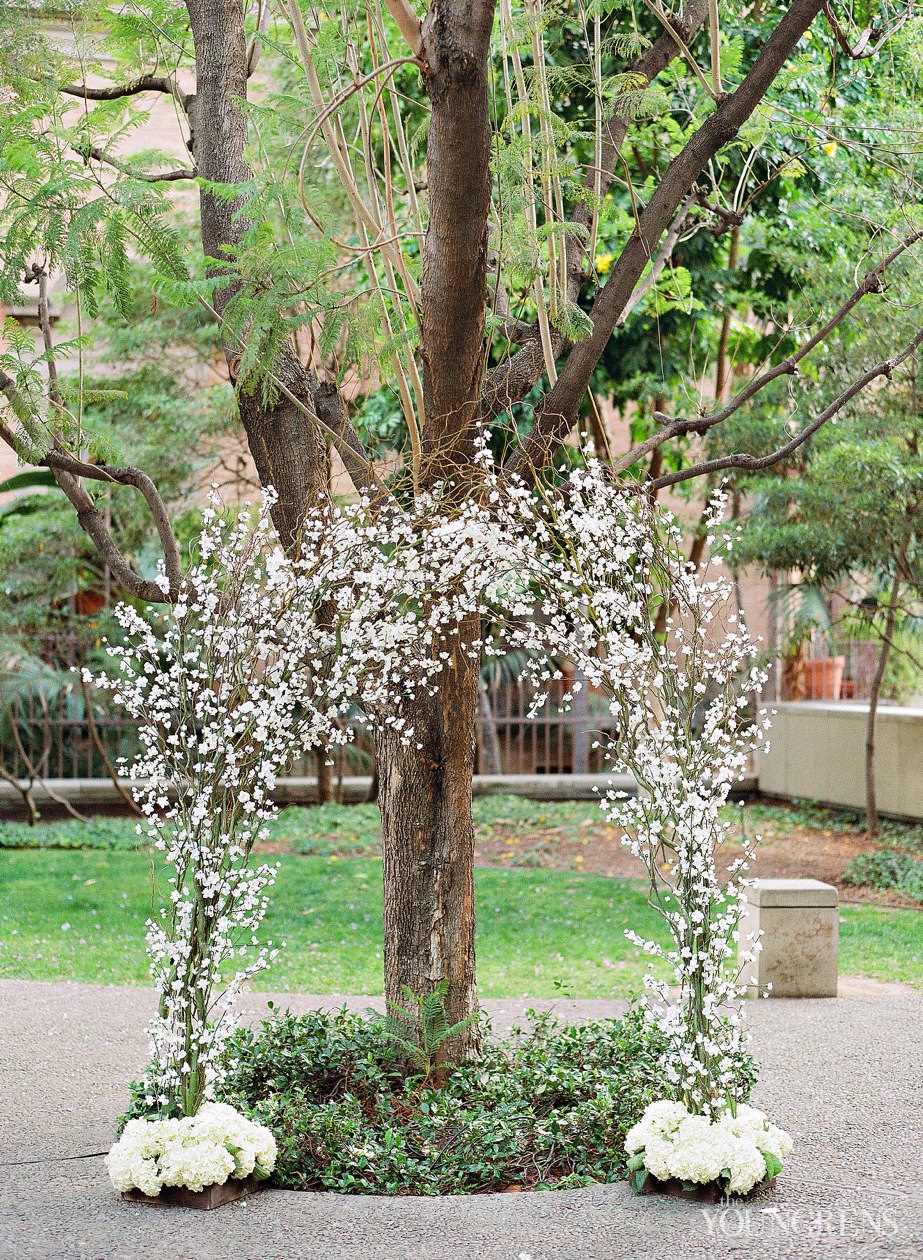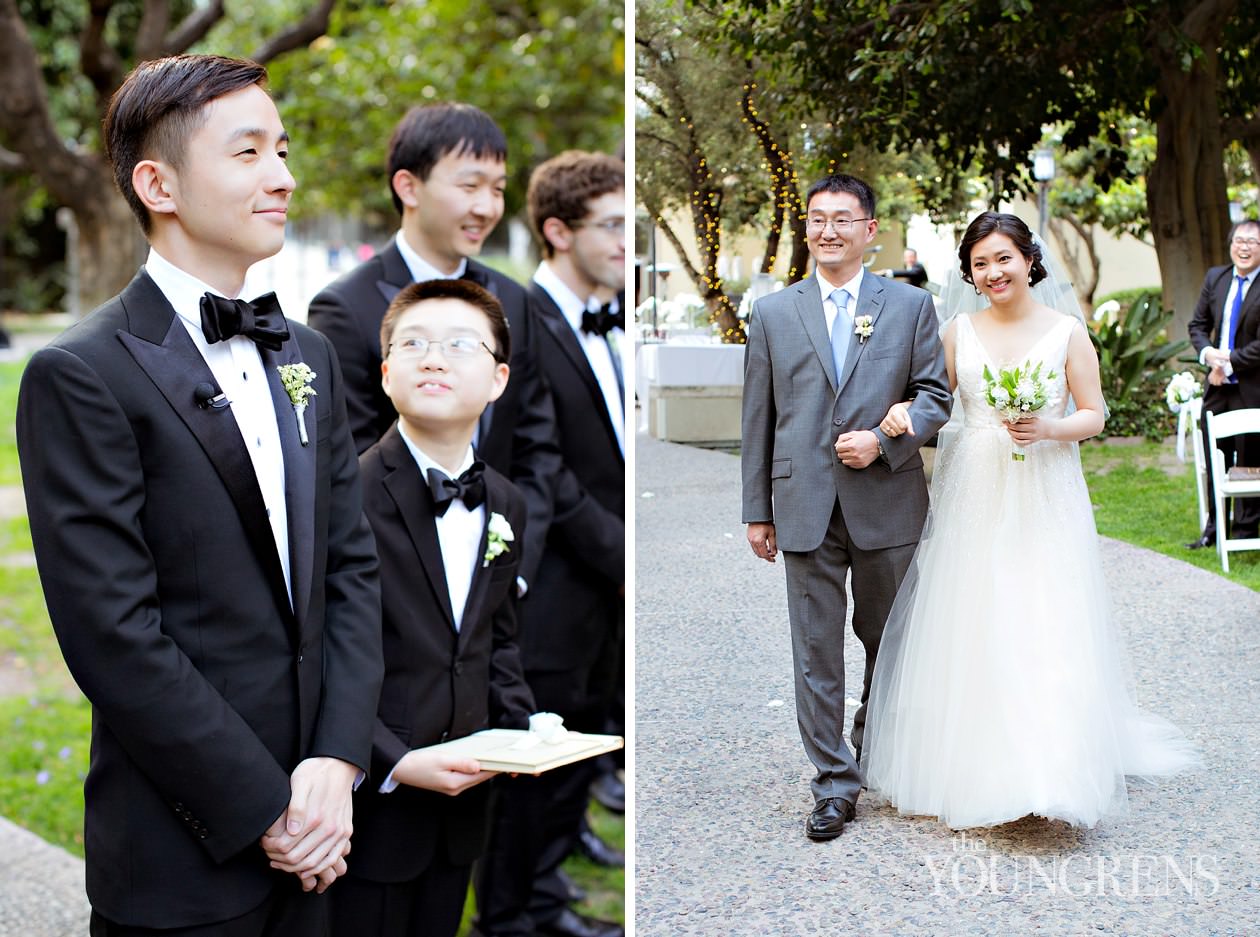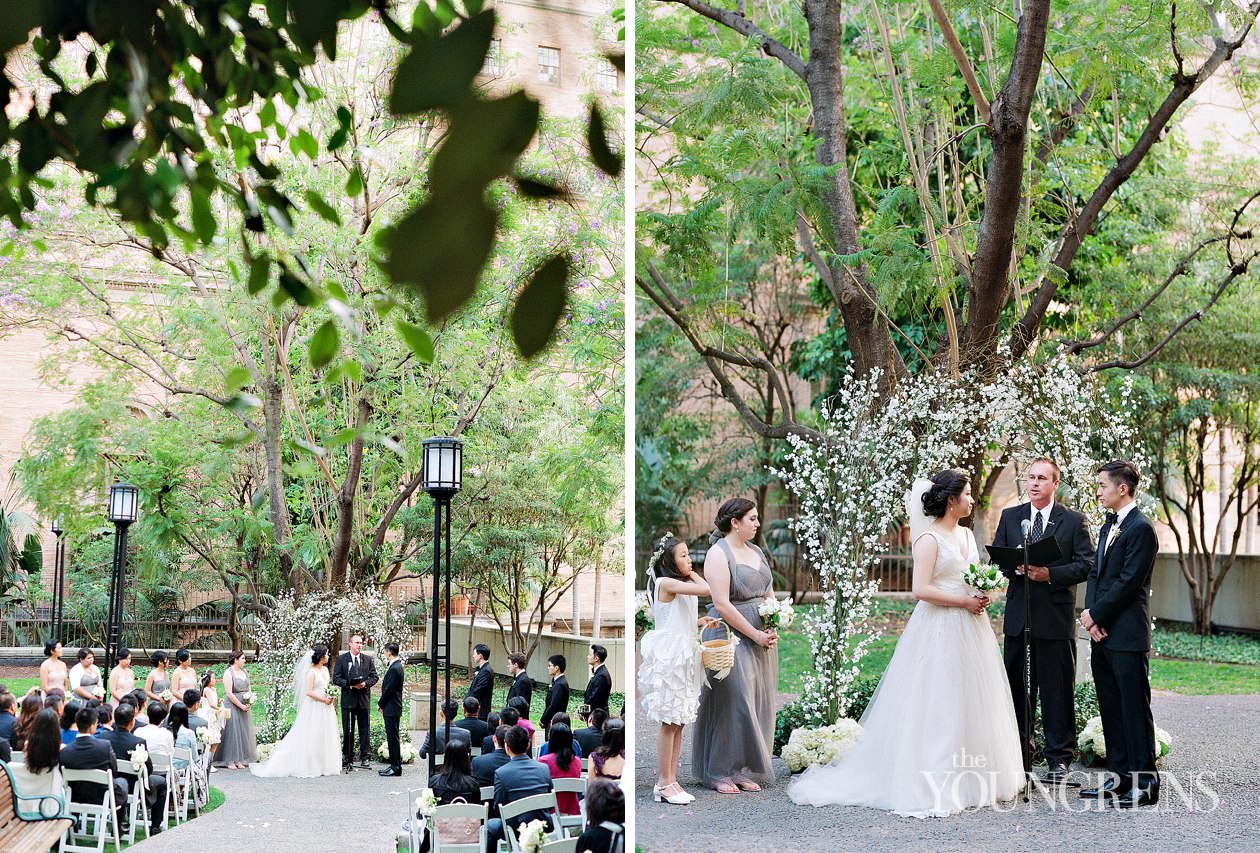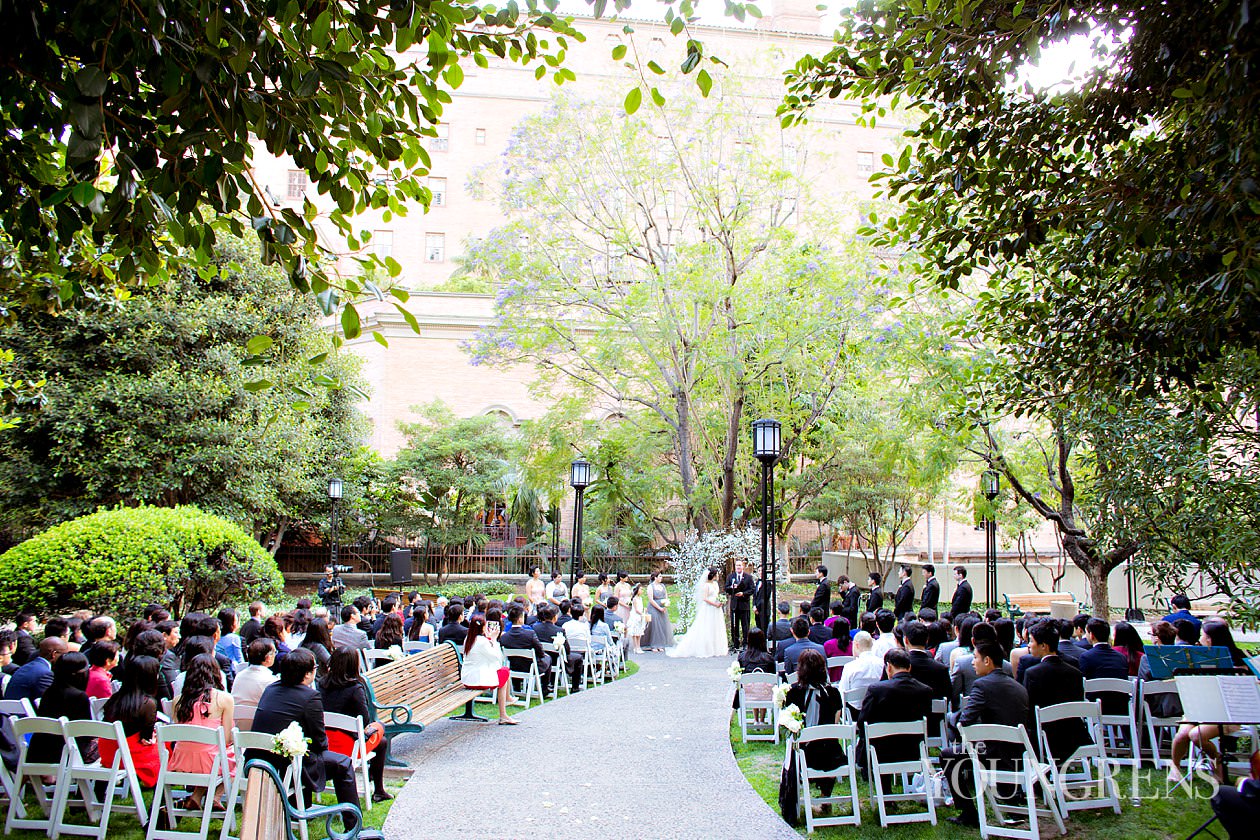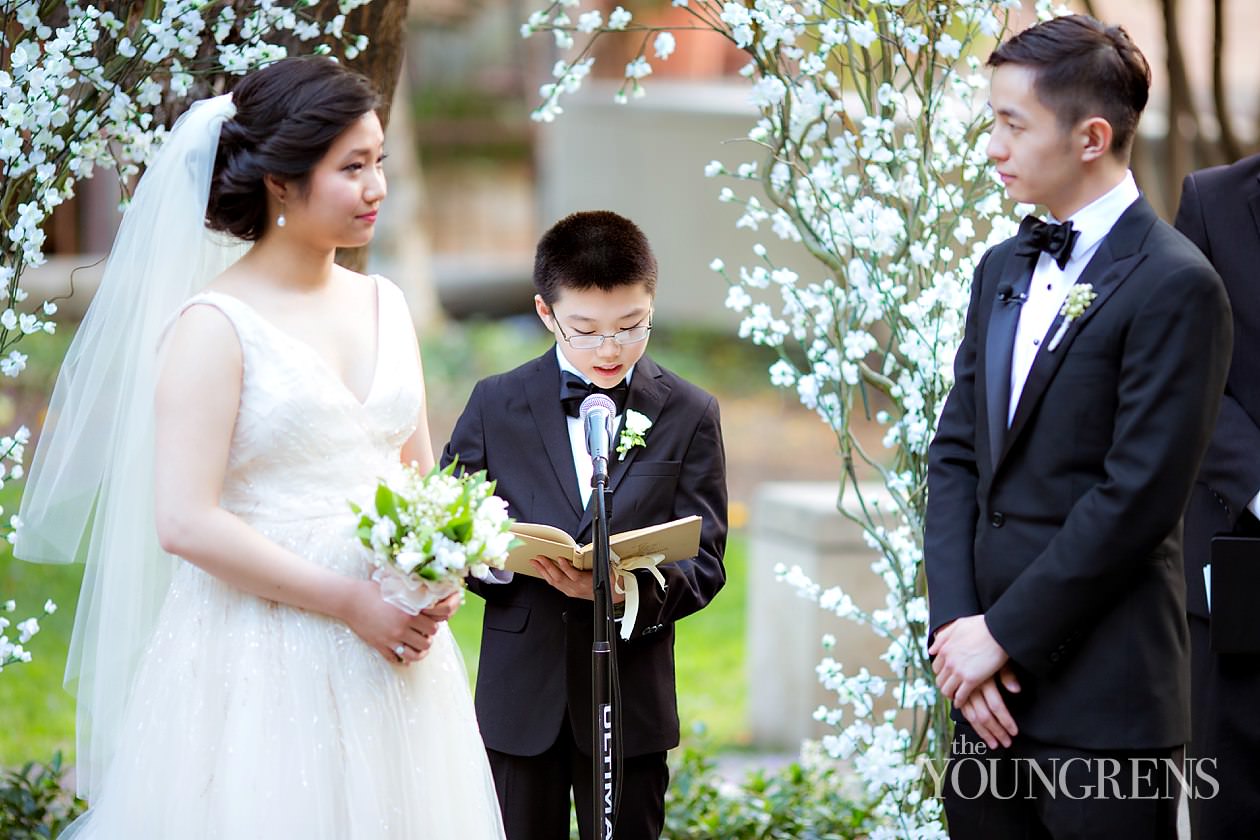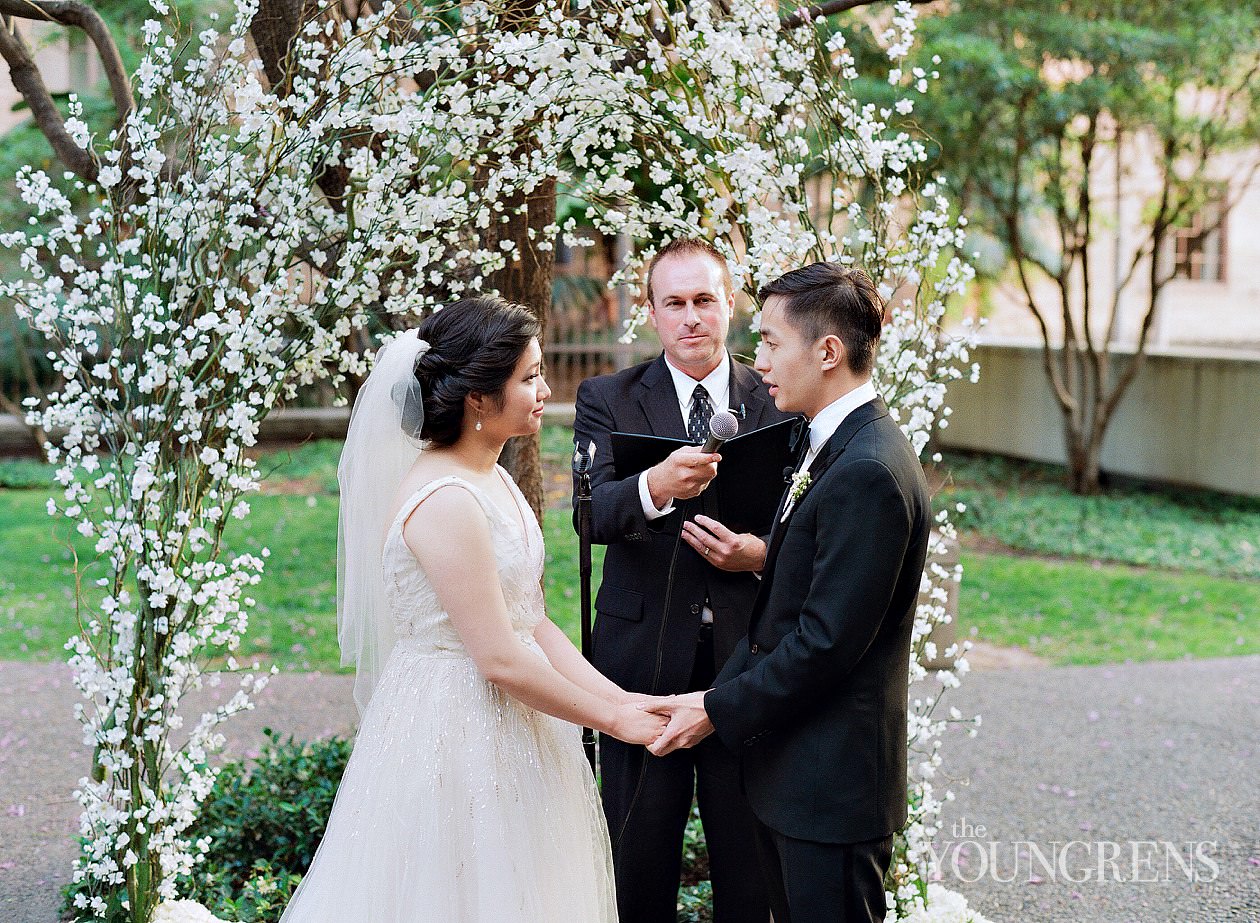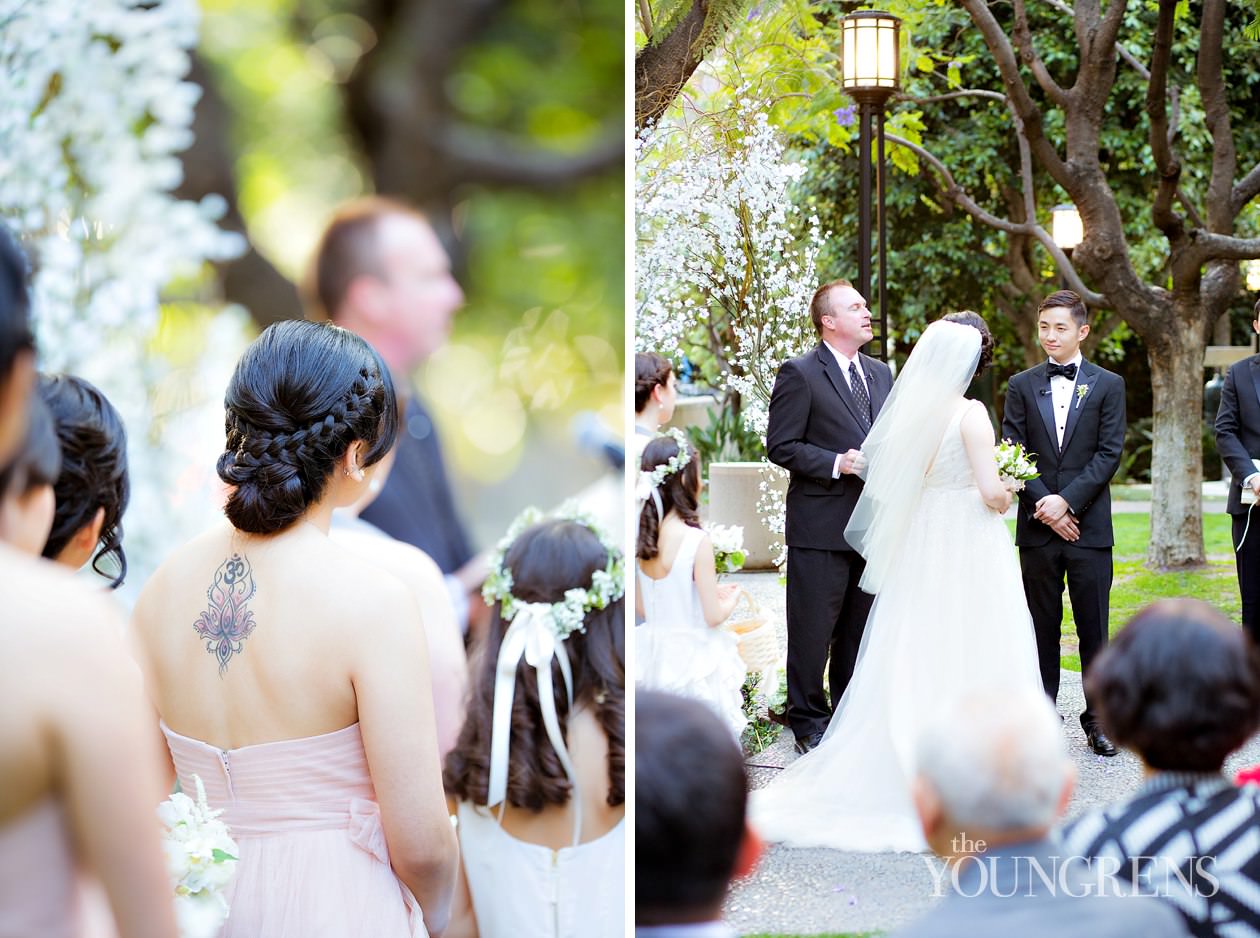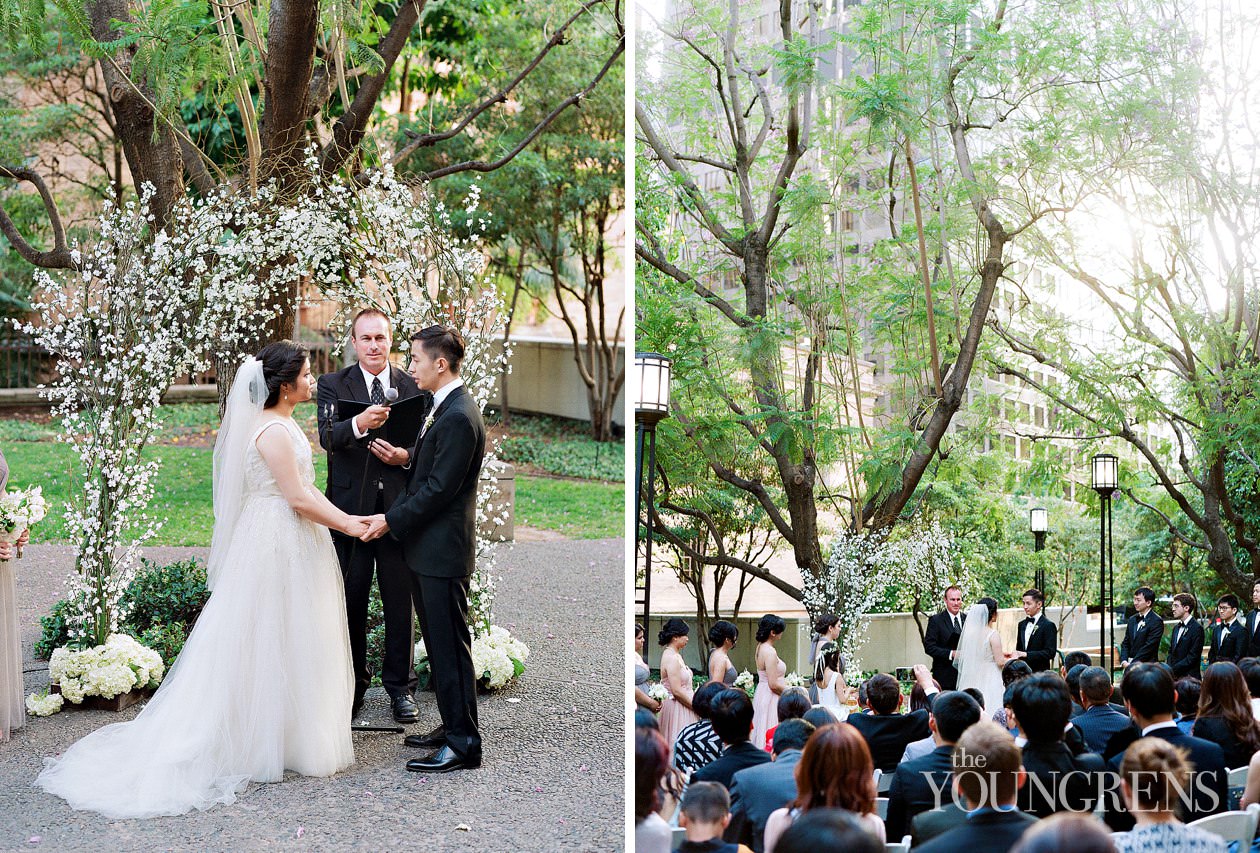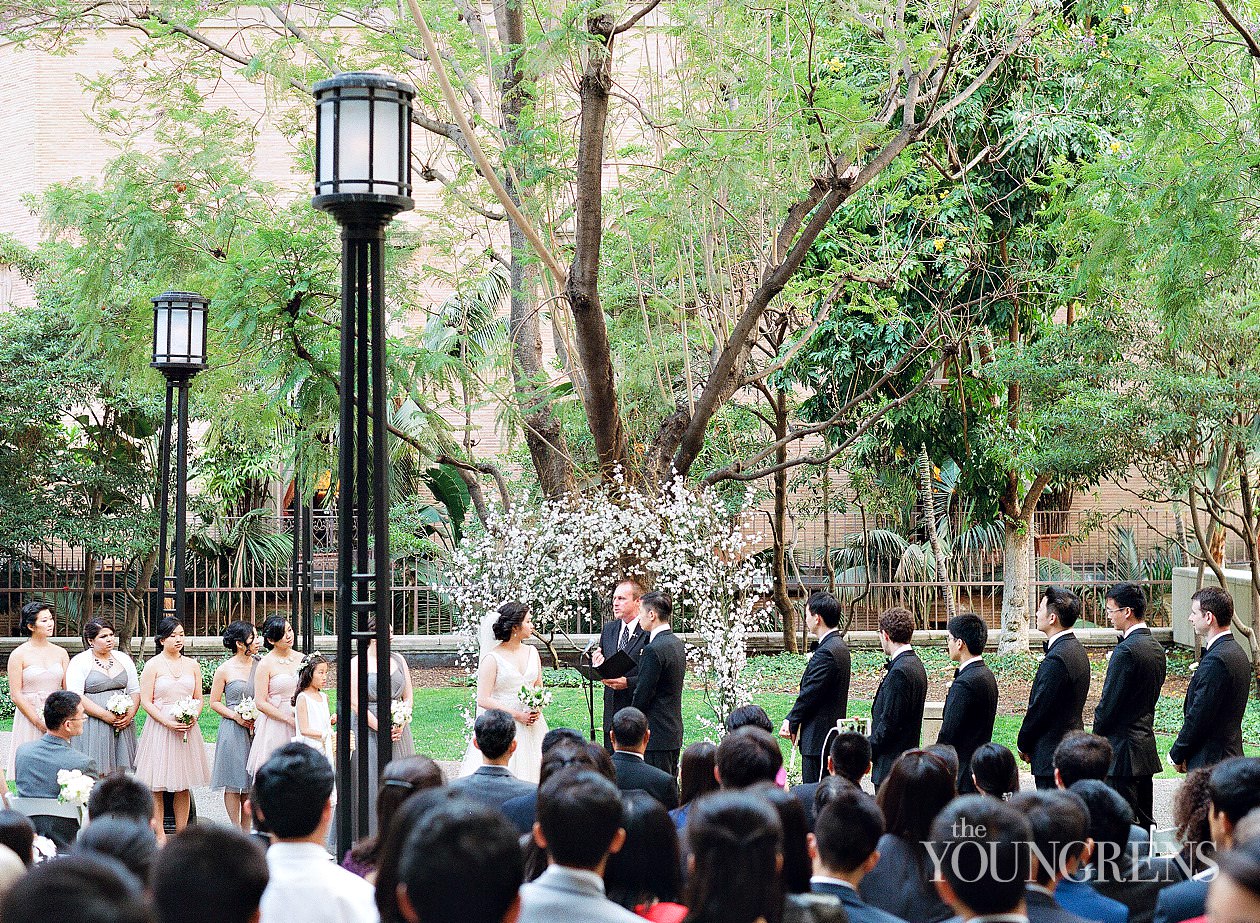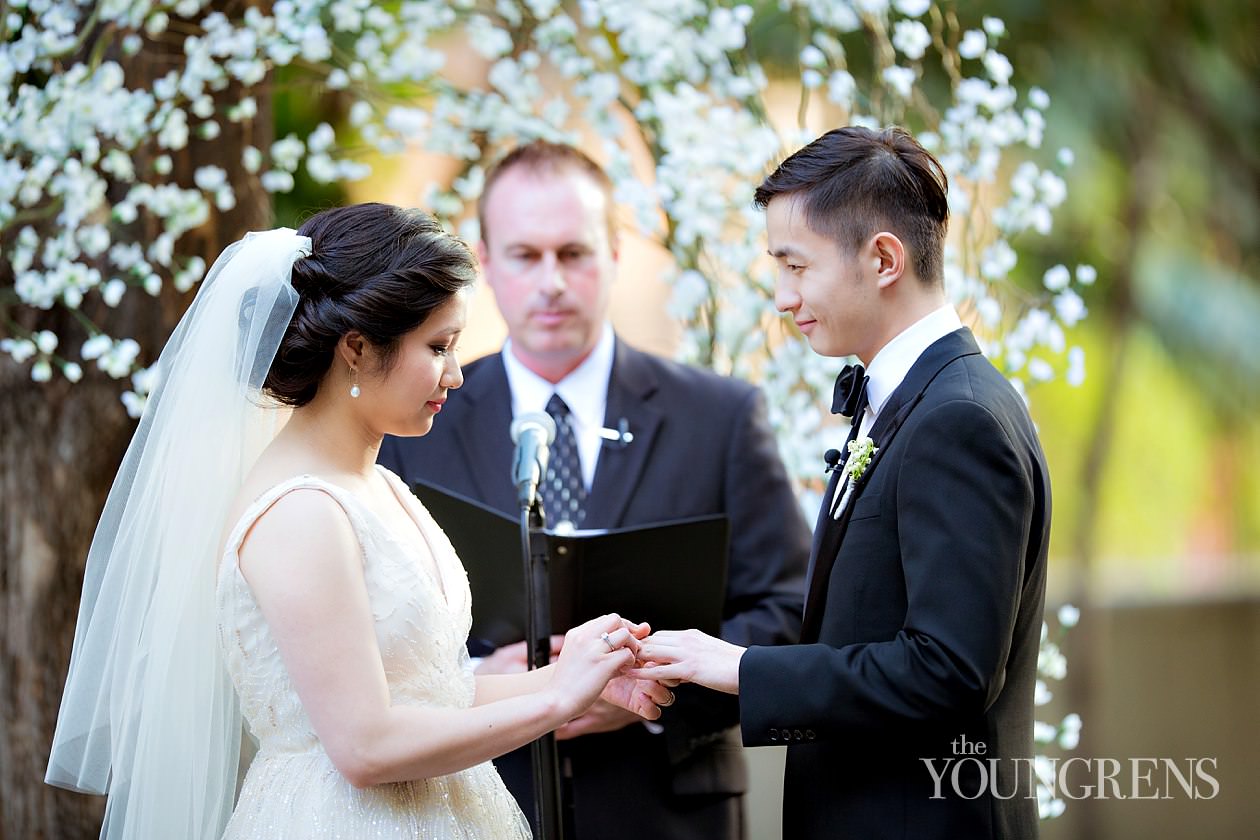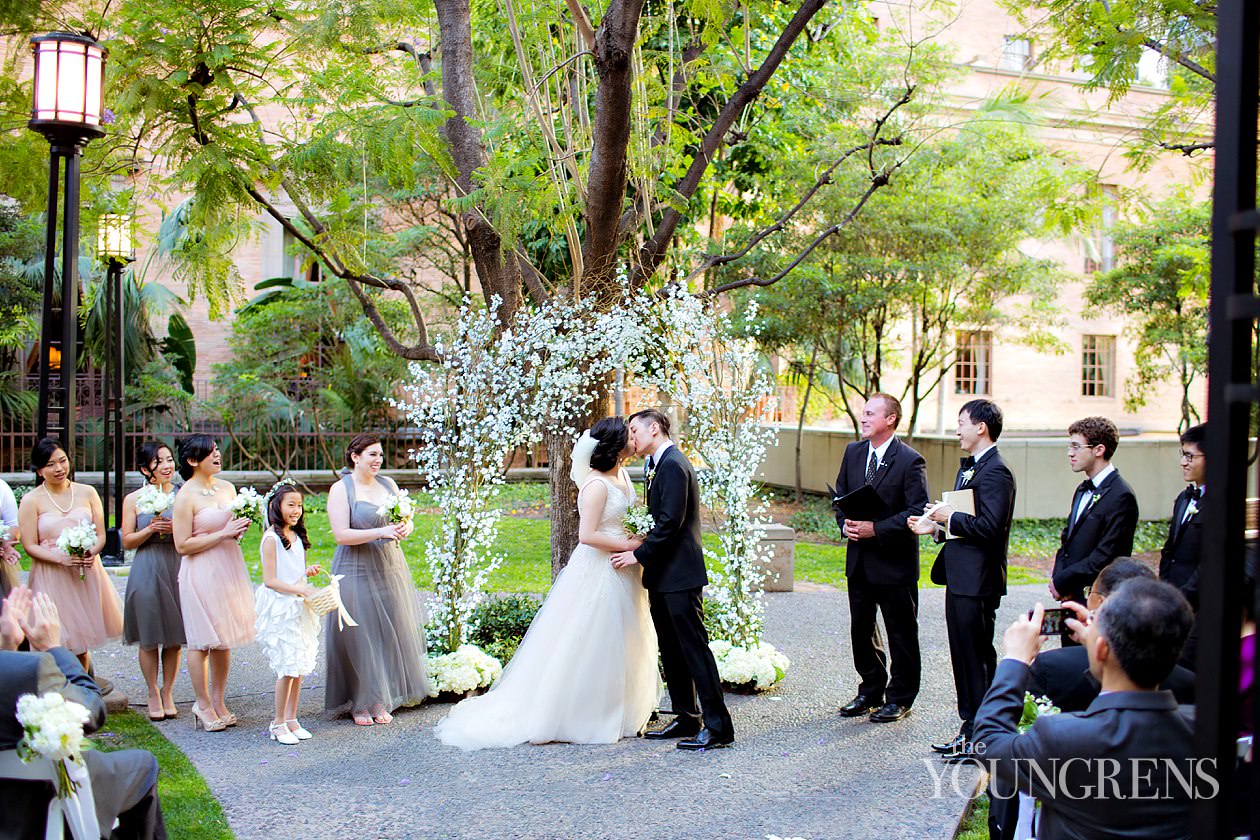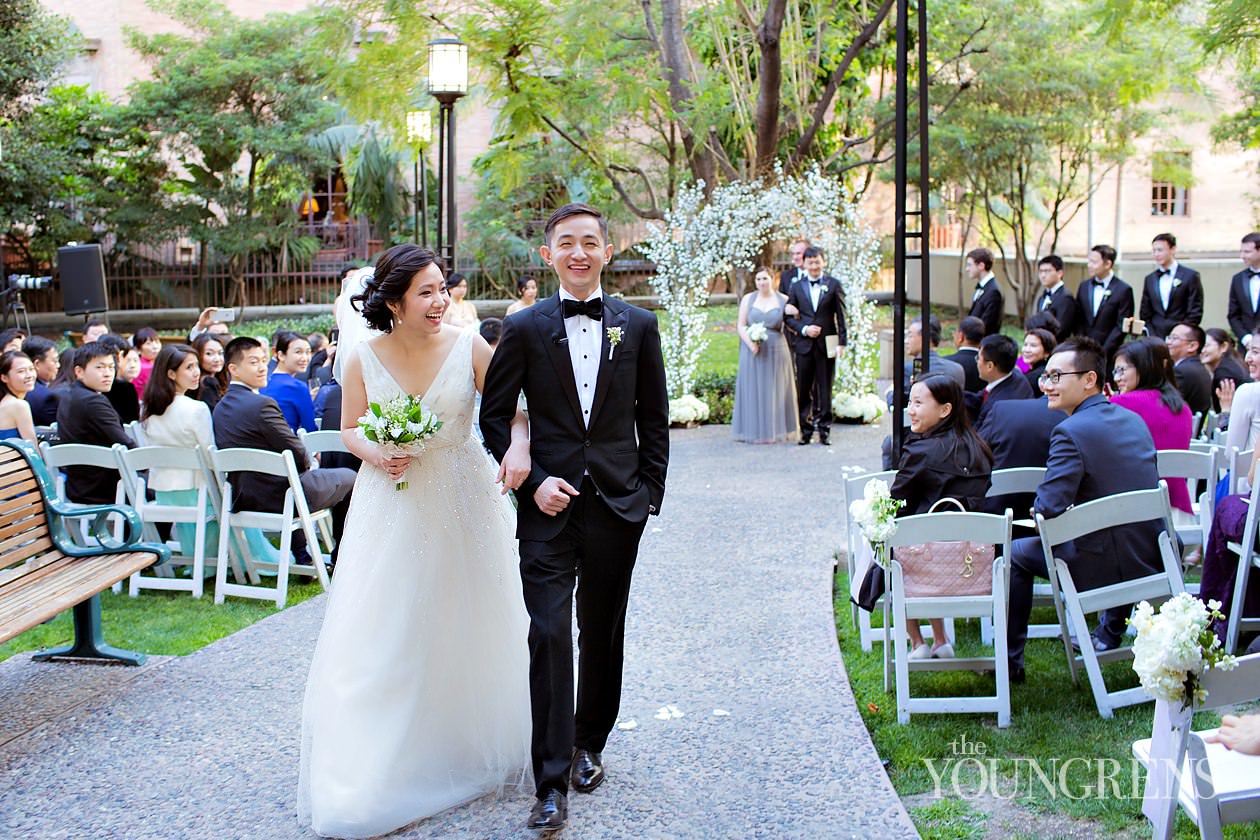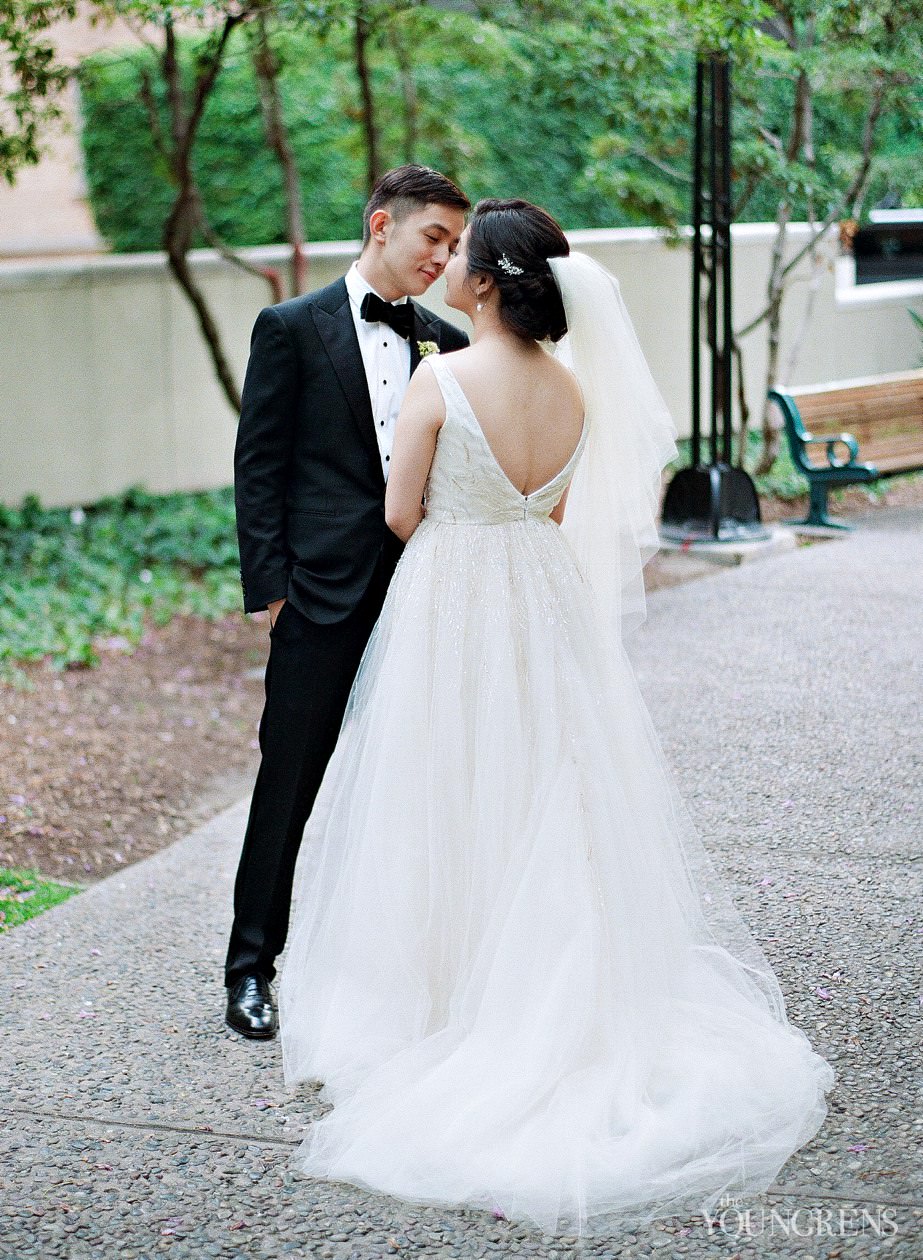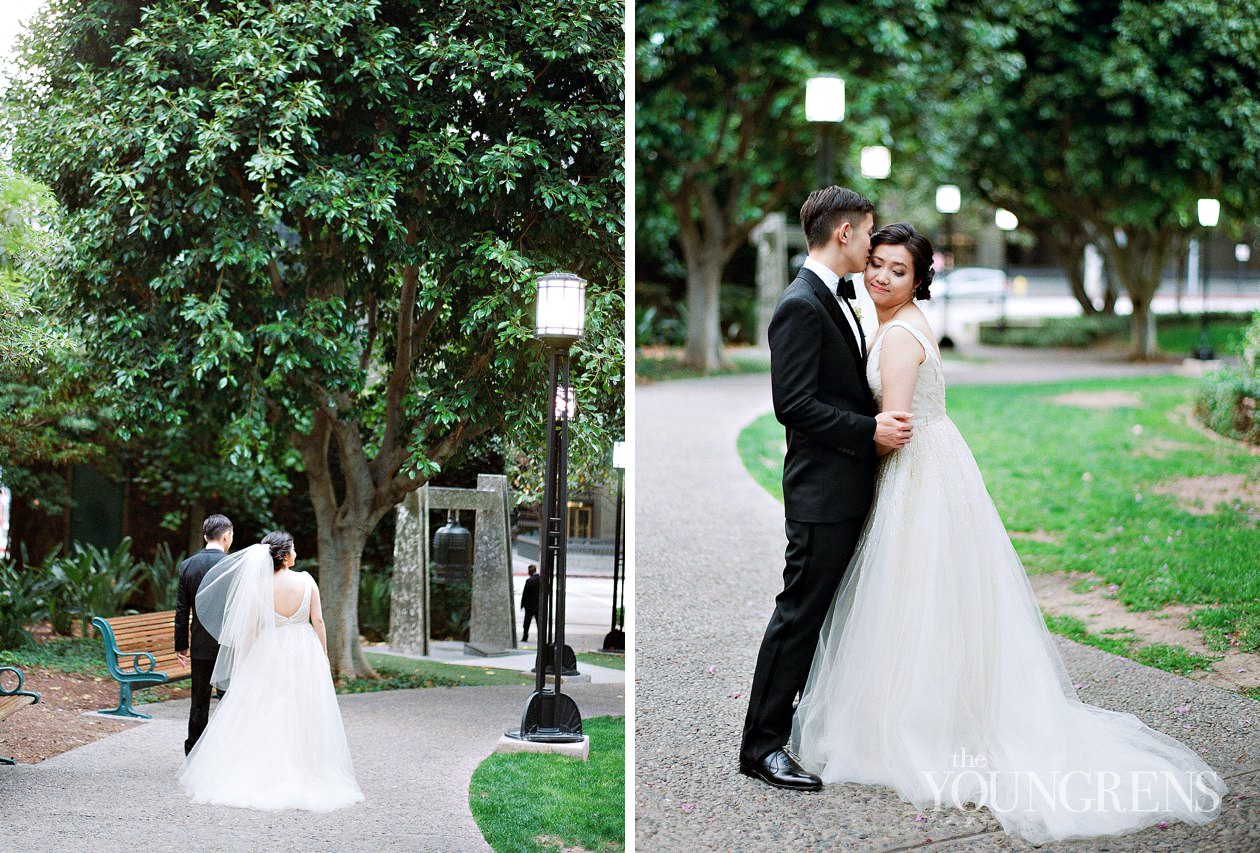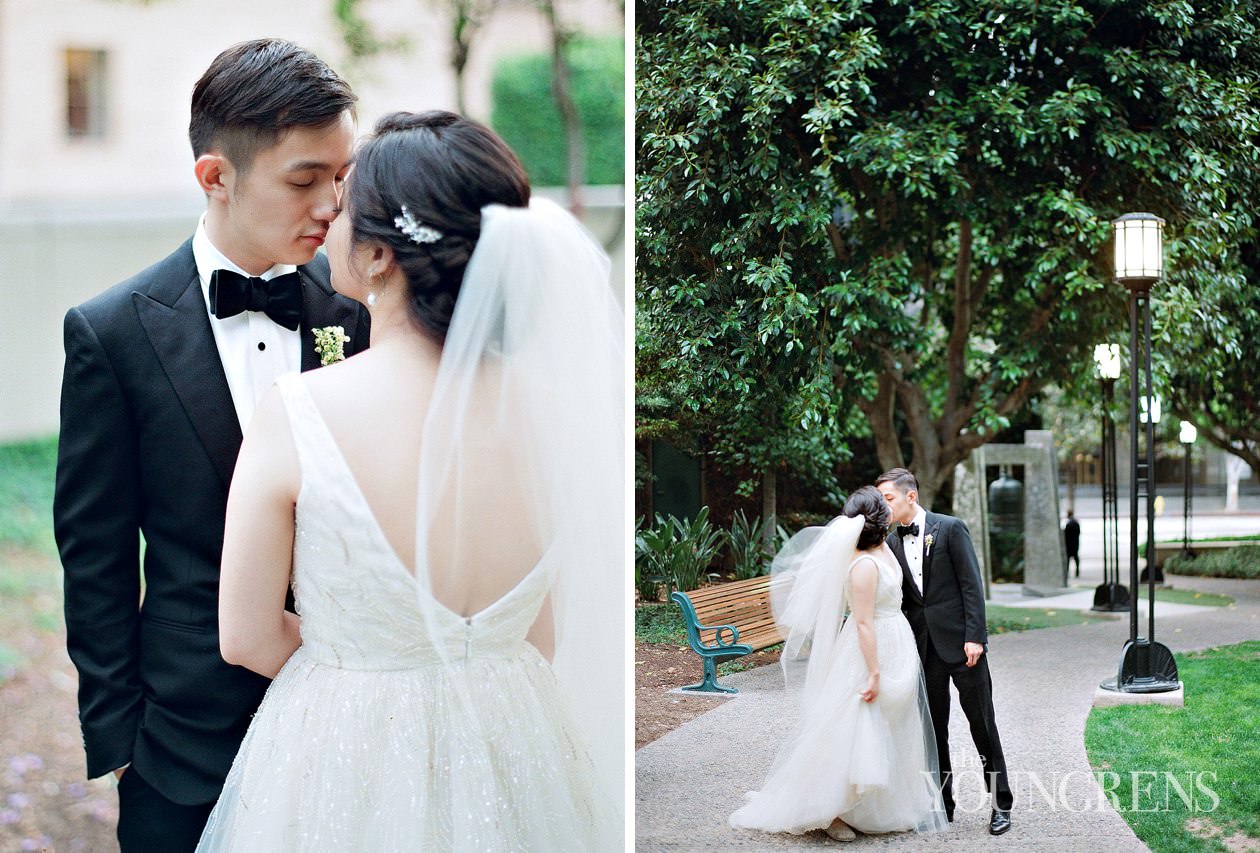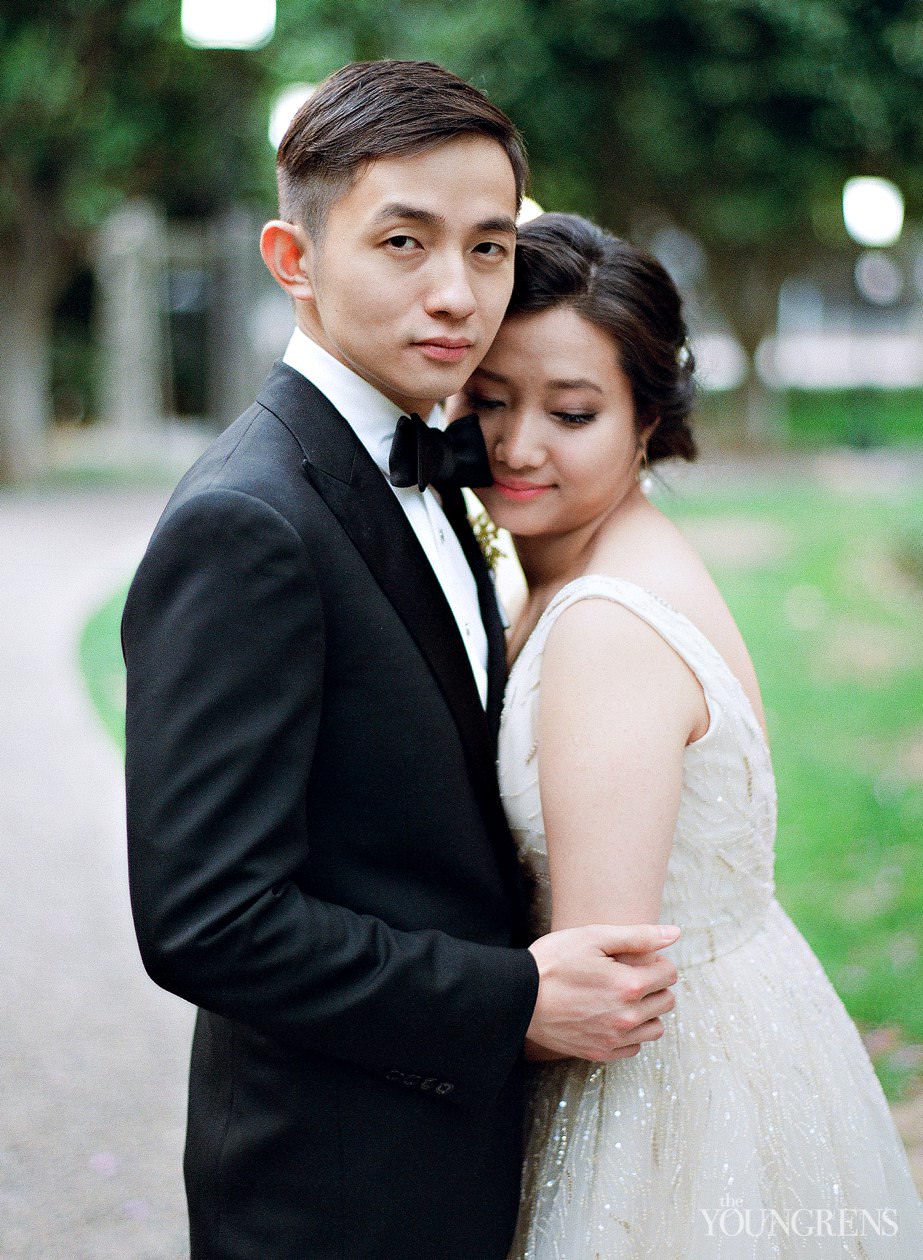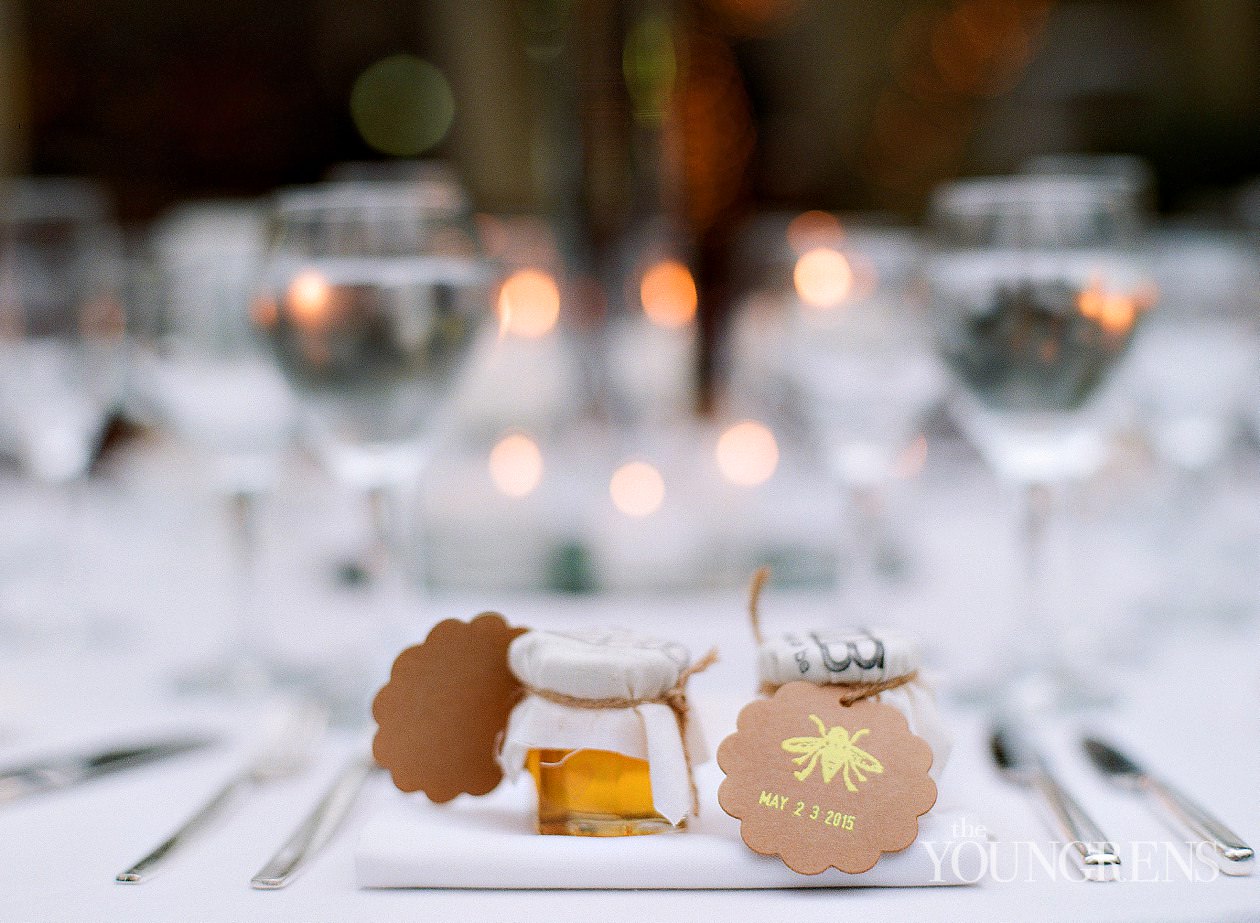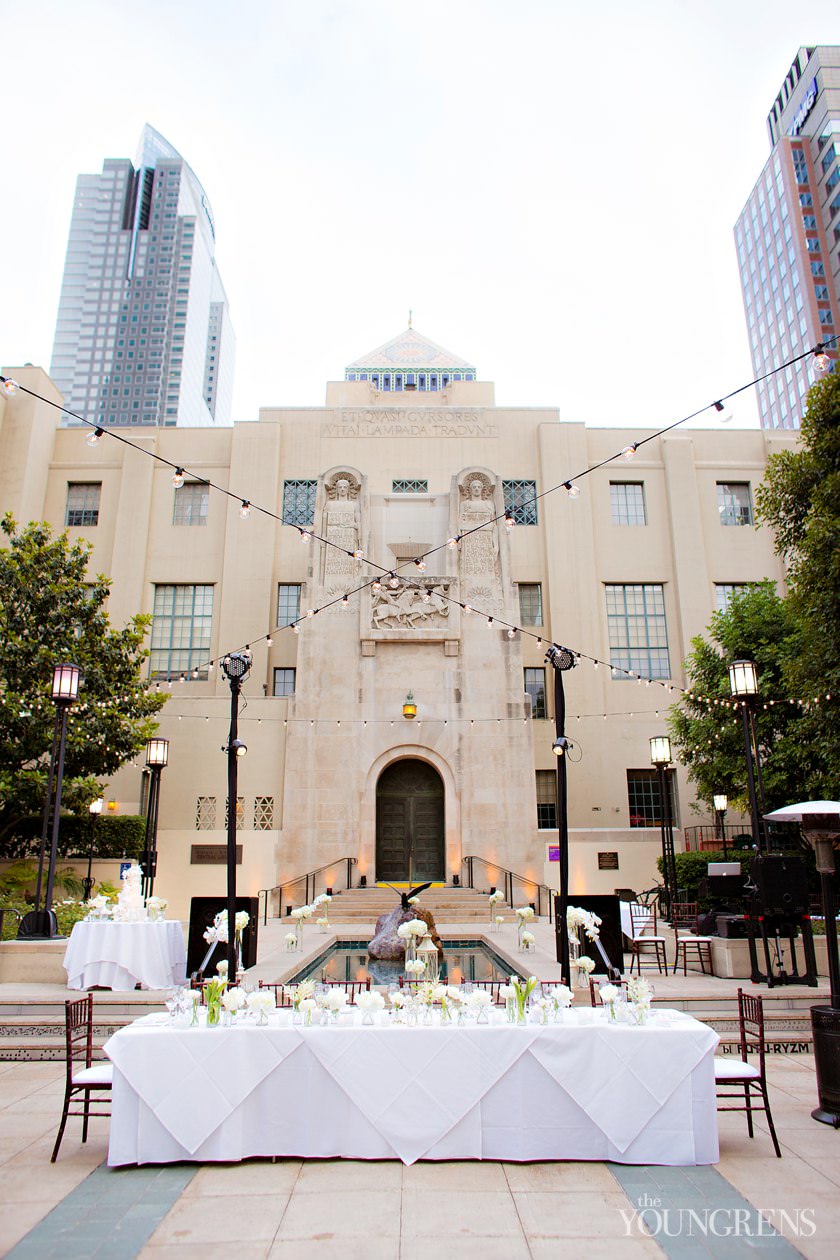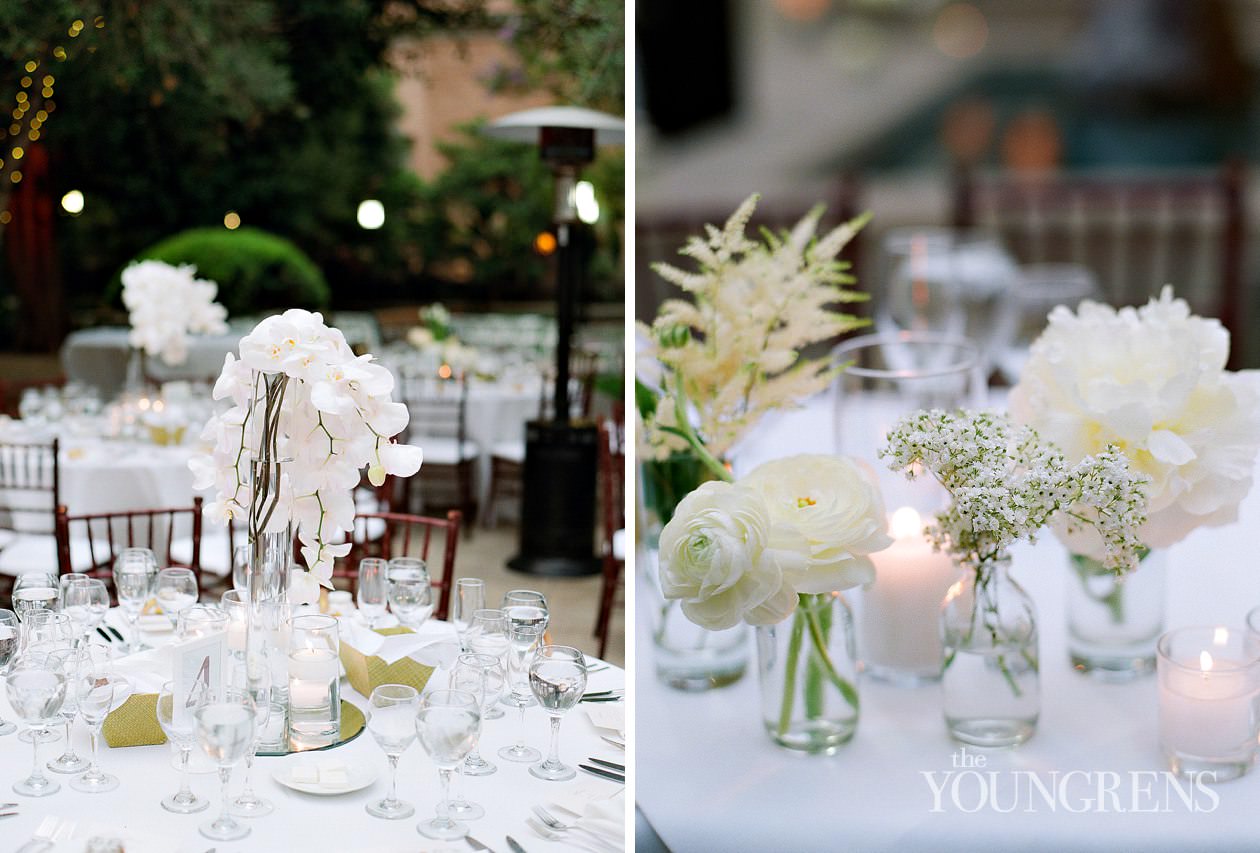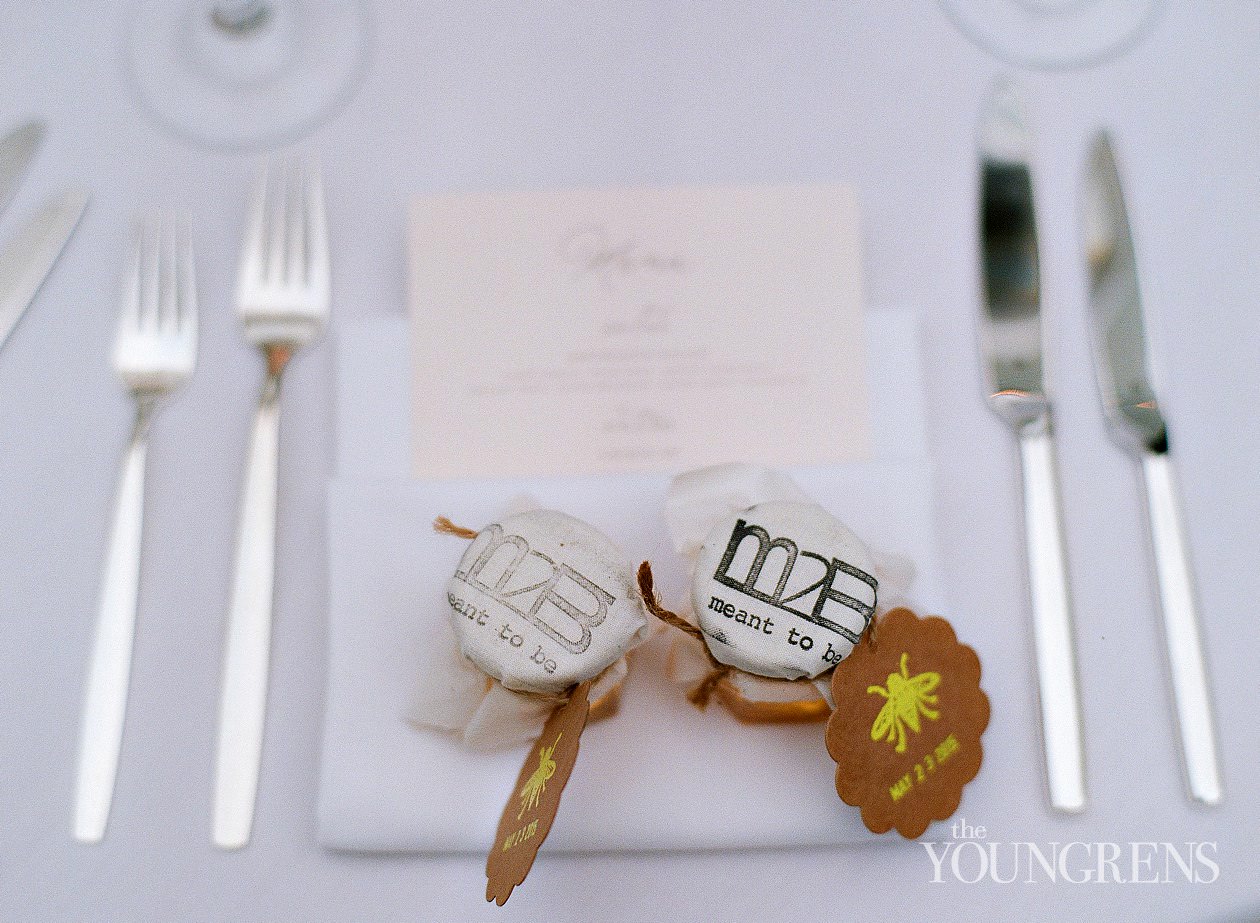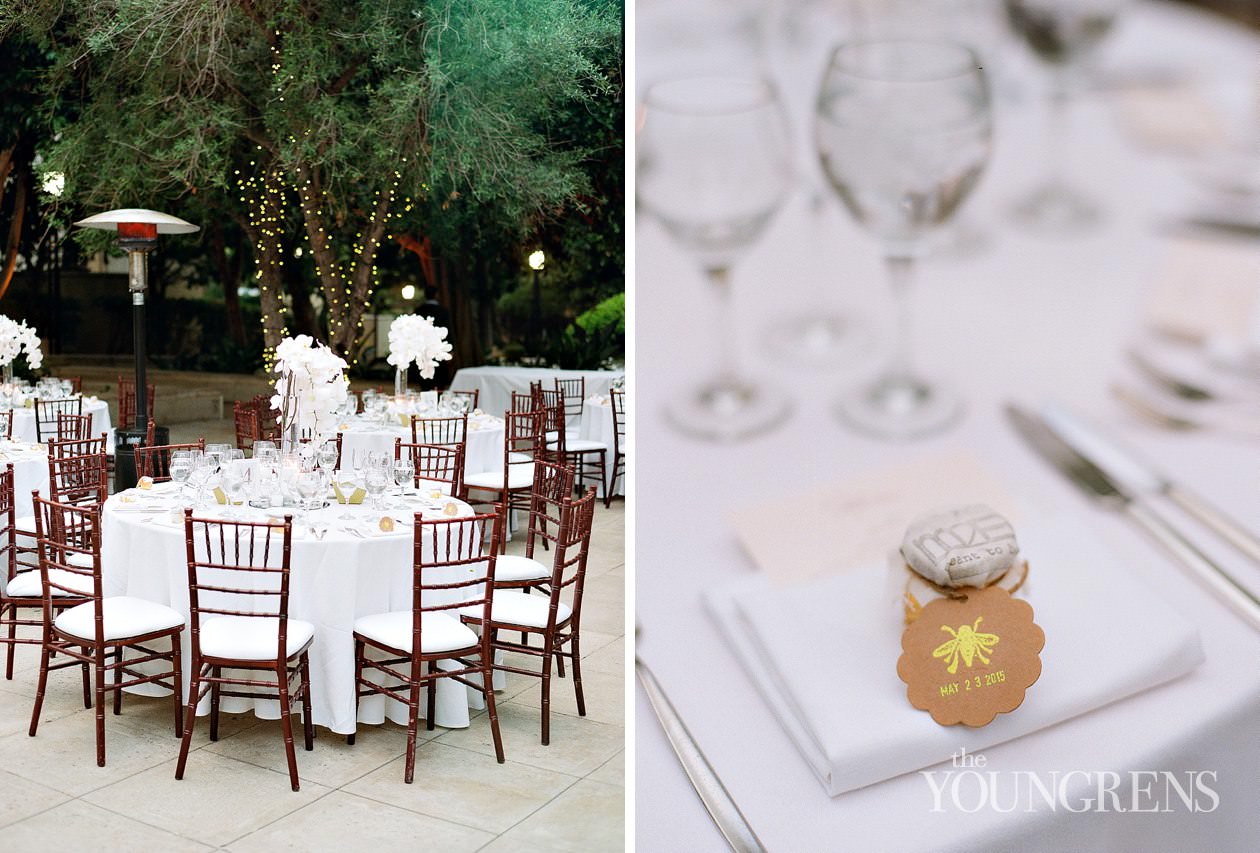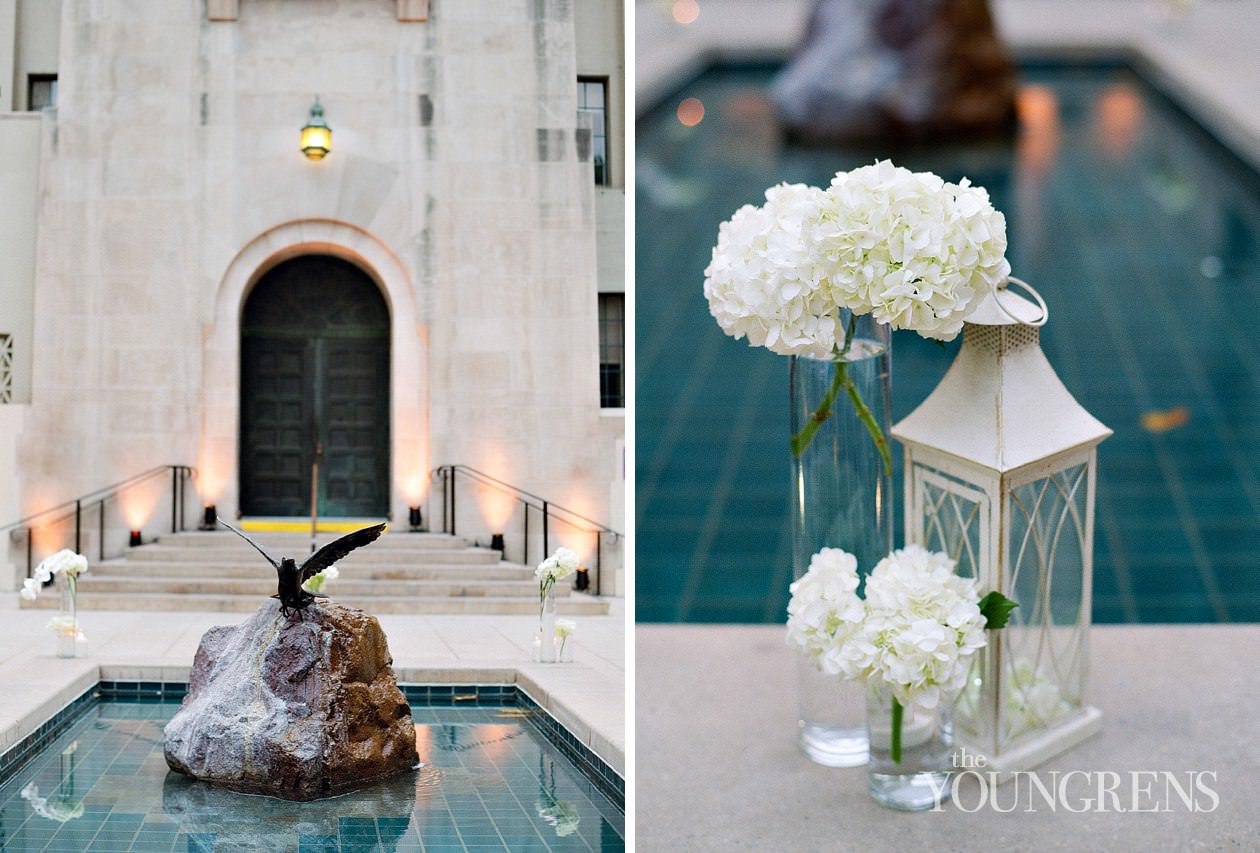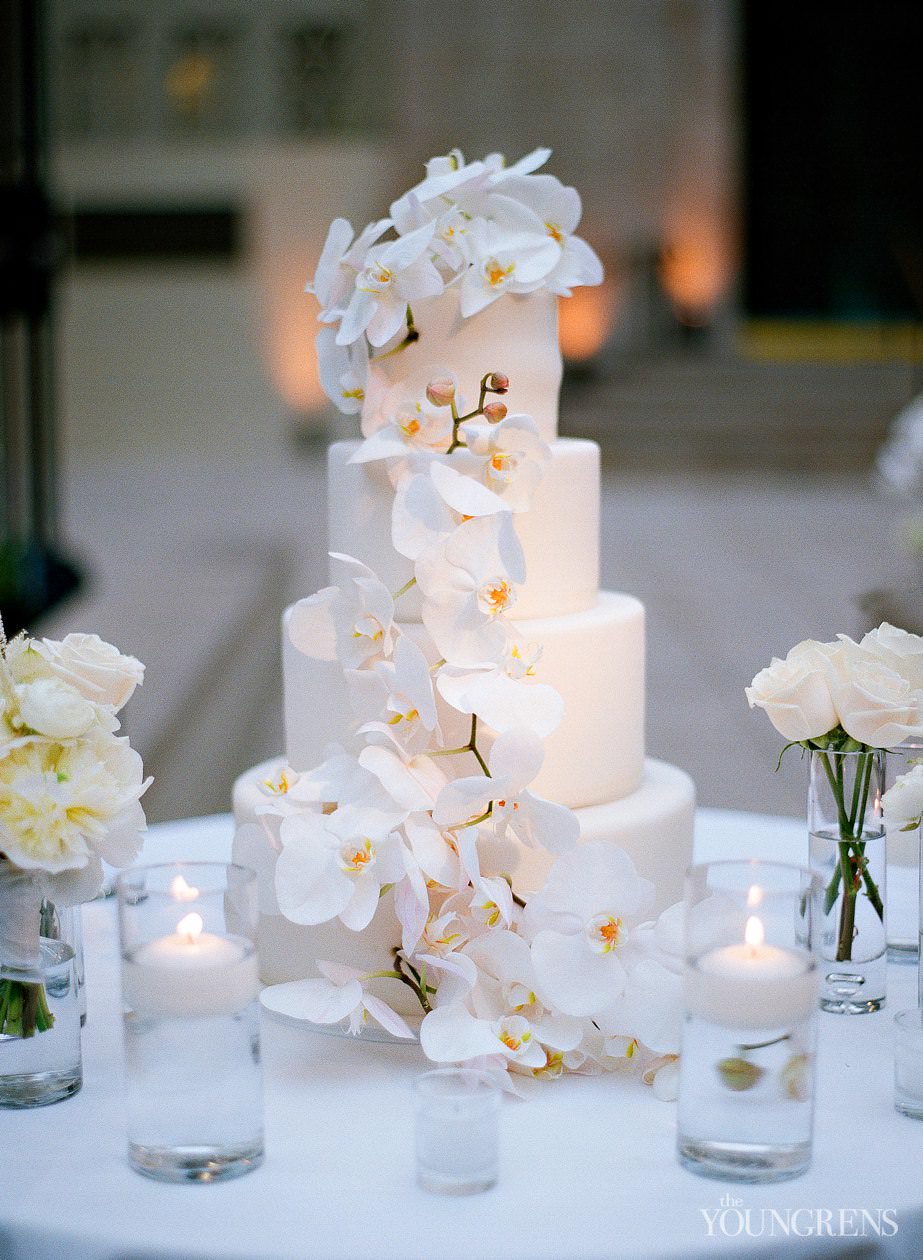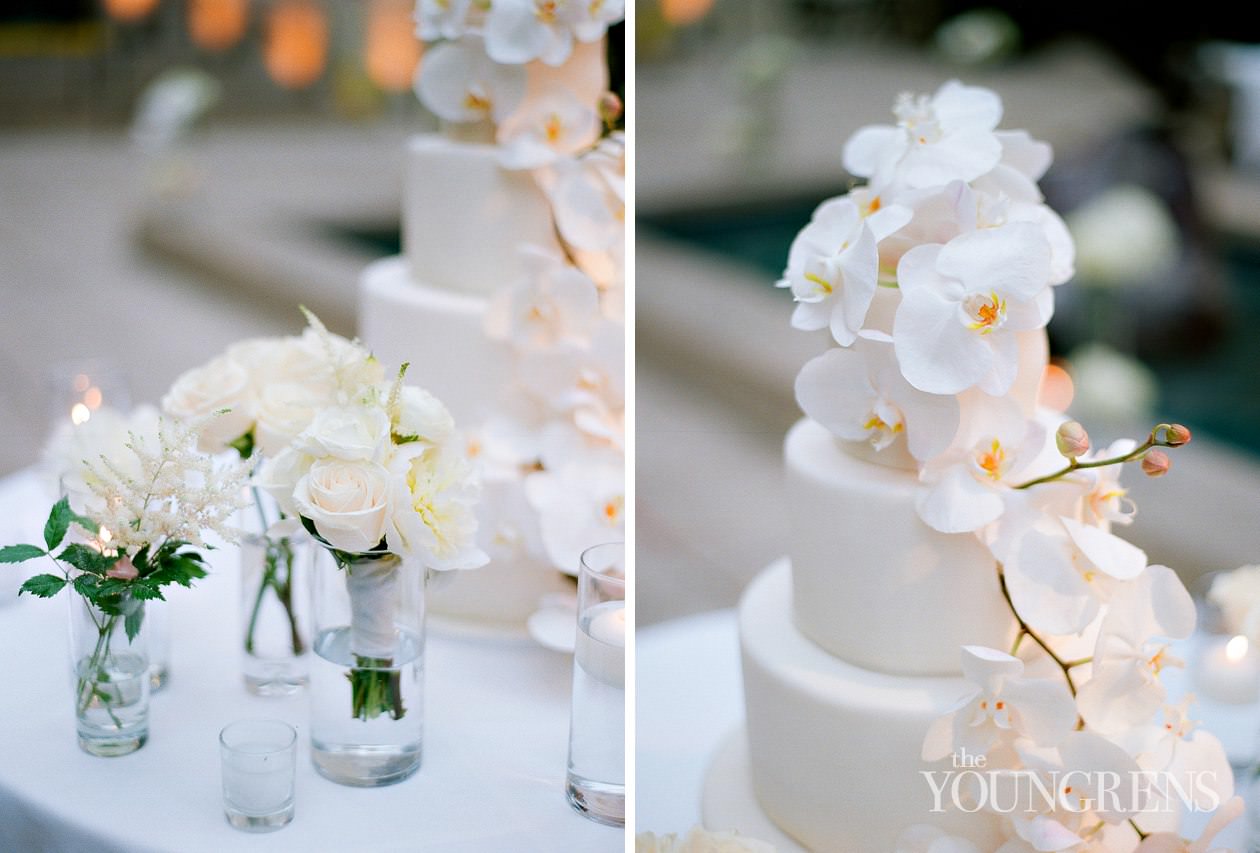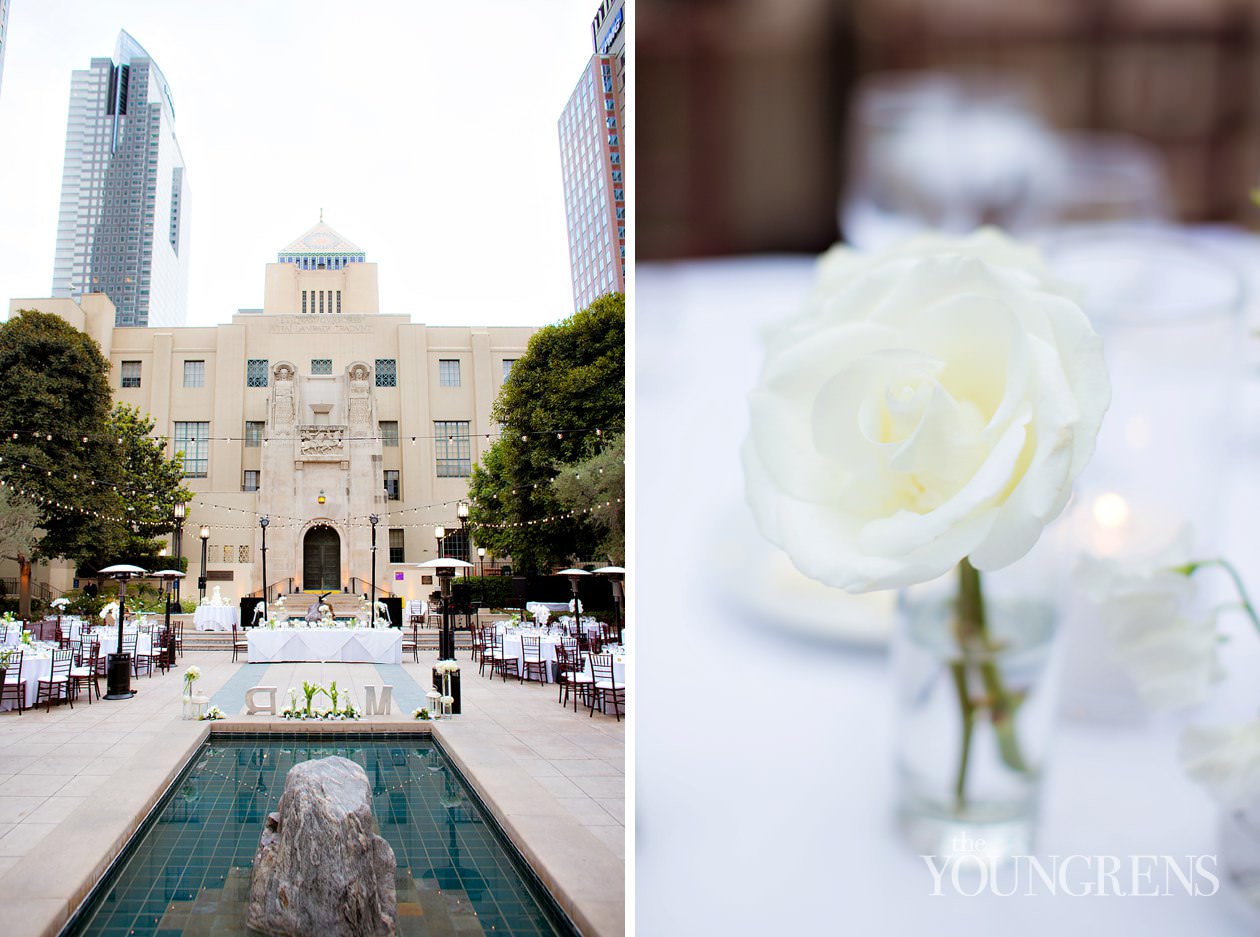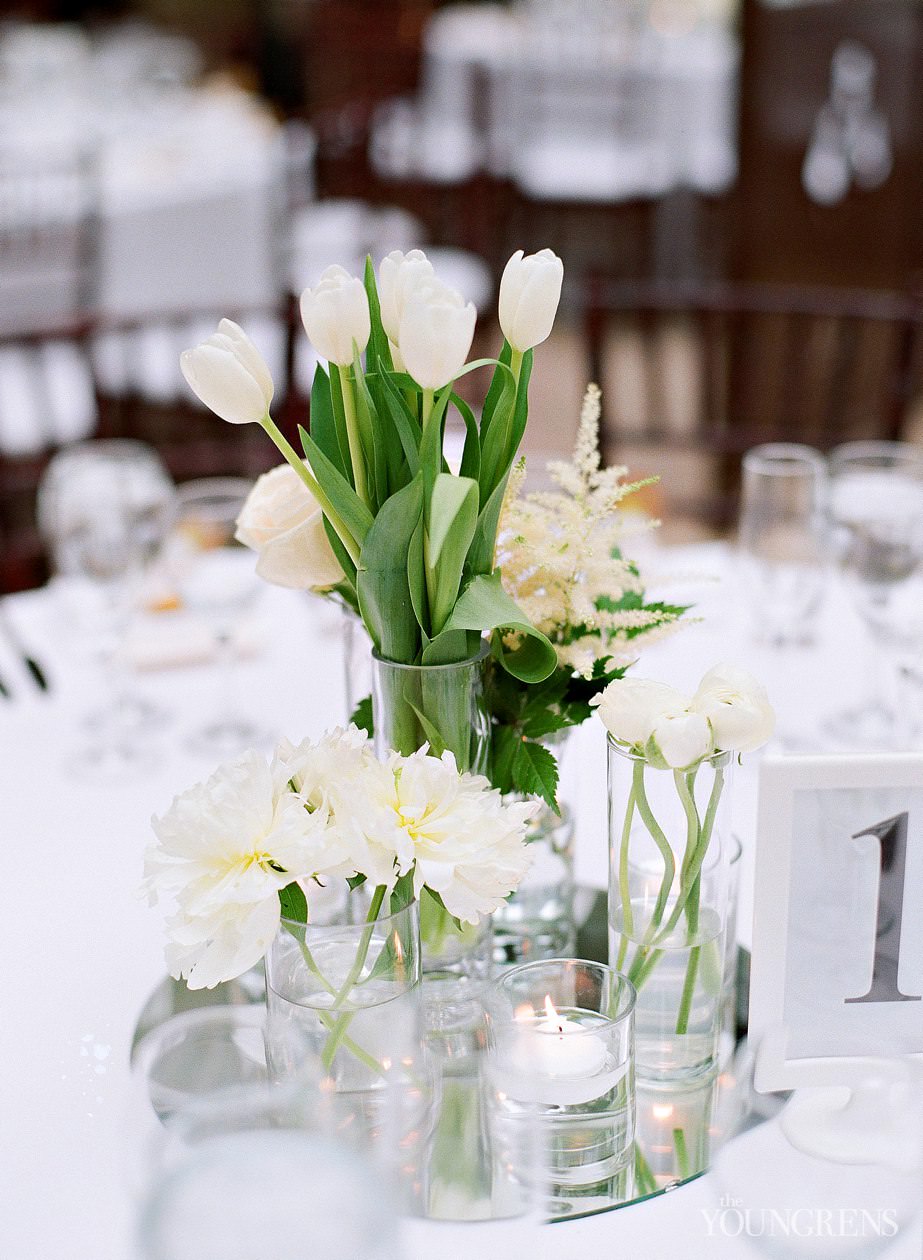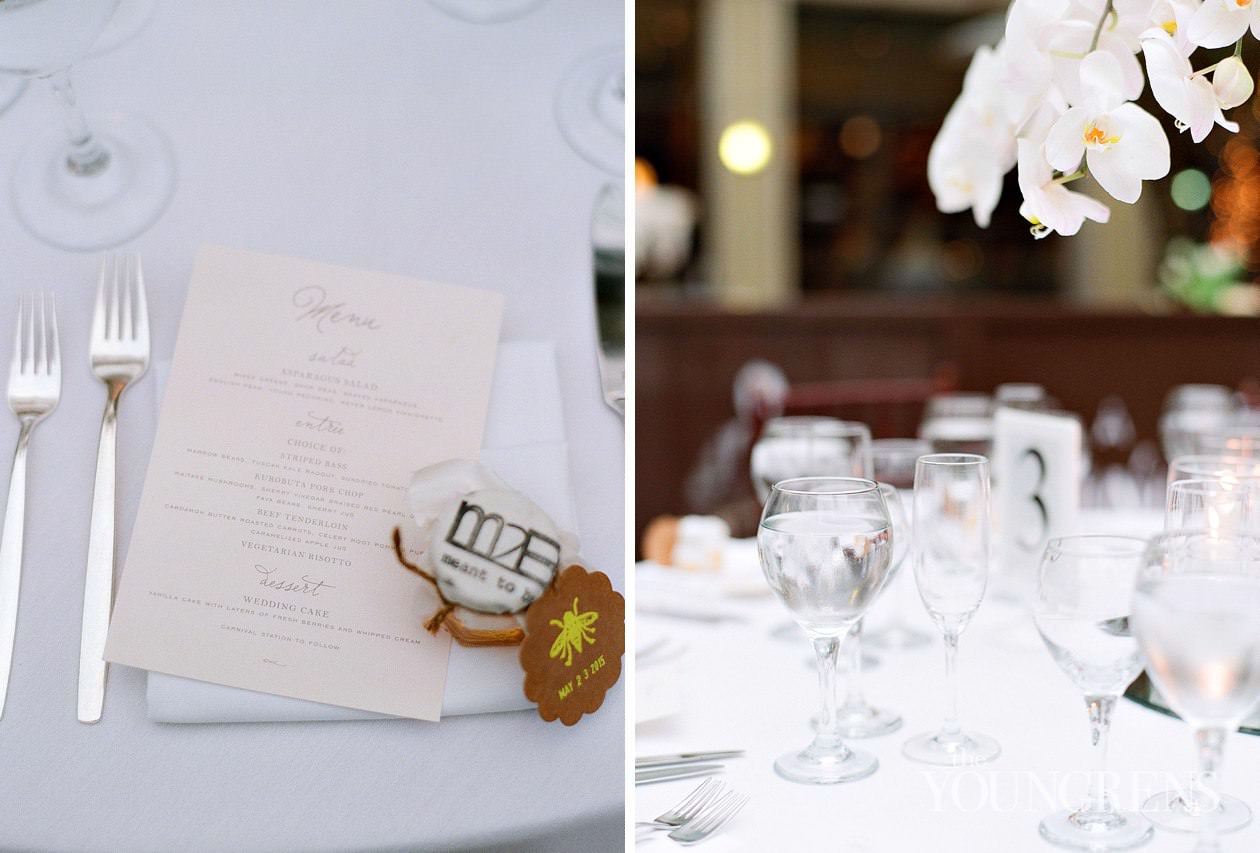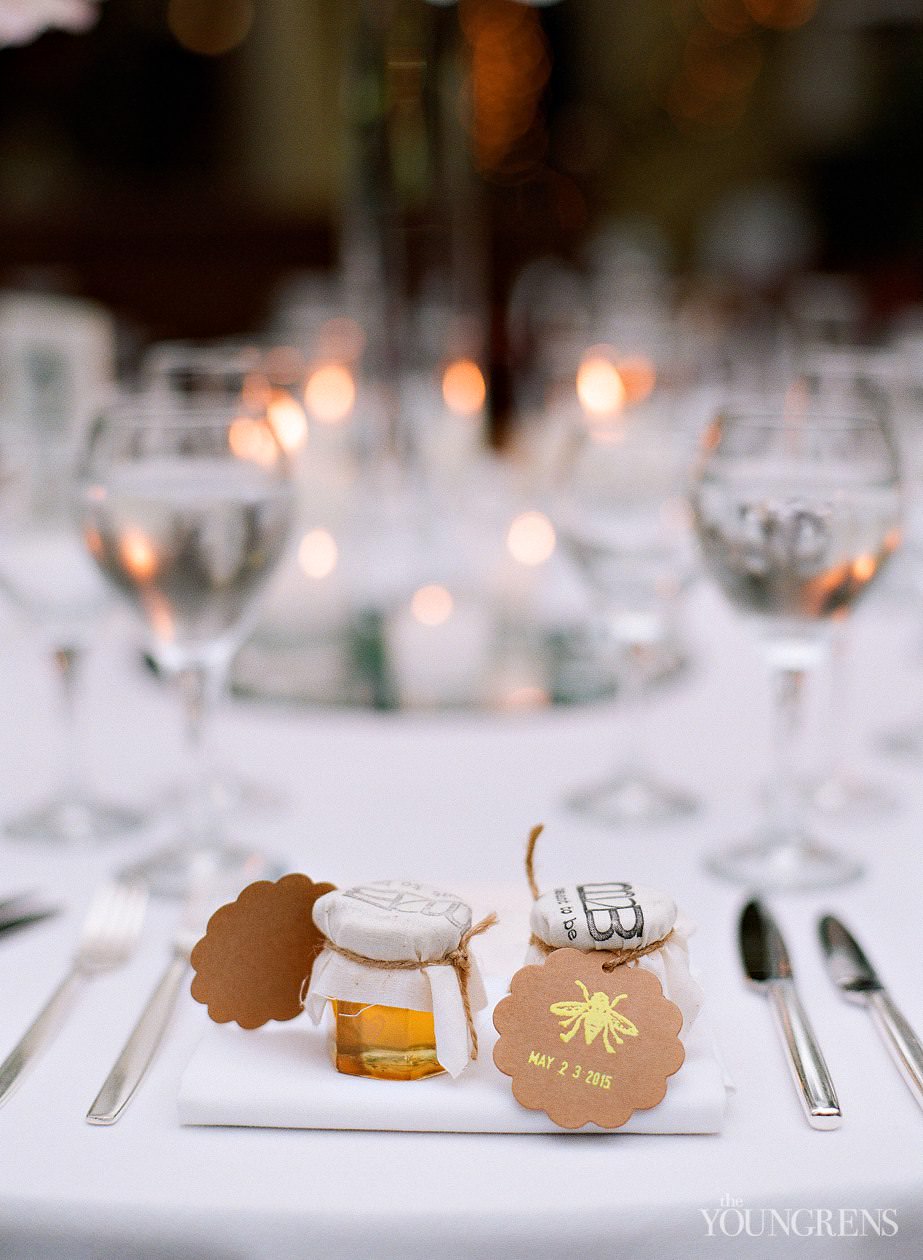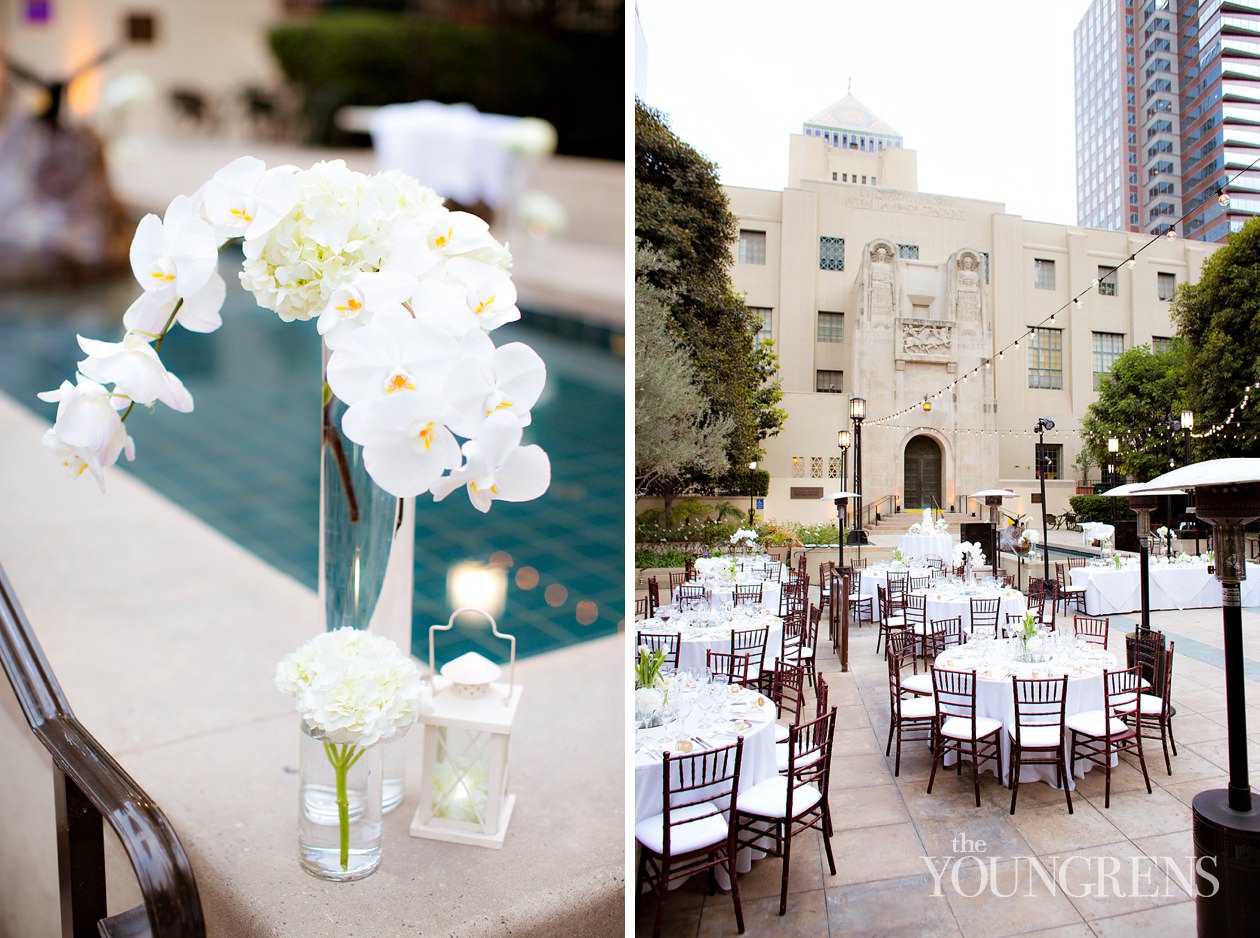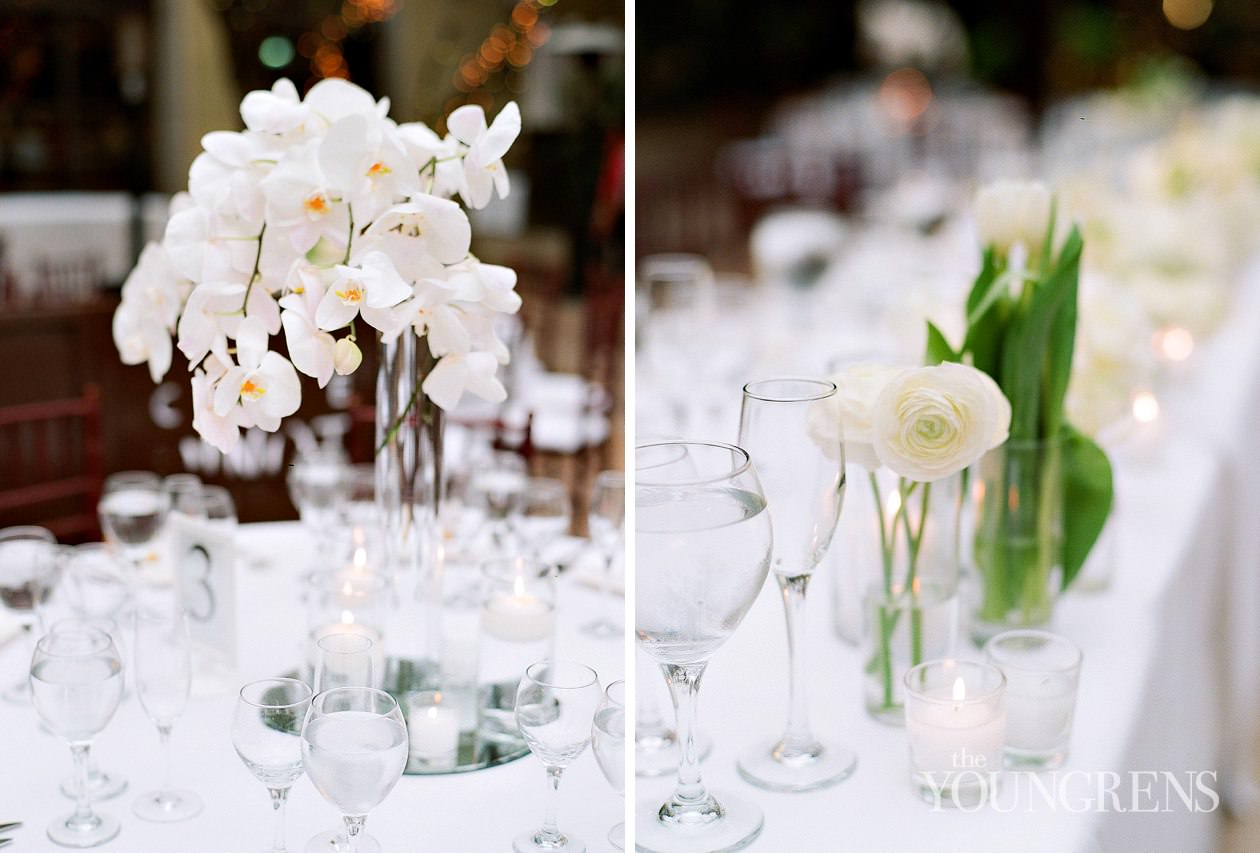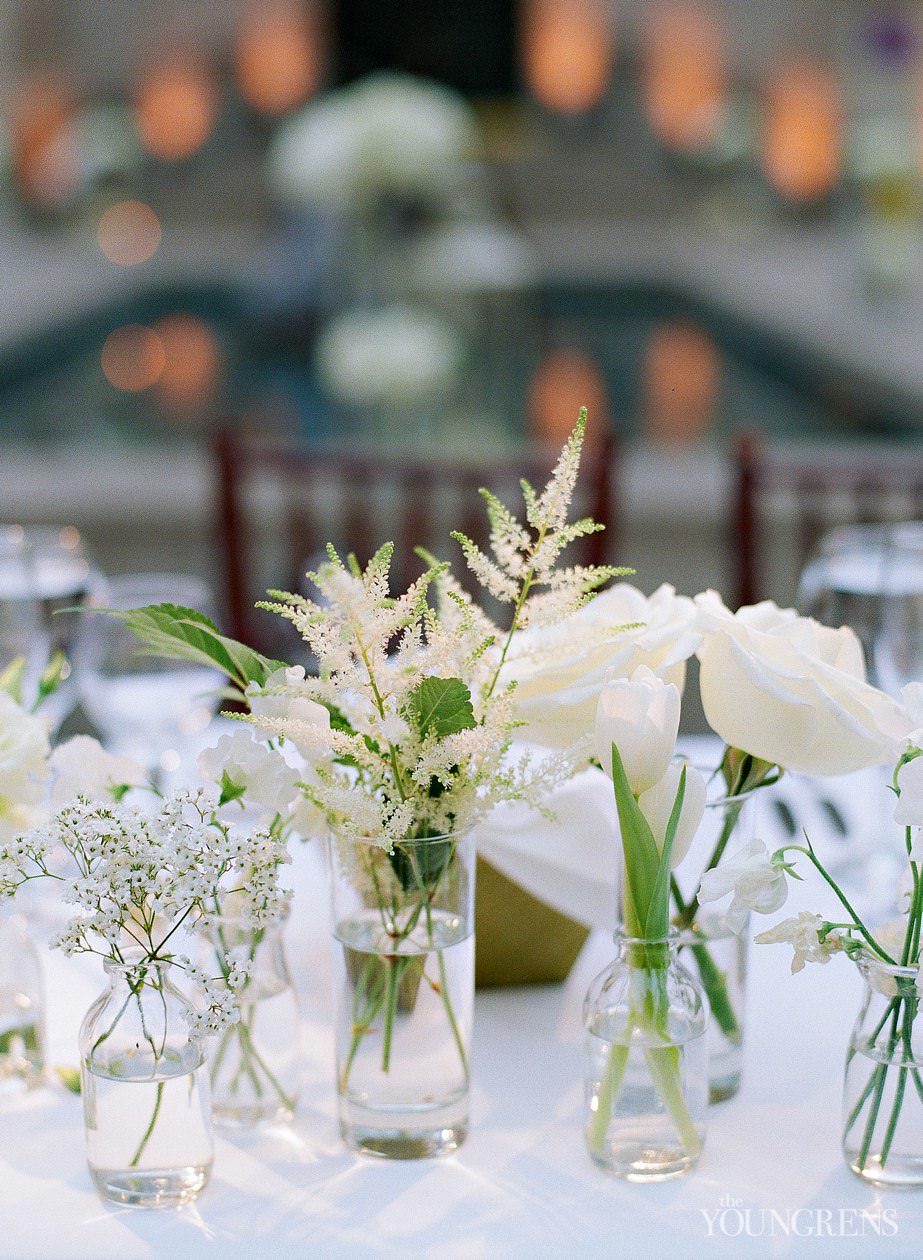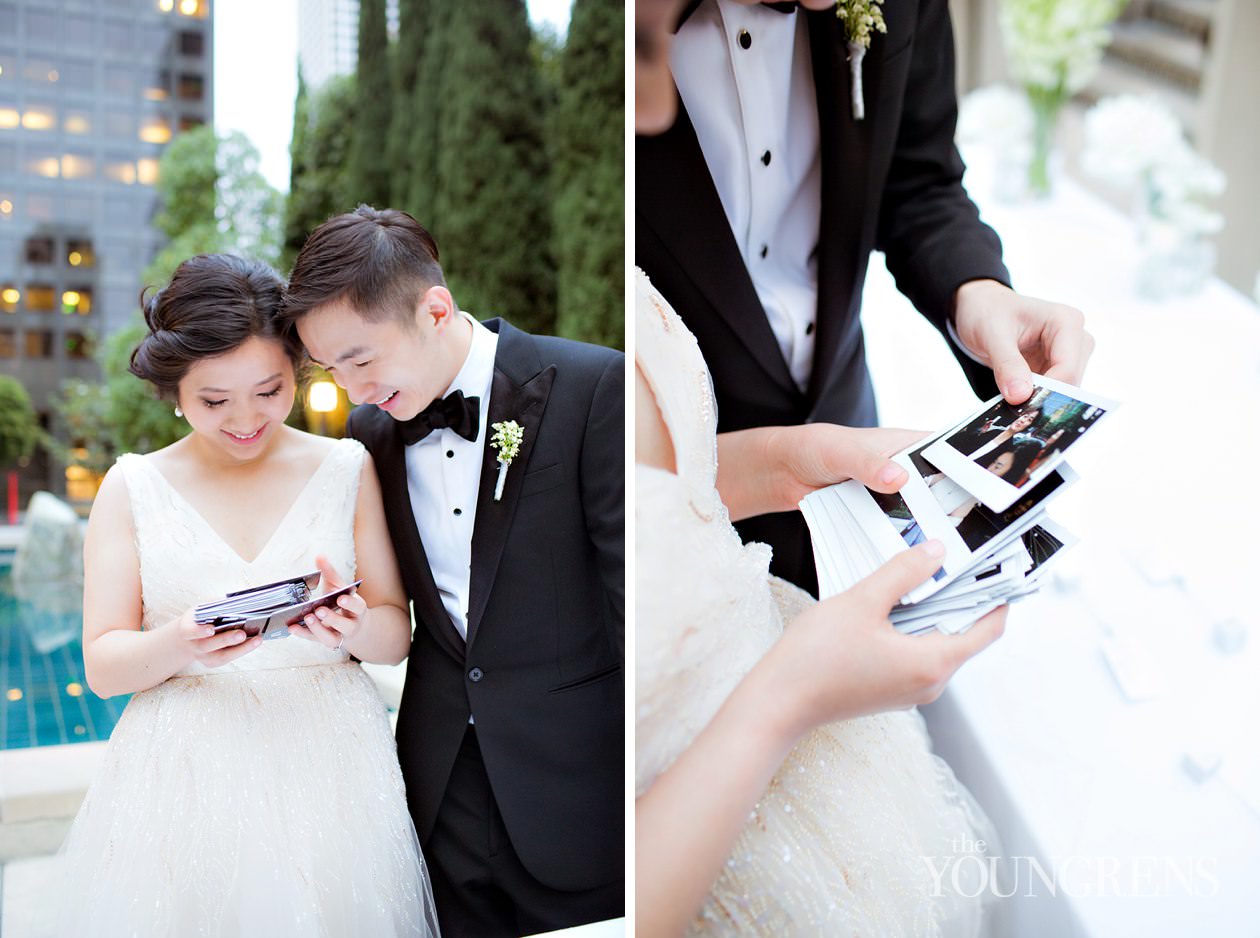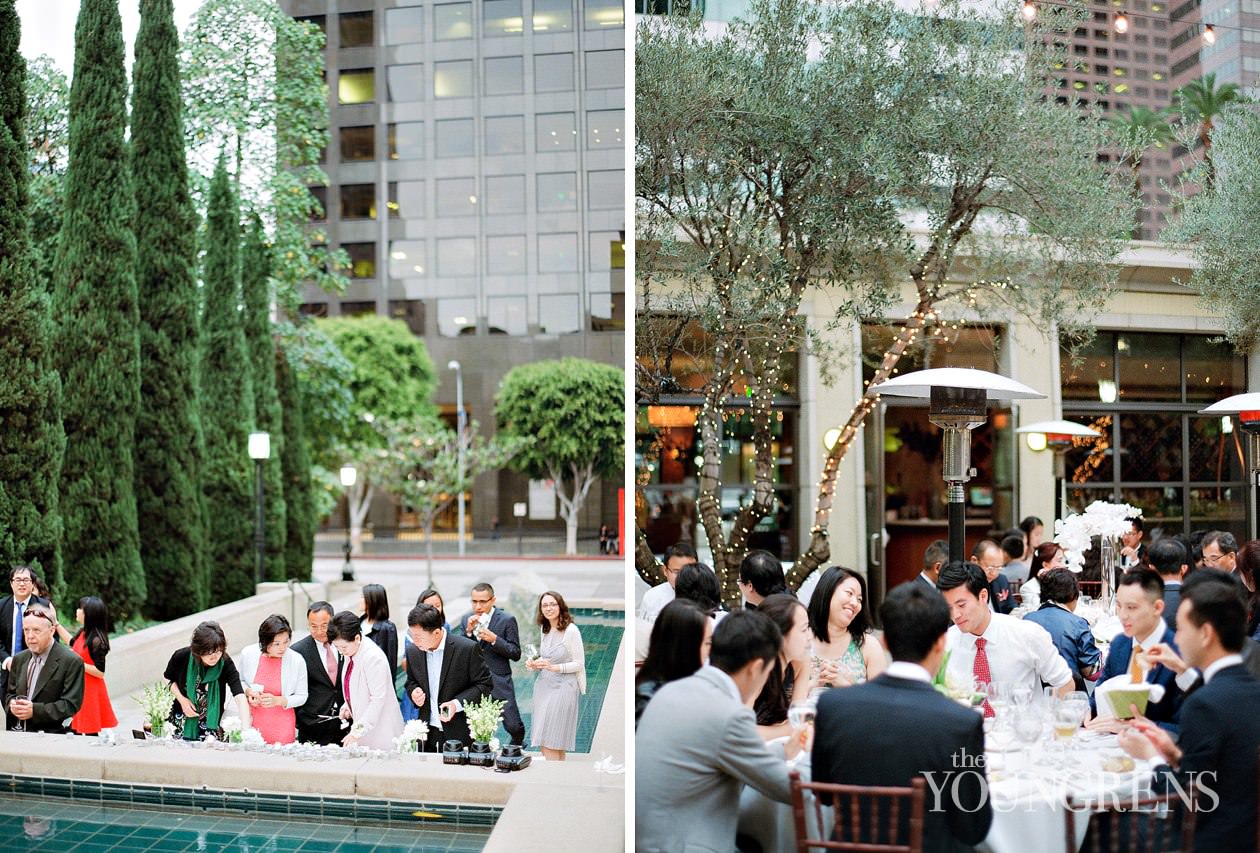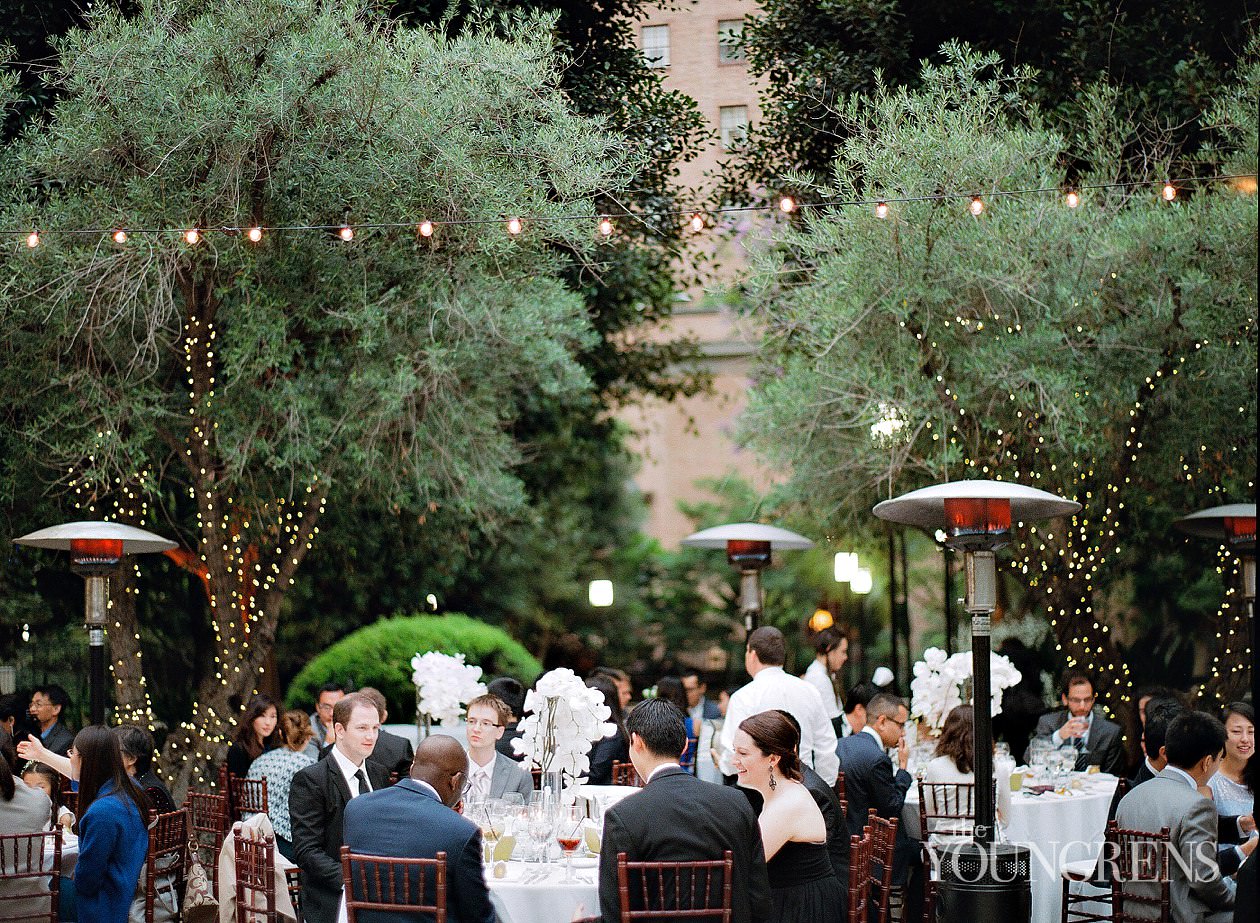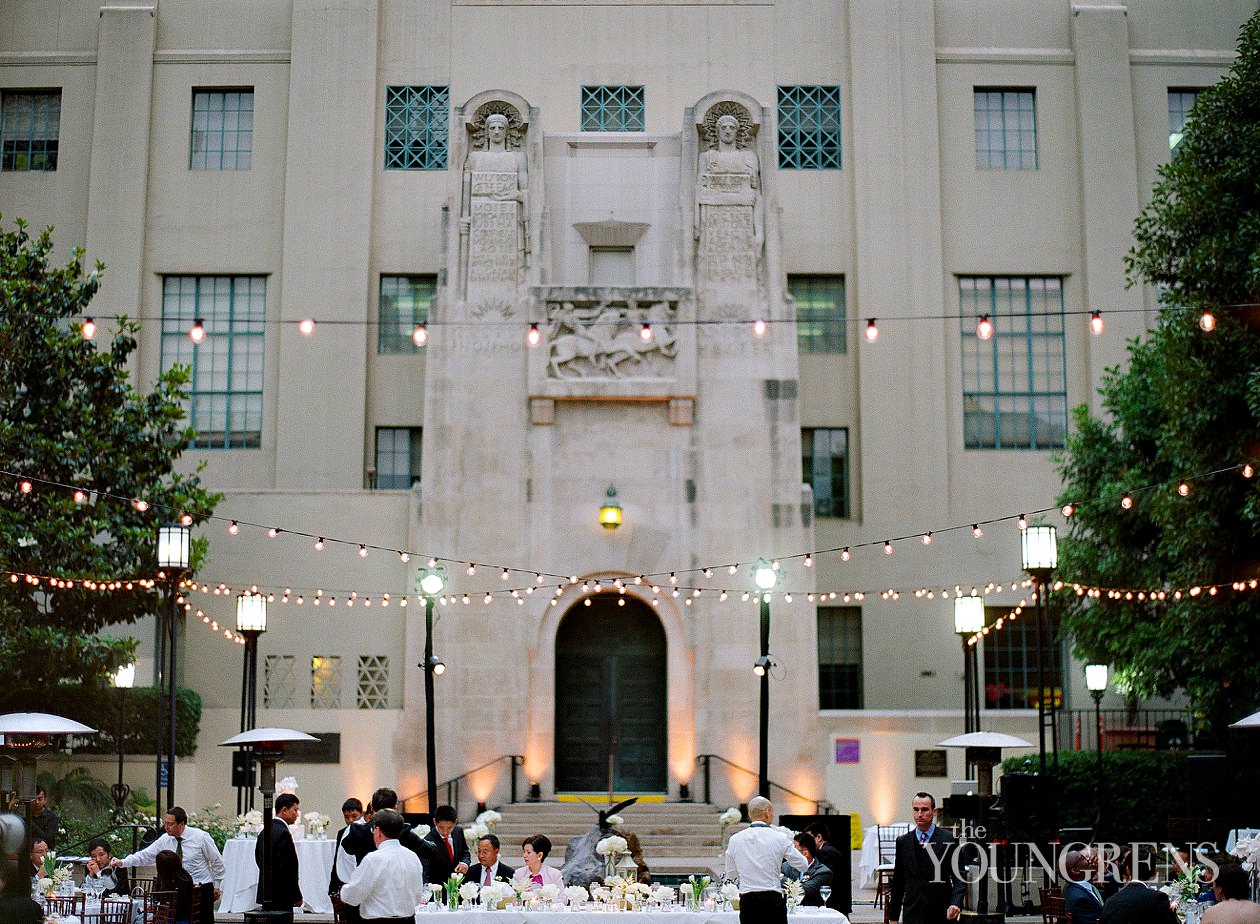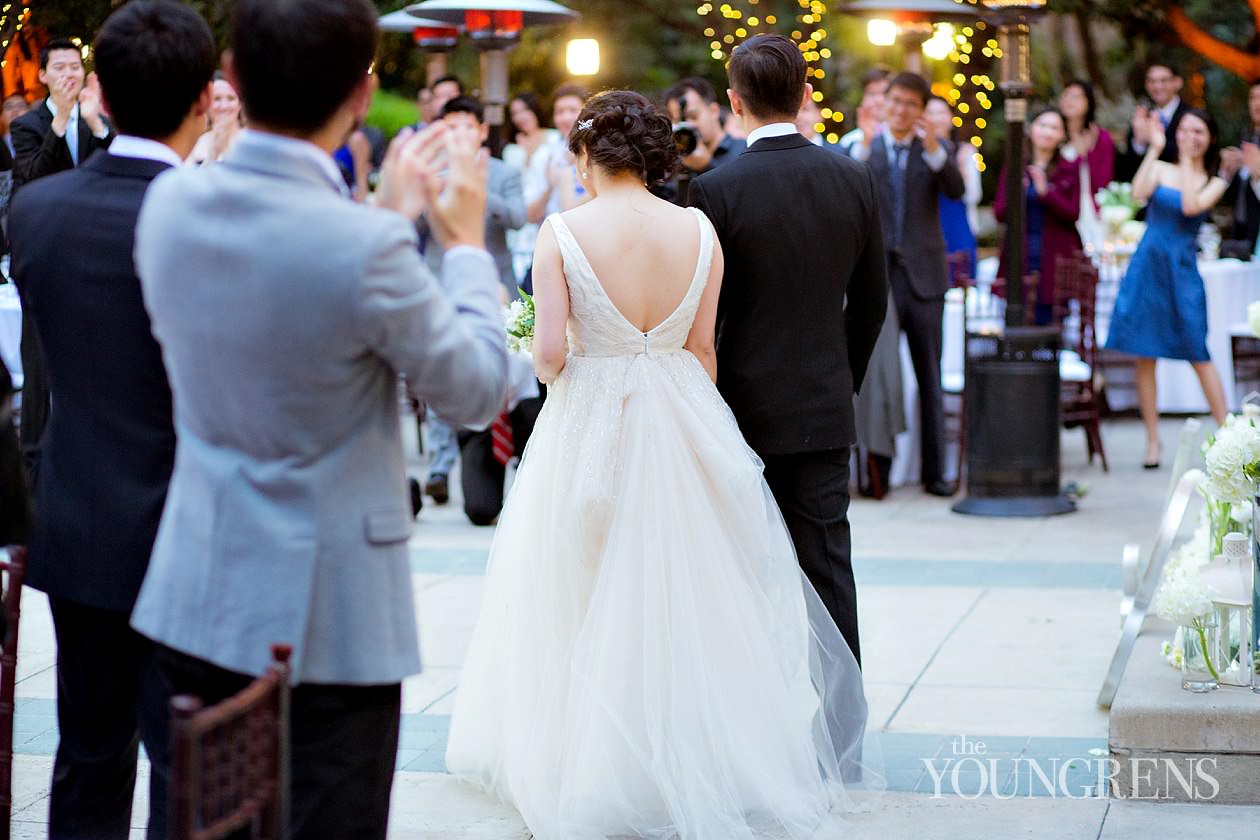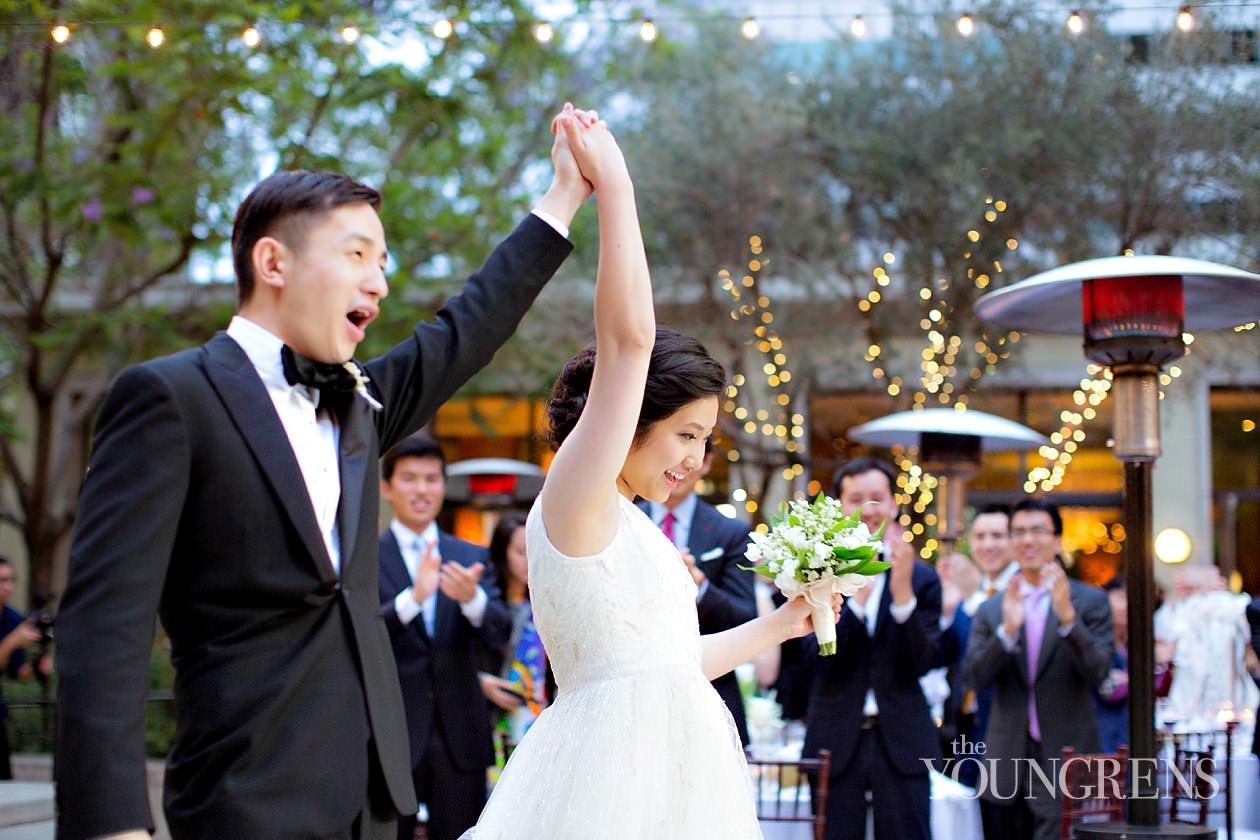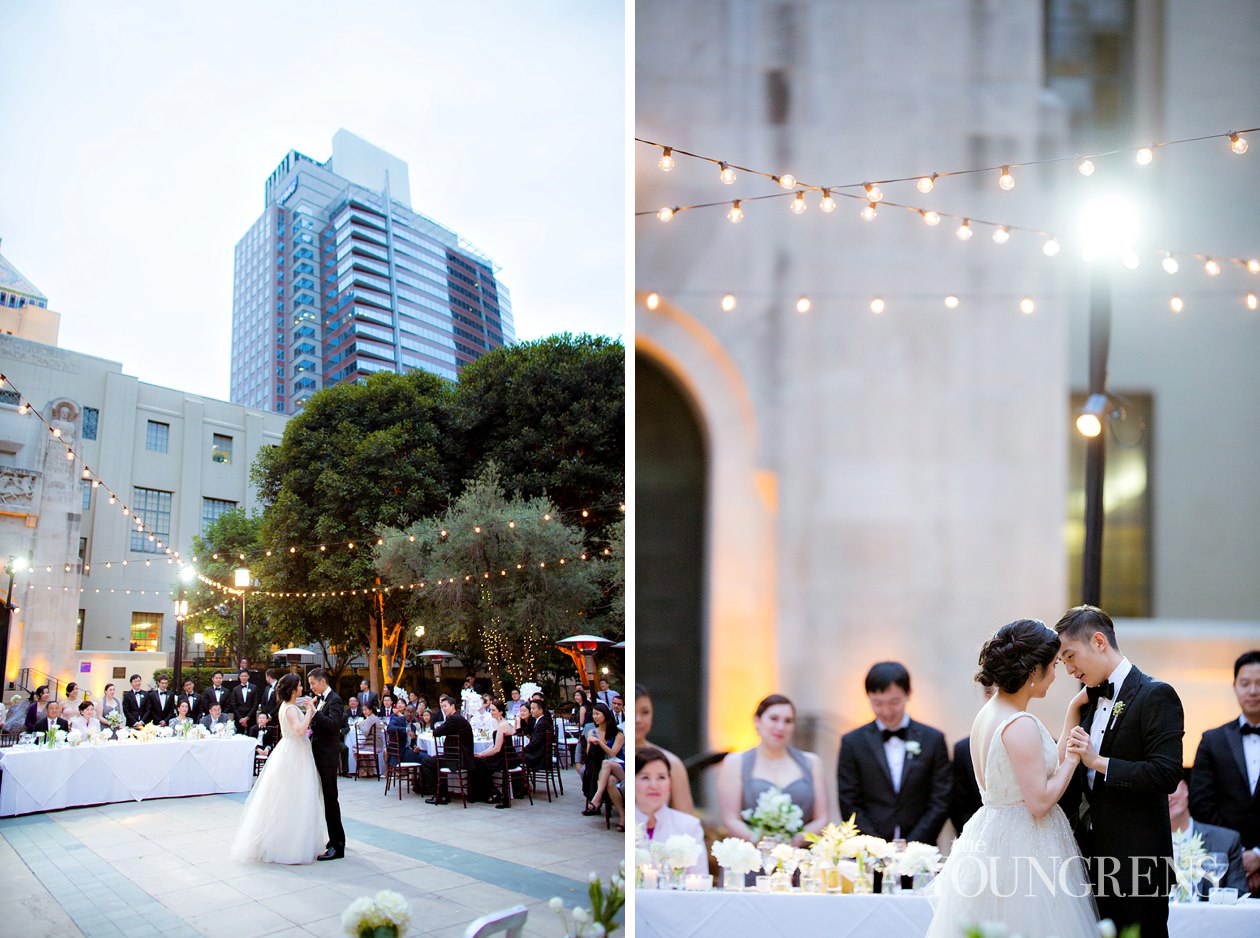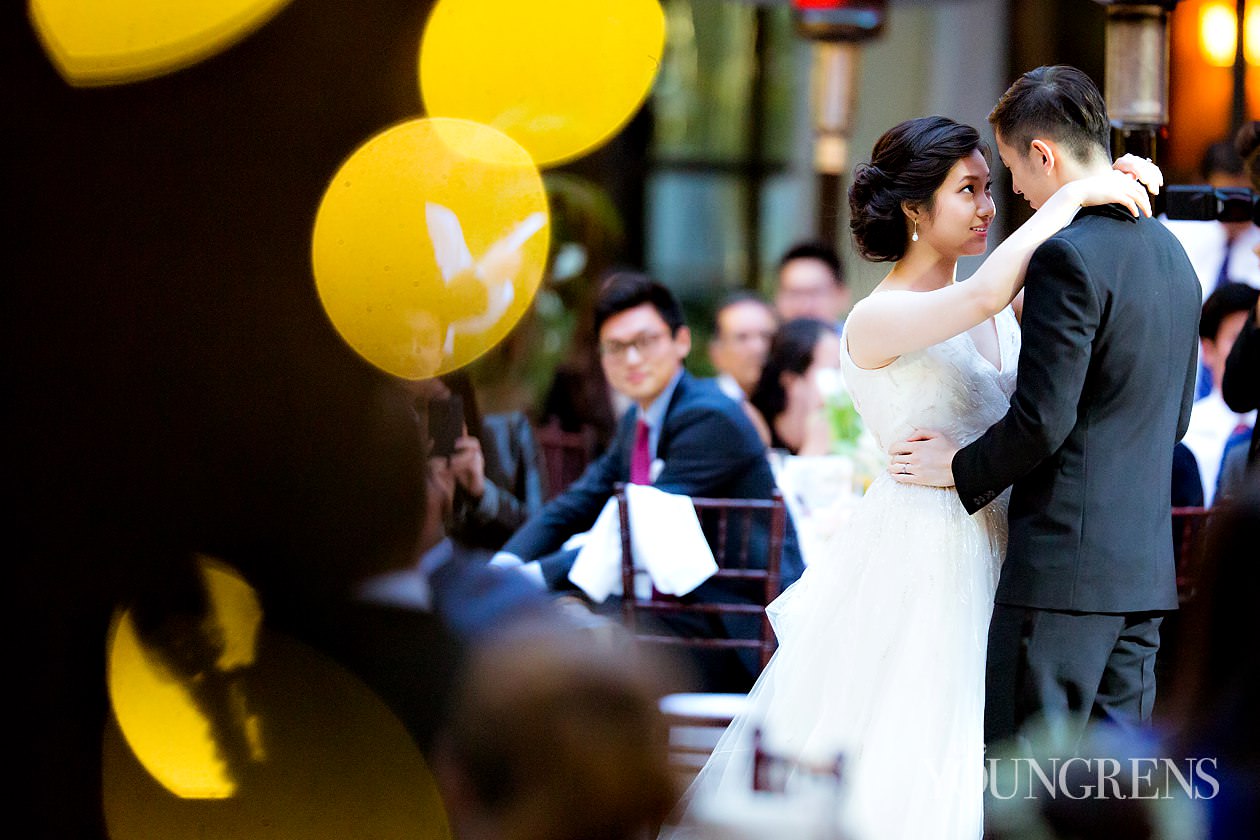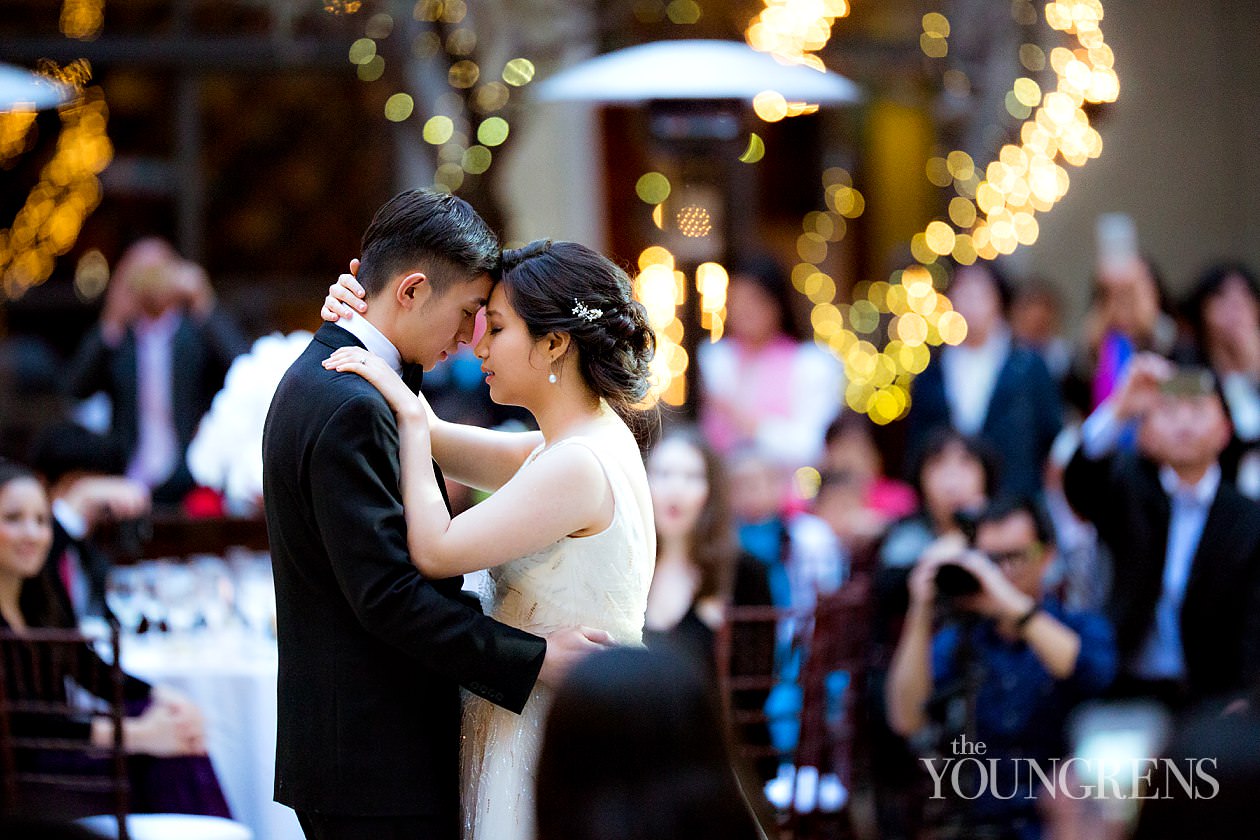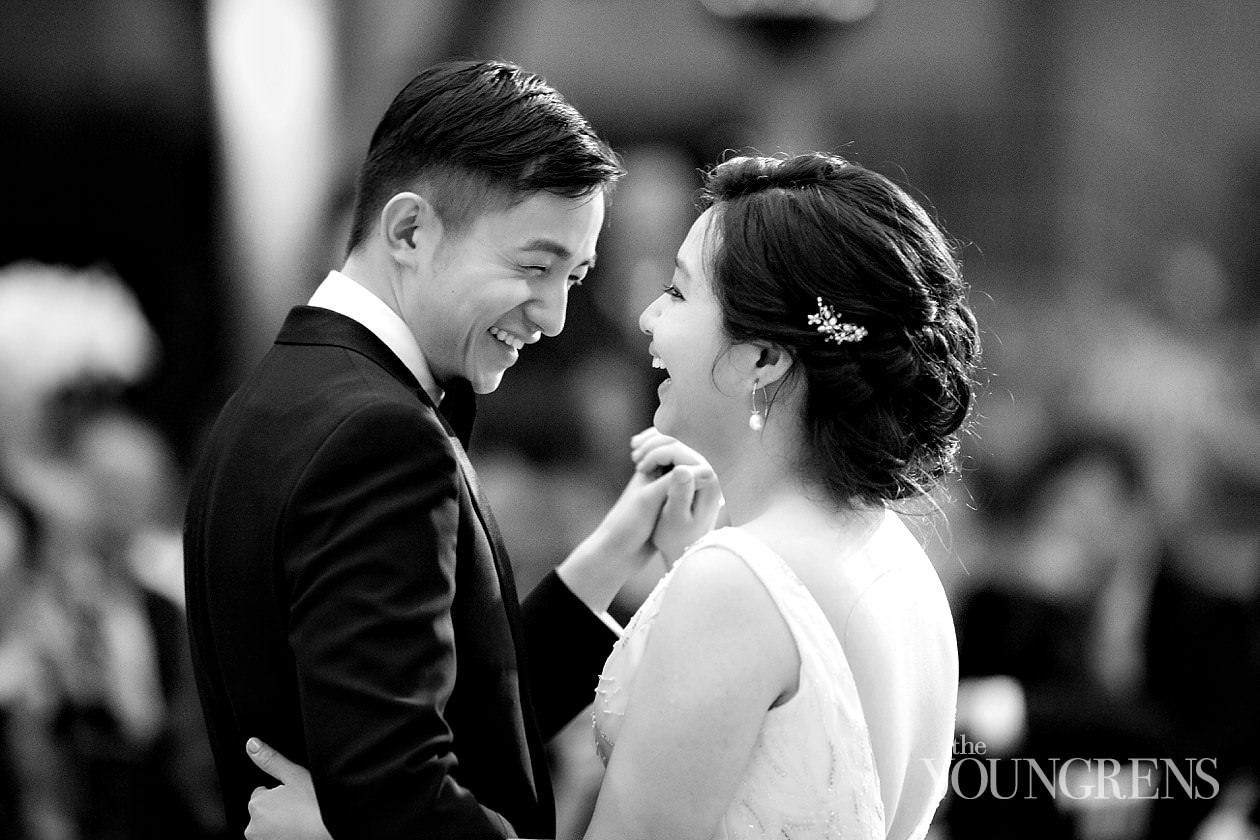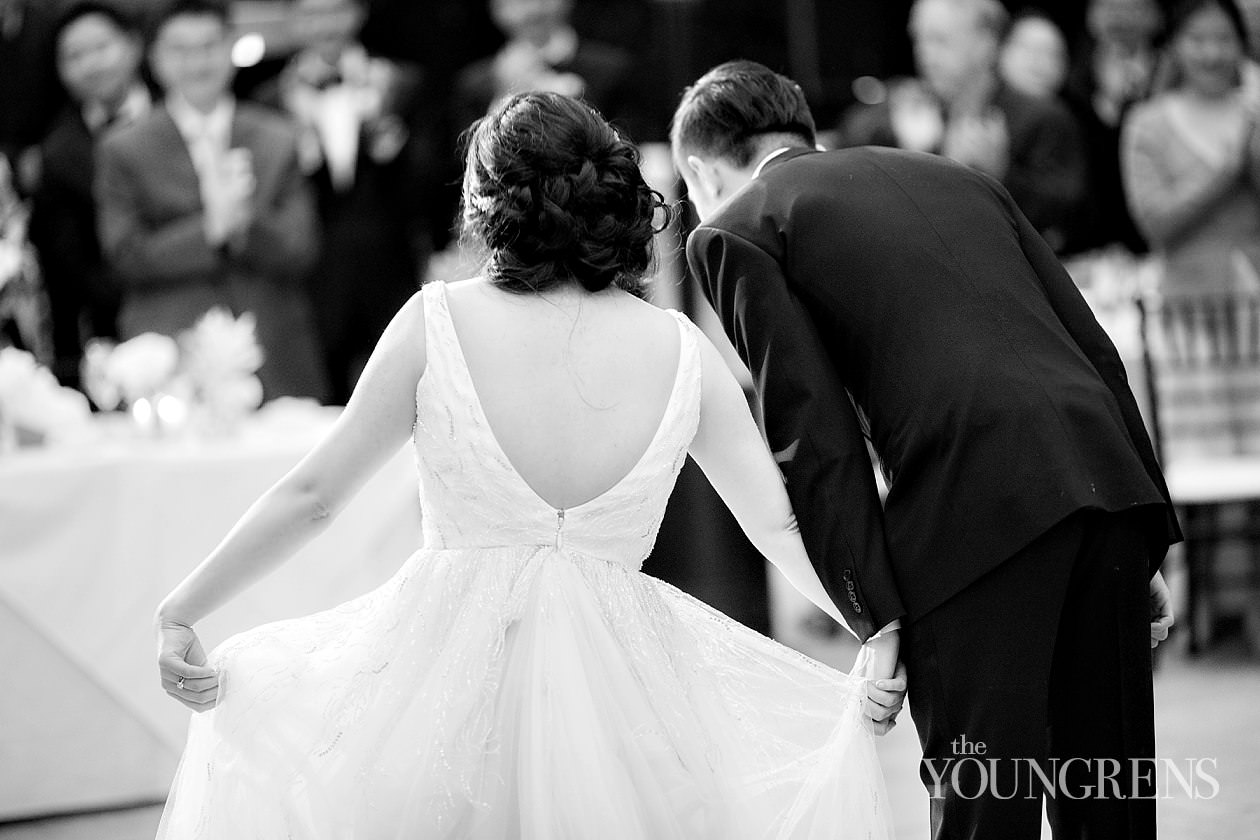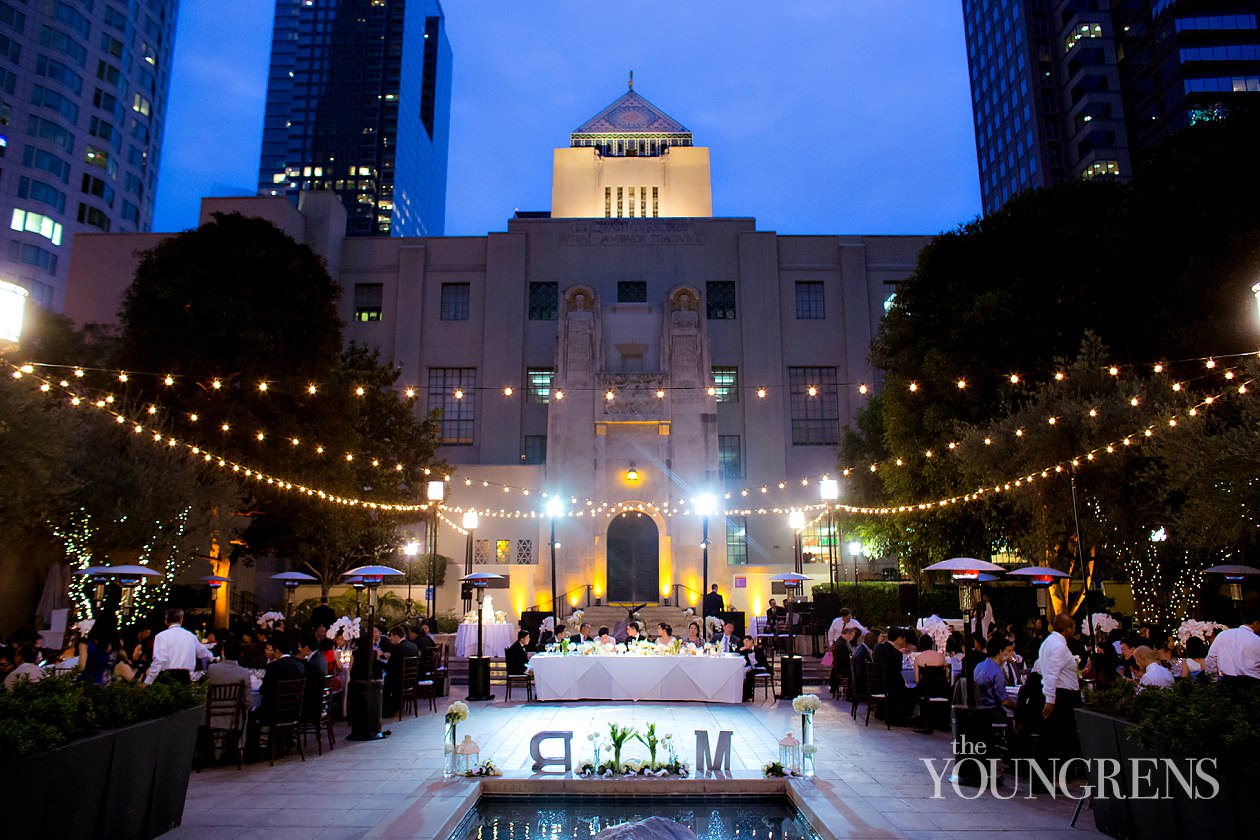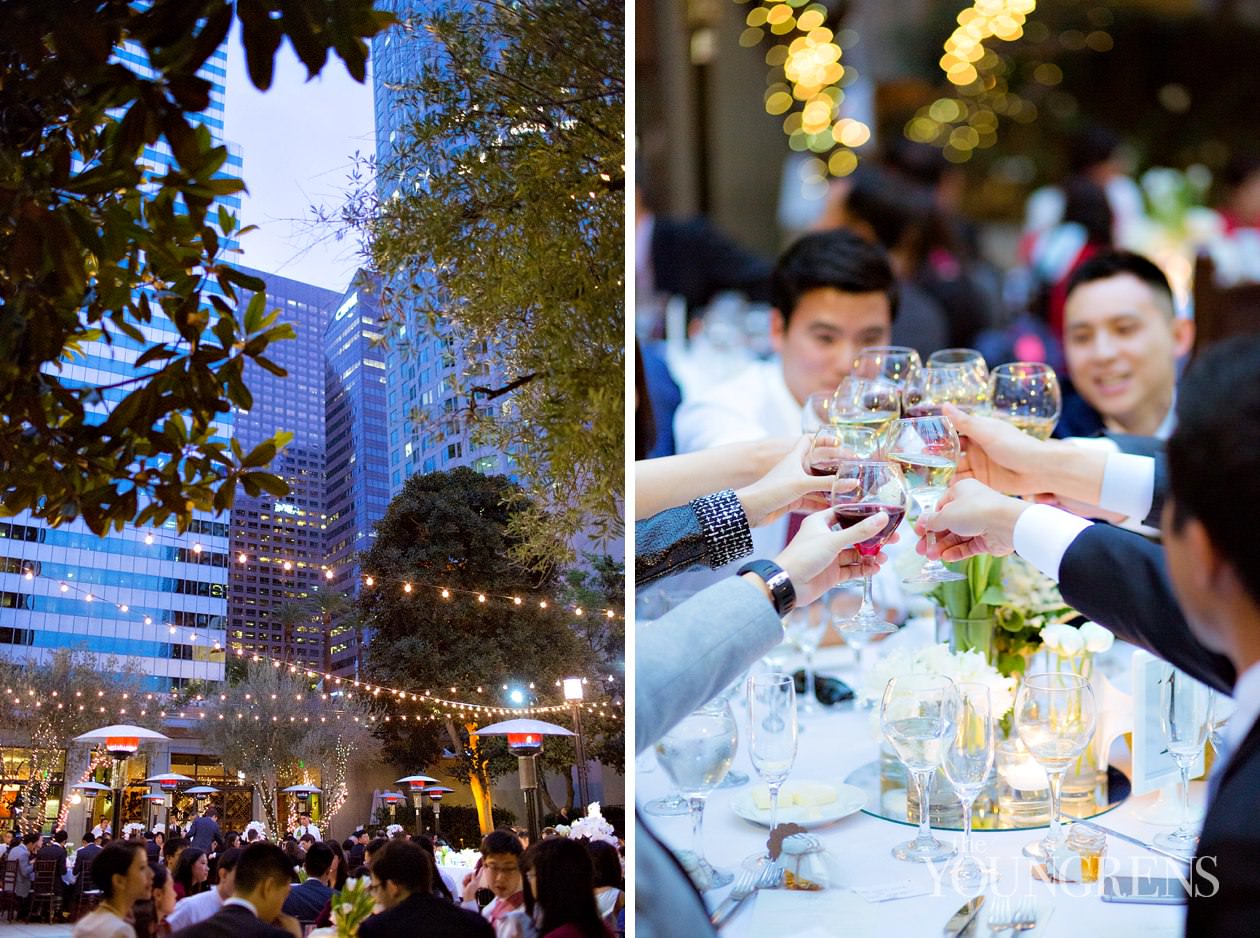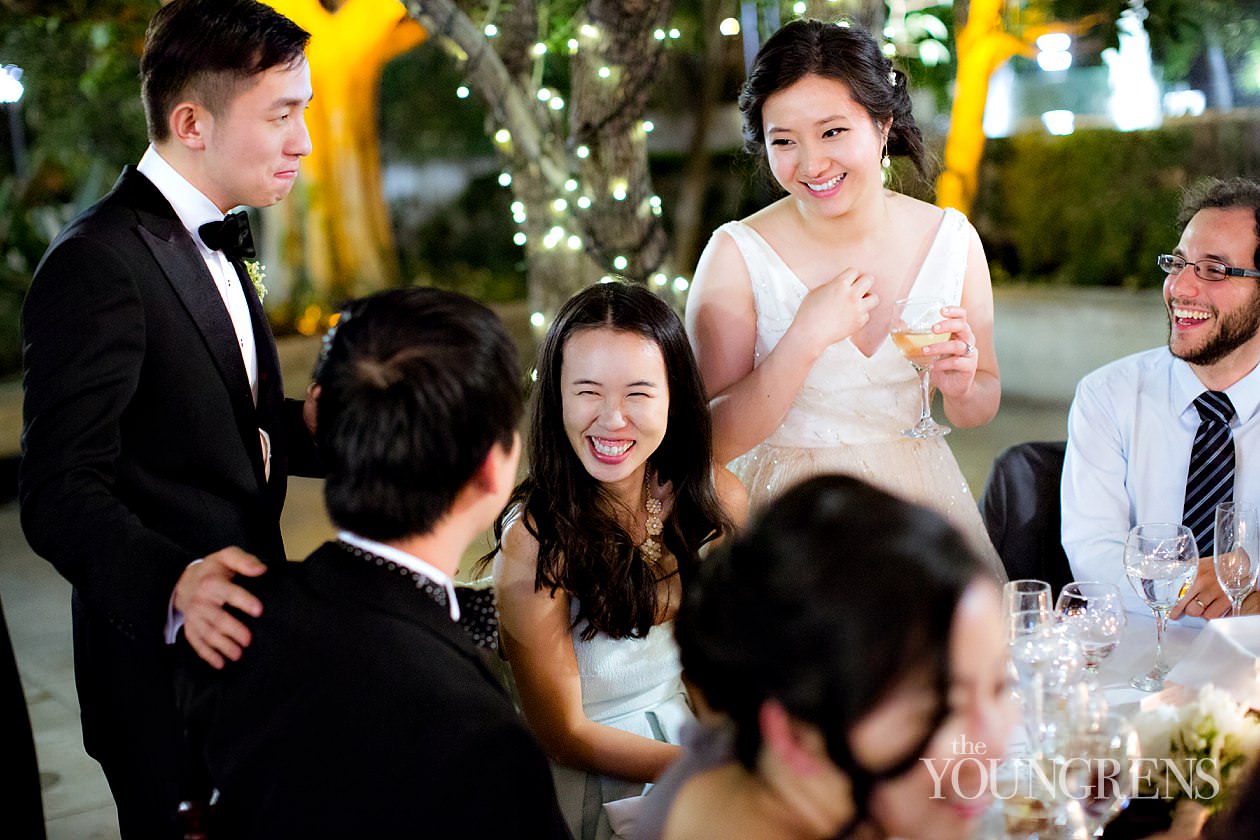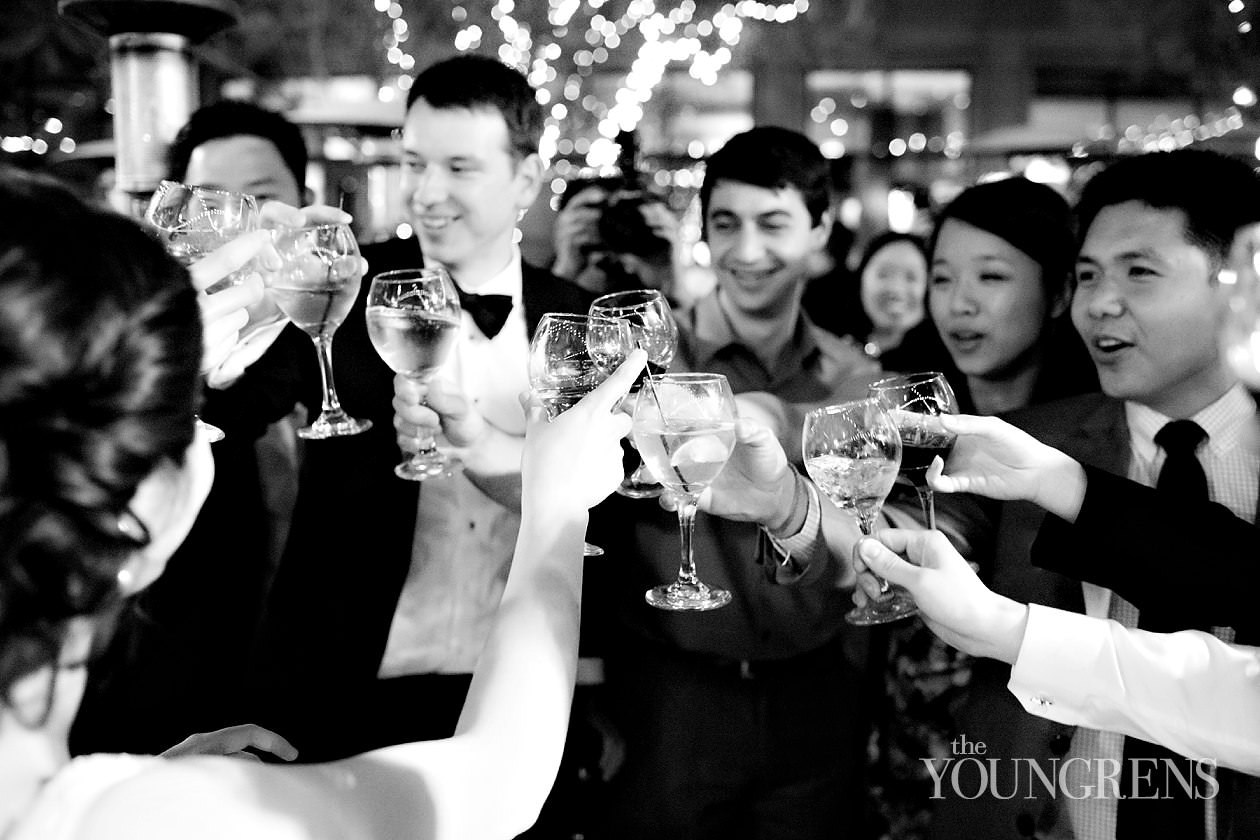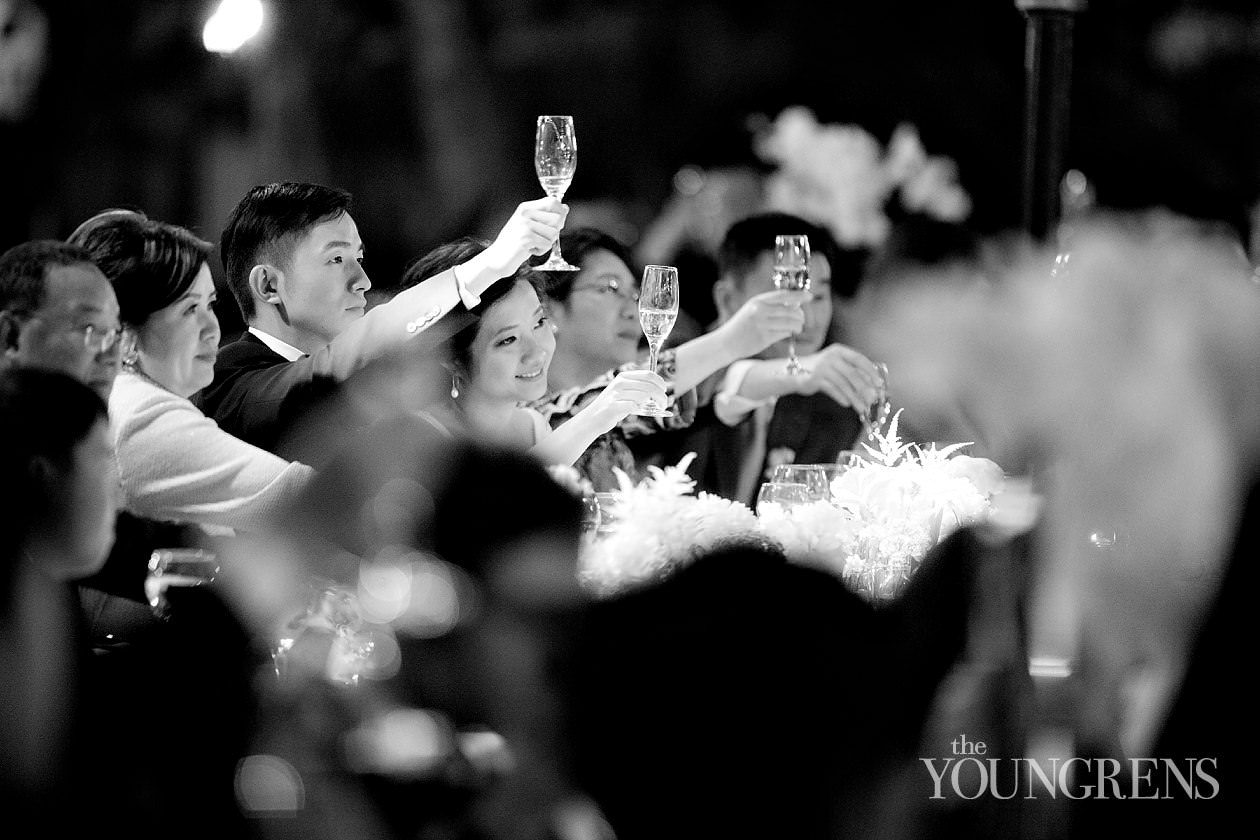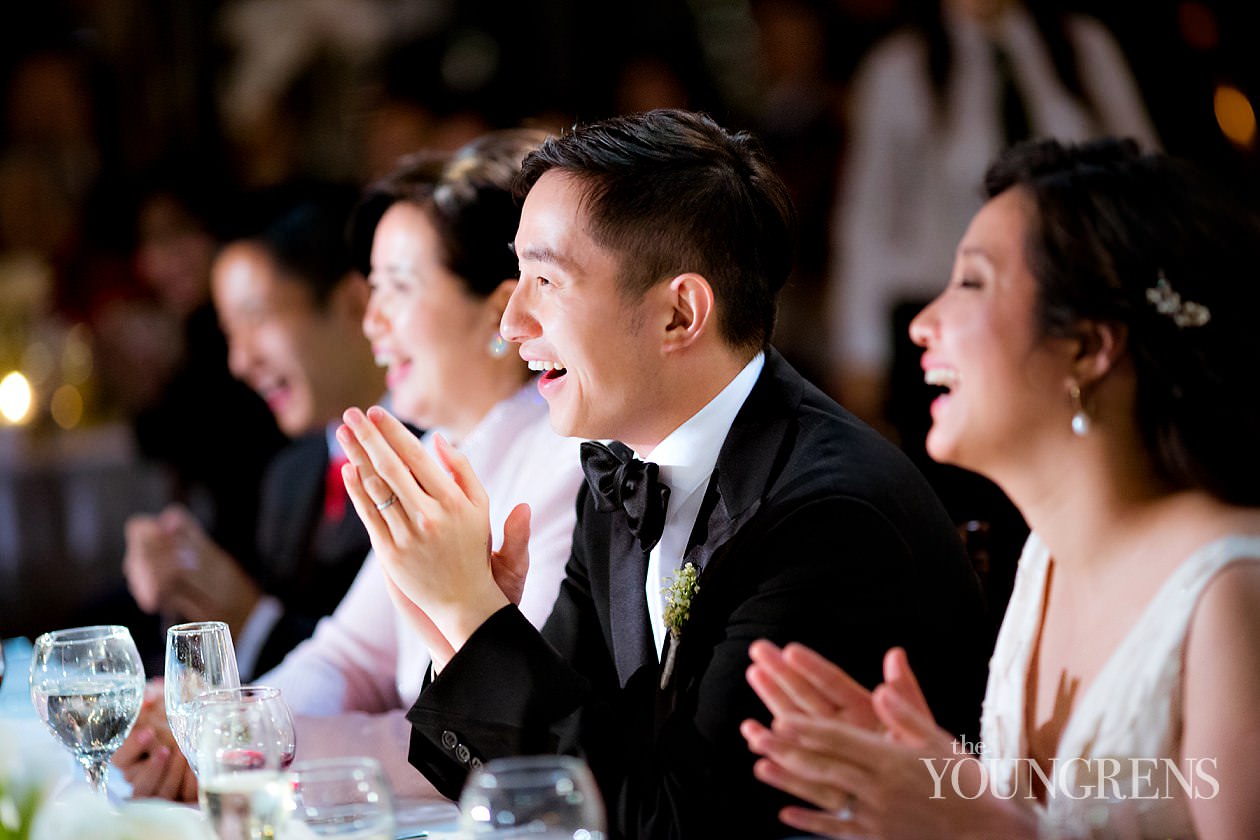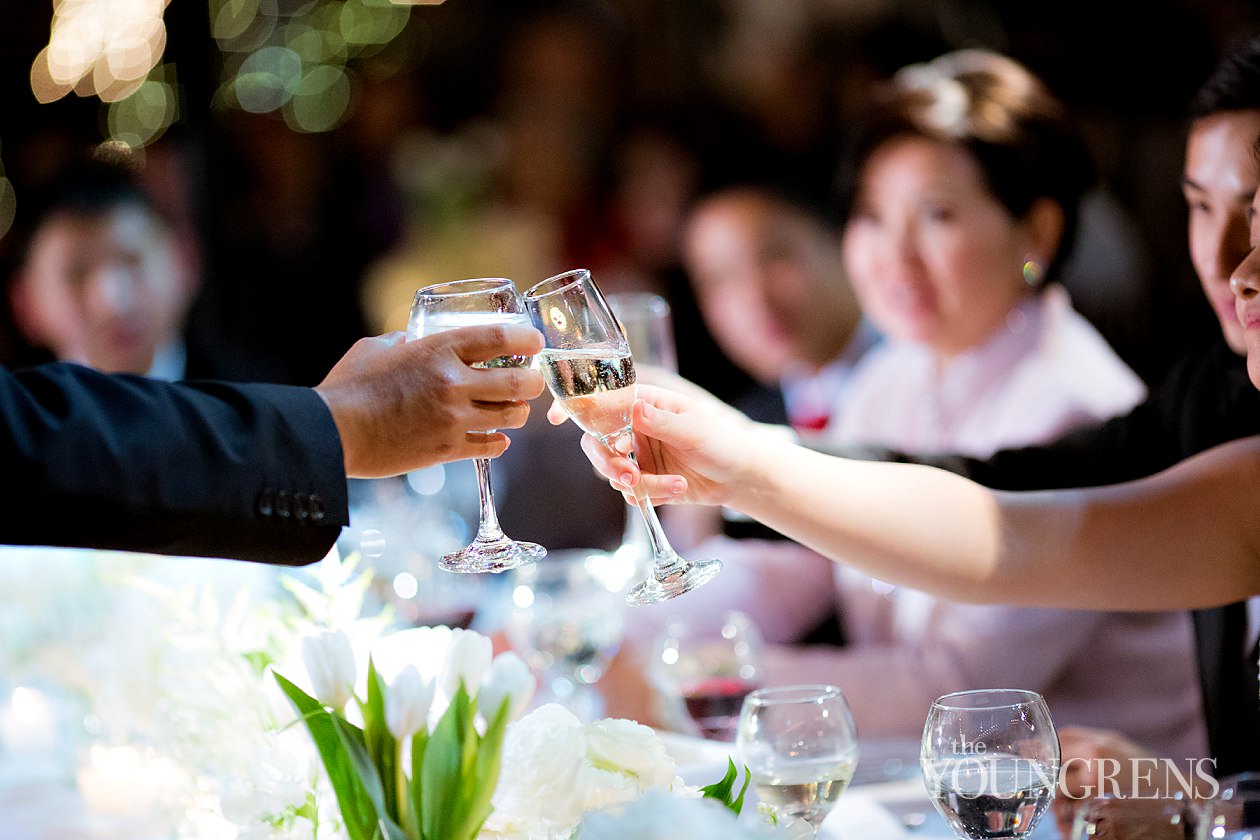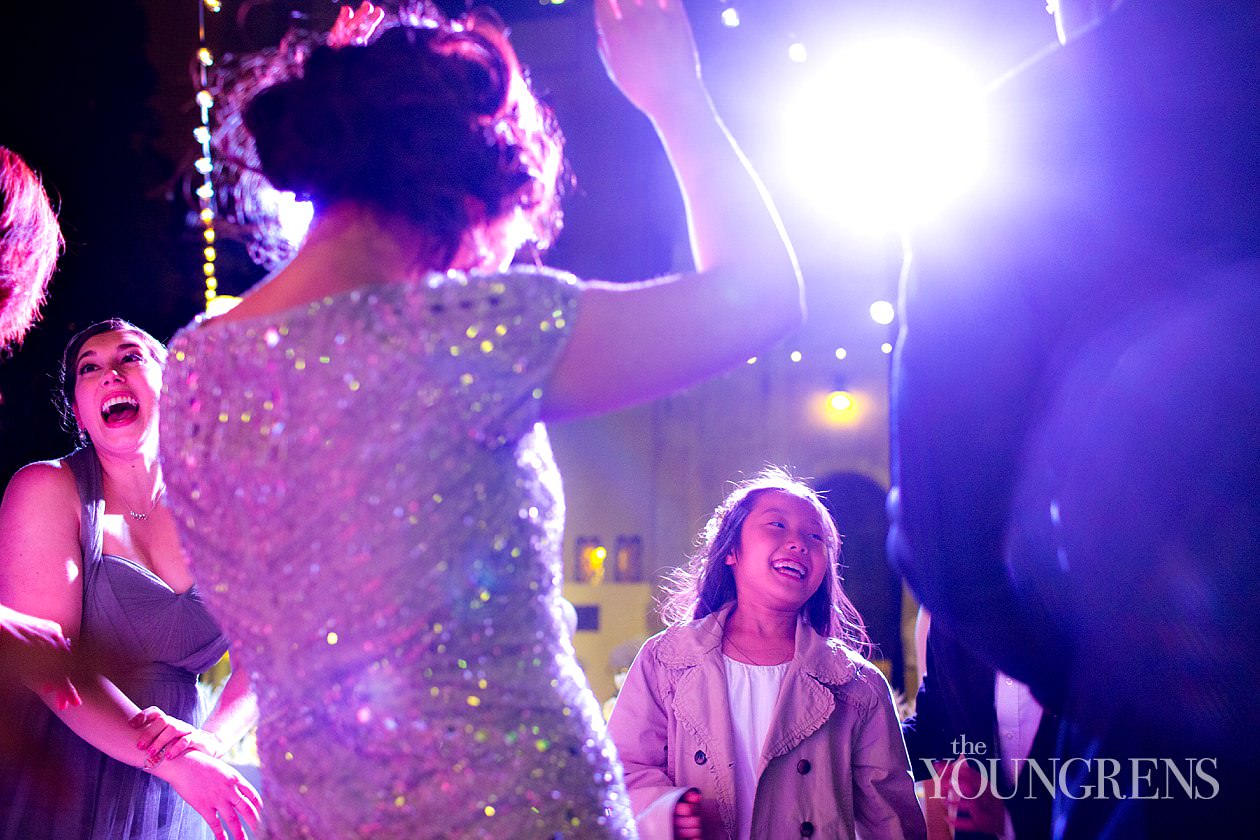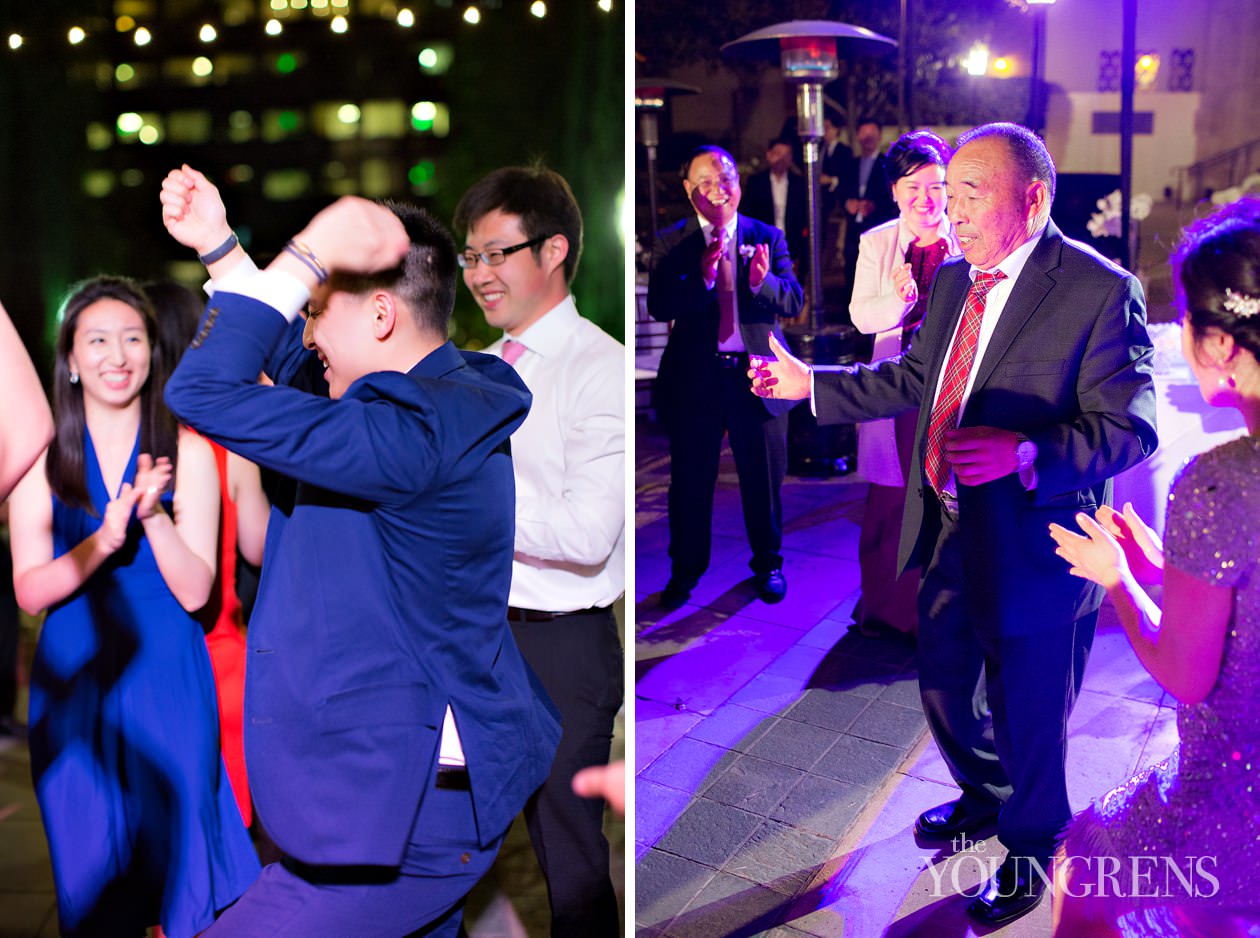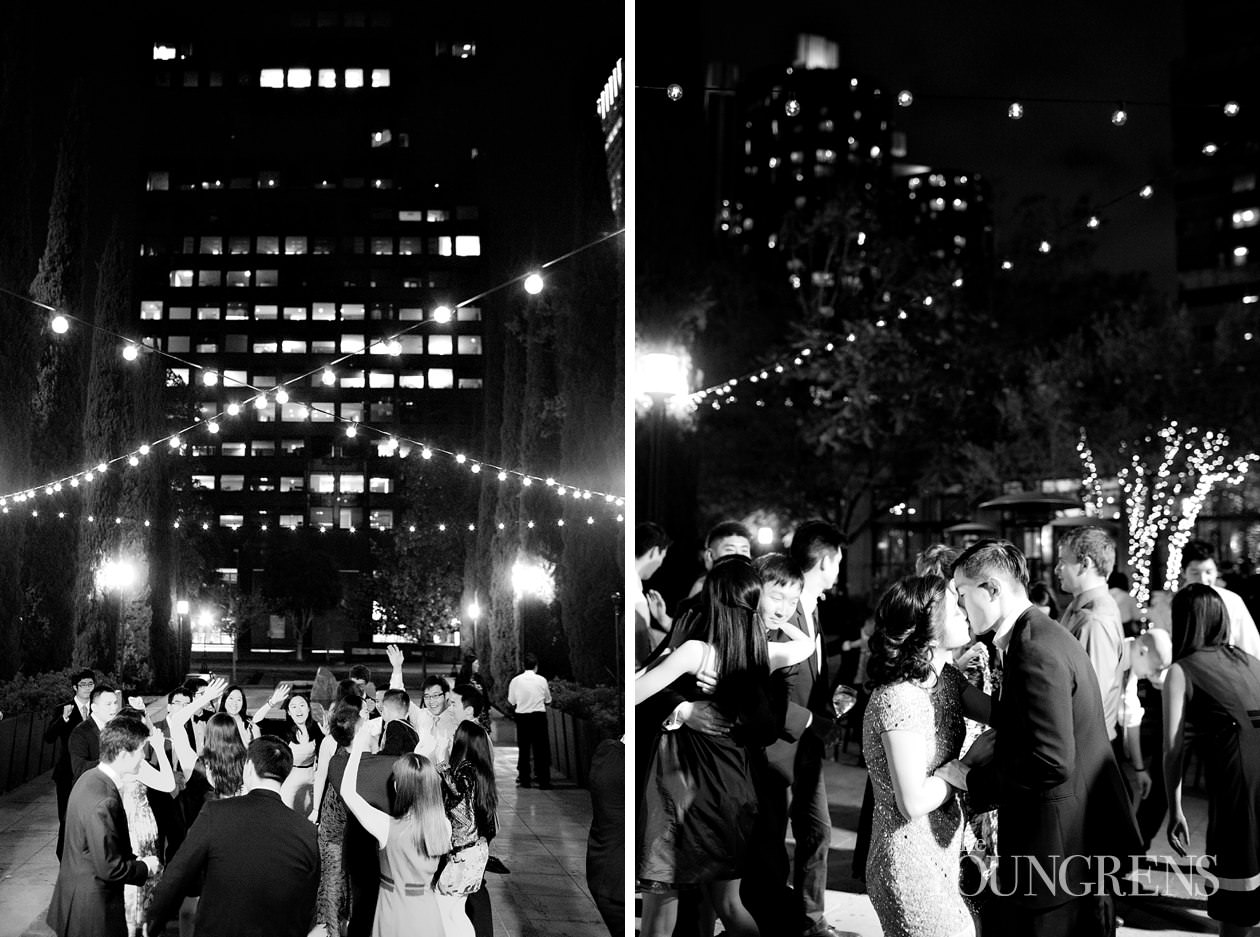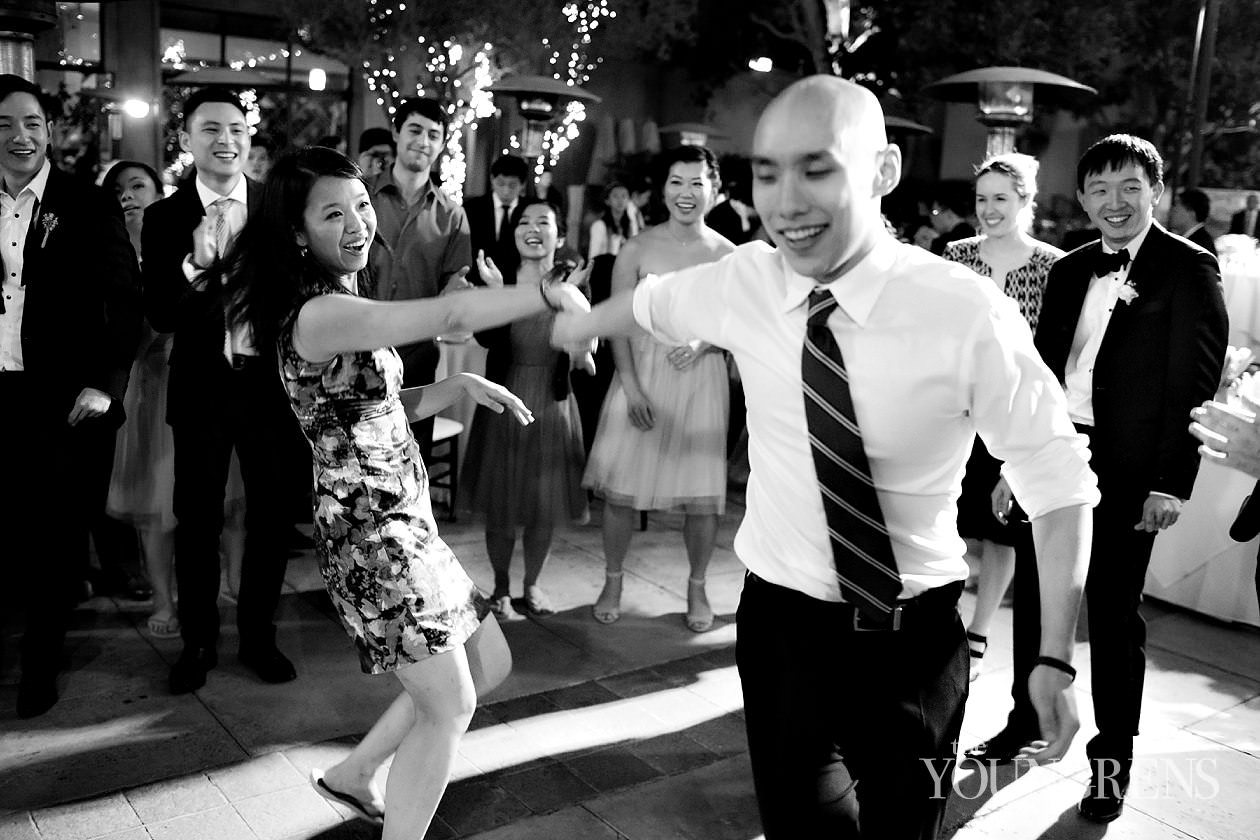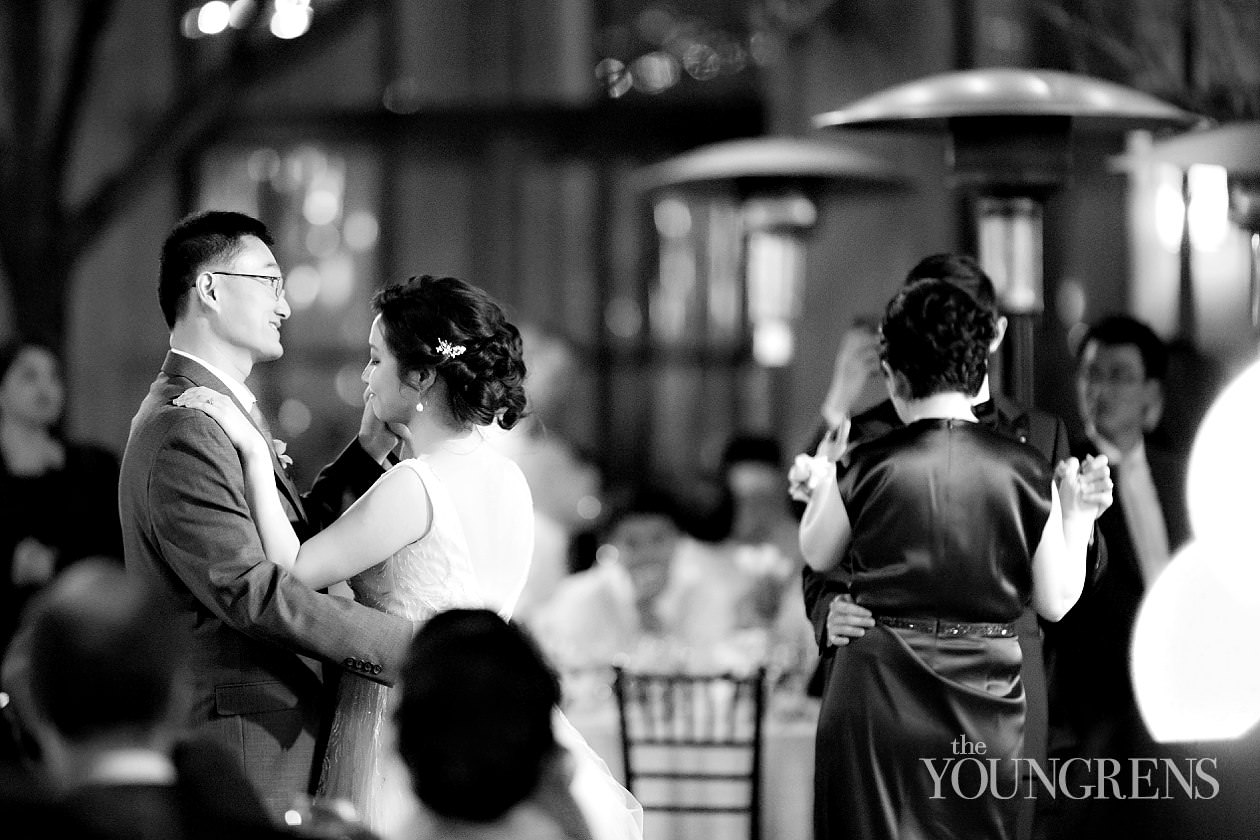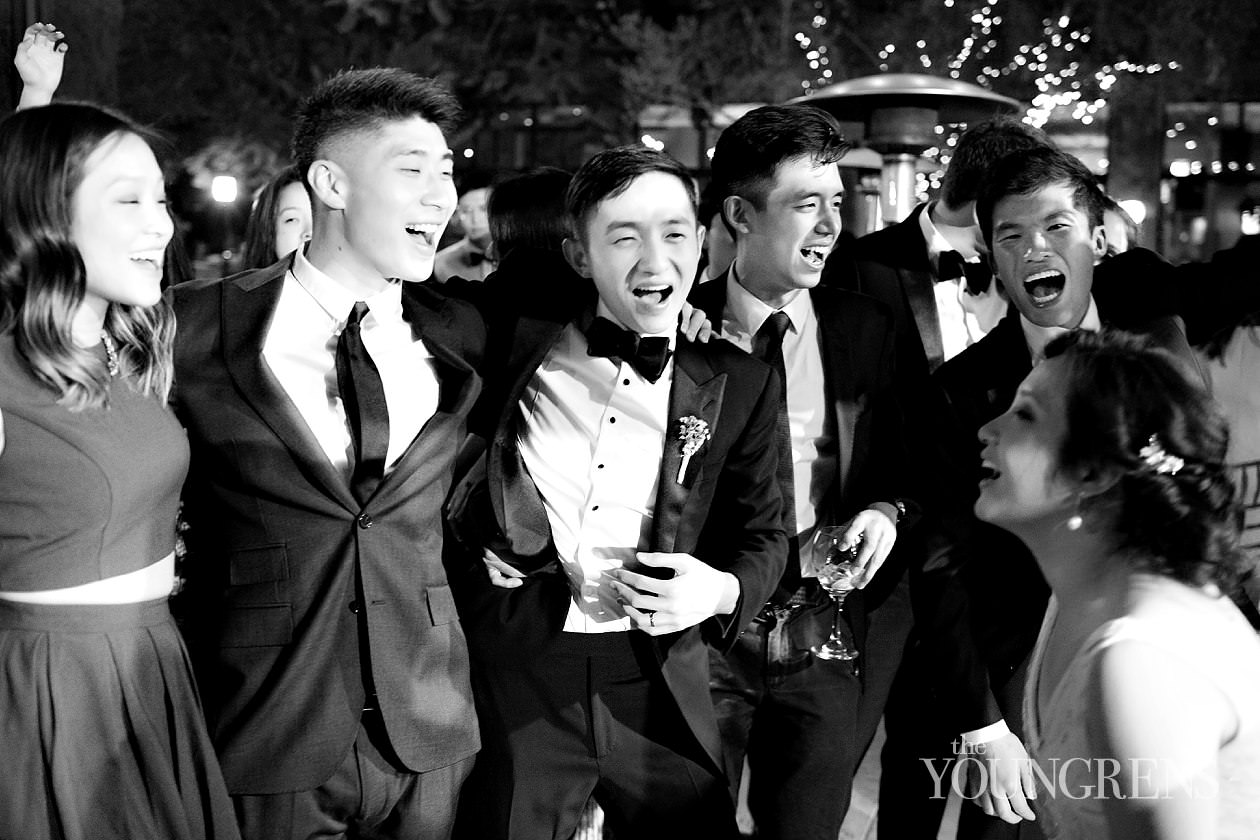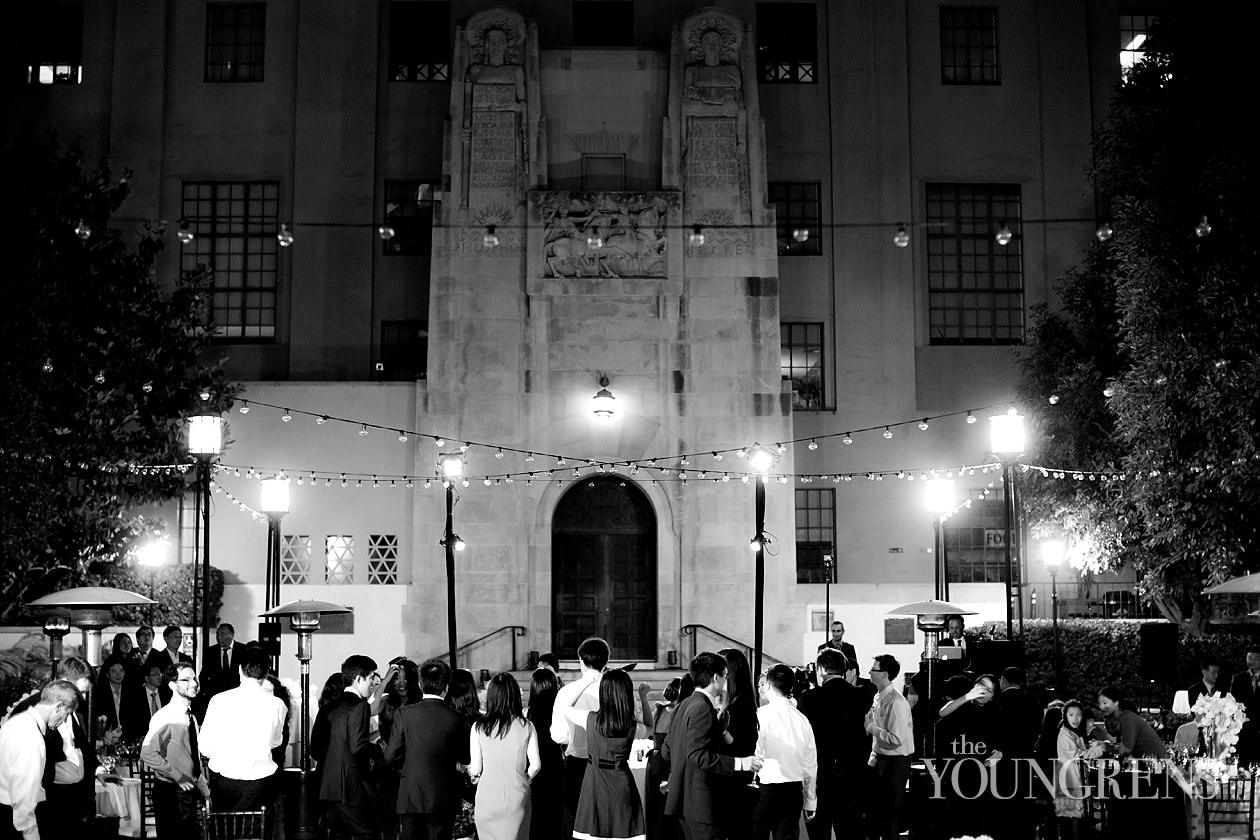 ---
Wedding Photography : The Youngrens | Ceremony Location : Cafe Pinot | Reception Location : Cafe Pinot | Event Design : Serenity Events | Floral Design : Flower Allie | Cake : Cafe Pinot | Dress : Anne Barge | Shoes : Kate Spade | Bridesmaid Dresses : Jenny Yoo | Make-Up : Studio mm+b | Hair : Studio mm+b | DJ : Nightlife Entertainment | Reception Lighting : TMMPRO | Gown Boutique : Belle Vie | Wedding Videography : FonD Productions | Stationery : Bella Figura | Officiant : Pastor Jon Olson | Favors : E+M Wedding Favors |
---