There is no other food that defines comfort food like a pot pie. In fact, a pot pie is to the dinner world as a cinnamon roll is to the pastry world – hot, sticky, creamy, gooey, and simply comfor-licious. That's right. It's so good I made up a new word and that doesn't happen everyday. Only every other day.
So when I found this fancy gourmet Dutch oven take on the age old pot pie concept, I couldn't resist borrowing my friends fancy cookware to fancy-up dinnertime. The gooey innards of this recipe are short ribs with cipollini onions and fresh rosemary braised in Guinness with thin crispy russet potato slices acting as the mouthwatering top. Since braising is a lengthy process to tenderize meat, this whole thing will take five or six hours, so keep that in mind if you're gonna give a try. But the time is soooo worth it. This knock-your-socks-off dish is everything warm and cozy that a hearty winter dish should be, and you'll lick up every last bite!
***Speaking of cozy, thanks for all of the comments on yesterday's Yankee Candle giveaway! My readers are DA BOMB. There's still time to win a Yankee Candle, so comment here to win!***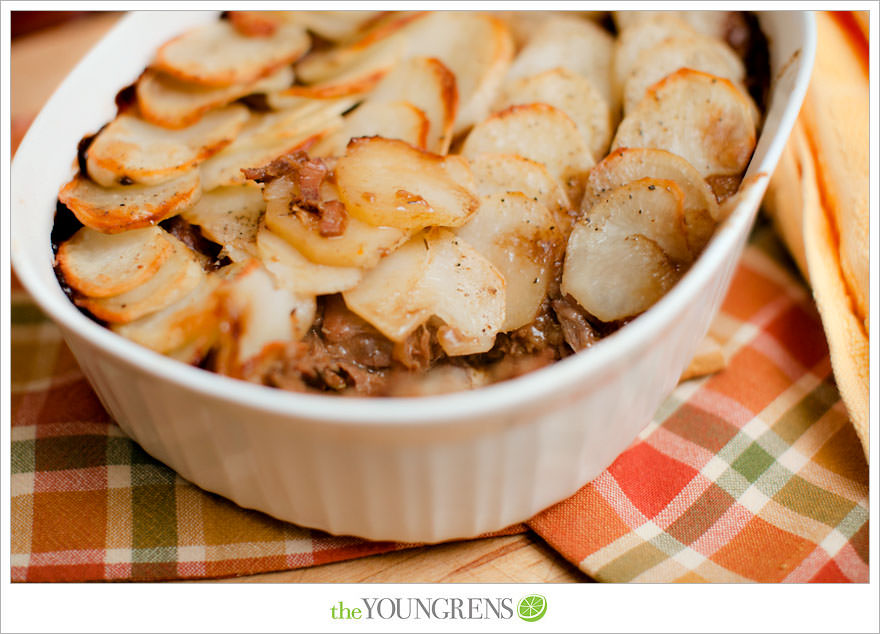 You'll need four pounds of boneless short ribs, a sprig of fresh rosemary, a pound of cipollini onions, and two bottles of dark stout beer, preferably Guinness. And yes, BOTH bottles of Guinness are going in the recipe. Jeff was hoping one was for the food, and the other was for the chef's assistant…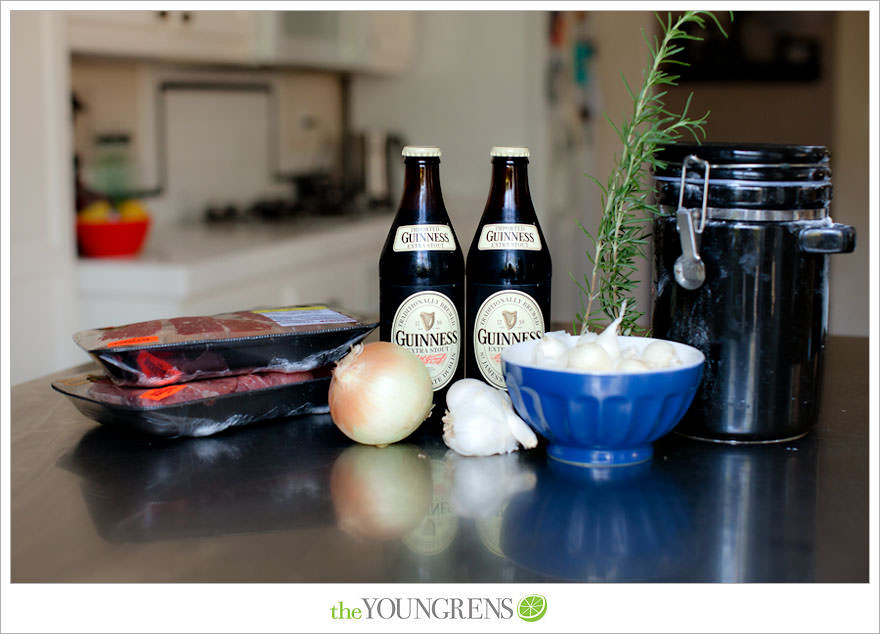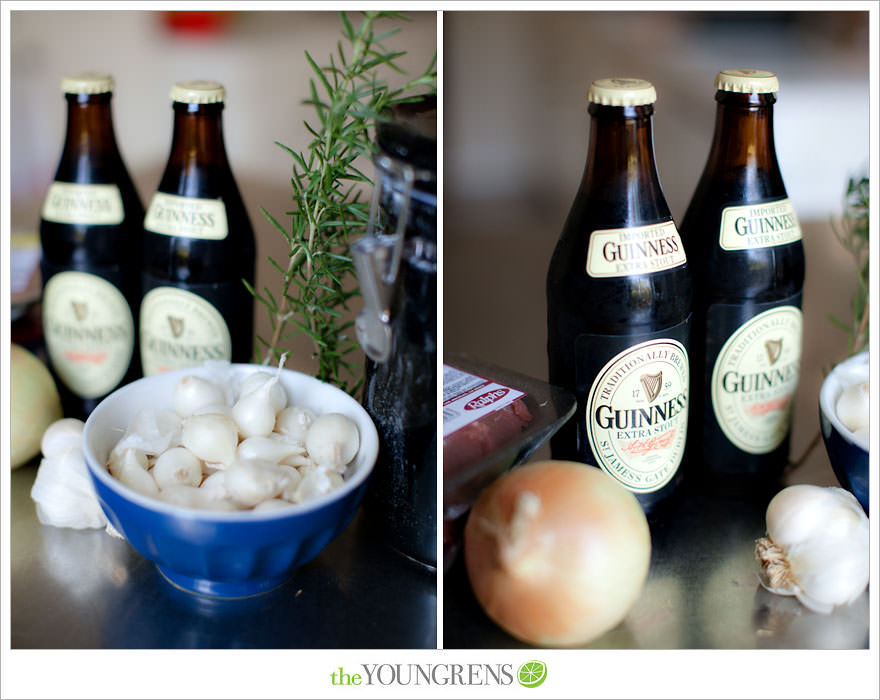 Dredge the short ribs through flour, covering all sides. Technically these short ribs should be cut into two-inch pieces, but technically I didn't read that part… Whatevs. It still tasted freakin' fantastic.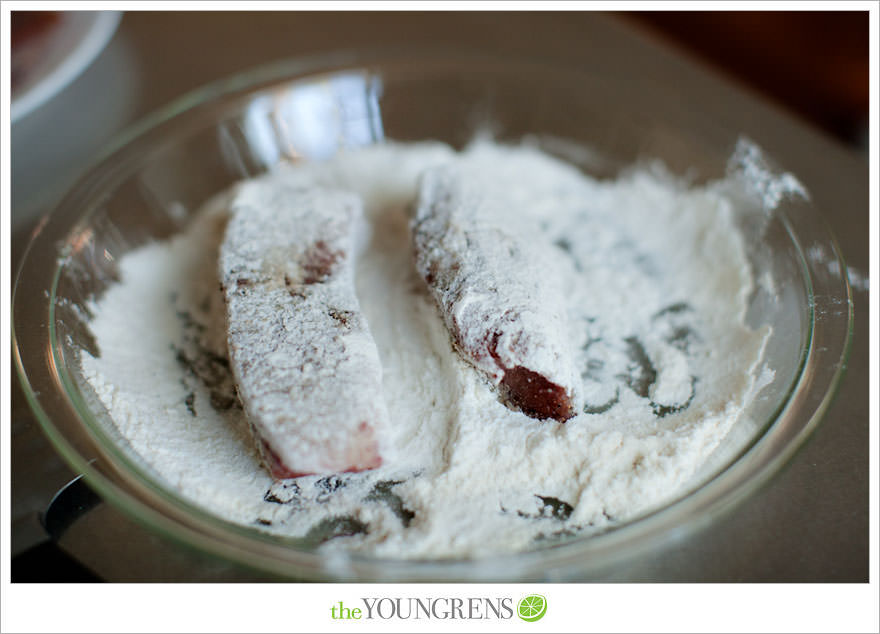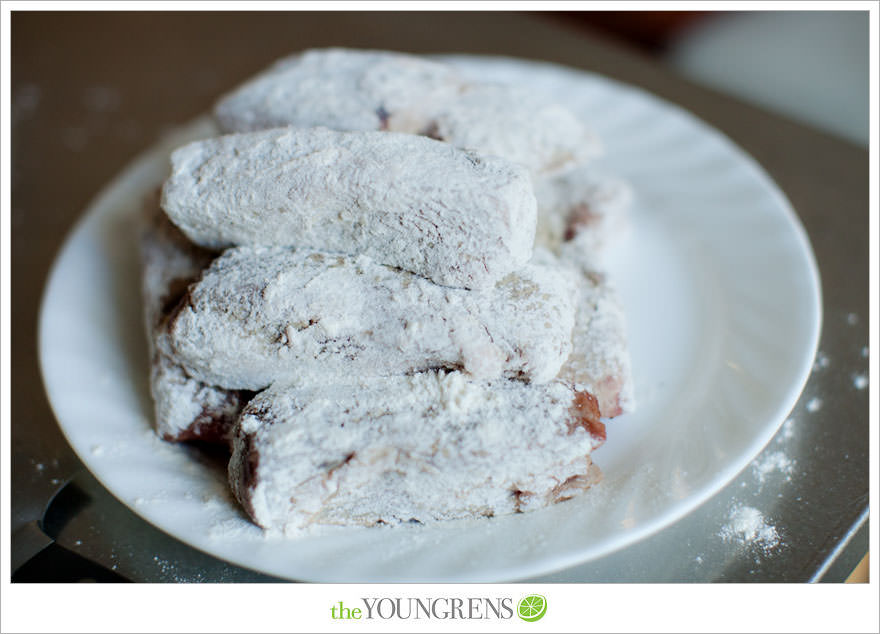 Heat up a few tablespoons of oil in your friends Le Creuset Dutch oven and brown the short ribs on all sides, working in batches and transferring the browned meat to a large plate with kitchen tongs. I realized when I found this recipe that – *gasp* – I don't actually own a Dutch oven, but a friend with a Le Creuset is a very important friend to have. Just saying'.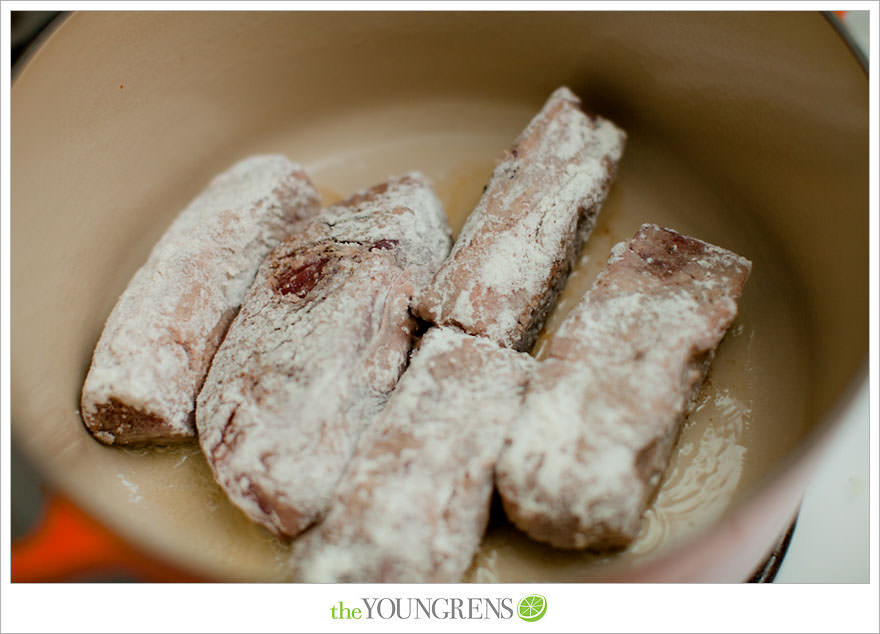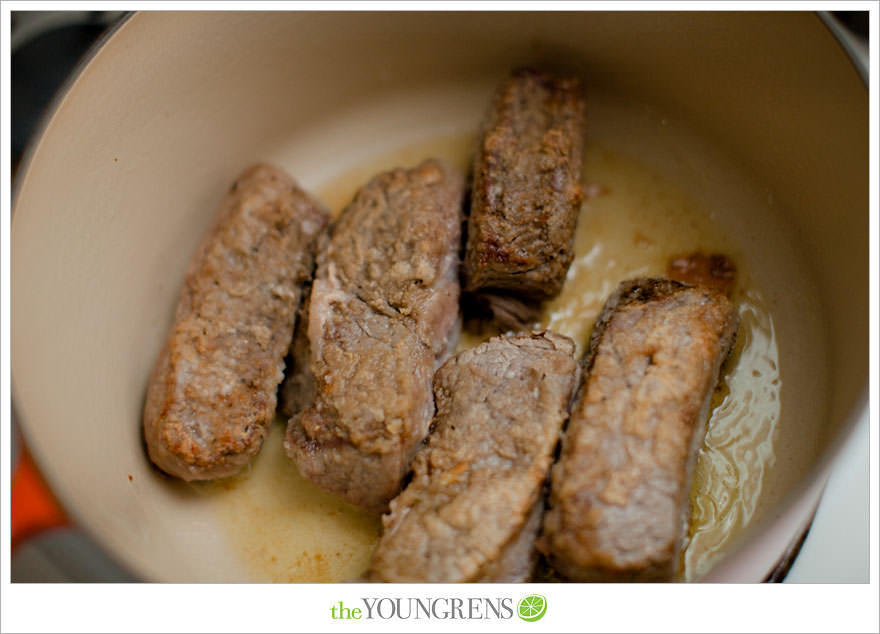 Then sauté your yellow onions and garlic.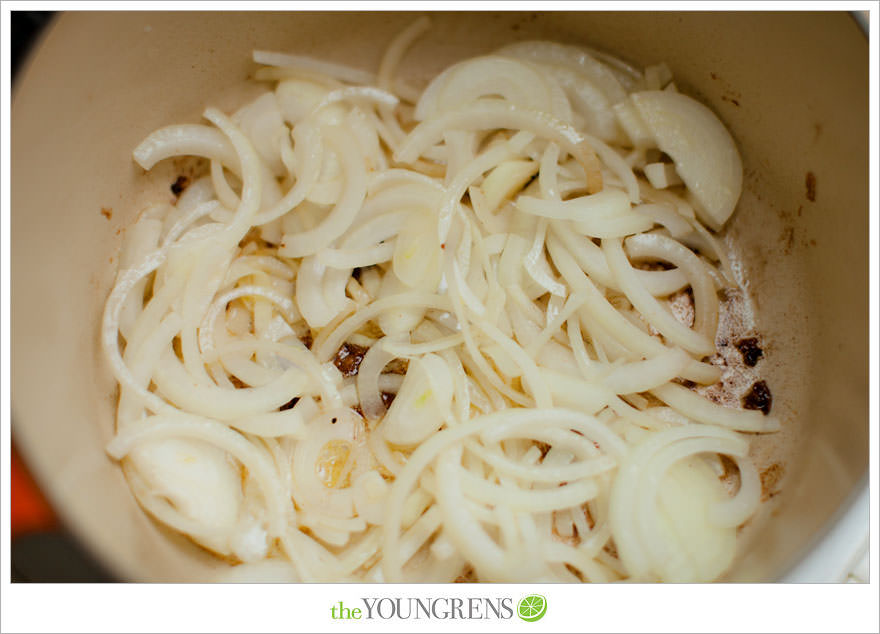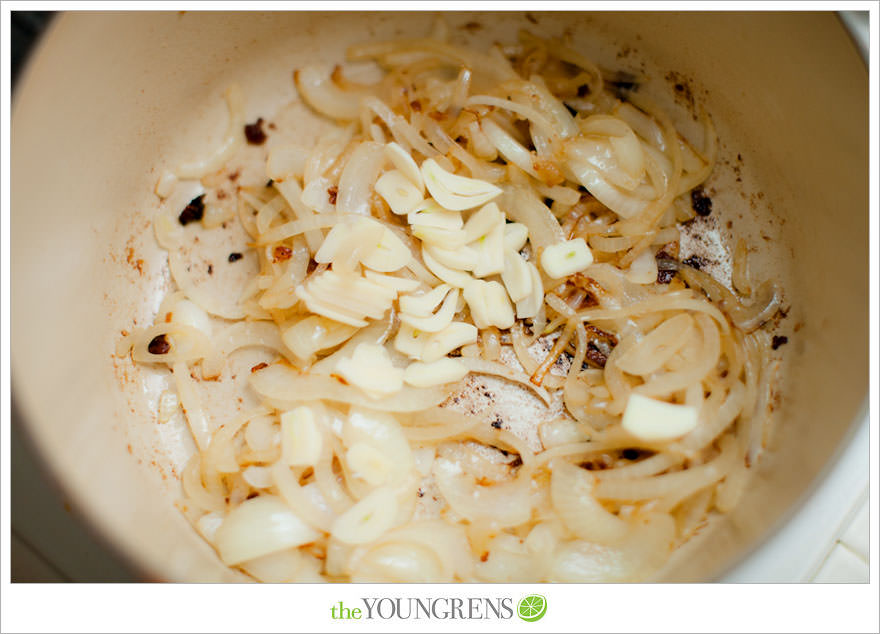 Return the meat to the pot and add the Guinness and rosemary. This was my favorite part – it smelled SO GOOD.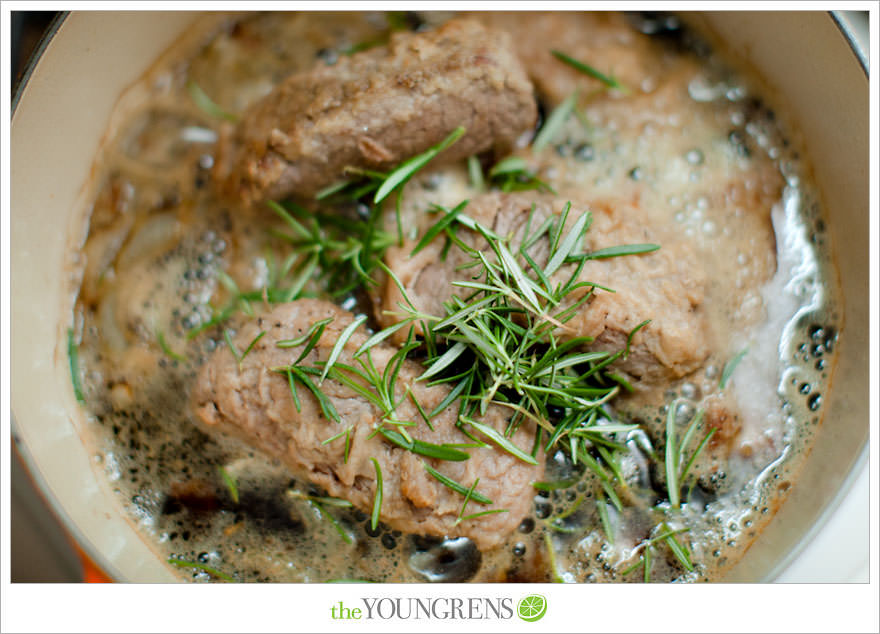 Bring the whole thing to a simmer, then cover and transfer it to a preheated 300 degree oven to cook for 2 1/2 hours.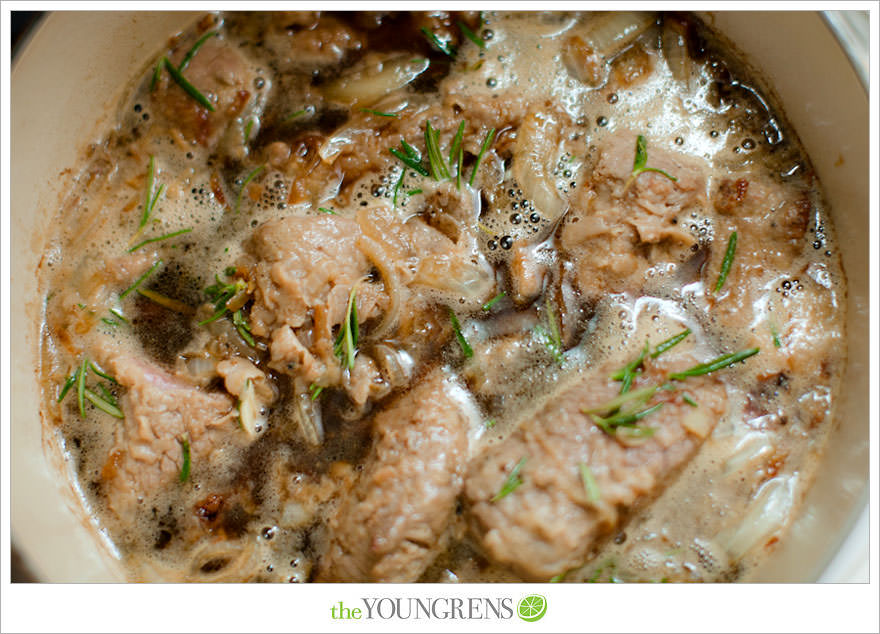 After 2 1/5 hours of reorganizing the pantry and dancing to Ke$ha in the kitchen, pull out the heavenly Dutch oven and add the cipollini onions. Cook for about 30 more minutes. While it's doing this last bit of braising, take a break from clubbin' it up suburban style and thinly slice about 6 russet potatoes for the topping.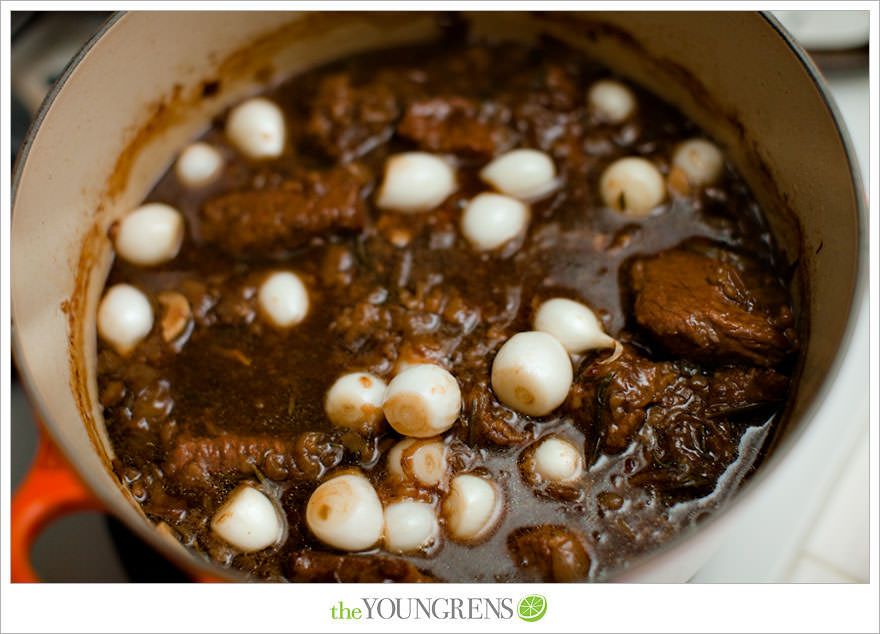 After this last stint in the oven, the meat should be ready to fall apart, so remove the pot from the oven and shred the meat with two forks. Transfer the filling to eight mini-pot pie casserole dishes, mini one cup pie plates, or a large 12-inch gratin dish. The juice will thicken when the meat comes apart.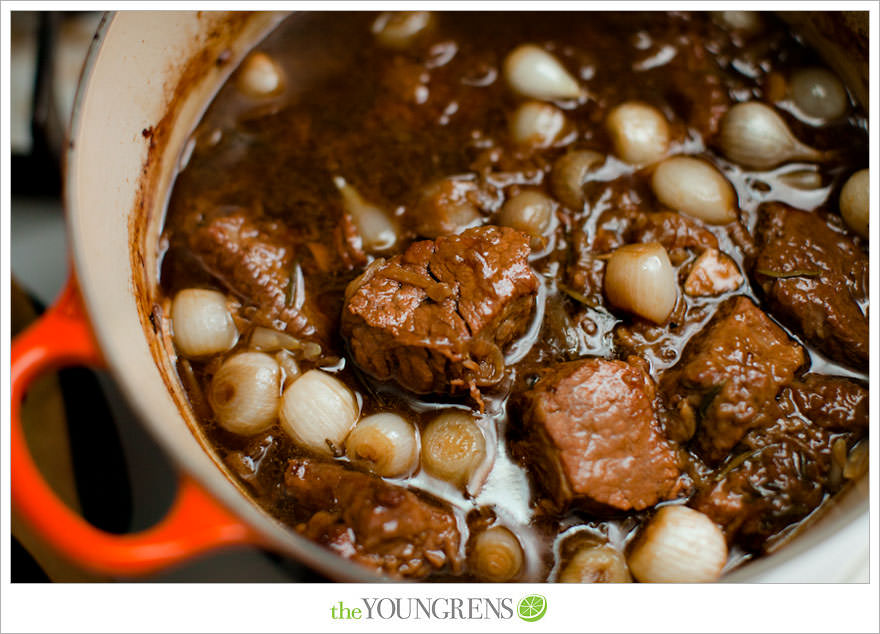 Raise the temperature of the oven to 375 degrees and let it heat up while you place the topping.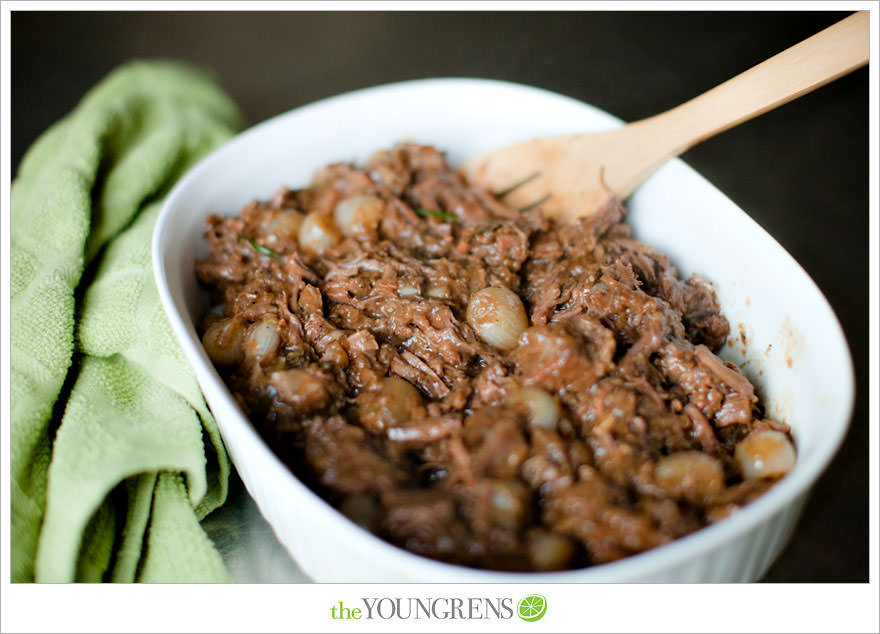 Layer the potato slices in tight concentric circles around the dishes.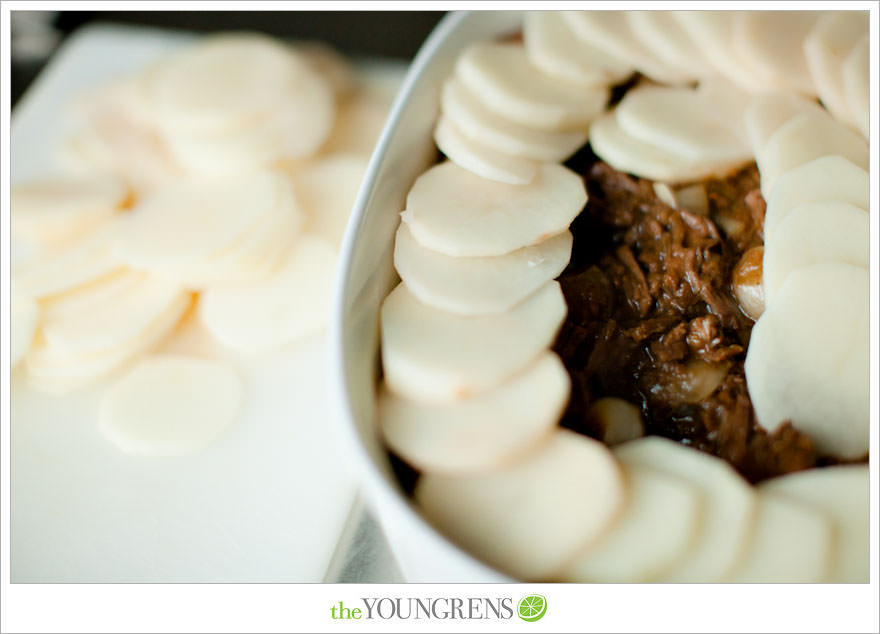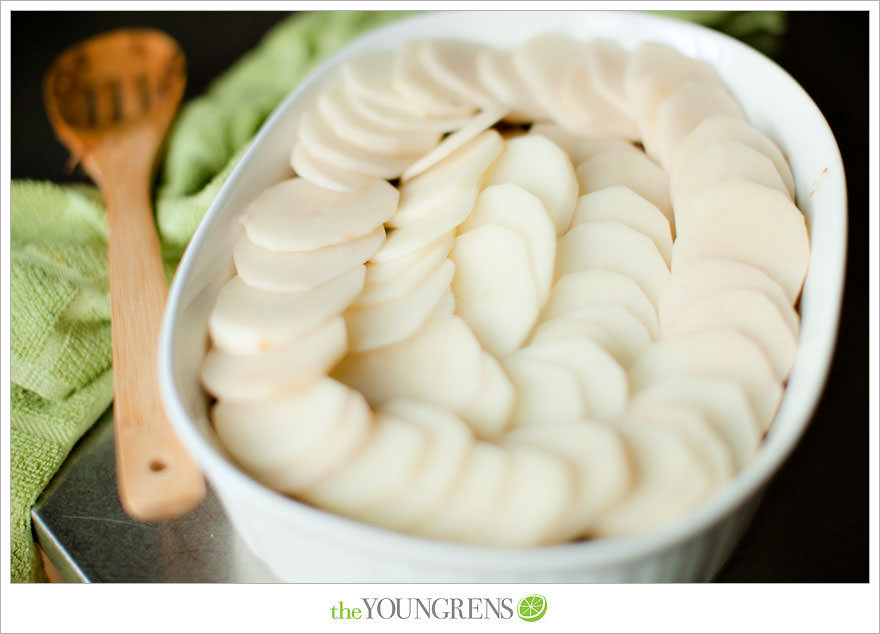 Brush the potatoes with oil and crack some fresh salt and pepper on top. Put the whole thing back in the oven for another 45 minutes to an hour to brown and cook the top.
OMG OMG OMG – I've never made anything so good in my LIFE.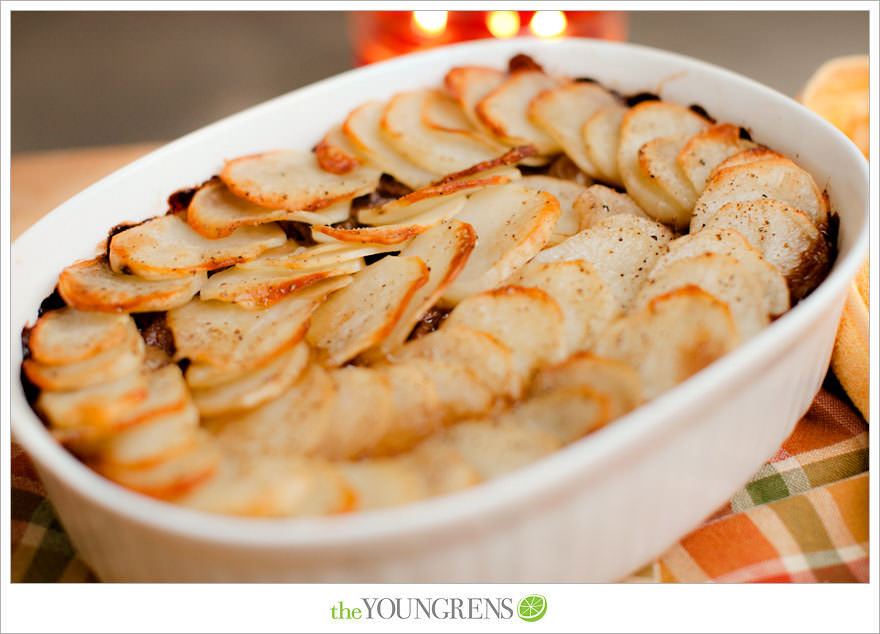 The meat was soooooooo full of flavor from all of that sugary Guinness and once you crack the top of the potato thang, the rosemary will melt your soul into a pile of heavenly buttah. And we all know that everything is better with buttah. This is the perfect Sunday dinner on a snowy winter's night! Enjoy!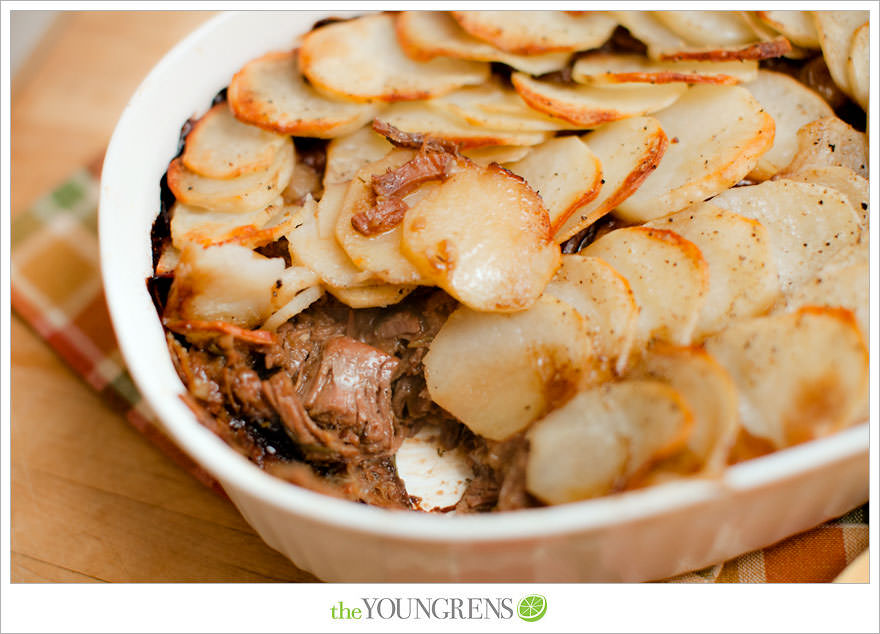 Braised Short Rib, Stout, and Potato Pot Pie
For The Filling
4 pounds boneless short ribs, cut into 2-inch pieces
Coarse salt and freshly ground pepper
1/3 cup all-purpose flour
3 tablespoons safflower oil
1 medium yellow onion, halved and thinly sliced
5 garlic cloves, thinly sliced
2 bottles (12 ounces) stout, preferably Guinness (3 cups)
2 rosemary sprigs
1 pound cipollini onions, peeled
For The Topping
6 medium russet potatoes (3 1/2 pounds)
Extra-virgin olive oil, for brushing
Coarse salt and freshly ground pepper
Directions
Make the filling: Preheat oven to 300 degrees. Season short ribs with salt and pepper. Dredge short ribs in flour, coating all sides. Transfer to a large plate. Heat oil in a large Dutch oven over high heat. Working in batches, brown short ribs, about 1 minute per side. Transfer to a large plate using kitchen tongs.
Reduce heat to medium. Add yellow onion to Dutch oven, and cook until golden, about 8 minutes. Add garlic. Cook for 2 minutes. Return meat to Dutch oven. Add stout and rosemary. Bring to a simmer. Cover, and transfer to oven. Bake for 2 1/2 hours.
Remove Dutch oven from oven, and add cipollini onions. Braise until meat is tender and onions are cooked through, about 30 minutes. Shred meat using 2 forks. Season with salt and pepper. Divide filling among eight mini (1-cup) pie plates, or transfer to a 12-inch (8-cup) gratin dish.
Make the topping: Raise oven temperature to 375 degrees. Peel potatoes, and very thinly slice each (preferably on a mandoline). Arrange potatoes over meat to form tight concentric circles, working around the edge and overlapping each potato by three-quarters. Brush with oil, and sprinkle with salt and pepper. Bake until topping is golden and filling is bubbling, about 45 minutes for mini potpies (1 hour for large potpie).
Hugs,
Erin