Welp, for most people in this country it's summer time. The weather is hot, the skies are blue, and the days are long. But for those of us stuck in the middle of a bad year of San Diego's June Gloom, the weather is still cold, the skies are yucky gray, and the sun sets behind a thick veil of marine fog. For us, summer won't officially arrive until the middle of July, and then it won't go away until Thanksgiving! But in honor of summertime and as a tribute to those that can already enjoy it, I'm pulling out some fantastic barbecue side dishes that will bring a little pizazz to your backyard parties. This little number is a twist on your traditional BBQ Baked Beans. You simply swap out the same old baked beans for quick fresh white kidney beans, and add some tangy snap with vinegar and mustard. The best part about this dish? It's FAST to prepare and you make it the night before! (As always, the full recipe is listed at the bottom of this post.)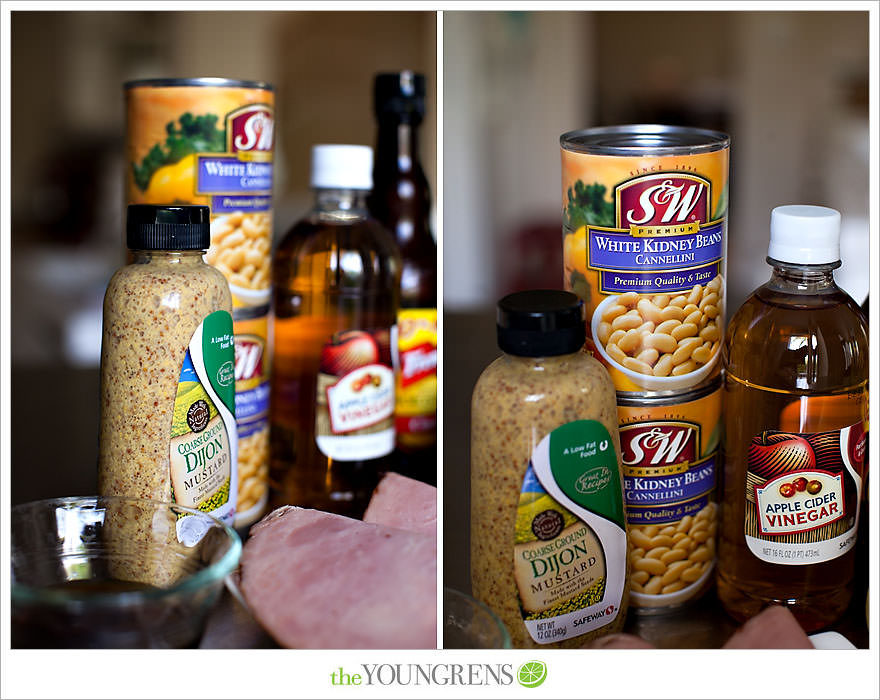 I have never bought cider vinegar before, but I found it in the baking aisle with the cooking oils. Apparently there are a lot of different kinds of vinegars out there! Who knew?

An onion and pepper add a yummy sweet crunch to this dish.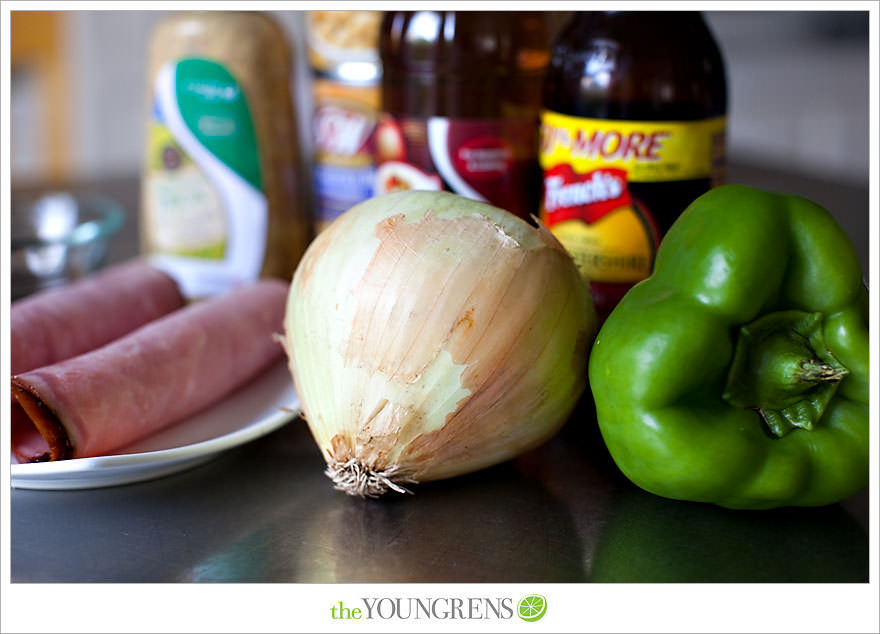 First, slice two rings off of your green pepper and save them for a garnish.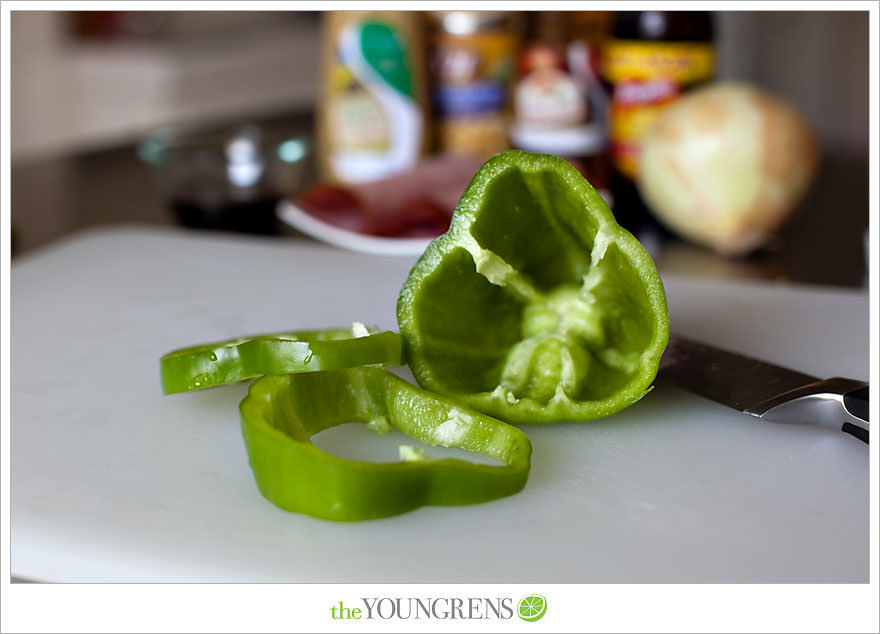 Then chop up the rest of your pepper and your entire onion.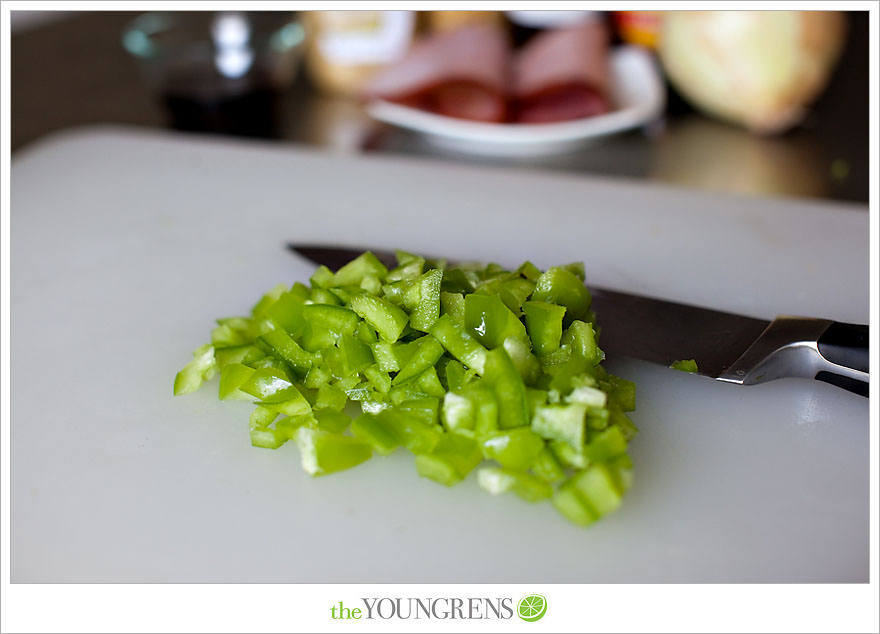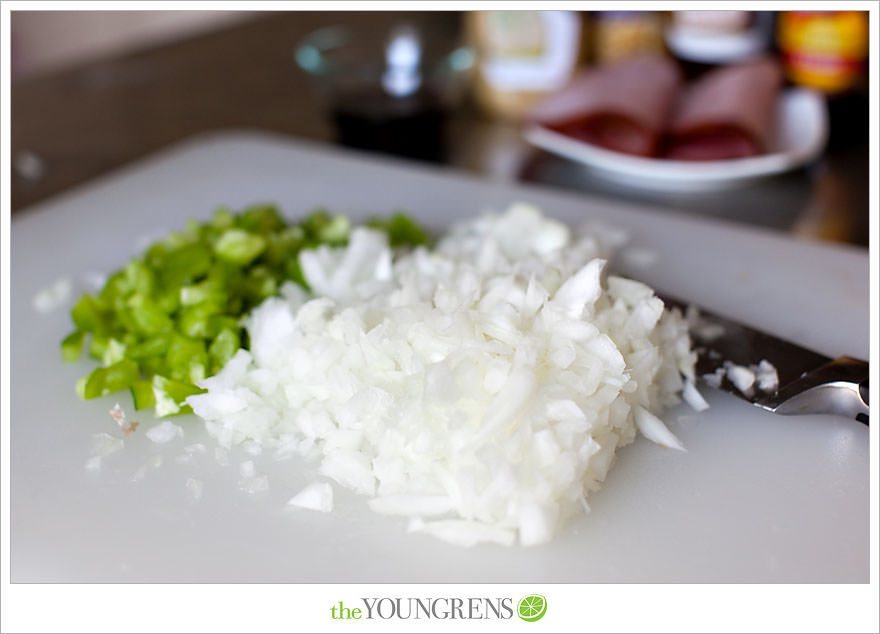 Slice up your pieces of ham (I bought honey ham for some added flavor) and then brown them in a large skillet.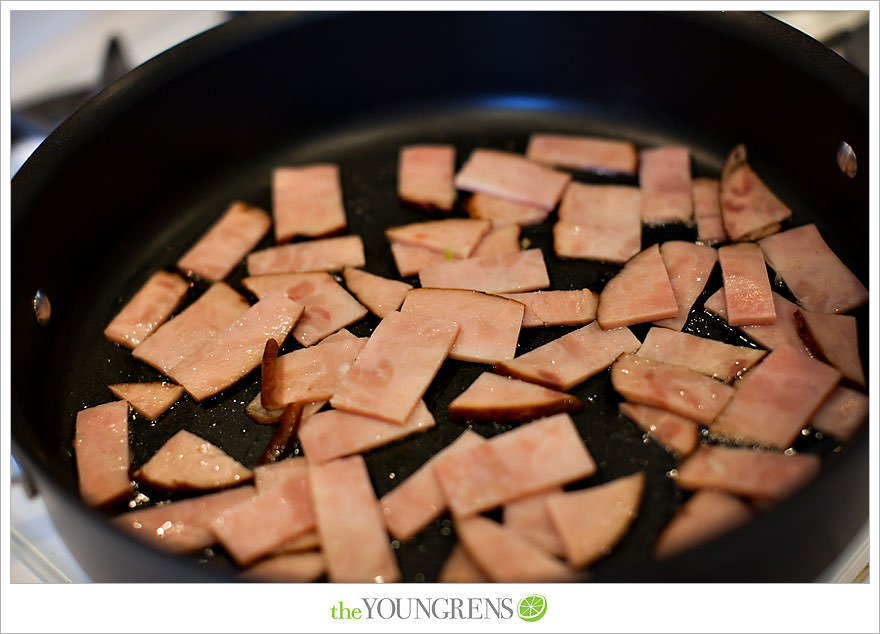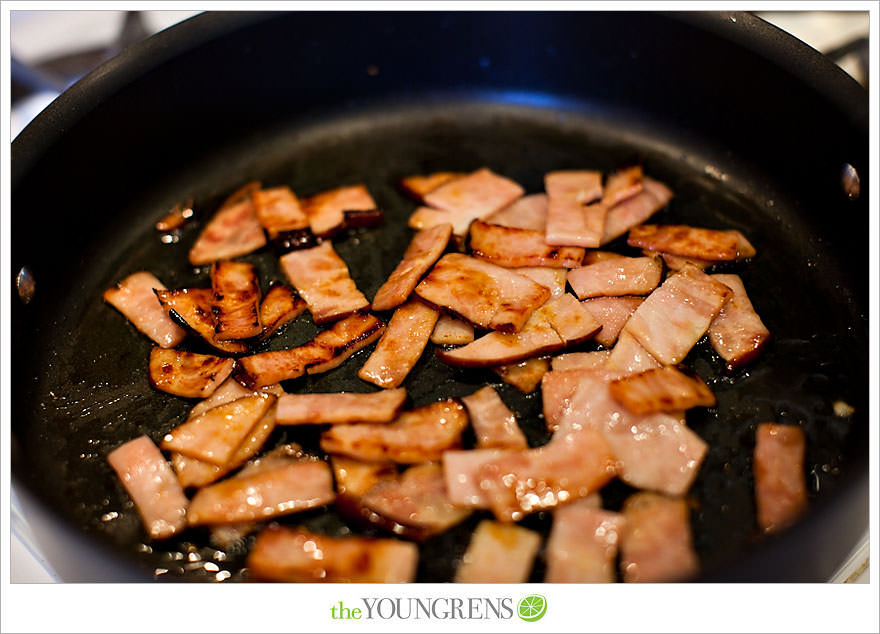 While the ham is cooking open your cans of beans and place them in a big bowl with your peppers.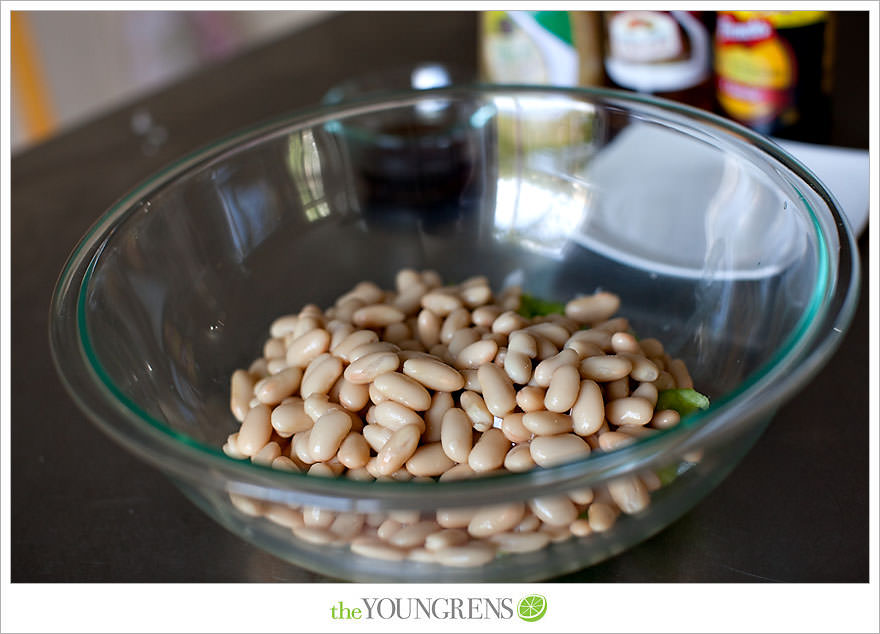 Once the ham is finished, dump the ham into that same large mixing bowl and brown your onion and three cloves of minced garlic in the skillet.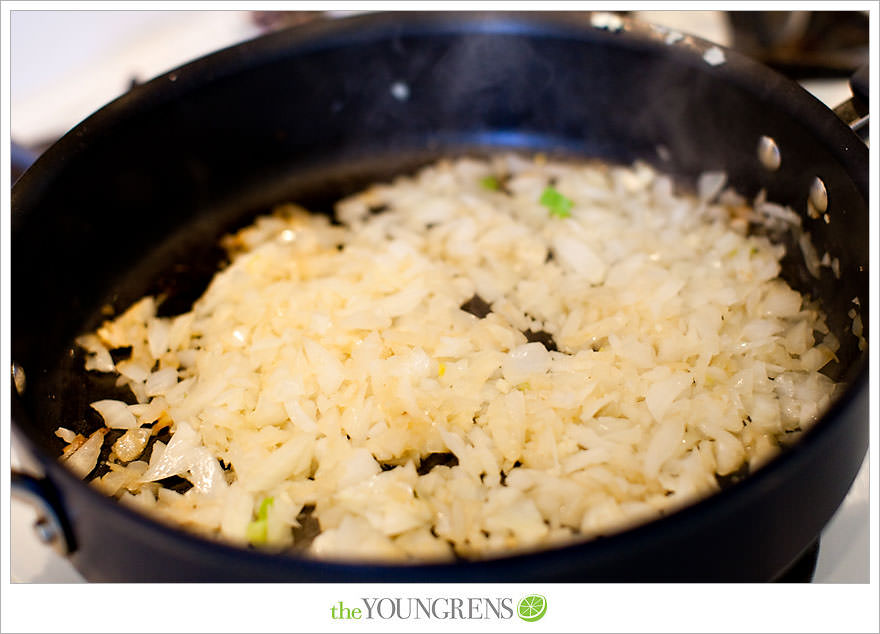 Once the onion/garlic mixture is finished, add them to the bowl as well.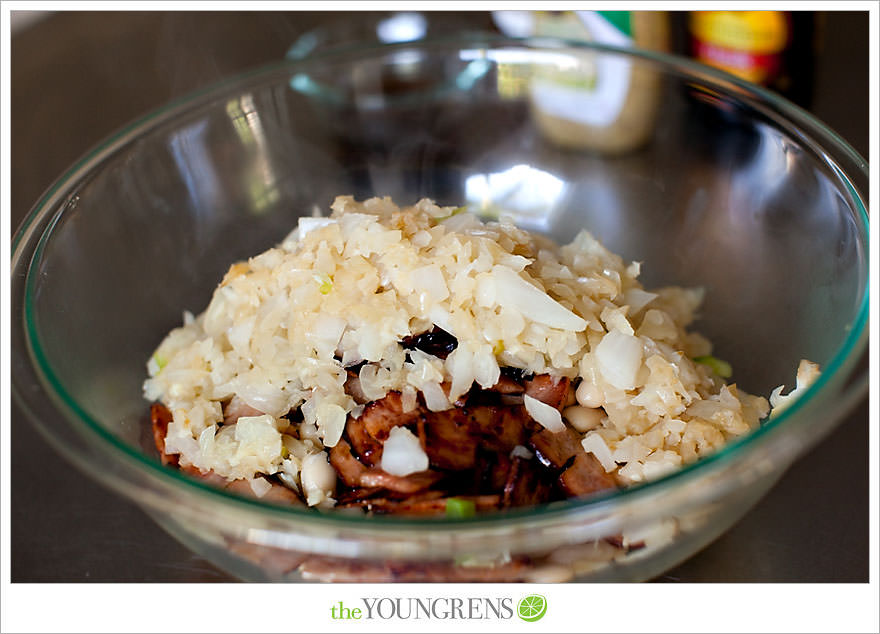 Add your mustard, vinegar, maple syrup, Worcestershire sauce, and crushed red pepper.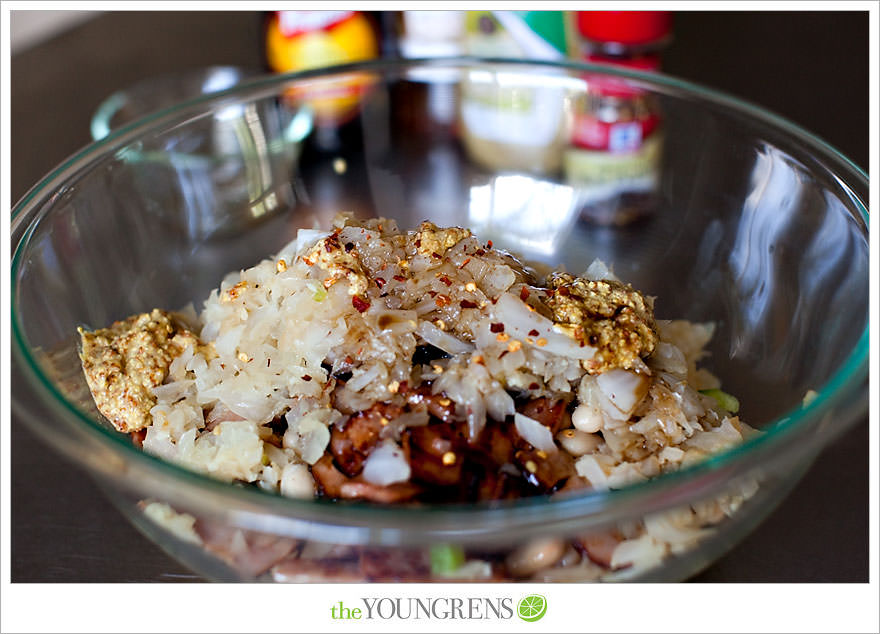 Mix it all up real good.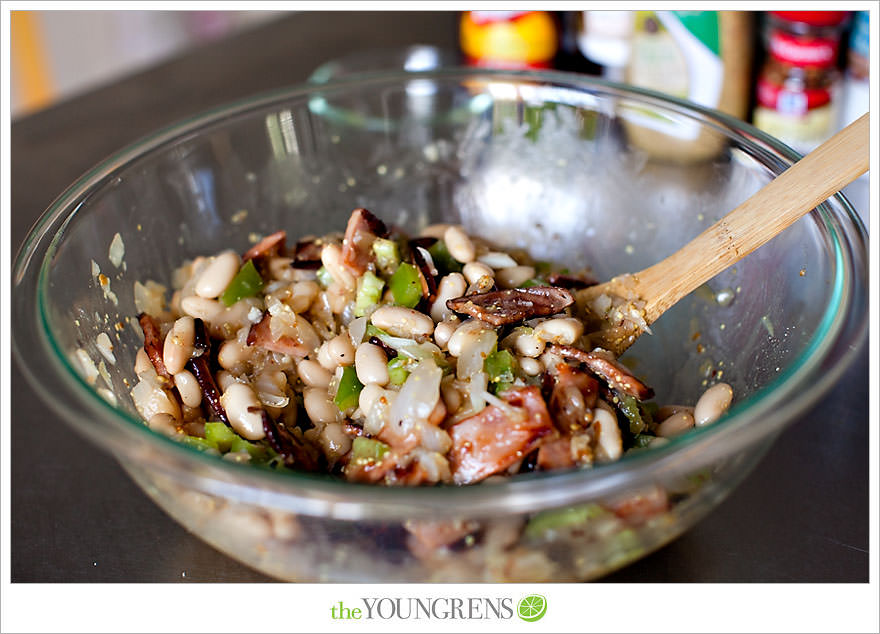 Then transfer it to a casserole dish or a serving dish that can get heated up and has a lid. You'll stick this in the fridge overnight to allow the flavors to marinate and thicken.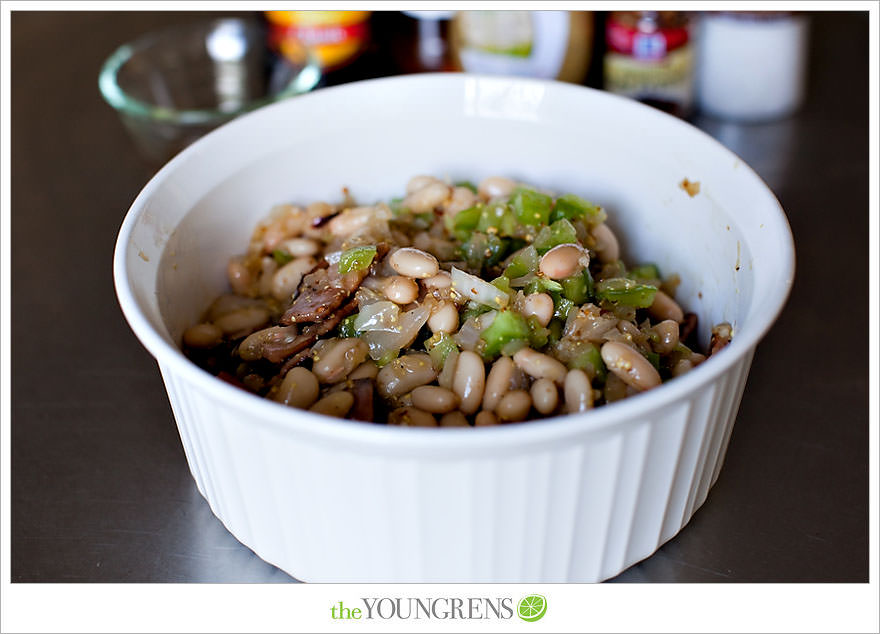 Once you're ready to serve, heat it through for 5 to 7 minutes and add the pepper rings for the last little bit of cooking. I *think* you're supposed to heat this up on the stove, but I just did it quickly in the microwave. I think the best way to do it could be in the oven, but that is a little more time consuming. Once, it's heated, set it out next to the burgers and hot dogs and let everyone enjoy! Yummy!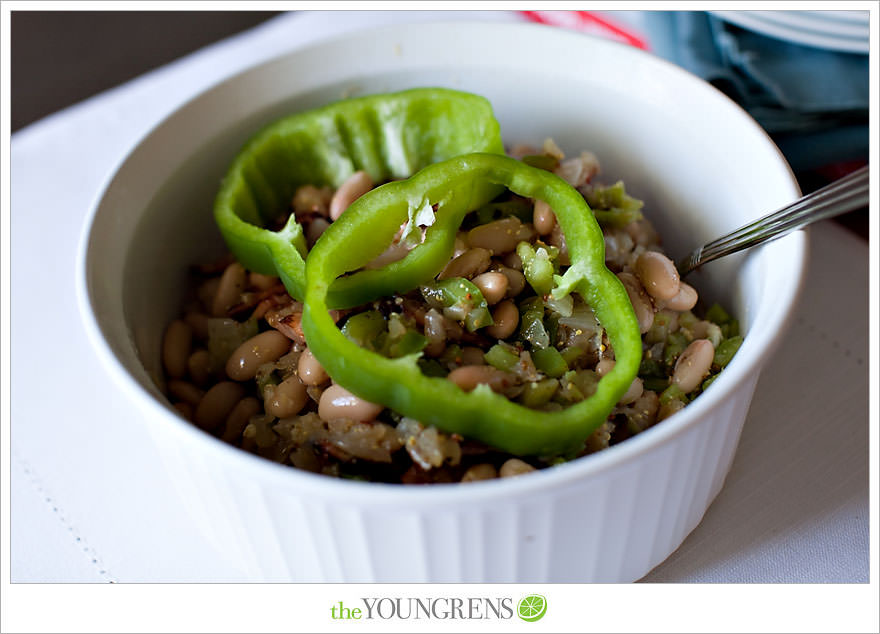 BBQ White Beans with Peppers
1 medium green sweet pepper

4 oz. cooked ham, cut in strips

1 tbsp. vegetable oil

1 large onion, chopped

3 garlic cloves, minced

2 15-oz cans cannellini beans (white kidney beans) and/or navy beans, rinsed and drained

2 tbsp yellow mustard

2 tbsp cider vinegar

2 tbsp pure maple syrup

1 tbsp Worchestershire sauce

Crushed red pepper (optional)

Fresh oregano leaves (optional)
1. Slice two rings from sweet pepper; wrap and refrigerate. Chop remaining pepper; set aside. In skillet, cook ham in hot oil over medium-high heat until browned; remove from skillet. Add onion and garlic to skillet. COok and stir 3 to 4 minutes or until tender.
2. In a 1 1/2-quart casserole dish combine beans, ham, onion, and garlic mixture, chopped sweet pepper, mustartd, vinegar, maple syrup, Worchestershire sauce, and crushed red pepper to taste. Cover and refrigerate overnight (up to 24 hours).
3. Stir 2 tbsp water in bean mixture. Reheat over medium heat for 5 to 7 minutes or until heated through, and adding the pepper rings for the last 2 minutes of cooking. Sprinkle with fresh oregano.
Hugs,
Erin