As winter slowly fades into spring, we have just a few more warm and hearty dishes to feature here on Recipe Sunday, and this one totally takes the cake for the fanciest potato side dish I've ever seen – sweet potatoes rubbed with cumin, baked to crispy, then topped with a lightly fried sage leaf. I feel like the cumin is a little tuxedo jacket and the sage is a fancy tie for this delightful crowd-pleasing side dish that will hold it's own next any fancy-schmancy steak – or may I suggest a braised short rib pot pie?? We made these two dishes together and they were FAB-ulous!
Oh! And I finally learned the difference between a sweet potato and a yam a few months back. It took waaaaay more Google-time than I expected (apparently hardly anyone actually knows) but I eventually found my answer. A yam is actually a white tasteless potato variety from South America, and sweet potatoes are the orange guys you see pictured below. I memorized the difference only because the orange sweet potato tastes, well, sweet and yams aren't sweet at all. So it's pretty easy to remember now. Bet you didn't know you would learn that factual tidbit today did you?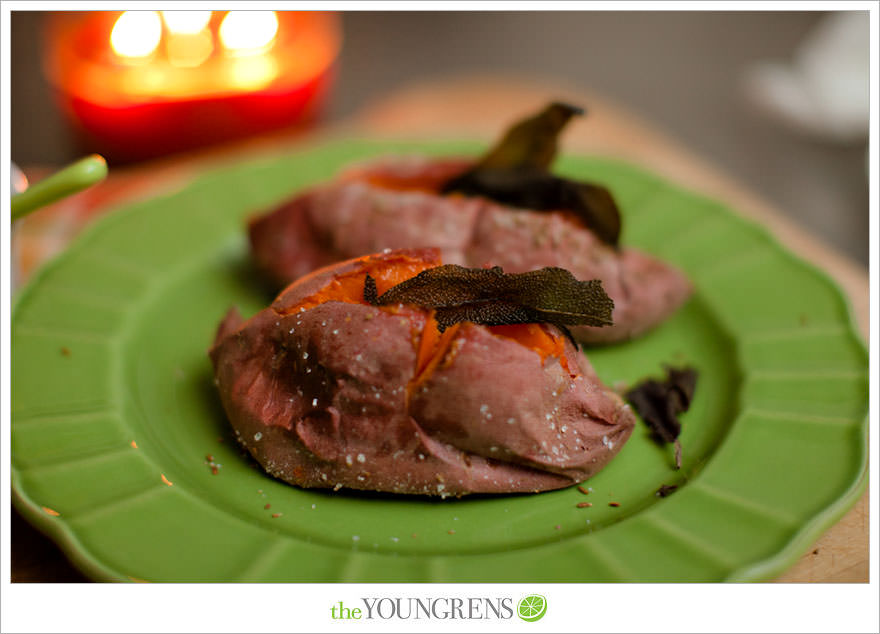 This recipe is sooooo simple that you can whip it together as a quick side dish for practically any meal. Just have a few sweet potatoes on hand along with some sage (you can use the sage for this white cheddar onion pudding on another night of the week too) and you're all set!
The key ingredients are salt and cumin seeds for the potatoes (ground cumin won't do the trick), and then crushed red pepper and honey for some spicy/sweet butter.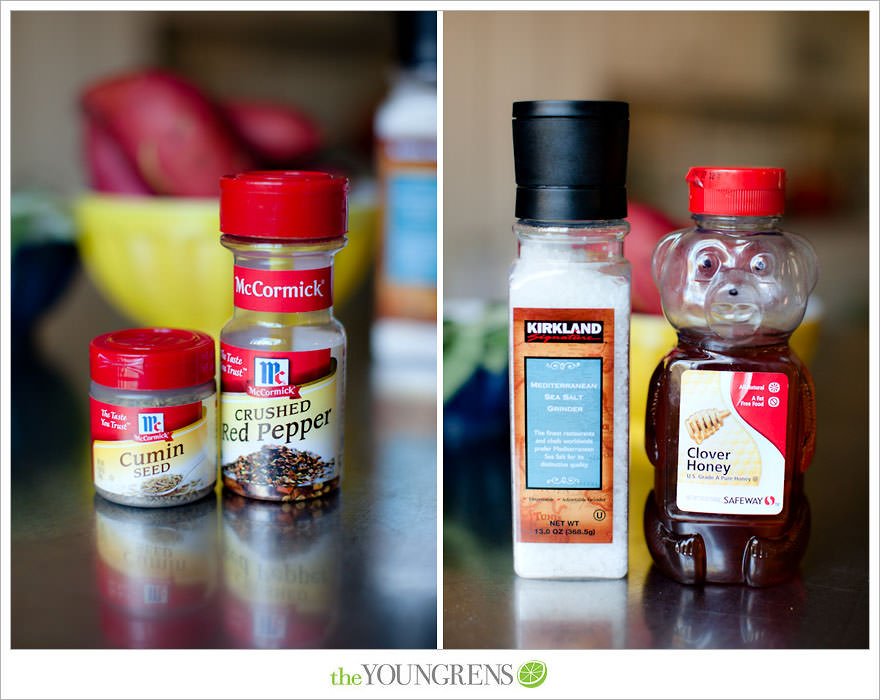 Then of course, you'll need fresh sage leaves and sweet potatoes.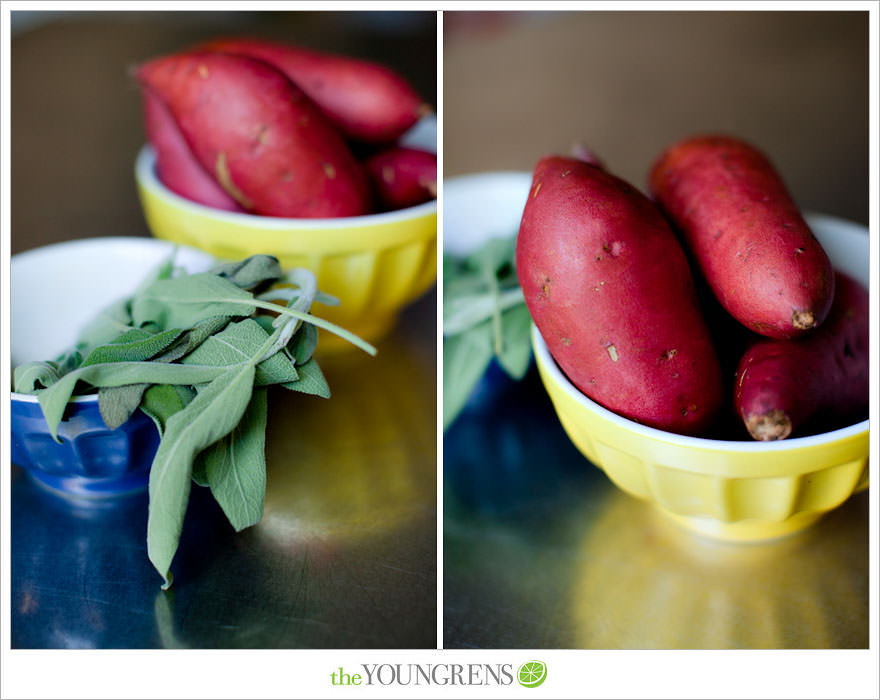 Mix together 2 tablespoons of salt and 1 tablespoon of cumin seeds. Scrub the potatoes and while the skins are still damp, rub them all over with the salt mixture. Bake them directly on the oven rack for an hour at 375 degrees. Turn them once to crisp the skin on all sides. The crispy salty skins are the best part!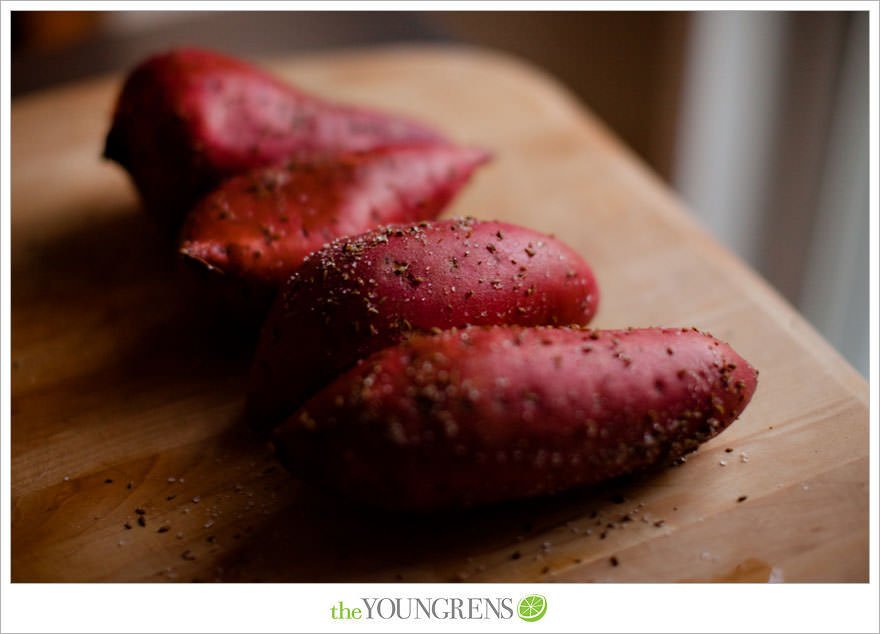 Then you'll make this super yummy spicy butter mixture by stirring a tablespoon of honey or syrup (I used honey) and a teaspoon of red pepper flakes into softened butter. You can use this butter for anything, but the sweetness is especially nice with the sweet potatoes.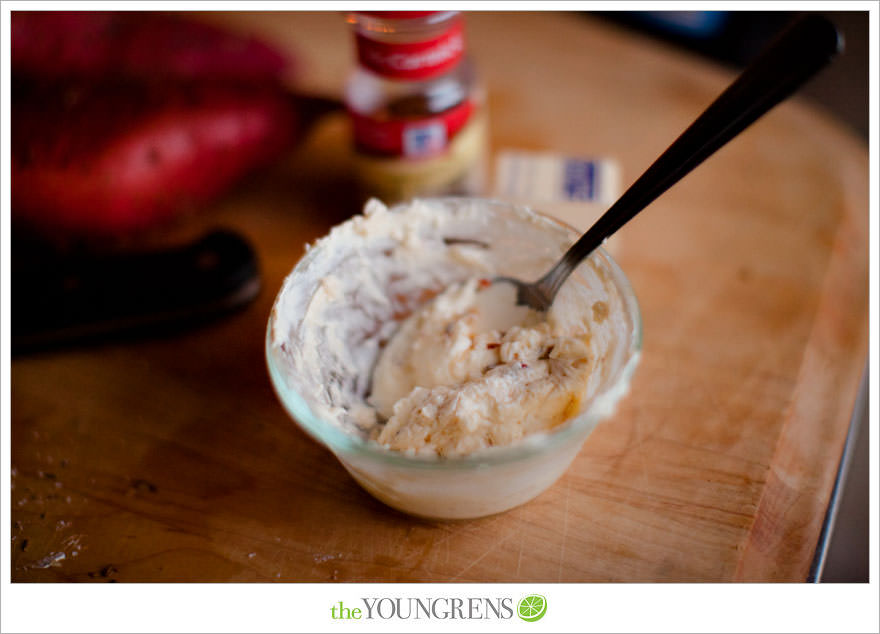 Then you'll heat about three inches of canola or peanut oil in a small frying pan. The oil has to be HOT in order to fry the leaves, so wait until the oil pops when you flick a tiny bit of water into the oil. That's when you know it's ready to fry! Fry the leaves for about two minutes or until they're crisp. Drain them on a paper towel and gently dap the excess oil off.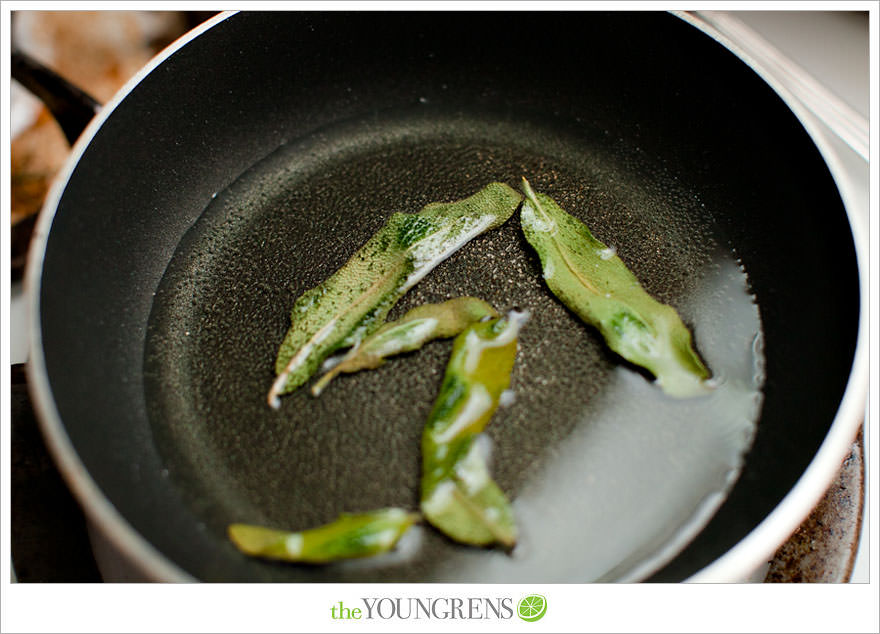 Cool the potatoes for five minutes before slicing them and pushing them open. They'll be super hot on the fingertips! Serve them with the sage leaf placed inside. I let my guests put the butter on themselves just in case anyone doesn't like or can't handle butter in their food. Voila! It's so lovely and pretty!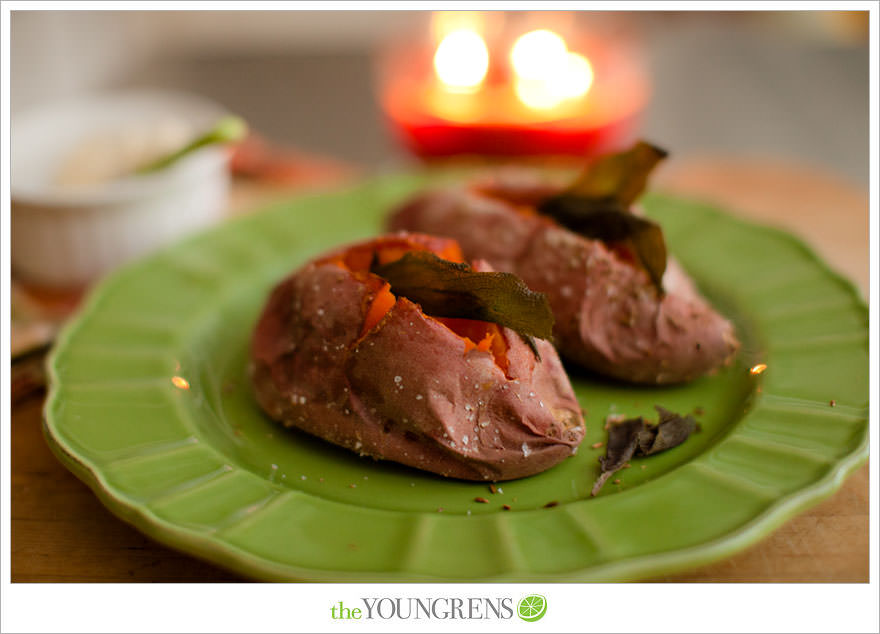 Cumin-Rubbed Sweet Potatoes with Sage
(view the original recipe here)
Ingredients
4 medium sweet potatoes
2 tablespoons coarse salt
1 tablespoon cumin seeds, crushed
1/2 cup butter, softened
1 tablespoon maple syrup or honey
1 teaspoon crushed red pepper flakes
Canola or peanut oil for frying
Fresh sage leaves
Directions
1. Preheat oven to 375 degrees F. Wash and scrub potatoes. Mix together salt and cumin. While skins are damp, rub all over with salt mixture (reserve any remaining salt mixture for another use). Bake potatoes directly on oven rack for 1 hour, turning once to crisp evenly on all sides. (Place a foil-lined baking sheet on the rack beneath potatoes to catch drippings.)
2. Meanwhile, for spiced butter, in a small bowl, stir together softened butter, maple syrup, and crushed red pepper. Using waxed paper, roll the butter into a log. Chill.
3. Heat 3 inches of oil in a medium saucepan over medium heat. Carefully add sage leaves to the oil; fry sage leaves for 2 minutes, until crisp. Remove with a slotted spoon; drain fried leaves on paper towels.
4. Cool potatoes for 5 minutes. If desired, brush off some of the salt. With a sharp knife, make a lengthwise cut in potatoes; push ends toward center to open. Top each potato with 1 tablespoon spiced butter and sage leaves. Reserve remaining butter mixture for another use.
Hugs,
Erin