Are you guys ready for Part Two of my genius plan? If you were around for last week's Recipe Sunday, you know that I did some major experimenting with efficiency that went (mostly) well. I decided to make and photograph two recipes at once, but it's a little harder than you would think. Just photographing one recipe makes things a little bit complicated, so throwing two recipes into the mix was a little dangerous – literally. I ended with two burns on both my hands and one bandaged finger. Along with a pretty frazzled kitchen-goddess-wannabe ego.
But both recipes ended up tasting yummy and I would definitely file these in the "keeper" category of recipes. Today's feature is Rice with Peas and Cilantro, a hearty side dish with a lot of fresh flavor. And as always, you'll find the full recipe at the bottom of this post.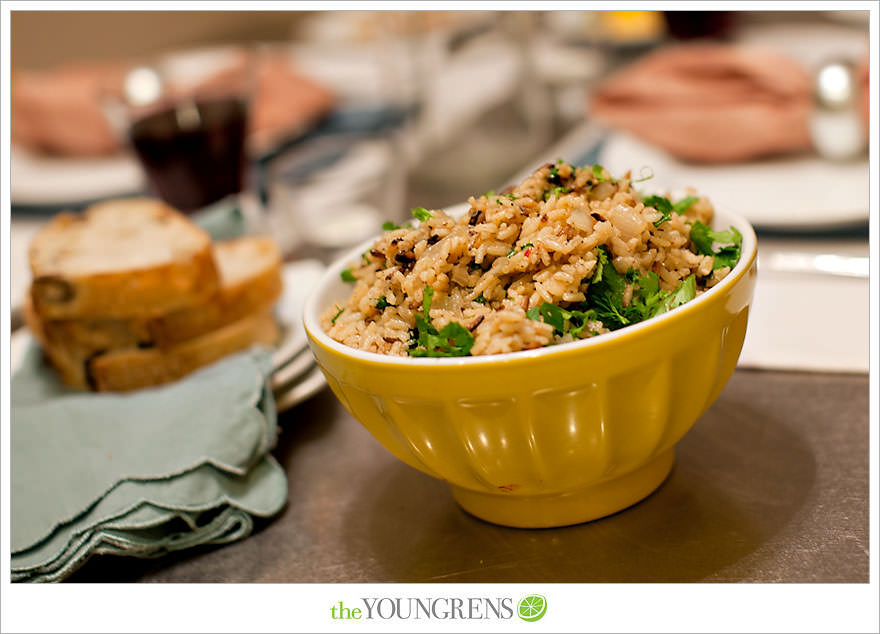 First, gather your ingredients…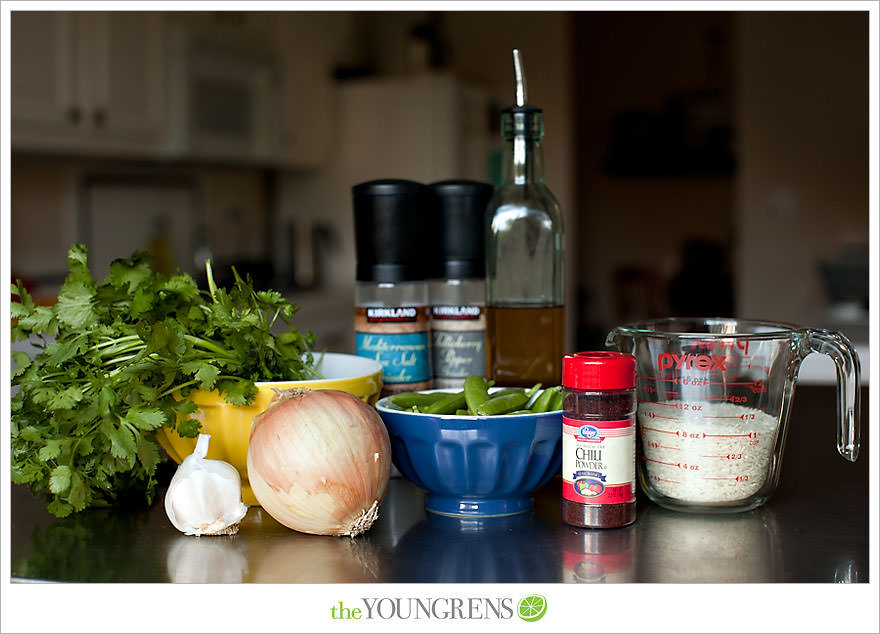 You'll need a pound of fresh, shelled peas, which aren't as easy to find as I thought they were. I couldn't find any shelled peas that weren't frozen so I decided to do them myself. I spent hours as a child shelling peas from our garden, so I was totally used to it. Except that nowadays the shells apparently don't CONTAIN any peas. When I opened up each shell, it either didn't have any peas, or they were so tiny that I couldn't use them! Is this normal??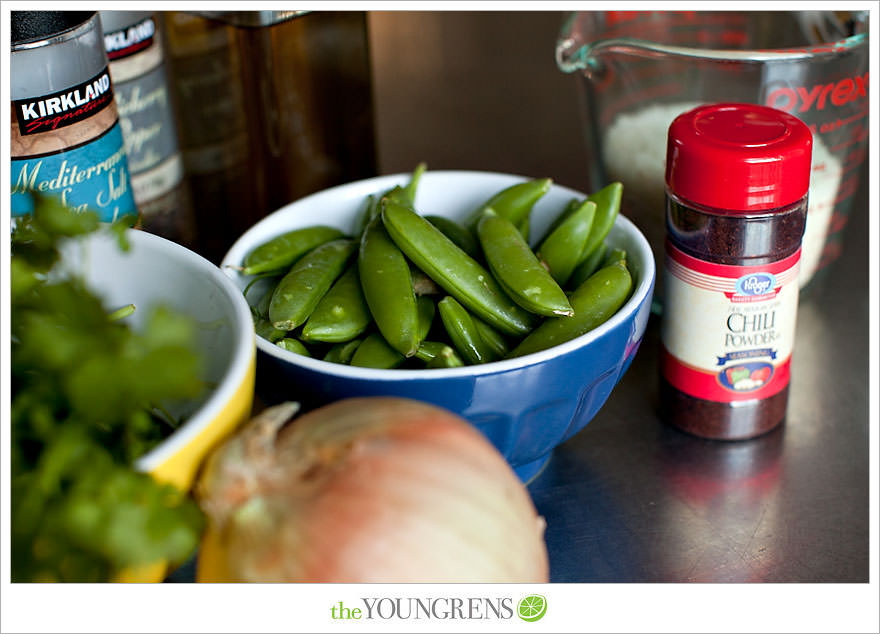 This was all that I got out my measly bunch of shells! So my recipe suddenly turned into Rice with Cilantro…. Does anyone know how I can get fresh peas??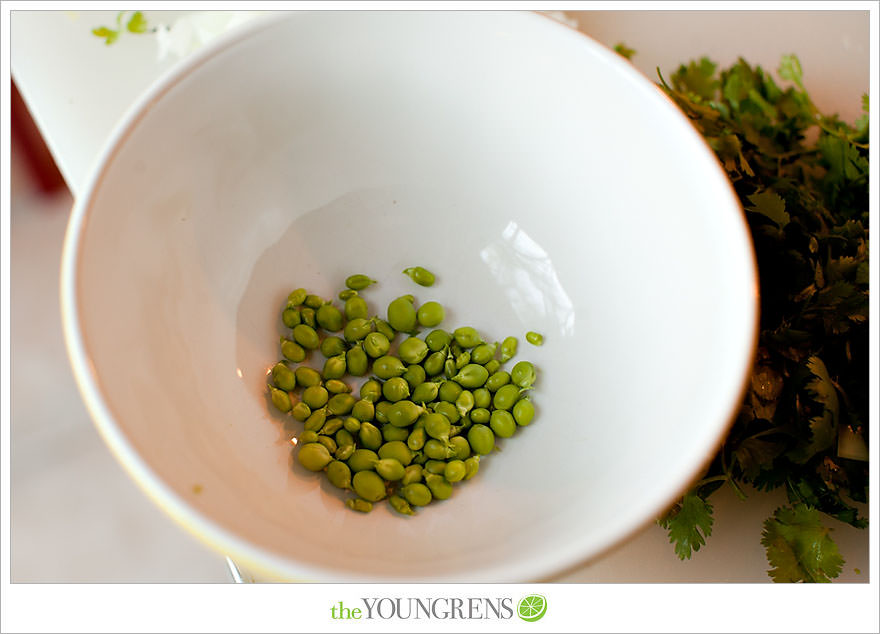 Anyhoo, moving on to the other ingredients. Grab a bunch of cilantro, garlic, onion, chili powder, and rice.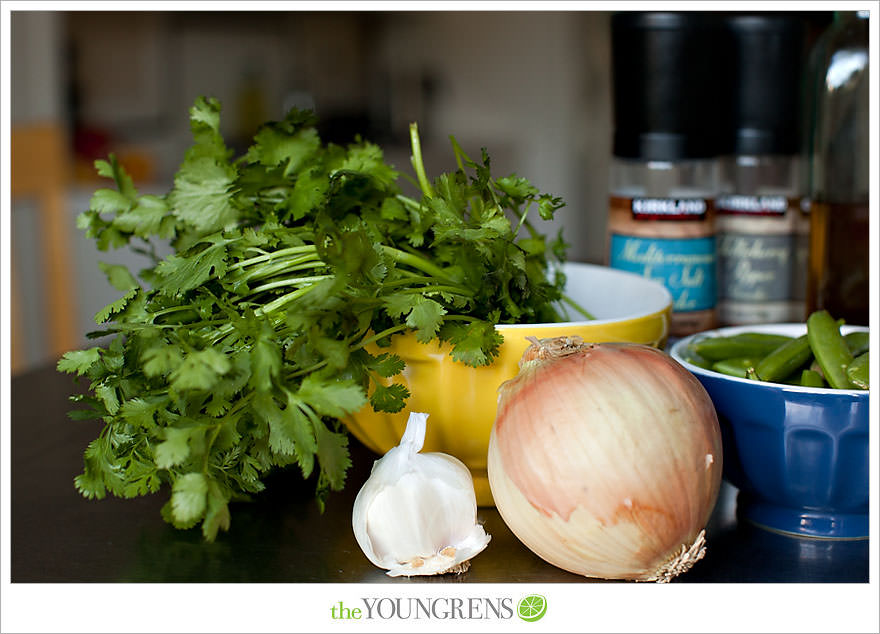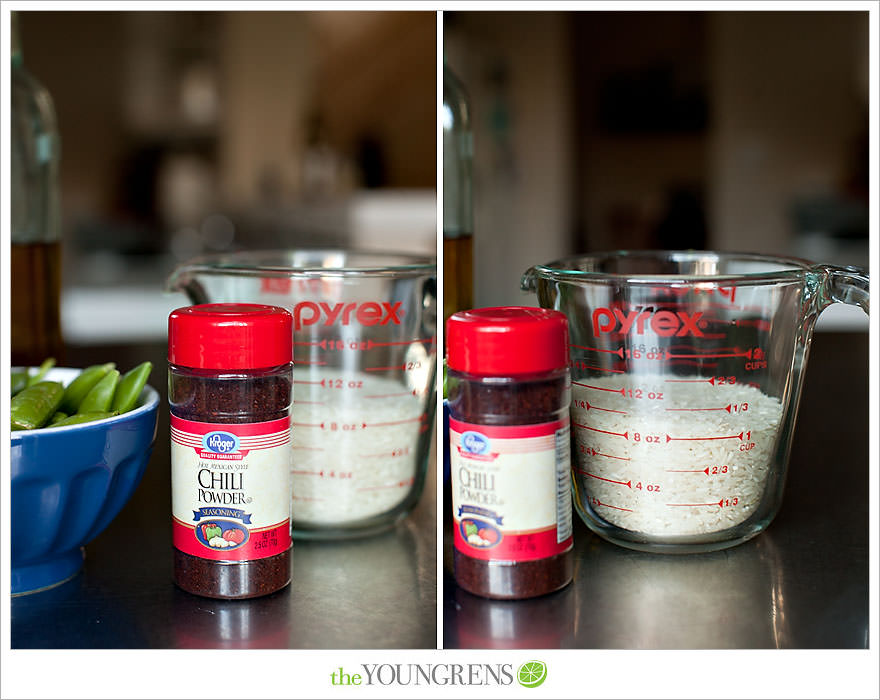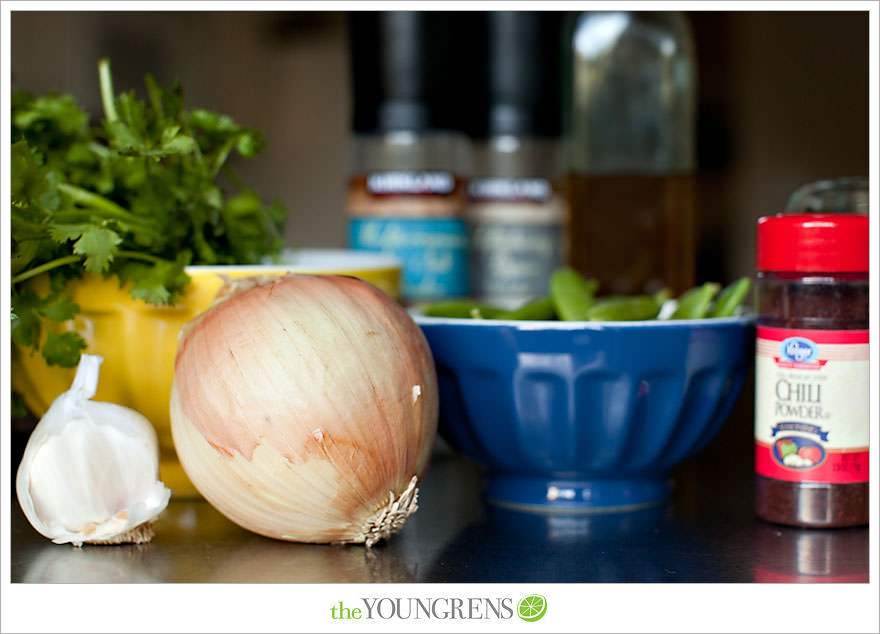 Chop up your onion and cilantro leaves, and reserve the stems of the cilantro.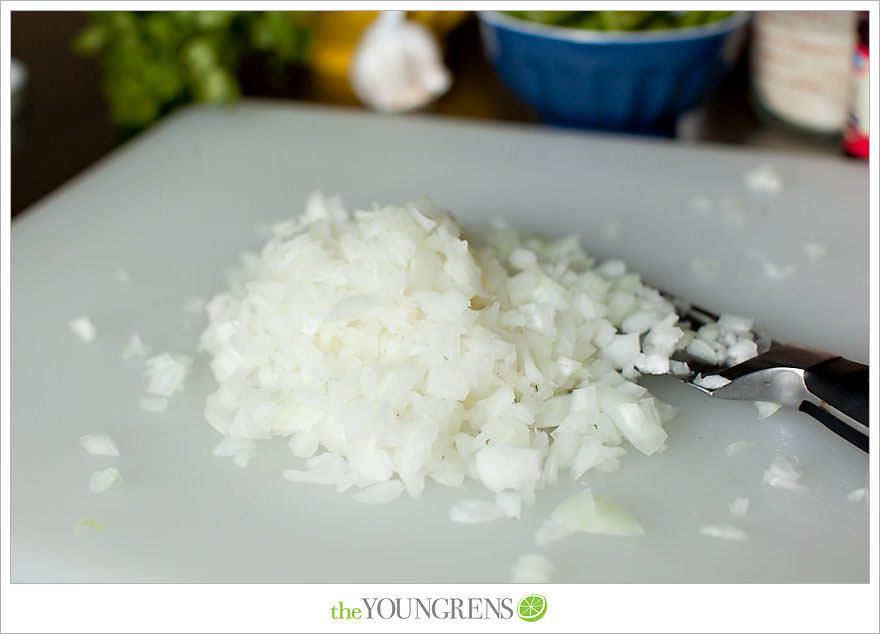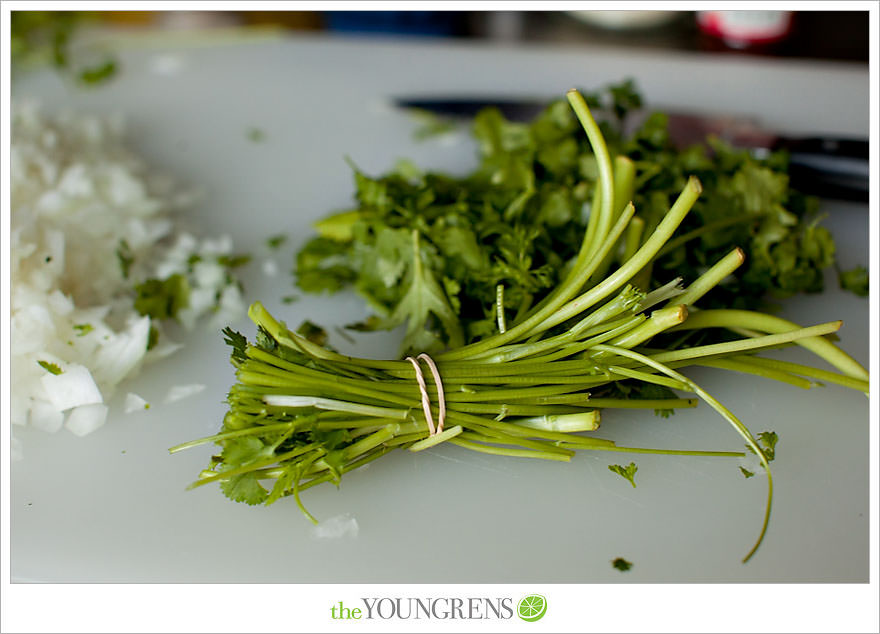 Saute the onion with the garlic and a little oil in your saucepan.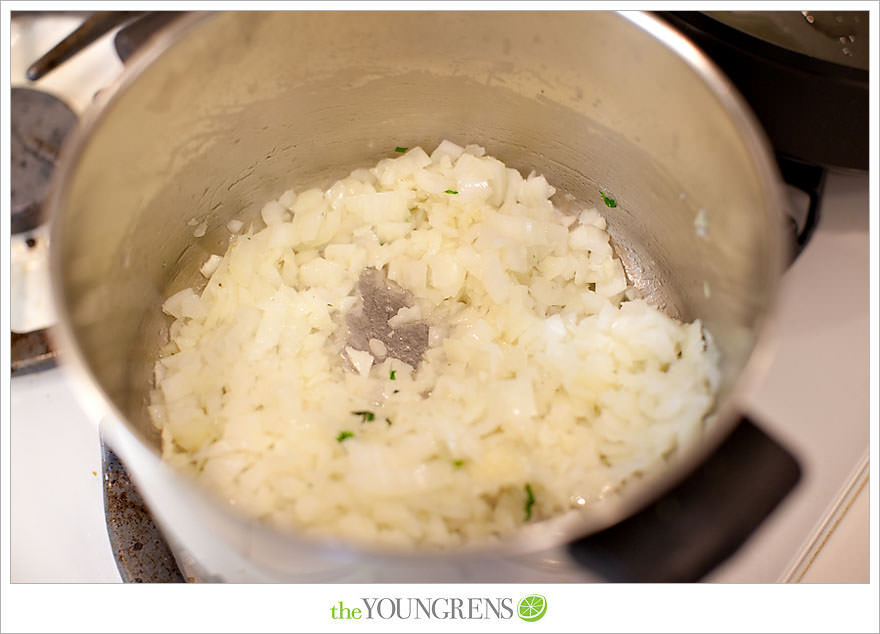 Then add your chili powder, seasonings, and rice. Stir everything to coat.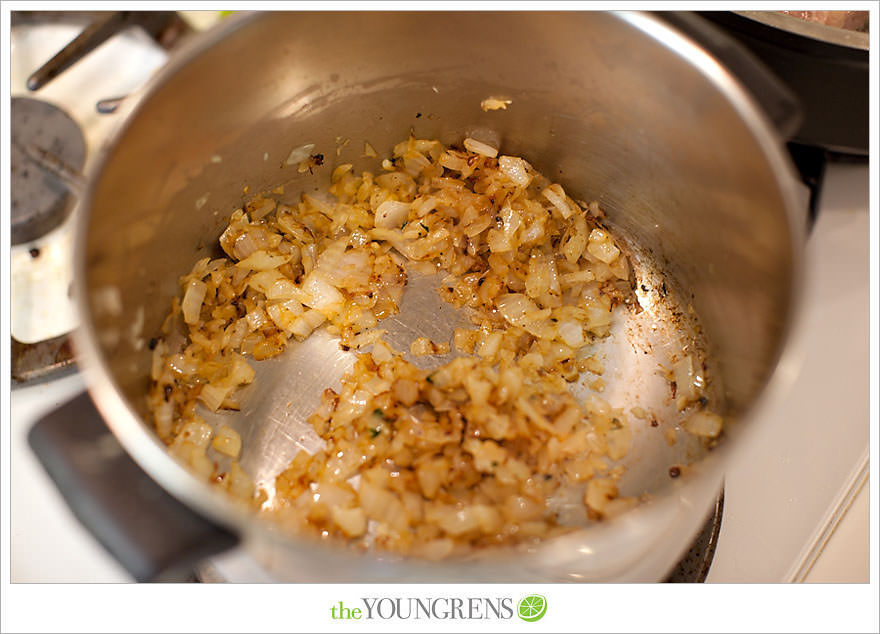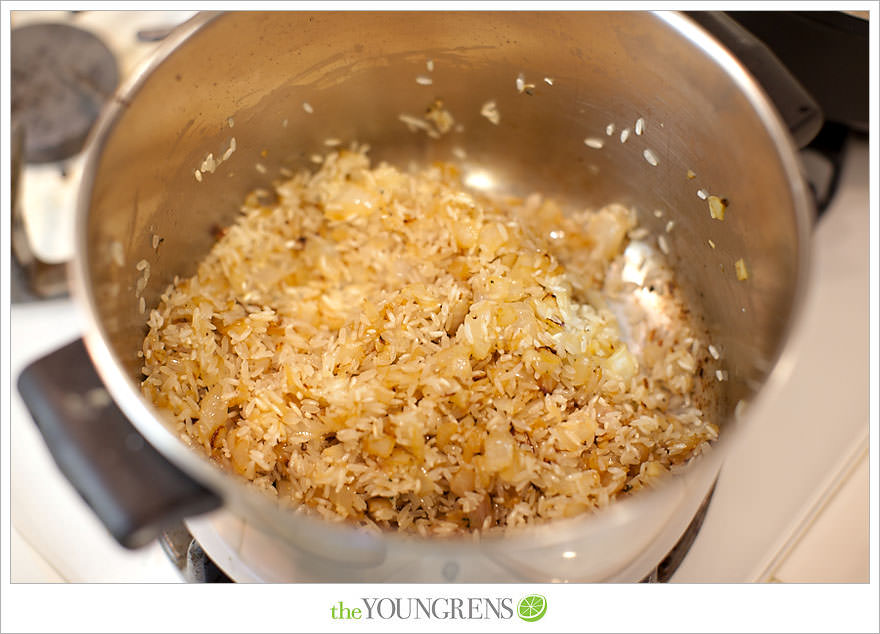 Add your water and the cilantro stems. I also added a bunch of lemon juice for a little more flavor and some more chili powder.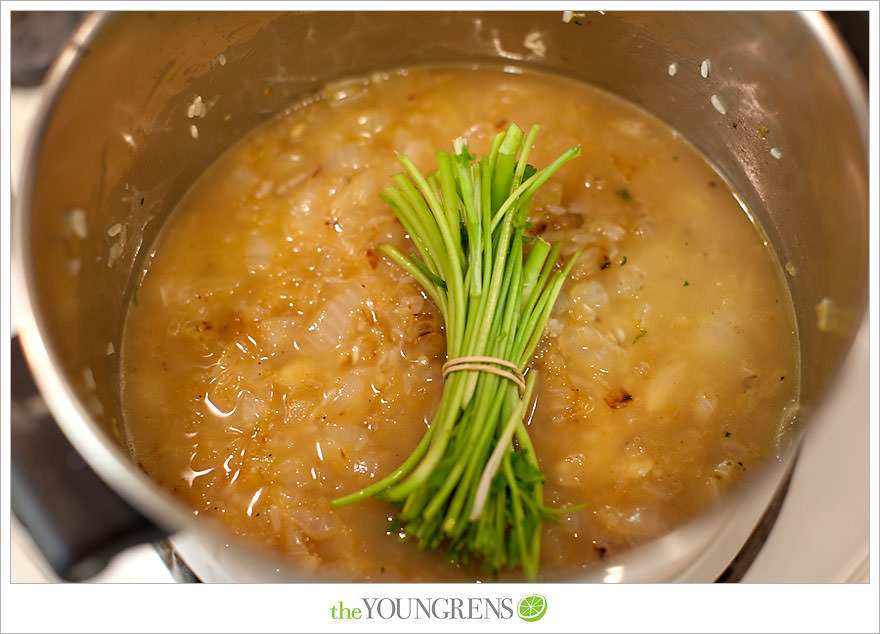 Cover it up and let it cook for about 15 minutes until the rice is fully cooked. I had to add some more water halfway through, so keep an eye on it.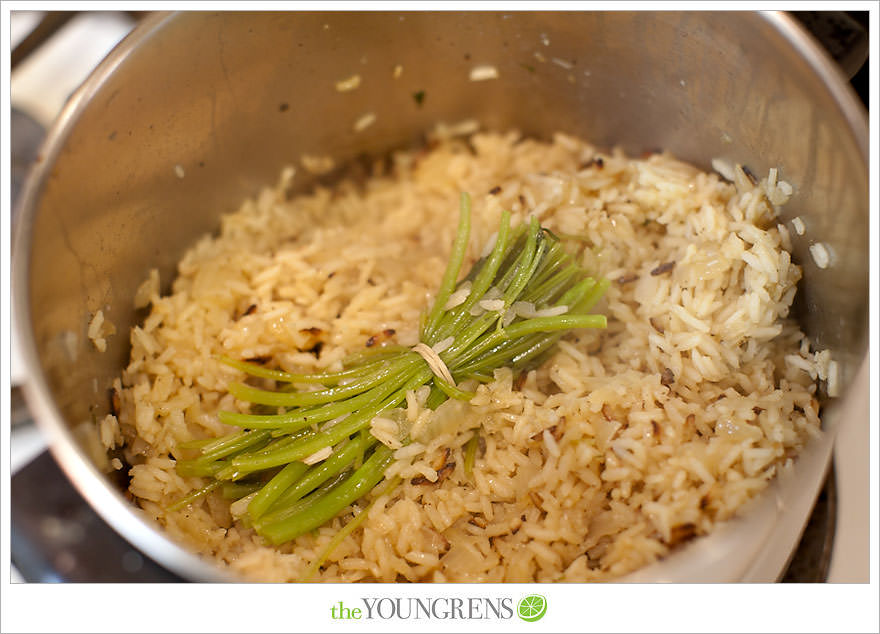 Toss in your peas and cilantro, stir it up a little and serve with some fresh lemons – yum!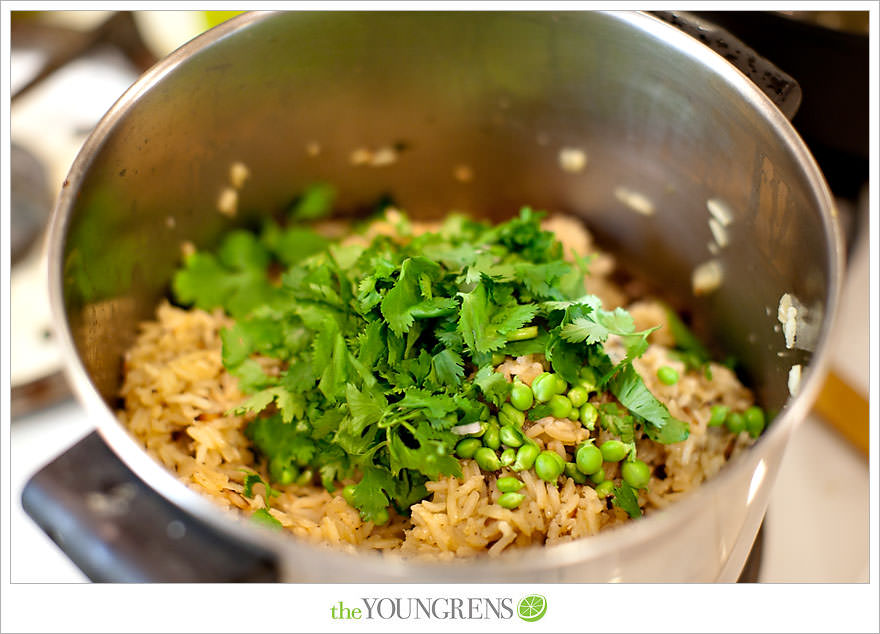 This rice is almost a meal on its own – it's substantial and heartier than most rice dishes, and we absolutely loved it!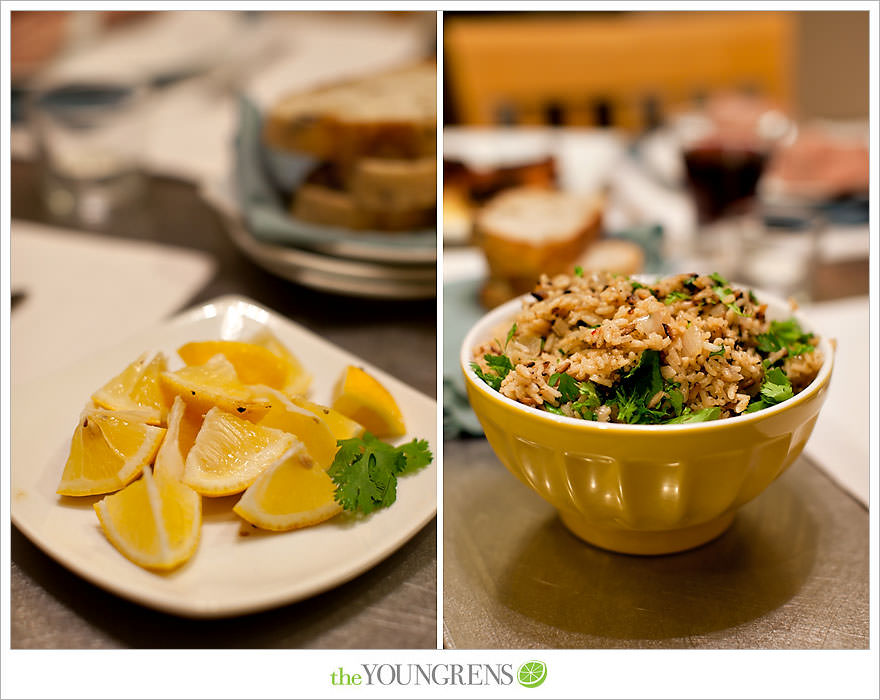 Rice with Peas and Cilantro
1 cup fresh cilantro, stems reserved
2 tablespoons extra-virgin olive oil
1 medium onion, finely chopped
1 garlic clove, minced
1/4 teaspoon chili powder
Coarse salt and freshly ground pepper
1 cup long-grain rice
1 1/2 cups water
1 pound fresh peas, shelled (1 1/2 cups)
Directions
1. Tie together reserved cilantro stems with kitchen twine. Heat oil in a medium pot over medium heat. Cook onion and garlic, stirring occasionally, until tender, about 8 minutes. Add chili powder, and season with salt and pepper; cook for 1 minute. Add rice, and stir to coat. Add cilantro-stem bundle and the water; bring to a boil. Reduce heat to low, and gently simmer, covered, until water is absorbed, about 15 minutes.
2. Remove from heat, and add peas (do not mix). Cover, and let stand for 10 minutes. Discard cilantro-stem bundle. Season with salt and pepper. Stir in cilantro leaves.
Hugs,
Erin