"Why not let our couples' speak?"
It must have been over happy hour nachos (or a burrito or a flight to somewhere) that Jeff brought it up. Instead of recapping 2011 on the blog with OUR favorite wedding and engagement images, why not ask our couples to tell us what their favorites are?
My hubby is brilliant.
Not only do I not have to go through the gut-wrenching exercise of picking out my favorite photos from the year after 80 some photo shoots (seriously impossible – think Erin hitting her head against the desk with a confused Gracie rolling around nearby), but I'll let our couples do the gut-wrenching exercise of picking out their favorites to share – hee hee. But seriously, how amazing for all of us to discover what it is that our couples love about their photos?? I have to give a HUGE thank you to our couples for their responses. Not only did they take this seriously, but they put so much thought and emotion into their choices. I have been so moved, excited, surprised, and downright brought to tears by what they've had to say about the moments we were honored to capture for them. I know what these images mean to us – some have been instrumental in our creative journey, some make me cry every time I see them, some make me laugh out loud, and some just remind me of how much I love the people we've been able to meet because of our cameras.
But to hear what moments and memories are most special and meaningful to our couples is priceless.
So here they are – our 2011 couples have spoken and have given me their favorite images from their weddings and engagements in a two part installment. Keep in mind that this is only couples that had 2011 weddings (our engagements that we've already shot for our 2012 couples will come next year) and some couples weren't able to respond for one reason or another and some couples didn't have engagement sessions along with the wedding.
So today, we're starting with our couples' favorite images from their engagement sessions and the thing that stands out the most is that the images our couples picked were the ones that told the story of their relationship. And that's the what the engagement session is all about – it's about putting their love story in a beautiful and authentic context. And it makes me so happy to hear that our hard work at bringing people to an authentic place within themselves during a shoot hasn't been lost – it's totally shone through in the images.
So here we go, let's start with Craig and Melissa.
Craig and Melissa's Travel-Themed Engagement Session
This lovable Chicago couple flew out to San Diego last winter to soak up some San Diego sun for their engagement session with us. They LOVE to travel and they spent a few weeks traveling Europe by train together at the end of Melissa's study abroad program in the UK, so we grabbed some vintage suitcases (thanks to Courtney Toney for lending them!) and we shot in and around the Santa Fe Train Depot in downtown San Diego. Here's Craig and Melissa's favorite images, written by Melissa (I LOVE the first one!):
"With this first image, I love the vintage suitcases, the colors, the foot pop! Traveling is a huge part of our story and I love how we were able to include this in our engagement session!"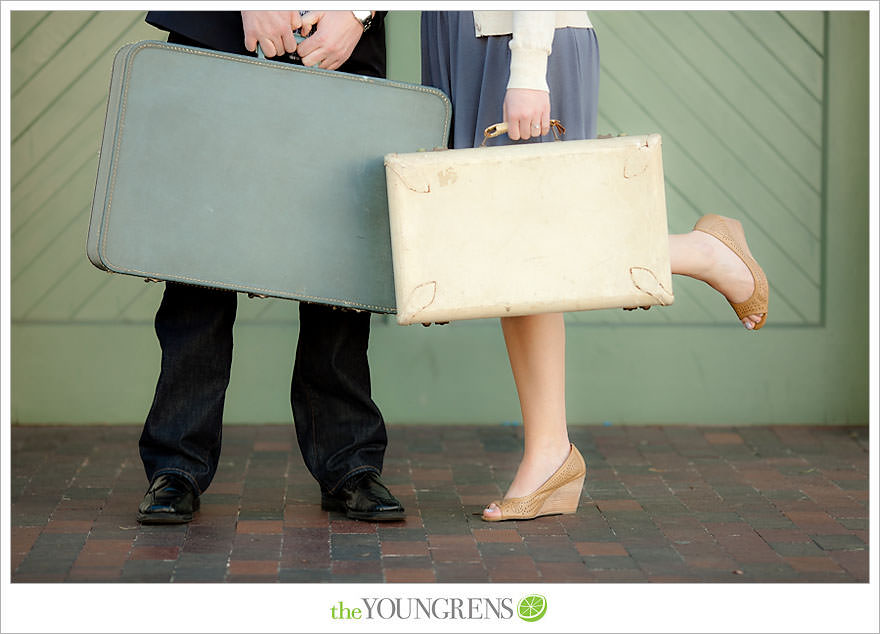 "I love this image because there were so many people in the train station, but it looks like we were the only ones there. I love, love, love the green of the sign and the fact that it says waiting room. This is such a gorgeous and romantic image."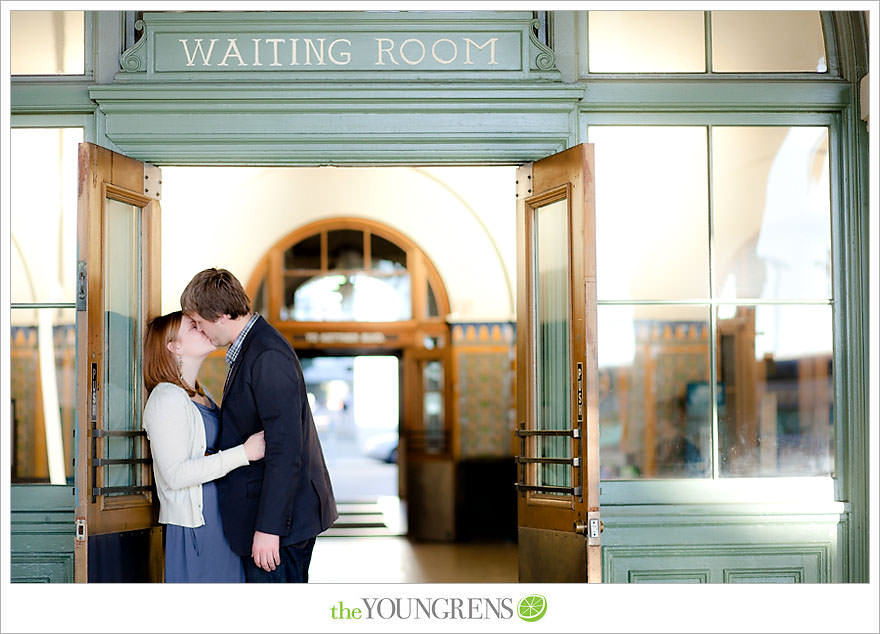 "Could it have been any more perfect that there was an old vintage looking train that just happened to stop at the station when we were shooting our vintage/travel themed engagement session?! We loved the setting and it took us back to our travels in Europe and the fun that we had while riding trains through the countryside of Italy and waiting in train stations nestled in the mountains of Austria. Thank you, thank you for capturing these special moments in our lives!"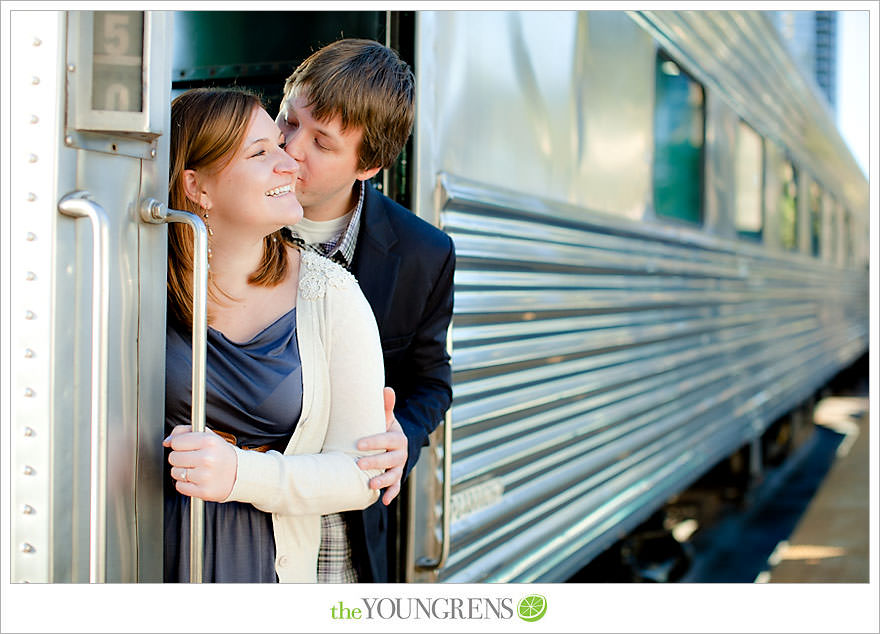 Jason and Elizabeth's Rowboat Engagement Session
Jason and Elizabeth (known as Lizzy and Ipp to their friends and family) met at a houseboat party and got engaged on a sailboat, so we kept the boat theme going by renting some rowboats out on the colorful Corona Lake. I love that the two images they chose as favorites show both sides of their personalities – their romantic hearts that are crazy in love with each other, and then Lizzy laughing at Ipp's constant antics (I totally relate to a hubby that CONSTANTLY makes me laugh). These two are SO REAL with each other and with us, and it never fails that anything Ipp writes totally makes me cry. Just wait until you read about their favorite wedding images tomorrow – you'll need tons of tissues!
From Ipp himself on their favorite engagement photos, and don't be surprised if you find yourself saying "awwwwww!!":
"I knew that planning our wedding would be stressful - in addition to planning our wedding day, we were also planning the next big chapter of our lives. It was easy to find ourselves so wrapped up in the details that we would forget to cherish the memories of our engagement. It was nine months we would never get to experience again.
When we arrived for our engagement pictures my mind was consumed with details – the shoot location, whether or not the striped shirt was a good choice, and how we would look in kissing pictures (I mean we could have looked completely awkward!)." (They weren't awkward AT ALL. Just hysterical and completely themselves.)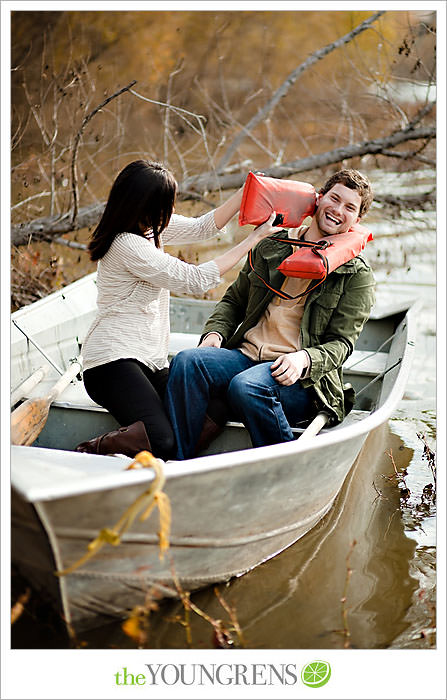 "During our engagement session Jeff and Erin gave us the greatest gift – a chance to breathe. A chance to forget about the details and focus on each other. It was a turning point for our engagement. We left the lake that day more in love than when we had arrived, and more prepared for the next step of our lives. It was a promise that they made when we arrived, and one that we were so thankful was fulfilled.
This image hangs on our walls as a reminder to daily take time to breathe, to love each other better, and to forget about the details every once in a while."
Mike and Sarah's Villanova University Engagement Session
Mike and Sarah met at Villanova University in Philadelphia and their sweet love blossomed while walking the romantic pathways of the school. Mike and Sarah are super romantic at their core and they truly believe in the power of beautiful storytelling, so they flew us out to Philadelphia so that we could tell their story in the gorgeous surroundings of Villanova in the springtime. It's one of our favorite engagement sessions to date, but this isn't about my favorites – it's about theirs! So here they are:
"We love the arch that we are cuddled up under. It reminds us of the architecture of Villanova. The connection made through our hand holding with the sun beaming through invokes such a warm and cozy feeling for us."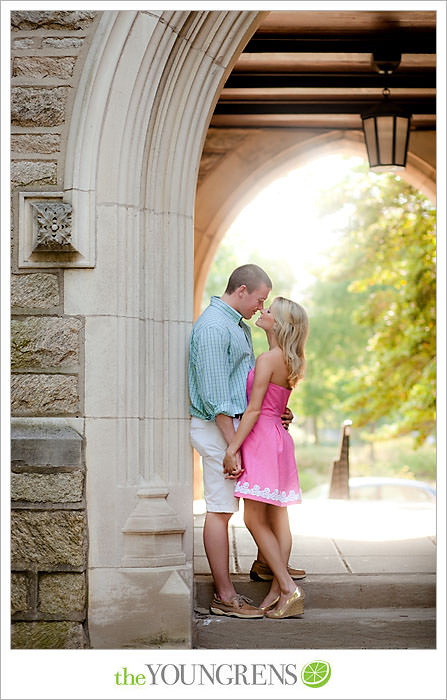 "This picture just makes us smile! Together we walked the pathways of Villanova's campus for so many years, creating great memories along the way. This picture reminds us of those moments – with the books in our hands and the look we are giving each other, it brings us back to the place we met and fell in love."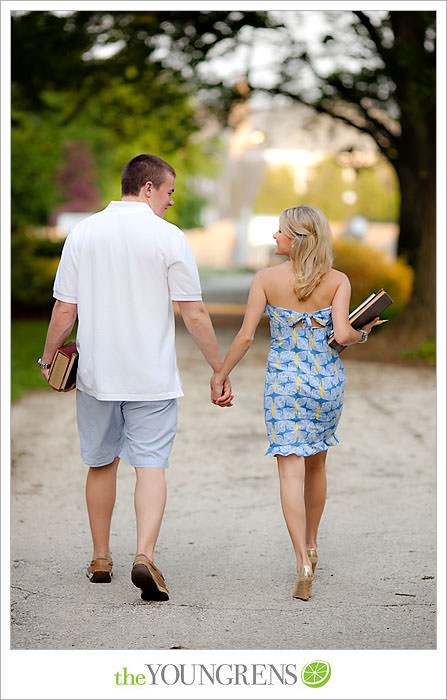 Matt and Holly's Engagement Session at Disneyland
Oh my goodness – Matt and Holly make my heart so happy! These two met at Disneyland in Anaheim and fell in love while working at Tokyo Disney (I know – does it get any more romantic than that?), so these theme parks mean the WORLD to them. But these two are softie romantics on the inside with a hysterical exterior, and their favorite image also happens to be MY favorite image of them. This is THEM. At their core. Everyday. Nothing tells their story better than this one.
"This picture is my favorite from our engagement session because the image captured my handsome jokester fiance making me laugh the way only he can.  Every time I look at this picture I can't help but smile and remember how much fun it was at our photo session, but more importantly how much fun it has been to fall in love with him every day of my life."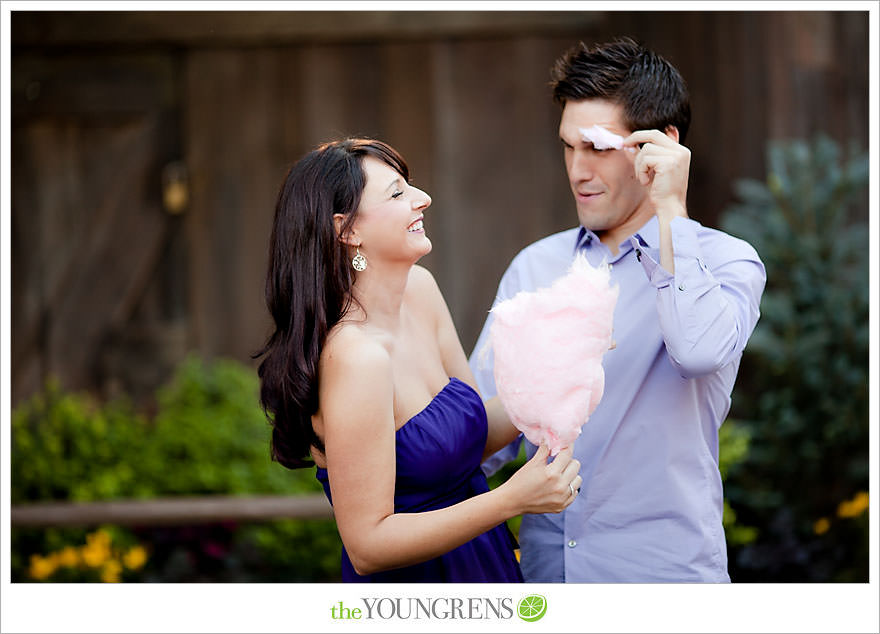 Jeff and Kelsey's University of Washington Engagement Session in Seattle
Jeff and Kelsey are the SWEETEST. They met in accounting at the University of Washington in Seattle, and Jeff showed up at Kelsey's door every morning to walk her to class from then on (I know, Jeff is a total sweetheart). They love their pup, Fletcher, and they know who they are – both as individuals and as a couple. They're easygoing lovers of life – evidenced by the fact that Kelsey pulled out the perfect green umbrella and adorable hot pink Hunter Boots when the forecast said rain for their engagement session. I love a girl that makes the best of any situation! Here's their favorite, written by Jeff:
"It's only fitting that our favorite engagement photo includes our first pup, Fletcher, wearing doggles and was taken in a drizzly Seattle day at the Quad on the University of Washington campus. Only a few buildings away from where this picture was taken is the building where Kelsey and I started dating as the result of a couple fun Accounting 215 study sessions. We give ourselves bonus points for our footwear: Kelsey love's her Hunter boots and I love having a pair of Vans on my feet."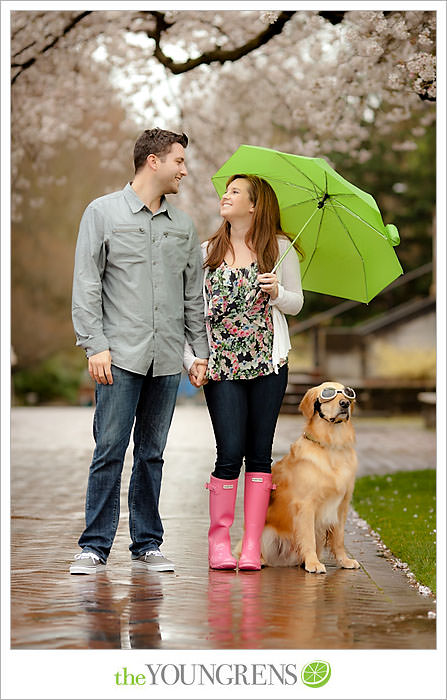 Brian and Maria's San Francisco Engagement Session
They love to laugh and they love life! Brian and Maria met and fell in love while watching football games in a bar in San Francisco, and this totally describes their easygoing relationship! Since they live only a few blocks away, their favorite places to hang out in the city are the Palace of Fine Arts and Crissy Field with it's epic view of the Golden Gate bridge. I love Maria's description of their first favorite image, which is an image that we've gotten TONS of comments on:
"Does it get any better than this?" (My answer: nope)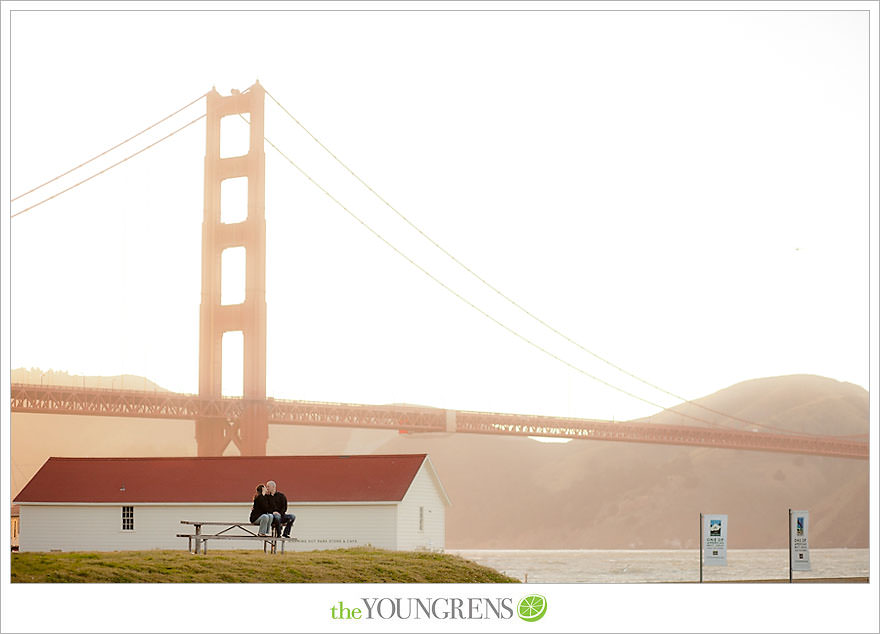 "Brian and I laugh a lot together and this moment captured our relationship perfectly. It was a typical San Francisco day – cold, damp and windy. But we loved the colors and the backdrop of the green door."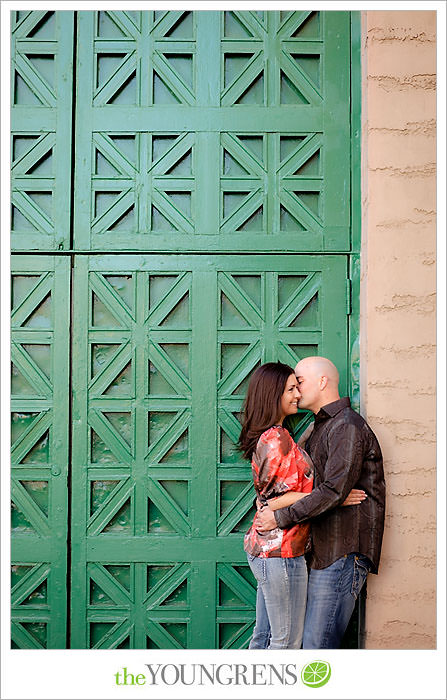 "The background is beautiful and it's one of our favorite places." (Erin: This is totally one of my favorites too!)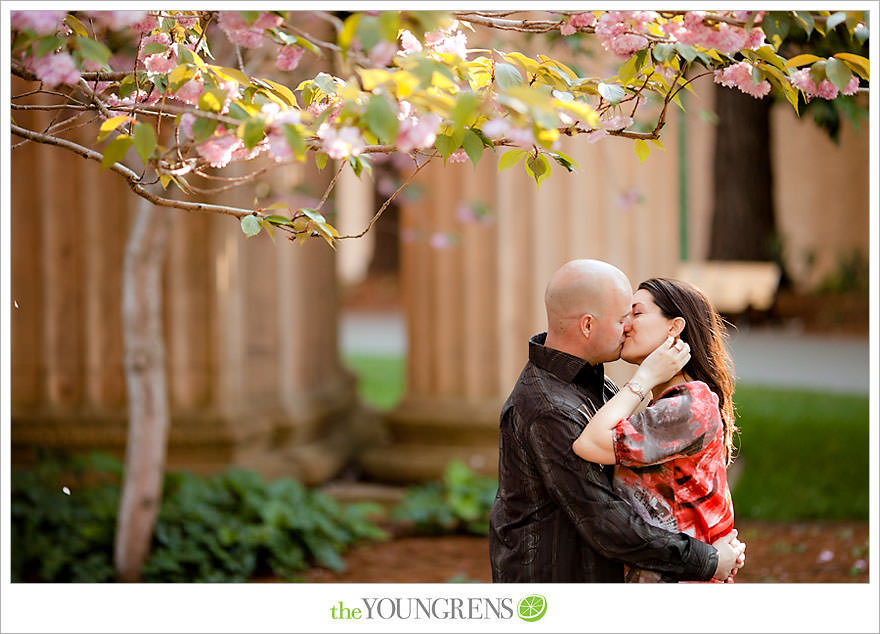 "We just love the cherry blossoms and the lighting in the background."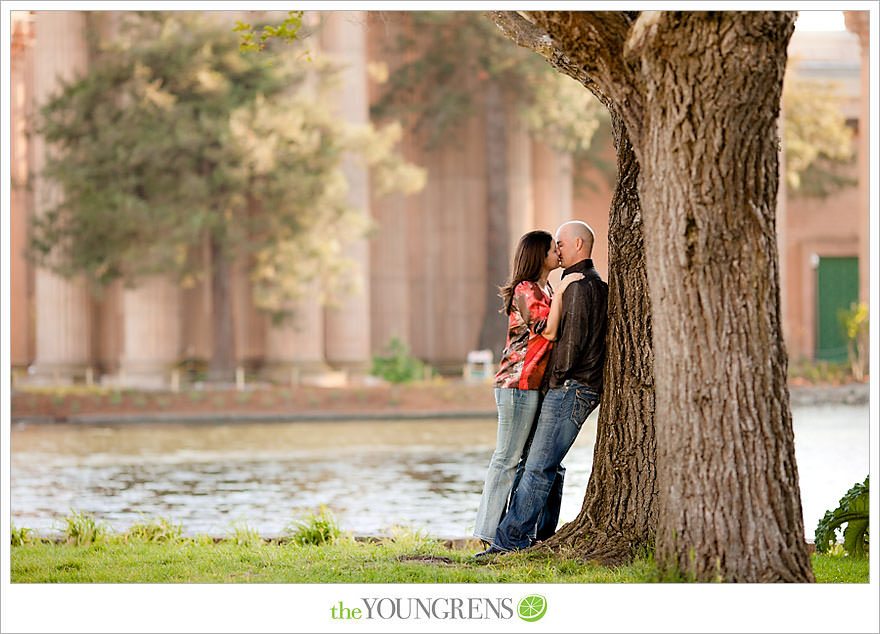 "Our favorite pastime – picnic with wine. It reminds us of memories we both cherish and love." (I love a girl that brings props!)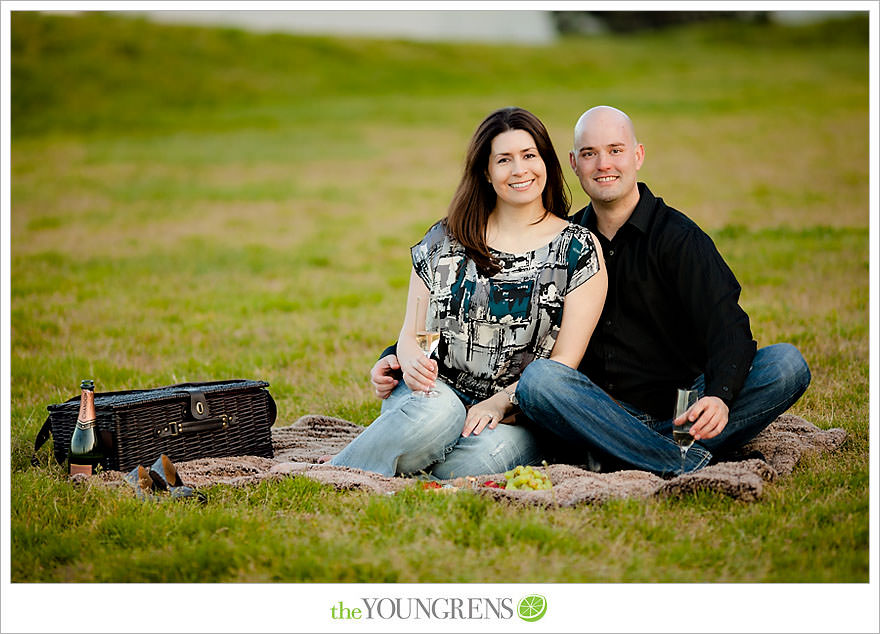 Jared and Kathryn's Cowboys-on-the-Beach Engagement Session at Corona Del Mar
Kathryn is a Southern California girl that fell in love with a Texas boy at Wake Forest University. He's got that Texas charm that just melts your heart and she's got that bright spunk that only comes from a lifetime of living on the beach. So the best way to combine the two? Bring the cowboy to the beach! They both wore cowboy boots as we shot around the beach at Corona Del Mar, the place where Kathryn grew up and where they got married a few months later. These two have a deep connection with tradition, so I love that they picked a favorite photo that will be a hallmark in their story for the rest of their lives!
"This is probably my favorite picture of the two of us. Ever. We rarely take a picture that we both love, but we both love this one. First of all, we both look good! We are both genuinely happy and were having a great time at the photo shoot. I also love the colors and how they bring out our eyes. The beach in the background completes it. This is framed on our wall and proabably will be for years to come!"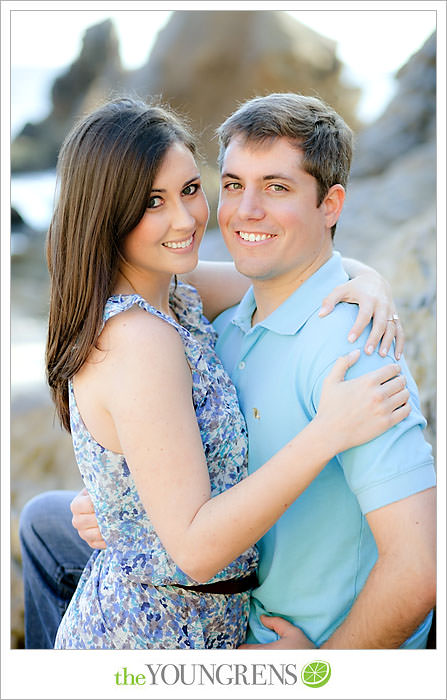 Brian and Susi's San Francisco Engagement Session
We had so many amazing couples in San Francisco this year, but it was pretty cool to see the different sides of the city that they all loved. Outdoor enthusiasts, wine lovers, and big foodies, Brian proposed the night they moved in to their first home in the city. They had a home together, and now he wanted an entire life with this quiet, wonderful woman that had captured his heart so completely. Hanging out with these two at their engagement session was only a small preview to the AWESOME time we had with them at their destination wedding in Lake Tahoe, and I definitely feel like their favorite engagement photo sums them up so well. From Susi:
"We love this picture because of the Golden Gate Bridge backdrop. It is us, sharing a private moment in front of the bridge, which represents the city that means so much of us."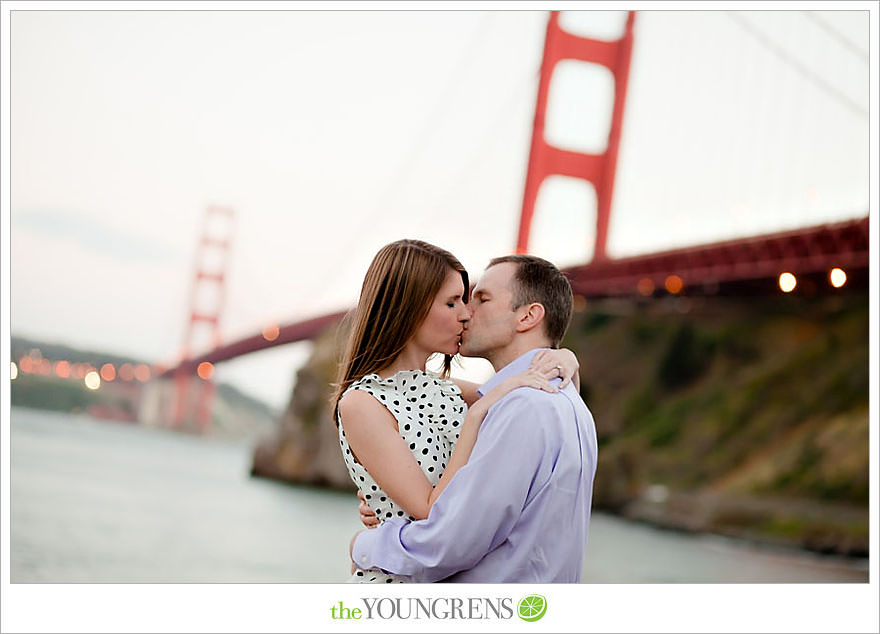 Ralph and Julie's Giants' Stadium Engagement Session
Ralph is a HUGE fan of the Giants, so it was only appropriate to shoot inside the stadium of the 2010 World Series Champs. Ralph is a super emotional guy (just wait until you hear what he says about his favorite wedding image – tissues required), so he and Jeff totally hit it off like nothing I've ever seen before. Think two crying men at dinner while Julie and I just giggled at our emotional men. It was pretty stinkin' cool to hang out with a couple that has the same emotional connection that Jeff and I have! This first image is Ralph's favorite:
"The reason I chose this image is easy.  We were in our favorite baseball team's stadium (Go Giants!), and completely alone in one of the most beautiful cities in the world with my incredible soon-to-be wife – I felt so at ease. I knew moments like these don't come everyday so I just took it all in. It was AMAZING!"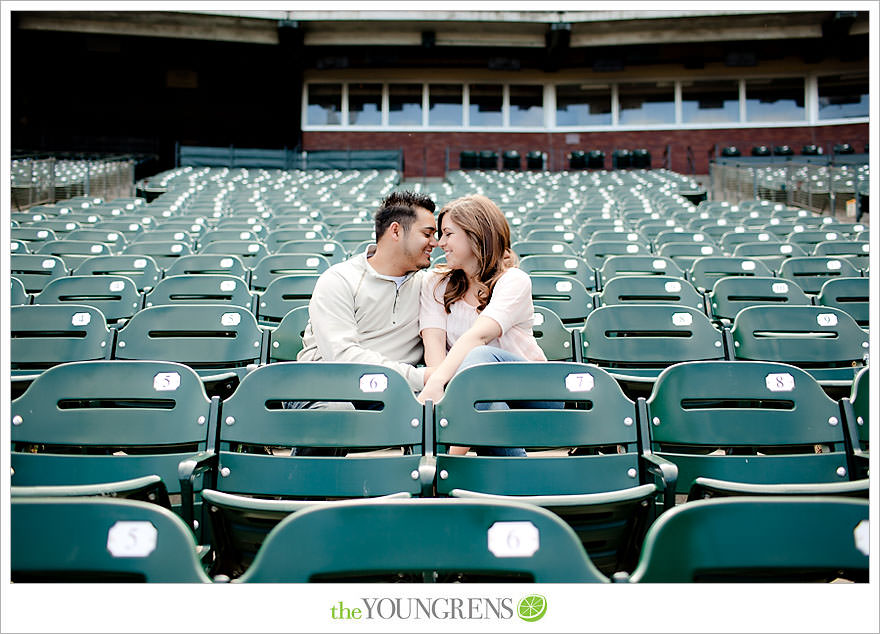 Julie's favorites (and yes, she chose both of these images. She's a girl after my own heart with pairing two images together!): "Ralph and I currently have very stressful lives. Our engagement photo shoot day was pure fun where we got to be ourselves, have our phones taken away, and enjoy each other's company. This shot captures us as real as you can possibly get. Ralph goes above and beyond, every day of our lives, to do whatever he possibly can to make me smile. And I always sigh and tell him he's a nut case. 🙂 I also LOVE how modern, different, vibrant and amazing the background is."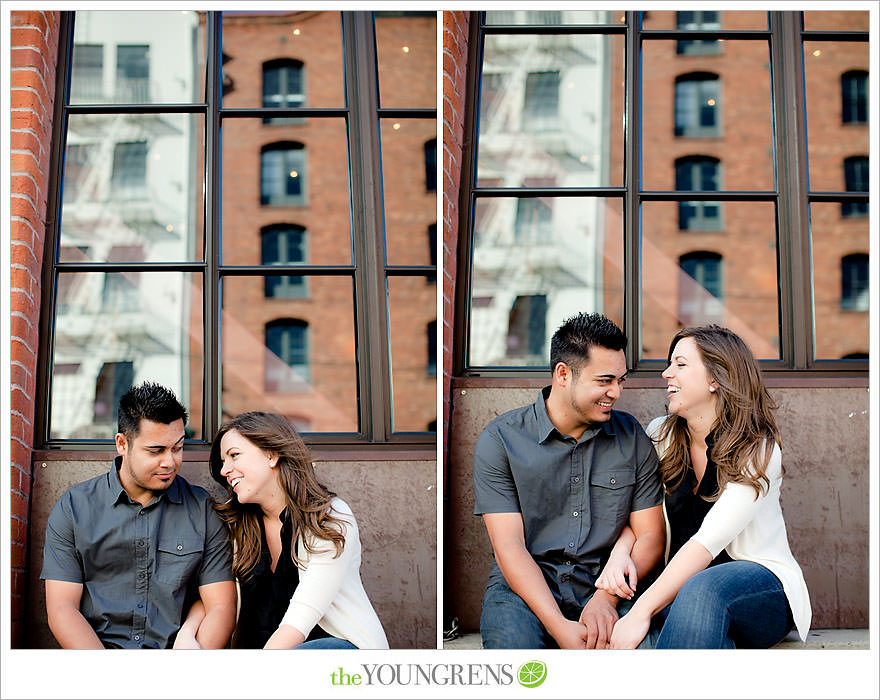 Michael and Jamie's Chapman University Engagement Session
Chapman University is the backdrop where Michael and Jamie came together and fell in love. It was between classes, hanging out with friends, and finding sunny spots on campus that they discovered each other's hearts and passions. A professional opera singer, Michael is a creative soul with a passion for all the good things in life – art, wine, food, and his beautiful firecracker of a girl with a spunky spirit. They had quite a long engagement, so these engagement photos were actually taken in the summer of 2009, but it gave us so much time to get to know these two and dive into their story. From Jamie:
"This to me was something that would have been a regular occurance at school. I loved to lay at this fountain and just hang out. I found it calming. This picture looks like you just happened to be walking by and snapped a pic of us. I have this one up at my office. :)"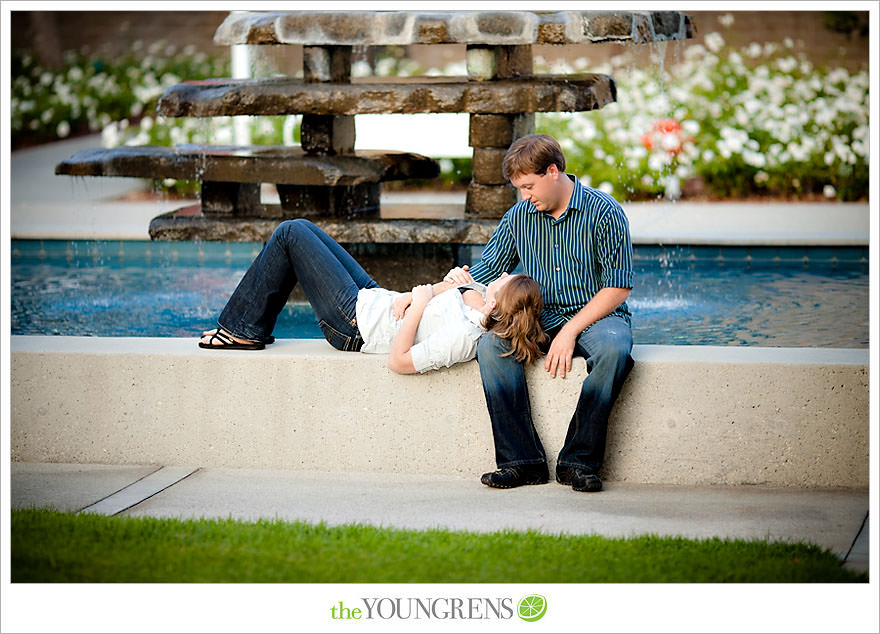 "This was taken outside the science center, where we spent a lot of time as this was in between the two buildings we each spent all our time. I love how well we "fit" together and the happiness in our faces."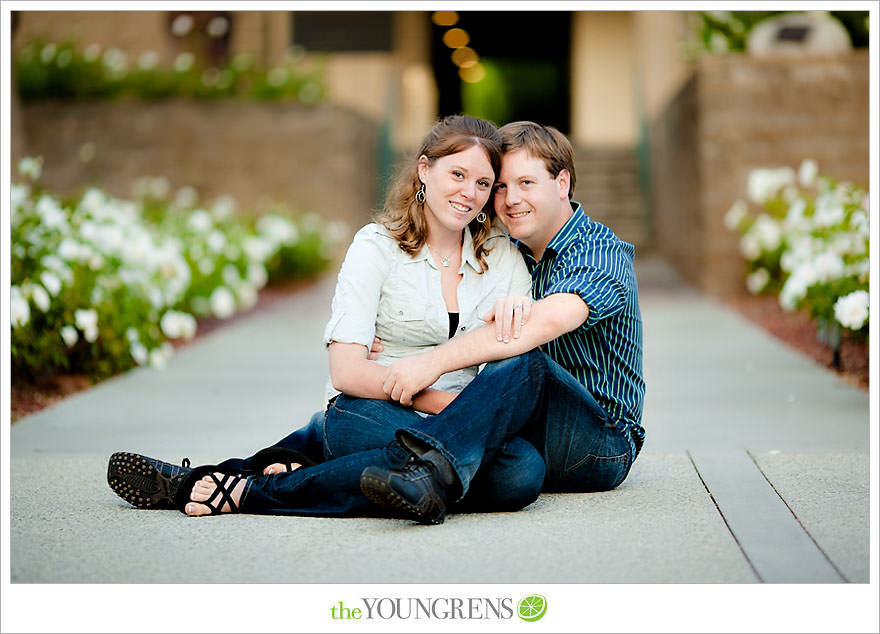 "This was used as our invitation background, and we have a print up of this in our living room. This picture captures the essence of us and our love for each other. We had so many memories in that same spot on campus that this moment was beautiful!"
Jason and Michelle's San Diego Engagement Session
After putting all of these engagement sessions together, it's so funny that this is one of the few sessions that we actually shot in San Diego – ha! We were all over the place this year! But Jason and Michelle are a perfect fit for San Diego. These two are actually from the east coast, and when Jason got a job offer in San Diego just a few months after they started dating, Michelle had to decide whether this boy was worth the move away from the east coast and everything she knew. According to Michelle, following Jason across the country from Maine to San Diego was the best decision she ever made. They LOVE San Diego and they love each other. So we picked a spot that combined the two coasts – the trees and color of Maine, but the warmth and sunshine of San Diego. Here's their favorites, from Michelle:
"I love how this image captures an intimate moment between us. It's like the camera isn't even there.  Jeff and Erin made us so relaxed that we were able to focus on each other and tune the world into the background."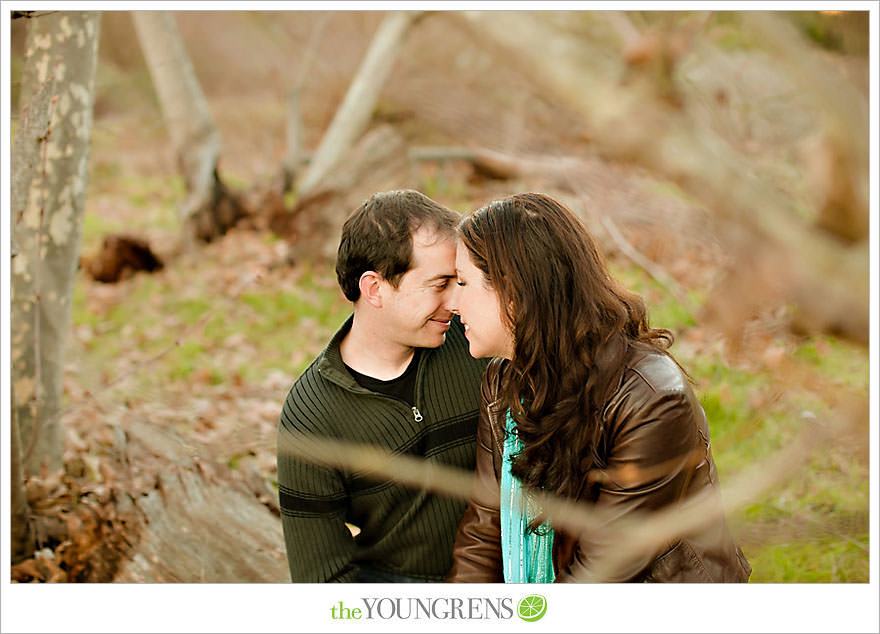 "The different pose combined with the traditional feel of an engagement photo made this one of my favorites.  The lights/colors in the background highlighted the two of us without making it look posed at all."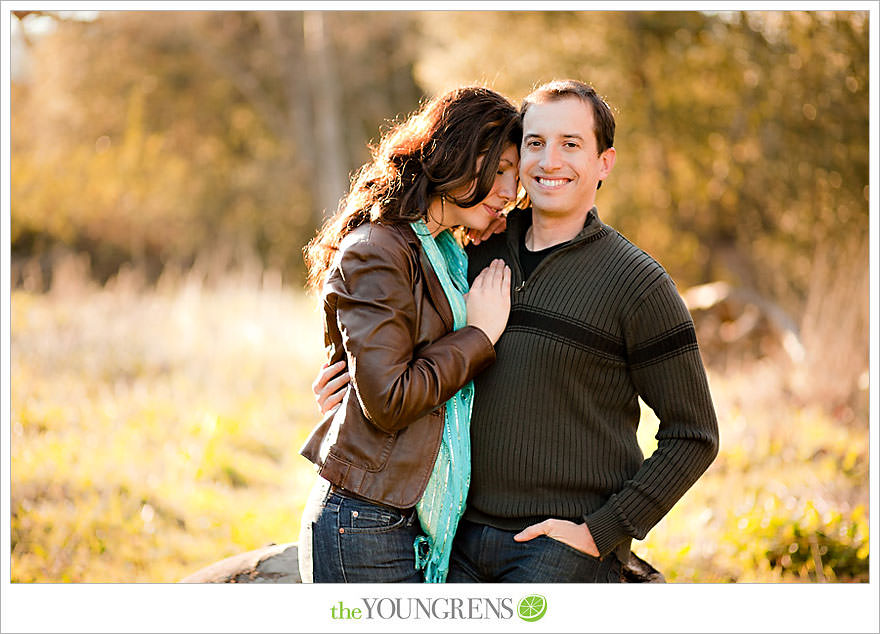 "This image captures the enormous beauty surrounding us.  But more importantly, it captures our outlook on life as a couple.  Although life will be difficult at times, it will always be glorious and a wonderful challenge when faced and conquered together." (How they climbed up in that tree was truly a feat of positive inspiration! These two were down for anything and Jason was so sweet to help his adventurous lady climb out on the enormous trunk.)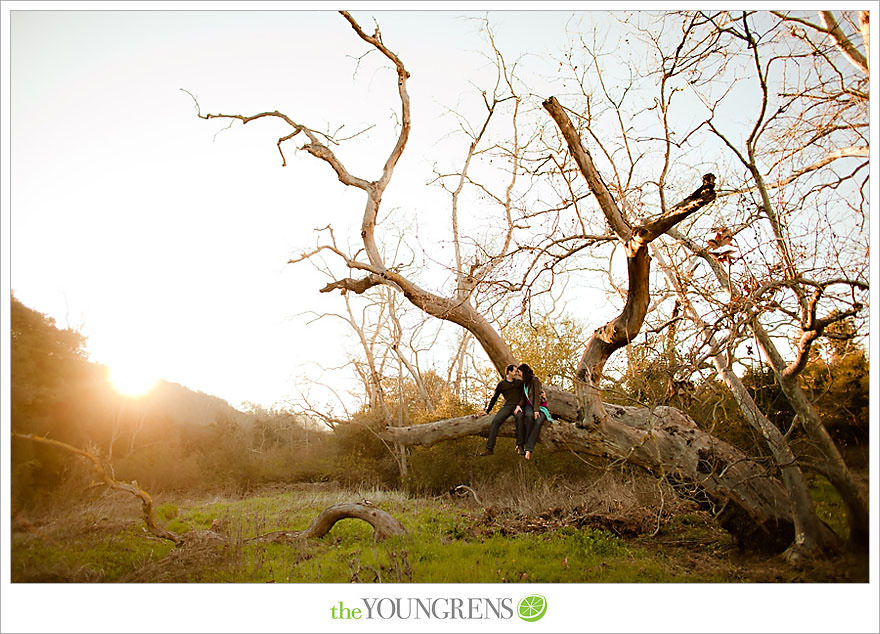 "Our animals are so important to us and it meant tons that Erin and Jeff were not just willing to let them tag along, but also took AMAZING photographs of them. I use these for screen savers, framed images, and cards all the time!  They've never looked so photogenic and I can't wait to show them off to everyone!"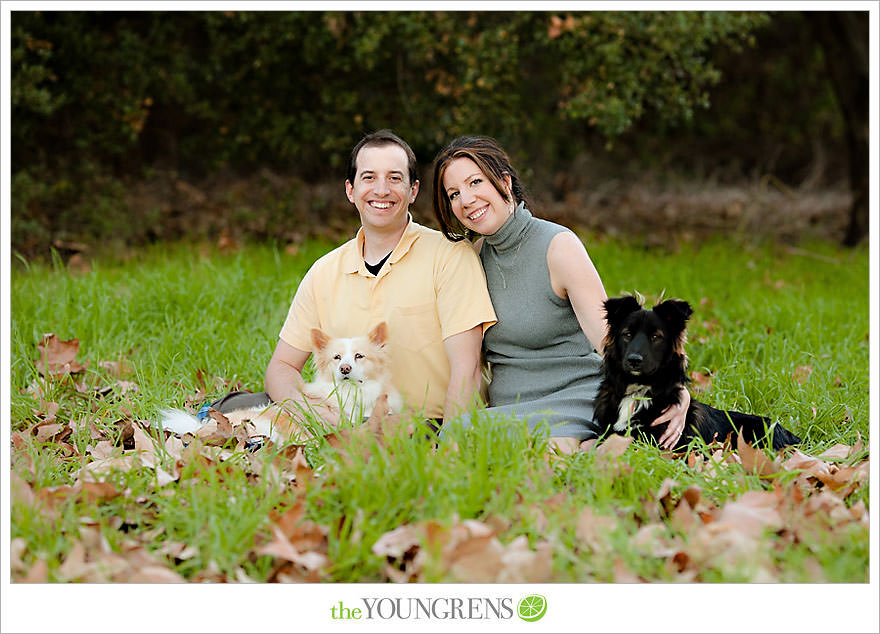 Tomorrow we'll be featuring all of our couples' favorite wedding images and this post is going to be one of my favorites from the entire year. Come prepared – you'll need a mug of your favorite tea, your favorite holiday treat left over from the weekend, and an enormous box of tissues. Our brides and grooms are SOOOO emotional! And I love them for it… See you then!
Hugs,
Erin