I recently posted six tips for styling your groom for your wedding day (thanks for all of the comments and blog love everybody!) and it garnered some questions about what brides can do to create a fabulous look for THEIR photos. As in, what makes the biggest difference in the way a bride looks?
Well, to be completely honest, I can only tell you what I think makes a beautiful bride, so this whole thing is going to be based on my own personal taste and style. But after photographing a hundred brides or so over the past six years, that personal taste is based on seeing a LOT of shapes, sizes, and personalities.
So what do I think is the best bridal style to photograph? Hands down it would be a timeless, sophisticated look with a trendy twist.
Take Susi for example. She's one of our amazing brides that chose a bridal look that sums up my taste perfectly. Little, petite Susi picked a fitted Monique Lhuillier wedding gown with a classic trumpet skirt that made her legs seem ten miles long. This style of dress fit her slender frame perfectly and accented her body in all of the right places. Total hottie. But my favorite part of this dress is that the top is a beautiful lace corset, an unexpected twist that speaks to the trends of today, but will remain timeless for years to come. BAM – a stunning, timeless look with a stylish twist thanks to Miss Lhuillier and the keen eye of Susi.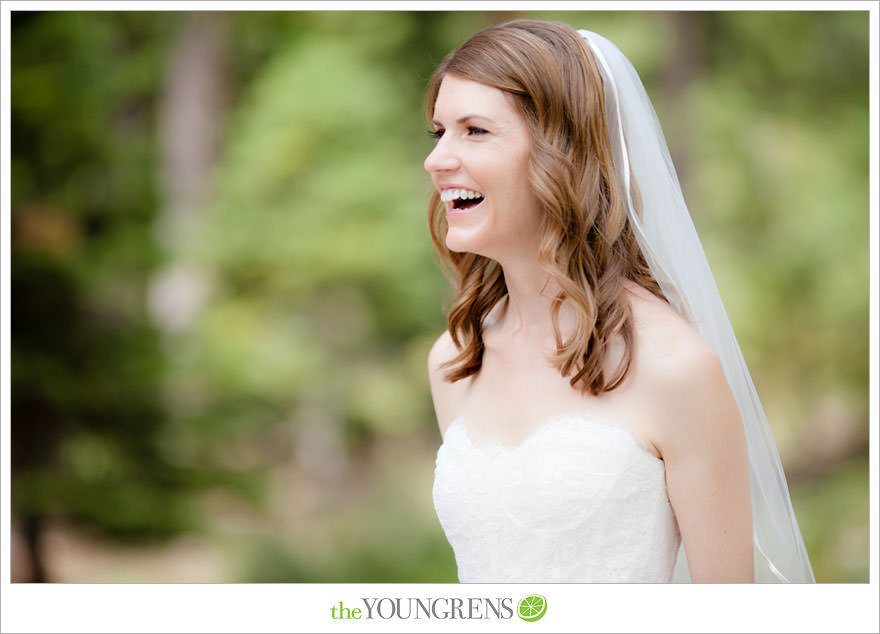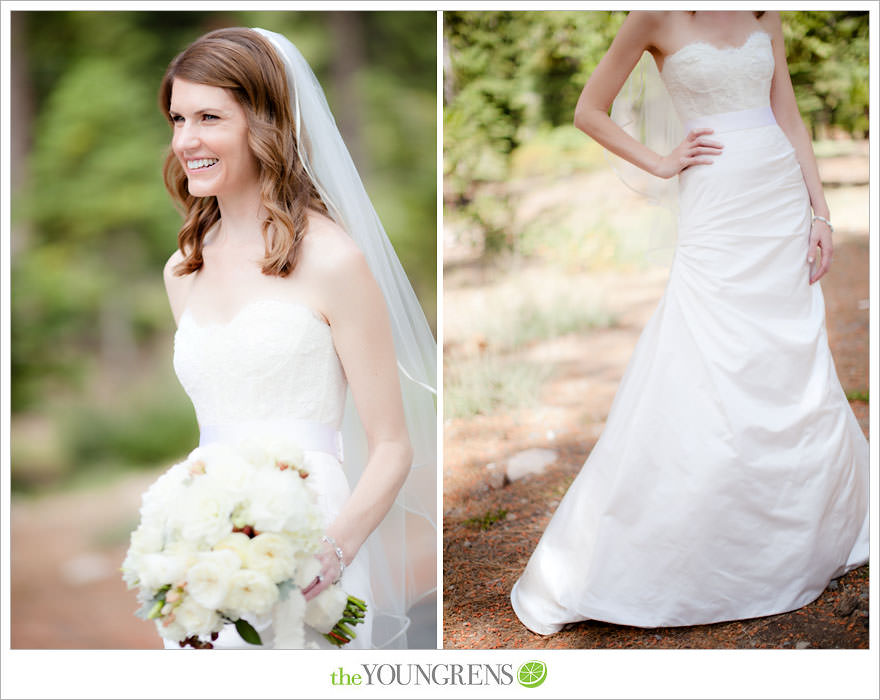 So what are the small things you can do to achieve that sophisticated, timeless look, but add a little somethin' somethin' unique? Glad you asked…
1. A Simple Dress for Your Body Type
In my opinion, the true star of the wedding day is the love you share with your man, and how stinkin' beautiful you are as a bride and groom. So just like Susi's bomb-diggity Monique Lhuillier, the dress should only make you and your body more beautiful, not take it over. I love J.Crew wedding dresses just for this reason. They're simple, flowey, and classic which makes any girl look amazing, such as Lizzy's soft and sweet J.Crew gown that fits her chill personality so well.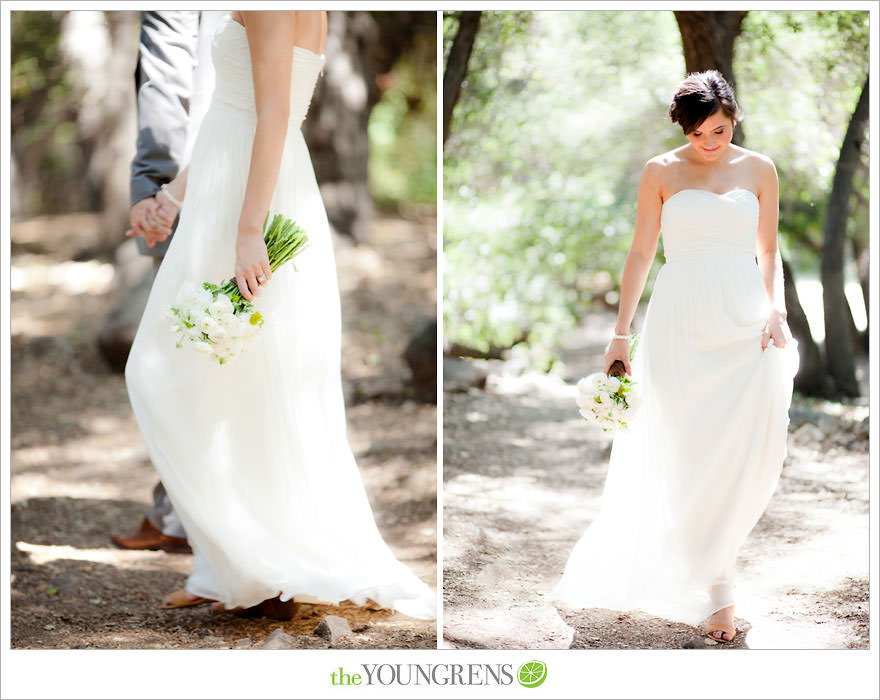 Or take Kate's beachy J.Crew number with a touch of character in the flowers for her destination wedding in Cabo San Lucas, Mexico.  It's simple and classic, but the flowers add just the right amount of trendy twist.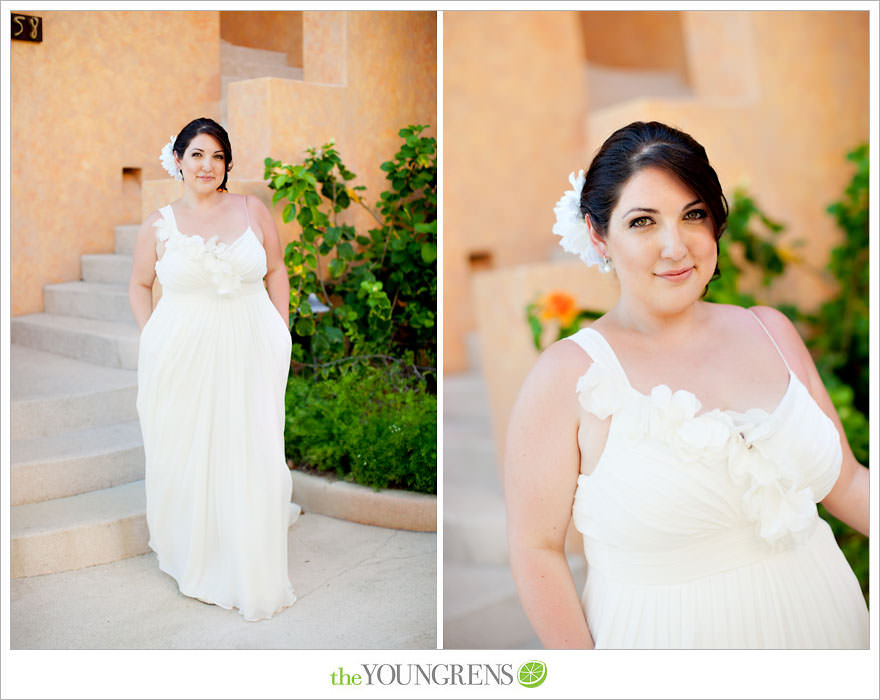 Claire Pettibone is also a favorite designer of mine. Her unique lace infused designs are always rich with detail, but they only enhance the natural shape and beauty of a girl. Take Erin's Asian-inspired Claire Pettibone for example – it's unique and interesting for their multi-cultural wedding at the Marvimon House, but makes this super tall and slender girl look dynamite!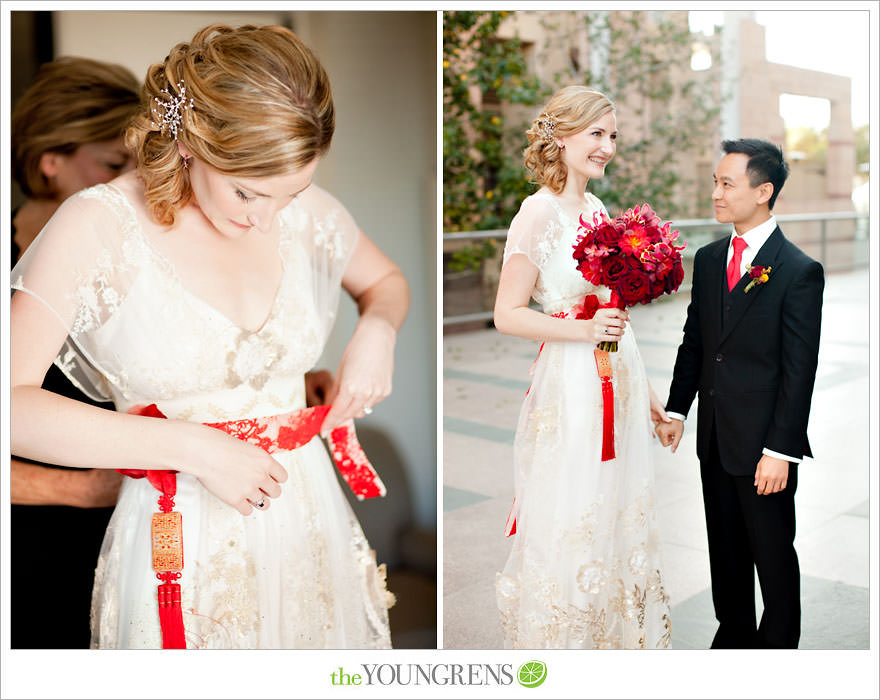 A few more simple dresses with unique details I love, such as Amy's lace number that fit her like a glove.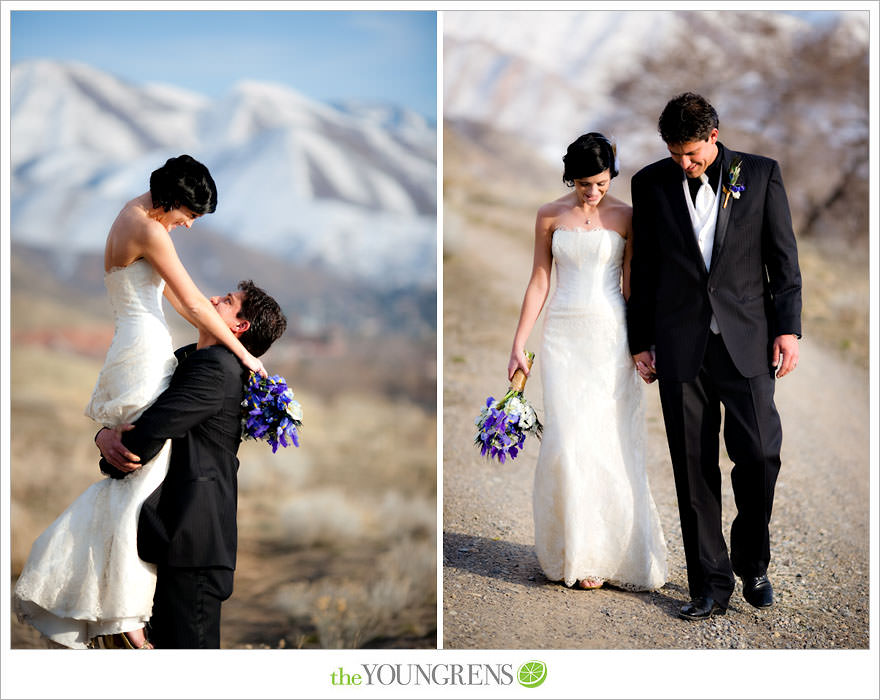 Meredith's timeless dress that will never lose it's sweetness.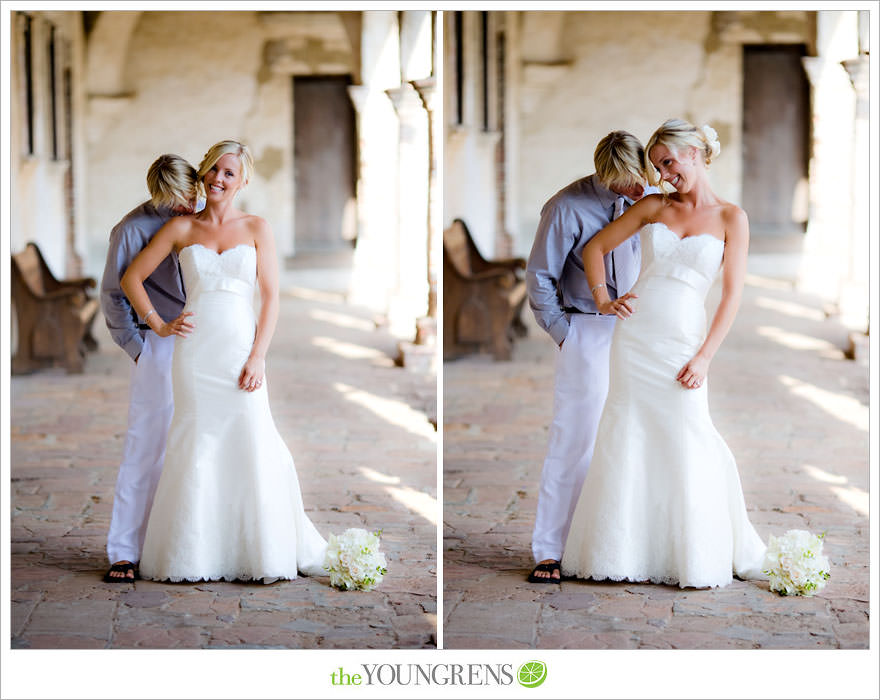 Stephanie's crazy simple look that accented her natural beauty.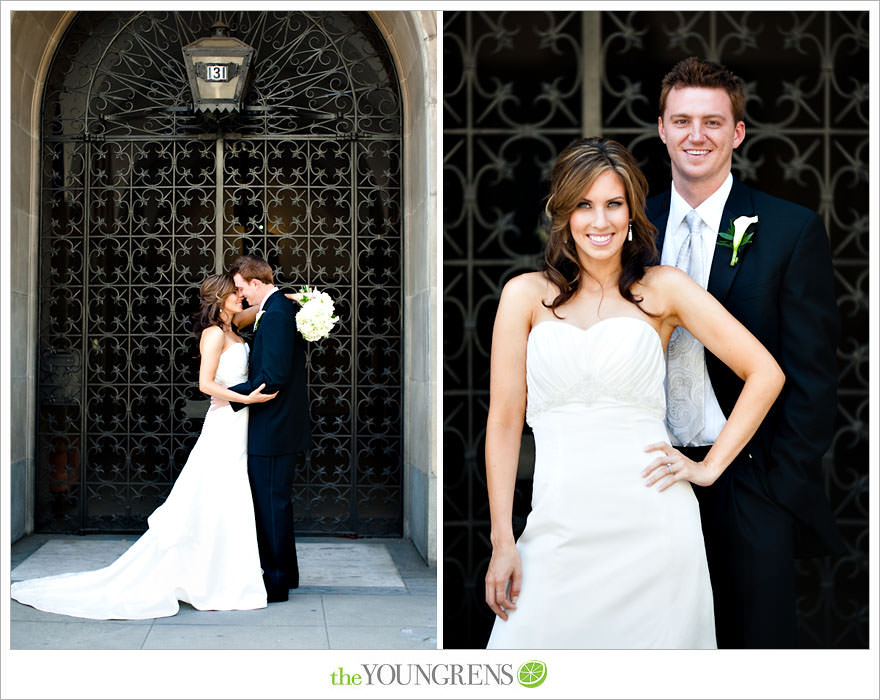 And Julie's classic cut with a bow in the back to add some flair.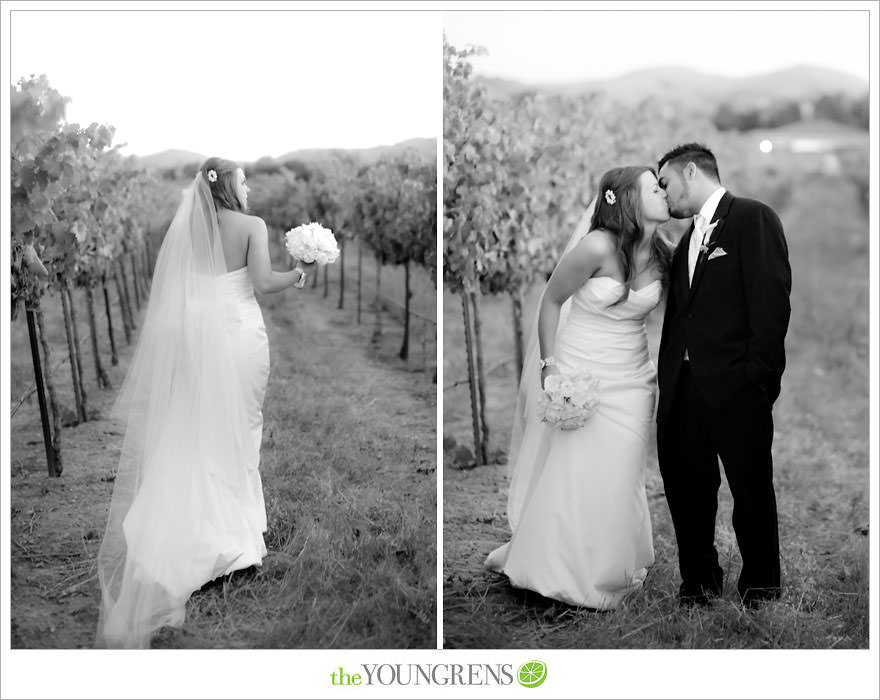 One last note on dresses – shoving your body into a tight dress in order to look thinner causes spillover on top (girls, you know what I mean), and that looks much more unappealing than a slightly wider waist. You may look great as soon as you put the dress on, but the nasty truth is that your body will spill out more and more throughout the day as you move around in the dress, so by the time the reception rolls around you'll have everything coming out of the top. Don't force it.
2. Add a Stylish Hairpiece to Simple Hair
When it comes to hair, I love updos that lengthen the neck, or soft curls that accent the shape of the face. This will keep any look totally classic.  But I also love when hair stylists add a fun twist to the typical updo with an interesting braid or a new twist that make guests do a double take when they see your fabulous self walk down the aisle. Also, add a fun hairpiece that is simple enough to be timeless, but fun enough to make your inner fashionista do cartwheels of joy, such as Carly's classic updo…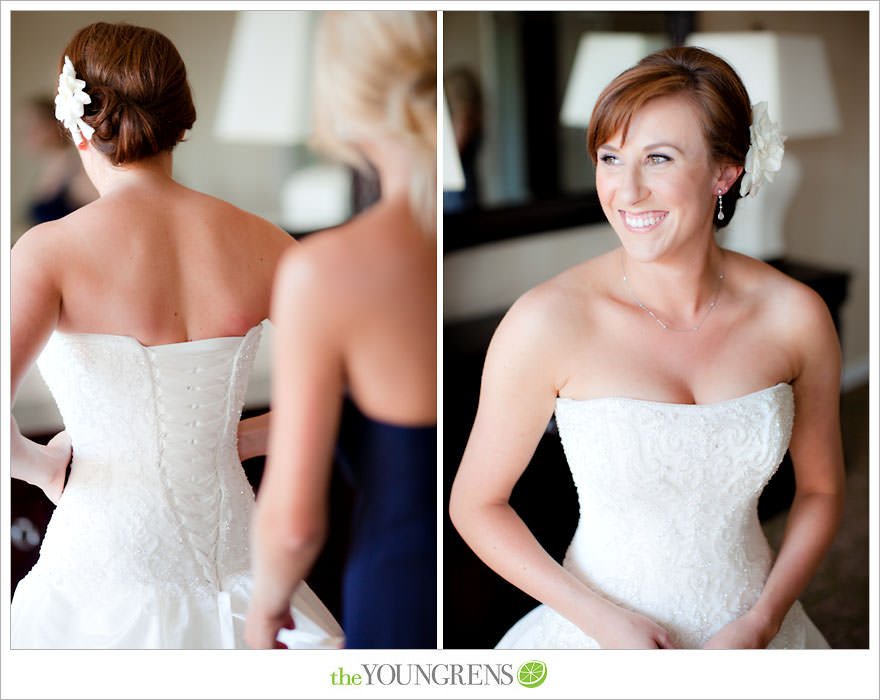 Erin's intricately, braided design…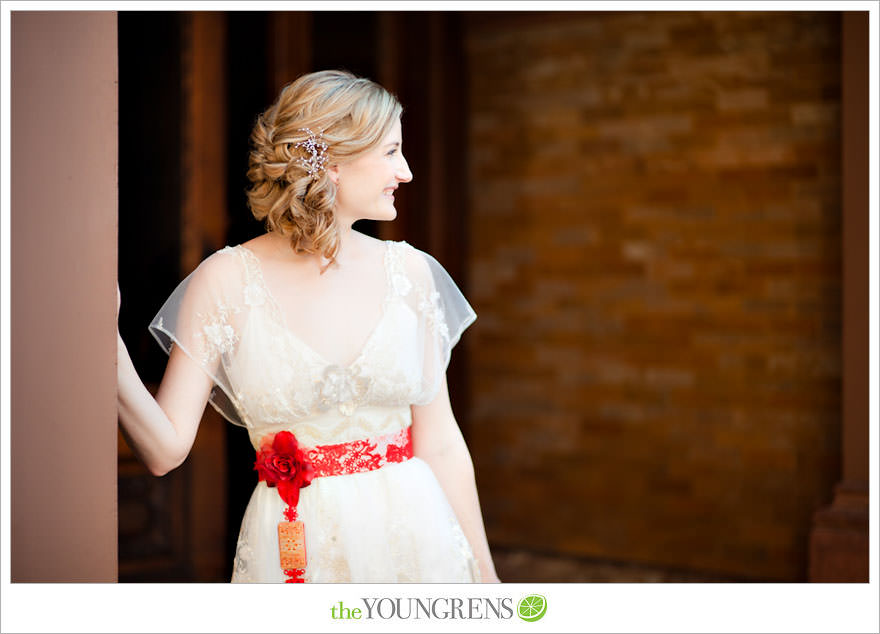 Amy's peacock feathers…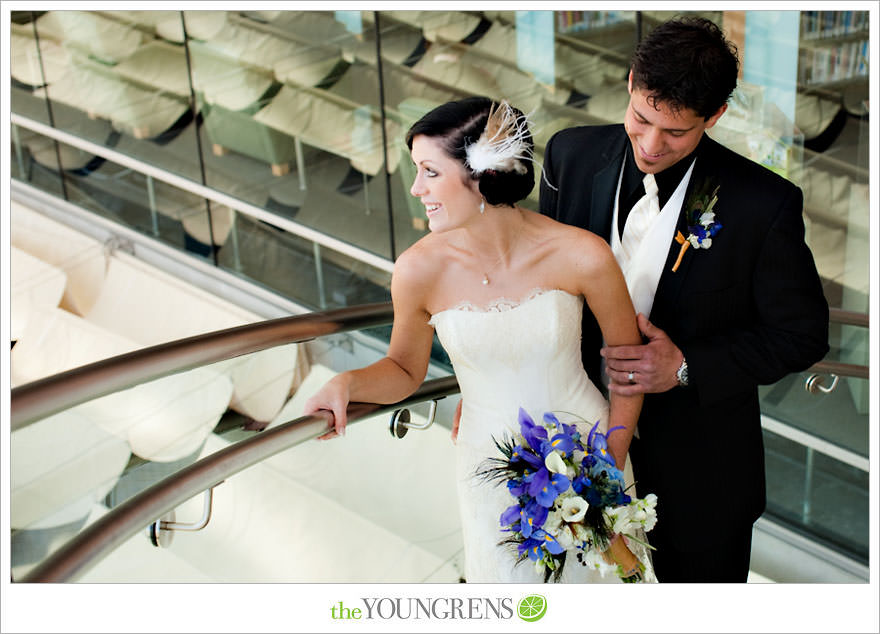 Kate's lovely flower along with her bridesmaids to pair with her dress.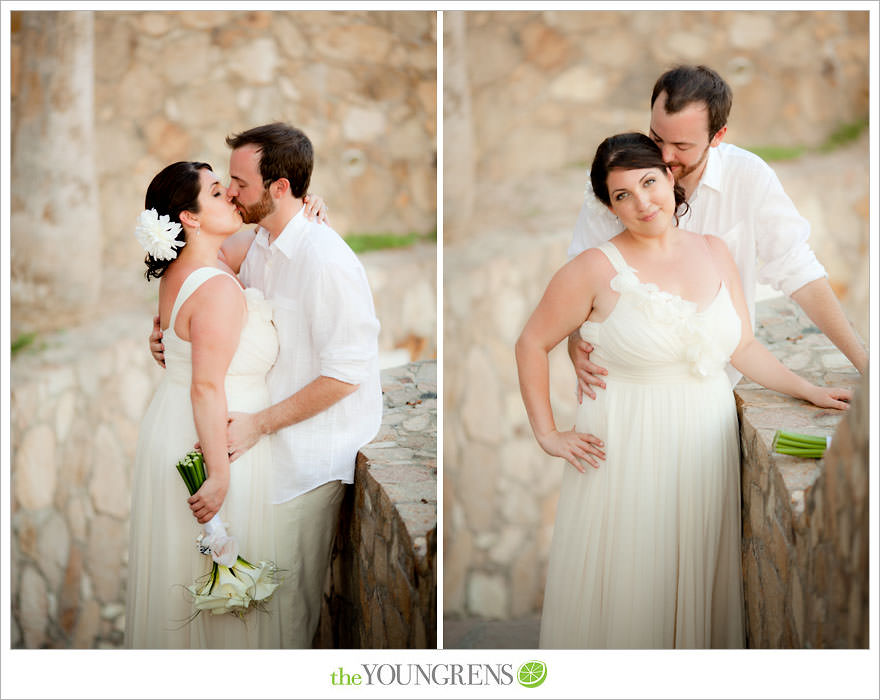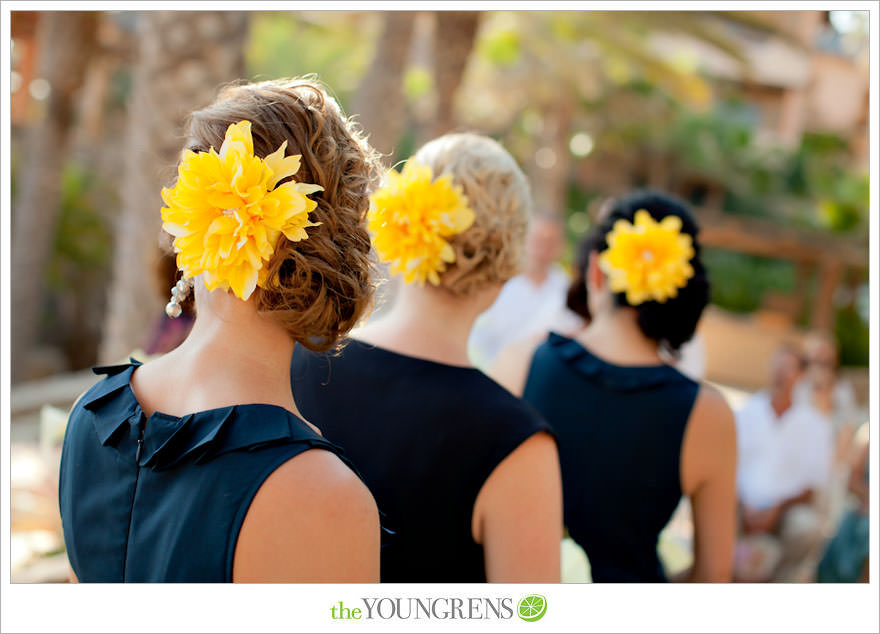 Jacqueline's crazy elegant updo with a handmade fabric flower with just enough bling for their New Year's Eve bash…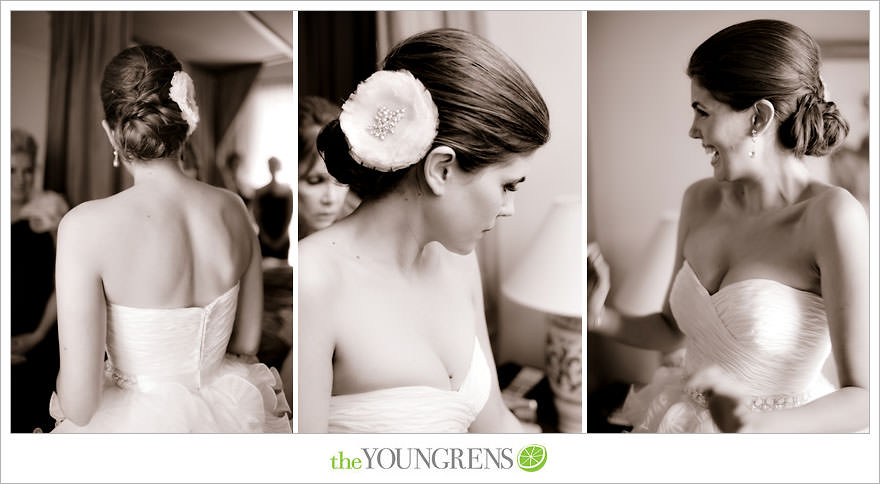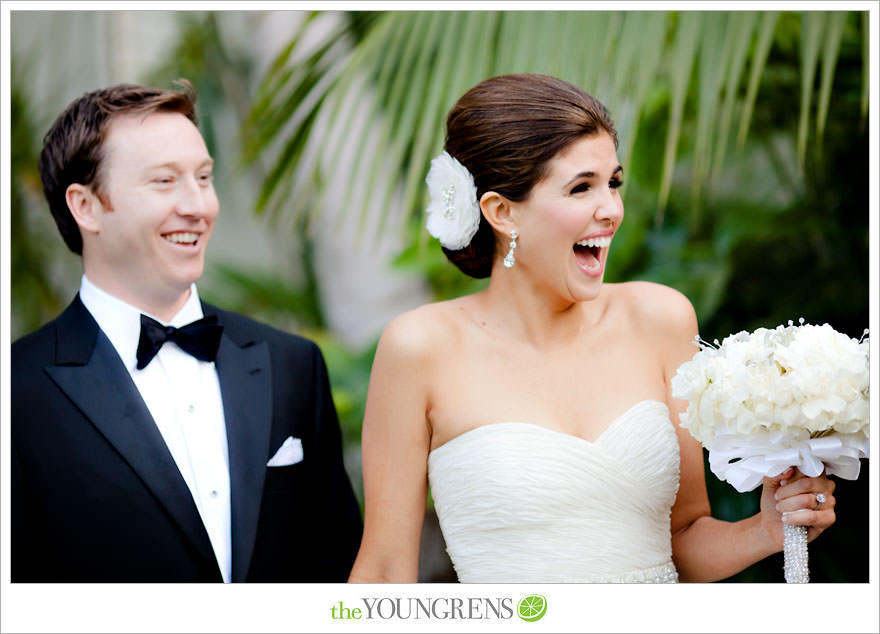 And Dara's pinned look with flowers from her florist.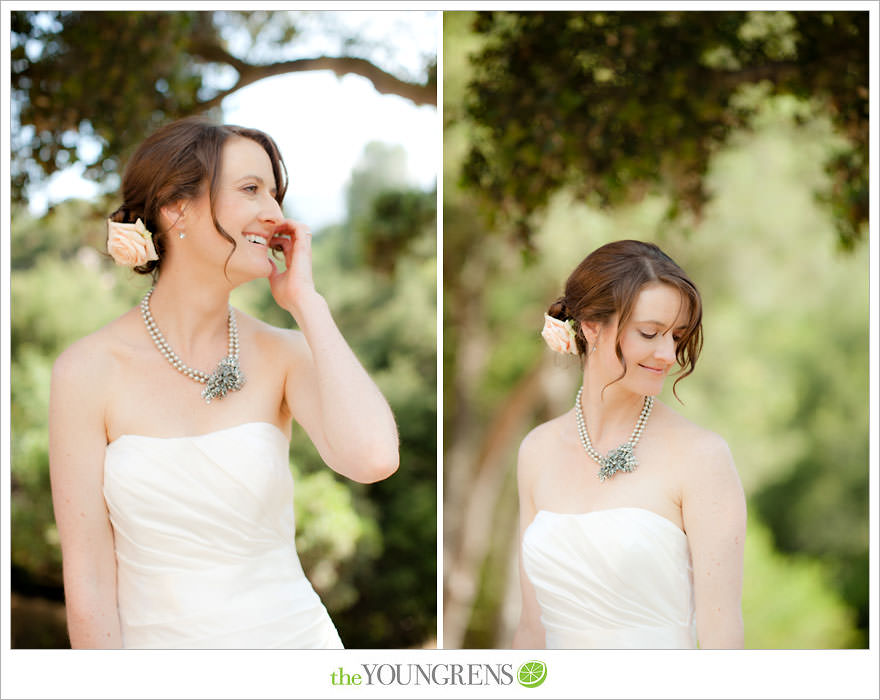 3. A Bouquet That Breaks the Mold
I love texture. And I love texture that's unique and authentic. So I'm such a sucker for bouquets that break outside of the typical "round red rose bouquet" look. In fact, I love the ones that smash that look to smithereens…
Instead of a typical round bouquet with flowers, try a gathering of baby's breath or wildflowers mixed with grasses inspired by your wedding location. Or a handful of branches from the local type of trees tied together with a lacey ribbon. Set your florist free and let them be the creative self they were made to be! They'll love you for it.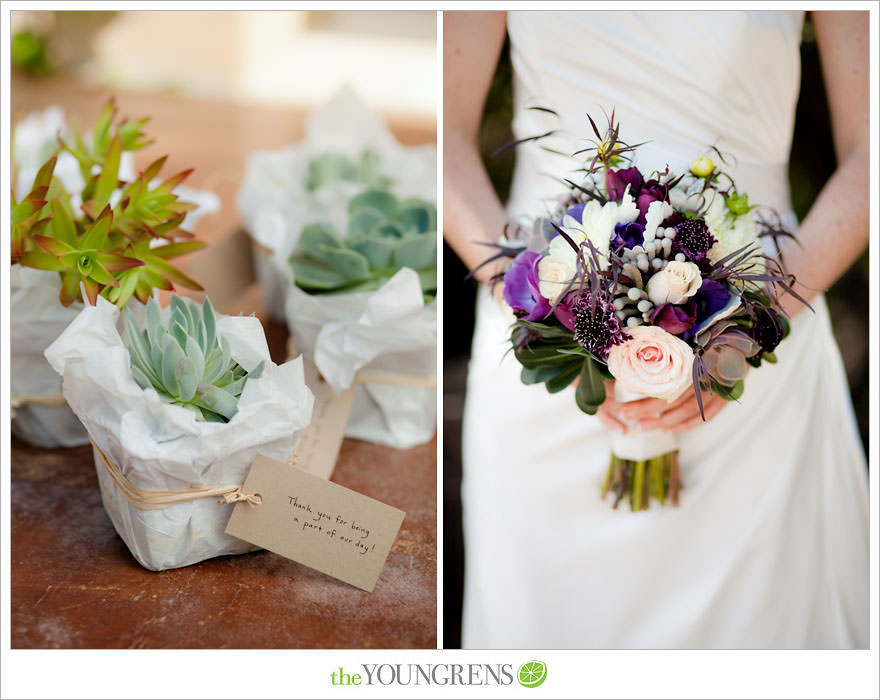 4. Jewelry with Meaning
My take on jewelry? Make it simple and make it count. Don't choose a chunky piece that you'll regret in your photos later. Wear something classic and meaningful that will add to the look of the dress and to your personal style.
Kelsey wore a bracelet with names of past generations inscribed with their wedding dates.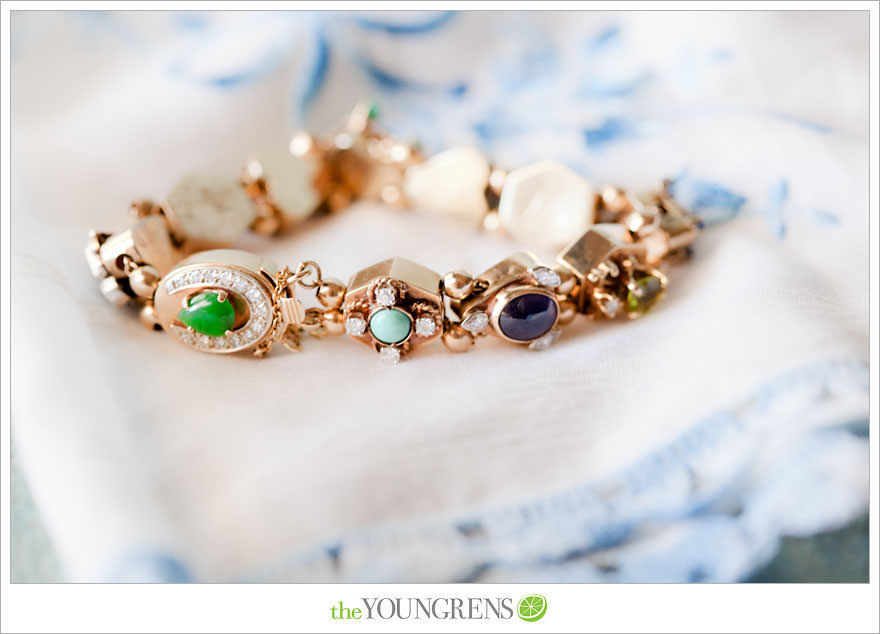 And I loved Dara's necklace that incorporated her soft wedding colors into her bridal look.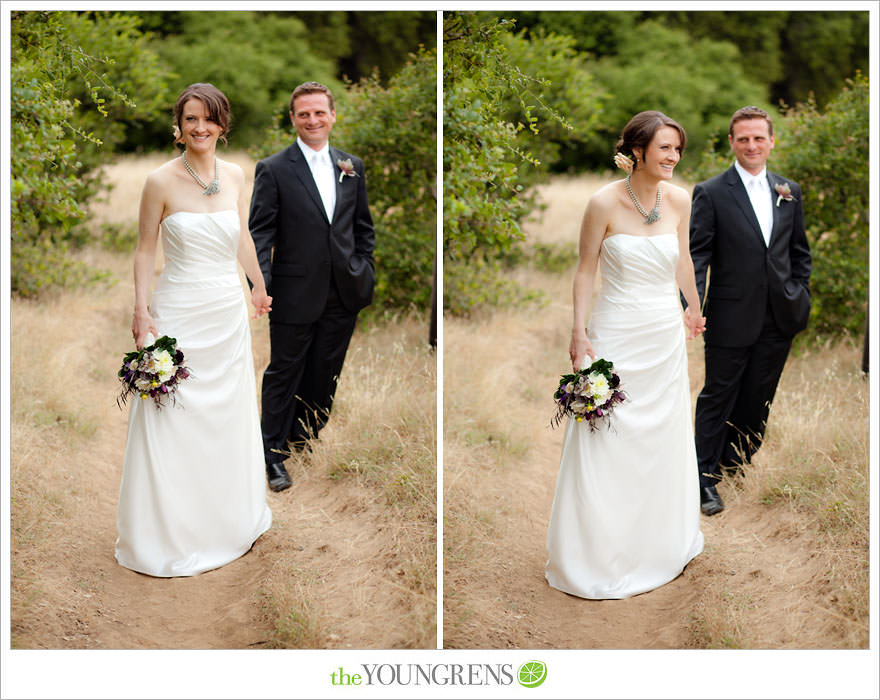 5. Lovely Eyes
Most brides know that a great makeup artist is a must for their wedding day, but how do you know a great makeup artist from a not-so-good one? From our experience, a great makeup artist will do your makeup in natural light, which means that they'll have you sit facing a large source of outdoor light, usually a big window. Since the majority of your photos will be taken in natural light, you'll want to have your makeup done in the same kind of light – not a bathroom with bulbs casting an orange, green, or purple glow or that peer straight down on your face making dark shadows under your eyes.
Beyond that, great makeup artists will create beautiful, smooth skin that resists shine, along with natural, powerful eyes with clean eyeliner and lashes. The best way to create those rich, sophisticated eyes is by investing in fake lashes, and I love the individual kind that go on one at a time instead of a strip of lashes. They usually turn out more natural looking without losing all of that glam power.
6. Hot Shoes
The reality? Nobody ever sees your shoes underneath your dress, so splurge on a pair that you're gonna wear over and over and over again. Louboutins are a favorite of our brides.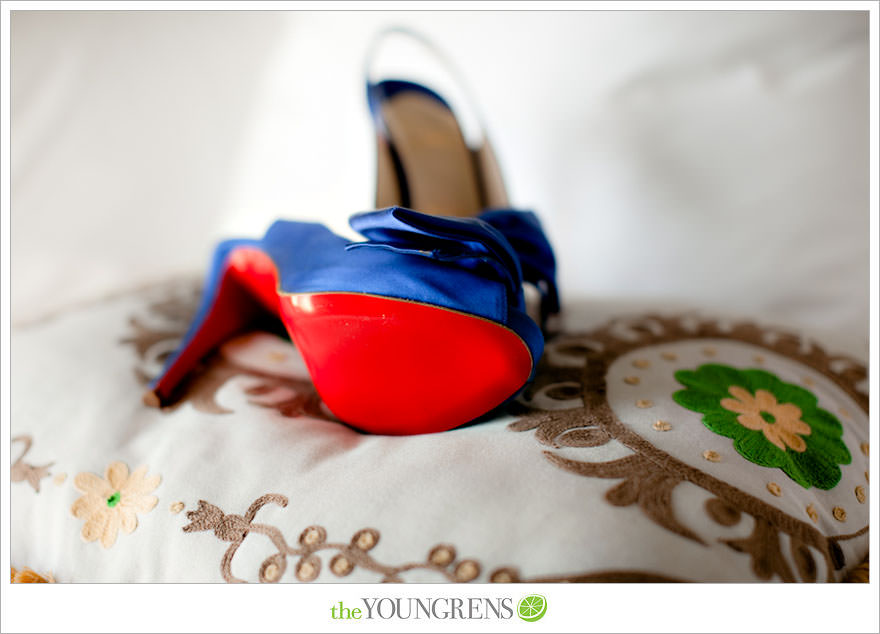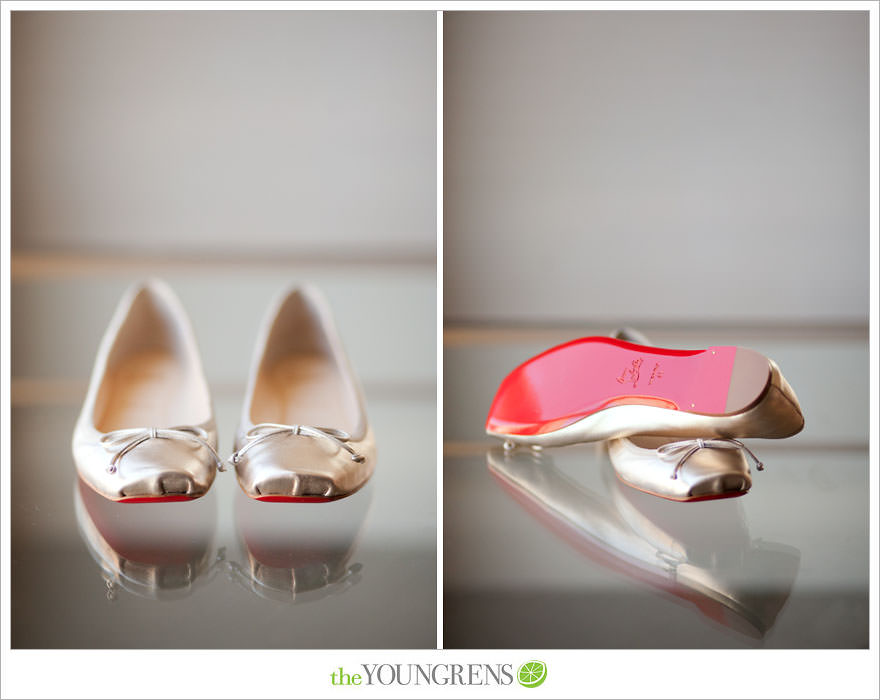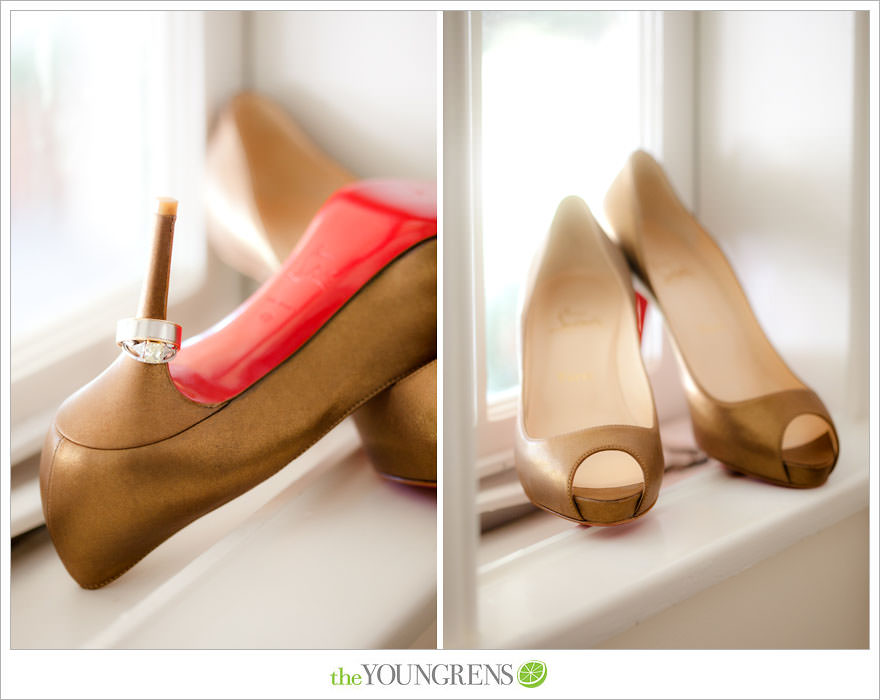 So are Jimmy Choo.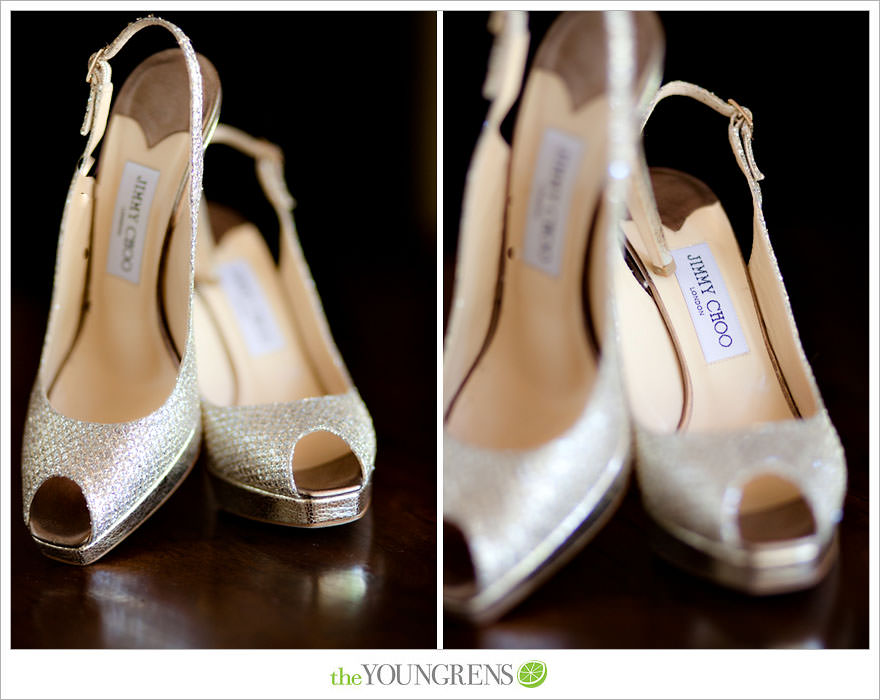 So the verdict? A classic, timeless look with just a touch of style is what makes our brides look so stinkin' glam. Keep things simple – don't overdo your wedding day look. Just keep it to some basic pieces that accent your natural beauty. The point of the wedding day is to look like your best YOU, so ask your friends, family, and your groom what your most beautiful features are. Is it your legs? Your arms? Your curves? Your eyes, lips, smile? Focus on enhancing the best of your body, and don't worry about the rest. That's the easiest way to be a stunning, timeless bride on your wedding day.
Hugs,
Erin