Inspired by Our Brides |Italy Destination Wedding Invitations
Yes, we are officially in the middle of winter, but instead of dwelling on the cold weather, thick sweaters, muddy boots, and itchy scarves, I like to think of January and February as Wedding Inspiration Season. Right now, couples are in the thick of gathering unique, stylish ideas from all across the world of weddings to incorporate into their own lovely affairs, so I've been saving up a whole box full of wedding tidbits that I've gathered from our trend-setting 2010 couples to share with all of you gorgeous and creative brides in 2011.
Our first feature comes once again from the lovely Miss Katie and the fair Mr. Alistair who put together one of our favorite destination weddings to date – an intimate destination wedding in Tuscany, Italy. The stationary they created was nothing short of drool-worthy – do you remember the cloth Save the Dates they sent? Well, these two had a lot to live up to after that and they definitely succeeded! I always like to ask our couples to send us an invitation so that we can feel uber special and so that we can photograph it, and Alistair and Katie's invitation was something out of a dream.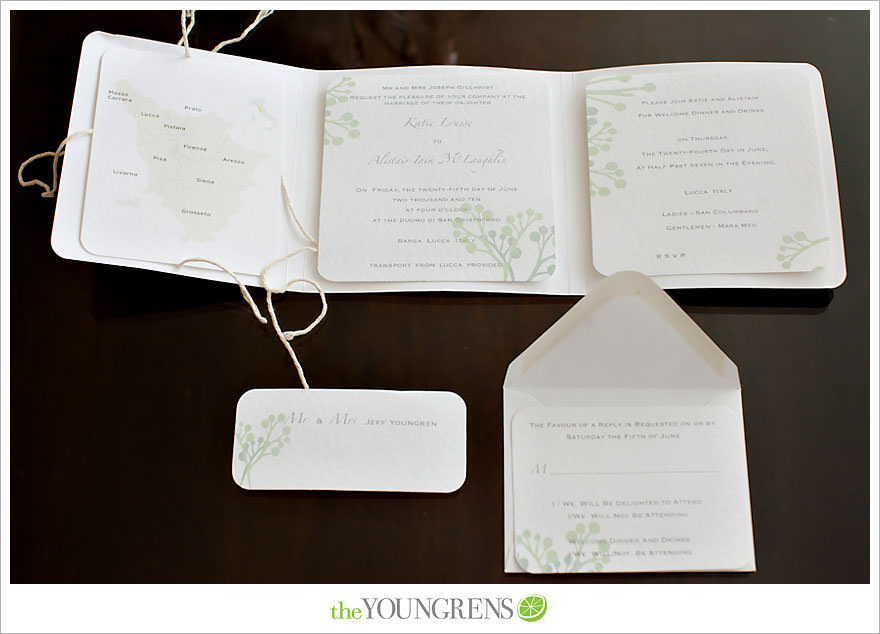 The invite came in a box with our own personalized card…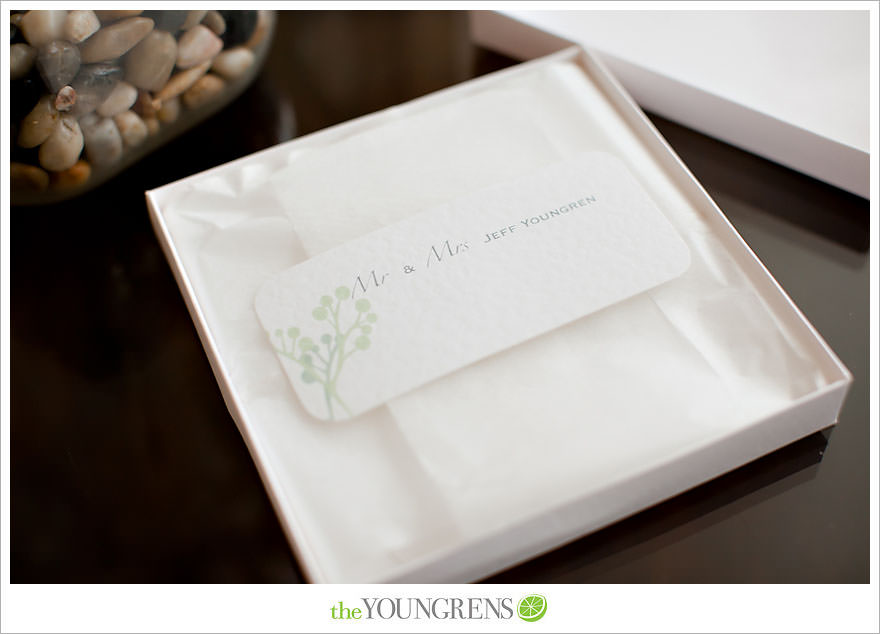 Wrapped in string…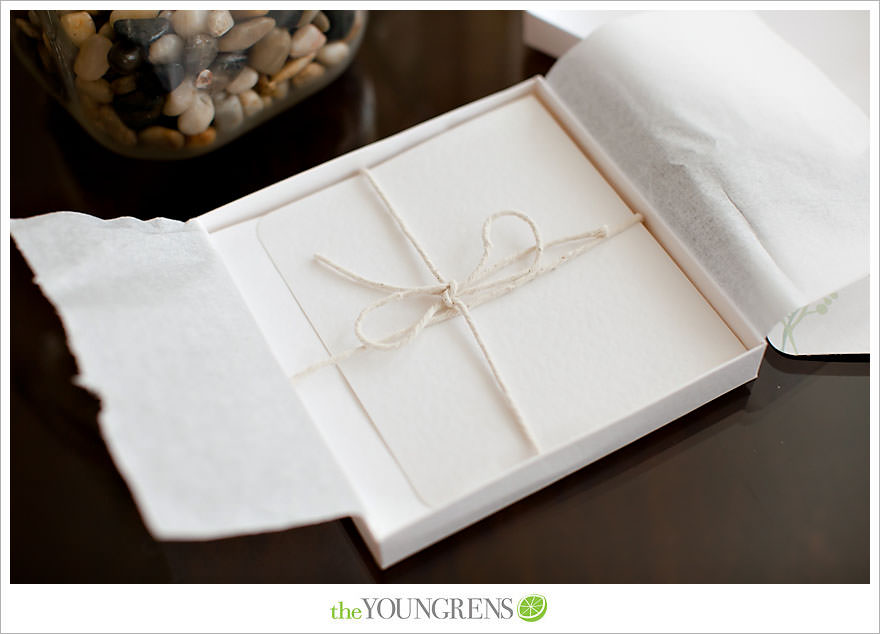 And put together with the utmost of care. So amazing!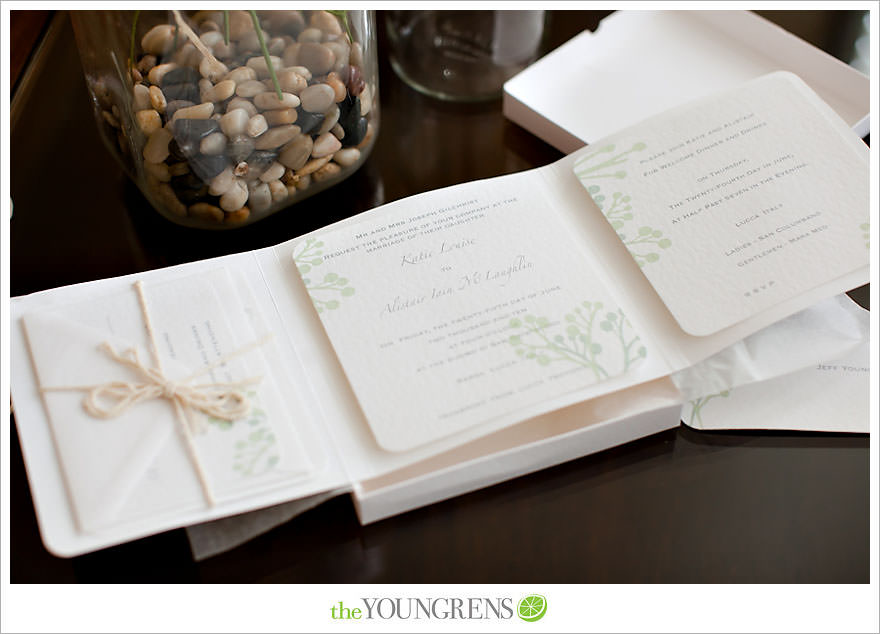 Katie is so good at tying these four part bows. I still can't figure them out!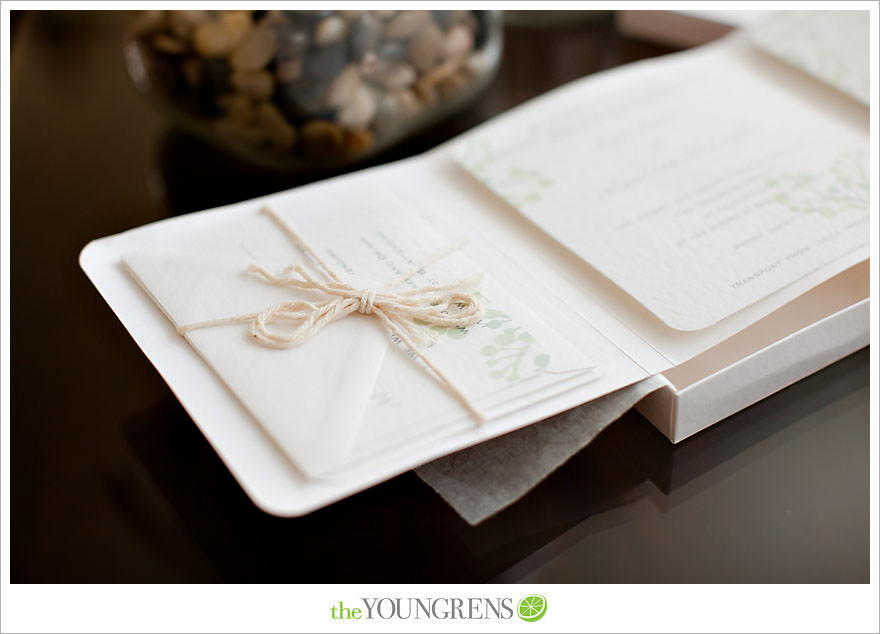 The design and watermarking thingys (this is why I'm not a stationary designer) went perfectly with their vineyard wedding underneath a grouping of trees and surrounded by olive groves.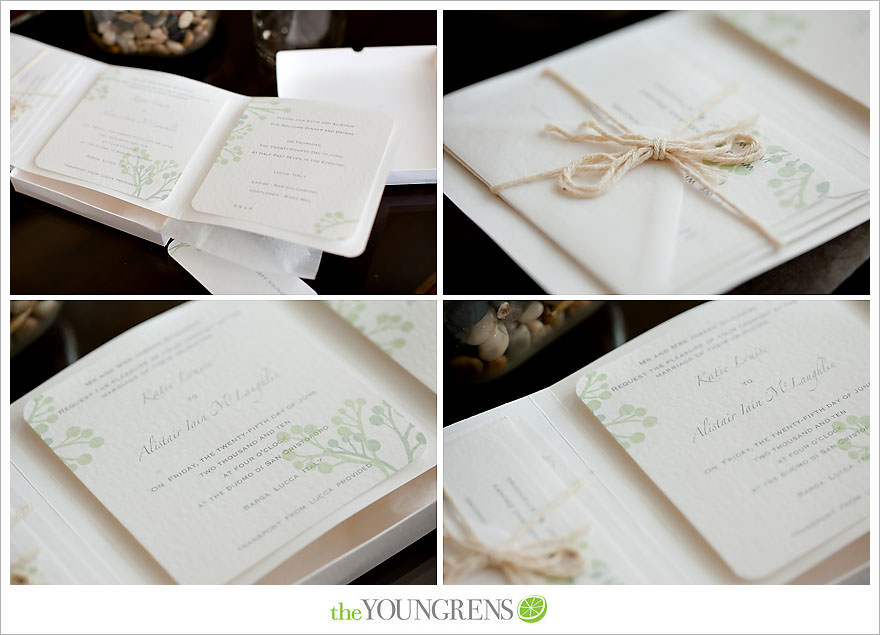 Alistair and Katie held the wedding just outside of Lucca, their favorite town in Italy and where they lived for a year and fell in love.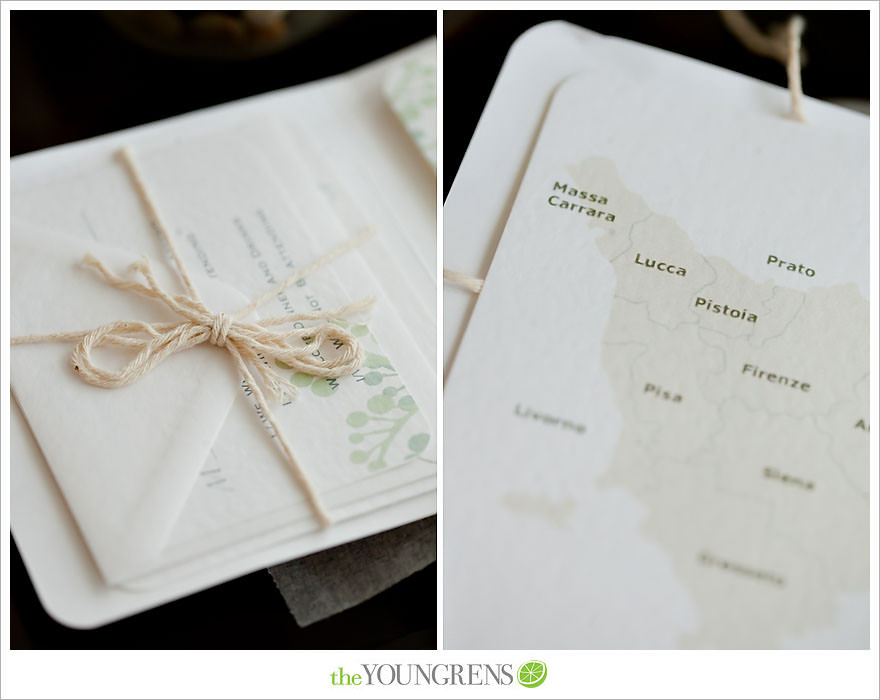 These two did such a great job of introducing the wedding location to their guests. When it comes to throwing a destination wedding, it's all about intimate celebration and making your guests feel right at home in a new and possibly strange place. Katie showered everyone with gifts, maps, local guides, snacks, and parties. She was the ultimate hostess!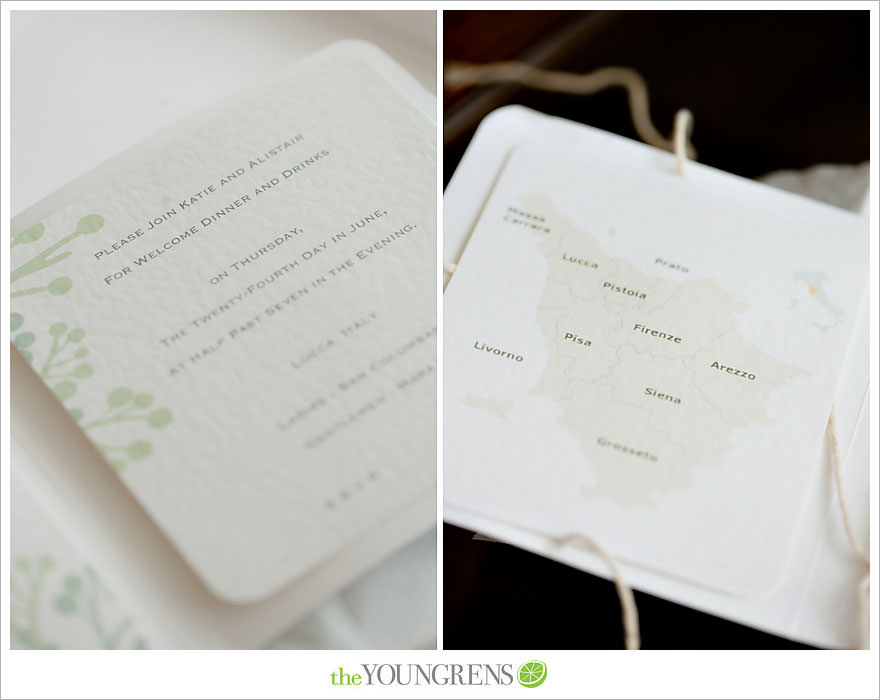 Katie and Alistair grew up in Scotland and now live in London, so we love receiving packages from them. I get such a kick out of it!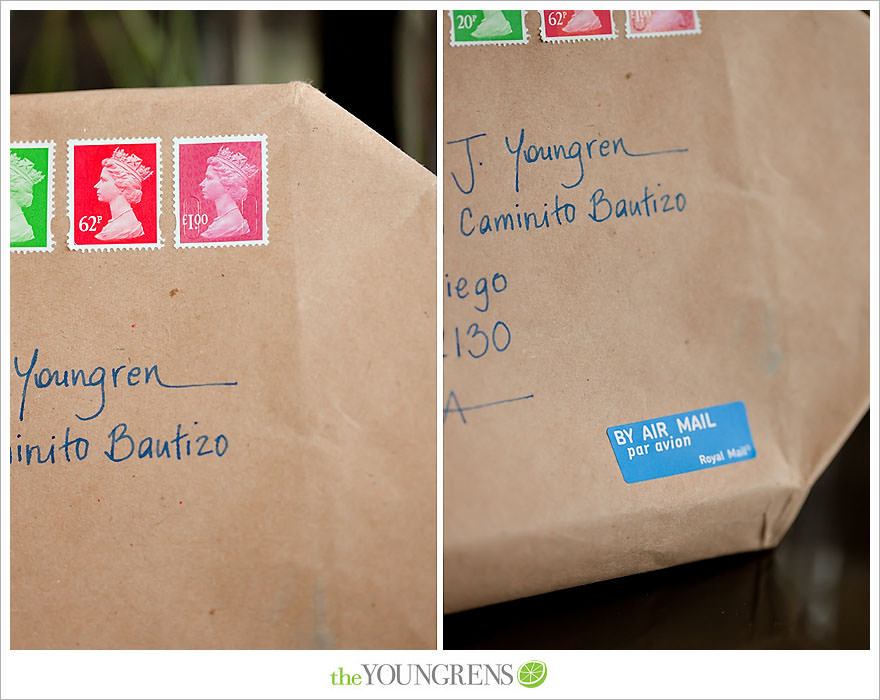 I'll be back with more tidbits from my box of inspiration goodies, so keep your eyes peeled for more over the next few weeks. In the meantime, we've got an engagement session on rowboats and a New Year's Eve wedding to feature. Can't wait!
OUR FAVORITE WEDDINGS
the portfolio
Loving our work? Check out our favorite weddings we've ever photographed
VIEW HERE
OUR MOST HELPFUL WEDDING PLANNING TIPS, STRAIGHT FROM THE EXPERTS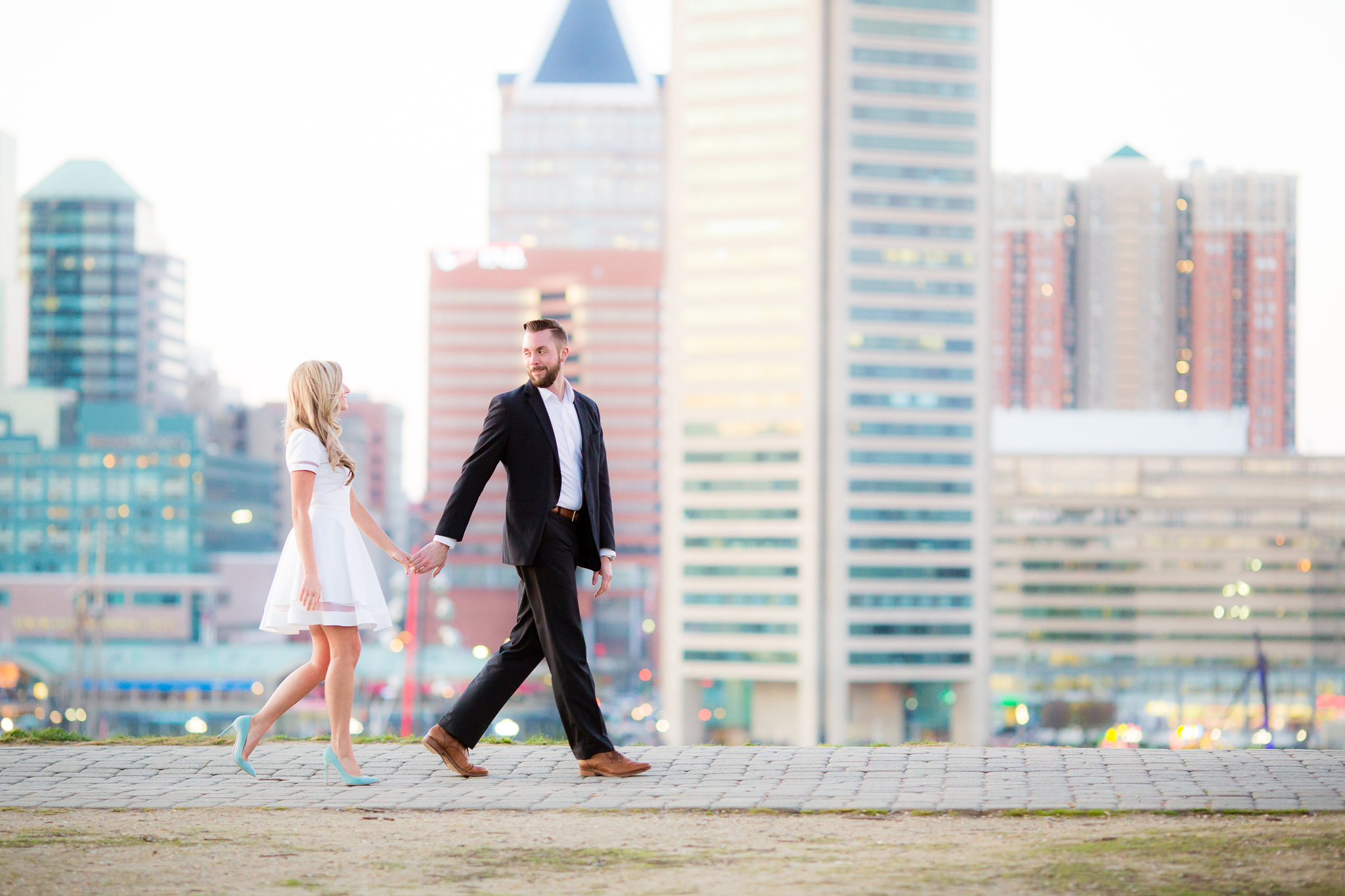 Our Formula for the Perfect Engagement Outfit
Picking the perfect outfit for a photo session can be one of the most difficult experiences BUT it doesn't have to be. I've seen enough outfits that work and don't work that I've cracked the ultimate code for our couples...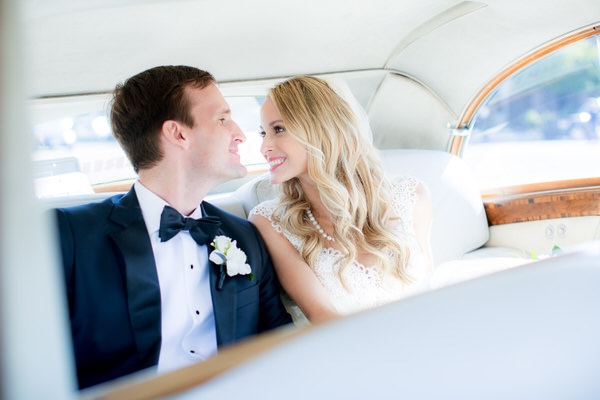 Our Stress-Free Wedding Day Timeline
There's nothing better than a stress-free wedding day when everything runs smoothly, your guests have the time of their lives, and you soak in the day with your sweetie. Though it sounds too good to be true, you can...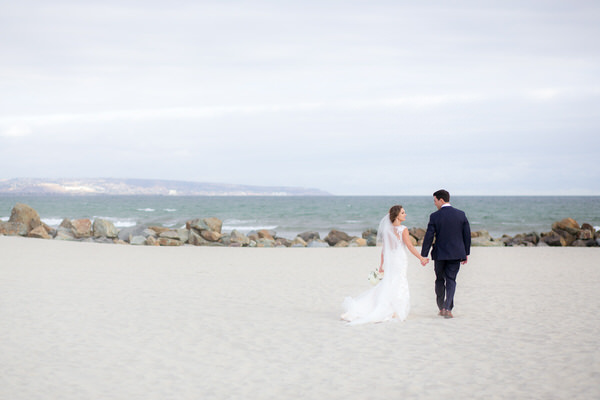 10 Foolproof Tips to Get Gorgeous Wedding Photos
It's the #1 question brides ask: What can I do to get the most amazing photos on my wedding day?
Having been through the in's and out's of countless weddings, I have loads of tips to share, so let's...
We're Jeff and Erin Youngren, a hubby and wifey team that photographs amazing couples and their incredible weddings. Hopeless romantics, BFF's, and mama + daddy to James, we're obsessed with traveling, podcasts, Oreos (Erin) and whiskey (Jeff).