We've gotten so many sweet responses from yesterday's blog post saying how amazing and inspiring it was to hear directly from our 2011 couples about their favorite engagement images. But just wait – if you thought yesterday was emotional, you better grab another box of tissues and refill your tea because our couples have opened their hearts with their favorite wedding images and totally made me cry like a baby.
As the responses started coming in, there are two stories that began to stand out to me with the favorites that were chosen. Number One: The First Look. Whether it's during the First Look or just after the First Look while we're taking portraits or when our couples see each other for the first time during the ceremony, there is just something surrounding those moments that hits all of us right in the gut. It's the realization that 'This is it. This person is the one and this is the day I get to say 'I Do!" And the best part about our job is that we are one of the only ones that get to experience that moment along with the couple. Yeah, it's pretty amazing.
And the second thing that stands out? Family and friends. The people that have brought these couples to where they are and will be with them to wherever they go, and those relationships and connections are what create some pretty significant moments on the wedding day.
So without further ado, here they are. Our 2011 couples' favorite images from their wedding. We'll start with the adorable Mike and Sarah.
Mike and Sarah's Villanova University Wedding in Philadelphia
Mike and Sarah have a deep connection with romance and story, so they got married in a traditional ceremony at the St. Thomas Church at Villanova University where they met and fell in love, and they held the reception down the street at the Philadelphia Country Club. This wedding was sooooo east coast in it's old charm, rich tradition, and classy elegance. Every detail spoke to their romantic hearts – including the stunning Rolls Royce that swept them away from the church. We shot some of our most favorite work of all time at this wedding – we were so inspired by Mike and Sarah, their loving families, and the rich Philadelphia scenery – and the image below is actually one of our most favorite images from the entire year (photographed by my talented hubby). So it means a lot that Sarah and Mike picked it as one of their favorites as well. I also love that Mike picked the moment he saw Sarah for the first time, and then a quiet moment between them. Here's Mike and Sarah:
"We love this photo because it was done right after our ceremony, one of the first moments of us captured as husband and wife. This picture shows us sharing genuine content and complete bliss with each other. We're in one of the most charming vehicles, ready to ride off on the journey of our new life together."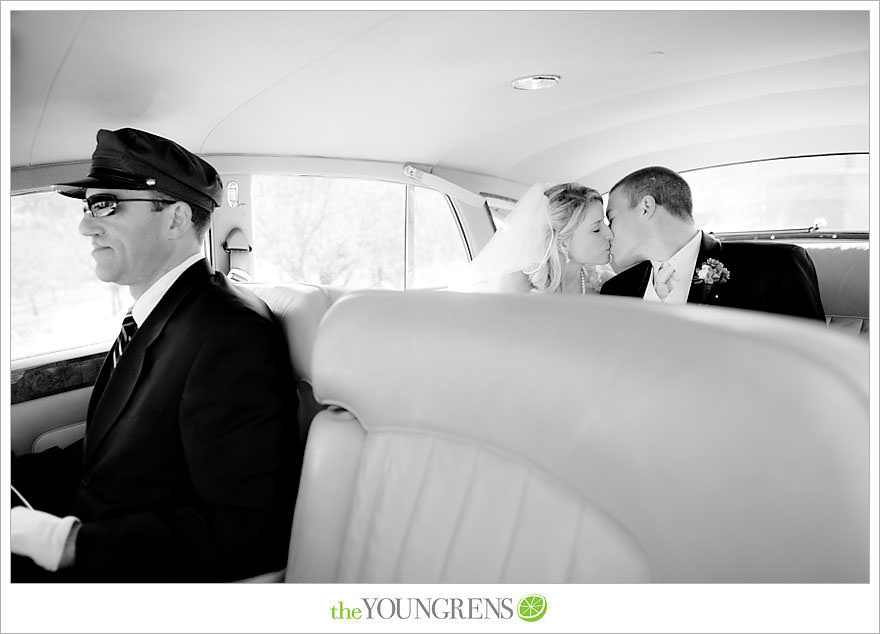 "I like this picture because it caught me right at the moment I first saw my very soon-to-be wife walking down the aisle. It was a whole culmination of emotions internally that apparently came out as a look of sheer surprise and happiness."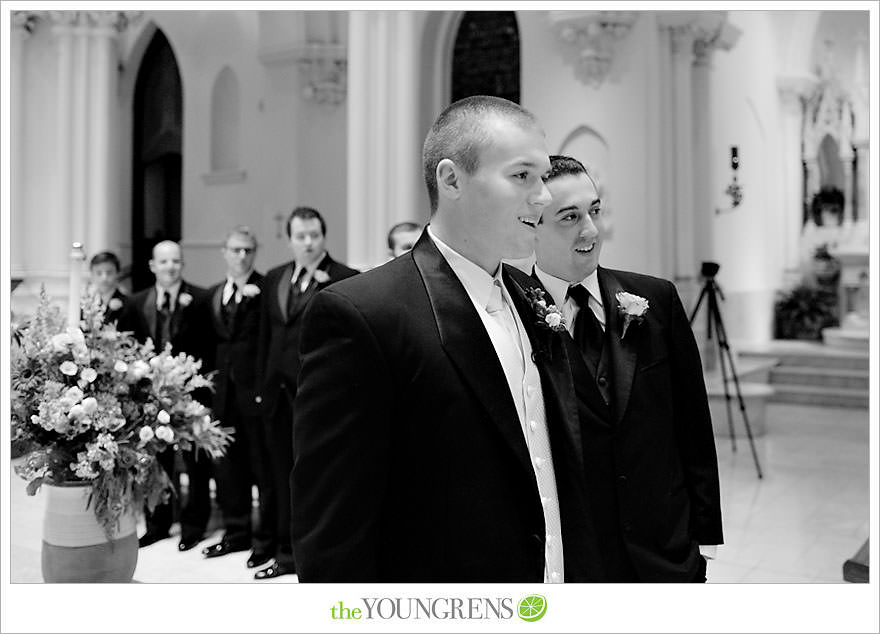 "This picture was taken right before we headed into the craziness of the cocktail hour, and it was starting to settle in that we were finally husband and wife. I love our smiles in this picture – it's pure joy and happiness. It's the four years of hard work, distance, support, and love that we see in this picture come together as we hold each other. The knotty tree in the background with the golden umbrella of fall leaves totally reminds us of the season we met and fell in love."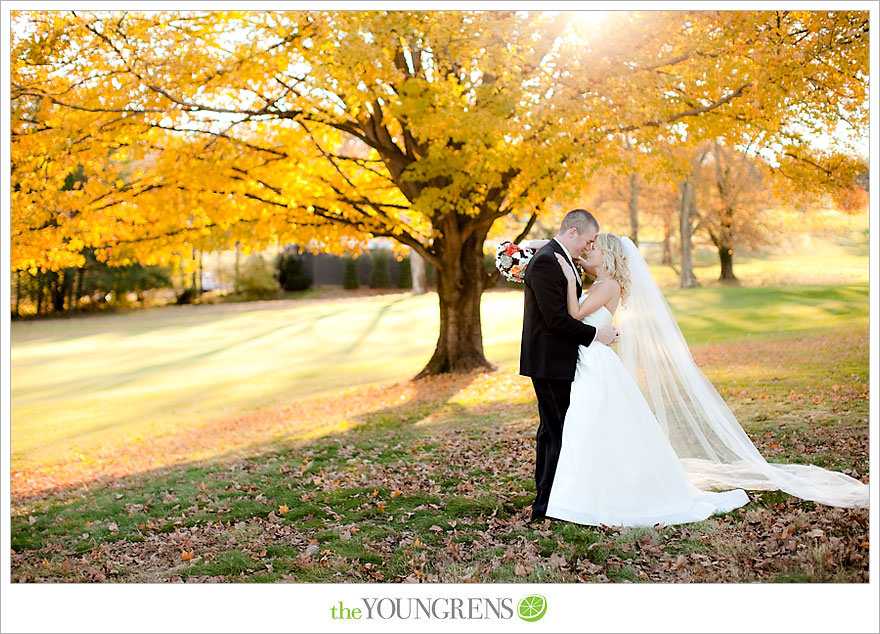 Jeff and Kelsey's Epic Hotel Del Coronado Wedding
Like I said before, so many favorite photos center around the first time a bride and groom get to see each other, and whether you wait until the ceremony like Mike and Sarah did, or if you choose to do a First Look like Jeff and Kelsey, these moments always take your breath – and heart – completely away. Or if you're Jeff and myself, they just make you cry like a baby. Jeff and Kelsey live in Seattle but held their 250 person destination wedding at the Hotel Del Coronado in San Diego. This wedding was OFF THE HOOK – with the over-the-top details, the insane dance party, and the love between their friends and family, it was just awesome in every way. But nothing can ever replace a groom that is totally head over heels for his beautiful bride. Get a tissue, 'cuz here's Jeff's favorite photos:
"The ten seconds before this photo was taken were ten of the most emotional seconds of my life. When Jeff said I could turn around to see my bride, I couldn't believe the time had finally come. It had been months of planning, Kelsey teasing me about what her dress may or may not look like, and waiting in eager anticipation to see Kelsey on our wedding day. I finally composed myself to turn around to see her for the first time in her dress. The instant I saw her I knew I was the luckiest guy on earth. She looked so perfectly beautiful – hence the stunned, excited, and amazed emotions displayed in my face this shot captured." (BTW In their wedding video, you can hear (groom) Jeff say "wow" over and over again. It was the only words he could get out as he looked at Kelsey for the first time).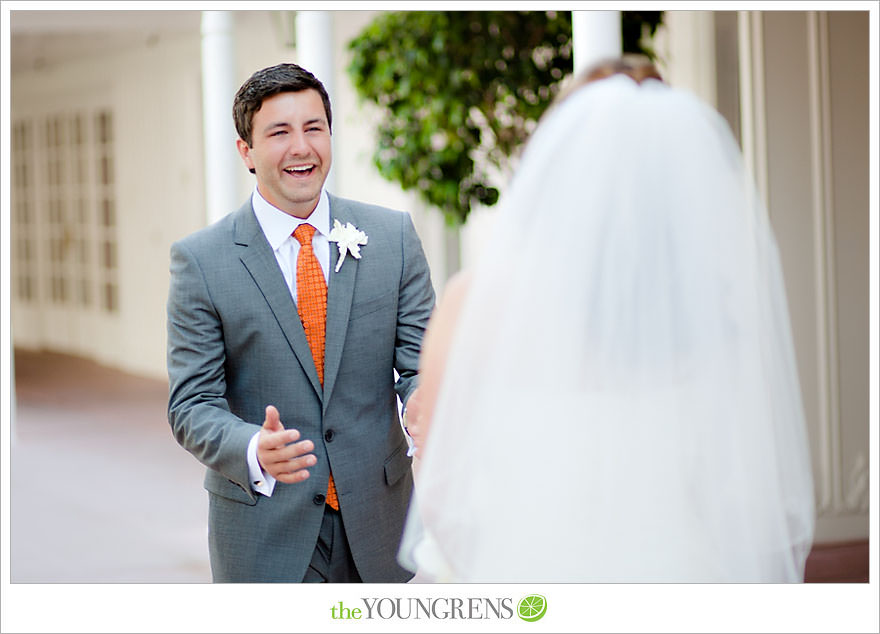 "To call this scene amazing would be an understatement. The weather was beyond agreeable and we were surrounded by everyone who supported us along the way to matrimony. The stage was set perfectly for Kels and I to take the next big leap in our lives and become husband and wife. It is easy to get lost in the details and intricacies of our big day, but this image will always remind us to take a step back and to think about this big picture of what really mattered on our wedding day: friends and family getting together to celebrate the love we share for each other. Plus it didn't hurt to have such a kick-ass backdrop."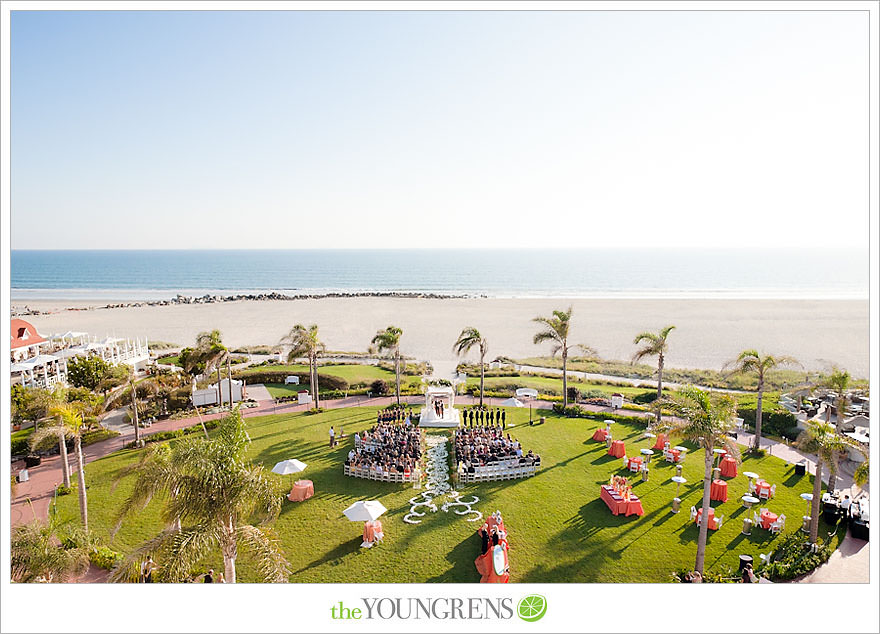 "Mel [mother of the bride] has been waiting for this day since the day Kelsey was born. She put so much time and energy into planning our special day that I can't thank her enough. Simply put: these are two of the most amazing women I have ever met."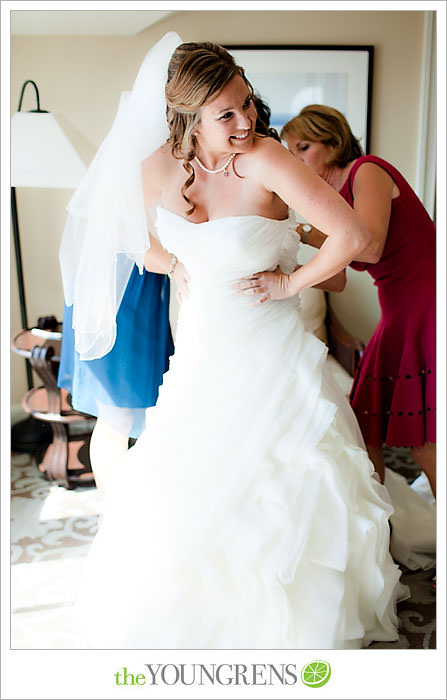 Ralph and Julie's Winery Wedding at Casa Real
As I said yesterday with their engagement photos, Ralph is one of the most emotional grooms we've ever worked with and he and Jeff hit it off instantly. So when Ralph sent us his favorite photos it was nothing but tears for everyone in The Youngrens office! Hearing about the First Look from grooms is sooooo touching – Ralph and Julie don't like being the center of attention, so when they were given the chance to experience each other away from the crowds of the ceremony and feel their emotions within the safety of each other, it became an incredibly authentic experience. So grab another tissue (you'll need it) and read through Ralph's favorite photo:
"I, Ralph, pick photo #397.  This photo is by far my favorite.  I know it's a little selfish but that moment that photo was taken was one I will never forget. My eyes were tearing, my nostrils were flared but what that photo captured, you can't physically see.  What it captured was my heart bursting with anxiousness, with happiness and with the most love I had ever felt before… At that moment, I knew I was going to turn around and see the most gorgeous woman I had ever seen in my life, the woman that I will hold my heart forever.  At that moment, it's almost as if time stood still.  When you gave me the signal to turn around, I just lost it… never had I been so happy EVER!  That is what this picture captured and that is why it is my favorite!"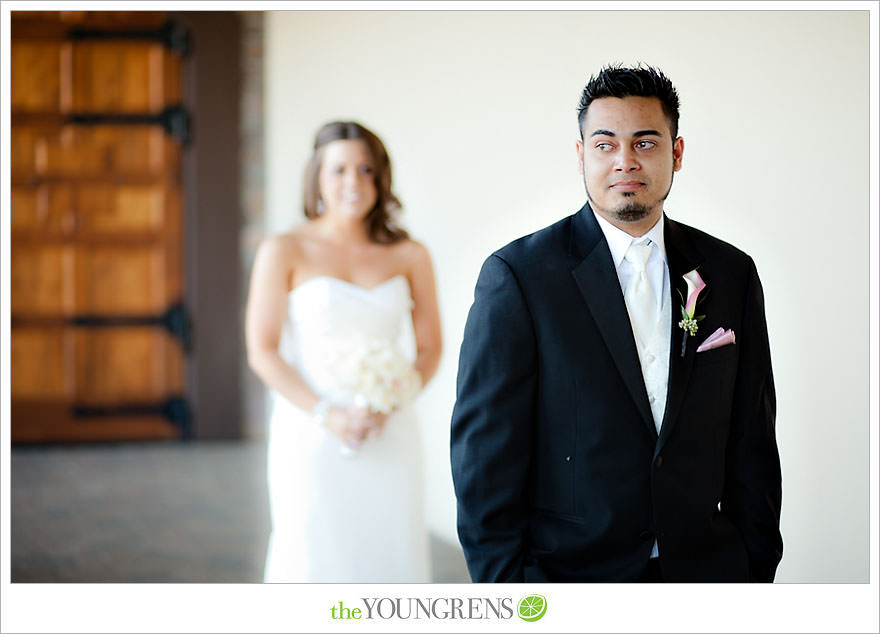 Julie's answer is sooo real and honest – I love this girl! "Wedding planning takes so much out of a couple and their families. But it felt so worth it once we got to this moment. I had worried about everything that happened, could happen or did happen. But none of it mattered at this point. This is the first moment we could feel relieved and be excited about being married! It also helped that there weren't 160 people staring at us for this short period of time. I absolutely adore all our photos in the vines and the feeling it brings me back to when looking at them."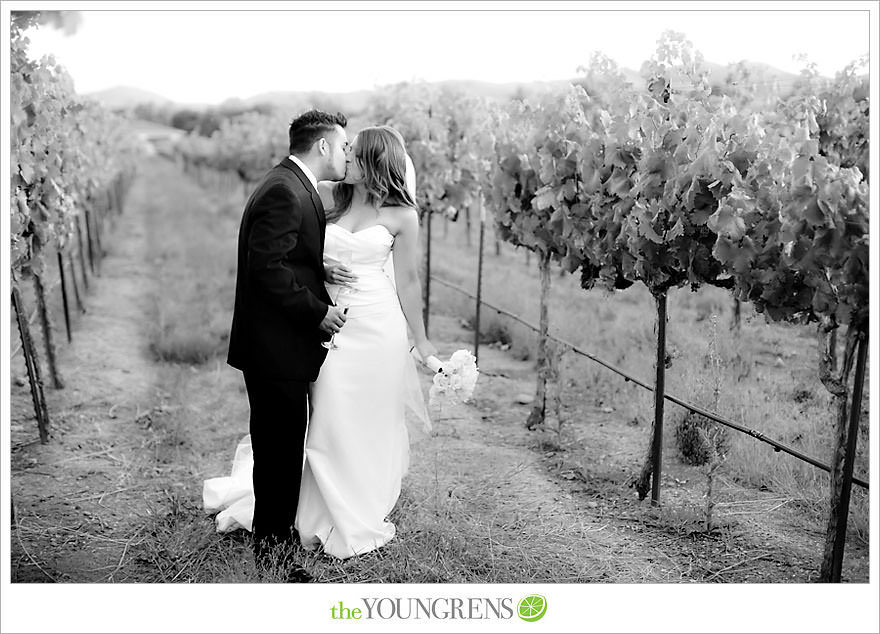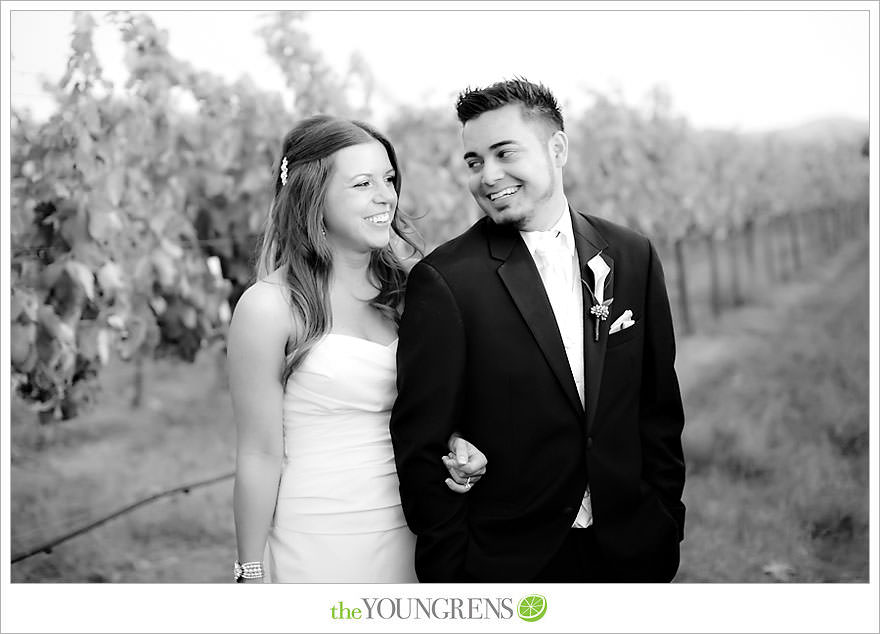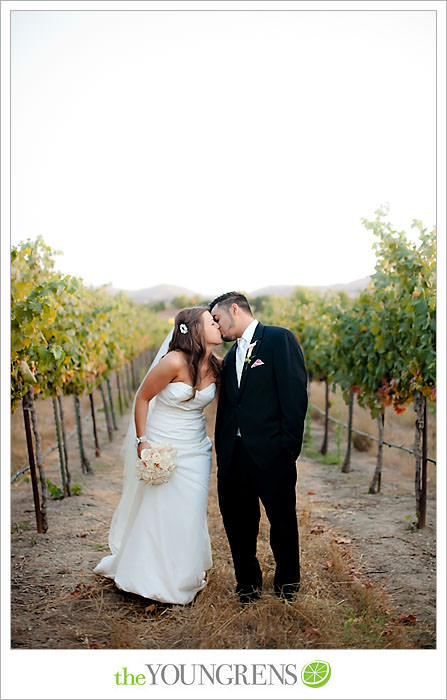 Jason and Elizabeth's Prohibition-Inspired Estate Wedding in Pasadena
We have become super close with Lizzy and Ipp (their nicknames) after meeting them at Lizzy's sister's wedding a few years ago, so their wedding held even more meaning for us. We knew all of the family stories, the intimate details, the people that were most special – but in the moment that these photos were taken, I could never have guessed that these photographs would become so special. Family is SO IMPORTANT to Lizzy and Ipp, so grab yet another tissue because these stories are going to seriously squeeze your heart! First, Lizzy's favorites, which is really a series of images, and she actually wrote an article about them on The Photo Life, a photography blog to which I contribute regularly:
"While I loved each and every part of our wedding day (weekend really), there was one piece in particular that stood apart from the rest. We called it our 'Unity Ceremony,' a time during our wedding where the communities that raised us came forward and gave us a meaningful token—something that we could keep and share with future generations.
One of these tokens was given to me by my Grandma, on behalf of my late Grandpa (my Papa). It was his pocket watch. And while I will cherish this gift for all of my life, by giving it to me on my wedding day, my Grandma gave me more than I think she knew. She gave me a moment—a reminder—that my Grandpa was there with me on my wedding day.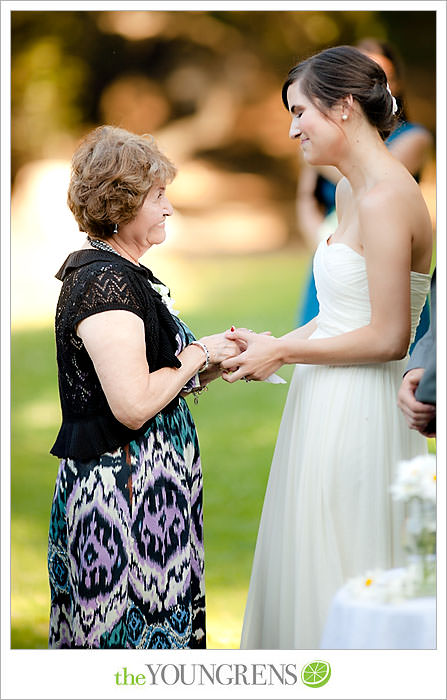 I will always have this pocket watch as a token of my Papa's life. But this image is a token of that moment, and because of this image I'll be able to share this moment with future generations of my family.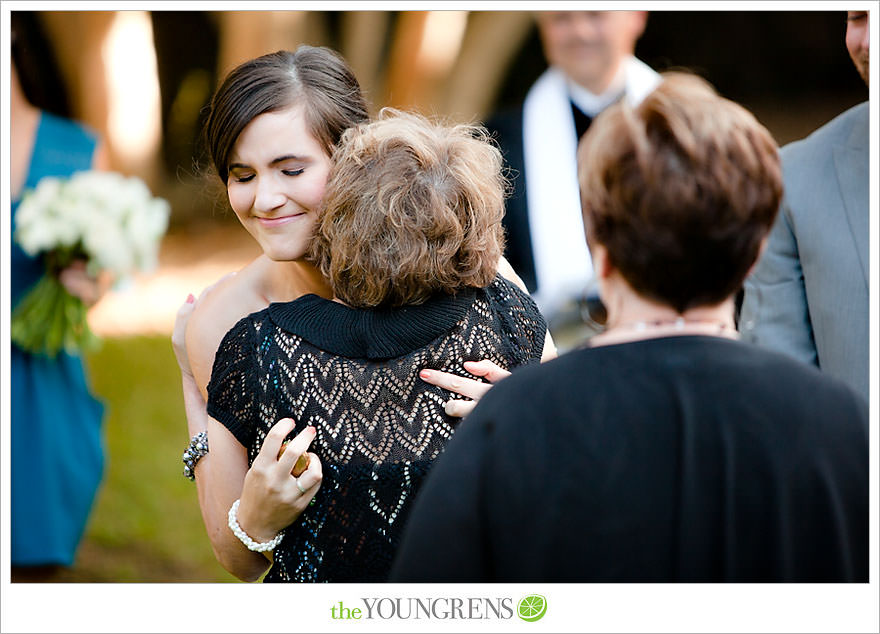 I miss my Papa every day. I think about the roots he established for our family, and the many ways that his hard work and sacrifices have given us the life that we have today. This image combined with images of his life, ensure that his legacy is never forgotten. For that, I'm forever thankful!" (Lizzy's sister, Steph, is in the background crying as she sees the pocket watch, along with their family pastor that married them. It's these kinds of connections that we live for.)
Ok, so if that didn't already make you cry, here's Ipp's response. He's the sweetest guy ever!
"I love photos and memories, and can be extremely nostalgic. However, I do not like portraits or posed pictures of myself, it just feels weird for me to look at me. It was important to me for our special day to be photographed as artistically as possible but showing the intimacy of our relationship. No pressure. I dreamed of hanging a giant print from our wedding of a beautiful vast landscape that could hang inside an art gallery by itself, but happens to contain us. This is exactly that. Looking through the photo galleries, I am so extremely happy with all the images. But I was equally as happy with the process of being photographed. I felt like I had the space to laugh, the freedom to move, the opportunity to be emotional – with all the direction and guidance to feel secure in the process."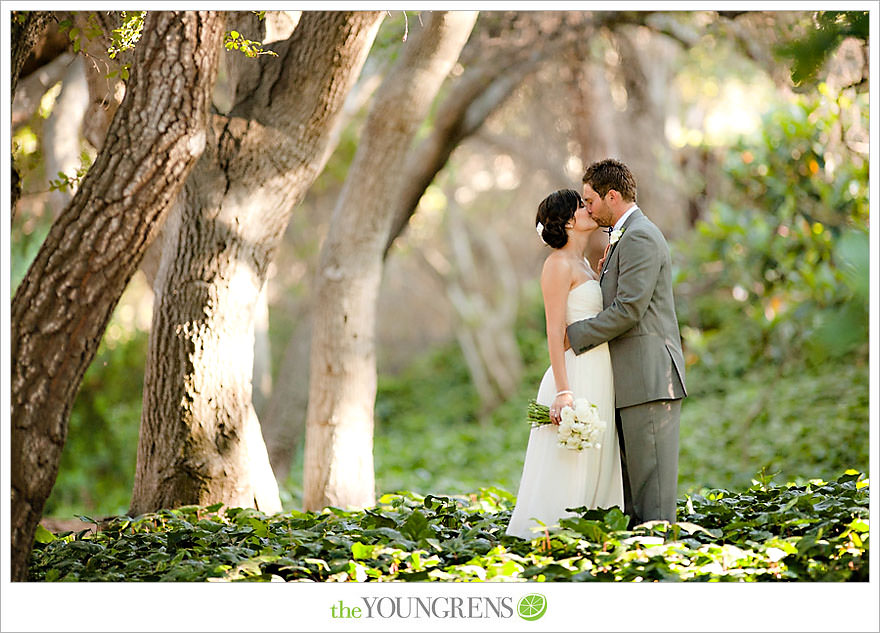 And if you don't love Ipp yet, just wait until this next image. And by the way, this is one of my favorite images I've ever shot. When I made it, I was walking backwards really fast, eyes clouded with tears and trying not to run into a tree, so not the most 'ideal' of creative circumstances! So I didn't know what the image looked like until I saw it later during editing and I burst into tears. In fact, I cry every time I see this image because of how Ipp is holding Lizzy's hand to his chest – like he has just married a treasure and will never let go. But again, this is not about MY favorites, it's about theirs, and even though I know what this image means to me, it means something so different and so much MORE amazing to Ipp. So here's what was going through his head:
"My grandparents were not able to travel to California, so they tuned in to the ceremony through a webcast. After we were pronounced and exiting down the aisle, I saw one of the cameras and waved to my watching grandparents. This is the photo captured right after that moment, and I always remember my supportive grandparents when looking at the photo." (What an amazing memory!!)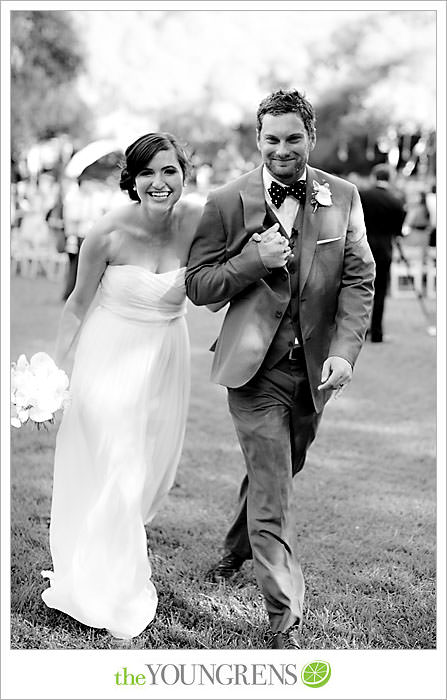 Craig and Melissa's Summer Chicago Wedding
Melissa is a firecracker spirit of a girl with a side of spunky-sauce, and she married the most caring, loving man imaginable. Their summer wedding outside of Chicago was nothing short of sweet, sweet, sweet and Melissa's fun personality infused the day with the kind of joy that makes you feel like you're walking on air. I love the images they chose – these photos totally sum up their day perfectly! From Melissa:
"Craig loves everything about this image. He says, "if you could sum up who melissa is, this would be the image to do it." This picture completely captures the joy and excitement that I was feeling in the moment of our First Look! I couldn't wait to marry my best friend and that's what I am reminded of each time I see this picture."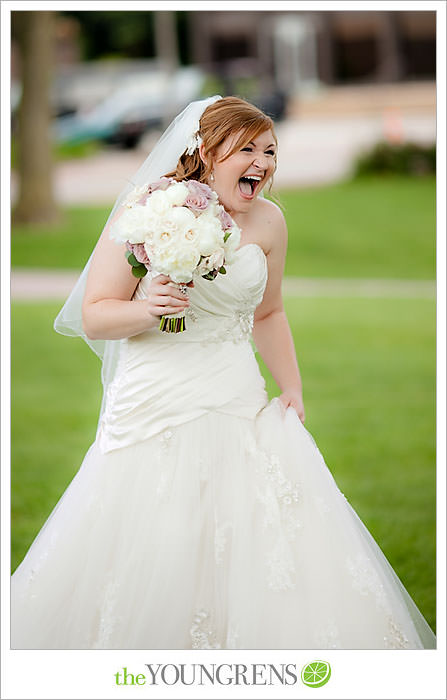 The emotions just keep on coming! Melissa's younger brother walked her down the aisle and there wasn't a dry eye for miles! Especially when he choked up as they walked together…
"These pictures are so incredibly special to me. Having my brother get emotional while walking me down the aisle was a moment I will never forget. I know this moment is something that we both cherish. I will always remember the special words that we exchanged and calm I felt walking toward my beloved."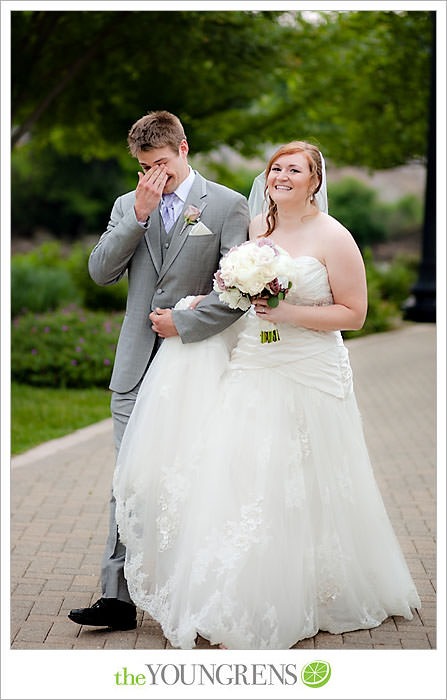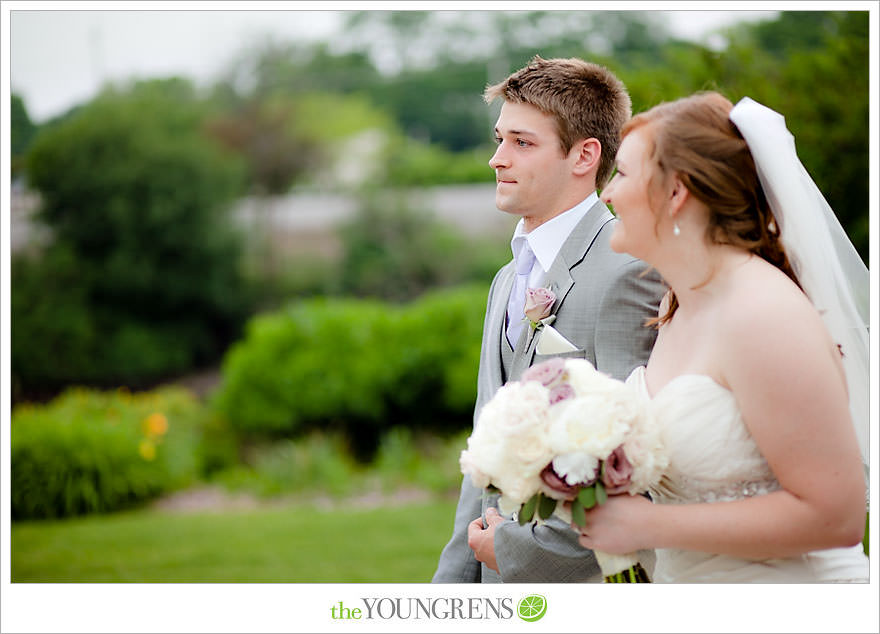 "We like to call this our "ahhhhh" picture! This image was taken right after we said 'I do' and I will never forget us turning and looking at each other with the expression of WE DID IT!!!! We were so happy and joyful, and each time I look at it, I smile and it takes me back to that special moment."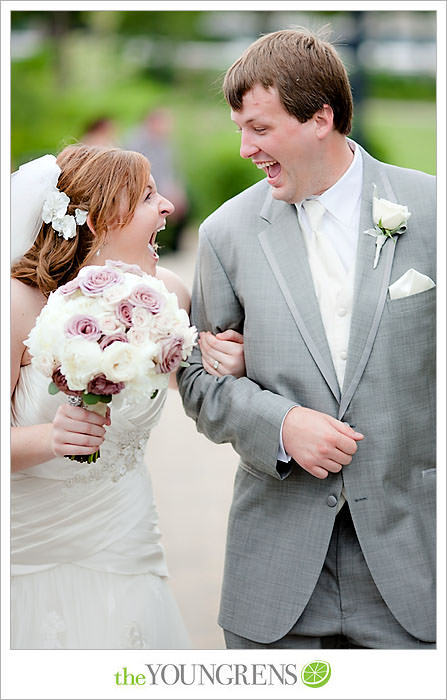 "I love how this image captures the feel I wanted for our wedding, romantic. I had no idea that when we picked this location it would make for the most beautiful background in the pictures. The time after the ceremony with Craig was one of my favorite parts of the day. I loved slowing down and being able to spend time together and just bask in the joy and love."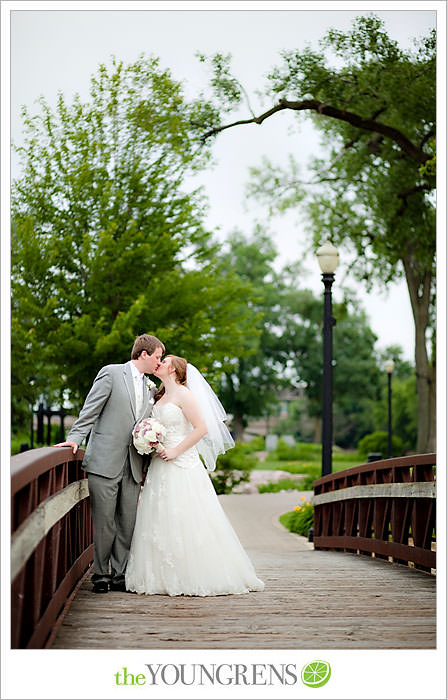 "This is the kind of photograph that makes me say "hot dang" this should be in a wedding magazine! I love the angle of the image and the way the tree branches are twisting around us. This image says beautiful and sexy all at the same time!"
Ryan and Ericka's Los Angeles Wedding at Cafe Pinot
There's nothing more romantic than a gorgeous downtown with a beautiful French-inspired park surrounded by towering skyscrapers. Cafe Pinot is a DYNAMITE place to get married with it's perfect location in the middle of downtown Los Angeles. When the sun sets, the lights of the city come up and they twinkle around your romantic little world like a starry night. Ryan and Ericka were the perfect people to get married in such a beautiful location. Here's Ryan's touching commentary on his favorite photo:
"I think this image is perfect for Ericka and I as a couple because it captures the unadulterated joy of being together. I love how Ericka is holding my hand confidently leading me forward, and how I'm following close behind her, always ready to support her. I love how beautiful she looks and how radiant and infectious her smile is. I love how happy she makes me and how happy we are together.  To be perfectly honest, I don't recall much of walking back up the aisle, but I remember how excited I was that I was now married to My Love. I love that I'll never forget this moment, as we'll always have this picture."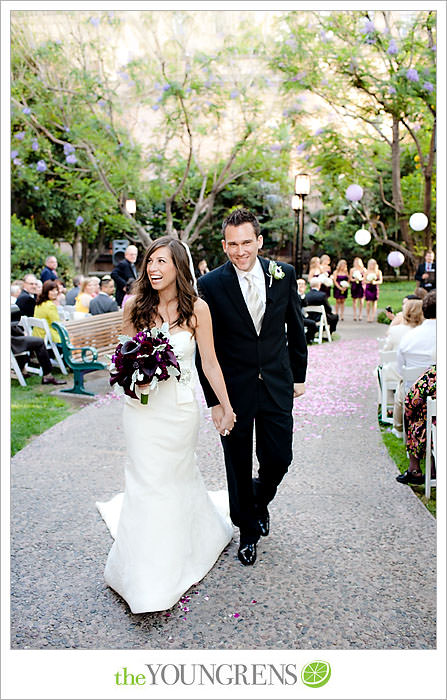 Brian and Susi's Lake Tahoe Destination Wedding
This destination wedding was FUN, FUN, FUN. Yes, it was gorgeous and every single detail was DA BOMB and the colors were amazing and the backdrop was jaw-dropping. But seriously, it was FUN. Brian and Susi wanted to throw an amazing, approachable, cute, thrilling, and gorgeous party and they succeeded in every way possible. So I love their favorite images:
"We love this picture because it features the lake which was the perfect backdrop for our celebration – its natural beauty amazes all that have the chance to experience it. We took time after the ceremony to go down to the lake together and share some time to let the importance of the day and ceremony sink in.  It was great to catch up with each other and spend time together before heading back to the best party we have ever been to!"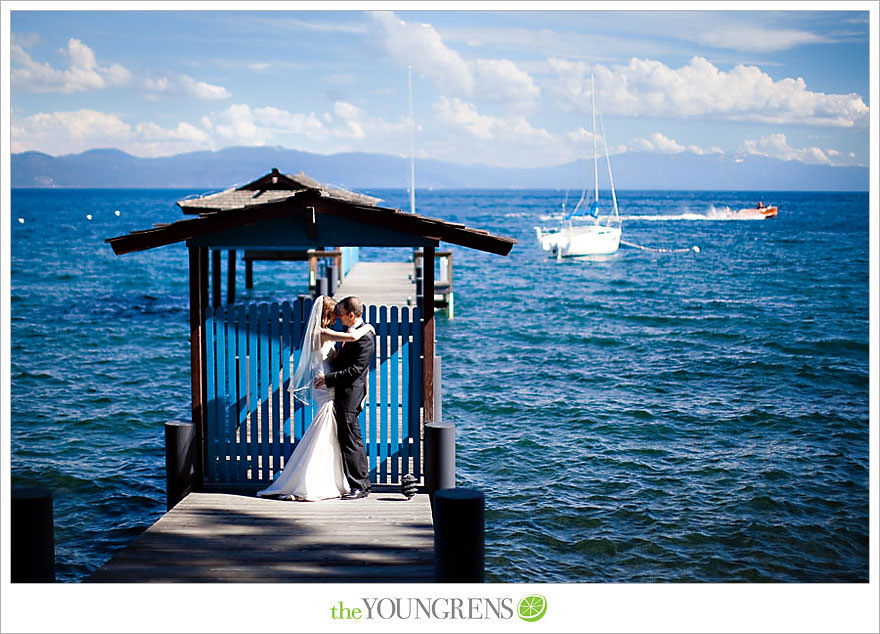 "I love this picture because it captures what our day was all about, friends, family, joy and lots of love!"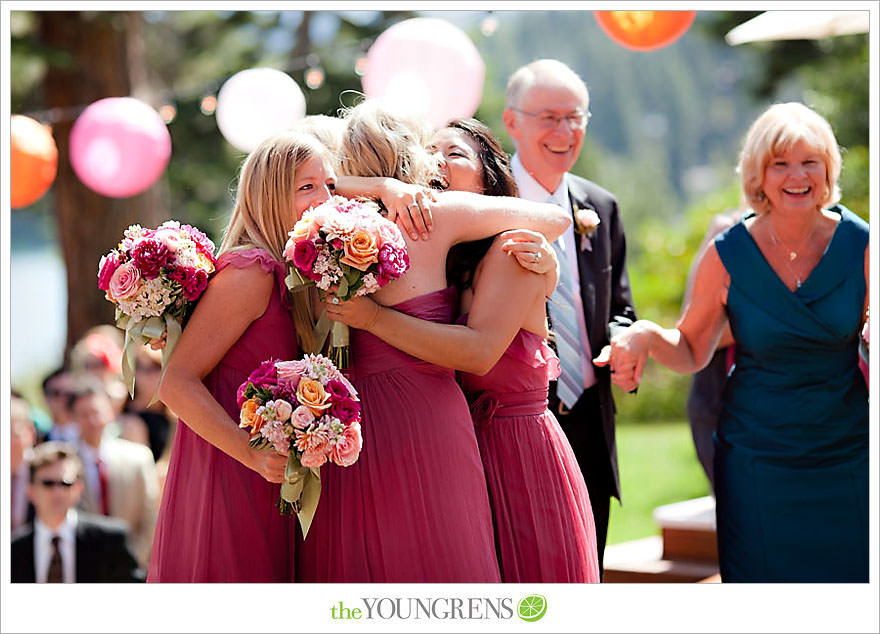 Michael and Jamie's San Diego Wedding at the Rancho Bernardo Inn
Being an opera singer, Michael loves music, he loves tradition, and he loves Jamie! Their ceremony took place at St. Peter's of Del Mar, a traditional Episcopalian church with so much history that it made the ceremony feel meaningful, intimate, and reverent. Plus, Michael had a full choir of professional musician sing during the processional, which just about took the roof off the small church with it's gorgeous intensity! So the first image below of their rings with the sheet music of a song Michael sang to Jamie during the reception is totally appropriate to sum up their day! From Jamie:
"Though this picture is not of us, it is one of our absolute faves. I think there was a stroke of genius – it is so cool to have the lyrics of the song that Michael sang as part of a picture. This is stunning and represents (to me anyway) the unity of us as a couple and how well we fit together."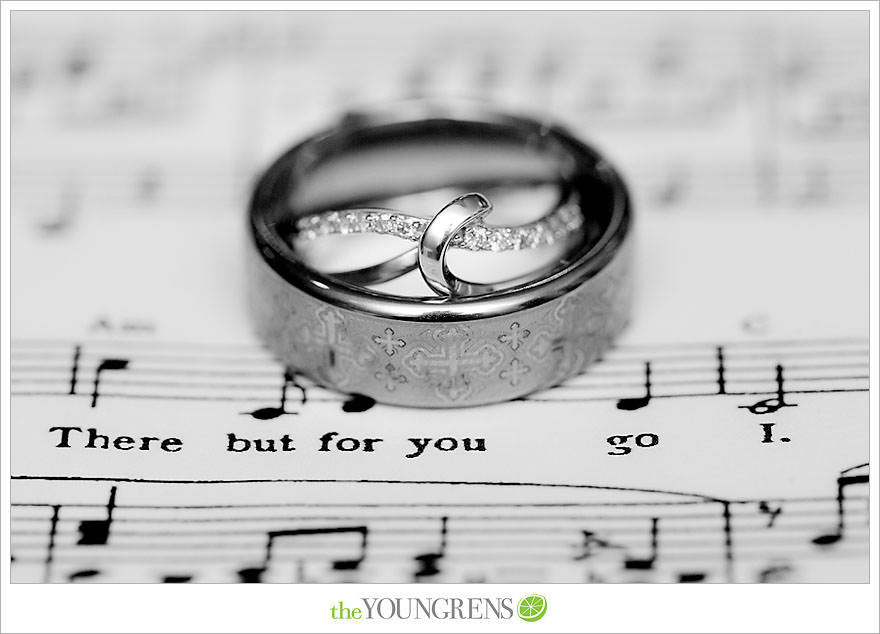 "This image is so stinking sweet. I absolutely love the moment you captured here. It truely looks like we are just hanging out and comfortable and relaxed. It was the first time all day that I felt like I could take a breath and relax a moment and just enjoy my husband, and this picture says it all."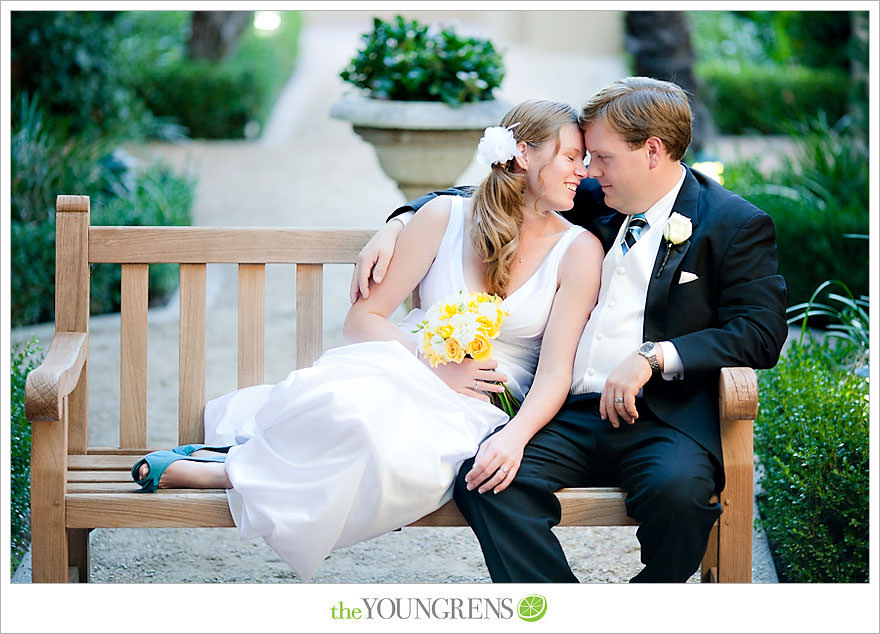 "This image captures the culminating moment of the entire ceremony. I just remember that when Paige said "you may kiss the bride" that Mike just layed that smooch on me and you can even see through the kiss that we are both smiling and happy."
"I love this image because I was so excited to have shoes that matched the bridal party's dresses and they get to show! I love how the bench makes us truly look like we could just be sitting in a park somewhere and that someone just cracked a joke. It definately captures how much I love and adore each of these girls and how much fun we all are."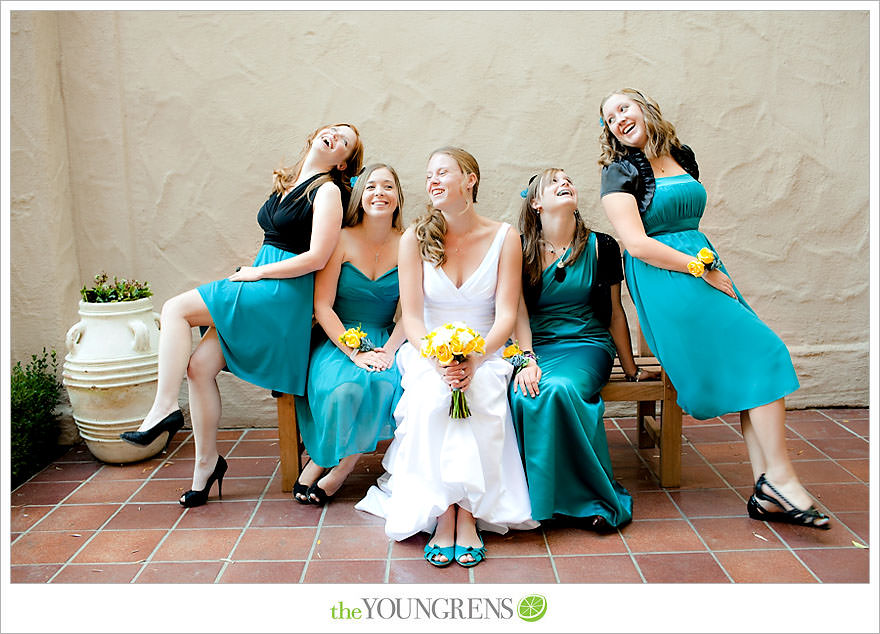 "This image of the guys is fantastic and you can tell they all love to have fun and that somehting silly just happened. It makes me want to know what was going on, and it is so nice to see everyone so relaxed and ready to enjoy the party."
Matt and Holly's Japanese Garden Wedding
Like I mentioned yesterday, Matt and Holly fell in love while working at Tokyo Disney, so much of their relationship took place over three years of living in Japan. So they chose the beautiful Earl Burns Miller Japanese Gardens at CSU Long Beach for their wedding, and the way they incorporated so many beautiful Japanese and personal details into the pathways of the gardens was just amazing. But these two just  make me happy no matter what – they're SO FUNNY and yet so romantic and SOOO in love. These two are the real deal! From Holly:
"This picture is my favorite from our wedding because it captures a moment that belonged to only us. We had just seen each other for our First Look and so many emotions were running through both of our heads and butterflies filled our stomachs. In this moment Matt and I held each other and spoke no words, but just felt the love between us. After this, our wedding would become a whirlwind where we would try to capture every moment possible. But right now Matt would kiss me on the nose and we would close our eyes and just feel the love between us. It is a moment I will never forget, and now I never have to."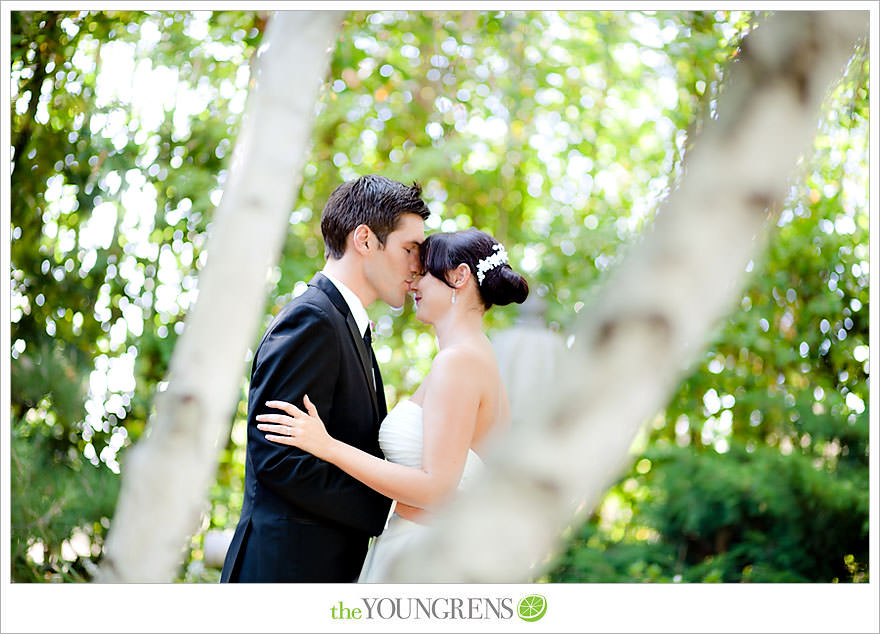 Brian and Maria's Romantic L'Auberge Del Mar Wedding
This San Francisco couple chose the beautiful seaside venue, L'Auberge Del Mar of San Diego, for their intimate wedding, and even though these guys are all about their friends and family, they get so tender and quiet with each other. And that's what I love the most about them. They have such a deep connection and it's amazing to watch! A little background on their wedding – the day before their wedding, all of San Diego and parts of Orange county lost power. It was one of the biggest power outages that Southern California has ever seen, which meant that they couldn't make it to their ceremony rehearsal because of traffic and the rehearsal dinner went from a big welcome dinner at The Prado to a candlelit picnic at L'Auberge with sandwiches and wine! But these two were rockstars with everything going on, and the rehearsal dinner actually became an amazing memory for them. So here's Maria's favorites that speak to that tenderness and roll-with-the-punches attitude between them :
"This image is from the First Look and after the power outage the day before, clearly nothing was going to ruin our big day. This is a very special First Look moment!"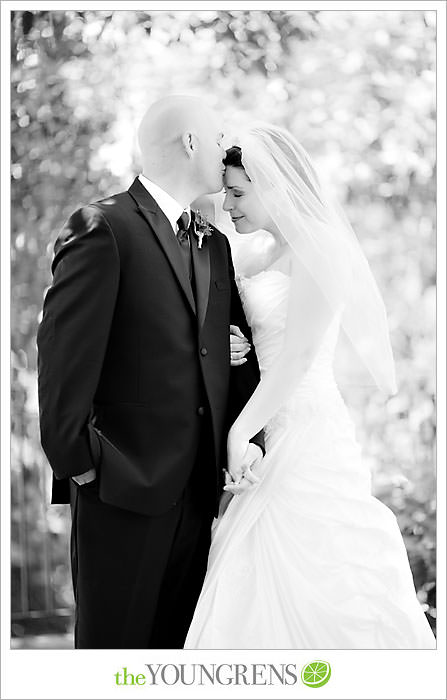 "This is just a beautiful picture!" (I totally agree!)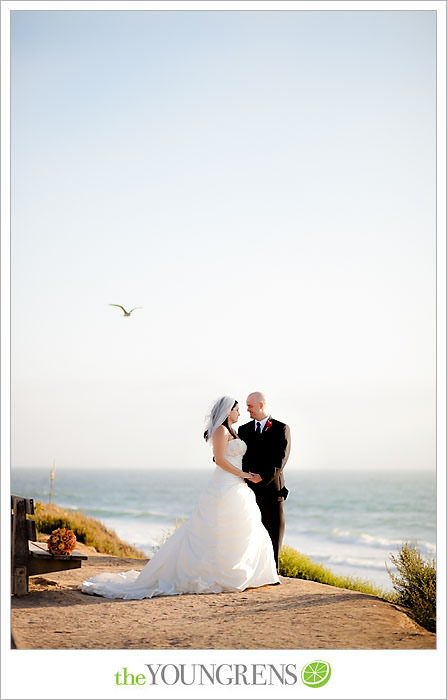 Jared and Kathryn's Garden Wedding in Corona Del Mar
As we mentioned yesterday, Jared is a Texas boy through and through, and Kathryn is a die-hard romantic when it comes to love and tradition. Their rustic and detail filled wedding at Sherman Gardens captured their sweet and simple personalities perfectly. And I love that Jared picked out a pair of super nice ostrich leather boots for his wedding!
"I love this image because it perfectly captured the feel of our wedding. Simple, rustic, elegant. The bench goes perfectly with our cowboy boots and the succulent plants look like they were staged. I couldn't have been happier at this moment. We had gotten married only about 30 minutes before this picture was taken and It was so nice to spend some quiet one-on-one time with my new husband before heading into our whirlwind of a reception. This picture reminds me of that time that was so special."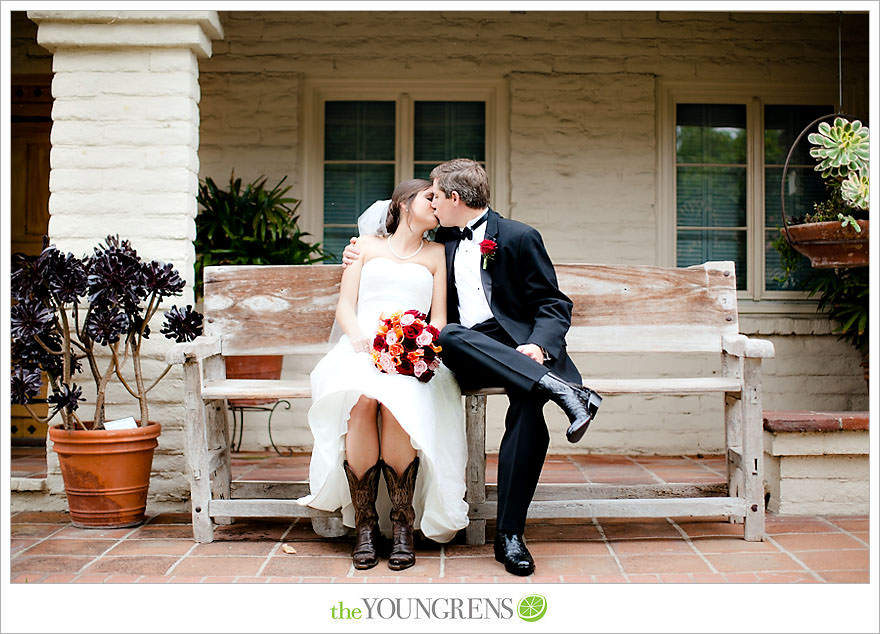 Travis and Carly's Seaside Wedding at L'Auberge Del Mar
Carly is one of those girls that is pure fun wrapped up into a cute little package. Her smile, her laugh, her personality – everything about her exudes energy. And on the wedding day, this military guy matched her energy ounce for ounce – Travis was SO EXCITED to be married! His eyes, smile, and his whole body lit up as  soon as they saw each other at the First Look and after the ceremony he couldn't stop hootin' hollerin' about how excited he was to have just married this beautiful girl! From Carly:
"I love this photo because I can remember exactly how I was feeling as it was taken.  The ceremony had just ended and I was reveling in the fact that this man who I had loved for 7 years had finally become my husband.  My heart felt so big I thought it might burst! My face says simply and wonderfully, 'He's all mine.'  By the end of this photo shoot, my cheeks were hurting because I had smiled so much.  It was truly the happiest day of my life."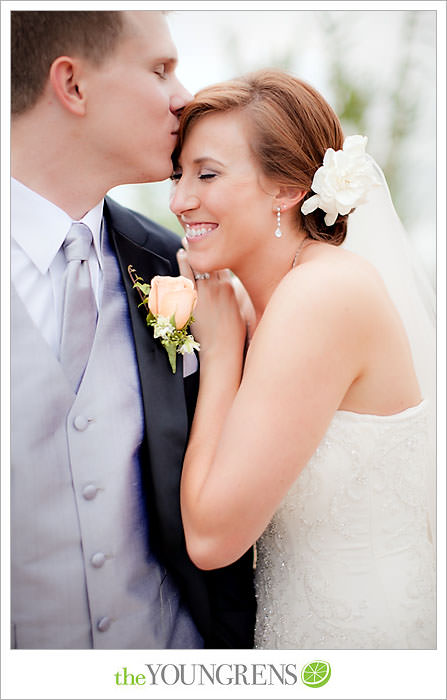 Eric and Rachel's Intimate La Jolla Ceremony
These two just couldn't WAIT to get married, so they decided to have a small ceremony with just them and their parents on the cliffs in La Jolla overlooking the sweeping seaside. Even though this was a small wedding, it was just as powerful and emotional as anything else – in fact, it was more meaningful and exciting in so many ways. It really was all about the marriage and about the two of them celebrating with their family. We loved it and I love the images that Rachel picked:
"This was near the end of our session, after I shared our little-known-but-crowd-pleasing-party-trick (ok, we've never really busted it out at a party), 'Hey, we both can raise one eyebrow!' This prompted Jeff to start shooting away and WA-la! I love that it captures our fun-loving and often goofy relationship in a unique way – it's definitely going to make me smile for years to come!"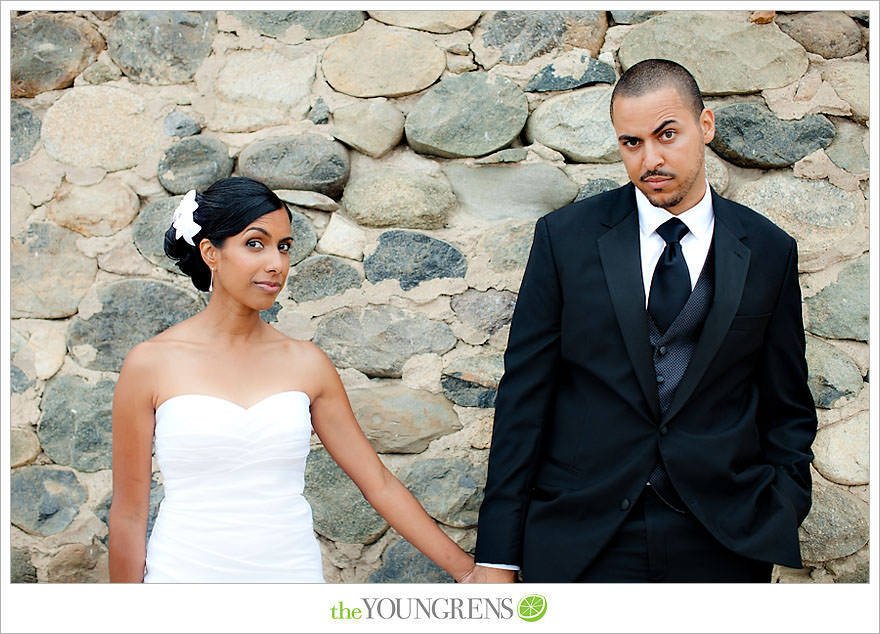 "The rock wall pics were my faves! The rock wall provided an amazing backdrop.  A lot of the pictures in that setting were my favorite simply because of the composition – my white dress and Eric's black tux in front of those colorful stones was amazing.  This picture in particular really captured the mood of the whole day, which was relaxed and just plain fun.  Eric was whispering things to make me laugh during our entire session, and this was just one of those many moments where I was truly cracking up.  I know that our ability to laugh together will get us through any tough times over the years ahead!"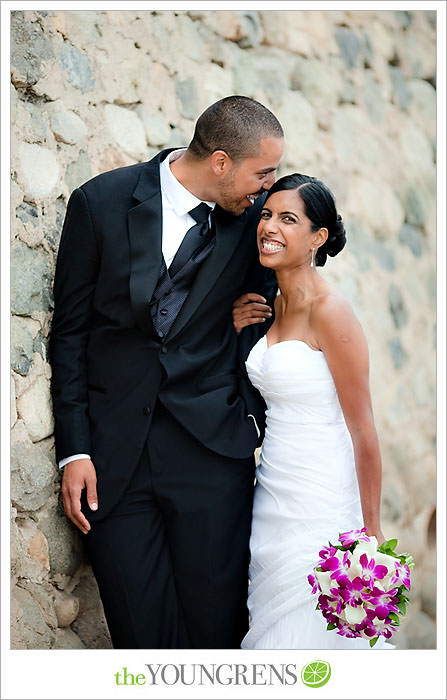 Jason and Michelle's San Diego Garden Wedding
These east-coast transplants to Southern California absolutely LOVE the life that they have found here in San Diego. Watching them drink in the city and explore their new life here has been amazing, and they were so excited to share their new home with all of their friends and family from the east coast. It was such celebration and you could feel the love and joy that their whole family shared for each other! And I love that Michelle was able to slow down and experience her day with all of the meaningful details involved. Here's their favorites:
"Having my grandmother's wedding dress and my mother's wedding dress beside my own; and having them photographed for eternity touched my sentimental side.  Both my grandmothers couldn't be there on my wedding day, but having their broaches in my bouquet and seeing three generations of dresses hanging side by side meant they were with me in heart and spirit.  That tradition surrounded me on our wedding day and made me appreciate and hold dear the vows we were to exchange."
"At this point in the day, I had to let go of control and accept whatever the day would bring.  It was such a relief to be surrounded with my best friends, including my mom and dog, and just enjoy the moments of being a bride and not a hostess.  I was excited to see Jason and so proud to become his wife.  As much as I wanted to see him, the fact that I was so relaxed and content to enjoy the moment spoke volumns about my relationship with these ladies."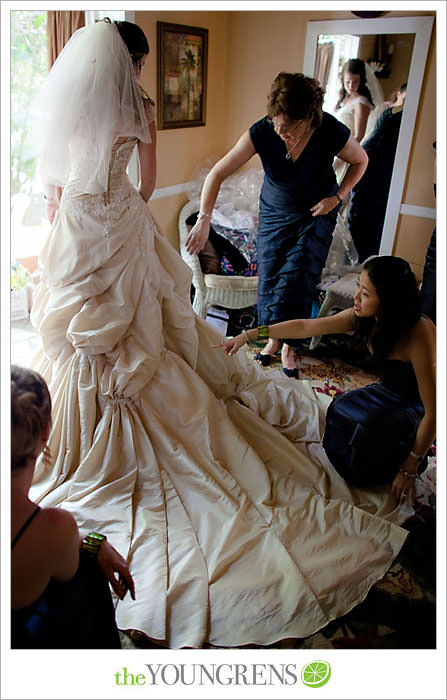 "I love the romance and softness captured in this photograph.  I'm able to relive the raw emotion on Jason's face when he saw me for the first time.  I didn't think I'd cry but when I saw him look at me, I couldn't hold back and the tears flowed freely."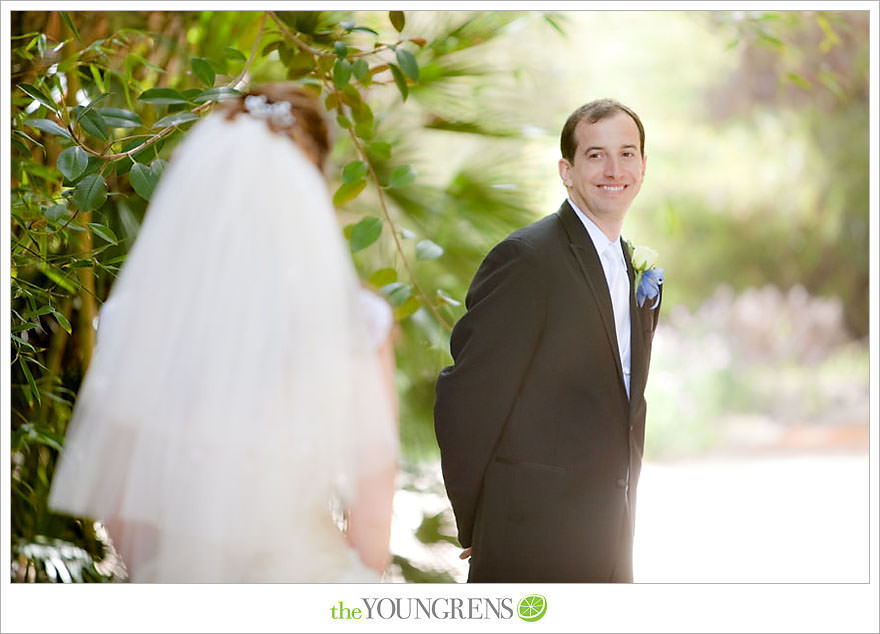 "This photograph taken after our ceremony is so gorgeous in frame and color.  The moment that is captured was the first time we could step back and just enjoy being married.  I also love how it shows off my train!"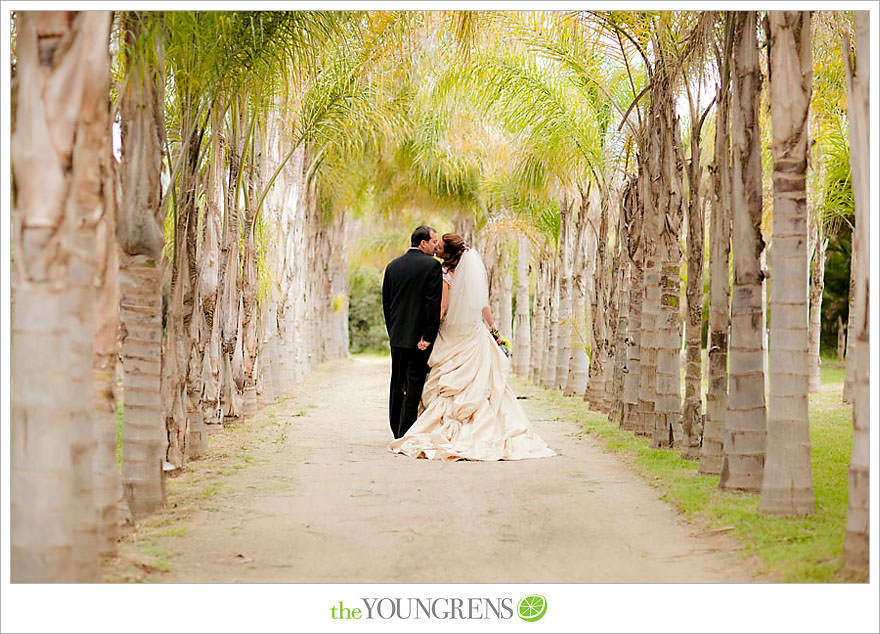 "We fell in love with the natural elements of our venue and I couldn't wait to have photos taken throughout.  This photo really captured the beauty of the waterfall and the amazing colors that heightened the day."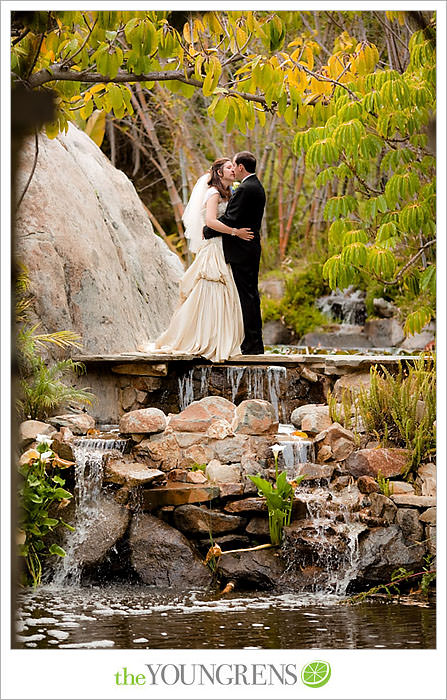 Mike and Dara's Tuscali Mountain Inn Wedding
A comedian and an artist in an intimate wedding at a boutique inn in the scenic Santa Monica mountains – perfection! Mike and Dara had one of those weddings where the entire look made us swoon left and right. From the gorgeous rolling hills of the state park nearby that we took pictures in to the teeny boutique inn where they held the ceremony and reception to Dara's soft and slinky dress with her tousled side swept hair and gorgeous skin. And even though we took some GORGEOUS images at their wedding and felt like kids in a candy store the whole day (it was Dara's whimsical and soft style that inspired me to start shooting portraits at f/1.2), everything culminated into this one favorite image that I am so excited they chose!
"The way you captured the light through the tree was so beautiful, and it was a nice quiet moment for us after the ceremony. That, and we found your excitement about the light and the images you were capturing infectious. You two made us smile even bigger!"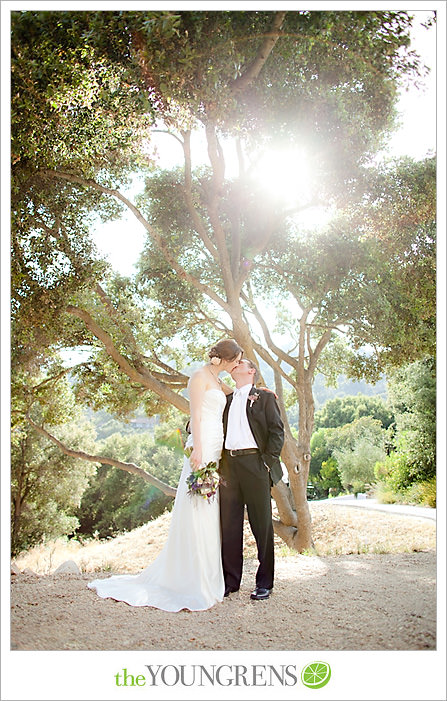 Paul and Siri's American / Indian Wedding at L'Auberge Del Mar
This wedding between these two sweet souls has become an all-time favorite for Jeff and me. Paul and Siri are two quiet, lovable, thoughtful, and SWEET people that everybody loves – evidenced by their 250-person guest list full of adoring friends and family. Siri honored her family culture by incorporating tons of Hindu traditions into the wedding, so the day became an eclectic and exciting mix of western ceremony plus Indian customs plus Paul and Siri's chill personalities. This was most apparent during the ceremony where Paul and Siri's friend, Norma, officiated the unusual mix of Indian and American wedding traditions which I'm pretty sure became everybody's favorite part of the day. When Siri talks about everybody crying during the ceremony, she isn't lying. We were all super emotional including Jeff and me! From Siri:
"Our loved ones were not just spectators at our wedding, they were integral to its planning and execution. We had so much help making the day a special celebration, from the invitations and programs (designed by Paul's aunt), to the 70 blue vintage masons jars at the reception (rounded up by his mother and another aunt), not to mention our DJs, and our officiant, Norma, who is like a sister to me. I adore the picture of Norma trying to hold it together during the ceremony shortly before the exchange of rings. It captures the emotion of the ceremony and of our personal vows. Many people have told me that once Norma became emotional, their own tears flowed."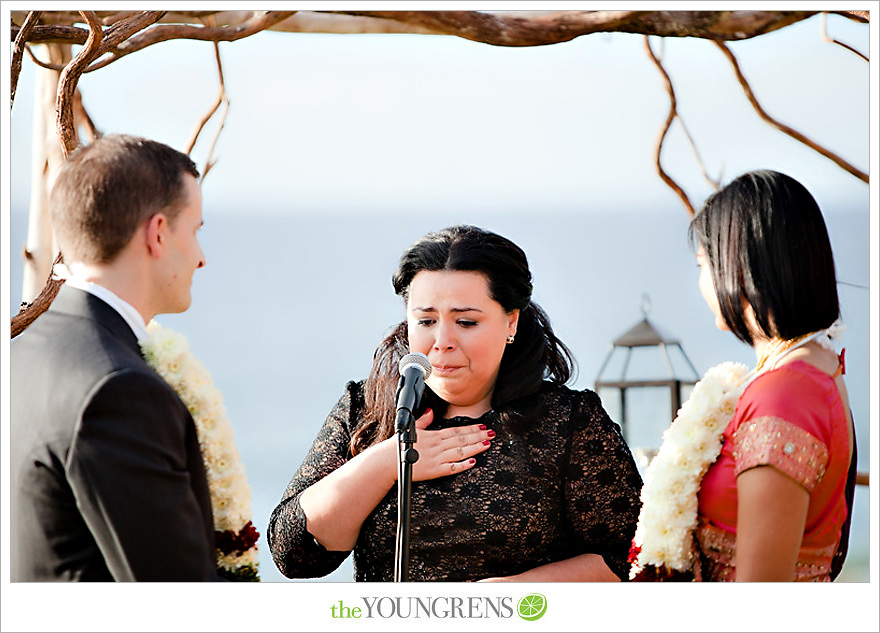 "I can't articulate why I love other picture so much. I suppose I love the intimacy of the shot. It has become my Facebook profile pic!" (This is actually one of my favorites too!)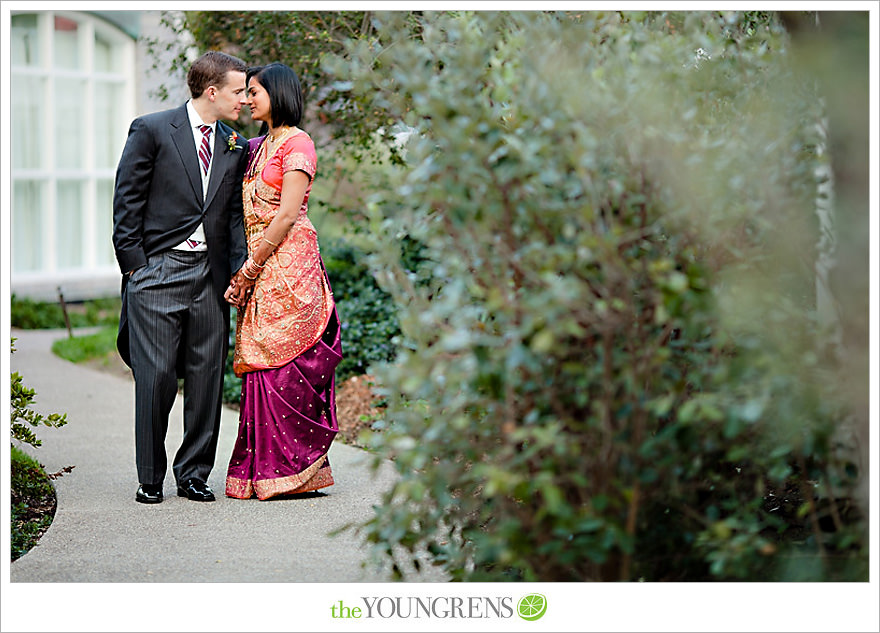 Greg and Rachel's Yacht Club Wedding in Marina Del Rey
Rachel LOVES her quiet, intellectual man. Greg is one of those guys that seems super serious at first but has such a soft heart for his family, friends, and his beautiful girl. Their sailboat themed wedding at the California Yacht Club was so sweet and emotional – Rachel's pure excitement at marrying this guy was INFECTIOUS. All of our brides are sweethearts that radiate joy, but I don't think I've ever seen a bride smile as big and as much as Rachel on her wedding day! I love hearing this same girlish excitement in her responses for her favorites:
"The spot Jeff and Erin chose for our first look was absolutely perfect with the beautiful arches.  I'll never forget how happy and excited I felt walking toward Greg before he turned around.  I love this photo because it captures such a spontaneous sweet kiss."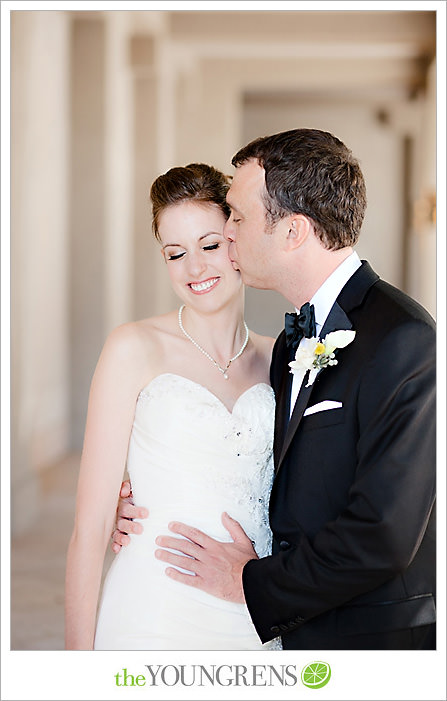 "Right before the ceremony I suddenly had enormous excited butterflies.  These photos really capture that extra special last moment of me laughing with my parents before they walked me down the aisle."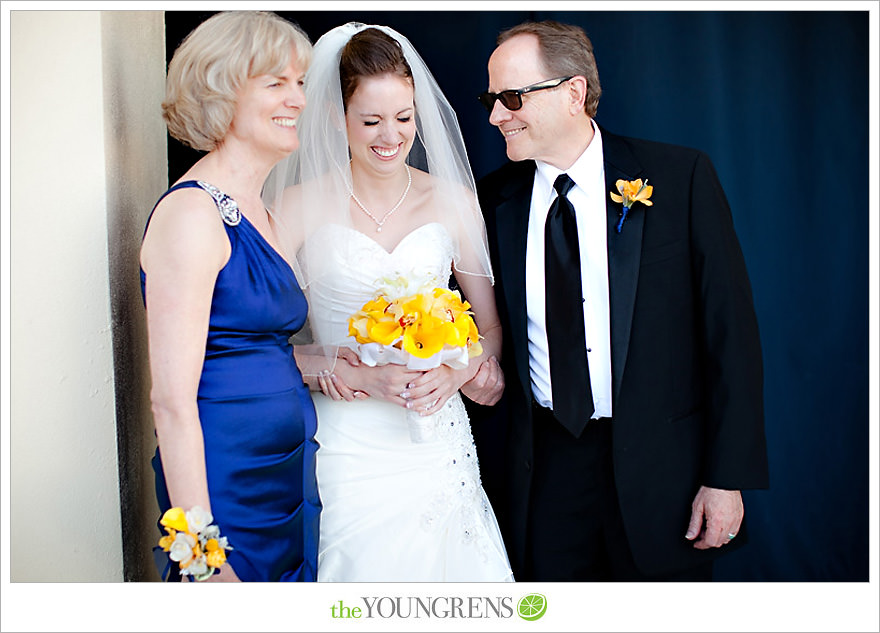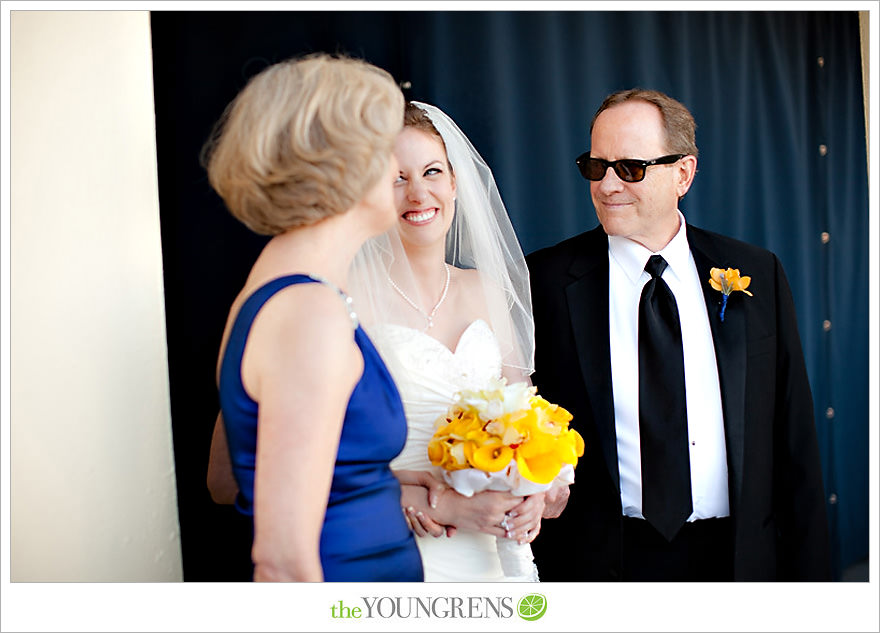 "This is such a gorgeous shot of our first moment as husband and wife! It is perfectly framed and the black and white makes it look really elegant."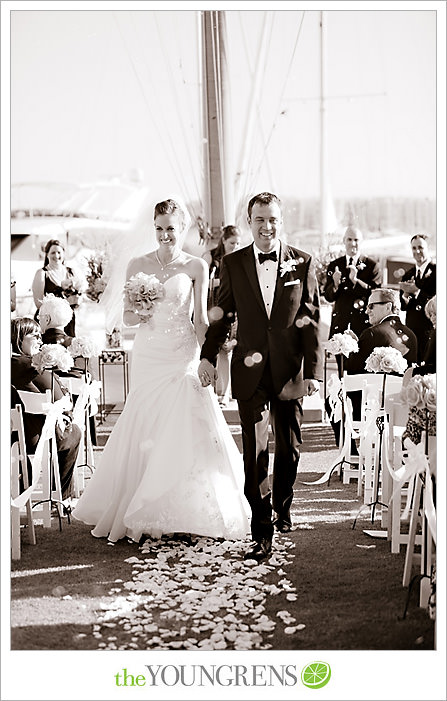 "I loved our stroll on the docks after the wedding and this one looks really natural.  You can also see my cute blue shoe poking out.  :)"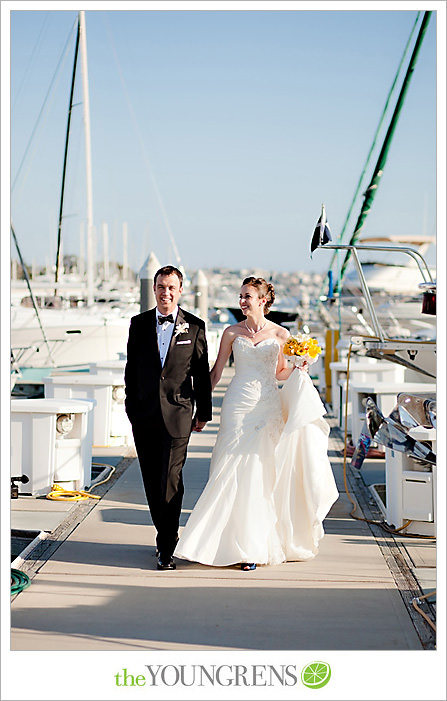 "How handsome is my groom?  I love his sweet smile in this photo, totally un-posed and having a great time at the reception in his bow tie and suspenders."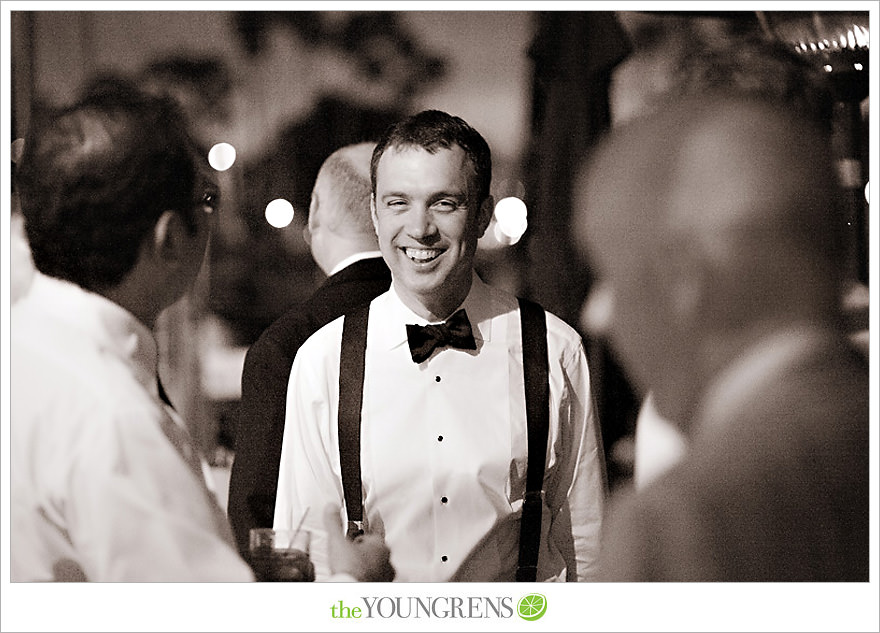 Justin and Taryn's Art Deco Style Wedding on the Queen Mary
Taryn loves everything art deco – the era, the fashion, the architecture, the hair, the makeup. The golden age of Hollywood has totally captured her heart so she fell head over heels in love with the Queen Mary, the luxurious cruise liner that carried society's most elite (princes, princesses, kings and queens, actors, singers, politicians) around the world during the height of the art deco age. I loved the simple, classic style she put together for her wedding, including her sweet birdcage veil, fun feather hair accessories, and glamourous red lips that are a hallmark of golden Hollywood. But their heart for each other are truly what shine! From Taryn on her favorite photo:
"At this moment we both realized that we truly took the leap of faith to each other that we are seriously doing this. I felt like a princess who was waiting for her prince. If you can't tell, he knows how to make me smile and take me out of that moment of worry and fuss and helps me to relax. It was about us and who we are and what we had done to get to each other and the journey that we had taken this year to make it to the wedding and to relax and have fun the rest of the day."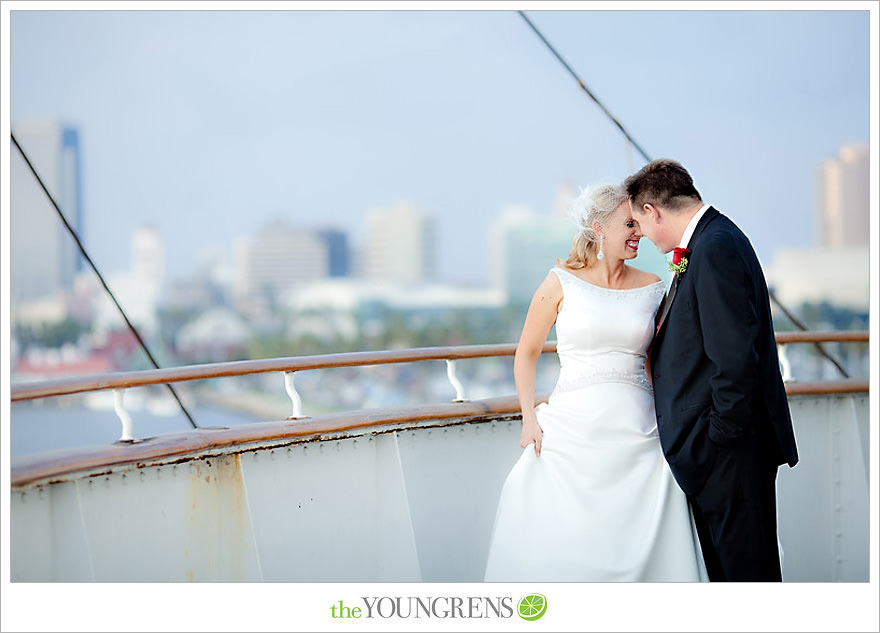 These two blog posts recapping 2011 have been such an incredible thing for me to put together. THANK YOU to all of our awesome couples for responding to my request during such a busy time of year and for putting your hearts and souls into they project! Jeff and I feel so blessed and fulfilled by your answers. We love each and every one of you and were so honored to be a part of your journeys! Here's to more amazing people and beautiful memories in 2012!
Hugs,
Erin