I'm about to get real opinionated.
(I apologize in advance.)
But I get asked this question quite a bit, and I have a very clear answer.
Question: "When it comes to my wedding decor, what makes the biggest impact?"
Answer: The linens and the chairs. Without a doubt.
It's not the flowers or the centerpieces or the favors. It's not even the bridesmaids outfits or the lighting. All of those things are important (especially the lighting – more to come on that topic soon), but they won't do any good if the basics don't look amazing first. When you walk into a ceremony or reception, the linens and the chairs have the most impact on the overall look because they occupy the most visual space. This means you can use the linens and the chairs to quickly and easily achieve the feel that you're going for. Think about the kind of impression you'd like to make with your wedding decor. Are you going for bright and fun? Swanky and modern? Elegant and refined? Vintage and organic? Chances are the linens and chairs can go a long way in creating that look right off the bat.
Also, I want to point out two important notes. I'm not sure you can have one of these items look great but not the other – they kind of go hand in hand. Beautiful linens can get covered up by unattractive chairs, and pretty chairs probably won't do much for plain linens. So keep that in mind as you navigate your decor decisions. Also, as you think about your linen choices, keep in mind that white linens aren't a terrible thing. Much the opposite in fact. If white linens add to the bright, fresh look that you're going for then they'll be perfect. But don't choose white linens simply by default.
So how can you maximize the linens and chairs at your reception? Great question.
Let's start with the linens.
The color, texture, and length of the table linens have a big impact on the overall impression of the space. The color that you choose will be the main base color that people see, so pick a stunning color for the linens that you want to be the overall visual impression, and use the place settings, centerpieces, and favors as the accent pieces.
Jeff and Kelsey used teal as the base color for their reception tables, and the place settings popped with accents of orange at their beach inspired Hotel Del Coronado wedding.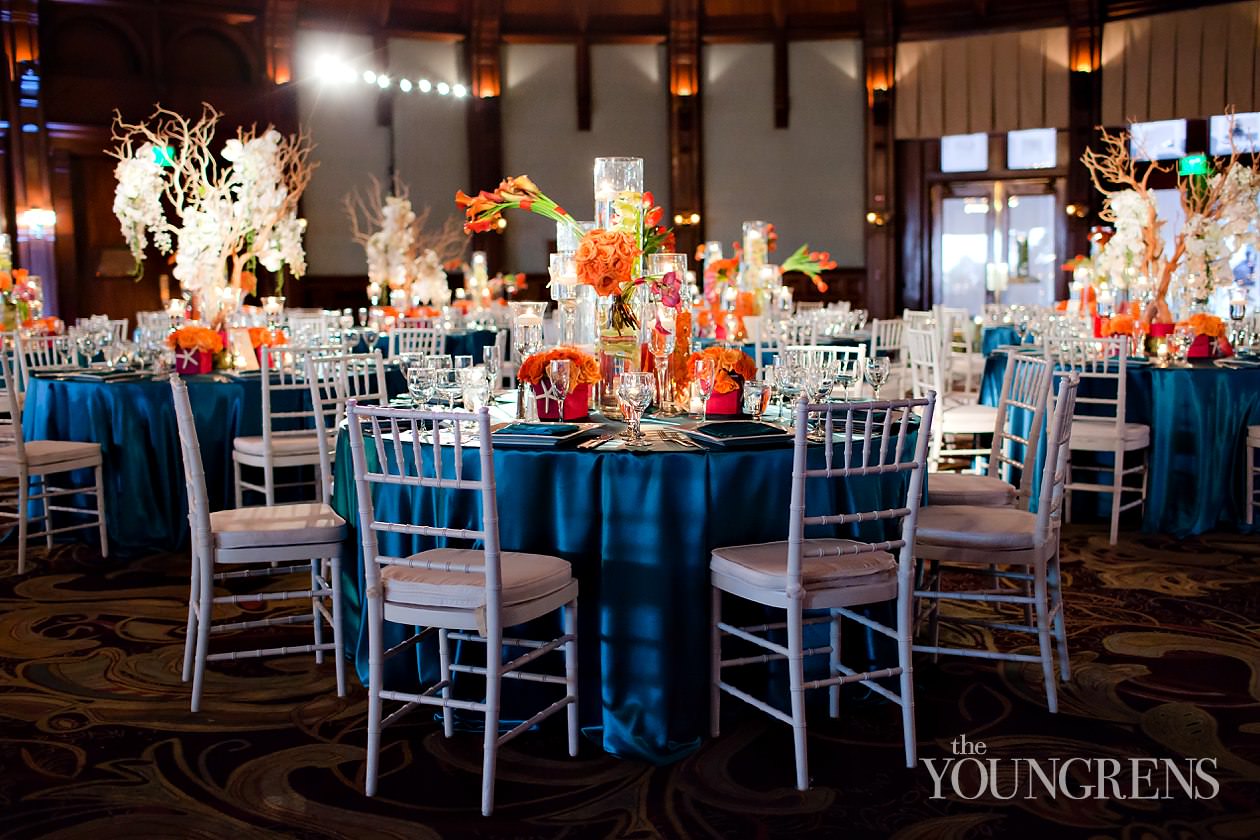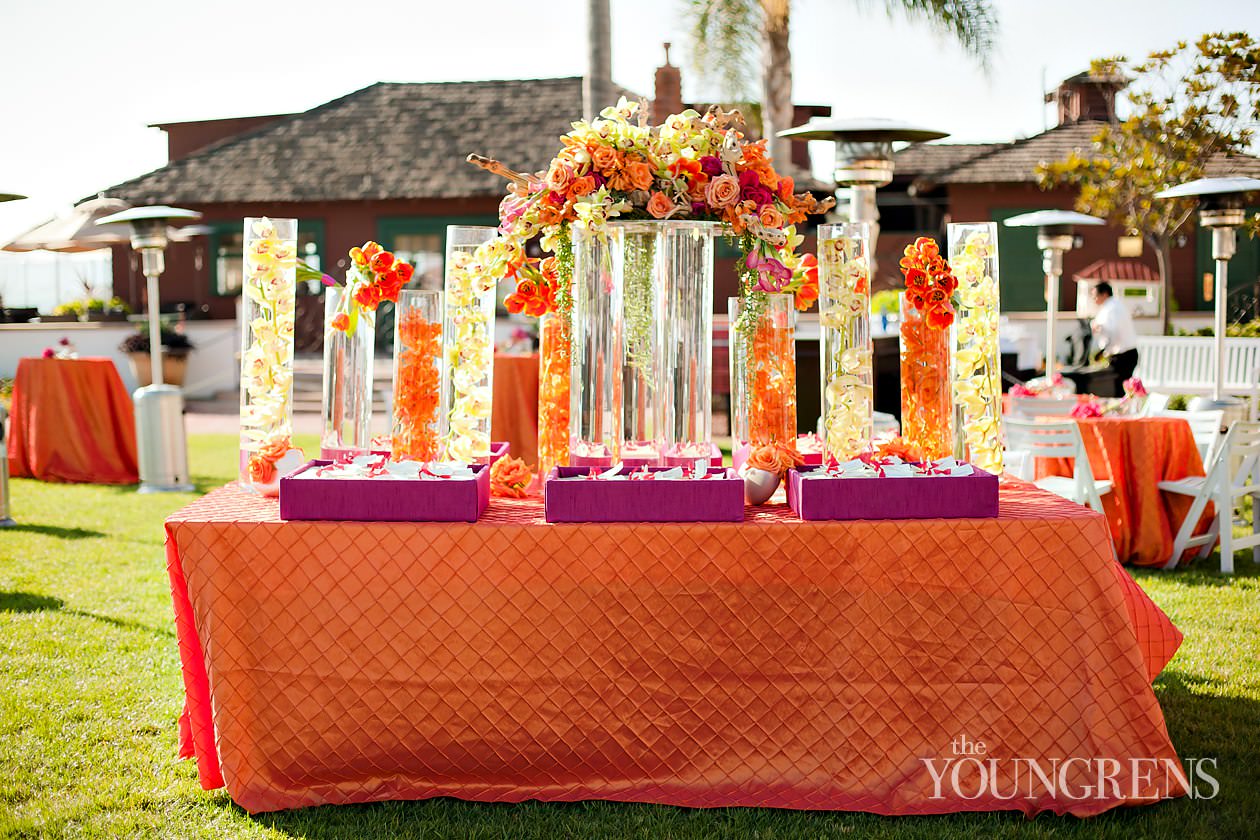 With the help of Heather at Amorology, Christian and Nicole used grey diamond taffeta linens matched with chiffon purple napkins on square tables for a funky casual look at their puppy-themed wedding at The Thursday Club. I also LOVE the seat cushions that they used as accents!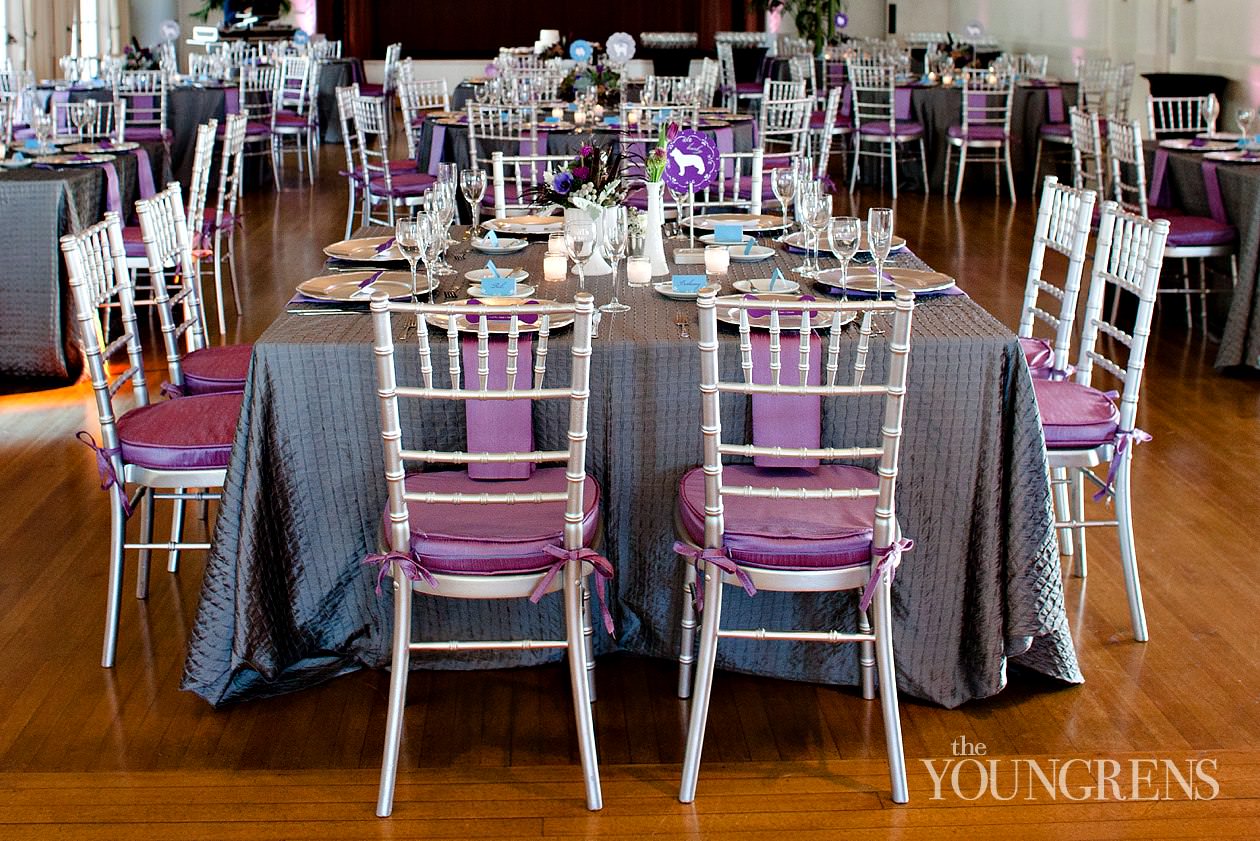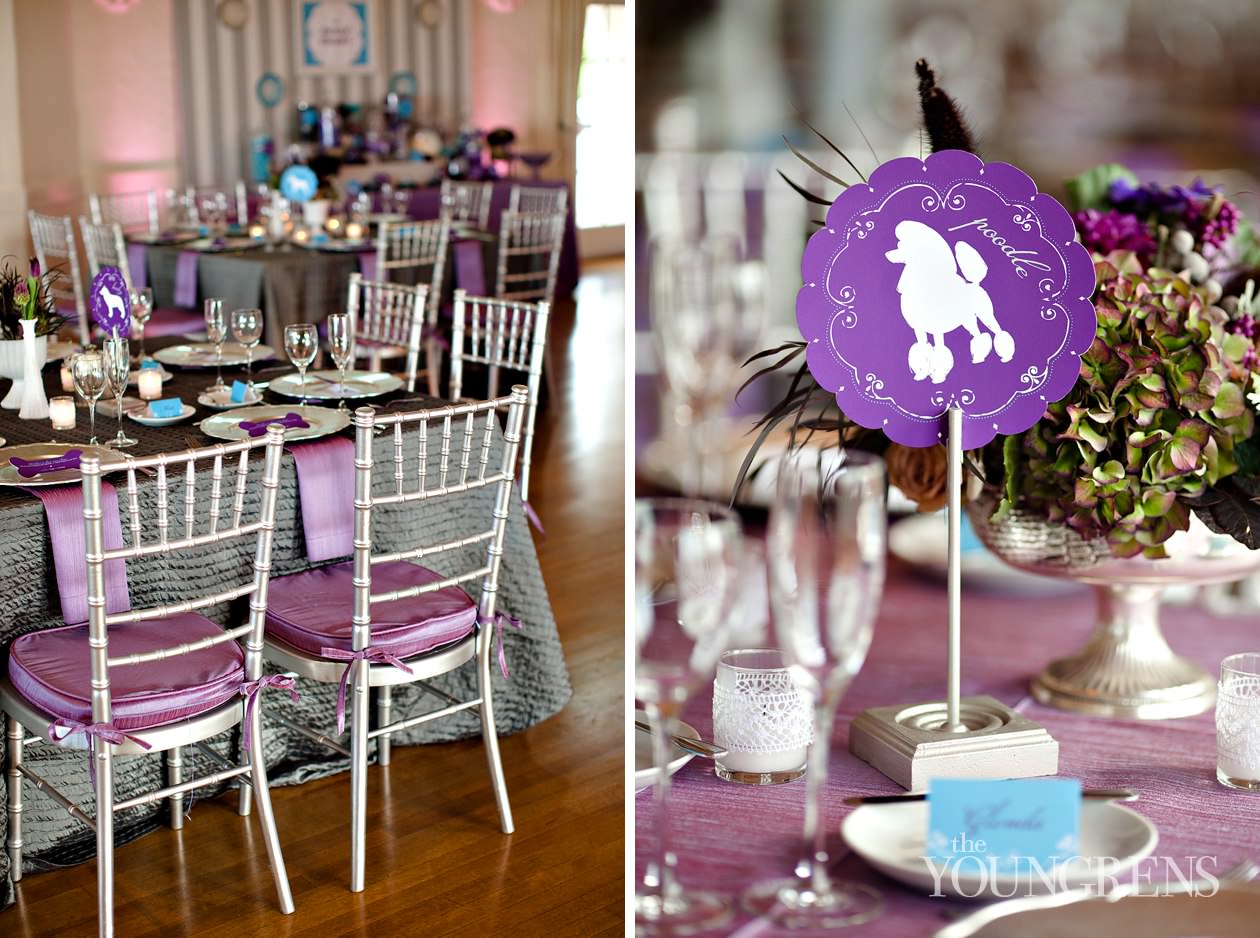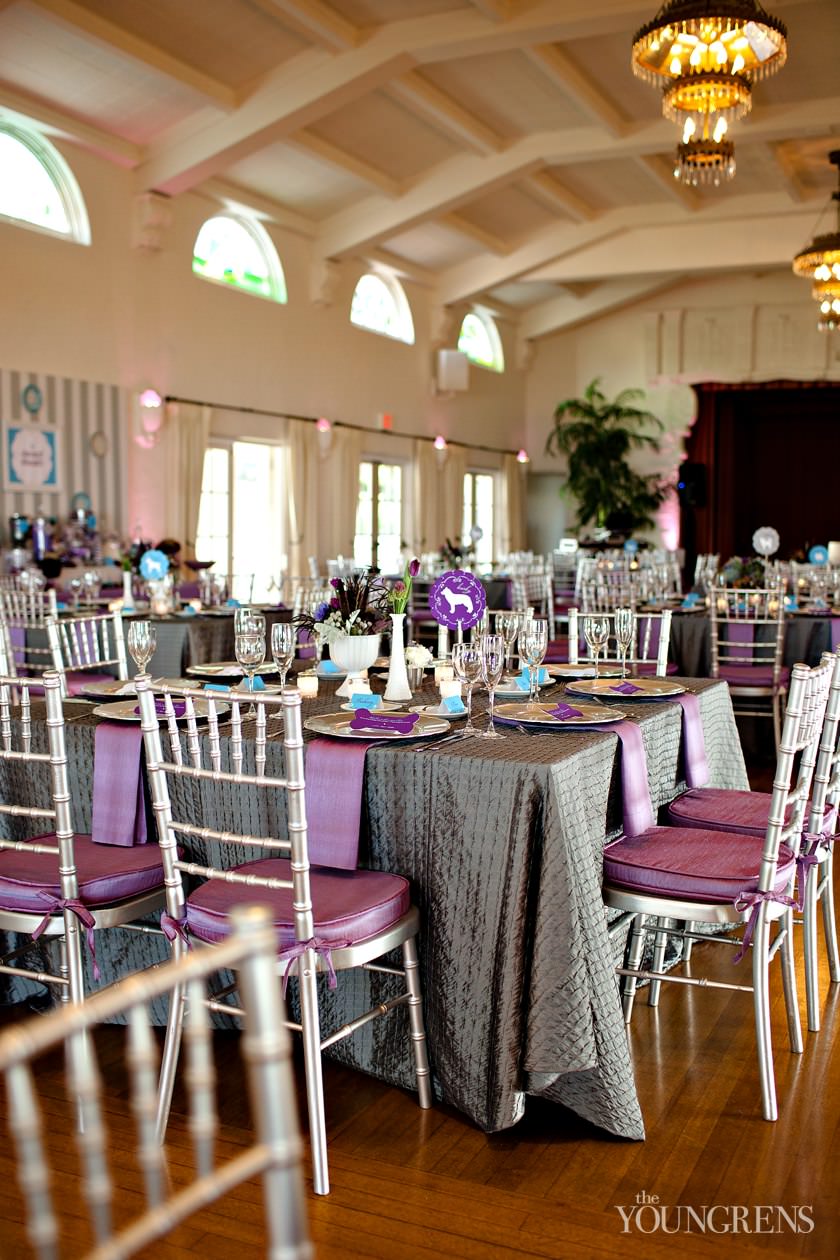 Susanne Duffy of Crown Weddings helped Alex and Angela create a vibrant look with these bright linens from Wildflower Linens. Along the same vein, you can also use interesting tables to achieve the same look, so they mixed up the atmosphere with a T-shaped head table.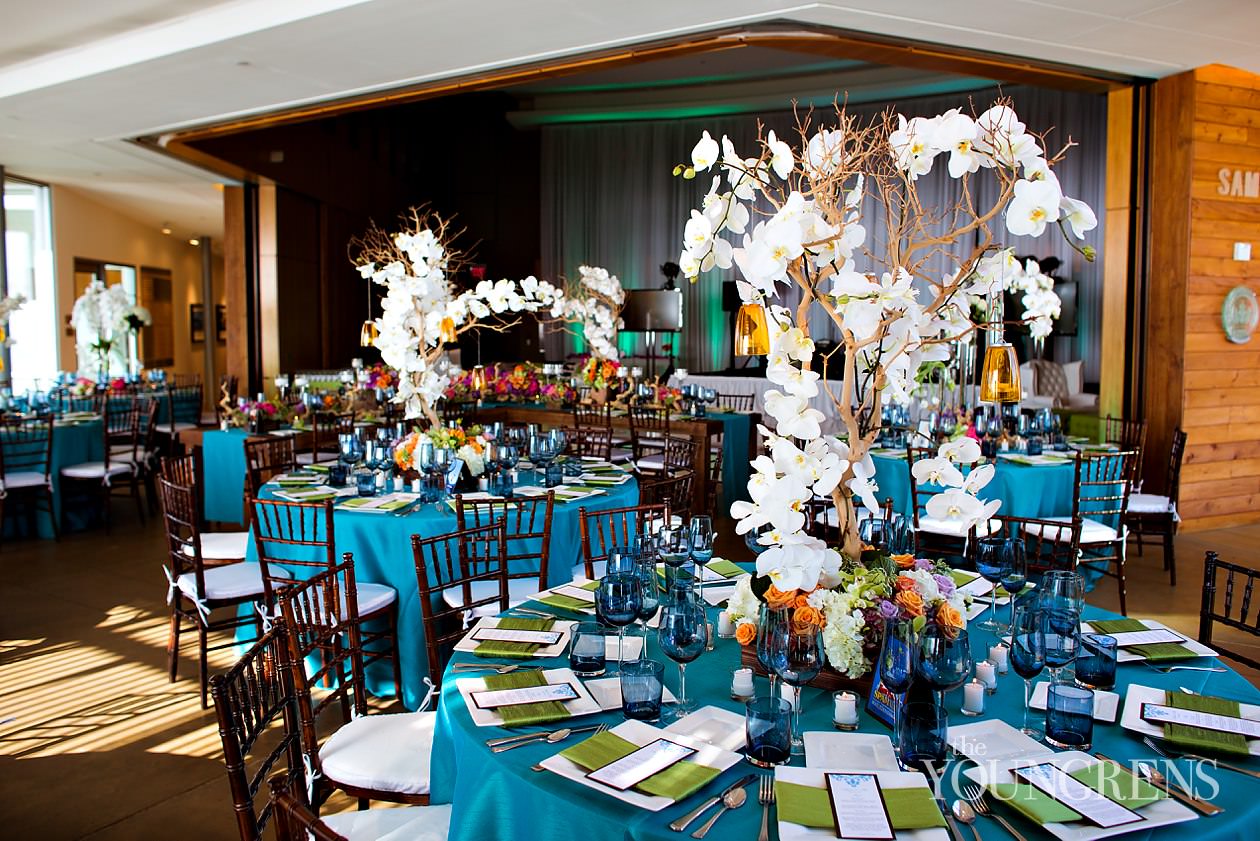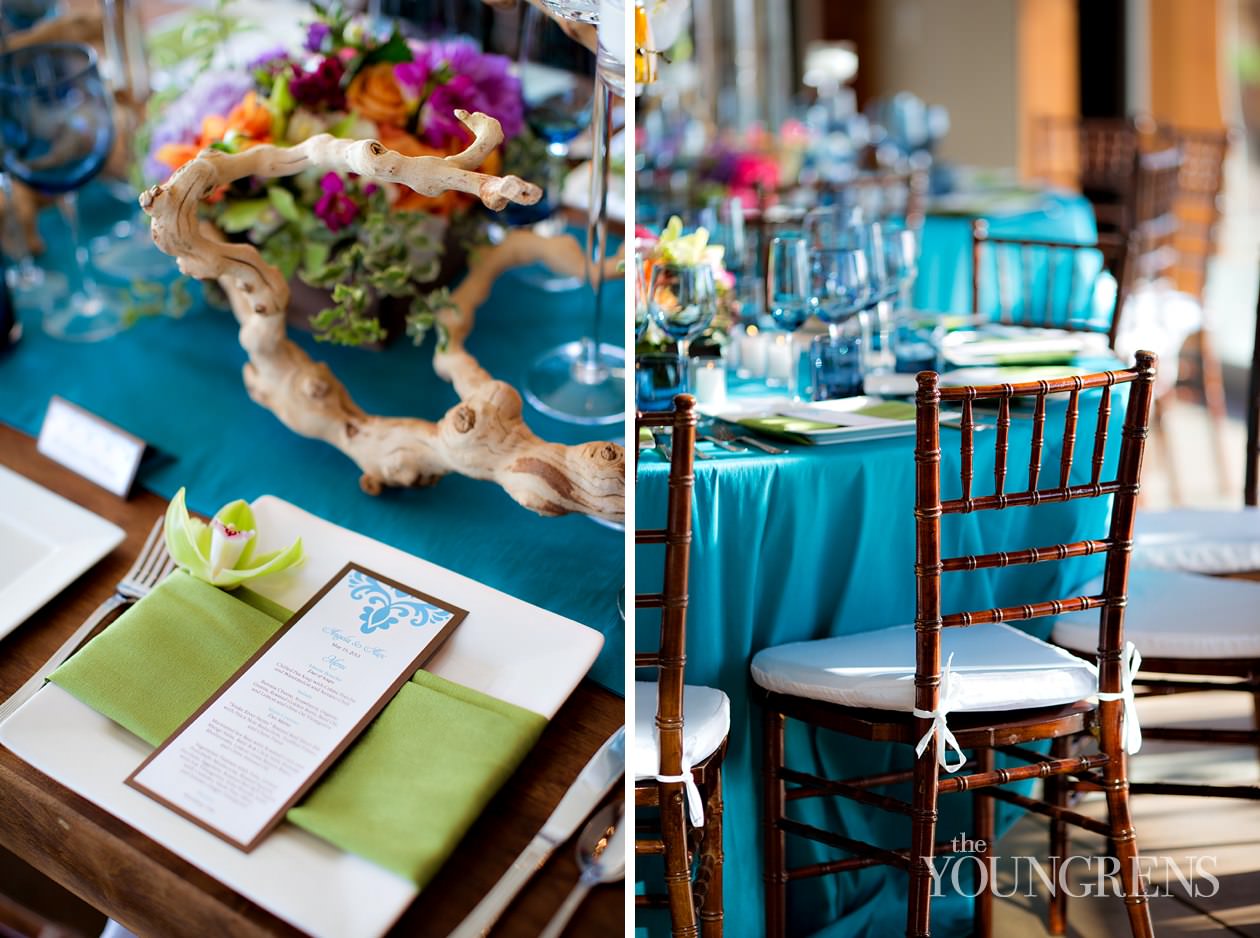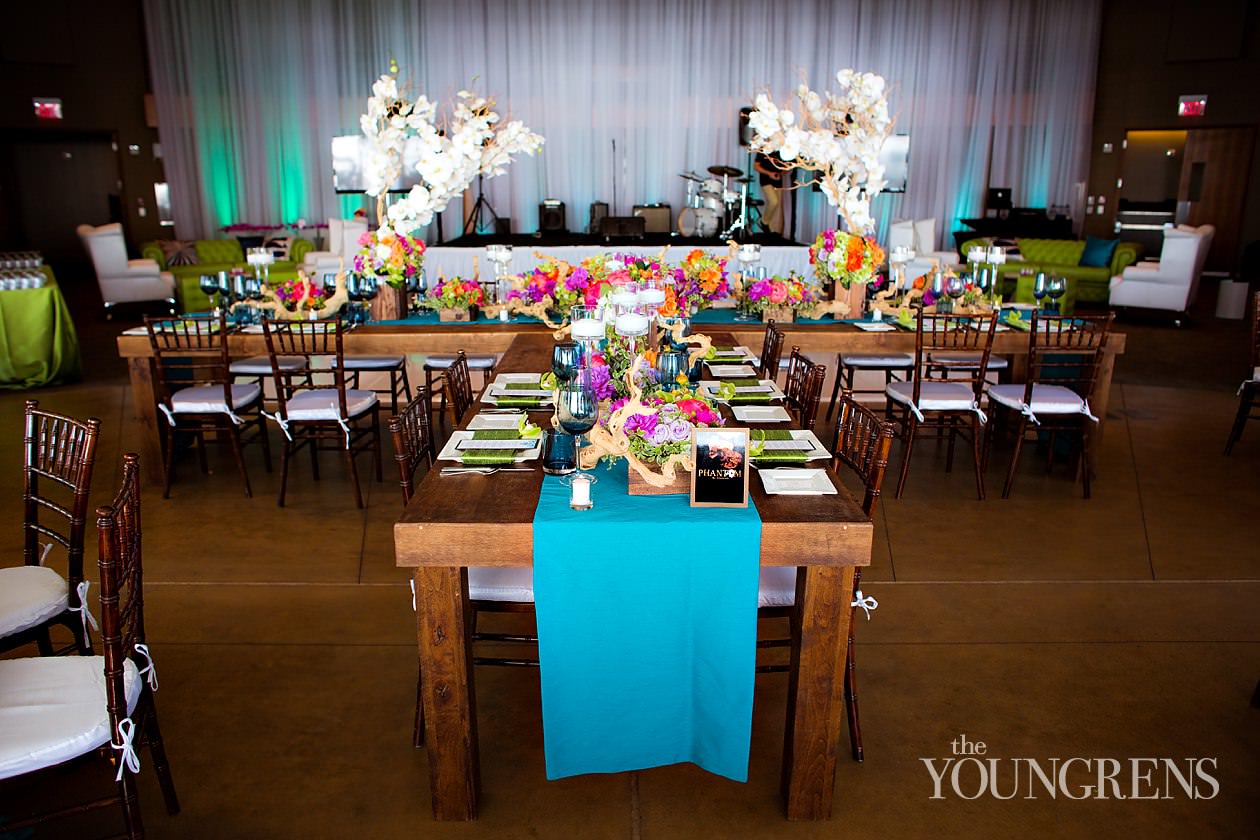 Josh and Corinne also used wooden farmhouse-style tables and accented them with lace runners for a casual yet sophisticated look, and draped accent tables with lovely pin-tucked floor-length linens. Corinne is my kind of girl!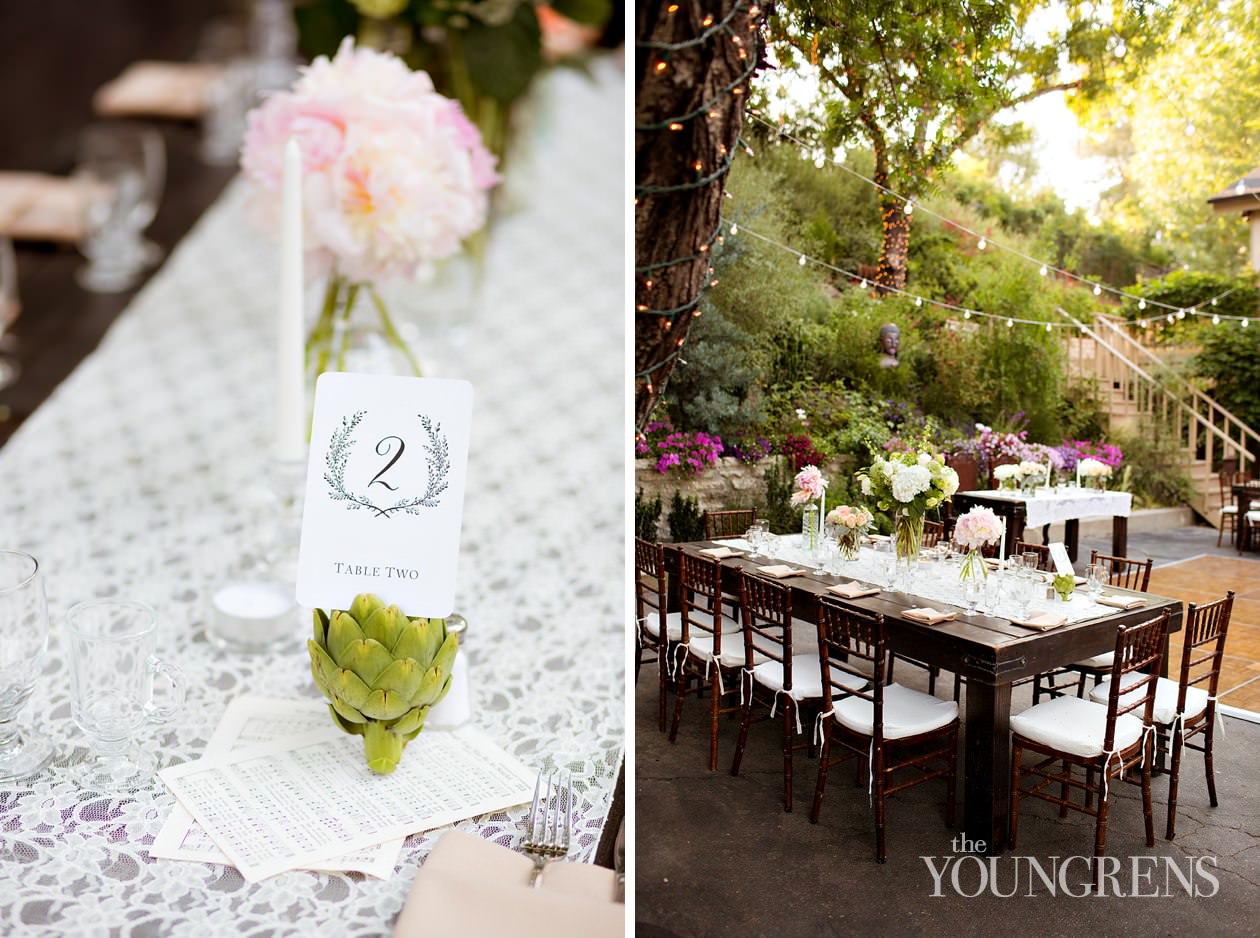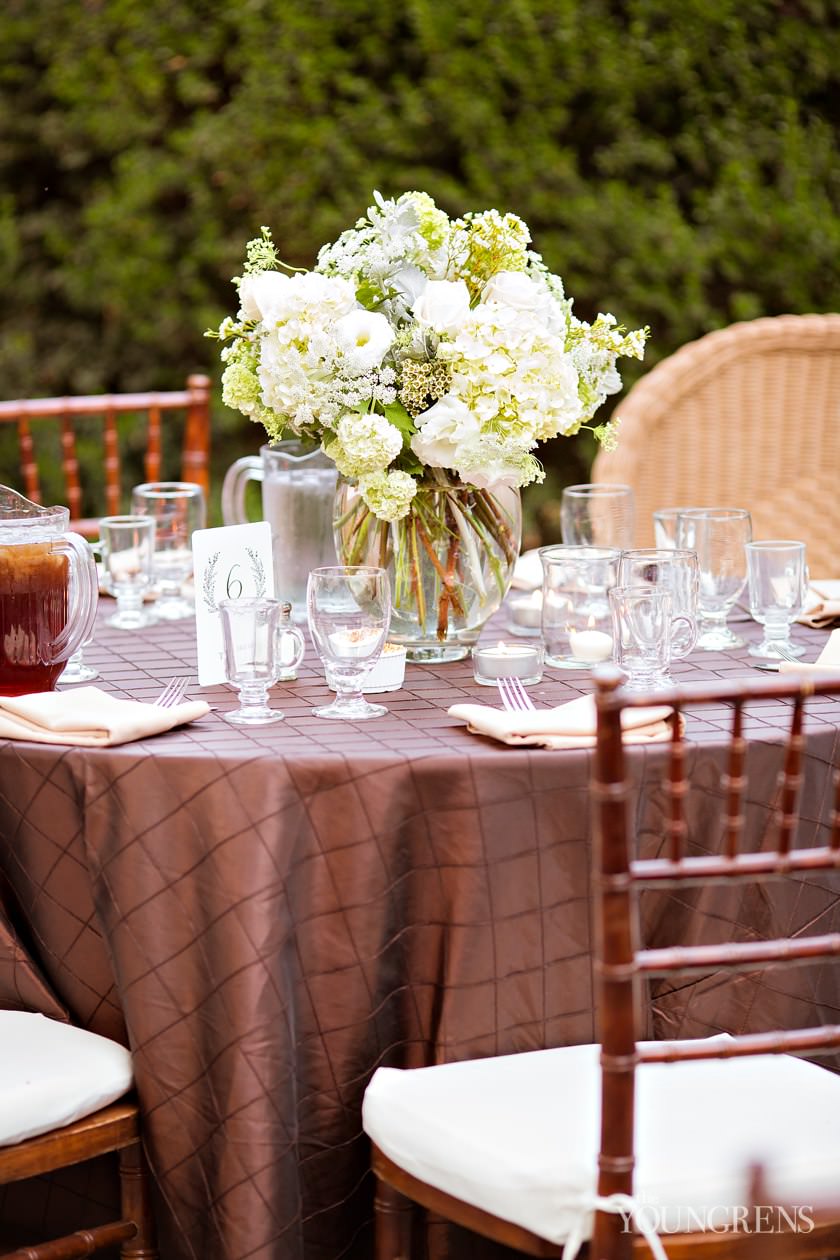 So where can you find these amazing linen options? Chat with your coordinator first, but La Tavola Linen and Wildflower Linens are two great companies to check out.
The Chair Dilemma
When it comes to the chairs, going cheap can be a big mistake. Those nice chiavari chairs you're seeing in the weddings above? They look fantastic and rental companies know it. But even though they cost more than your average folding chair, they're worth every penny – trust me. Much like the linens, the chairs have the power to completely define a space, taking an event from the seriously blah to the seriously stunning. So whatever you do, please don't use white plastic chairs. No matter how much hard work you put into making everything else cute, they will bring down the entire look of your wedding big time.
Like I just mentioned, the above weddings favored chiavari chairs to pair with their superb linens, which are an elegant choice that you can't go wrong with. They come in a bunch of different colors and you can switch out the chair pads to create a unique look, just like Christian and Nicole did. But here's two out-of-the-box examples of chairs that totally work. First, take a note from Katie and Alistair who chose traditional chairs reminiscent of Italian cafes for their destination wedding in Tuscany. Love, love, love!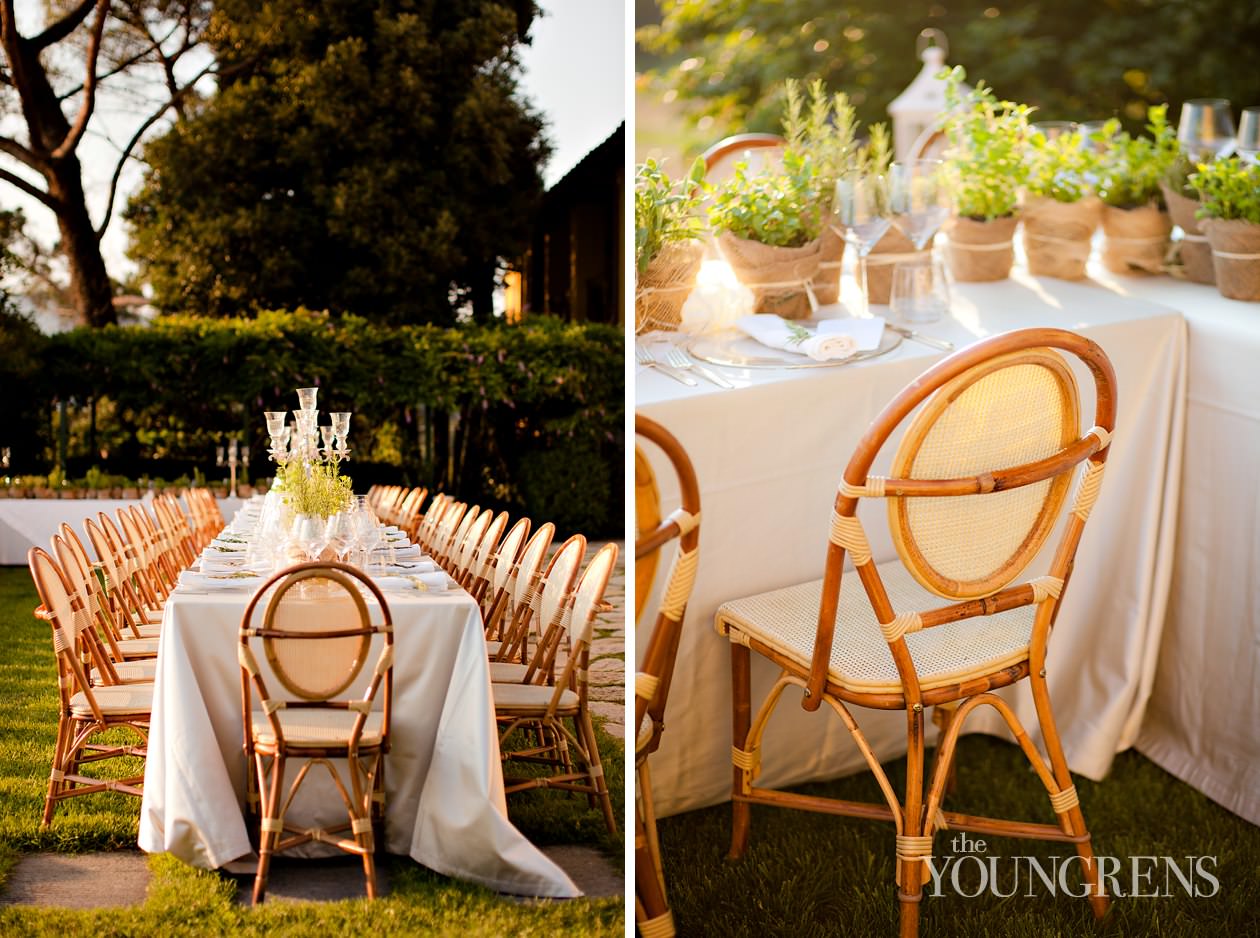 Second, in keeping with the wooden tables inside, Jeff and Erin used long wooden benches for their organic-meets-urban ceremony space. Such a fun and unique idea!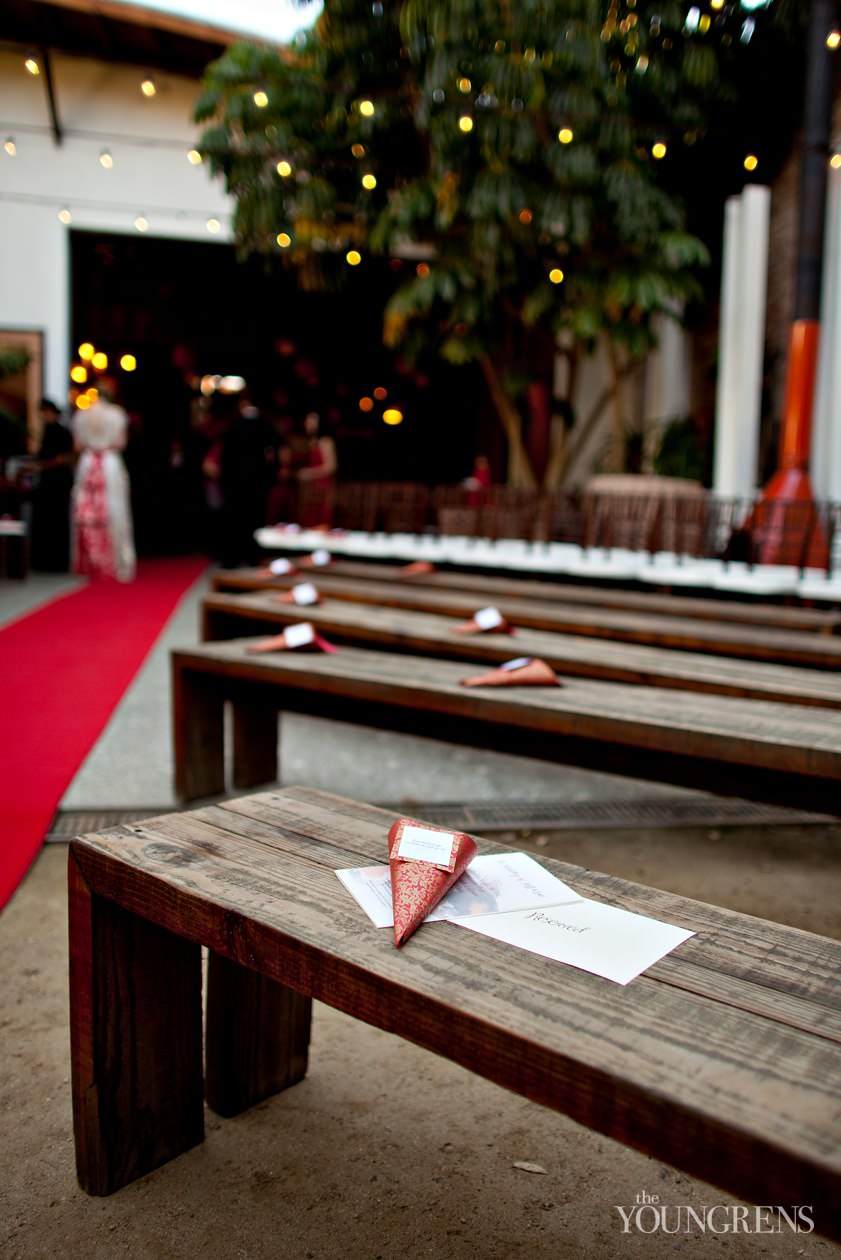 Can you see what a difference these two elements make in the overall decor? They are the easiest and most powerful ways to make a statement with your reception. So when planning the style of your wedding, don't skimp on these two elements. Take them seriously, work with your coordinator, and watch your decorative smarts take your reception style to a whole 'notha level!
Hugs,
Erin