I don't know what we're gonna do when we have kids. They're gonna have the worst abandonment issues…
October. It's our busiest time of year with weddings, travel, and speaking, so life right now is chaos. Controlled, organized, systematized, non-stop chaos.
Monday the 17th, we hopped on a red-eye flight that began an entire month of non-stop travel. We flew to Indiana to visit Jeff's brother Dan for the week and to speak to a group of photographers at the Indianapolis PUG. At the end of the trip, after four hours of sleep, we hopped on a crack-of-dawn flight back home on Friday morning, worked like mad to get ahead of work, shot a FABULOUS wedding on Saturday, and then hopped on another crack-of-dawn flight on Sunday to fly to Oregon for the For The Love Workshop that we're teaching with two other amazing photographers (that's where we are as this posts. There is no cell service or internet during the retreat, so this is being written on that second crack-of-dawn flight from Indianapolis on Friday morning – yet another thing to check off of the list. "Don't forget to schedule blogs for next week while we're in Oregon…")
When we return from Oregon, we'll be home for a day, and then we're flying to Philadelphia to teach a mentor session (can't wait Ashley!), shoot an engagement session with sweethearts Pepa and Isabel, and photograph Mike and Sarah's country club wedding (OMG this wedding is going to be GORGEOUS). We fly home from Philly on Sunday and then drive straight from the airport to speak at Pictage's PartnerCon for the week, an amazing conference for wedding and portrait photographers that's taking place in San Diego. Then we have a handful of awesome weddings and that brings us to Thanksgiving.
So life is chaotic. But that's the nature of this business. Yes, I break down in tears, I get impatient, I pick fights with Jeff, and I blame the world for my problems when the stress level reaches a max, but the nature of our business in particular is that I'm not alone. I have Jeff to comfort me with a shoulder to cry on, calm me with a reassuring "You're doing great babe," and have my back by changing laundry, doing dishes, downloading images, and petting Gracie when I'm packing our suitcases. And I have our amazing employees, Garrett and Julie, to bring me back to sanity with hilarious YouTube videos, the most positive attitudes ever, ears to listen, and a passion for working hard that rivals my own desperate ambition to get things done.
So in the midst of this non-stop pace, I have the most amazing people around me to keep pointing my high-wired brain in the right direction when I'm running at full speed and the tornado of life tries to flip me around.
So back to Gracie. Before we leave for any flight, Jeff and I make sure to spend a moment with Gracie, promising her that we'll come back soon so her little kitty sense of time won't think we've left her forever (I mean, Gracie speaks human right?). So as we were rushing around to leave for our red-eye flight to Indiana that would begin an entire month of straight travel, we almost forgot to say goodbye to Gracie. But Jeff remembered at the last minute and Jeff's mom snapped an iPhone pic.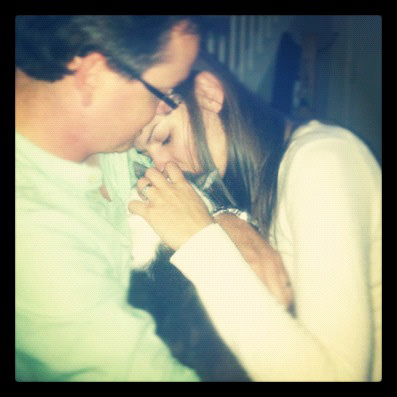 I miss her like crazy, and the poor kitty has to mentally deal with our constant abandonment. If it's this hard to leave a cat, what are we gonna do when we have kids?
Hugs,
Erin