You know how they say you shouldn't cry over spilled milk? What about spilled salt? 'Cuz I definitely did.
On New Year's Eve of 2009, I won the cutest salt and pepper shakers from Anthropologie at a bridal shower for one of our brides. At the time, I didn't have the slightest clue as to how to decorate my kitchen, but these three inch tall 'S' and 'P' shaped salt and pepper shakers were a lively pattern of red, yellow, orange, blue, and green. When I brought them home and lovingly placed them on my kitchen table, I realized that I had a red Kitchen-Aid mixer, a tall yellow pepper grinder, and some green kitchen towels.
I had finally found my color palette.
With these little salt and pepper shakers by my side, I outfitted our kitchen with TONS of color – the whole space is now littered with bright reds, yellows, greens, and a touch of blue in the form of bowls, towels, appliances, plates, vases, and whatever knick-knacks I can find to match.
To say that I fell in love with my salt and pepper shakers sadly would not be an exaggeration.
But this story is about to take a sad turn – not quite a year later, Jeff accidentally broke the 'P'. Horrified, he hid the evidence from me for about a week, tucking the shattered pieces away in the back of a drawer in a plastic baggie. When I finally noticed the lonely 'S' he fessed up. I was sad, yes, but at least I had the one piece left…
"It's ok. I can just pretend that we LOOOOOVE salt," I joked with a smile to hide my sad eyes.
A few months later, though, I knocked the 'S' off the table while cleaning. Staring at the shattered pieces strewn across the tile floor, I felt a wall of tears burn through my throat.
"Holy hormones Erin – it's just a kitchy knick-knack. Don't tell me you're gonna start crying…" I scolded myself.
But the tears forced themselves through my gritted teeth, and I balled like a baby over my salt and pepper shakers. No, not like a baby. More like a spoiled 25-year-old that had grown way too attached to her home decor. It was ridiculous. I think Gracie even rolled her eyes at me while I gingerly scooped up the pieces and threw them in the garbage. When Jeff came in to see what was wrong, I snapped back that I was fine, too embarrassed to admit why I was crying.
"Sheesh," I mumbled to myself. "Now I'm crazy AND mean. Perfect."
It was not my finest moment.
A few months later, a strange little package came in the mail. It was from Anthropologie and held two little salt and pepper shakers with the same decorative pattern as my old ones but they weren't an 'S' and 'P' shape. Jeff came in just as I was unwrapping the box. Seeing that I was entirely confused, Jeff pulled the baggie of broken pieces from the drawer, which also held pieces of the 'P' from the garbage…
"I looked everywhere, but they don't make the 'S' and 'P' shakers anymore. I'm sorry, but these were the closest things. You seemed to really love them."
To say that my heart melted into a pool of mush definitely would not be an exaggeration.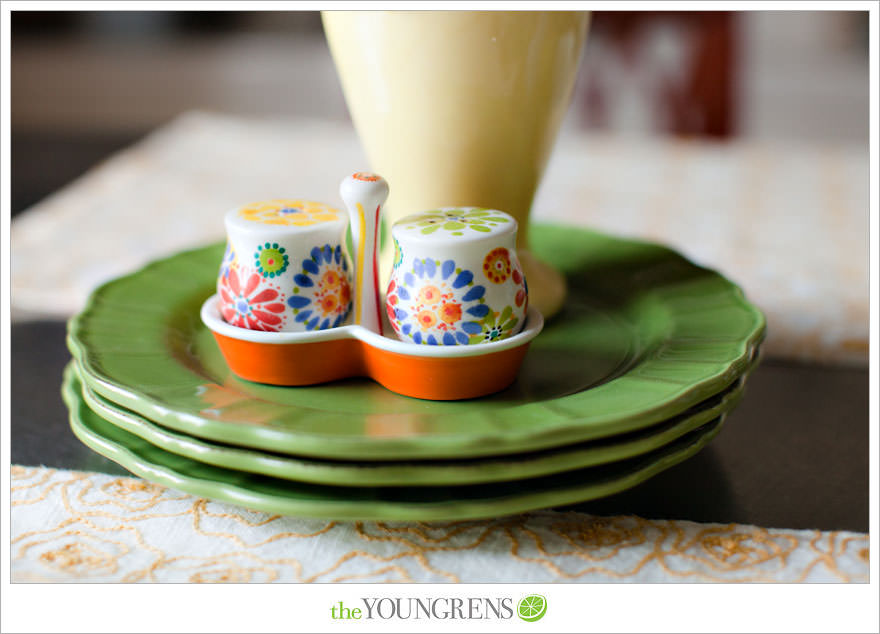 Yes, they're nothing but kitchy knick-knacks, but these two little teeny salt and pepper shakers now make me feel a little less weird and a little more understood. They tell the story of how our house became our home. How attached my heart becomes to the even the teeniest of our stories. How I love colors that brighten my day while I sip my tea in the morning or cook for my wonderful hubby or write on my laptop at the kitchen table. They remind me that this is OUR kitchen. It's the heart of OUR home. It's the place where WE gather and create a beautiful life together.
They're just the littlest accents in the story of us.
***Giveaway Alert***
Anthropologie is my favorite store for cute home decor. While other girls are roaming the clothing sales, I'm burrowing deep into the kitchen shelves in search of brightly colored jars, plates, or towels. I love that their items are so fresh and delightful – they just make my heart feel a little less grown up. So I'm giving away one of the cutest little accents that I've had my eye on recently at Anthro – this adorable butter dish in my favorite color for our kitchen.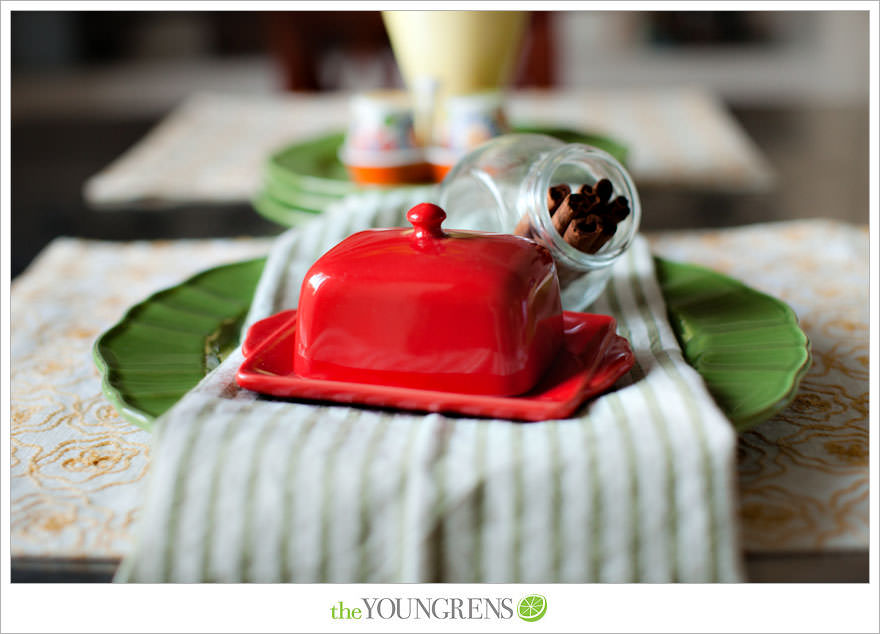 Giveaway Details: To enter this giveaway, just leave  comment below about a "teeny little accent" that tells the story of your life. It can be anything around your house that has special meaning to you. We'll pick one lucky winner and the contest ends in one week. Yay! I LOVE these giveaways because your comments always make me soooo happy! Happy commenting!
Hugs,
Erin