My only wish for the day was to not screw anything up. As long as the turkeys weren't dry, the house didn't burn down, and the stuffing didn't run out, I would be ok. Everything would be ok. The time and effort and expense of being completely over our heads with this party would be totally worth it.
Oh, and as long as the decorations looked cute, I would be happy too.
Our entire Thanksgiving party on Saturday was a massive blur for me. It went from waking up and blogging, to prepping the veggies, finishing the table, and lighting the candles, to greeting guests, pouring the wine, and cooking the stuffing, to passing out cutting boards, enjoying some cider, and laughing with friends, to panicking over the turkey, thickening the gravy, and pouring some more wine, to sitting down together, giving thanks through tears and laughter, to stuffing our bellies and finally saying goodbye.
It was more wonderful and warm and joyful than I could have imagined. It was also more tiring and exhausting than I realized. But in every single way, it was totally worth it.
Jeff managed to grab some photos of the finished table before it was demolished, and we picked out a different word for every guest to use in their 'what I'm thankful for' time at dinner. And in true Youngren style, we all got pretty emotional.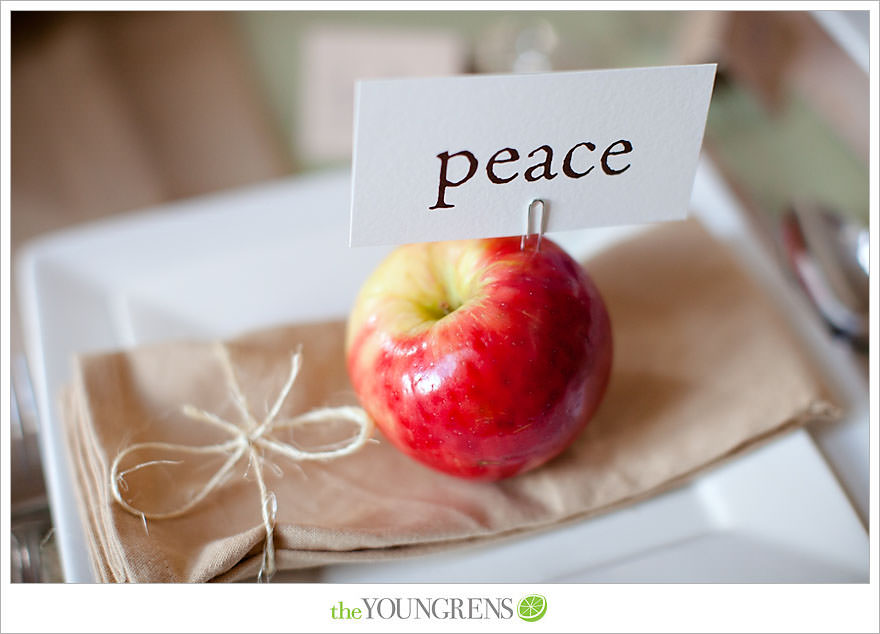 What am I thankful for? A husband that loves to decorate as much as I do. The twine and apple idea was completely his, and he even cut and tied each bow. With love.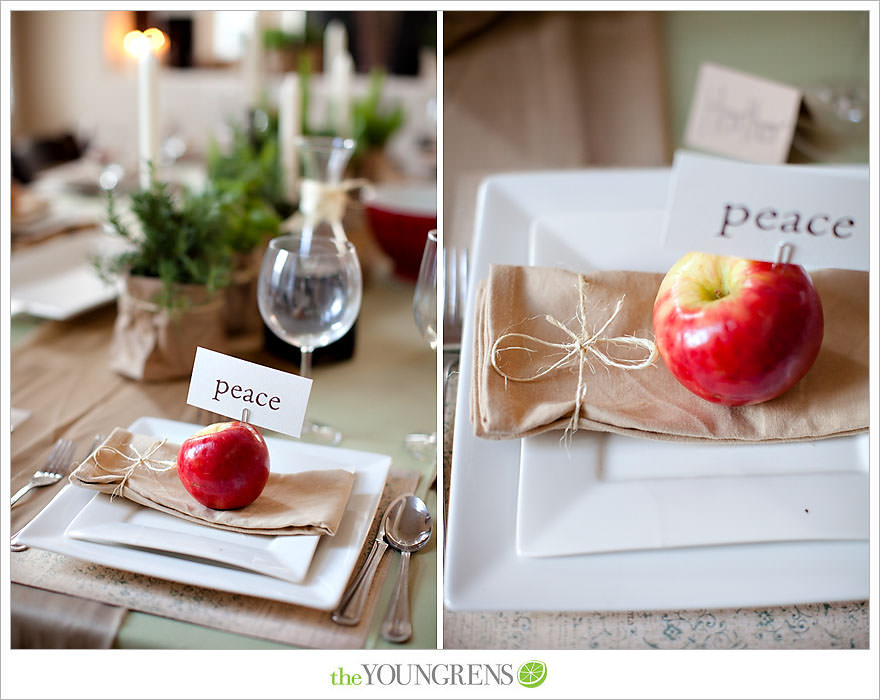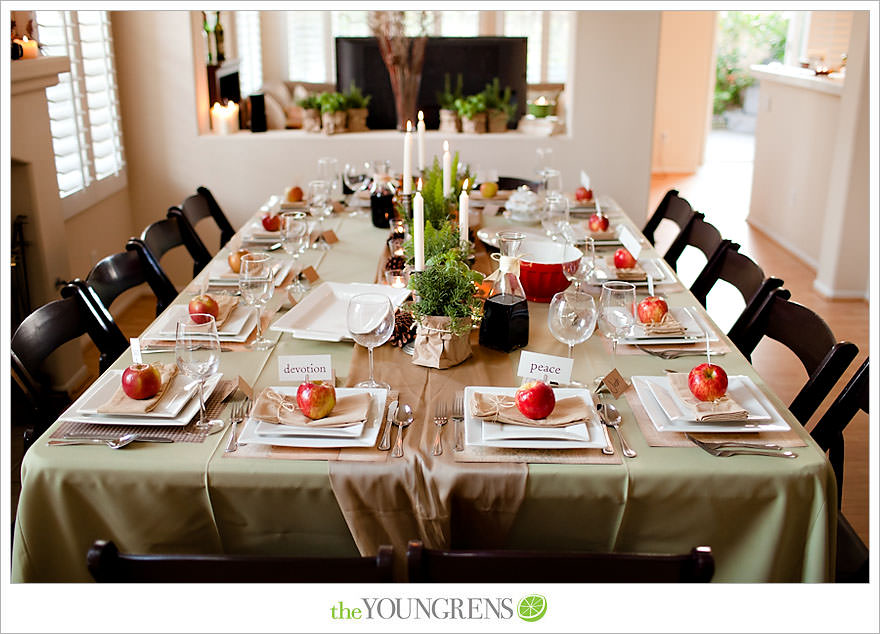 We bought a bunch of different herbs from Home Depot to use as the long centerpiece down the middle, so the table was filled with rosemary, oregano, basil and some weird looking fern thing. Then each guest got to take one home for their own garden, patio, or windowsill.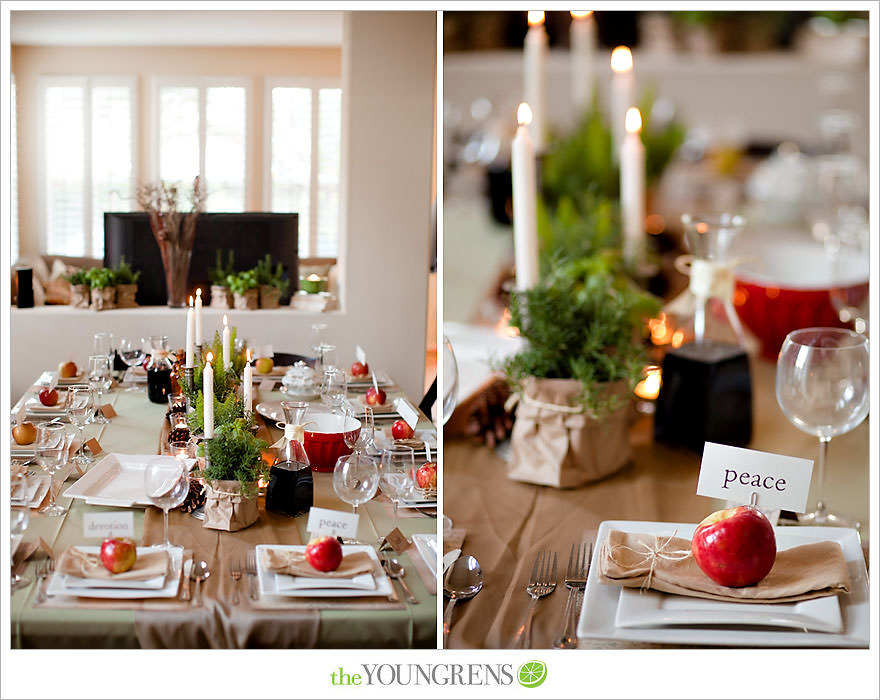 I grabbed the word cards on a whim from Paper Source, and I thought I would end up returning them. They ended up as central pieces to the table settings. Who knew!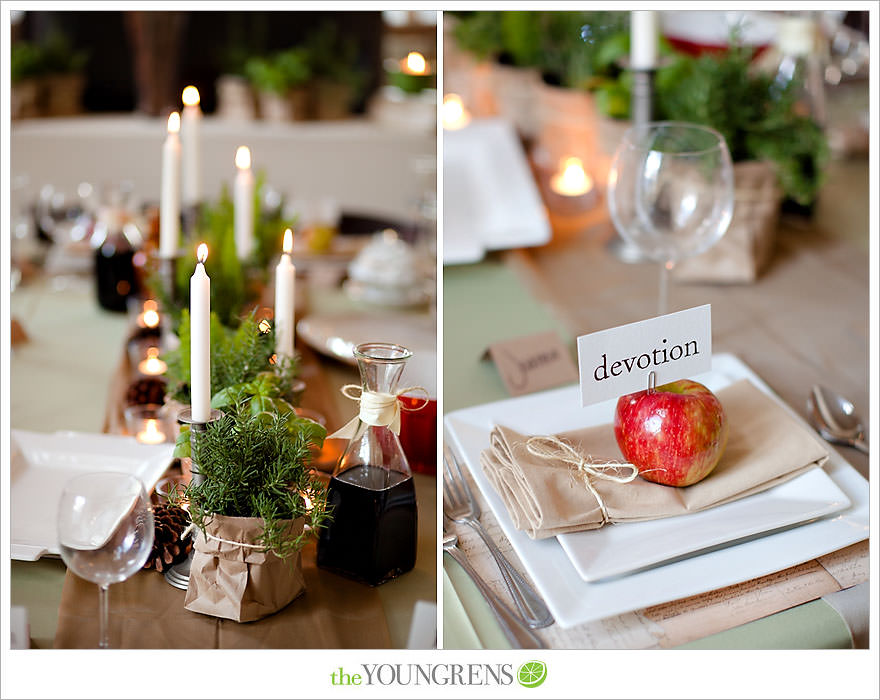 Thank you to Jeff's mom for letting me borrow the candle sticks. I told you that your wedding gifts from the 70's would come back in style.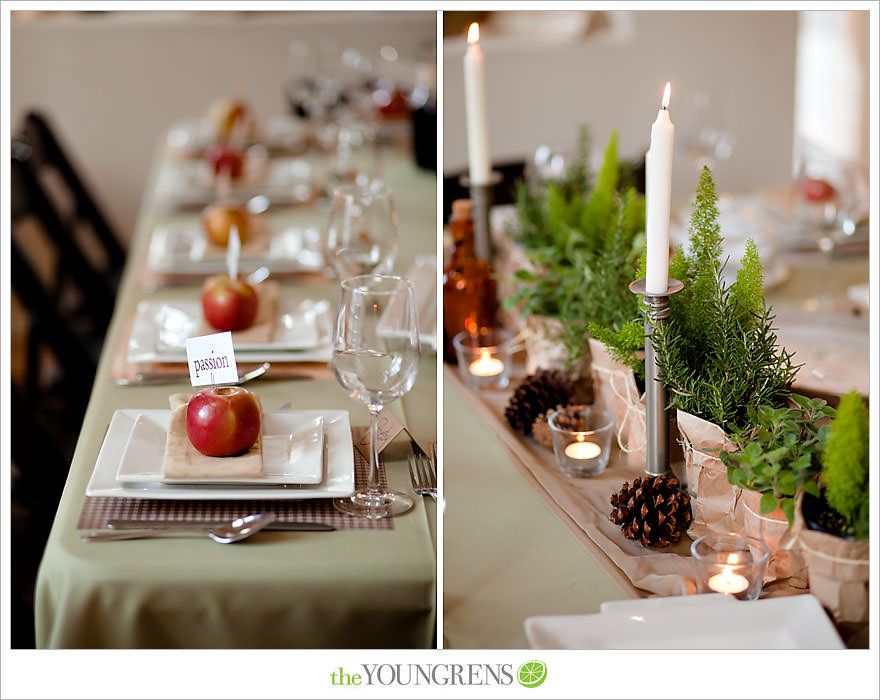 We also went truly Italian style and had self-serve wine in carafes. Love it! I also love using scrapbook paper as place mats. It's the cheapest and easiest way to incorporate a little color and texture into a table setting.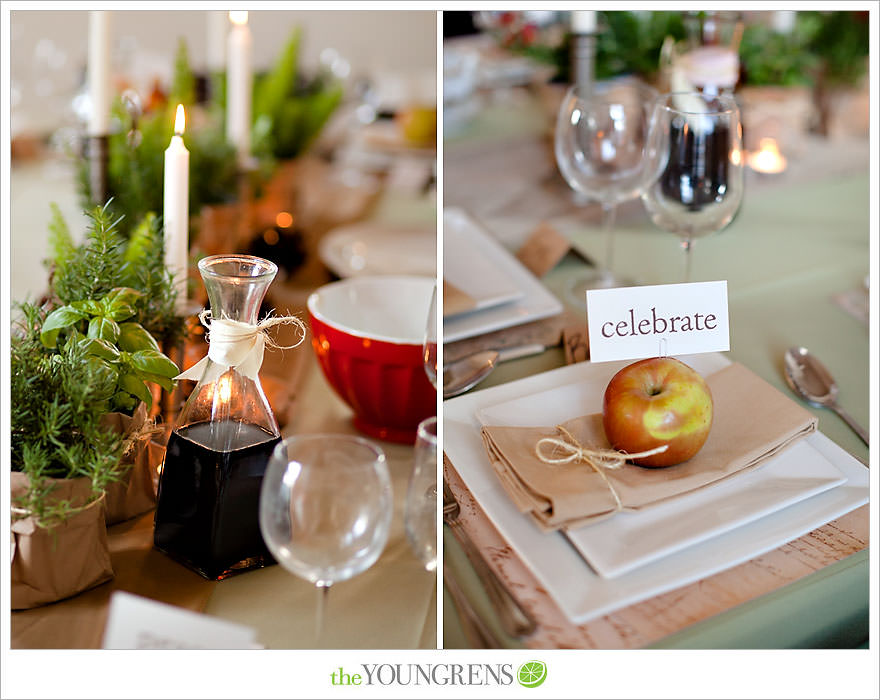 Jeff was in charge of the appetizers, and he cut up a bunch of boxes to use for the name cards. Then he used my handwriting to make them look "authentic." He says my handwriting is rustic. I say it looks like a three-year-old learned how to hold a Sharpie. But the appetizers were goo-ood!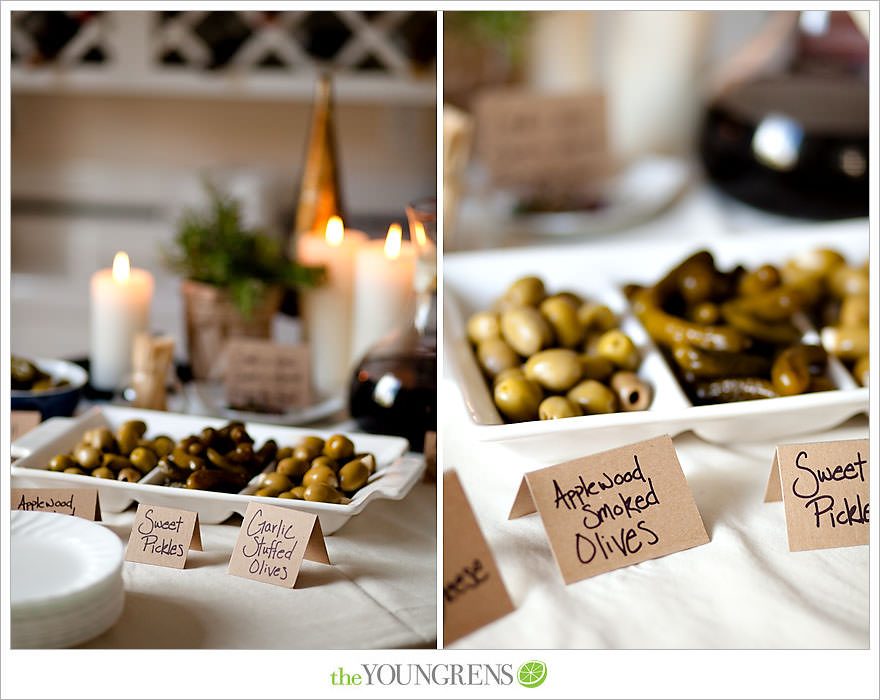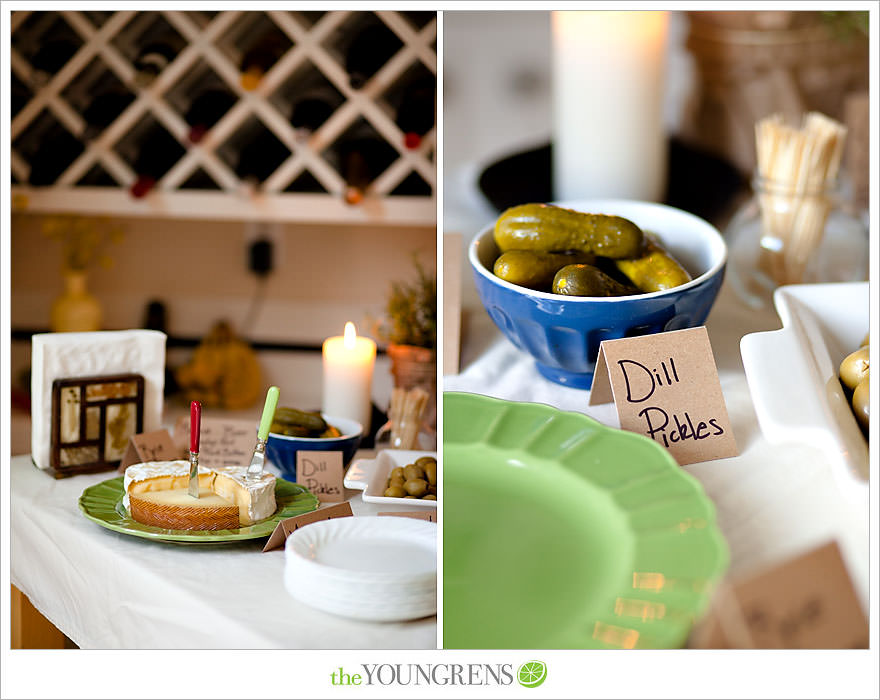 And it wouldn't be a Youngren feast without bruschetta.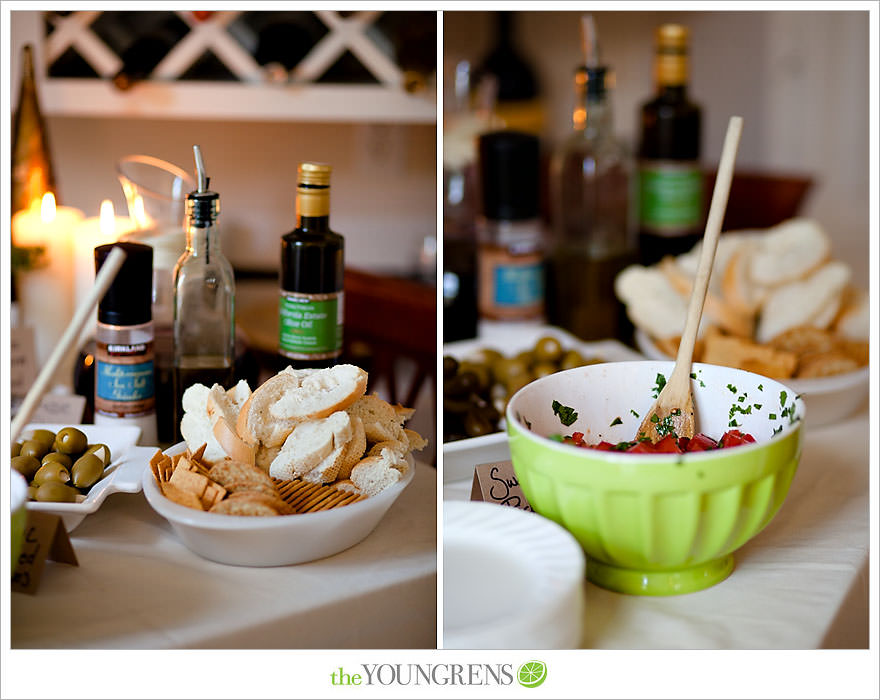 Or forty pounds of turkey!! This one was 23 pounds and we deep-fried another 15 pound one (hence the praying that we wouldn't burn the house down). And since our Thanksgiving feast was on Saturday, we got them both for less than $10 each. Suckers.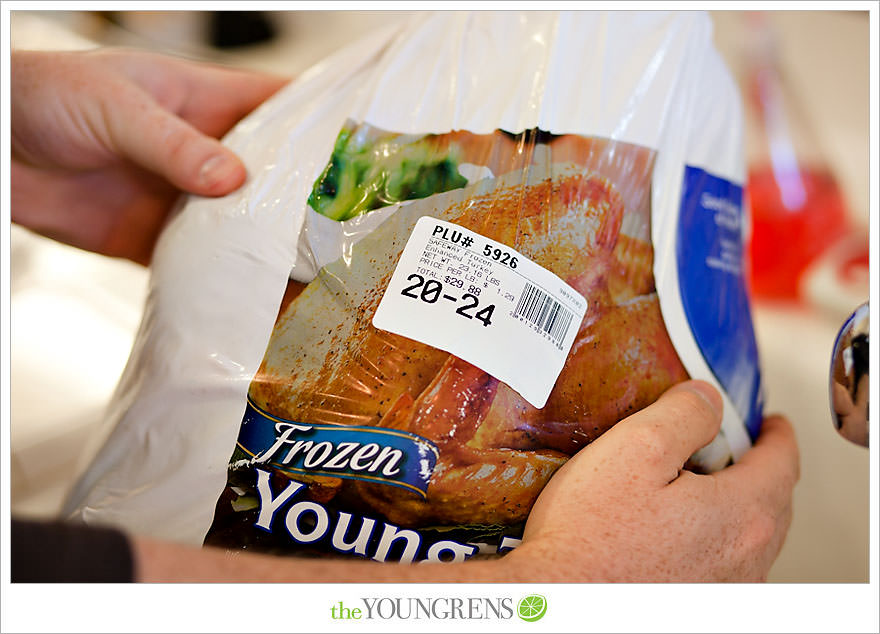 All in all, it was a complete success and I can't thank our friends enough for spending the day with us. I'm already scheming table ideas for 2011… Until next year, stay thankful San Diego.