Right now I'm sitting at the little desk in our hotel room in Kuala Lumpur. Jeff is catnapping in the other room. I'm wrapped up in a robe, with my feet tucked inside those cushy white hotel sandals that you find in the closets wrapped in plastic. Its twilight outside.
I am writing because I want to document this, right now, and put it inside our mental scrapbook. It's cheesy, I know. It's like shaping my fingers into a rectangle in front of my face and exclaiming "Click!" as I pantomime taking a picture of a dinner conversation. While winking. And apparently that's slightly annoying. My friends have made that abundantly clear. So I'm going to set down my finger camera next to my laptop for a few minutes and blog about my most recent finger camera moment instead.
I was sitting by the hotel pool earlier this afternoon listening to an audio book on my iPhone. My eyes were closed and I was letting my body melt beneath the warm shade of the pool deck, when through my ear buds I heard a giant splash and felt a smattering of cold pool water land on my legs. I woke up startled, just in time to see Jeff's head bob up out of the water. He blinked through the water that dripped down his face, shook the water out of his hair, and smiled his Jeffy smile, unaware that I was watching him and apparently unaware that he had splashed anyone. It was a smile that said he was enormously pleased with what he'd just done, and what he had just done was a cannonball. At our five-star resort. In Kuala Lumpur. Everyone else was laying on their pool chairs, sipping cocktails and soaking up the Asian sun, a sea of tan bodies and black sunglasses. As I watched Jeff slowly circle the pool with just his eyes showing above the water like a kid playing "Jaws" in their backyard (this was his signature move), I giggled out loud, a little too loud because of my ear buds, and startled the waiter that was navigating the pool chairs with a mai tai on his tray. When Jeff got out of the pool, I gave him a kiss and said that I loved him.
"What was that for?" he asked, plopping down on his pool chair and shaking his wet hair over my face, making me giggle violently – deeply – as I pushed him away.
So yes, I'm going to say it and there's nothing you can do about it.
Click.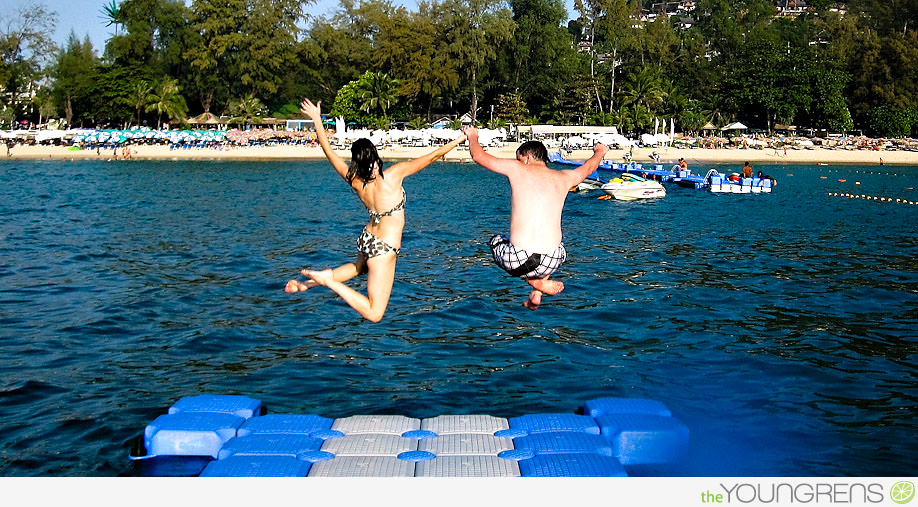 I'm not so fond of showing pictures of ourselves in our bathing suits for all of the internet to see, but Thailand is the kind of place that you can easily spend 80% of your time playing in some kind of water, be it river or ocean, so our bathing suits became somewhat of our travel uniform during the trip. This picture was taken in Phuket on our little point and shoot camera in its underwater casing (which we had WAY too much fun with), and its definitely one my favorite images that *may* end up in a frame next to our bed at home. I wouldn't mind being reminded of this deliriously happy moment right before I fall asleep every night.
Nope, I wouldn't mind at all.