Heather is basically my favorite. This blonde bombshell of a woman interned with us last summer and is now a permanent part of the team here at The Youngrens. While much of her work is remote, she spends plenty of quality time cozying up to Jeff and me here in the office.
And she fits in with our craziness perfectly. When Heather is around, the chatter goes through the roof and the laughter is non-stop. In fact, the people shy/neurotic Gracie has even shown her face to Heather a few times. It's always a good sign when our cat sits at the end of the hallway and yowls at strangers with her ears laid back. It means she likes them. And I'm actually serious.
By the time my birthday came around last December, Heather had spent almost six months observing Jeff and me in our daily lives, so she brought in a gift basket filled with things she thought I would love from one of my most favorite stores in the entire world, World Market. It was hysterical going through the basket because she basically put together my life in miniature…
Inside the basket:
1. A pair of fuzzy socks (she tried to find ones with grippers on the bottom)
2. A white silky scarf that I now wear CONSTANTLY (in fact, I went back to World Market and bought the same one in grey)
3. An enormous mug that says Good Morning (I was constantly refilling my tea because my mugs were all so tiny)
4. Two Republic of Teas to add to our extensive tea collection (yum, yum, and yum)
5. A sparkly coaster (yes, I'm completely anal about ring spots on our office desks)
So now every morning you can see me shuffling around our house in fuzzy socks, wearing my scarf over a chunky sweater, and sipping some Get Happy hot tea from my Good Morning mug. Maybe I should turn the heat on in our house?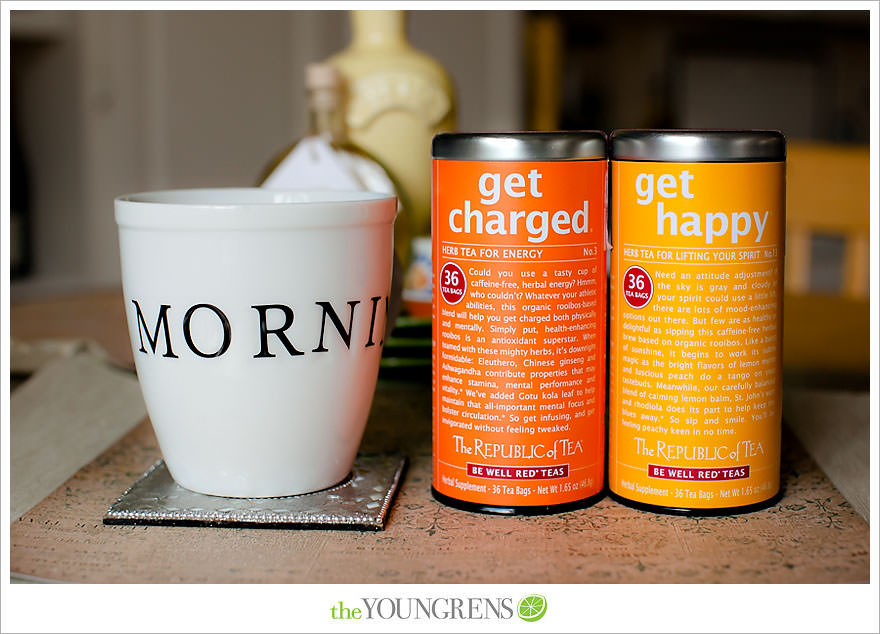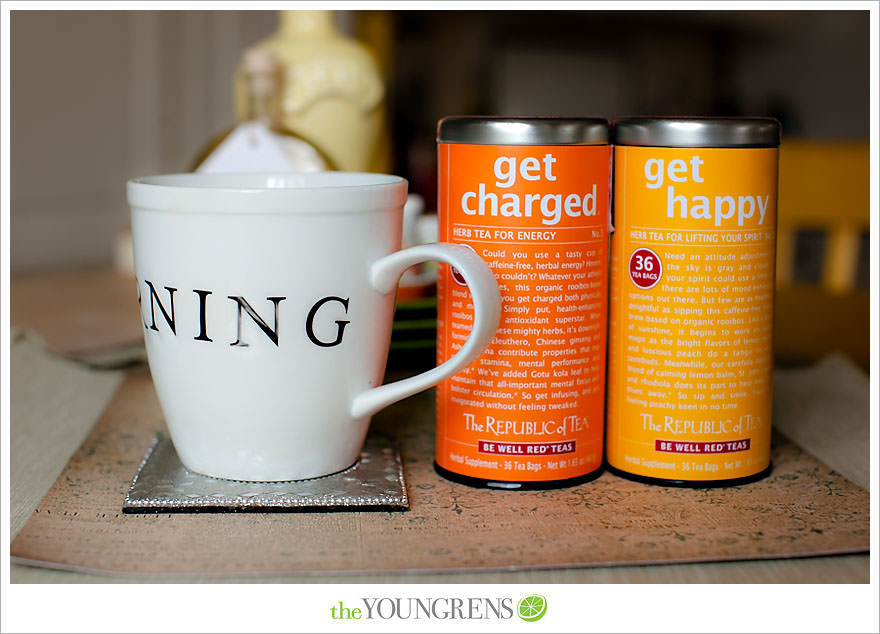 *Love* Now that I have a bedazzled coaster, I don't feel so neurotic and anal. I feel stylishly neurotic and anal.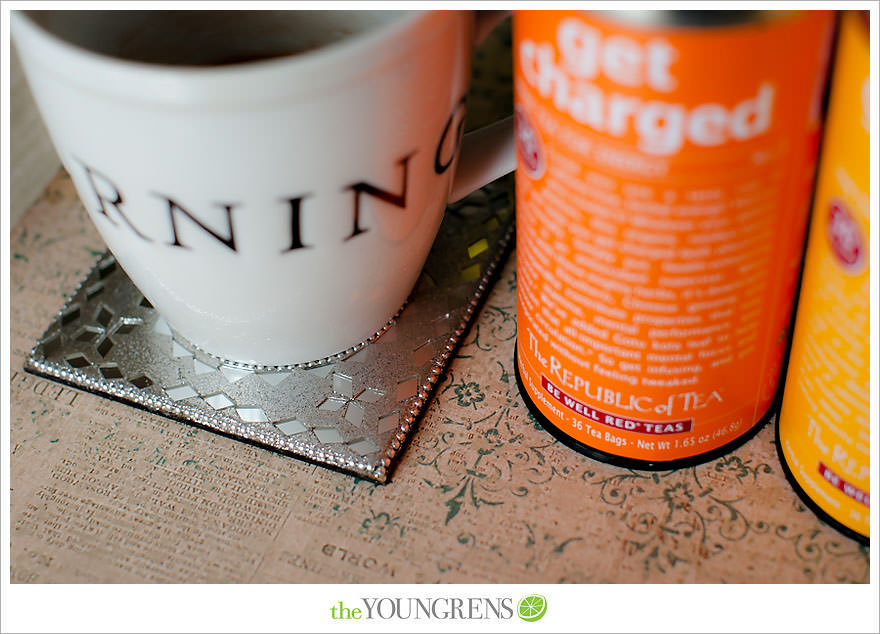 When I was photographing my lovely mug and teas, I grabbed Jeff's version of his morning routine… An old mug that I made him when we were dating, and an unbreakable french press from BonJour (he broke two french presses in one week). Folks, this french press is AWESOME!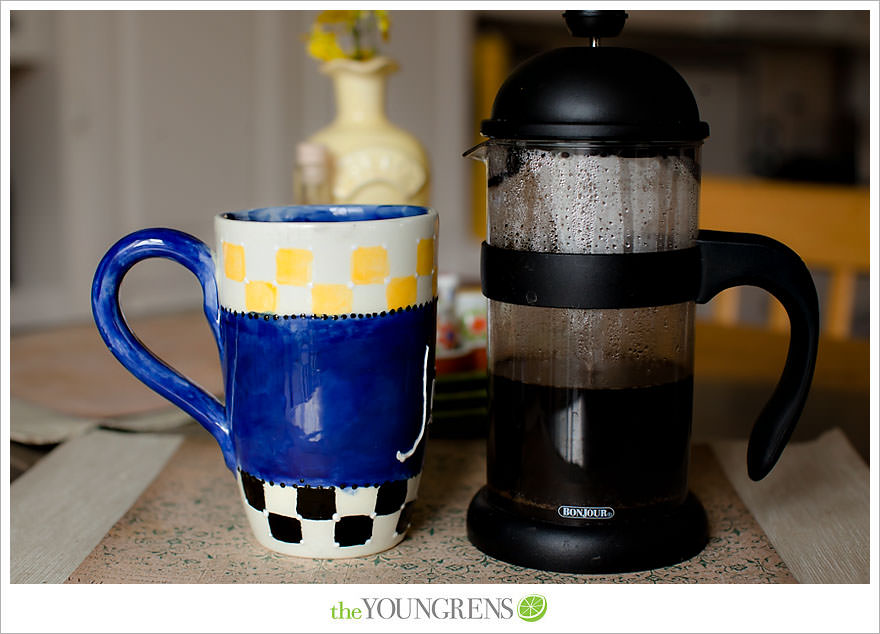 I love that Jeff's mug is almost as big as the french press itself. Ha! Love you sweetie!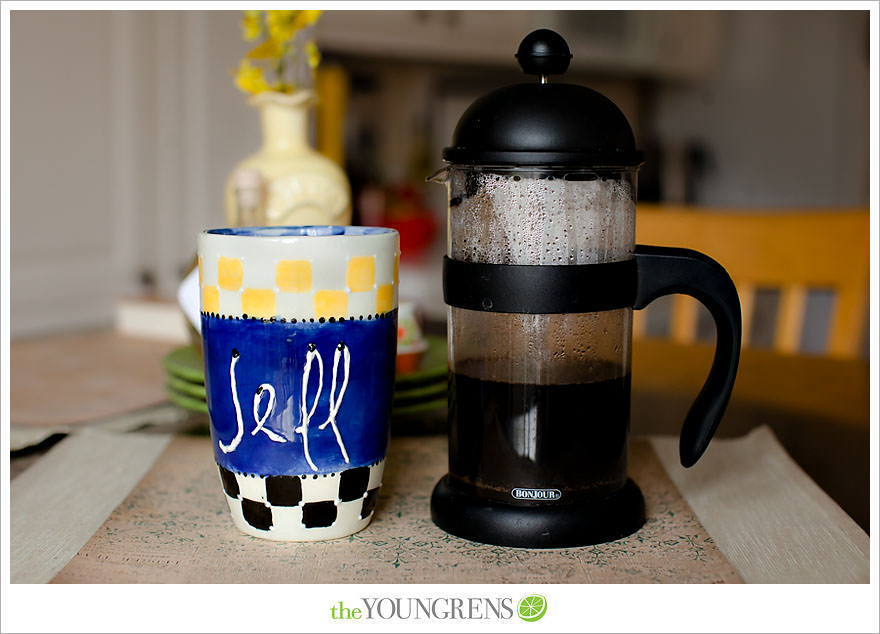 Hugs,
Erin