What's the best thing to have around when you yourself are a klutz in the kitchen and can't cook anything worth beans? Friends that can cook! This week's Recipe Sunday is coming all the way from Chicago, IL, where the master of breakfast dishes is returning with yet another recipe for us. Ryan (of Ryan and Chelsea's Chicago wedding) first appeared on Recipe Sunday with his yummy and gut-warming Rum French Toast, and he's back with yet another masterpiece – Frittatas.
As always, the full recipe is listed at the bottom of this post, but if you enjoy a little imagery with your morning coffee, feel free to read on.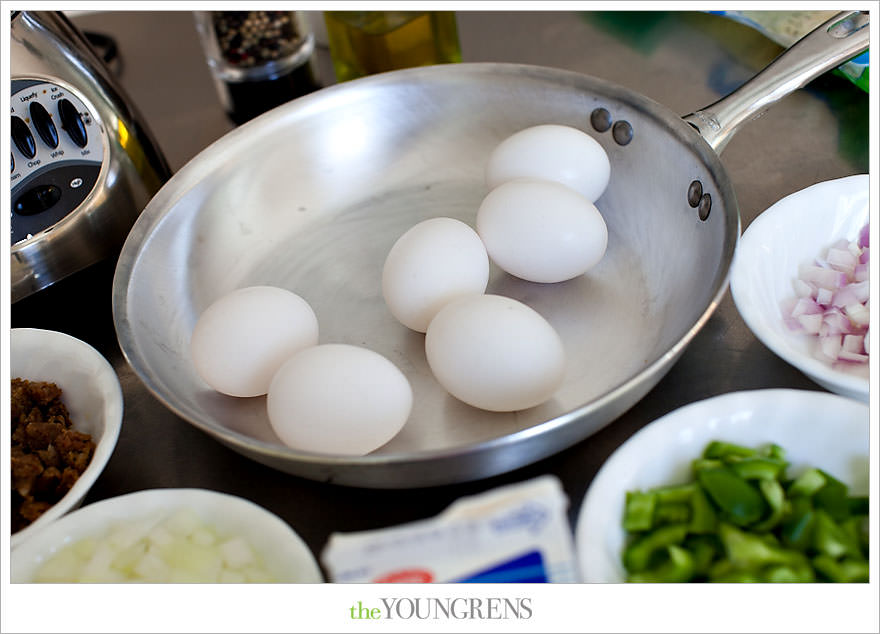 You'll of course need a hefty amount of eggs – we used six – along with some veggies like onions, peppers, and chives. And then you'll want a yummy breakfast meat like bacon and sausage. You'll need to cook up the meat before getting started on everything else.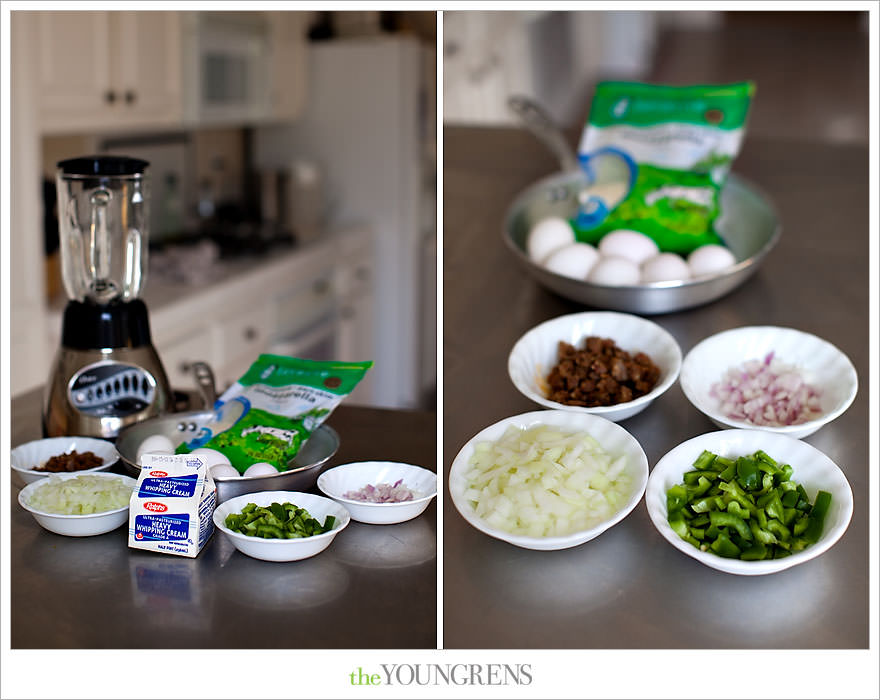 You'll also want some heavy whipping cream to go along with those veggies.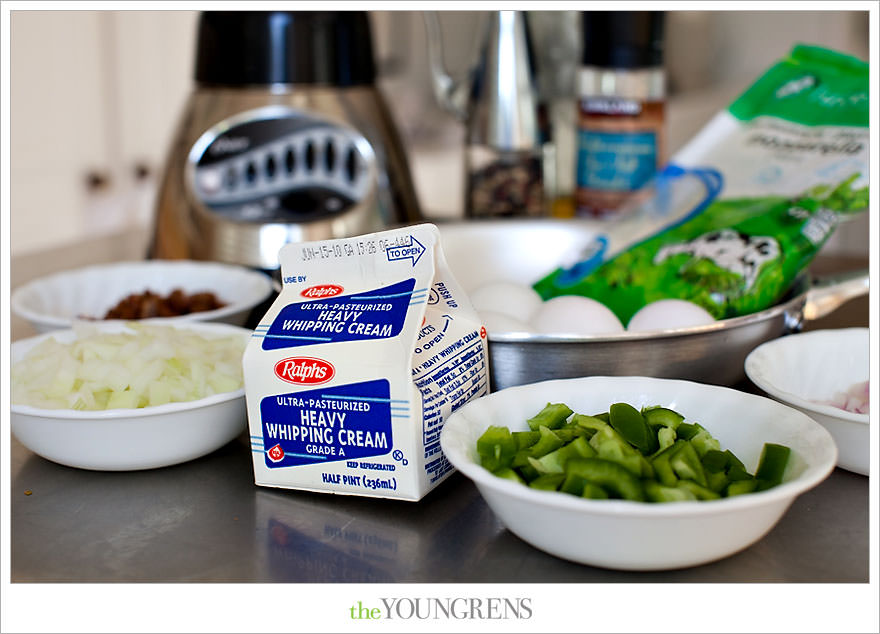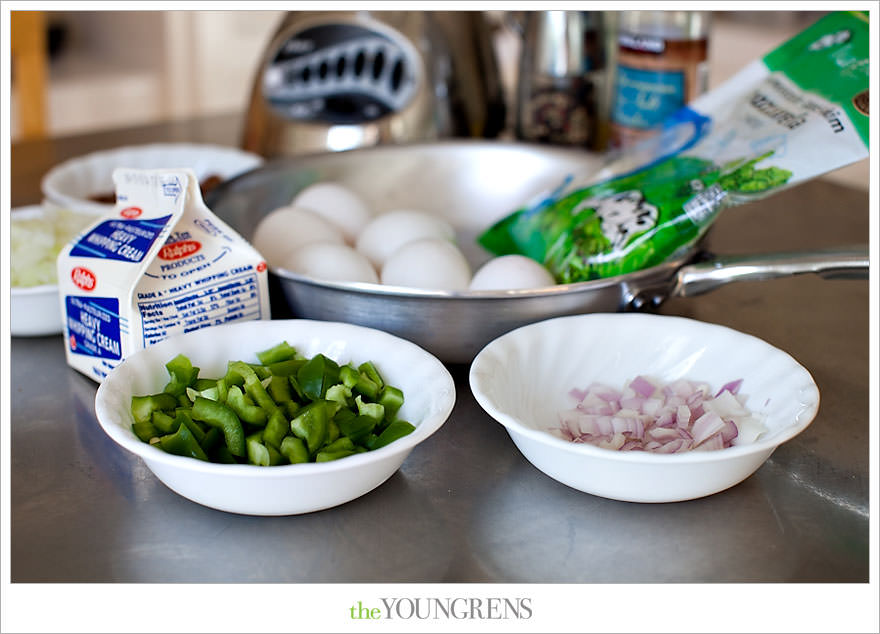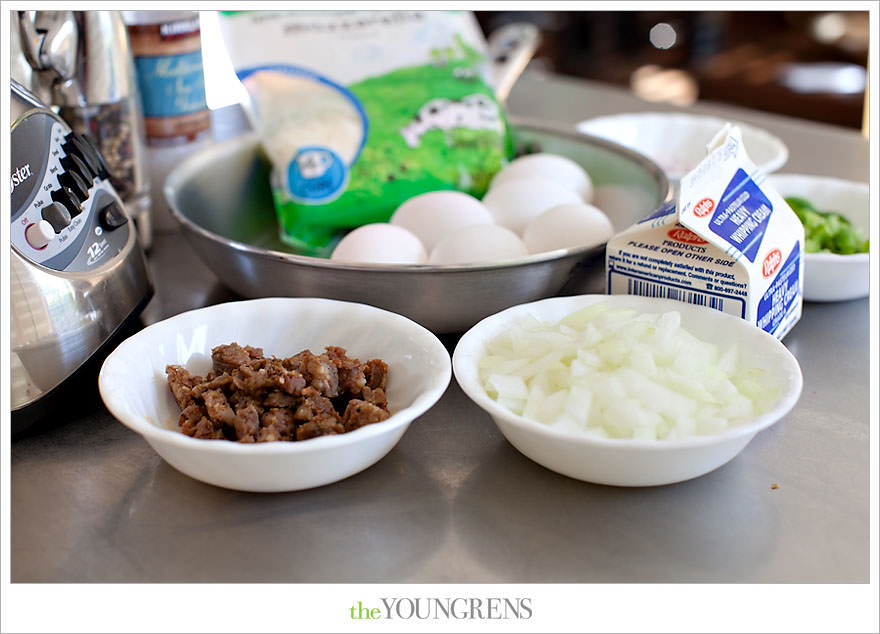 My favorite part of this dish is the cheese! We used mozzarella because we always seem to have some in our fridge. You'll also need to drag that blender out of the pantry, but it will be well worth the effort my friends!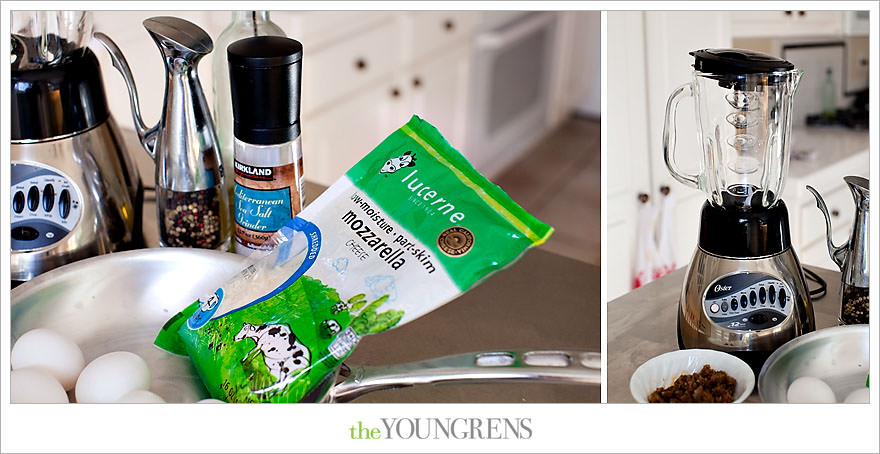 Jeff was so excited about his brand-new frying pan that he ended up making these Frittatas two days in a row! I was loving it! First, heat up some extra virgin olive oil in your skillet.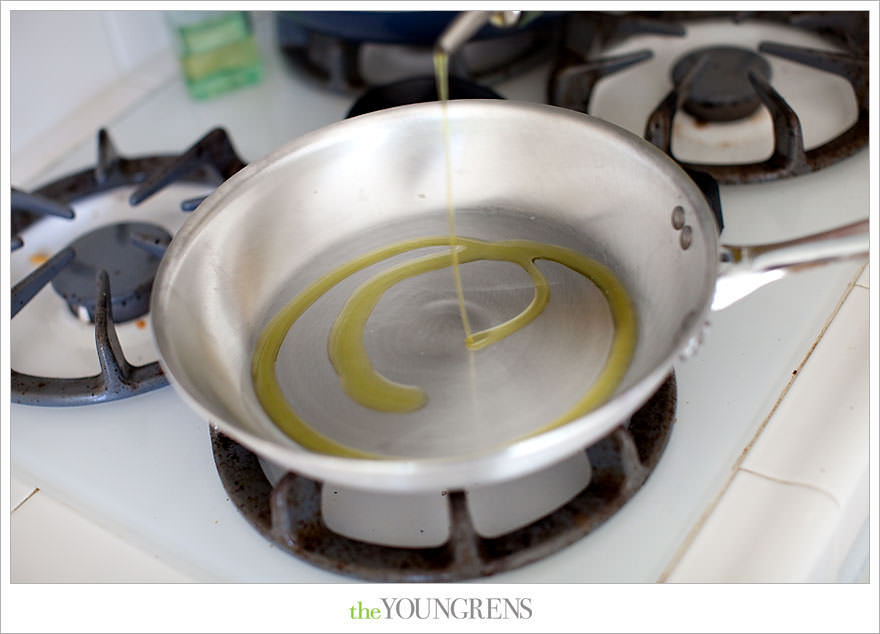 Then saute up all of your veggies.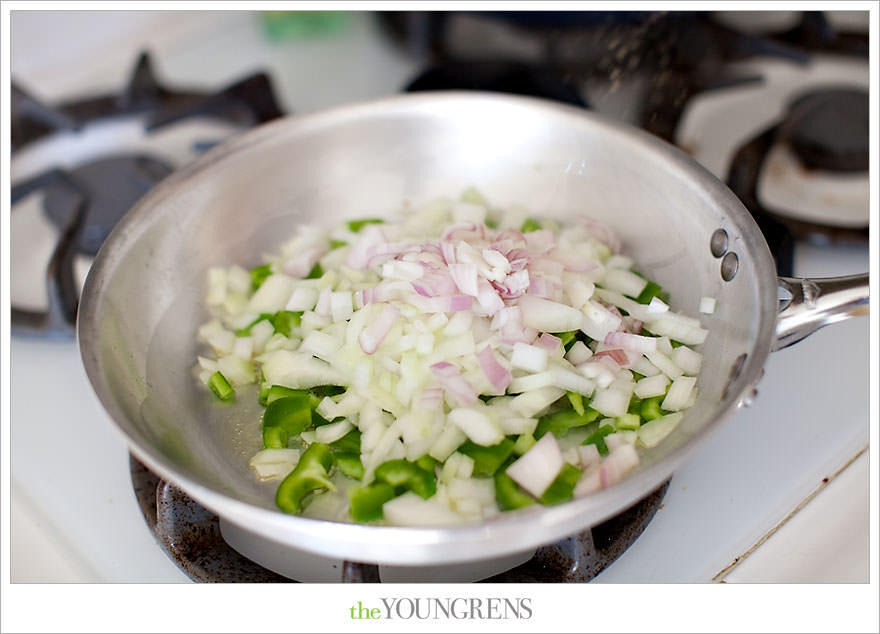 Add salt and pepper to your liking.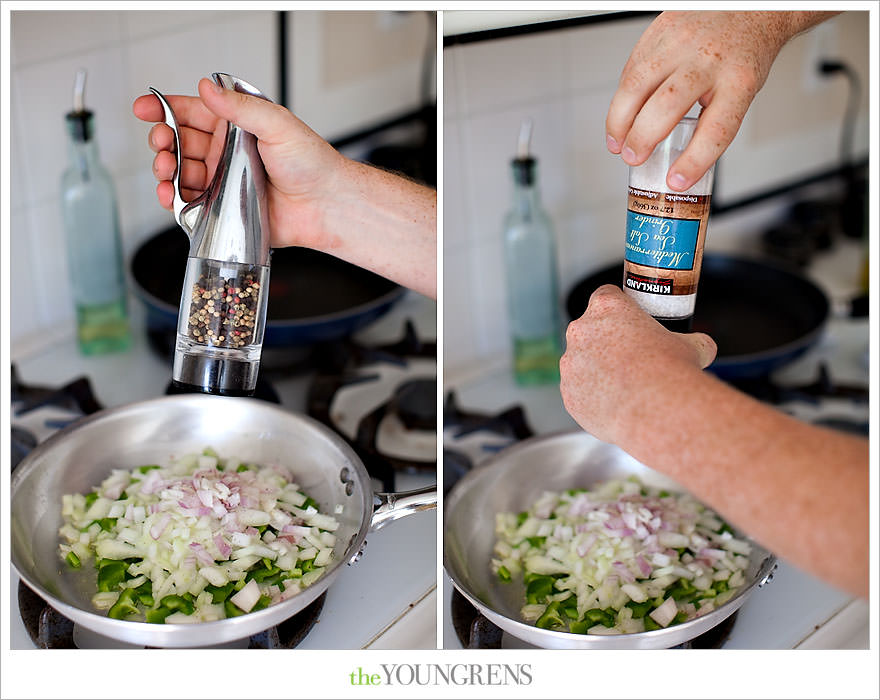 And get it all stirred up!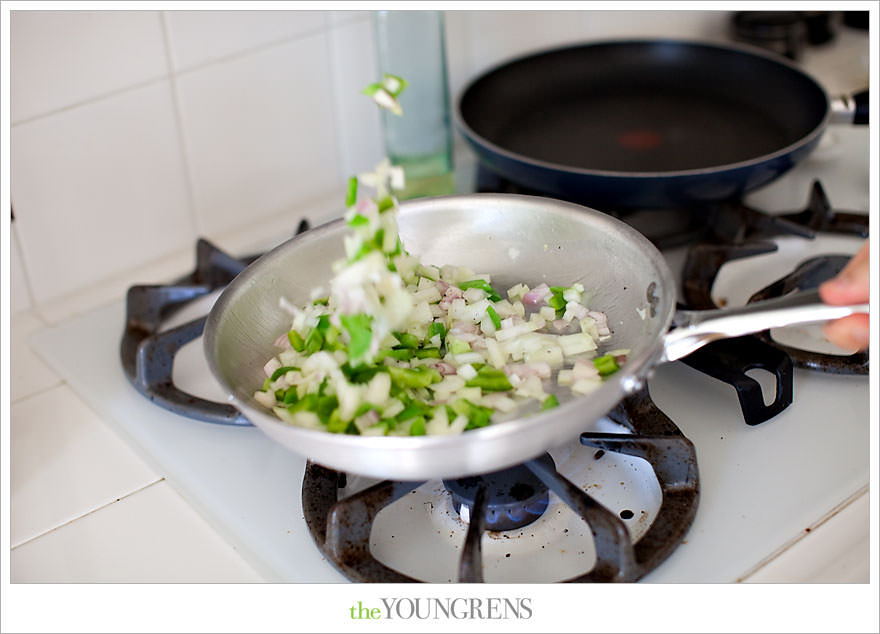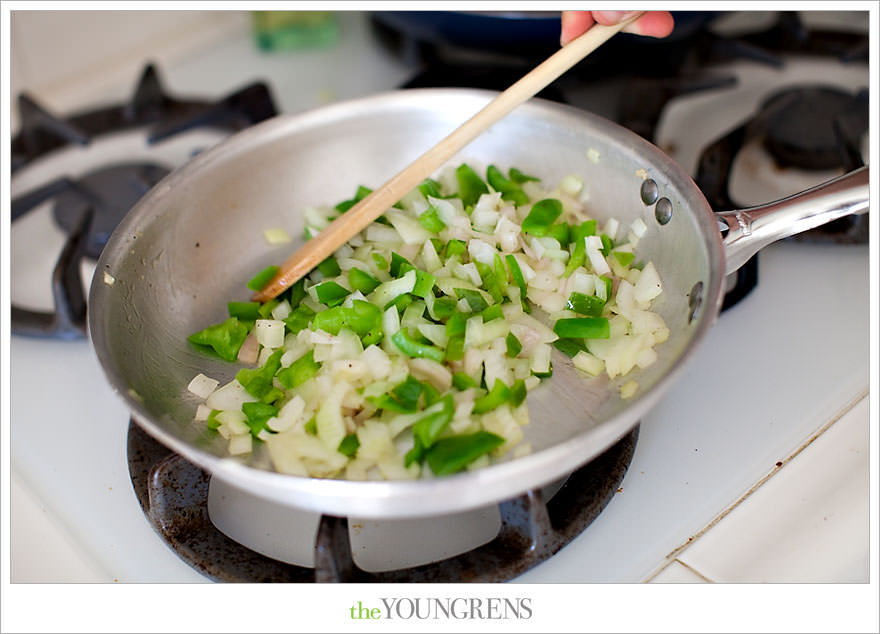 Add in your pre-cooked meat and get it all nice and hot.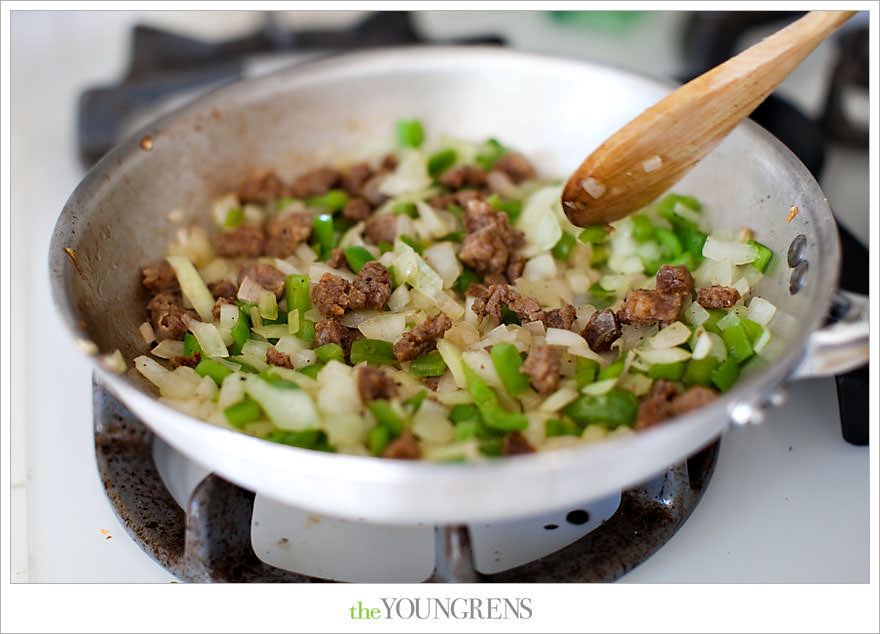 Then turn the heat down to low and move the entire saute to the center of the pan. You'll see why in a minute.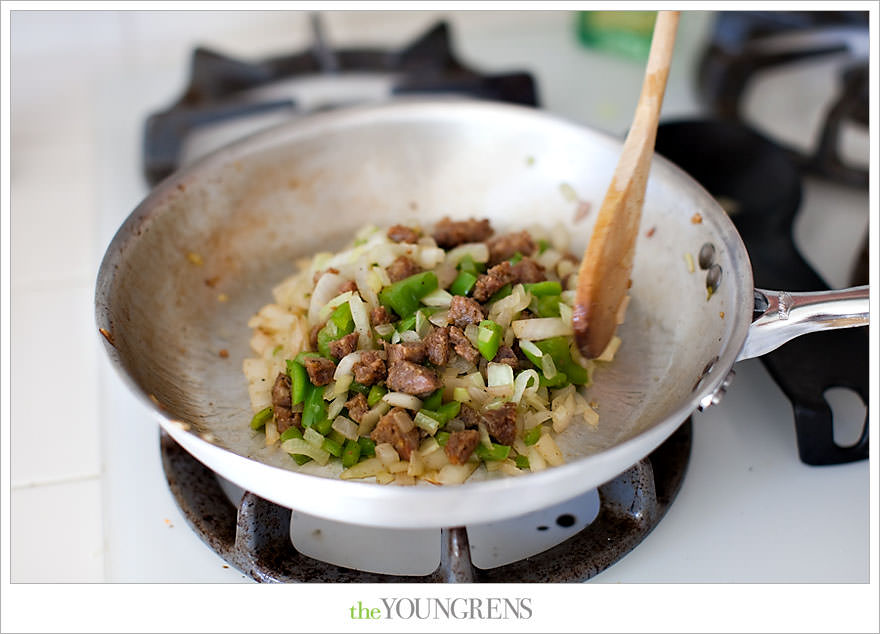 Place your eggs, heavy whipping cream and cheese into the blender. Oh yes, this is going to be goo-oo-ood! 

Blend it up until its white and creamy.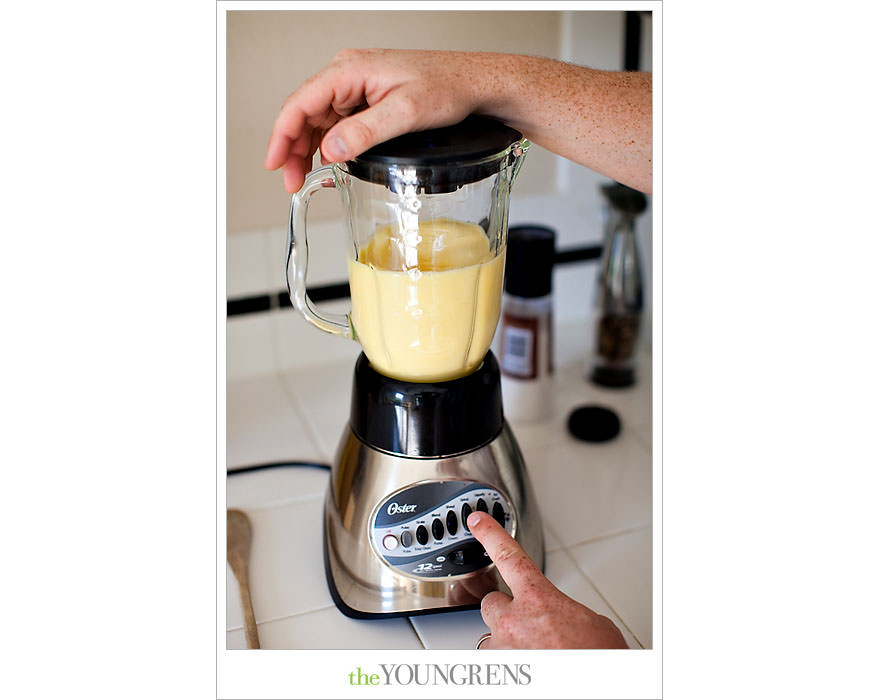 Then pour the mixture around the saute.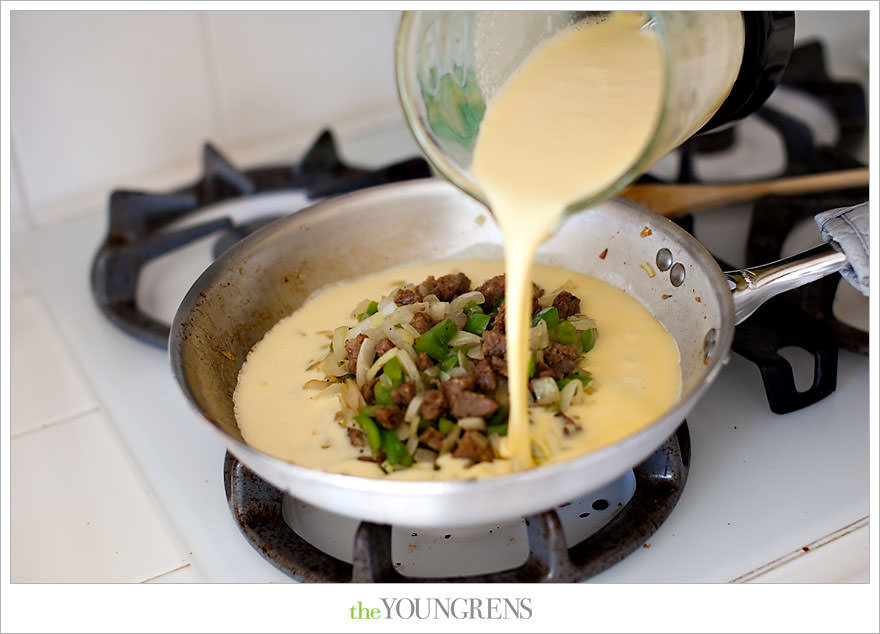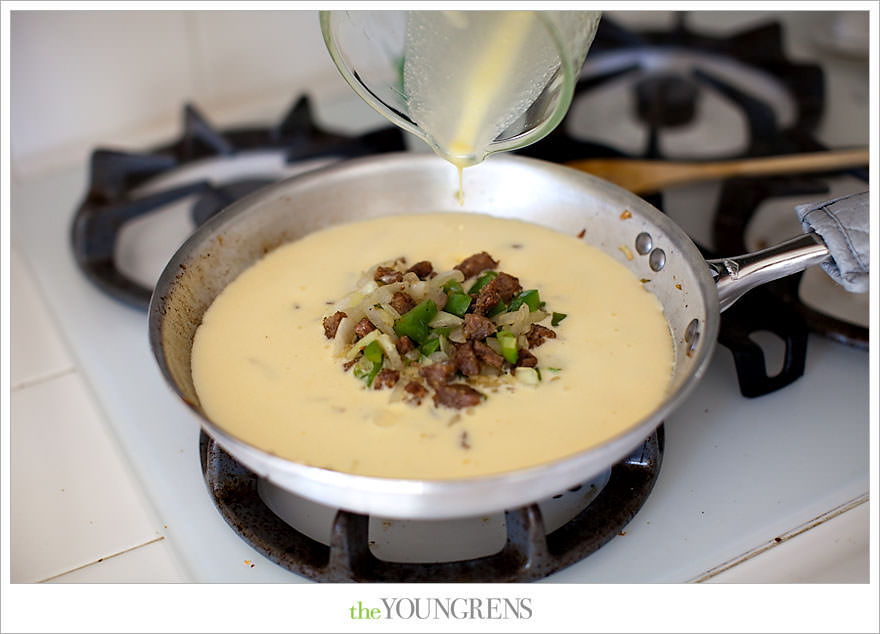 You can spread out the veggies a little bit so they are all covered with the egg mixture, but make sure the outsides are still egg with no veggies sticking out.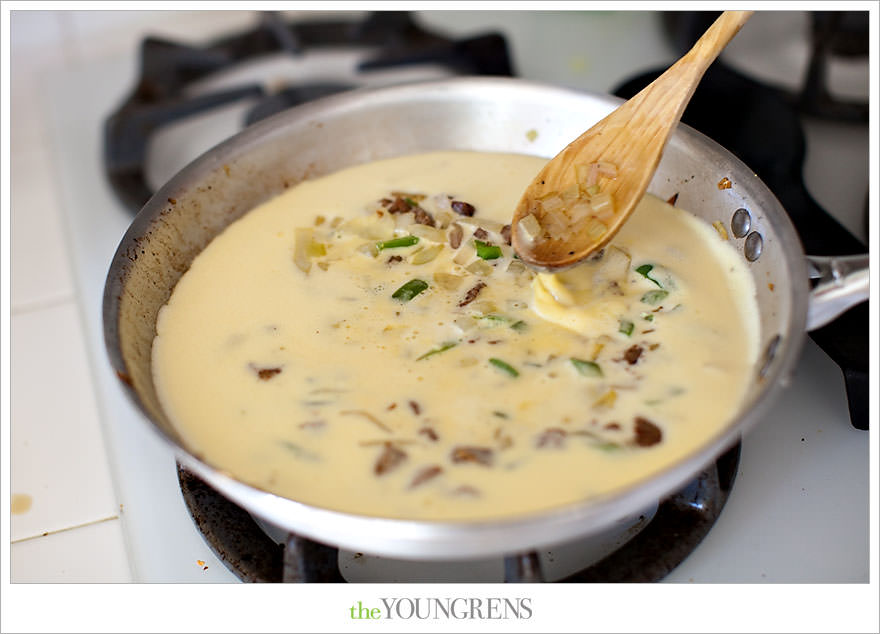 Sprinkle some cheese on top. Or if you're a Youngren, sprinkle a LOT of cheese on top. Let the egg cook slightly around the edges. You can lift up an edge to see if its done.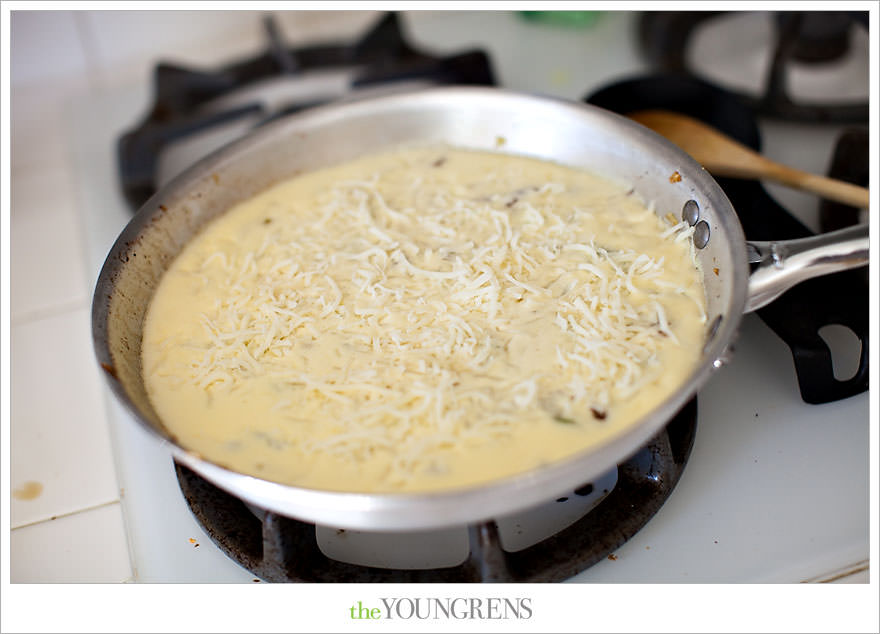 Then place the entire thing (pan and all) into a pre-heated oven for 15 minutes. Don't forget to take off the little handle cooler thing, as Jeffy is demonstrating.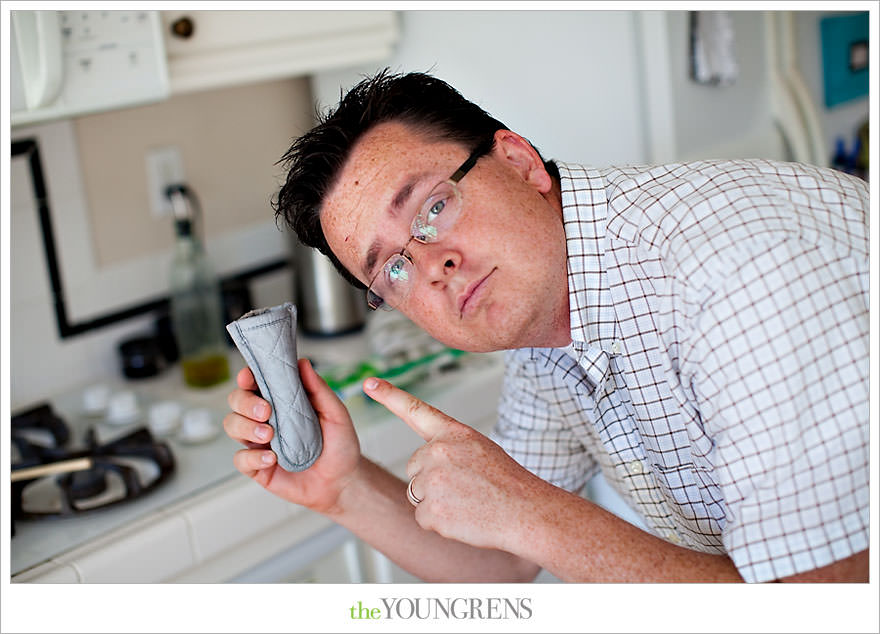 Get your table ready!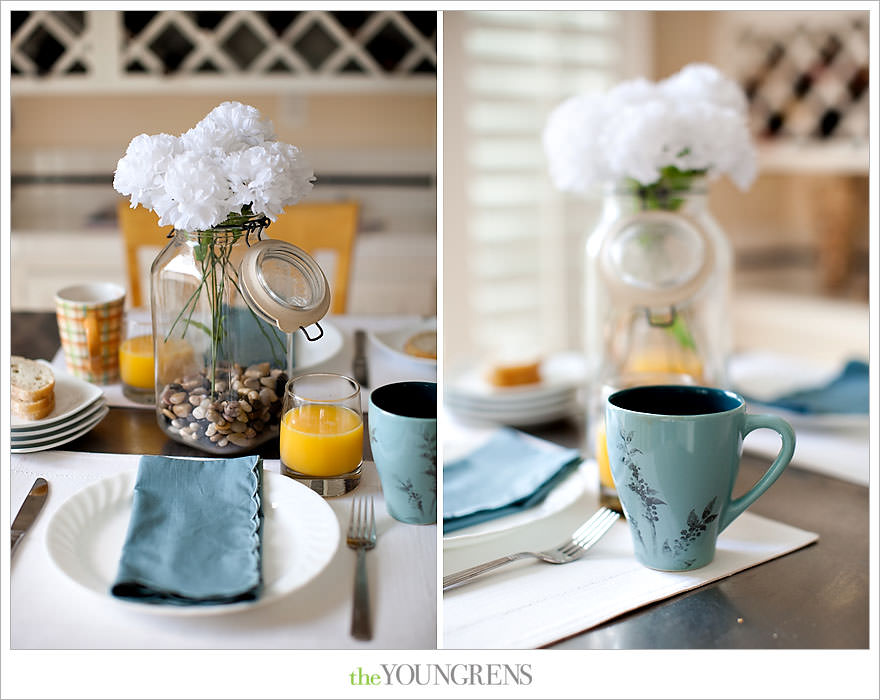 It's done! Bam!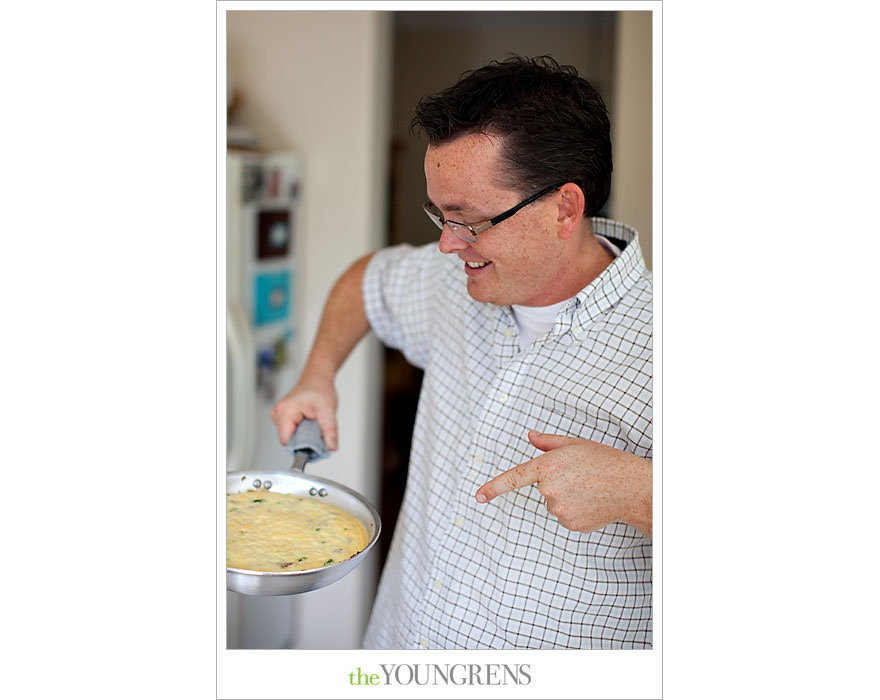 Slip the Frittata out of the pan onto a cutting board and cut it up just like a pizza.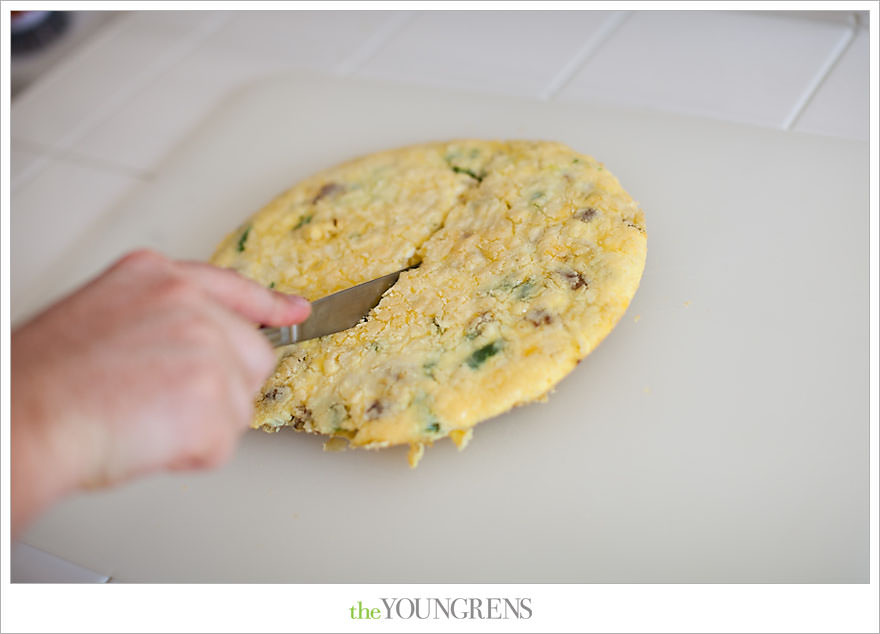 This Frittata is so yummy! The fluffy eggs and sausage are the winners in this dish – I could eat one of these every morning and I would never get sick of it!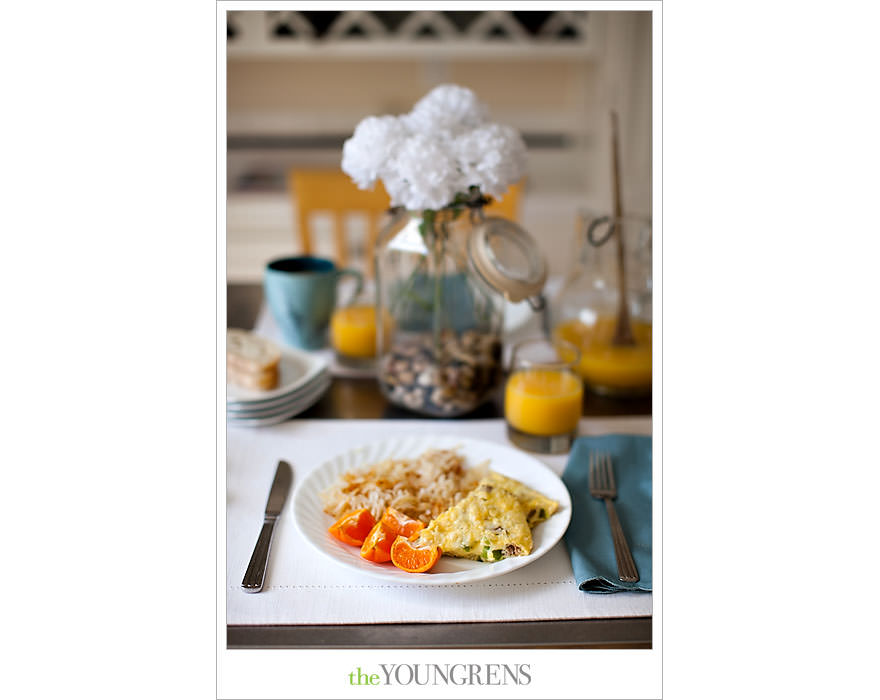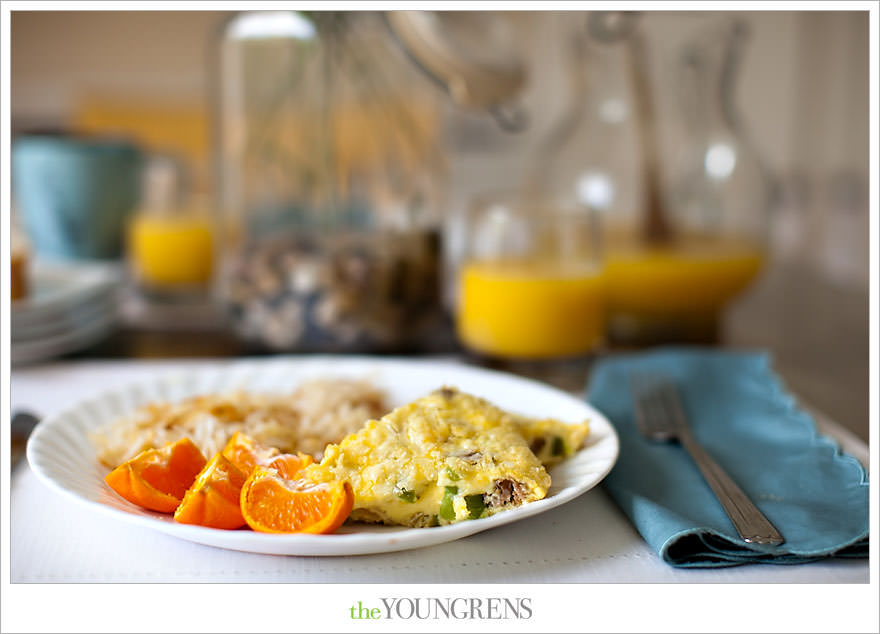 Frittatas
6 Eggs

2-3 TBSP Heavy Cream

1/2 Onion, Diced

1/2 Green Bell Pepper, Diced

Chives

Bacon / Sausage

Shredded Cheese (Parmesan, mozzarella, etc.)
Preheat oven to 315 – 325 degrees Fahrenheit. Saute the veggies (diced peppers, onions, mushrooms, Squash, etc…) in EVOO or Canola Oil in a non stick omelet pan or other something similar. Toss in pre-cooked meat to warm up. Salt & Pepper to taste.
Egg / Cream / Cheese mixture – 1 TBSP of Heavy cream for 3 eggs. Three eggs makes one Frittata big enough for 2 smaller portions; 4-5 eggs is enough for 2 people to have a decent sized portion. In a blender, crack eggs (organic if available) add heavy cream (Organic Valley is preferred) and blend until it turns almost white and very smooth, like mayonnaise. Add shredded cheese to the mixture and blend slightly.
Turn the head down on your saute to low. When the pan cools slightly, collect your saute to the center of the pan and pour the egg mixture around the outside of the pan. Spread out the saute within the egg mixture. Cover the top with cheese, chives or scallions, etc. Closely watch the outside edge of the eggs – as soon as they cook and stick to the pan, tip the pan a bit to check. Once cooked a little bit,  place the entire pan in the over for 15 min. When finished, you're looking for even egg with little to no bubbles in egg as you cut into it.
Slide the Frittata onto a cutting board and let cool for one min. Then cut it like a pizza and serve!
Hugs,
Erin