In my heart of hearts, I wish I was a chef. Not professionally, but I wish I was one of those people that could whip up a masterpiece dinner with nothing but a chicken breast, some olive oil, and a rusty stove. But I'm not.
I'm not one of those people that have gone to culinary school, or know what a copper core pan is, or can explain the difference between baking powder and baking soda. I'm a total klutz with huge pots of boiling water and I chop an onion by sticking a knife down the center and winging it from there. I mean, shouldn't a diced onion just be a bunch of small onion bits? Yeah. Like I said, I'm not one of those people.
But we know people that are, and every so often these lovely friends of ours will share the kinds of recipes that I dream of mastering. Some of you may remember Julie and her husband Mike from a session we did a little while back, and Mike really is one of those people. This guy is an incredible chef, and he shared with me his Lemon Ricotta Pancakes with Caramelized Apples and Maple Syrup recipe with me to try for Recipe Sunday. Well, I actually strongly hinted that Julie should send it along, but you know, whatever it takes for Recipe Sunday right? Right!
Okey dokey, first gather your ingredients. We're going to start with the Lemon Ricotta Pancakes, and remember that the entire recipe can be found at the bottom of this post.
The stars of these pancakes are ricotta and lemon, which is enough to make me drool on the spot. I love, love, love anything lemon, including the color yellow and the smell itself. You'll also need some eggs, vanilla, salt, baking powder, sugar, flour, buttermilk, and lemon juice, but not in that order or else you'll get pancake mush for breakfast.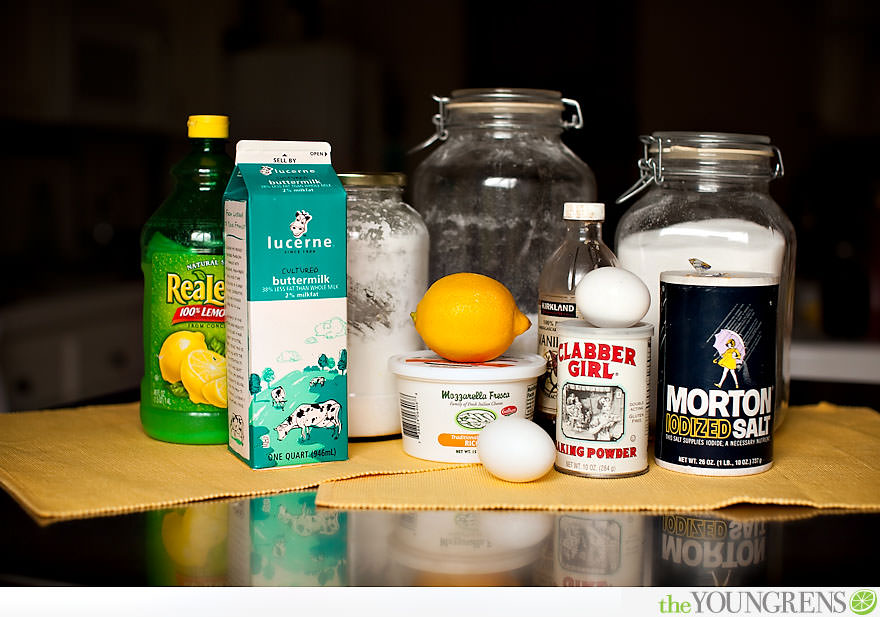 Gather your utensils and make sure they smile for their pictures. Cheese!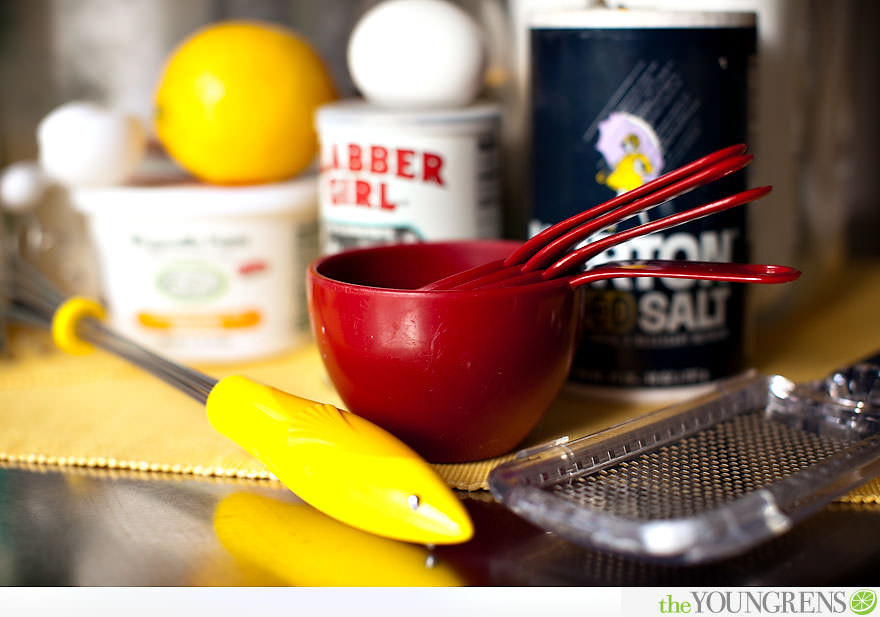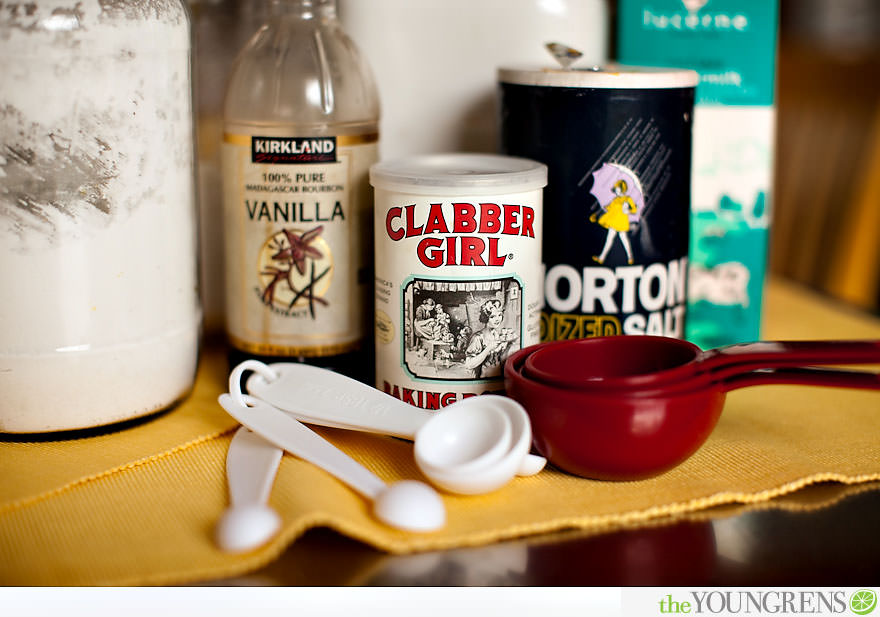 All ready to start? Ready!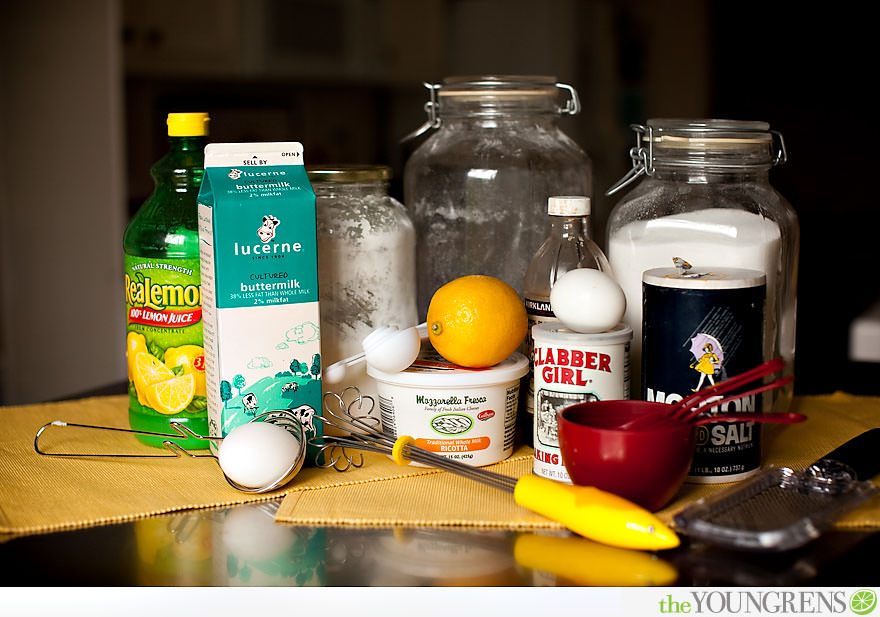 First separate two egg yolks and save the egg whites. Don't throw them out like I almost did.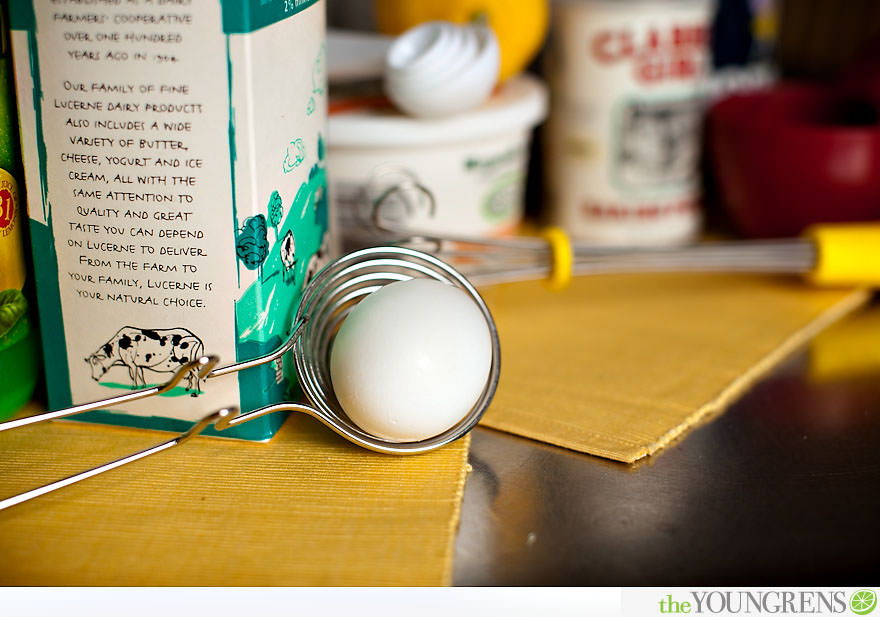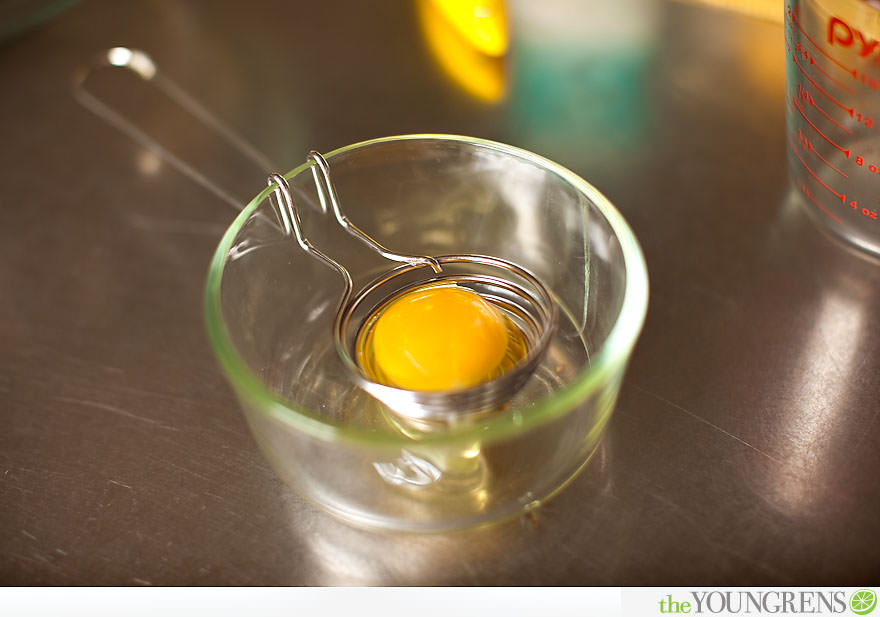 You'll need half a cup of buttermilk, so after you're done please go back to the grocery store and ask them why in the heck they only sell buttermilk in half gallon cartons. Seriously, what am I going to do with half a gallon of buttermilk? Anyone have some serious buttermilk recipes out there?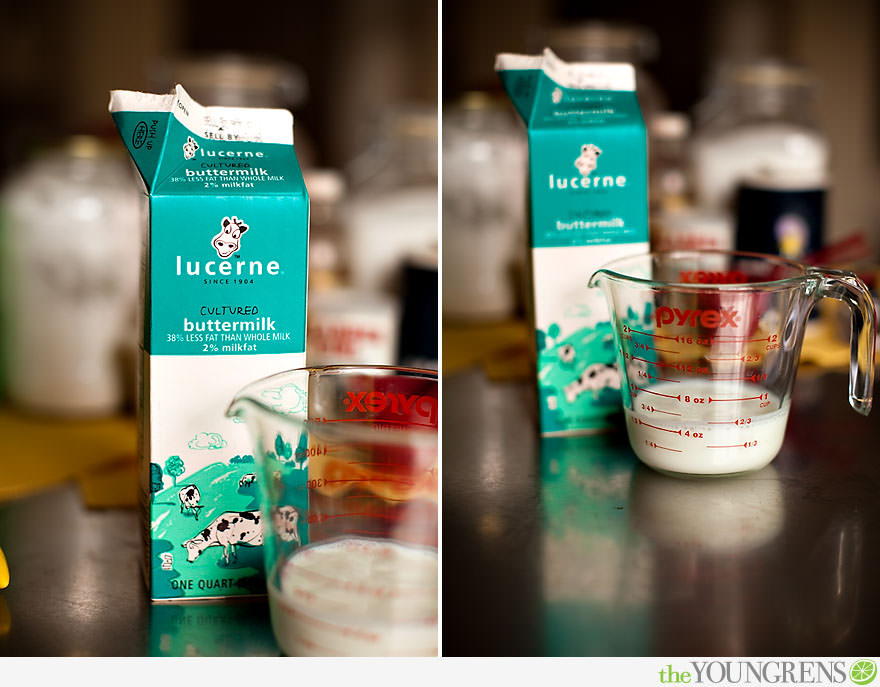 You could make your own ricotta cheese out of whole milk, which I actually considered doing, but then I remembered that this is ME and promptly bought a pre-made carton.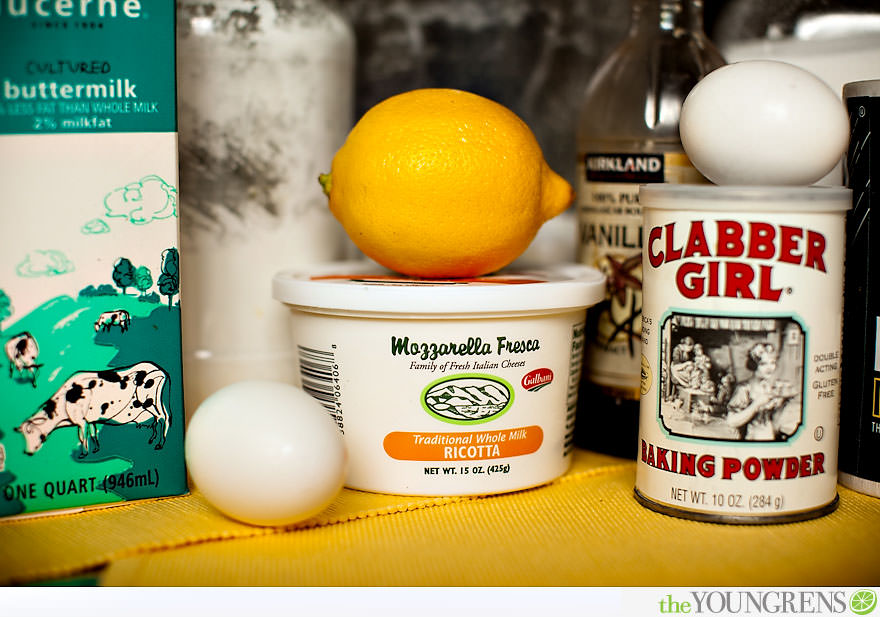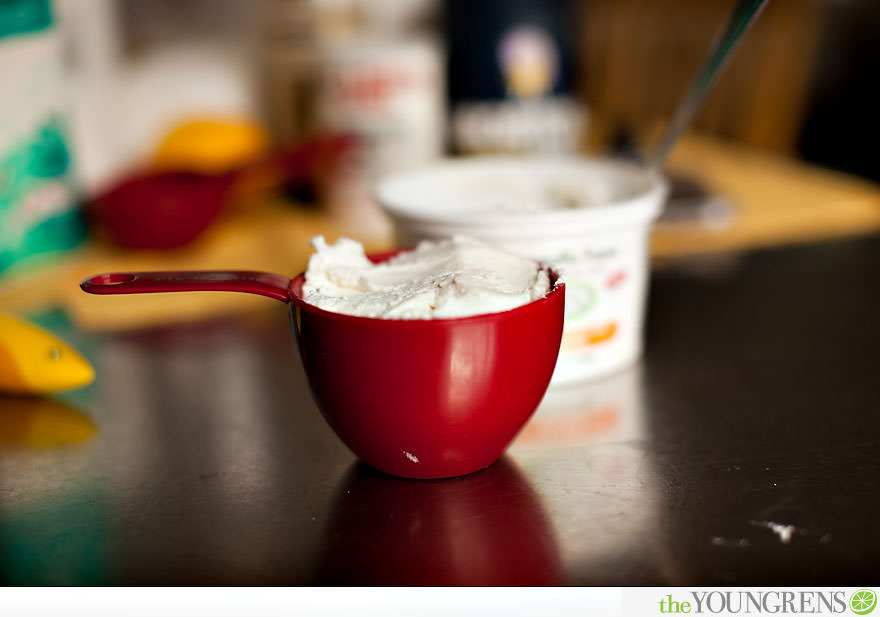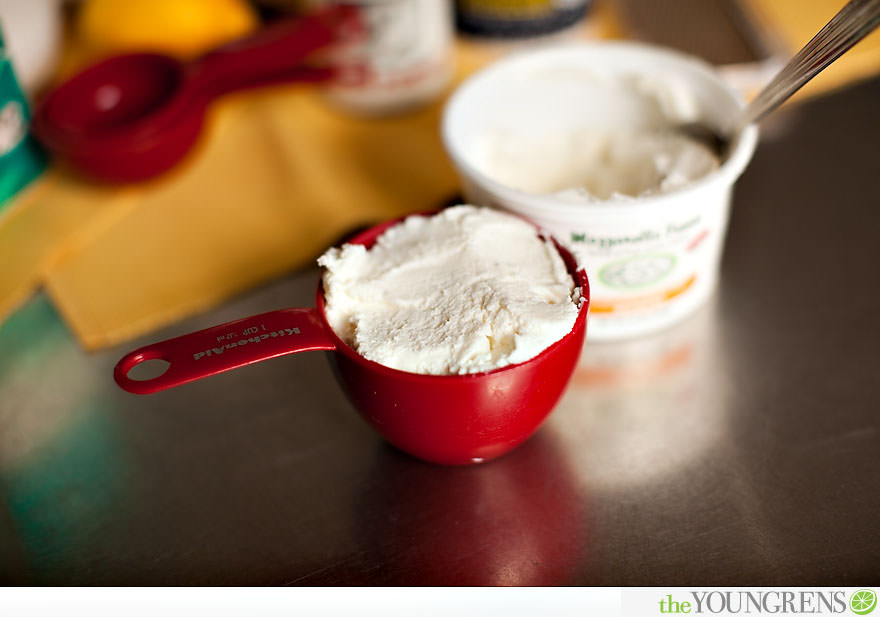 Next you'll need some lemon zest, which I think was the best part of these pancakes because they smelled SO GOOD! I don't know if it actually makes a difference, but when I zest anything, I like to get rid of the waxy coating that gets sprayed on top. We use a standard fruit and vegetable wash and a scrub brush. You'd be shocked at how much gunk comes off of your fruits and veggies!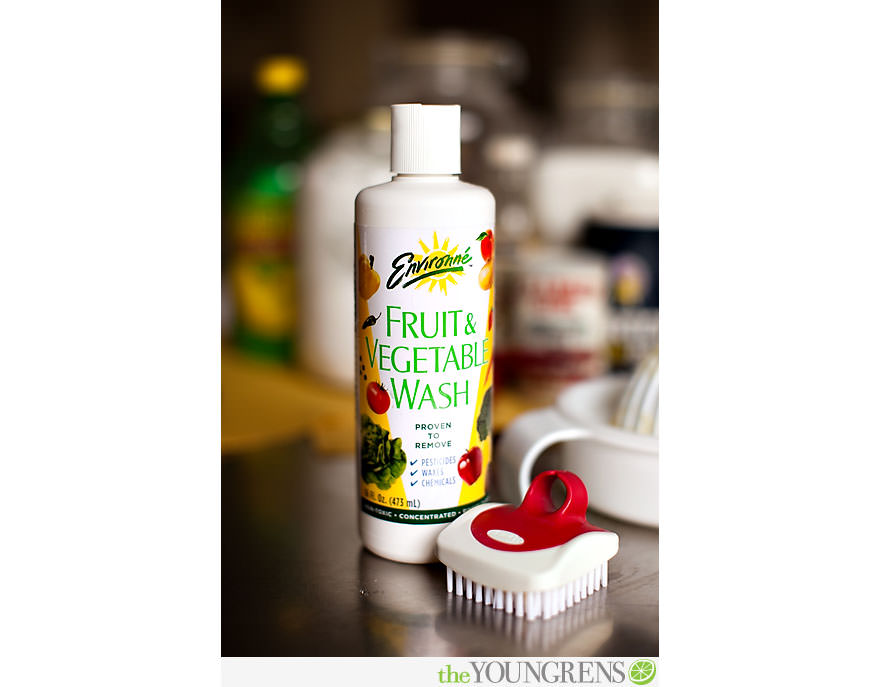 This lemon is pre-scrubbing, so its still shiny and waxy.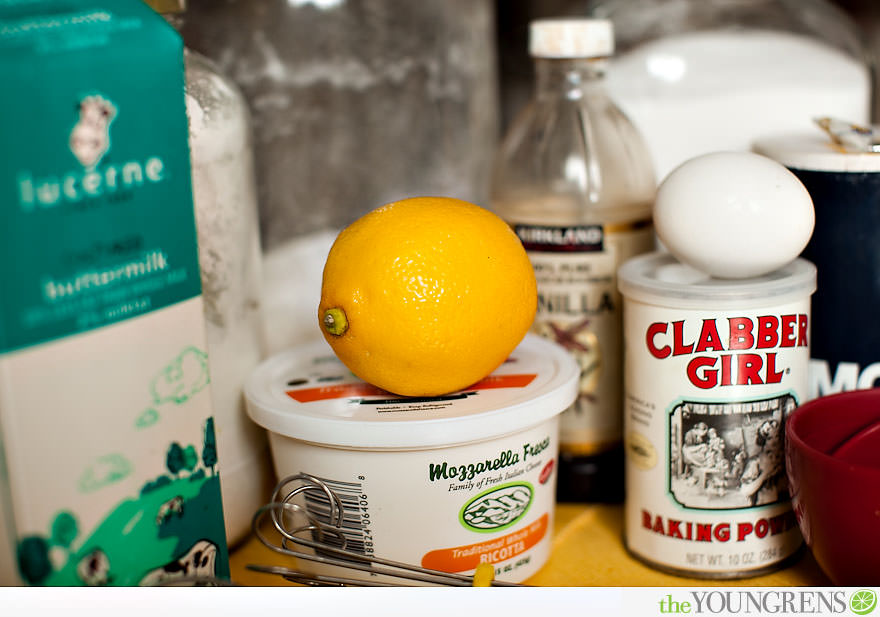 I zested the whole lemon because I love lemon. You really only need 1 or 2 tablespoons.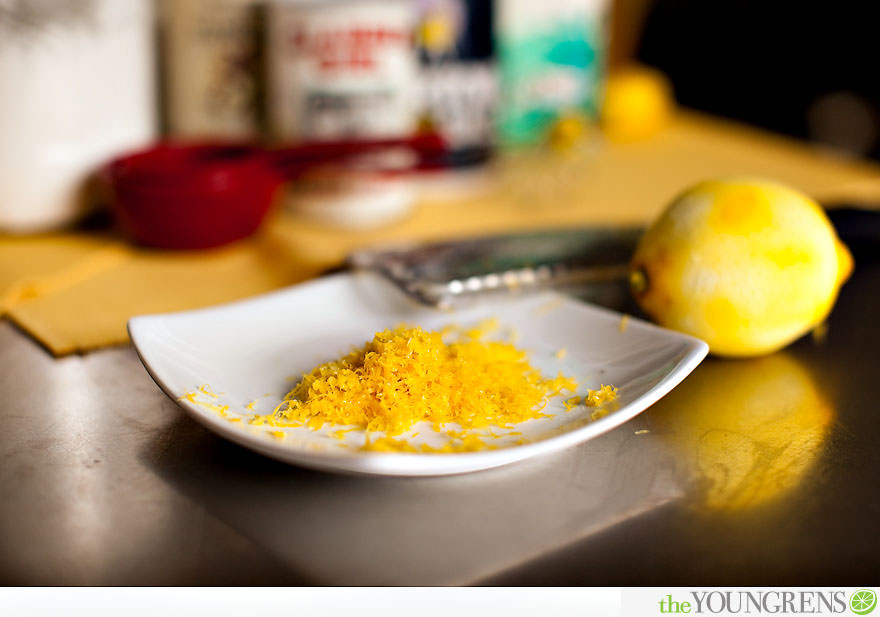 Then I realized that instead of using the lemon juice from a jug, I could juice that very lemon and have plenty of juice for the pancakes and the syrup. I think the fresh lemon made these pancakes super yummy!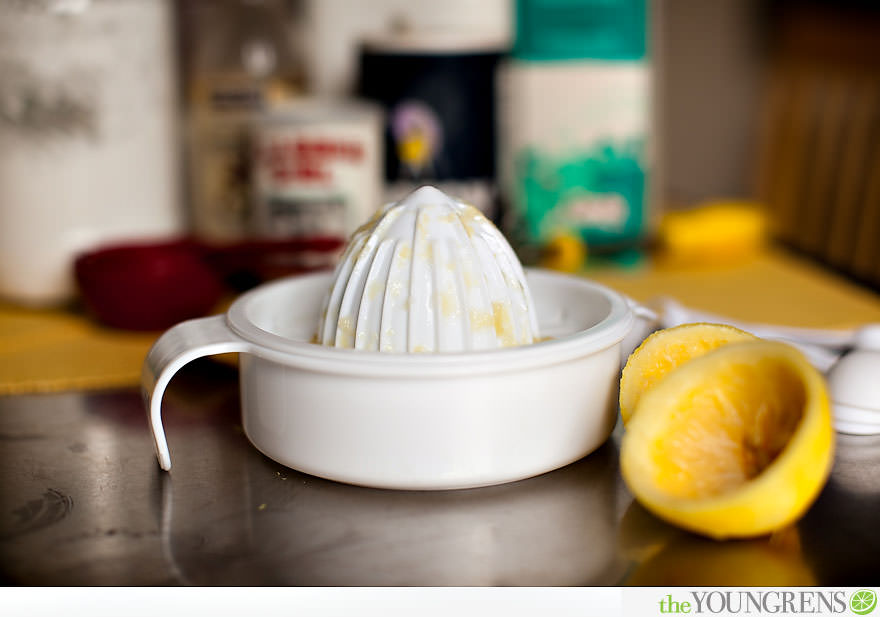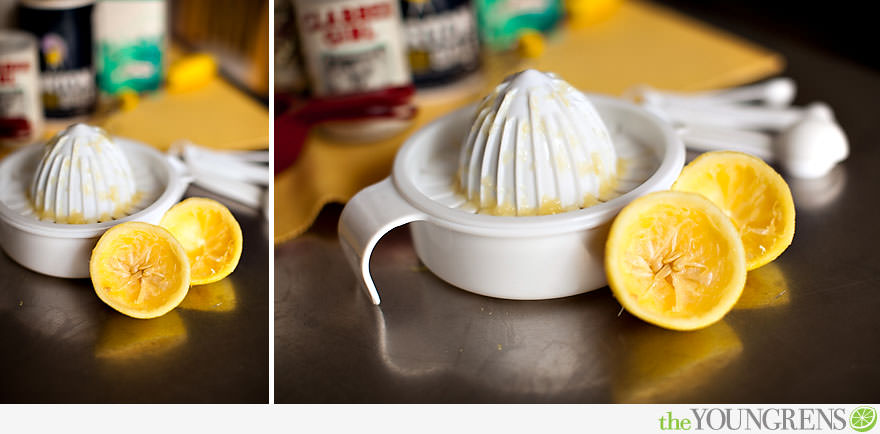 Whisk all of your wet ingredients together.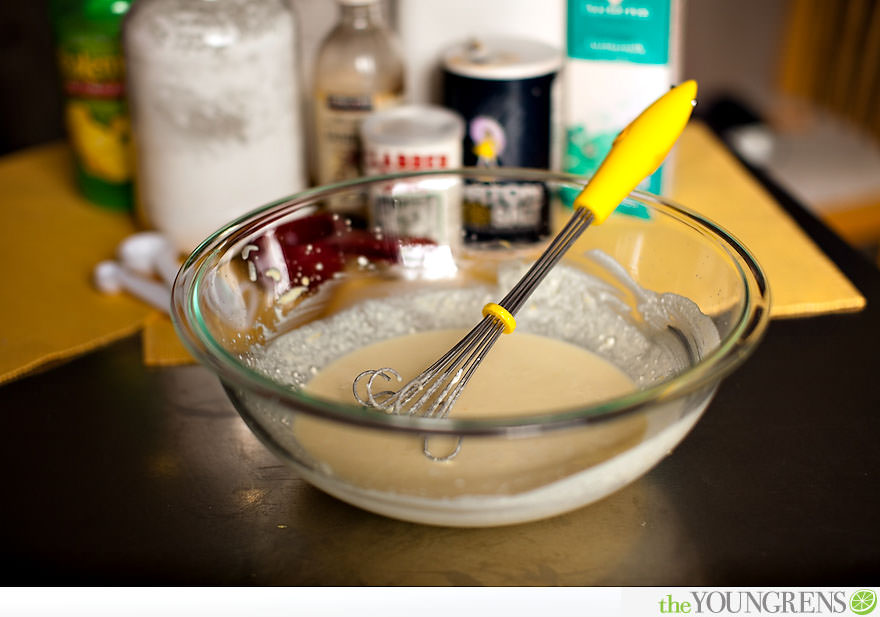 Then combine your dry ingredients in a separate bowl.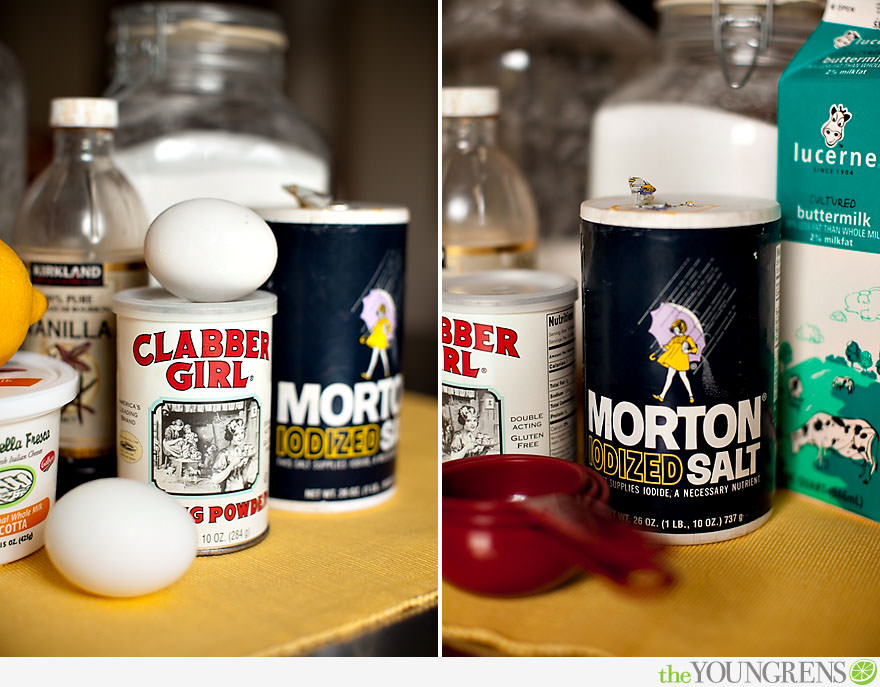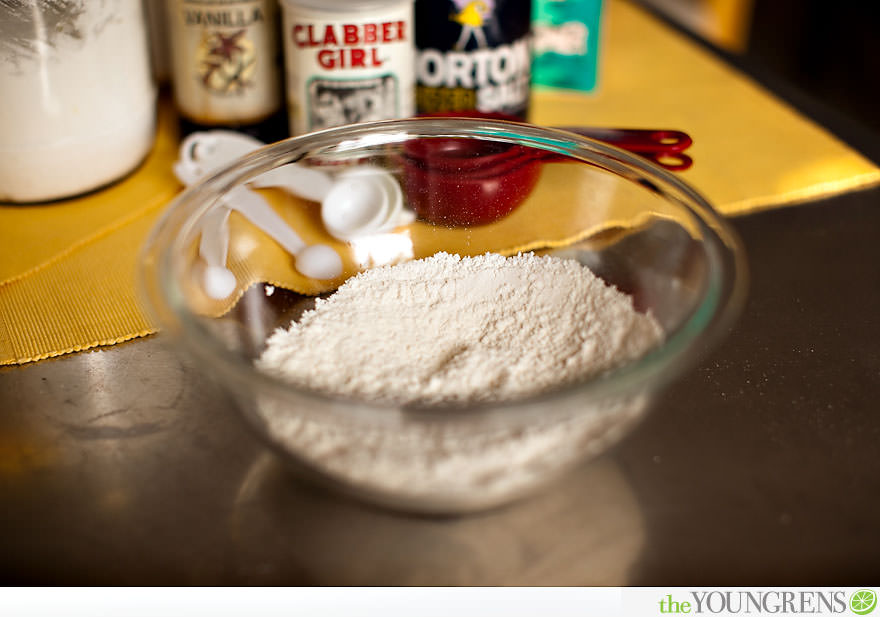 Add the dry mixture into the wet stuff and stir together.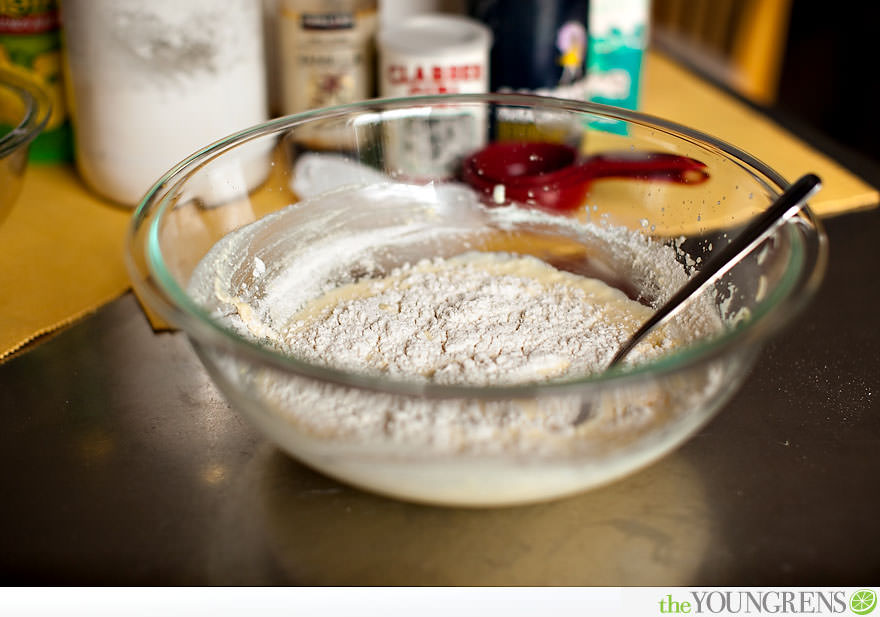 Mike said to make sure to not overmix the ingredients – the batter should be lumpy. I'll listen to what Mike says, because he's the bomb-diggity when it comes to cooking.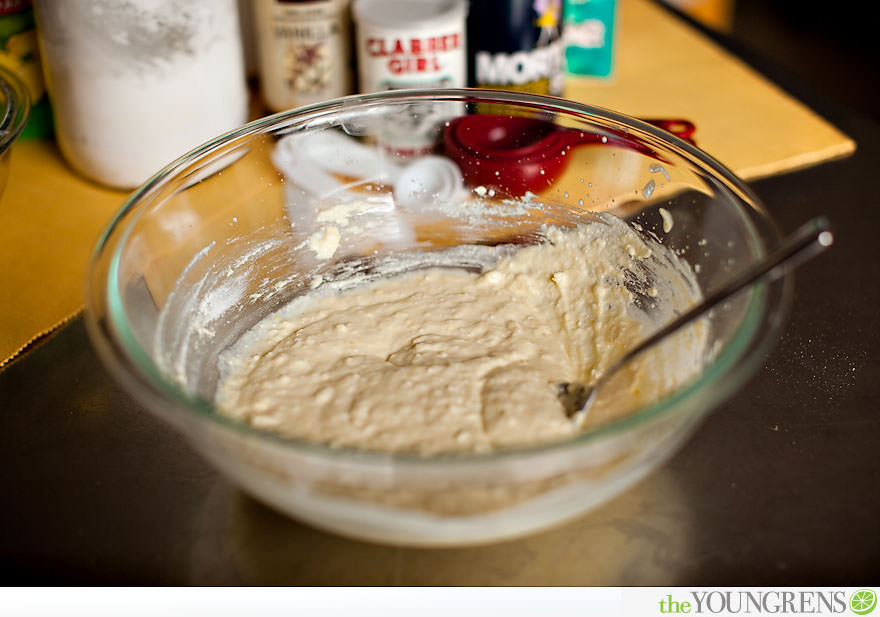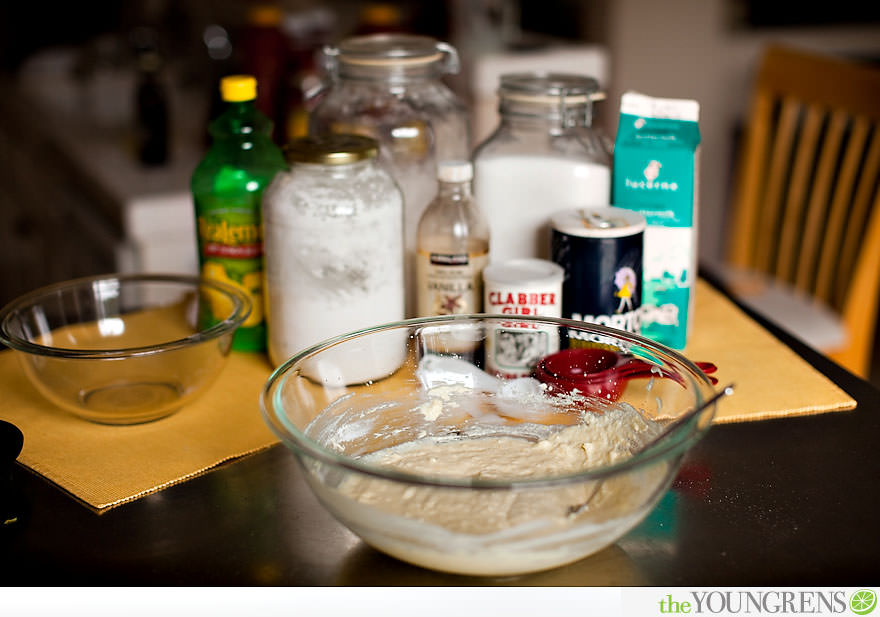 So I need to confess something here. I suck at whipping egg whites. When the recipe says to whip the egg whites into stiff peaks, I wanted to throw in the towel on the whole thing. No matter how many times I've tried, I've always made a mistake like getting egg yolk in the egg whites, not whipping enough, being too rough, looking at them the wrong way, or some other reason that I'm totally not aware of. So I tried, and I think I partially succeeded, but who knows. The pancakes did turn out lovely, but I don't think they were as fluffy as they were supposed to be.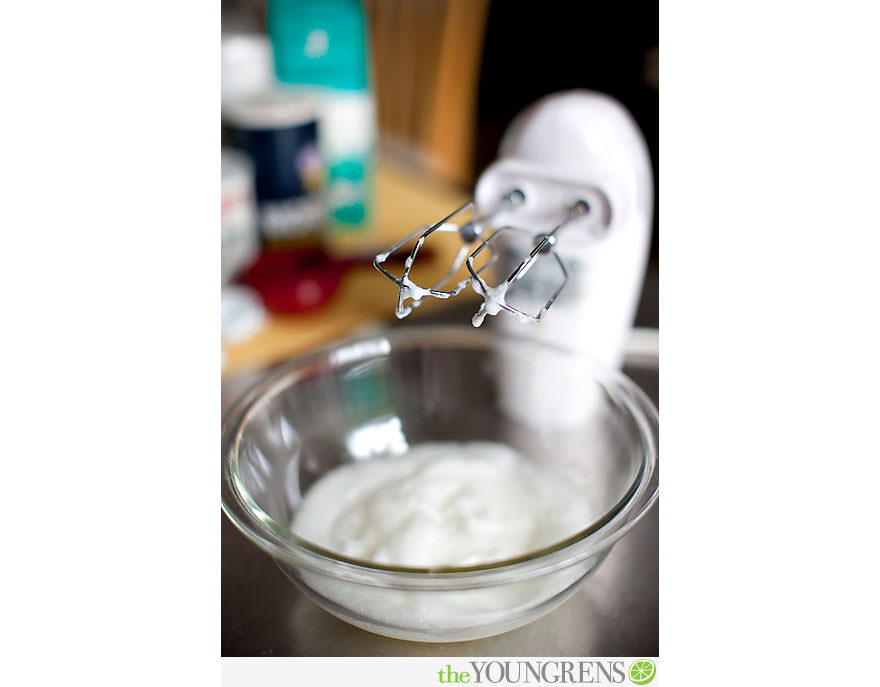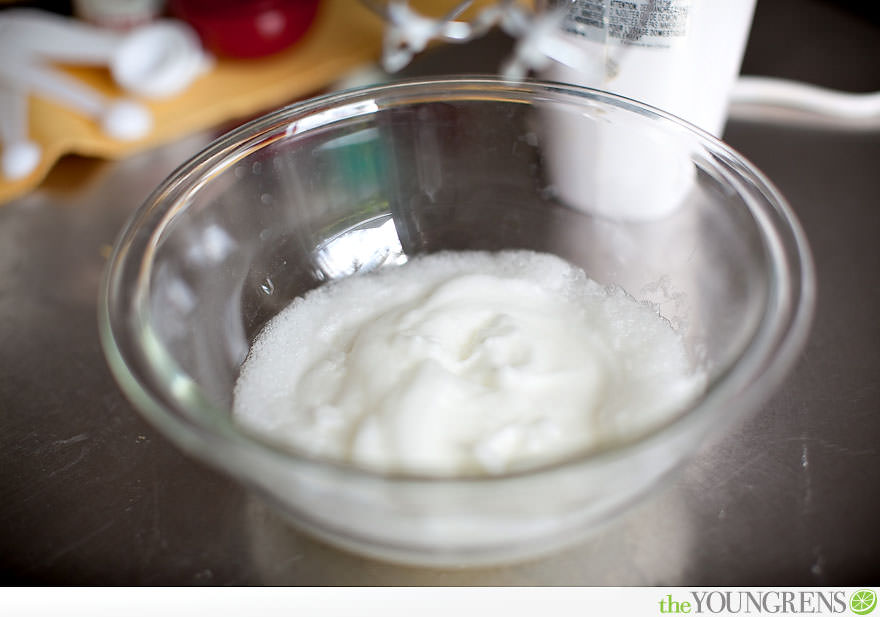 Fold the egg whites into your mixture, and let this sit for about fifteen minutes. I let it sit while we made the syrup. Which speaking of the syrup…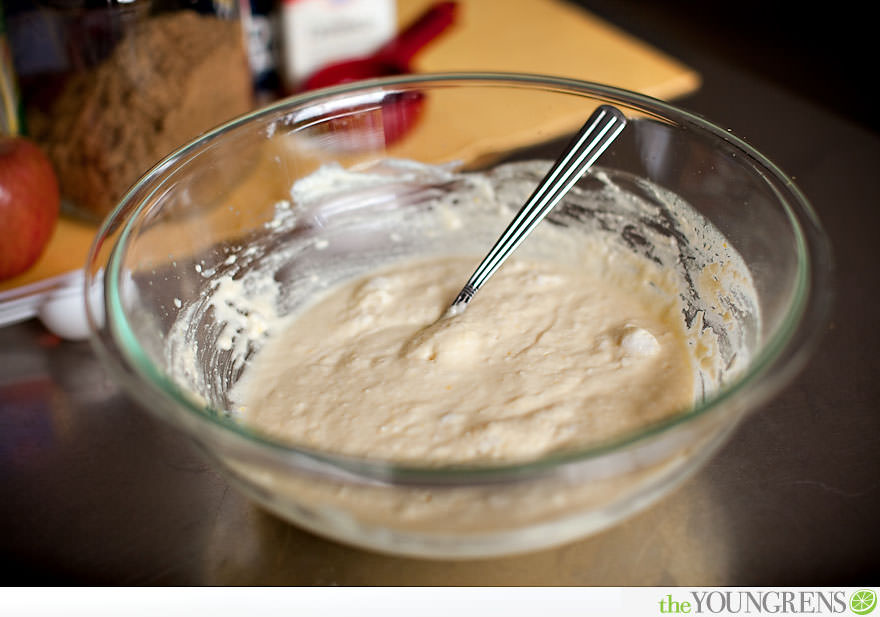 Its time for some caramelized apple goodness.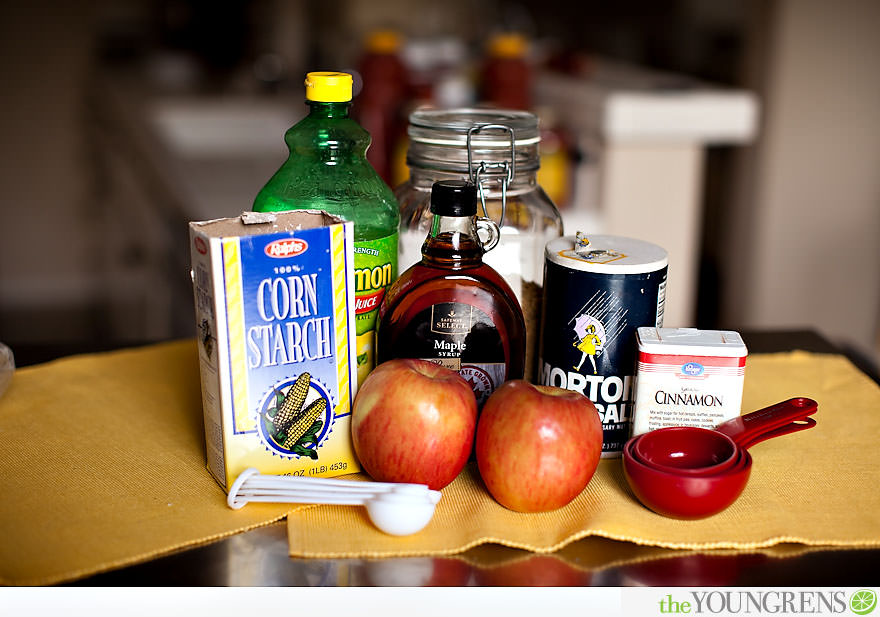 The main ingredients here are some Fuji or Granny Smith apples (I used Fuji)…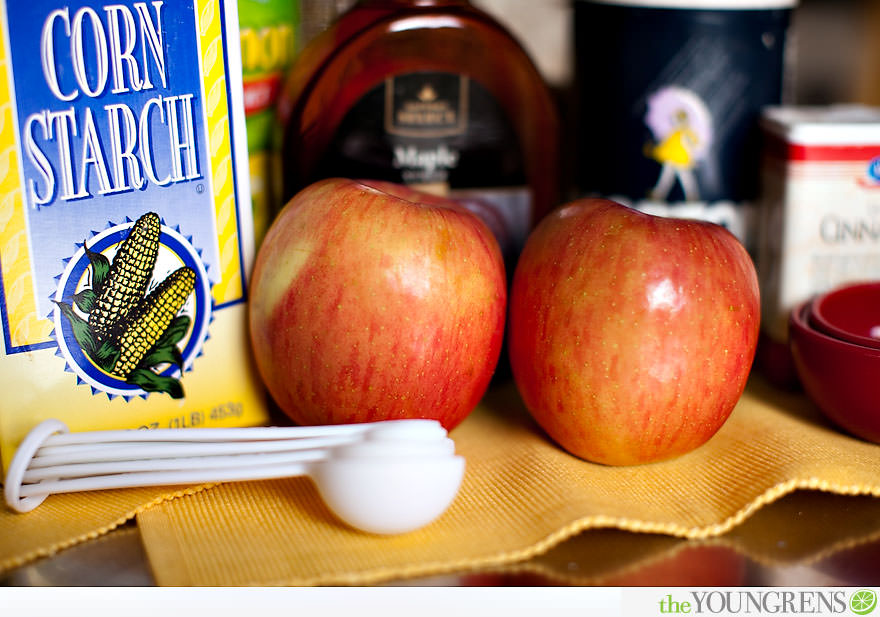 Cinnamon for flava – yum!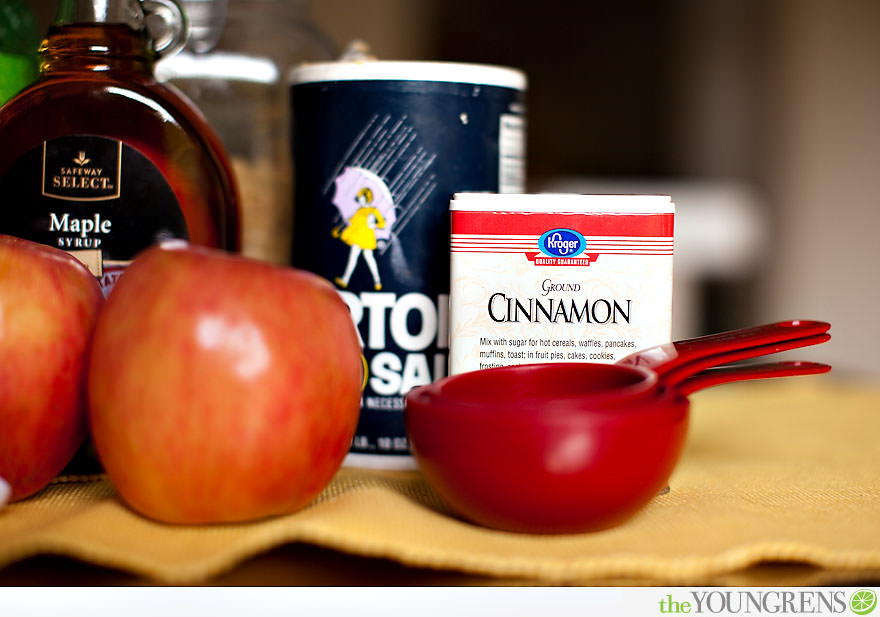 And REAL maple syrup. No Aunt Jemima 'round these parts. Mike said Grade B is the best (whatever that means), but I only found Grade A so that's what we're using here. You'll also need a bit of corn starch…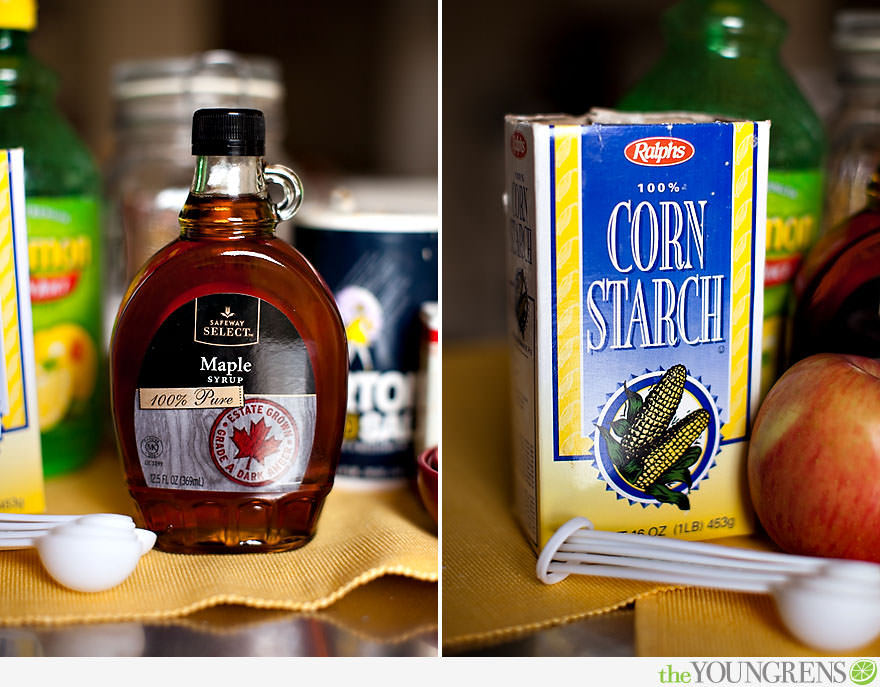 And brown sugar.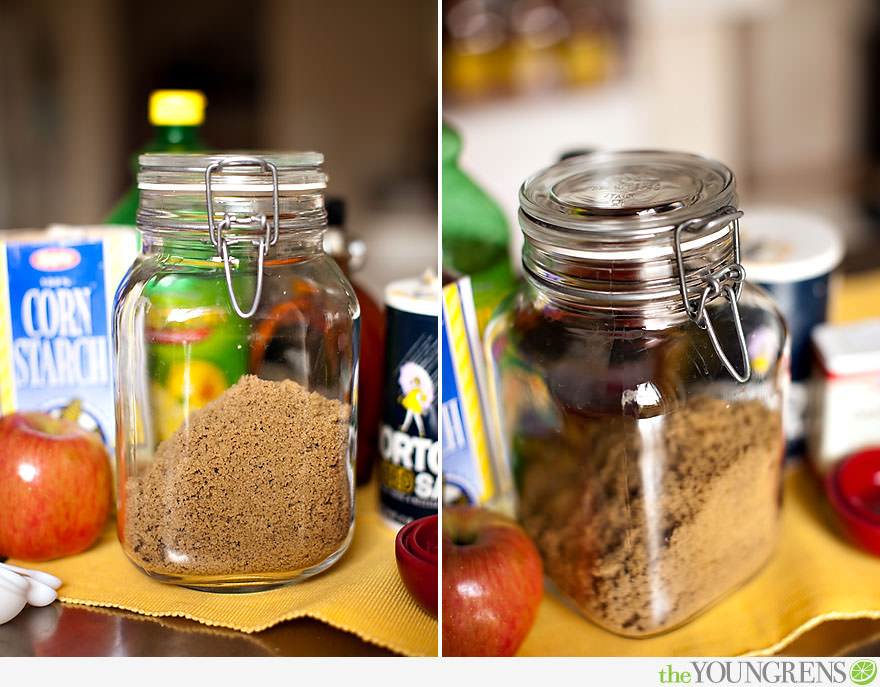 Dice your apples into medium slices.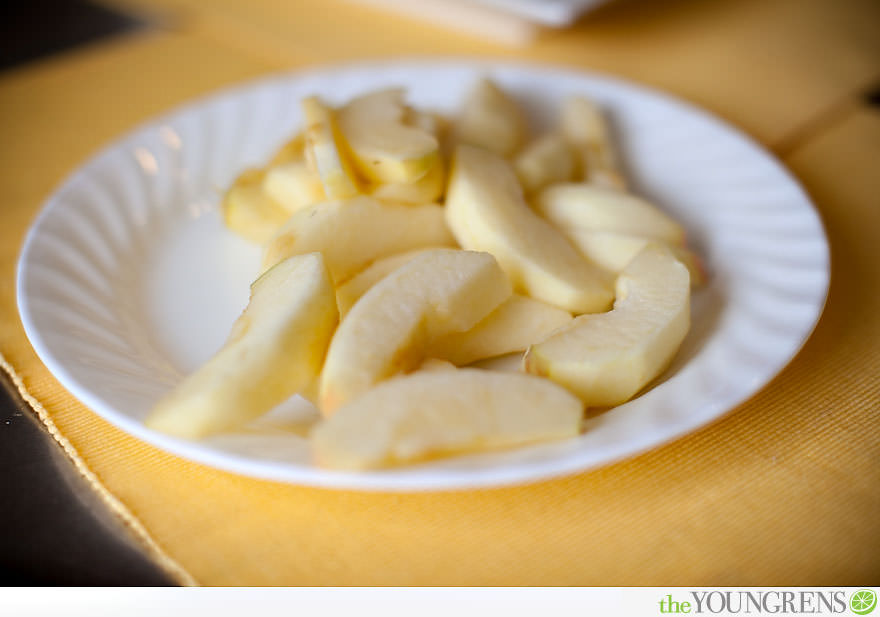 And cook them in some butter in a saucepan. This is not a saucepan; this is a skillet. Definitely use a saucepan.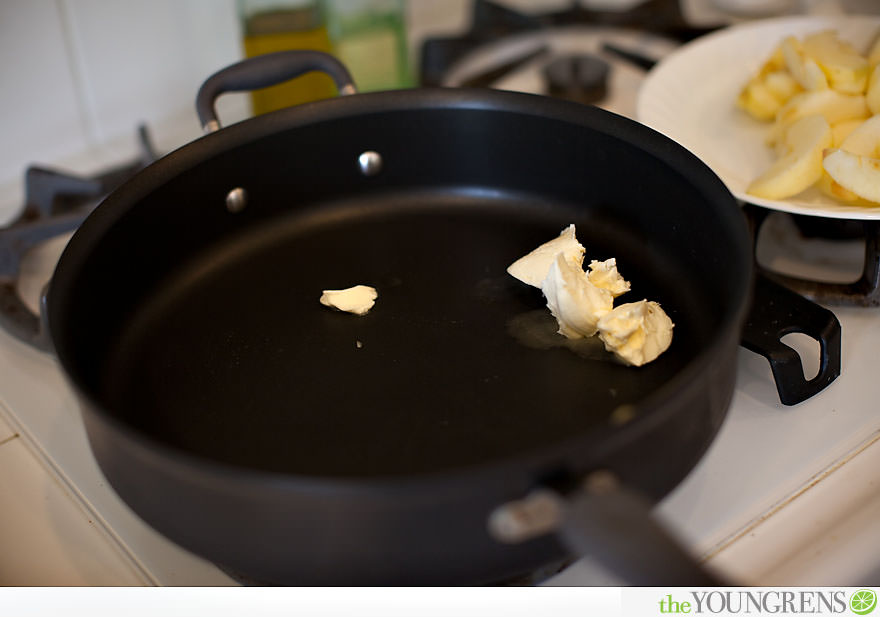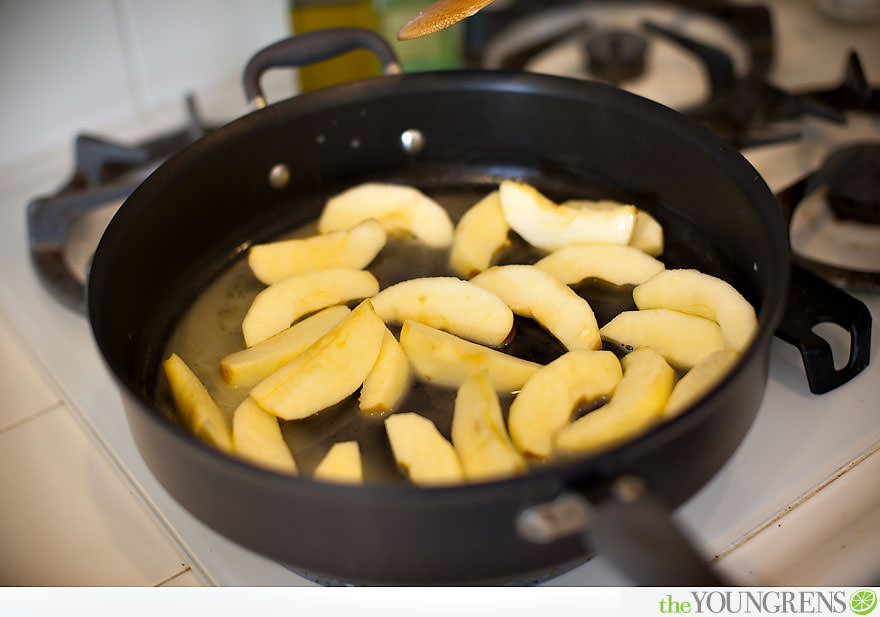 Add your brown sugar and cook until it caramelizes.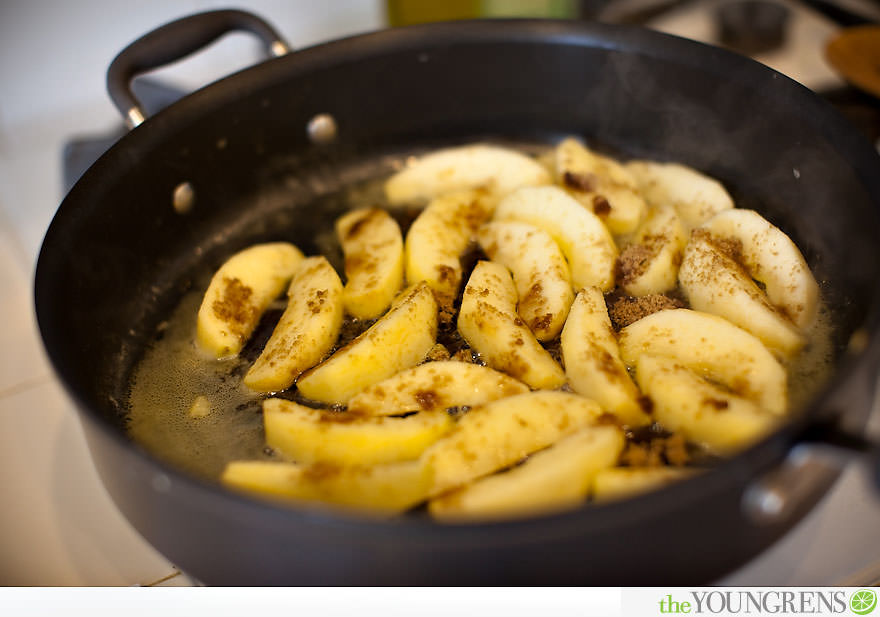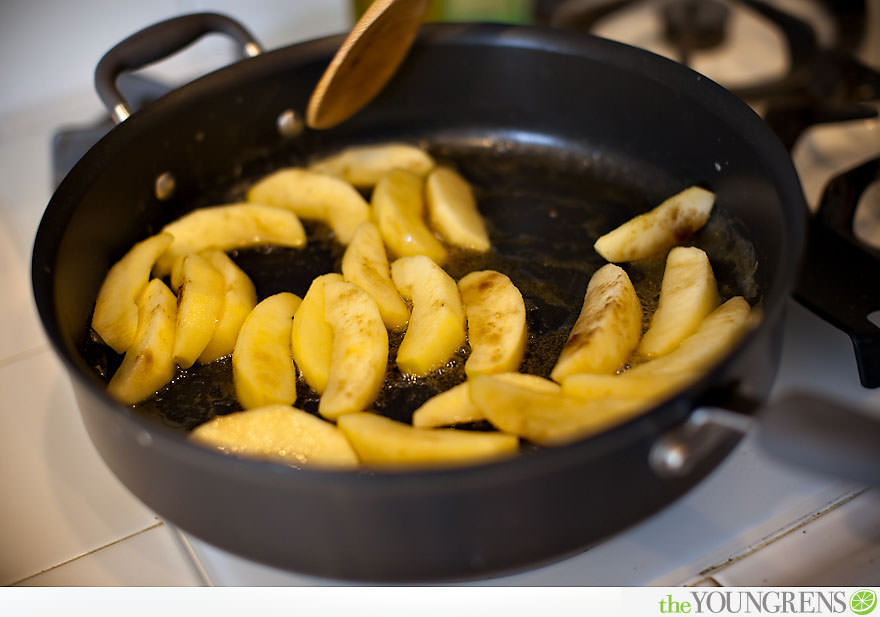 Add  your syrup, lemon juice, and cinnamon and cook until the apples are tender on the outside.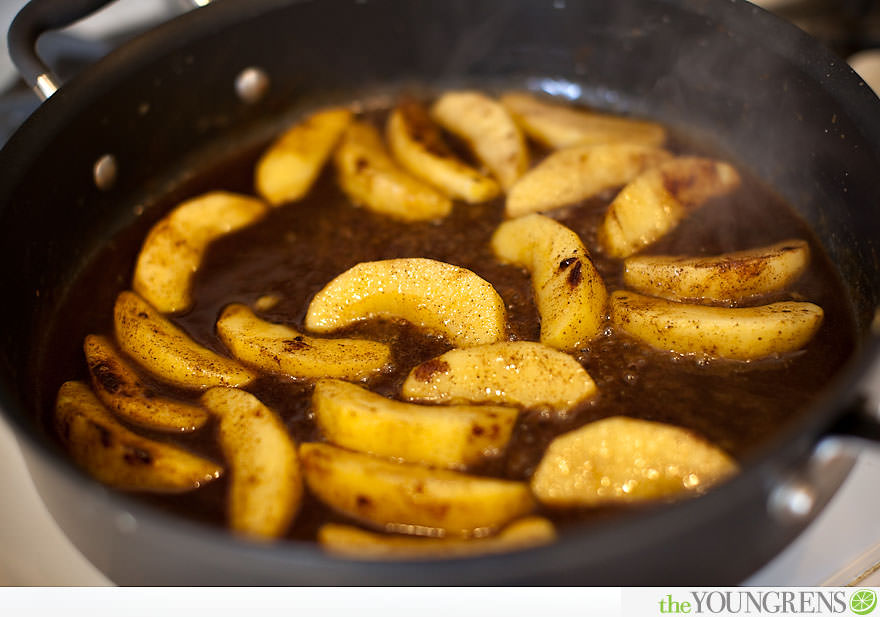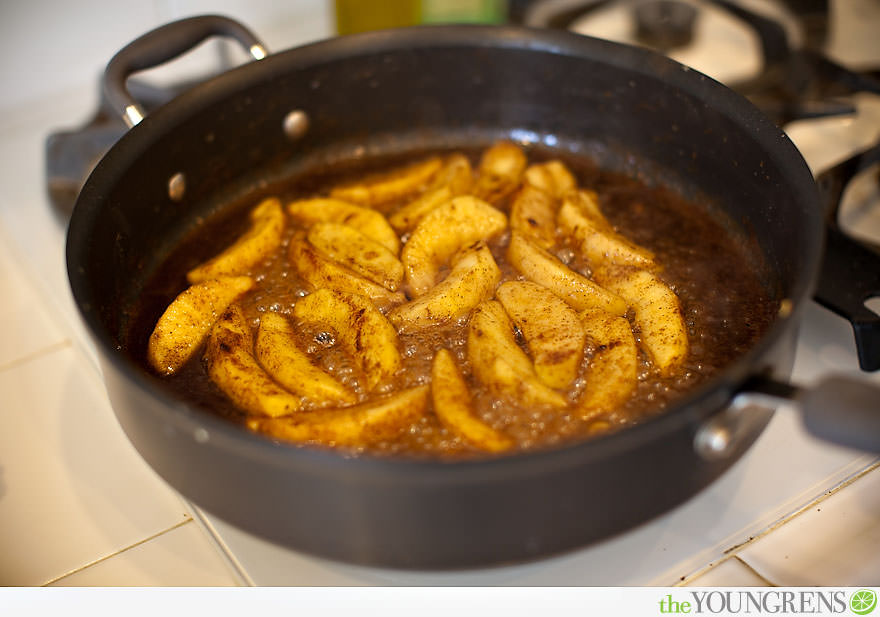 Add the cornstarch, and the recipe says to bring the mixture to a boil until the sauce thickens, but be careful not to burn your sauce, which is pretty easy.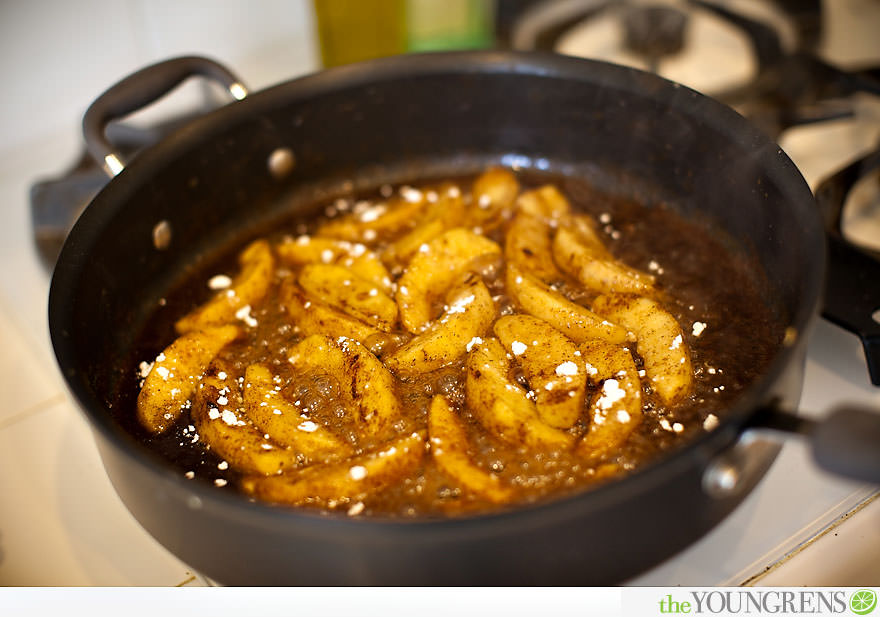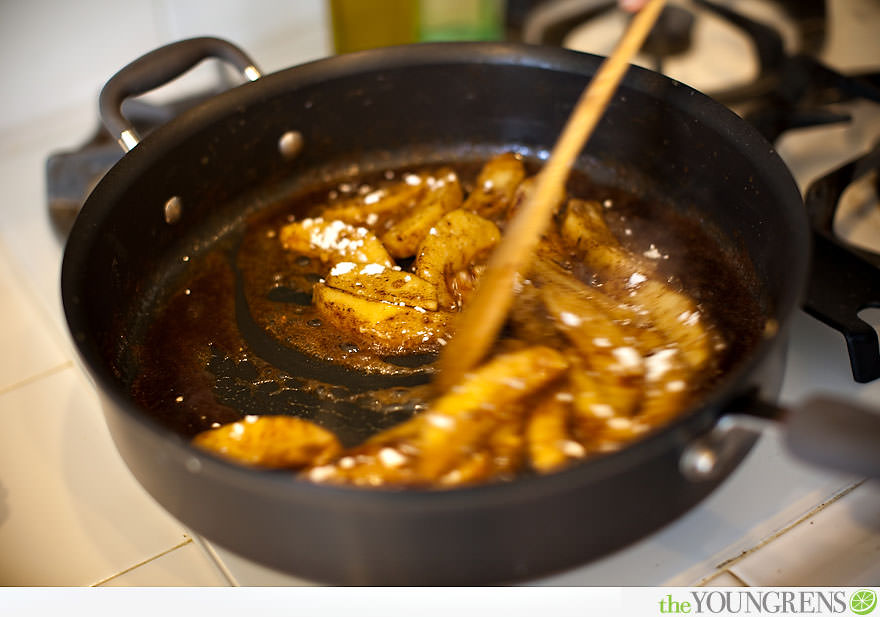 Once your sauce thickens, set it aside on low heat or put it in your serving dish and keep it in a warm oven. Heat up a griddle for your pancakes and rub some oil (or Pam in our case) over the surface.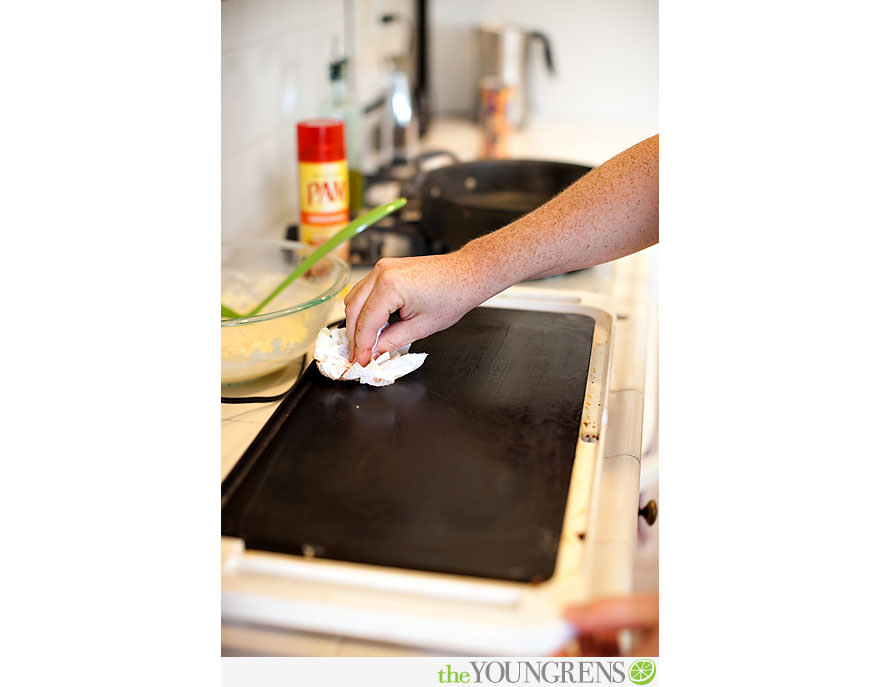 When butter takes about three seconds to melt on the griddle, then it's the perfect heat. Mike knows things like that. That's why he seriously rocks.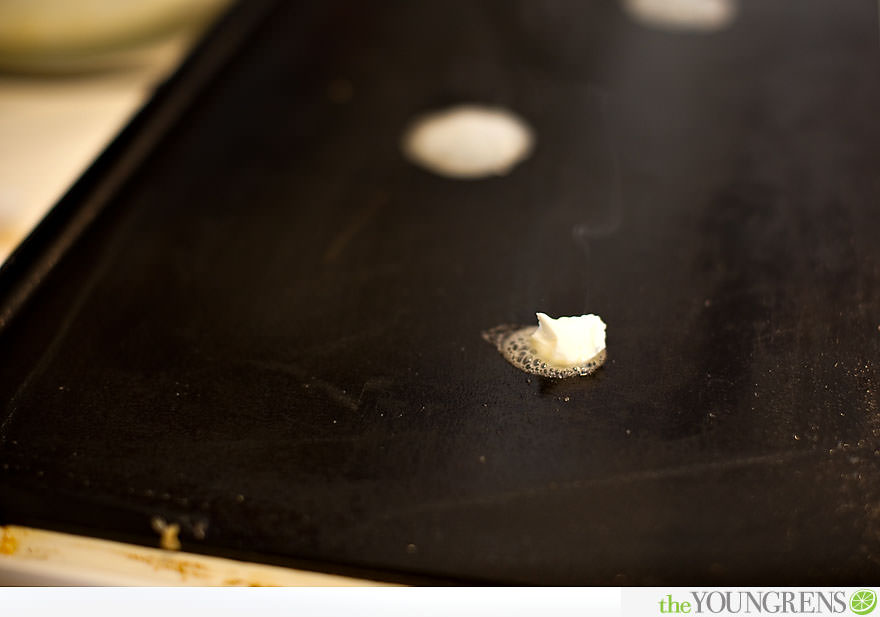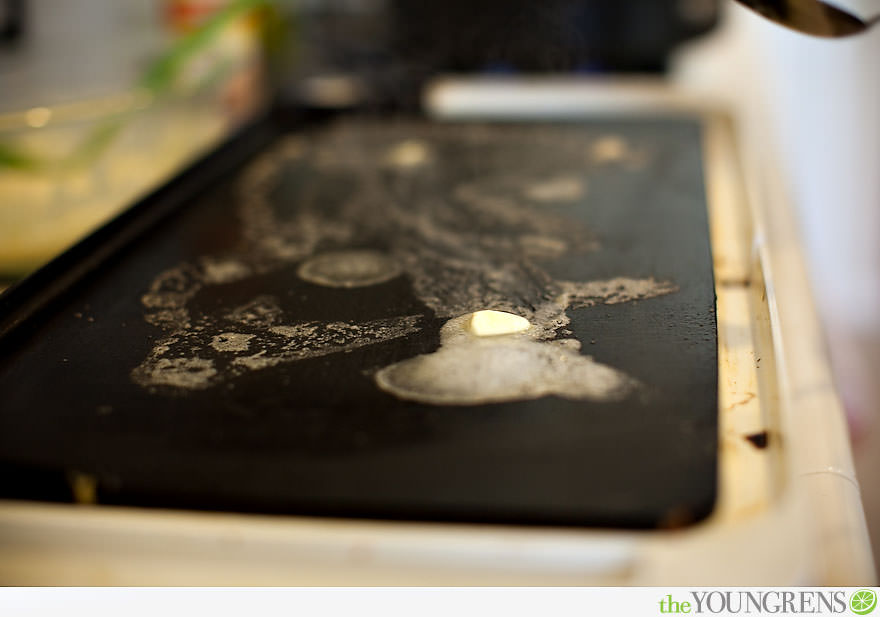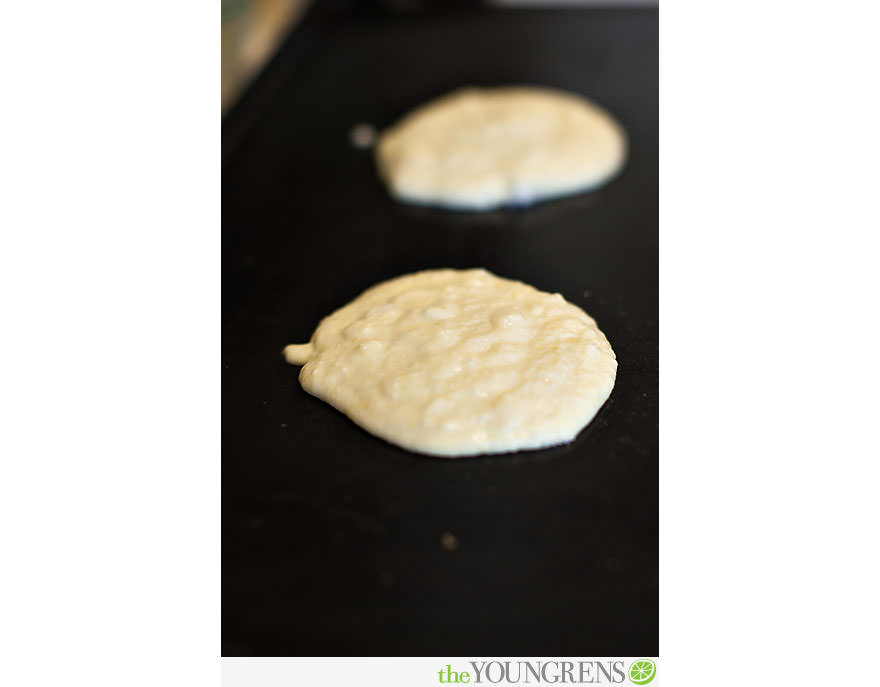 When bubbles form on the outside of the pancake, its about time to turn over. Perfect golden brown.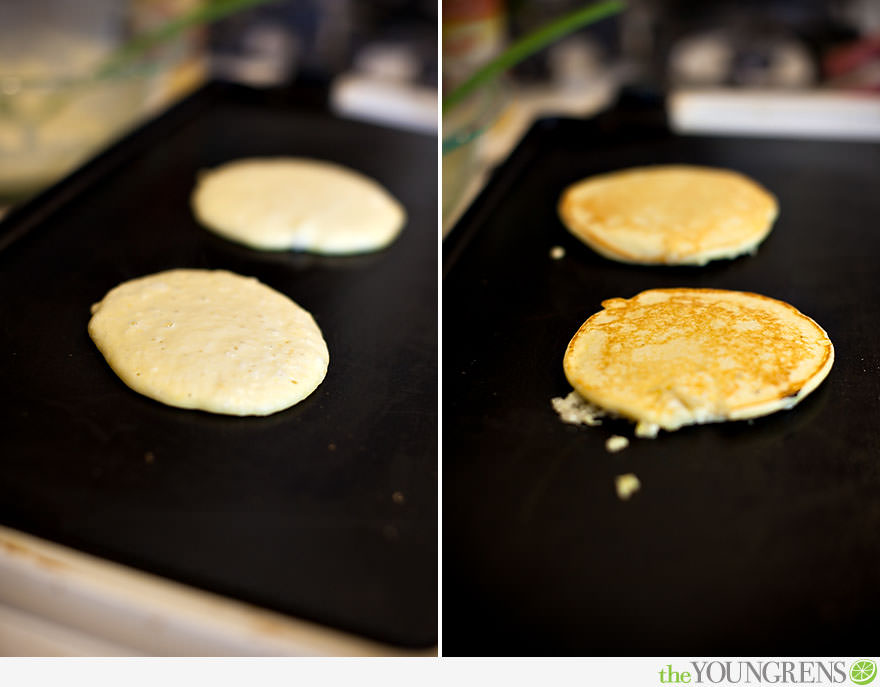 While your hubby makes the pancakes, go ahead and put together an adorable table setting that matches the lemon mood.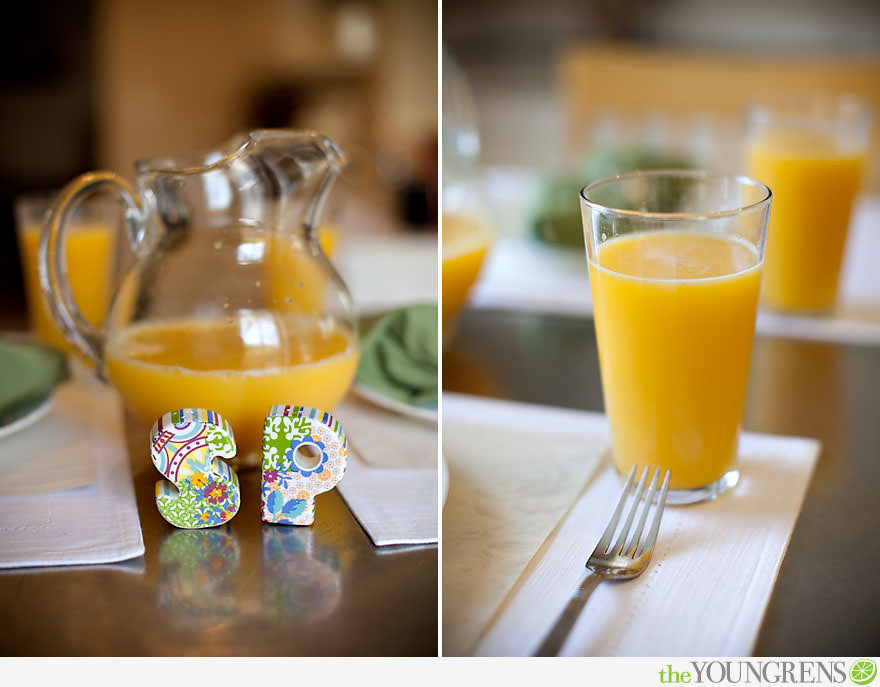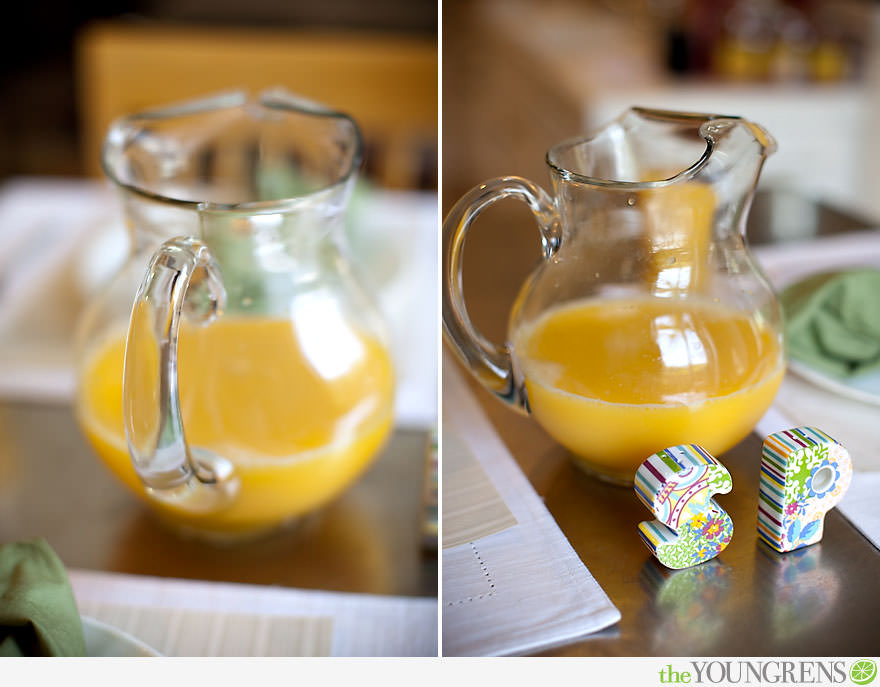 I love my Anthropologie salt and pepper shakers that I won at a bridal shower. So cute!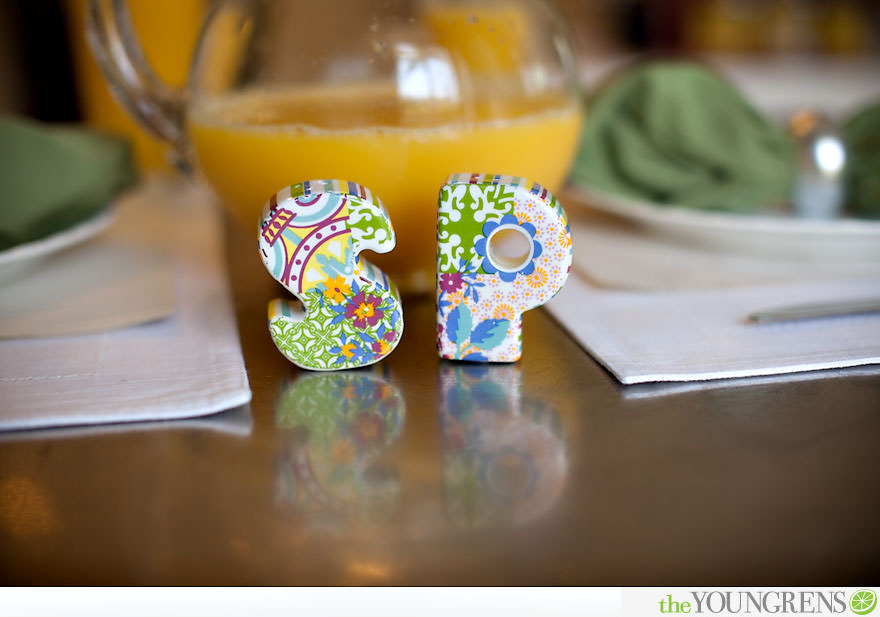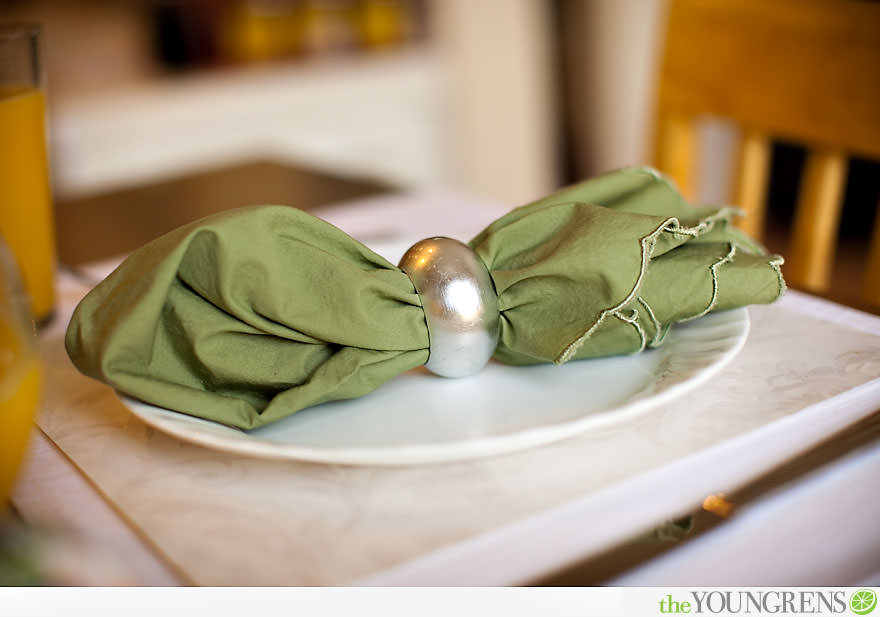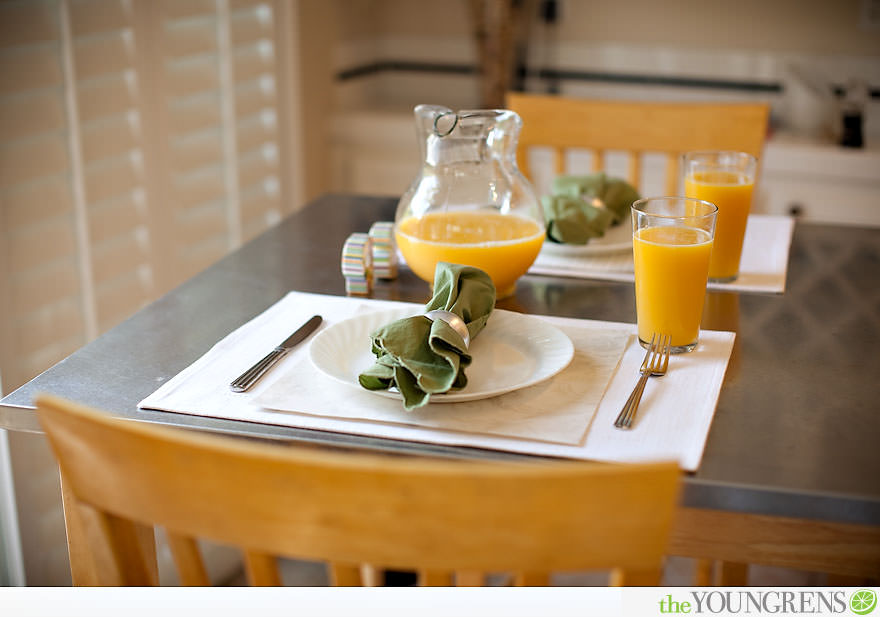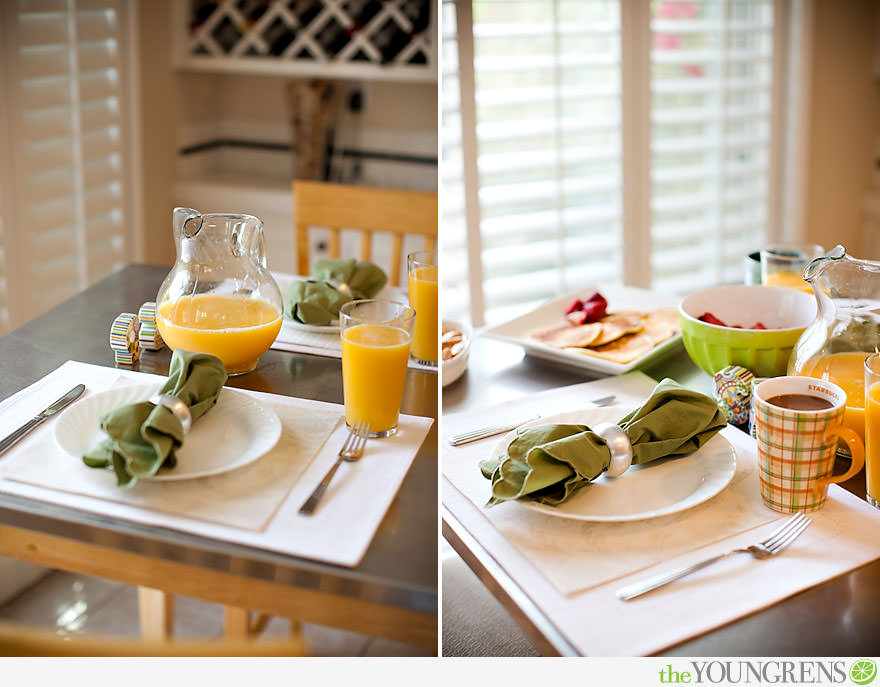 We managed to find this kitchen table in my sister's garage, and I'm so excited to spruce it up! I'm still pondering a dark espresso stain with a butcher block top, or a fun bright color with the current stainless steel top. What do you guys think?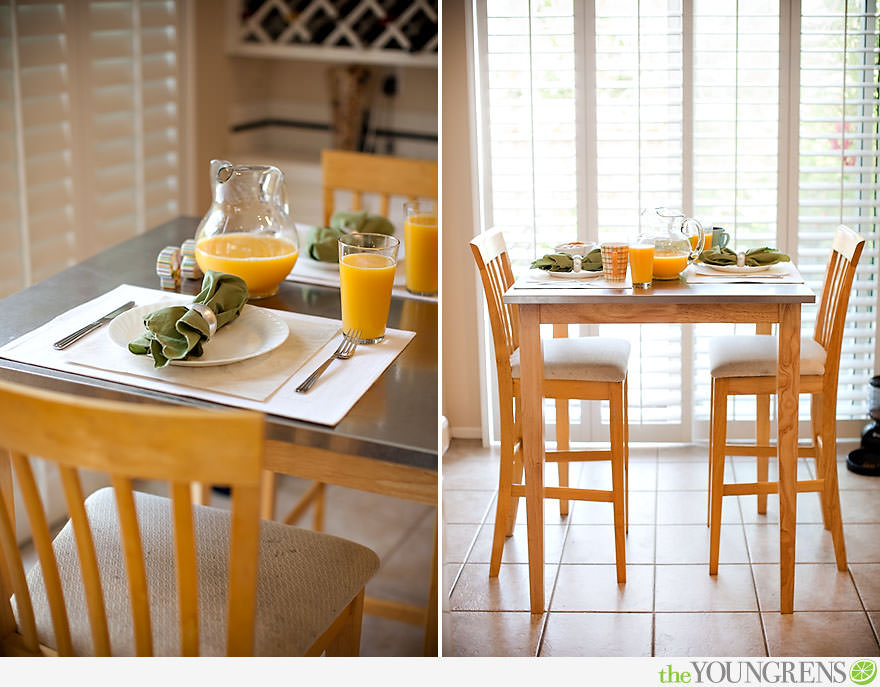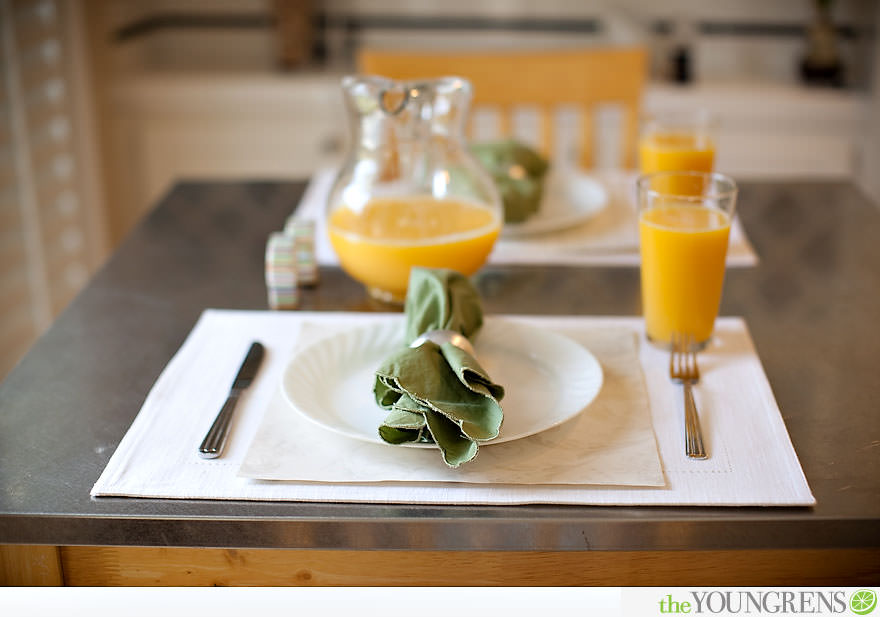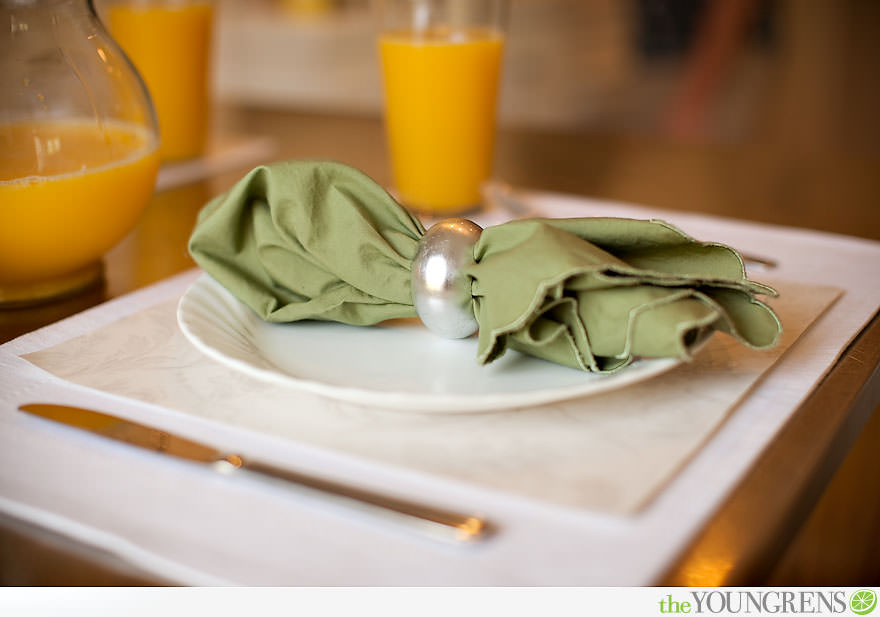 This breakfast was AMAZING!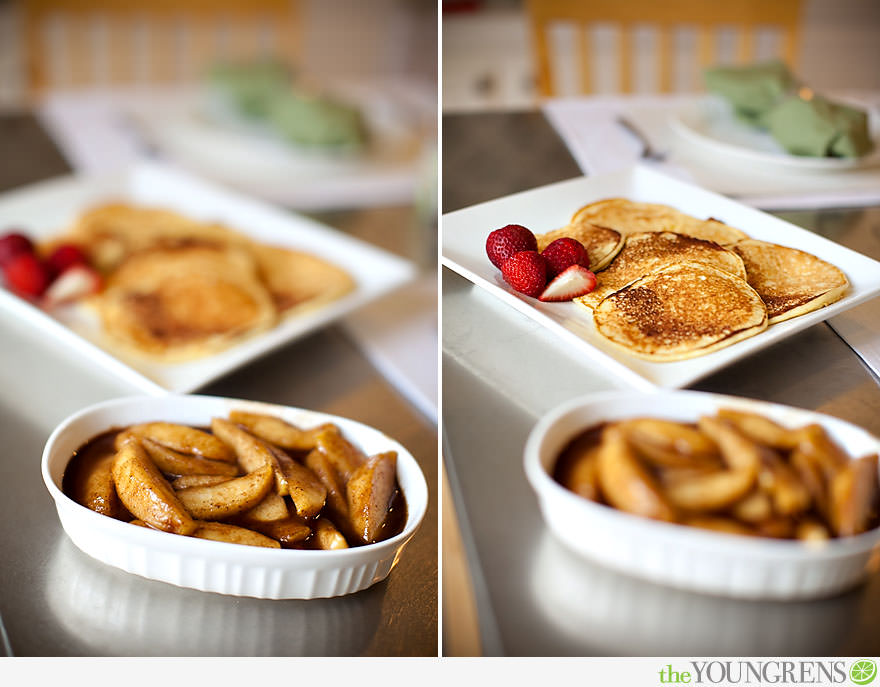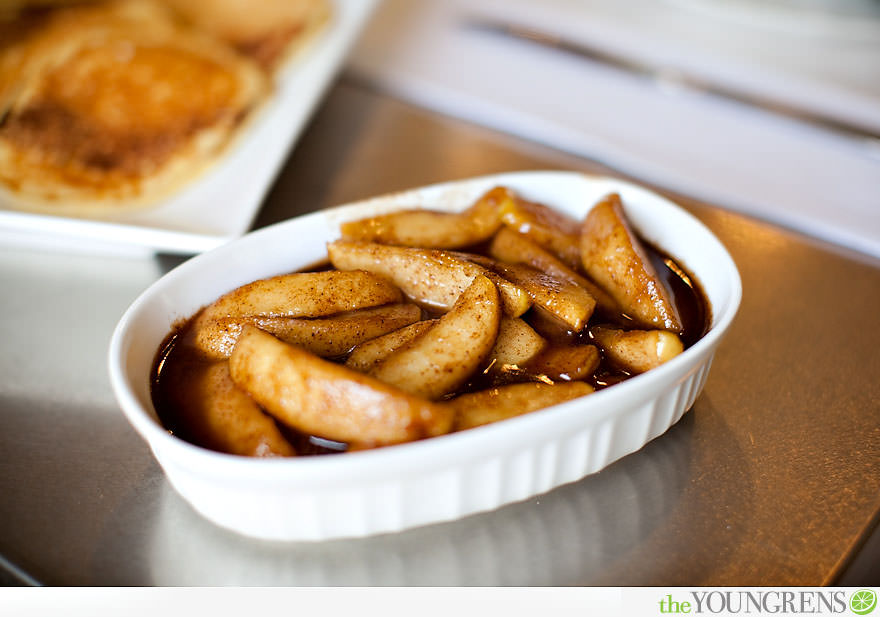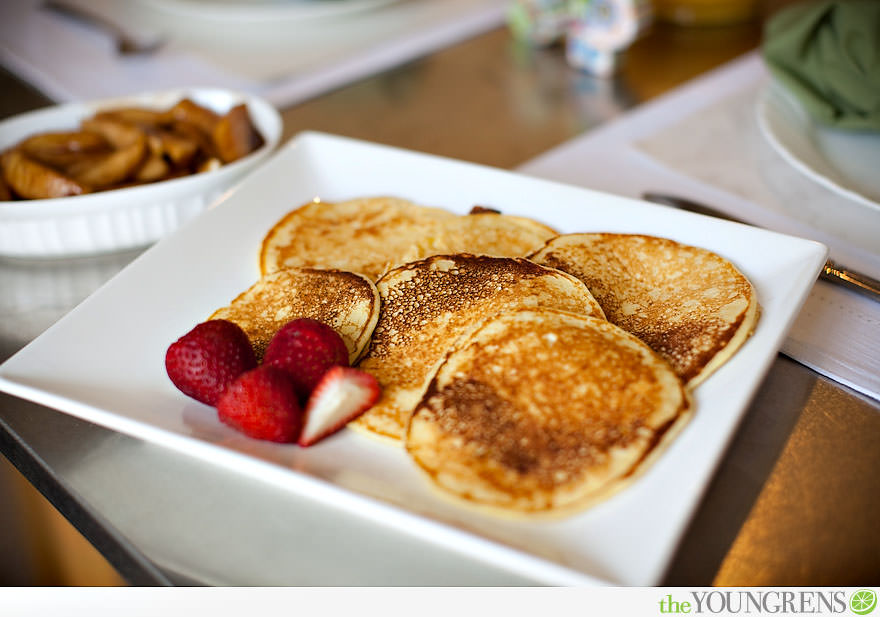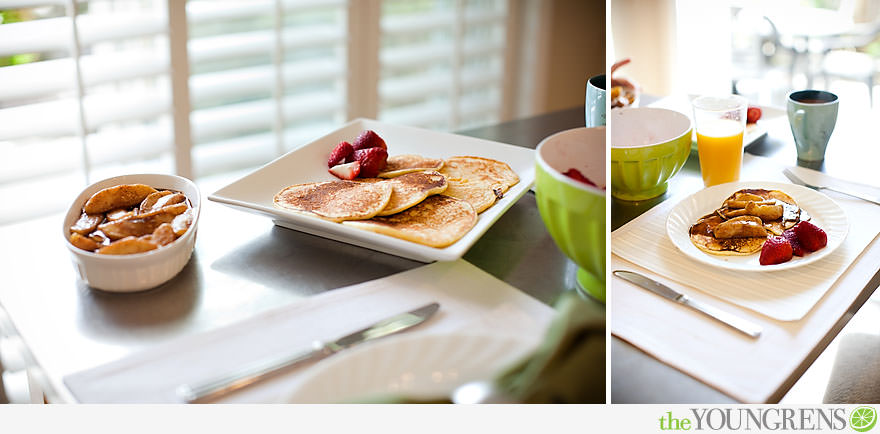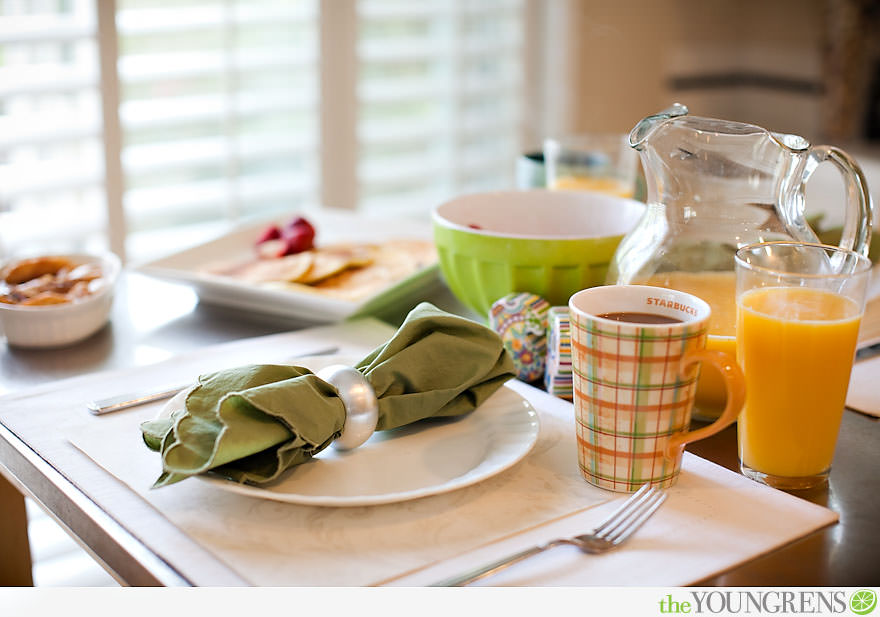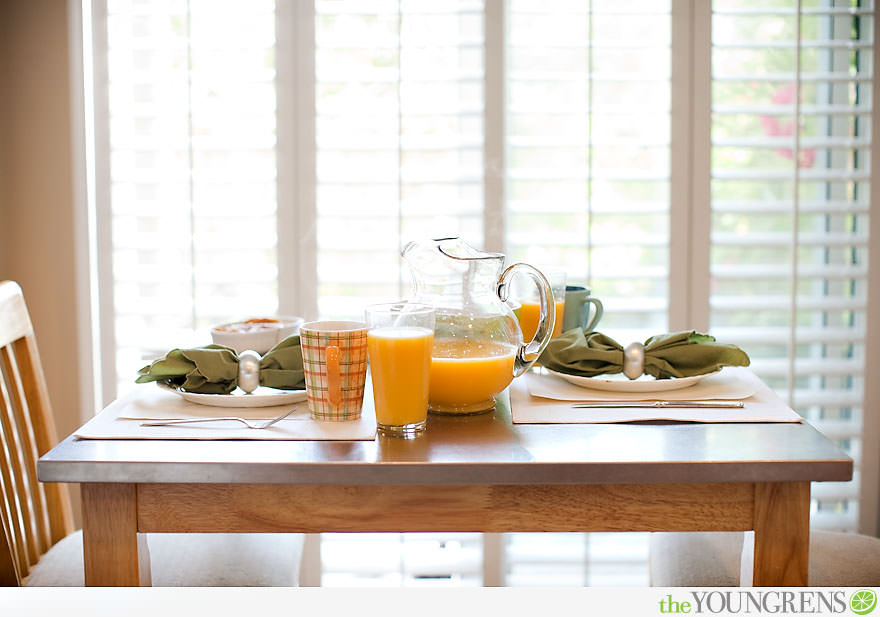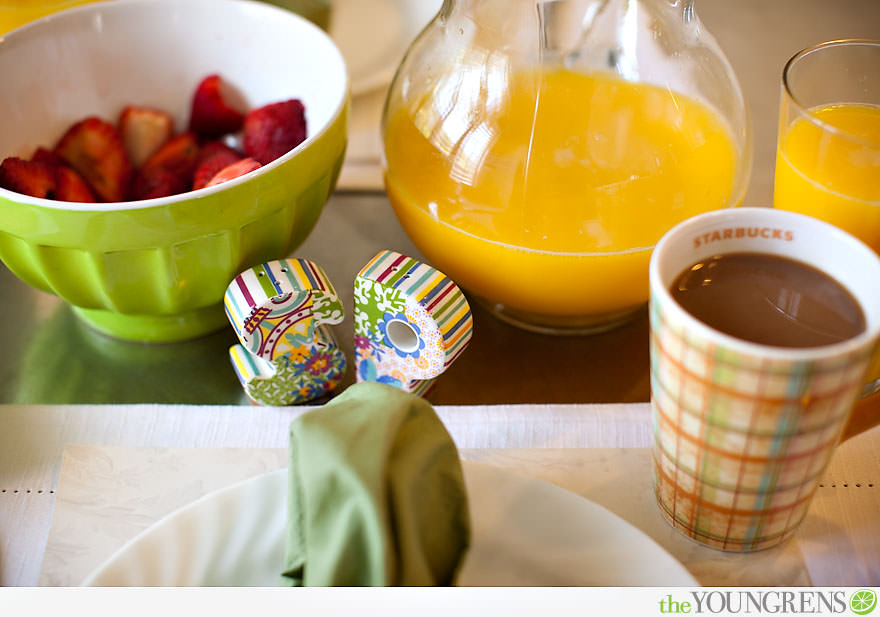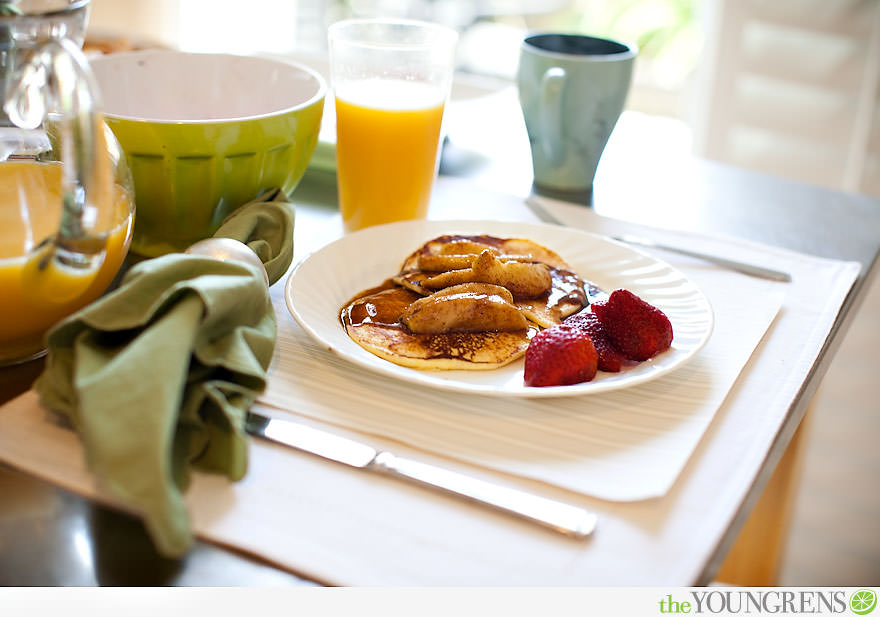 These pancakes taste like lemon icing that got thrown on a griddle, and I mean that in a very, very good way! These were YUMMY!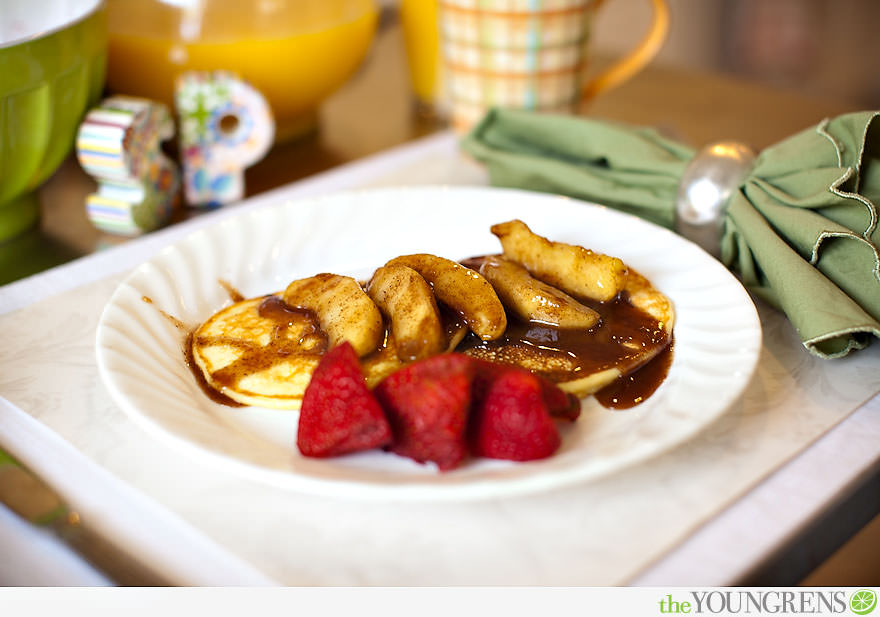 Gotta love Saturday mornings with no makeup, an unwashed face and dirty hair. I did brush my teeth, but that doesn't really show up in pictures.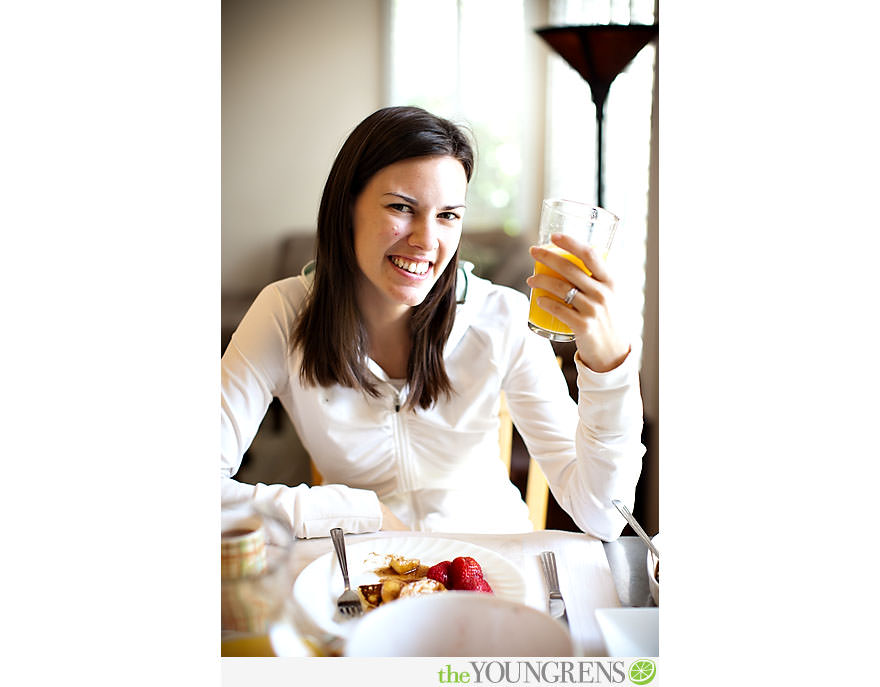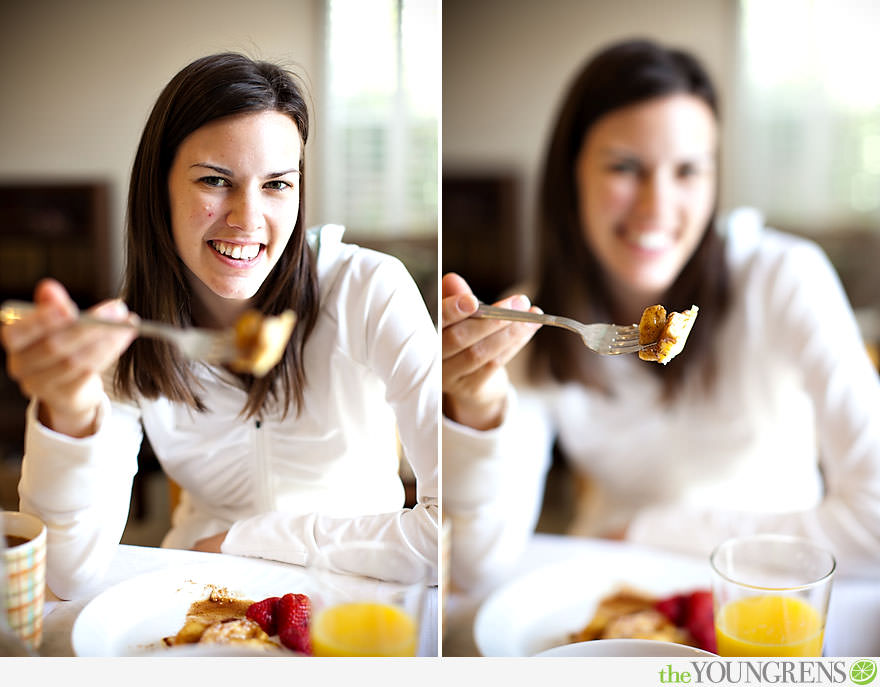 Lemon Ricotta Pancakes
Yield: 6-8 5inch cakes
2 large eggs (separated)

1 cup Ricotta (whole milk is the best for this)

½ cup buttermilk

1 tsp lemon juice

1 to 2 tsp of lemon zest

1 ½ Tbsp sugar

½ tsp vanilla extract

½  cup AP flour

½ tsp baking powder

¼ tsp salt

Powdered sugar to garnish
In a bowl whisk to combine, egg yolks, buttermilk, sugar, ricotta, vanilla, lemon zest, lemon juice. In separate bowl thoroughly mix together flour, baking powder and salt.  Add the dry ingredients to the wet ingredients.  Stir mixture until combined. Do not over mix! The batter should look lumpy.
In a separate metal bowl, whip egg whites into stiff peaks. Gently fold egg whites into batter. Do this by adding 1/3 of the egg whites at a time.  Let this mixture sit for 15 minutes before cooking.
Heat a griddle or non-stick frying pan on med heat.  It is a good idea to rub a little cooking oil onto the cooking surface with a paper towel.  When the pan is warm enough, add ½ to 1 Tbsp of butter. I usually gauge the proper heat of the pan by counting the seconds it takes for the butter to sizzle away.  It usually takes around 3 seconds.  Once the butter melts and coats the surface of the pan ladle the batter onto the surface.  A slightly overflowing  2 oz ladle will give me about a 5 inch cake. To make a perfect round cake continue to pour batter into the center.  Flip the cake once bubbles start to form on the surface and edges begin to slightly brown.  Once flipped the cake should be finished in 1-2 minutes or until the cakes spring back when touched.  You can move each cake into a 200 o F oven and keep warm until you finish the remaining cakes.
Sprinkle on powdered sugar and serve with the caramelized apple maple syrup.
Caramelized Apples and Maple Syrup
(approximate measurements)
1 to 2 Firm Apples (Granny Smith or Fuji) peeled cut into med dice

½ Tbsp Cinnamon

1 ½ Tbsp brown sugar

2 Tbsp butter

1 tsp lemon juice

¼ tsp salt

½ cup REAL maple syrup (grade B is the absolute best!)

1 ½ tsp corn starch
Sauté apples with butter in a saucepan for 1-2 minutes. Add brown sugar and sauté until a caramel sauce is formed.  Add the syrup, cinnamon, lemon juice, salt and simmer until apples are tender outside and still firm in the middle. Add the cornstarch and bring to a boil while stirring to thicken sauce. Set aside on low heat.
Thanks so much to Mike and Julie for sharing this awesome recipe! We absolutely loved it and can't wait to try it again!
Hugs,
Erin