I'm finally going for it… I'm gonna try to be like Martha. I'll admit that even though I love my Martha Stewart Living magazines like they are little messages sent from the everything-cute-and-stylish-and-yummy-gods, sometimes the folks behind the recipe section forget that its people like me that are reading their magazine. I mean, why would I want an entire issue dedicated to halibut and grilled eggplant?? Really people, I'm a comfort-food-aholic and I am not planning on going to rehab.
BUT the latest issue of Martha Stewart Living has spoken right to my heart with its feature on summer flavors – grilled corn and tomatoes with chicken kebabs, peach and basil crumbles, grilled potato slices with salt and vinegar, heirloom tomato salads – they even have a good 'ol chicken panini (with whole-grain mustard and aged cheddar cheese, of course). I think I've fainted with summer joy! At least, I know that Jeff will faint with joy 'cuz he has no idea what kind of goodness is coming to the kitchen this summer!
So today's feature will be one of these summer pleasures that I ripped out of my MSL magazine during a bathtub getaway, and it's one of the easiest Martha recipes I've ever made: Summer Vegetable and Chicken Hash. This recipe can not only be an extraordinary summer breakfast, but it would be great for a barbecue with friends or an anytime easy dinner. The best part about this was that I already had 90% of the ingredients in my fridge, which earns a boatload of brownie points in my book.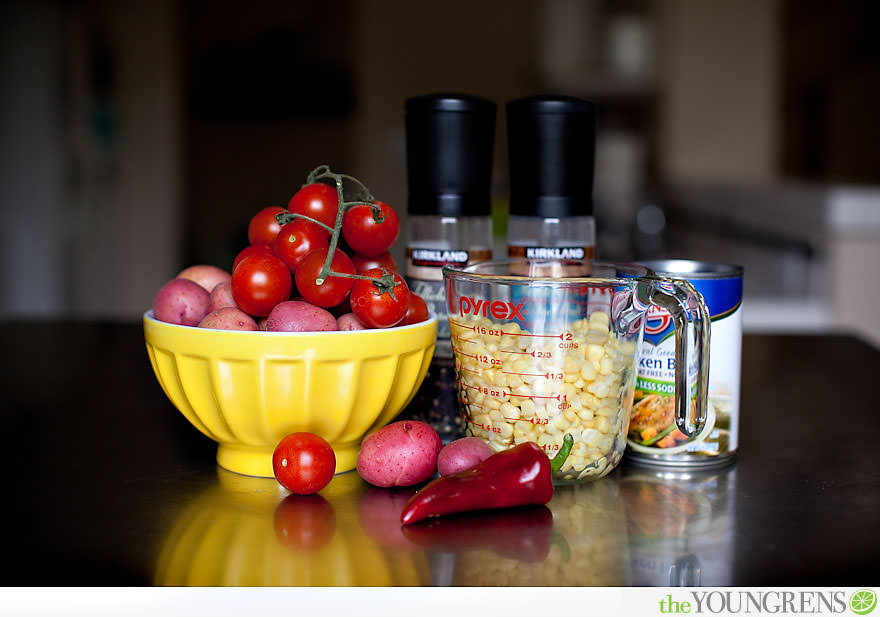 The stars of this recipe are the sweet tomatoes and red potatoes. Start thawing your chicken breasts and boiling the potatoes while you chop and prepare everything else.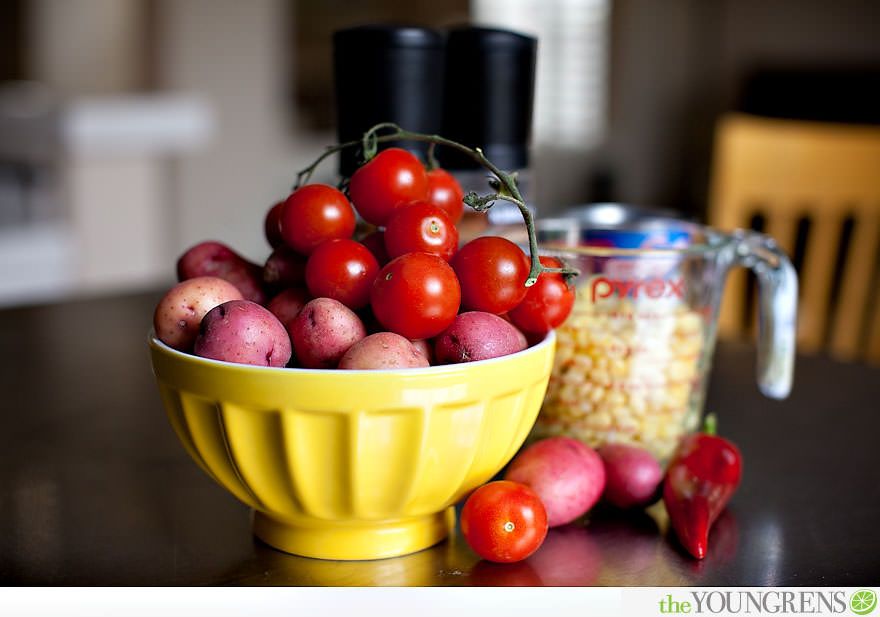 The recipe asks for fresh corn stripped off of two ears, but why go through that kind of work when I already have a bunch of frozen corn in the freezer? You'll also want low-sodium chicken broth to make this dish even healthier than it already is.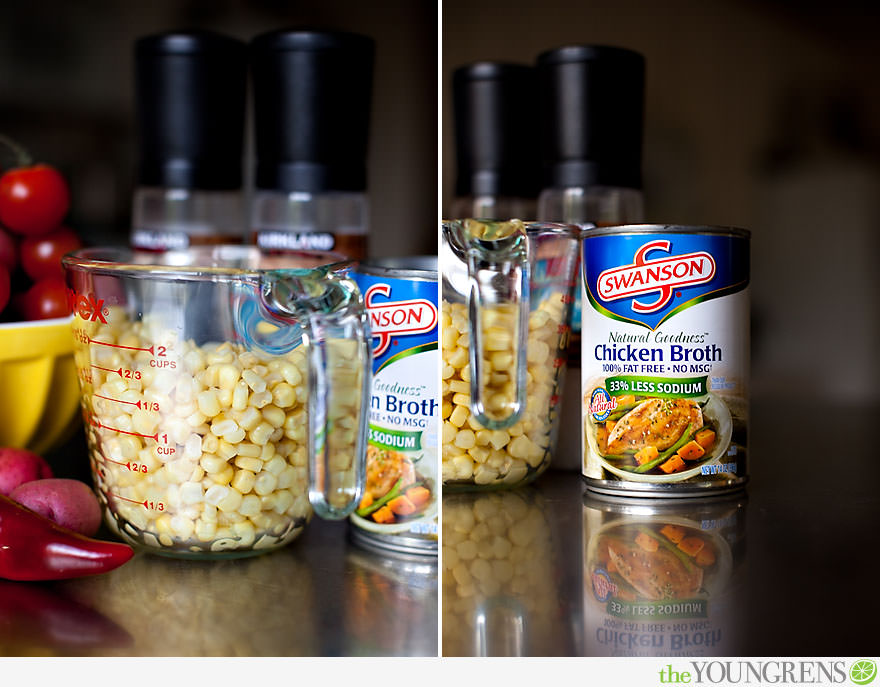 You'll also need an jalapeno chile. I wasn't sure what the difference was between an jalapeno pepper and chile, so I just chose a red jalapeno to match the red tomatoes. You like my form of thinking? Yeah, it's pretty much nonsense.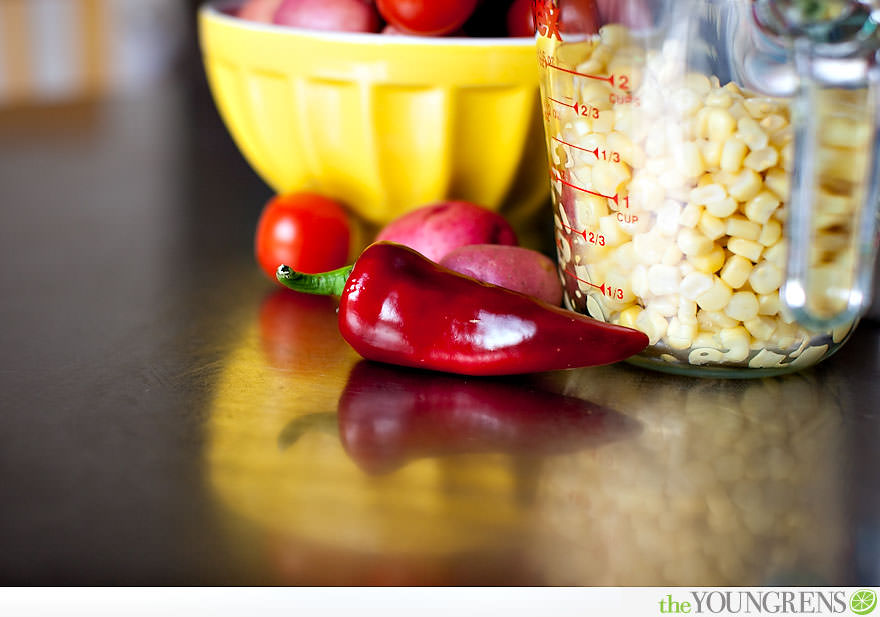 Halve your tomatoes, and don't eat too many off of the top…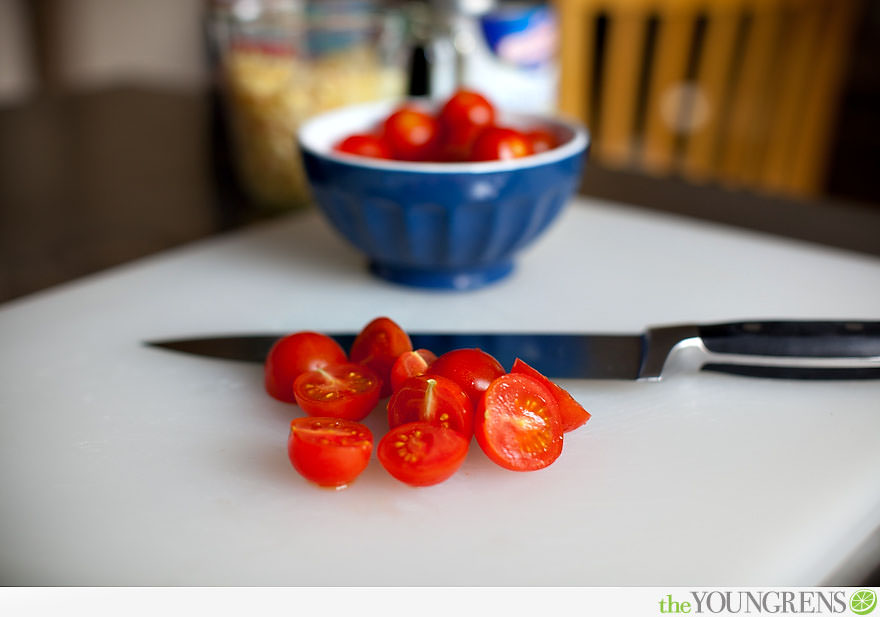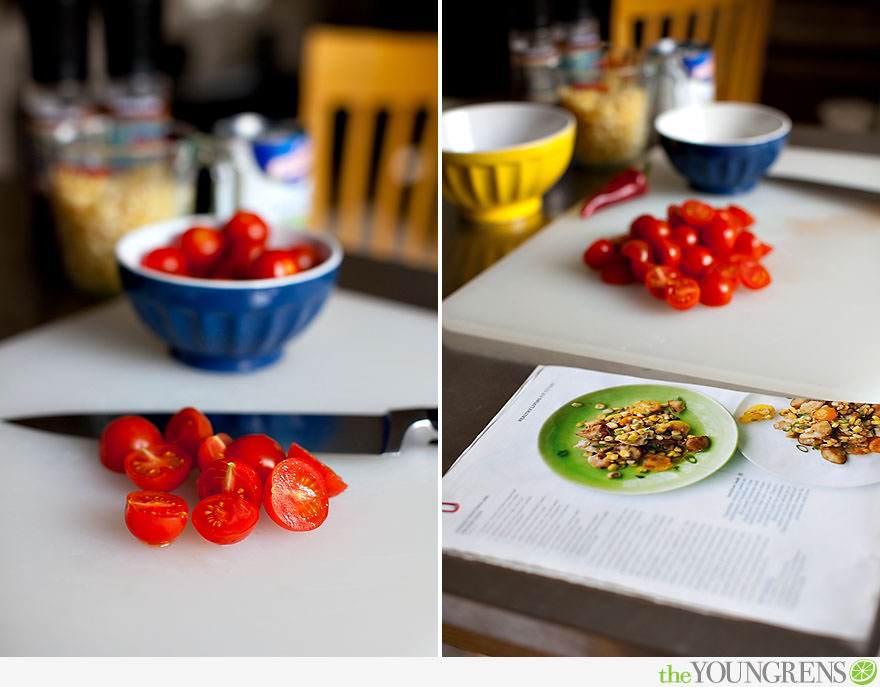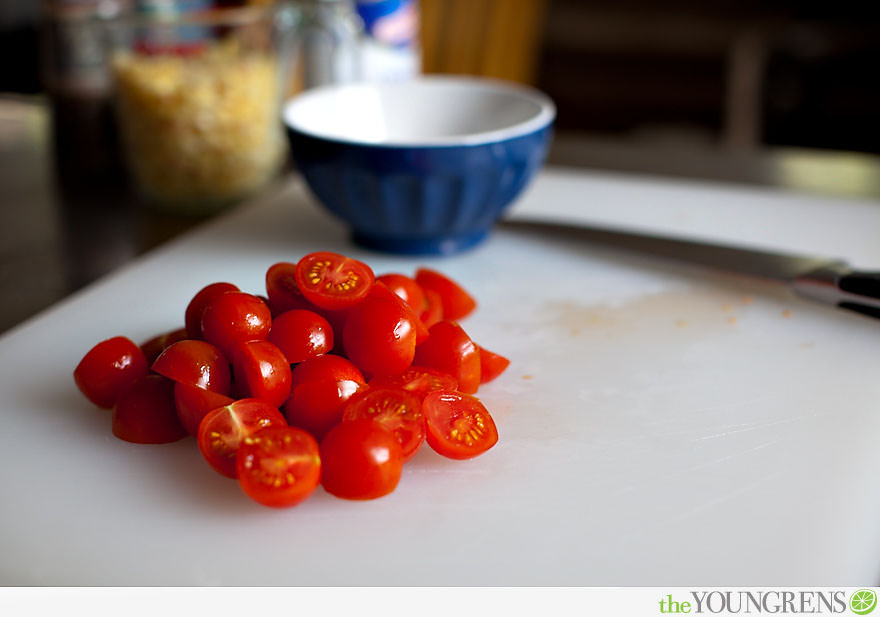 Then watch a video online about how to mince an jalapeno, and do as it says.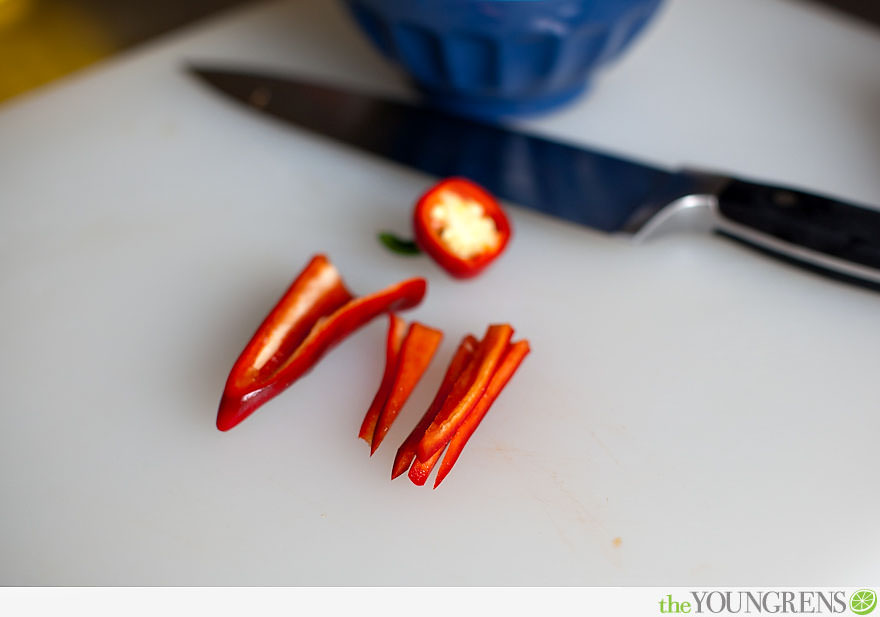 Apparently the hottest part of the pepper is right underneath the stem, so don't touch it and then rub your eye. Not that I would know…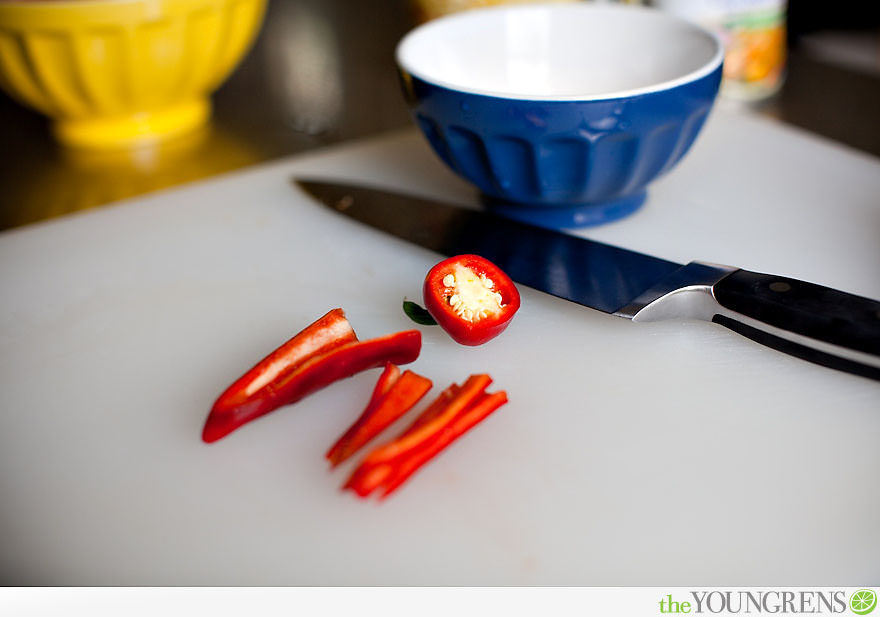 After dousing your eye with water and eye drops, finish mincing your pepper.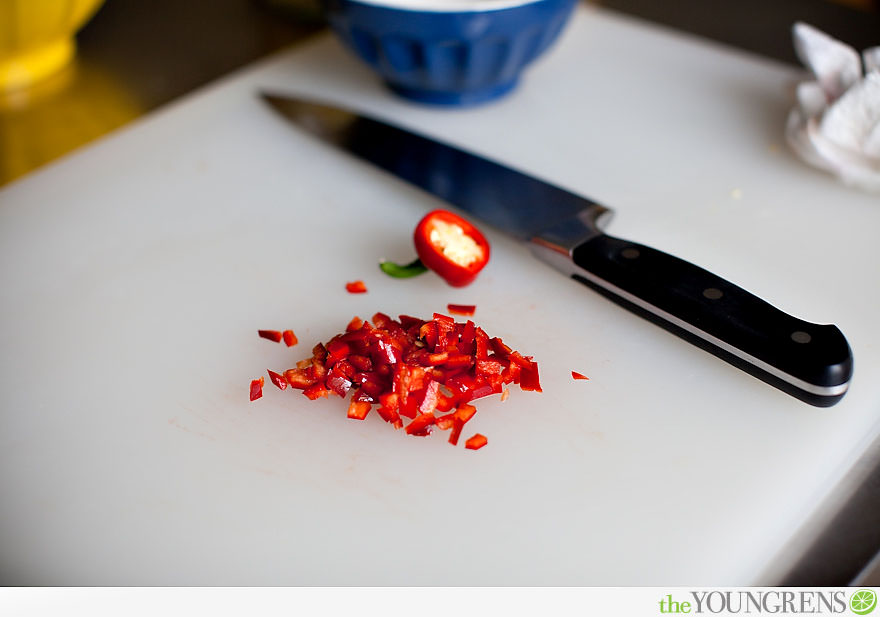 Halve or quarter your boiled potatoes.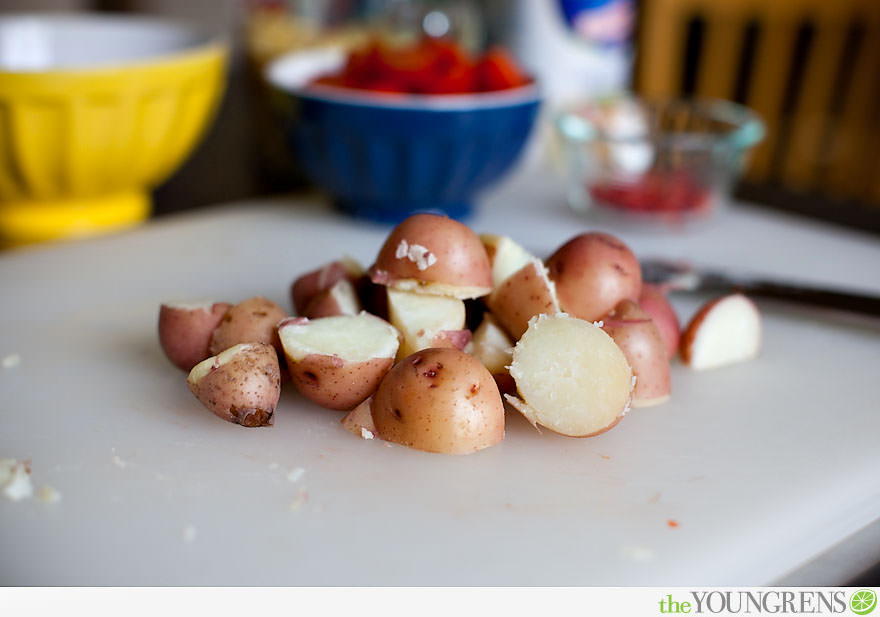 Then cut up your chicken into bite-sized pieces.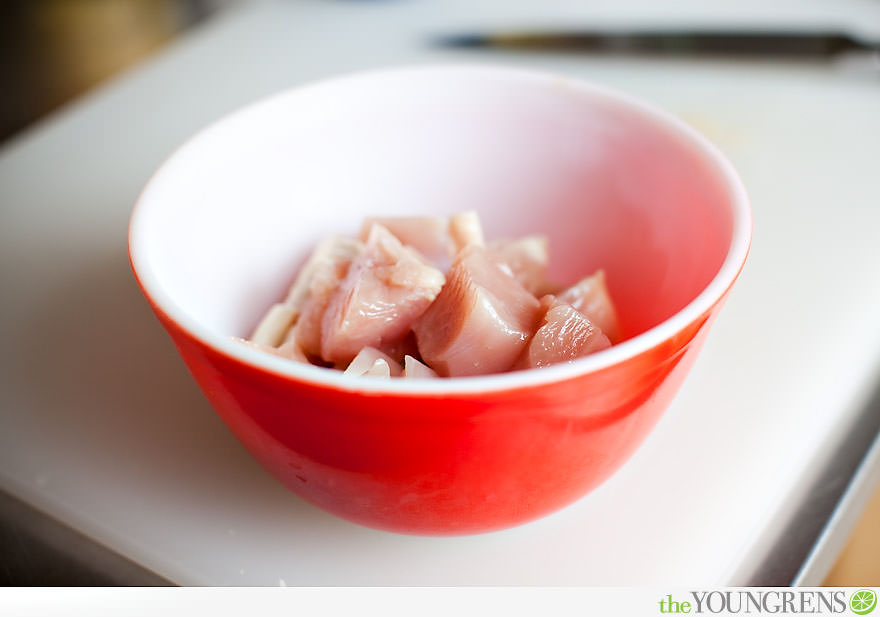 Now that everything is prepped, it's time to bring out the big guns! The skillet!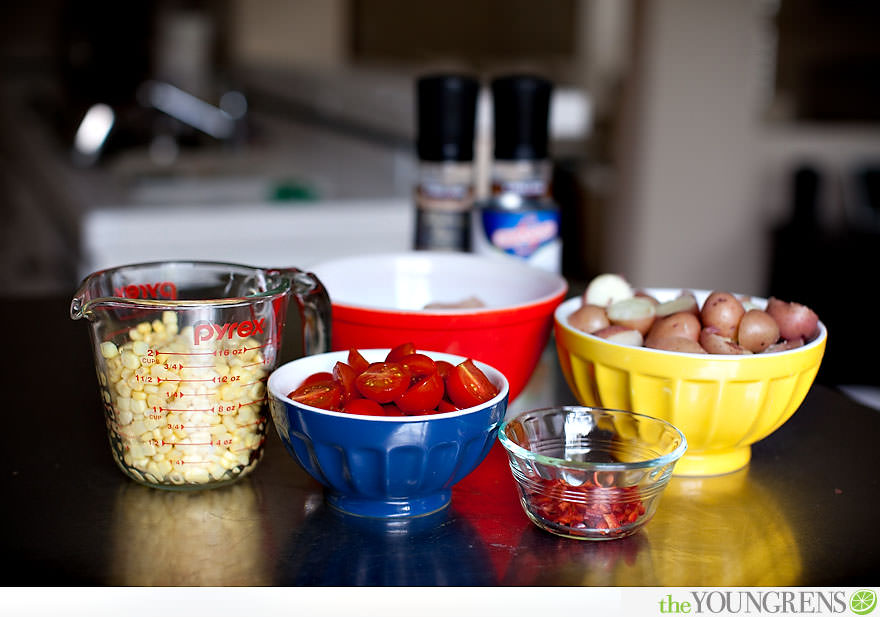 Cook your chicken until it's white throughout.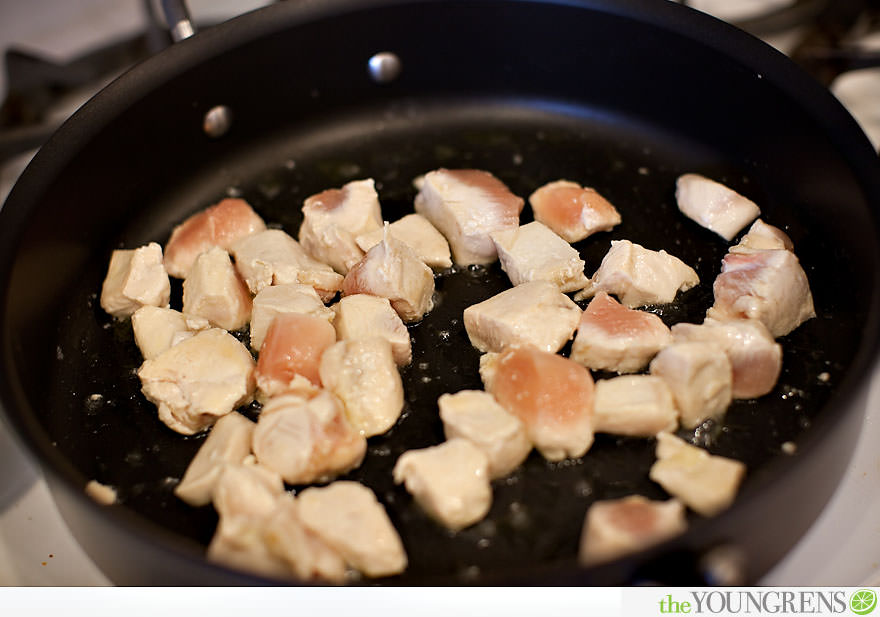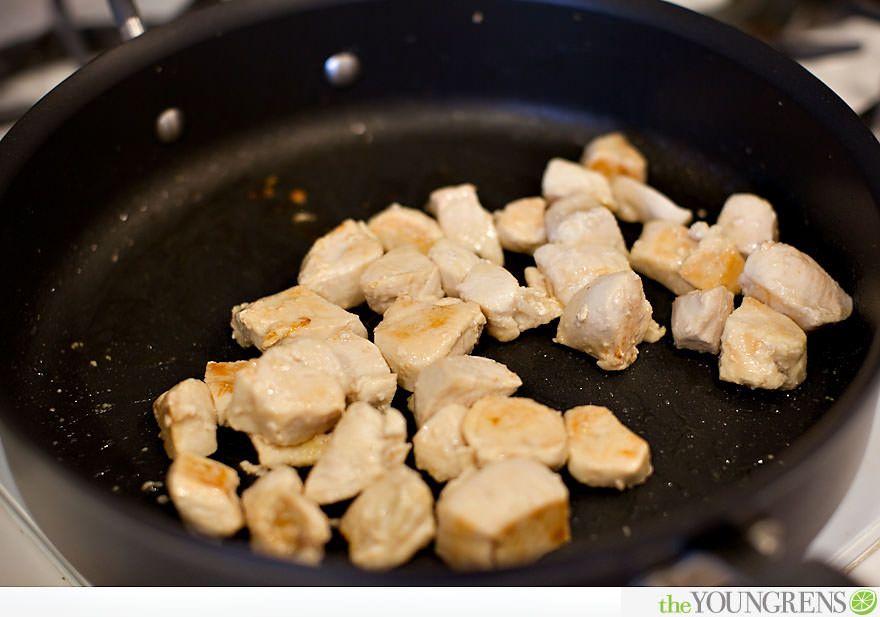 Then remove the chicken and brown the potatoes. Doing this right after the chicken adds a lot of flavor to the potatoes.

Remove the potatoes once they are browned to your liking, then add the corn, scallions, and pepper. I didn't bother getting scallions because I had an onion in the fridge that I needed to use.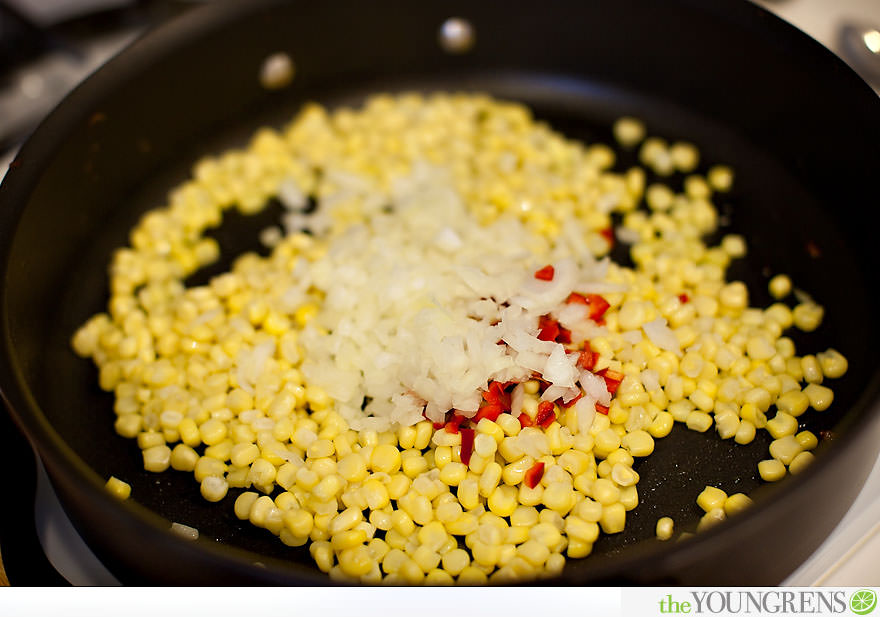 Brown your corn until it starts getting little black spots. This took a lot longer than the recipe said it would, so keep that in mind. Add your tomatoes and cook until they become slightly soft, which happens pretty quick.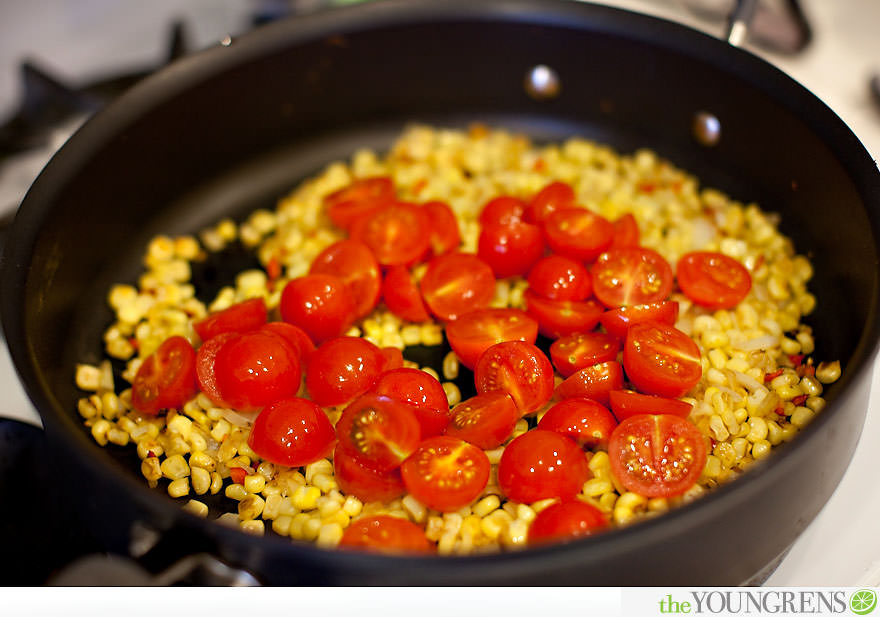 Finally, toss your chicken back in with the chicken broth and seasonings, and heat through until the chicken broth has soaked into everything. Yum!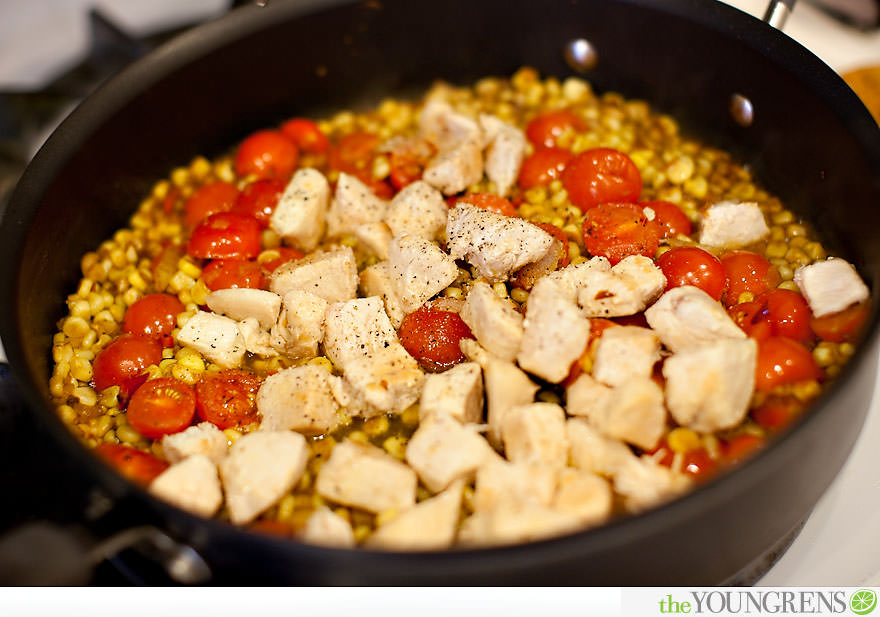 Then carefully mix in the potatoes. They can fall apart really easily, so be gentle at this point.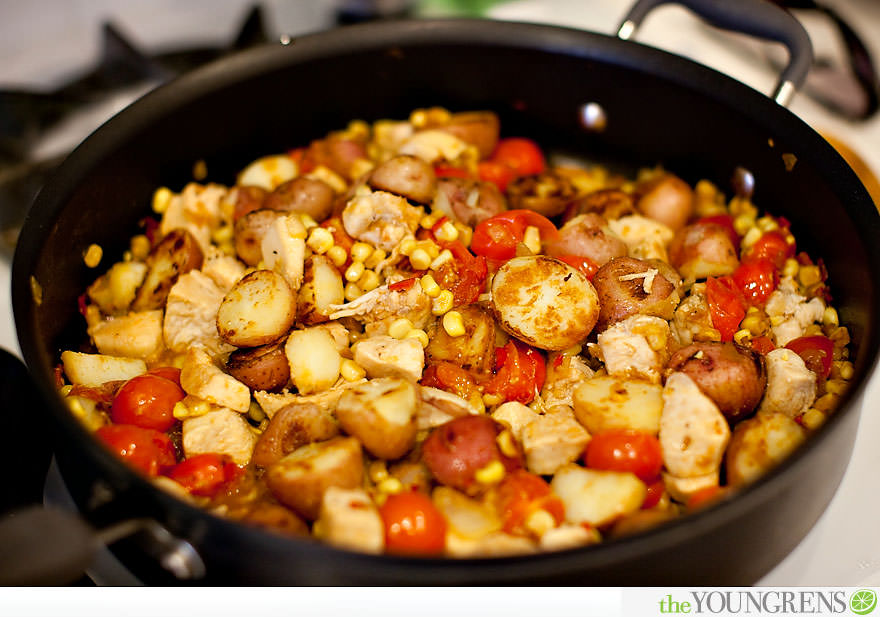 Once everything is nice and hot, transfer to your serving dish and enjoy!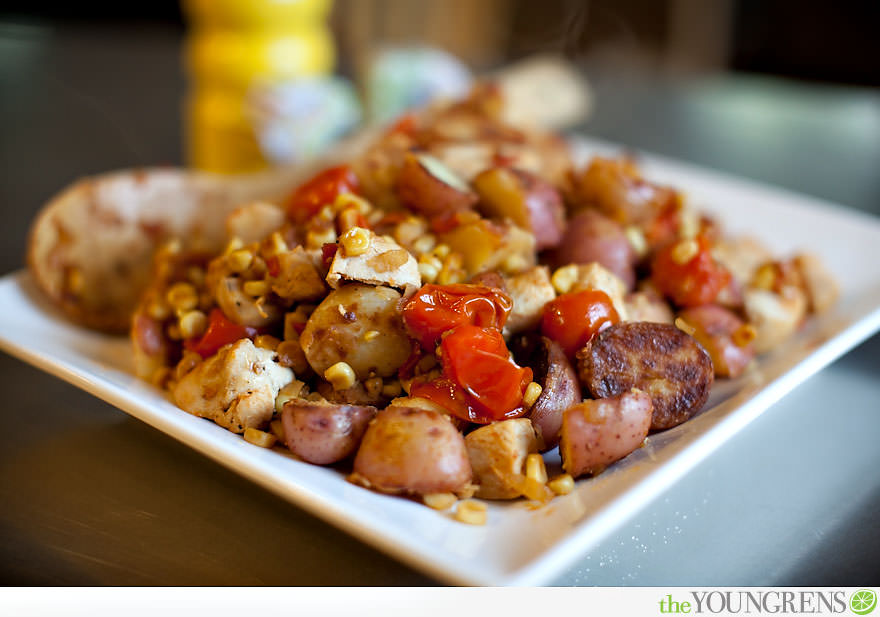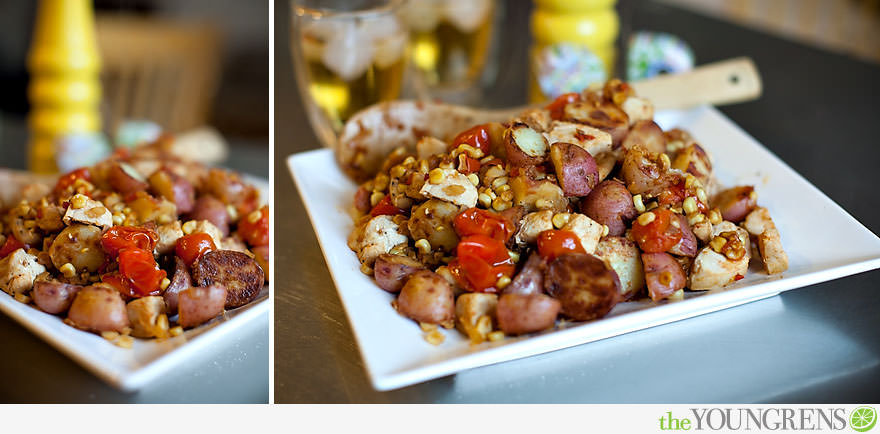 Jeff and I were thinking that if we took out the chicken, this would go really well next to some grilled chicken breasts or even some steaks or grilled burgers at a summer barbecue. There's tons of possibilities for this meal since it's so stinkin' easy! Even someone like me could play Martha for a day!

Summer Vegetable and Chicken Hash
2 boneless skinless chicken breast halves (8 ounces), cut into 3/4 inch cubes

1 tablespoon extra-virgin olive oil

12 ounces small red potatoes, boiled and halved or quartered

2 cups fresh corn kernels

1 scallion, thinly sliced (1/4 cup)

1 jalapeno chile, stem, ribs, and seeds removed, minced

1 cup yellow or red cherry tomatoes, halved

1/2 cup homemade or store-bought low-sodium chicken stock

1 teaspoon coarse salt

1/8 teaspoon freshly ground pepper

1 tablespoon fresh marjoram (roughly chopped if large)
Heat a 12-inch nonstick skillet over high heat. Add chicken. Cook, stirring occasionally, until golden brown, about 2 minutes; transfer to a bowl.
Add 2 teaspoons oil and the potatoes to skillet. Cook, stirring occasionally, until golden brown, about 4 minutes. Transfer to a small bowl.
Add remaining teaspoon oil, the corn, 2 tablespoons scallion, and the jalapeno to skillet, and cook, stirring occasionally, until corn turns dark brown in spots (some kernels may pop). Add tomatoes, and cook until skins just begin to soften, about 1 minute. Add stock, salt, pepper, and reserved chicken; bring to a boil. Fold in reserved potatoes, and sprinkle with marjoram and remaining 2 tablespoons scallion.