Jeff and I are enjoying a lazy weekend with Jeff's sweet cousin Sarah from Minneapolis who flew out to San Diego to celebrate her 30th birthday in America's Finest City (we love this girl!). Lazy weekends are hard to come by for Jeff and me during this time of year when weddings are busy busy busy and the holidays are just around the corner, so what do we do during these rare days off in the gorgeous fall season? We eat. And eat. And eat some more…
Breakfast is a staple when people we love (like Sarah) come into town and this recipe is a make-ahead winner when fam is visiting and you want to enjoy a lazy-yet-decadent breakfast together. This french toast take on a Croque Madame with thick slices of ham and gruyere is unbelievably delicious and rich. Jeff is a lover of Croque Madame sandwiches, so he fell in love with this recipe instantly. The best part is that you can prep it the night before and then let it sit in the oven while you sip your coffee and catch up with your guests in your PJs.
You definitely want off the bone thick slices of ham – don't use the deli cuts for this one folks. Pugliese bread works perfectly for this too – any rustic bread will do well!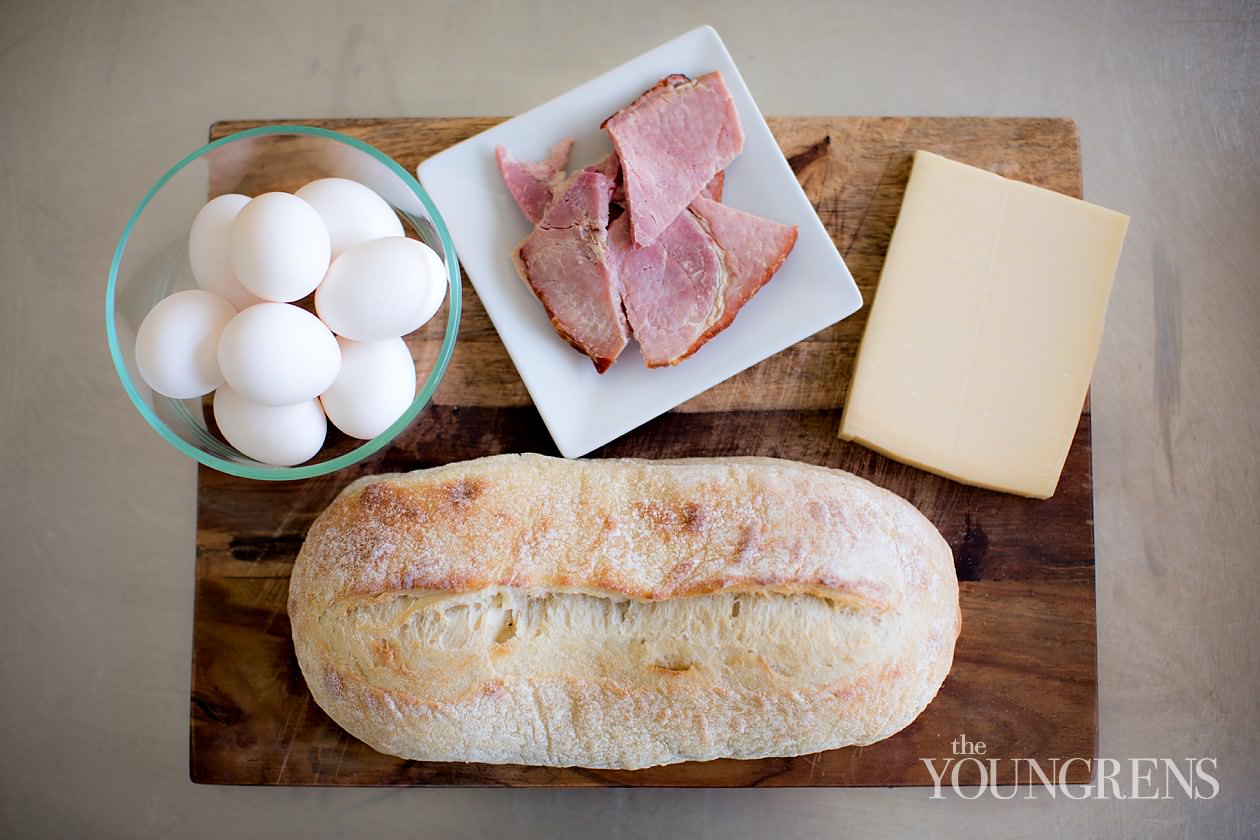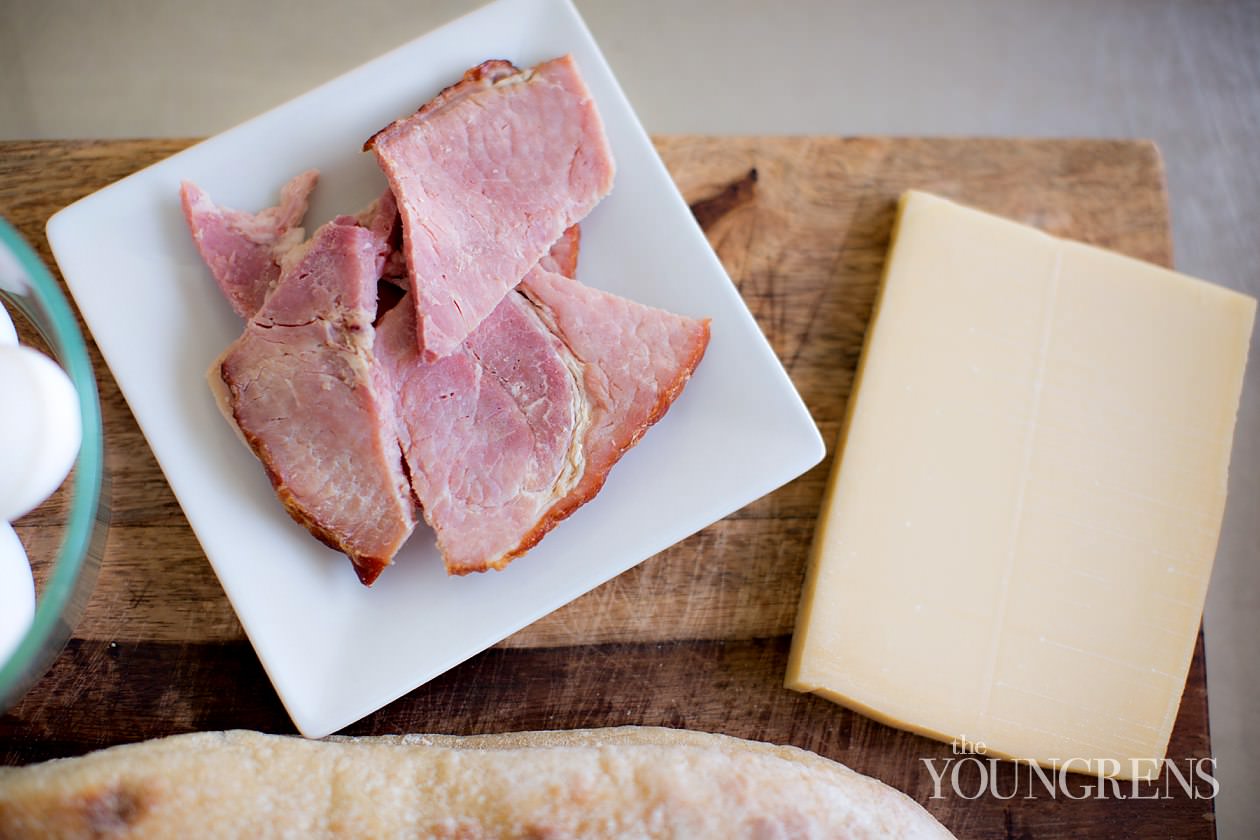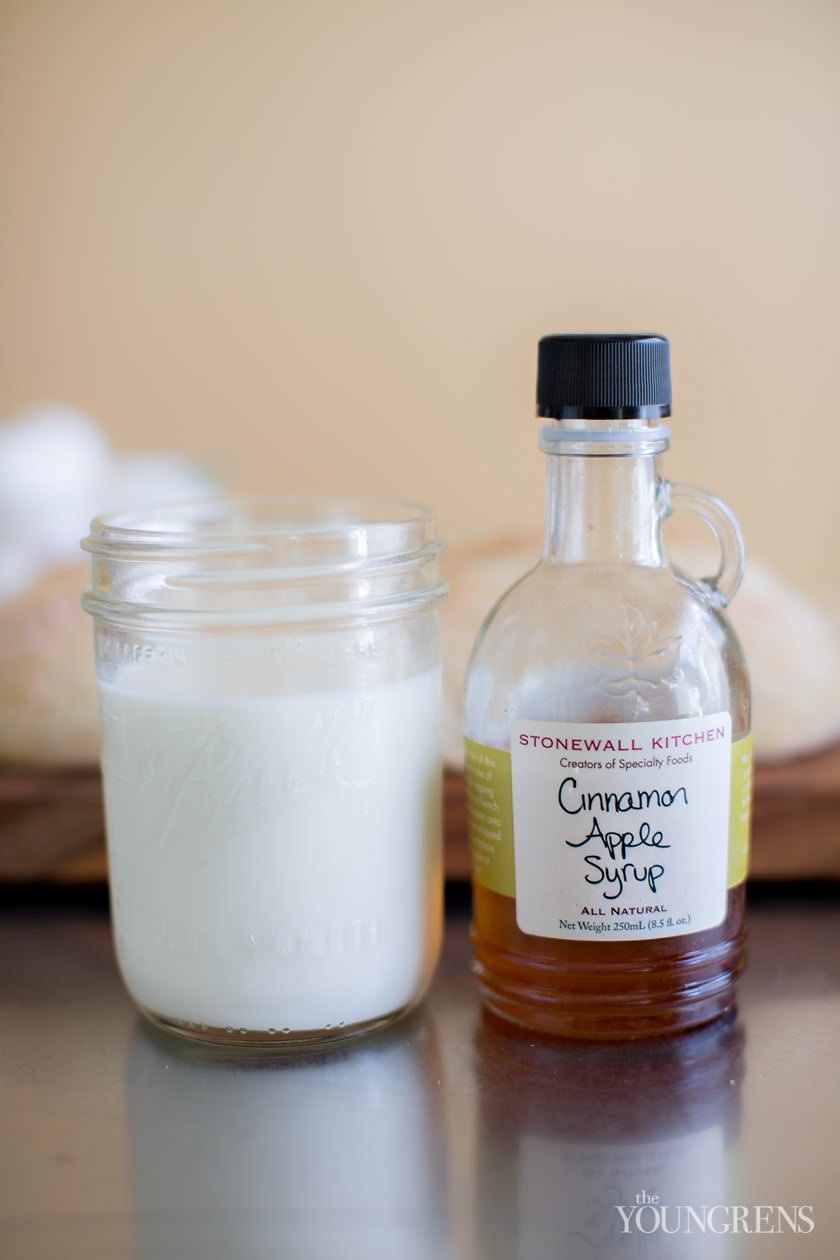 Trim the gruyere into thin slices that will get stuffed into the pieces of bread, and slice the loaf of bread into 8 thick pieces. They should be about an inch and a half  to two inches thick.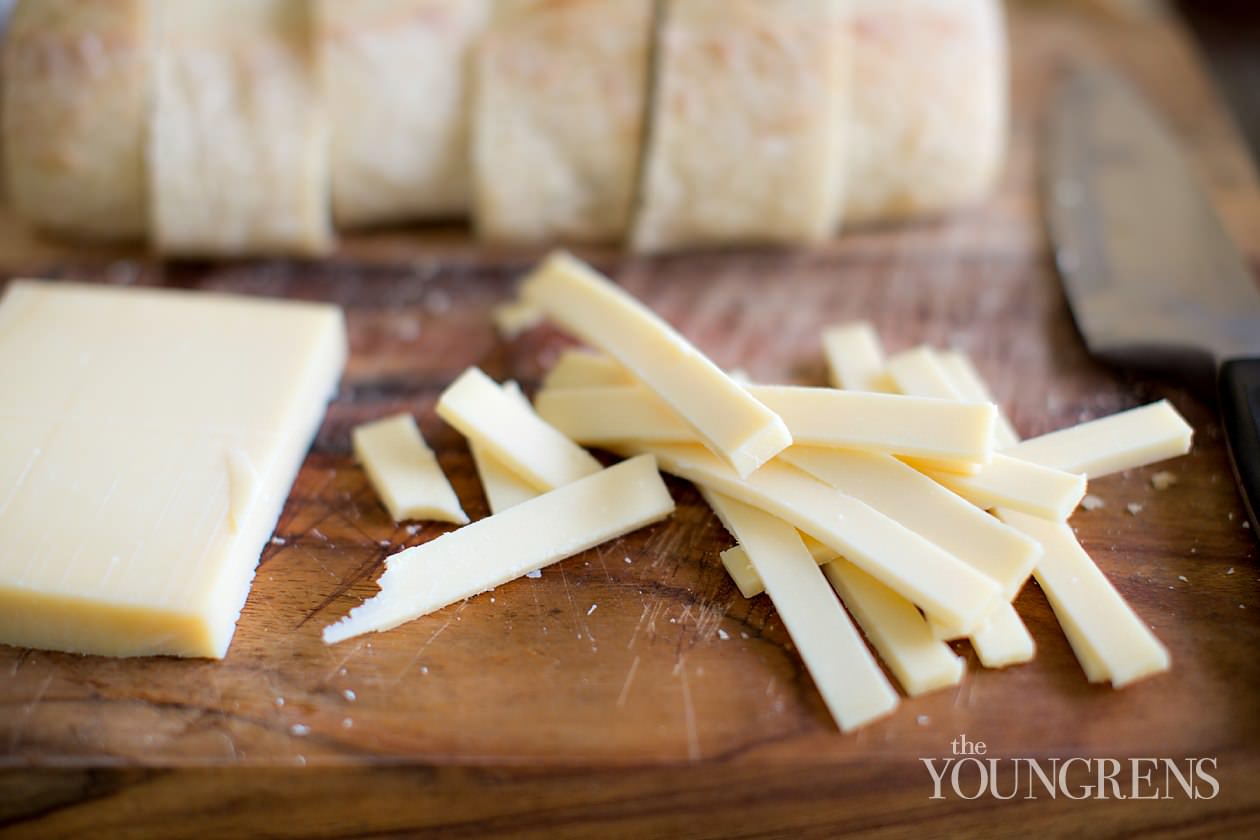 Make a slit halfway down each slice of bread and stuff it with a slice of ham and gruyere.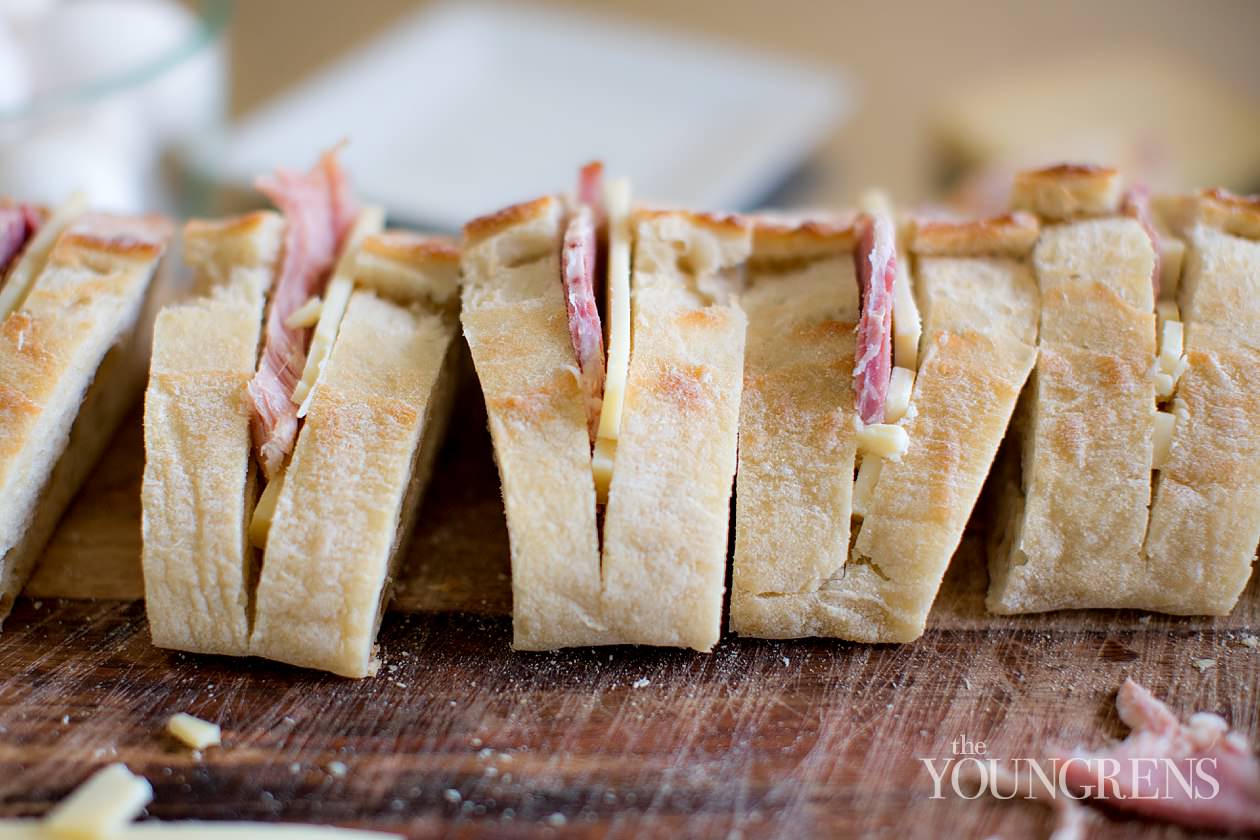 Then whisk together the eggs and cream, and pour the mixture into the bottom of a buttered 9-inch baking dish.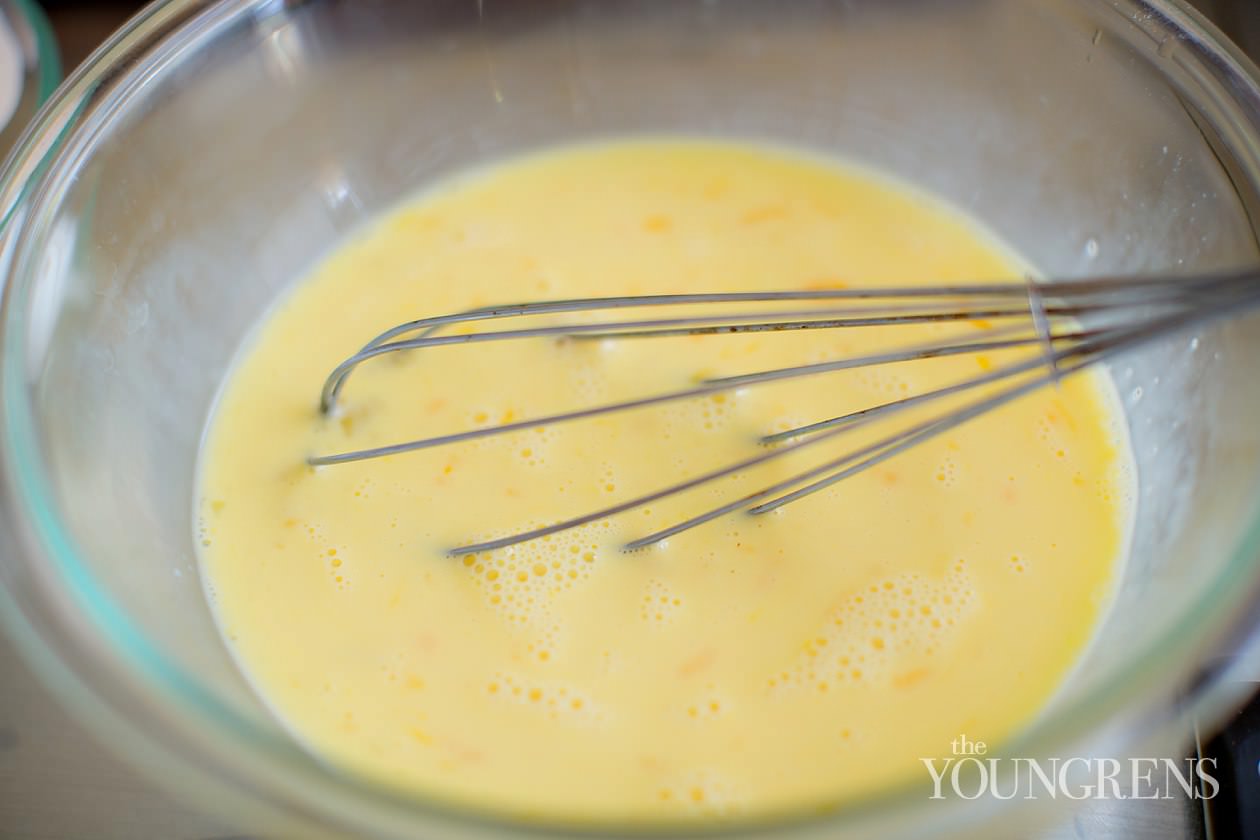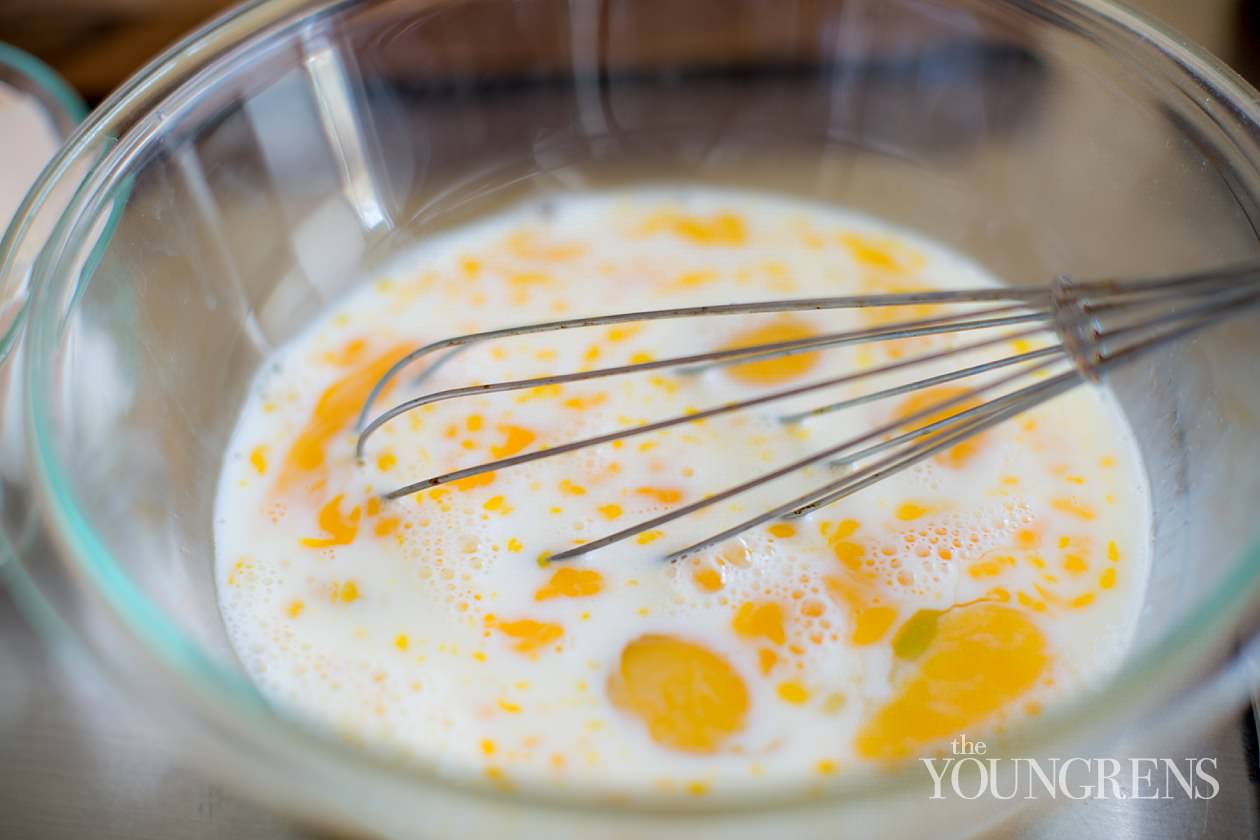 Place the slices of bread into the egg mixture, and let them soak for 15 minutes. Then flip them over and let them soak for 30 minutes. This is when you can cover the dish and let them soak overnight in the fridge, which is what I recommend doing.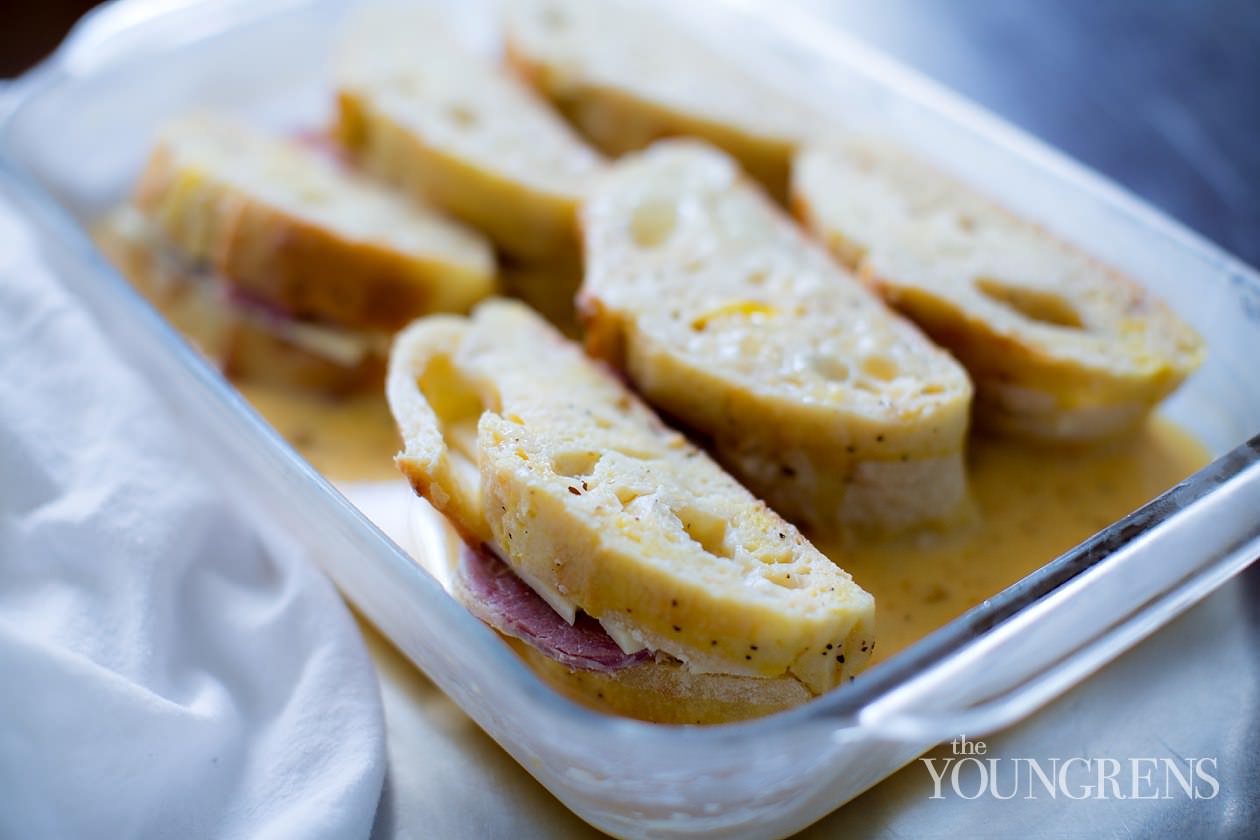 Once the slices are properly soaking, place a slice of ham and cheese onto of each piece, and put it in the oven for 20-25 minutes at 350 degrees.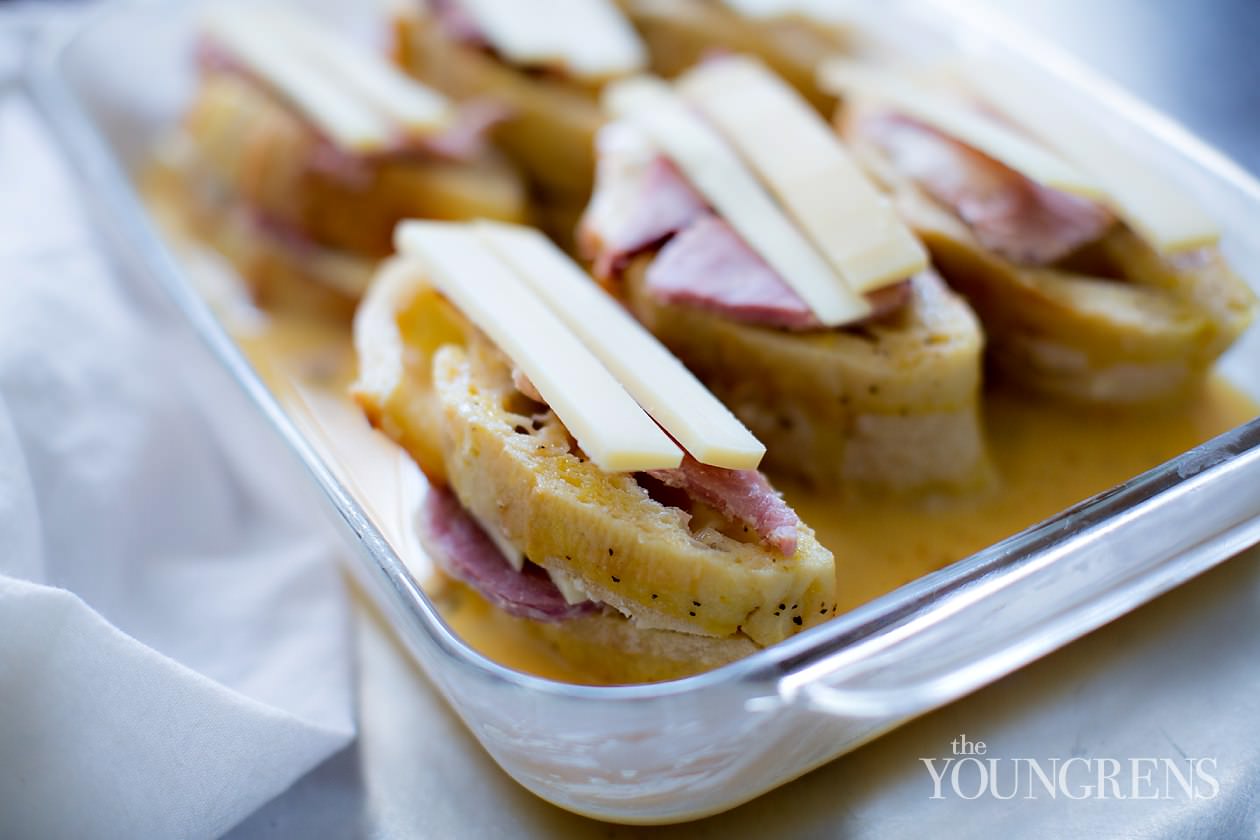 This is insanely delicious! It's so rich that you'll only need one piece per person for sure, but it's going to be a holiday breakfast special for a long time to come! Enjoy!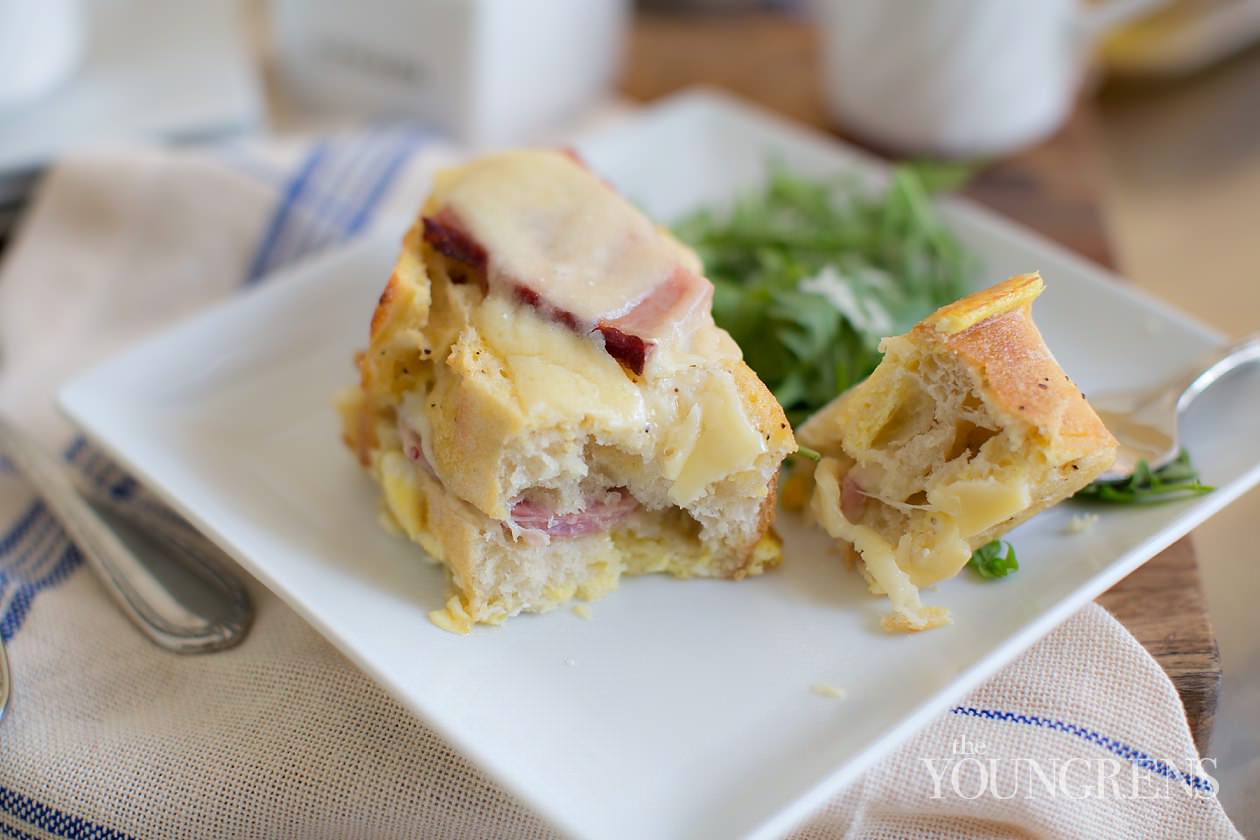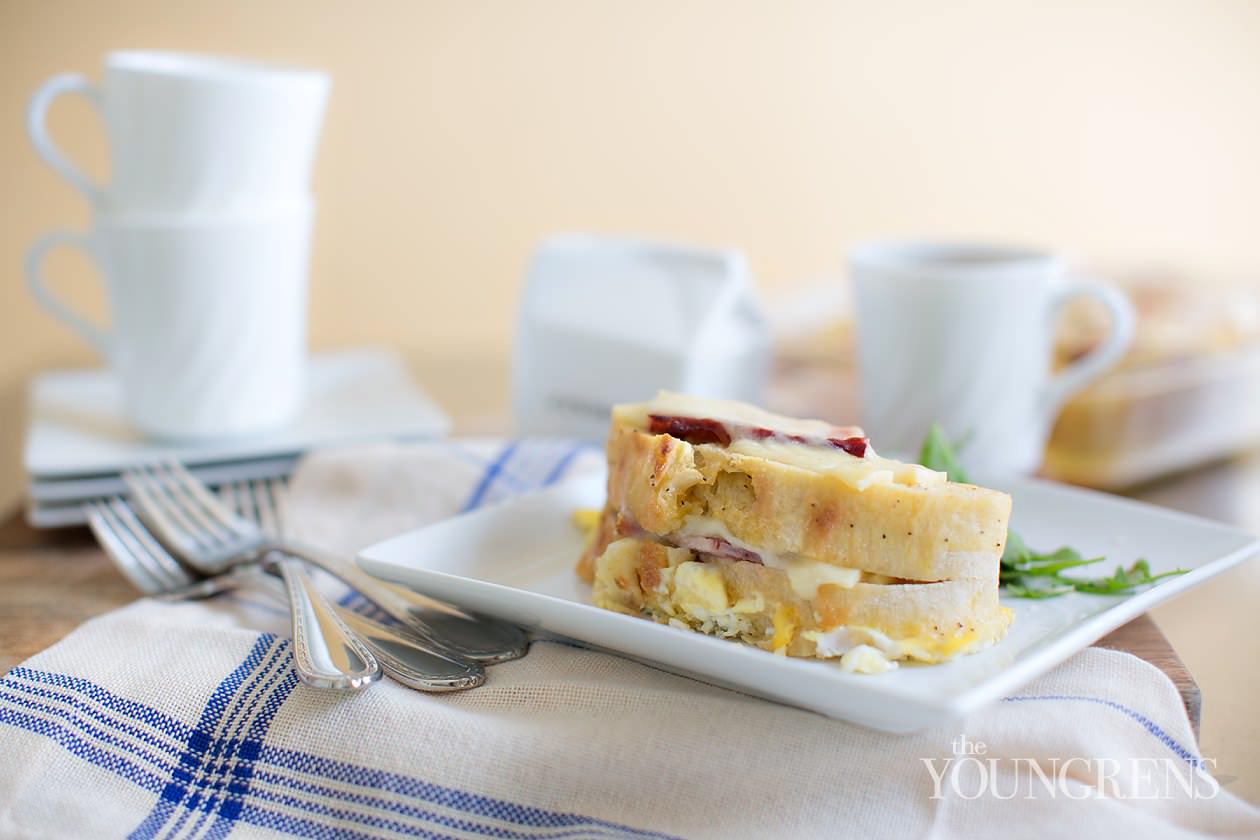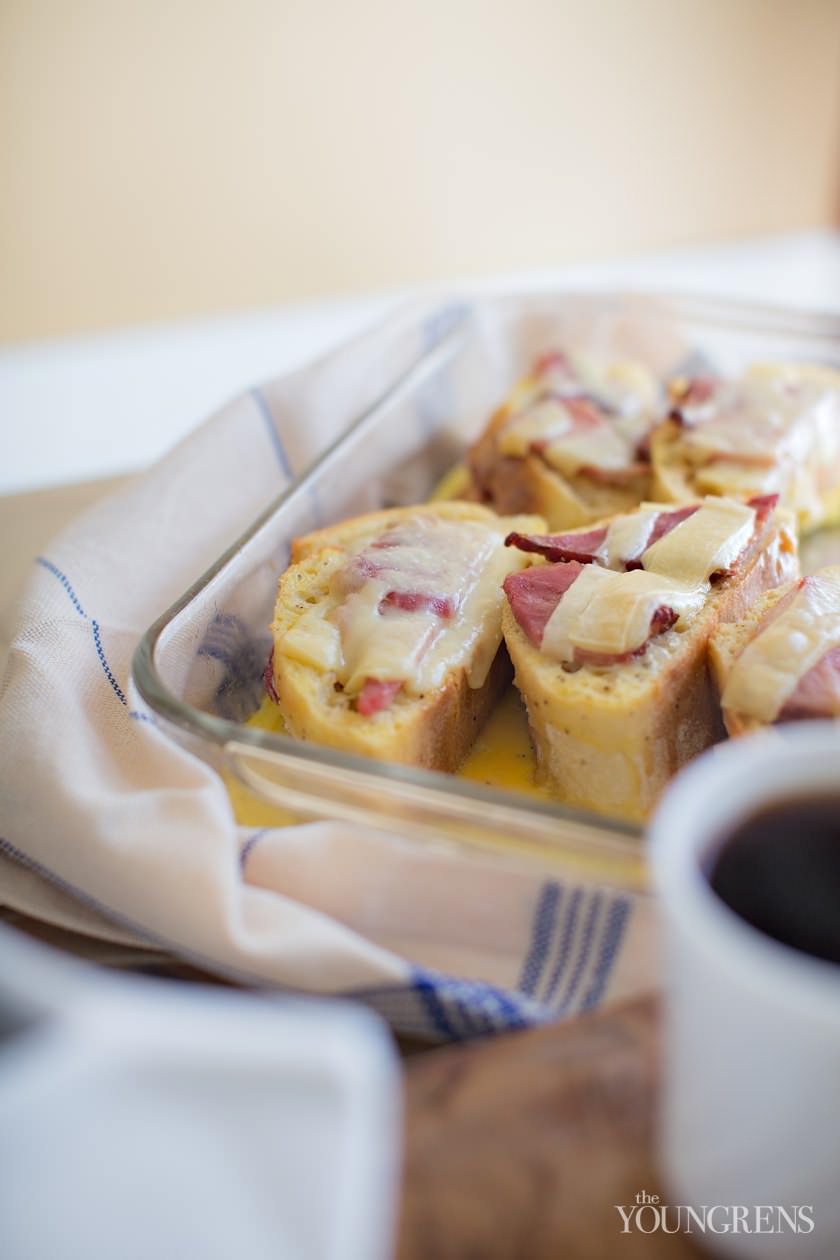 Baked Stuffed French Toast
(View original recipe from Martha Stewart)
Unsalted butter, room temperature, for baking dish
1 14-inch loaf rustic bread, such as pane Pugliese, cut into 8 slices
8 thin slices ham, plus more for topping (optional)
8 ounces Gruyere, thinly sliced, plus more for topping (optional)
8 large eggs
2/3 cup whole milk
Coarse salt and freshly ground pepper
Pure maple syrup, such as Noble
Directions:
1. Butter bottom and sides of a 9-by-13-inch baking dish. Make a deep slit in each bread slice to create a pocket. Stuff each with 1 slice of ham, then divide cheese evenly among pockets.
2. Whisk together eggs and milk in a bowl until combined, and season with salt and pepper. Pour egg mixture into prepared baking dish. Add bread slices in a single layer, gently pressing into egg mixture, and let soak 15 minutes. Flip bread You can soak the bread in the egg mixture for just 30 minutes, but the French toast will be even more delicious if you let it sit overnight. and gently press again into egg mixture. Let soak 15 minutes. (If preparing the day before, refrigerate up to 12 hours, loosely covered, then let stand at room temperature 30 minutes.)
3. Preheat oven to 350 degrees. Top bread with remaining ham and cheese. Bake until egg mixture is set and cheese is melted, 20 to 25 minutes.
4. Turn oven to broil, with rack 4 to 6 inches from heat source. Broil until bread is toasted and golden brown, 1 to 2 minutes. Serve hot with maple syrup.
Hugs,
Erin