Are you ready for one of my absolutely FAVORITE healthy recipes today on Recipe Sunday? But I need to warn you – before you read this, you may want to check your stomach rumbles because once you check out this post for BBQ Chicken and Black Bean Burritos from Jillian Michael's Ripped in 30 Meal Plan your gonna be firing up the stove to throw it together for yourself. The barbecue sauce is tangy, the black beans are filling, and the chicken is packed with protein leaving everyone licking their chops and feeling totally satisfied but not painfully stuffed. What I love the most about this recipe is that the filling is super easy to make ahead of time, so I like to make a big 'ol batch of it  on the weekend and then have it for warmed up lunches the rest of the week.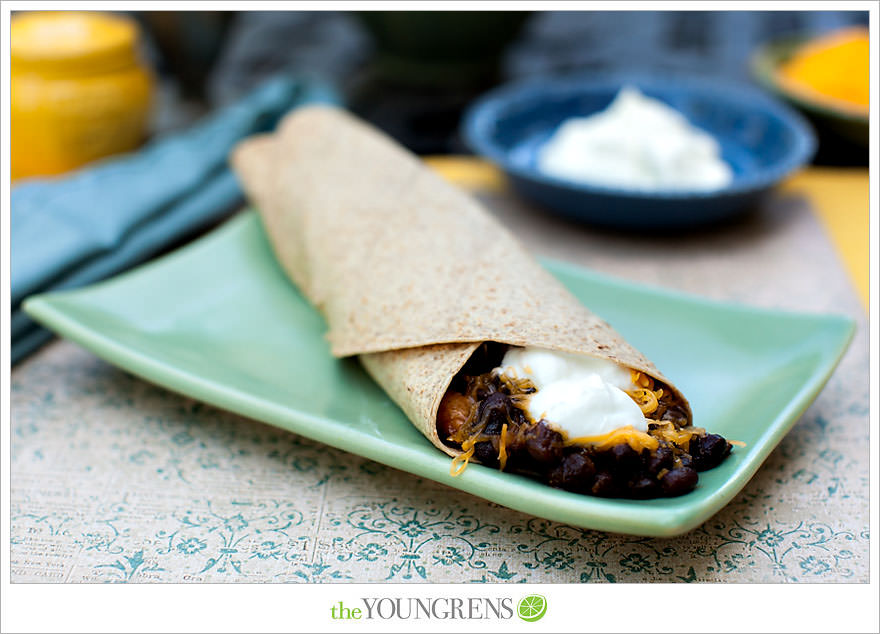 There's nothing crazy about the ingredients – everything is so standard you probably won't even have to go grocery shopping! Love!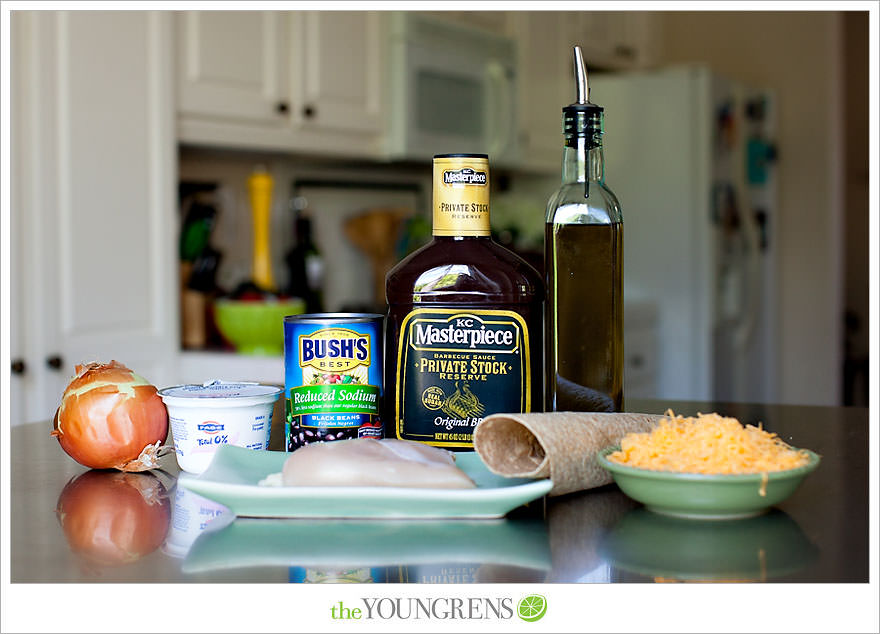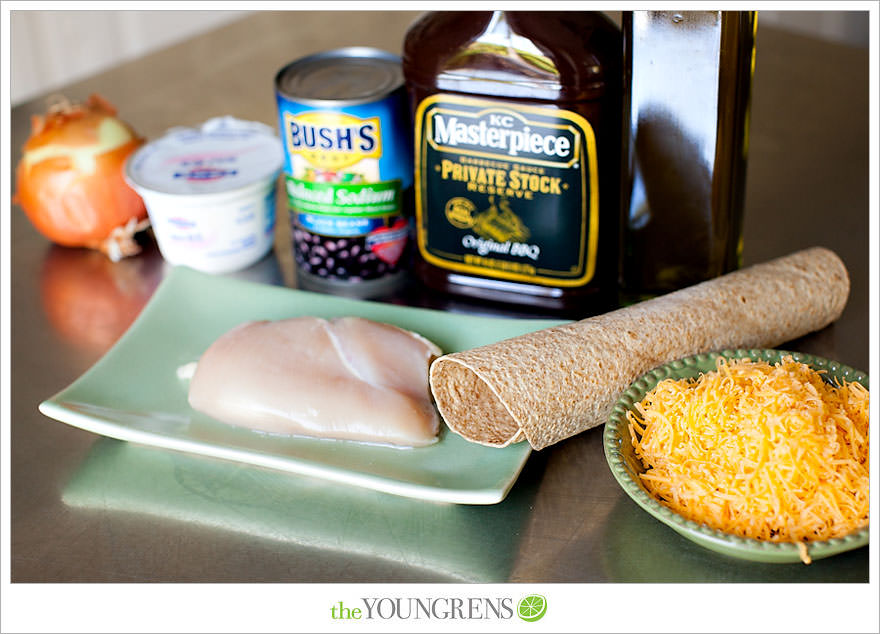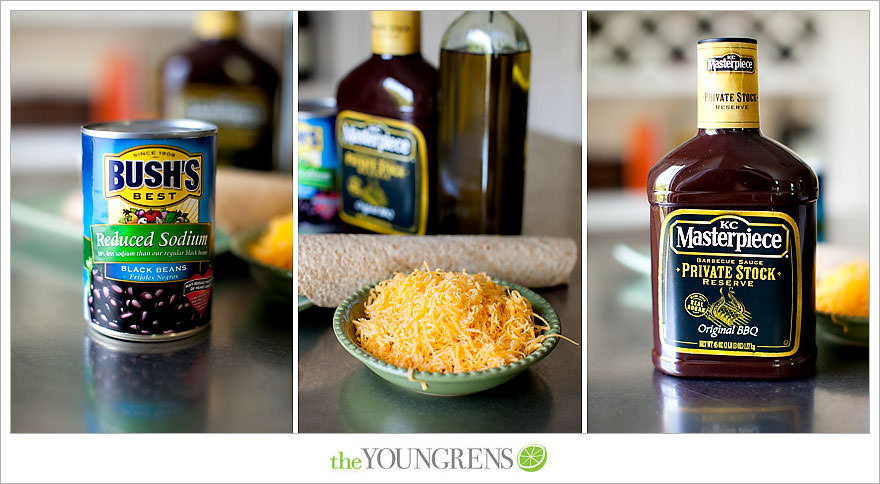 I have to tell you guys about this because I love them SO MUCH. One of our dear friends introduced us to these frozen garlic squares and they have changed my life. Instead of always having to peel and mince garlic cloves, you can just pop these little frozen beauties into your skillet and you're moving along in seconds! They're packed with flavor and they make life a breeze!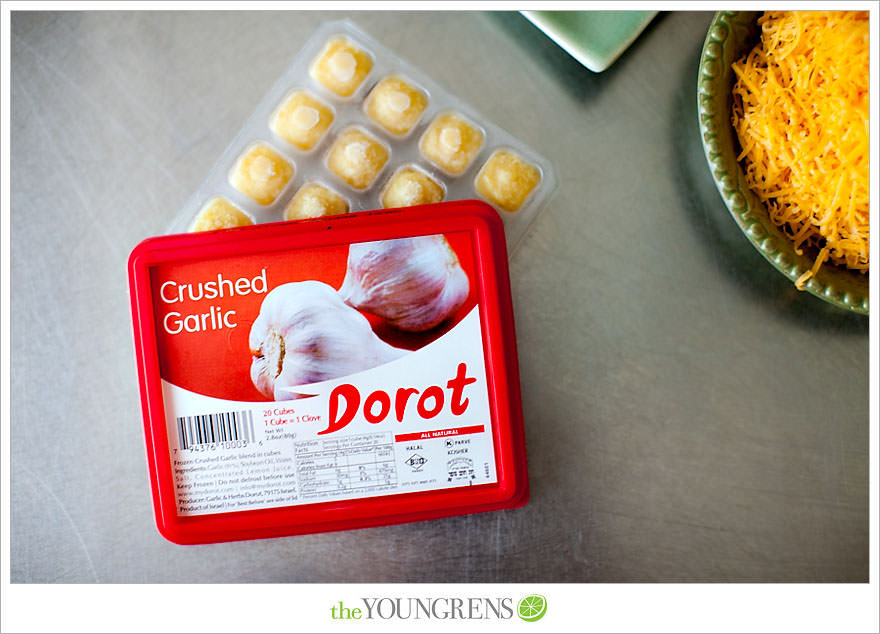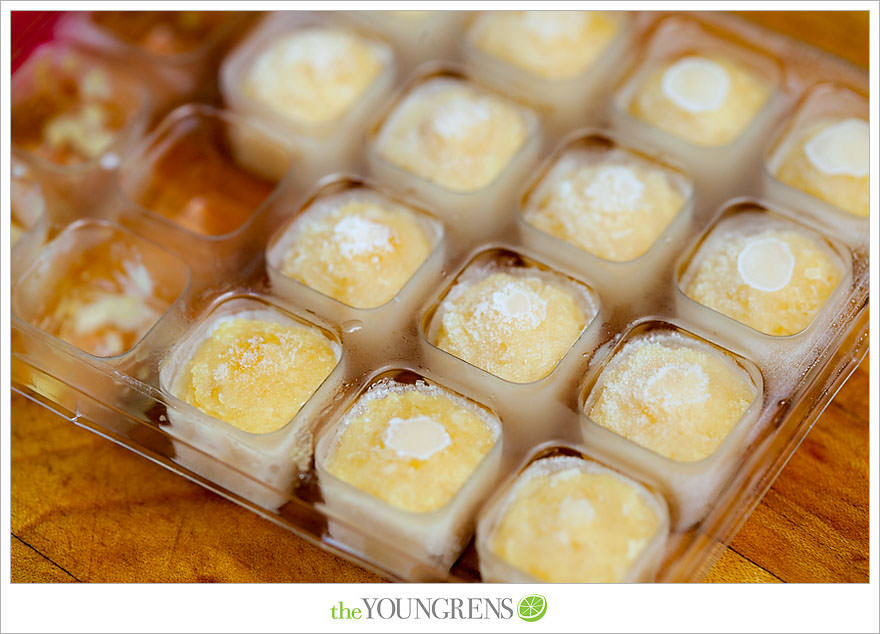 Alrighty, heat up some oil in a big skillet on the stove and chop your onion and chicken to saute with the garlic.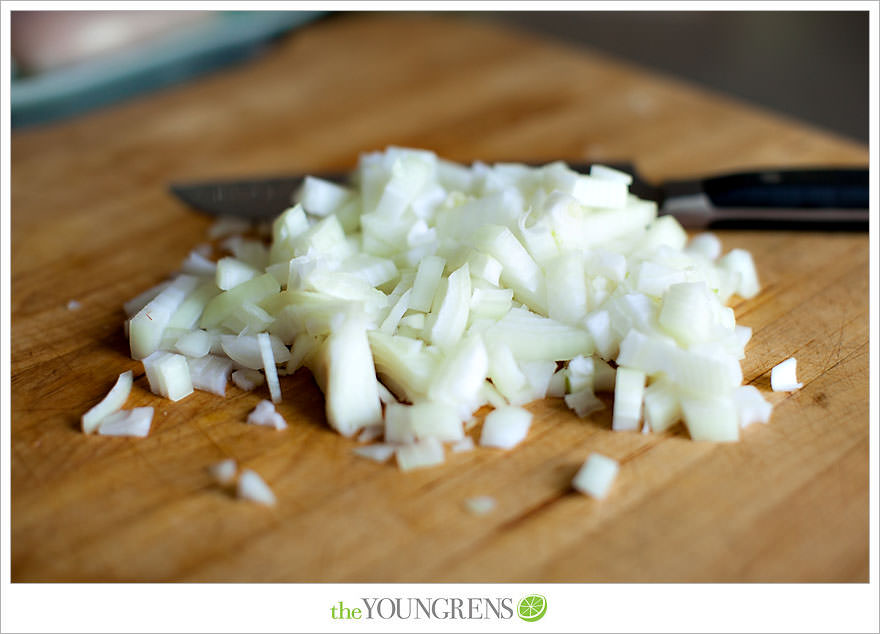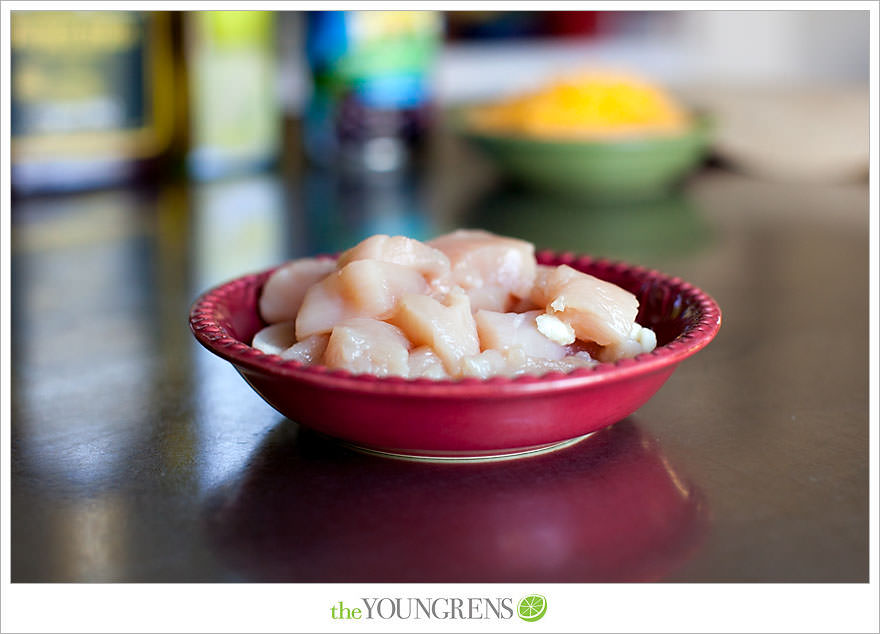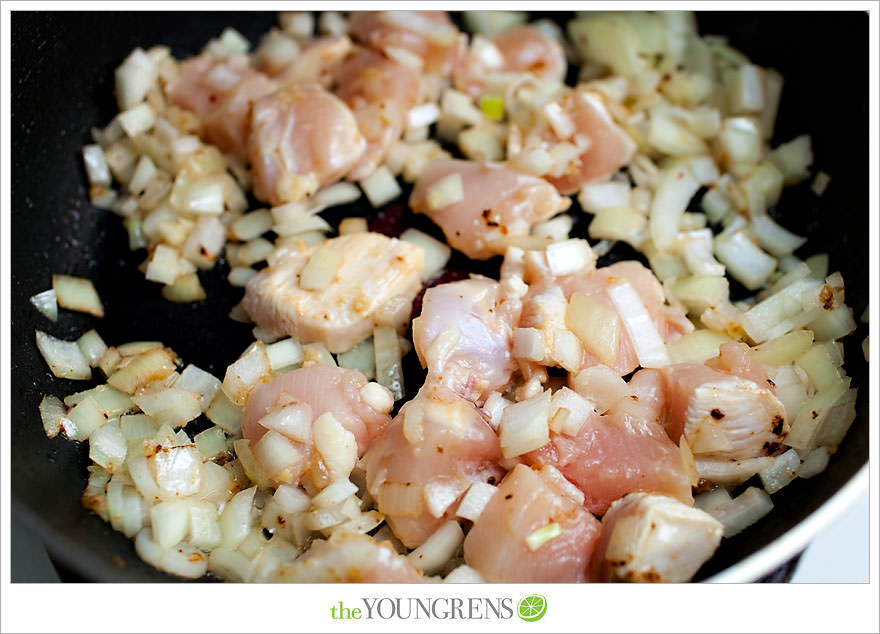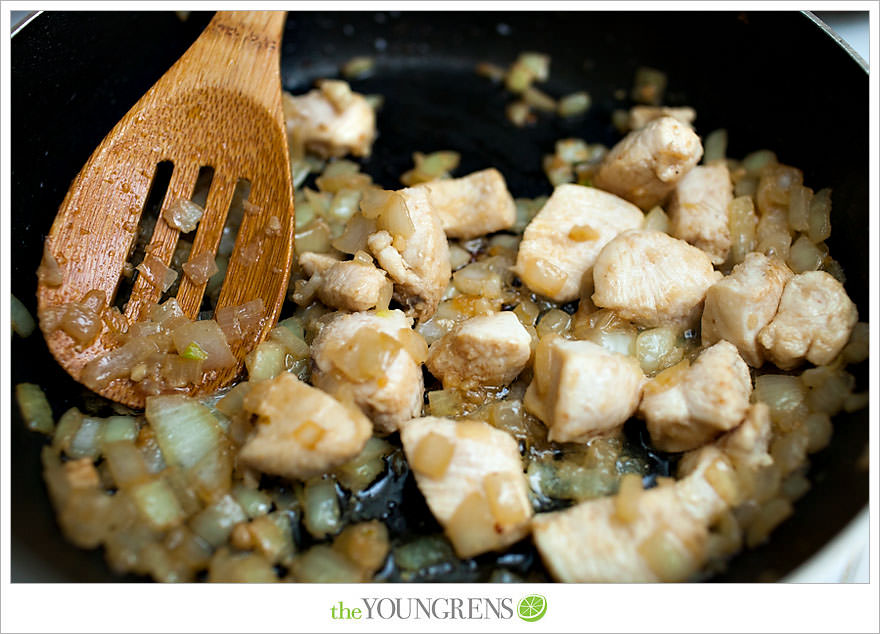 Then add the beans and BBQ sauce and heat through.
If you'd like, add a bit of grated cheese and stir in.
Warm up a sprouted grain tortilla or healthy tortilla of your choice, fill it with the mixture, and top it with Greek yogurt instead of sour cream. Roll up and serve! Sooooo easy!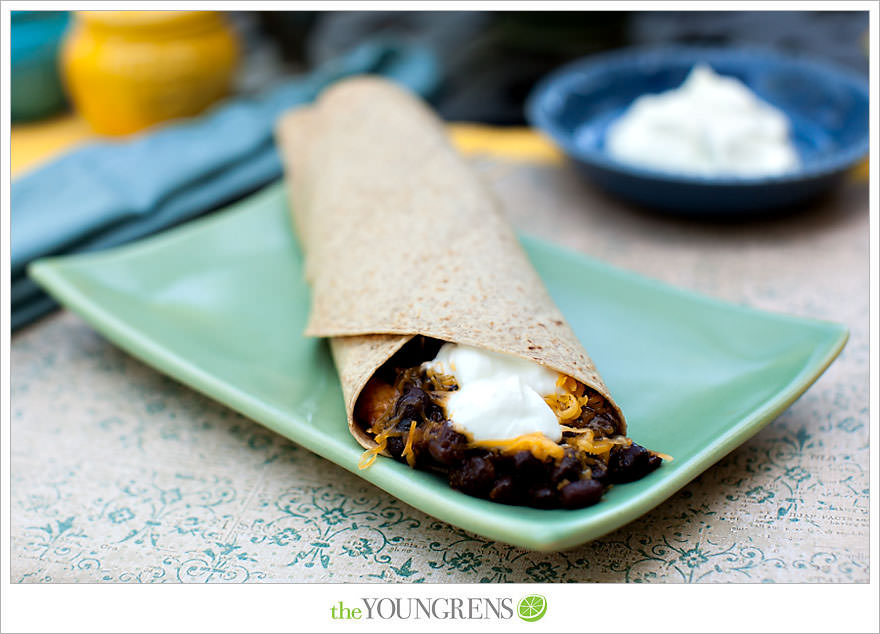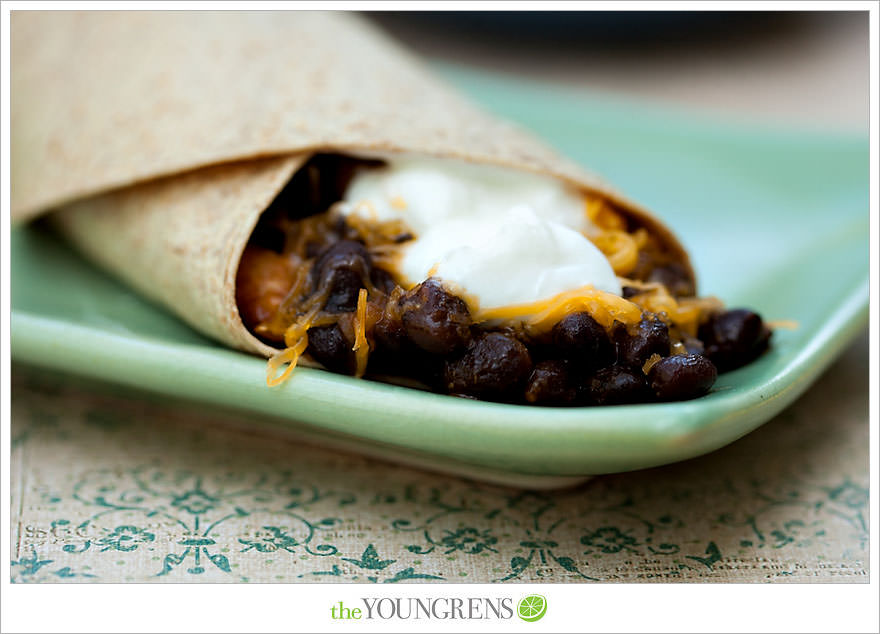 BBQ Chicken and Black Bean Burritos
(download Jillian's meal plan)
1 tablespoon olive oil
3⁄4 pound skinless, boneless organic chicken breast, cut into bite-size pieces 1⁄2 cup onion, chopped
3 garlic cloves, minced
1/3 cup low-sodium barbeque sauce
15 ounces of low-sodium black beans, rinsed and drained
1⁄2 cup (2 ounces) organic reduced-fat sharp cheddar cheese, shredded
4 Ezekiel 4:9 sprouted grain tortillas
1⁄4 cup organic nonfat plain Greek yogurt
Directions
1. Heat oil in a large skillet over medium heat. Add chicken, onion, and garlic; cook 8 minutes or until chicken is done, stirring constantly.
2. Stir in barbeque sauce and beans. Sprinkle with cheese; cook 5 minutes or until thoroughly heated. Warm tortillas in skillet until lightly brown. Spoon about 1⁄2 cup chicken mixture down the center of each tortilla; top each with 1 tablespoon Greek yogurt, and roll up.
Hugs,
Erin