As a married woman, I need to learn the art of fast, easy, yummy dishes before the kiddos start coming – which makes my palms sweat and my stomach turn a million wrenching twists. Children. How does one feed them?? I can barely keep up with feeding just the two of us!
So as a fellow married woman, my friend Shannon sent me a handful of recipes that all fit the bill of fast, easy, and yummy. I can't vouch for healthy on this particular recipe, but if you ever have family coming over for breakfast or need to feed a 20 person brunch or just plain love waking up to a scrumptious Saturday morning breakfast in your Crockpot, then you'll love Shannon's Breakfast Bake with Spinach and Bacon. (Remember the full recipe is at the bottom of this post).

The star of this recipe is definitely your ever faithful Crockpot.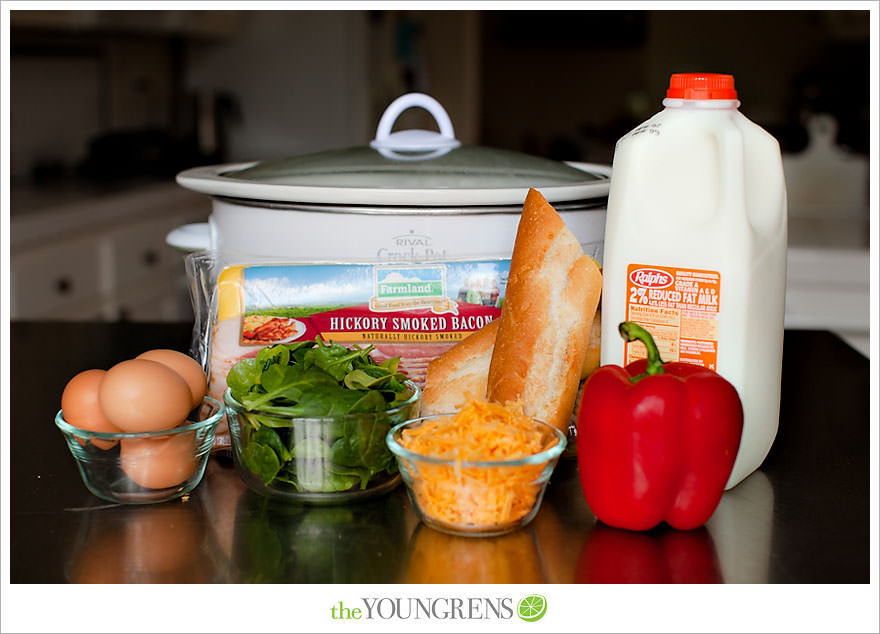 But you'll also need some milk and bacon…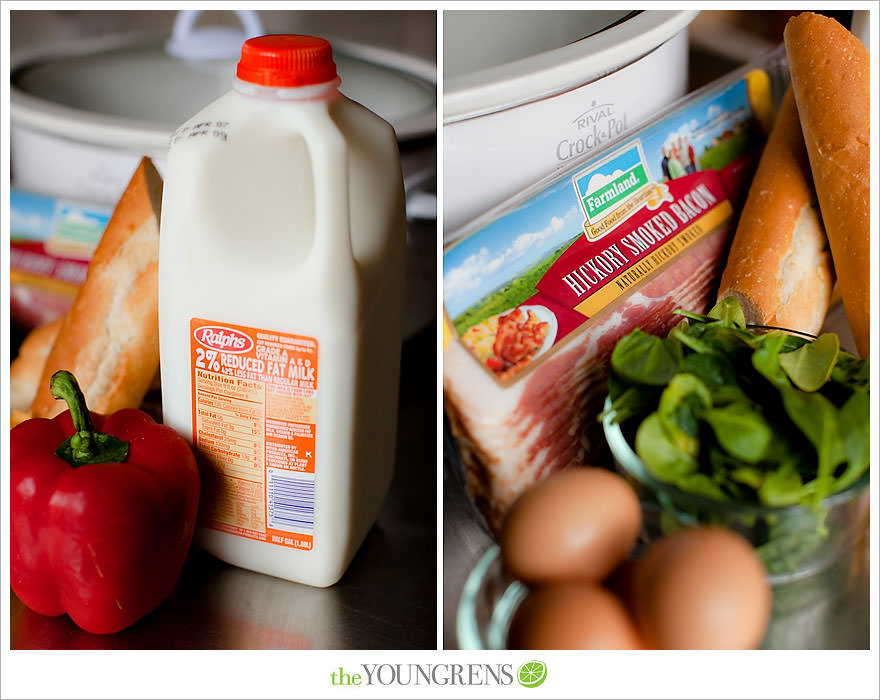 …spinach and eggs…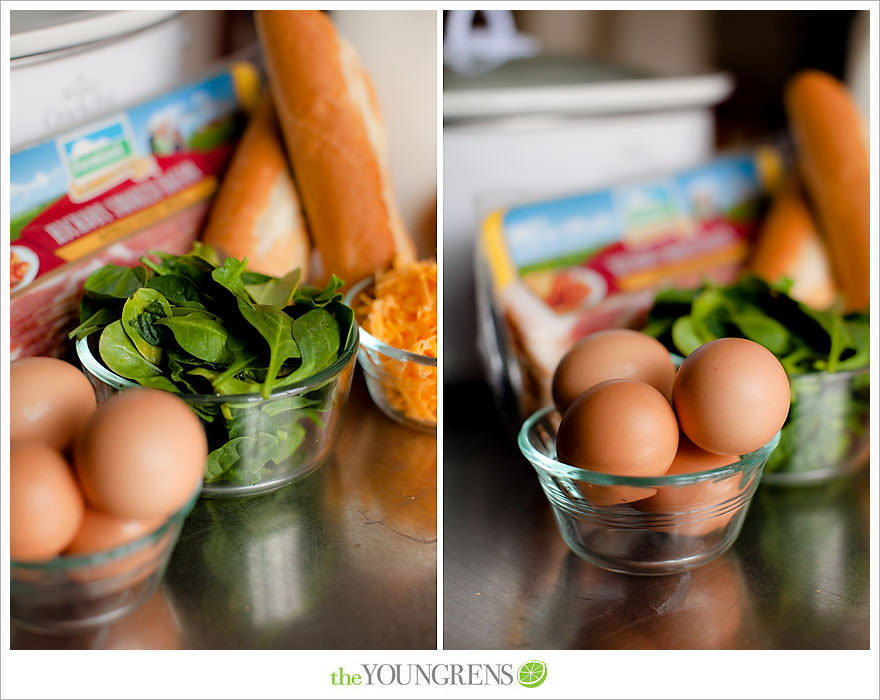 …a loaf of crusty french bread and grated cheddar cheese.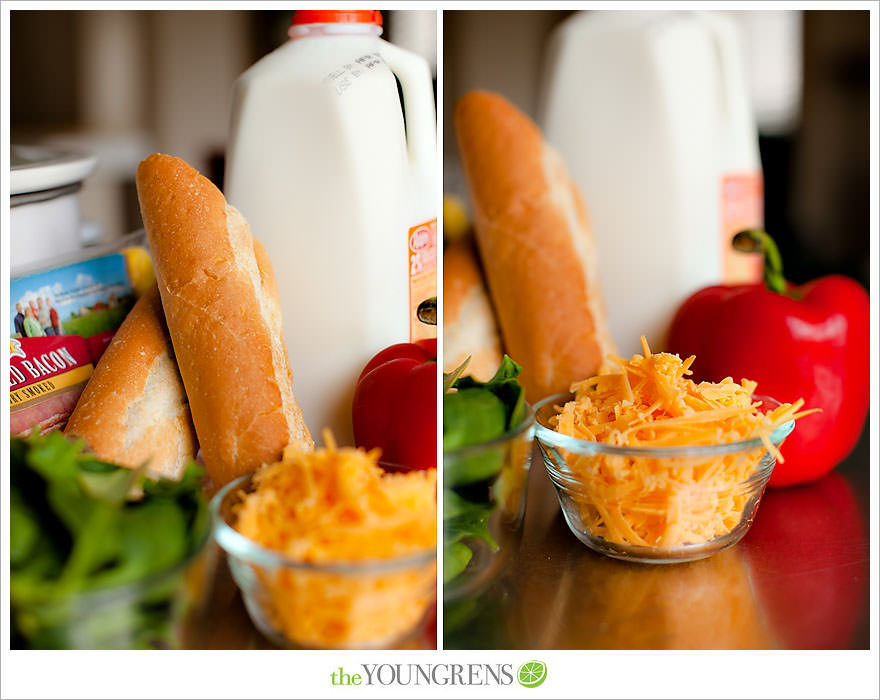 First, get your bacon cooking while you chop everything up.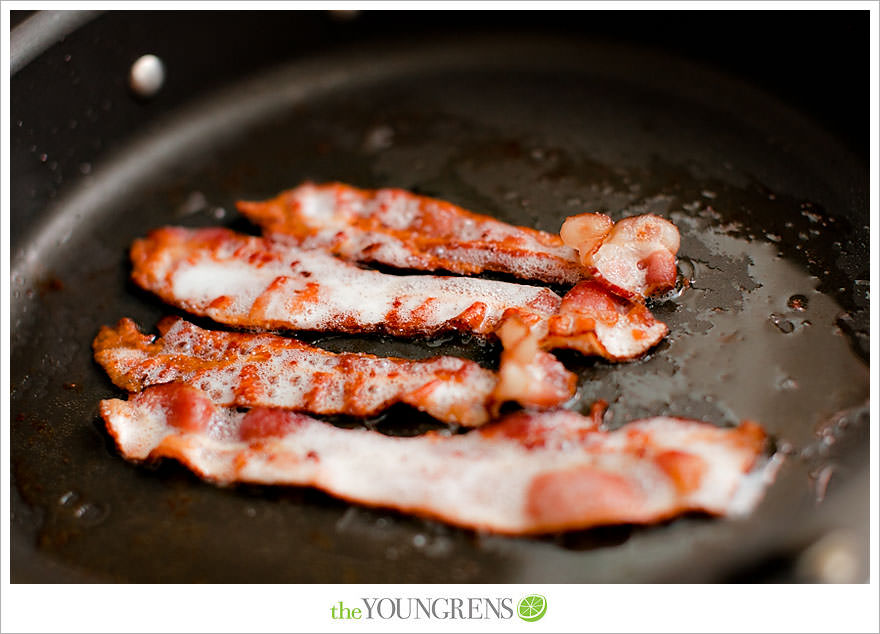 Chop up your crusty bread and throw it into the bottom of your slow cooker. Make sure to spray some non-stick cooking spray first. It's not so fun if you don't. Not that I would know.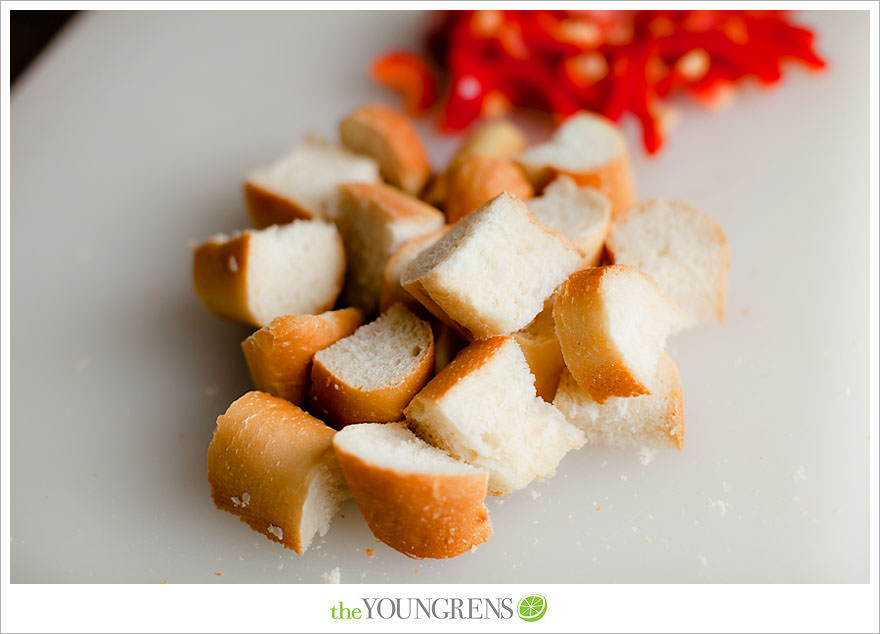 Dice up a red bell pepper and beat the eggs and milk together in a bowl.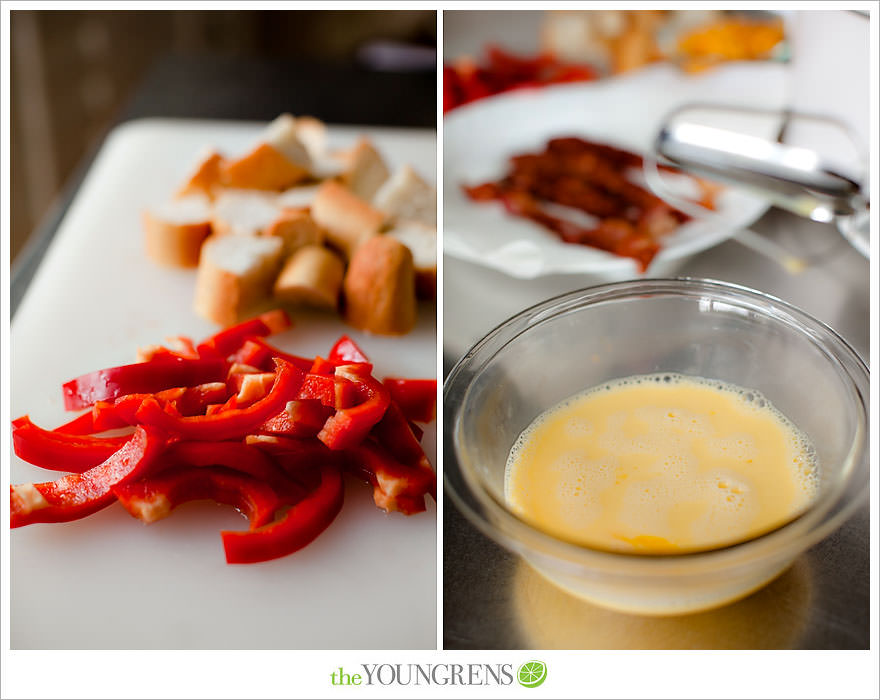 Add the cheese and peppers to the eggs along with some salt and pepper.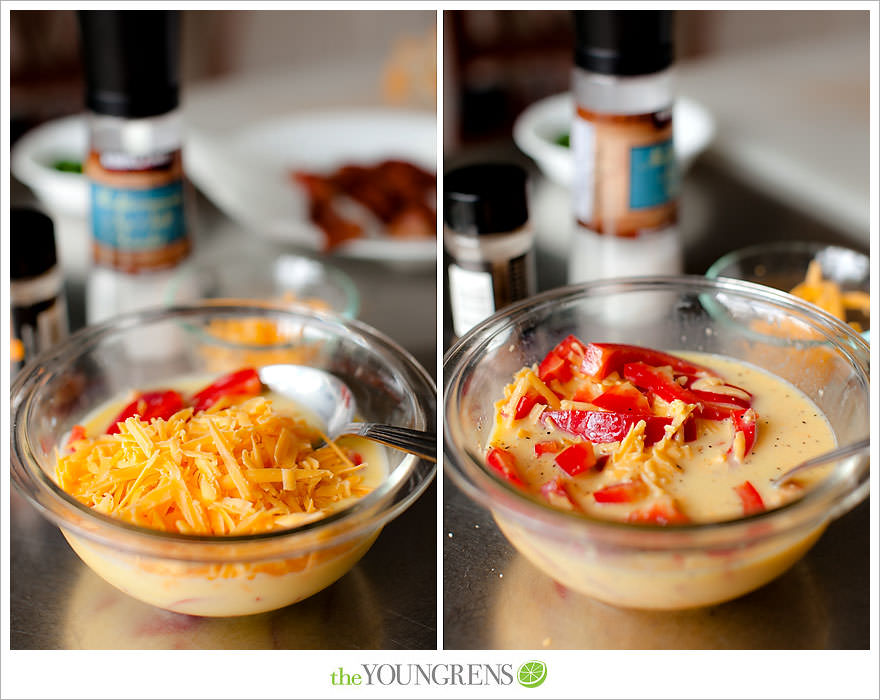 I totally forgot to photograph this part, but you'll take the bacon out of the pan, and then toss in the spinach (and mushrooms if you like) and coat everything in the bacon grease until the spinach wilts. I told you this recipe wasn't healthy. This is the only time I've ever cooked spinach in BACON FAT.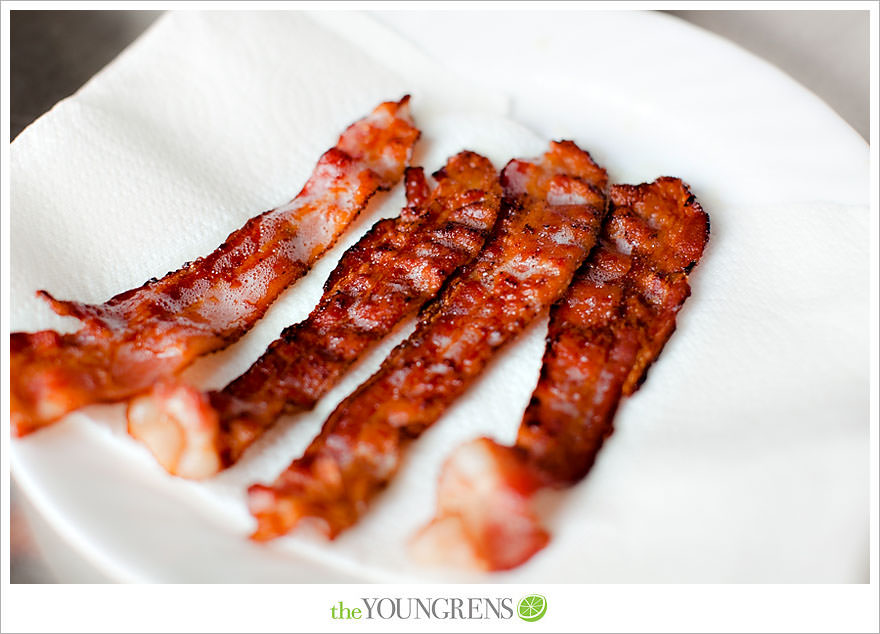 Toss the spinach and bacon on top of the bread cubes…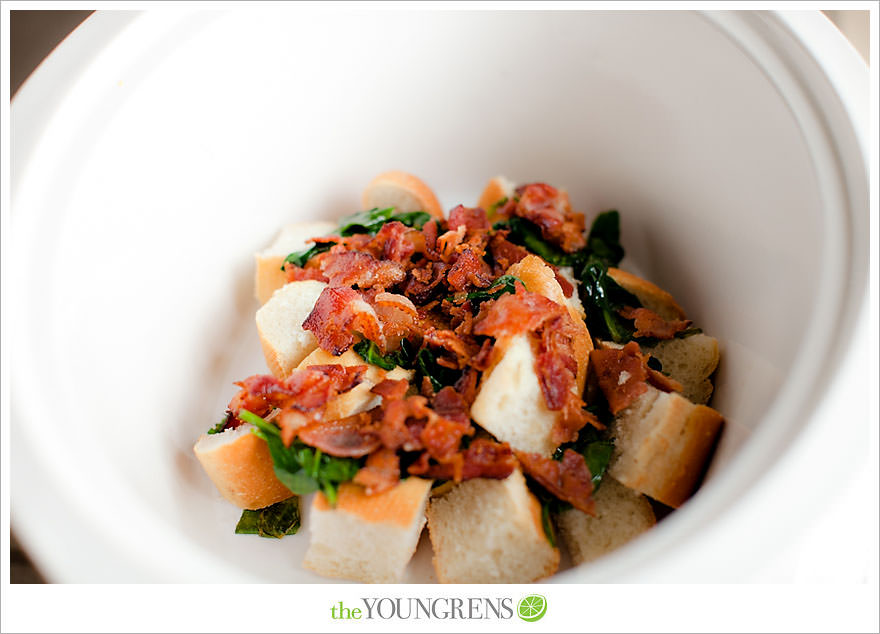 And pour the eggs over everything. We actually had to use twice as many eggs as the recipe dictated, so keep that in mind.

Set your Crockpot on High and let it cook for about 2-3 hours. Or set it on Low and let it cook longer. It's up to you. Just make sure the eggs are cooked to your liking. You're house will smell delish!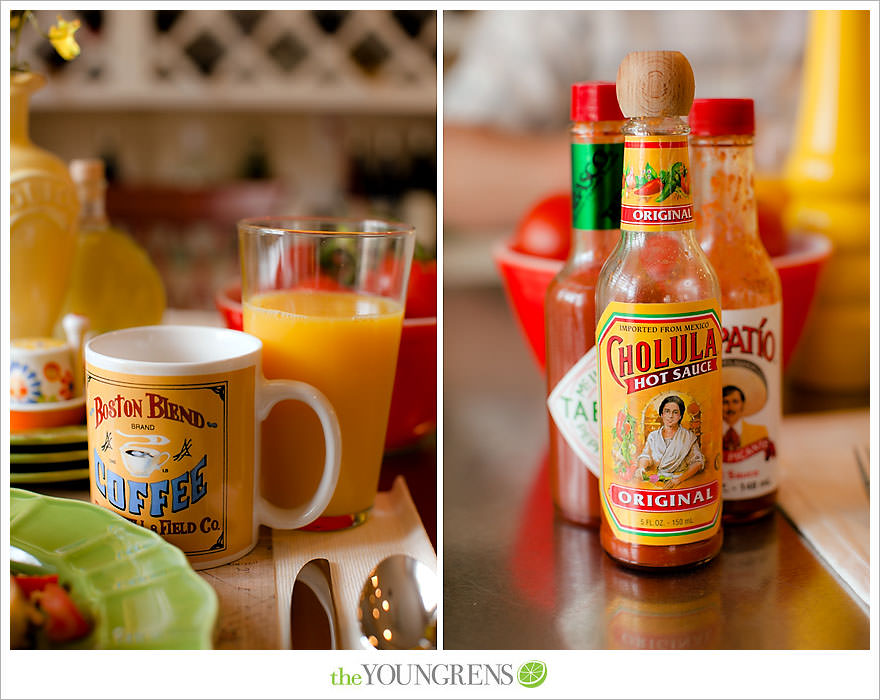 We threw some chopped tomato and feta cheese on top for a yummy garnish. This dish was moist and flavorful – it had all of our favorite breakfast flavors combined into one perfect casserole! Again, it's a great crowd-pleaser for brunches, holidays, or family get-togethers when you want to feed a lot of mouths with the least amount of effort!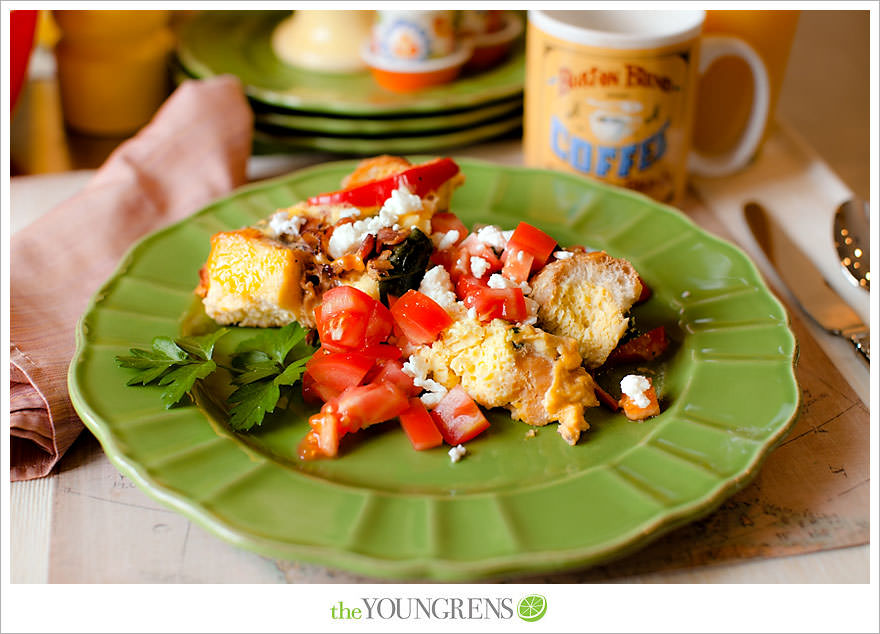 Breakfast Bake with Spinach and Bacon
(makes 6 to 8 servings)
3-4 cups diced crusty bread (3/4- to 1-inch dice)
1/2 pound bacon, cut into 1/2-inch dice
2 cups sliced mushrooms
2 cups torn fresh spinach
8 eggs
1/2 cup milk
3/4 cup roasted red peppers, drained and chopped (we didn't roast ours and it was fine)
1 cup shredded cheese, such as Cheddar or Monterey Jack
Salt and black pepper, to taste
1. Coat 4.5 quart slow cooker with nonstick cooking spray. Add bread.
2. Heat skillet on medium heat until hot. Cook bacon until crispy. Remove and discard all but 1 tablespoon of drippings. Add mushrooms and spinach to skillet and toss to coat. Cook 1 to 2 minutes or until spinach wilts. Transfer to slow cooker with bread; toss to combine.
3. Beat eggs and milk in medium bowl. Stir in red peppers, cheese, salt and black pepper. Pour into slow cooker.
4. Cover; cook on LOW 3 to 3.5 hours or on HIGH 2 to 2.5 hours or until eggs are firm but still moist. Adjust seasoning, if desired.
Hugs,
Erin