For the past month or so here on Recipe Sunday, I've been raving about my favorite holiday foods – mostly stuffing, stuffing, and more stuffing. But there's one food that was never on that 'favorite' list. Because I hated it.
Yams.
Ick. Icky, ick, ick. They were always way too sweet or way too bland or just too ick. But then again, that was when I was still growing up and my poor undeveloped 8-year-old palette didn't even like tomatoes. Soooooo, yeah. It wasn't so much the yams fault that I thought they were the devil, it was more that I thought anything besides soggy bread and gravy was the devil.
But then I got older. And when I got up the courage to actually try a yam again, I felt like a moron. Why had I been snubbing this delicious fall treat for the better part of my life?? So now I'm on the hunt for yummy yam recipes and this one in particular was easy (check) and delightful (check). Although it comes in full dessert fashion, it's not too sweet and it's definitely not bland.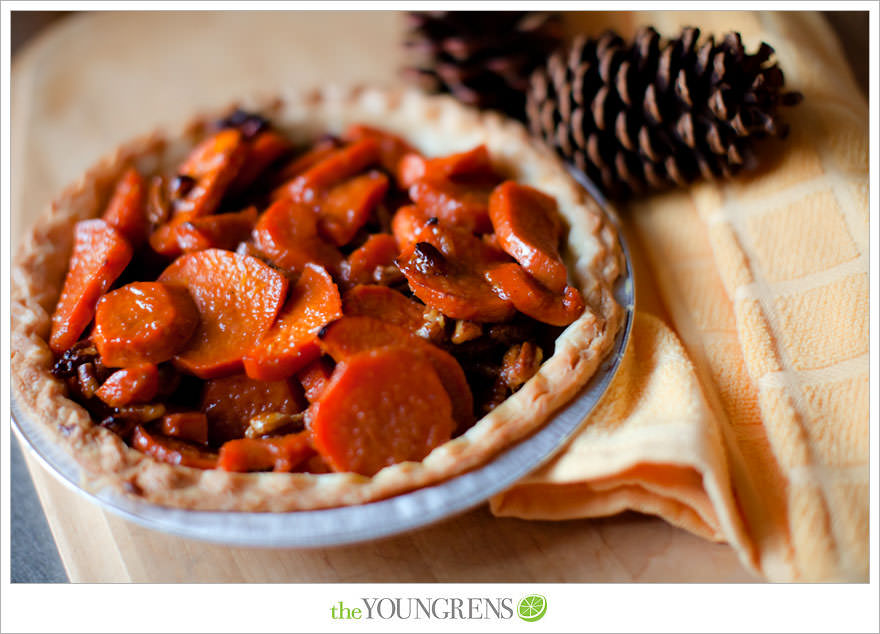 The ingredients and flavors are simple, simple, simple. The only newbies would be the lemon peel, so everybody please welcome Mr. Lemon to the old boys' holiday club of sweet potato, nutmeg, and pecans. BTW – I still don't know the difference between a yam and sweet potato…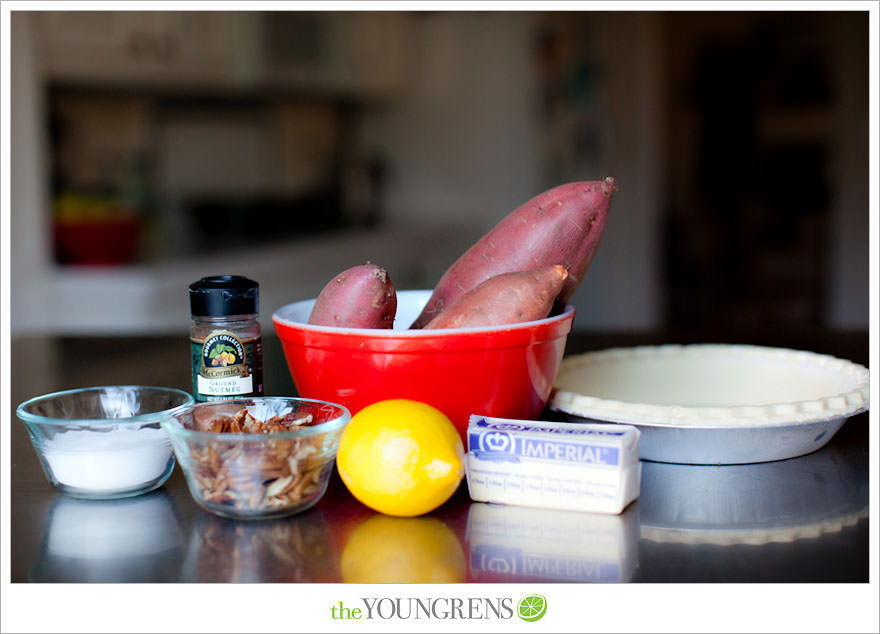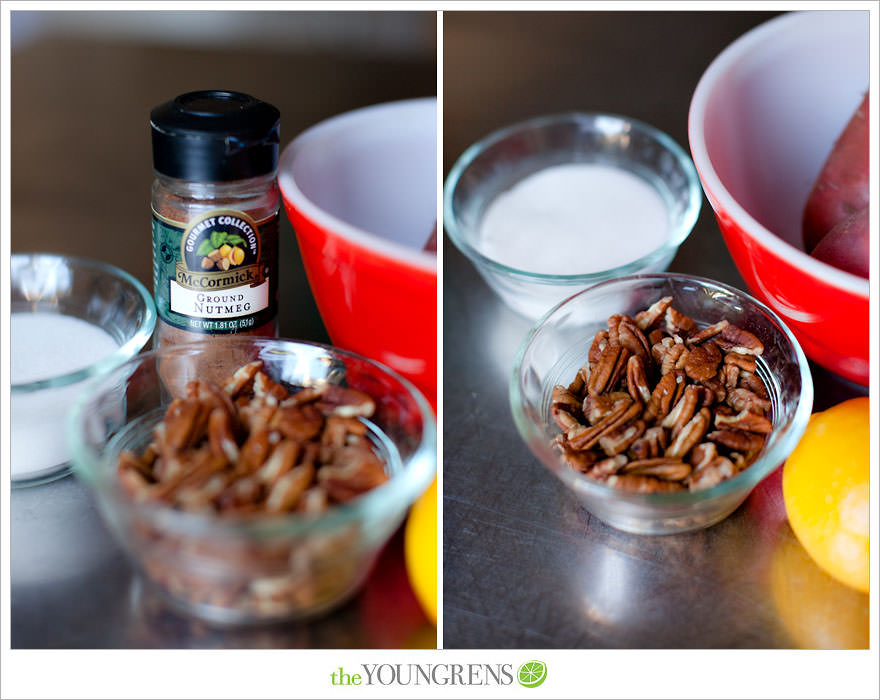 Melt about a 1/4 cup of butter in a large saucepan with tall sides, slice up the sweet potato/yams, toss them in and coat them in the butter. Once they've cooked for about a minute, sprinkle them with half a cup of sugar.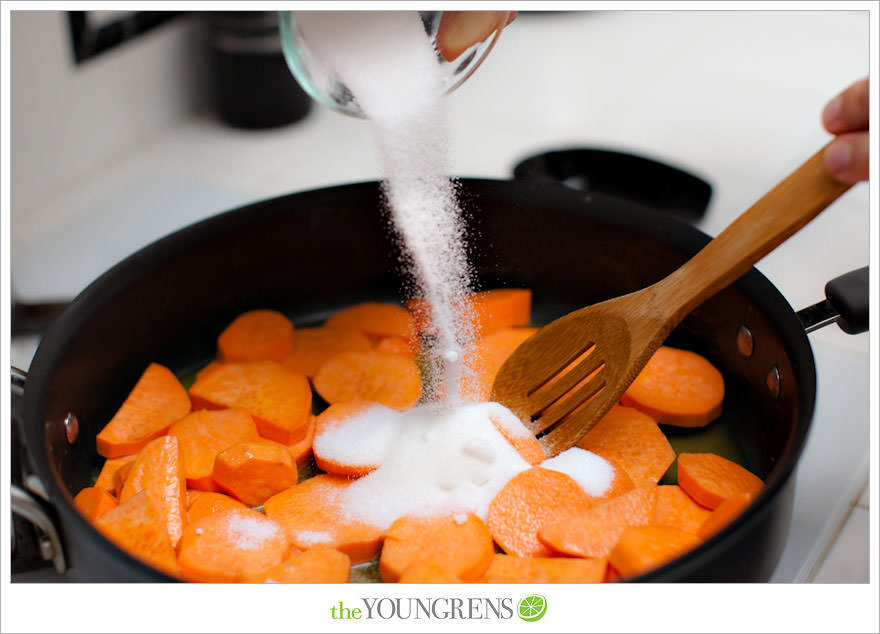 Stir and fold the potatoes to dissolve the sugar and then cook for five-ish minutes until it's caramelized and syrupy.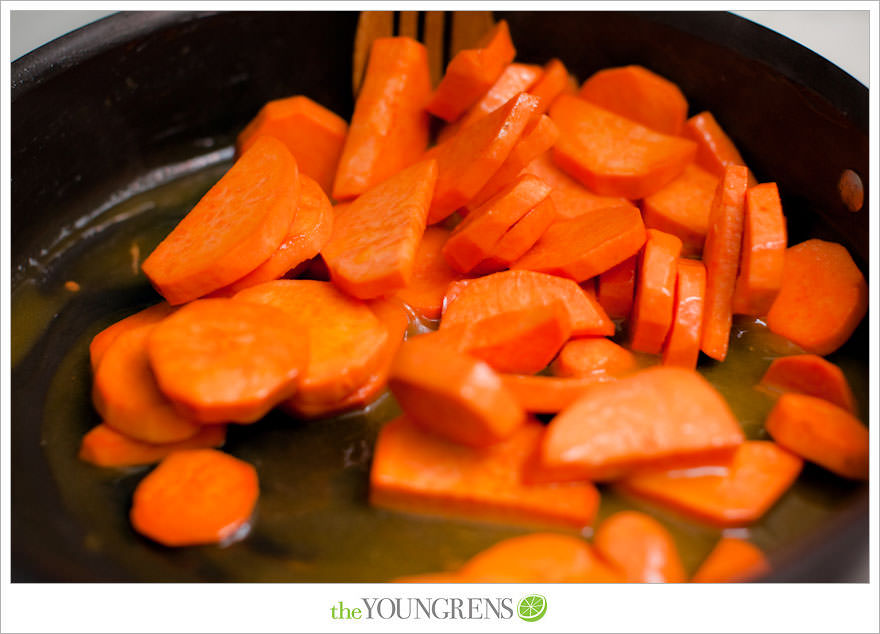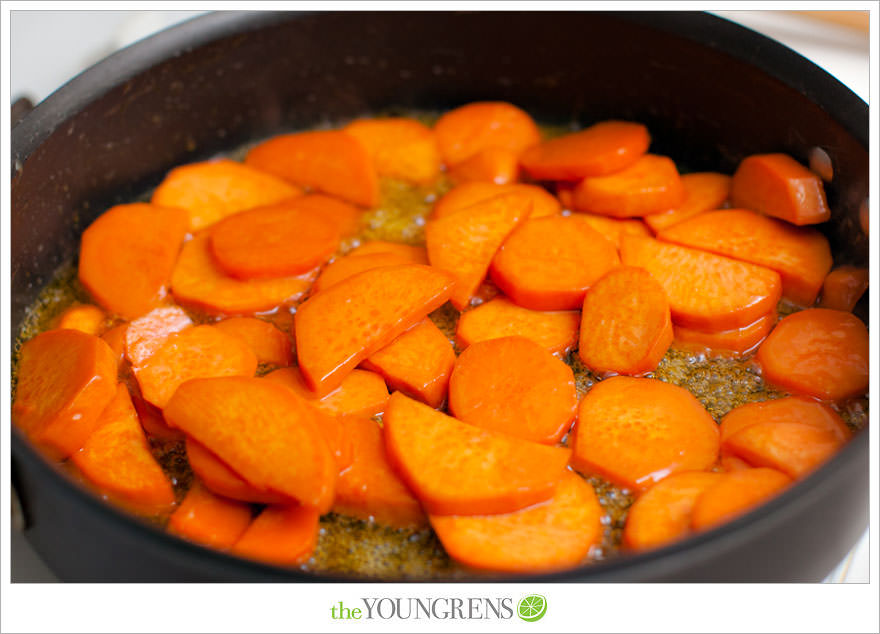 Let the potatoes brown and then stir in the pecans, lemon peel, and nutmeg.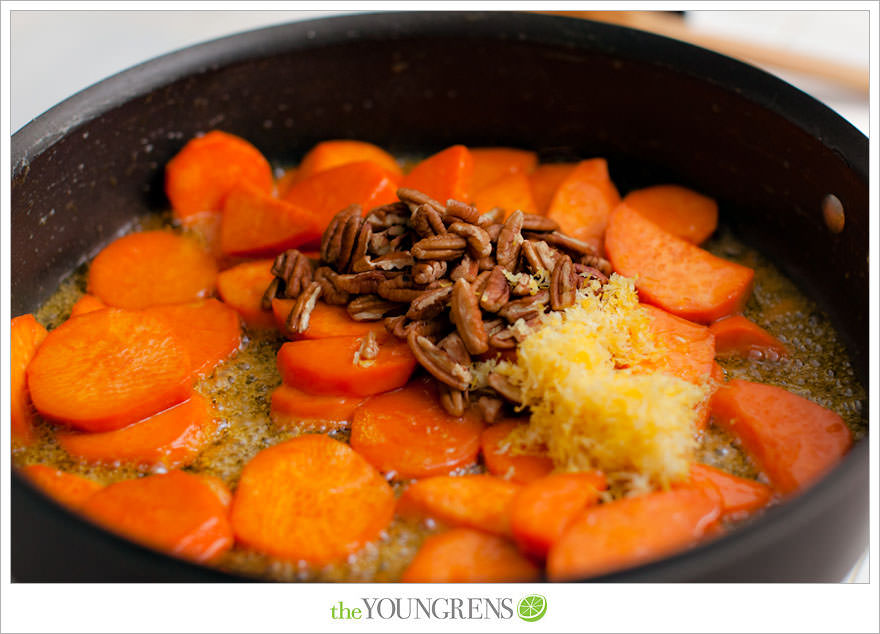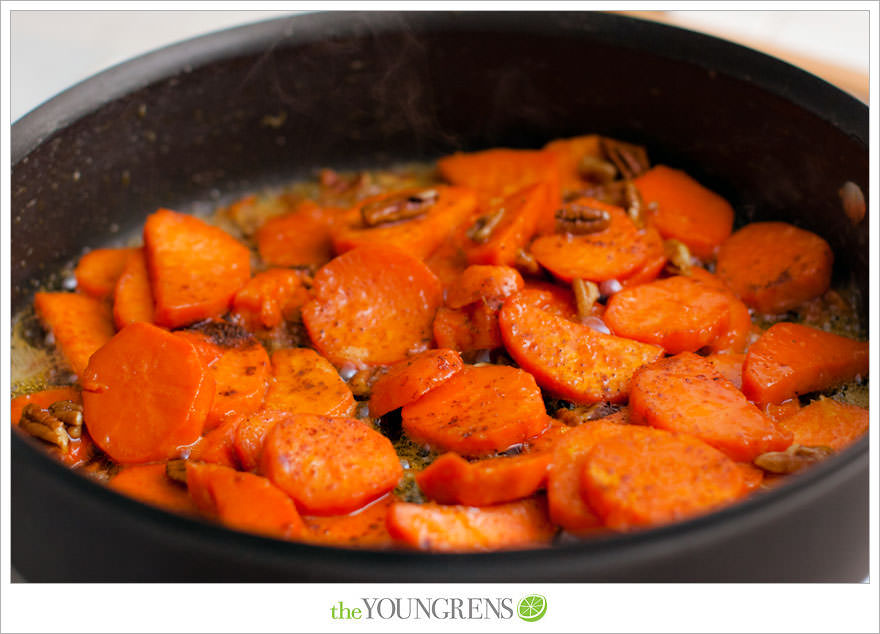 Turn off the heat and let the sweet potatoes cool before placing them in a prepped pie shell. You can make your own pecan pie crust (recipe here), but I decided to make life a little easier and just bought an uncooked shell. Either way, you'll need to bake the pie shell (first covered, then uncovered) before filling it since the sweet potatoes have been cooked along and the pie crust needs a jump start to catch up.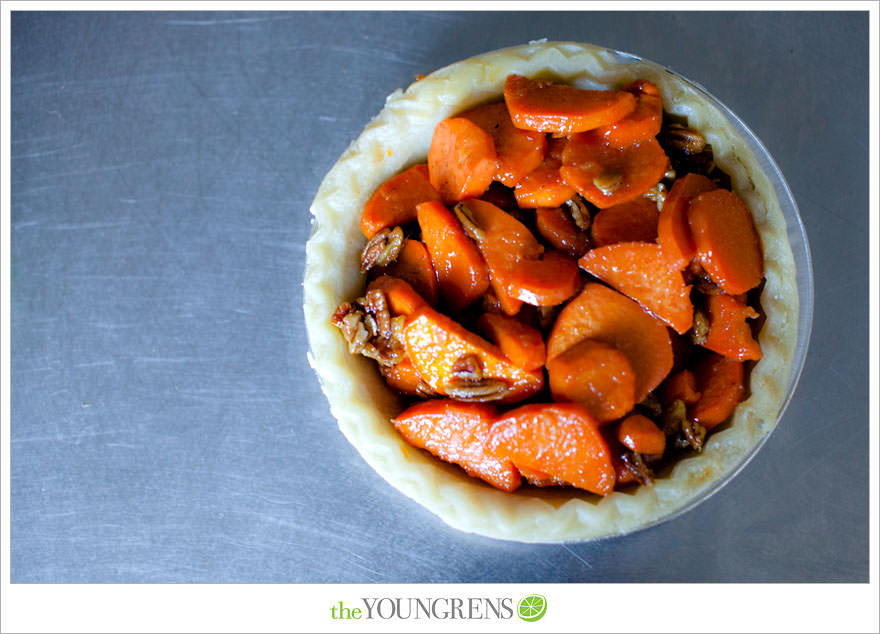 Layer the potatoes in the pie crust and bake for 15 to 20 minutes. Then brush the top with melted butter and you're done!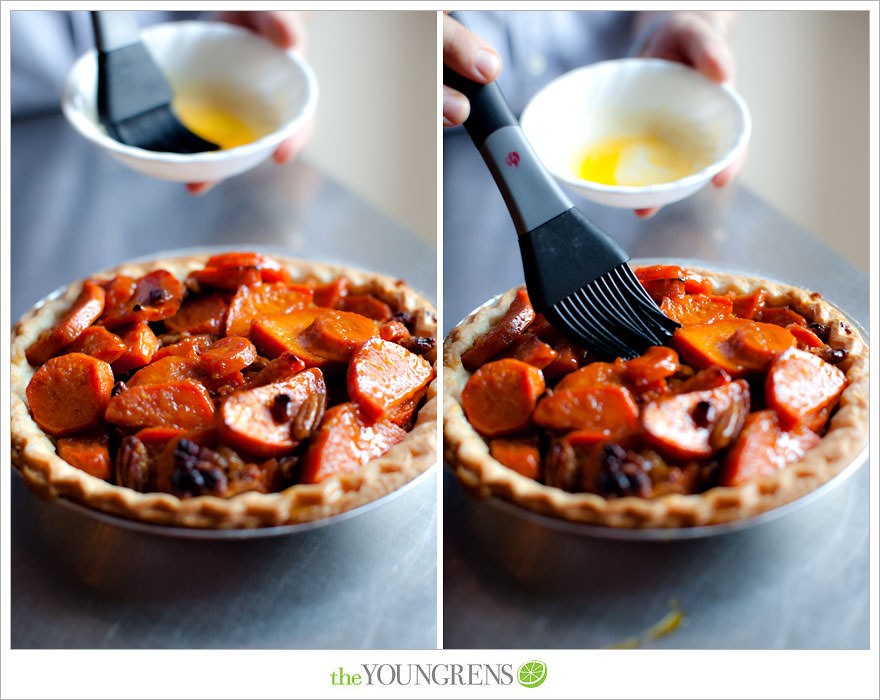 The yams are just sweet and soft enough to make this a fabulously yummy pie – something different than your typical pumpkin/apple/pecan mix of holiday pies don't ya think?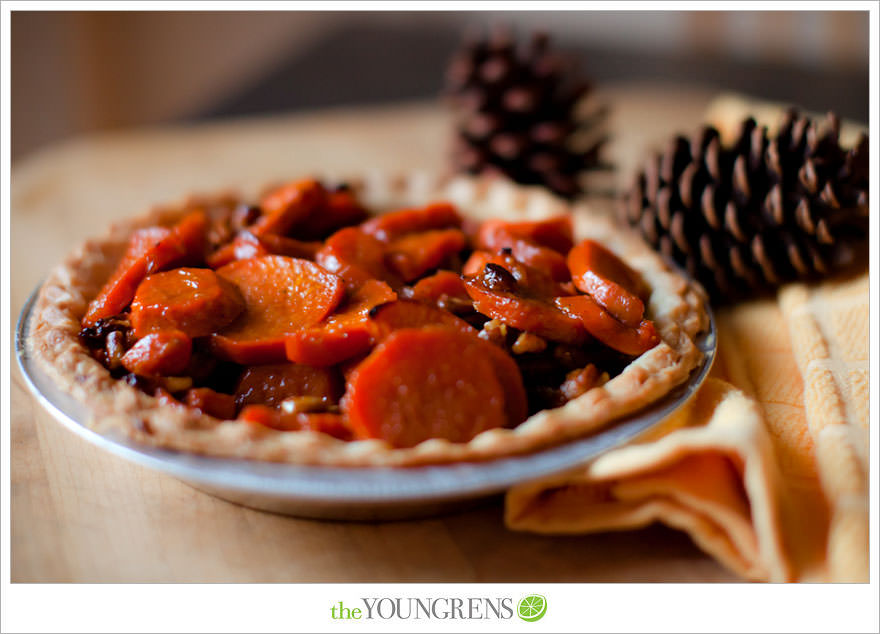 Candied Sweet Potato Pie
(see full recipe and nutrition info here)
1 recipe Pecan Piecrust or 1 rolled refrigerated unbaked piecrust
1 lemon
1/4 cup butter
2 pounds sweet potatoes, peeled and sliced 1/4 inch thick
1/2 cup sugar
1/2 cup pecan halves
1/8 teaspoon ground nutmeg
Whipped Cream (optional)
1. Prepare and chill Pecan Piecrust. Finely shred peel from lemon (reserve lemon for another use). Set aside.
2. Melt the butter in a straight-sided 12-inch skillet. Add potatoes to hot butter. Cook and stir for 1 minute over medium heat, coating potatoes in butter.
3. Sprinkle potatoes with sugar; lift and fold potatoes to coat and to dissolve sugar. Cook for 3 to 5 minutes, until caramelized and syrupy, stirring occasionally. (To allow potato slices to brown and caramelize, avoid stirring too often.) Stir in the pecans, lemon peel, nutmeg. Remove from heat; cool.
4. Preheat oven to 450 degrees F. Roll one portion of the Pecan Piecrust to a 12-inch circle (chill or freeze remaining portion for another use). Fit rolled pastry into a 9-inch pie plate. Trim crust and crimp as desired. Layer with a double-thickness of foil; bake for 8 minutes. Remove foil. Bake for 5 to 6 minutes more or until golden. Reduce oven to 425 degrees F.
5. Carefully layer cooled potatoes in pie crust, reserving syrup in skillet. Bake for 15 to 20 minutes, until crust is golden and sweet potatoes are tender. Cool slightly, about 15 minutes.
6. Drizzle reserved syrup on pie or brush the top of pie with melted butter. Serve with whipped cream.
Hugs,
Erin