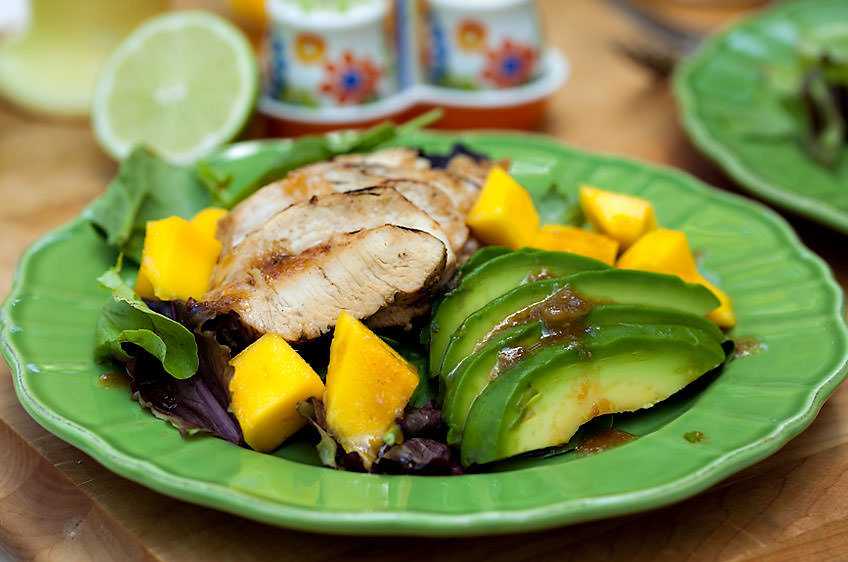 Chicken Salad with Avocado and Mango
It's bikini season. Ugh. I feel like I'm still trying to lose my holiday weight and suddenly I'm strapping on bikini bottoms. The whole 'summer body' thang hit Jeff and I hard when we were in Hawaii a month ago. We GORGED ourselves on nachos, Oreos, macadamia pancakes, rum and cokes, and beer. Lots and lots of Kona Brewing beer. Maybe our binging was our way of letting off some steam from our non-stop lives or maybe it was just our island mindset that calories and consequences don't exist. But I gained exactly TEN POUNDS during that one week.Once I stepped off of the evil bathroom scale here at home and whispered a long stream of scathing curse words in it's direction, I crawled back into bed with every intention of hibernating until fall.This is when I discovered
Jillian Michaels
(or I should say 're-discovered' since I had watched her plenty of times on The Biggest Loser). I started in hard core on her
Ripped in 30
workout DVD's - which I totally love - and
downloaded the accompanying meal plan
. I was skeptical at first, assuming that her meals would be full of organic specialty ingredients that cost a fortune and are difficult to prepare. I was pleasantly surprised, however, that not only were most of the components for her dishes already in my kitchen, but the meals were simple, filling, and DELICIOUS.Seriously folks, with the amount of recipes that I test out that are just plain duds, this was a gold mine of winners! Every single recipe that I tried has just the right mix of spices for explosive flavor. They're awesome!So I've decided to feature a handful of my favorite
Jillian Michaels recipes
here on
Recipe Sunday
over the course of the summer, beginning with this bright and charming Chicken Salad with Avocado and Mango. Mangos and avocados are in full season right now, so take advantage of their abundance and goodness while you can!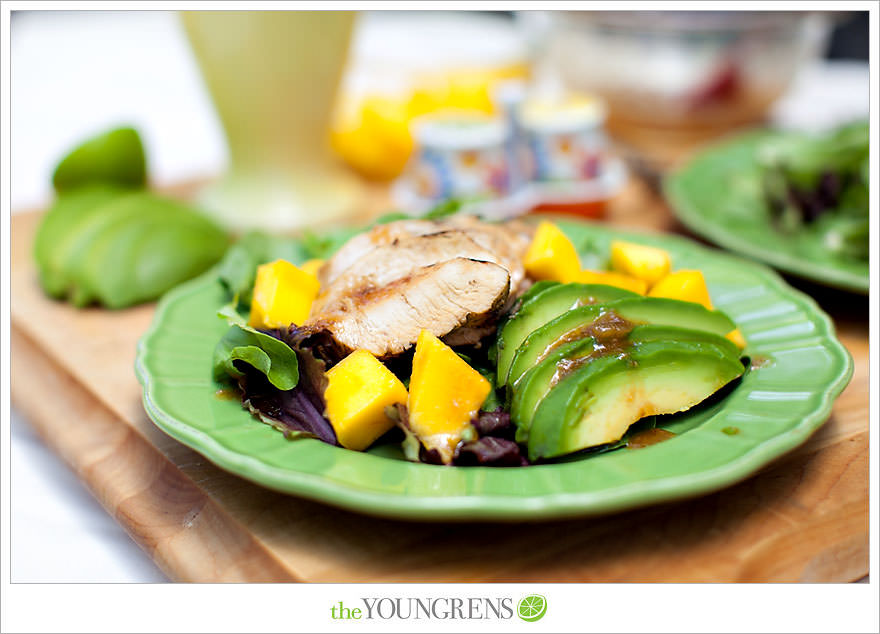 Like I mentioned, the ingredients are simple but powerful.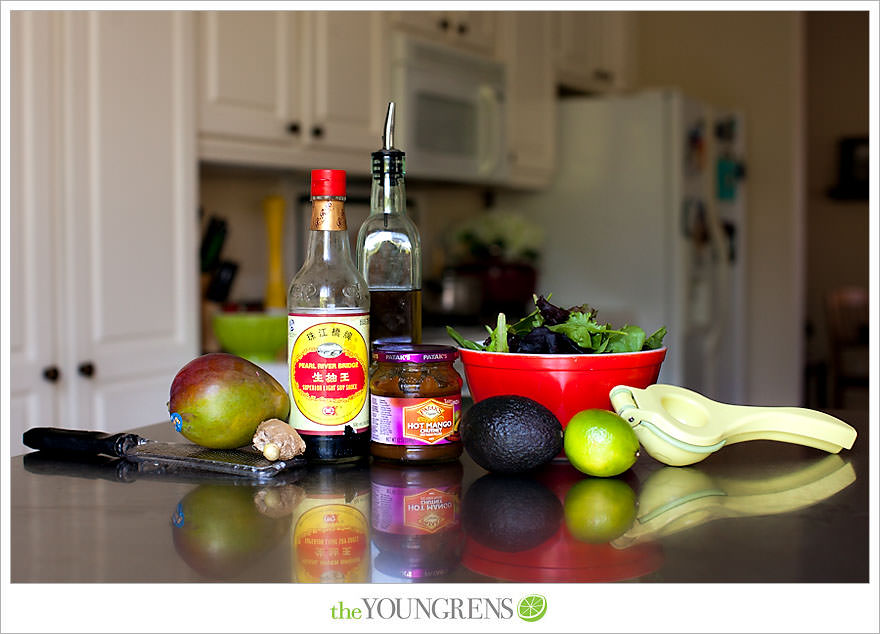 Your main flavor players are soy sauce, ginger, and mango chutney for a Southeast Asian flair. I like the spiciness of this mango chutney  - it adds just the right kick.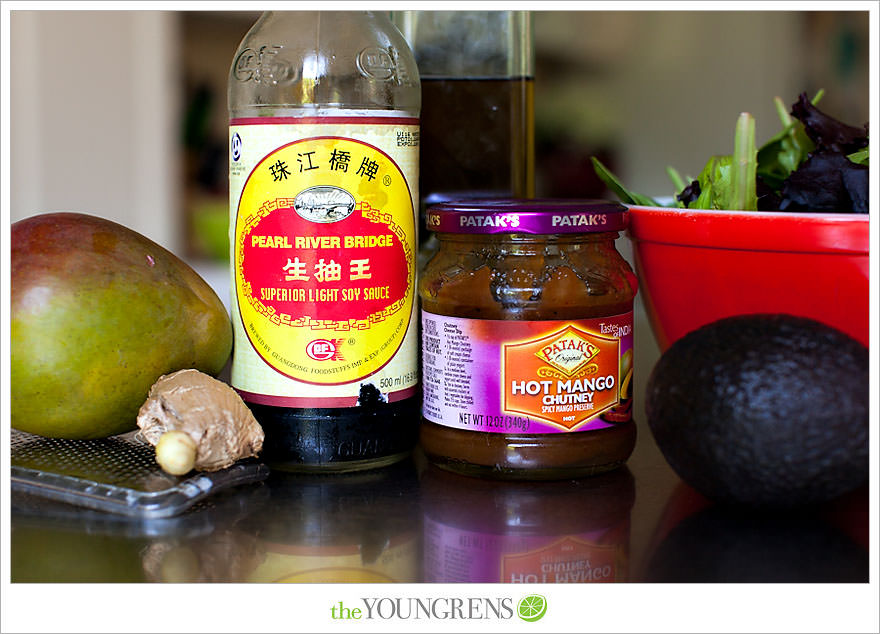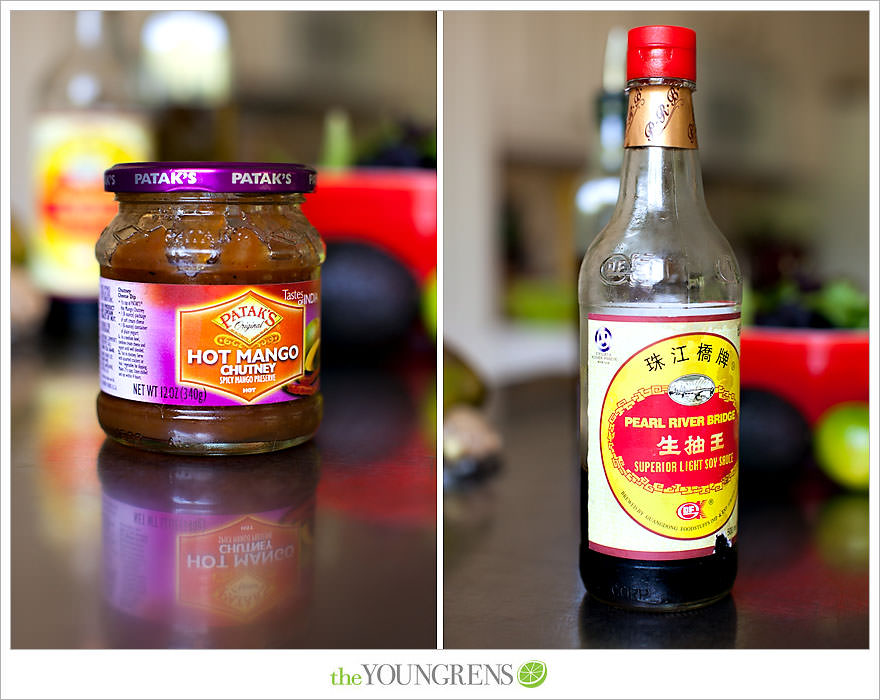 To go along with the ginger, you'll need a mango that's just ripened but not too soft and juicy so it can be sliced up easily and an avocado.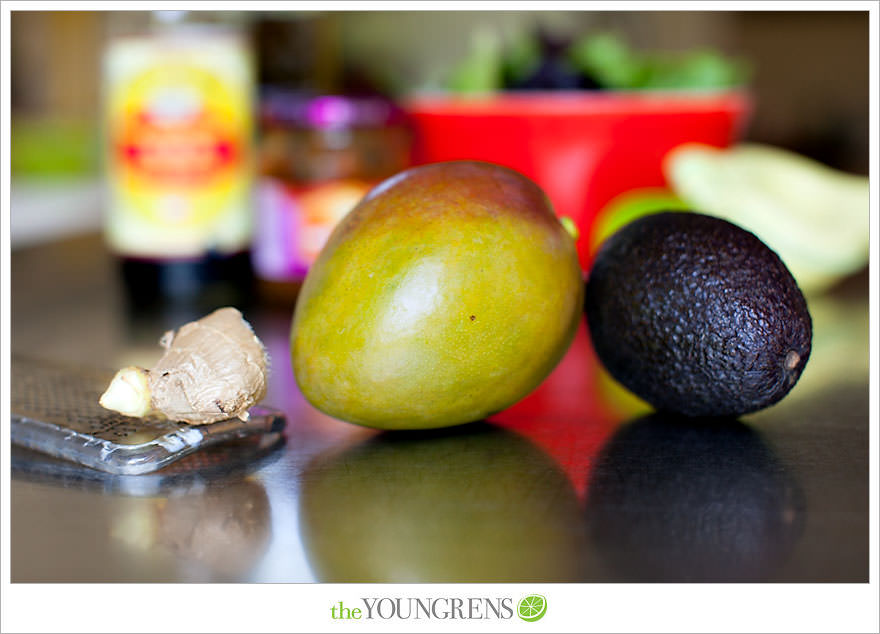 First, preheat your grill and then prepare your dressing which doubles as a marinade for your chicken slices. Add olive oil and the chutney...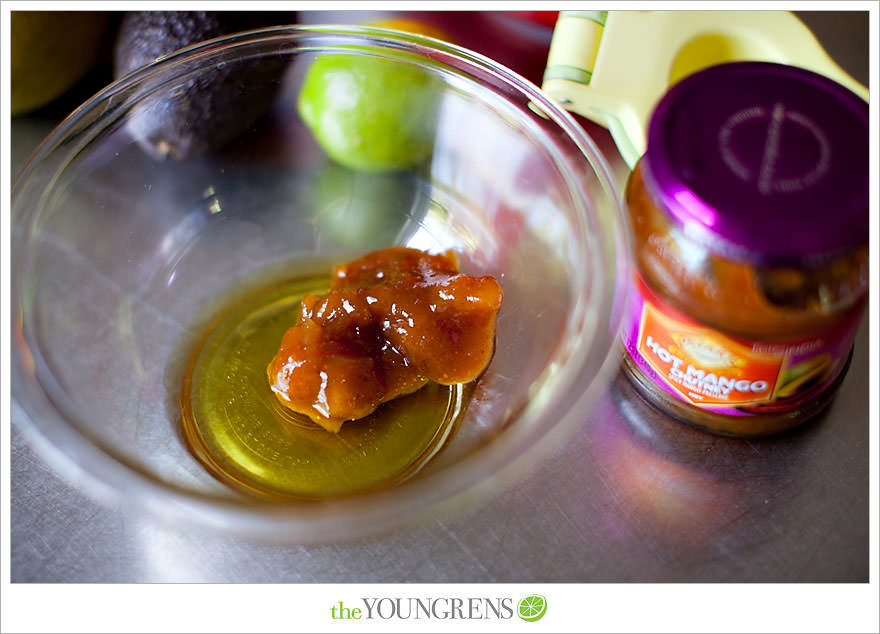 A few tablespoons of FRESH lime juice...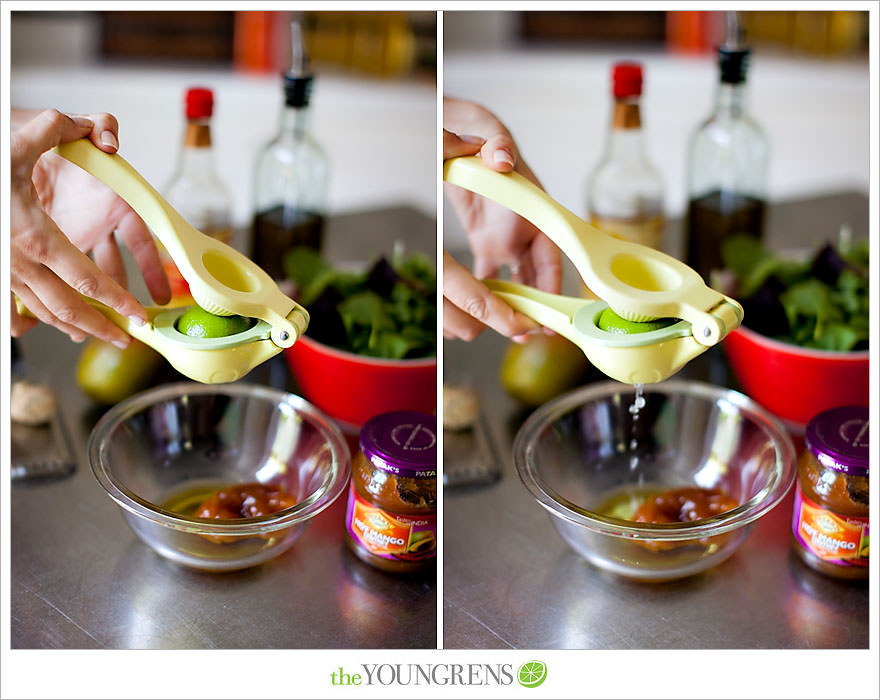 And some grated fresh ginger.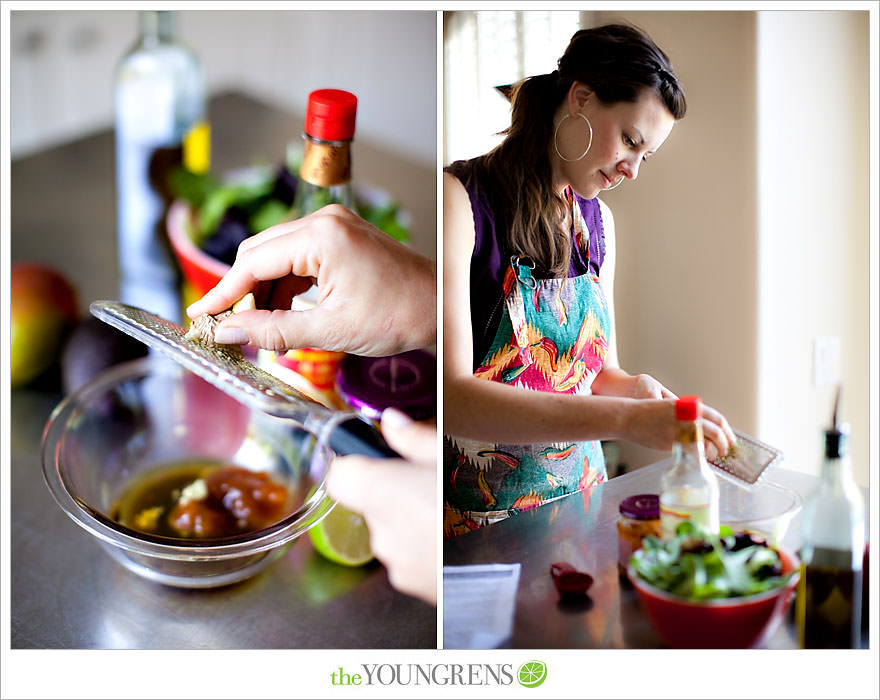 Mix it all up...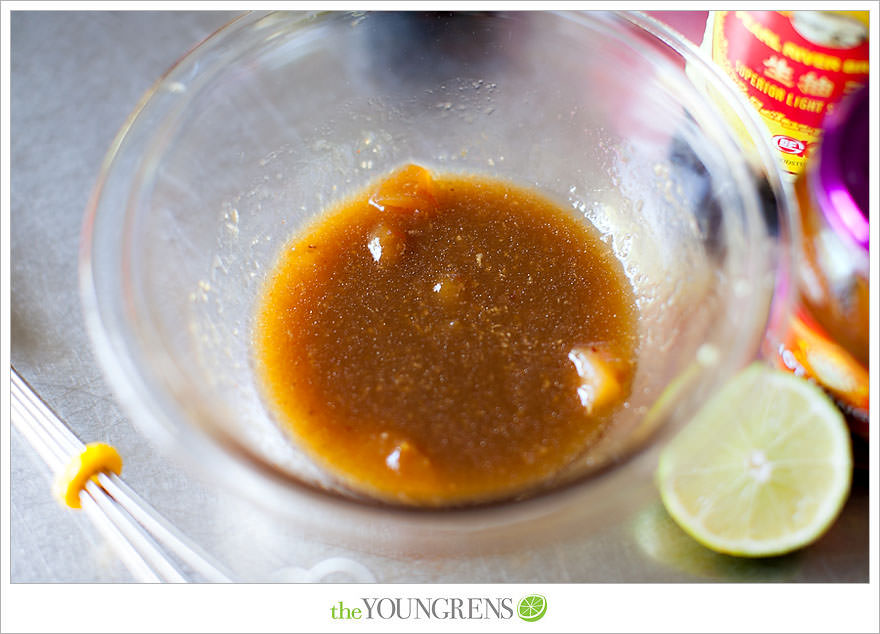 Then pour a few tablespoons of the sauce over two pieces of thawed chicken breast. Coat the chicken and let it stand for 5 minutes. Remember that you can't mix the marinade and the dressing after this and use separate utensils for each so you don't contaminate the dressing with the raw chicken. Toss the chicken on a medium-high grill and cook until it's done - about 170 degrees on the inside or when the juices run clear.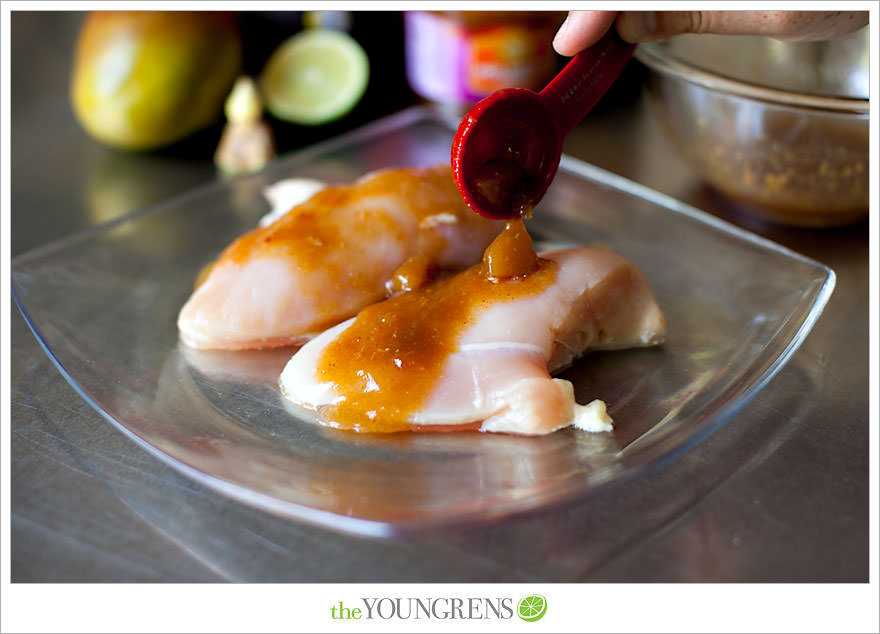 Meanwhile, slice up the mango and avocado into bite-sized pieces.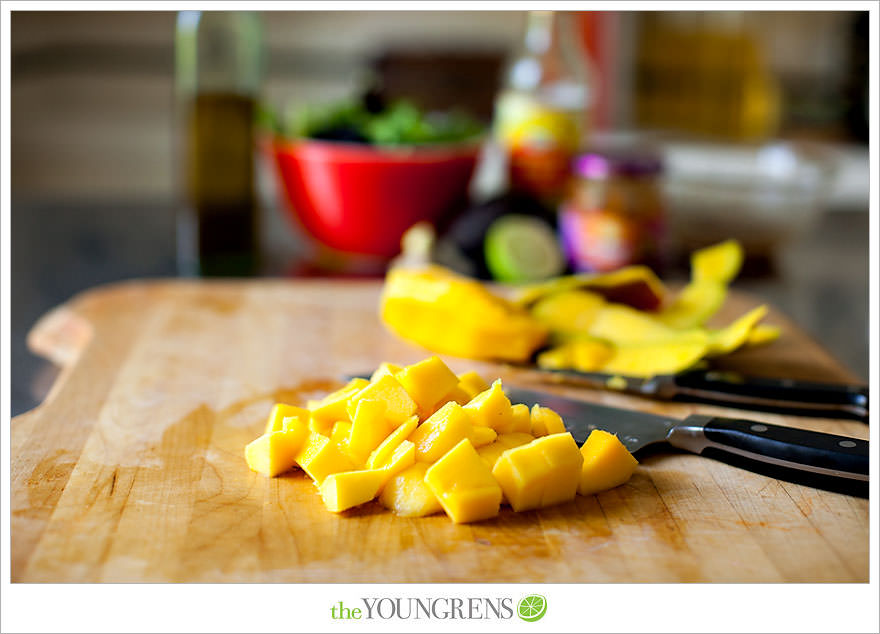 I finally learned how to make those nice arranged avocado slices - just slice up half an avocado like normal and then push the slices to one side. They'll fan out all pretty.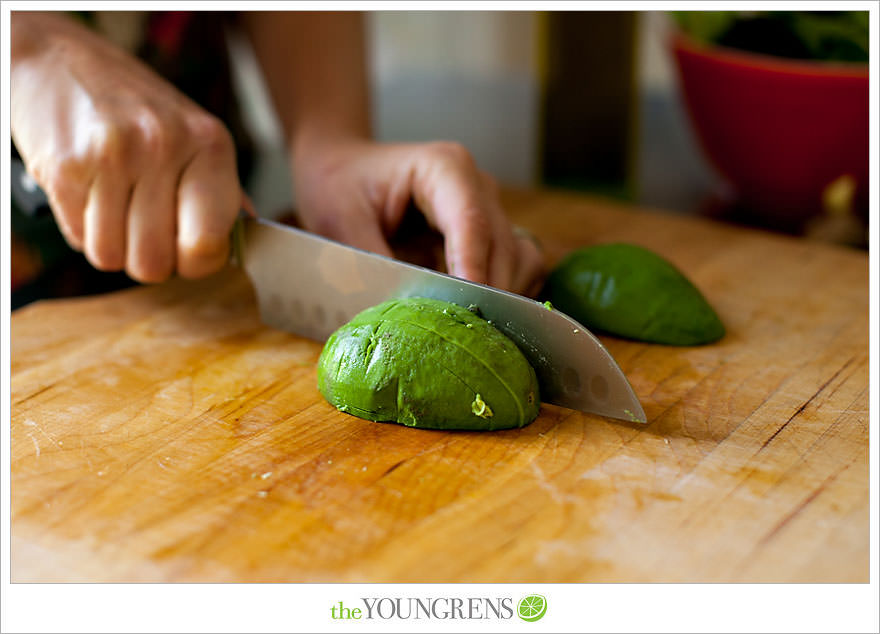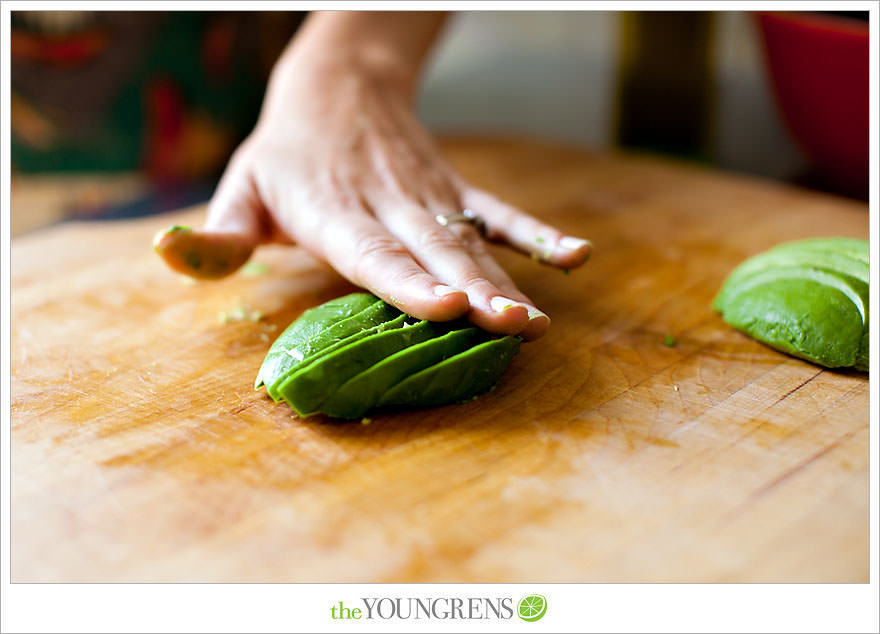 Using the same marinade that you poured over the chicken (I used the extra from the plate), brush the chicken before turning. Keep brushing them while you turn to create a yummy glaze.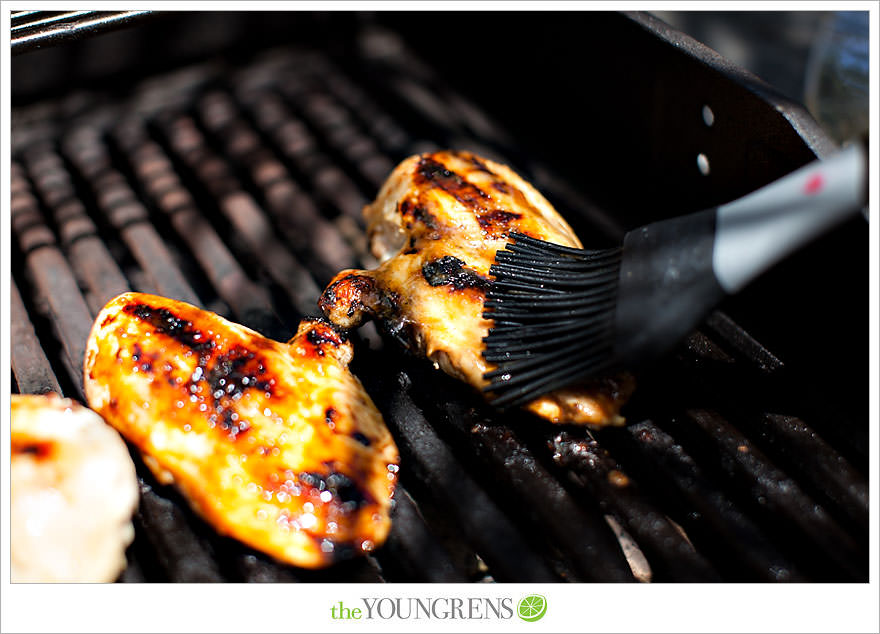 Once the chicken is finished, let it sit for a few minutes so it can soak up it's juices.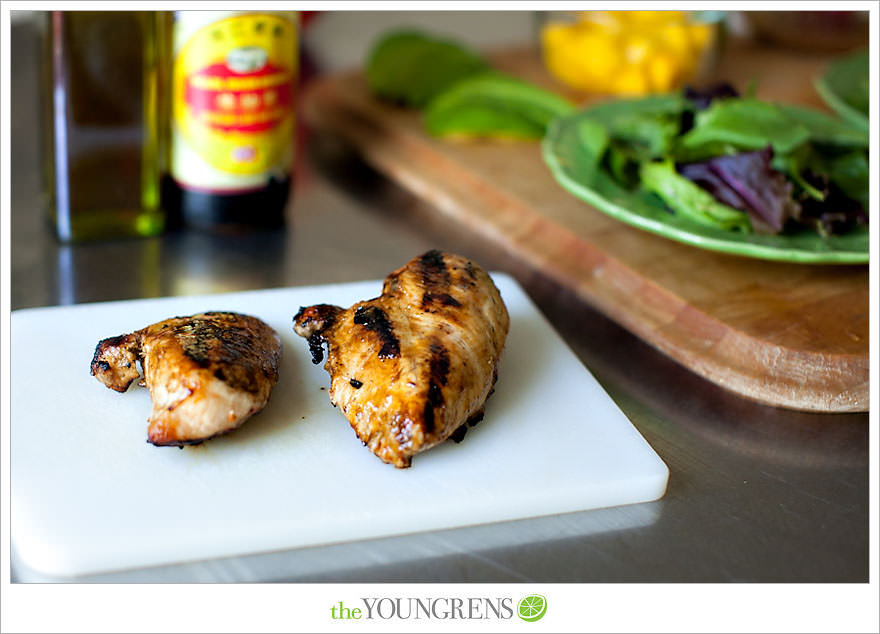 Arrange some salad greens on plates along with the avocado and mango, then slice up the chicken crosswise and place them on the salads, drizzling with the reserved dressing.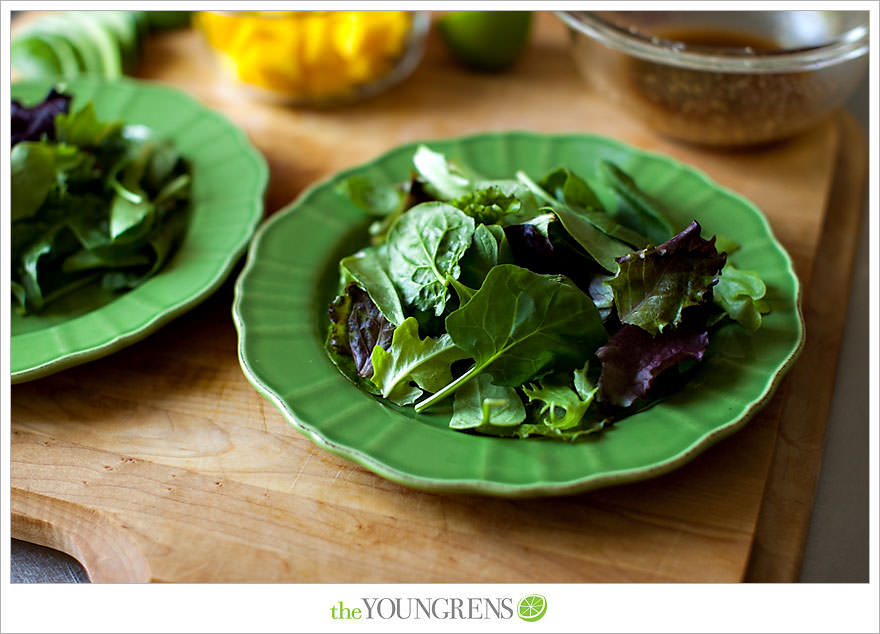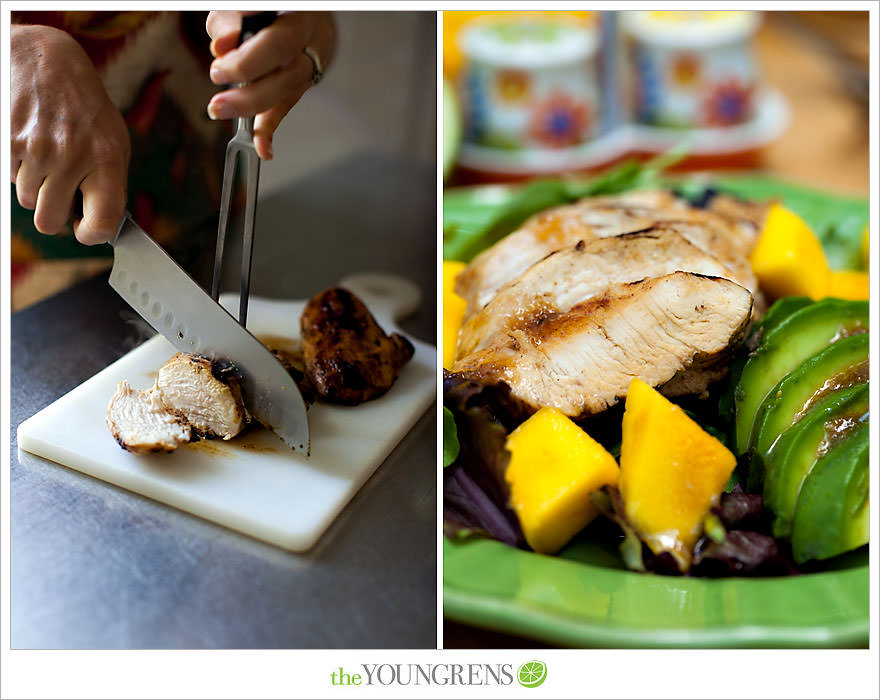 It doesn't take a lot of dressing for big flavor. This recipe usually makes four salads easily, so keep that in mind if you're just making one for yourself. Use a little then save the dressing for another day.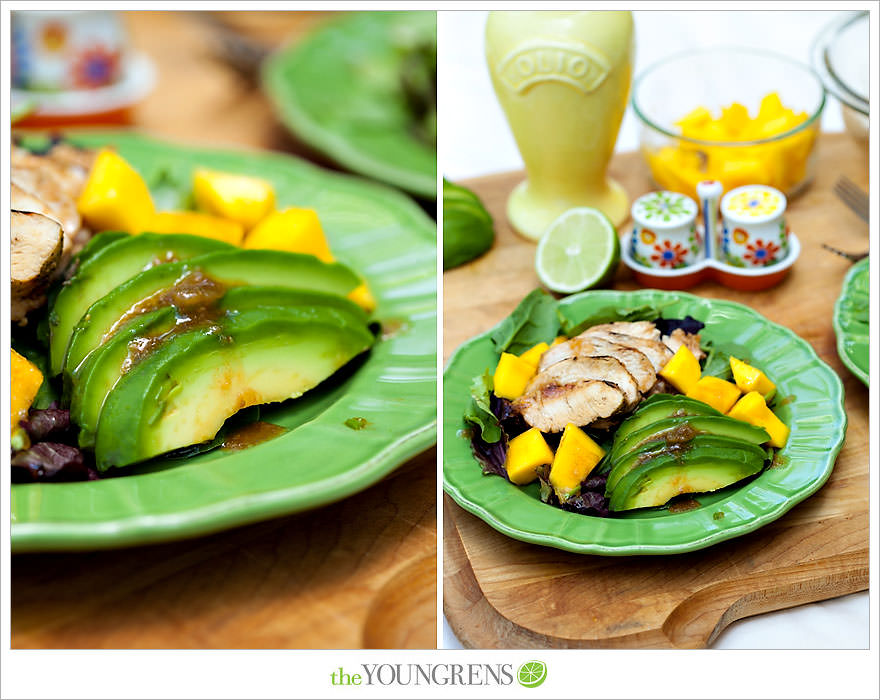 The mixture of sweet mango with creamy avocado and spicy chutney makes this salad a total winner in my book. Plus, you get a protein-packed meal that keeps you going strong all day. Even my not-so-lover-of-salads hubby has given it a big old thumbs up by licking the plate clean!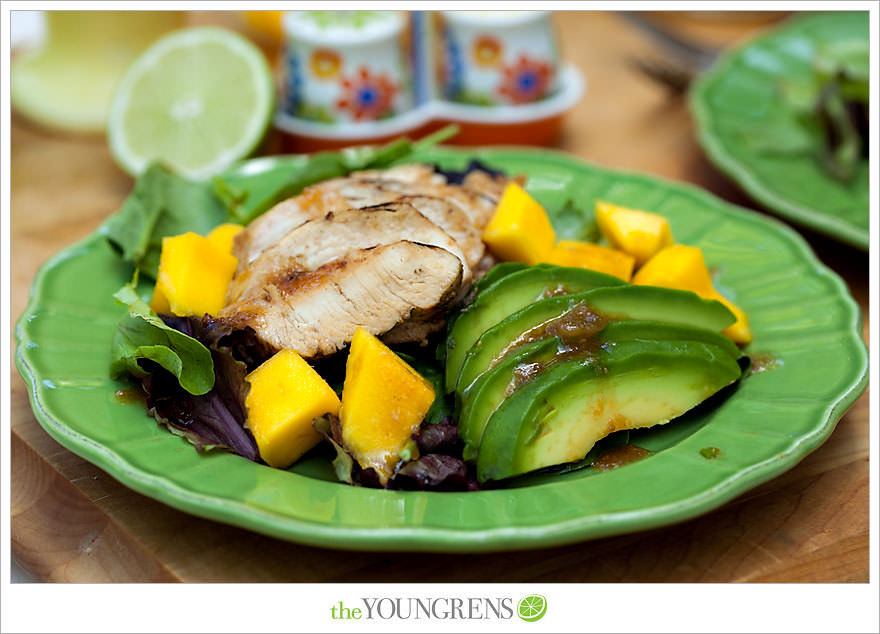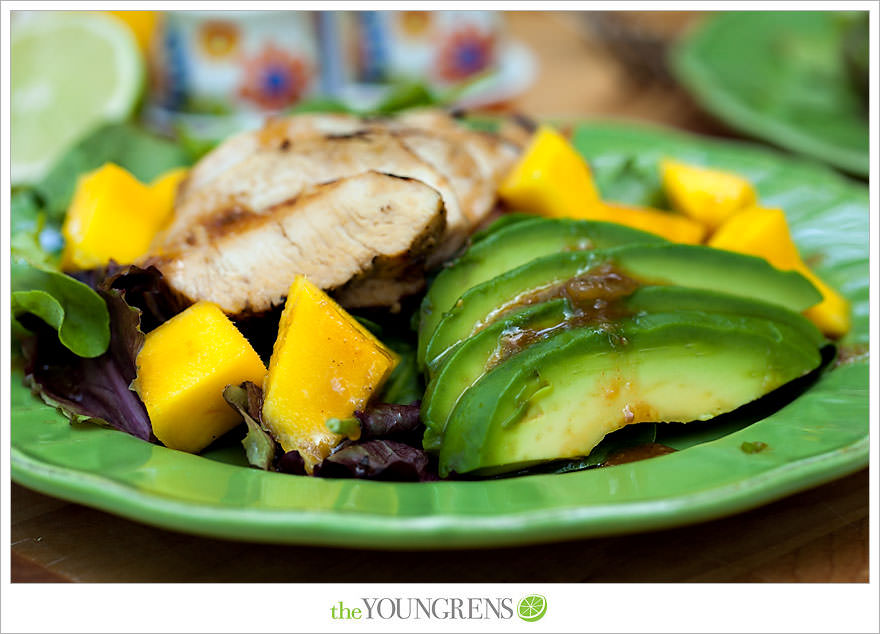 Chicken Salad with Avocado and Mango
(download Jillian's meal plan here)
2 tablespoons olive oil
2 tablespoons fresh lime juice
2 tablespoons mango chutney
1 tablespoon soy sauce, low sodium
3⁄4 teaspoon grated, peeled fresh ginger
4 (4-ounce) skinless, boneless organic chicken breast halves
8 cups mixed greens salad, packaged 1 cup diced, peeled mango
3⁄4 cup diced, peeled avocado Cooking spray
Directions1. Preheat grill to medium-high heat or use a grill pan. Combine oil, juice, chutney, soy sauce and ginger in a small bowl. Place chicken on large plate; spoon 2 tablespoons of oil mixture over the chicken, reserving the rest for the salad. Turn chicken to coat, and let stand 5 minutes.2. Place chicken on grill rack coated with cooking spray. Grill 4 minutes on each side or until chicken is done, brushing with oil mixture from plate before turning. Slice chicken crosswise into strips. Arrange greens, mango and avocado on four serving plates. Arrange chicken over greens. Drizzle reserved dressing over salads.
Servings: 4. 185 calories per serving, 8 g Fat, 203 mg Sodium, 24 g Carbohydrate, 5 g Fiber, 8 g Protein
Hugs, Erin
OUR FAVORITE WEDDINGS
the portfolio
Loving our work? Check out our favorite weddings we've ever photographed
VIEW HERE
OUR MOST HELPFUL WEDDING PLANNING TIPS, STRAIGHT FROM THE EXPERTS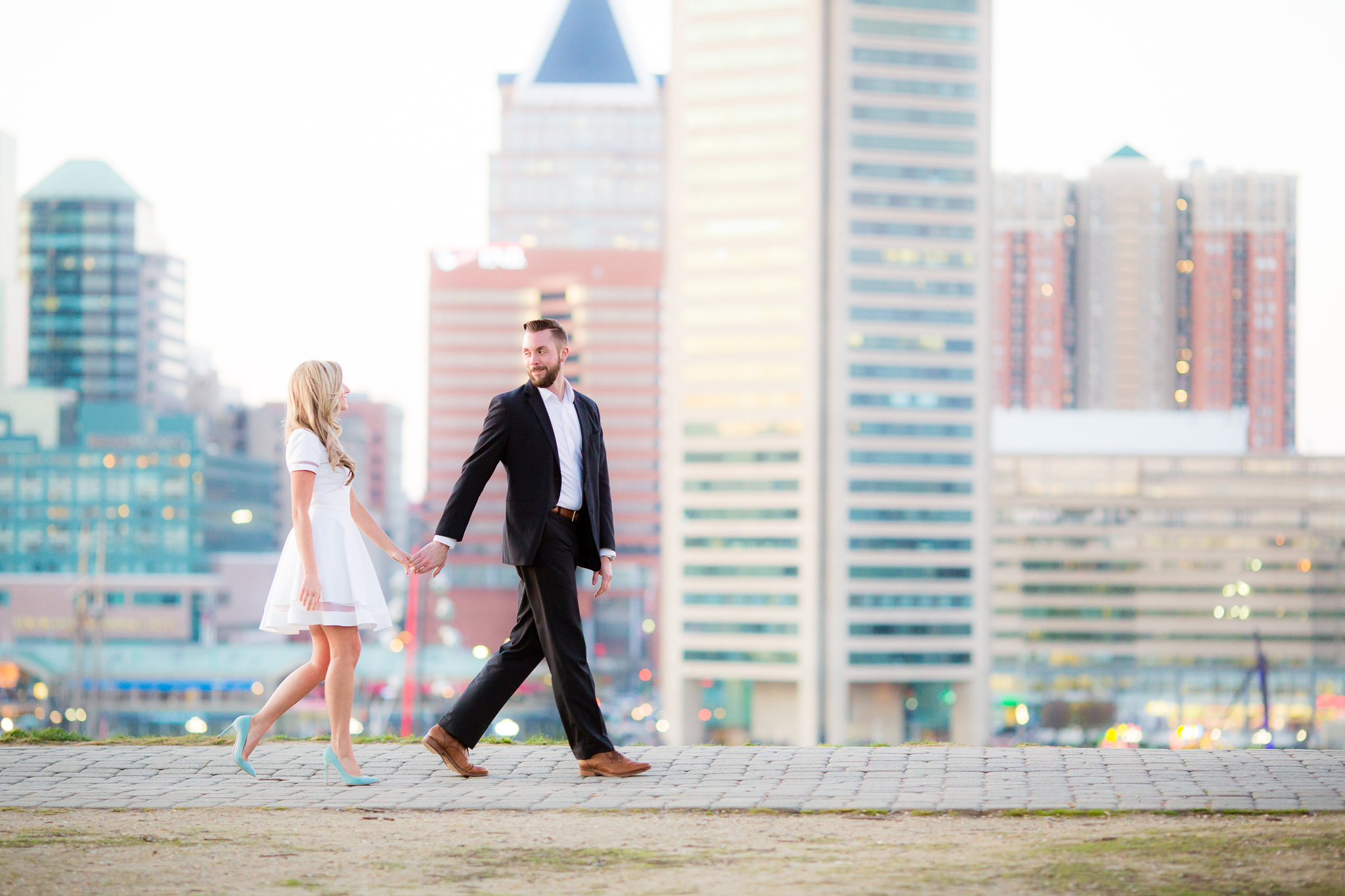 Our Formula for the Perfect Engagement Outfit
Picking the perfect outfit for a photo session can be one of the most difficult experiences BUT it doesn't have to be. I've seen enough outfits that work and don't work that I've cracked the ultimate code for our couples...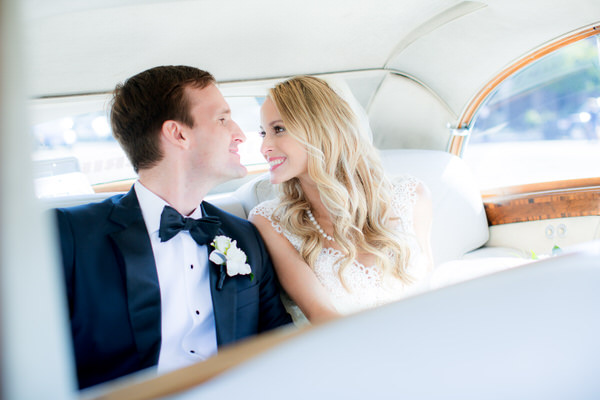 Our Stress-Free Wedding Day Timeline
There's nothing better than a stress-free wedding day when everything runs smoothly, your guests have the time of their lives, and you soak in the day with your sweetie. Though it sounds too good to be true, you can...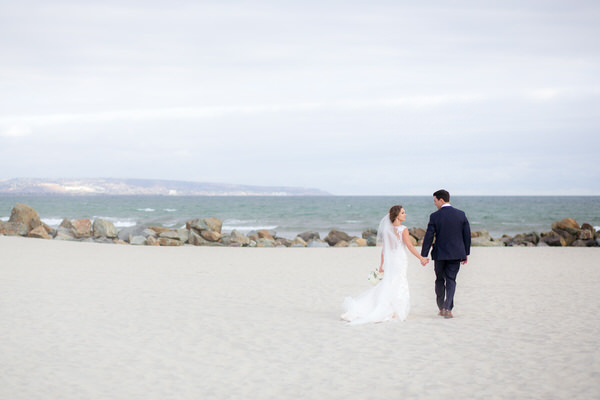 10 Foolproof Tips to Get Gorgeous Wedding Photos
It's the #1 question brides ask: What can I do to get the most amazing photos on my wedding day?
Having been through the in's and out's of countless weddings, I have loads of tips to share, so let's...
We're Jeff and Erin Youngren, a hubby and wifey team that photographs amazing couples and their incredible weddings. Hopeless romantics, BFF's, and mama + daddy to James, we're obsessed with traveling, podcasts, Oreos (Erin) and whiskey (Jeff).