Happy New Year everybody! How fast did 2011 fly by?? I felt like it was yesterday everybody was wearing those funky 2011 New Year's glasses and all of a sudden they turned into 2012. Sheesh.
To keep in the party mood, let's ring in the new year with a party favorite. These Mexican appetizers are sooooo yummy – if I had a Mexican grandma, it would totally remind me of her. The only thing that I find strange though (and perhaps this is my white Idaho girl talking), but the recipe is called 'hand pies' when clearly these are empanadas – right? But then again, 'hand pie' sounds more fancy than empanada so maybe these should be called Chorizo-Pepper Fancy Hand Pies. In any case, make one batch of these for yourself and one batch to stick in the freezer. You'll thank yourself later when you get to pull these out for that last minute dinner party and wow your guests with a flaky, creamy, spicy appetizer.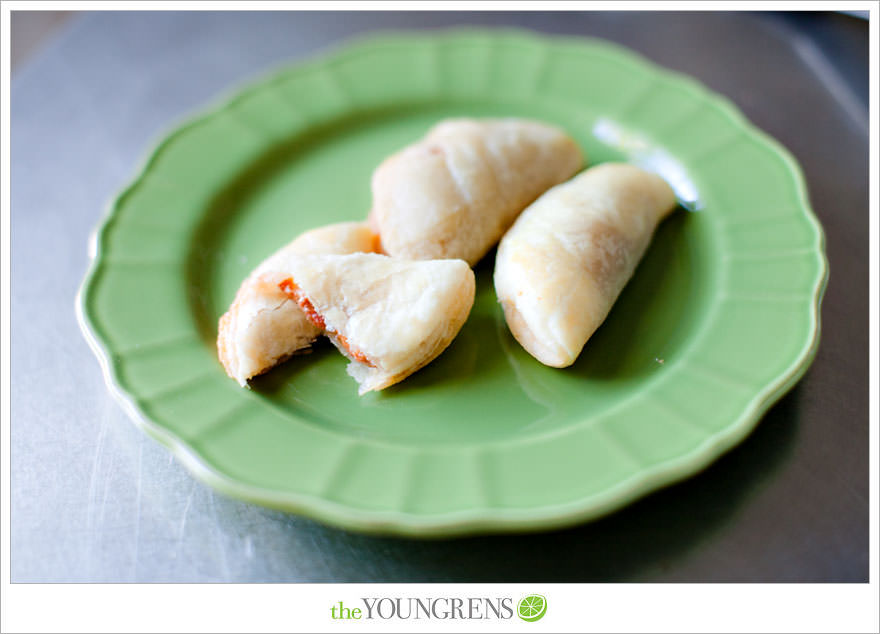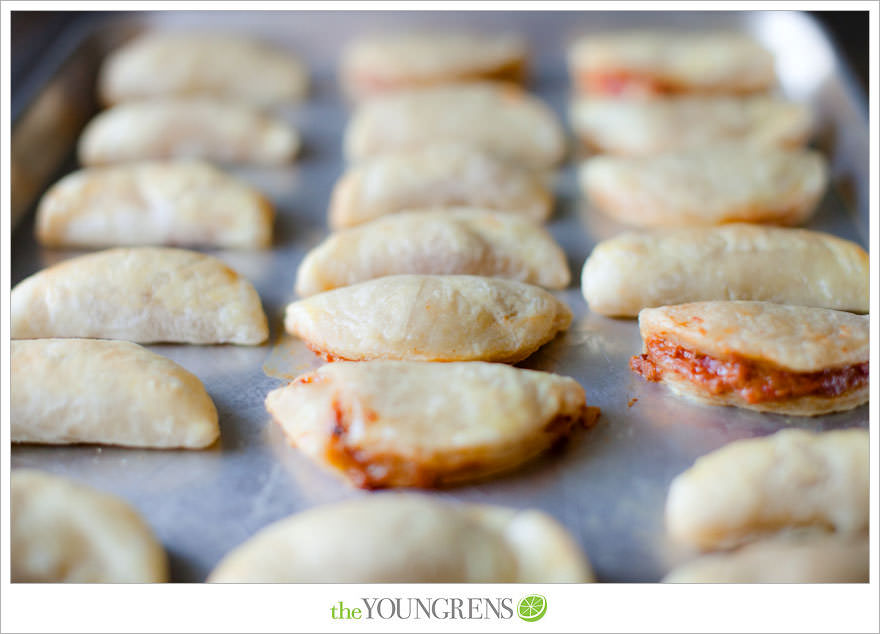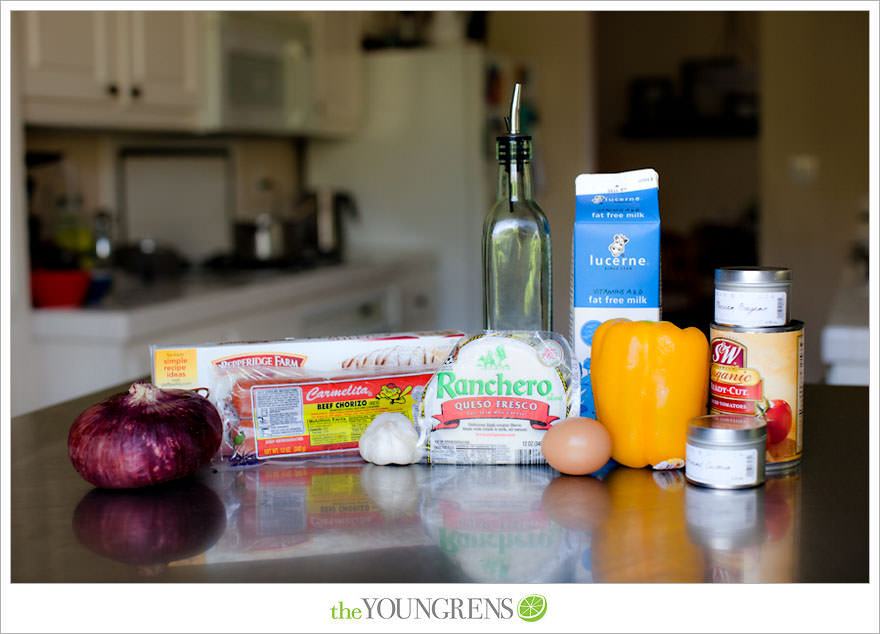 The chorizo is the clear winner of this recipe with it's signature spice and oily flavor.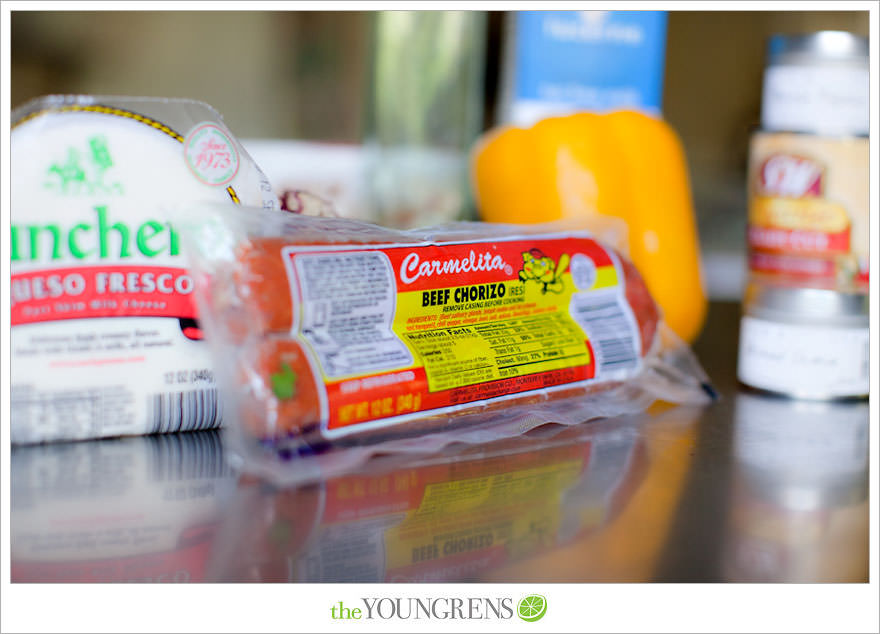 Mix the chorizo with some queso fresco and we've got ourselves a creamy, spicy filling that you'll flip over!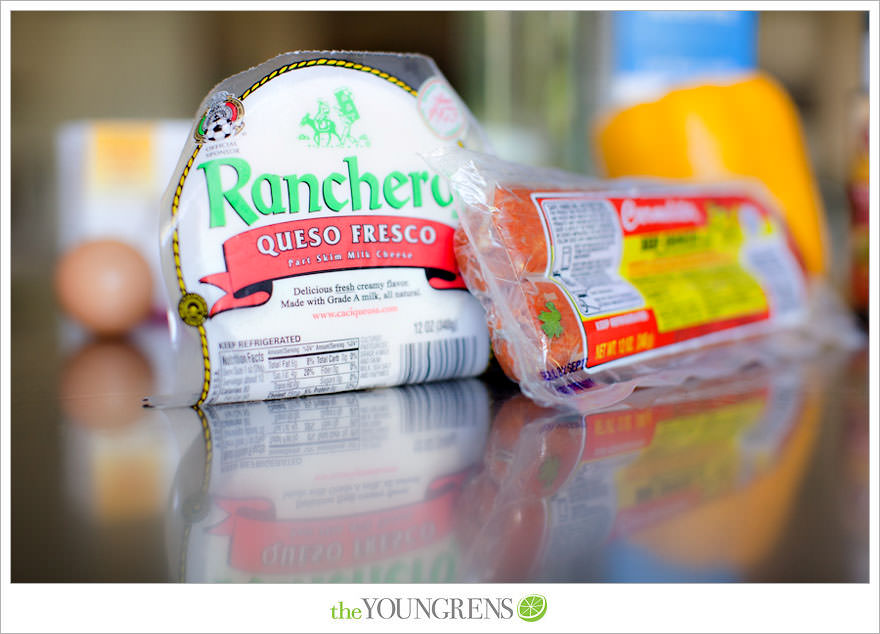 This is the first time I've ever used puff pastry – you should have seen me circling the grocery store trying to find this little package! It was in the back of a freezer in the Jewish section. Ha!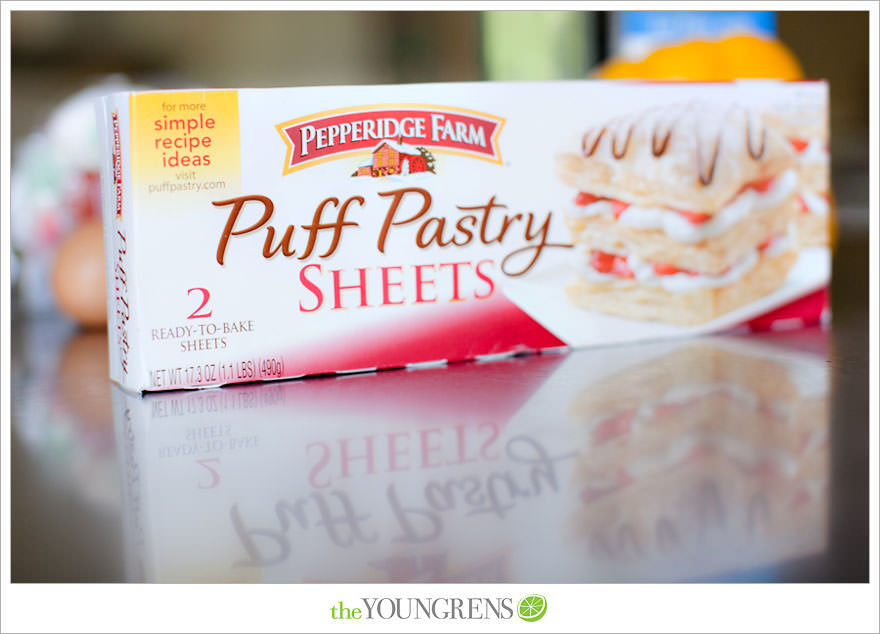 Alright, on to the cooking. First make your filling by sautéing your onion, garlic, and sweet bell pepper until they're tender.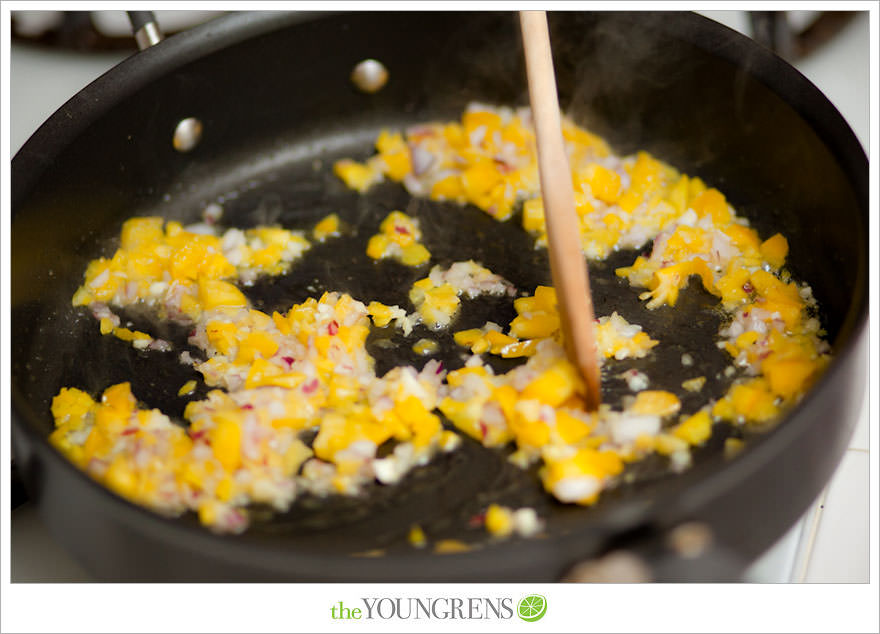 Then add the chorizo, break it up, and cook until it's no longer pink.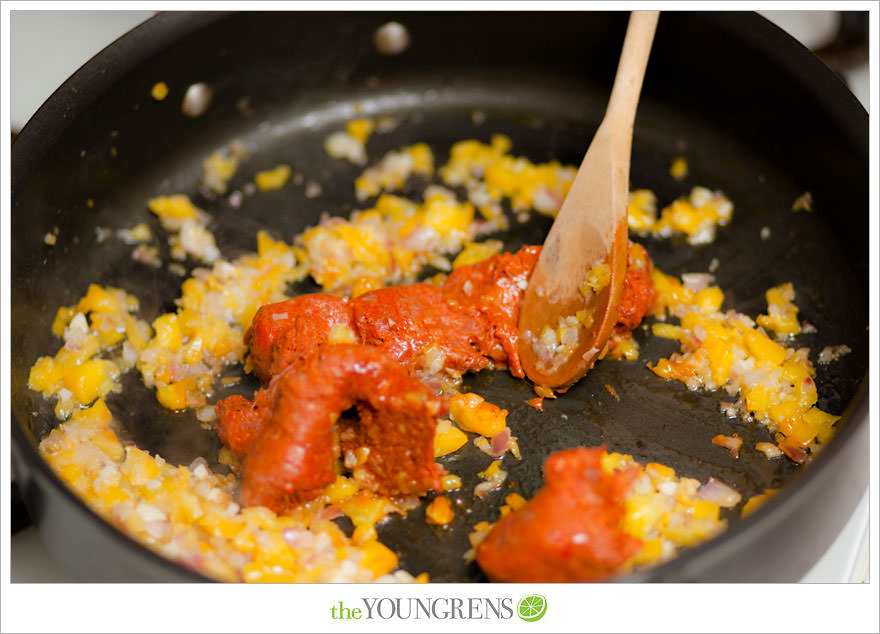 The chorizo will be pretty oily, so drain the fat and move on to the tomato and seasonings.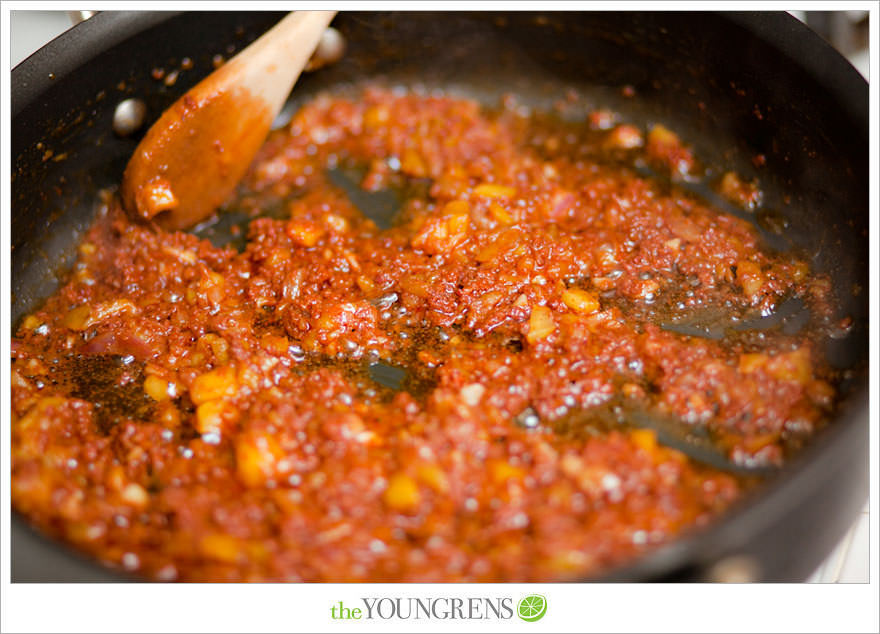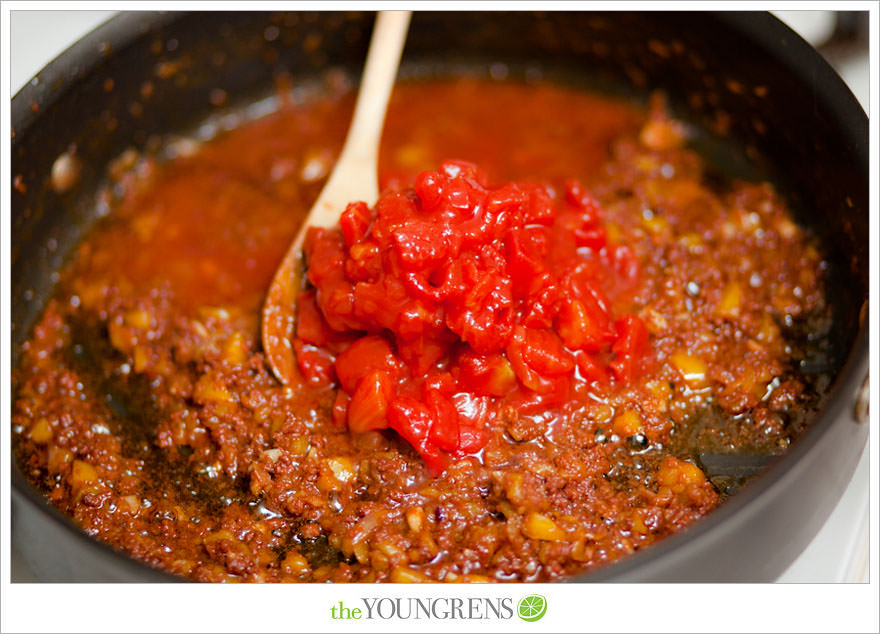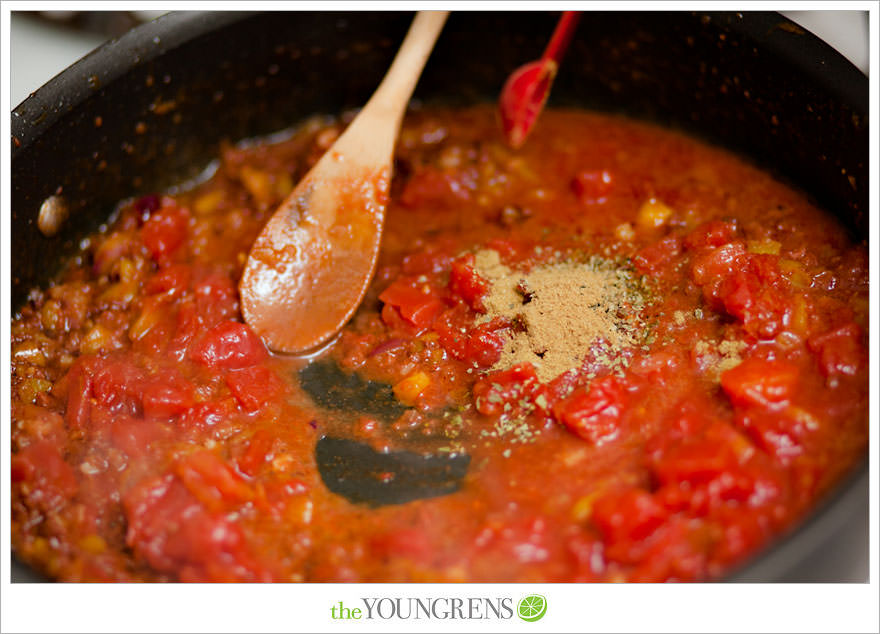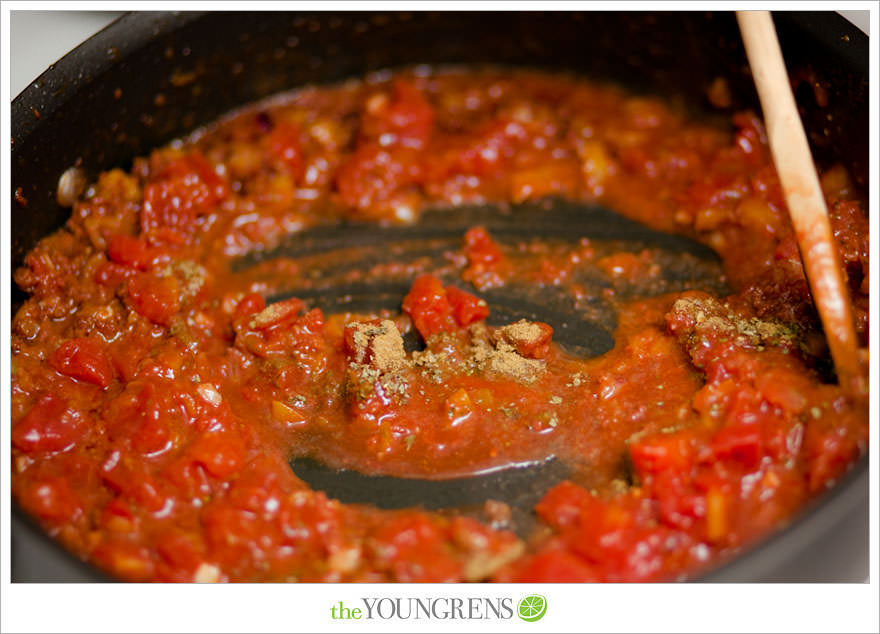 Let the liquids cook off and then stir in the queso fresco.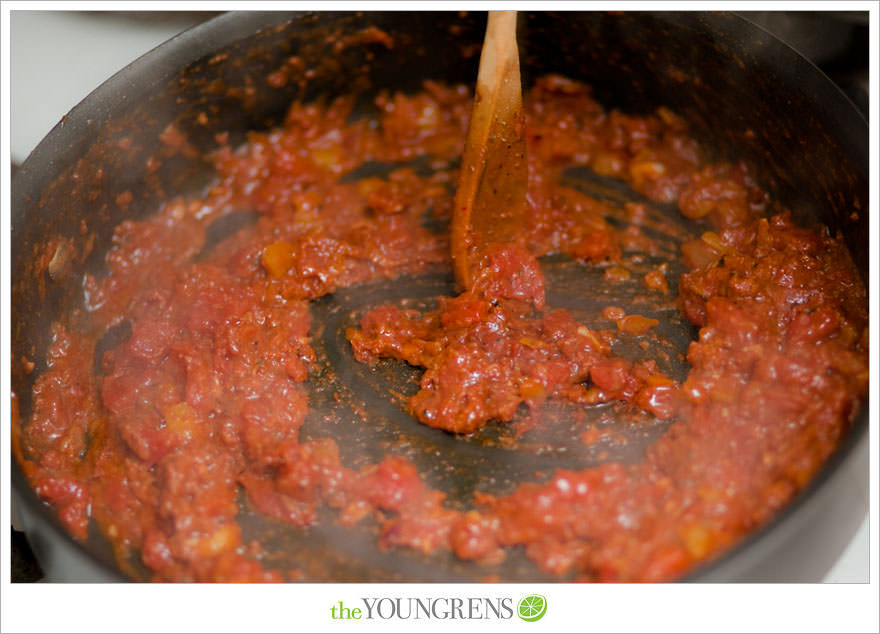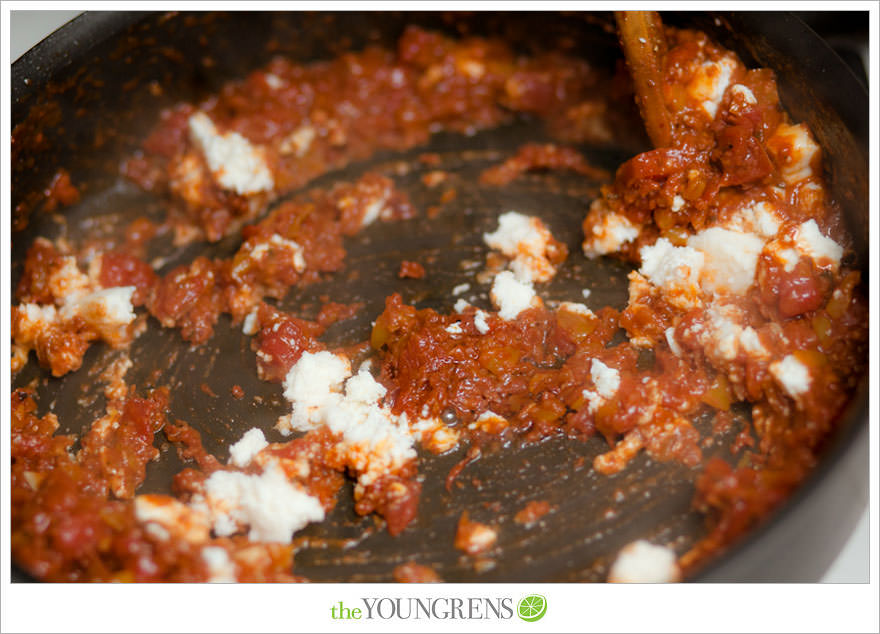 Try just a bit of this filling – ITS SO GOOD. We had some left over after we filled the empanada so we used it as a taco filling and we licked up every bite.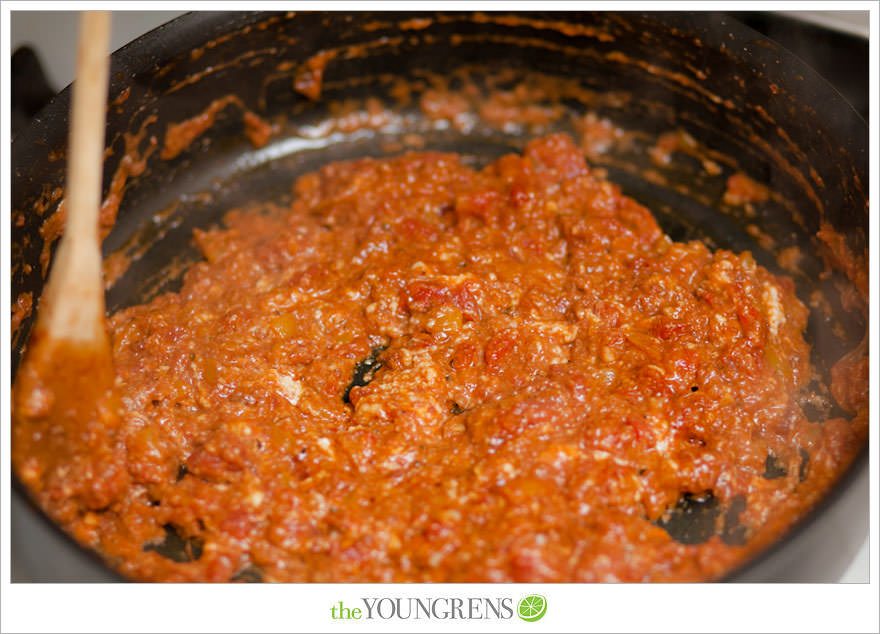 Once the filling is ready, roll out the puff pastry sheets and using a biscuit or cookie cutter (or a small drinking glass like I did) and cut out a bunch of rounds. Put a small dollop of the filling in the middle. And no matter how much you may like the filling, be conservative and don't put too much in or else you'll have filling pouring out the sides once you try to close and seal the empanada. It makes a huge mess – trust me.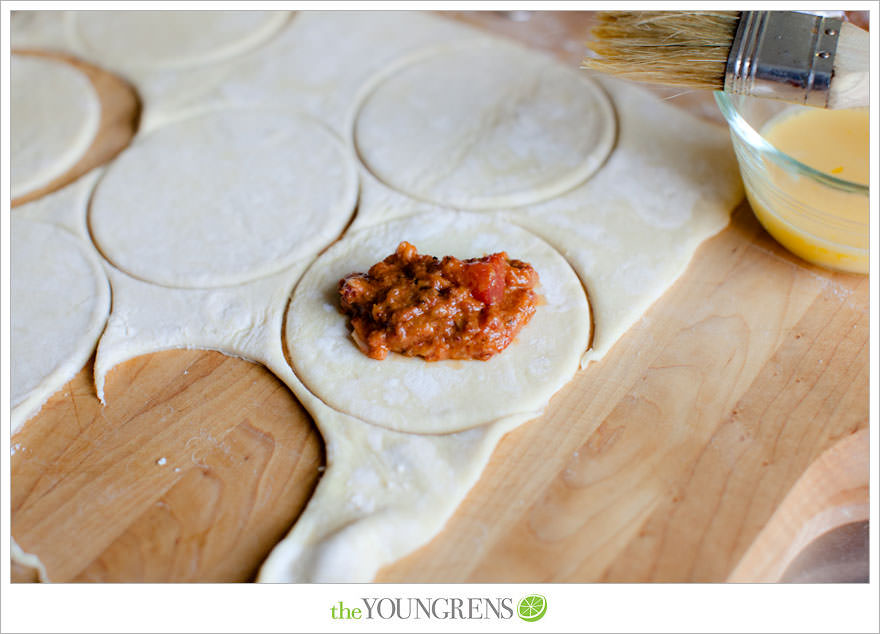 Brush one edge of the circle with a milk and beaten egg yolk mixture.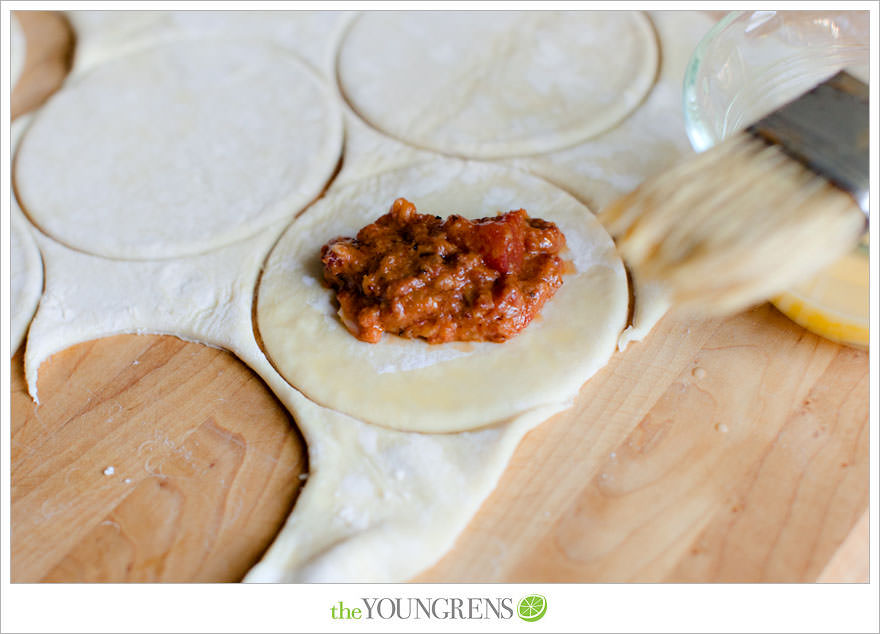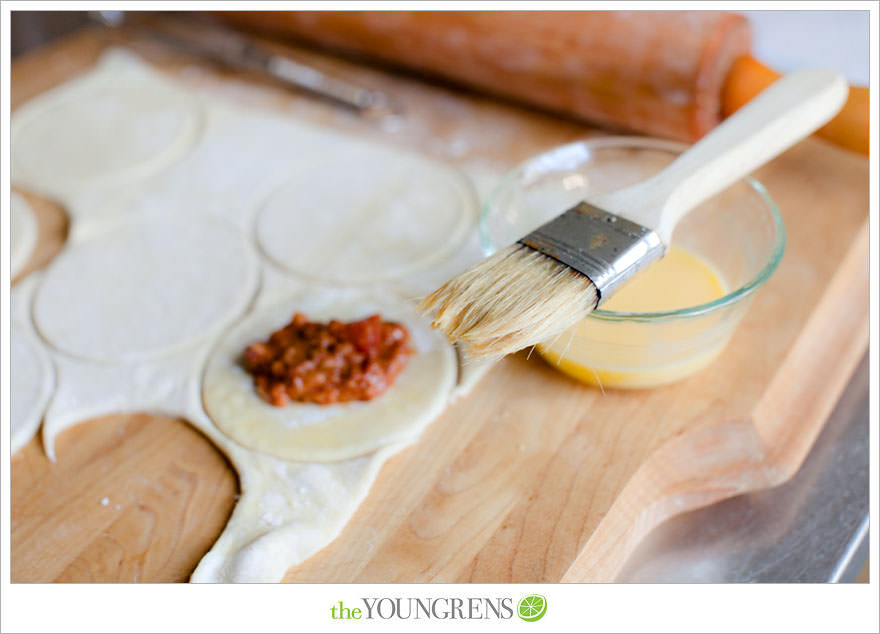 Then stretch and fold the empanada and pinch the edge together to seal.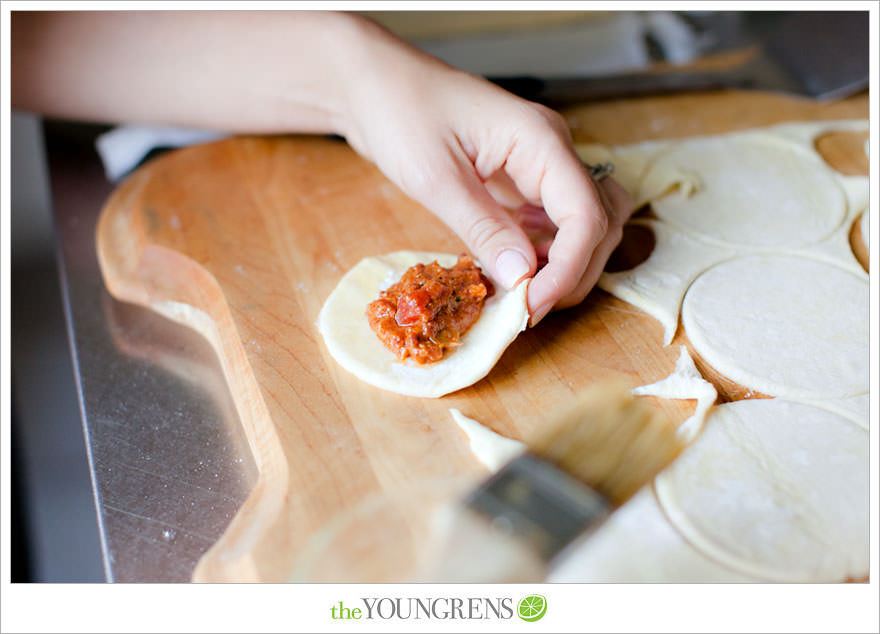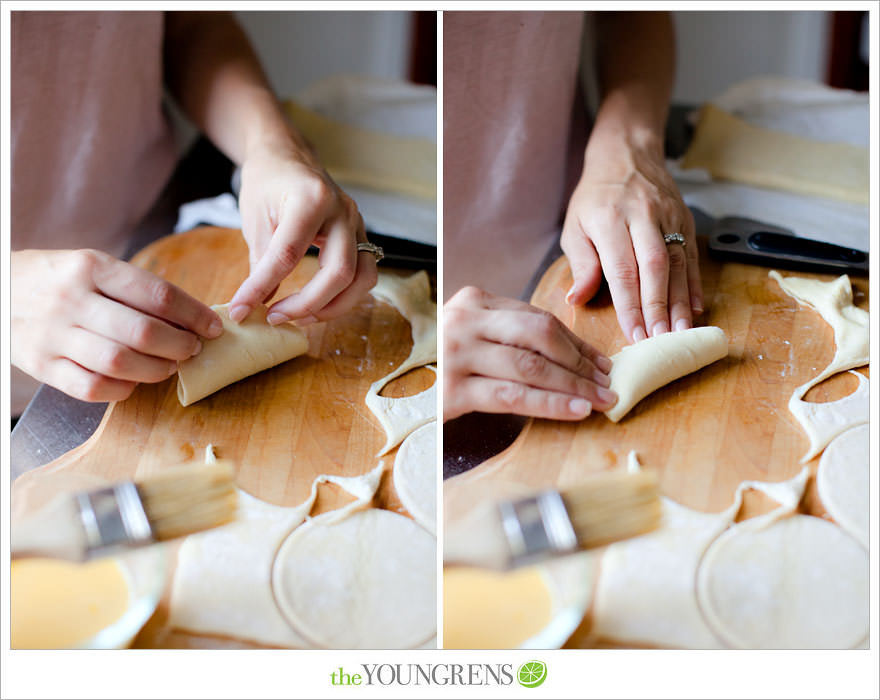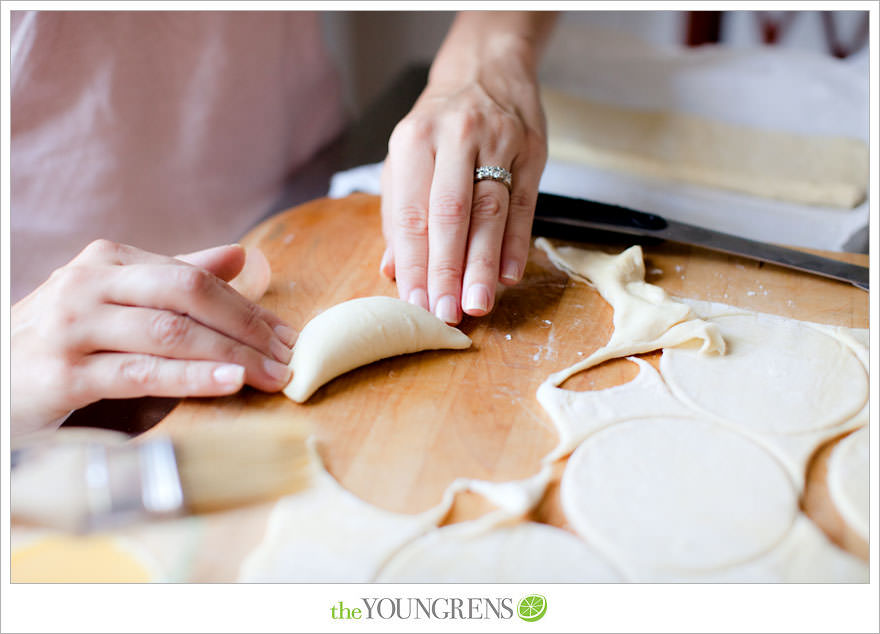 Brush the tops of the empanadas with the egg wash and place on an ungreased cookie sheet.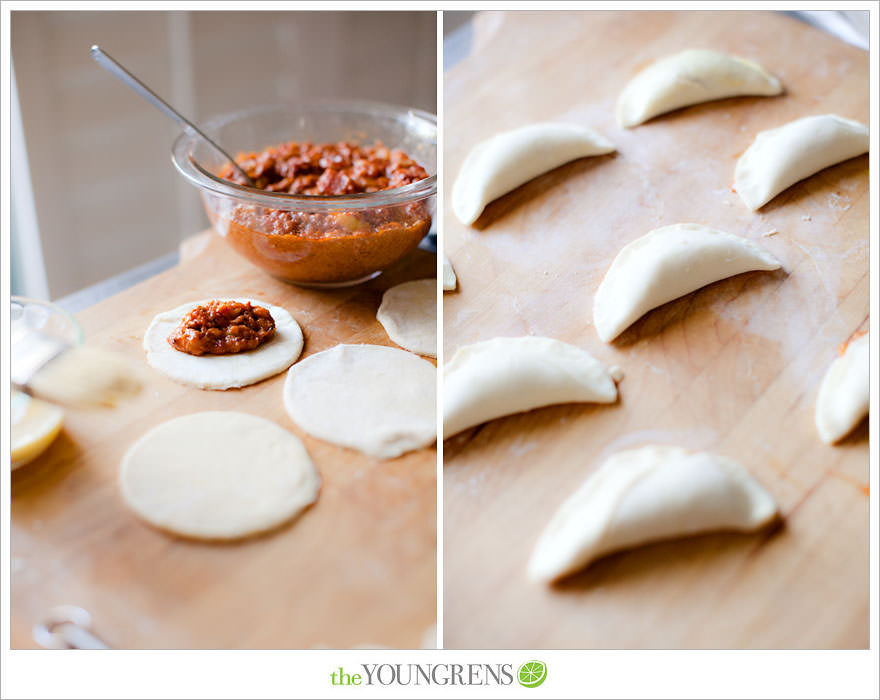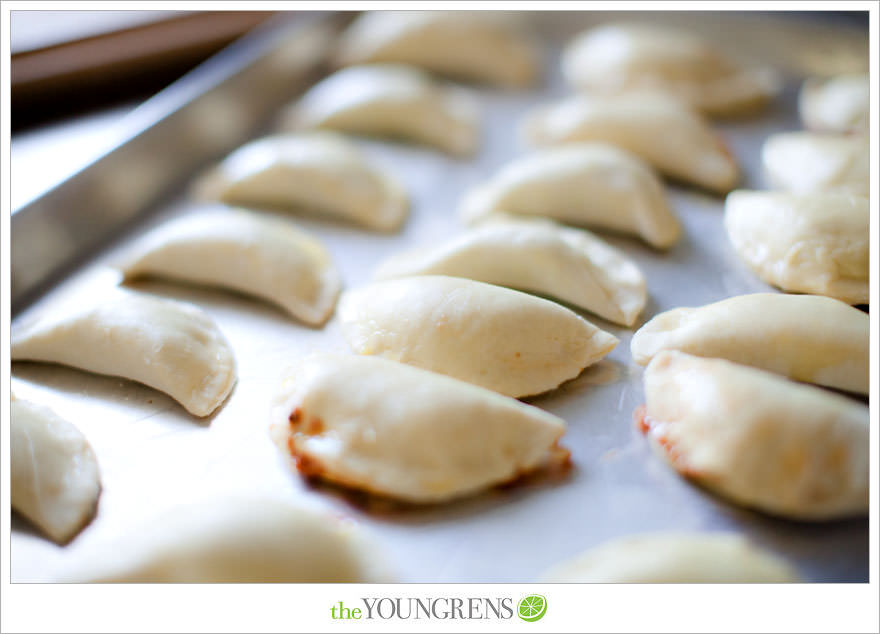 It only takes about 12 minutes at 400 degrees to cook these bad boys. They get super flaky on the outside and gooey on the inside – the perfect combo for a crowd-pleasing appetizer!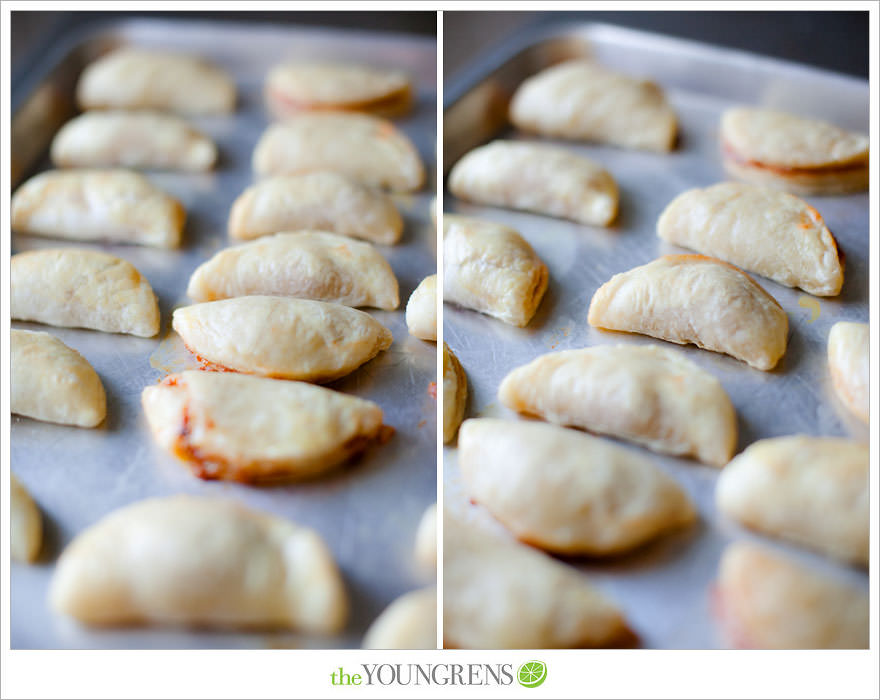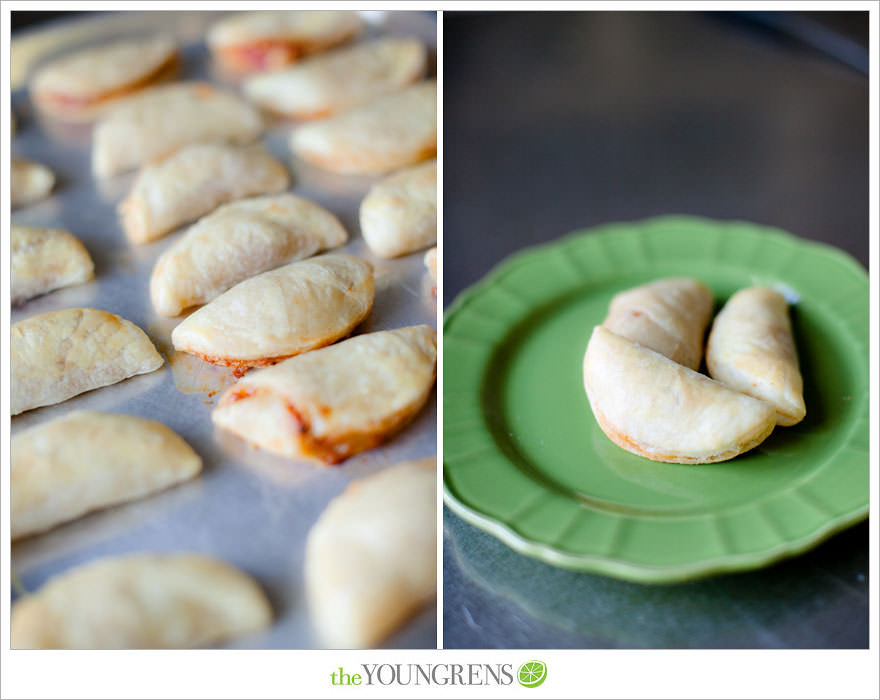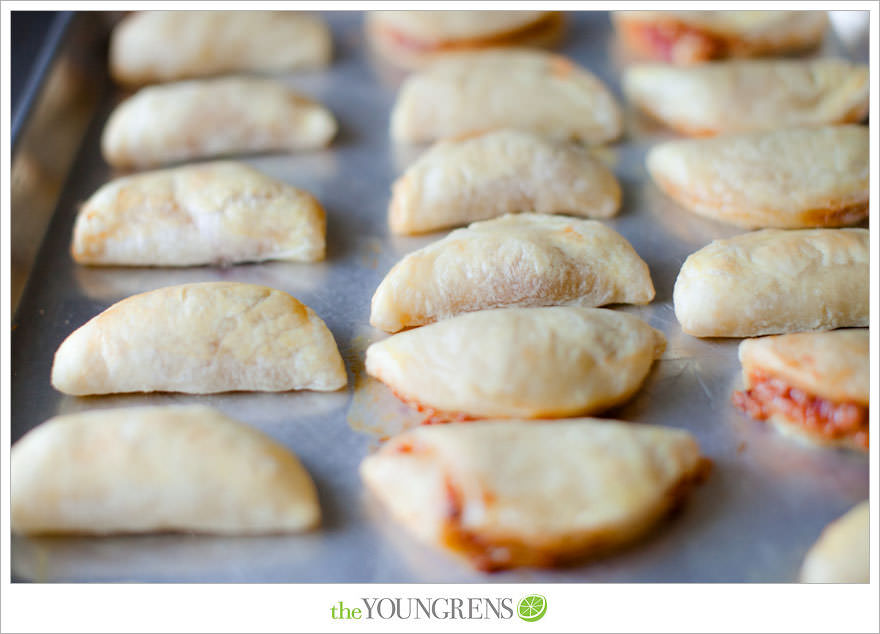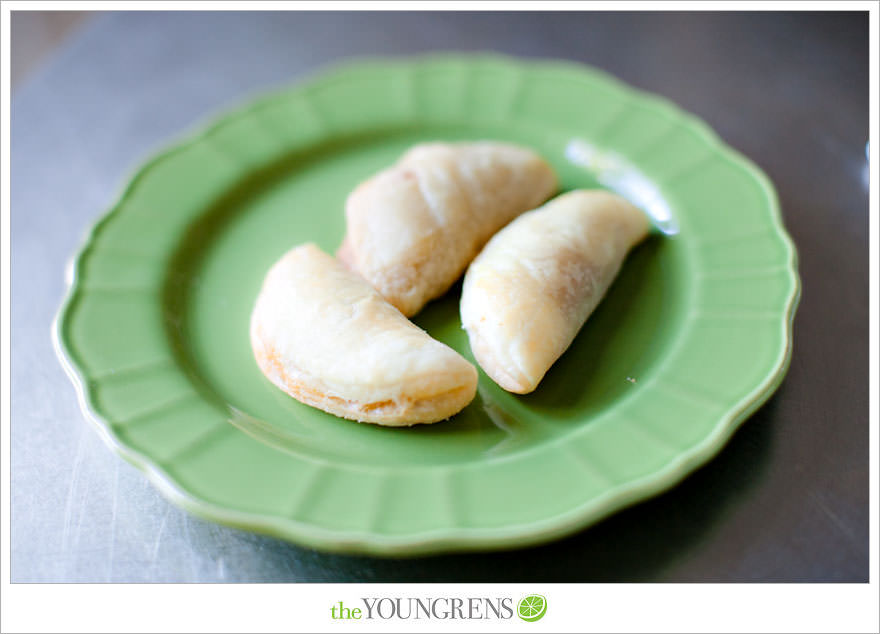 Chorizo-Pepper Hand Pies
(see the full recipe and nutrition info here)
tablespoon extra-virgin olive oil
1/4 cup finely chopped red onion
2 cloves garlic, minced
1/2 a yellow sweet pepper, seeded and finely chopped
5 ounces uncooked chorizo sausage
1/2 cup chopped tomato, fresh or canned
1 teaspoon dried oregano, crushed
1/2 teaspoon ground cumin
4 ounces grated queso fresco (3/4 cup)
1 17.3 ounce package frozen puff pastry sheets (2 sheets), thawed
1 egg yolk, lightly beaten
1 tablespoon milk
1 recipe Sweet Pepper Topper (optional)
Taco sauce or salsa (optional)
1. Heat the oil in a large skillet over medium heat. Add the onion, garlic, and sweet pepper and cook, stirring occasionally, until tender, 7 minutes. Add the chorizo, stirring occasionally, and breaking up the sausage, until the sausage is no longer pink, 5 minutes. Drain fat. Return to heat and add the tomato, oregano, and cumin to the meat mixture and simmer, uncovered, until the mixture is almost dry, 5 to 8 minutes. Season with salt and black pepper. Let cool. Add the queso fresco and stir to combine.
2. Preheat oven to 400 degrees F. On a floured surface with a floured rolling pin, roll the puff pastry to 1/8-inch thickness. With a 3-1/2-inch round cookie cutter, cut 24 circles. Place 1 tablespoon filling in center of each circle. Combine beaten egg yolk with milk. Brush edges of half the circle with egg wash. Fold circle over to enclose filling; pinch edges together to seal. Brush tops with egg wash. Place on an ungreased baking sheet; bake 12 minutes or until golden brown.
3. Serve warm topped with Sweet Pepper Topper and taco sauce for dipping. Makes 24 hand pies.
Hugs,
Erin