I'm gonna be honest. My favorite part of doing Recipe Sundays here on the bloggy blog may be photographing the food. In between Recipe Sunday Madness Weekends where Jeff and I spend two days photographing recipes, I pore over my Martha Stewart, Food & Wine, and Better Homes and Gardens magazines analyzing the food photography. How exactly does the light react to plate of goat cheese and does it look best at three-quarters or straight on? Should the final serving plate be colored or just white? What garnishes do they use for the final prep and what apertures look best for a mouth-watering image?
Total photo-nerd.
But in all seriousness, I like to think that if I wasn't shooting couples, I would want to photograph food. But mostly to eat the gourmet food afterward. I'll do basically anything for food. Even shape my career around eating it.
Today's fresh dessert recipe is crazy simple in it's prep, but STUNNING in it's look. Inspired by an editorial on chilled soups from an old issue of Martha Stewart Magazine, I decided to shoot this recipe looking straight down on each step. It was fun. And these may be my favorite recipe photos I've ever taken.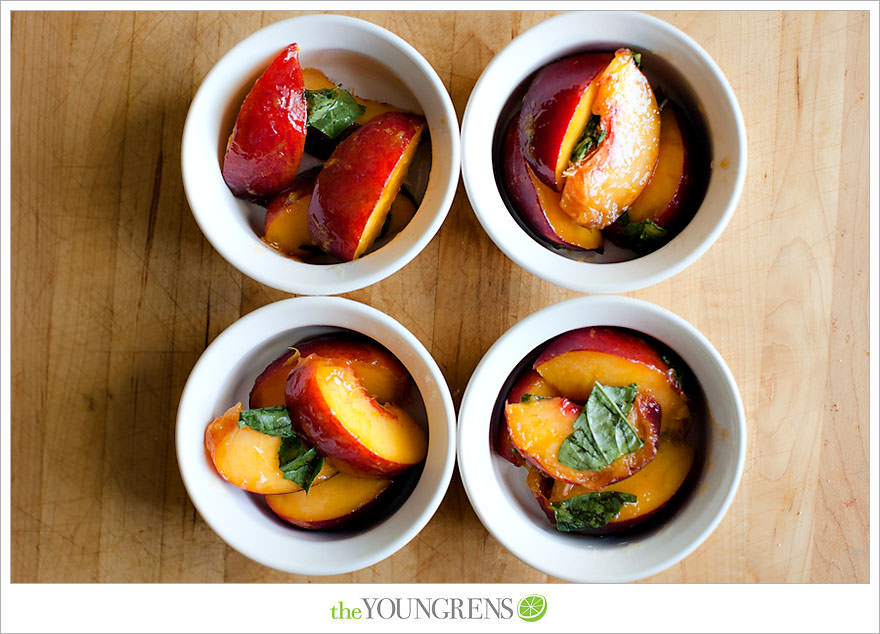 All of the ingredients are fresh and wonderful. Ripe peaches, fresh basil, and an almond crumble topping are the stars of this surprisingly yummy dish.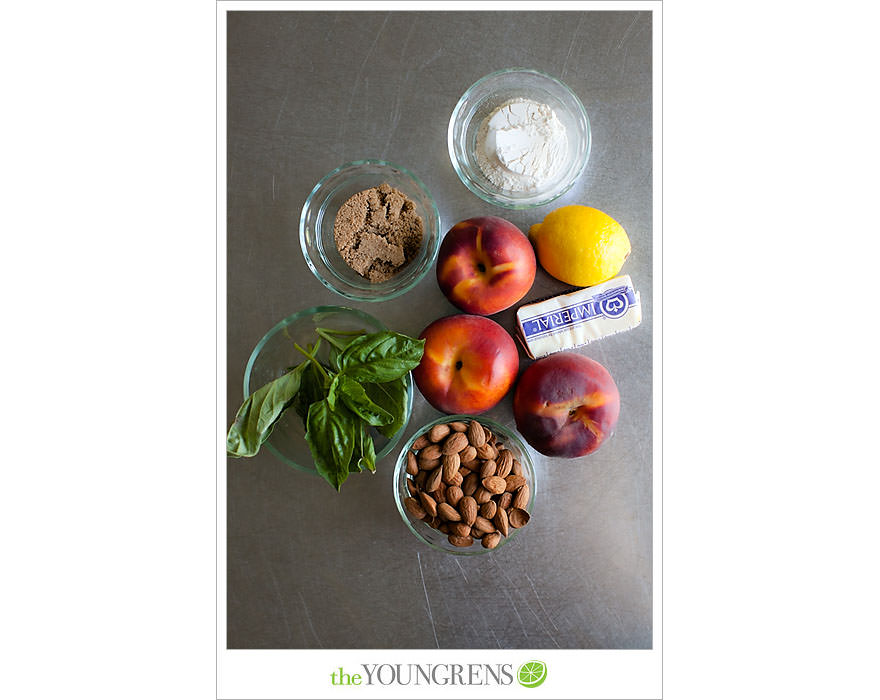 First, slice up your peaches into bite-size pieces.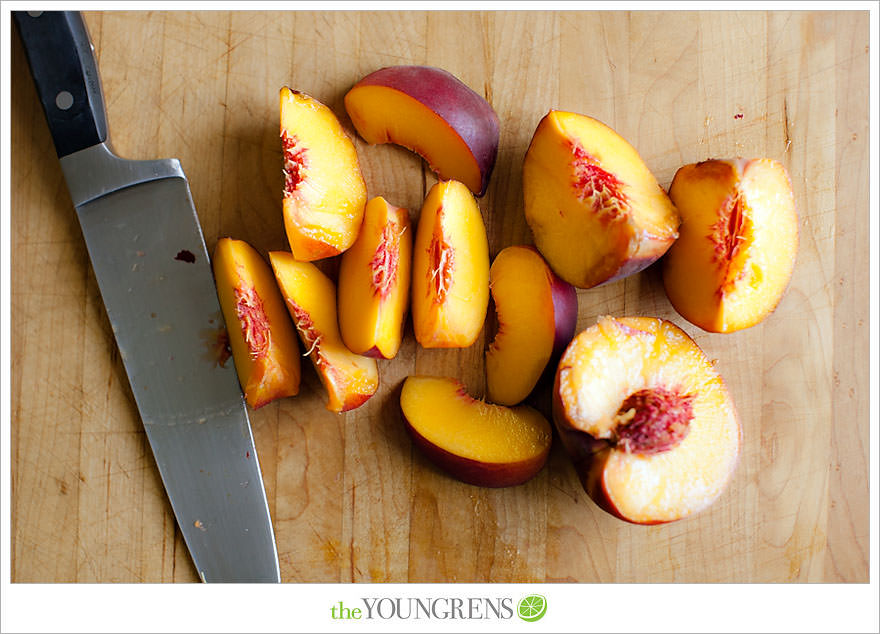 Toss the peaches with granulated sugar, torn apart basil leaves, lemon zest, and a pinch of salt.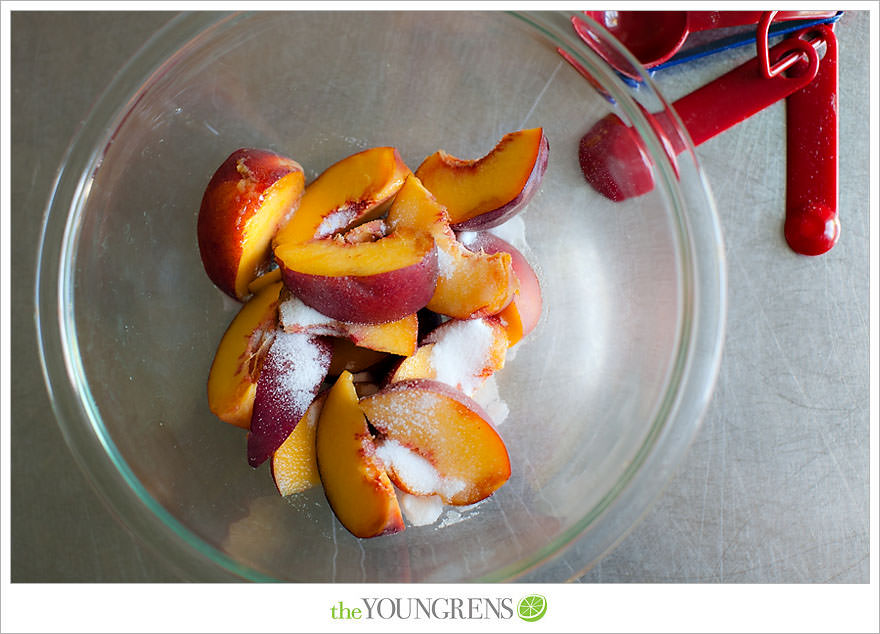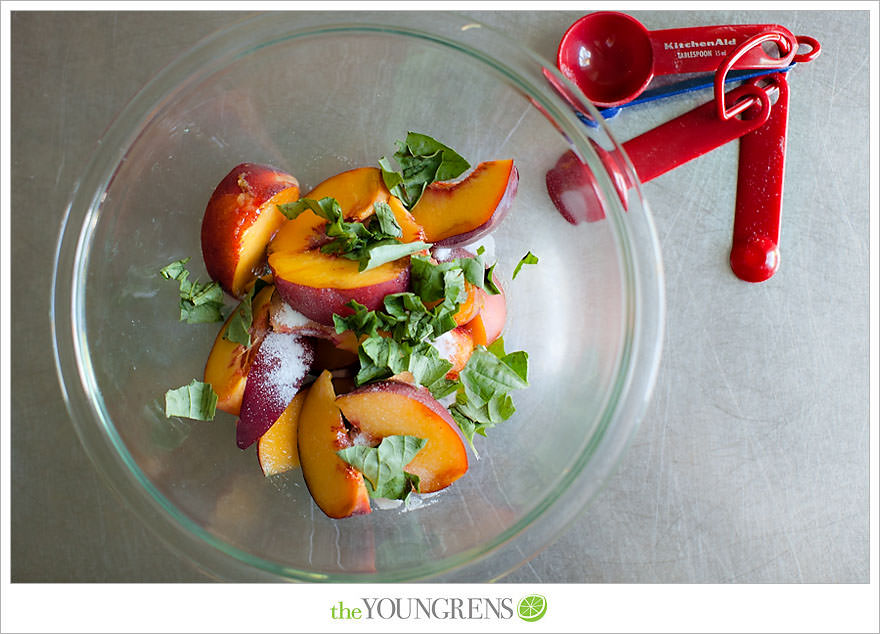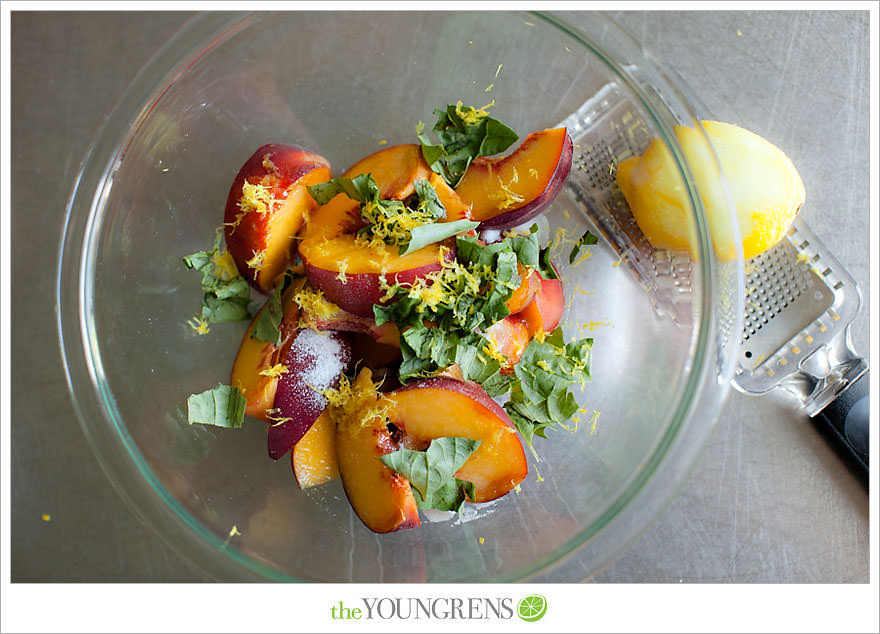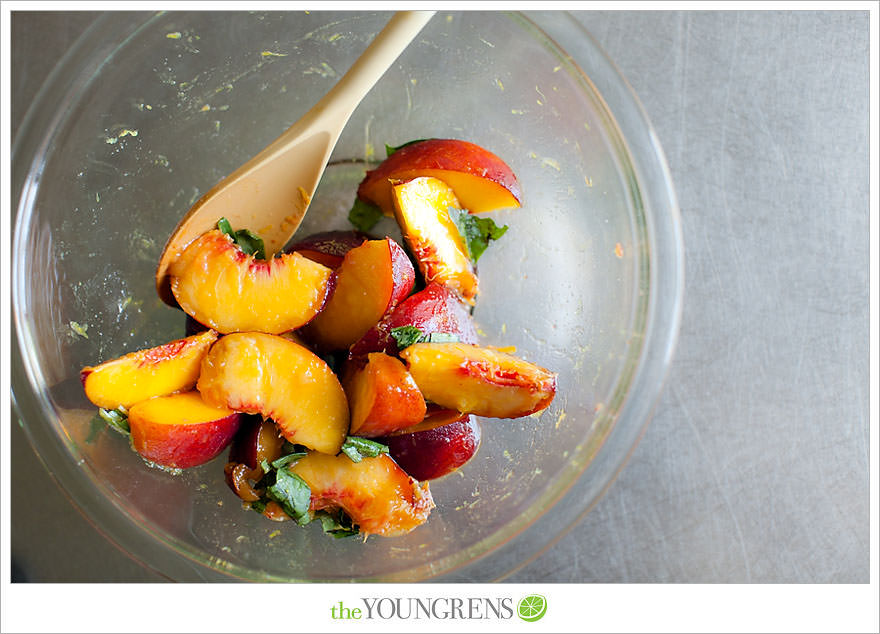 This is the first time I've used almonds for a crumble topping and I'm a HUGE fan. It tastes so much crisper and lighter than an oat topping. For the crumble topping, combine chopped almonds, and equal parts brown sugar and flour. Cut in some butter with your fingers until the mixture is crumbly.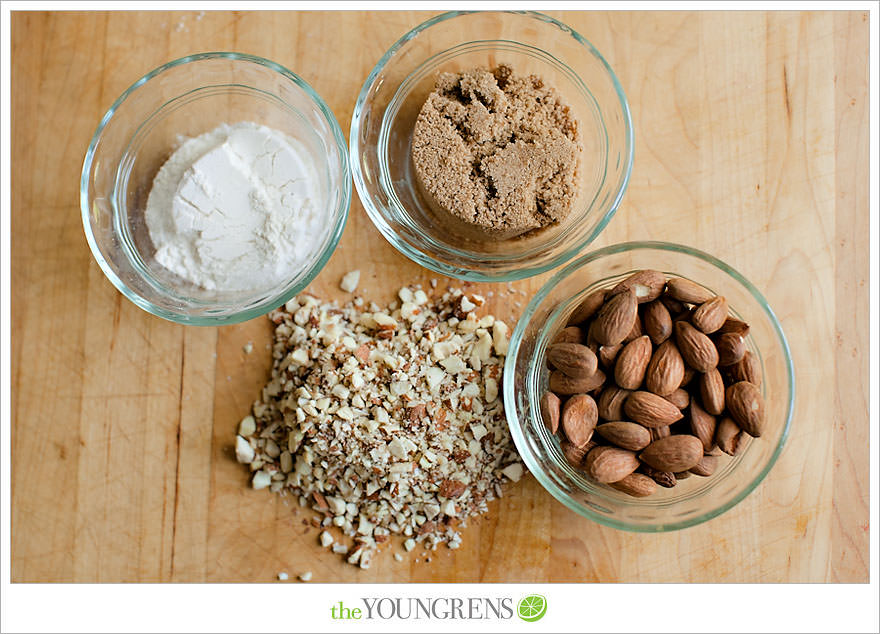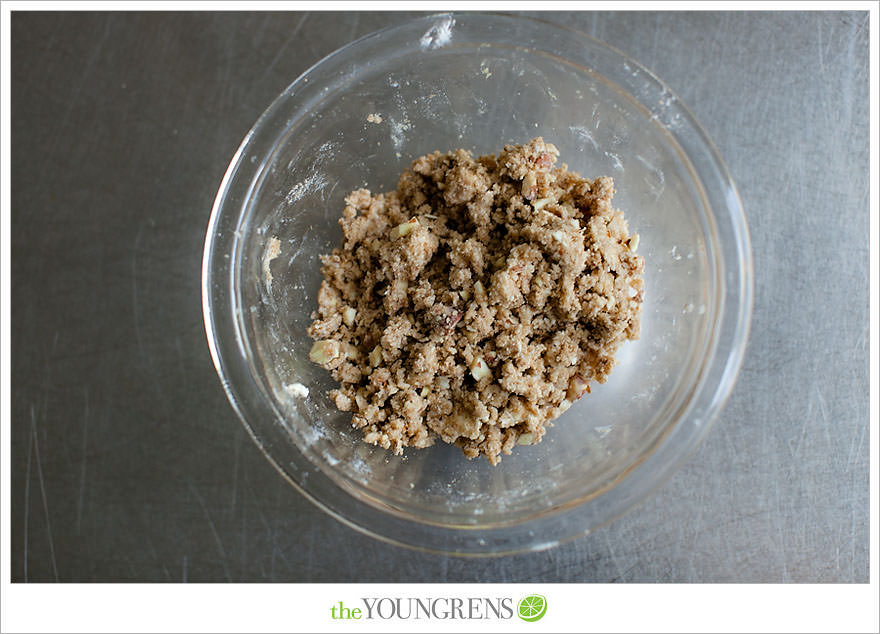 Divide the peach filling among individual round baking dishes and sprinkle with the topping.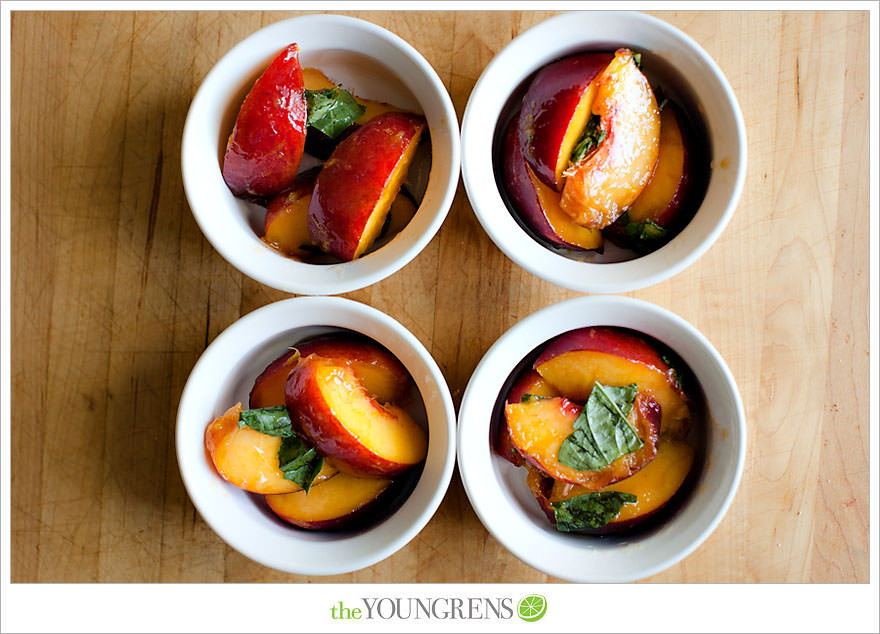 Place them on a baking sheet and bake until bubbling and golden brown, about 25 minutes.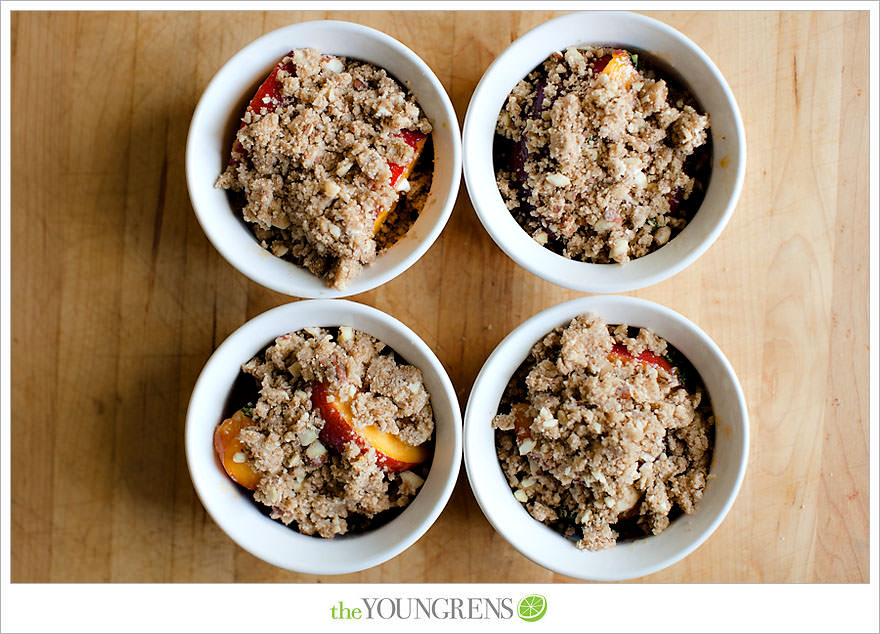 The basil will make your house smell wonderful while it bakes, and each dish is cute and personal for dinner parties. If I were to serve this for dessert, I would make the filling and topping before guests come over, and put them in the fridge separately until dinner is over. Then mix the two together and bake them while you chat over coffee, play games, or let everyone's bellies settle until you're hungry for dessert.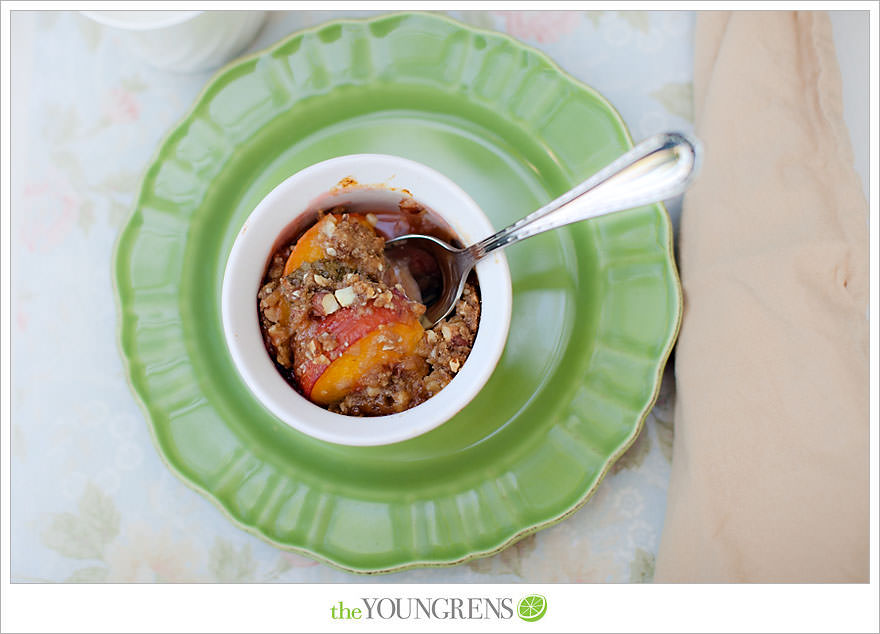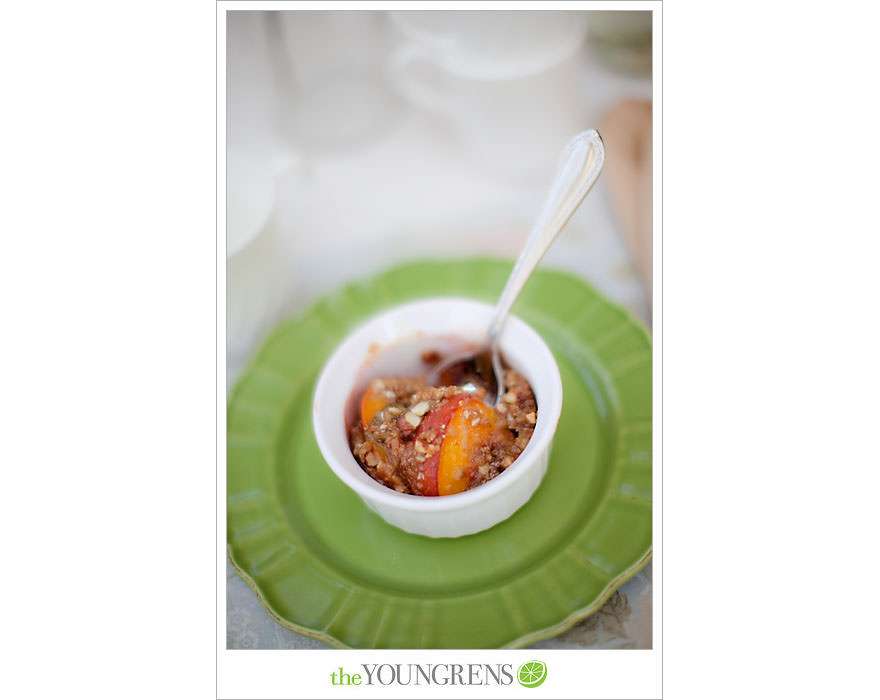 Fresh Peach and Basil Crumbles
For the Filling:
4 ripe peaches, pitted and sliced into 8 wedges
1 tablespoon granulated sugar
1 tablespoon fresh basil (3 to 4 leaves, torn if large)
1/2teaspoon grated lemon zest
1/4 teaspoon coarse salt
For the Topping:
2 ounces chopped almonds (1/3 cup)
1/3 cupe packed light brown sugar
1/4 cup plus 2 tablespoons all-purpose flour
1/4 teaspoon coarse salt
1 1/2 ounces (3 tablespoons) cold unsalted butter
Heavy cream, for serving (optional)
1. Preheat oven to 400 degrees. Make the filling; Mix all ingredients to combine.
2. Make the topping: COmbine all ingredients (except cream), rubbing in butter with your fingers until mixture is crumbly.
3. Divide filling among four 5 1/2-inch round baking dishes, and sprinkle with topping. Transfer to a baking sheet. Bake until bubbling and golden brown, 25 to 27 minutes. Let cool slightly. Drizzle with heavy cream if desired.
Hugs,
Erin