Happy Lovebirds Week!! In honor of Valentine's Day , we have a very special dessert coming your way today – not only does it taste like a millions bucks, but it's GORGEOUS to look at. And isn't that what love is really all about? A sweet soul wrapped up in a cute little package that you could just gobble up? Awww yeah…
What I love most about this sweet and sassy pie is that it's just the right balance of sugar and tart, with the creamy pears mellowing out the lip-smacking cranberries. It's the perfect treat for your honey so surprise them with this quick and easy dessert that looks waaaaaaay more complicated than it really is. Shhh… don't tell anyone though… You can still pretend you spent hours in the kitchen today instead of hours in your PJs on Pinterest…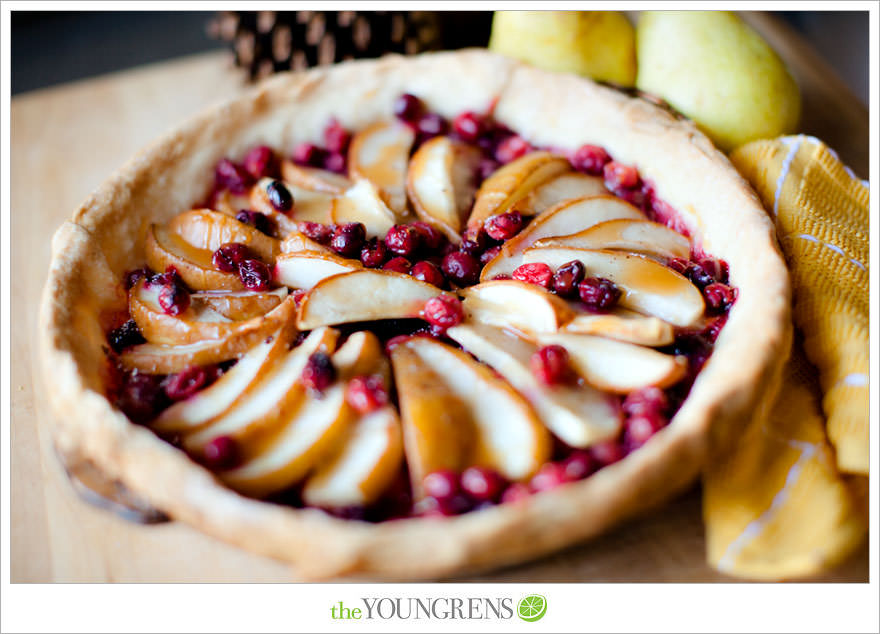 For the filling, you'll need just a few fresh items and a handful of ingredients from the pantry. Pears are perfectly in season right now, so grab some of those along with a cup of fresh or frozen cranberries (I used frozen and thawed them out).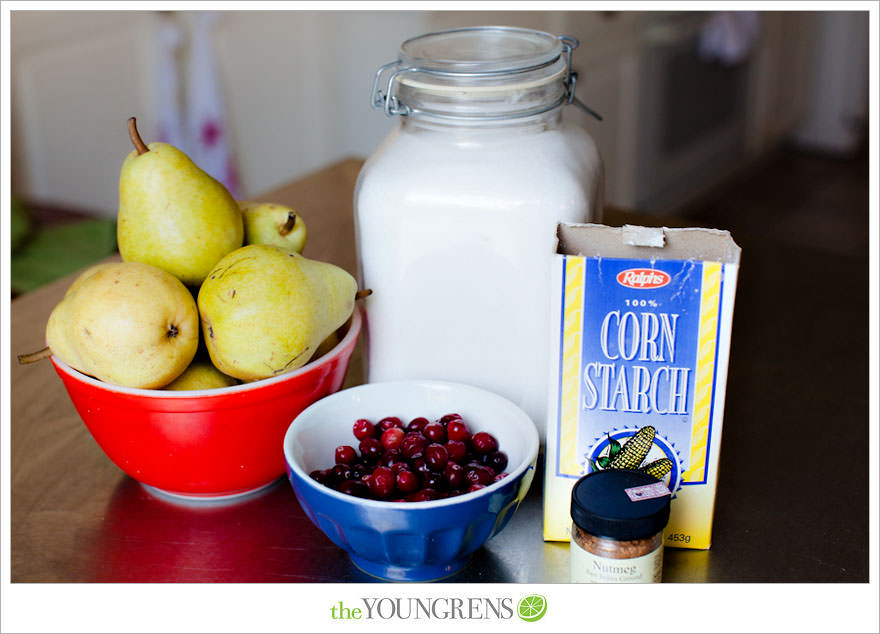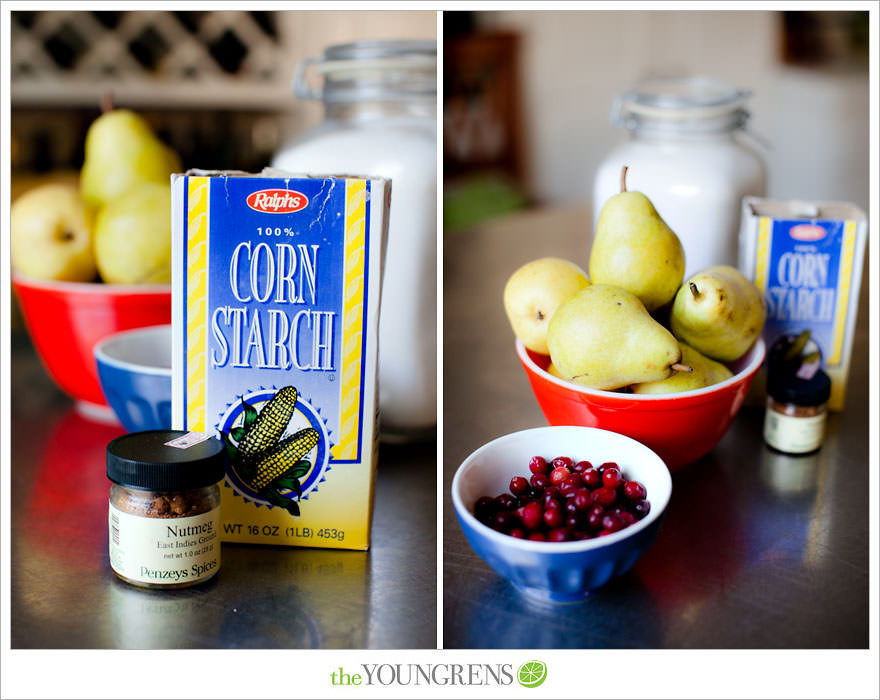 Thinly slice 7 or 8 pears. Make sure the slices are even and pretty. I can make things look pretty hacked, so I had to be extra careful.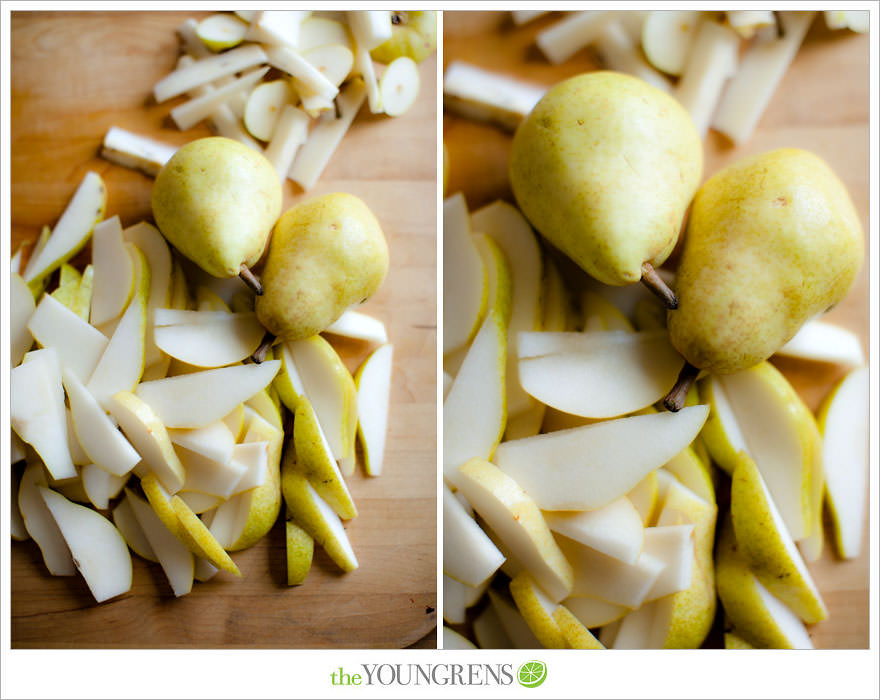 Then combine sugar, cornstarch, apple cider or water, and nutmeg.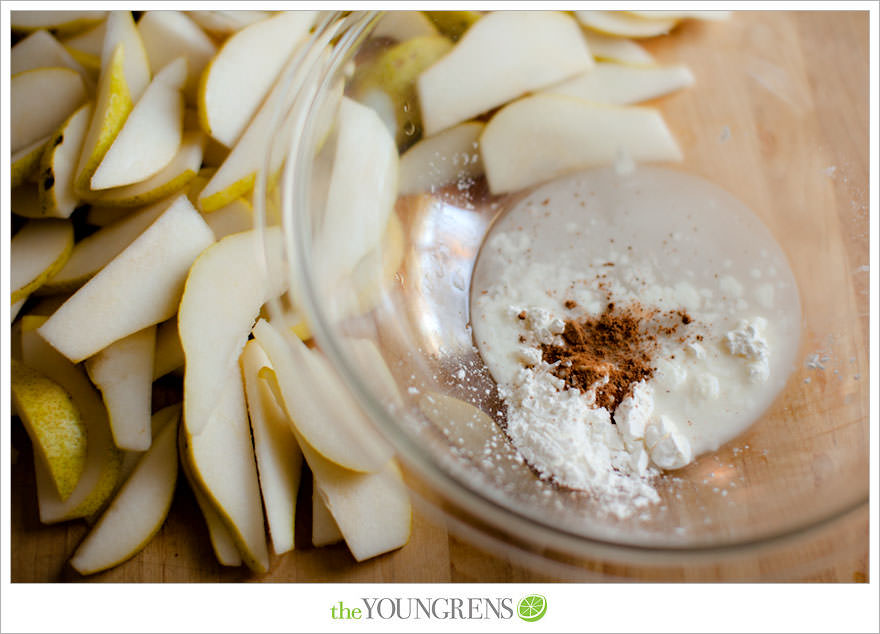 Set this aside while you assemble your pie crust and fruit.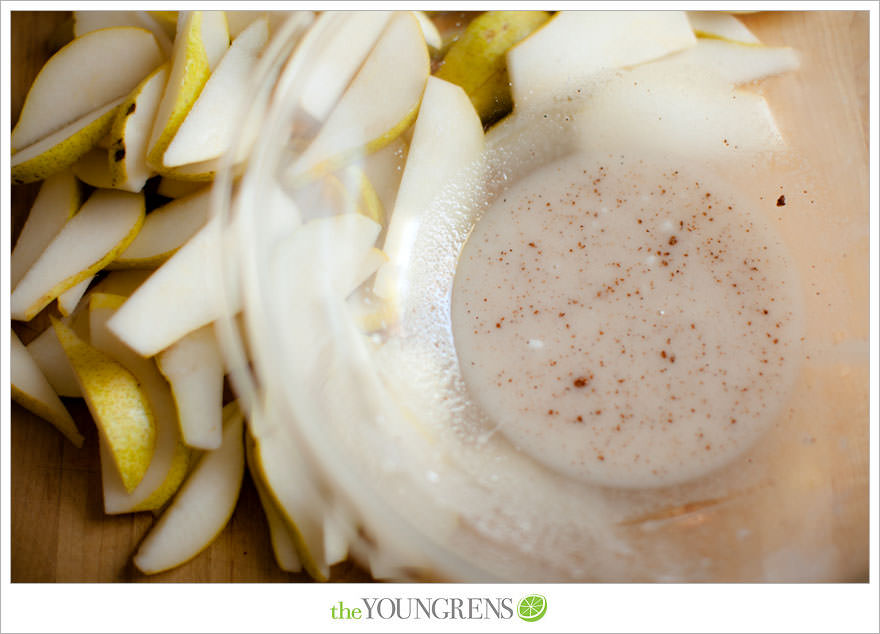 Now I am all about buying a store bought pie crust – I've made one too many dry, chewy pie crusts in my lifetime so I'm all about making things easy on myself. BUT when it comes to making a pie on the fly, it's helpful to know how to make your own yummy melt-in-your-mouth crust. So here's a quick demo…
First you'll need 1.5 cups flour, 1/2 cup of shortening, and 1/4 teaspoon salt. This is for a single crust pie, so keep that in mind. I use shortening because it so much easier to handle. They say butter tastes better, but the dough doesn't stay together very well and can be extremely sticky, so I've never had a good experience with it. Also, you'll need to make sure your shortening is COLD in order to produce a flaky crust. As soon as you decide to make a pie, stick your shortening in the freezer. And then remember to take it out again…
Next, mix the flour and salt together and then cut in your shortening using a pastry blender. You can use your fingers to do this part too, but it will warm up the shortening, so be careful. Cut in the shortening until it's pea-sized crumbles.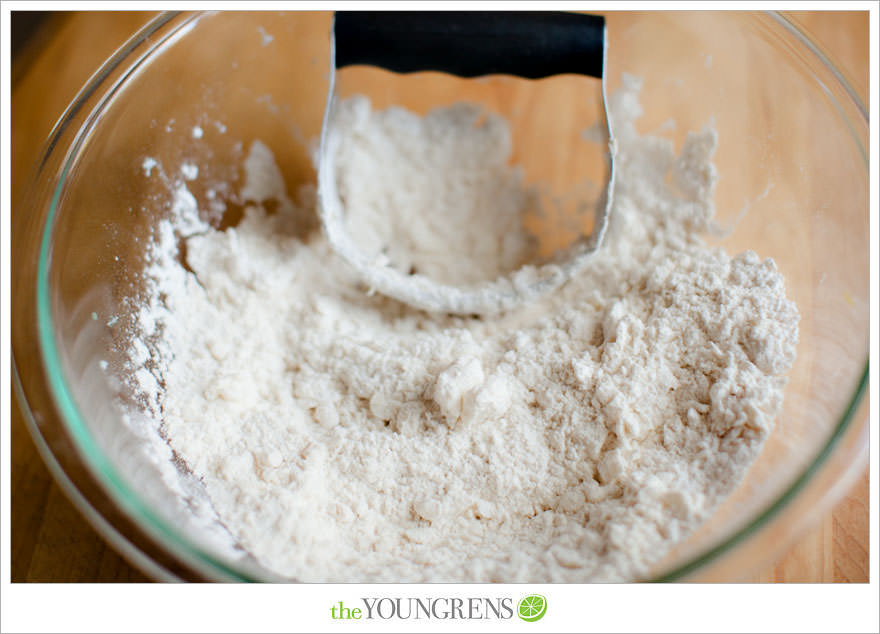 Then slowly sprinkle in a few tablespoons of COLD water (I put an ice cube in the water to help keep it frigid). Mix the water in with a fork or your fingers until the dough just sticks together in a ball. Be careful not to add too much water. As with any baking, there's a fine balance to the ingredients and any one step could throw off the whole thing. No pressure right?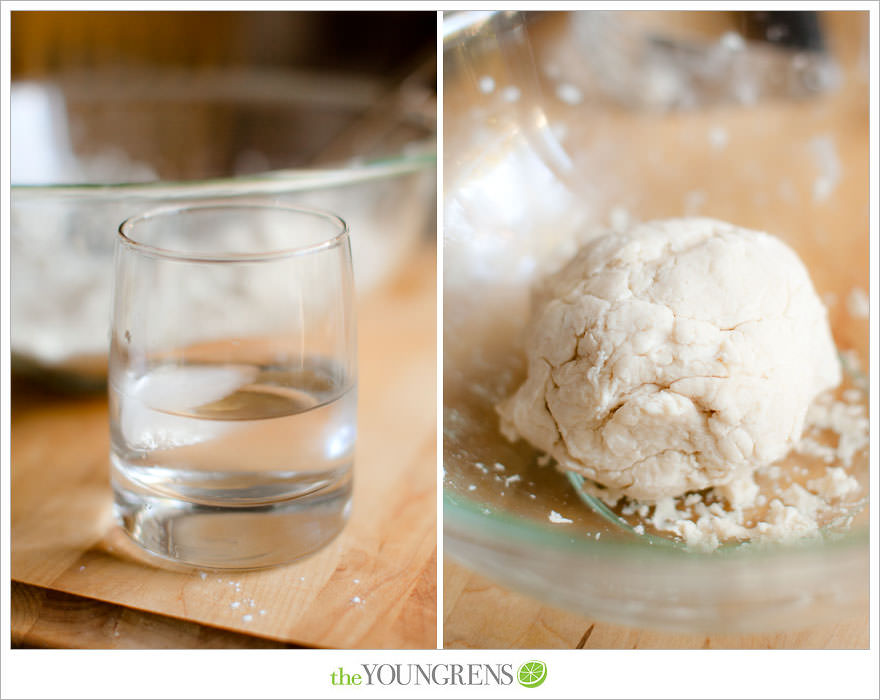 Once the dough is sticking together, roll it out on a lightly floured surface. Be careful not to overwork the dough – that can lead to a chewy crust.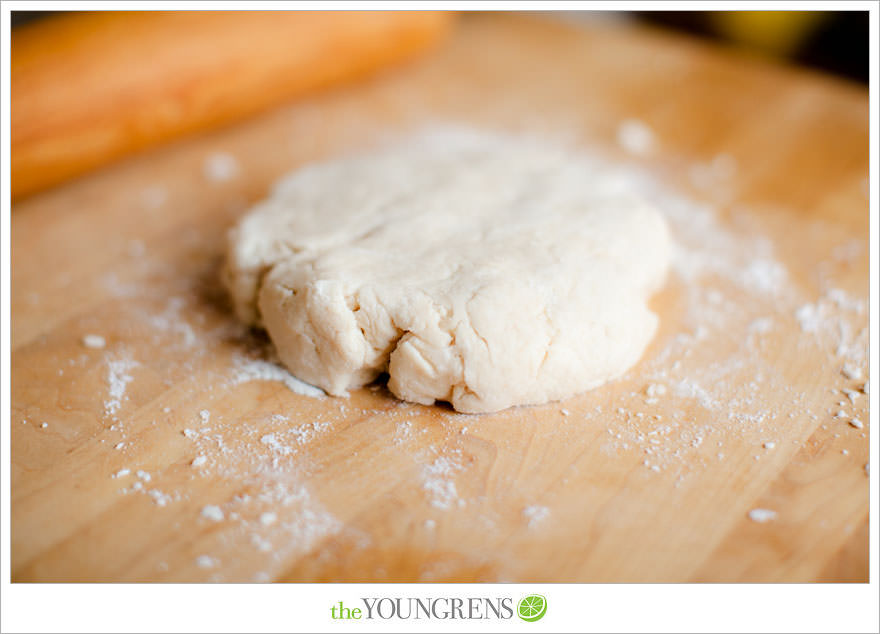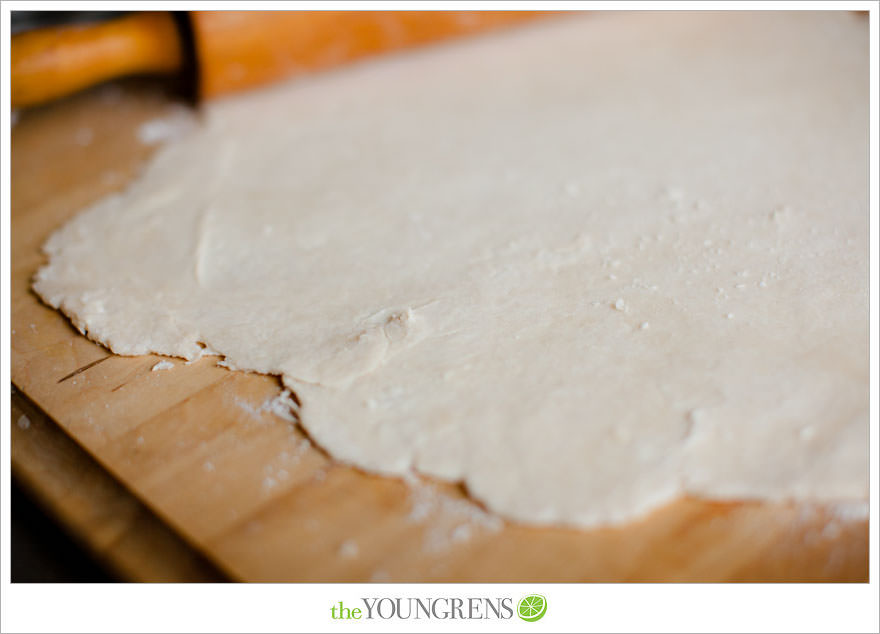 This is how I make sure I've rolled out enough dough – I can eyeball the pie plate.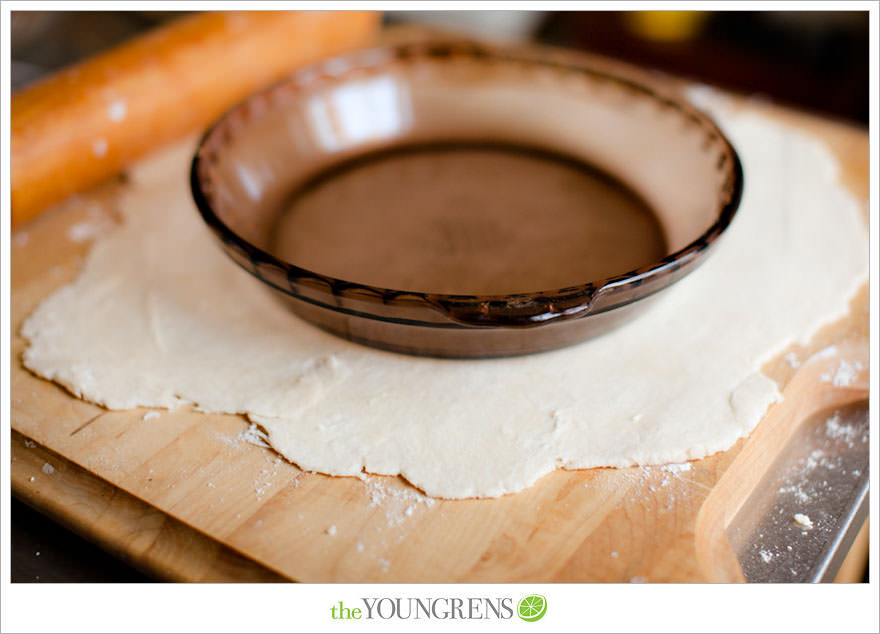 (I wish I took photos of this – I may update this post with some instructional images later) In order to get the dough in the pie dish, you can place your rolling pin at one end of the crust, and then gently roll your rolling pin along the surface while taking the crust-sheet along with it, essentially wrapping the dough around your rolling pin. Place the dish in the spot the dough just was, and then slowly unroll the crust over the dish, letting it flop into the recess. Viola!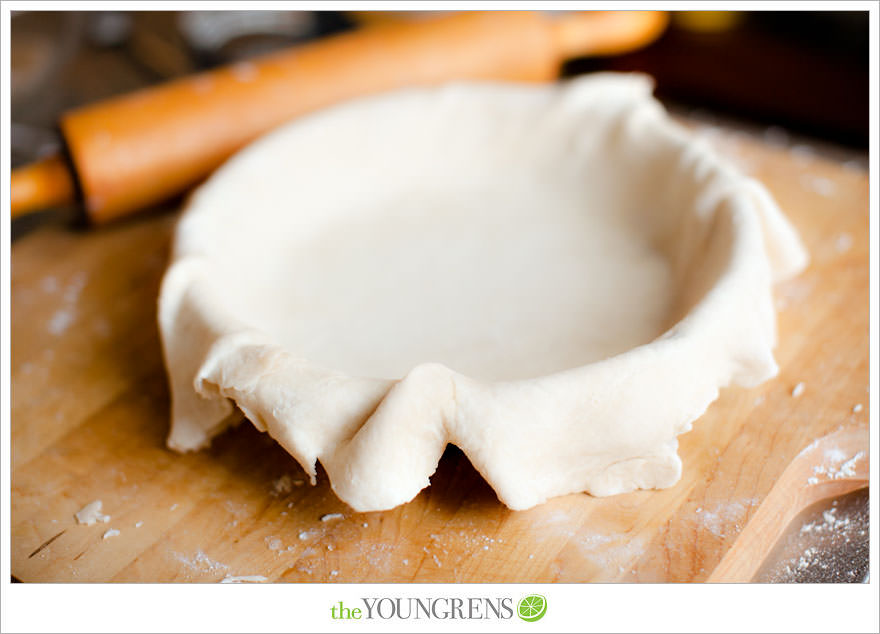 Then pinch along the edges of the crust with your floured fingertips (to prevent sticking) and slice off the excess with a sharp floured knife.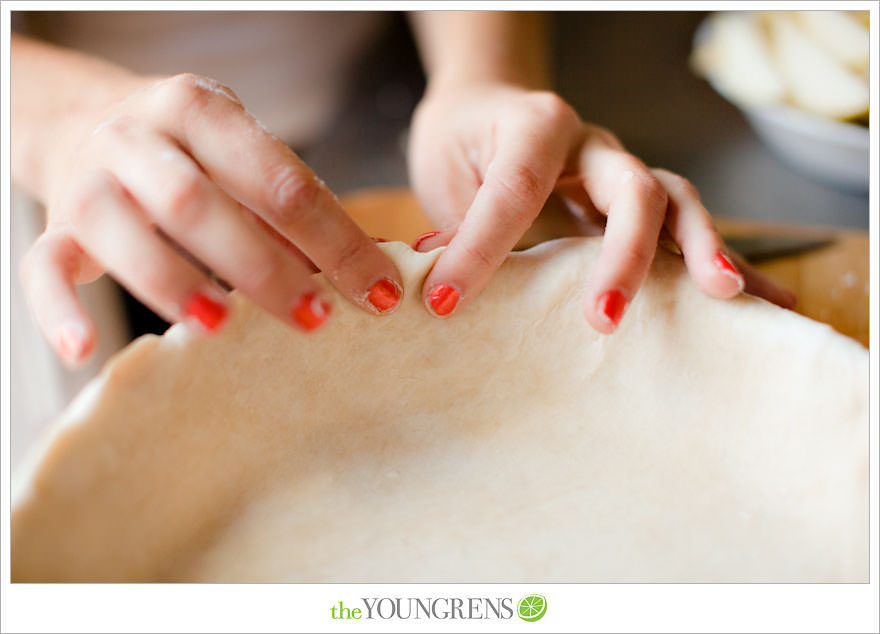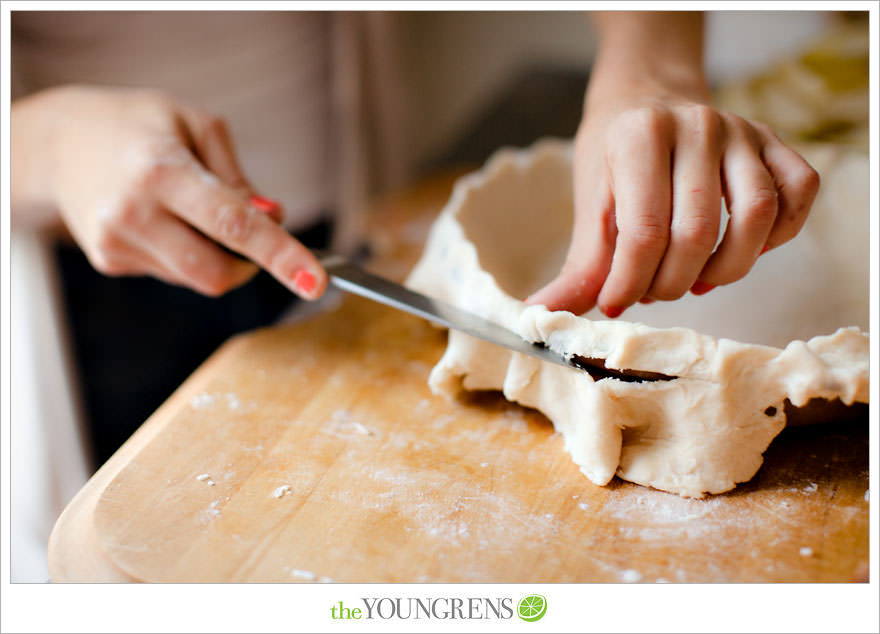 Then place your filling into your amazing homemade crust! In this case, arrange half of the sliced pears in concentric circles around the pie,  add a layer of cranberries, and then arrange the rest of the pears on top.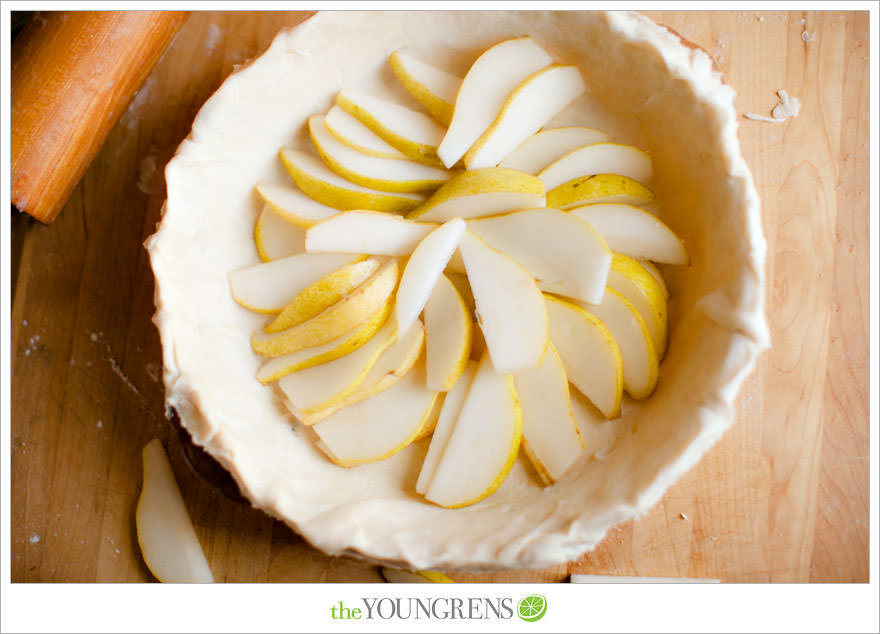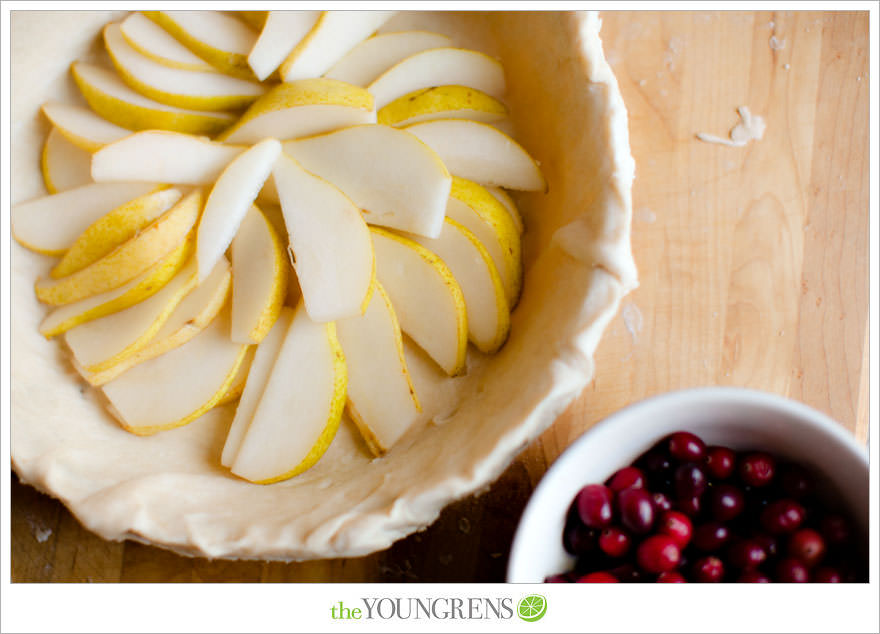 Sprinkle a few remaining cranberries on top.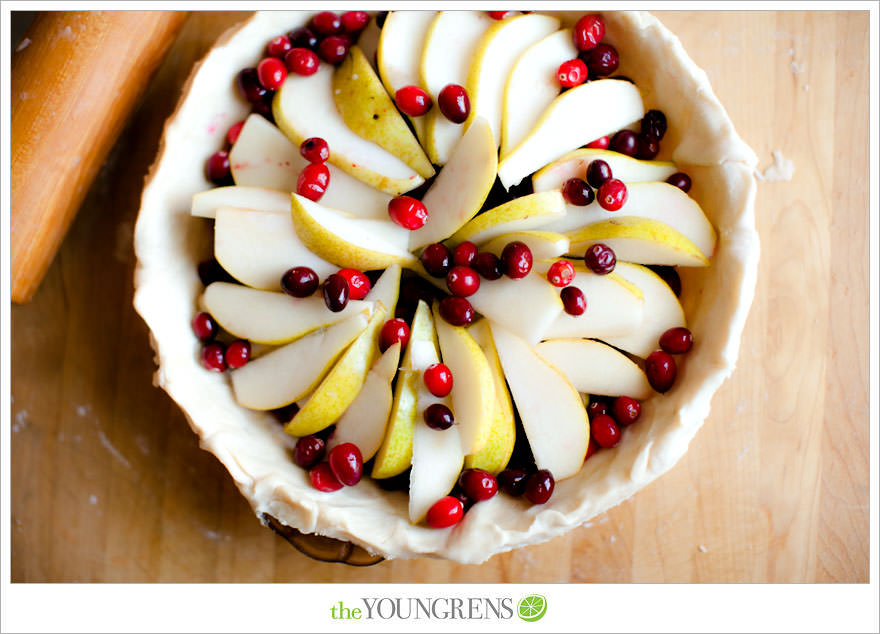 Drizzle the cornstarch mixture evenly over the filling. Cover the pie with foil and bake for 40 minutes. Uncover the pie and sprinkle with sugar, then let it bake for another 30-35 minutes until the pears are soft and the juices are bubbly.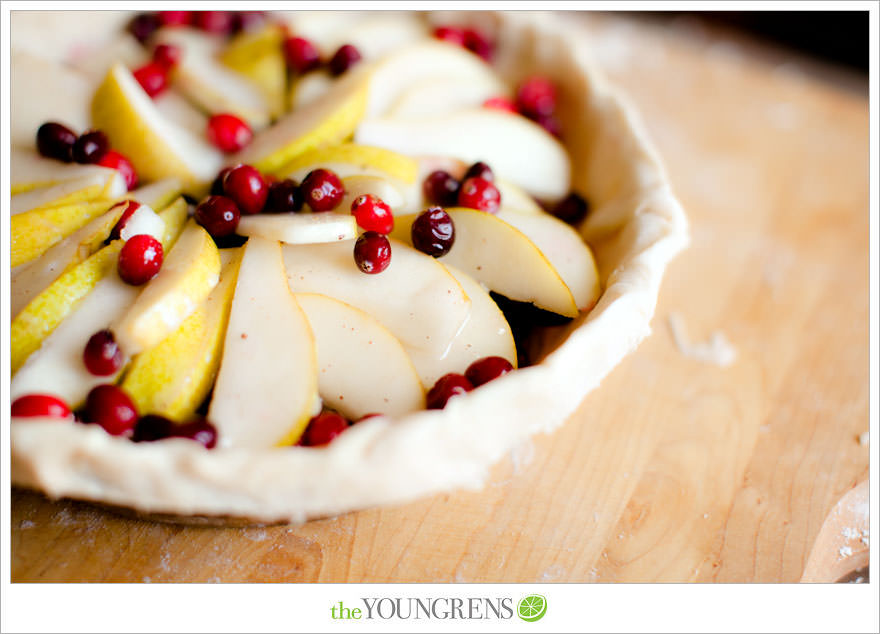 In a small saucepan, combine a few leftover cranberries and 2 tablespoons of carmel-flavored ice cream topping, cooking them for about a minute and them spooning them over the pie. I drizzled the rest of the pie with some extra carmel topping while it was hot too. OH. EM. GEE.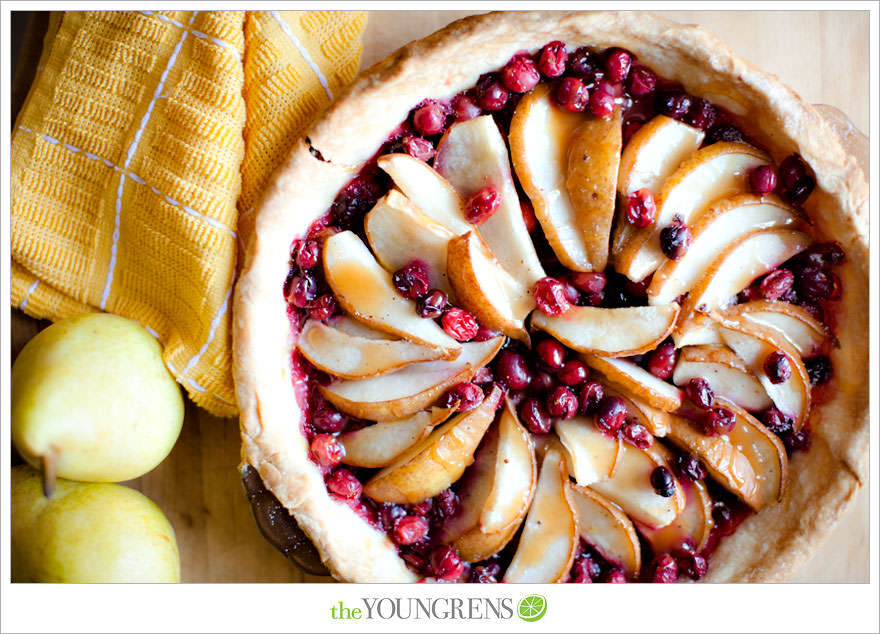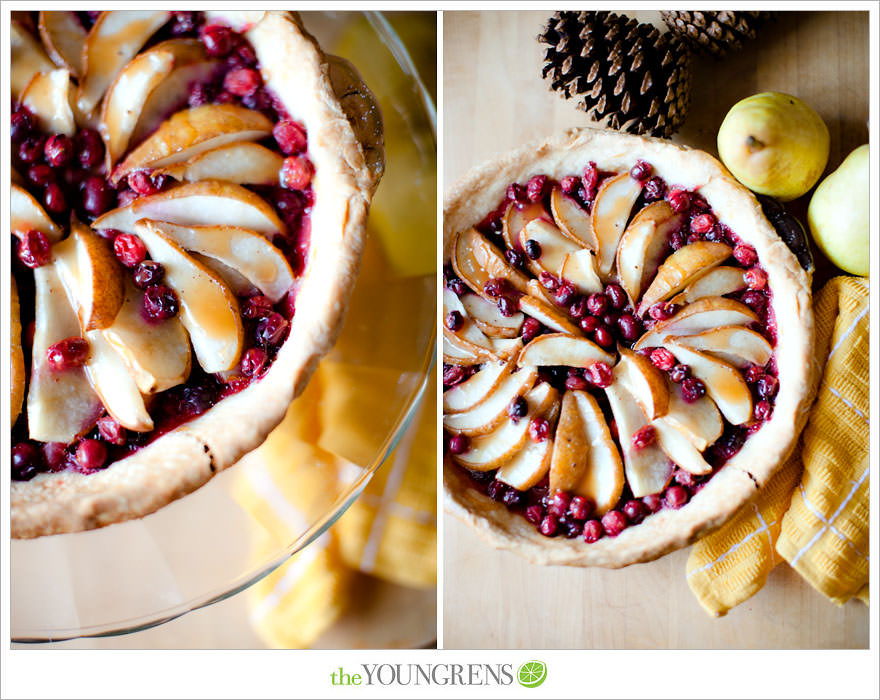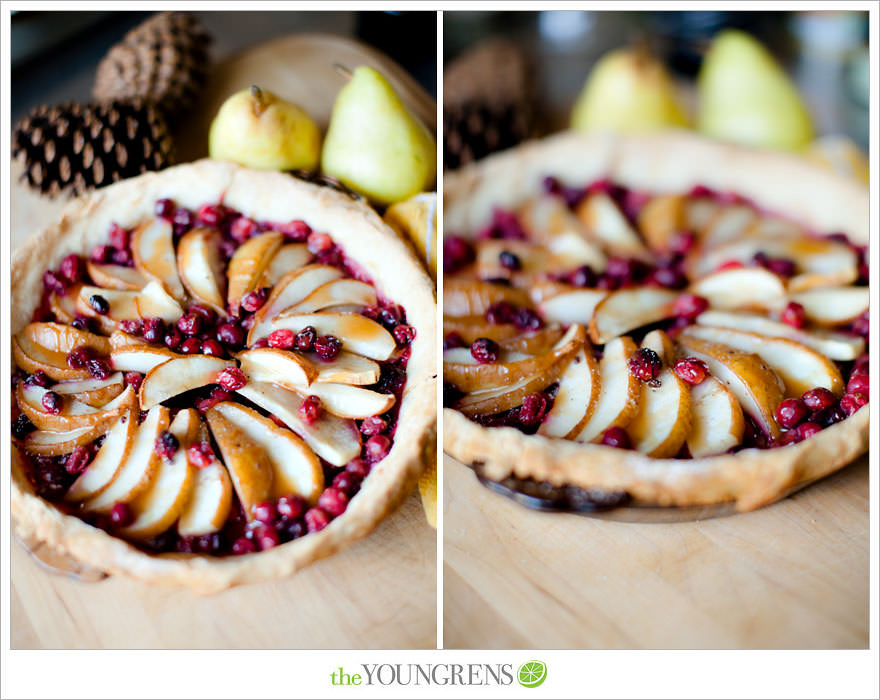 Serve this little gem warm and don't skimp on the carmel topping. Once your sweetie gobbles this up, they won't be able to keep their hands off you! And guys, this pie is so stinkin' easy that even the most inexperienced baker can surprise their Valentine with a true homemade dessert. If you're not sure about the whole homemade crust thang, just buy an unbaked store-bought pie shell and she'll swoon with delight FOR SURE.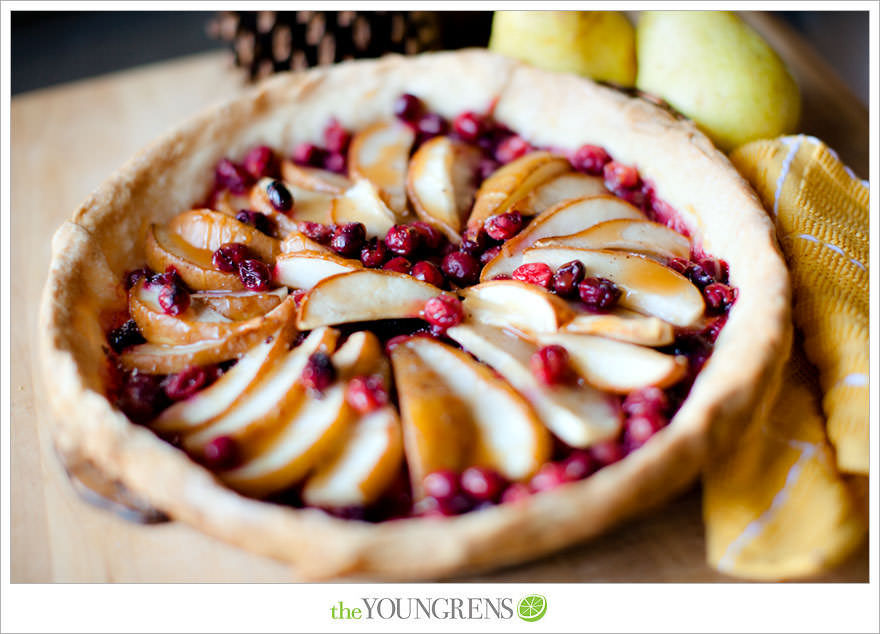 Fresh Pear and Cranberry Pie
1 recipe Single-Crust Pie
8 cups sliced red and/or green ripe pears (7 to 8 pears; 3 to 3-1/2 lb. total)
1 cup fresh cranberries
1/4 cup sugar
3 tablespoons cornstarch
2 tablespoons apple cider or water
1/4 teaspoon ground nutmeg
1 tablespoon sugar
2 tablespoons caramel-flavored ice cream topping, plus additional for drizzling
Directions
1. Prepare and roll out Pastry for Single-Crust Pie (below). Preheat oven to 375 F.
2. Arrange half of pears in prepared pastry; sprinkle with 1/2 cup of cranberries. Arrange remaining pears atop cranberries. In bowl stir together 1/4 cup sugar, cornstarch, cider, and nutmeg; drizzle evenly over pears. Cover pie with foil.
3. Bake 40 minutes. Remove foil; sprinkle with 1 tablespoon sugar. Bake, uncovered, 30 to 35 minutes more or until pears are tender and juices are bubbly. Remove from oven and place on wire rack.
4. Meanwhile, in small saucepan combine remaining cranberries and 2 tablespoons caramel topping. Bring to boiling. Cook 1 minute. Remove from heat. Spoon over hot pie.
5. Serve warm. Drizzle with additional caramel topping. Make 8 servings.
Pastry for Single-Crust Pie
1 1/2 cups all-purpose flour
1/4 teaspoon salt
1/2 cup shortening
4 – 5 tablespoons cold water
Directions
In bowl stir together flour and salt. Using a pastry blender cut in shortening until pieces are pea-size. Sprinkle 1 tablespoon cold water over part of the flour mixture; gently toss with a fork. Push moistened dough to side of the bowl. Repeat, using 1 tablespoon water at a time, until flour mixture is moistened. Form dough into ball. On floured surface flatten with hands. Roll dough from center to edges into a 13-inch circle. To transfer pastry, wrap around rolling pin. Unroll pastry into a 9-inch deep-dish pie pan. Ease pastry into plate without stretching it. Trim pastry to 1 inch beyond edge of pie plate. Fold under extra pastry.
Hugs,
Erin