It's summertime. The outdoors beckon. The garden is full and fresh. The veggies are plump and tasty. I'm a sucker for recipes that help me taste and feel the best of summer.
This simple pasta dish will make any summertime lunch fast and easy for everyone involved. Whip it together, throw the leftovers in the fridges, make extra pesto for other dishes on the fly… this dish is totally up my last-minute alley while not taking me hostage in the kitchen.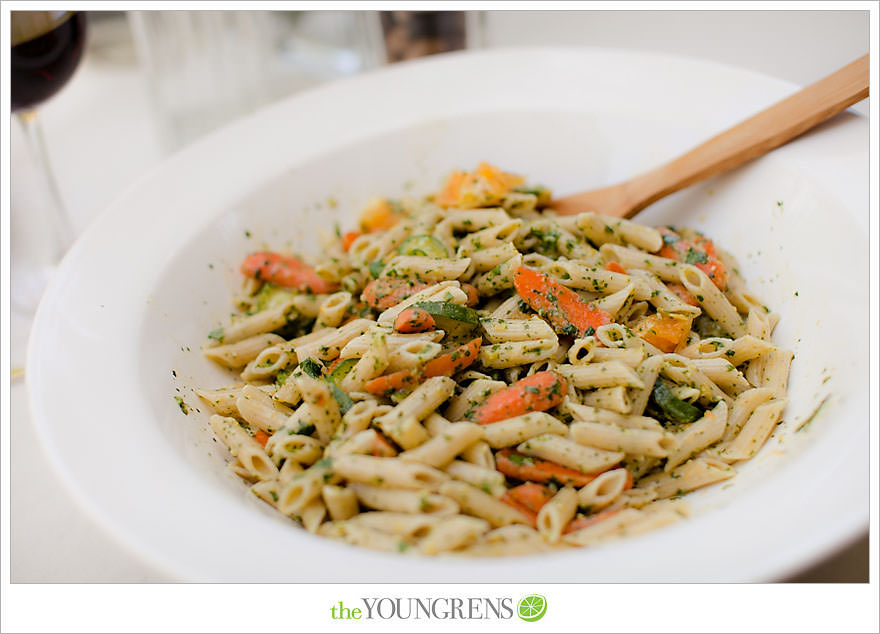 The ingredients are so mainstream that I had everything in my pantry and fridge already. Major bonus points for this recipe.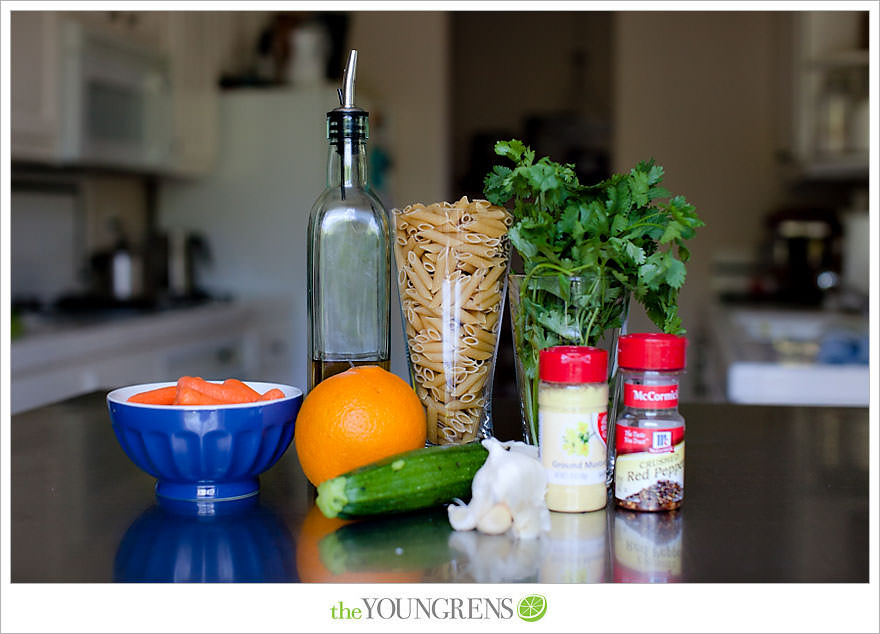 I opted to use my favorite kind of pasta – whole wheat penne – and happily pulled a bunch of cilantro from Mr. Giant Cilantro bush in my backyard herb garden.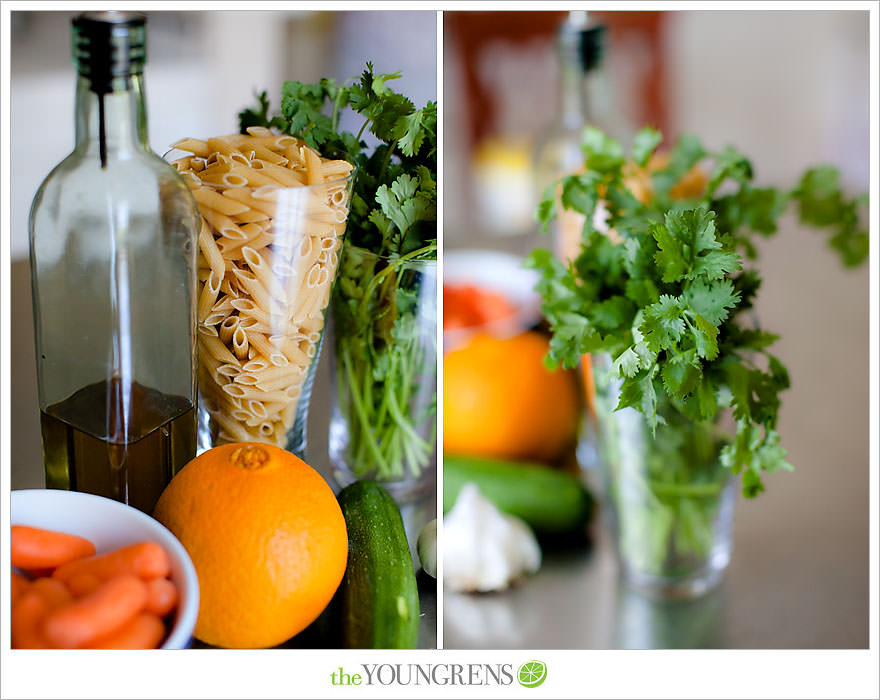 You'll also need baby carrots (I refer to them as 'bebeh' carrots), spices, garlic, zucchini, and an orange. Start your water to boil and cook the pasta according to package directions. Or according to your whim. Whichever sounds more fun.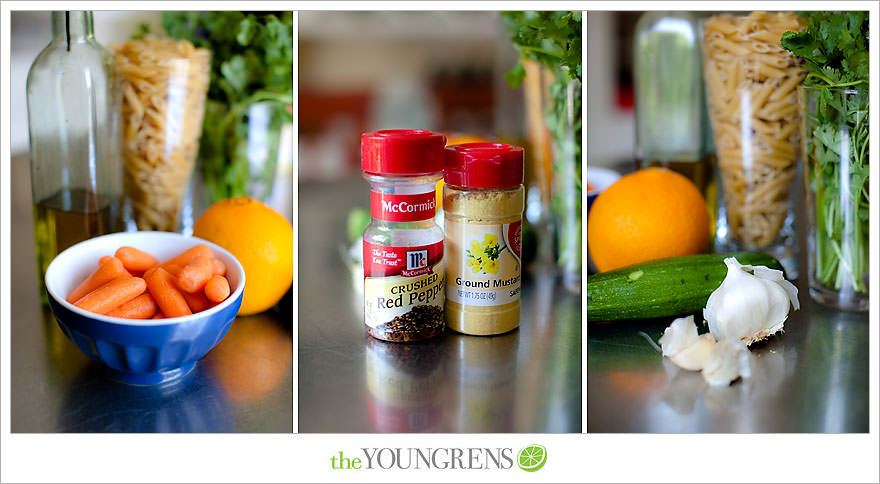 Hot Tip from Erin's Kitchen: When slicing the roly-poly itty-bitty bebeh carrots, don't slice them like I do on the left. Your knife will roll off the side and you will cut a finger off. Please slice them as per the example on the right. Your fingers will thank you. So will your hubby.

Once your hubby takes over the chopping because he's scared for your fingers, watch him slice up the rest of the bebeh carrots and zucchini.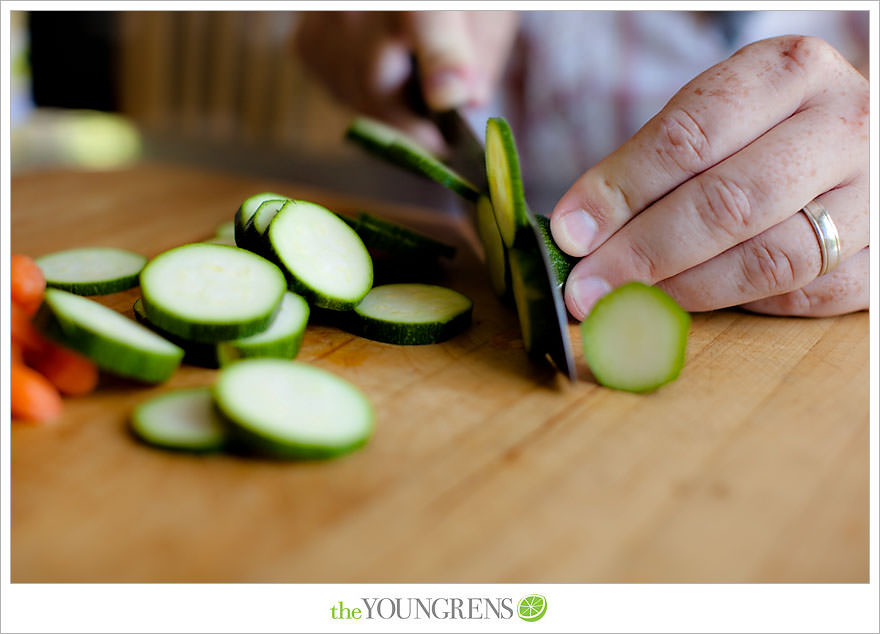 Add the veggies to the last five minutes of cooking your pasta. Drain and reserve a 1/4 cup of the pasta water for the pesto.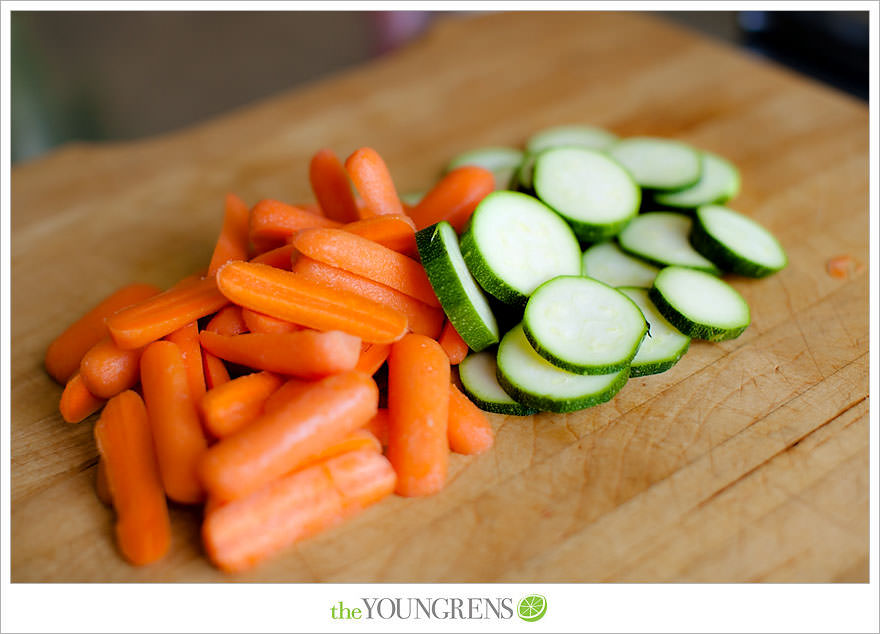 For the pesto, peel an orange and cut it up into large chunks.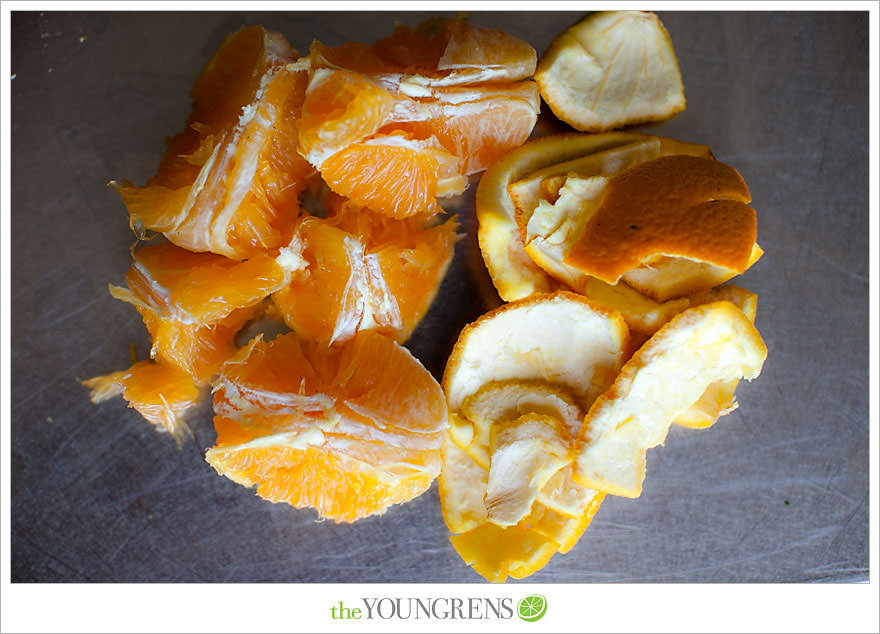 In a food processor, combine the orange, olive oil, cilantro, pasta water, garlic, and spices.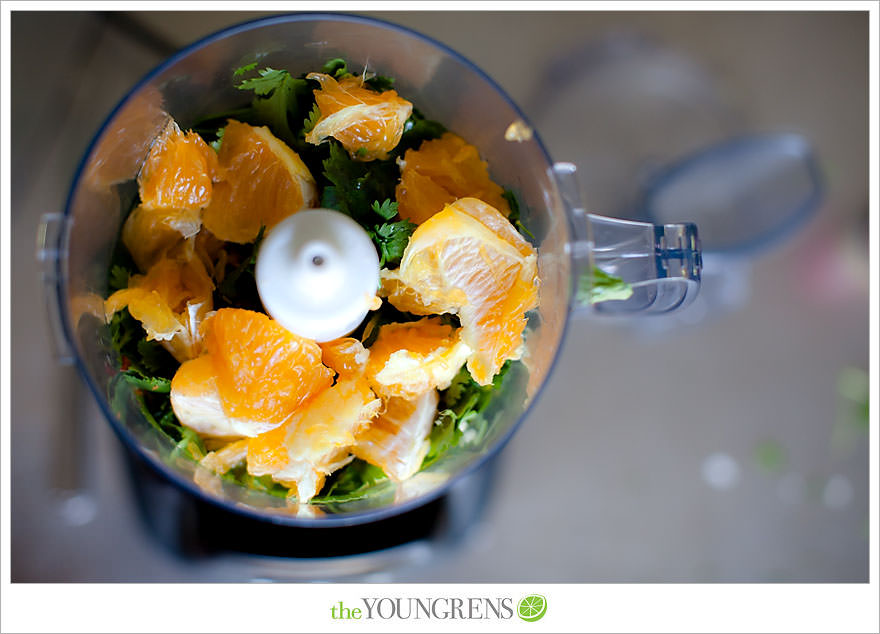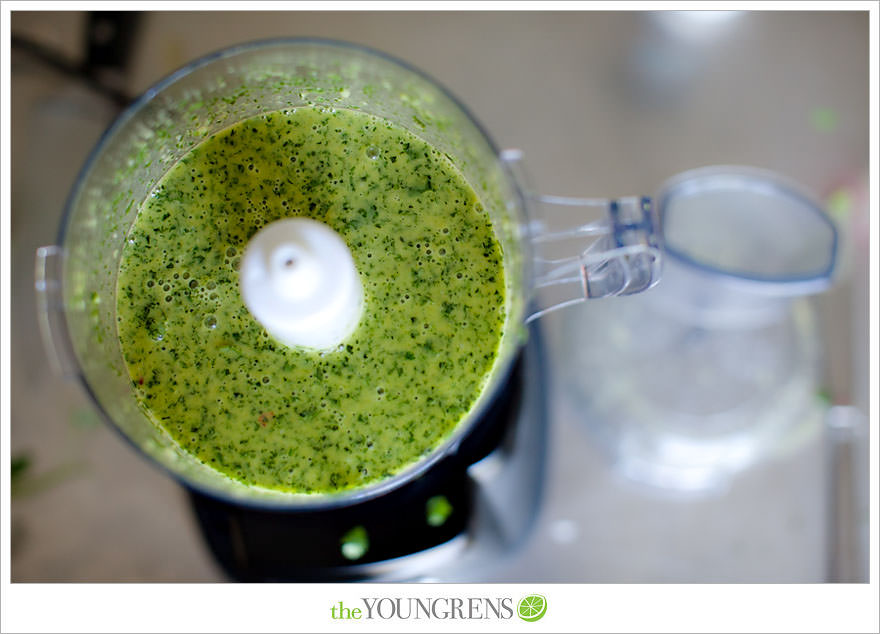 Toss the pesto and some more orange chunks with the veggies and pasta.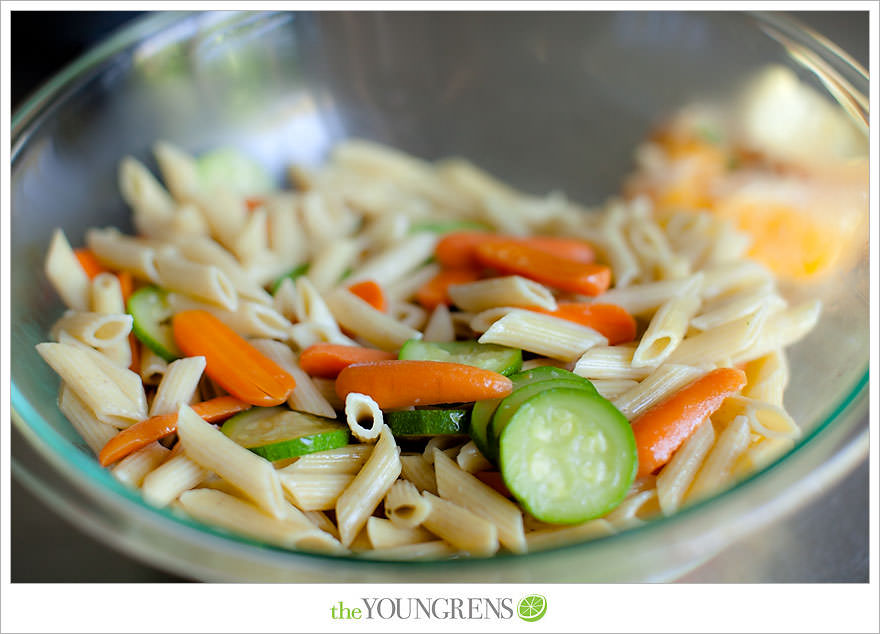 Viola! It's already finished and you haven't even broken a sweat!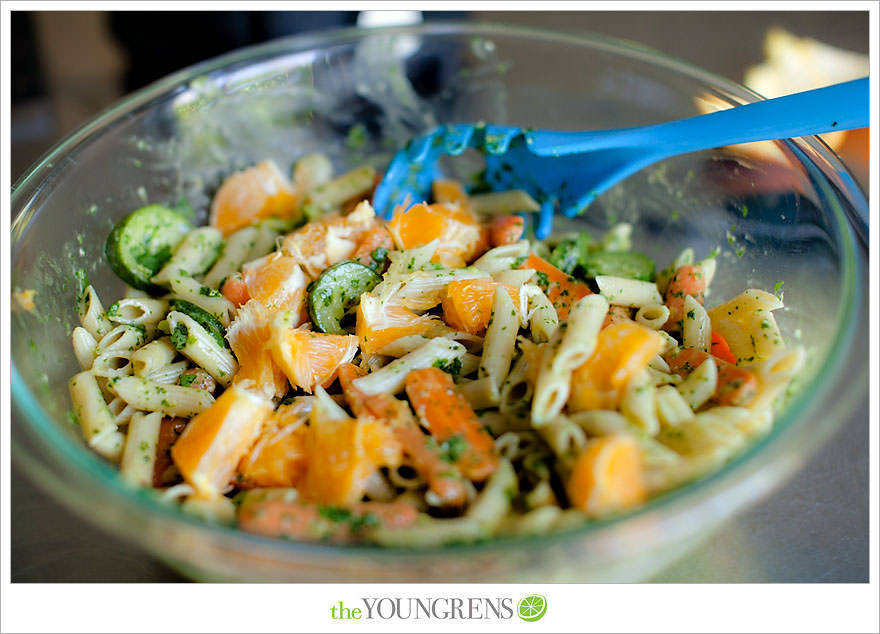 I love that this dish is so fresh and that the orange adds such a sweet summer spin to this otherwise dull recipe.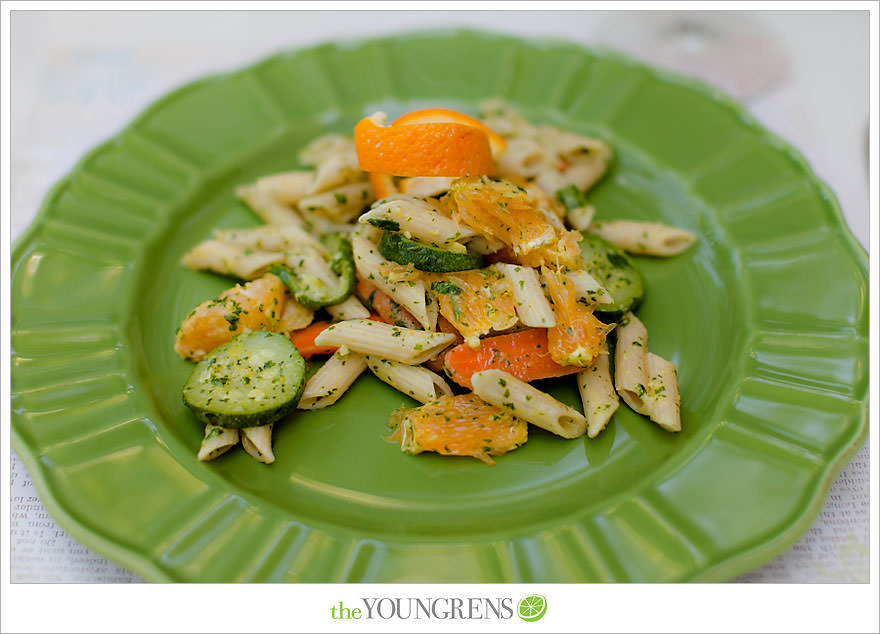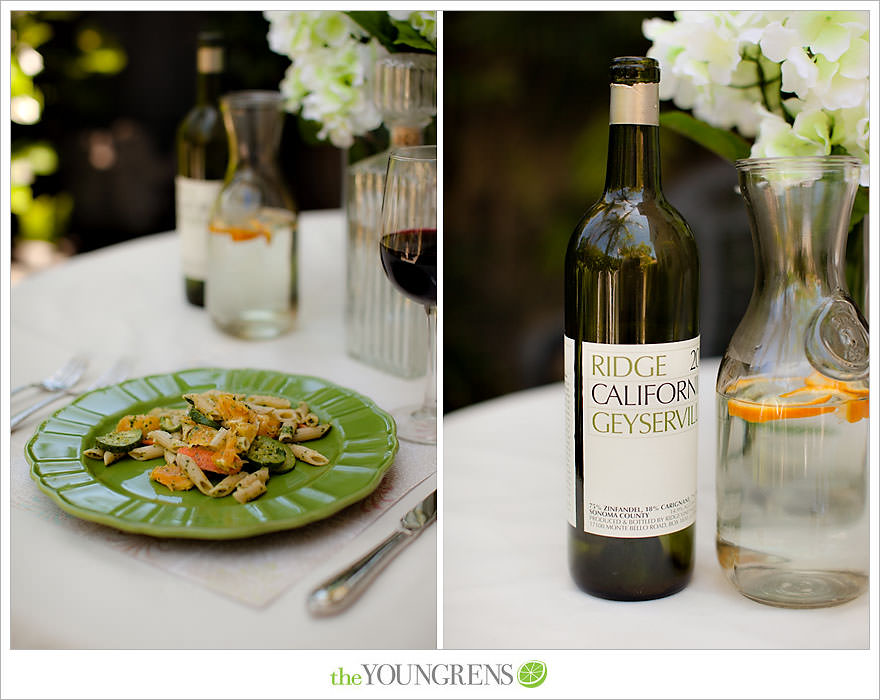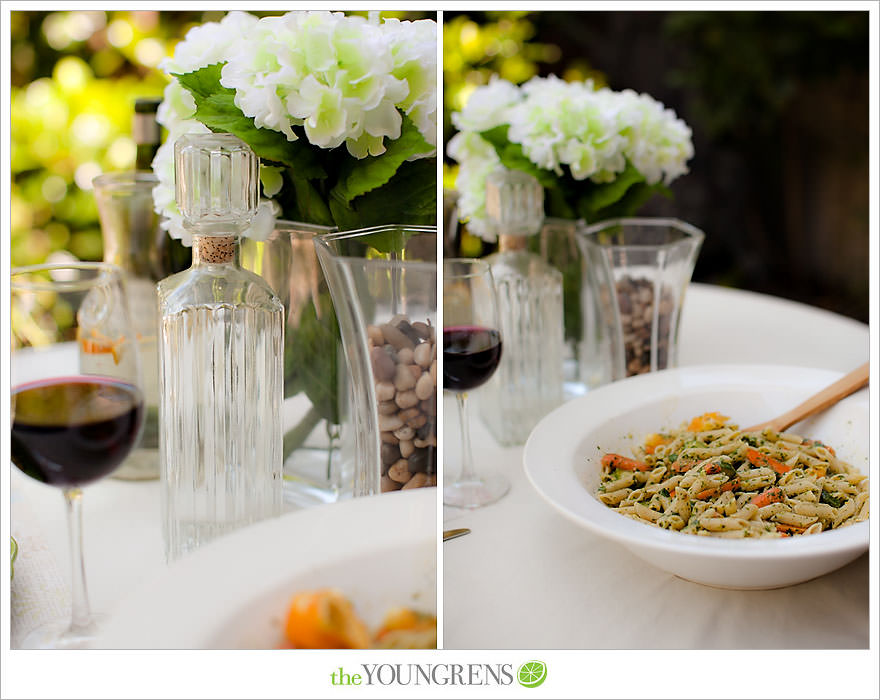 Garden Veggie Pasta with Cilantro Pesto
(start to finish 30 minutes)
8 oz  dry pasta (penne, linguine, or fettuccine)
8 oz baby zucchini, halved lengthwise, or 1 small zucchini, sliced
8 oz pkg. peeled fresh baby carrots, halved
2 seedless oranges
1/2 cup olive oil
1 cup fresh cilantro leaves
1 tsp dry mustard
1 tsp minced or dried garlic
1/2 tsp crushed red pepper
1. Cook pasta according to package directions, adding zucchini and carrots the last 5 minutes. Drain; reserve 1/4 cup pasta water. Return pasta to pan.
2. For pesto, peel and quarter one orange. In processor combine orange, olive oil, cilantro, pasta, water, 1 teaspoon salt, mustard, garlic, and red pepper. Peel and chop remaining orange. Toss all together; top with cilantro and orange peel. Makes 4 servings.
Hugs,
Erin