The best thing about food is it's ability to take you back. I mean waaaaaay back. I mean back to your grocery shopping around the kitchen with your mini-toy shopping cart and your Cabbage Patch doll days. Those were the days when the kitchen counters felt a mile high, and I could only reach Mom's baking stuff in the bottom cabinets – namely the shortening, the flour, and the hand mixer.
So I would sneak whatever I could find into my shopping cart, and then go upstairs to my mini-kitchen play set to mix flour and water to make a dough for biscuits, just like Mom would. I would add flour, and then water. Then more water. And then more flour. And then a ton more water. Then I would roll out my flour/water mixture with my teeny pink plastic rolling pin directly onto my pint-sized plastic kitchen table. It was like I was layering concrete plaster across my play set. Confused, I would try pick up the goopy, sticky mess that I called "dough" with my fingers, and alarmed that it didn't look exactly like Mom's concoctions, this flour plaster quickly ended up in my hair, on my clothes, in my eyes, on the floor, on the cat, and anything else that I would touch while running and screaming around the house with sticky flour hands that my yummy bread wasn't turning out right.
This is the memory that I think of when making biscuits – the hours of scraping layers of flour plaster off of my poor play set kitchen table. And when I'm squishing my fingers through dough, I feel like my kitchen is that same play set and I'm just a little girl fiddling around with flour and water. Only my biscuits actually turn out this time. Well, most of the time…
Isn't there just something about biscuits? They make any dinner a homey, comfort food meal and that's a pretty magical talent. You could set these next to sushi and it would become a down-home, farm meal in the midwest. And this particular combo adds a clever, yummy twist to the classic recipe by adding green onions, transforming it's traditional flavor into an eyebrow raising delight.
As always, the full recipe is at the bottom of this post, so feel free to skip the photos and jump straight to cooking. But of course, that means you'll miss all of the 50 f/1.2 goodness that is my food photography fetish…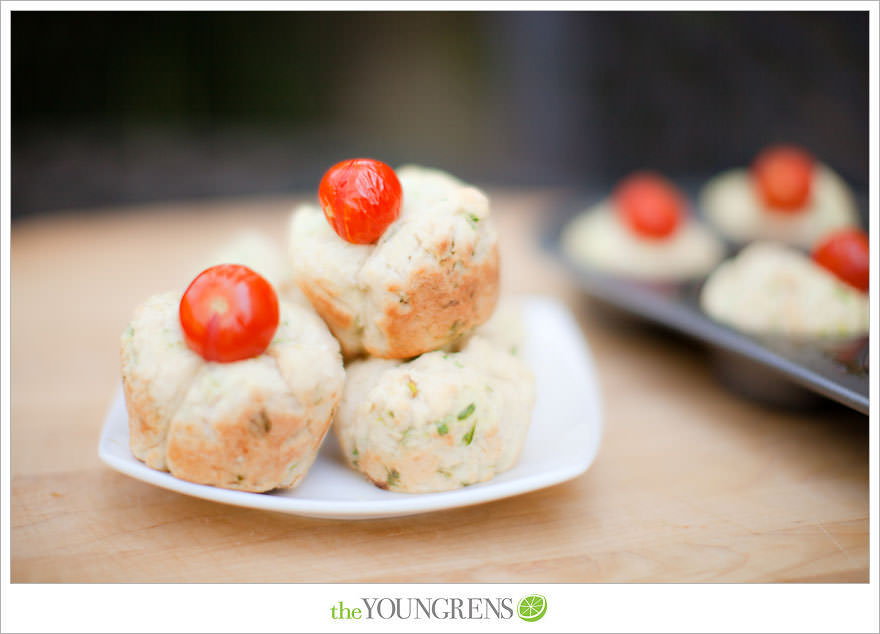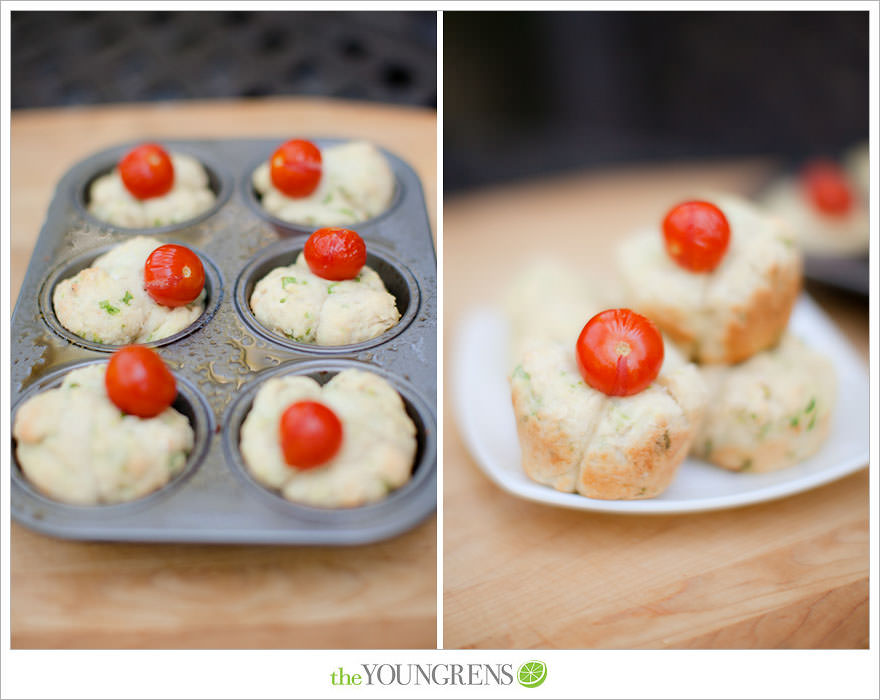 Grab all of the traditional ingredients from your pantry for biscuits – flour, buttermilk, baking soda and powder, shortening and salt.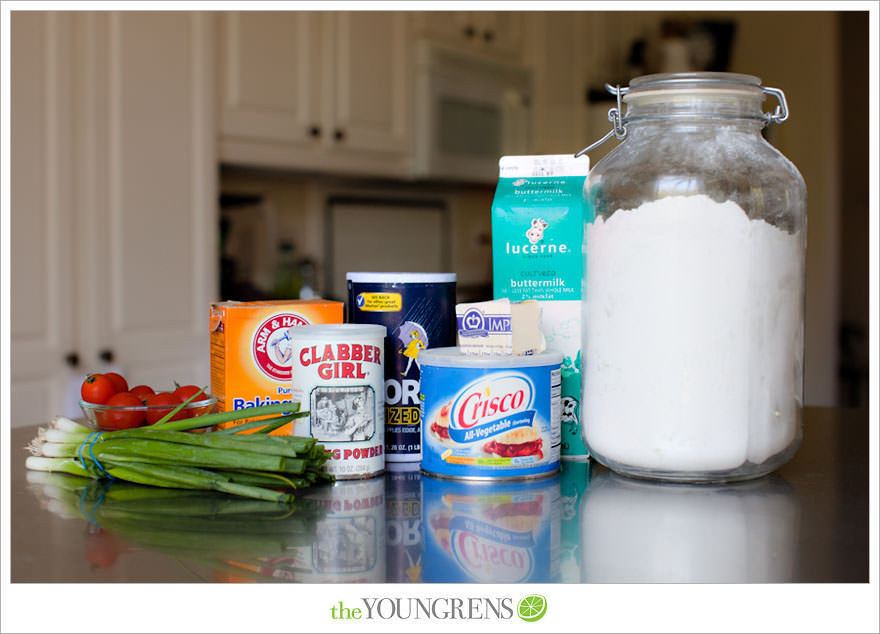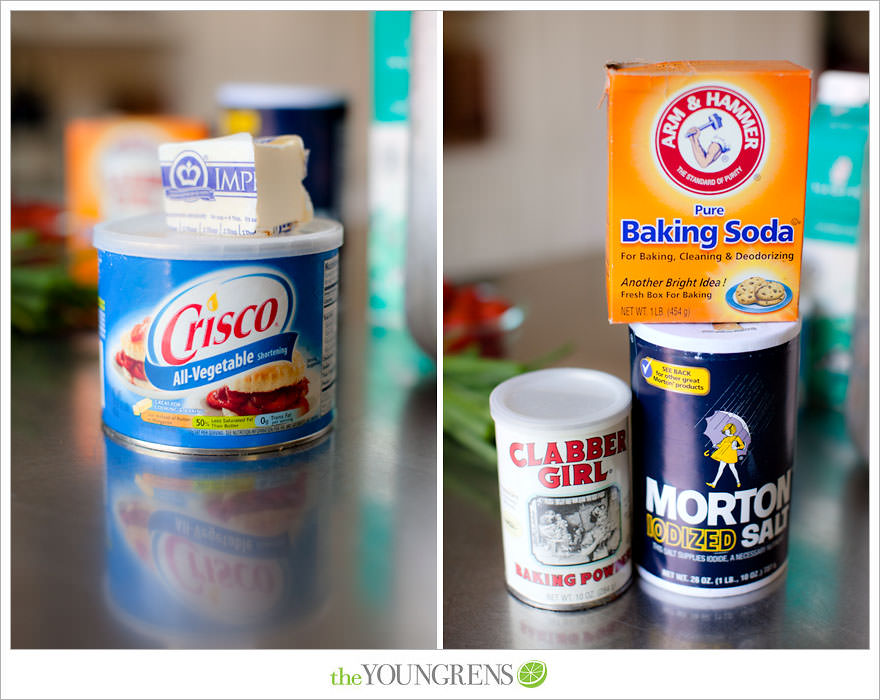 But the flavor boost comes from green onions and a topping of cherry tomato. Ho boy! These biscuits will turn any husband into a kid bouncing up and down by the oven waiting for them to come out!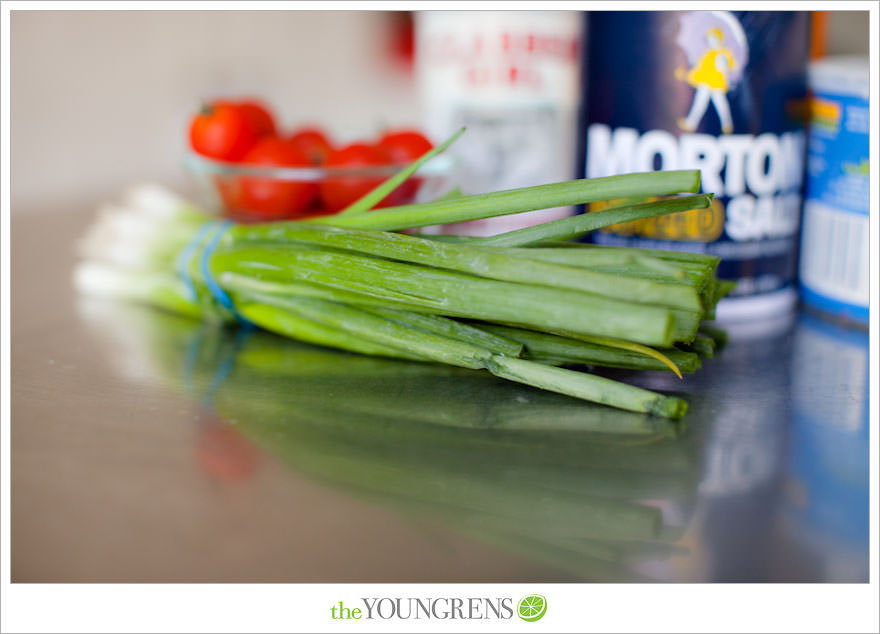 Combine your dry ingredients first.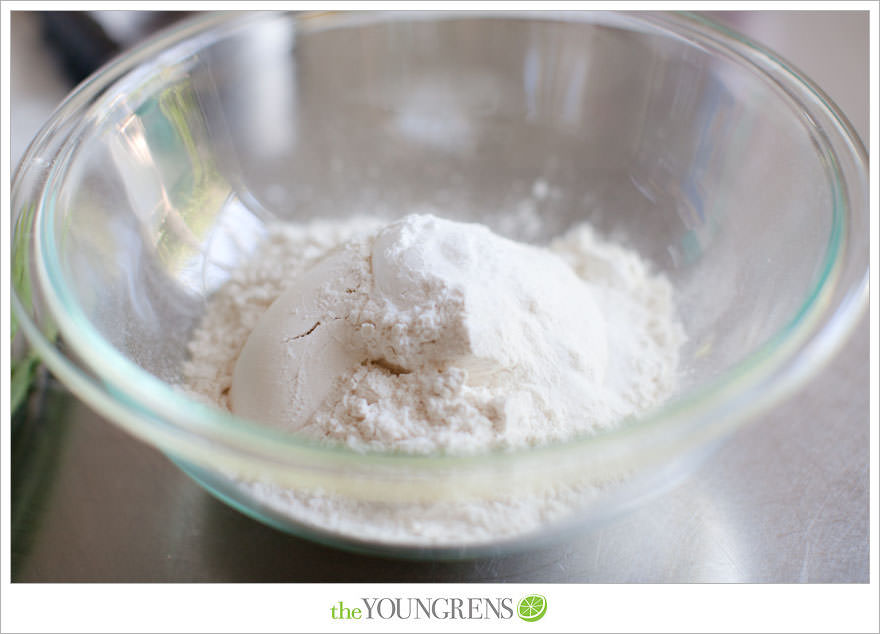 Then use a pastry blender to cut in the shortening and butter until they look like pea-sized chunks.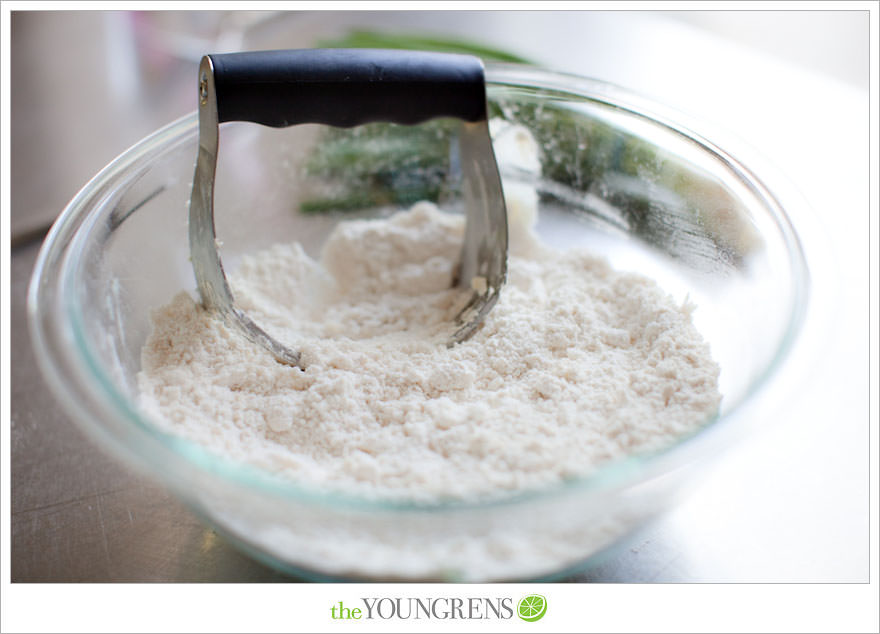 Finely chop the green onion and mix it in.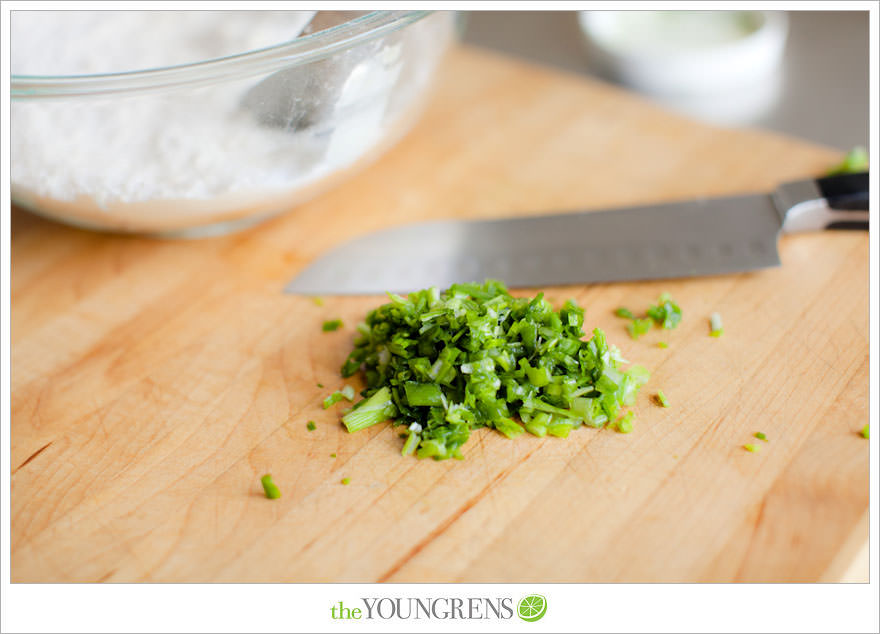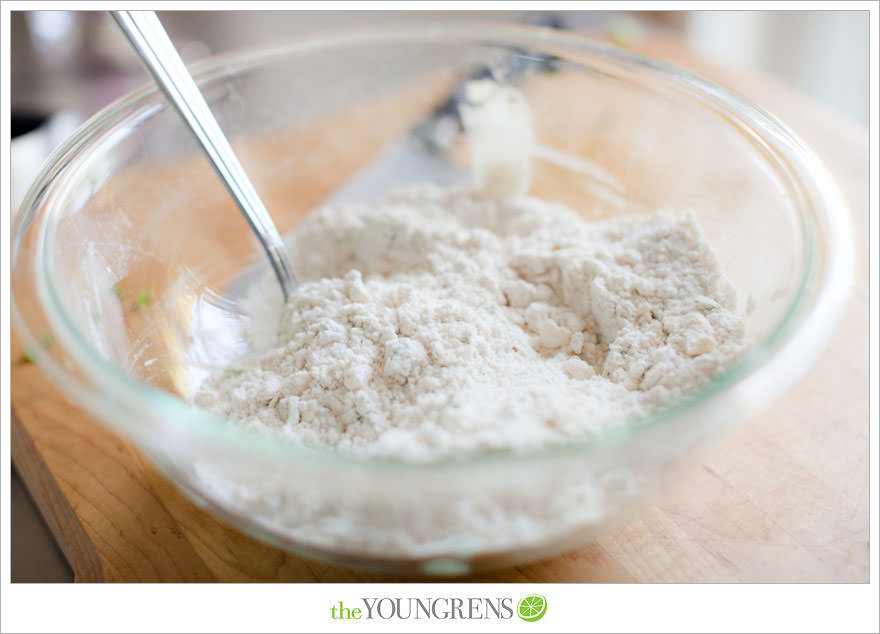 Make a small well in the middle of the mixture.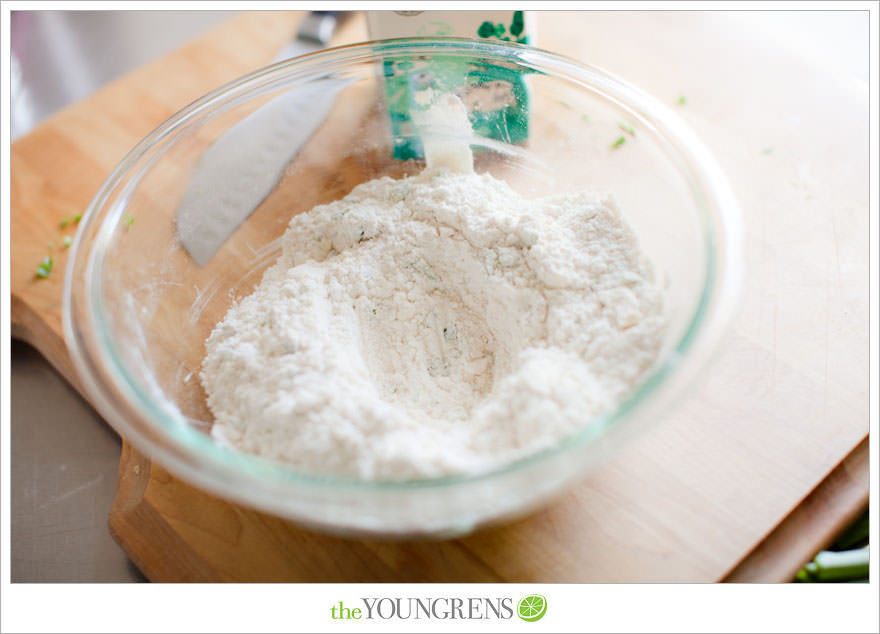 Add the buttermilk all at once and use a fork to quickly toss and wet all of the ingredients. You don't want to overwork the dough at this point.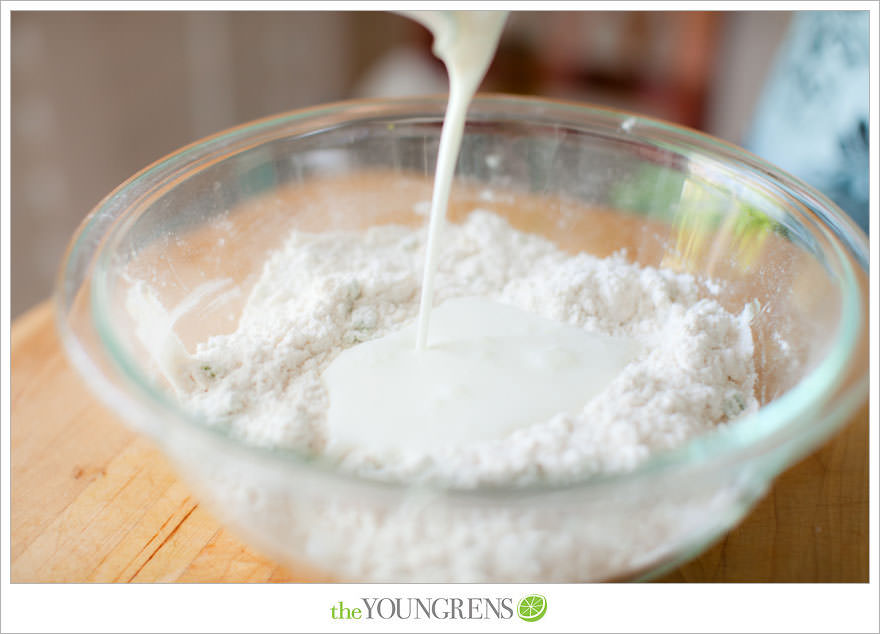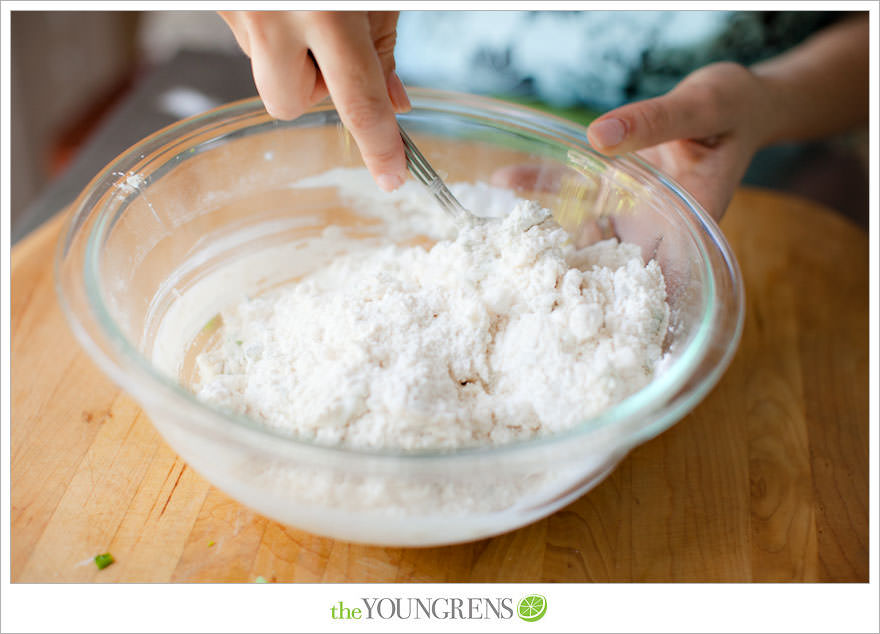 Turn the dough onto a floured surface and quickly knead 10 or 12 strokes until it's almost smooth.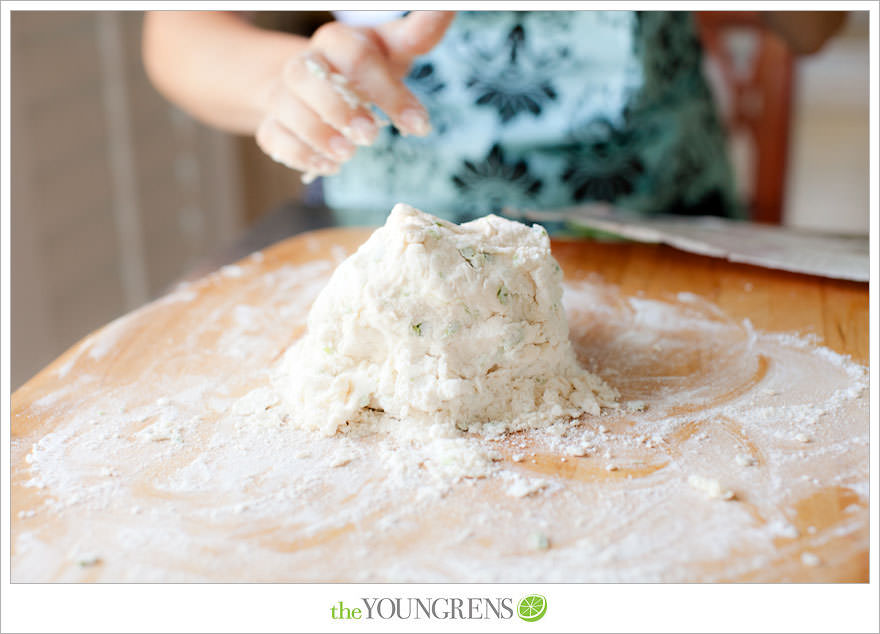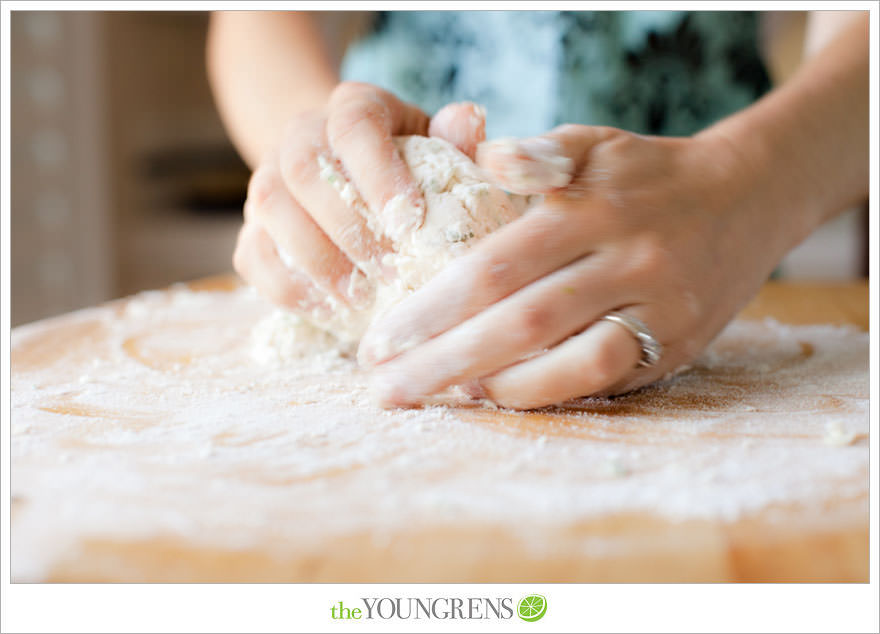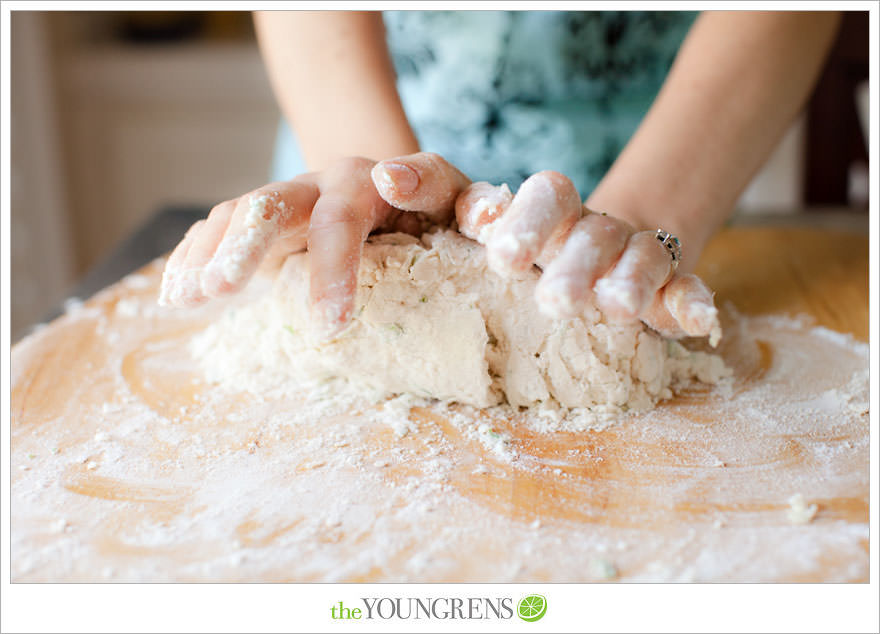 You don't want to add too much flour or over work the dough, so be geeeeentle.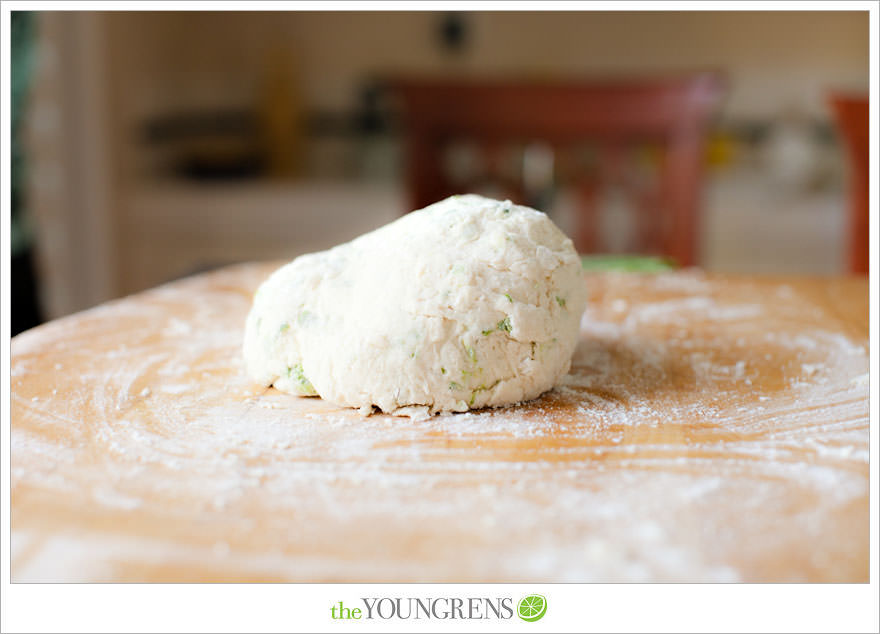 Can you see my inner "kitchen-set" girl coming out?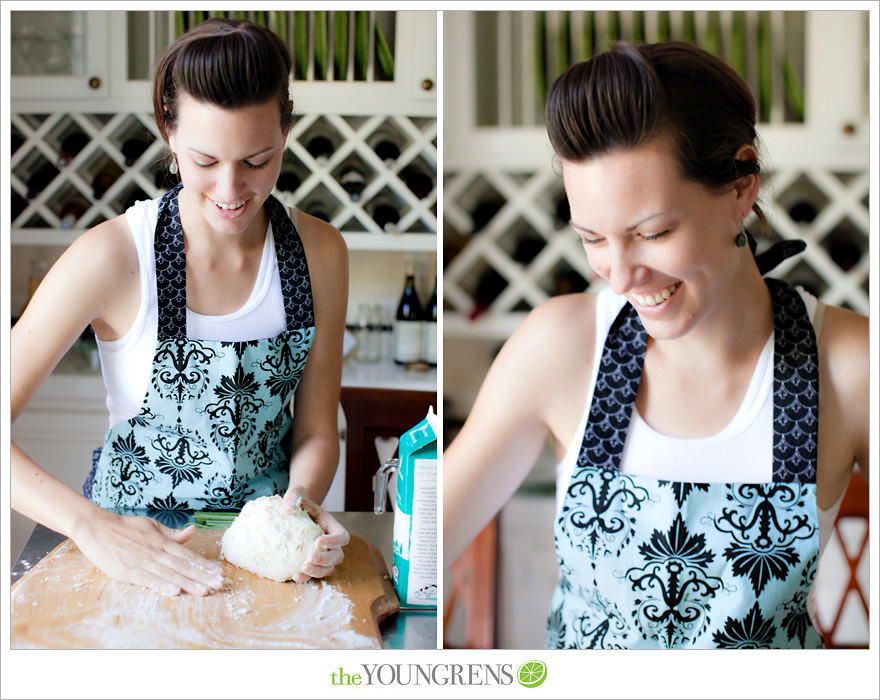 To shape the biscuits, you'll roll three little walnut sized balls and place them next to each other in a greased muffin cup. Which seriously – whenever they say "walnut-sized", "pea-sized", or "small shetland pony-sized", does it ever actually turn out that way? I'm the WORST at estimating so it's more of a "that looks good" size.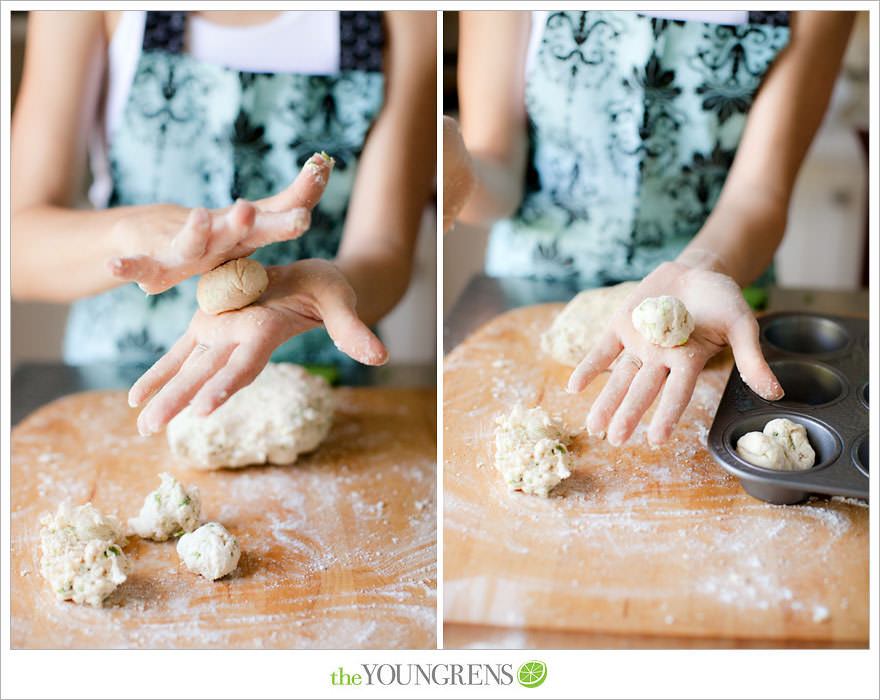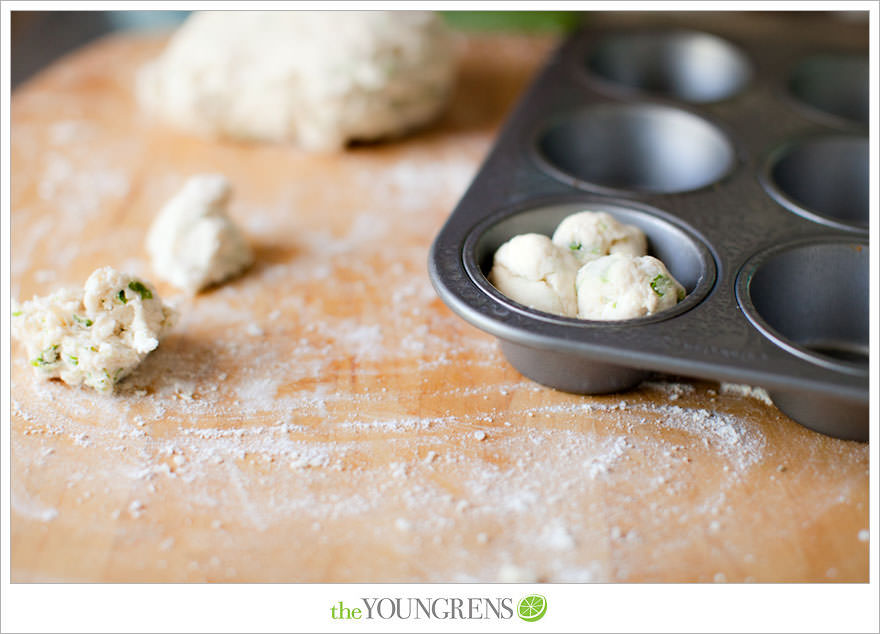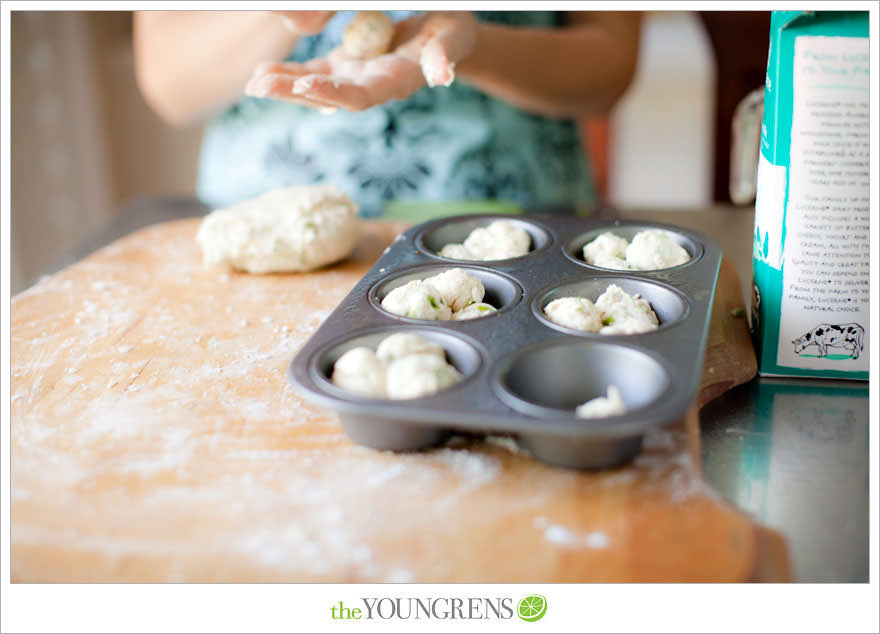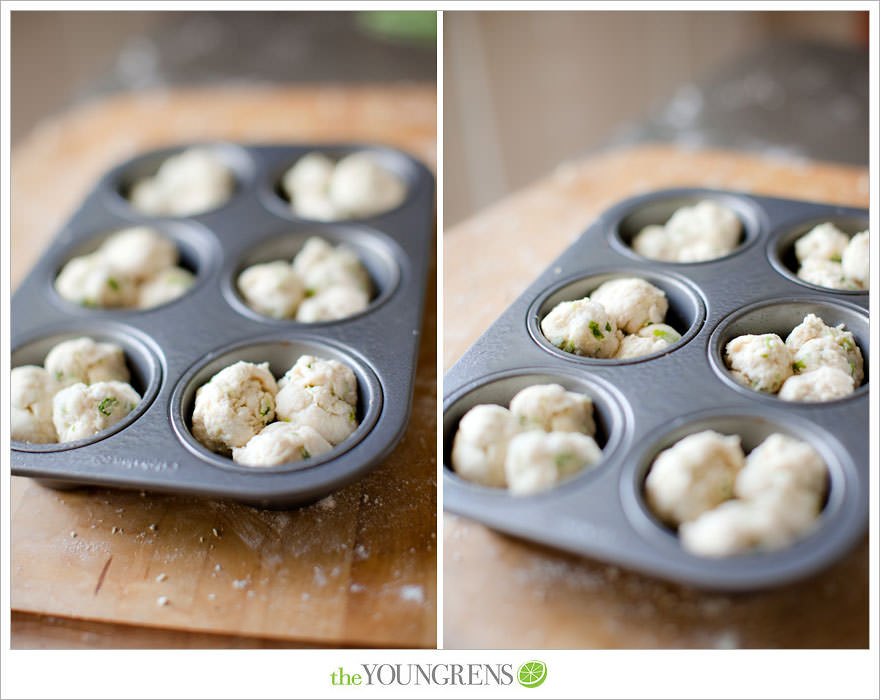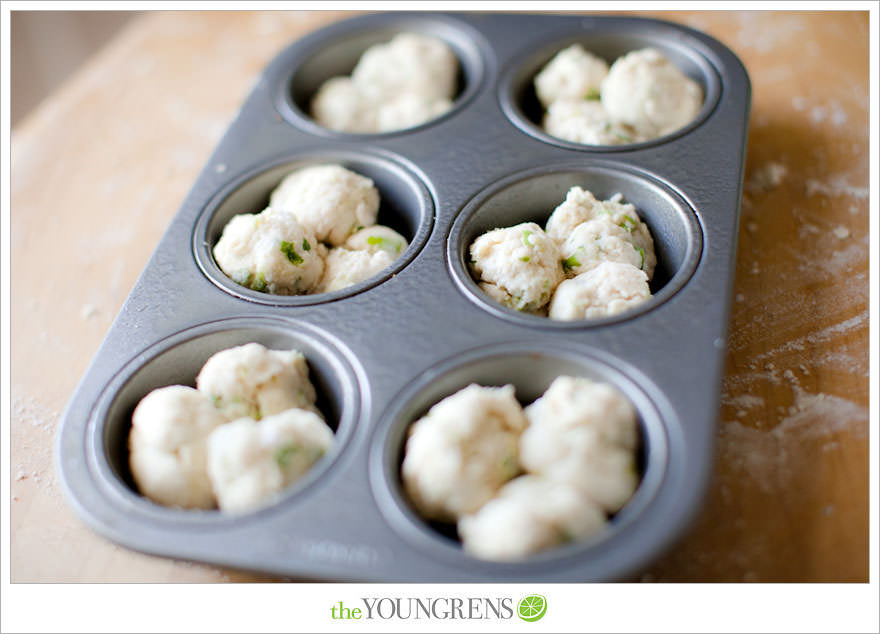 Press a grape or yellow pear tomato into the center of each and brush them with olive oil. I couldn't find yellow pear tomatoes so I went with the red grape tomatoes.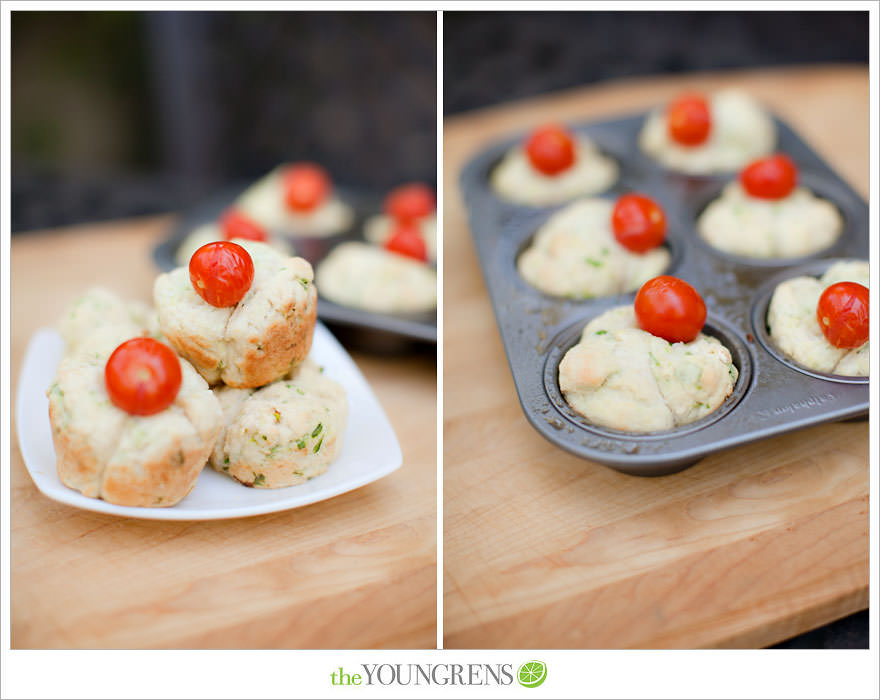 They'll bake 10-12 minutes at 45o degrees, and they'll make your entire house smell like onion bread goodness. Seriously, you will be DROOLING by the time these come out! They won't last long – with that kind of smell wafting through the rafters the troops will come running and gobble these up! And by troops, I mean Jeff…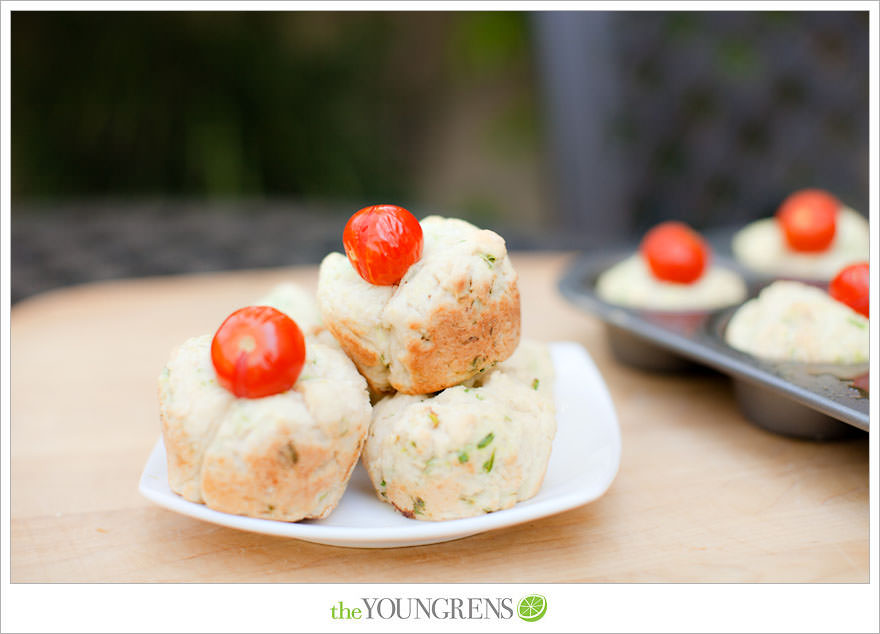 Biscuit Blossoms
Nonstick cooking spray

2 cups all-purpose flour
1 tablespoon baking powder
1/2 teaspoon salt
1/4 teaspoon baking soda
4 tablespoons cold unsalted butter, cut in small pieces
3 tablespoons cold shortening, cut in small pieces
3 tablespoons finely chopped green onion
3/4 cup cold buttermilk
12 small yellow pear or grape tomatoes

Olive oil
1. Preheat oven to 450 degrees F. Lightly coat a pan of twelve 2 1/2-inch muffin cups with nonstick cooking spray; set aside.
2. In medium bowl stir together flour, baking powder, salt, and baking soda. With pastry blender or two knives cut in butter and shortening until flour mixture resembles coarse crumbs. Stir in green onions. Make a well in center; add buttermilk all at once. Toss with fork to moisten all ingredients.
3. Turn out dough onto lightly floured surface. Quickly knead 10 to 12 strokes until dough is nearly smooth. Divide dough in 36 walnut-size pieces; pat into balls. Place 3 balls in each muffin cup. Press 1 tomato in center of each; brush with oil.
4. Bake 10 to 12 minutes, until golden brown. Cool slightly on rack. Serve warm. To reheat, wrap in foil; warm in 350 degree F oven for 8 to 10 minutes. Makes 12 biscuits.
Hugs,
Erin