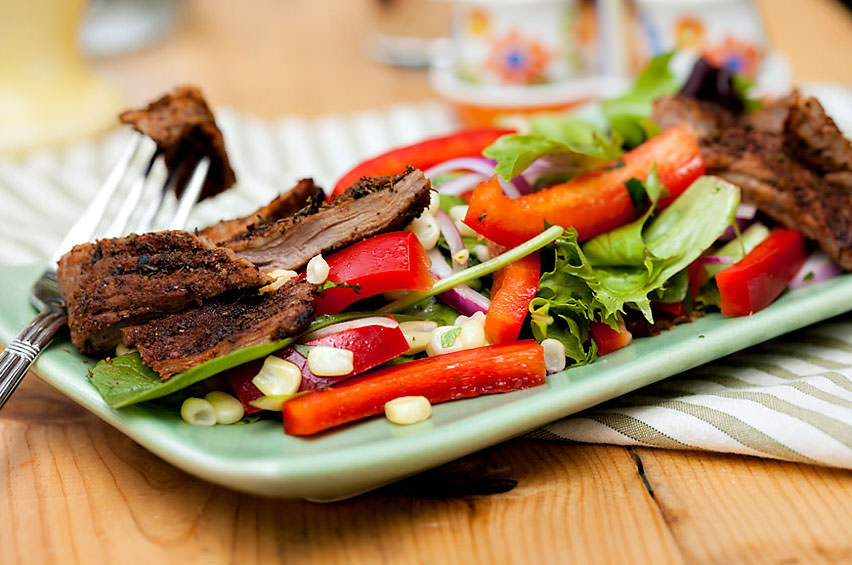 Grilled Sirloin Salad
What better way to mix the absolute best of summer - grilling a yummy piece of meat and preparing fresh crunchy vegetables - than in a salad? We're back with yet another of
Jillian Michael's
fabulously healthy and incredibly delicious recipes in this Grilled Sirloin Salad that has a spice rub that you'll totally swoon over. This is the perfect lunch recipe or a light dinner with friends on the back patio, and it's packed with so much protein that'll it keep you going all day long.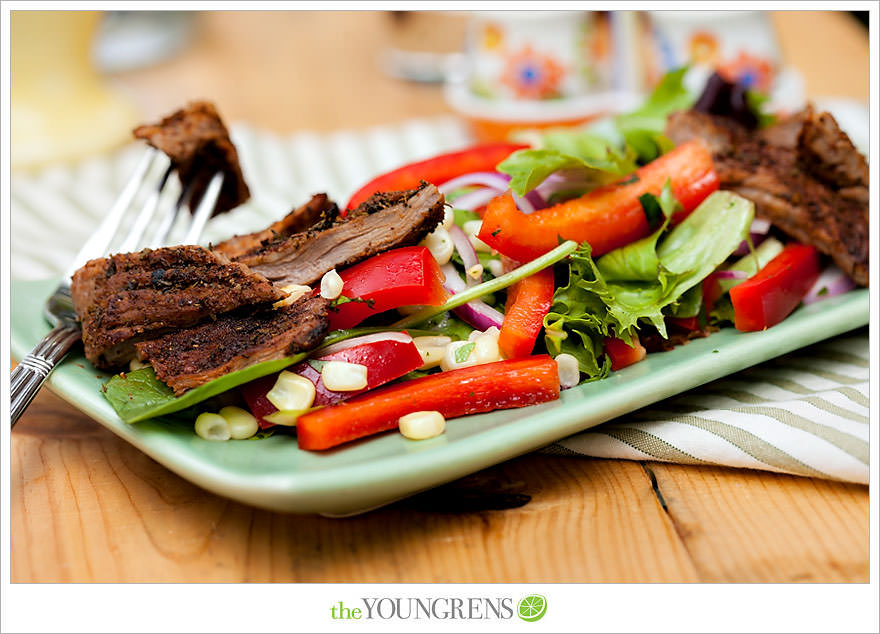 There's nothing out of the ordinary with this salad, so don't fret over buying unique or expensive ingredients. What I love about Jillian's recipes is that most of the ingredients are already in my kitchen and the end product is totally delicious!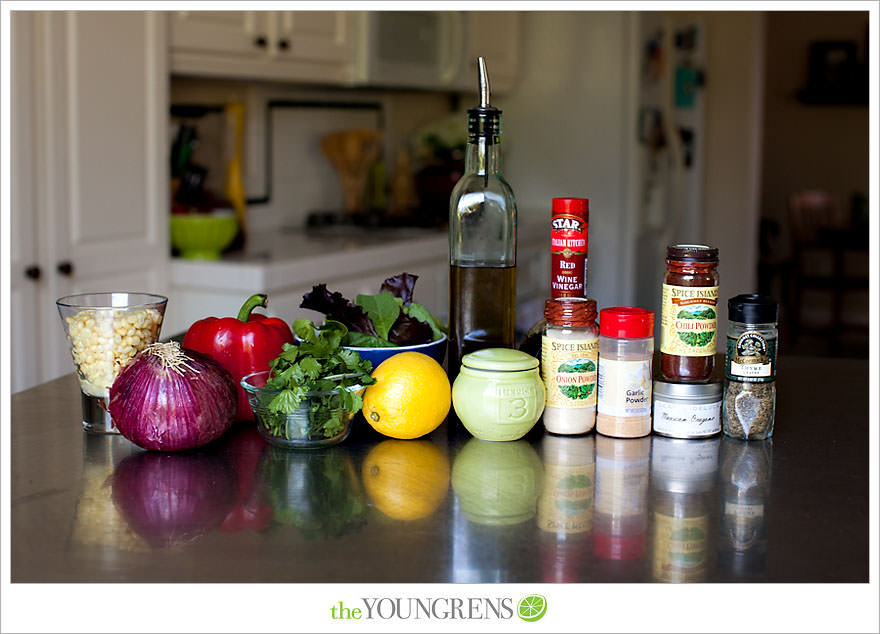 You'll need your favorite kind of mixed greens and some veggies along with a thin cut of sirloin steak. I went ahead and picked up a skirt steak which did fantastic.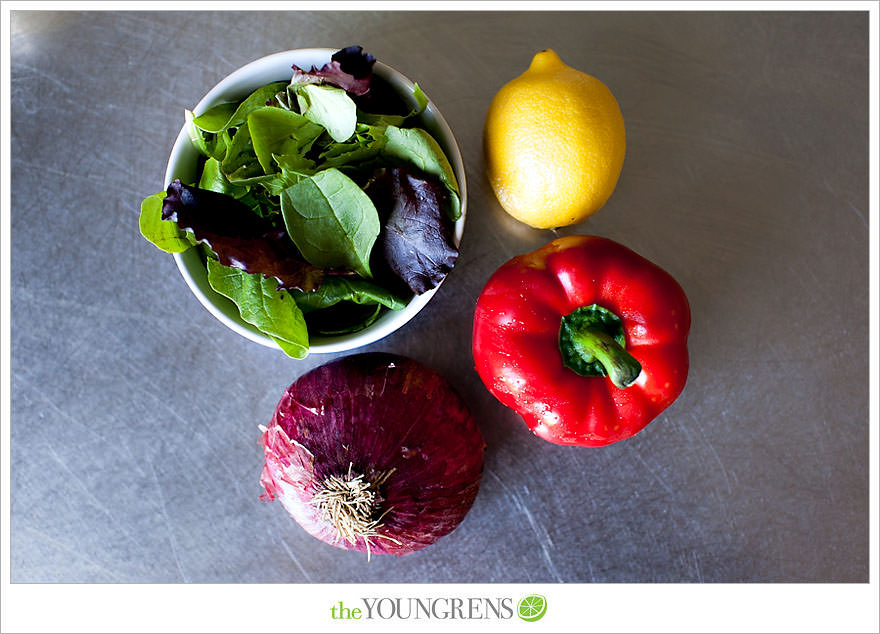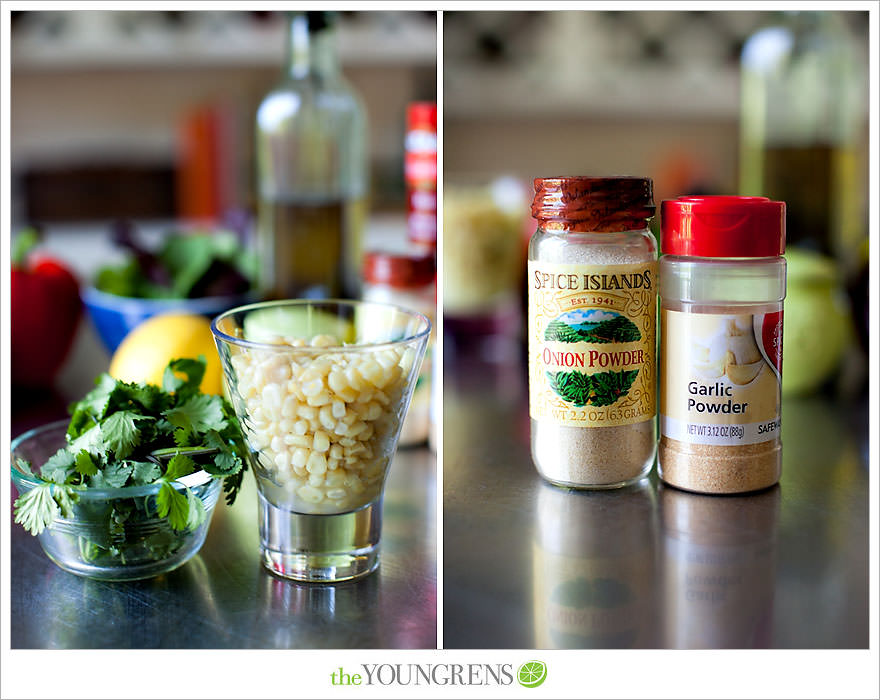 First, heat up the grill or a grill pan on your stove and start assembling the spice rub for the steak. I learned this trick from Rachel Ray. Instead of using measuring spoons, just use the small cup of the palm of your hand. This equals about one tablespoon and it's way faster than measuring.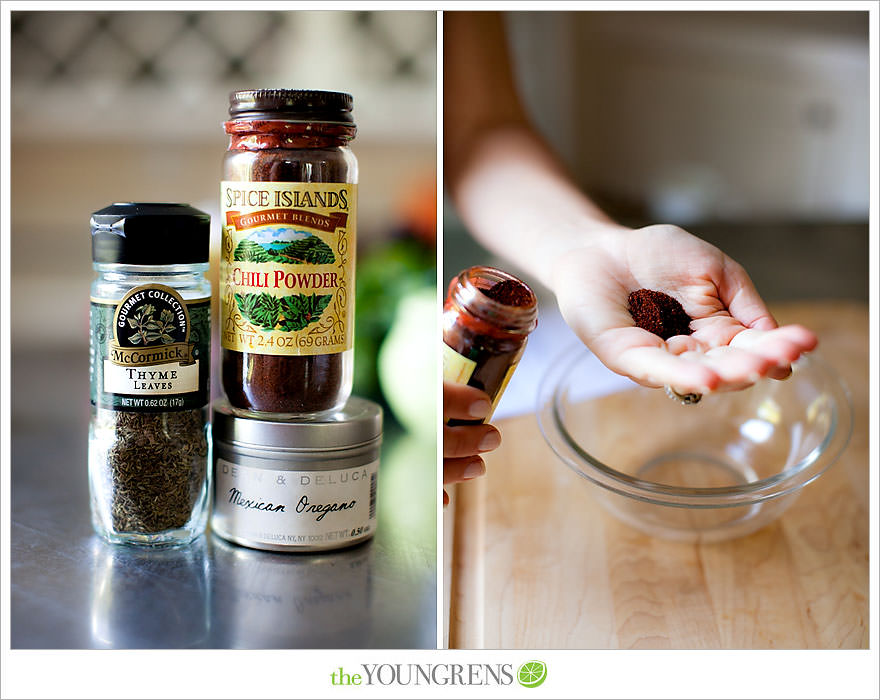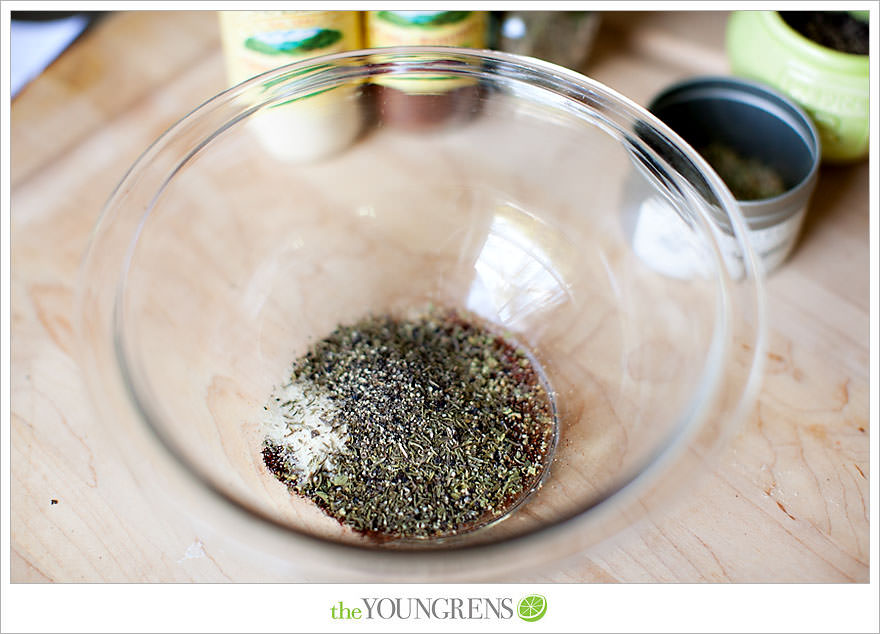 Rub the spices over both sides of the steak, then toss it on the grill for about five minutes on each side or until it's done to your taste.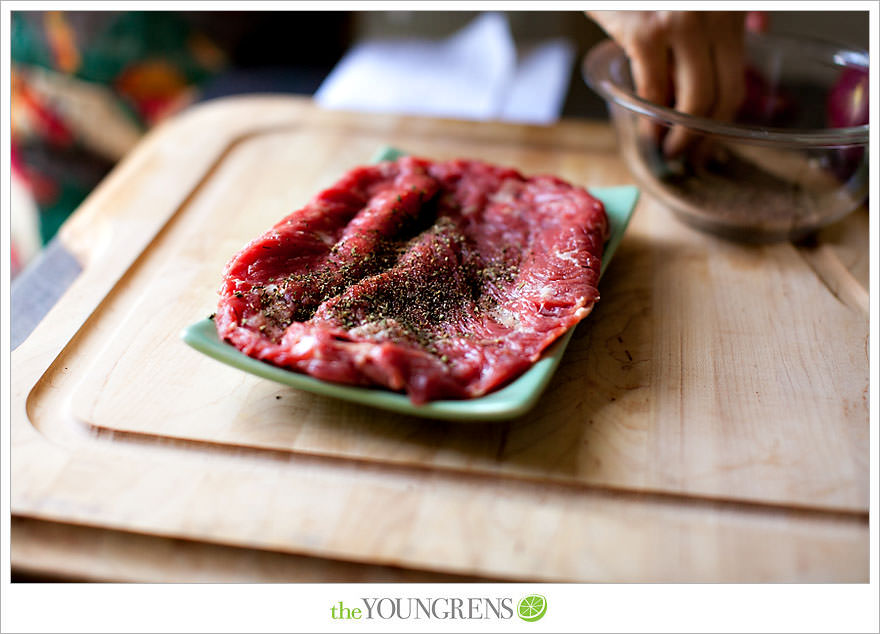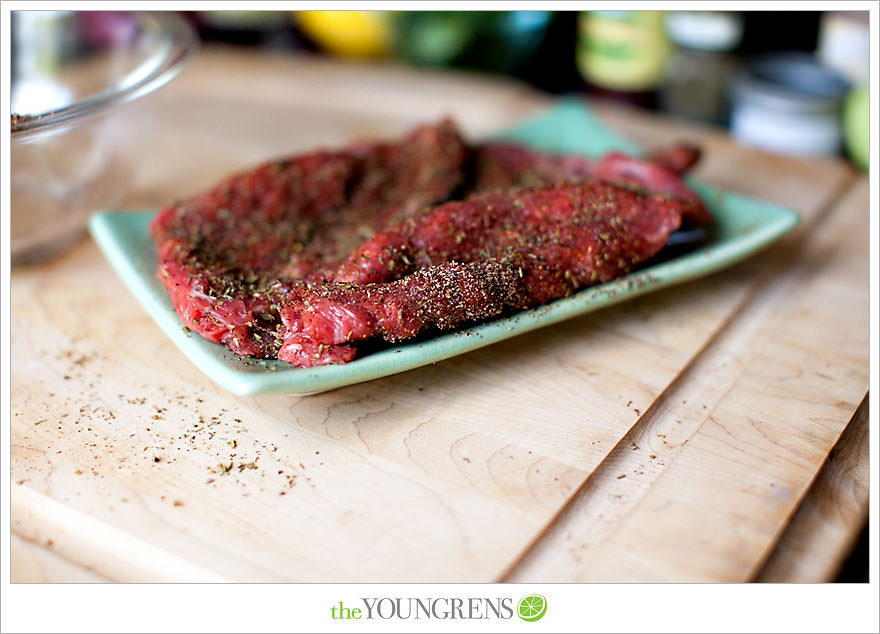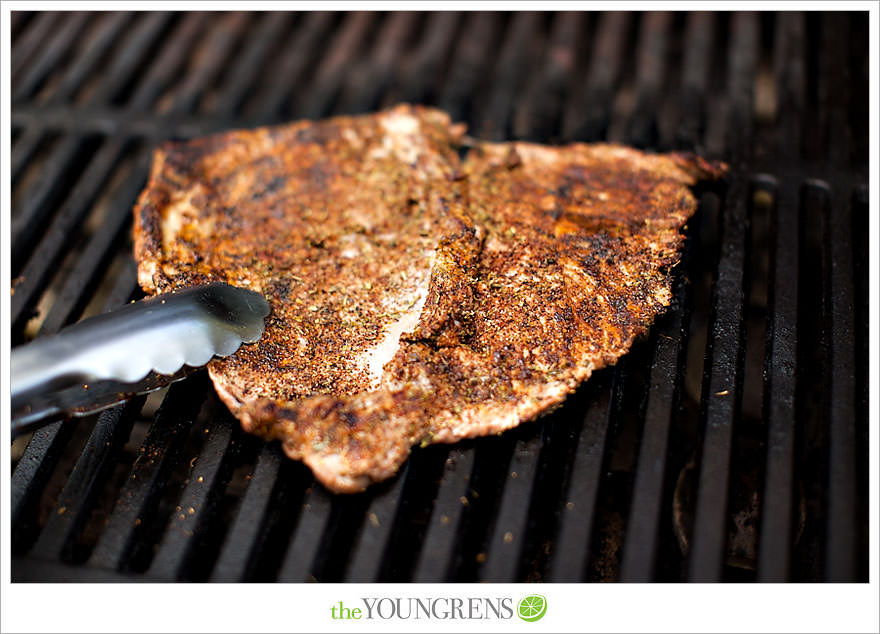 In the meantime, chop and prep the rest of the salad.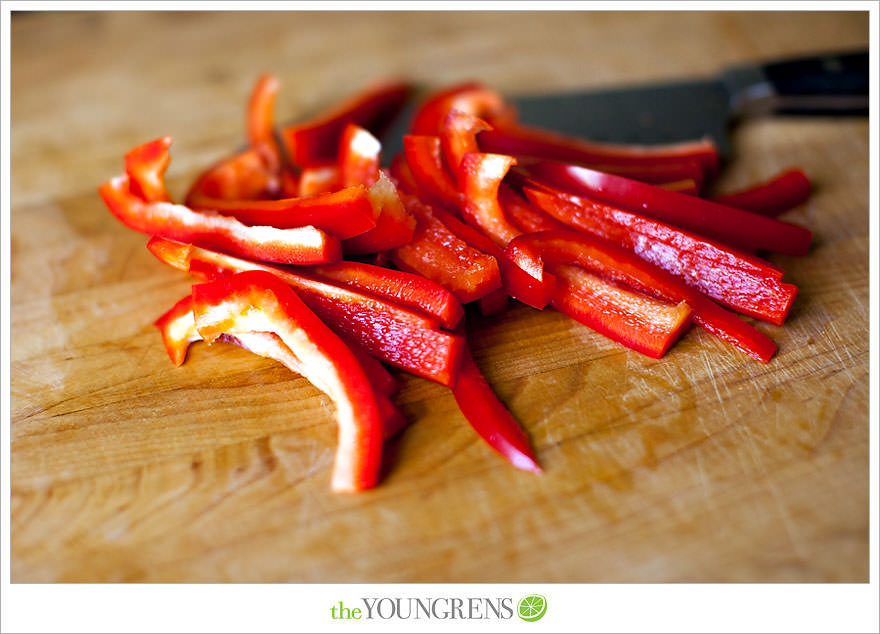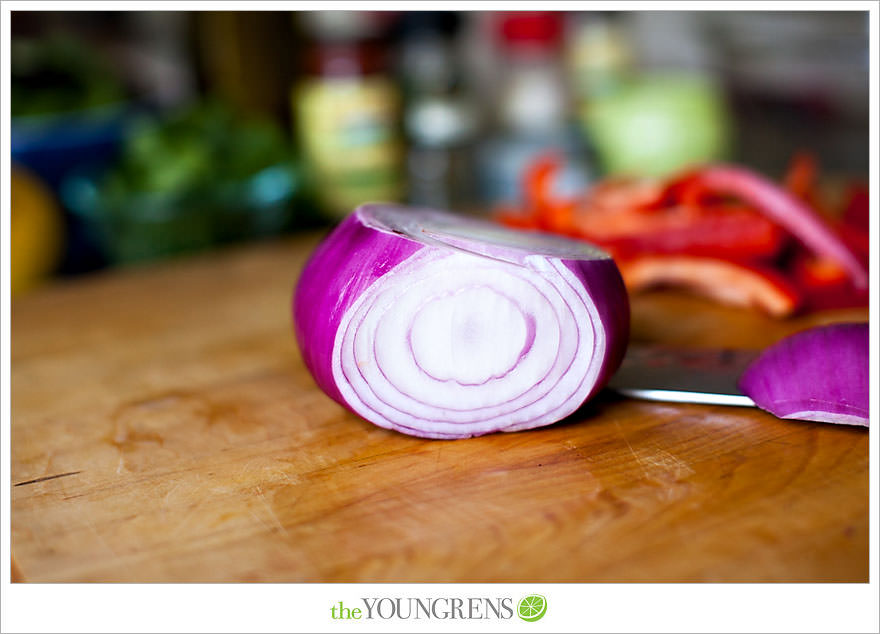 When finely chopping things like parsley, cilantro, or basil, the best way is to gather the herbs into a tight ball in your fingertips then start chopping. Do it a few times and you'll have a nice fine chop.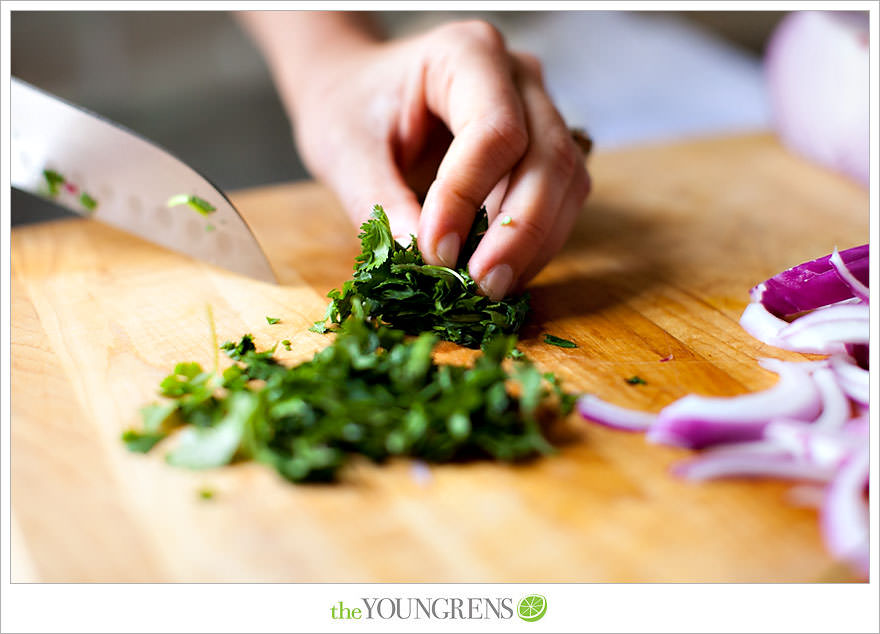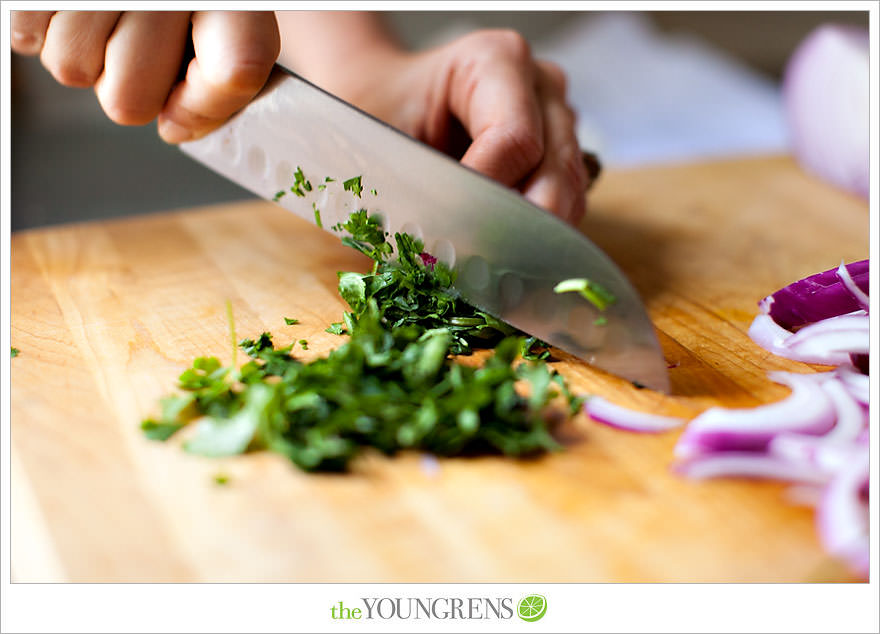 Toss all of the salad ingredients in a large bowl, including the red wine vinegar, olive oil, and lemon juice that will act as the dressing.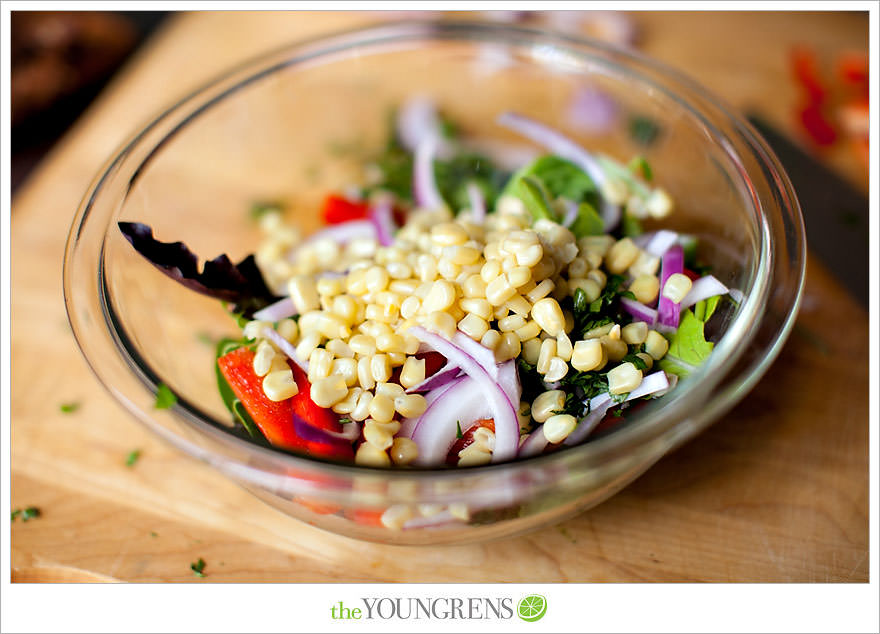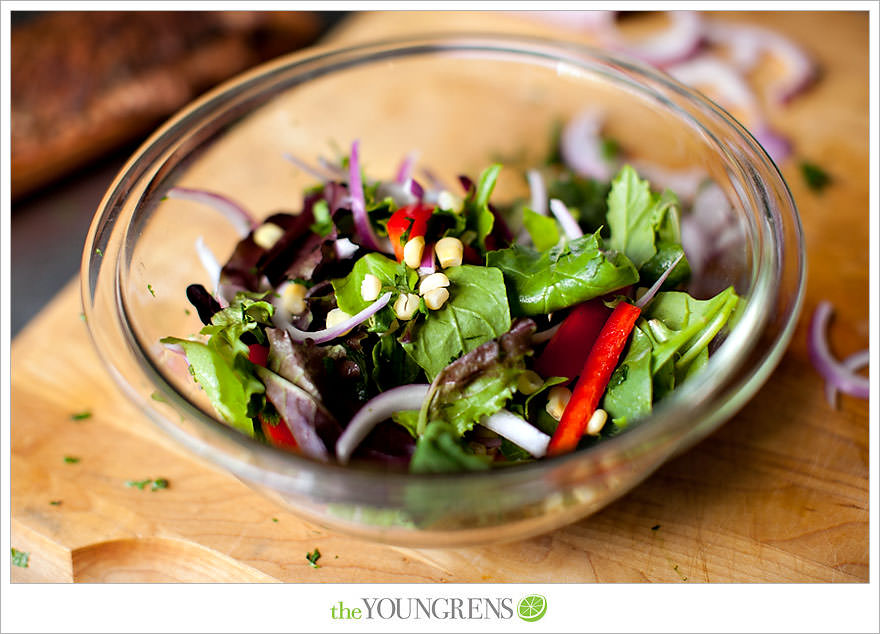 Then pull your meat off the grill and cut it up into small bite-sized slices and arrange the salad on serving plates.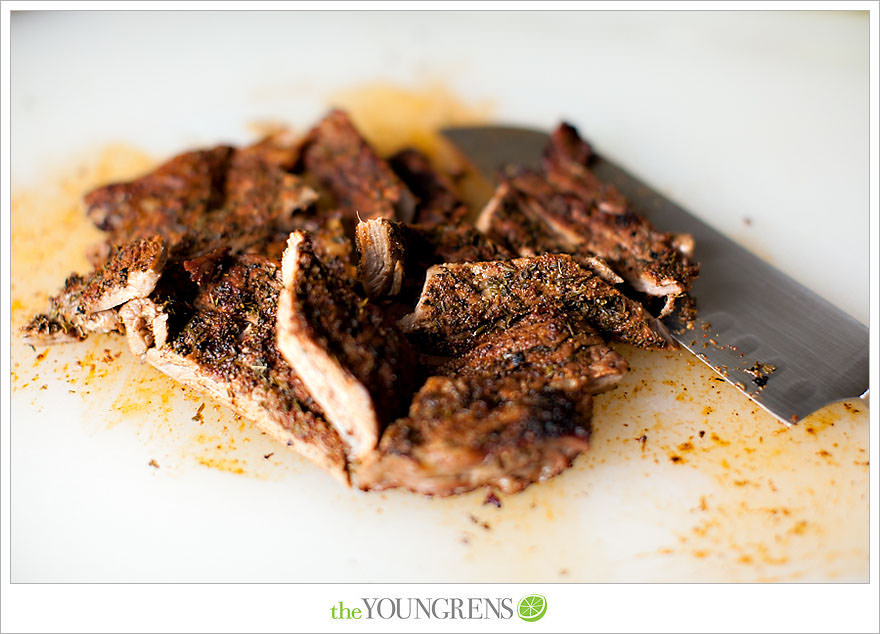 Easy right?? You can even keep the spice rub mixed together in a jar and throw together this salad at any time. The red onion mixed with the sweet corn and the southwest-style spice rub make this a summer delight!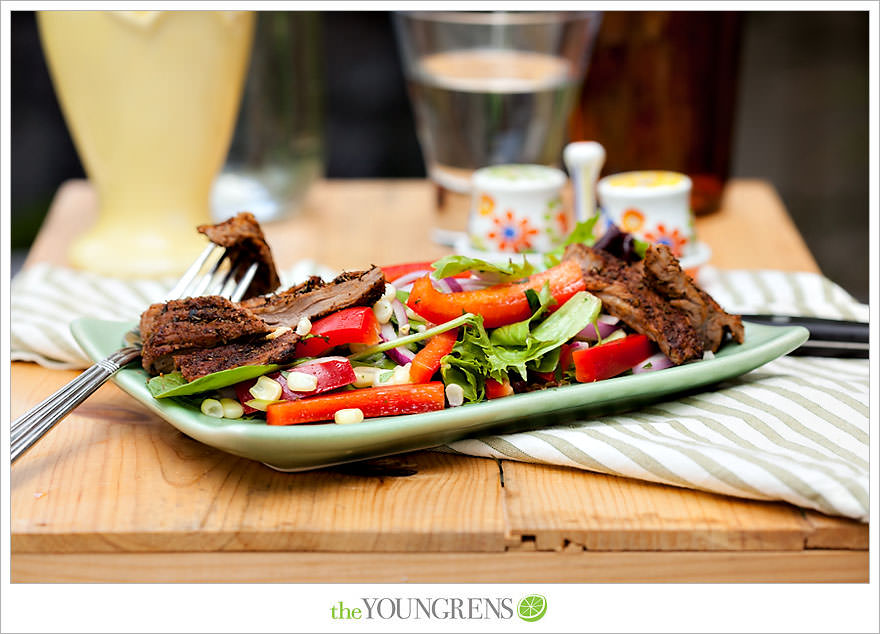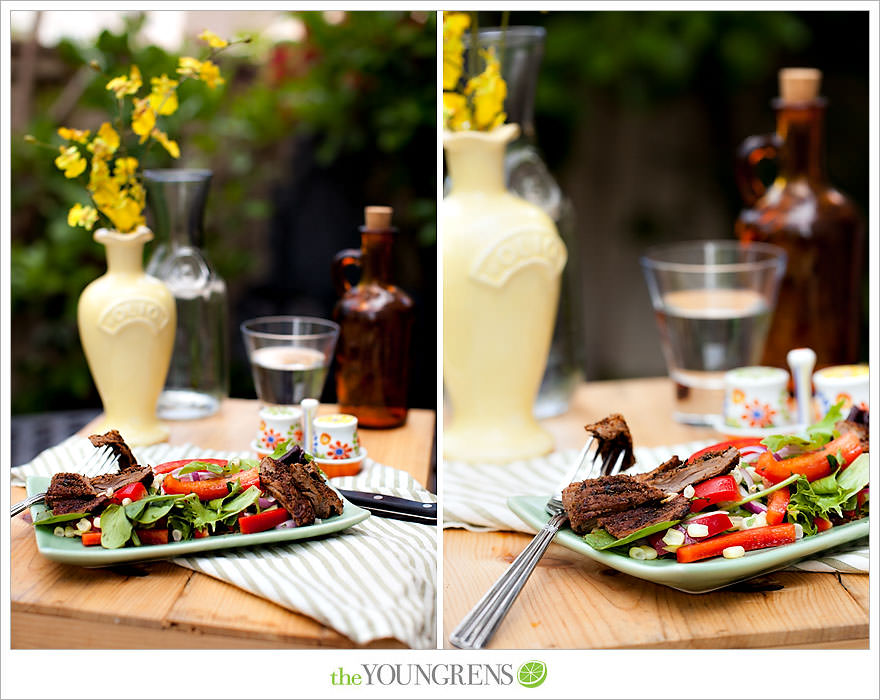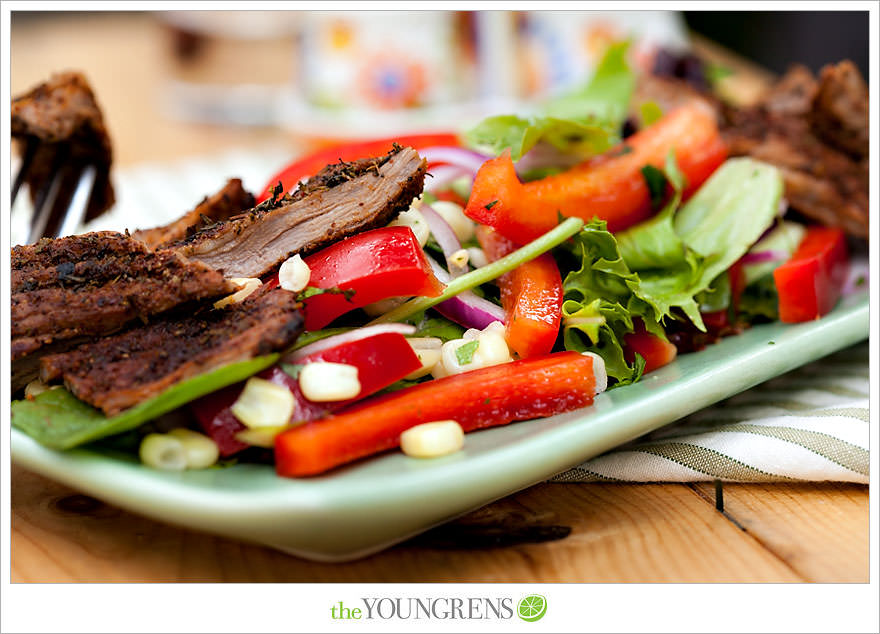 Grilled Sirloin Salad
(download Jillian Michael's meal plan)
1 tablespoon chili powder
2 teaspoons dried oregano
1 teaspoon dried thyme
1⁄2 teaspoon onion powder
1⁄2 teaspoon garlic powder
1⁄4 teaspoon black pepper
1 pound lean boneless sirloin steak, trimmed 8 cups organic mixed salad greens or arugula
1 1⁄2 cups red bell pepper strips
1 cup vertically-sliced red onion
1 tablespoon chopped fresh parsley
1 tablespoon red wine vinegar
1 teaspoon olive oil
1 teaspoon fresh lemon juice
1 (8 3⁄4 ounce) can organic whole kernel corn, drained and rinsed
Directions1. Combine the first six ingredients; rub over both sides of steak. Heat a grill pan over medium-high heat. Add steak; cook on each side 5 minutes or until desired degrees of doneness. Cut the steak across grain into thin slices.2. While steak cooks, combine salad greens and remaining ingredients in a large bowl; toss well to coat. Hugs,Erin
OUR FAVORITE WEDDINGS
the portfolio
Loving our work? Check out our favorite weddings we've ever photographed
VIEW HERE
OUR MOST HELPFUL WEDDING PLANNING TIPS, STRAIGHT FROM THE EXPERTS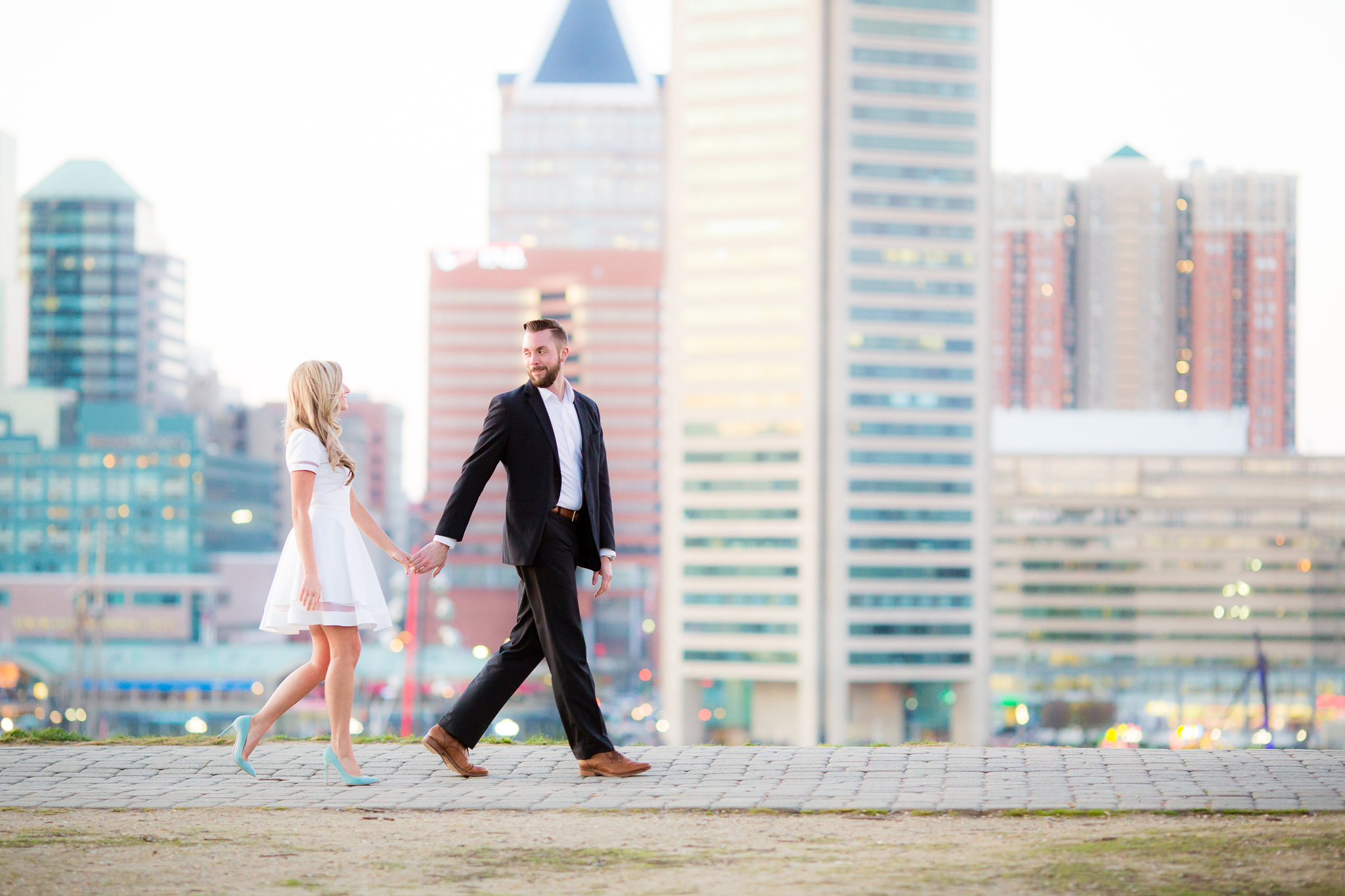 Our Formula for the Perfect Engagement Outfit
Picking the perfect outfit for a photo session can be one of the most difficult experiences BUT it doesn't have to be. I've seen enough outfits that work and don't work that I've cracked the ultimate code for our couples...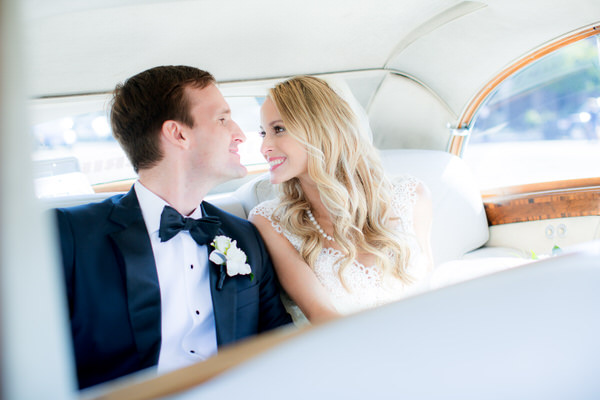 Our Stress-Free Wedding Day Timeline
There's nothing better than a stress-free wedding day when everything runs smoothly, your guests have the time of their lives, and you soak in the day with your sweetie. Though it sounds too good to be true, you can...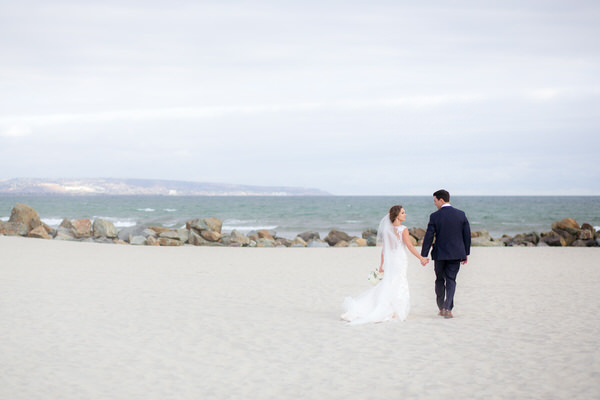 10 Foolproof Tips to Get Gorgeous Wedding Photos
It's the #1 question brides ask: What can I do to get the most amazing photos on my wedding day?
Having been through the in's and out's of countless weddings, I have loads of tips to share, so let's...
We're Jeff and Erin Youngren, a hubby and wifey team that photographs amazing couples and their incredible weddings. Hopeless romantics, BFF's, and mama + daddy to James, we're obsessed with traveling, podcasts, Oreos (Erin) and whiskey (Jeff).