I grew up in a town surrounded by potato fields, and my dad was a brilliant engineer that did research and development on irrigation systems so our lives were planted in the middle of farm country. Between our farmer neighbors, my dad's test fields, and the local farmer's markets, we had a perpetually bottomless sack of potatoes sitting in our garage all winter long. And since these were local potatoes – not the pretty ones that show up in grocery stores – these babies were HUGE. We're talking football sized russets with giant knobs jutting out the sides, so we would cut these bad boys in half and get two or sometimes even three baked potatoes out of one.
Even though my personal potato consumption plummeted when I left Idaho and moved to Southern California for college, any recipe that celebrates the potato is a winner in my house. This gratin recipe is one that is going to live in my recipe book for years – the garlic cream sauce mixed with nutty manchego and creamy gouda cheese melted in between layers of thin slices of Yukon Gold will melt your potato heart in no time. It's a bit time consuming to make, but when I'm willing to break my lactose embargo, I go big (my stomach and lactose definitely do not agree), and this is the kind of dish that makes any dairy-caused belly ache totally worth it.
The ingredients are few, but like most perfected oven-roasted dishes that are worth every minute, the process is long.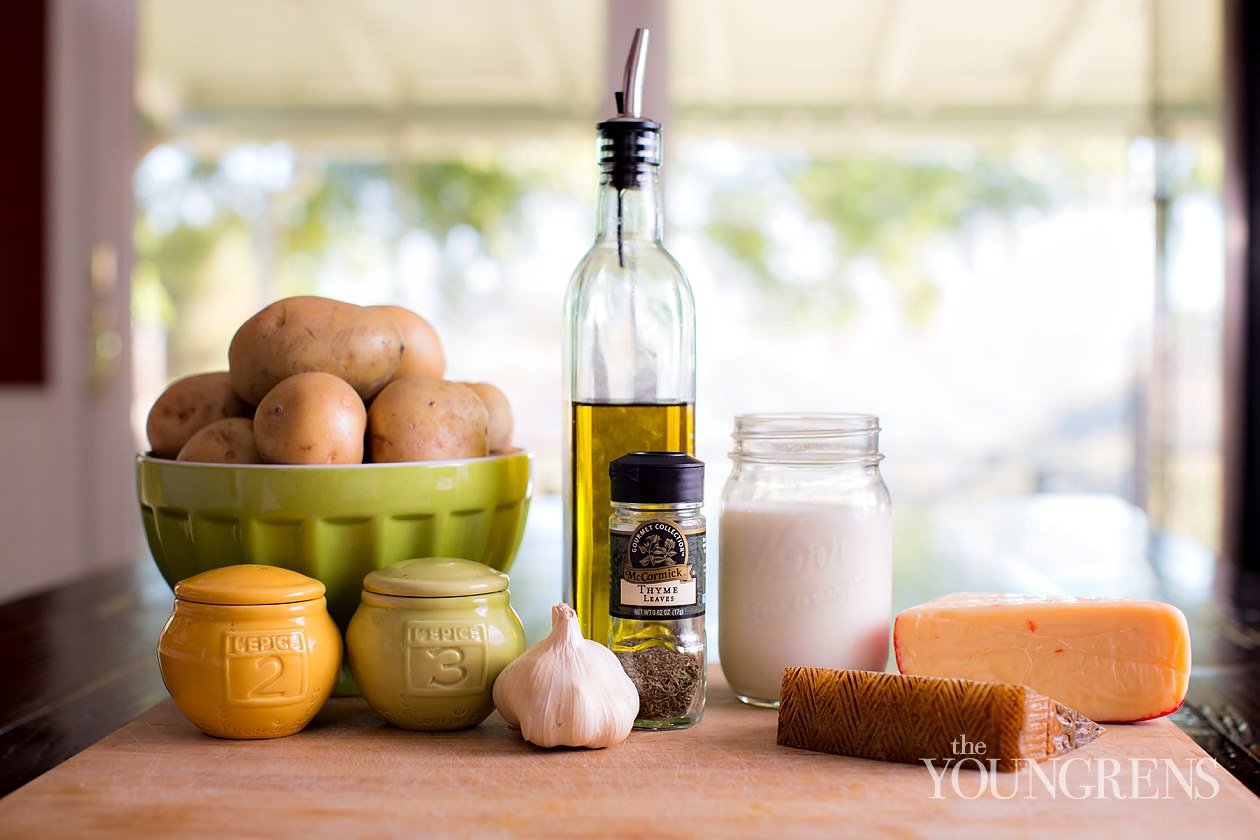 Manchego and San Simon cheese are the heroes of this dish, although I used gouda as a substitute. San Simon was not the easiest guy to find… You'll also need a TON of garlic – three HEADS of garlic to be exact. Not cloves, but heads. You'll be getting nice and familiar with all of this garlic. Thyme, rosemary, salt, pepper, and half and half round out the ingredient list – well, except for the lovely Yukon Gold potatoes.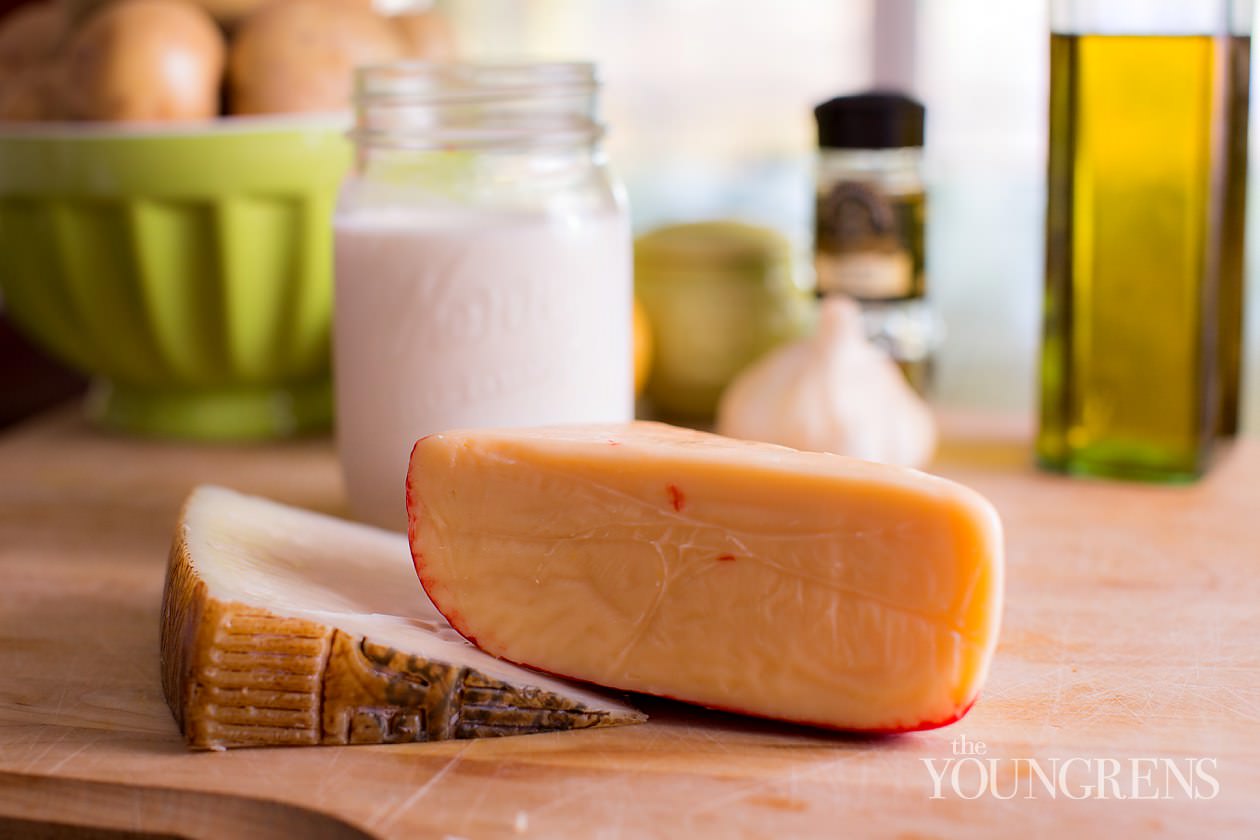 Separate the garlic cloves and spread them on a baking sheet with the peels still on. Cover them with aluminum foil and roast them in the oven for 40 minutes. This will be for your garlic cream sauce.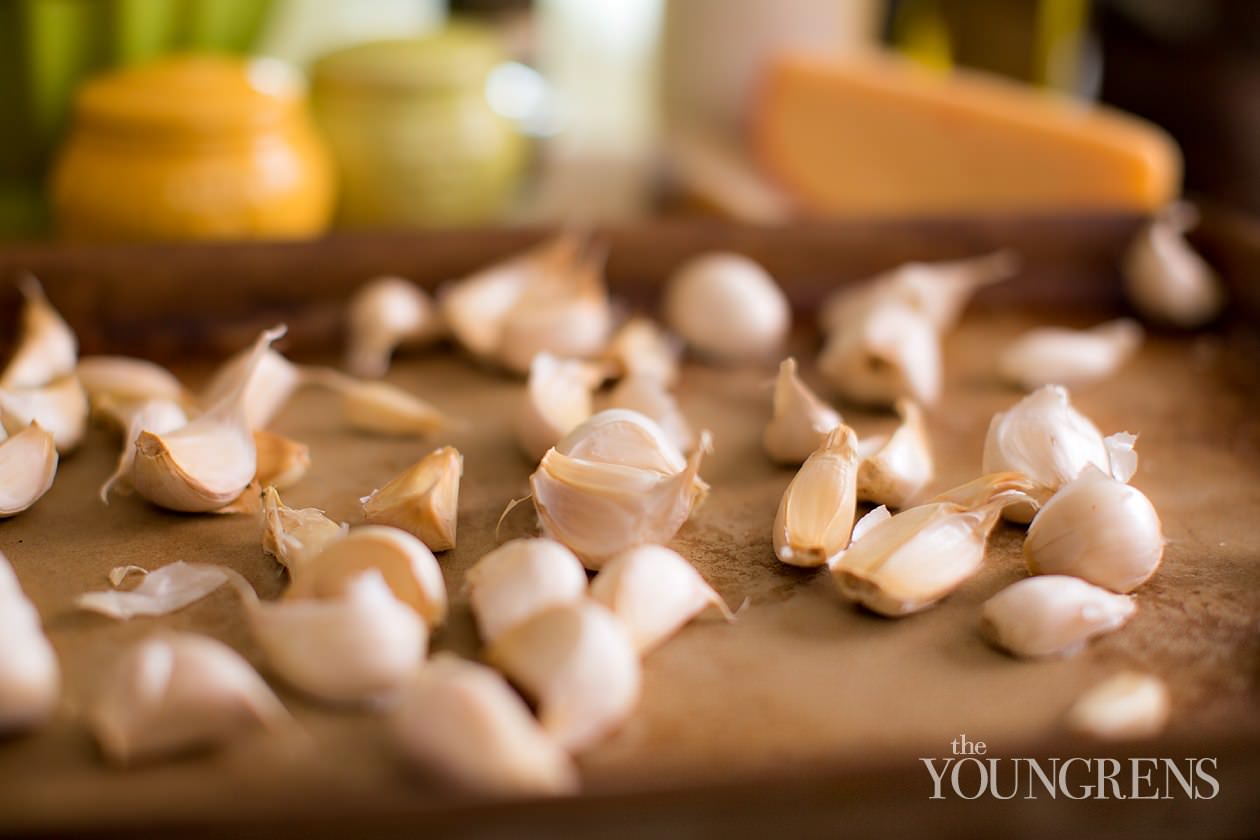 In the meantime, peel and evenly slice the potatoes into thin pieces, chop your thyme and fresh rosemary, and grate your cheeses.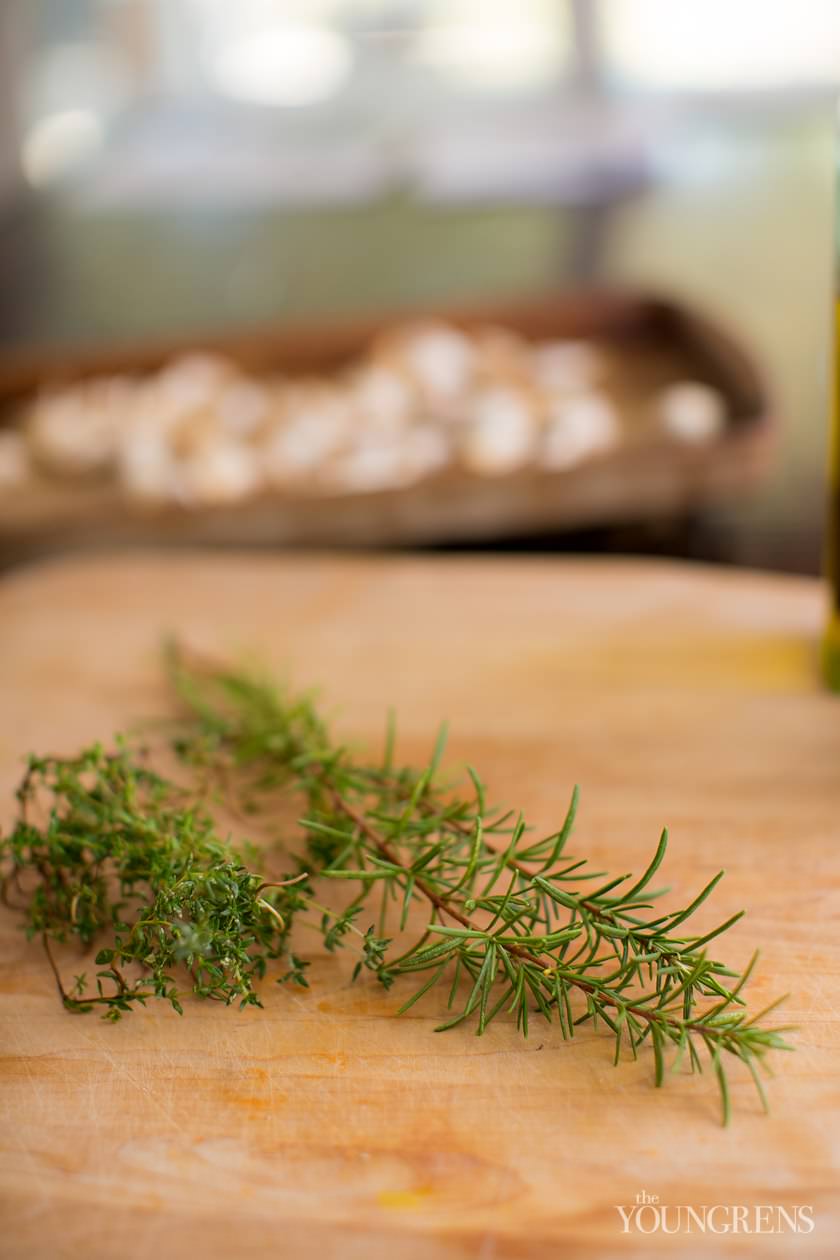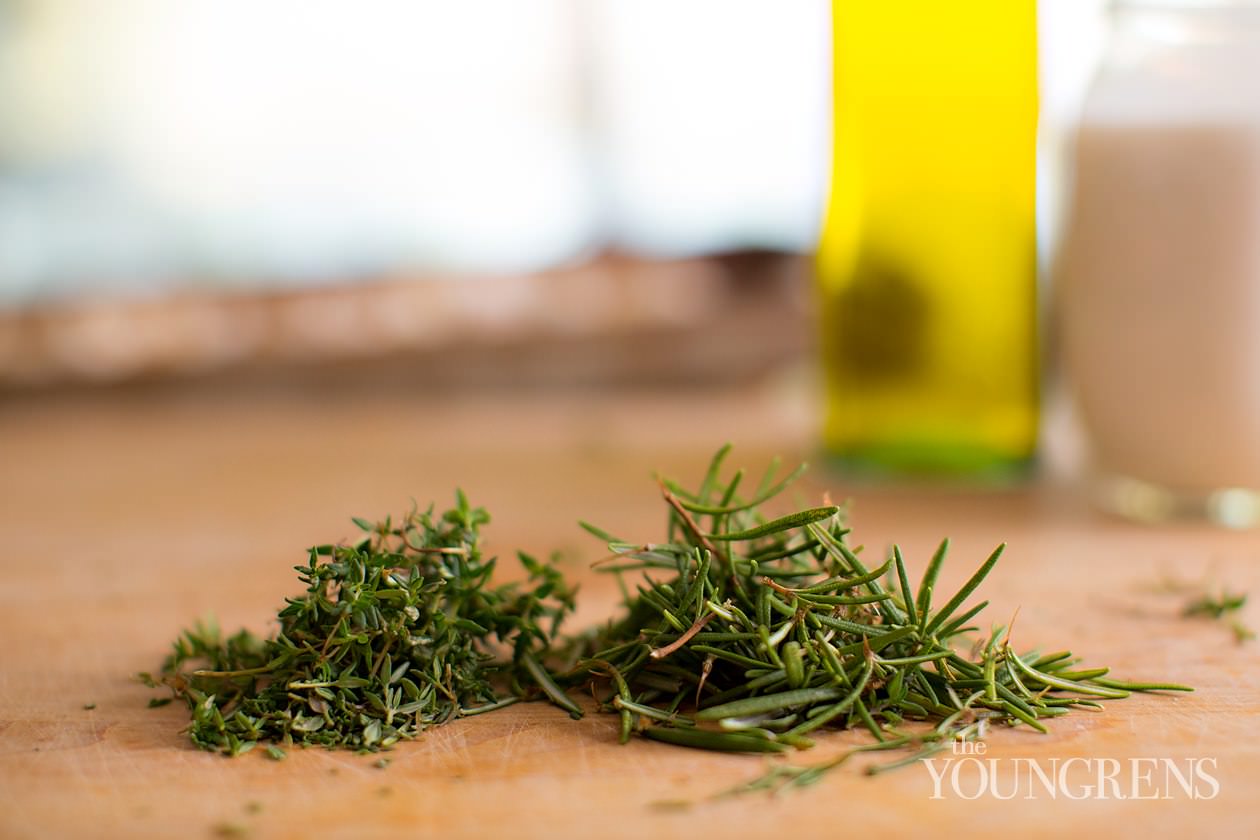 When the garlic cloves come out of the oven, they'll be nice and mushy in their peels. Using your fingers, squeeze the roasted garlic out of the peels. Some with come out easily, other will take a little more convincing, so be patient during the process!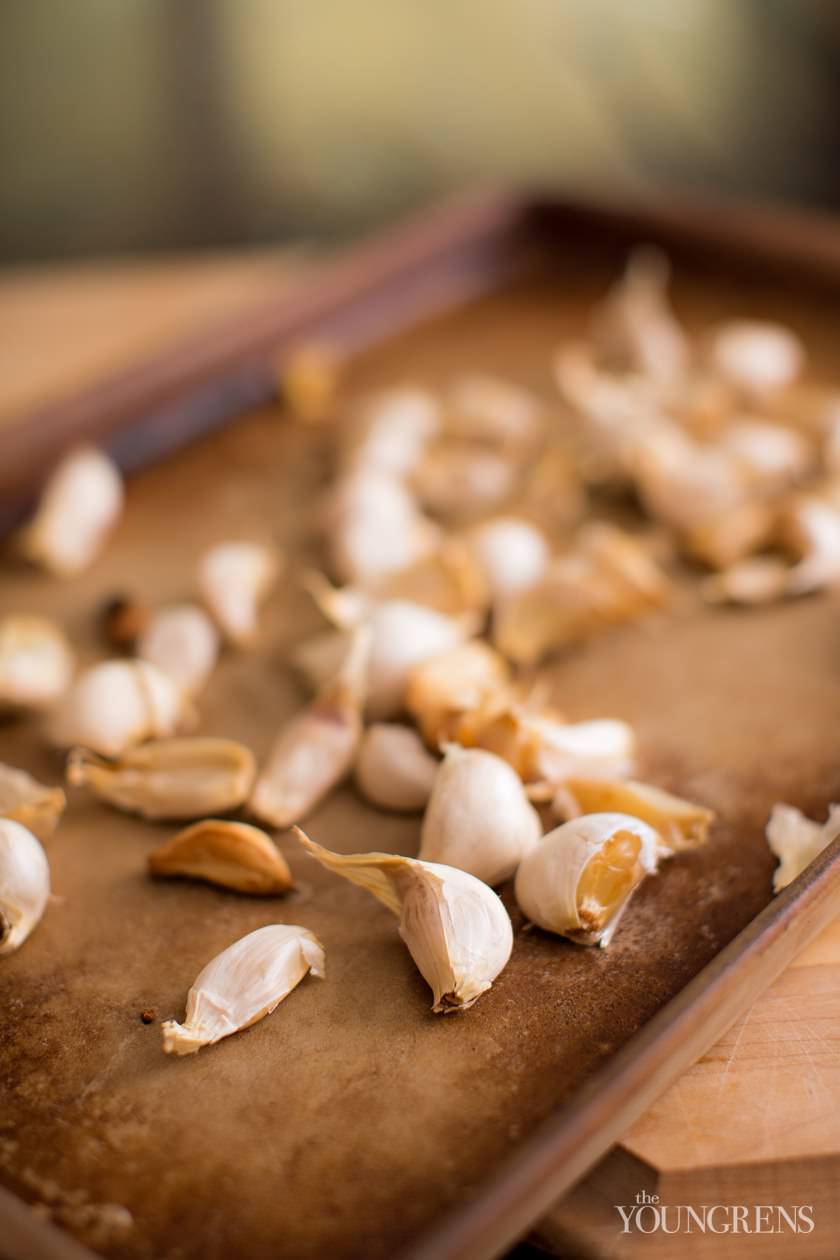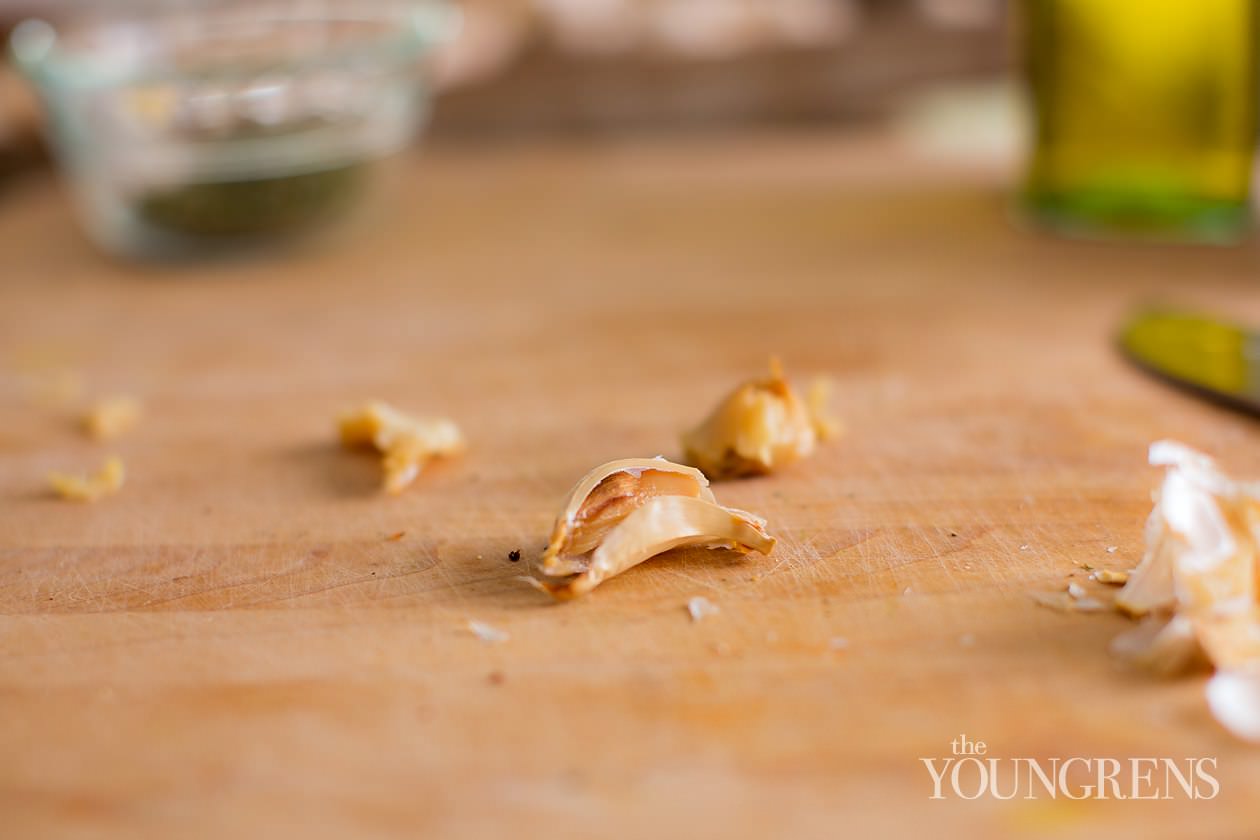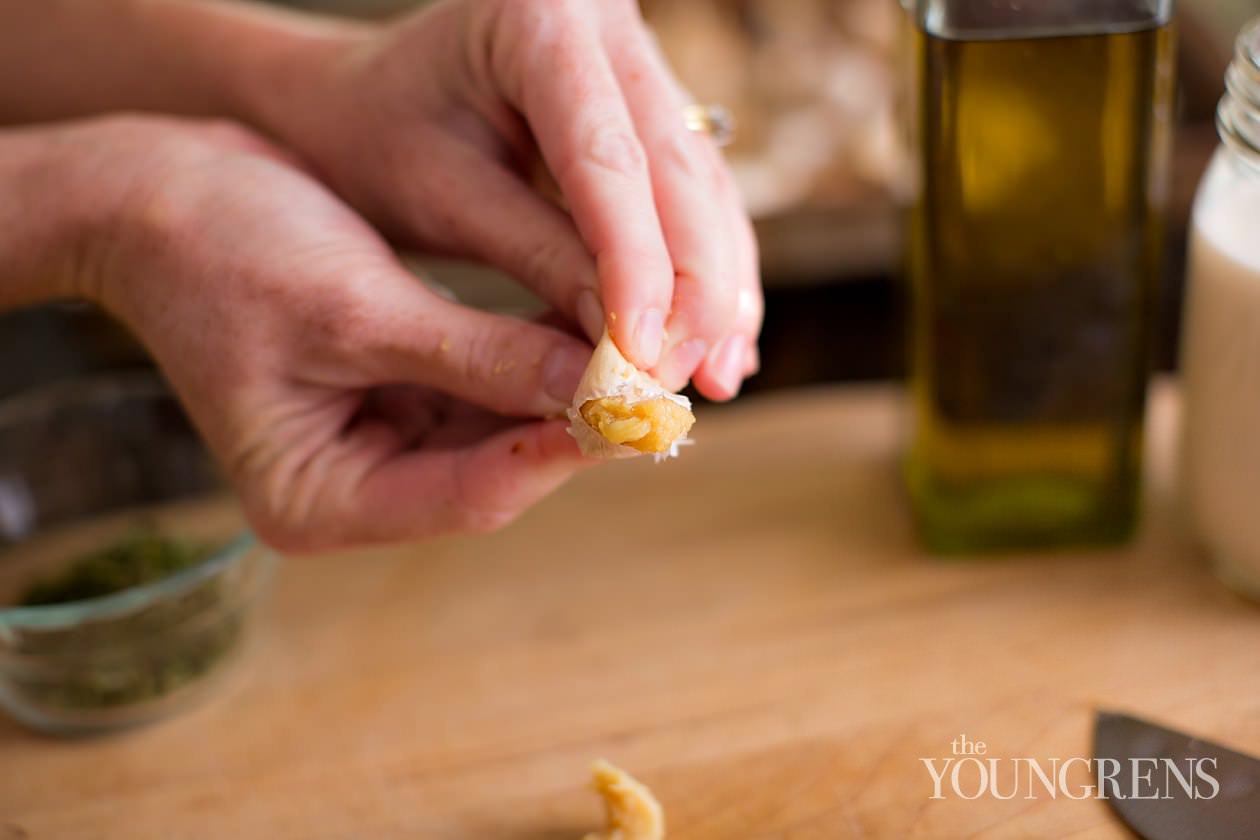 Your fingers will wreak of garlic by the time you're finished, so we like to use our spoon trick to get the smell off of our hands – rub your fingers on a metal spoon and the garlic smell will come right off! Our friends actually bought us 'metal soap' at one point. It's a soap-shaped piece of metal that you use to 'wash' your hands, and the garlic smell comes off immediately. Love!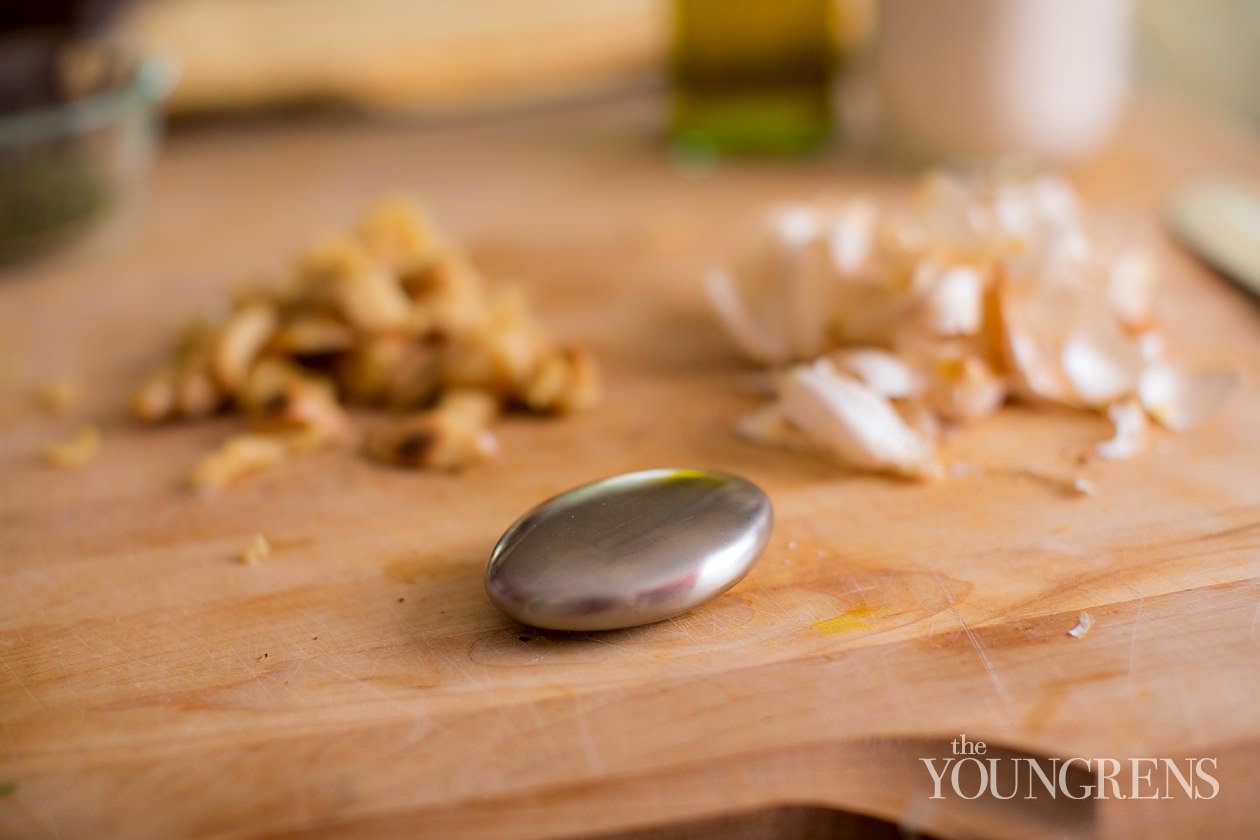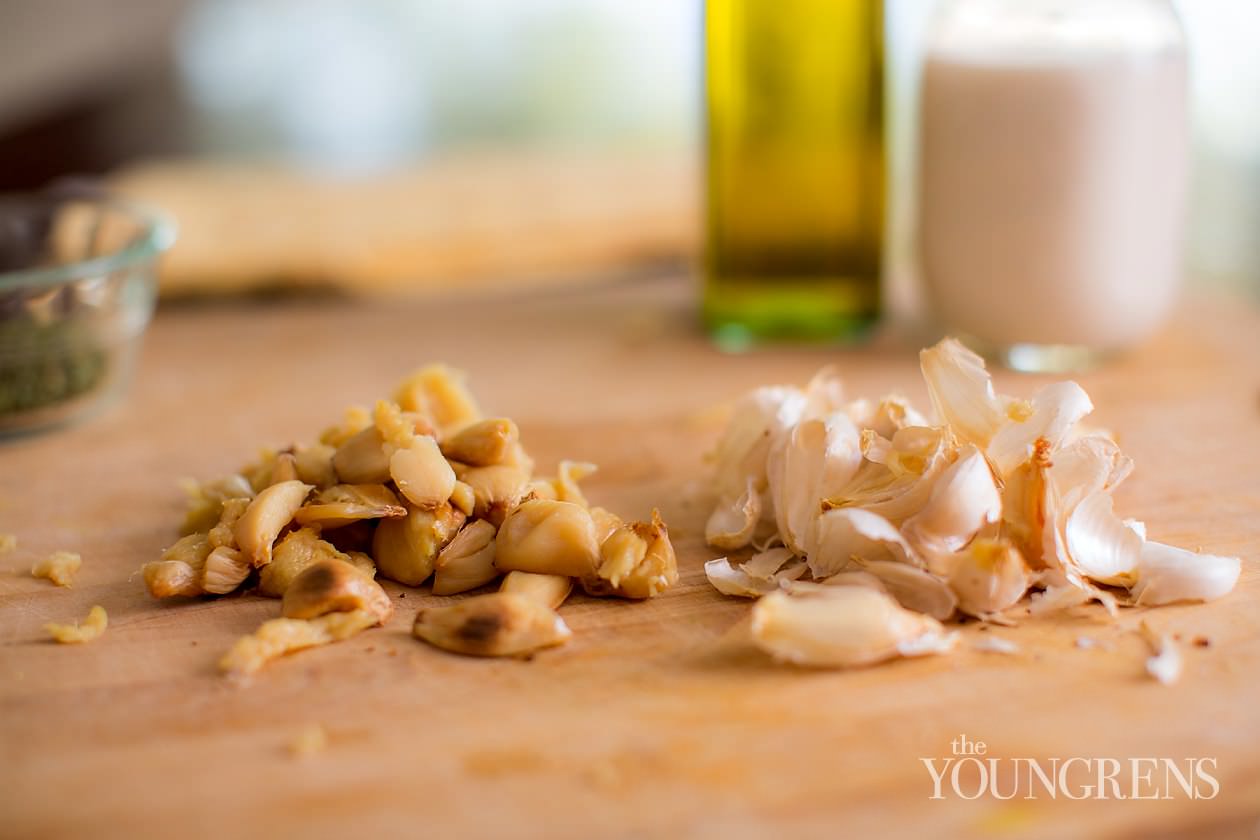 Mash up the garlic using a fork and plop the mass into a saucepan.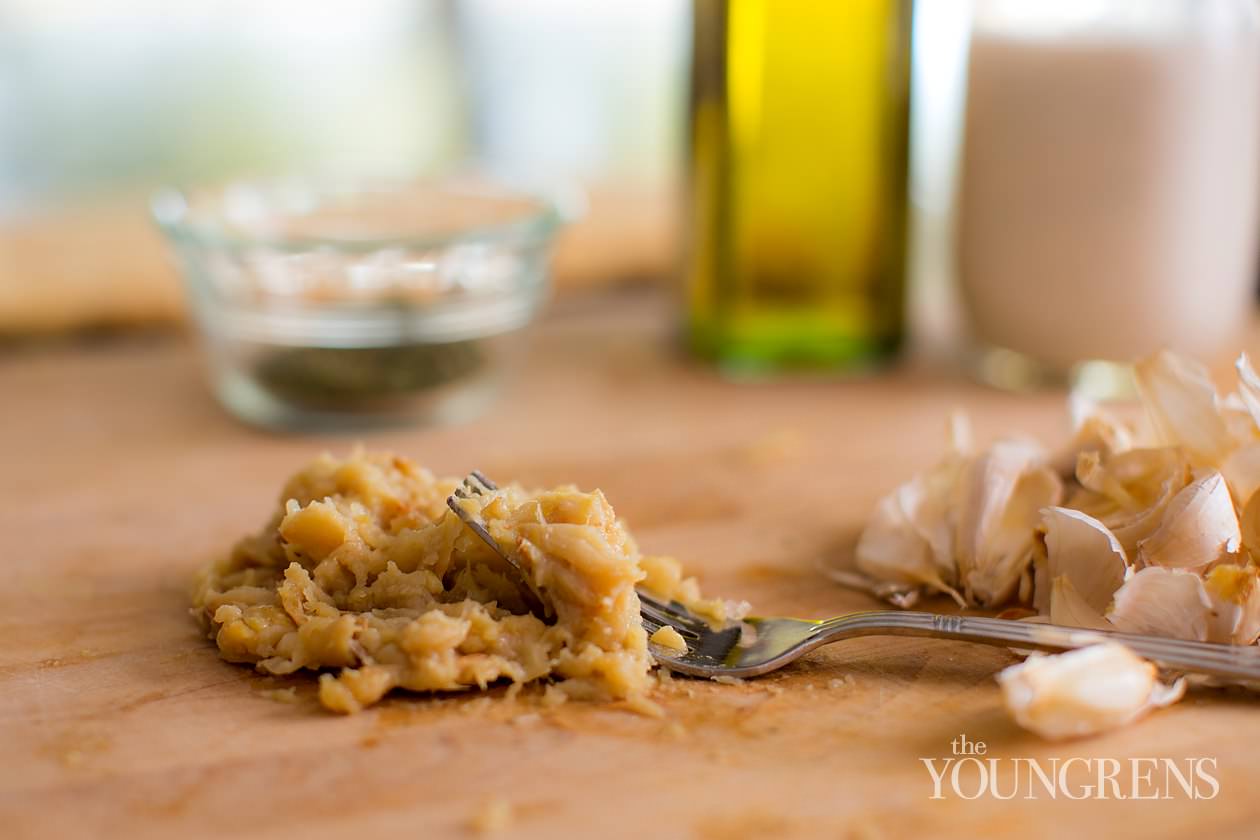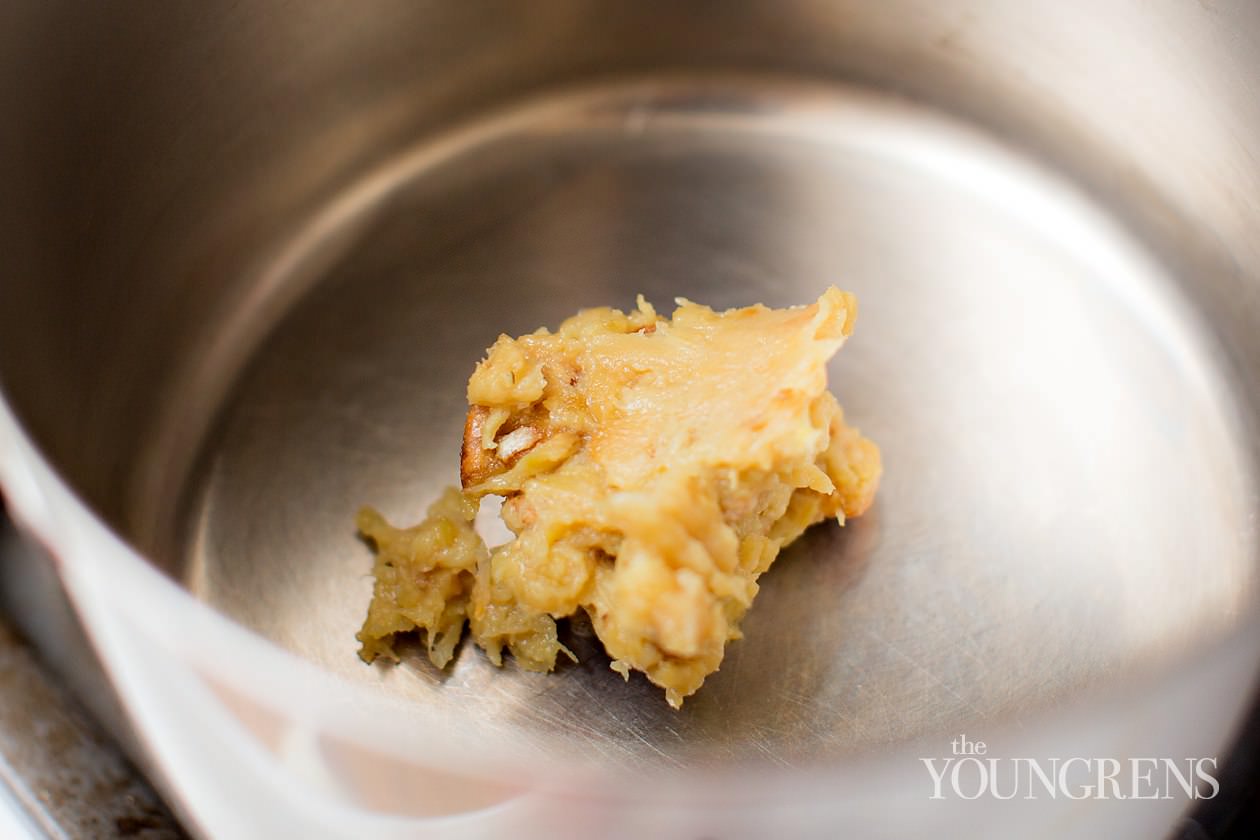 Add the cream and spices and bring to a boil. Then let it reduce for about 20 minutes until slightly thickened.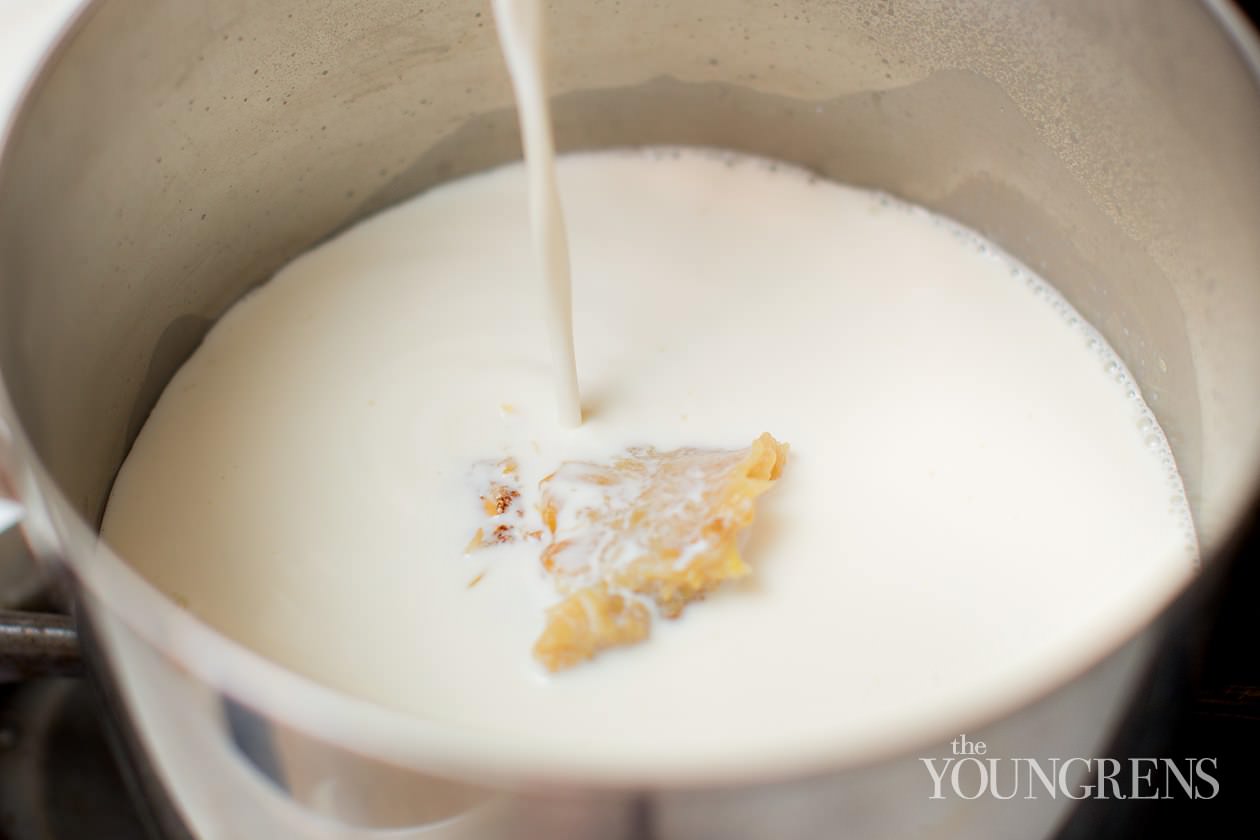 Once the sauce is ready, preheat your oven to 375 degrees, and start your layering. Arrange a quarter of the potato slices on the bottom of a casserole dish, drizzle with some of the cream sauce, then spread with a layer of each cheese. Then rinse and repeat until you've used up all of the ingredients. Make sure to end with drizzling the last of the cream sauce on the final layer of the cheeses and sprinkle with some salt and pepper.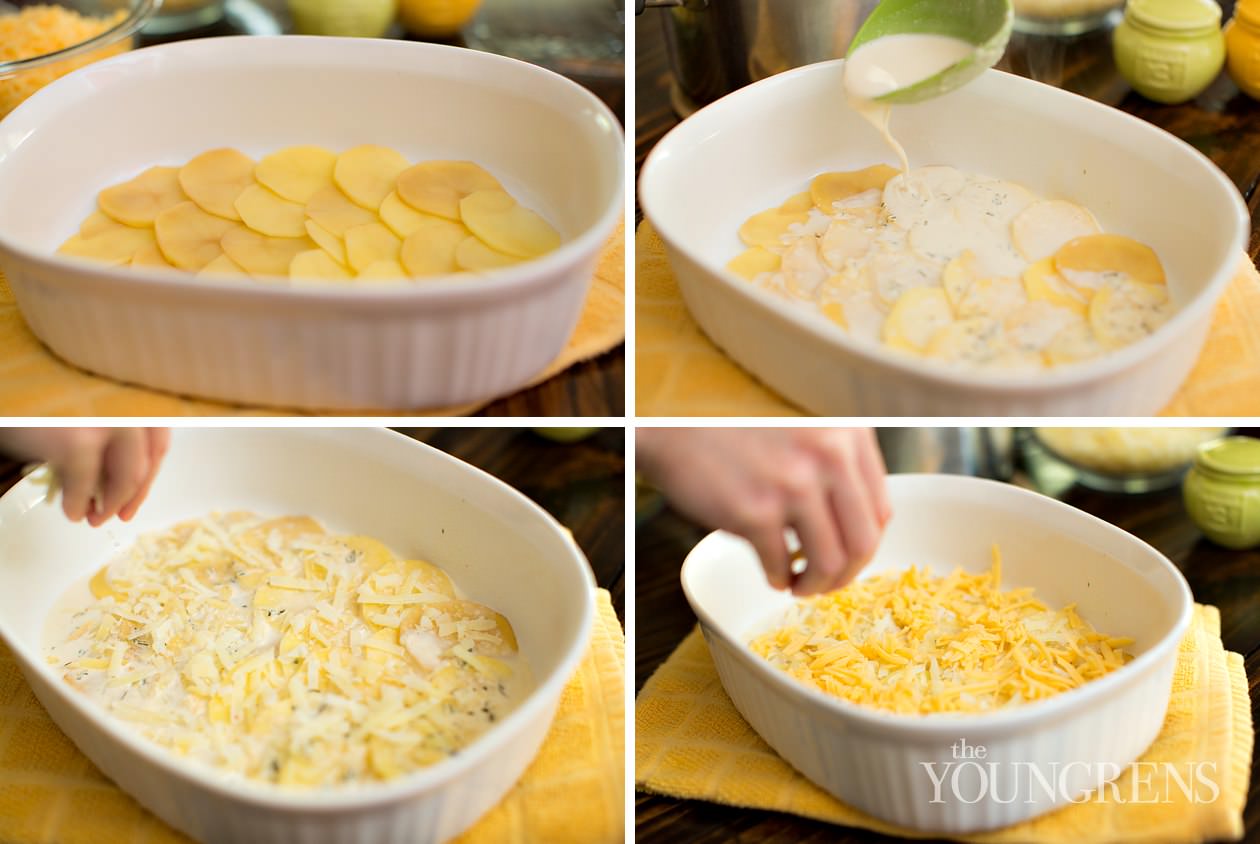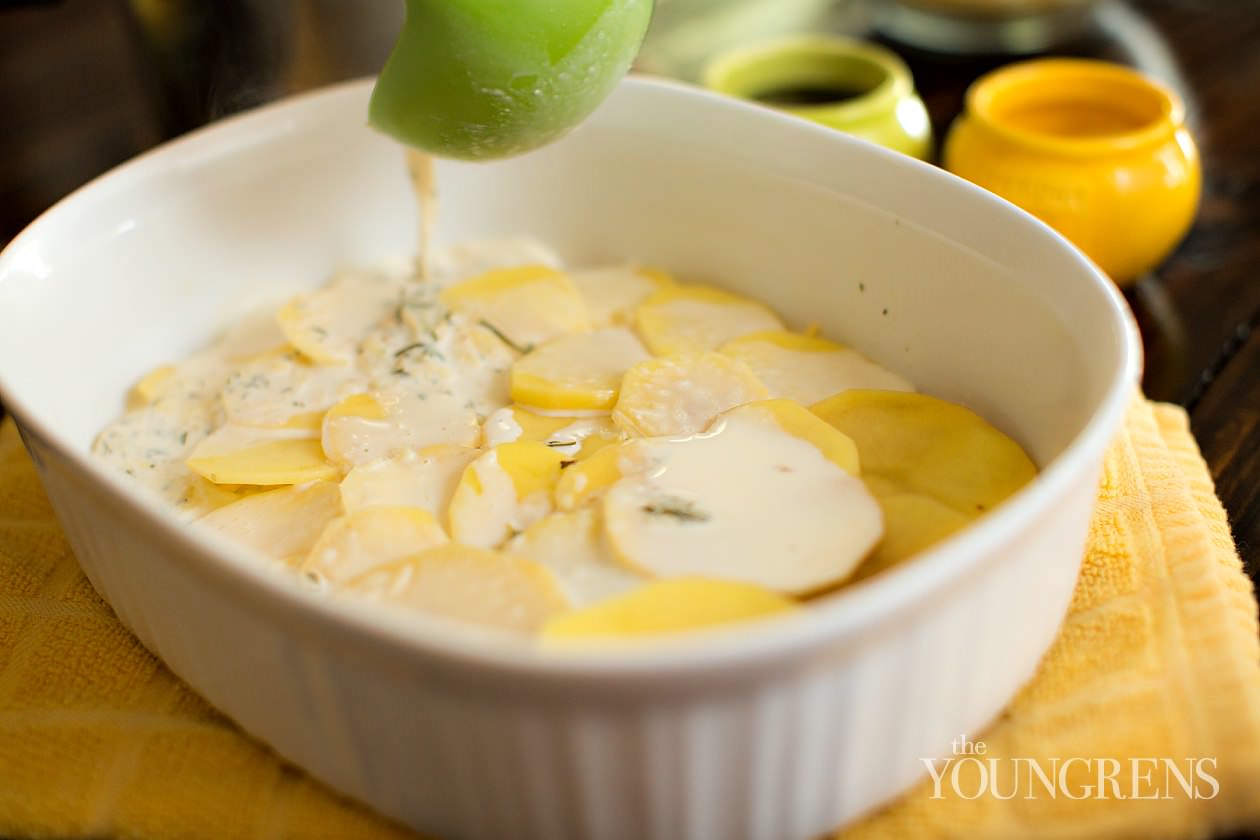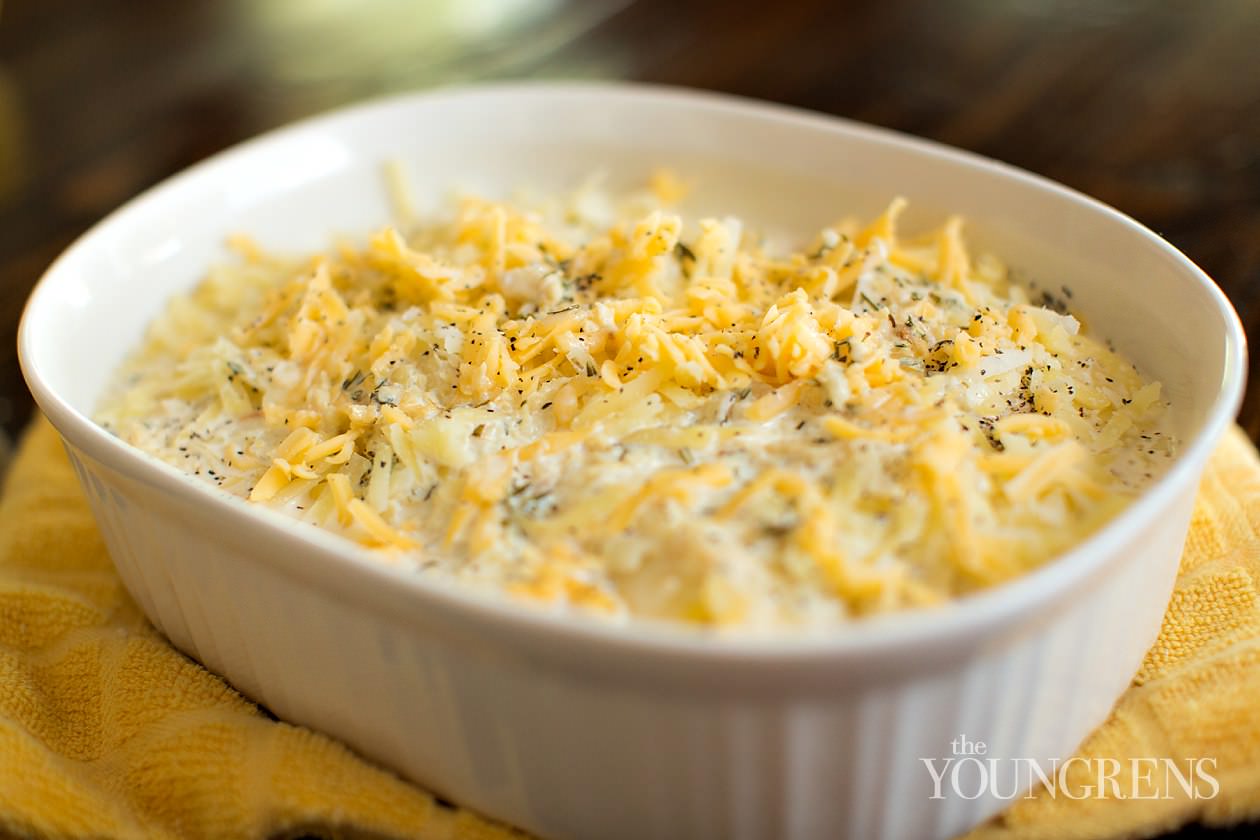 Bake the casserole in the oven for an hour and a half, then let it cool for about 20 minutes before serving.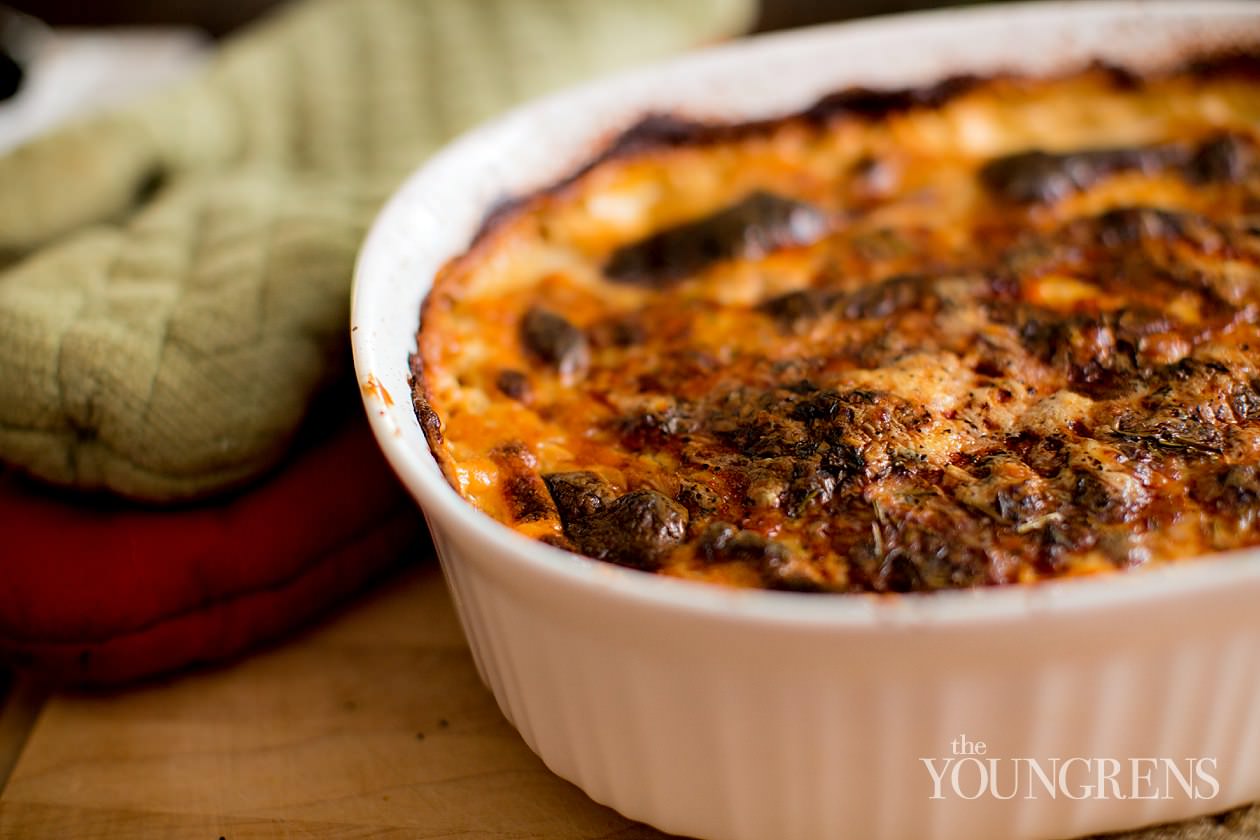 This gratin is TO. DIE. FOR. This is a fantastic potluck dish or easy side that will have everyone raving. I like that you can prep the dish the day before and refrigerate overnight, then cook the rest of your meal while this is in the oven. So good!
Herbed Potato Gratin with Roasted Garlic and Manchego
(view the original recipe from Food & Wine here)
3 heads of garlic, cloves separated but not peeled
1 tablespoon extra-virgin olive oil
1 quart half-and-half
1 tablespoon chopped thyme
1 teaspoon chopped rosemary
Salt and freshly ground pepper
5 pounds Yukon Gold potatoes, peeled and very thinly sliced
9 ounces aged Manchego cheese, coarsely shredded (2 cups)
5 ounces San Simón or smoked Gouda cheese, shredded (1 cup)
Directions:
Preheat the oven to 375°. In a 9-inch cake pan, drizzle the garlic with the oil. Cover with foil and roast for 40 minutes, until tender. Let cool, then squeeze out the cloves.
Mash the garlic to a paste and transfer to a saucepan. Add the half-and-half, thyme and rosemary and bring to a boil. Simmer over very low heat until reduced to 3 cups, 20 minutes; season with salt and pepper.
Arrange one-fourth of the potatoes in the bottom of a 9-by-13-inch baking dish. Top with one-fourth of the shredded cheeses and drizzle lightly with the garlic cream. Repeat the layering with the remaining potatoes, cheese and cream. Pour any remaining cream on top and press the top layer of potatoes to submerge it.
Bake the gratin for about 1 1/2 hours, until golden and bubbling. Let cool for 20 minutes before cutting into squares and serving.
Hugs,
Erin