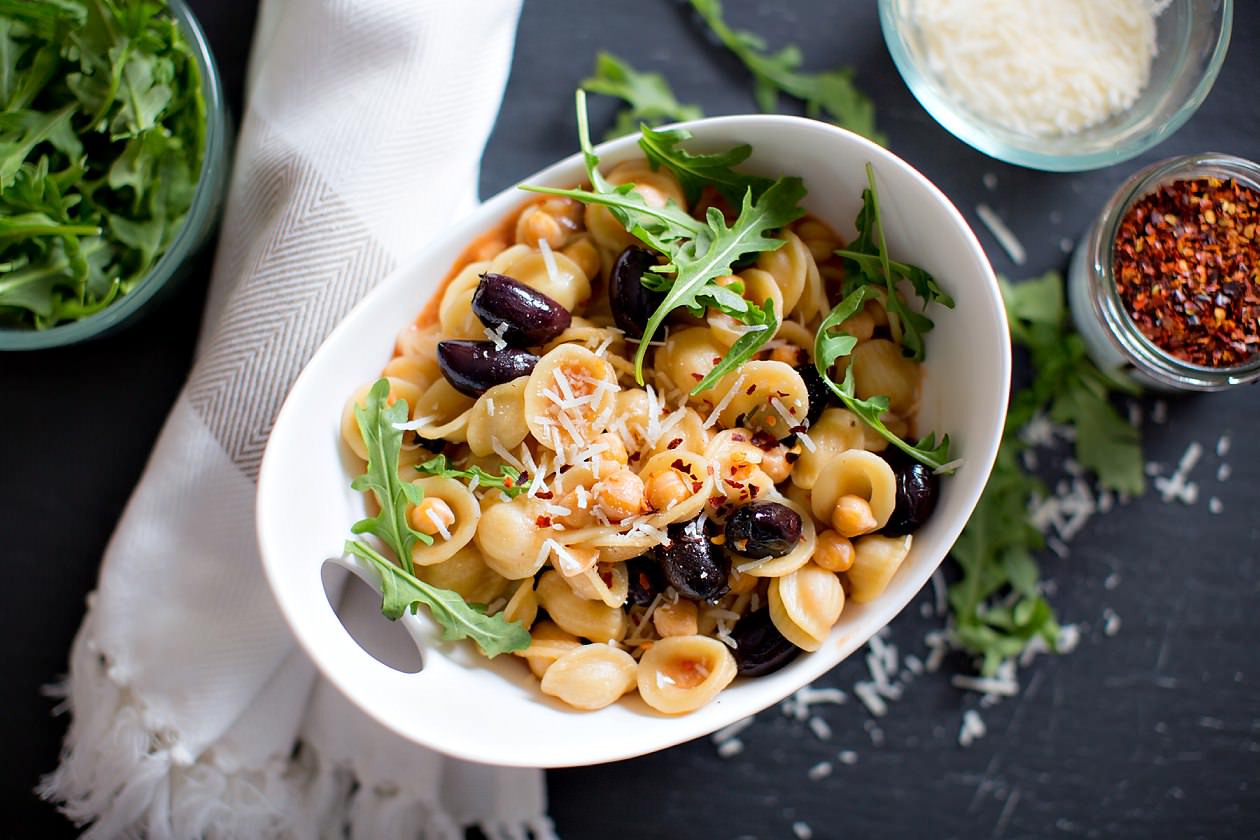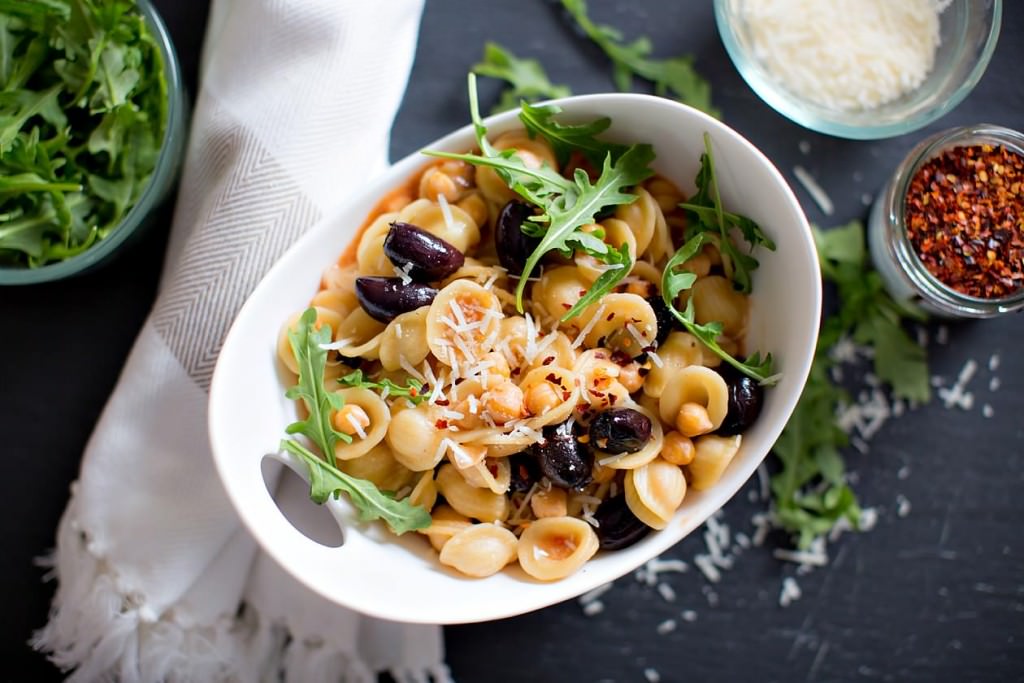 One Pan Orecchiette w/Chickpeas & Olives
While my attempts at gardening grow outside (tomatoes, herbs, arugula, green beans, and carrots), I've been looking for easy sumer dishes that will work equally well when the San Diego fog rolls in as when the sun is shining bright and hot outside. Or when my garden decides to grow or not...I stumbled across this beauty of a dish while browsing my beloved Martha Stewart Living magazine and tore it out immediately for safekeeping. How can something so 
pretty
be so 
easy
? Not only would I have so much fun making this dish and keep it as a staple in my kitchen, but I would have loads of fun photographing it, too. The best part of this recipe is that it's all made in one dish -
including the pasta. 
That's right folks - no separate boiling pot of water and steam burns from straining required for this one. It's quite honestly the simplest pasta dish ever! Next time I make this, I'm going to add some spicy italian sausage - yum!The mini-bowler-hat orecchiette pasta is so fun to cook and to eat! You'll toss it with chickpeas and pitted kalamata olives which balance each other out perfectly.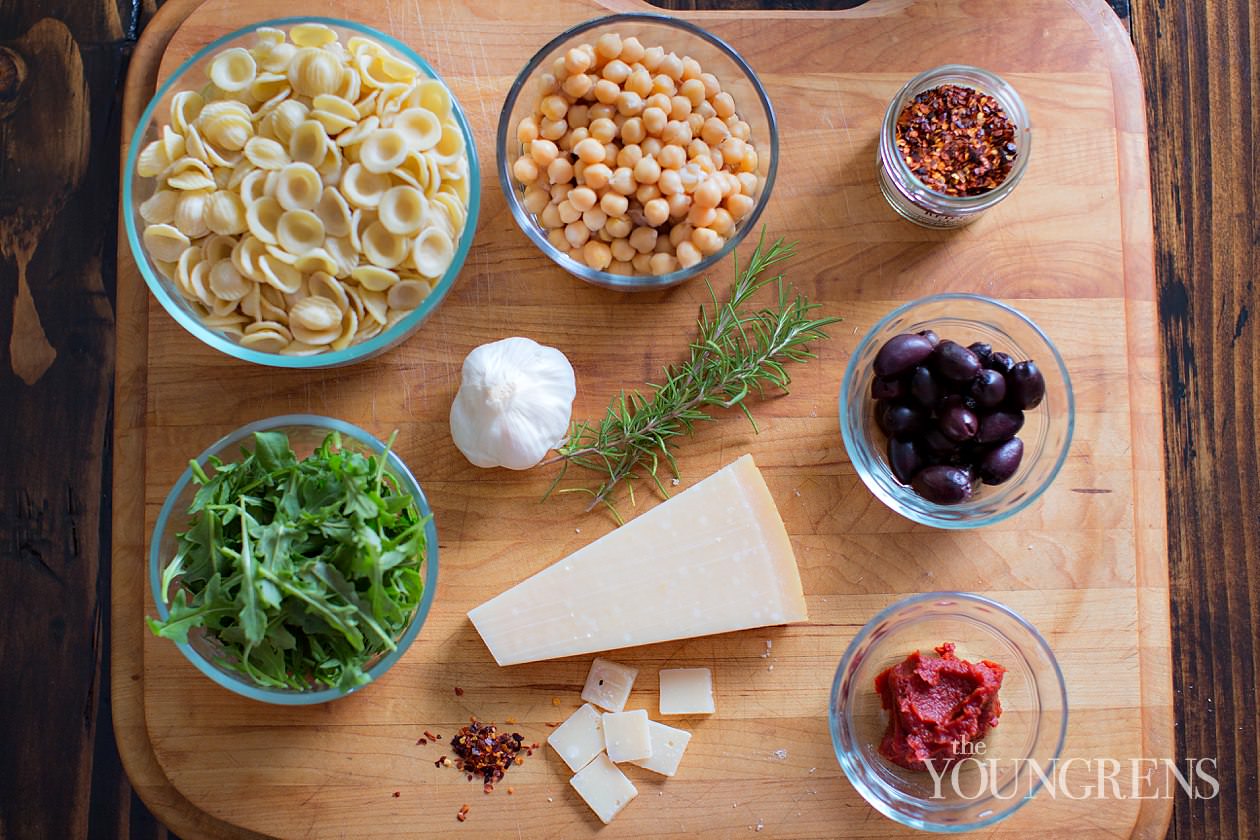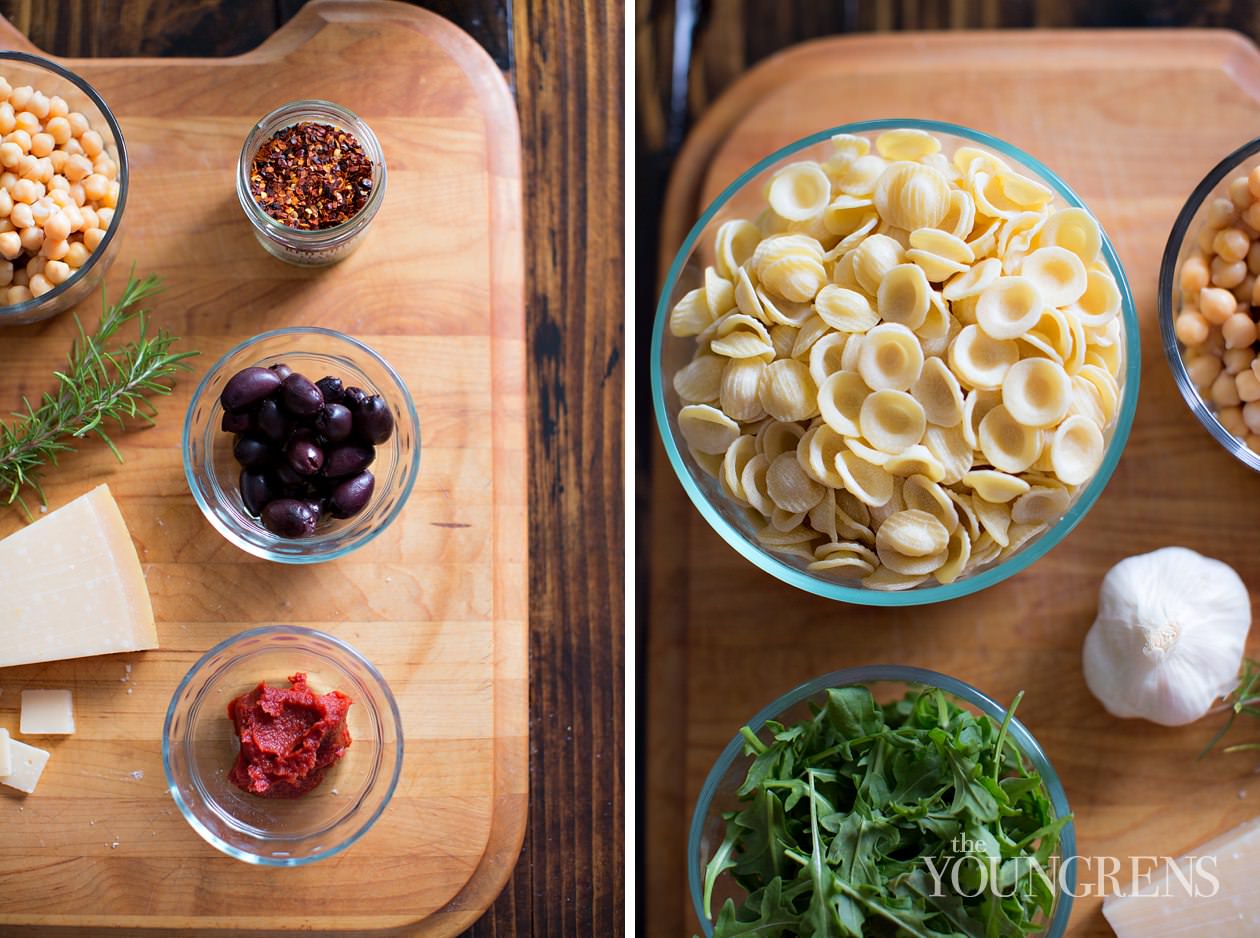 I really hope that my arugula grows in the garden so that I can garnish these plates with garden fresh flavor because the arugula really made the elements stand out.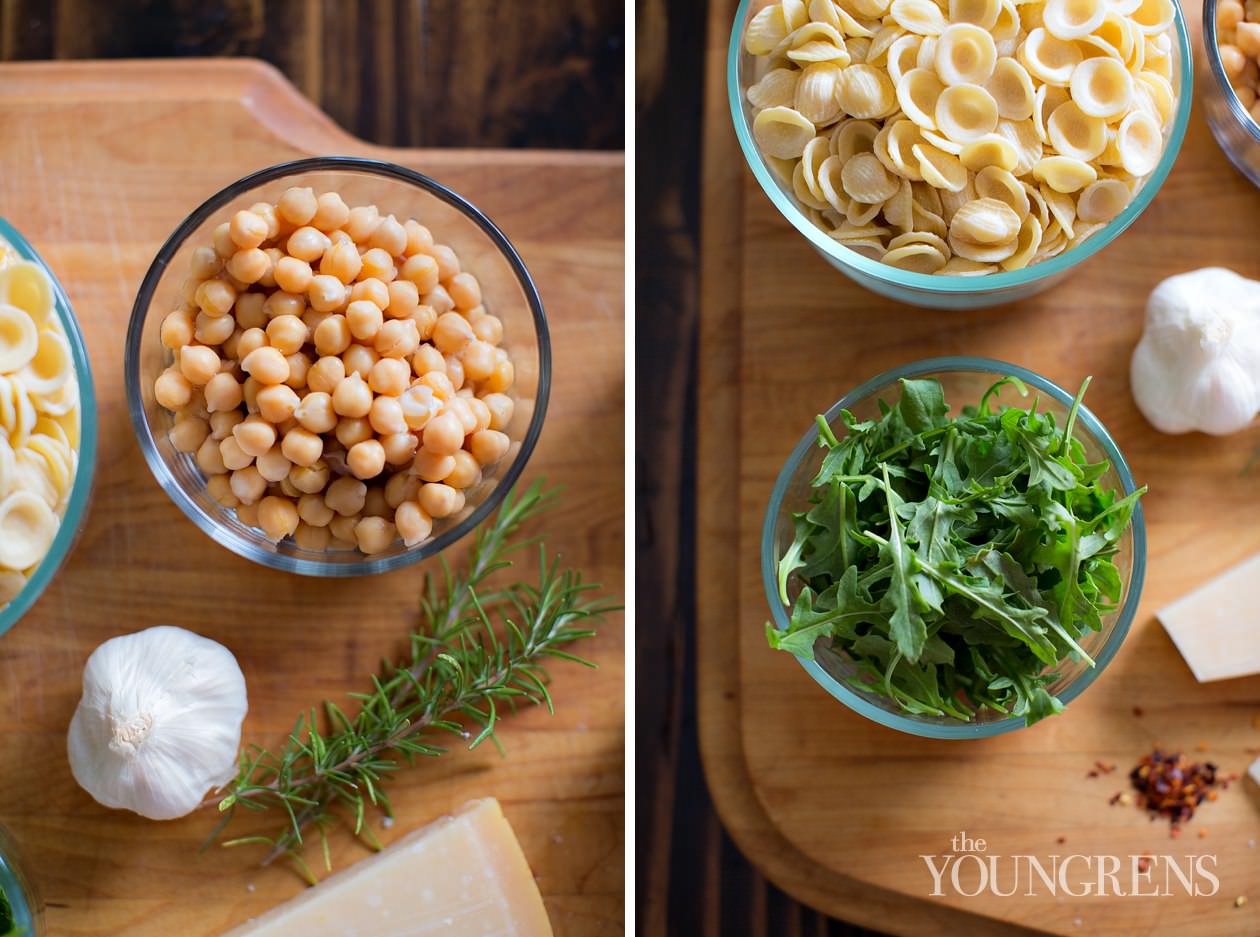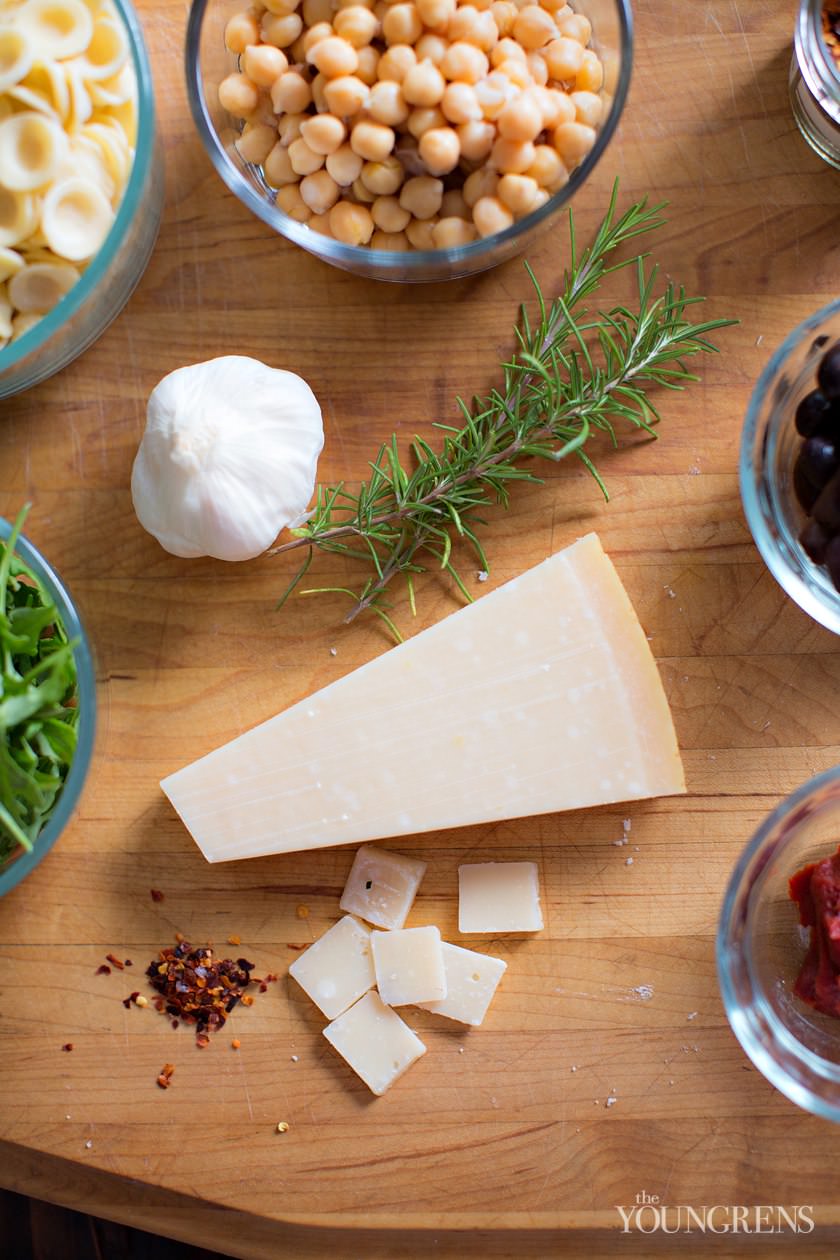 The only chopping required is thinly slicing some fresh garlic cloves and then tossing everything together into one pan except for the grated Parmigiano-Reggiano and the arugula. Those will go on at the end.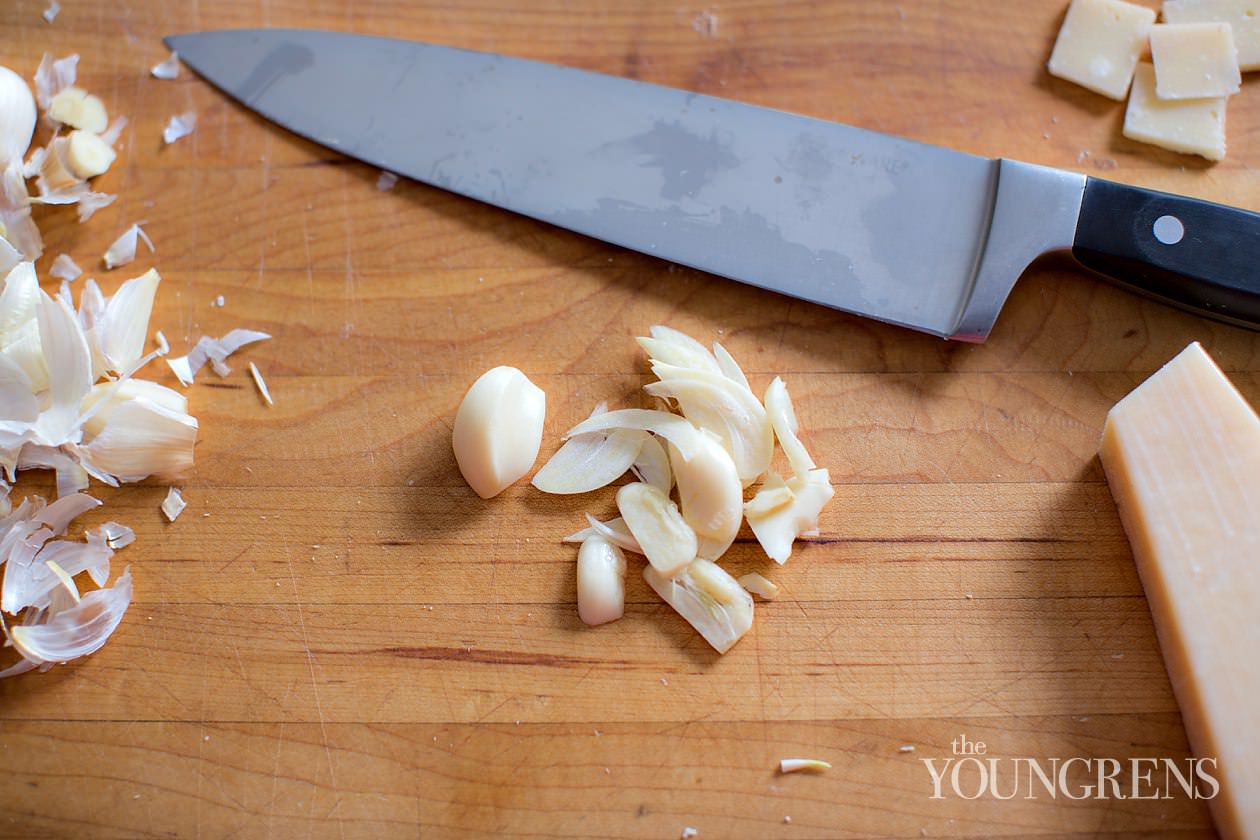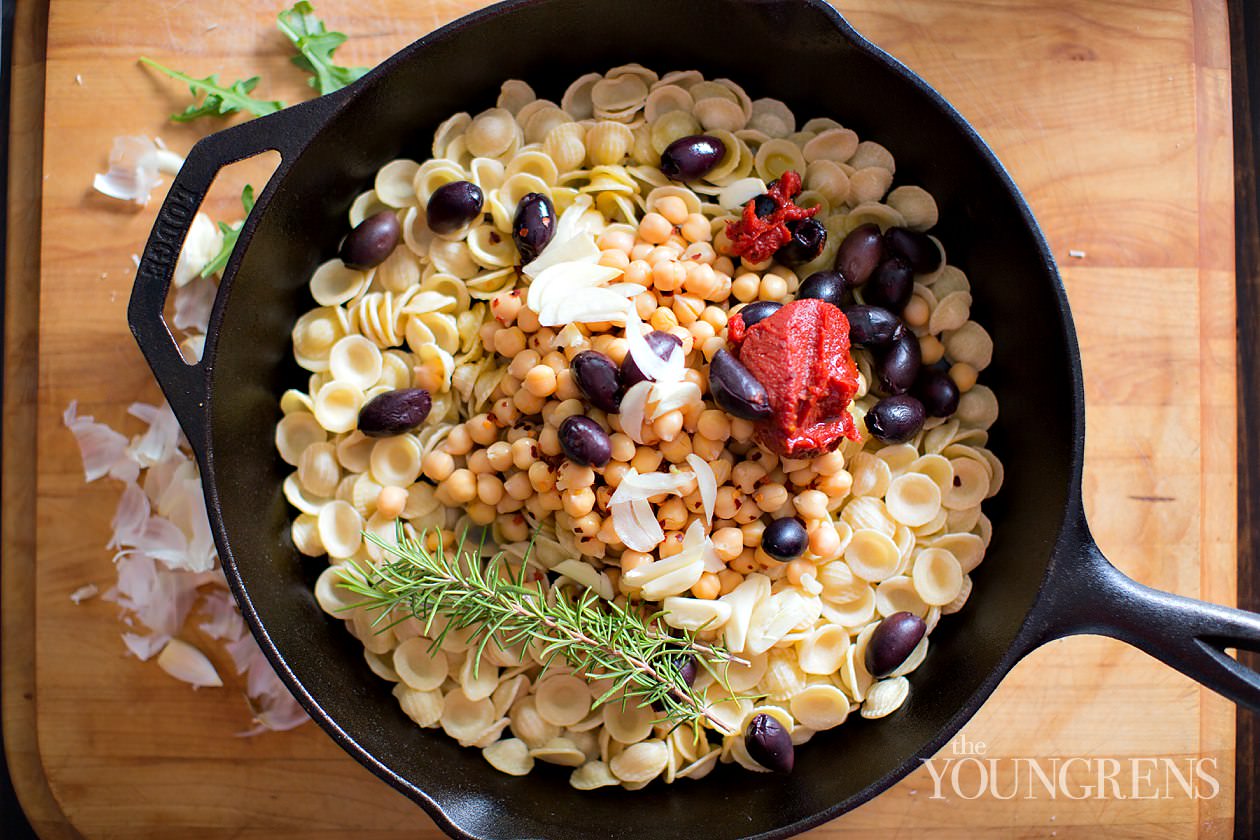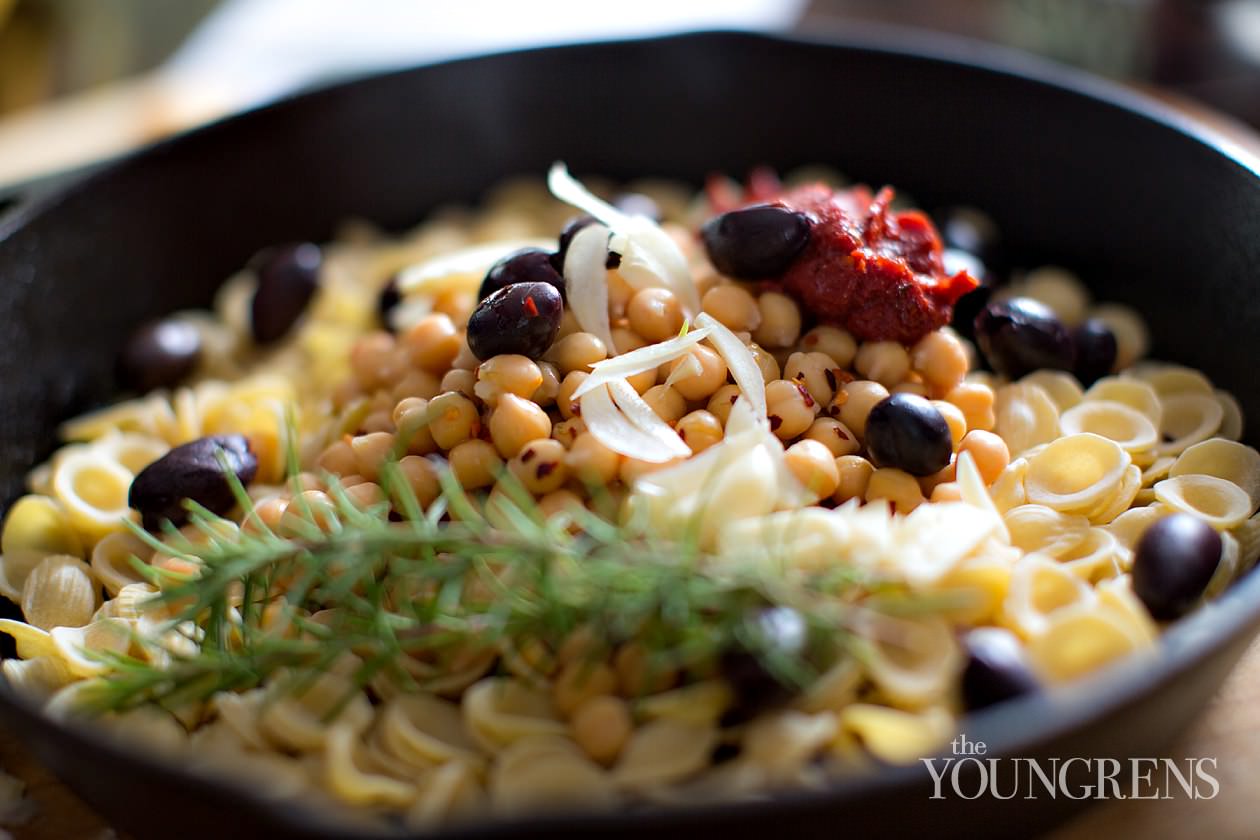 You don't even have to chop the rosemary - just throw a couple of whole sprigs into the mix to add a hint of flavor.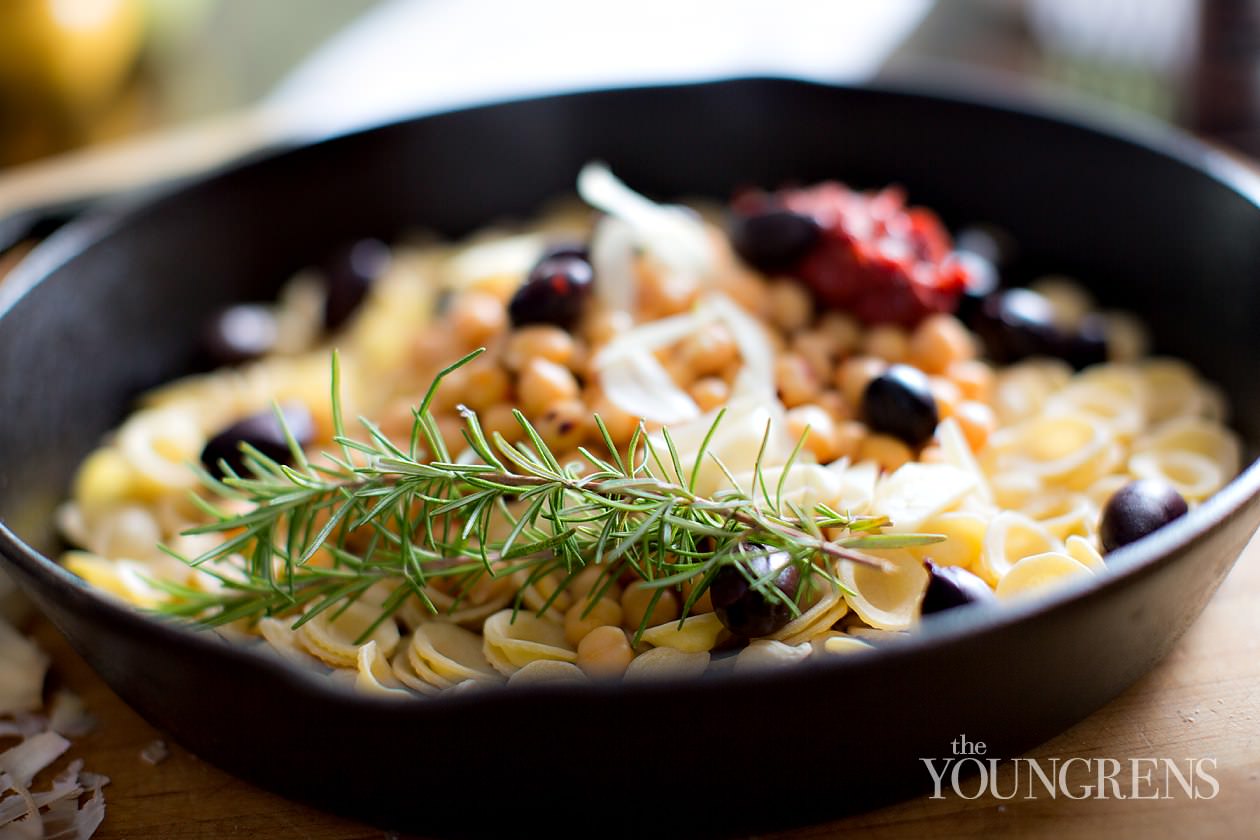 Then dump in five cups of water and bring to a boil on the stove.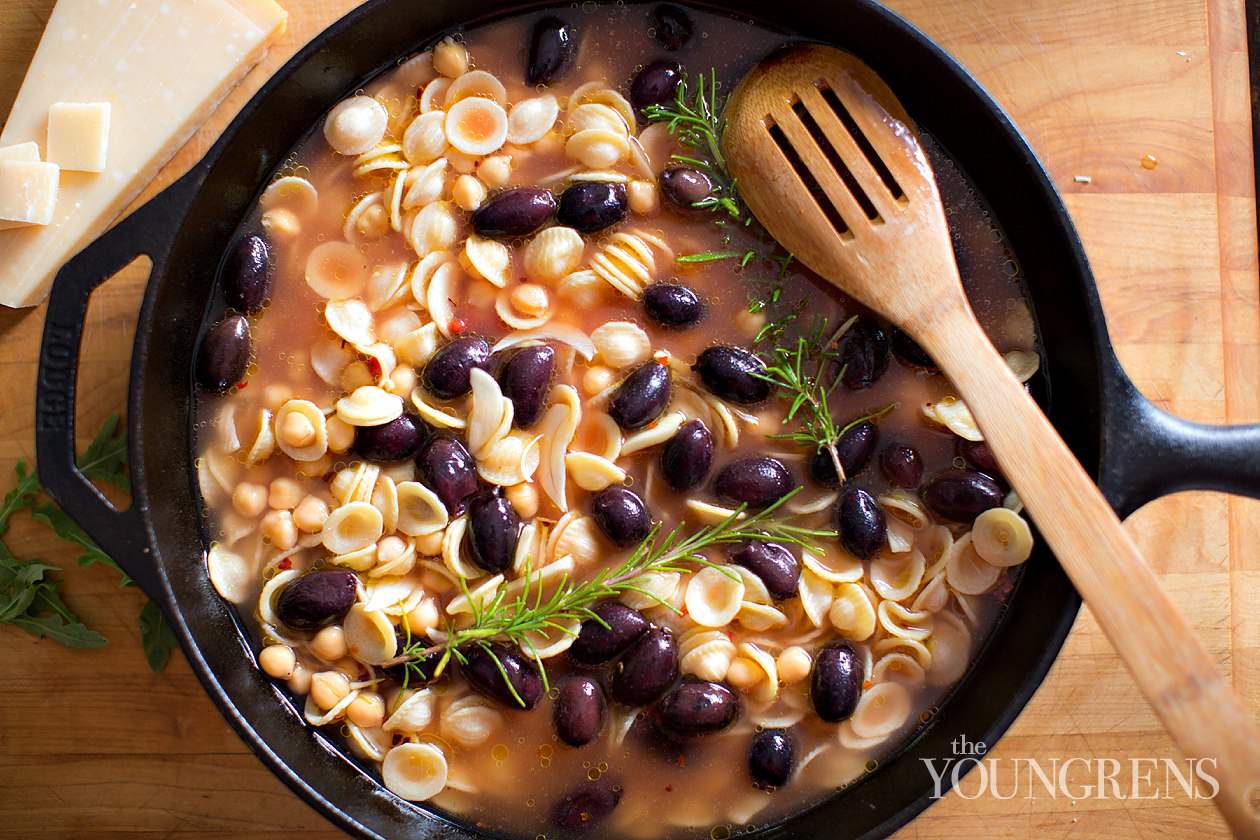 Cook the mixture until the pasta is al dente and the liquid is reduced to a sauce-like consistency.
Lastly, grate the Parmigiano-Reggiano and toss it on top to melt. Then serve with a sprinkle of red pepper flakes and a garnish of arugula, which you shouldn't skip. The arugula adds a beautiful crispy spice to the warm mix.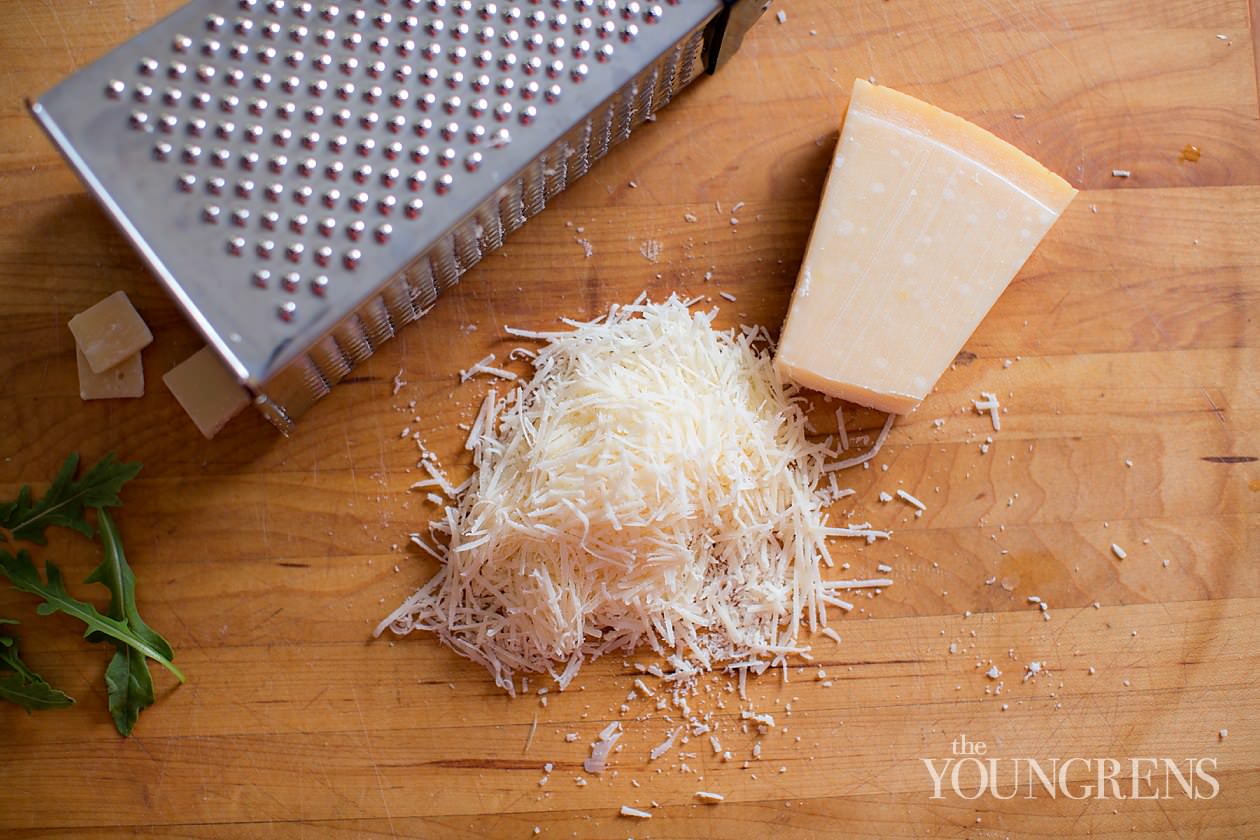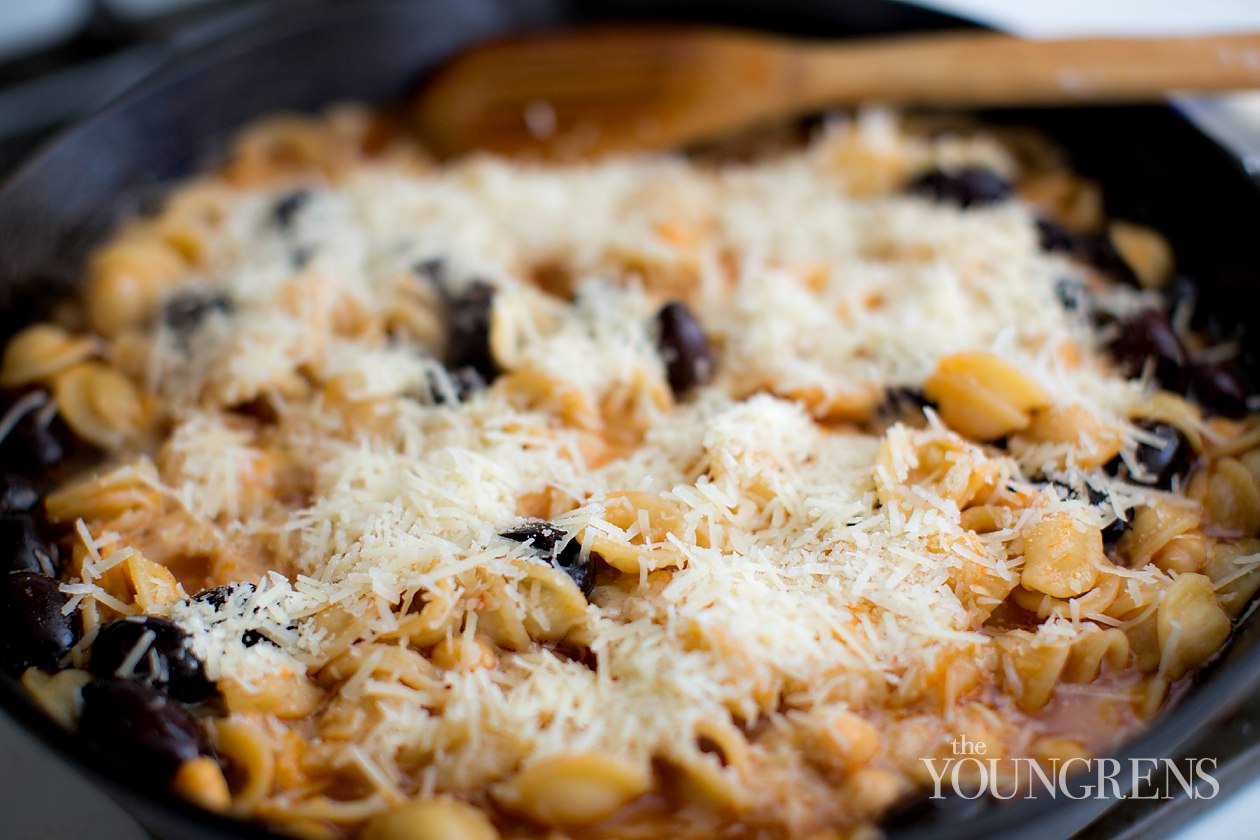 Kalamata olives, chickpeas, Parmigiano-Reggiano, red pepper flakes, arugula, and fun orecchiette pasta in a one-pan fifteen minute dish. LOVE. Remember to add whatever protein you'd like for some extra texture - maybe Italian sausage, pancetta, or chicken. I would sauté those elements in the pan first and then add the rest to boil. Should be delicious!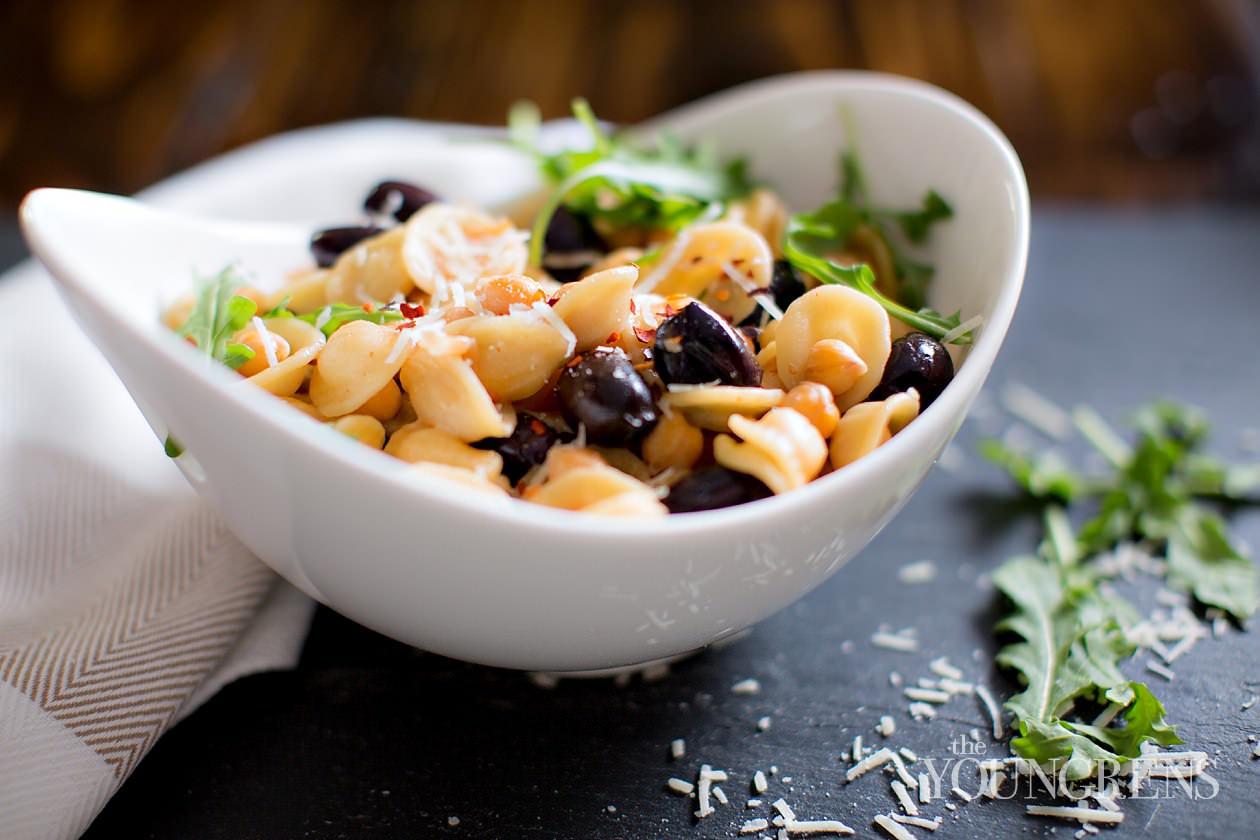 One Pan Orecchiette with Chickpeas and Olive
(View original recipe from Martha Stewart Living)
12 ounces orecchiette
1 can (15.5 ounces) chickpeas, drained and rinsed
1/2 cup Kalamata olives, pitted
2 tablespoons tomato paste
3 cloves garlic, thinly sliced
1 6-inch sprig rosemary
3 tablespoons extra-virgin olive oil, plus more for serving
1/4 teaspoon red-pepper flakes, plus more for serving
Coarse salt and freshly ground pepper
1/2 cup grated Parmigiano-Reggiano (about 1 1/2 ounces), plus more for serving
2 cups baby arugula (about 2 ounces)
Directions:1. Combine pasta, chickpeas, olives, tomato paste, garlic, rosemary, oil, pepper flakes, and 5 cups water in a large straight-sided skillet. Season generously with salt and pepper. Bring to a boil, then cook over medium-high heat, stirring occasionally, until pasta is al dente and liquid is reduced to a sauce that coats pasta, 12 to 15 minutes.2. Remove skillet from heat, discard rosemary, and stir in cheese. Add more water, a few tablespoons at a time, to thin sauce if necessary. Divide pasta and arugula among bowls and serve immediately, drizzled with oil and sprinkled with cheese and pepper flakes.Hugs,Erin
OUR FAVORITE WEDDINGS
the portfolio
Loving our work? Check out our favorite weddings we've ever photographed
VIEW HERE
OUR MOST HELPFUL WEDDING PLANNING TIPS, STRAIGHT FROM THE EXPERTS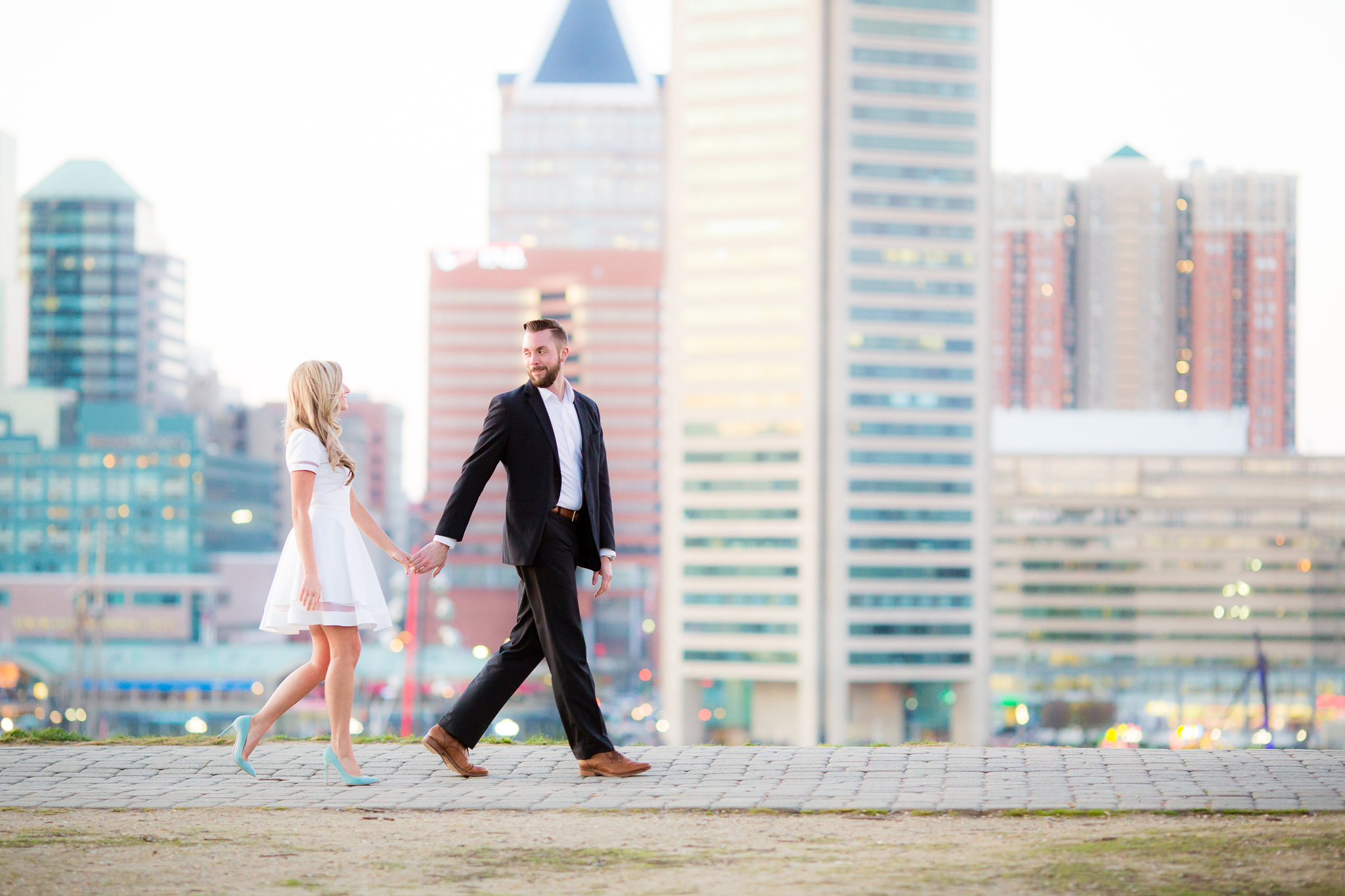 Our Formula for the Perfect Engagement Outfit
Picking the perfect outfit for a photo session can be one of the most difficult experiences BUT it doesn't have to be. I've seen enough outfits that work and don't work that I've cracked the ultimate code for our couples...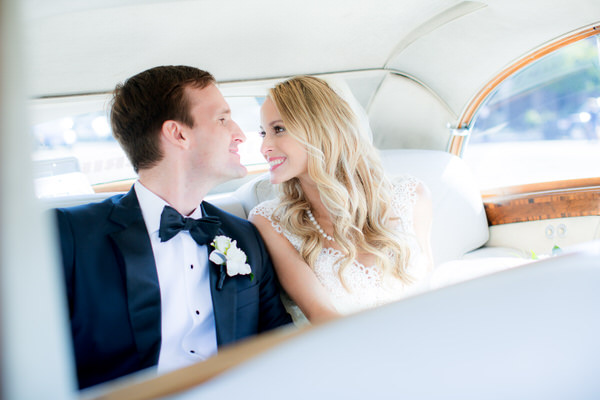 Our Stress-Free Wedding Day Timeline
There's nothing better than a stress-free wedding day when everything runs smoothly, your guests have the time of their lives, and you soak in the day with your sweetie. Though it sounds too good to be true, you can...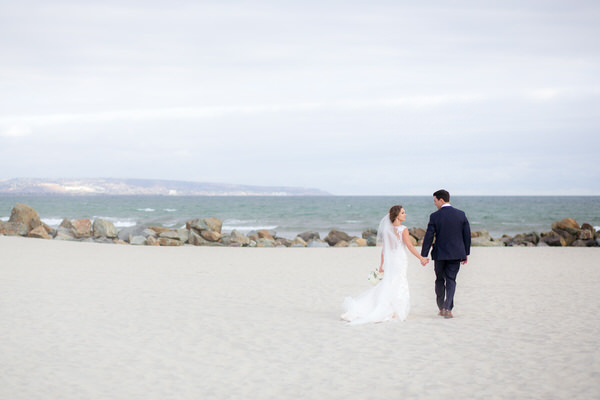 10 Foolproof Tips to Get Gorgeous Wedding Photos
It's the #1 question brides ask: What can I do to get the most amazing photos on my wedding day?
Having been through the in's and out's of countless weddings, I have loads of tips to share, so let's...
We're Jeff and Erin Youngren, a hubby and wifey team that photographs amazing couples and their incredible weddings. Hopeless romantics, BFF's, and mama + daddy to James, we're obsessed with traveling, podcasts, Oreos (Erin) and whiskey (Jeff).