I've been bursting at the seams to share all of the recipes that Jeff and I made during our Recipe Sunday Madness weekend a few weeks ago. We spent two days cooking, tasting, eating, and photographing ten recipes to share here on the bloggy-blog, and there were a lot of winners, some not-so-winners,  a few burn wounds, and two very full bellies. I'm still recovering from carb-overload!
For today's Recipe Sunday, I found a recipe that is absolutely PERFECT for summertime, Pan-Seared Chicken with Cherry-Tarragon Sauce. Take advantage of this recipe now while fresh dark sweet cherries are still in season and on the cheap. Or just make the paprika chicken breast when cherries are scarce – the seasoned chicken alone makes this a dynamite dish! The full recipe is listed at the bottom of this post, if you'd like to try it for yourself!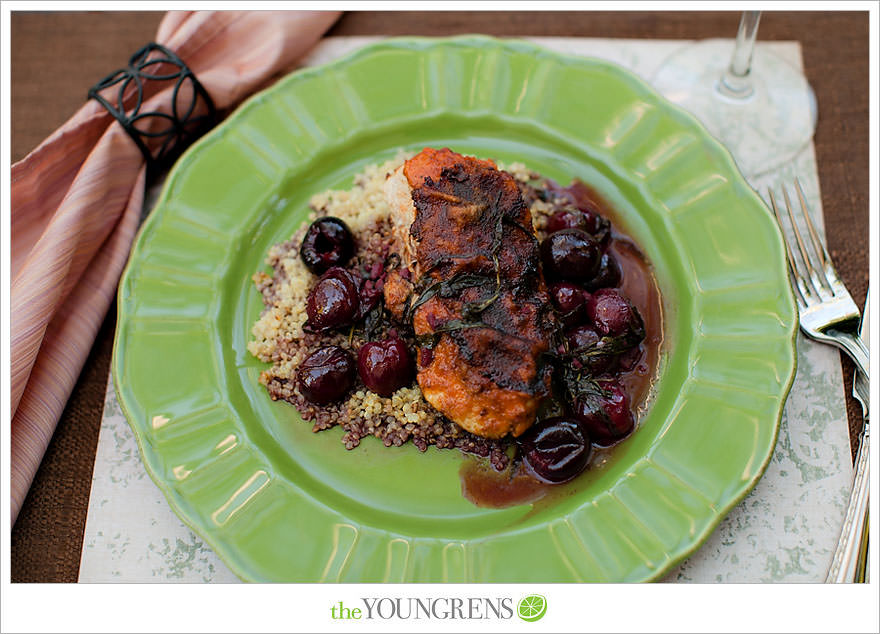 There isn't much to this recipe, which is what I like about it. The only things I didn't have in my pantry already were the cherries and tarragon.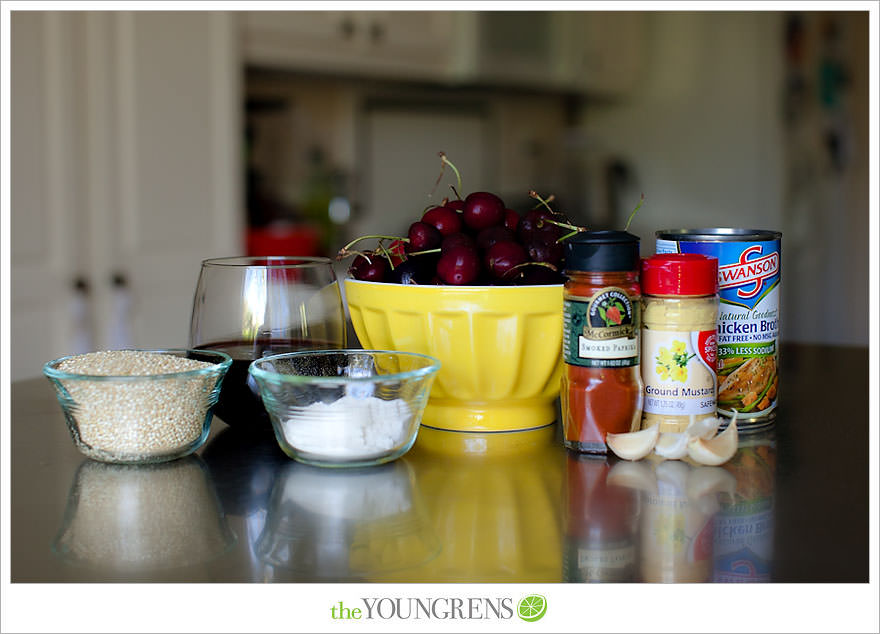 The main players in the flavor party are smoked paprika, tarragon, and the oh-so-yummy cherries themselves. We've had bowls of cherries sitting on our counter top for snacking all summer long, so I was excited to use them in a dinner recipe!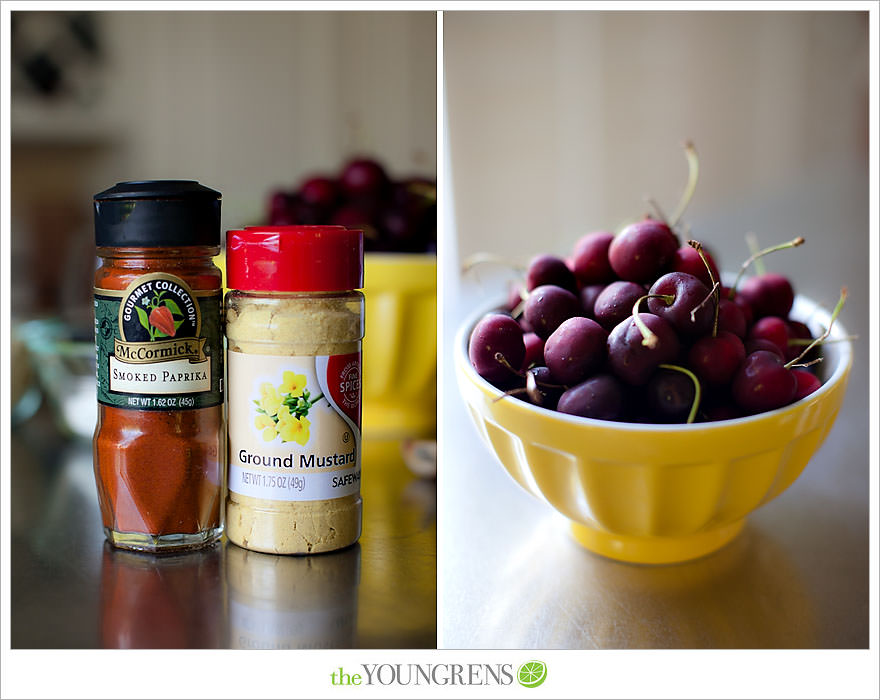 My hubby. We have to give this guy a round of applause. During our Recipe Sunday Madness weekends, Jeff gets to play sous chef for me – he washes dishes, he heats up pans, he peels garlic, he chops onions, he sets timers, he reminds me of the timers, he stirs pots, he boils water, and he basically does anything and everything I ask him to do while I'm mixing, chopping, and photographing like mad. So when we had to pit the cherries, my dear sweet hubby sat down and pitted the nasty things, which was a lot harder than expected! This man was amazing. Ladies and gentlemen, Mr. Jeff Youngren (round of applause).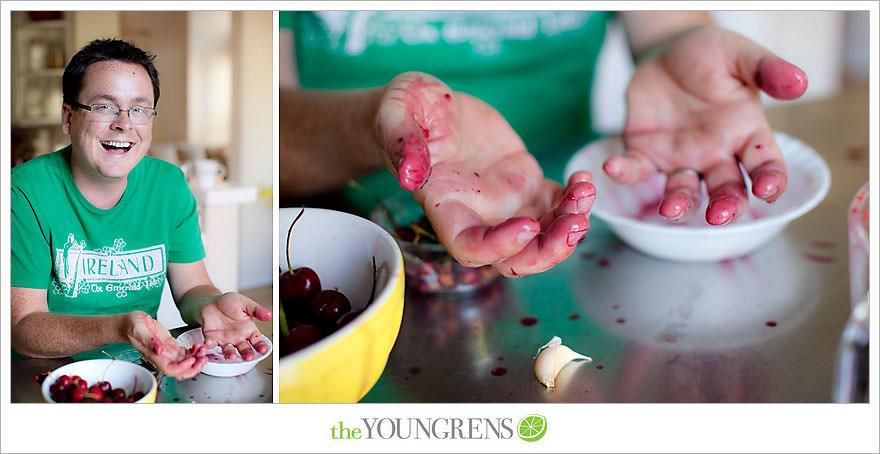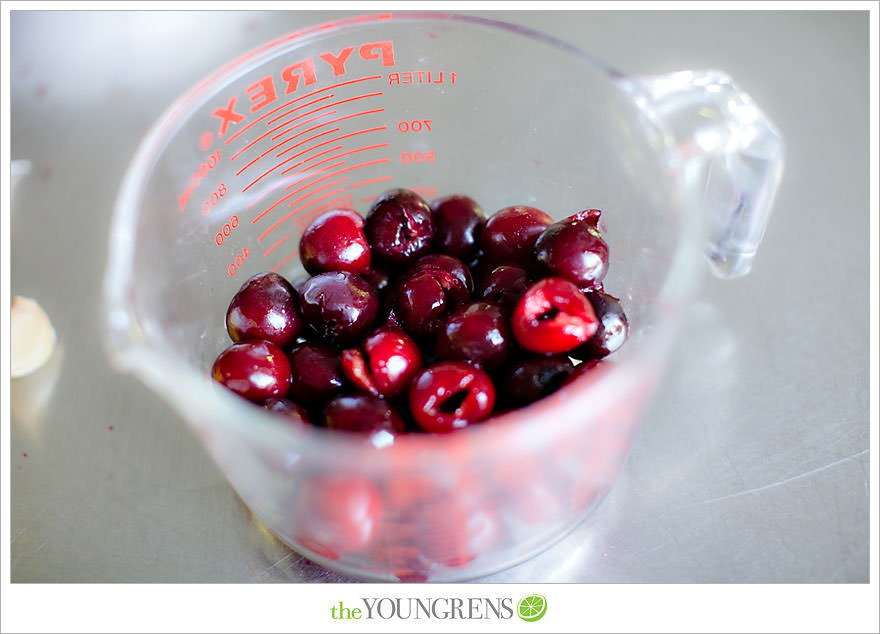 Back to the recipe – you'll need about 2 cups of pitted cherries and 2 tablespoons of fresh tarragon for the cherry sauce.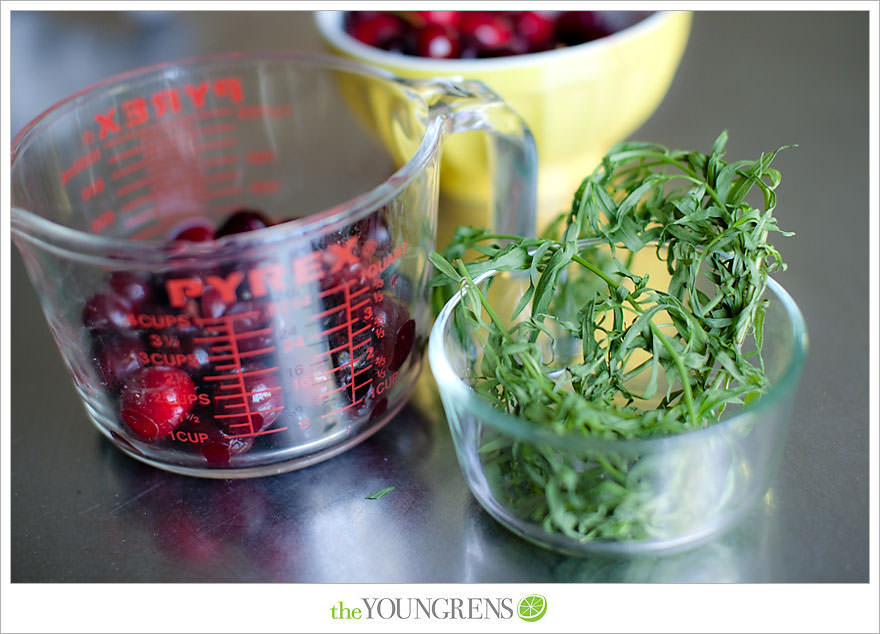 A cup of dry red wine and some couscous or quinoa to serve with the chicken.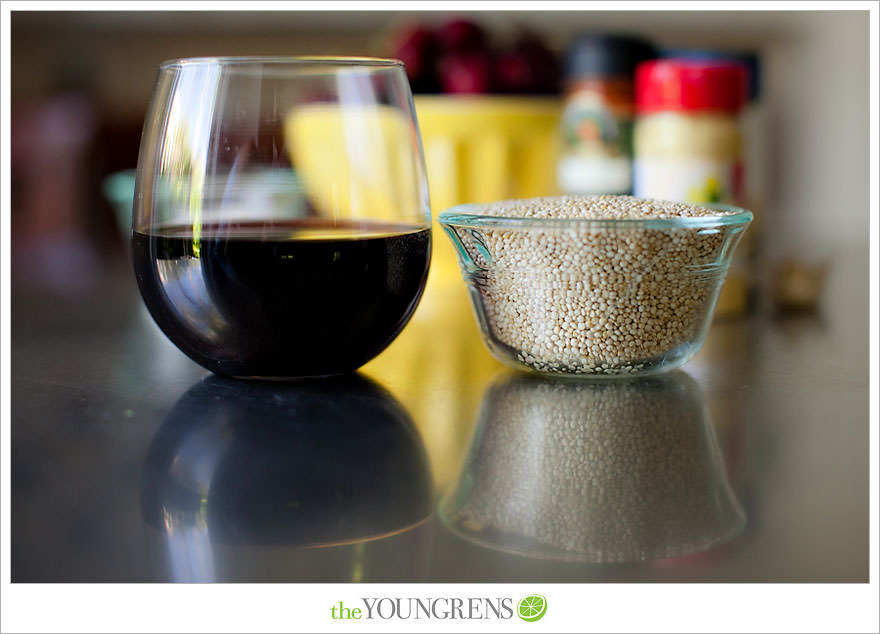 Start your couscous or quinoa cooking at this point so that it's ready right when you finish the chicken.  For the chicken, mix together your seasoning and some flour in a low flat dish.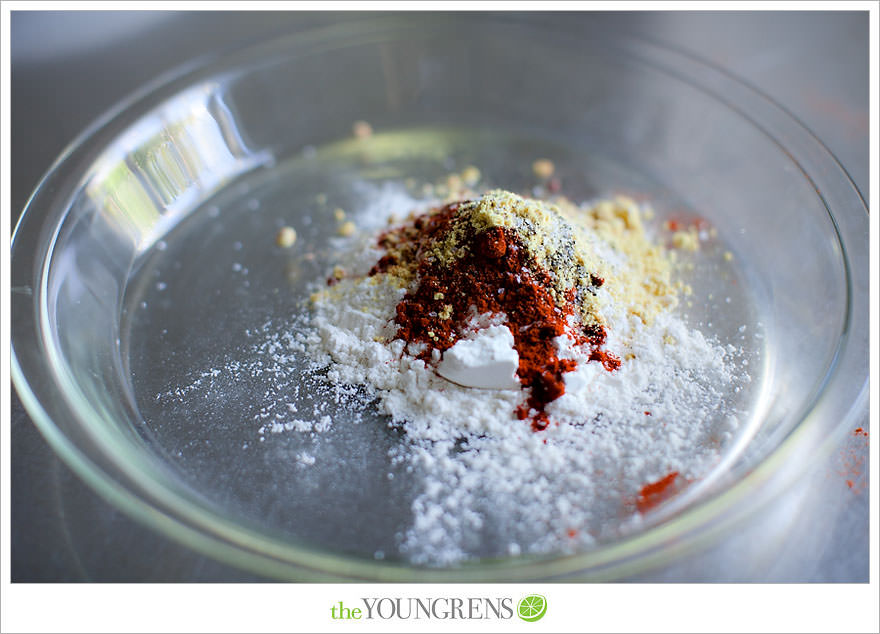 Coat the chicken with the seasoning/flour mixture generously on both sides.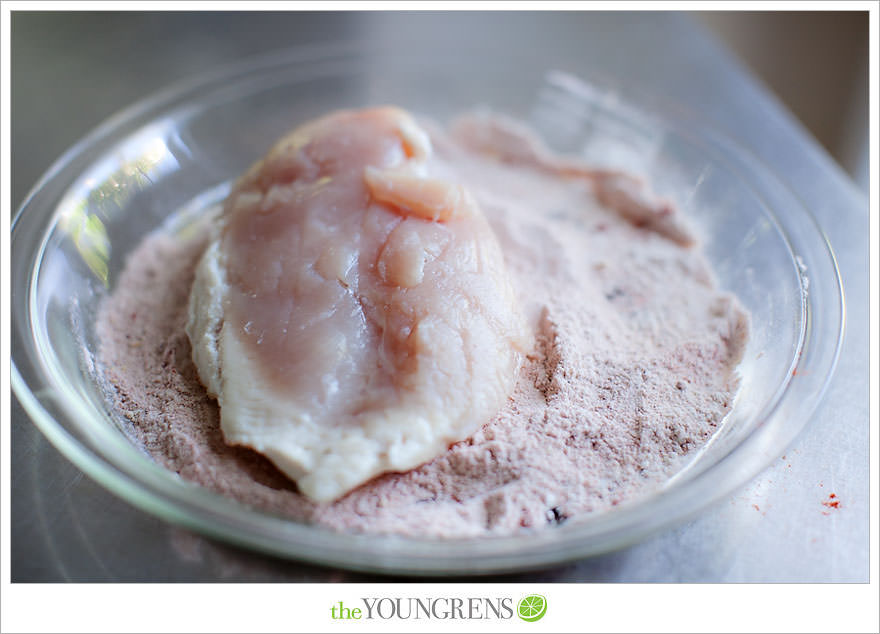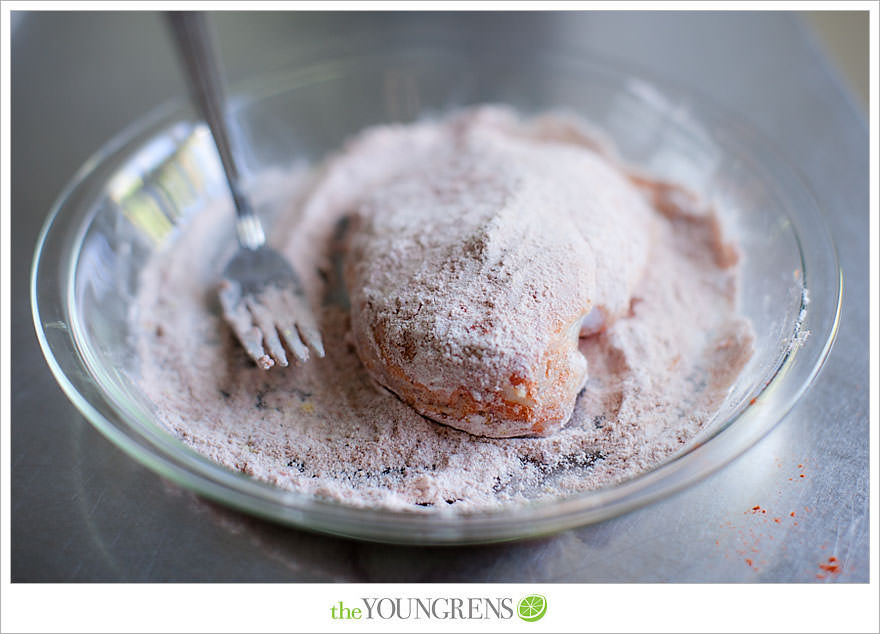 Then cook both sides in olive oil on a hot pan and cook until no longer pink.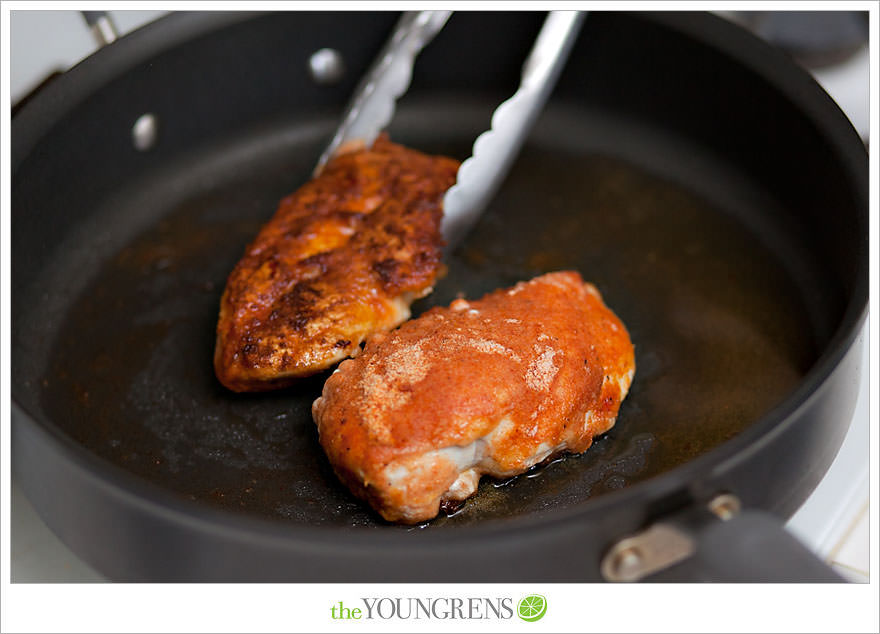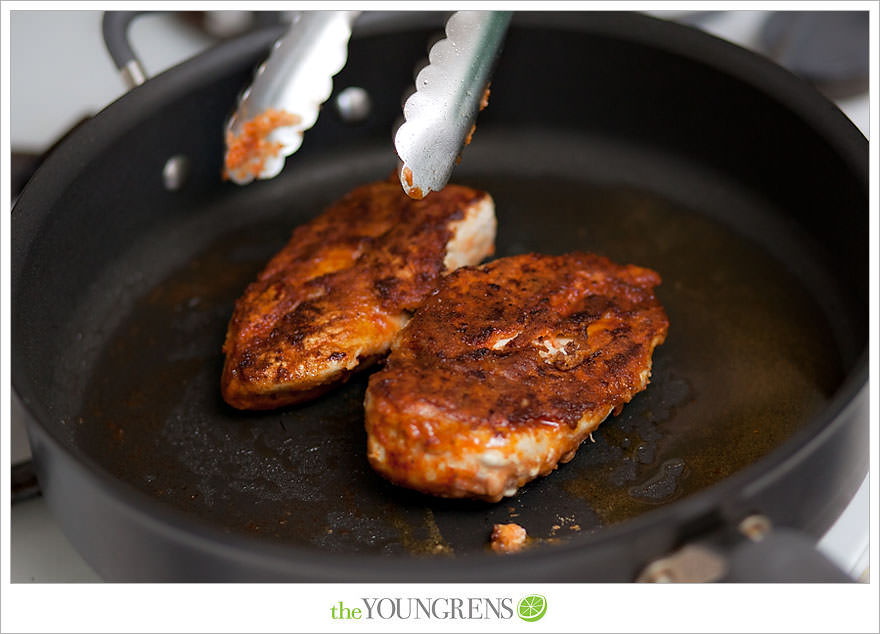 Once the chicken is finished, remove the chicken and keep it in a warm place while you quickly prepare the cherry sauce.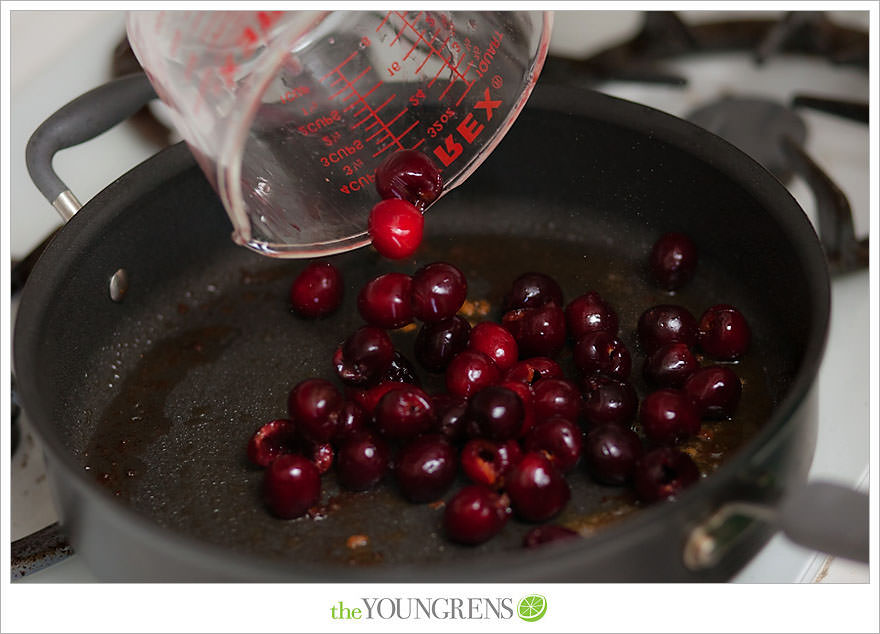 Add the cherries, tarragon, and garlic to the skillet – cook for about a minute.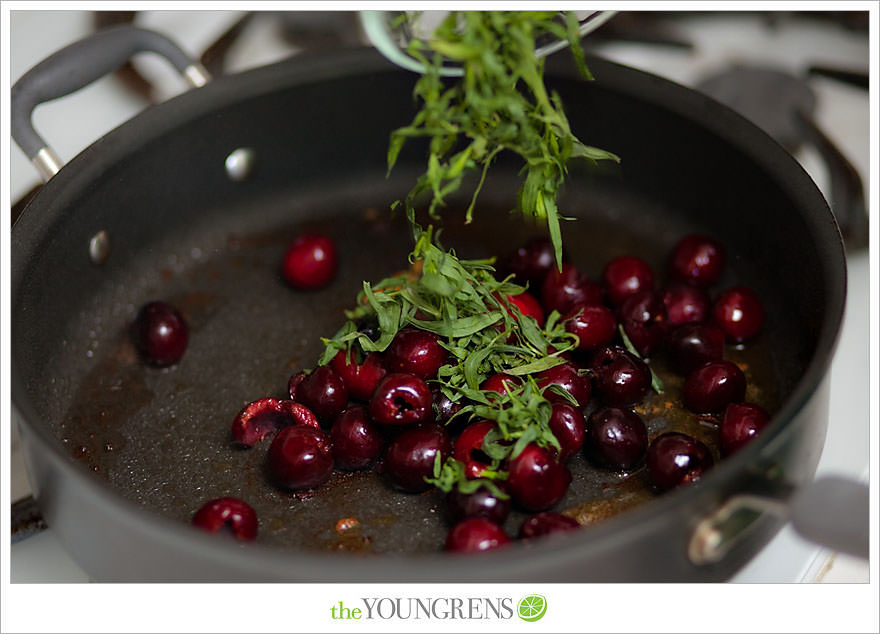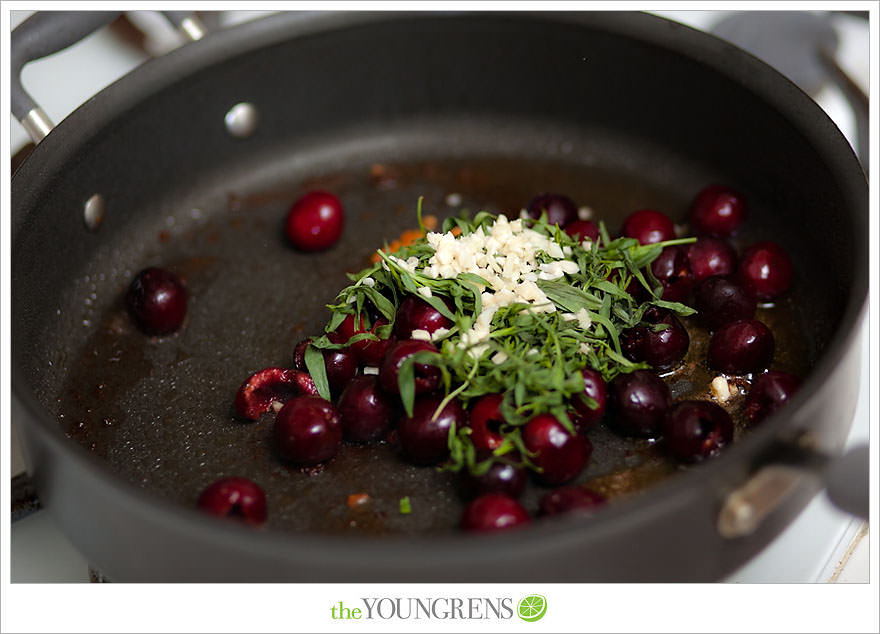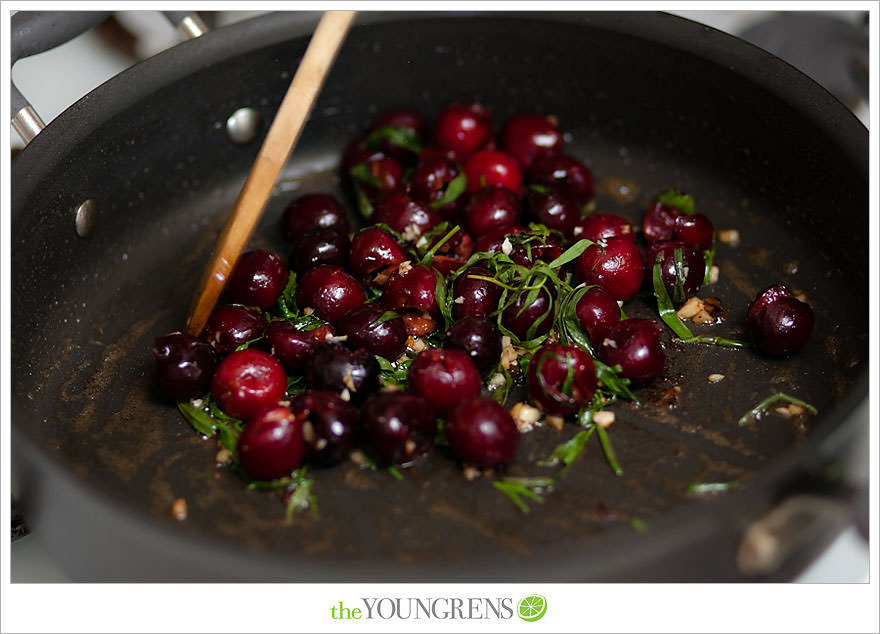 Then add half a cup of chicken broth and the red wine. Simmer until the sauce is reduced.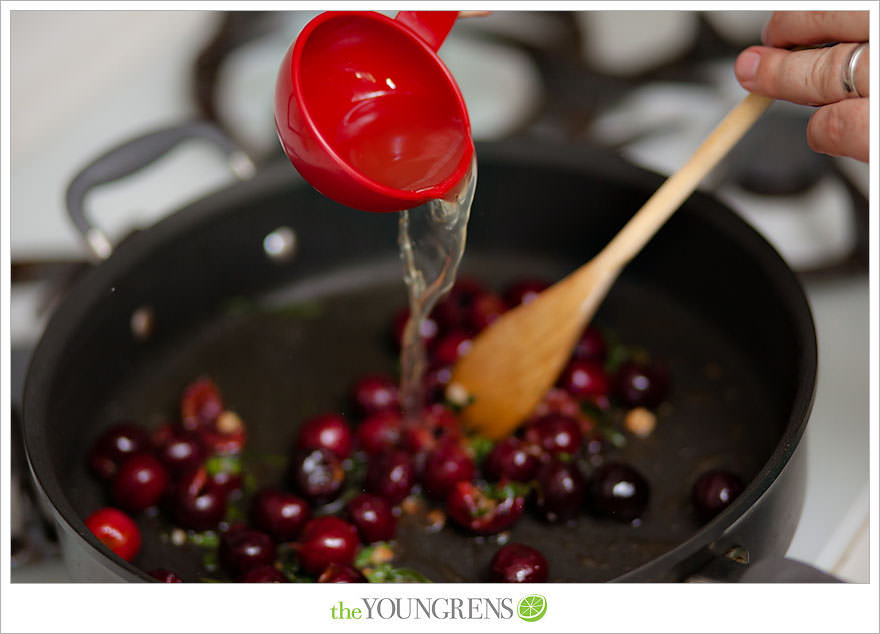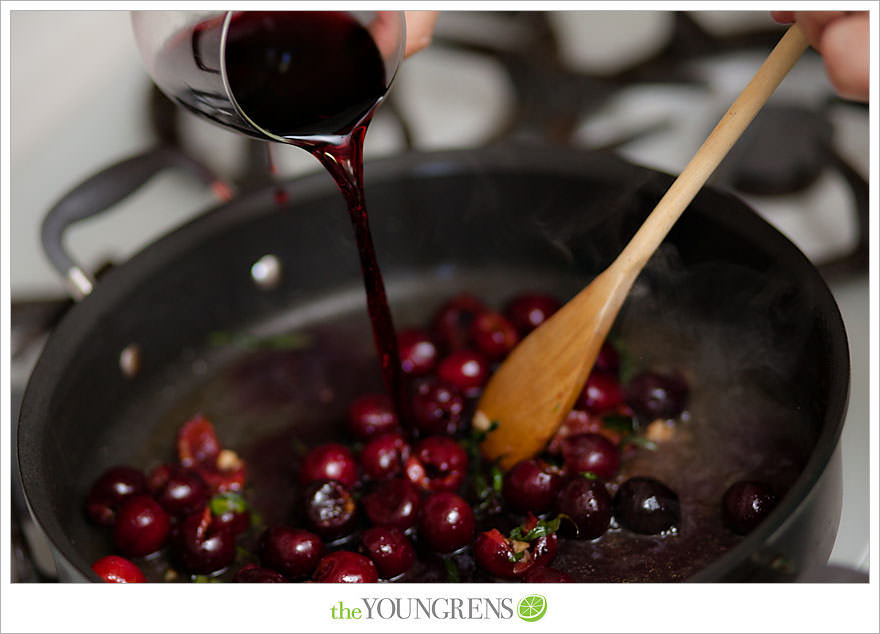 Once the liquid has thickened (about 3-5 minutes) add a couple tablespoons of butter and stir until melted. Season with salt and pepper until it's purrrrrfect.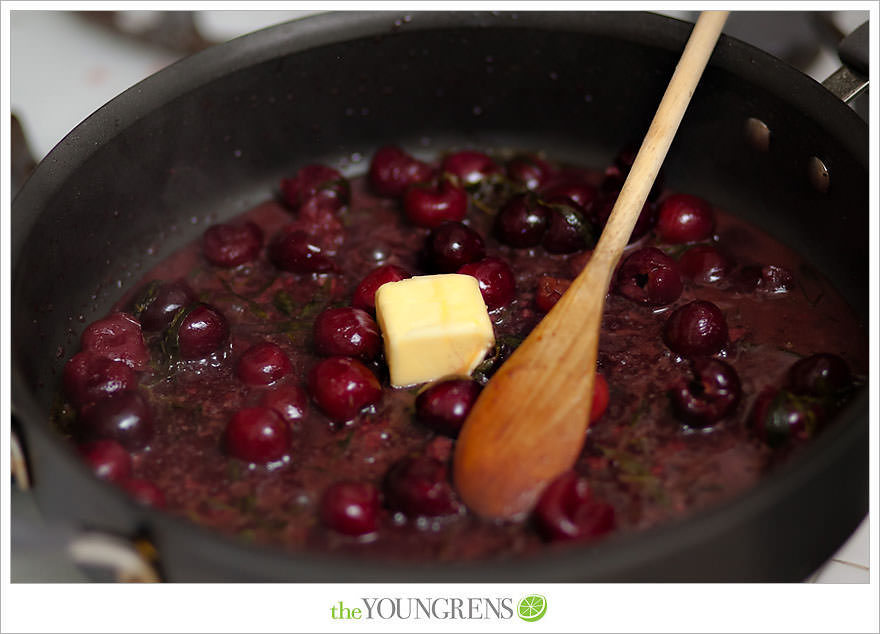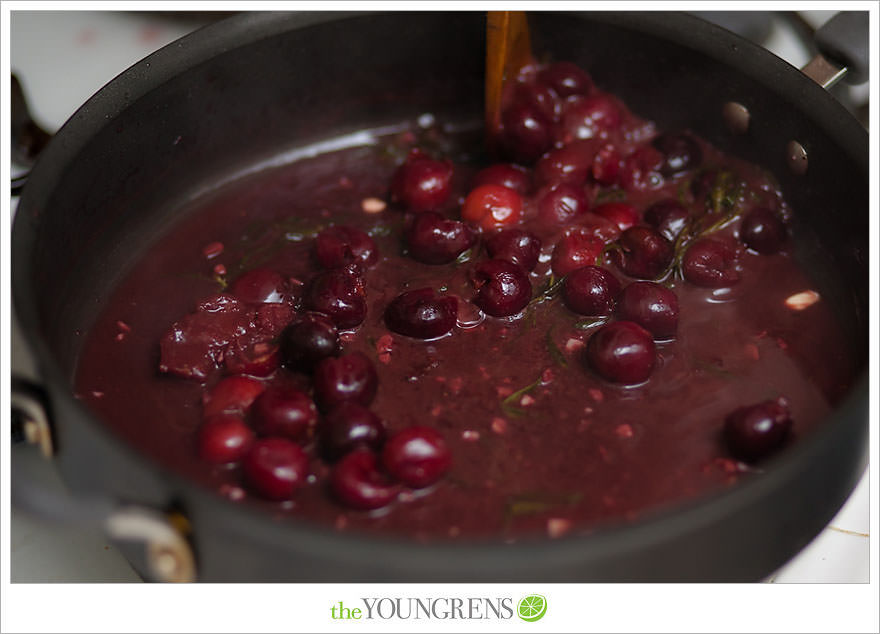 Place the chicken on top of your couscous/quinoa, then drizzle the sauce generously over the dish. The cherry sauce is YUM-MEE!! And the combination of tarragon and paprika puts my brains in a twist – but in a delightful never-thought-that-would-ever-work-in-a-million-years sort of way. Love, love, love this recipe!!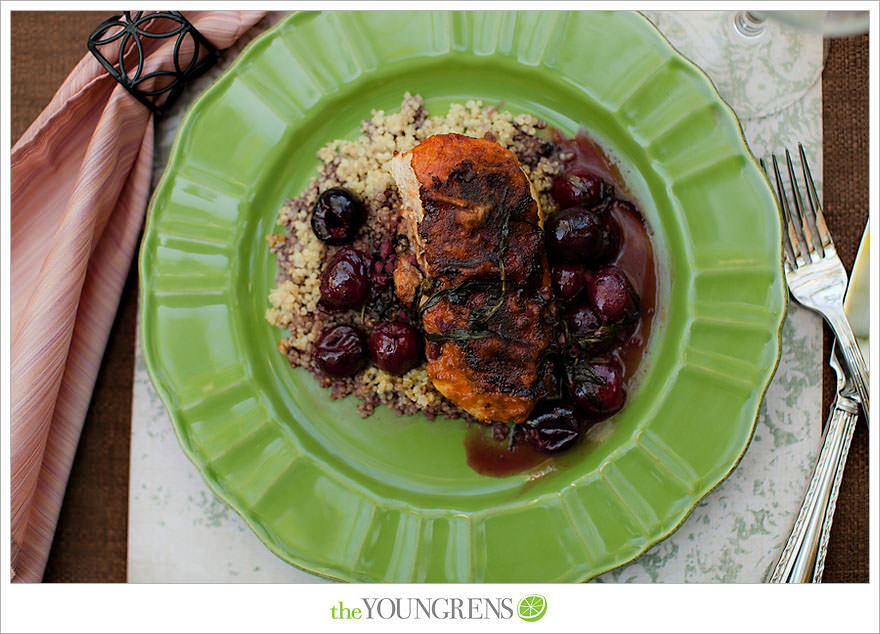 Pan-Seared Chicken with Cherry-Tarragon Sauce
(find the original recipe here)
1/4 cup All-Purpose Flour
2 tbsp Smoke Paprika
1 tsp Dry Mustard
8 Skinless, Boneless Chicken Thighs
2 tbsp Olive Oil
2 cups Fresh or Frozen Pitted Dark Sweet Cherries
3 cloves Garlic, minced
1 cup Dry Red Wine, or Cherry Juice
1/2 cups Chicken Broth
2 tbsp Butter
2 cups Hot Cooked Couscous, Quinoa, or Rice
1. In a shallow dish combine flour, paprika, mustard, 1/4 teaspoon salt, and 1/4 teaspoon pepper. Coat chicken with flour mixture. In a 12-inch skillet cook chicken in hot oil over medium to medium-high heat for 8 – 10 minutes or until chicken is no longer pink, turning once. Remove from pan. Cover; keep warm.
2. Add cherries, tarragon, and garlic to skillet. Cook and stir over medium heat for 1 minute. Stir in wine and broth. Simmer, uncovered, 3 to 5 minutes or until sauce is reduced to about 2 cups. Stir in butter until melted. Season to taste with salt and pepper.
3. To serve, spoon sauce over chicken and serve with couscous. If desired, sprinkle with additional fresh tarragon. Makes 4 servings.
Enjoy! We've got so many recipes to come over the next few months, including a tutorial on iced coffee, a peach and basil cobbler dessert that is the easiest gourmet oh-so-yummy dessert I've ever made, and Lemon-Rosemary Cupcakes that will make your husband shower you with hugs and kisses for days. Stay tuned!
Hugs,
Erin