I know it kind of faded off into a string of empty Sundays, but I have my reasons.
Reason Number One: Recipe Sundays took over my life.
Ok, so that's the only reason. But it's a darn good one. The death of Recipe Sunday went something like this: instead of making a loving dish for two after a long day of hard work, I became the kitchen troll, frantically photographing every step of dinner before the daylight faded and the side dish went cold. It was intense, and eventually sharing my love for cooking on the blog became a not-so-fun task on my ever-frustrating to-do list.
So I quit. And I got back to what I love – cooking with absolutely no clue. But I've also been experimenting with ways to make Recipe Sunday easier and I think I've cracked the code. Which can only mean one thing…
Recipe Sundays are BACK. Baby.
Only this time, they'll be bi-weekly, so please don't email me next weekend…
This is going to be so much FUN, and I've been gathering recipes from my friends and family for the past few months to pull together a tasty, beautiful library of recipes to share with you guys. If anyone has a yummy recipe they would love to share with everyone, then don't hesitate to share the link in the comments.
Today's feature is so YUMMY that it will blow your tastebuds: Whole Wheat Penne with Spicy Sausage Tomato Sauce. And the full recipe is at the bottom of this post when it comes time for cooking.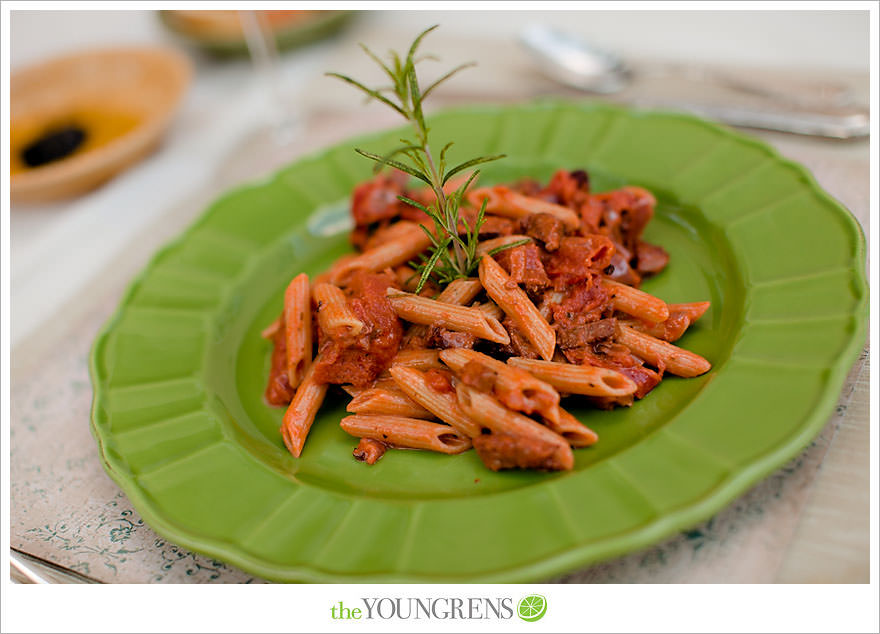 We received this recipe a long while ago from one of our favorite grooms and favorite cooks, Mr. Ryan Pribyl, and this sauce is so good that it will blow your socks right off.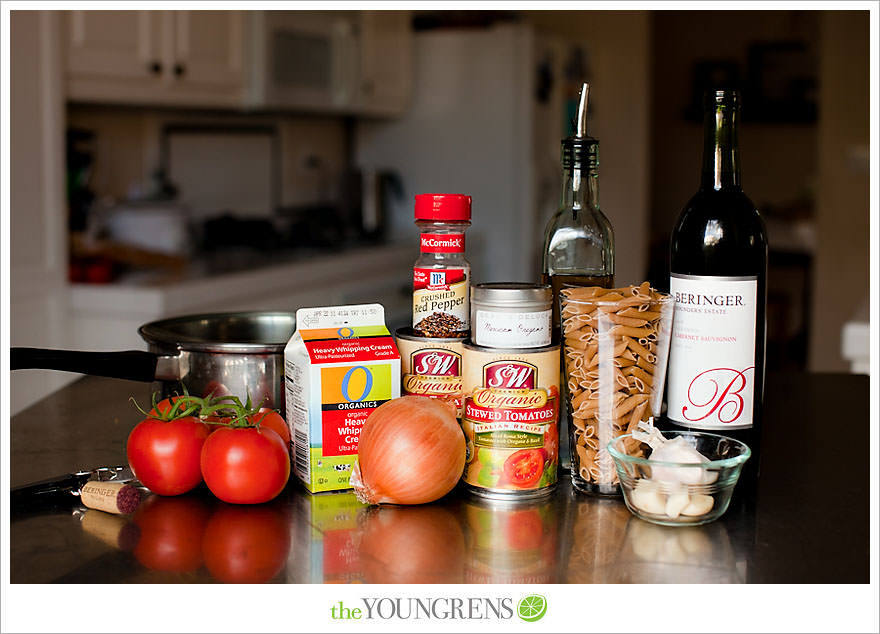 Whole wheat penne is my favorite kind of pasta, and whenever a recipe calls for heavy whipping cream, Mr. Ryan says that Organics is the best brand. He knows a lot more than I do about things like heavy whipping cream so I believe him.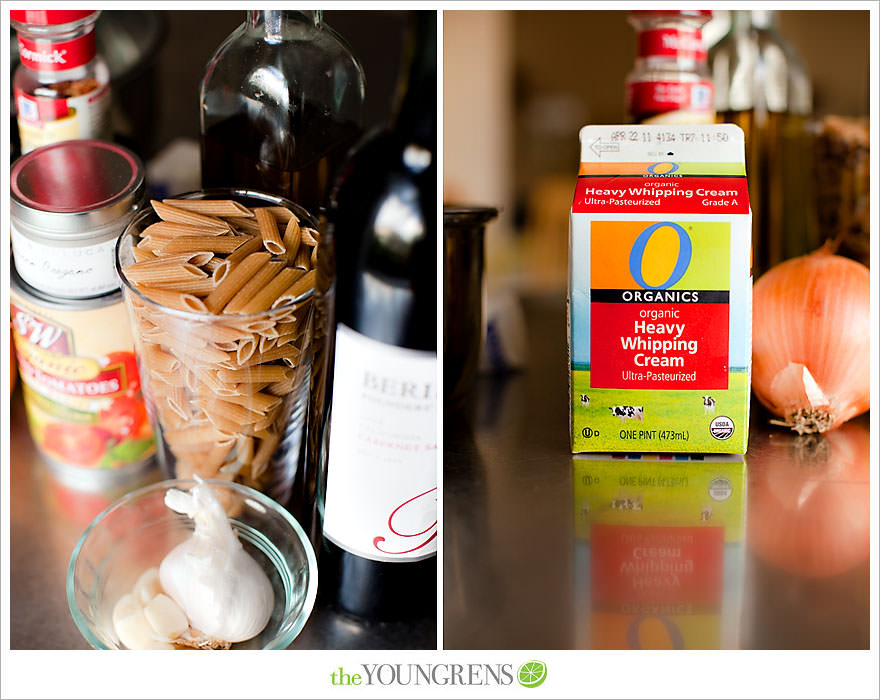 You'll need some red wine (for cooking, not for drinking), crushed tomatoes and oregano. The lovely folks at ShootQ sent us some gourmet Dean and Deluca spices a little while back, and I take any excuse I can to use them.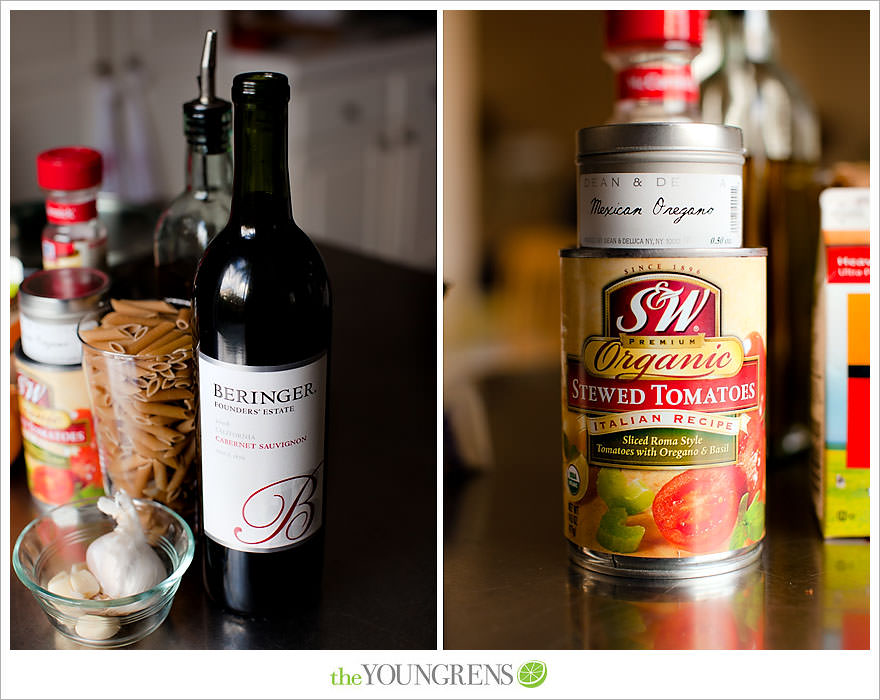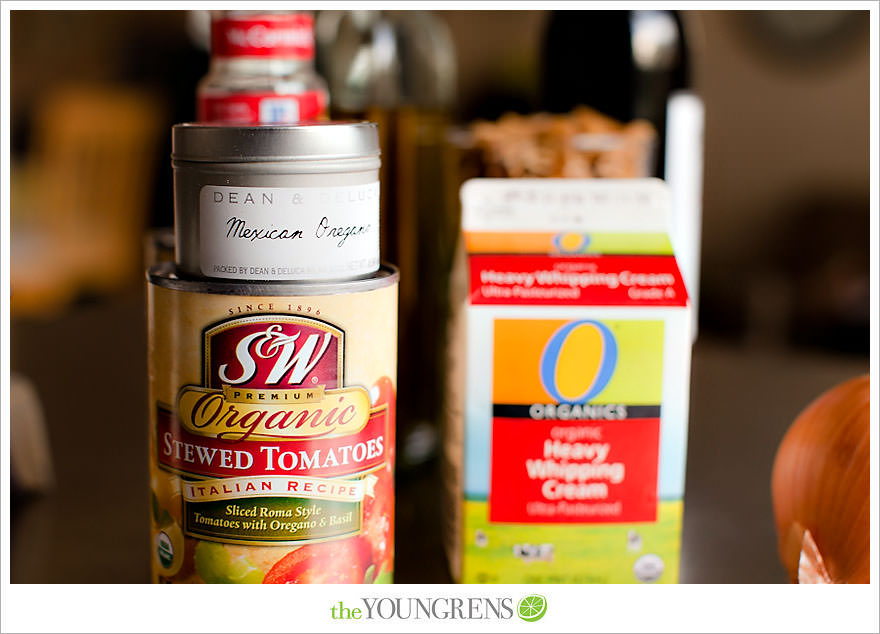 You'll also need sausage (we just cut up some we had in the freezer), garlic, and chopped yellow onion.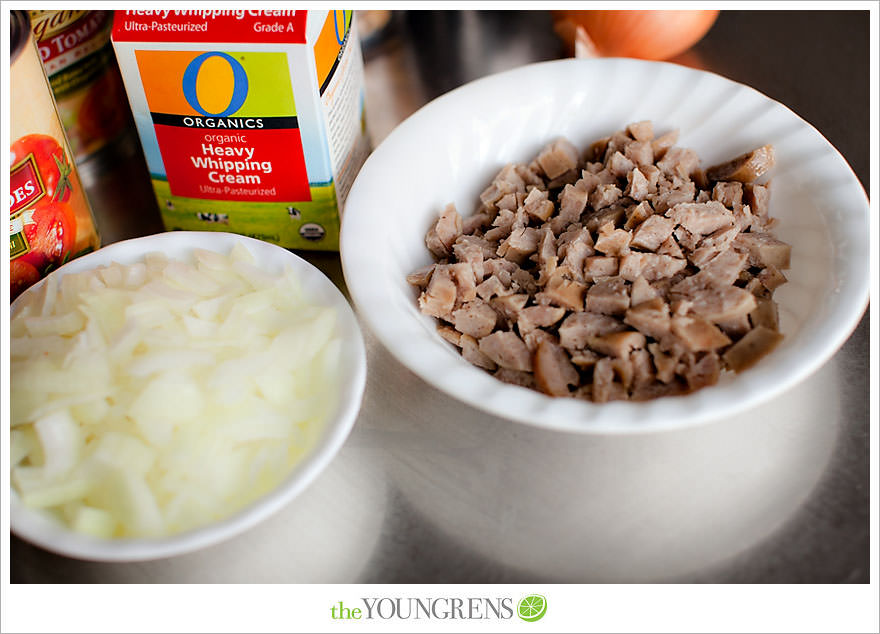 First, start boiling your water for the pasta, then brown the sausage in some olive oil in a large cast iron pot or Le Creuset. Of if you're us, a big skillet.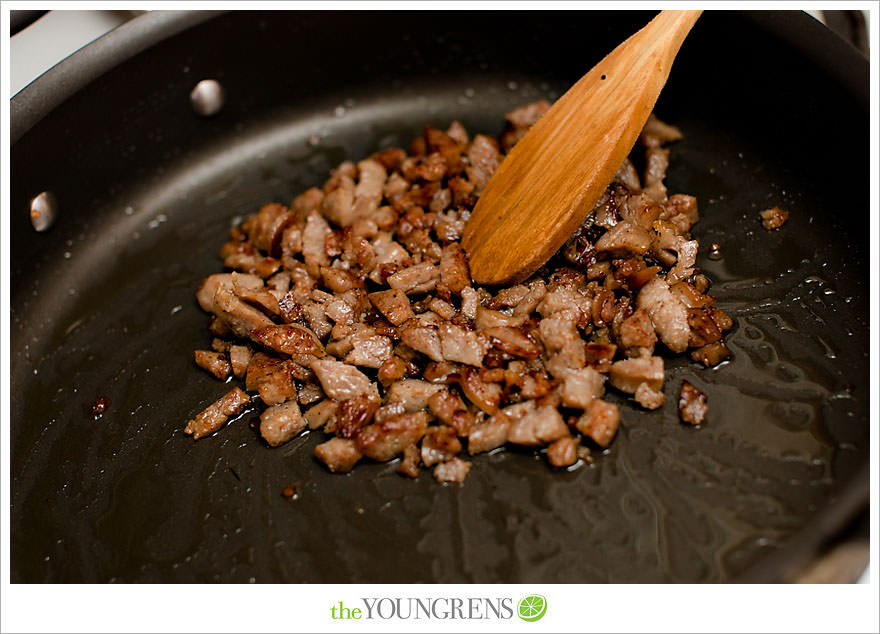 Set aside the browned sausage and saute the onions in the oil, de-glazing the pan. Which I think means making the pan not glazed…. or something.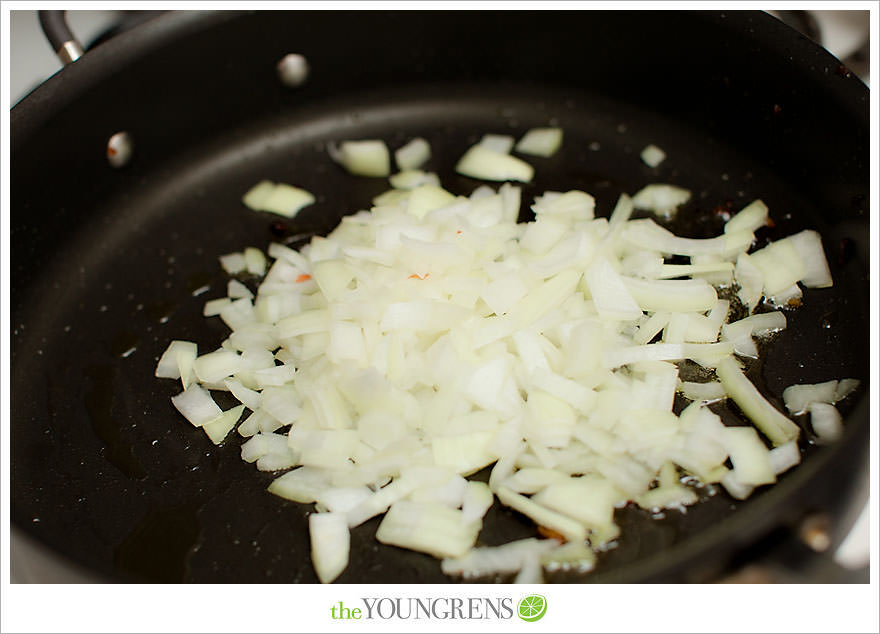 Once the onions are translucent, add the diced garlic…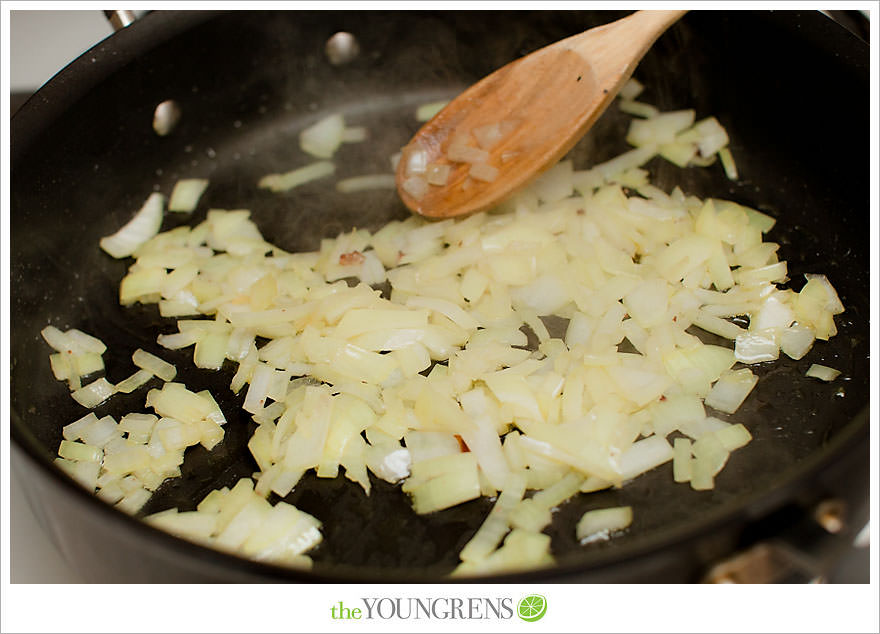 And red pepper flakes to taste. For us, the spicier, the better.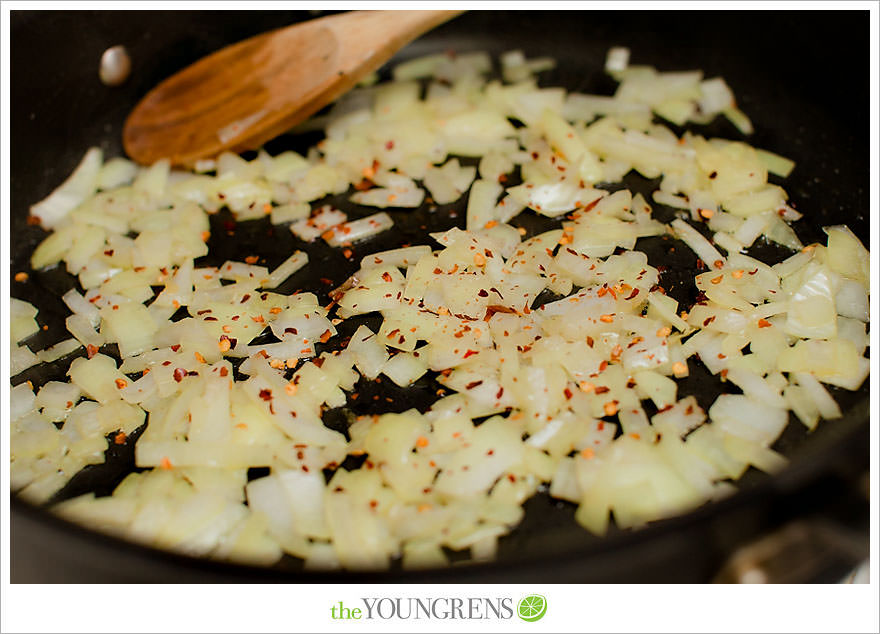 Mix it all up…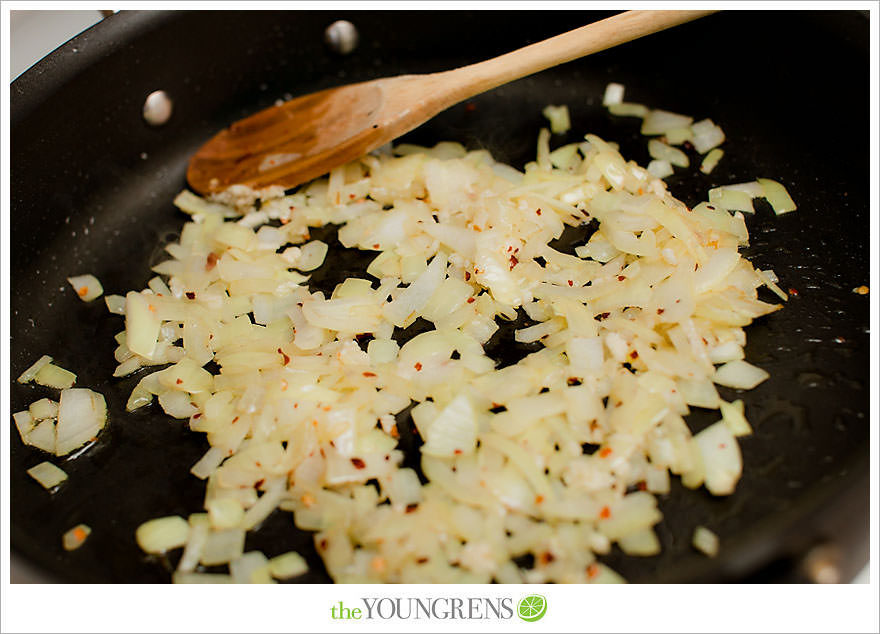 And pour in half a cup of red wine. The rest of the cups? You can go ahead and drink them now.
Stir everything until the alcohol is cooked off. Ryan said to "stick your nose into the pot and cook until no alcohol is sensed in your nose – you'll know what I mean." We stuck our noses into the pot and we totally did know what he meant! I was so proud of us.
It's get thicker when all of the alcohol disappears too.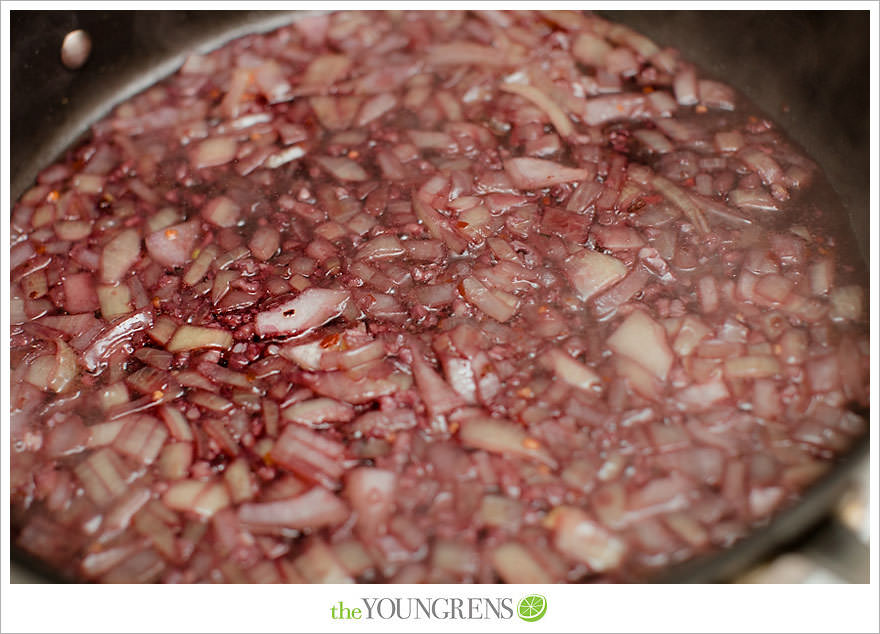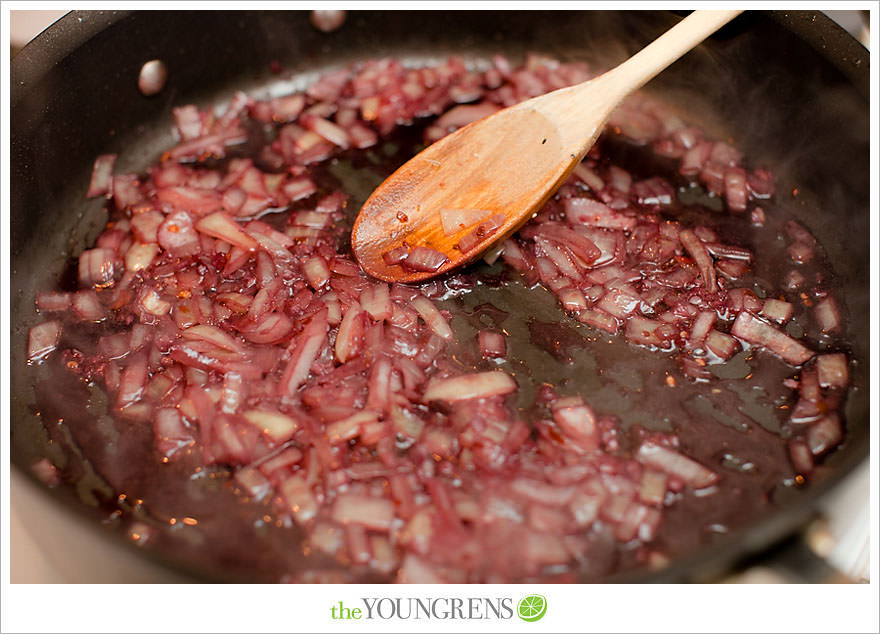 Dump in the crushed tomatoes…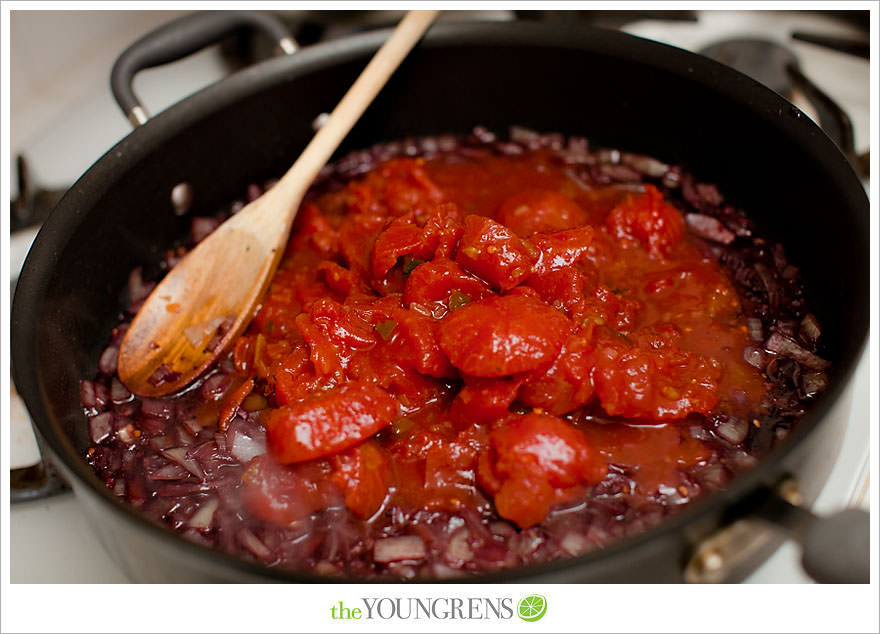 And the sausage…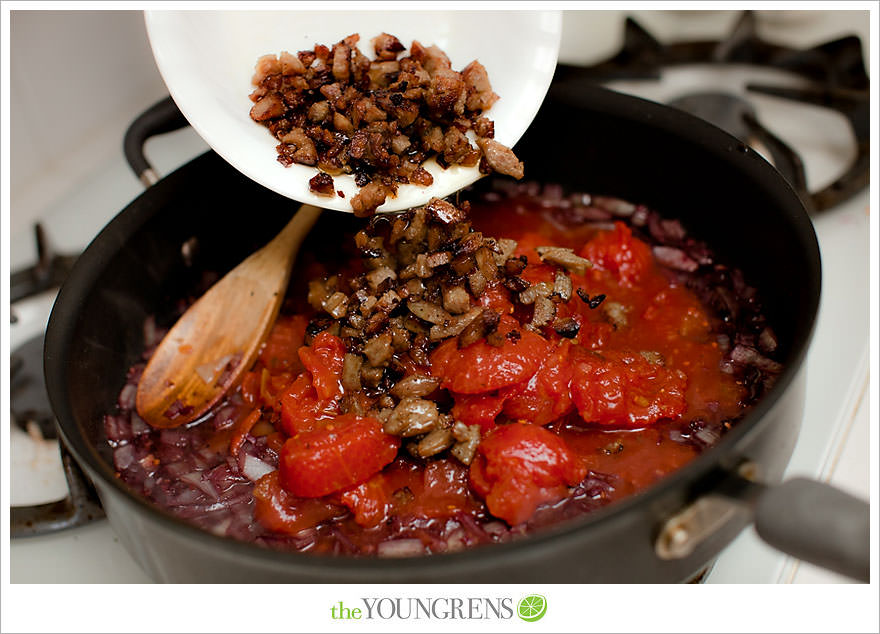 Stir in a pinch of oregano and some thyme (we actually used rosemary) and cook until it's a thick sauce.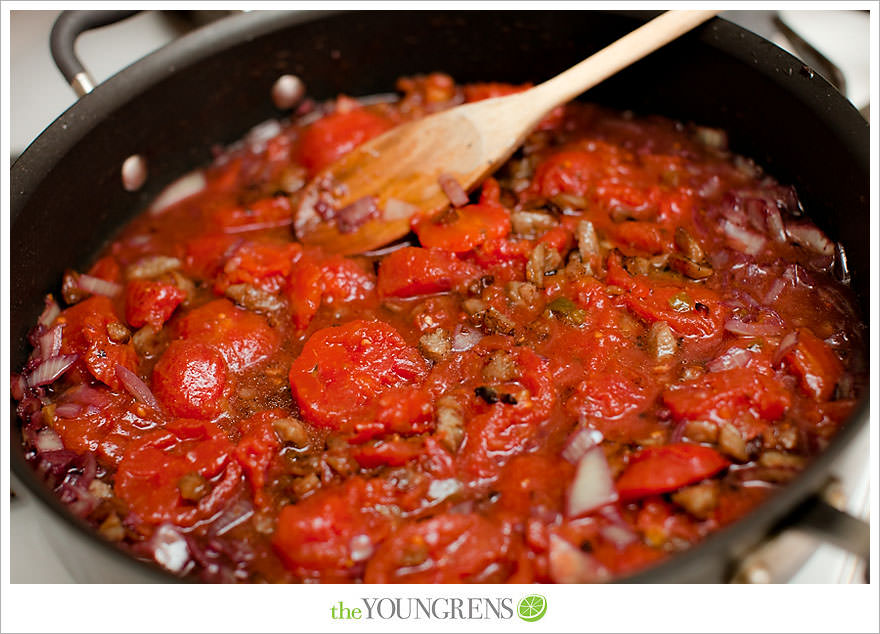 You're water will probably be boiling at this point, so throw in your pasta and let it cook for 8-10 minutes.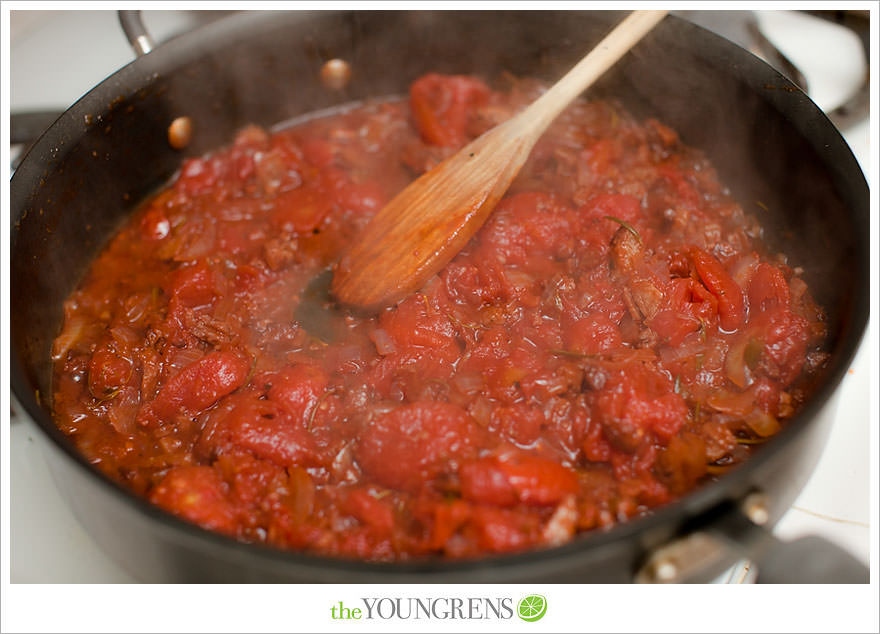 Once thick, stir in some butter…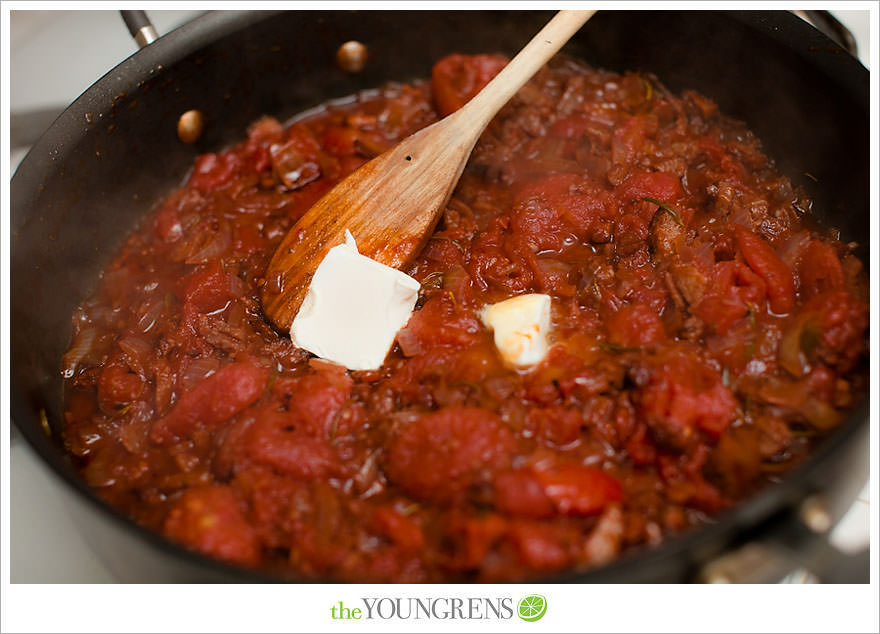 The heavy cream…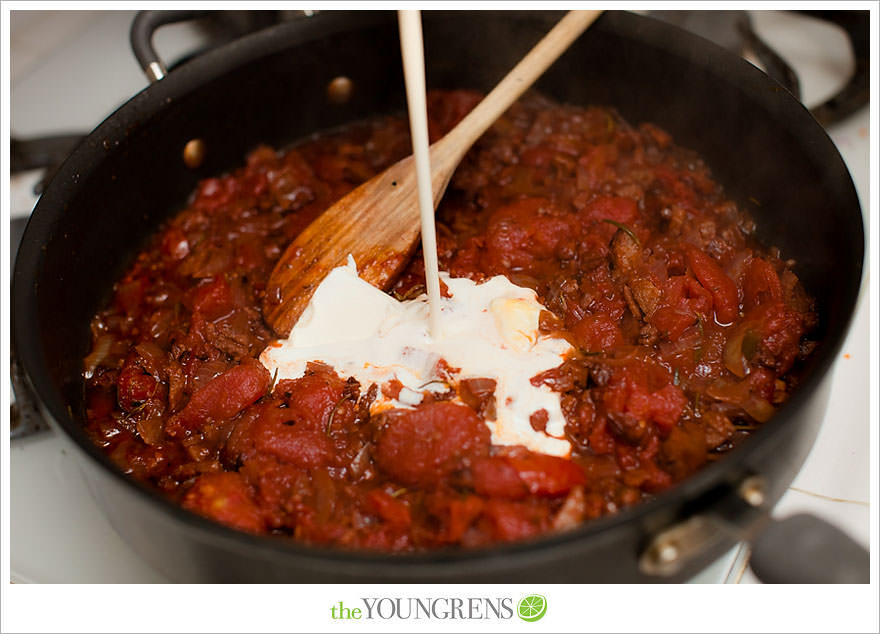 Salt and pepper to taste and adjust the acidity with red wine vinegar.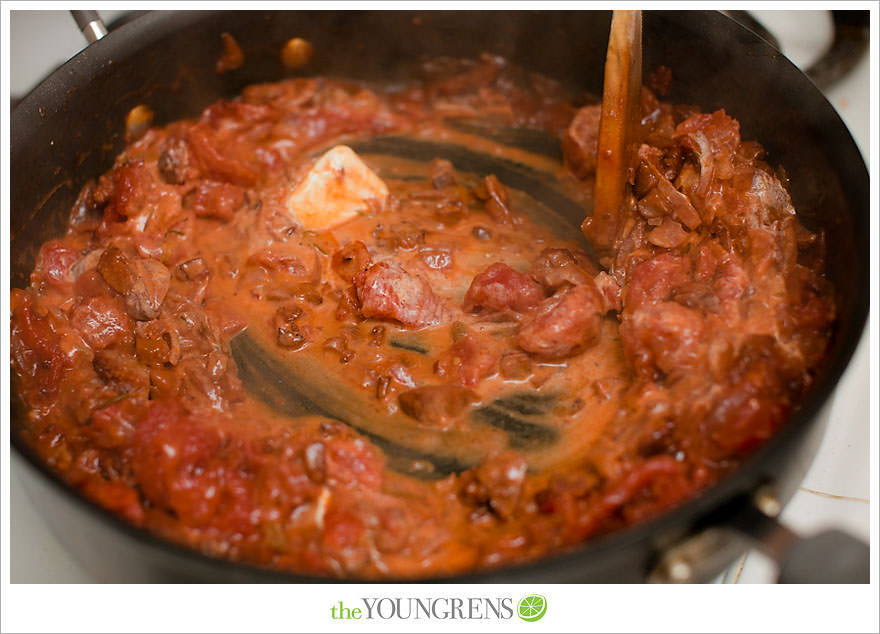 I'm not actually sure what it means to 'adjust the acidity', but we just kept balancing things until it tasted pretty yummy.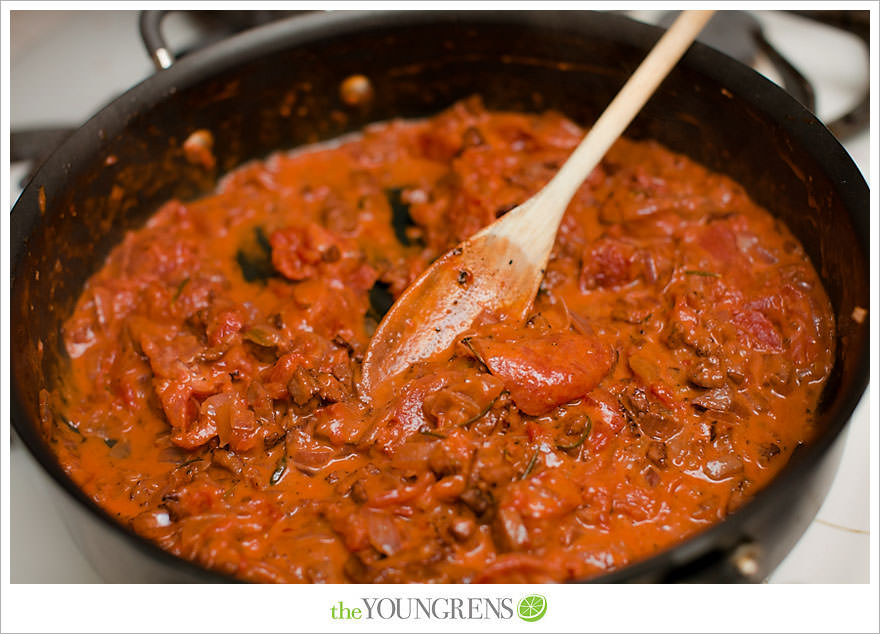 You're pasta should be done, so drain the penne and add a tablespoon of butter…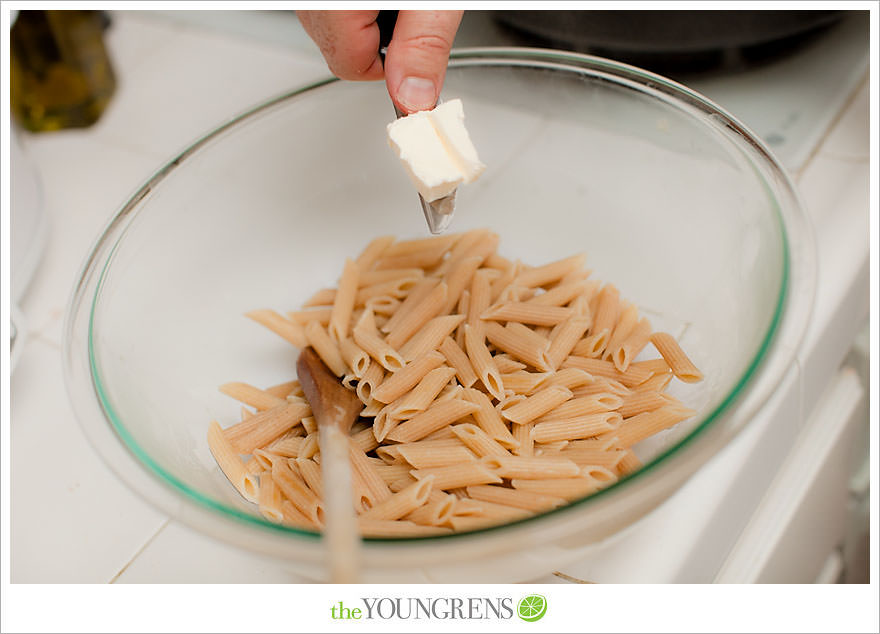 And chopped basil and parsley in a 2:1 ratio. We didn't have any basil, so we just used parsley.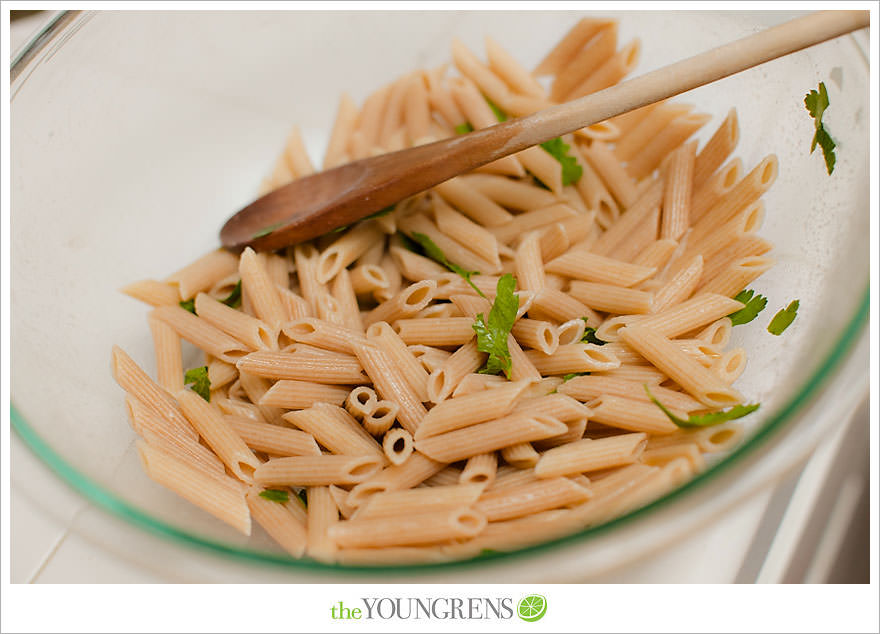 Toss the pasta with the sauce and you won't believe your mouth when you taste this dish!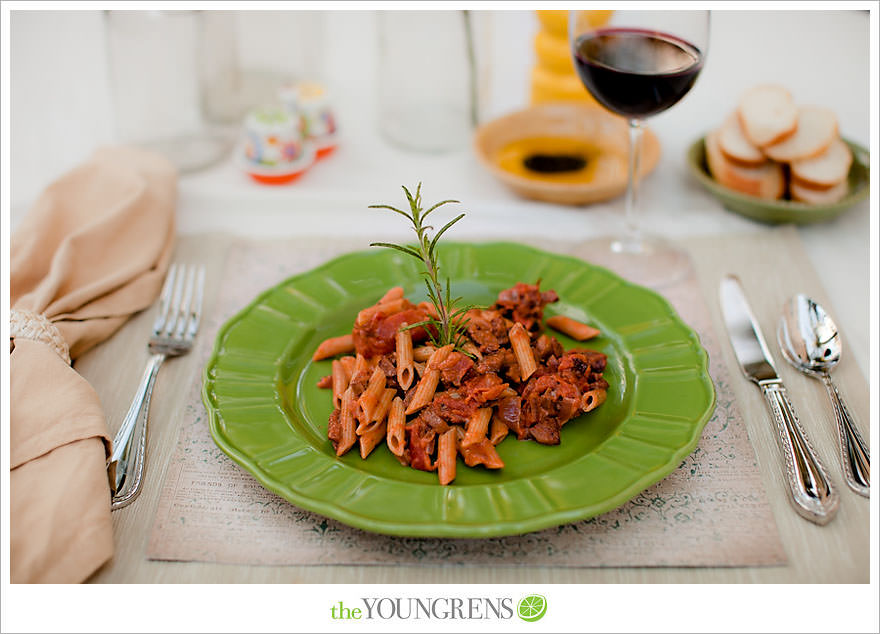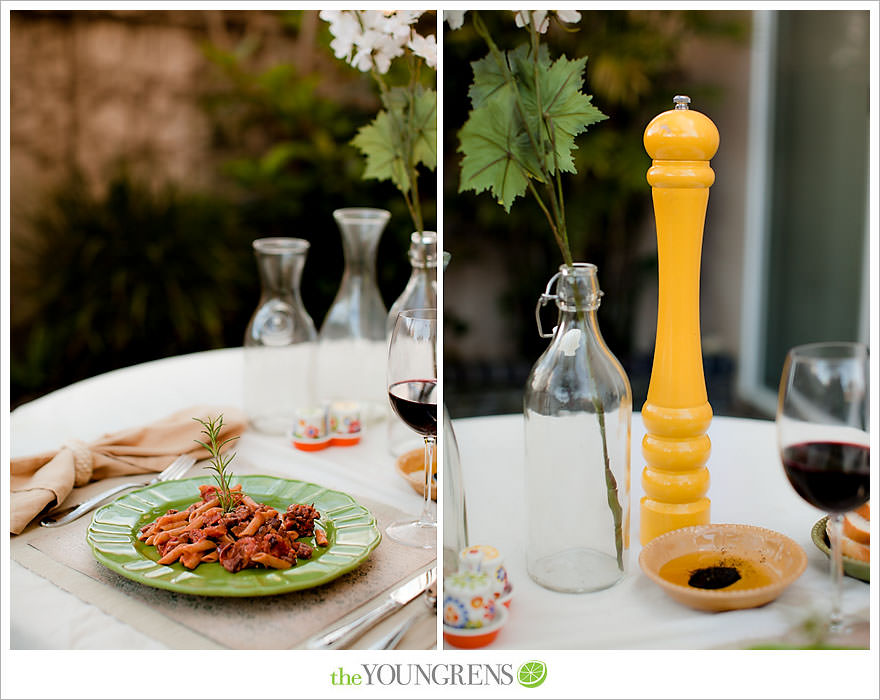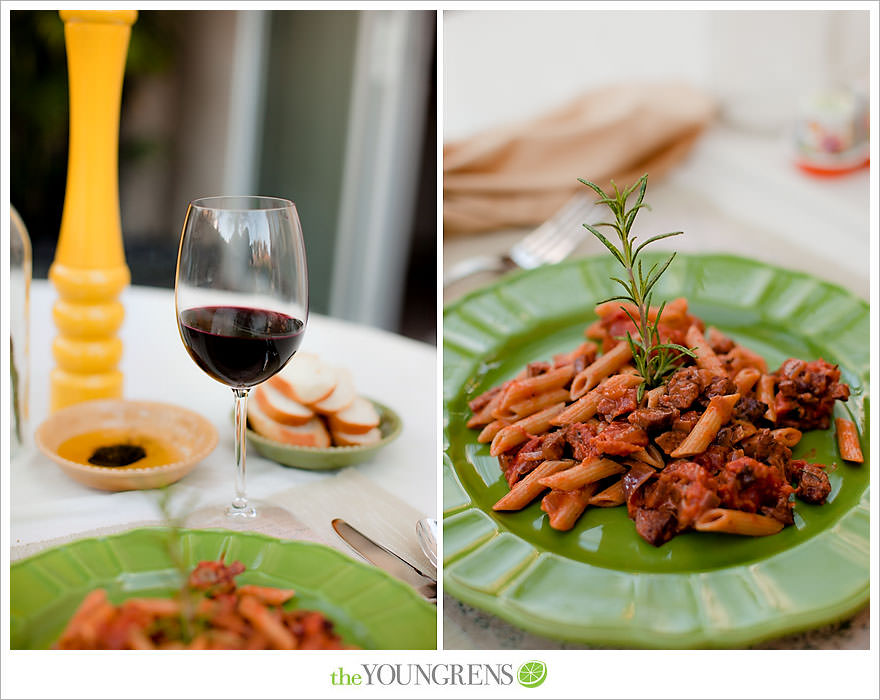 It's chunky, creamy, spicy, and just plain amazing! This has become a staple in our house and we can't get enough of it!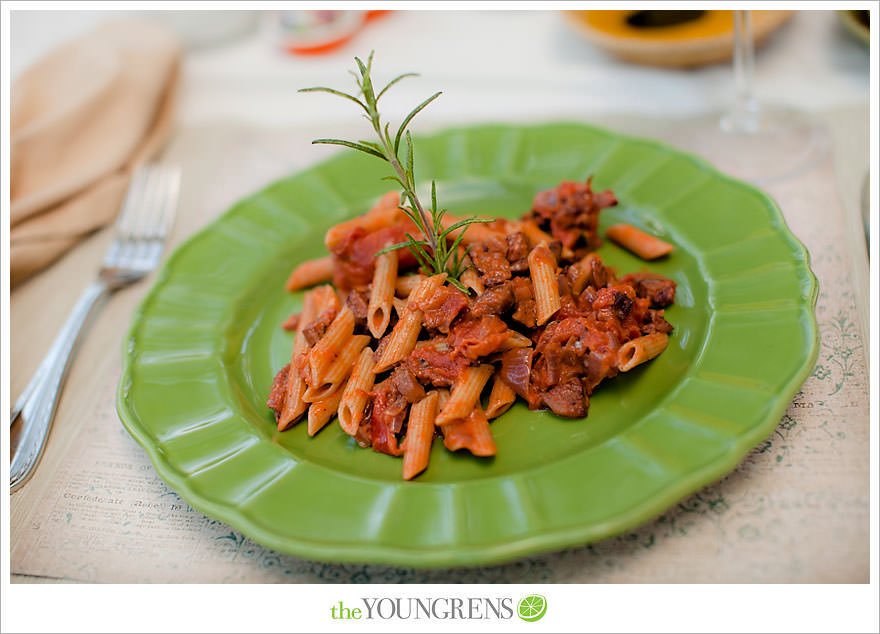 Ryan didn't send a list of ingredients, but the instructions below are all you need.
Whole Wheat Penne with Spicy Sausage Tomato Sauce
Heat olive oil over medium heat in a large cast iron pot.
Crumb sausage in oil with wooden spoon to brown.
Separate the sausage on to a side plate.
Cook diced yellow onion in oil, de-glazing the pan, 3-4 min till translucent.
Add 4-5 garlic, finely diced, 30 seconds.
Add crushed red pepper to taste.
Add 1/2 cup red wine stir till alcohol is cooked off. (Stick your nose in the pot and cook till no alcohol is sensed in your nose. You'll know what I mean.)
Add 2 large cans of canned whole peeled San Marzano tomatoes that you hand crushed and cooked sausage to the pot.
Stir in a pinch of dried oregano and fresh thyme. Cook down till a thick sauce.
When thick, add 1Tbpsn of butter and 2Tbspn heavy cream. Salt and pepper to taste, adjust acidity with red wine vinager.
Before serving, mix pasta (Chunky pasta like penne or rigatoni) with sause, 1Tbspn of butter, chopped (2) basil : (1) fresh parsley ratio mixture. Mix for at least 30 seconds.
Serve!
Hugs,
Erin