Three years ago, two months after Jeff and I moved from our first teeny apartment into our current home, we hosted Thanksgiving dinner for the first time. We had only been married a little over two years, and since we suddenly had a brand new dining room with a kitchen bigger than a closet and a table that could actually expand, I mentioned "Why don't we have Thanksgiving at our house?" So before I knew what had come out of my traitorous lips, Jeff's entire family was coming over for Thanksgiving dinner, including his GRANDMA.
I was freaked out. Like, hide under covers and fake a horrible viral disease freaked out. Even though my mom, sister, and I had always taken the lead on our family Thanksgivings, bustling around the kitchen prepping mashed potatoes, stuffing, gravy, rolls, pies, and sweet potatoes, I had never actually roasted the turkey before. Or made the gravy. Or made real stuffing that wasn't from a box. My mother – being the queen bee of the house – always took the lead on those main dishes while I messed around with the rolls and opened jars of sweet pickles.
And I had decided to take a stab at one of the most cherished of holiday food traditions with all of my in-laws. I'm not the brightest crayon in the box sometimes.
So Jeff and I took to the internet to figure out how to roast a turkey, and came upon a Goddess – Rachael Ray. A few years ago, Ms. Ray did a show on a unique and spicy Thanksgiving meal that can be made in 60 minutes. "Wbaaaaat? 60 minutes for Thanksgiving dinner? Complete with appetizers, turkey, gravy, stuffing, and potatoes?"
Yep. Sixty whole minutos.
So we did it. We followed her recipe exactly. And while it took us a bit longer than 60 minutes (I think we clocked in at 2.5 hours with all of the chopping, food prep, recipe checking, and figuring out how to do everything), it was the easiest and YUMMIEST Thanksgiving dinner ever! We've made this menu for three years now, and it gets easier and yummier every year. The shocked happy faces of our guests and the "I can't believe this is turkey!! And this stuffing is amazing and the gravy – OMG!" through full mouths of food and shoveling forks never gets old.
So every other week until T-Day, Recipe Sunday will be featuring the Pressed Herbs and Spices Turkey Breast, Pumpkin-Zucchini Muffin Stuffin' and Chipotle Gravy from Rachael Ray's Thanksgiving in 60 Minutes – 2. Once you've tasted this spicy, sweet, smokey, chipotle goodness of a meal, you'll never look at Thanksgiving cuisine the same again.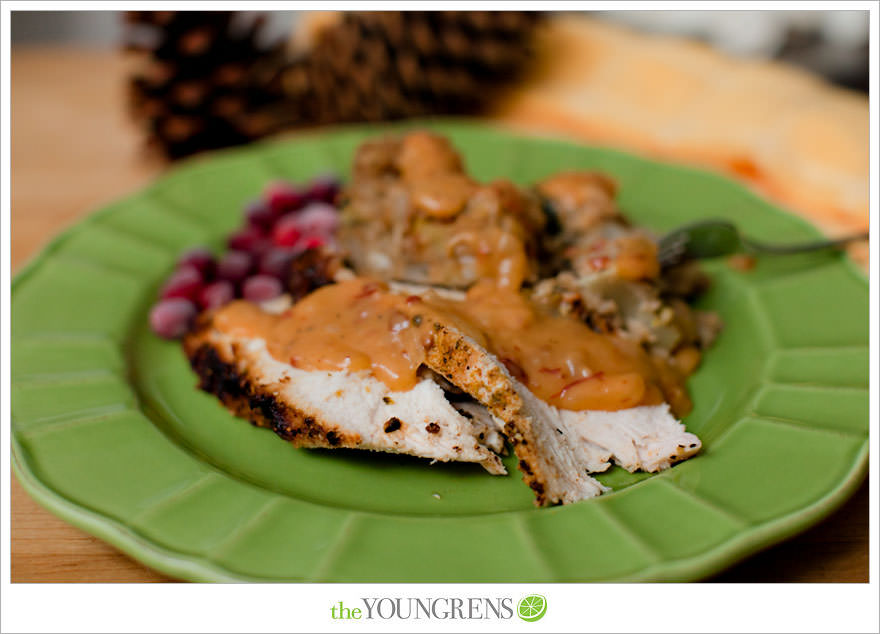 This week we're featuring the mother bird – the turkey. Since that fateful Thanksgiving with the in-laws (they LOVED the meal BTW), I've actually roasted a real turkey and quickly realized that cooking a whole bird is soooooo not worth it. I've even deep fried a turkey and it didn't taste as good! This turkey breast recipe won't dry out and it's chock full of flavor with the pressed herbs and spices filling every space of the bird.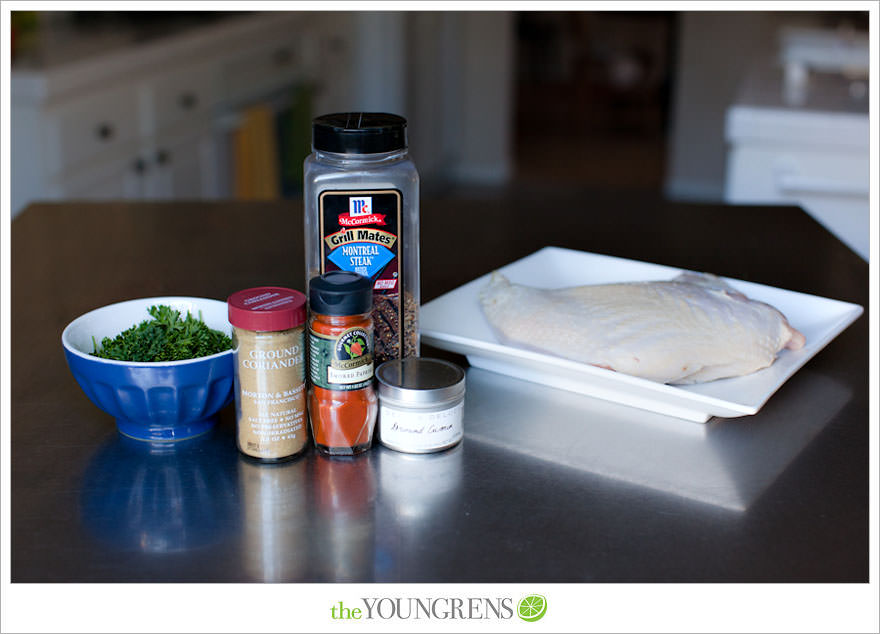 The main players of this dish are the spices for the rub that will cover the skin, the Montreal Seasoning from McCormick and the smoked paprika being the biggest flavors. You can get the Montreal Seasoning from Costco and it's a great thing to have in your pantry for grilling all year long. (Not pictured here: a giant brick you'll need to cover in tin foil and the pistachios)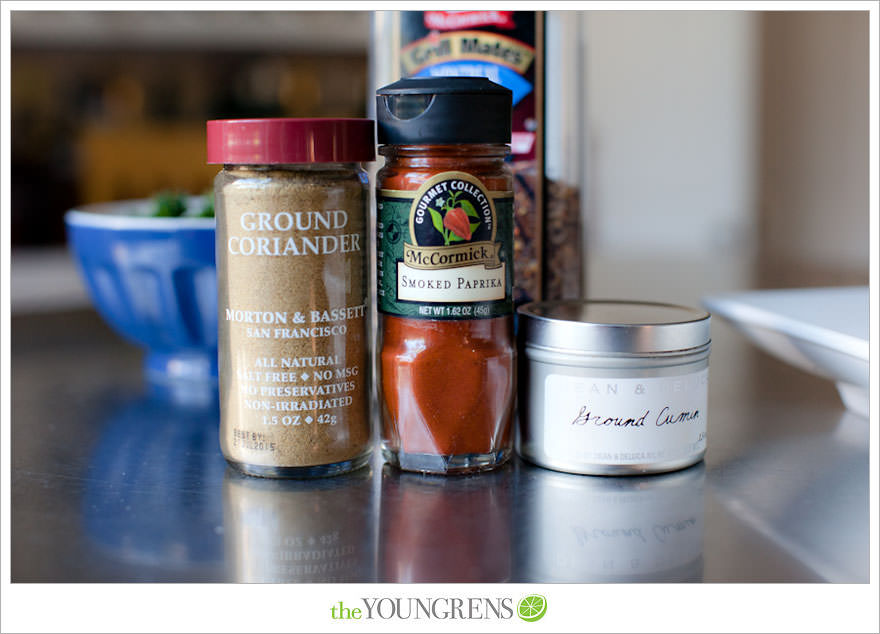 Preheat your oven to 450 degrees and make your spice mixture. I learned this trick from Rachael Ray – a tablespoon of spices equals about a small palm full, so instead of dragging out your measuring spoons, just quickly use your (clean) hands.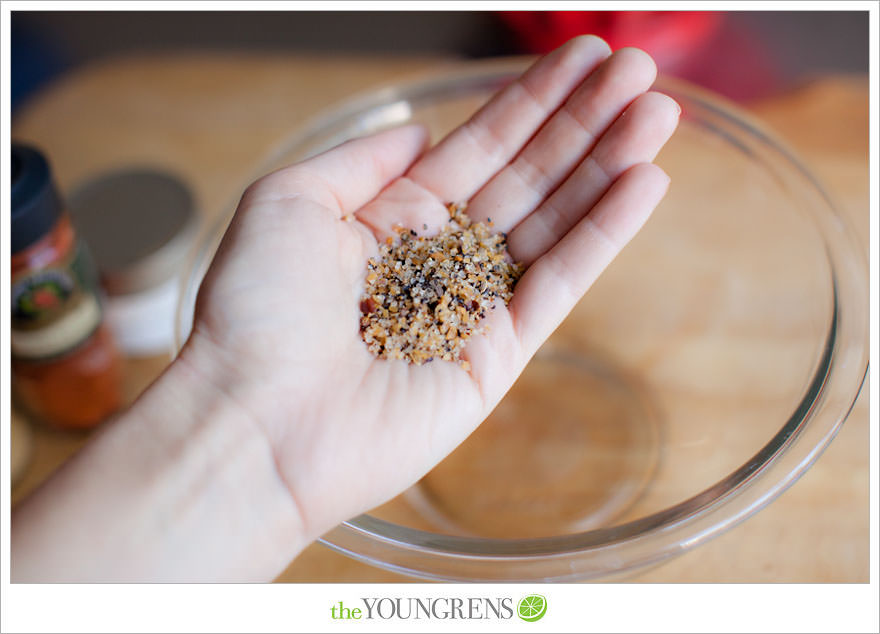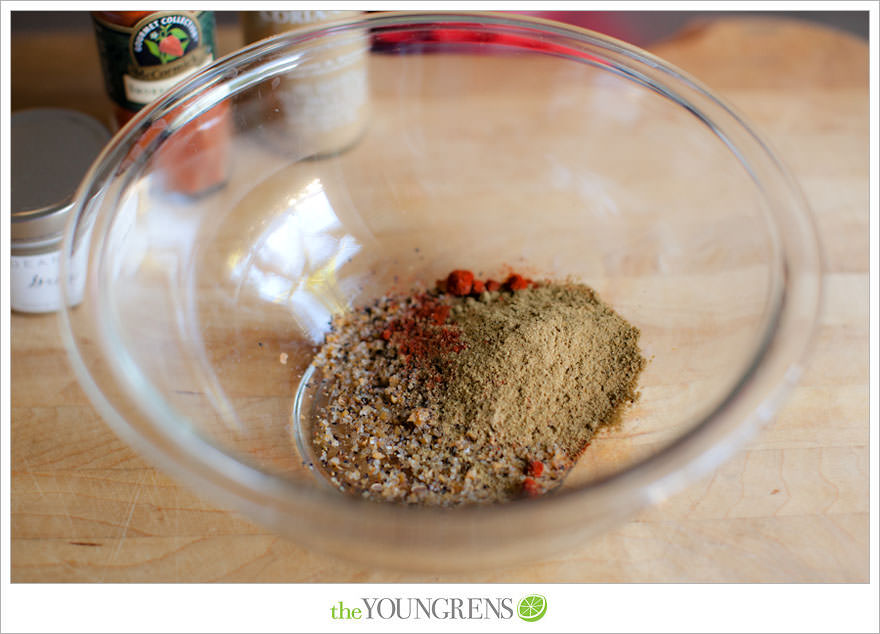 Mix together your spices for the skin rub.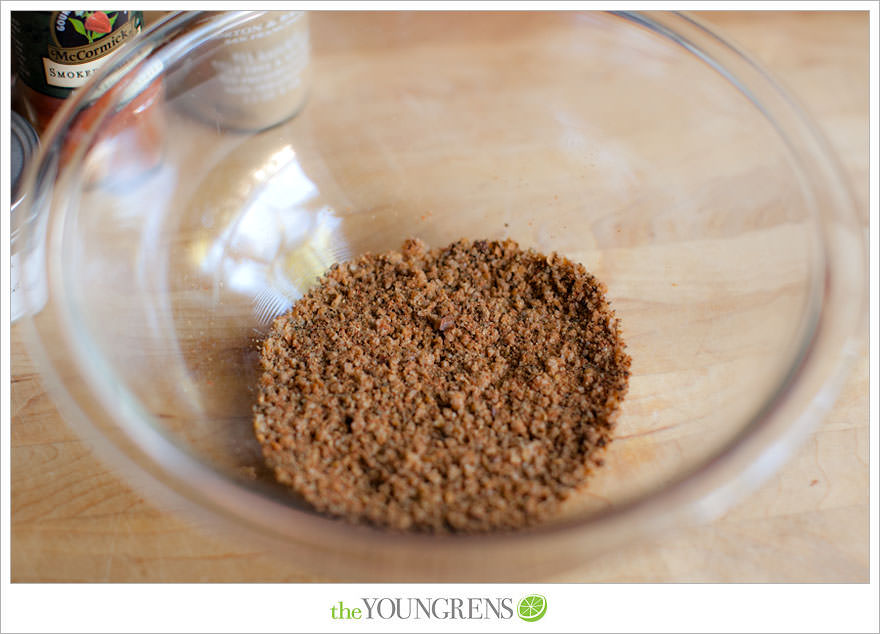 And shell a cup of pistachios for the herbs to go underneath the skin.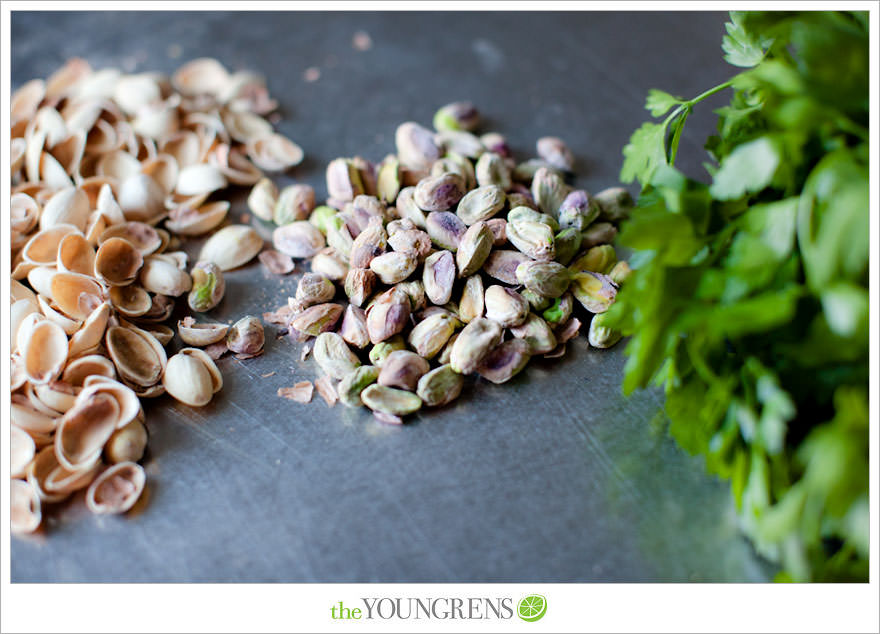 Process 8 sprigs of thyme, a couple handful of cilantro leaves, and a cup of flat-leaf parsley with the pistachios in a food processor.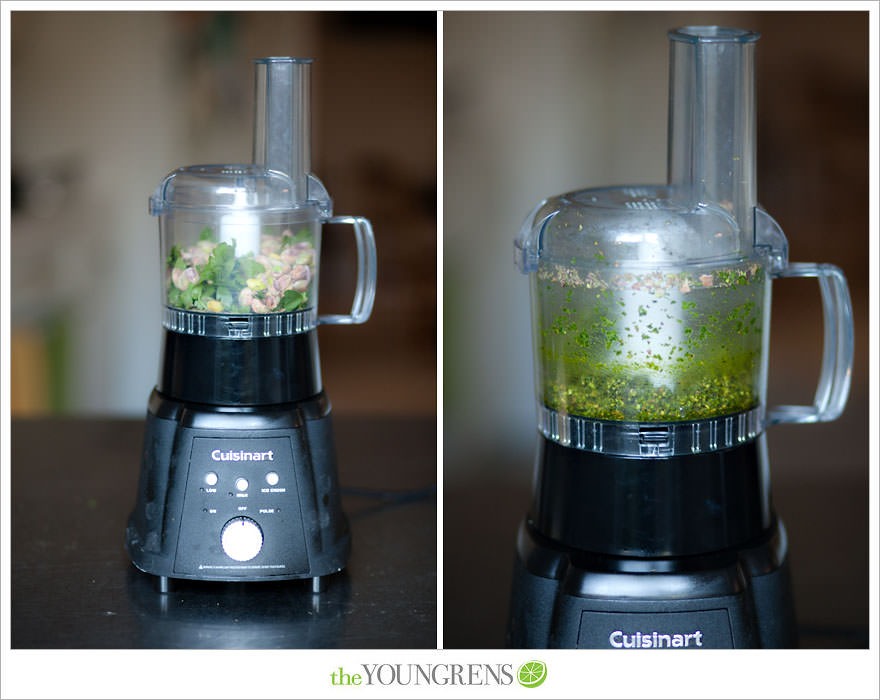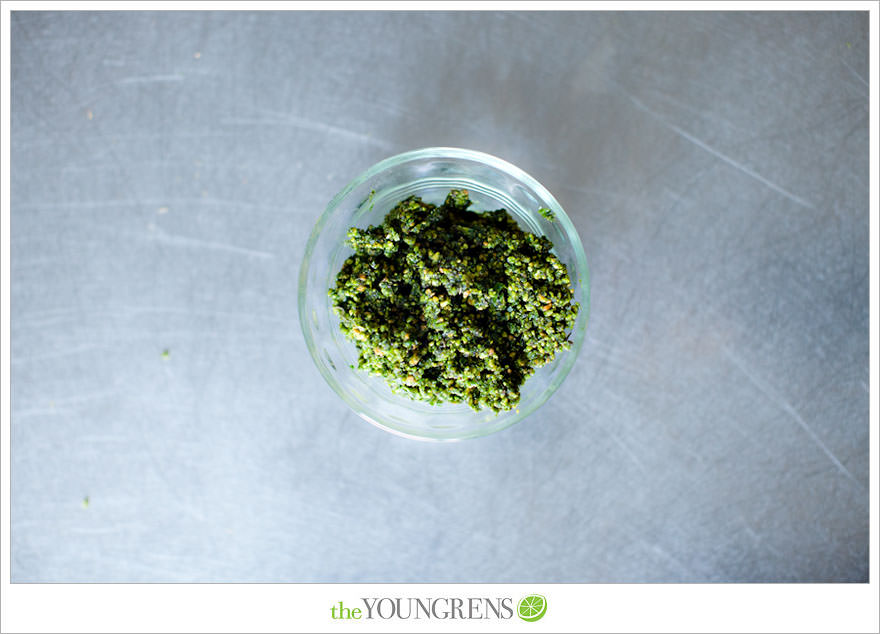 Now you're ready for the turkey. You'll need a large roasting pan for the turkey breasts, but place the pan on the stove on med-high heat and begin heating it up so you can crisp the skin before it goes in the preheated oven. Place the breasts on another pan.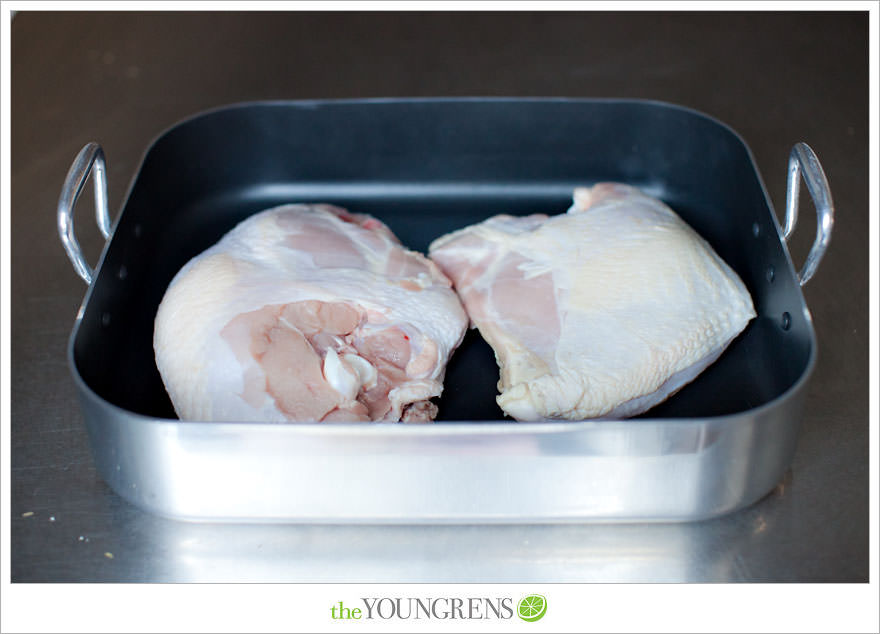 Rub the skin with olive oil, then separate the skin from the meat with a sharp knife. Rub the herb and nut paste between the skin and meat on each breast, making sure to evenly spread it around.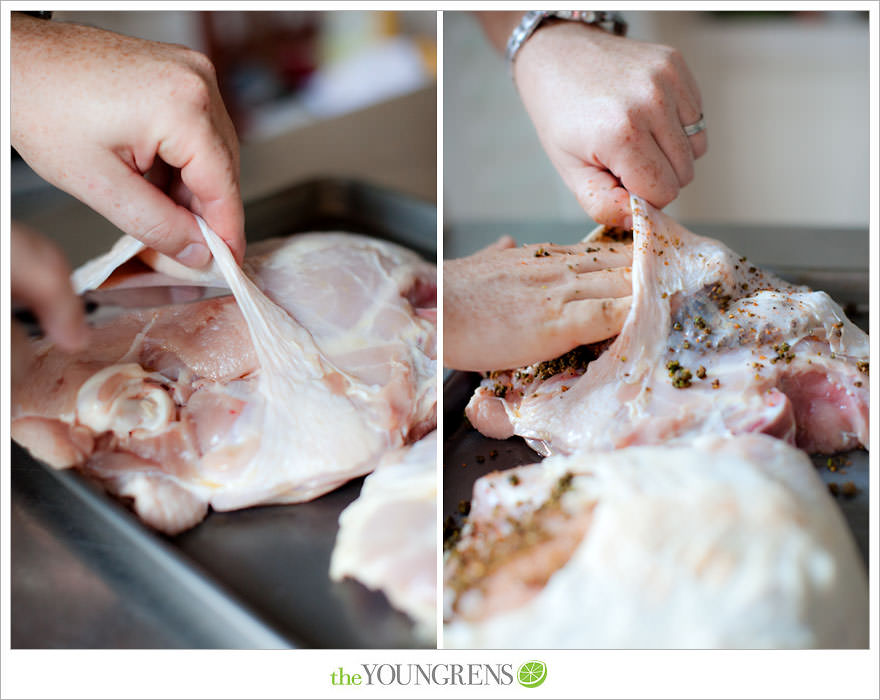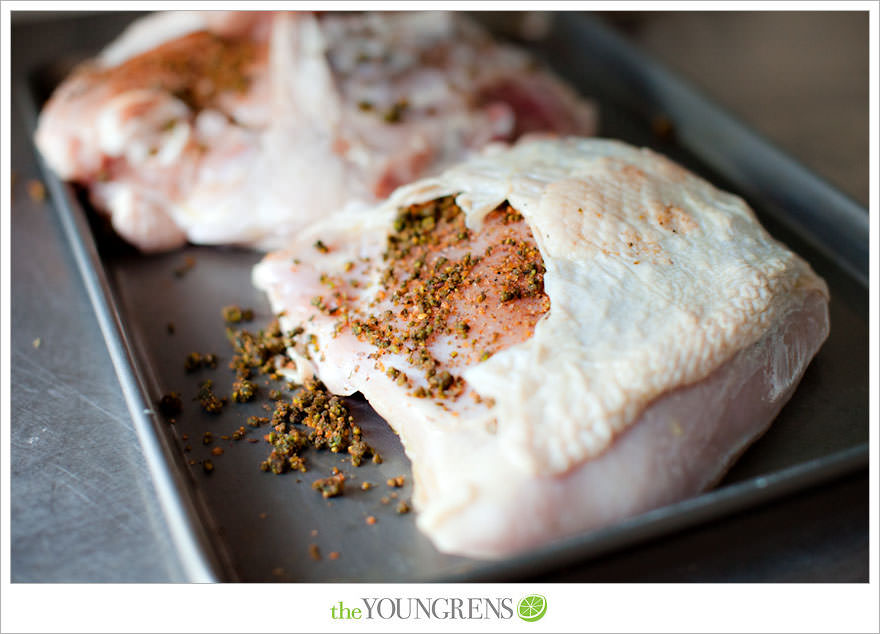 Then rub the skin with the spice mixture.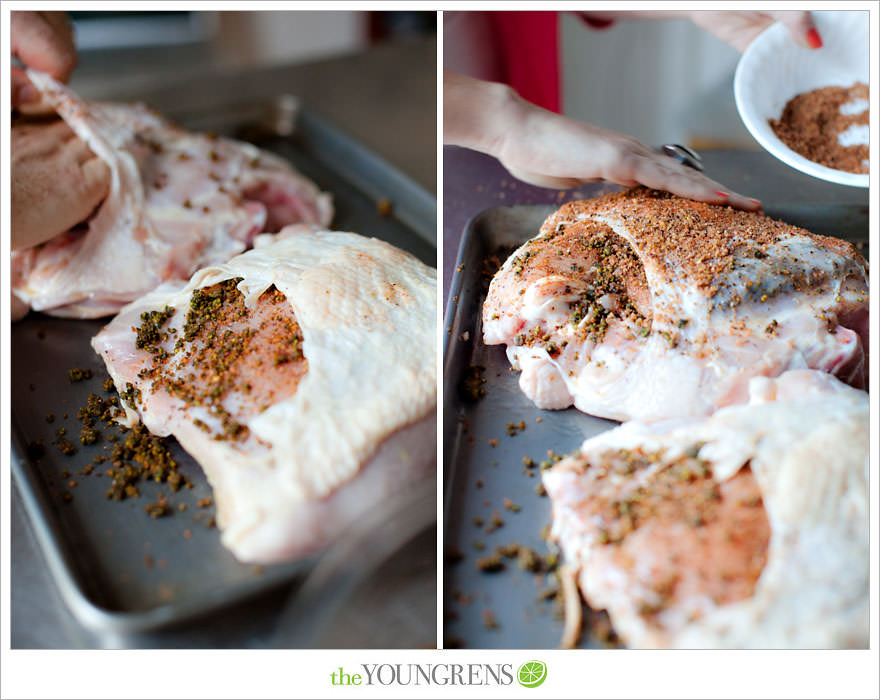 Place the breasts skin-side down in the hot roasting pan and hear it sizzle! I put some more of the olive oil and spice mixture on the bottom of the bird too. Why not add more flavor? Crisp the skin for 8-10 minutes.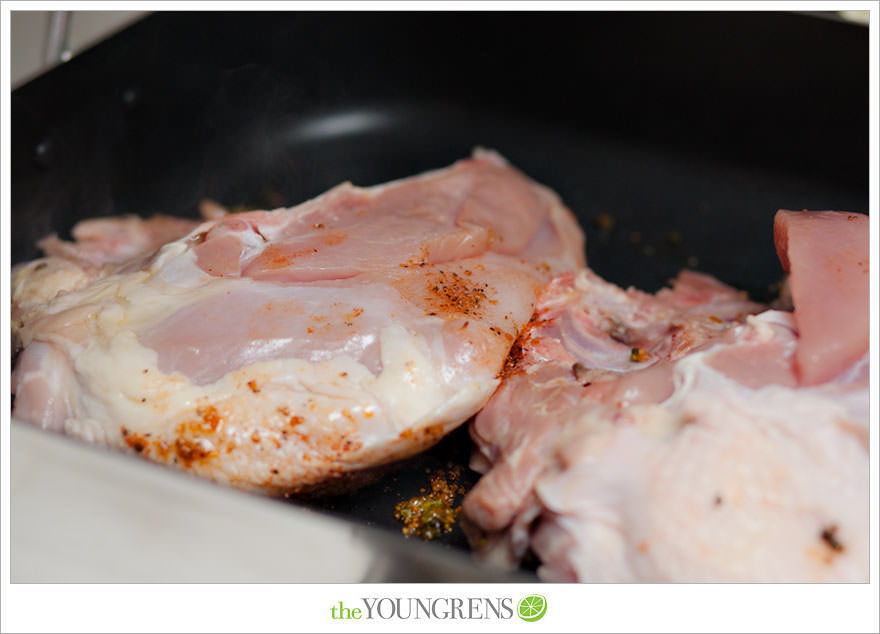 Once the skins are crisp, wrap a brick in tin foil and place it in another oven-ok skillet or a large baking dish. Place that on top of the breasts to weigh everything down. This keeps the bird pressed down into it's juices so it comes out of the oven super moist! Place everything in the oven for 35 to 40 minutes or until a thermometer reads 165 – 170 degrees F.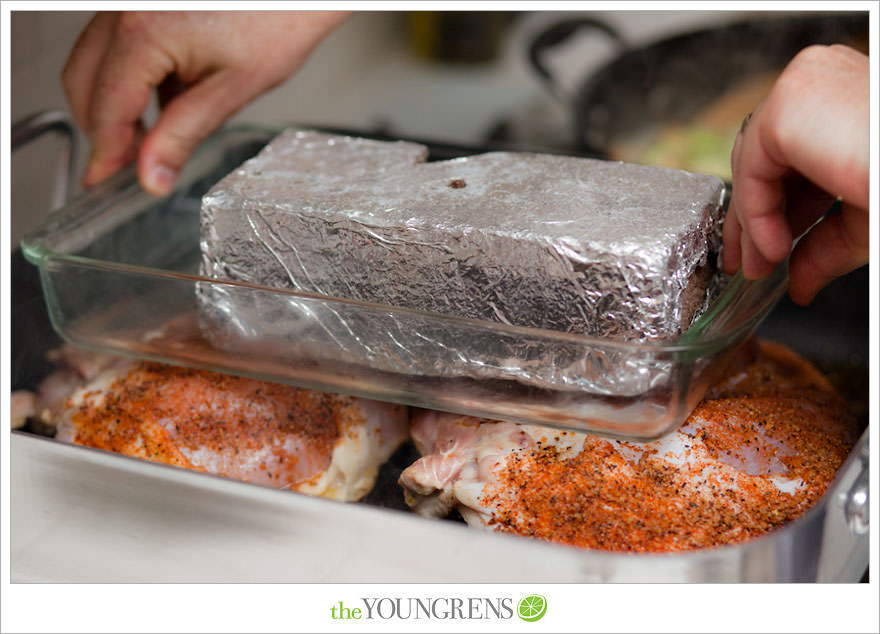 While the turkey roasts, you'll be making the Pumpkin-Zucchini Muffin' Stuffin' and Chipotle Gravy, so breath in the yummy aromas and keep cooking. The turkey will come out so golden and beautiful! And it took hardly any work!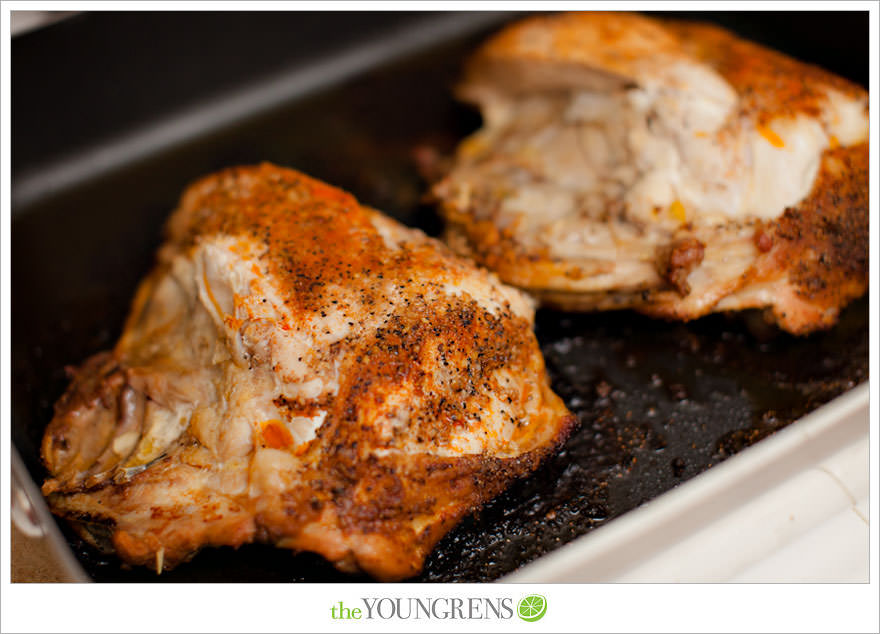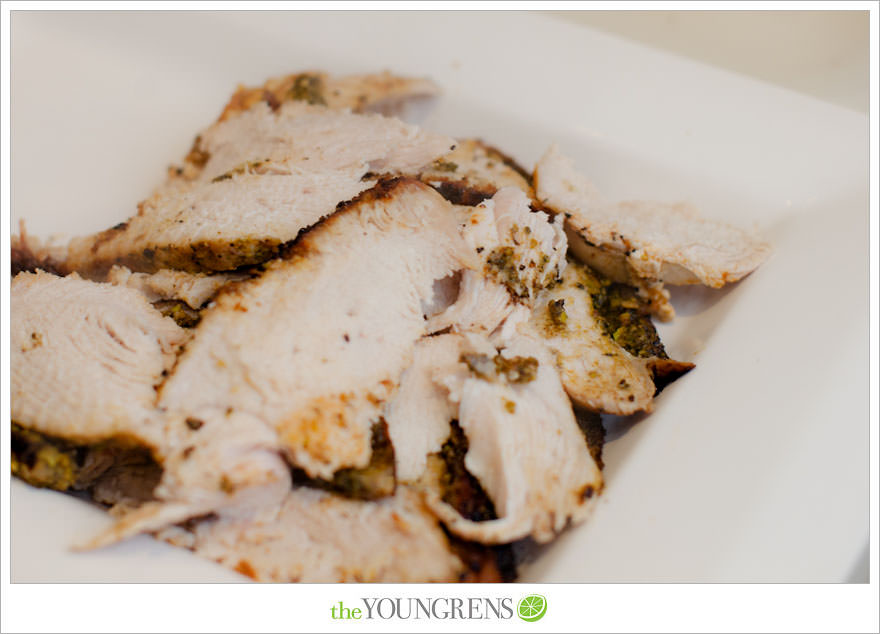 I've had friends that dread eating turkey totally fall in love with this recipe. It's so much more flavorful than your average T-Day dish, so skip the whole bird this year and do this for your next Thanksgiving bash. You'll thank me later when you actually have time to enjoy the holiday instead of slaving in the kitchen!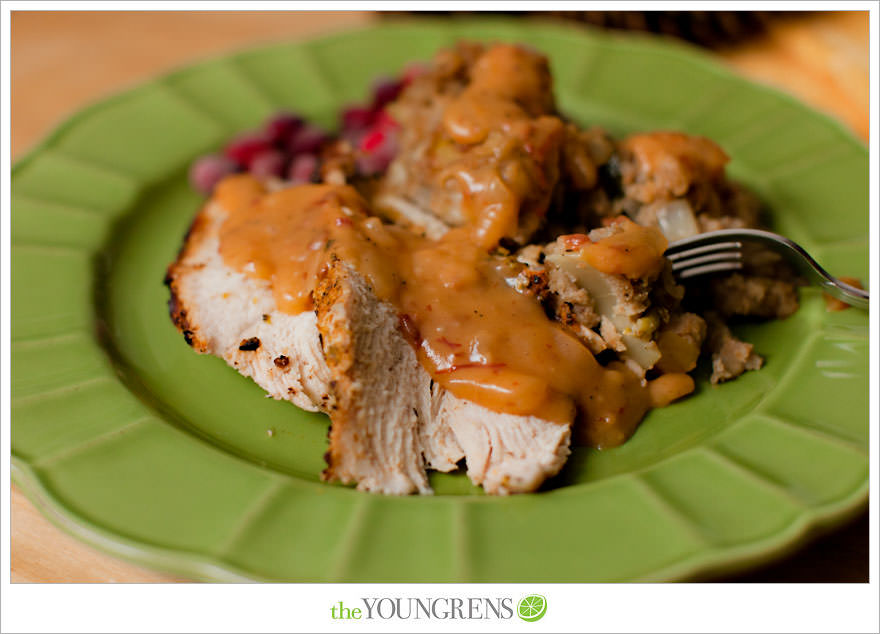 Pressed Herbs and Spices Turkey Breast
(view Rachael Ray's entire Thanksgiving in 60 here)
3 tablespoons grill seasoning (recommended: Montreal Seasoning by McCormick) 3 palm fulls
1 tablespoon ground cumin, a palm full
1 tablespoon smoked sweet paprika, a palm full
1 tablespoon coriander, a palm full
4 tablespoons fresh thyme leaves, 8 sprigs, stripped off stems
Cilantro leaves, 2 handfuls or 1/2 cup basil leaves
1 cup loosely packed flat-leaf parsley, 4 handfuls
1 cup shelled natural pistachios
Extra-virgin olive oil, for generous drizzling
2 boneless halved turkey breasts, about 3 pounds each
1. Preheat oven to 450 degrees F. Preheat a 14-inch skillet or medium roasting pan over medium heat on your largest burner.
2. Mix grill seasoning, cumin, paprika and coriander together. Place the thyme, cilantro or basil, parsley and pistachios in the food processor and process into a paste. Remove bowl from processor and remove blade from bowl. Have a rubber spatula on hand.
3. Drizzle extra-virgin olive oil generously over the breasts to coat the skin. Loosen skin of the breasts with a small sharp knife. Divide the herb and nut paste between the flesh and skin on each breast. Use your hands to move the paste around under the skin to evenly distribute the mixture. Coat the extra-virgin olive oil coated skin with the spice mixture.
4. Set the coated breasts into the large skillet or roasting pan. Wash hands. Set a second slightly smaller skillet or pan on top of the breasts and weight down with a couple of bricks covered in foil. Crisp the skin 8 to 10 minutes then transfer meat to oven and roast 35 to 40 minutes, until an instant-read meat thermometer registers 165 to 170 degrees F.
In two weeks: Pumpkin-Zucchini Muffin' Stuffin'
Hugs,
Erin