Thanksgiving feels much later in the month this year which means two things: 1) More time to build the epic 20 person farmhouse table for hosting Friendsgiving and 2) more time to overdose on pumpkin.
Both of which are oh-so-good.
When it comes to an easy first course for the droves of family and friends that will be taking over your humble abode this week (or even just a November date night in with your sweetie) this soup is a no fail crowd-pleaser. It's no surprise that this soup is easy and delicious, though, because it comes from the queen of fast-yet-tasty Thanksgiving dishes, Rachael Ray. Her Thanksgiving in 60 Minutes menu has provided many quick and successful holiday dinners at Casa de Youngren, and this soup sings with her signature flavor and creativity.
Before we jump into this dish, however, there's only one rule you must swear by. DON'T. SKIP. THE. RELISH. The soup itself is delicious, but with the relish it's AH-MAZE-BALLS. As soon as you taste the soup mixed with the sweet and spicy crunch of the chili cran-apple goodness, you will thank me a million times over for making you take the extra ten minutes to prepare it.
It seems as if there's a lot of ingredients, but like any soup, it's a quick and easy process with plenty of spices to develop the flavor.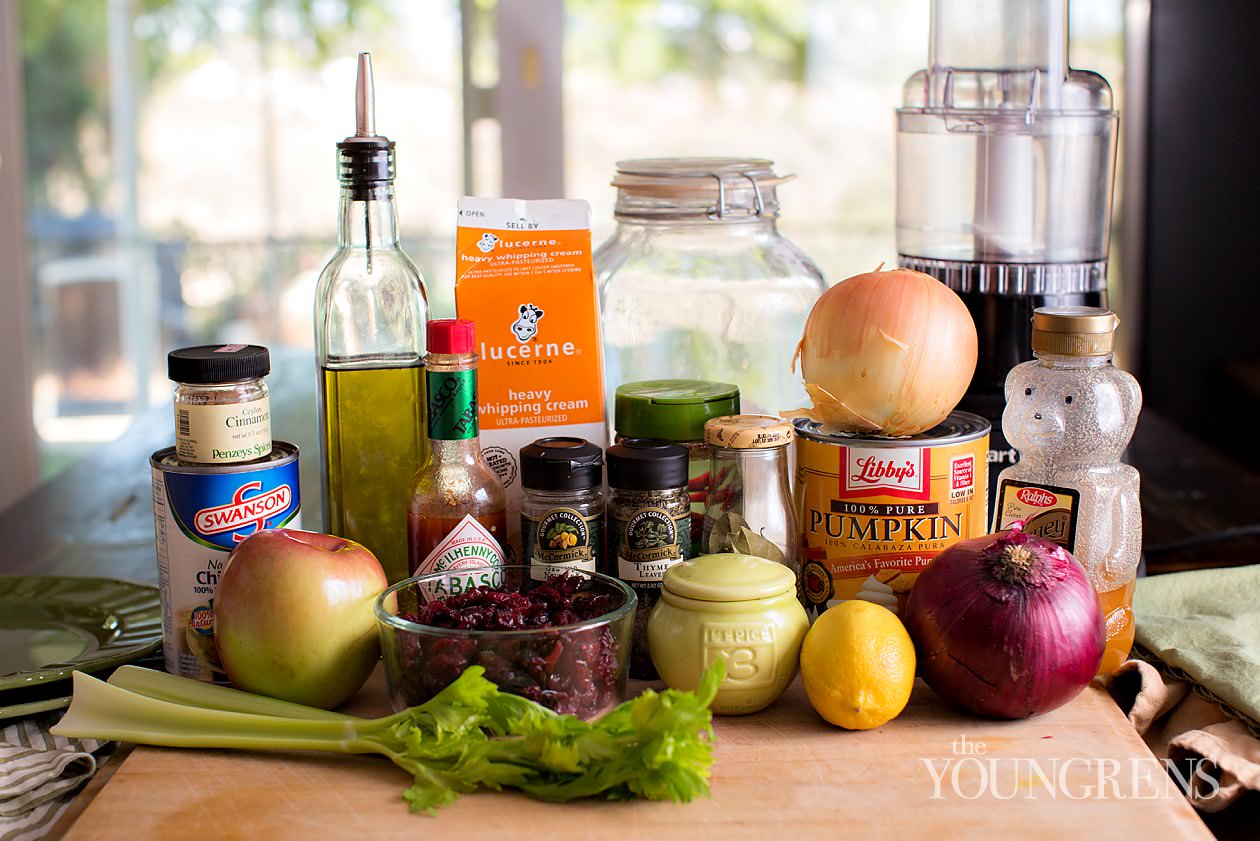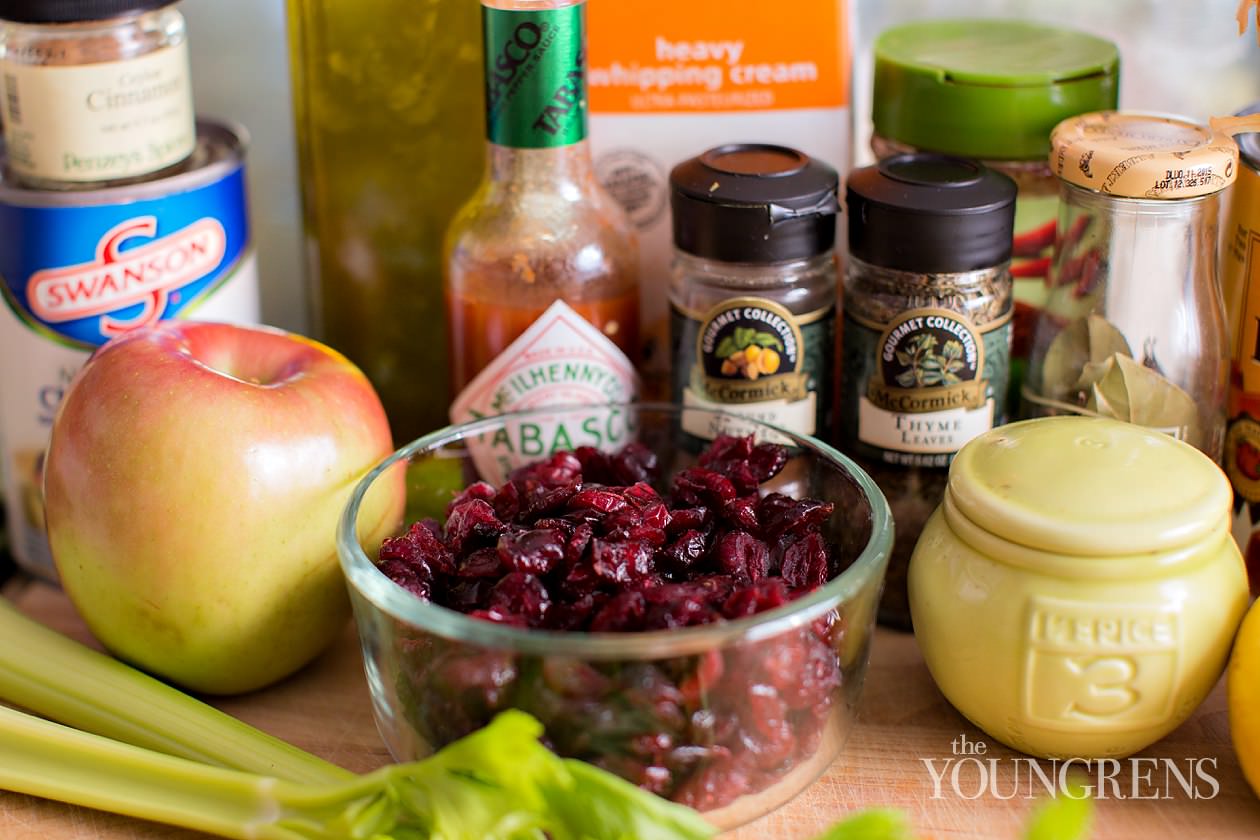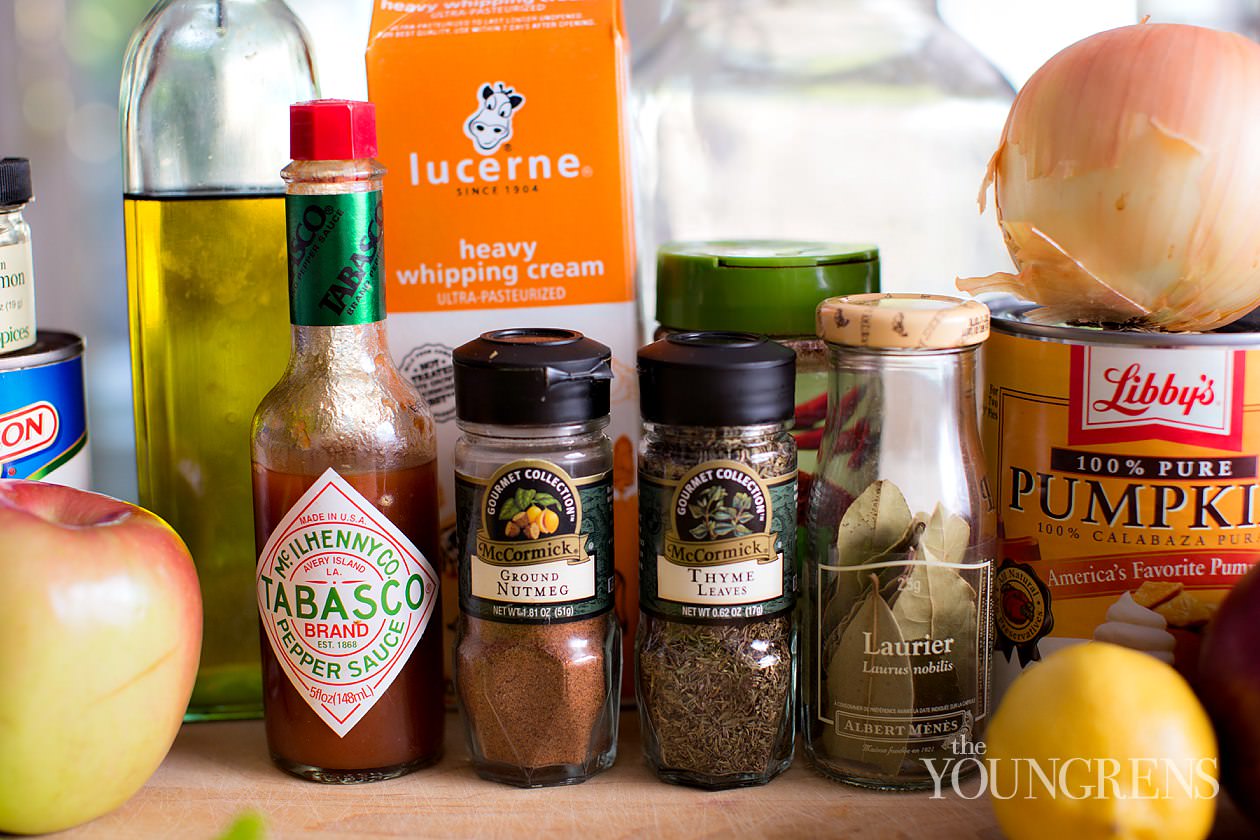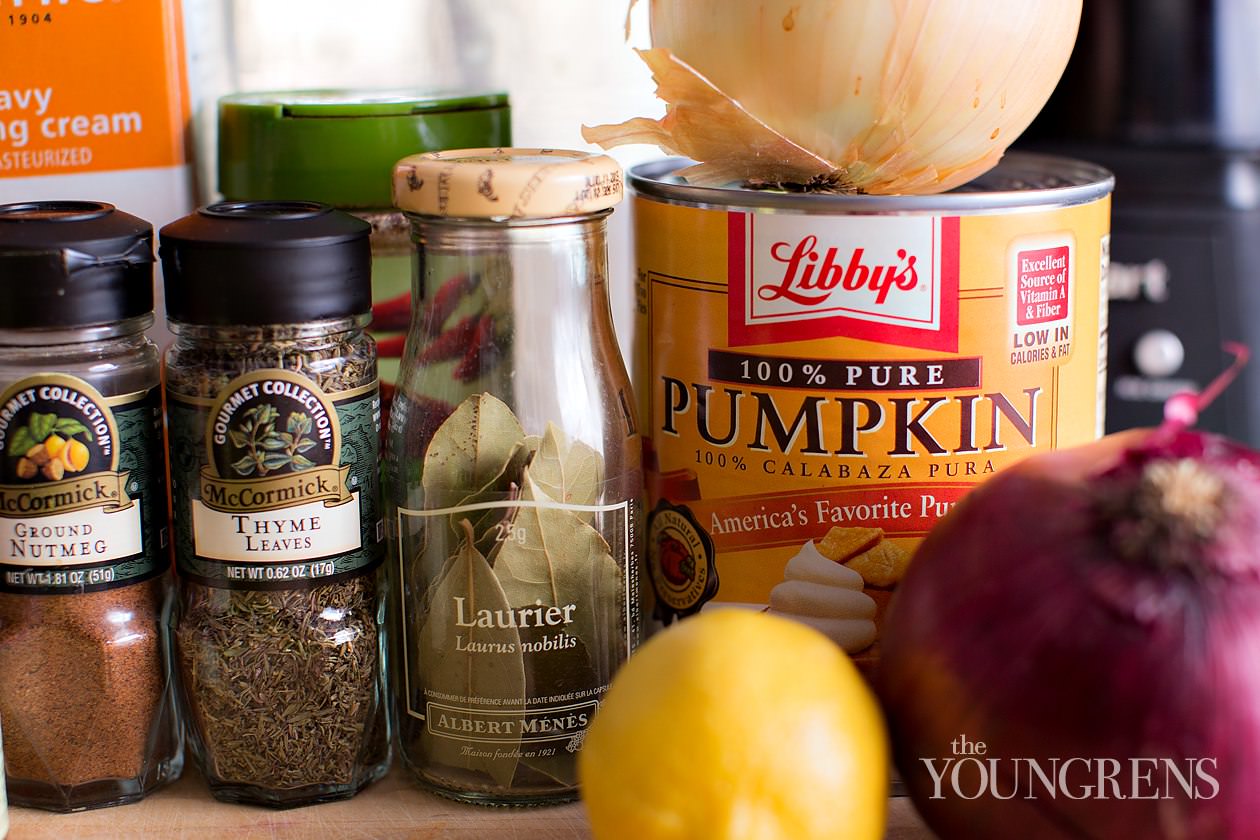 I recommend tossing the celery and onion into a food processor instead of finely chopping so that the soup will turn out creamier.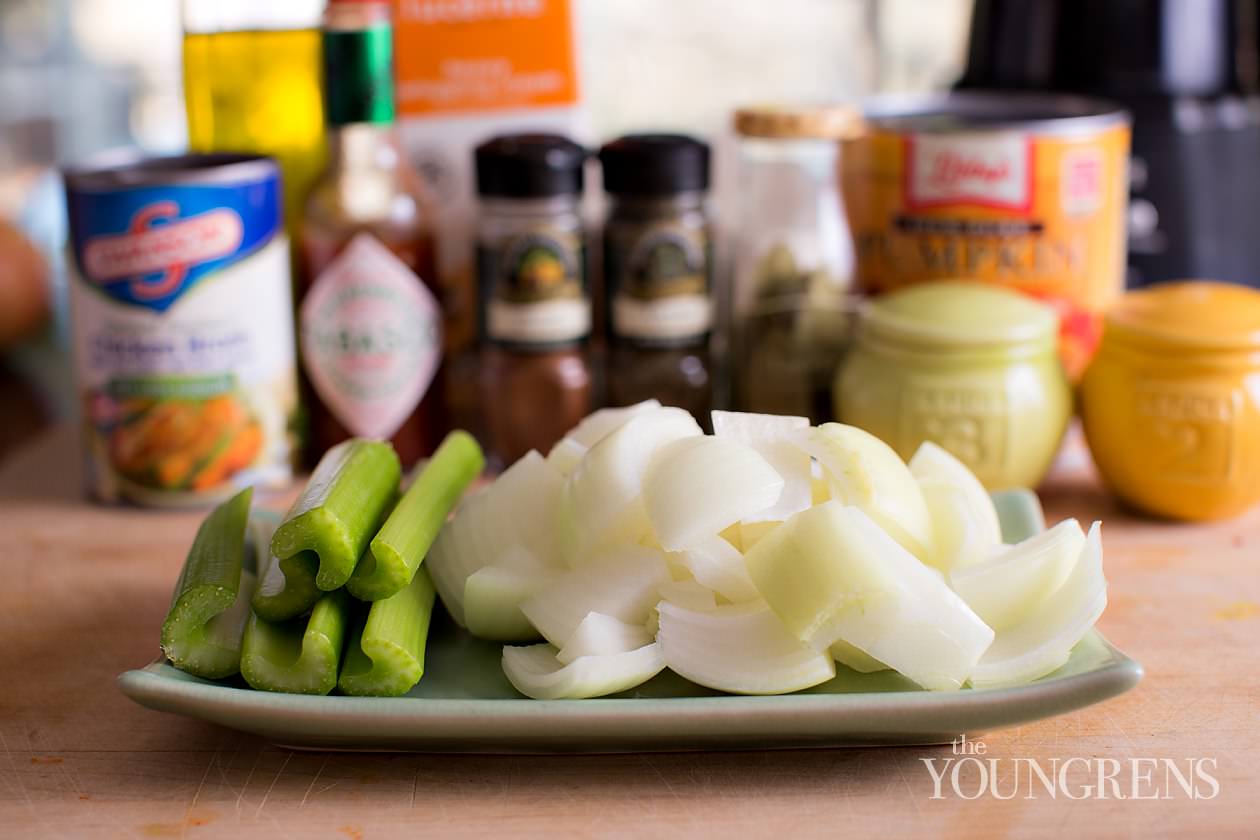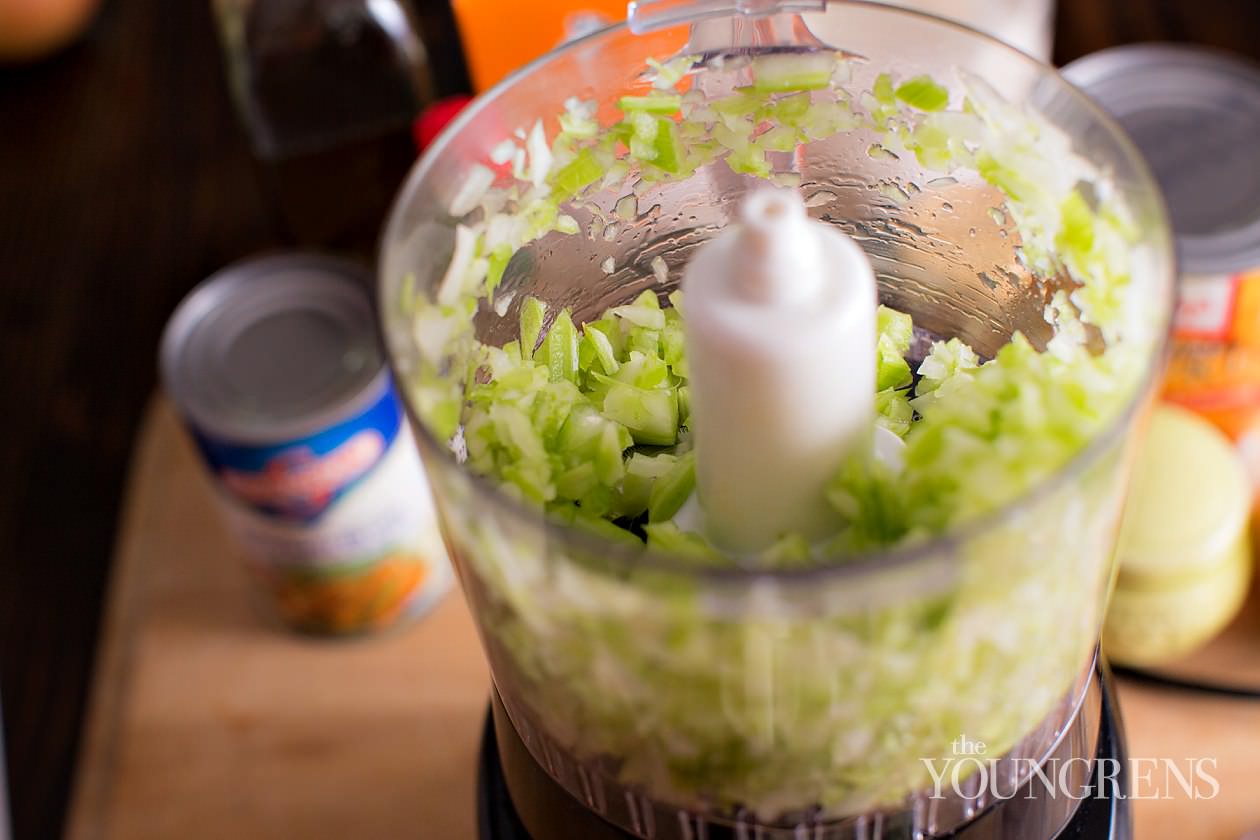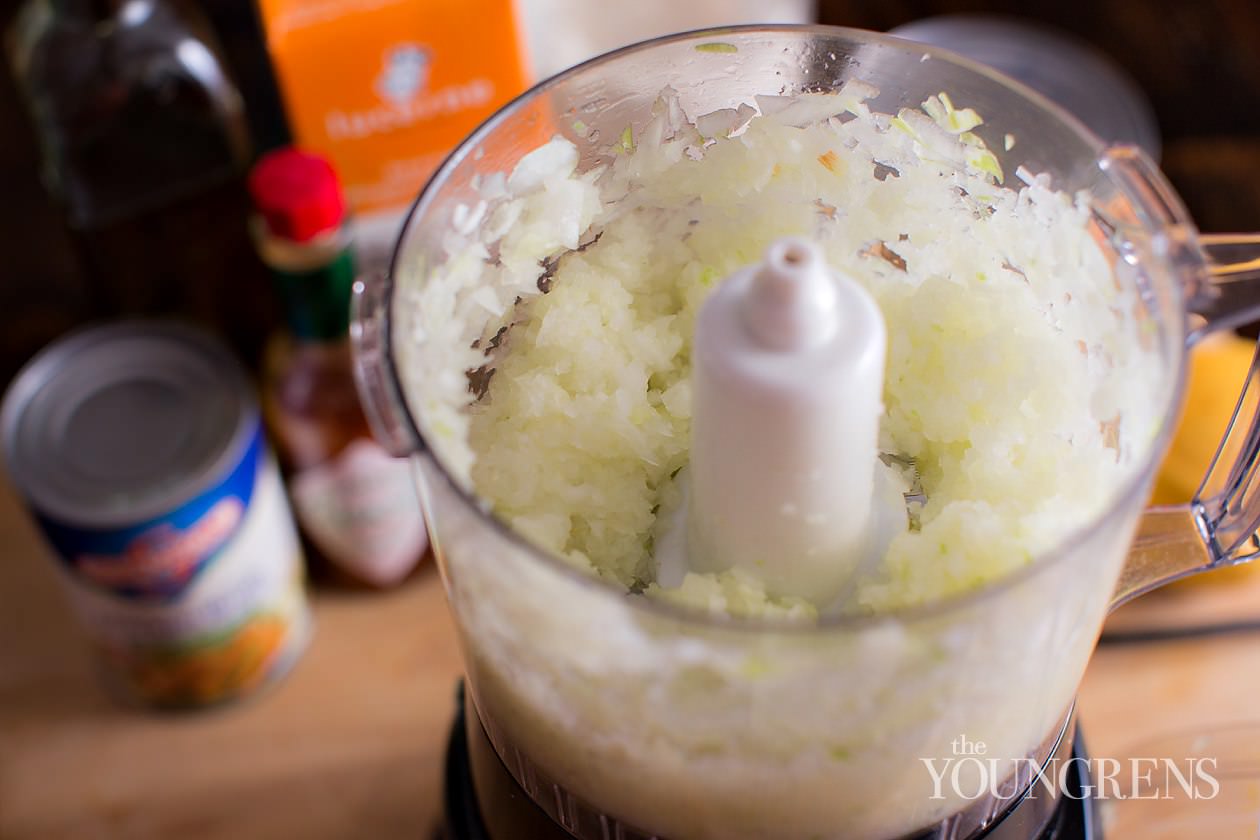 Once the veggies are finely processed, toss them into a soup pot over medium high heat with a bay leaf and salt and pepper and sauté until tender, about 6 or 7 minutes.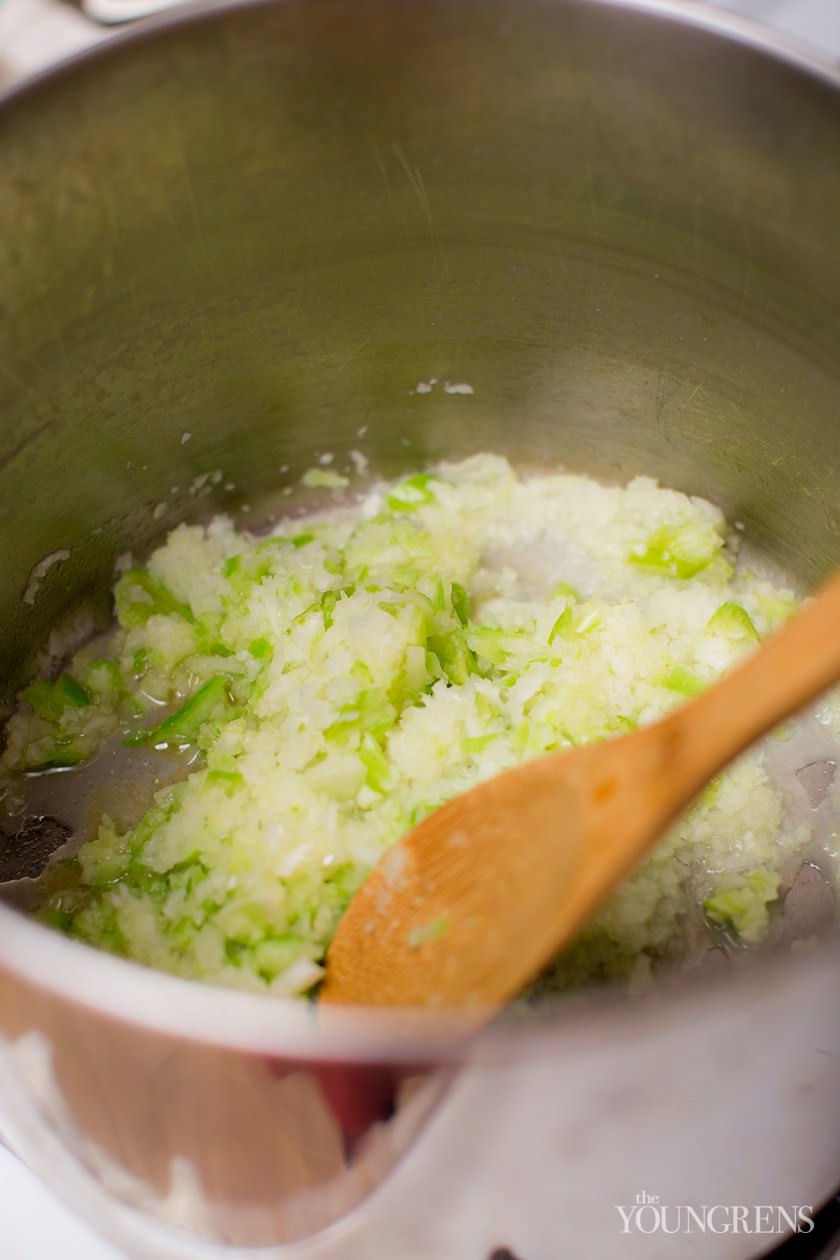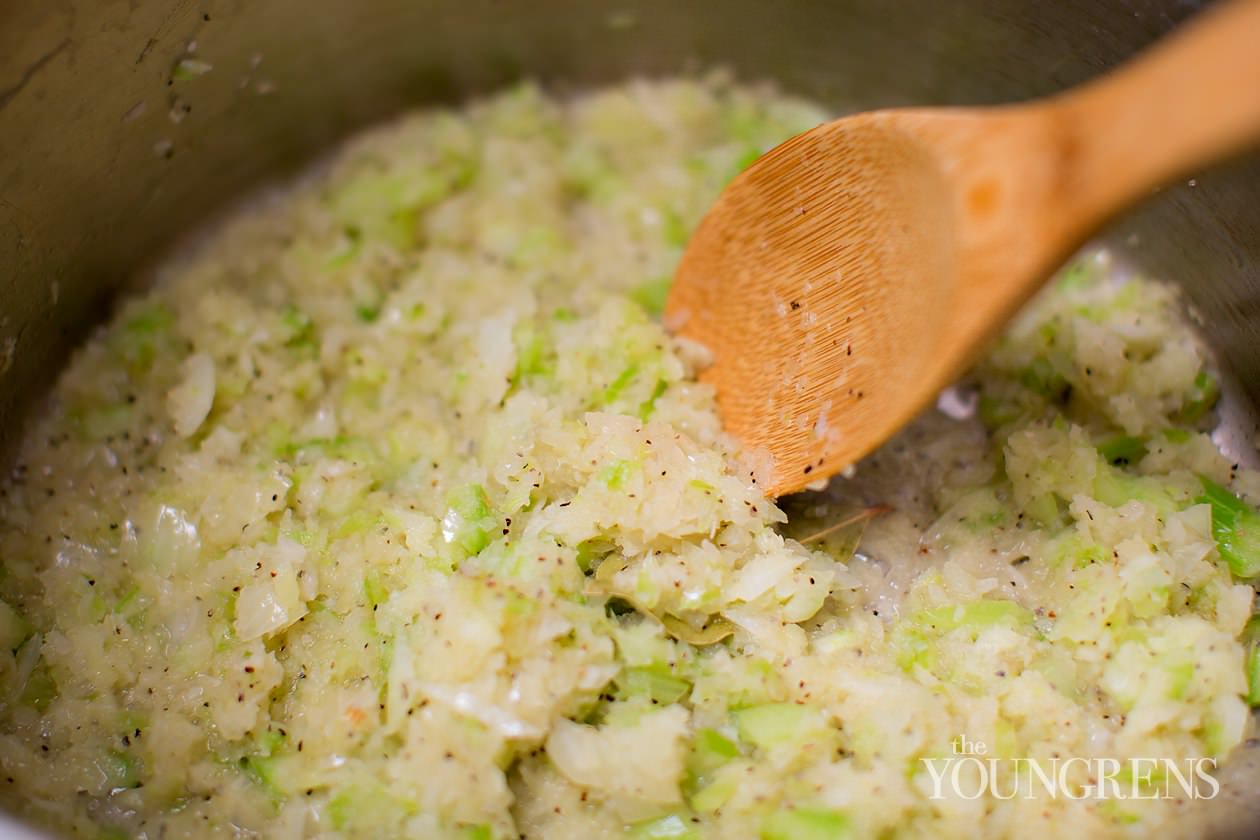 Add flour, hot sauce, and poultry seasoning, mix together and let cook a minute before adding the chicken broth. The hot sauce is another ingredient you definitely don't want to skip!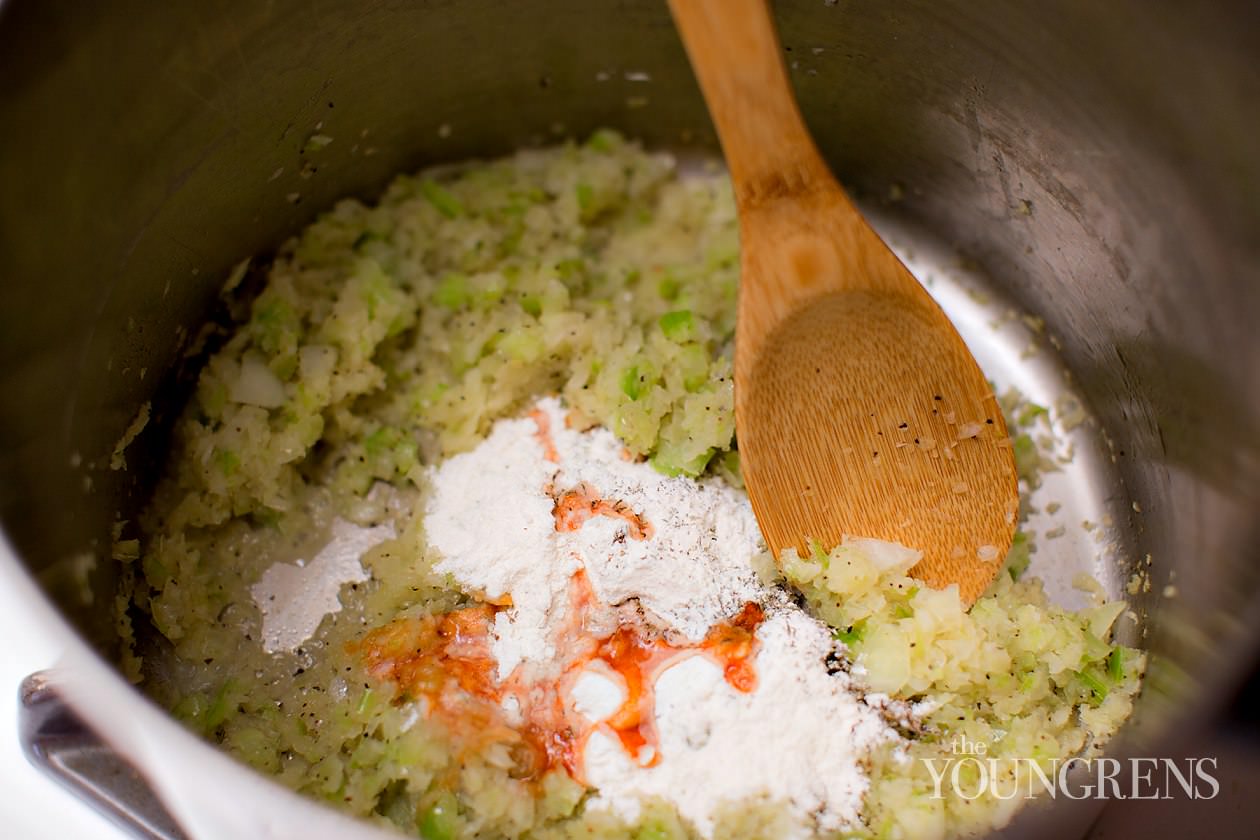 Once the broth is bubbling, add the pumpkin in large spoonfuls and incorporate with a whisk. Simmer for ten minutes or so, then add in the cream  and nutmeg.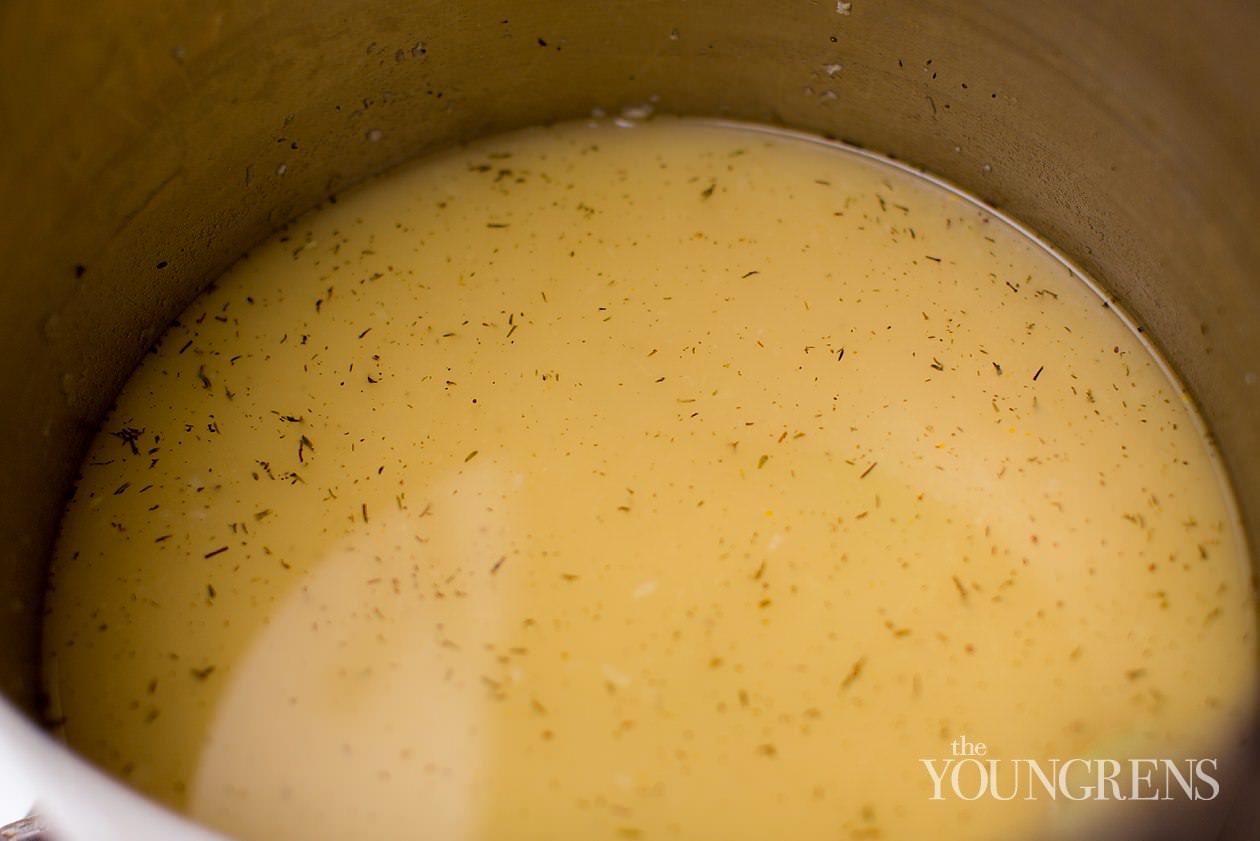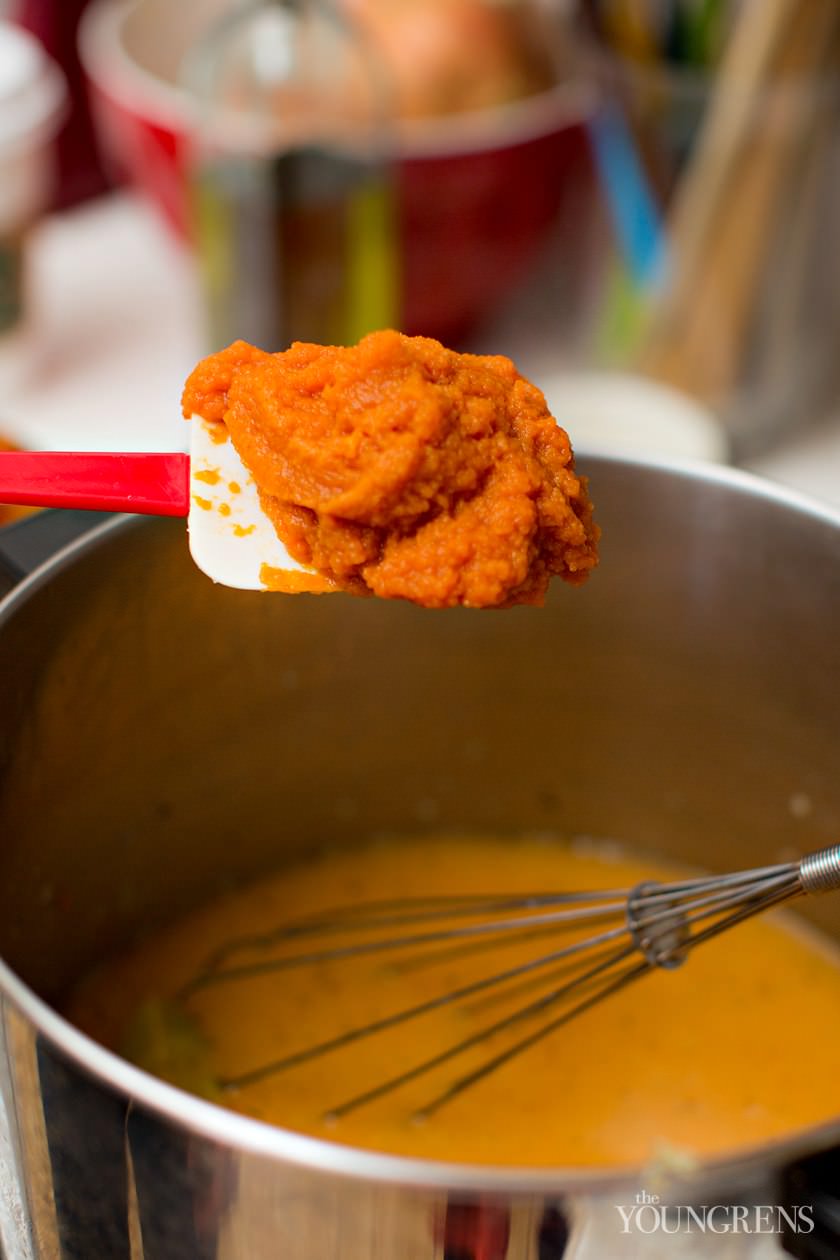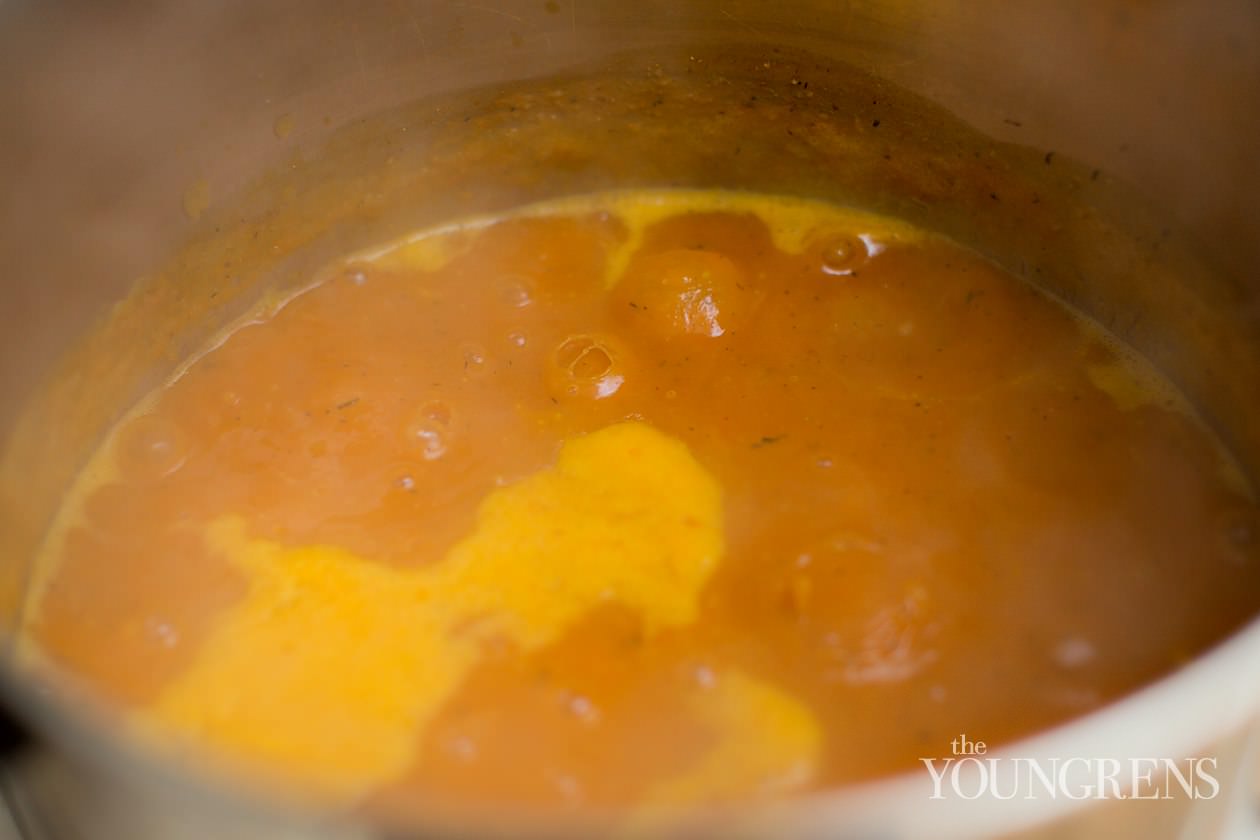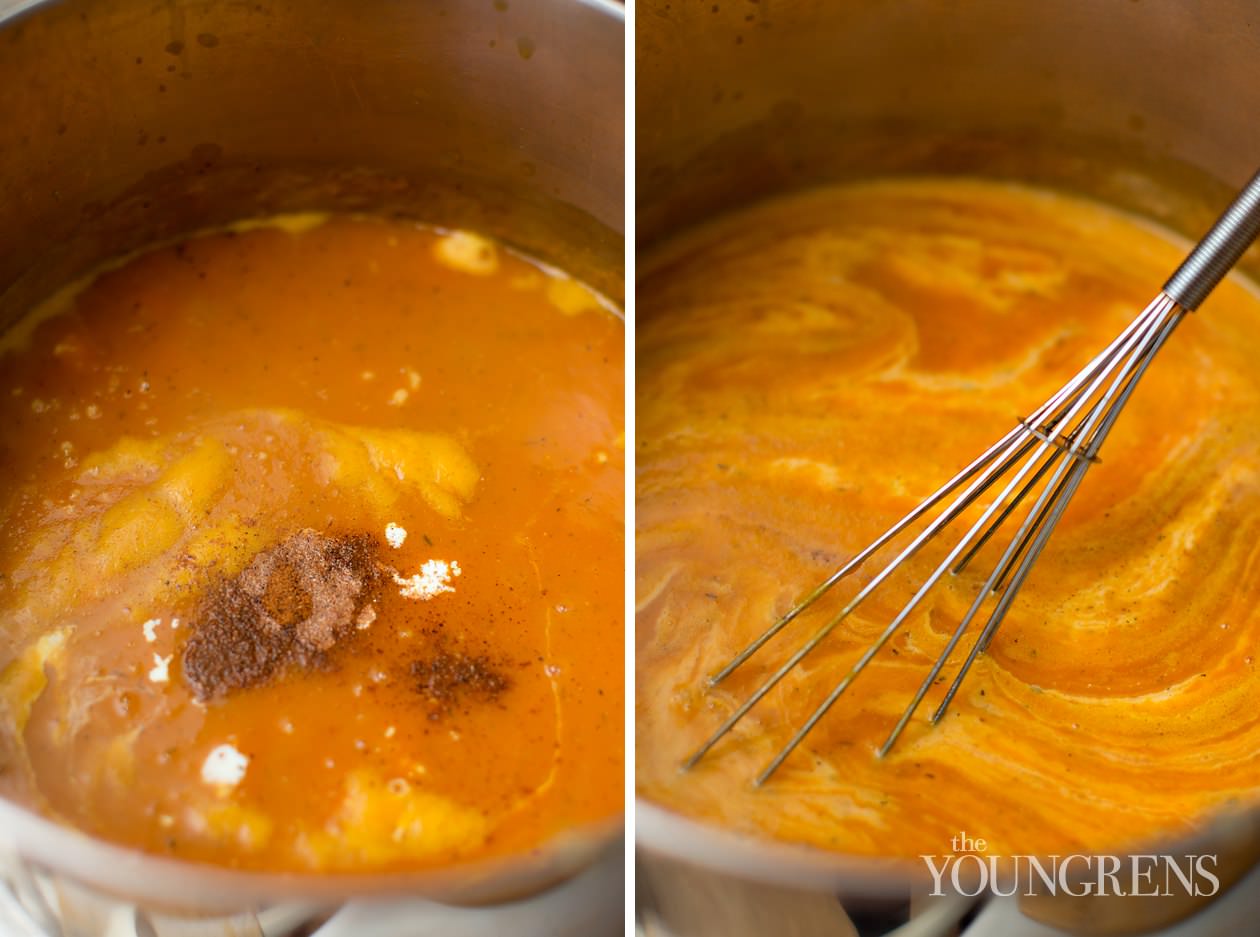 Let the soup stay warm on low heat while you prep the relish.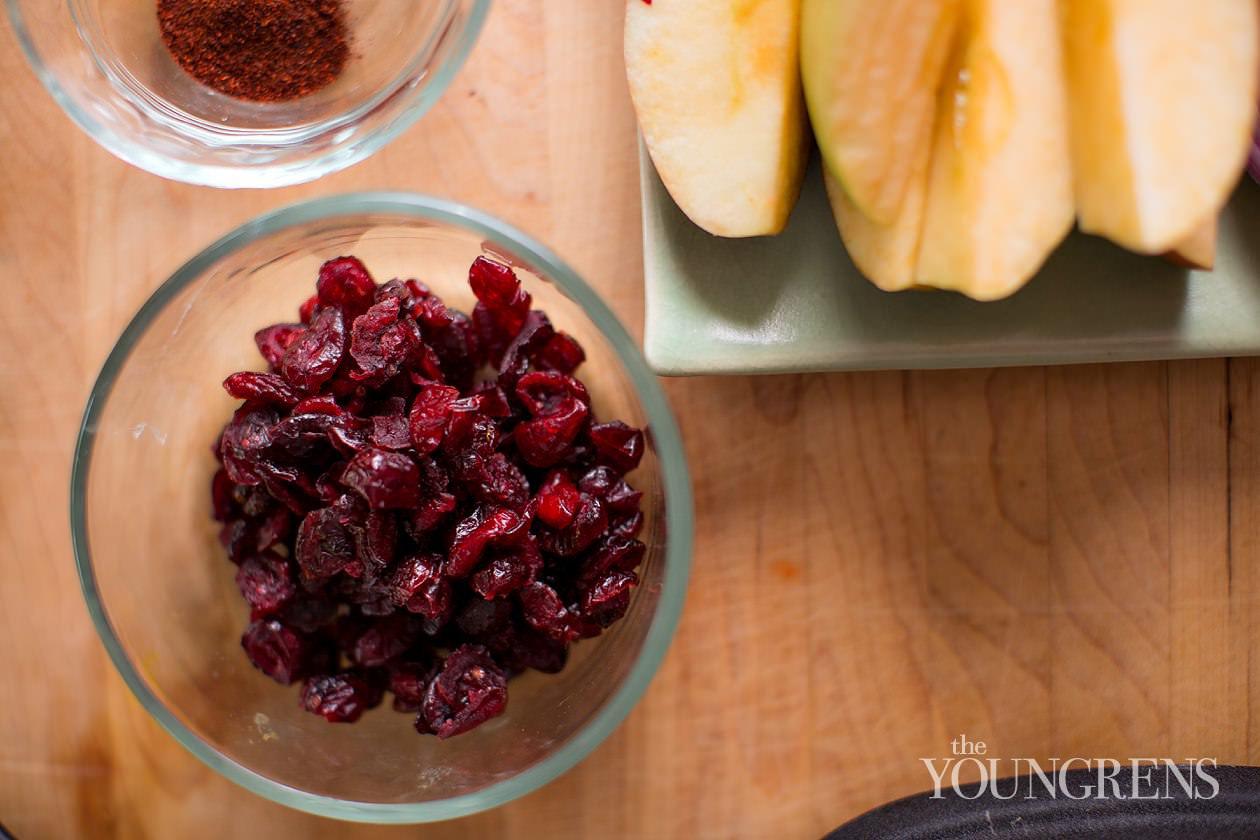 Again, just chop the ingredients into chunks and use a food processor to combine. You'll get the best consistency this way.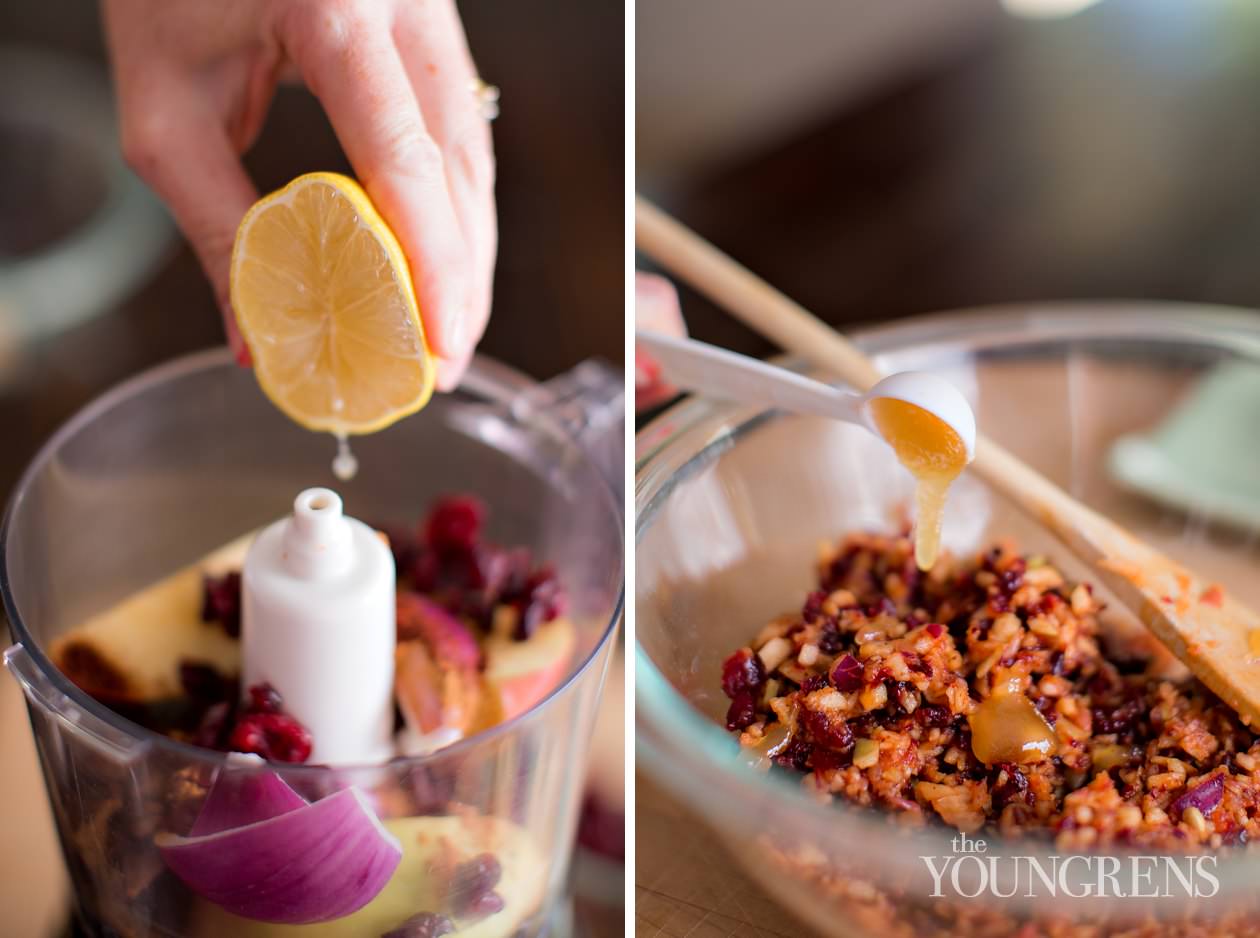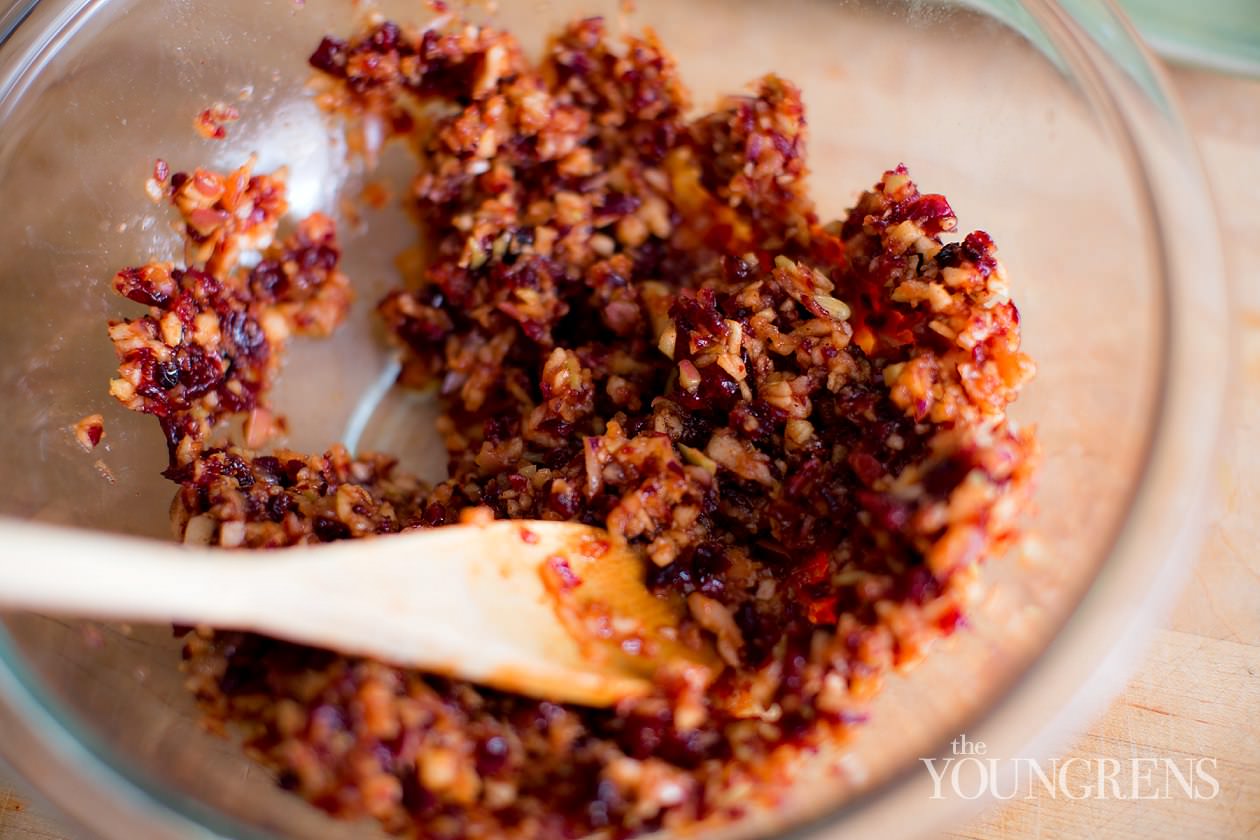 Serve the soup in bowls and generously top with relish.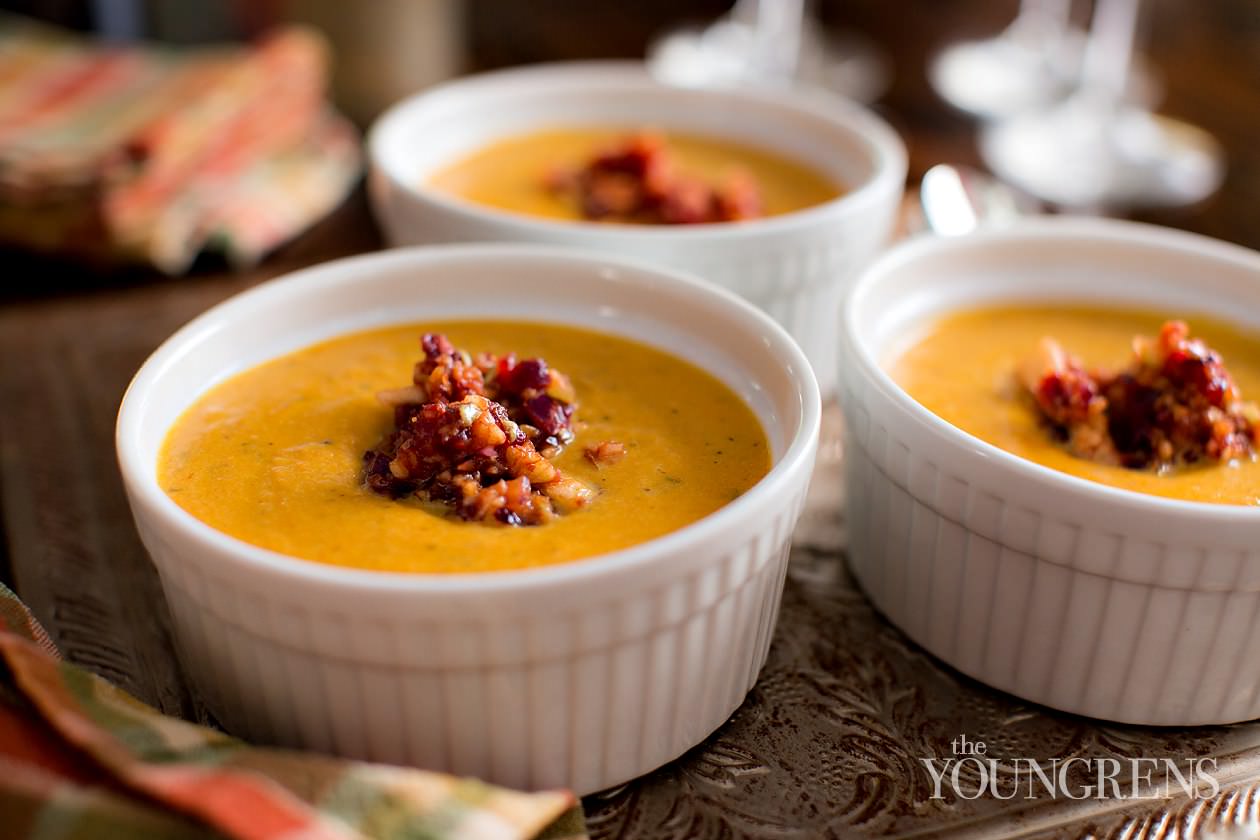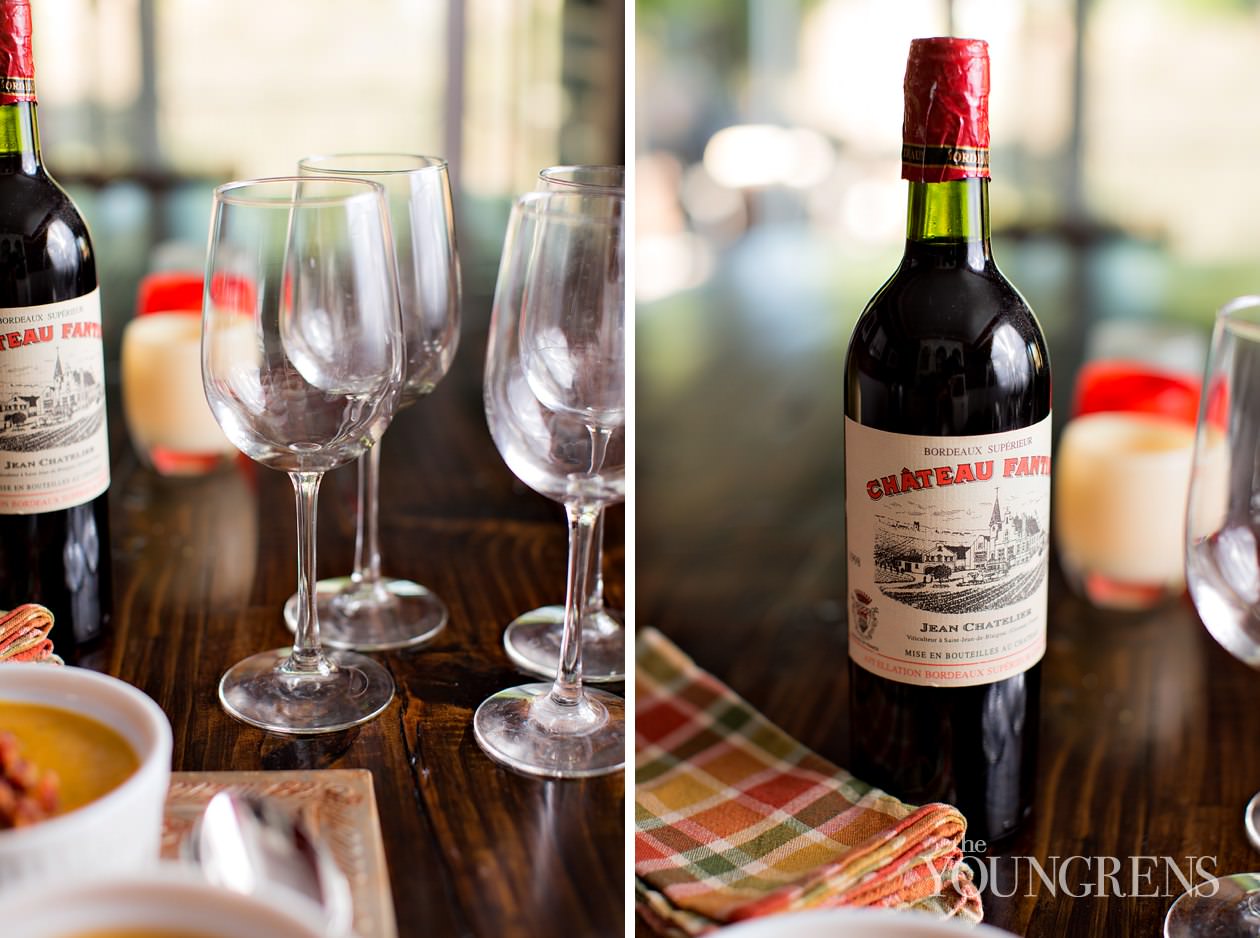 The combo of creamy pumpkin and crunchy relish is simply delightful! Love this dish for a fun twist on Thanksgiving!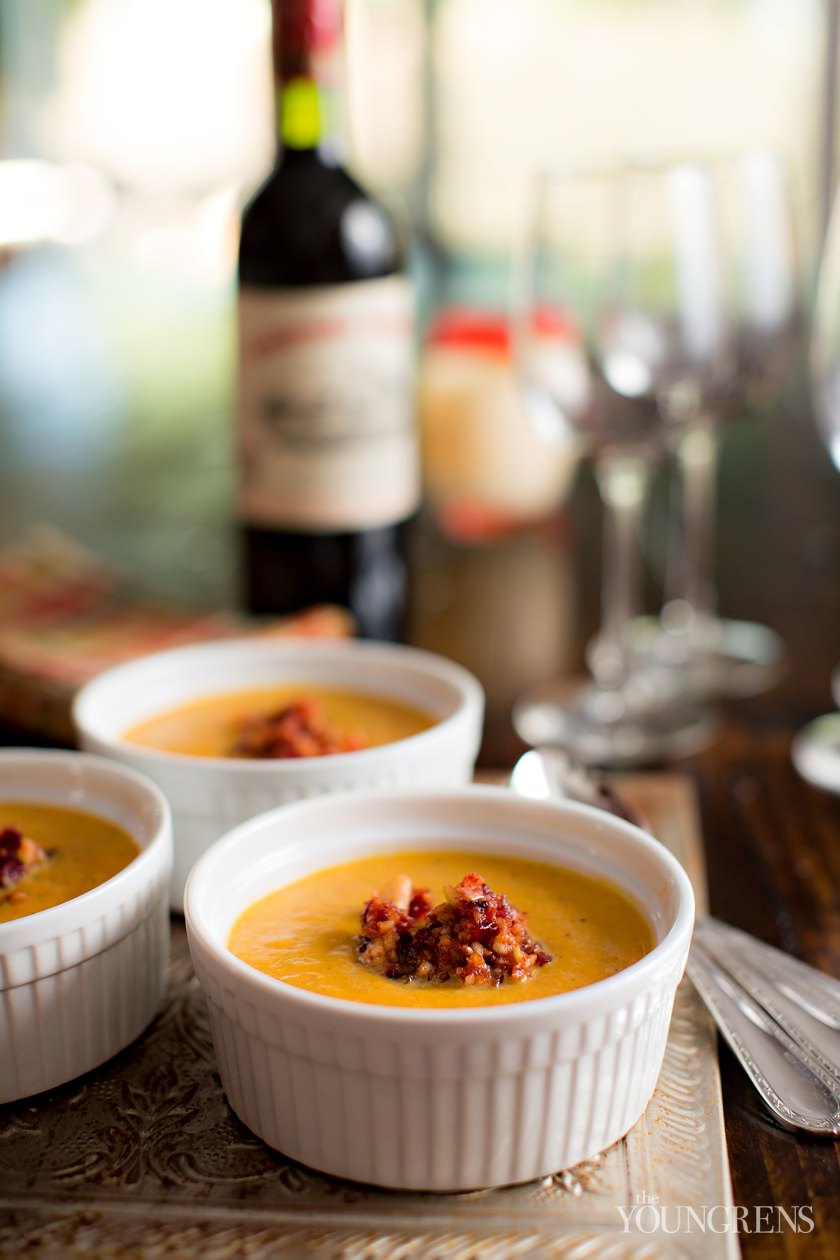 Pumpkin Soup with Chili Cran-Apple Relish
(view original recipe from Rachael Ray)
1 tablespoon extra-virgin olive oil, 1 turn of the pan
2 tablespoons butter
1 fresh bay leaf
2 ribs celery with greens, finely chopped
1 medium yellow onion, finely chopped
Salt and pepper
3 tablespoons all-purpose flour
2 teaspoons poultry seasoning or 2 teaspoons ground thyme
2 teaspoons hot sauce, or to taste
6 cups chicken stock
1 (28-ounce) can cooked pumpkin puree
2 cups heavy cream
1/2 teaspoon freshly grated nutmeg
Relish:
1 crisp apple, such as McIntosh or Granny Smith, finely chopped
1/4 red onion, finely chopped
2 tablespoons lemon juice
1/2 cup dried sweetened cranberries, chopped
1 teaspoon chili powder
2 teaspoons honey
1/2 teaspoon ground cinnamon
Directions:
1. Heat a medium soup pot over medium to medium high heat. Add the oil and melt the butter. Add bay, celery, and onion. Season the veggies with salt and pepper. Cook 6 or 7 minutes, until tender. Add flour, poultry seasoning and hot sauce, to taste, then cook flour a minute. Whisk in chicken stock and bring liquid to a bubble. Whisk in pumpkin in large spoonfuls to incorporate it into the broth. Simmer soup 10 minutes to thicken a bit then add in cream and nutmeg. Reduce heat to low and keep warm until ready to serve.
2. While soup cooks, assemble the relish: combine apple, onion, lemon juice, cranberries, chili powder, honey and cinnamon.
3. Adjust seasonings in soup and relish and serve soup in shallow bowls with a few spoonfuls of relish.
Hugs,
Erin