Zesty Orange Quinoa Salad
The word "quinoa" is one of those words like "hors d'oeuvres." It took the longest time for me to put together the word I heard spoken all of the time with the word written on the page. The first time someone pointed out that "hors d'oeuvres" was spelled like it was, my whole world became crystal clear. It was like my days were brighter, my jeans fit better, and all of my acne disappeared into taught moisturized skin. I was all like, "Shut UP. That's how you spell ordurve?!" It was mysterious and wonderful.It's the same with "quinoa." When I finally realized that this written word and the one I heard all of the time from my hipster friends were the same thing, it was a total palm to the forehead kind of moment in the middle of Trader Joe's. And now I love the stuff. And I love this recipe that the sweet
Sara France
sent my way. Not only is this salad incredibly fresh and bright, it's probably the healthiest dish I've ever featured on Recipe Sunday.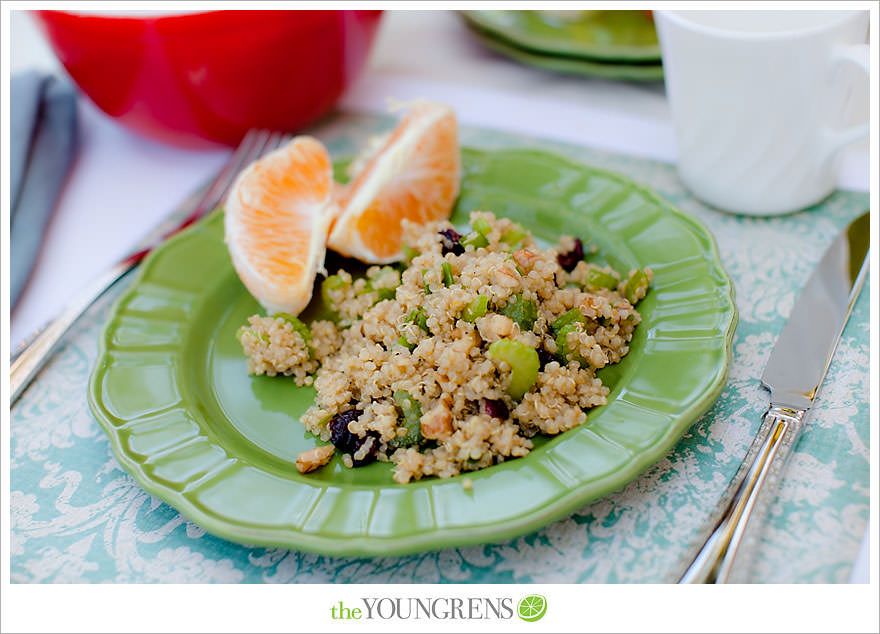 The main ingredients for this delightful dish are celery, scallions, dried cranberries, walnuts, and quinoa. You also need water or vegetable broth, but that doesn't look as cool in the picture, so I left it out.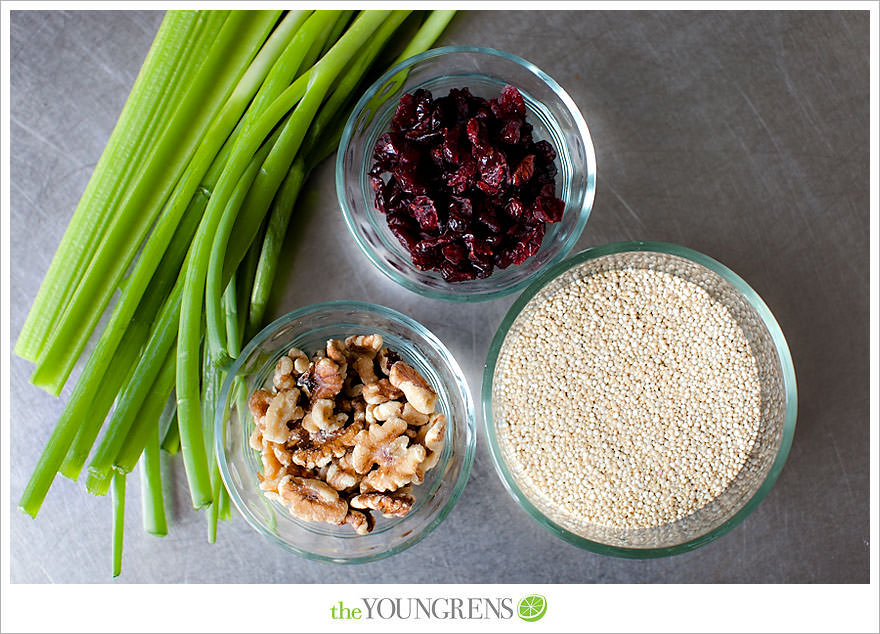 See? Not cool enough.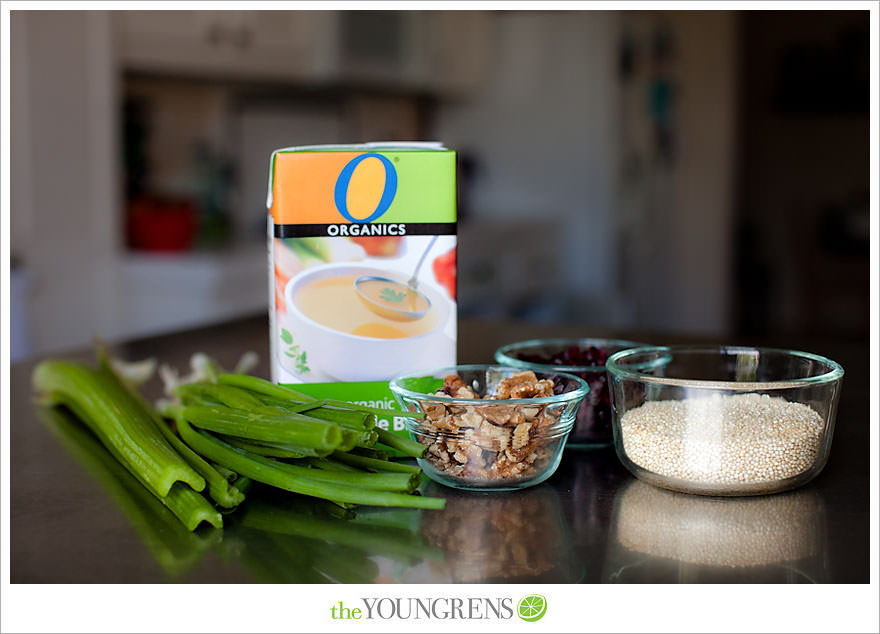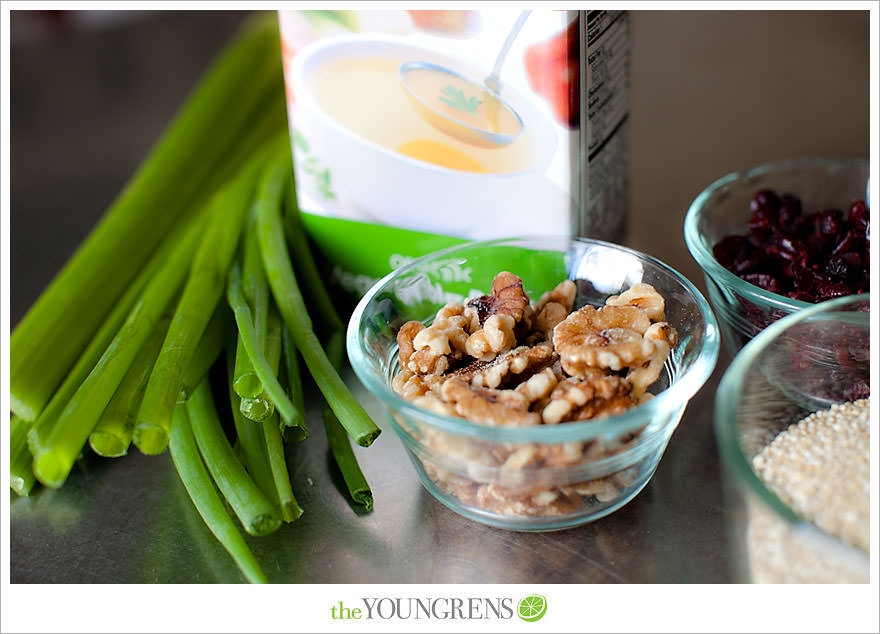 Start boiling your water/vegetable broth to cook the quinoa, then dice up your walnuts and greens into small bite-sized pieces.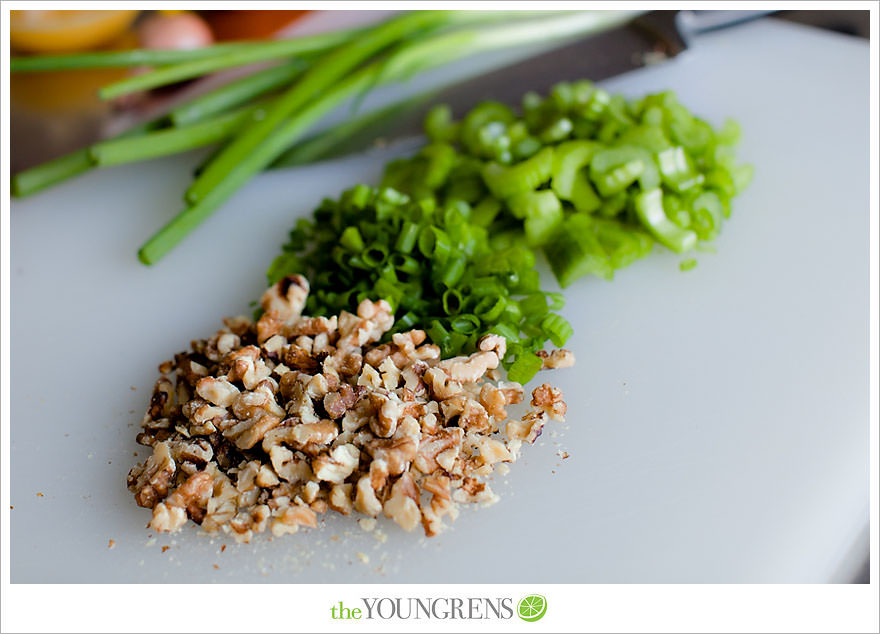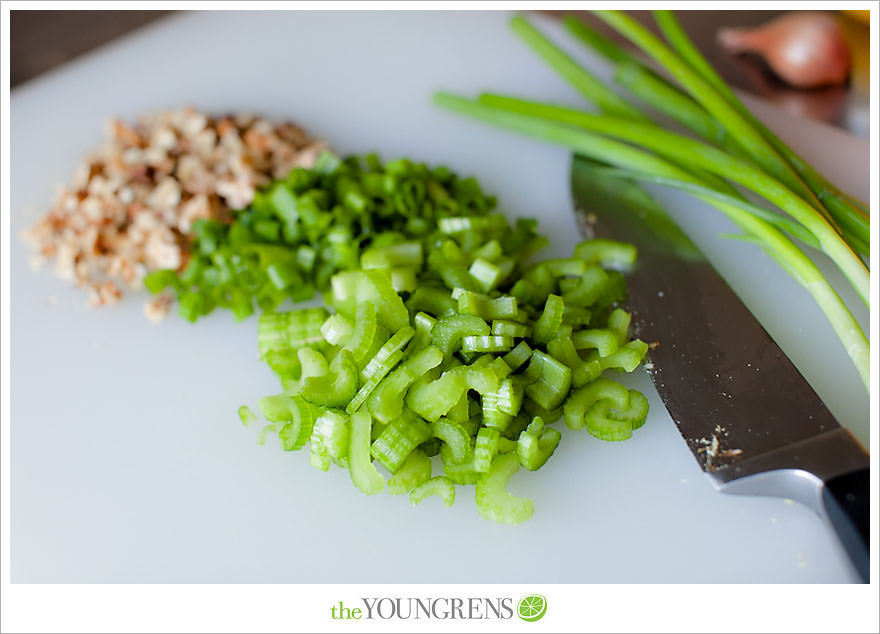 While the quinoa is cooking, prepare your orange dressing. You'll need orange juice, orange zest, olive oil, and a shallot. During this recipe I also realized that I thought scallions and shallots were the same thing, so Google had to come to the rescue on that one.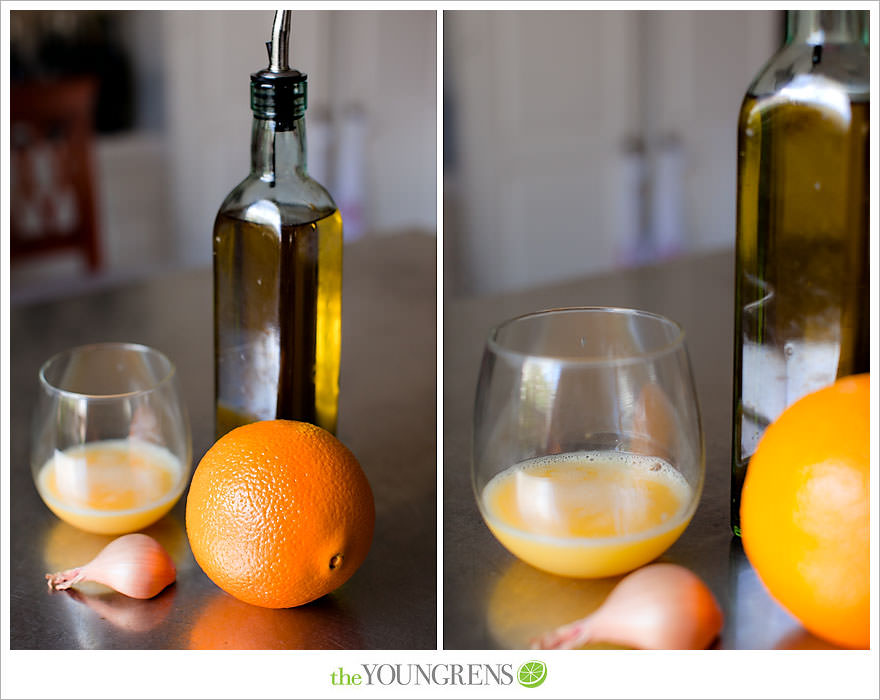 Whisk together all of your wet ingredients.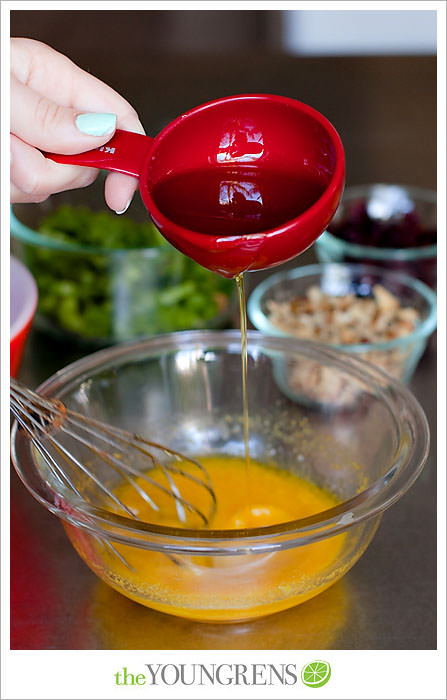 Once the quinoa is light and fluffy, mix in your dry ingredients.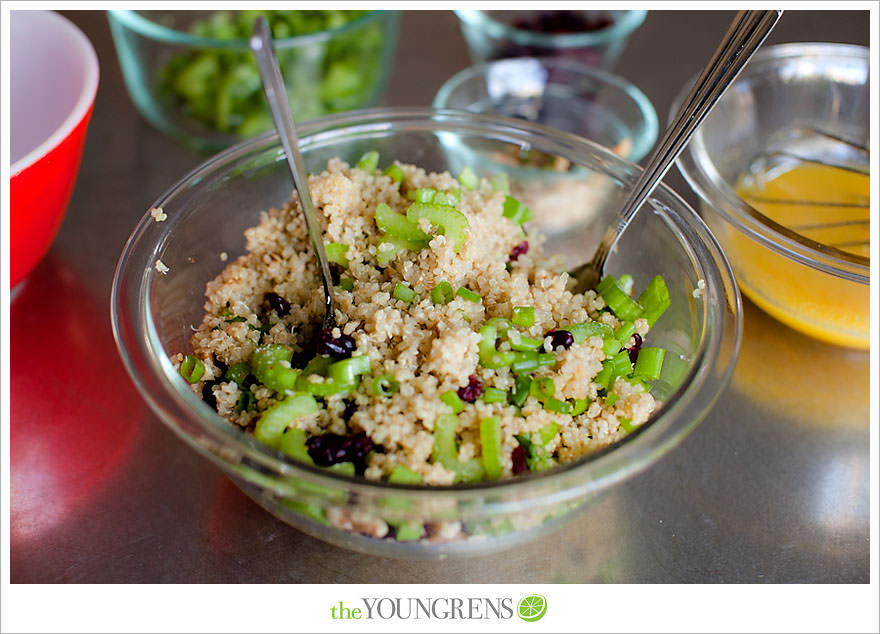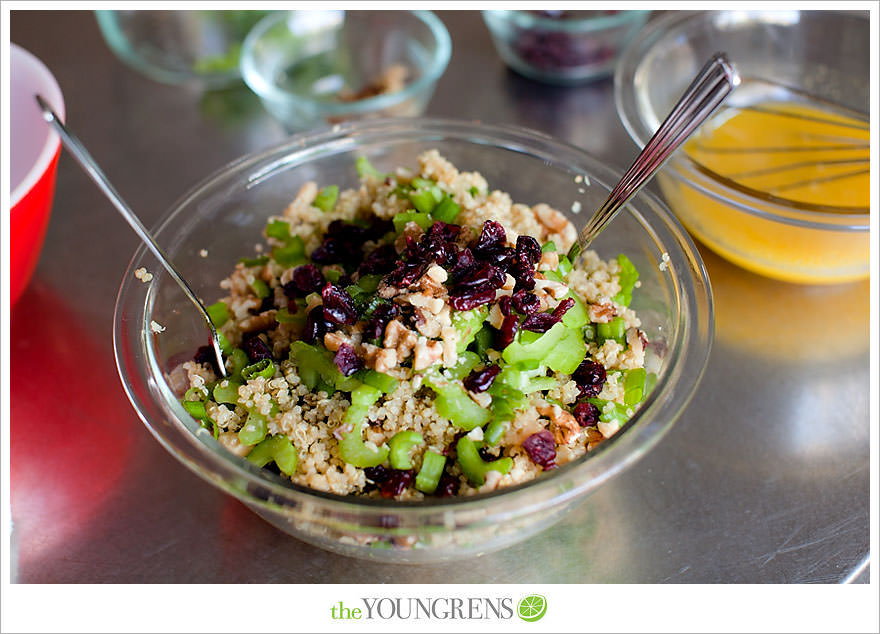 Then toss in the orange mixture to taste. This recipe makes extra, so feel free to store some in the fridge for other things.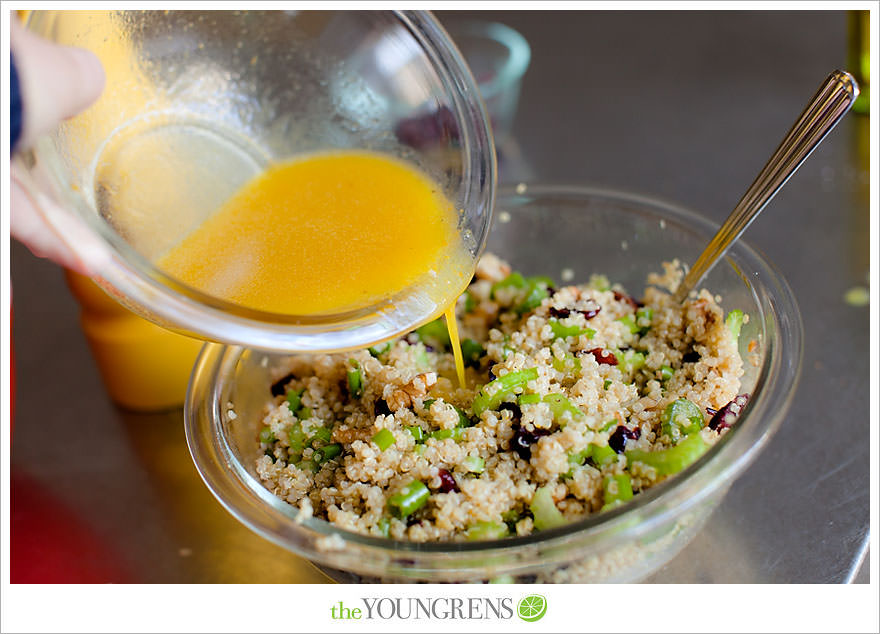 This salad is so easy and healthy, it's pretty much ridiculous. It's the perfect recipe to kick start summertime!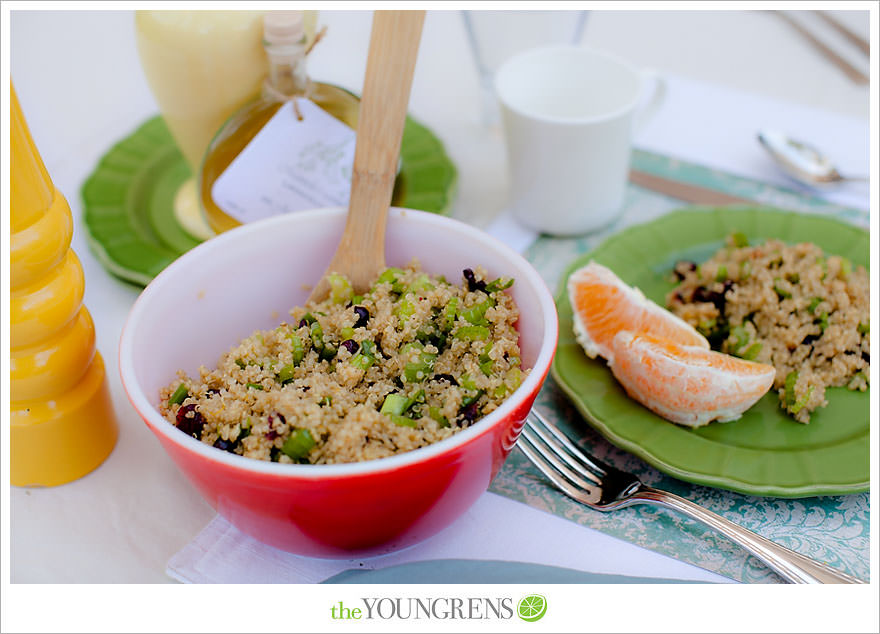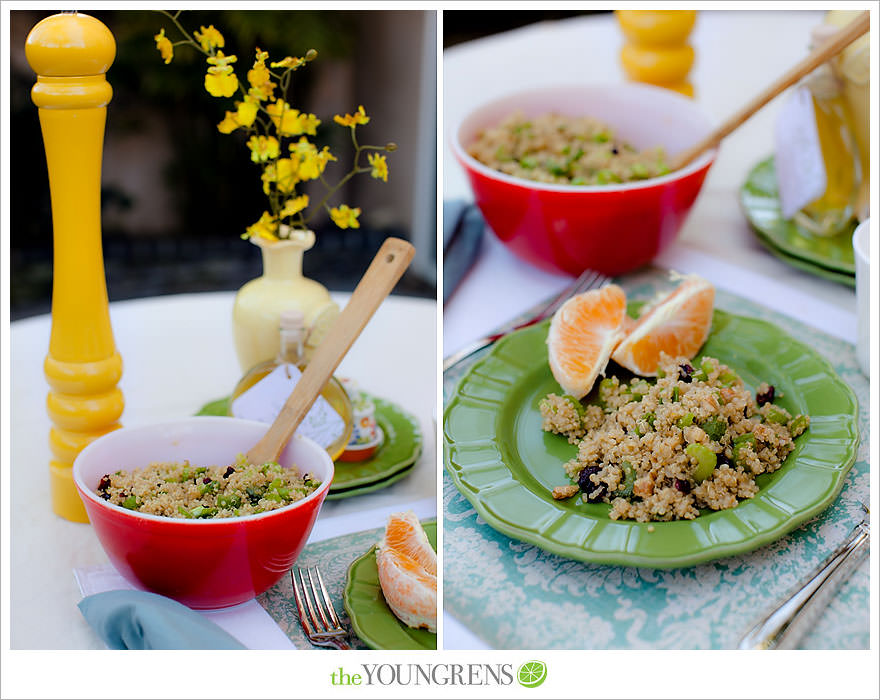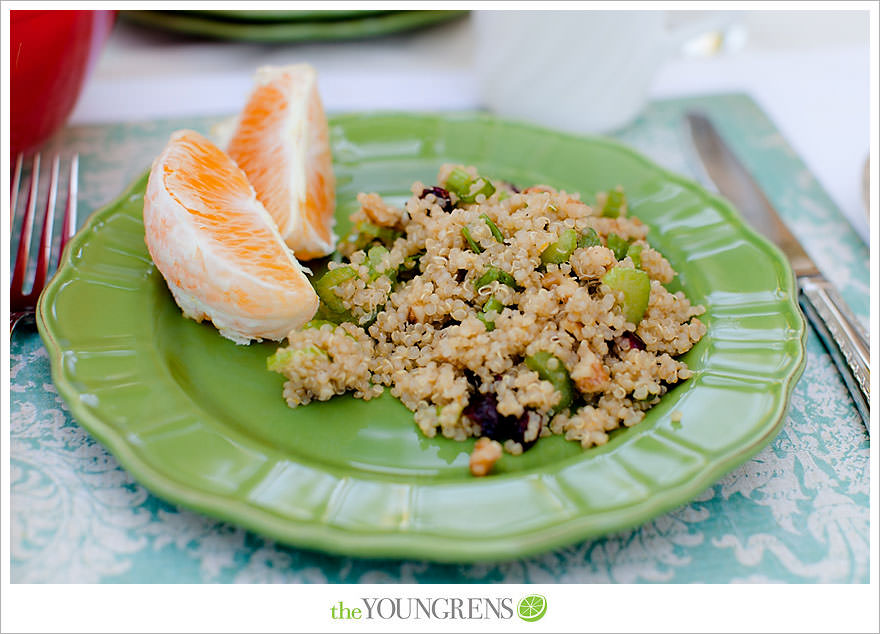 Zesty Orange Quinoa Salad
1 cup Quinoa
2 cup Vegetable Broth or Water
½ cup Dried Cranberries
½ cup Walnut Halves (toasted and chopped)
½ cup Celery (small dices)
1/8 cup Scallion (small dices)
Salt To Taste
Pepper To Taste
Orange Vinaigrette
¼ cup Orange Juice
¼ tsp Shallot (minced)
Zest from ½ Orange
1/2 cup Extra Virgin Olive Oil
Salt To Taste
Pepper To Taste
1. Bring the vegetable broth (or water) and a dash of salt to a boil.  Stir in the quinoa and bring it back up to boil then reduce to simmer.  Cover and let it cook until all the broth is absorbed (about 15 minutes.)  When done, the grain appears soft and translucent, and the germ ring will be visible along the outside edge of the grain.  Uncover and set aside to cool down.
2. Combine minced shallots, orange zest, orange juice and salt, let it sit for about 10 minutes. Slowly drizzle in olive oil while whisking.  Add salt and pepper to taste.
3. Combine the quinoa with the rest of the salad ingredients and slowly add in about only half of the vinaigrette and season with salt and pepper to taste.  You may use less or more vinaigrette depends on your preference.  The left over vinaigrette may be used up to 1 week.
Hugs, Erin
OUR FAVORITE WEDDINGS
the portfolio
Loving our work? Check out our favorite weddings we've ever photographed
VIEW HERE
OUR MOST HELPFUL WEDDING PLANNING TIPS, STRAIGHT FROM THE EXPERTS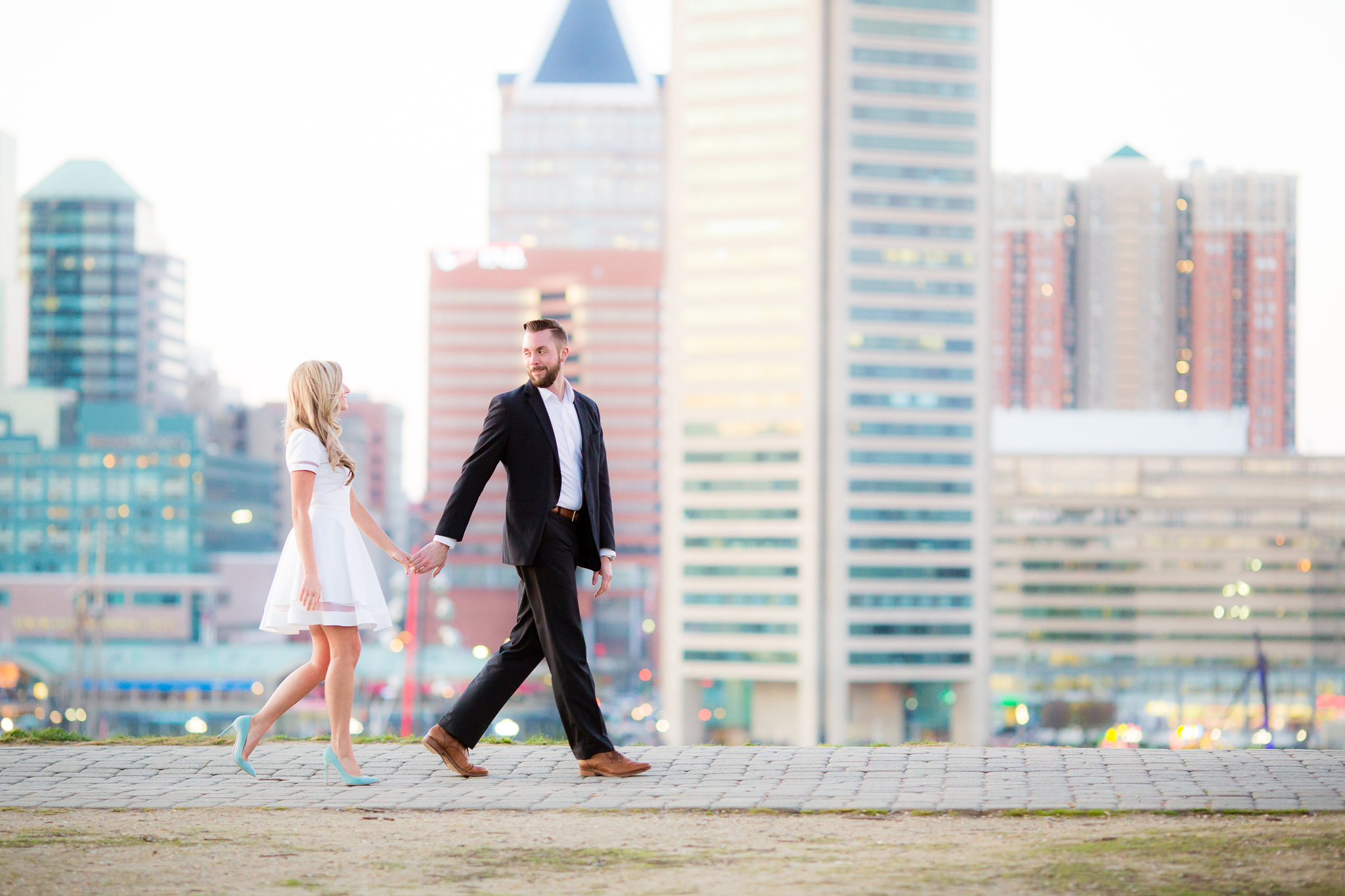 Our Formula for the Perfect Engagement Outfit
Picking the perfect outfit for a photo session can be one of the most difficult experiences BUT it doesn't have to be. I've seen enough outfits that work and don't work that I've cracked the ultimate code for our couples...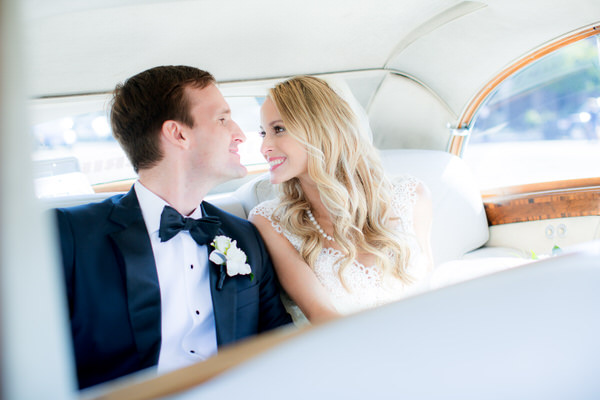 Our Stress-Free Wedding Day Timeline
There's nothing better than a stress-free wedding day when everything runs smoothly, your guests have the time of their lives, and you soak in the day with your sweetie. Though it sounds too good to be true, you can...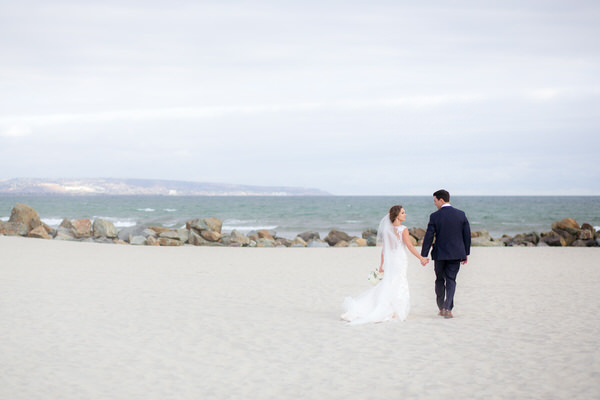 10 Foolproof Tips to Get Gorgeous Wedding Photos
It's the #1 question brides ask: What can I do to get the most amazing photos on my wedding day?
Having been through the in's and out's of countless weddings, I have loads of tips to share, so let's...
We're Jeff and Erin Youngren, a hubby and wifey team that photographs amazing couples and their incredible weddings. Hopeless romantics, BFF's, and mama + daddy to James, we're obsessed with traveling, podcasts, Oreos (Erin) and whiskey (Jeff).