This was the yummiest Recipe Sunday fail I've ever had. It was DELICIOUS, but a total, absolute failure.
We had our new friends, Jared and Danielle of Side by Side Video, come over to Casa de Youngren for a yummy dinner, some lovely wine, and a Recipe Sunday experiment – what happens when we invite some cool friends over to try to make a new recipe together? Well, it actually works out great because it's loads of fun (pat on the back for us being geniuses), but only if the recipe you're making doesn't completely fall apart (hang my head in shame for picking the bad recipe). You see, this recipe is basically yummy meatballs and veggies on a stick, but no matter what we tried, the meatballs just came apart and fell right off of the skewer stick as soon as they heated up and softened on the grill. We tried everything – I even pre-emptively added bread crumbs and eggs to the recipe because I had a feeling that the ground meat wouldn't stick together very well. Isn't that how you get meatballs to hold together?? Isn't that what Grandma used to always do?? I was sure my brilliant thinking-ahead maneuver would do the trick, but no. It definitely didn't.
So the Recipe Sunday FAIL category got a big 'ol check mark that night, but the four of us still got to chow down on what turned out to be pretty scrumptious meatballs and grilled veggies instead of the burger kabobs that were planned. So if you want a seriously tasty meatball recipe, look no farther than this post right here.
So here's the quick and easy recipe. I recommend making the meatballs ahead of time and letting them sit in your fridge for a few hours to harden up.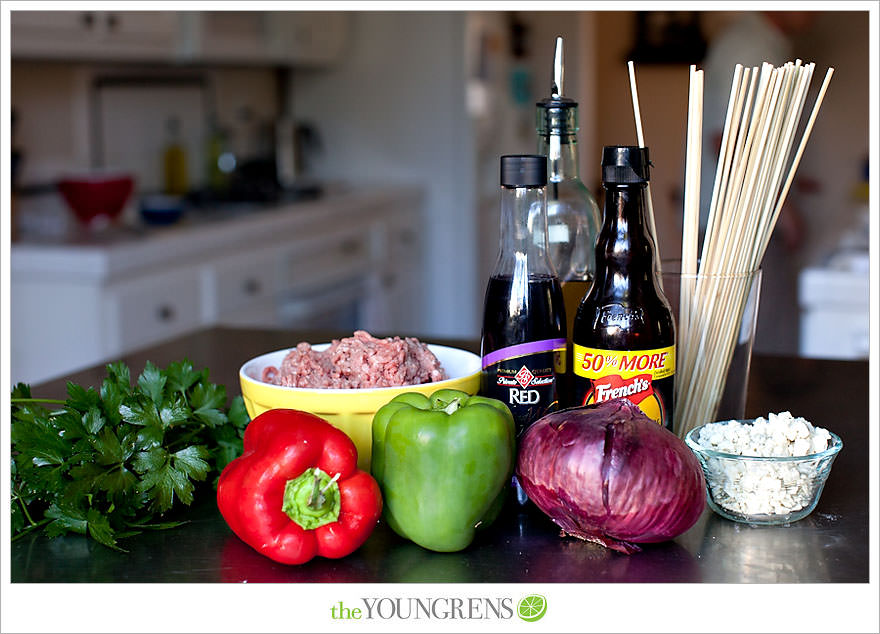 Grab your favorite veggies for the skewers – we love bell peppers and red onions. I also used a bunch of Mr. Italian Parsley from my patio herb garden.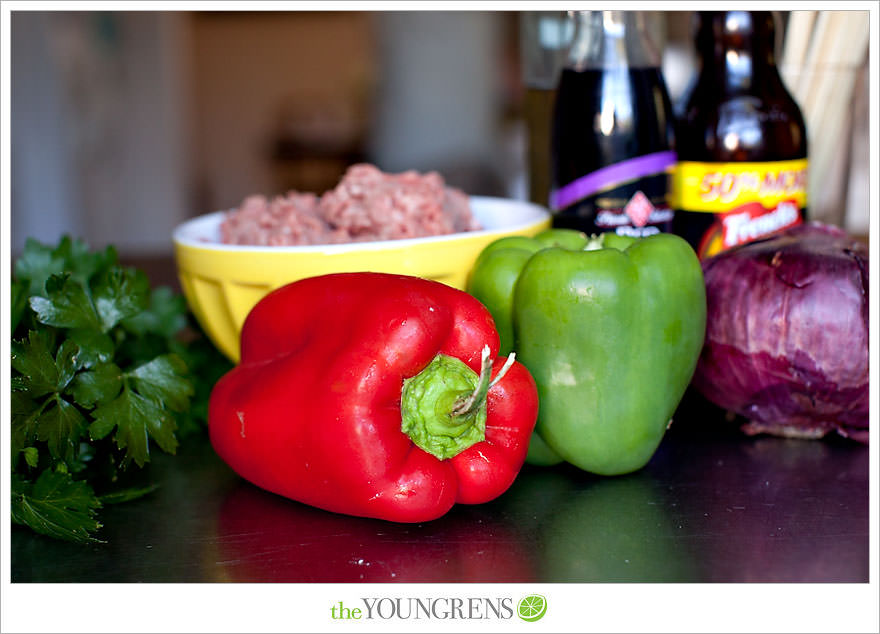 You'll also need some blue cheese and Worcestershire sauce (that took a couple of tries to type out, much less say)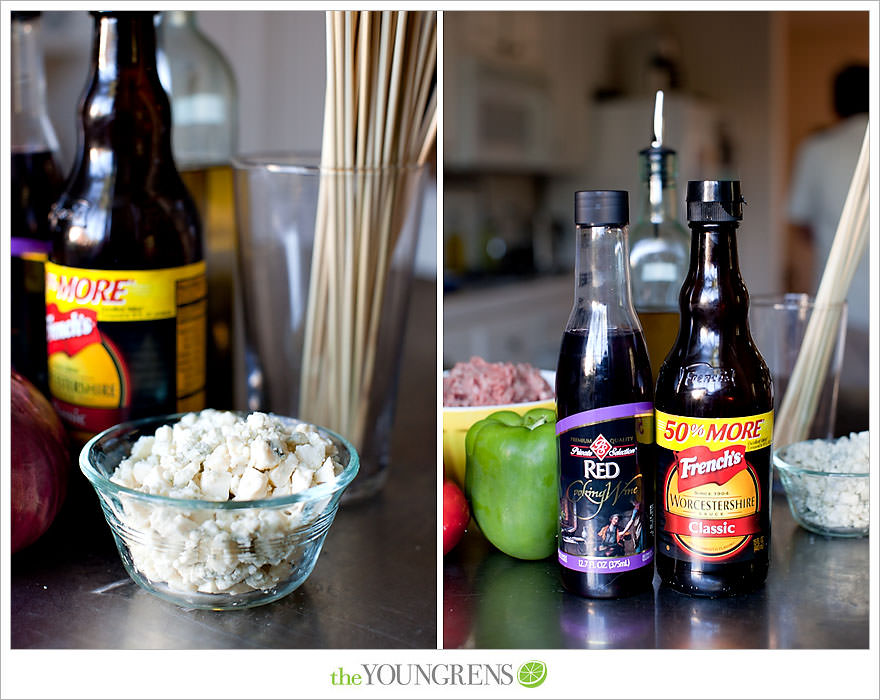 Chop up all of your parsley by gathering the entire pile into a super tight bunch between your fingers and chopping away.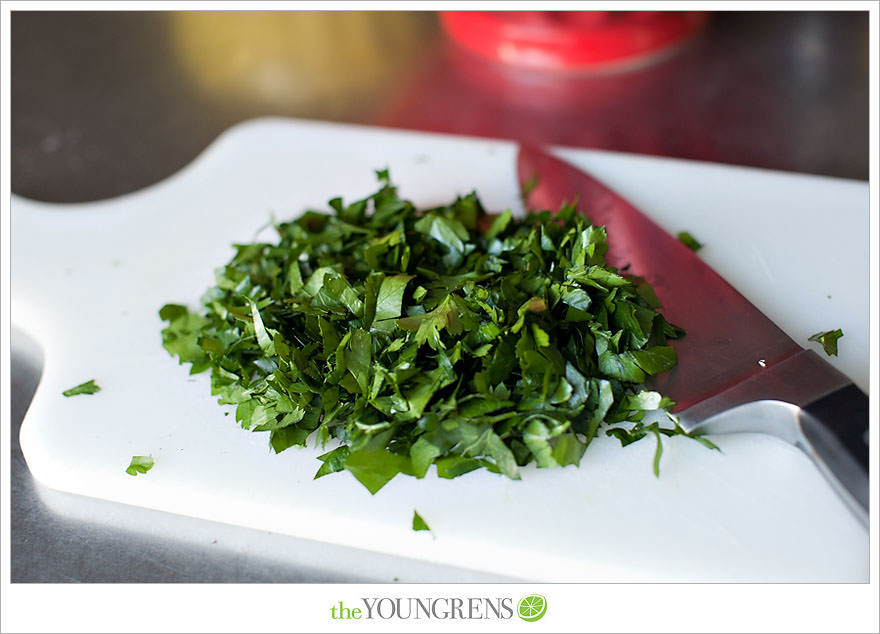 Then add your sauces and stir it up well.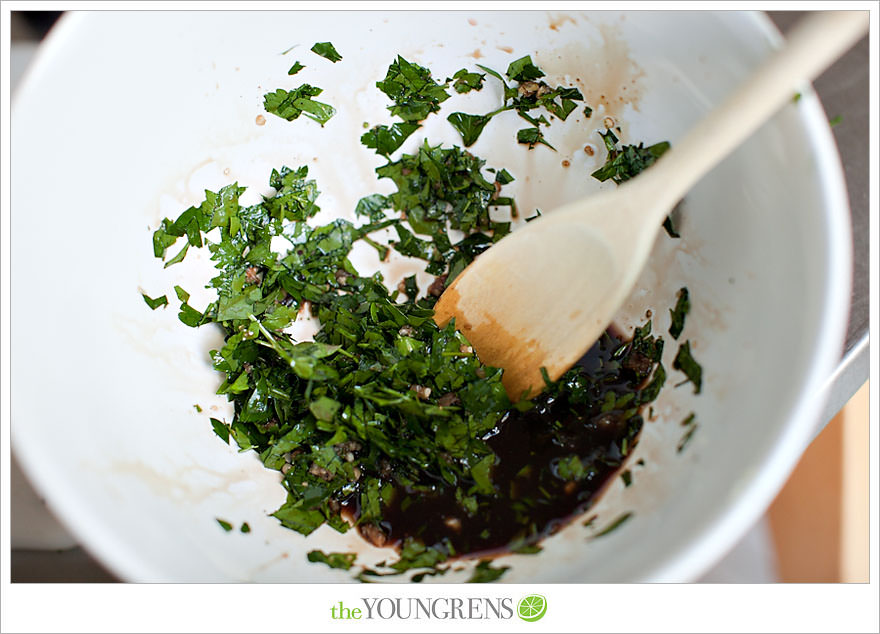 Go ahead, get your (clean) hands in there. Mix up your ground beef with the parsley mixture and add in your blue cheese. This is where I tossed in an egg and a bunch of bread crumbs to try and hold everything together.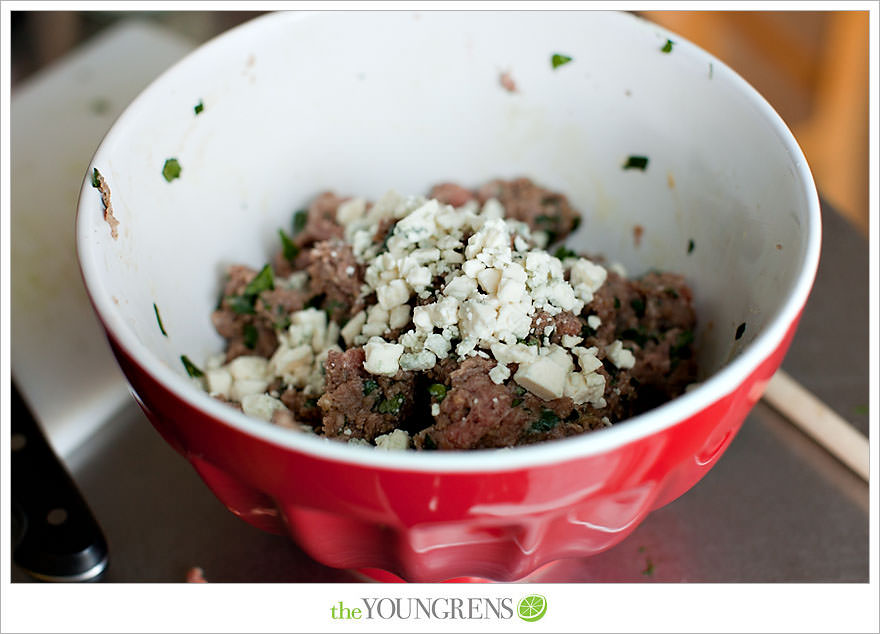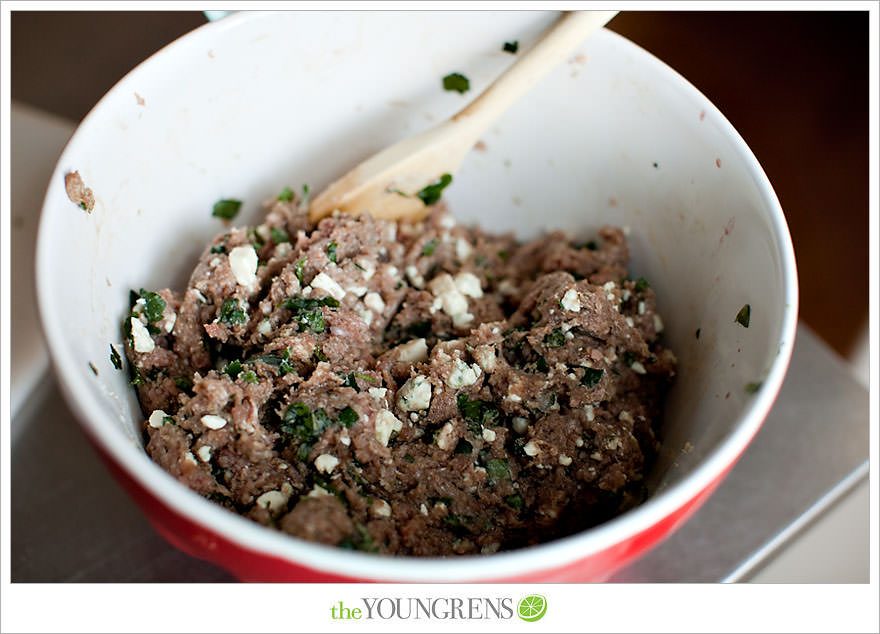 Roll the meat into a bunch of 2 inch sized meatballs. Isn't Danielle such a lovely hand model? No seriously. She had some fantastic nails!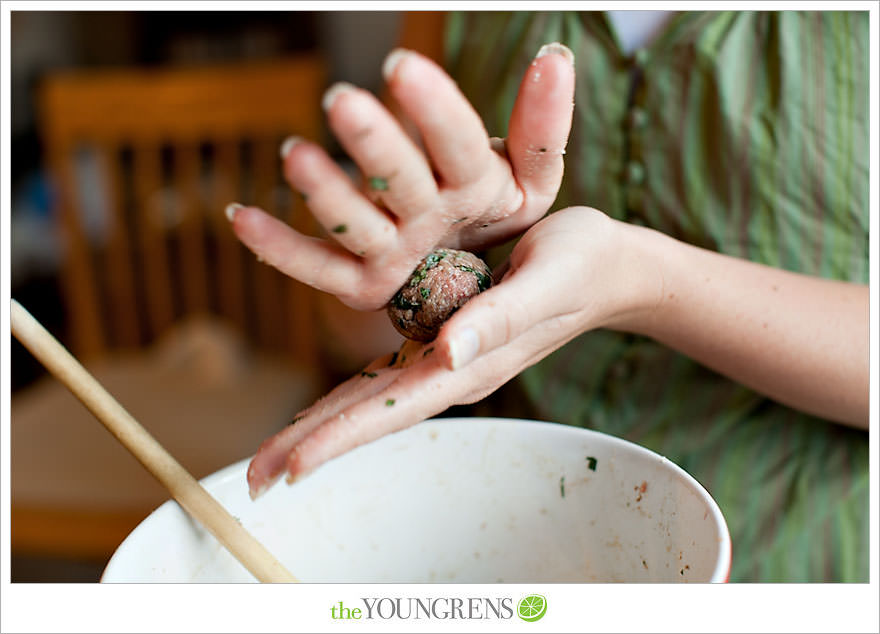 So dainty – I love it!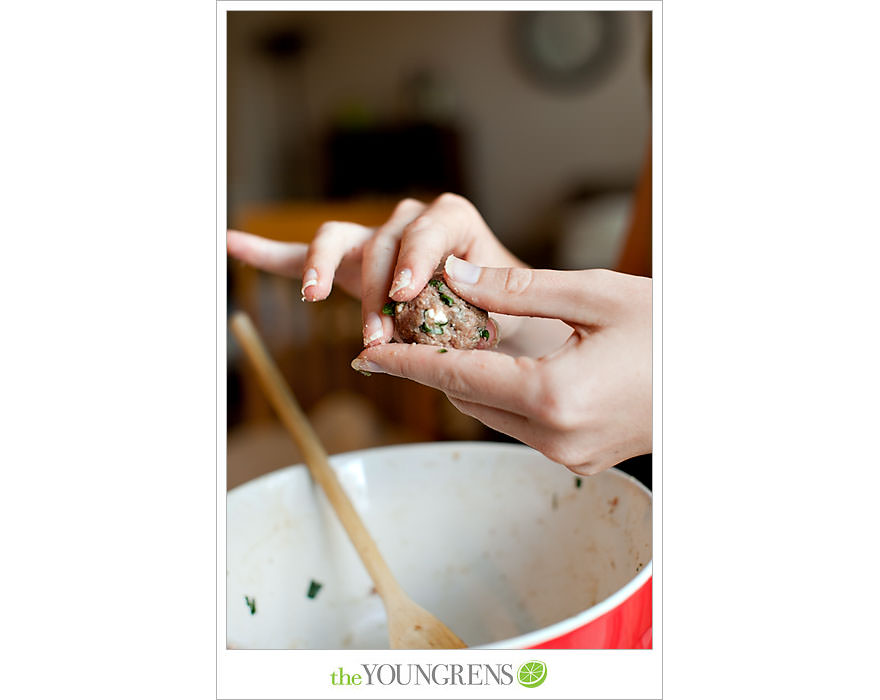 Once everything is rolled up, throw them into the fridge or the freezer for a few hours to get them nice and cold.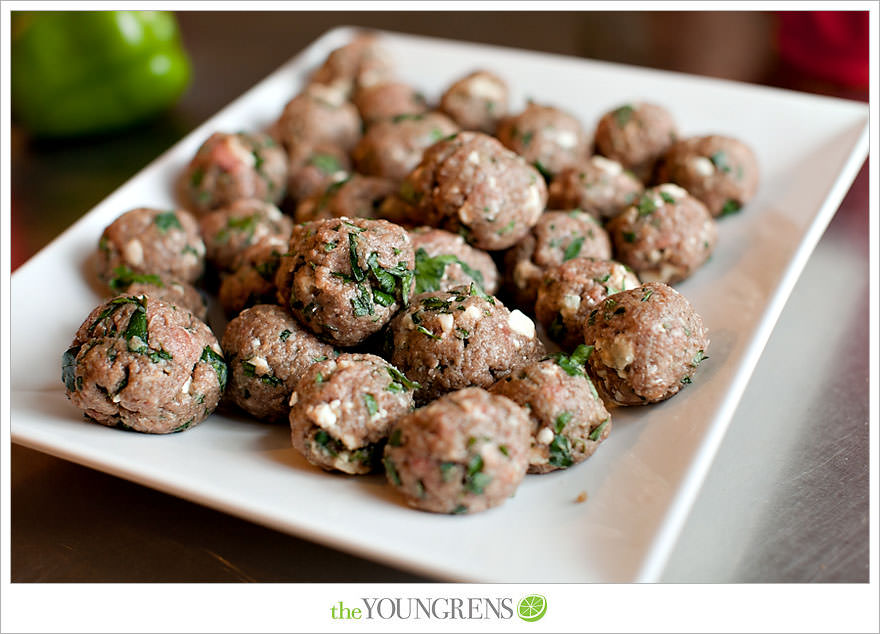 Once they're cold, chop up your veggies into edible sizes and start skewing.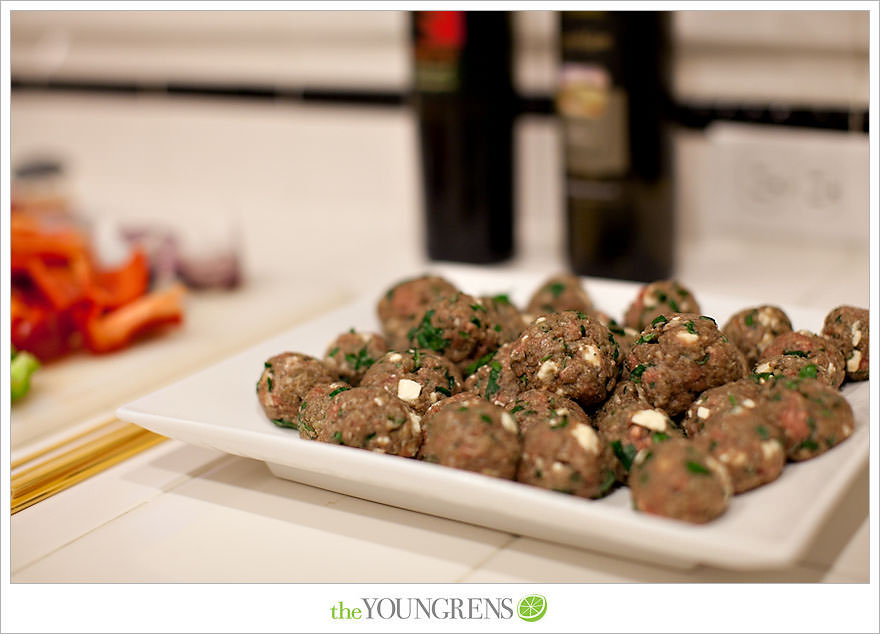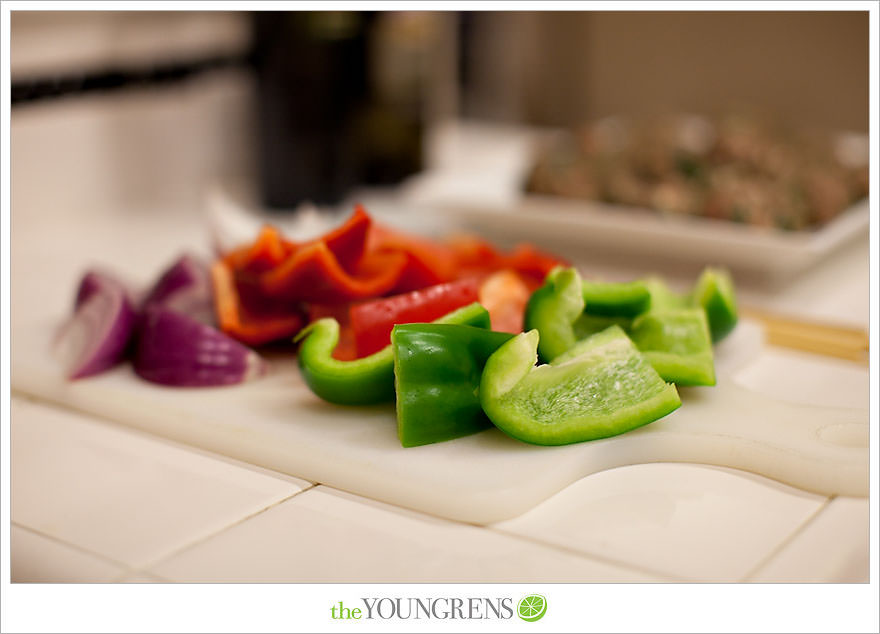 Leave about an inch of room between everything and make sure your grill is prepped and hot.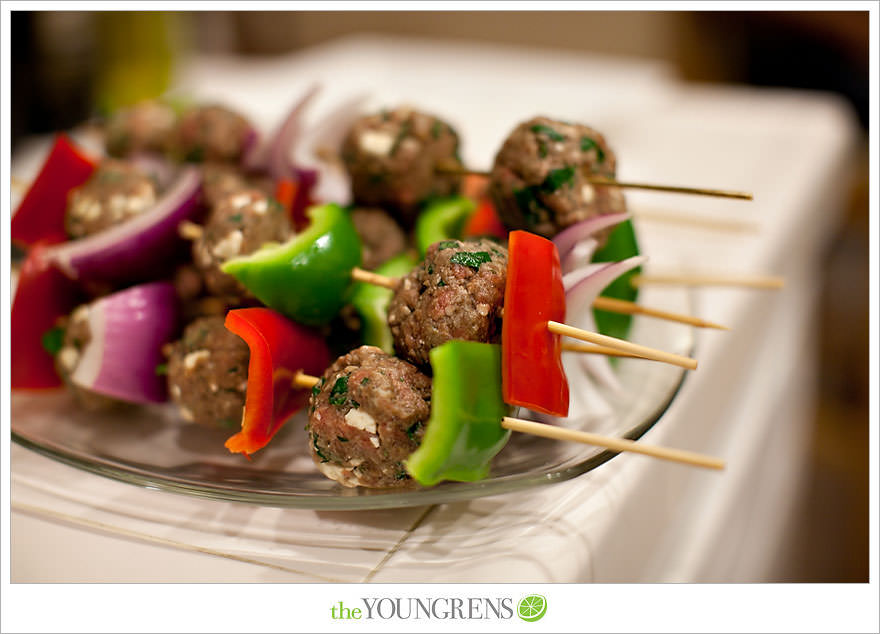 They definitley looked and smelled fantastic on the grill… until they started falling apart!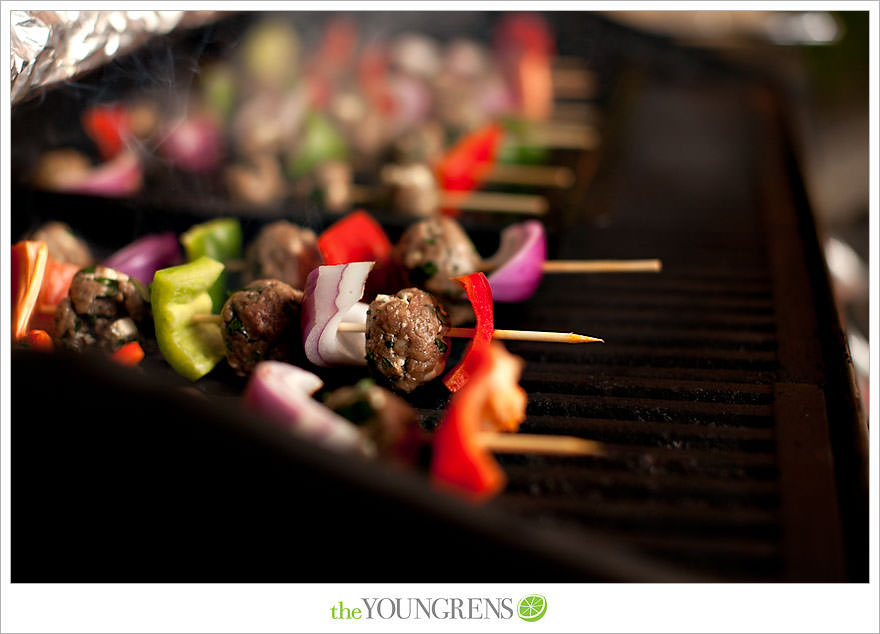 You can kind of see the meatballs melting a little bit, but as soon as Jeff tried to turn the skewers, it was game over. The sticks came right out of the meatballs!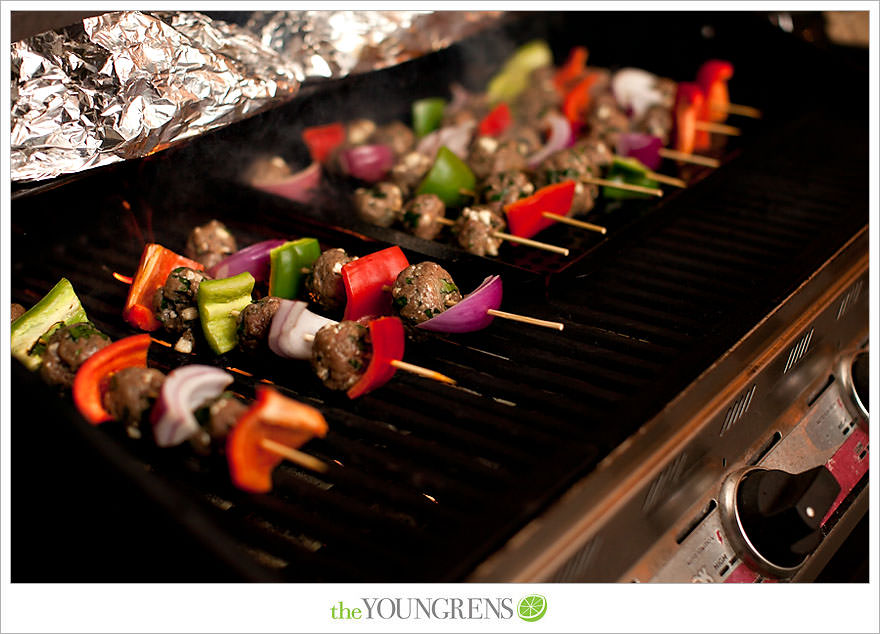 So what was Plan B? We threw away the sticks, grilled the veggies, and tossed the meatballs into a frying pan. Yum!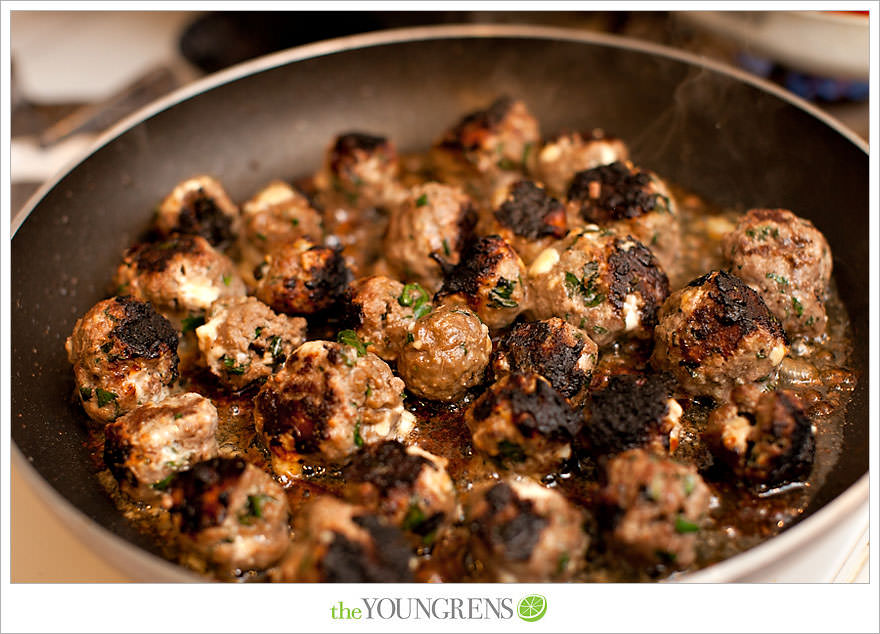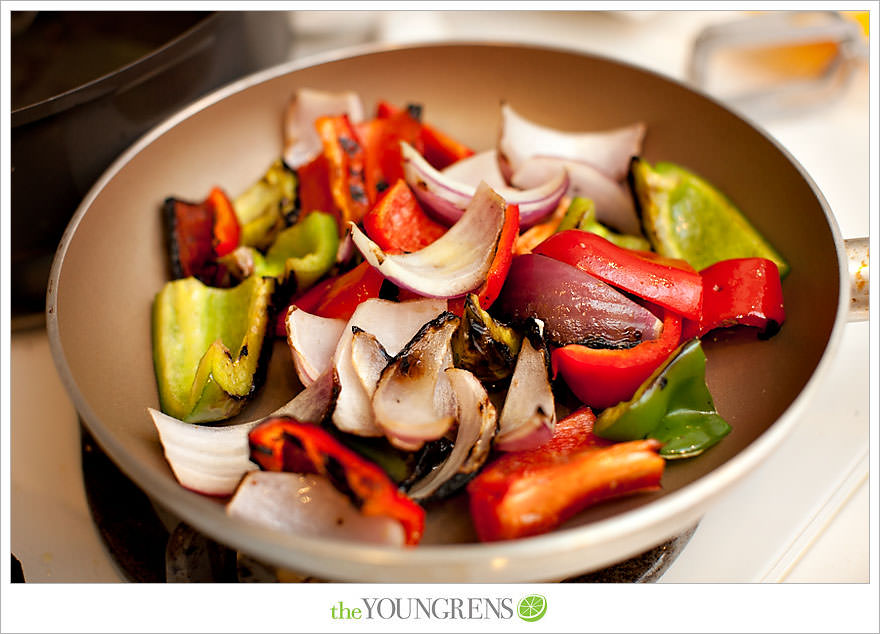 I wish I had a nice pretty photo of the end product, but seriously, we were having such a good time that it basically jsut didn't happen. So we ate instead and the meatballs were crazy DELICIOUS. The bleu cheese was the winner of this dish and if I'm ever looking to make some yummy meatballs, I have the recipe right here.
Blue Cheese Burger Kabobs
2 cloves garlic, minced
2 Tbsp. dry red wine or beef broth
1 Tbsp. Worcestershire sauce
1 cup coarsely chopped parsley (1/2 of a small bunch)
1 lb. ground sirloin or 85 percent lean ground beef
2 oz. coarsely crumbled blue cheese
1 small red onion, cut in wedges
1 6- to 8-oz. pkg. large cremini mushrooms
2 Tbsp. olive oil
4 hamburger buns, split
2 cups arugula
Blue cheese wedges (optional)
Directions
1. In a large bowl, combine garlic, wine, Worcestershire, parsley, 1/4 tsp. salt, and 1/8 tsp. pepper. Add meat; mix well. Gently stir in crumbled blue cheese until just combined. Form meat into 12 meatballs. Cover and chill at least 1 hour.
2. On four 12-inch presoaked skewers, thread meatballs, red onion and mushrooms, leaving a quarter inch between pieces. Brush onion and mushrooms lightly with olive oil and sprinkle lightly with salt and pepper.
3. For charcoal grill, place kabobs on a greased grill rack directly over medium coals. Grill 14 to 16 minutes or until meat is no longer pink (160 degrees F), carefully turning once halfway through grilling. Add hamburger buns and grill the last 1 to 2 minutes until toasted. (For a gas grill, preheat grill; reduce heat to medium. Cover and grill as above).
4. Serve kabobs with buns, arugula, and blue cheese wedges. Makes 4 servings.
Hugs,
Erin