So I'm a big fat liar. These are not Cheese Flautas with Cilantro Pesto. When I went out to my little glorified herb garden to make this recipe the other day, I noticed that Mr. Cilantro had outgrown itself. The poor little over-achiever had grown so big that he had big dead brown chunks all over him that I had to clean away, leaving a much healthier but much thinner selection of him. Why would he do that to himself? Did he not know that he couldn't handle being so big with so little water? (woops) To his credit though, Mr. Cilantro was being overshadowed by his smug neighbor, Mr. Italian Parsley, who apparently gets a kick out of growing at a shockingly rapid rate and keeping his lawn greener than the rest of the neighborhood and needlessly washing his Porsche in his driveway – again. How can you blame Mr. Cilantro? I would feel the need to seem bigger too if I saw Mr. Italian Parsley zip away on his Vespa with an espresso in hand while I was picking up the morning paper pre-shower, wearing a bathrobe, and drinking fully caffeinated coffee even though I knew full well it would give me gas later?
So because there was an overabundance of him, I decided to cut back Mr. Italian Parsley and use him for this recipe instead, giving Mr. Cilantro a chance to regain his confidence and – well – grow. So technically these are Cheese Flautas with Italian Parsley Pesto, but it just doesn't have the same ring to it…

Backyard politics between my herb garden friends aside, these flautas are simply amazing. And I have to confess, I didn't actually think that I would succeed with this recipe. I've never fried anything in my life. Well, except for my sanity, but nothing edible. I wasn't even certain I knew what frying something actually involved. I have a lot of experience burning things, but I assumed that wasn't the same thing as frying. So imagine my shock when I pulled my first flauta out of the skillet and it looked like it does in the picture! Eep! And then imagine the shock of my in-laws who had come over to dinner and learned that I was attempting to fry flautas and it actually turned out! Double eep!
So folks, if E-Dawg can it, so can you! (What do you guys think of my Jr. High nickname, E-Dawg? I'm thinking about bringing it back…)
You don't need many ingredients for this recipe, just the nerves to take it on if you're a white girl from Idaho where nothing is fried except for potatoes. Oh, and you'll need your mother-in-law, too. A big thank you goes out to Jeff's mom, Gina, for helping me out with this recipe. She was the key factor in me totally not screwing this up, which I definitely appreciate!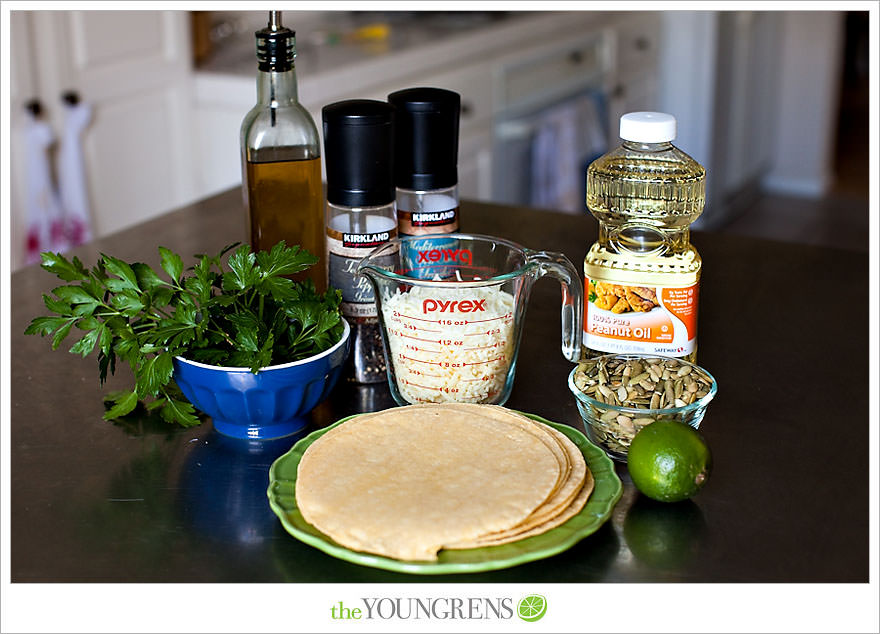 Corn tortillas are a must, and we ended up using the entire package of ten.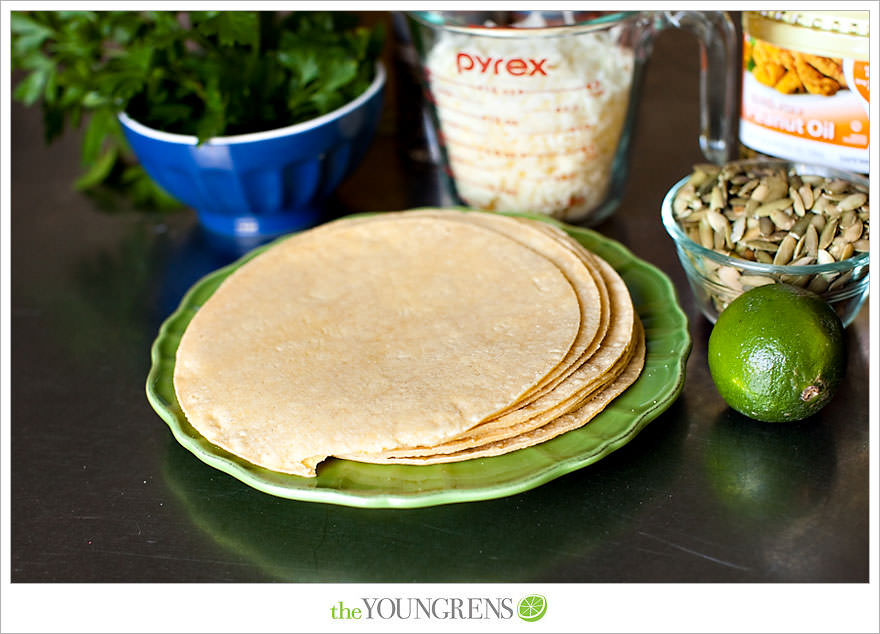 Then you'll need plenty of Mr. Italian Parsley (or Mr. Cilantro if you want to actually do this the correct way).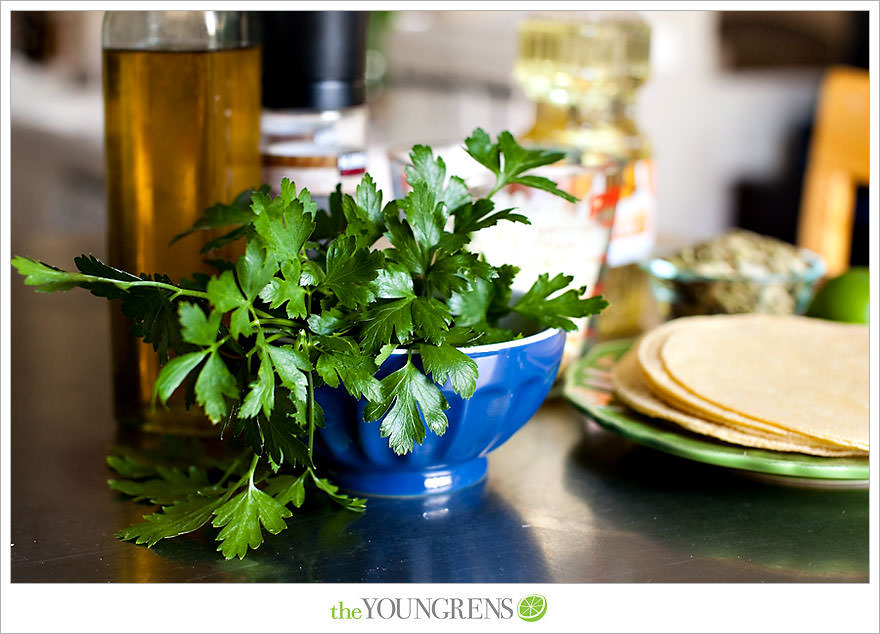 Then Monterey Jack Cheese and pepitas, which apparently are pumpkin seeds without the shells according to the nut guy at the grocery store. Yep, there was a "nut guy." I know, I giggled too.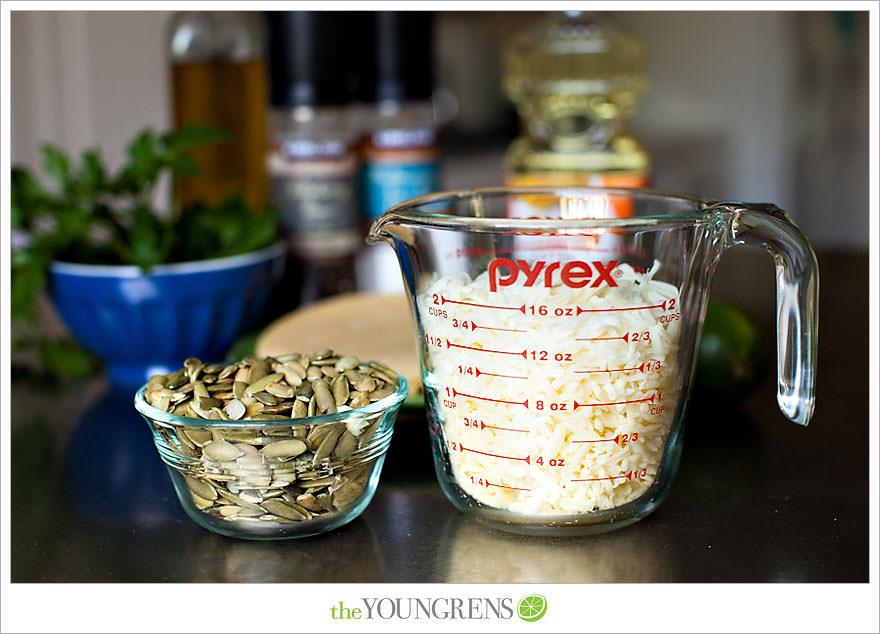 Olive oil will complete your pesto filling and you'll fry the flautas in peanut oil.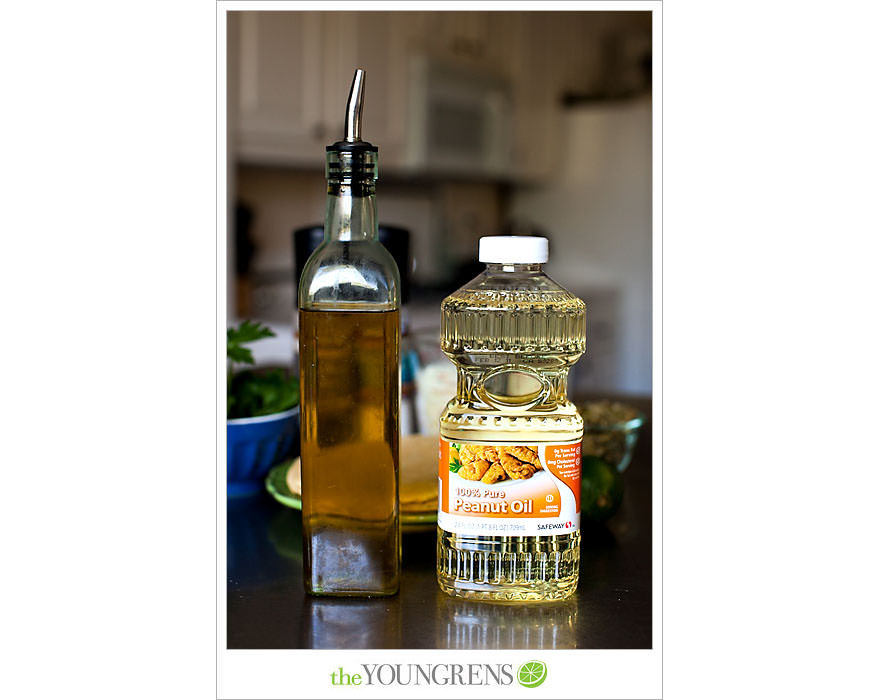 First, you'll need to roast your pepitas, so thinly slice some garlic cloves and fry them with olive oil in a skillet.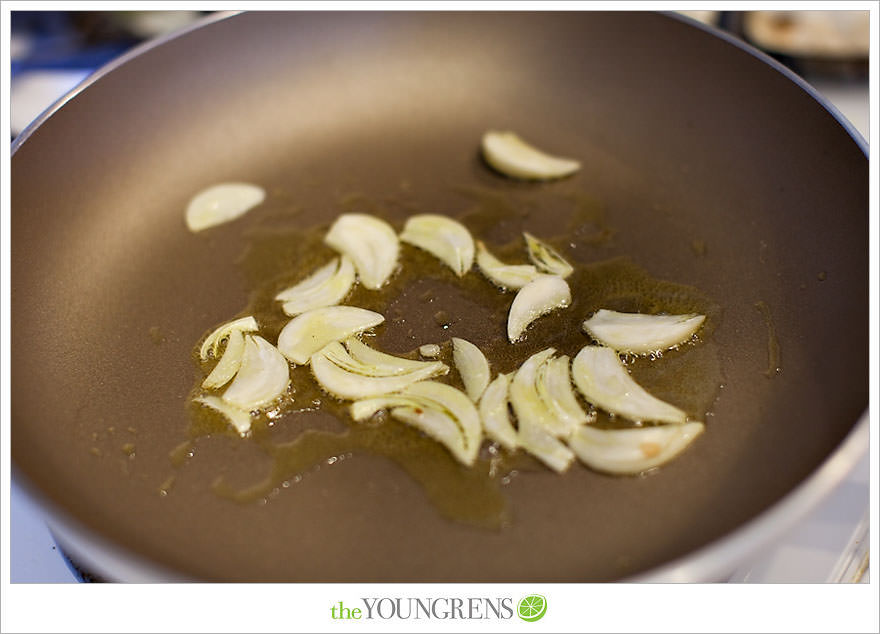 Then add your pepitas until they're toasted, which will take only a minute or two.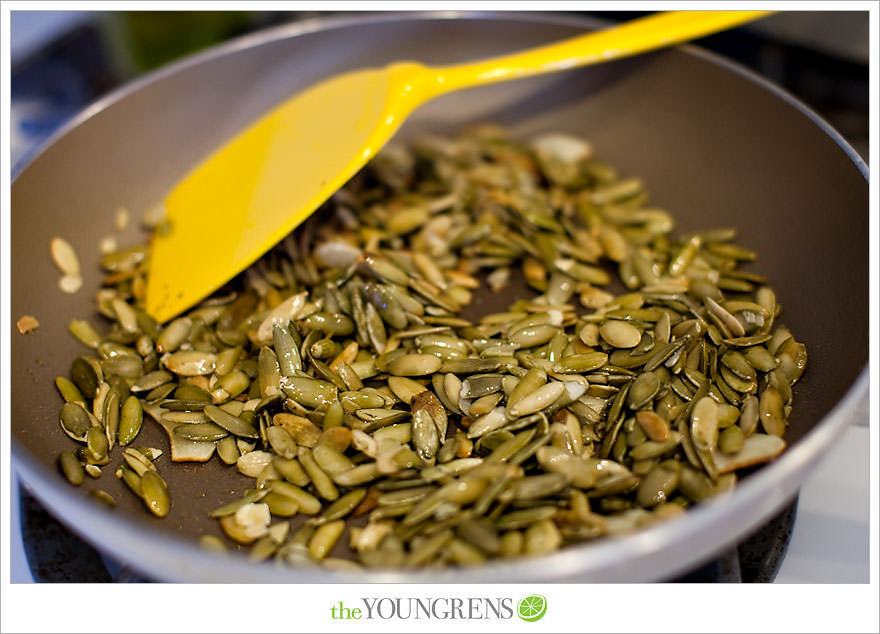 Dump the mixture into a food processor. The only processor I have is this tiny but beastly Cuisinart. It doesn't look big, but it packs a powerful punch.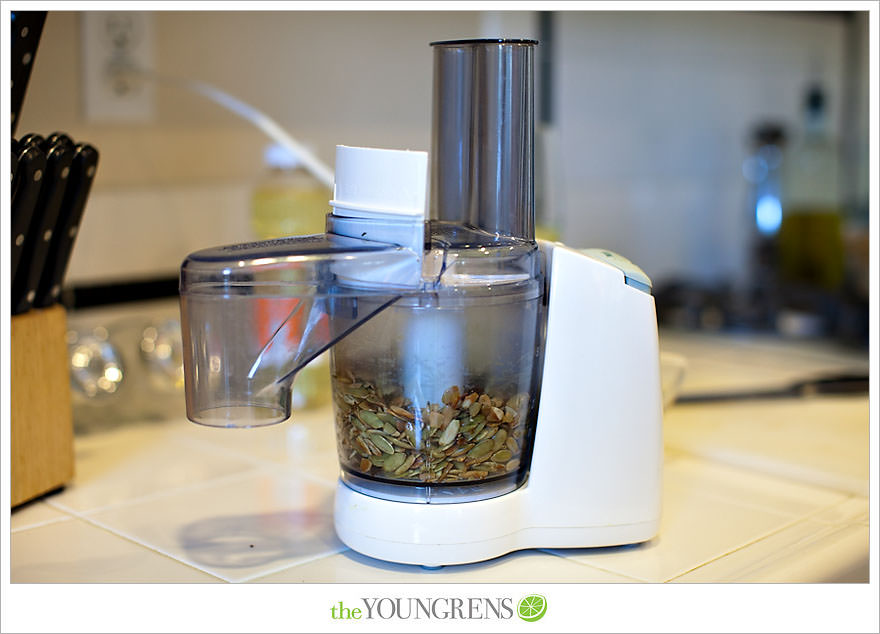 Pulse the pepitas to a paste…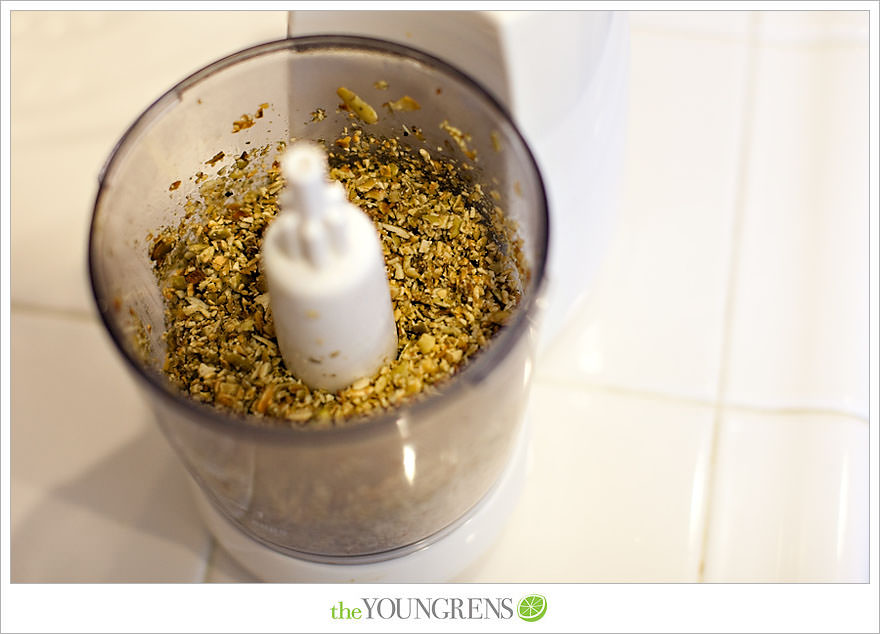 Then add lime juice, your choice of herb, and olive oil.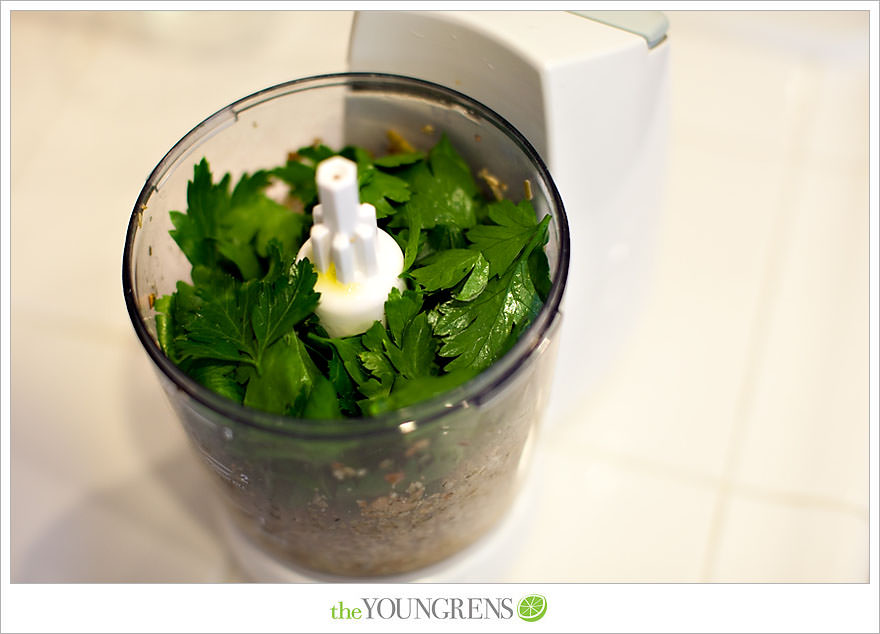 Pulse until it's all smoooooth. Start heating up your peanut oil in a big skillet now, because you'll have to do this next part pretty fast.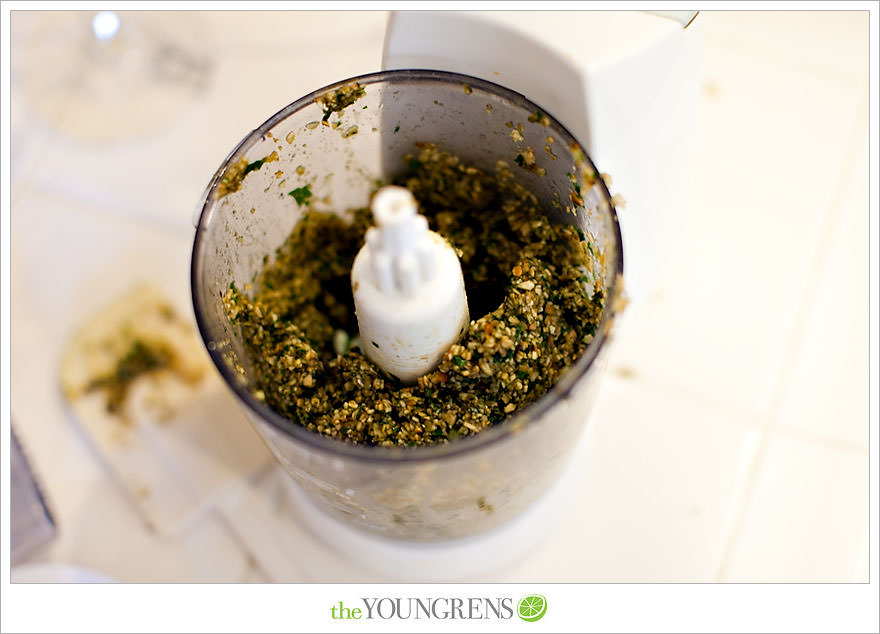 First, spread the pesto mix onto a softened tortilla. Wait, a softened tortilla? What in the wha? This is where my mother-in-law came to rescue, because I had no idea what a softened tortilla meant. I was about to brush over this little key step, but apparently you need to lightly moisten the tortillas and place them directly on a gas burner to soften them enough for rolling. If you don't soften them, then they will break apart completely when you try to roll them, which means you might as well order pizza because you're definitely not eating pretty flautas for dinner. Thank you to the wonderful Gina for saving my pants from having to order pizza.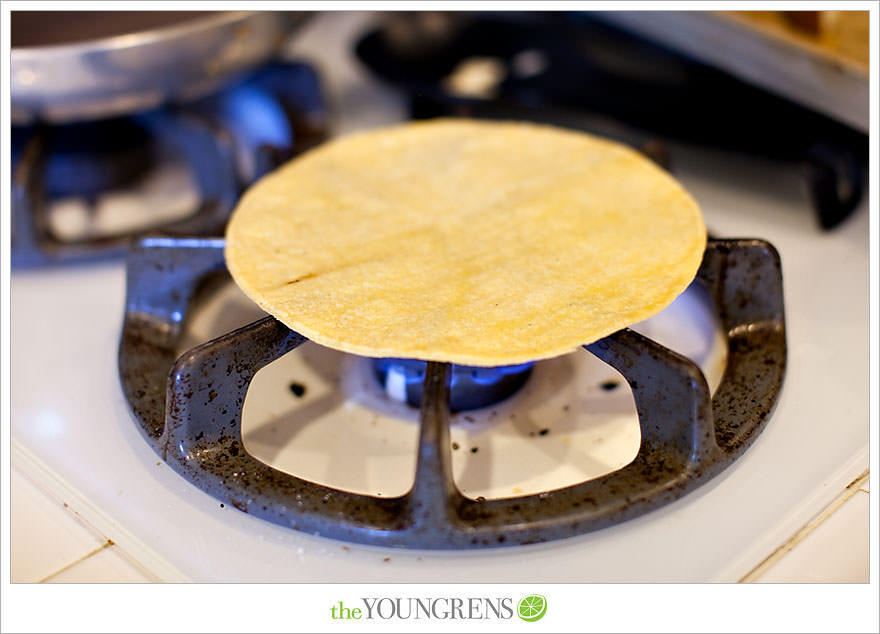 Again, this next part you have to do FAST because the tortilla has to stay moist and warm for rolling. Don't let it sit too long, so have someone else soften the tortillas while you spread them with pesto, sprinkle them with cheese, and roll them into flautas.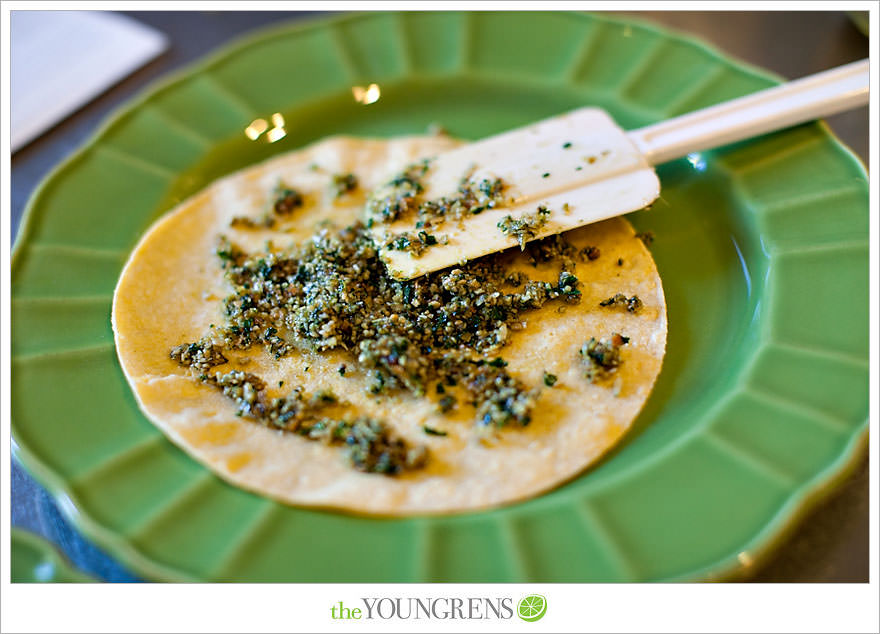 You're supposed to cover them with a damp kitchen towel while you fry each batch, but I forgot that part and I don't think it affected the outcome…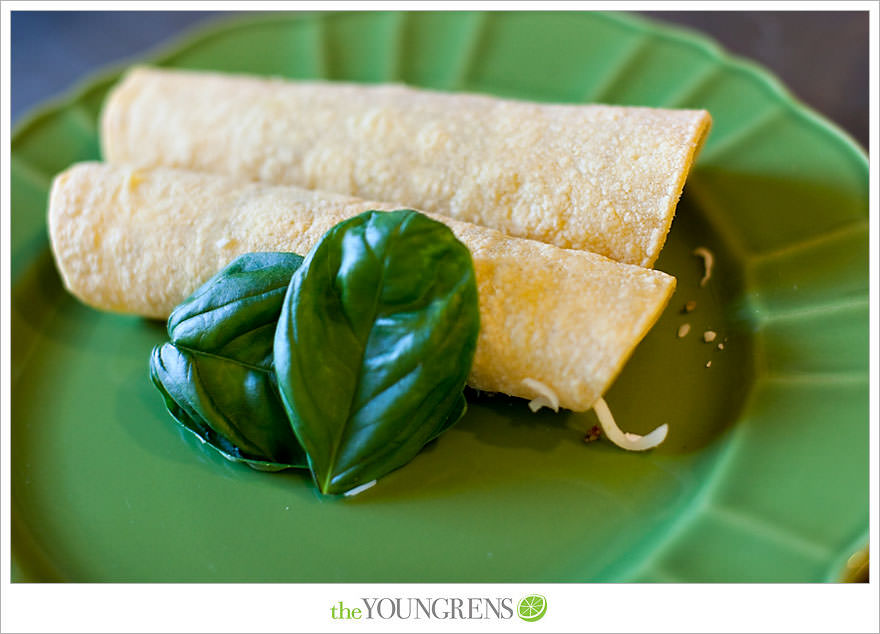 Once you're oil is glassy and shimmering, it's ready for frying. Place five of the ten flautas seam side down in the oil for about 1 minute.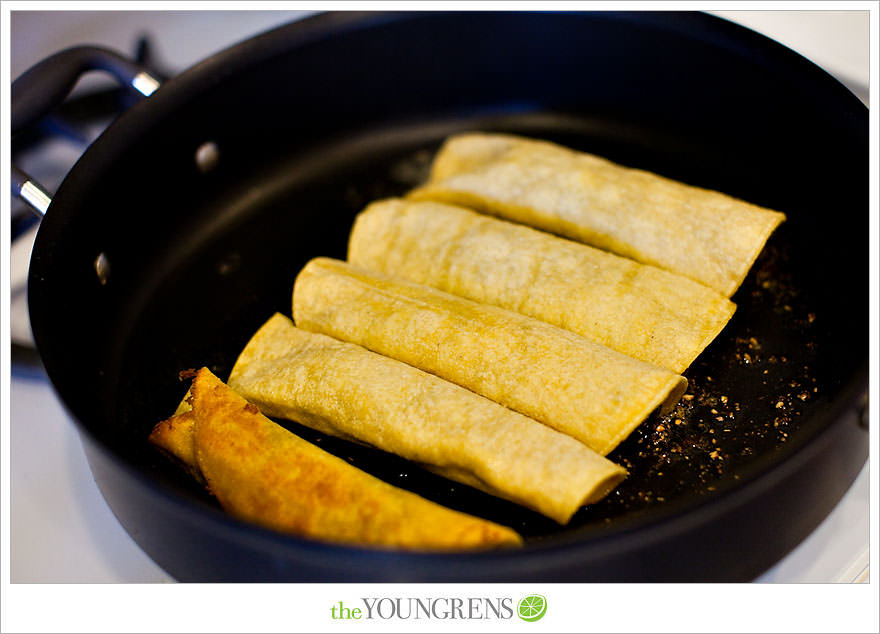 Then roll them over for one minute more using tongs and NOT your fingers. You will burn them. Trust me.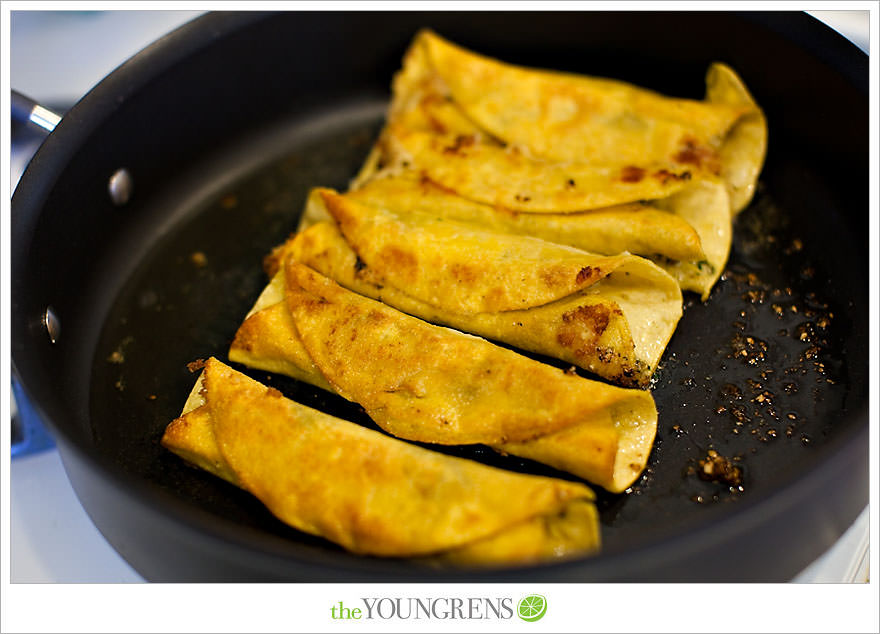 Let the first batch drain on paper towels while you fry the second batch. When you're done, dab the top of them lovingly while you awe at the fact that – yes – it was in fact YOU that just made them! Yay!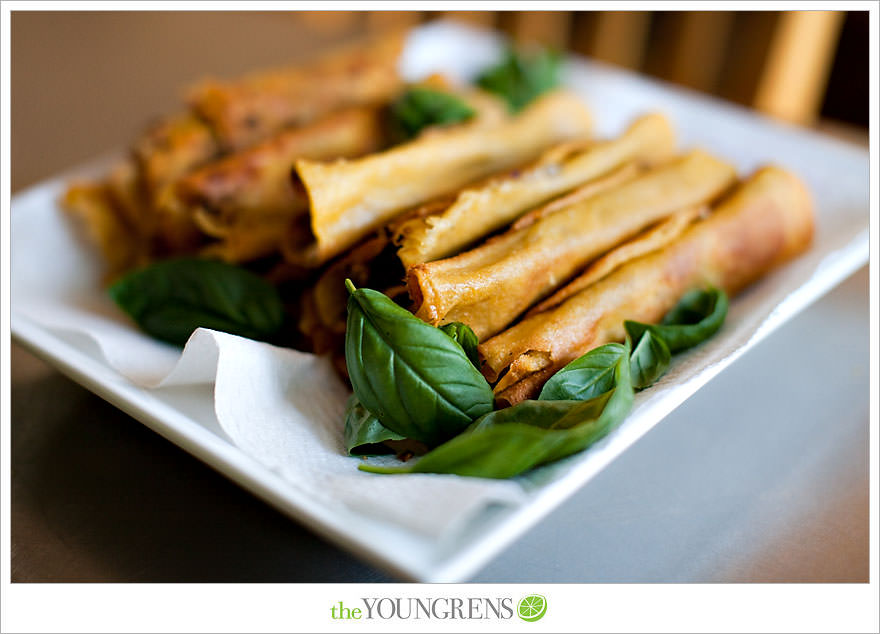 Then enjoy your meal with the most fabulous in-laws ever. Thank you, thank you, thank you Gina for helping me make these while saving my skin and making sure things didn't burn while I frantically photographed the entire process!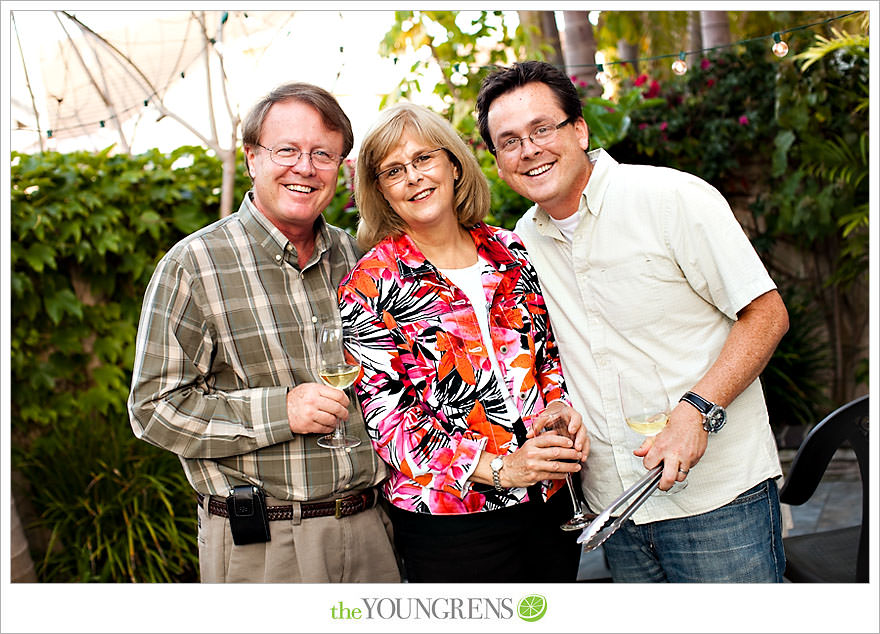 Not too shabby!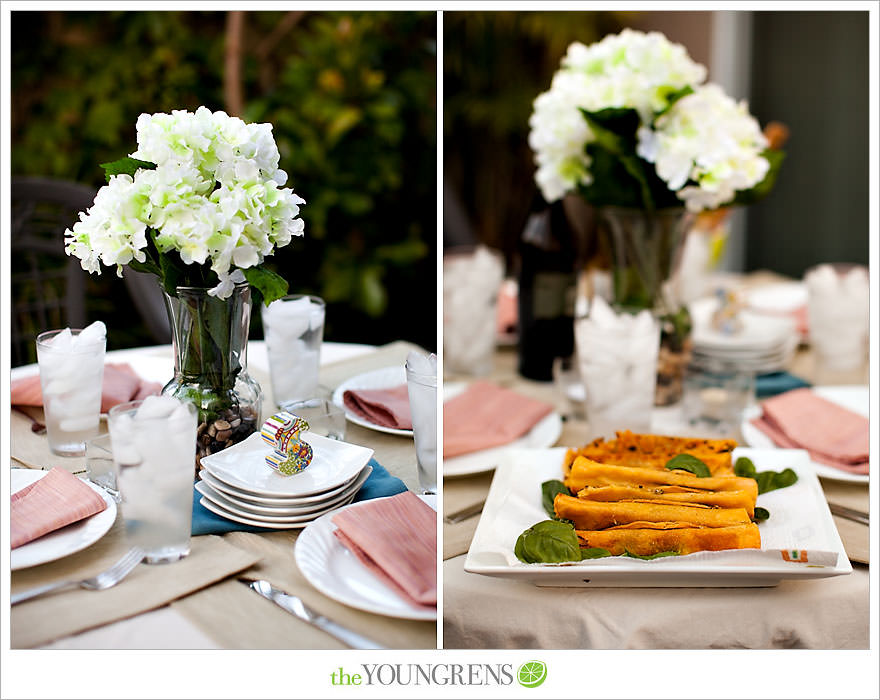 I actually made TWO recipes for Recipe Sunday with this meal (go me!), so I'll be featuring the lovely Tomato Bread Salad next week that you see all blurry in the background there. Everybody loved BOTH of these dishes, so I'm feeling pretty dang good about my kitchen skilz lately! I think I'll keep my mother-in-law around for always!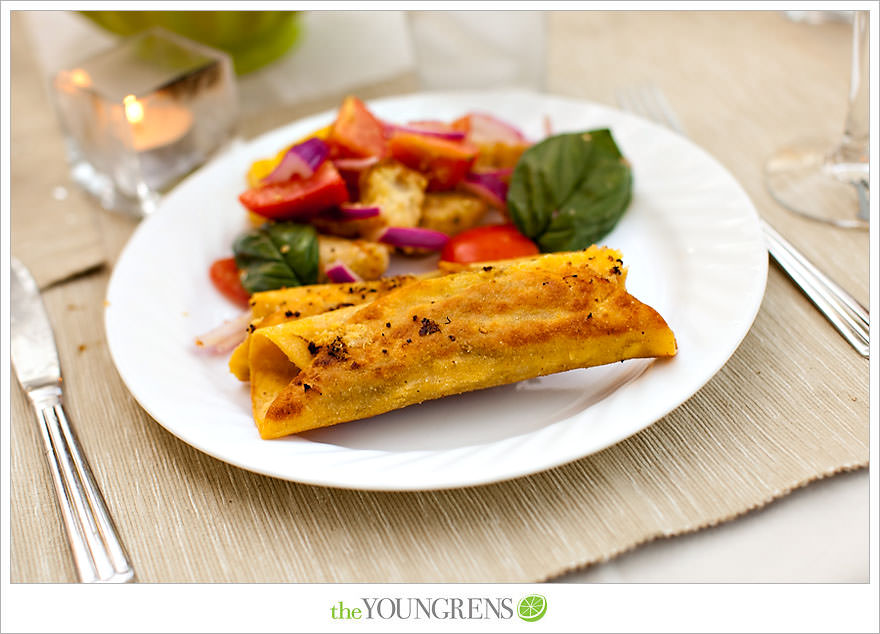 Cheese Flautas with Cilantro Pesto
(click here for reviews and nutrition info)
1/4 cup extra-virgin olive oil

2 garlic cloves, thinly sliced

3/4 cup pepitas (green hulled pumpkin seeds)

1 cup loosely packed cilantro leaves, chopped

Juice of 1 lime (about 2 tablespoons)

Coarse salt and freshly ground pepper

8 corn tortillas (6-inch), softened by moistening and lightly toasting over a gas burner (turn with tongs)

2 cups (6 ounces) grated Monterey Jack cheese

1/4 cup peanut oil
1. Heat 2 tablespoons olive oil in a saute pan over mediumlow. Cook garlic until golden, 1 minute. Add pepitas; cook, tossing, until toasted, 2 to 3 minutes. Pulse to a paste in a food processor. Add cilantro, lime juice, and remaining olive oil; pulse until smooth. Season with salt and pepper. Spread some pesto on a softened tortilla; top with cheese. Roll up; place seam side down. Cover with a damp kitchen towel. Repeat.
2. Heat peanut oil in a medium skillet over medium until shimmering. Fry flautas in 2 batches, seam sides down, 1 minute. Using tongs, roll to brown evenly, cooking 1 minute more. Drain on paper towels, dabbing tops to remove excess oil.
Hugs,
Erin