It was about 3:00pm on a Friday when I had my brilliant flash of genius. I'm thumbing through my magazines making a list of ingredients for my next Recipe Sunday posts when it occurs to me: What if I made TWO dishes as the same time? One could be the main dish and one could be a side dish. I'll make a complete dinner, it'll take half the time, and – BAM – I've got the next two Sundays covered.
Genius plan? Yup. Totally obvious to most people? Definitely.
But as I began my little evil plan of uber-blog-efficiency, a few things became rapidly apparent. While making a complete dinner with a main dish and some side dishes is totally doable and normal in real life, it's not so easy when you're trying to make multiple recipes that are completely new to you and slightly complicated AND photograph everything at the same time. I mean what if the main steps all happen at the exact same time? (They did) What if something boils over while you're stuffing the chicken? (Check) What if you keep burning your fingers because you're trying to stir the rice pot and turn the chicken at the same time? (The chicken almost burned) What if the images end up sucking because you're adjusting the burner with your foot while trying to keep the camera away from the spitting grease? (You'll see)
This is why I don't have genius ideas. Ever.
So today I'll be featuring Lemon Ginger Chicken Thighs, the main dish in my attempt at cooking AND photographing two recipes at once. Next week we'll been featuring Mr. Side Dish, Rice with Peas and Cilantro, which turned out to be some of the yummiest rice I've ever made. But there's a few ground rules before we begin. One, I'll need a little grace for the lack of photographic awesomeness, and two, well I just need a little grace in general!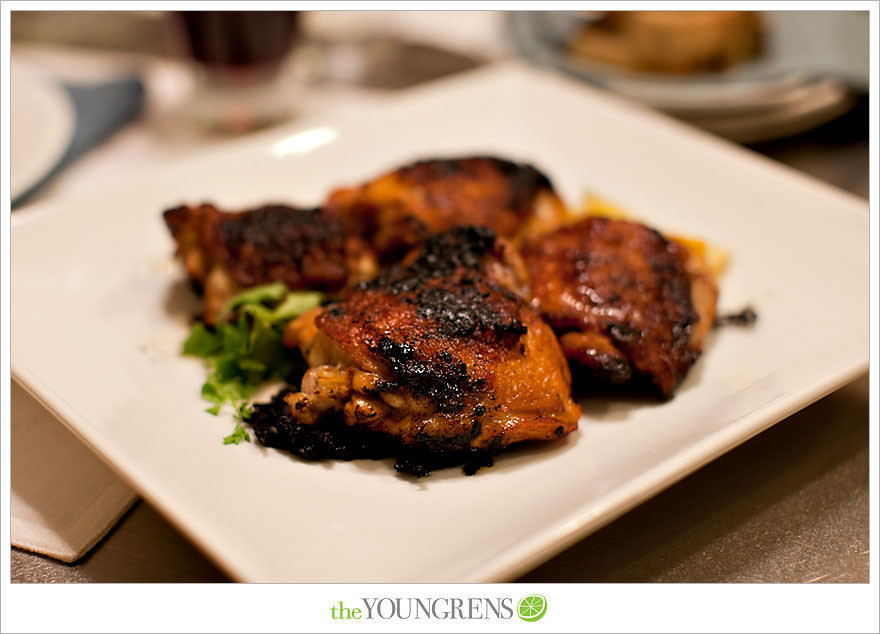 Here's the lineup. Lemon and ginger play big role here. And as a side note, I've never actually cooked with fresh ginger before, so I was a little nervous. But I just sliced off an end, jumped right in, and everything actually tasted good! Yay!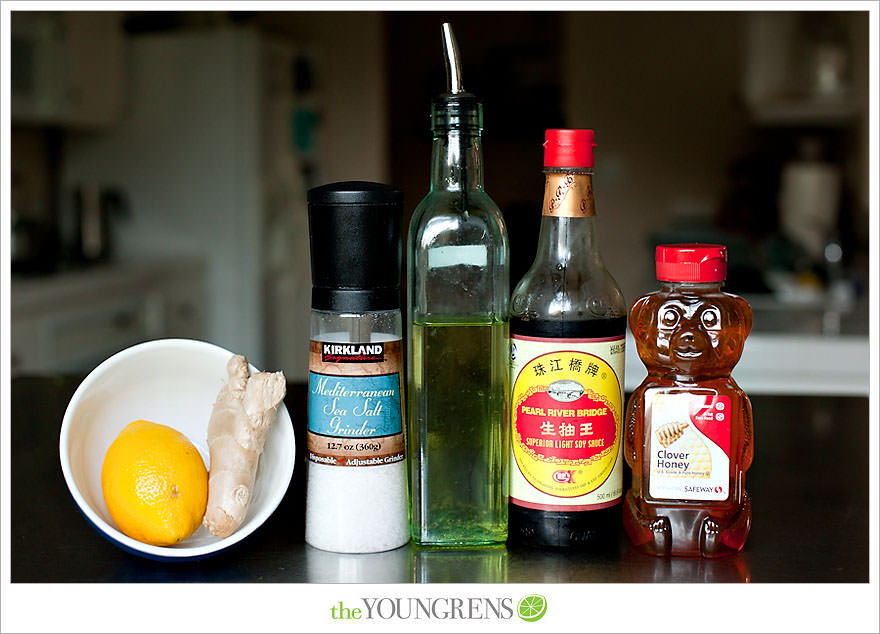 Grate the entire lemon and some of the ginger and mix it up in a little dish.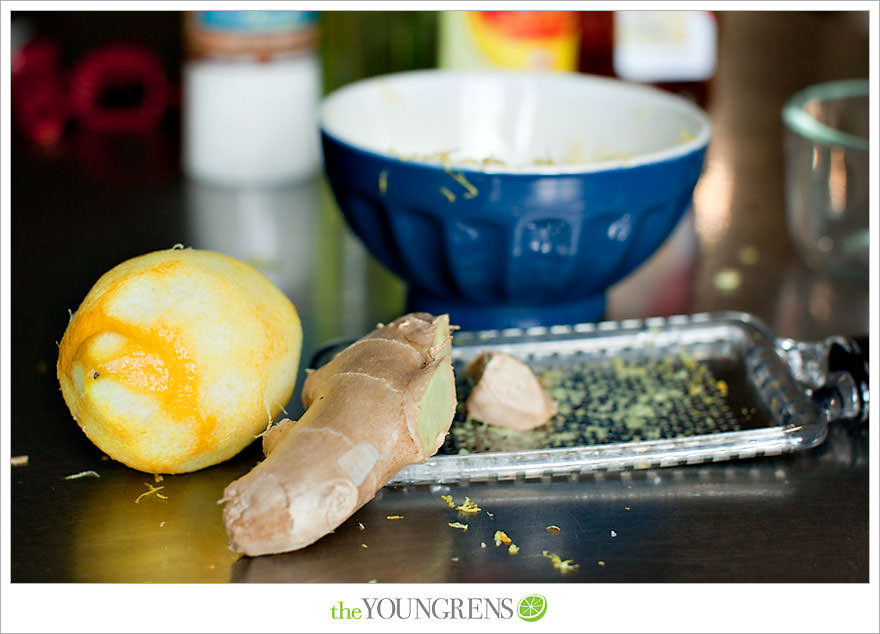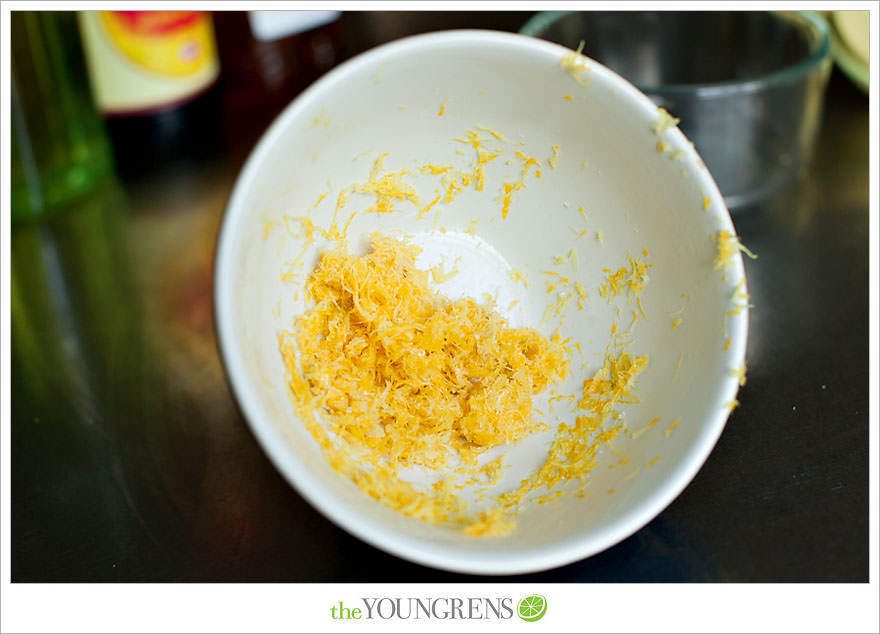 Then juice your lemon and combine it with soy sauce, honey, and some water. Set it aside for later.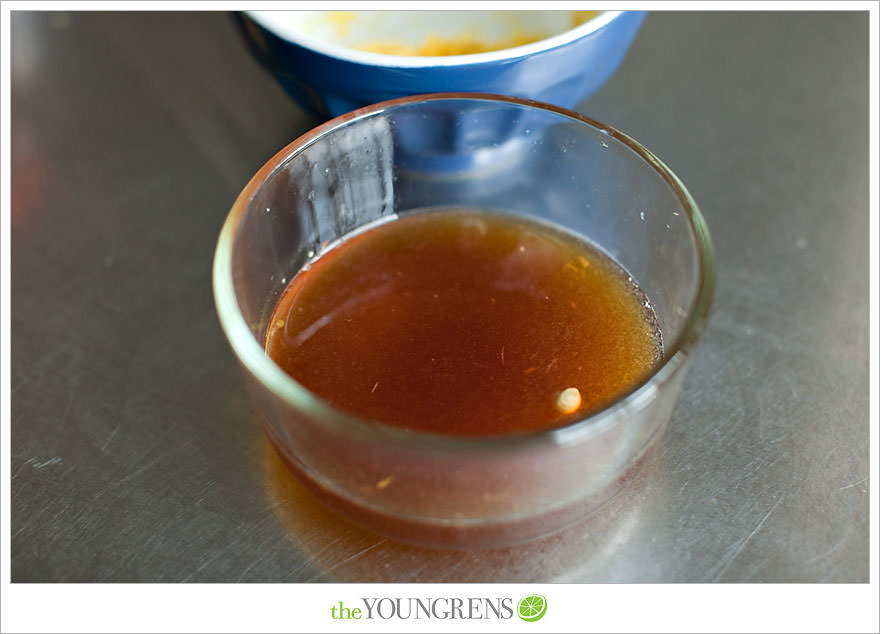 Rub the lemon peel mixture under the skins of each chicken thigh (you'll probably need to cut back the skins a little).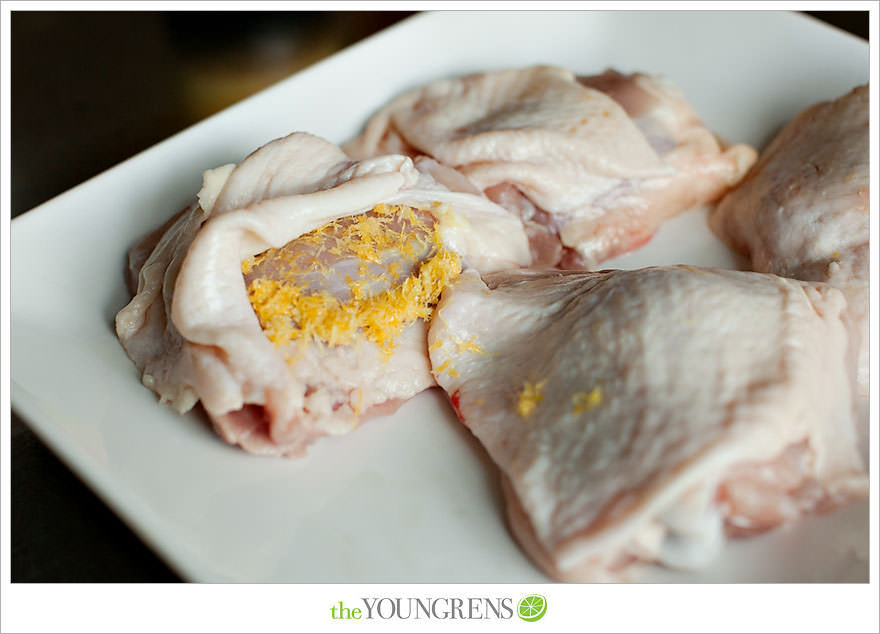 Then place the chicken skins side down in a skillet with hot oil. Cook until the skins are well browned, then turn them over.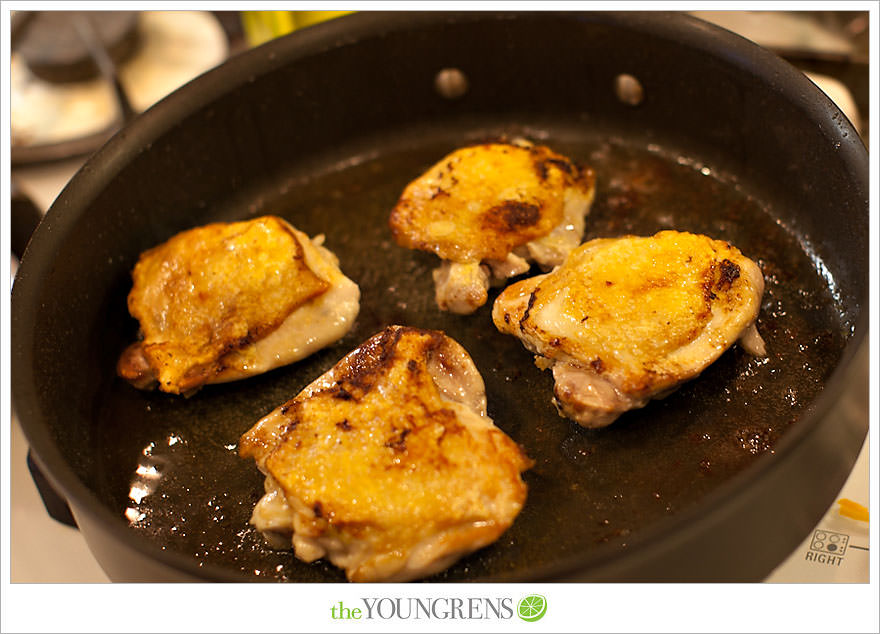 This is where the photography part took some guts. Add the lemon juice mixture to the hot skillet and watch the spatters! I had to stand way back so the camera didn't catch any of it! This photo is pretty zoomed and cropped…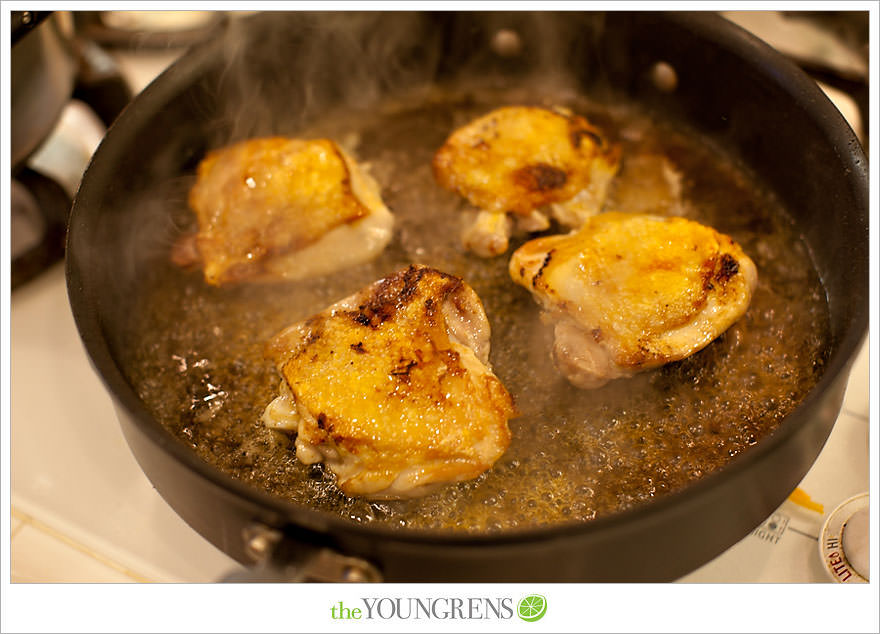 Cover the skillet with a lid, reduce the heat, and let cook for another 20 minutes or so until they're done.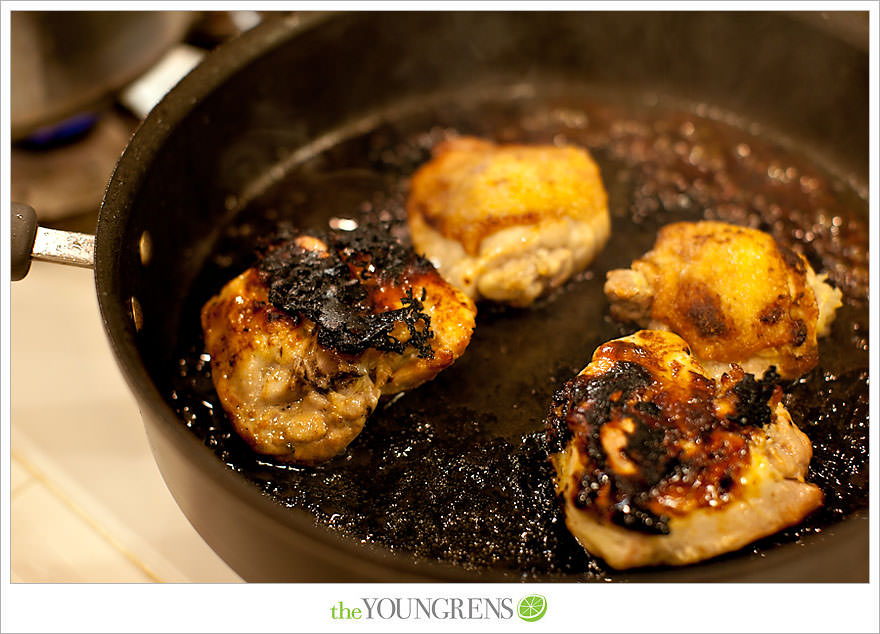 These chicken pieces were YUMMY.
Talk about juicy, flavorful, and tender. The lemon peel and ginger were so good as they cooked into the meat and the skin. Jeff's eye were about as big as quarters when he took his first bite! Ha!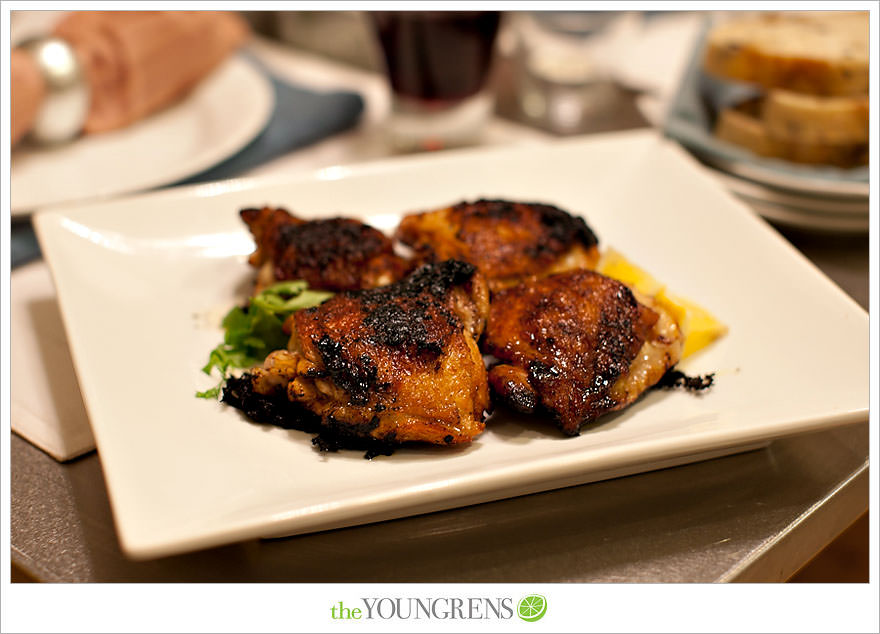 Lemon Ginger Chicken Thighs
1 lemon
1 Tbsp. grated fresh ginger
1/2 tsp. salt
2 Tbsp. honey
1 Tbsp. reduced-sodium soy sauce
8 chicken thighs with bone
2 tsp. vegetable oil
Sliced green onions and lemon wedges (optional)
Directions
1. Finely shred peel from lemon and juice lemon. In bowl combine the lemon peel, ginger and salt. In another bowl combine lemon juice, honey, soy sauce and 2 Tbsp. water.
2. Rub lemon peel mixture under the skin of the chicken thighs. In 12-inch skillet, heat oil over medium-high heat. Place chicken, skin side down, in the hot oil. Cook 7 minutes or until well-browned; turn chicken and add lemon juice mixture. Reduce heat; cover and cook 14 to 18 minutes longer or until done (180 degrees F.).
3. Transfer chicken to plates. Skim fat from pan juices, if desired. Drizzle chicken with some of the pan juices. Top with green onion and serve with lemon wedges. Makes 4 servings.
Stay tuned for next week when I bring out dish number two!
Hugs,
Erin