It was one of those magical bathtub finds. I sat curled up in our tiny bathtub underneath a mountain of vanilla scented bubbles, my hair was pulled back, a glass of wine sat at my fingertips, and I ripped page after page out of my favorite magazines for design/makeup/fashion/life inspiration. And there it was – in the recipe section – my first encounter with Chicken Tetrazzini. And that's when the love affair began.
Out of anything I've ever baked, fried, or boiled, this my friends is the mothership. It was this recipe right here that I served to our very first real house guests. And it was when I first slipped this little beauty into the oven that I think I truly fell in love with cooking. I mean, if someone as ill-fated as myself in the kitchen could make something this creamy and good, then perhaps there was hope for the domestically inept like me. Perhaps I could actually take a good crack at this whole cooking thing…
So ladies and gents, here's my favorite dish to cook of all time, and its straight out of Better Homes and Gardens magazines – Potluck Chicken Tetrazzini. As always, you'll find the full recipe listed at the bottom of this post.
To start, you'll need some red and yellow peppers, mushrooms, asparagus, chicken broth, lemon peel, milk, and linguine. Start some water boiling for the pasta, preheat the oven, and then slice the mushrooms.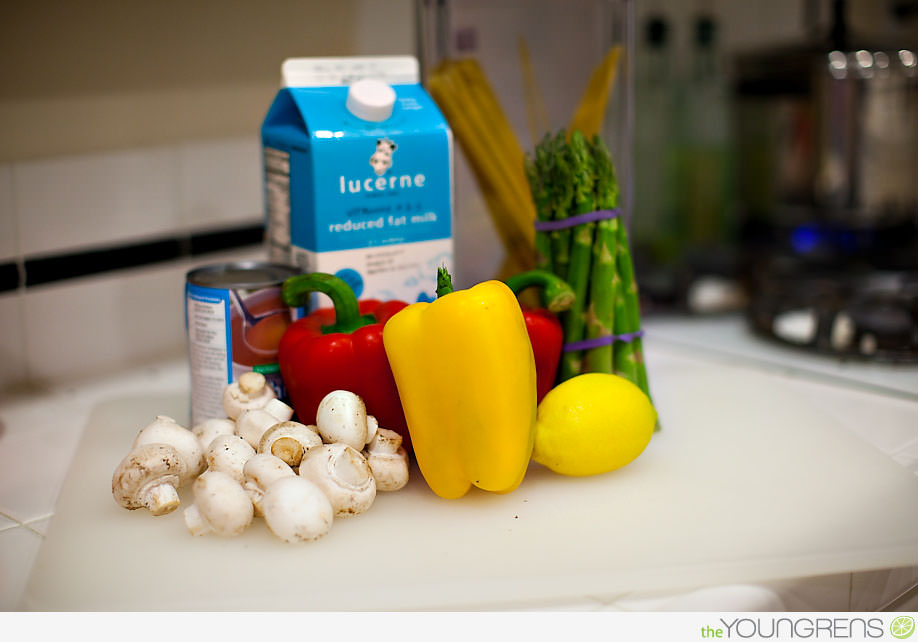 Add some butter to a large skillet and get it nice and hot.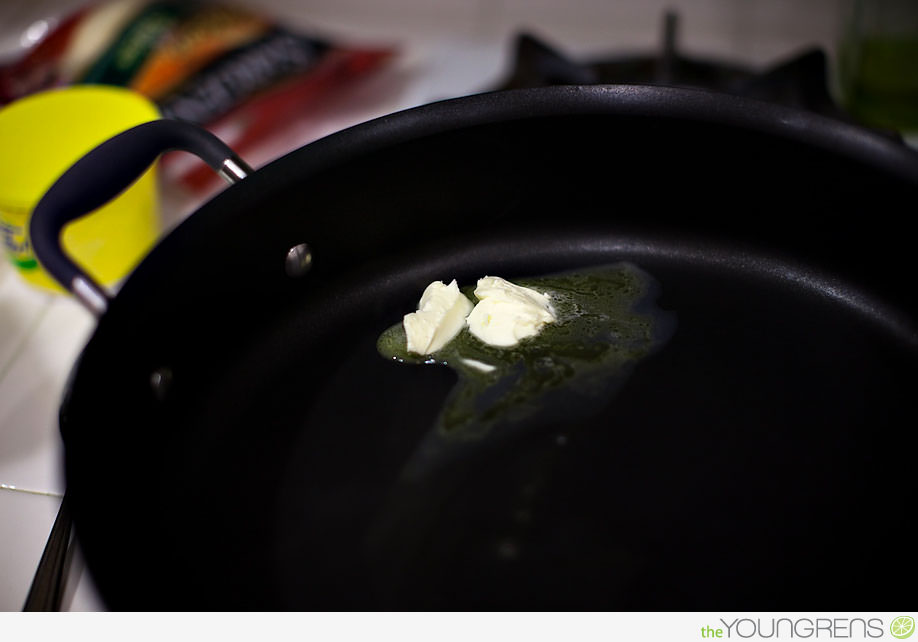 Add the mushrooms and saute them until they are tender and brown.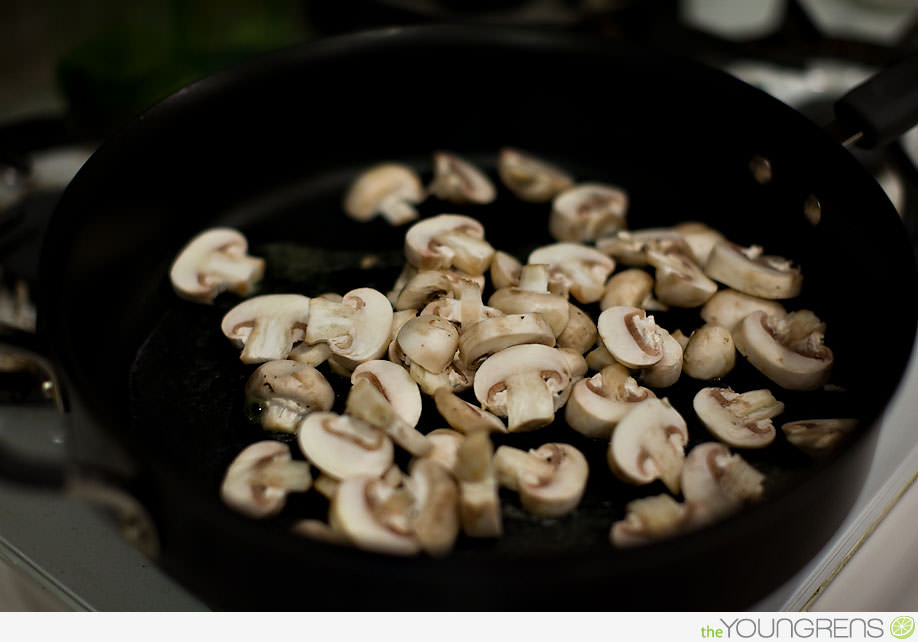 While the mushrooms get their "brown" on in the skillet, chop the peppers into one-inch pieces.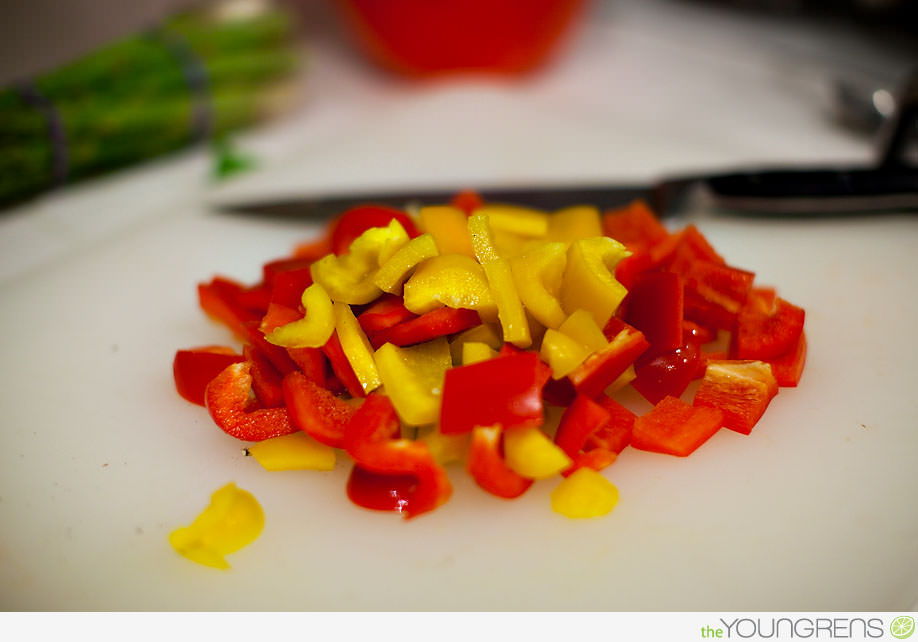 Then add a 1/4 cup of flour to the pan along with an 1/8 teaspoon of black pepper.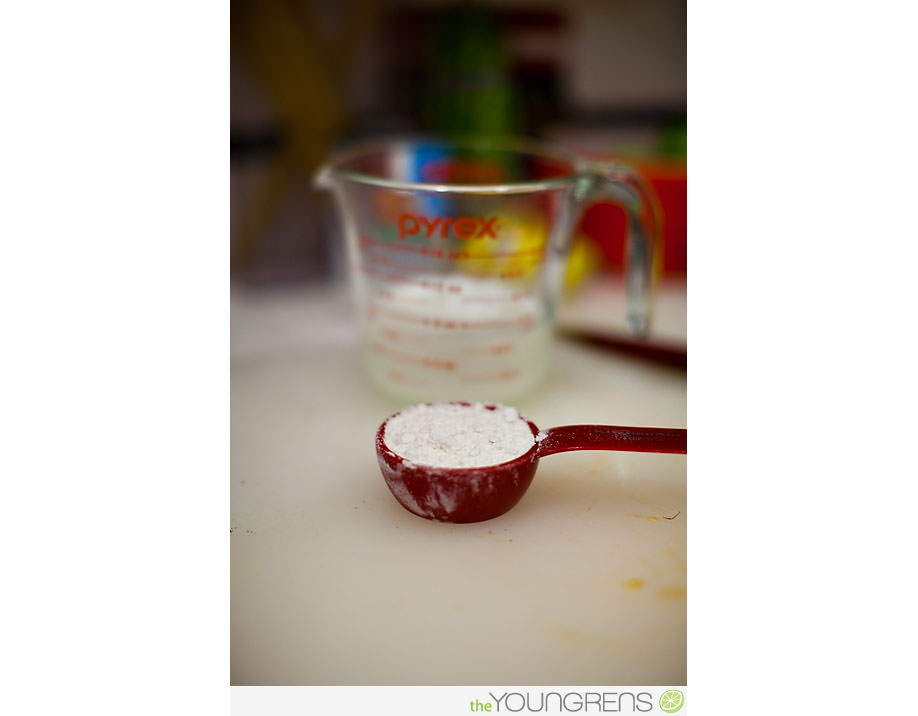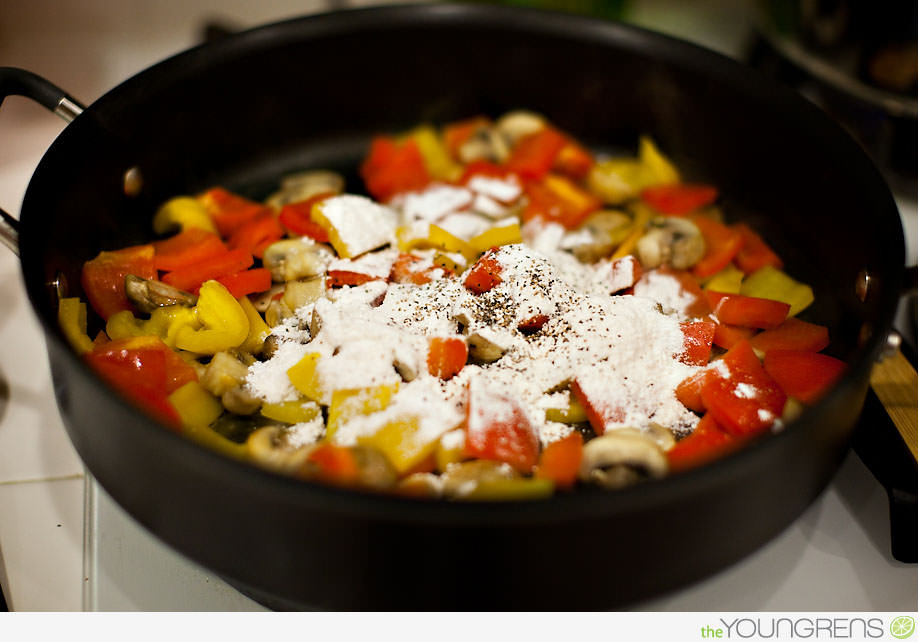 Mix it up goooooood. Oh, and your water might be boiling by now, so add your linguine.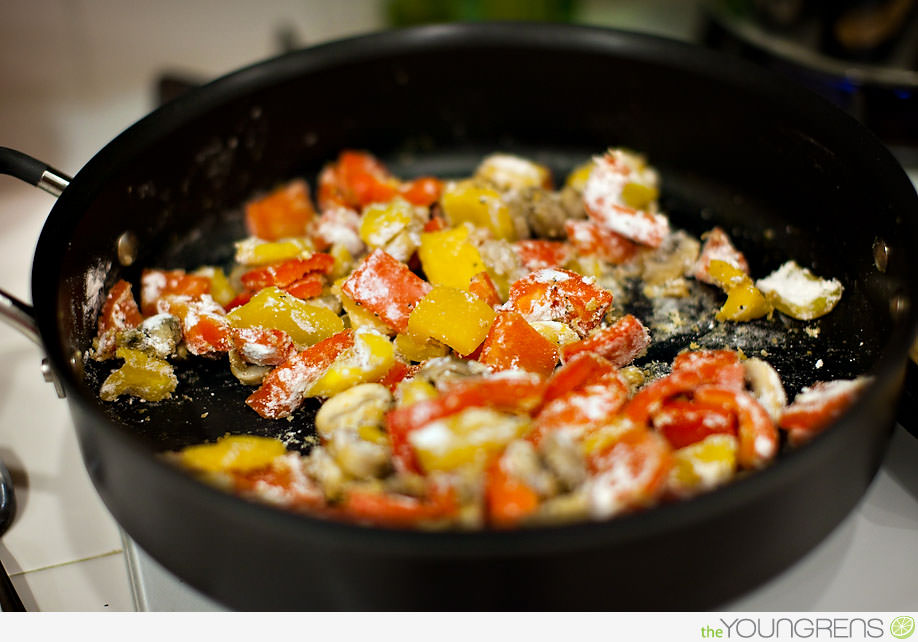 Then add 3/4 cup milk and your chicken broth. What I love about this recipe is that you can use lowfat milk. No heavy whipping cream or half-and-half here (your thighs will thank you someday). Cook until this dreamy mixture is thick and bubbly.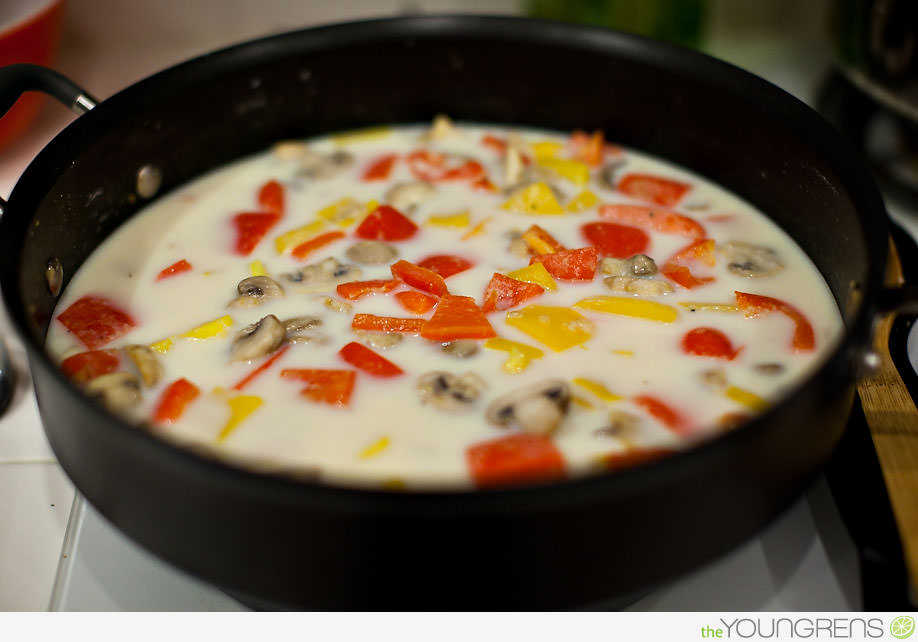 Chop the fresh asparagus into one-inch pieces and add it to the pot of boiling pasta for the last minute of cooking.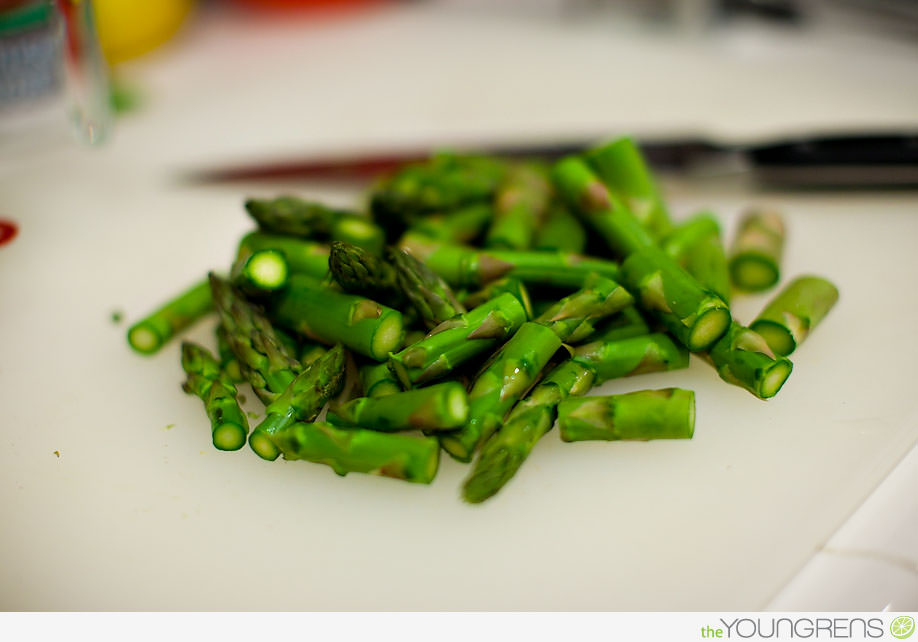 Drain the pasta and return to the pan.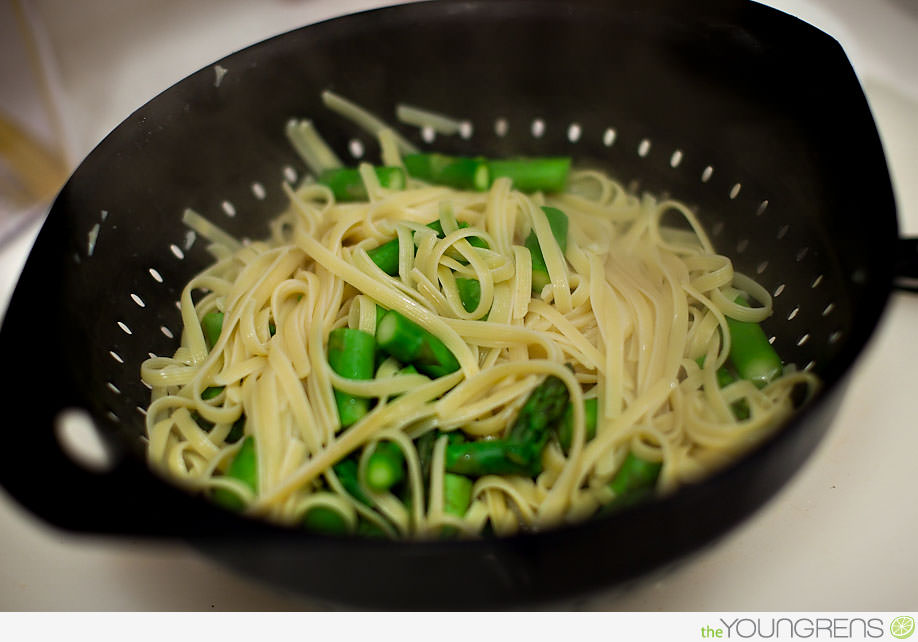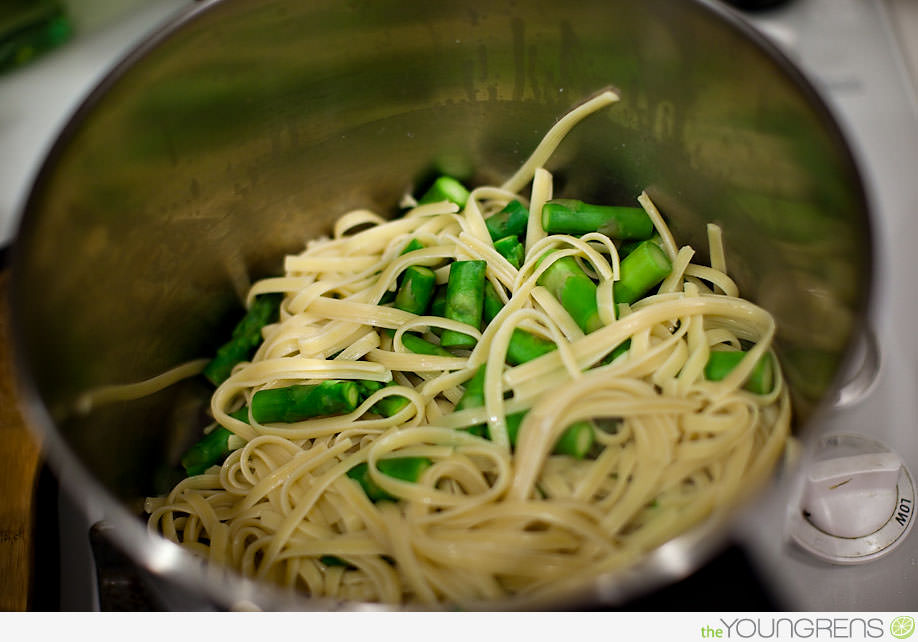 Ding! Its REA-dy! (You have to sing this like your one of those fat opera ladies on stage. Hey, if its only you in the kitchen, no one will ever know…)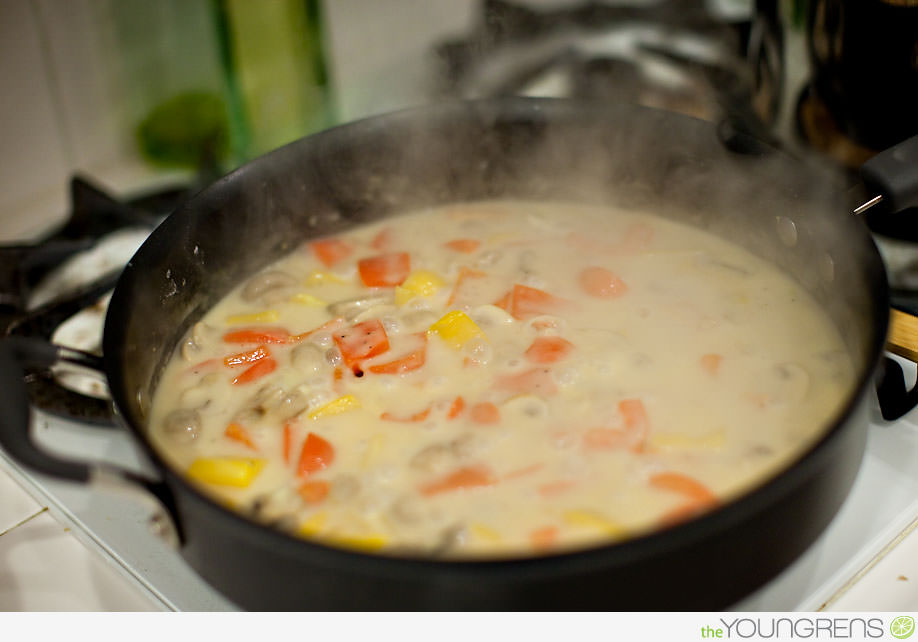 Next, tear apart a roasted chicken that you got at the grocery store. I love getting the ones that are seasoned with lemon and herbs. Yum!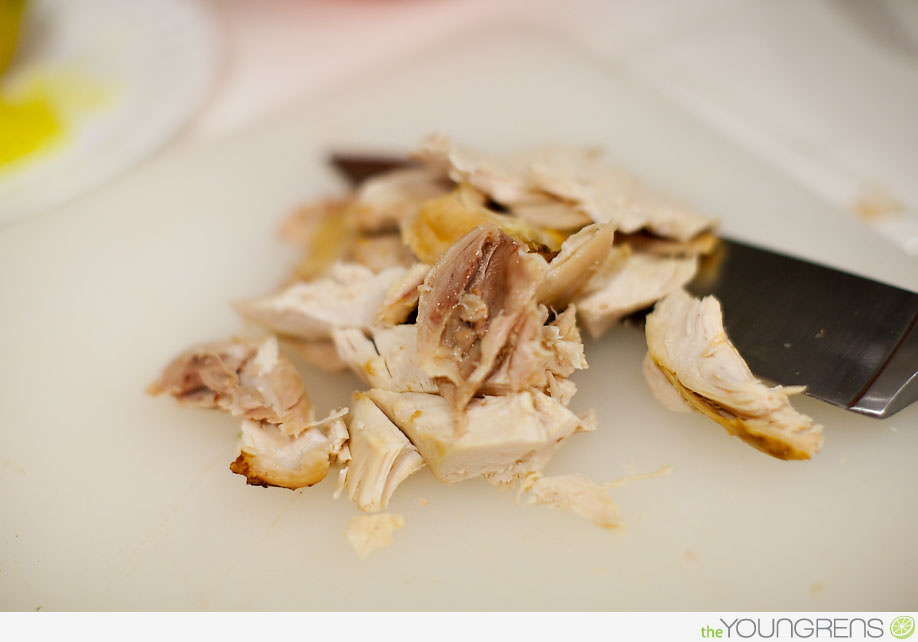 Grate a bunch of swiss cheese, and add it along with the skillet mixture to the pot of pasta and toss well.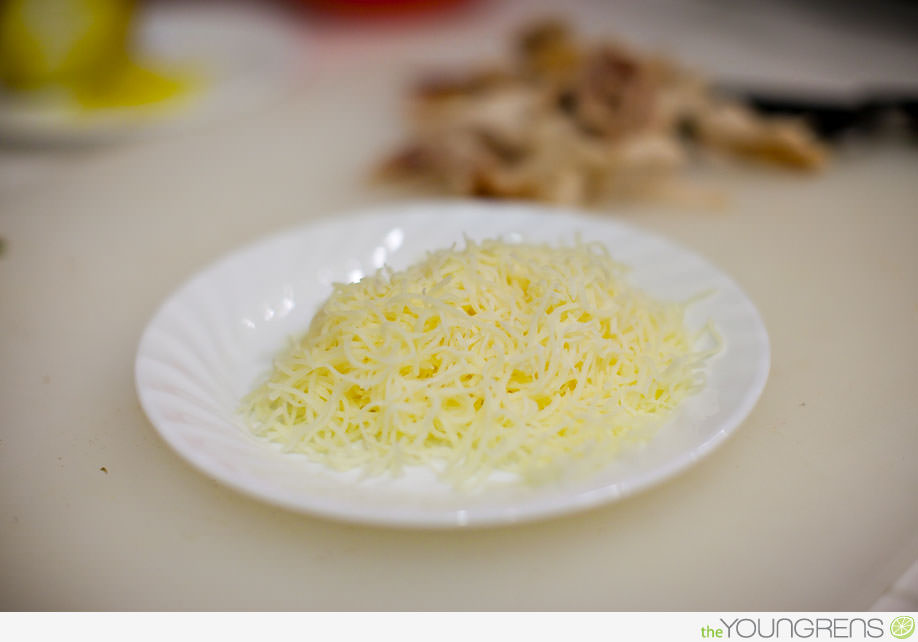 Zest some fresh lemon peel for a hint of citrus goodness, and add half of it to the pasta mixture in the pot.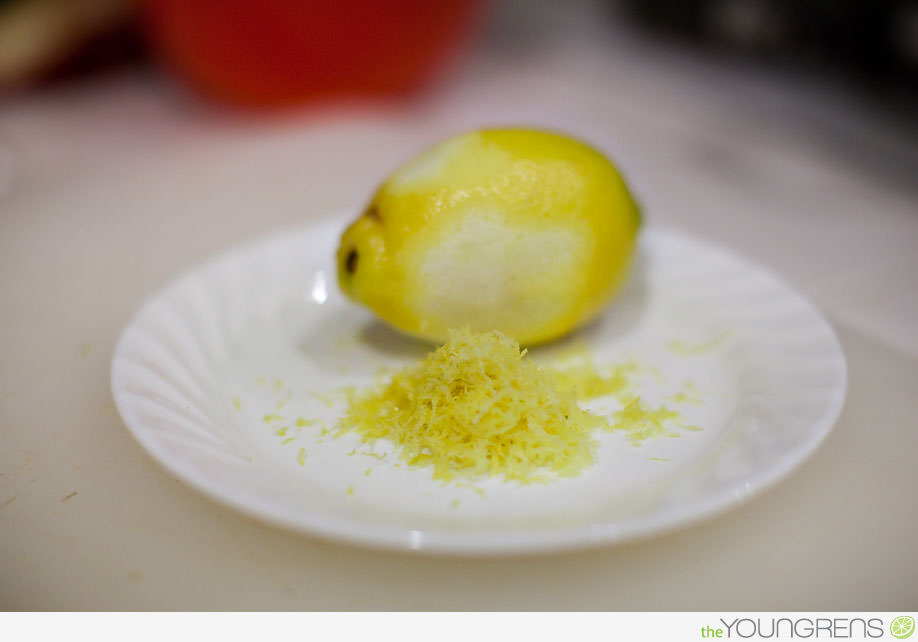 Add the other half to some bread cubes along with a bit of olive oil.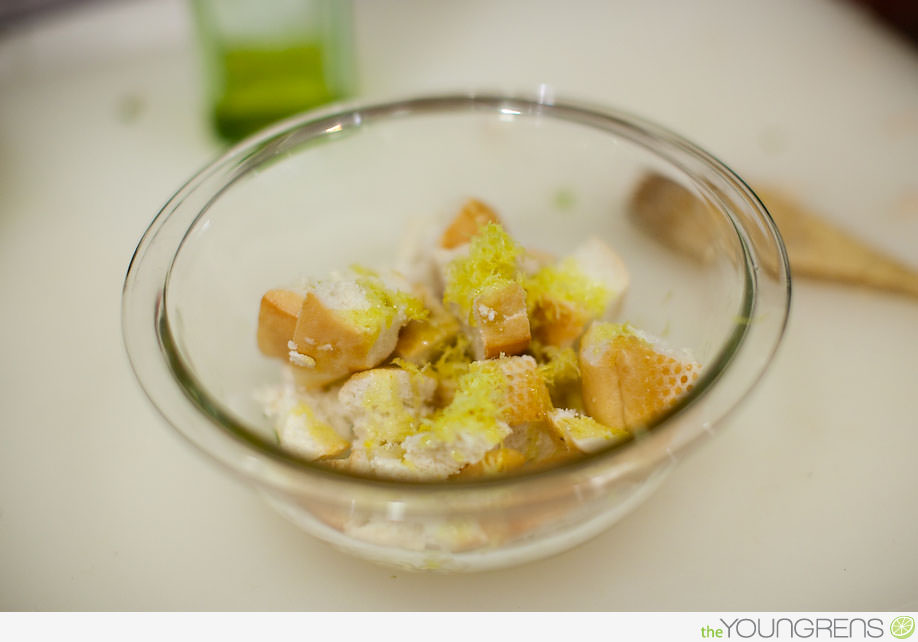 Transfer the pasta mixture to a baking dish and cover with the bread cubes.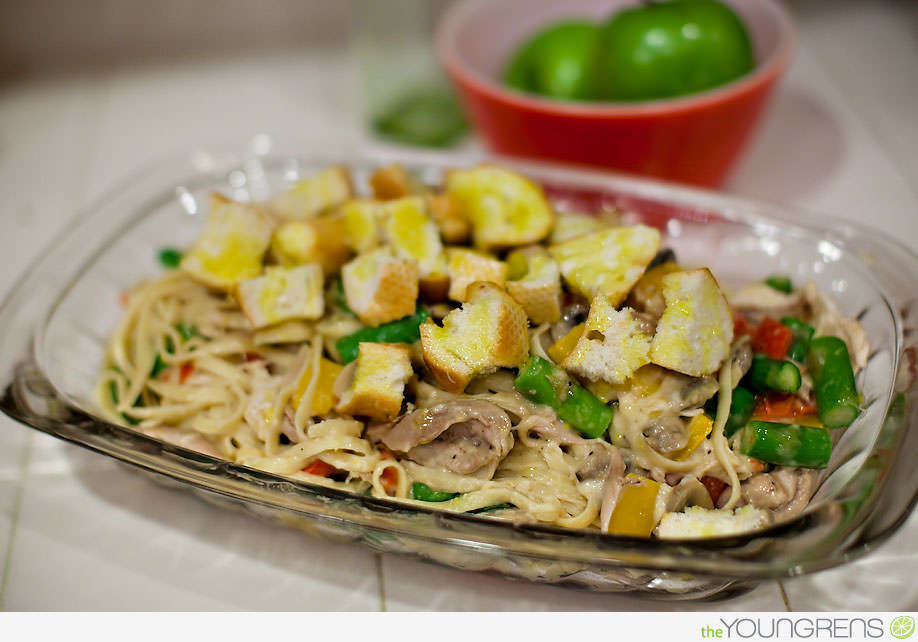 Put the entire thing in the oven and bake, uncovered, for 15 minutes. Use this time to pour yourself a glass of wine instead of cleaning up the dishes. Just remember, if the meal doesn't turn out, the wine will definitely make it taste better! Not that I know this from experience or anything…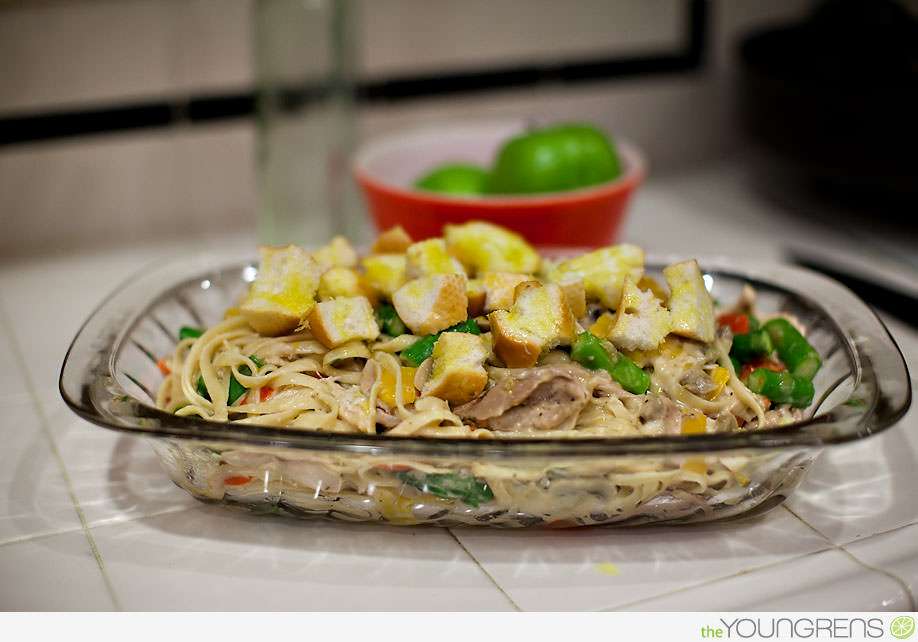 This creamy, thick, heavenly oasis of comfort food will make your mouth water for days. And its even better heated up as leftovers, so definitely make extra!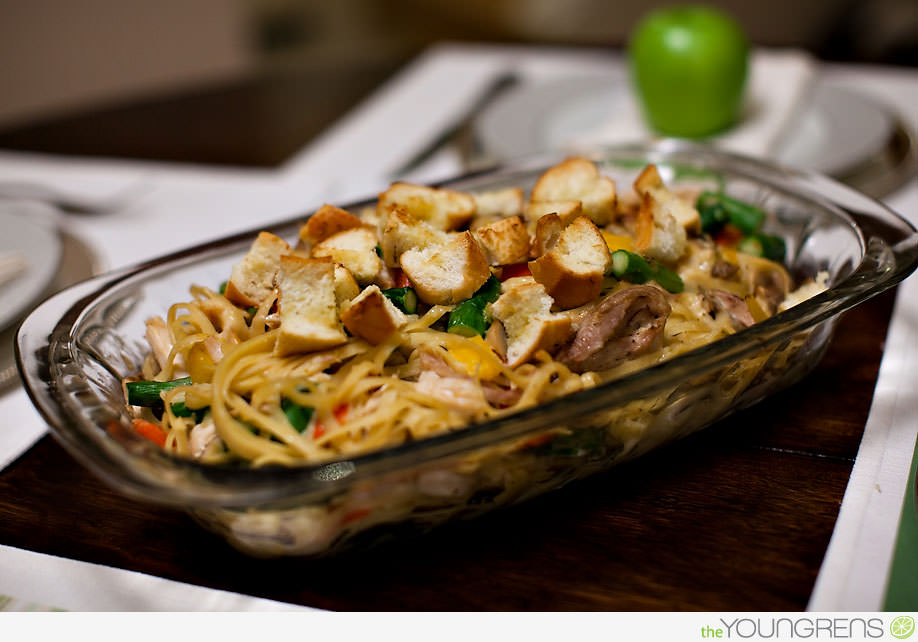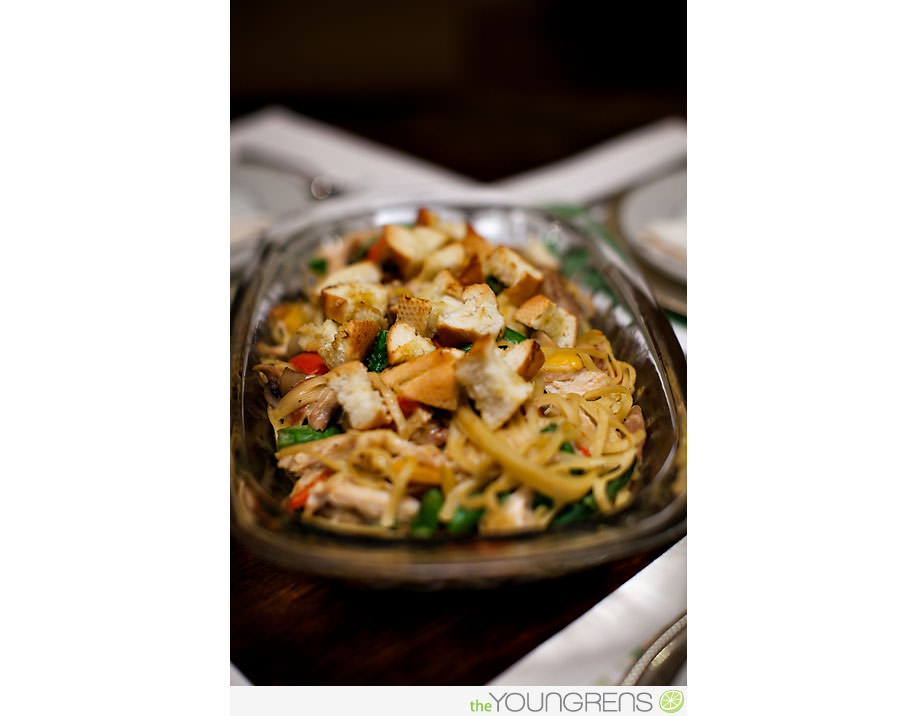 Potluck Chicken Tetrazzini
1 purchased roast chicken
8 oz. dried spaghetti or linguine, broken in half
12 oz. fresh asparagus, trimmed and cut into 1-inch pieces
8 oz. small whole fresh mushrooms
3 medium red and/or yellow sweet peppers, seeded and cut into 1-inch pieces
2 tbsp. butter
1/4 cup all-purpose flour
1/8 teaspoon black pepper
1 14-oz. can chicken broth
3/4 cup milk
1/2 cup shredded Swiss cheese (2 oz.)
1 tbsp. finely shredded lemon peel
2 slices sourdough bread, cut into cubes
1 tbsp. olive oil
2 tbsp. snipped fresh parsley
Preheat oven to 350 degrees F. Remove meat from chicken; discard bones. Cut chicken into pieces to equal 3 cups.
In Dutch oven, cook spaghetti or linguine according to package directions. Add asparagus the last 1 minute of cooking. Drain. Return to pan.
Meanwhile, in large skillet cook mushrooms and sweet peppers in hot butter over medium heat for 8 to 10 minutes or until mushrooms are tender, stirring occasionally. Stir in flour and black pepper until well combined. Add broth and milk all at once. Cook and stir until thickened and bubbly.
Add mushroom mixture, chicken pieces, Swiss chees, and half the lemon peel to pasta mixture in Dutch oven. Toss gently to coat. Spoon mixture into a baking dish or rectangular casserole.
In a medium bowl toss together bread cubes, olive oil, and remaining lemon peel. Spread bread cube mixture on pasta mixture. Bake, uncovered, for 15 minutes or until heated through. Let stand for 5 minutes. Sprinkle with parsley before serving. Enjoy!