Roasted Tomatoes on Rustic Bread… that's what this recipe is SUPPOSED to be. But let's be honest – this recipe is really more along the lines of "Tomatoes I had in the fridge on leftover Rosemary Potato Bread." But that's the beauty of cooking in your own kitchen. Only you know the secrets behind your wonderful concoctions. And you can choose to divulge those inner mysteries if you wish, or you can remain a kitchen goddess with lovely secrets behind her inscrutable smile. I have obviously chosen to lay down my kitchen goddess wand and expose myself for what I truly am – a foodie without a clue. I basically know enough about cooking to be dangerous with a spatula and olive oil. And that's about it.
So in honor of the easy recipes that I've been featuring the past few weeks, here is a crazy simple appetizer that makes busy girls like me swoon with effortlessness. Basically, you need some ripe tomatoes and a few slices of yummy bread. What could be easier and yummier than tomatoes and bread??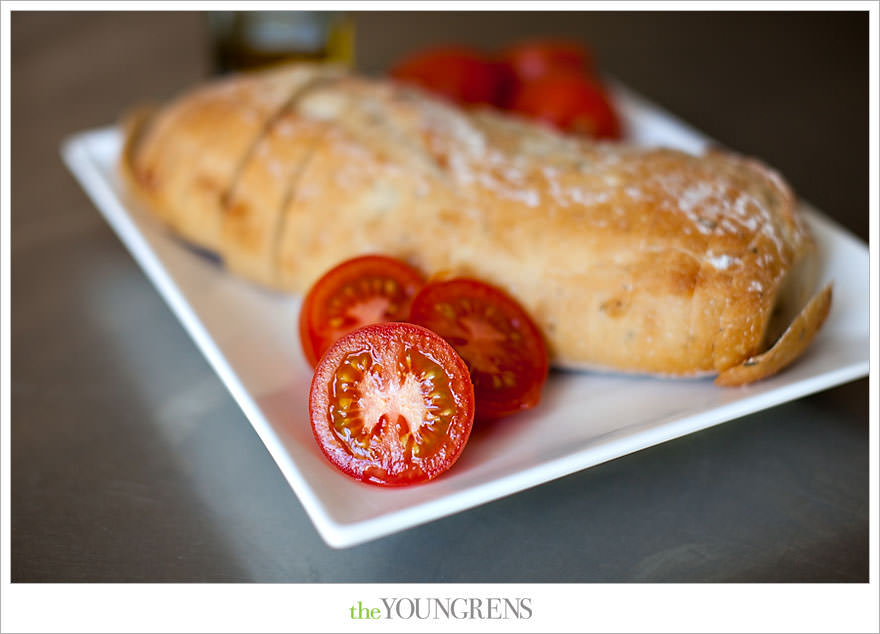 Any bread will do. The more rustic and whole-grainy, the better. We had a loaf of Rosemary Potato bread that we ended up not using for dinner one night, so it became the perfect specimen for this recipe I found in Martha Stewart Living. And, as always, it wouldn't be Recipe Sunday at Casa de Youngren without a whole bunch of Extra Virgin Olive Oil (EVOO).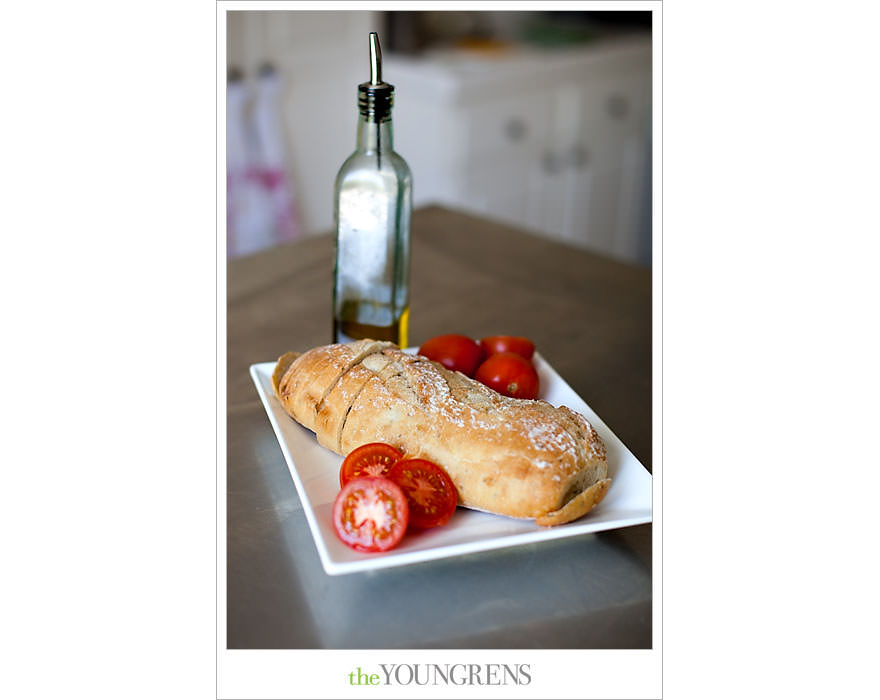 First, start heating up a skillet to get it nice and hot for toasting your bread, preferably something thick and heavy like cast iron. Then brush your slices with EVOO.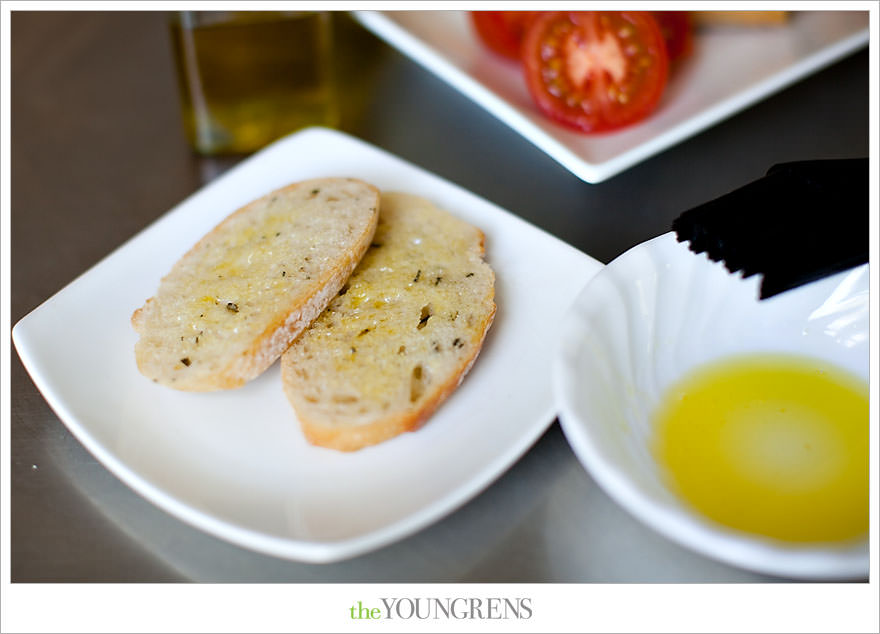 Once your skillet is ready, toast your bread on both sides until brown and crunchy.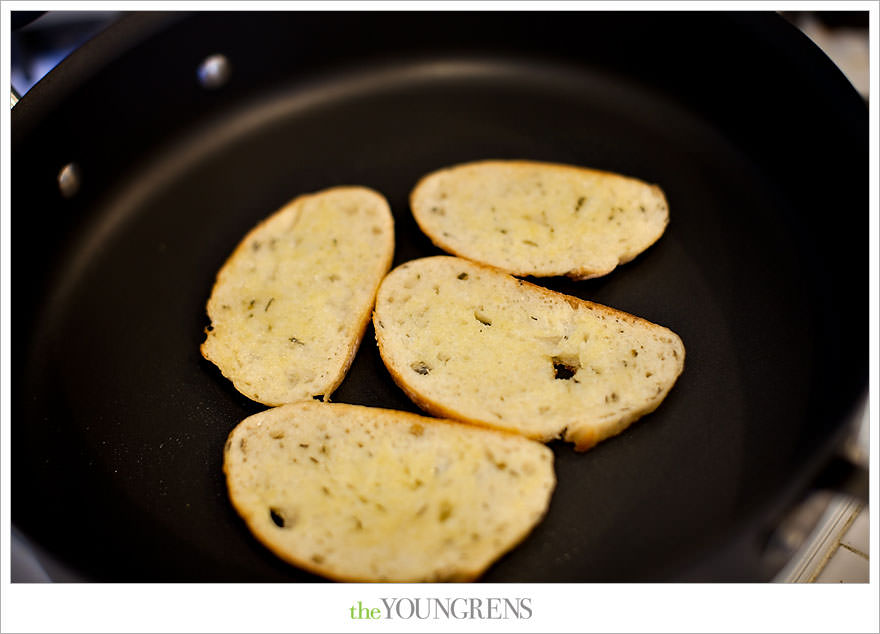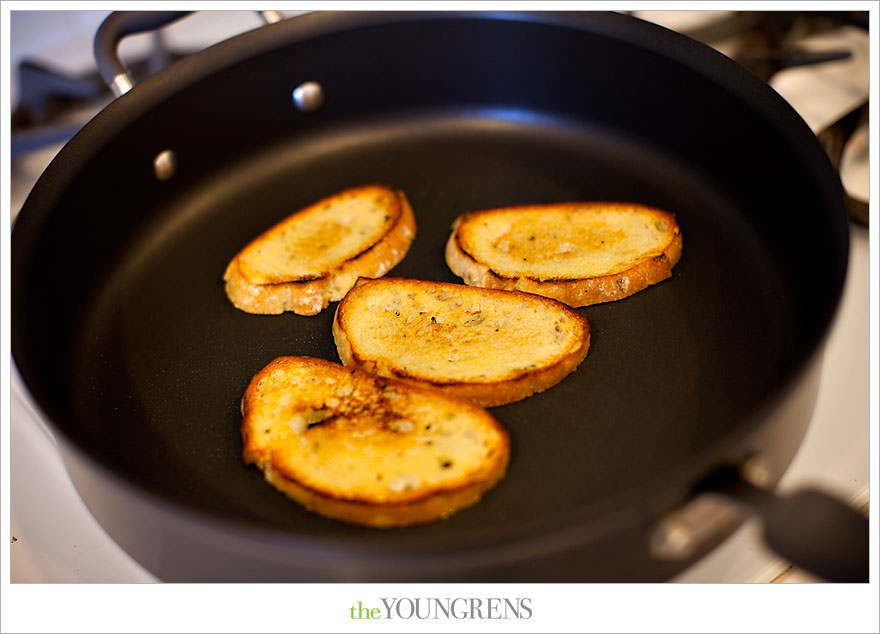 Purrrrrrrfect.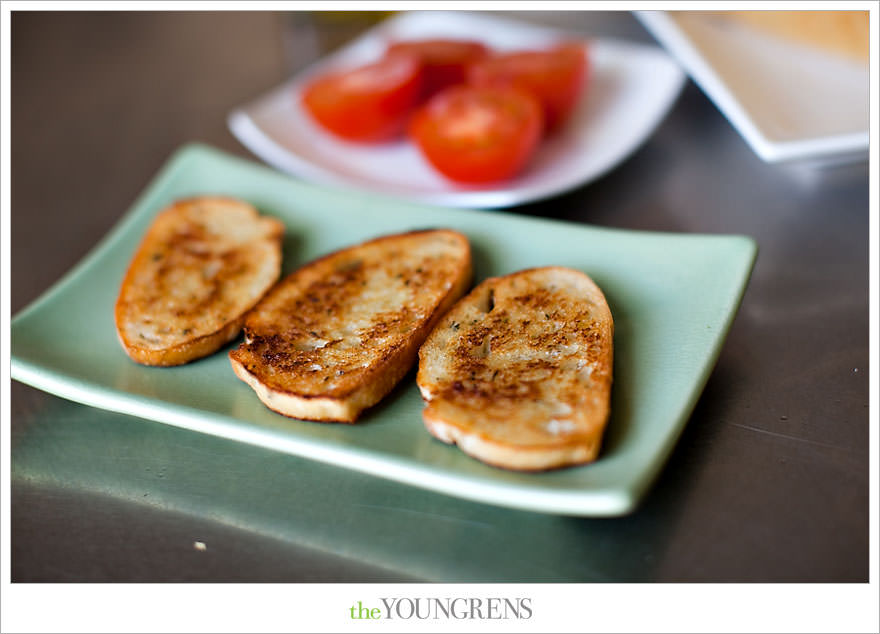 Then slice your tomatoes down the middle and brush them with EVOO.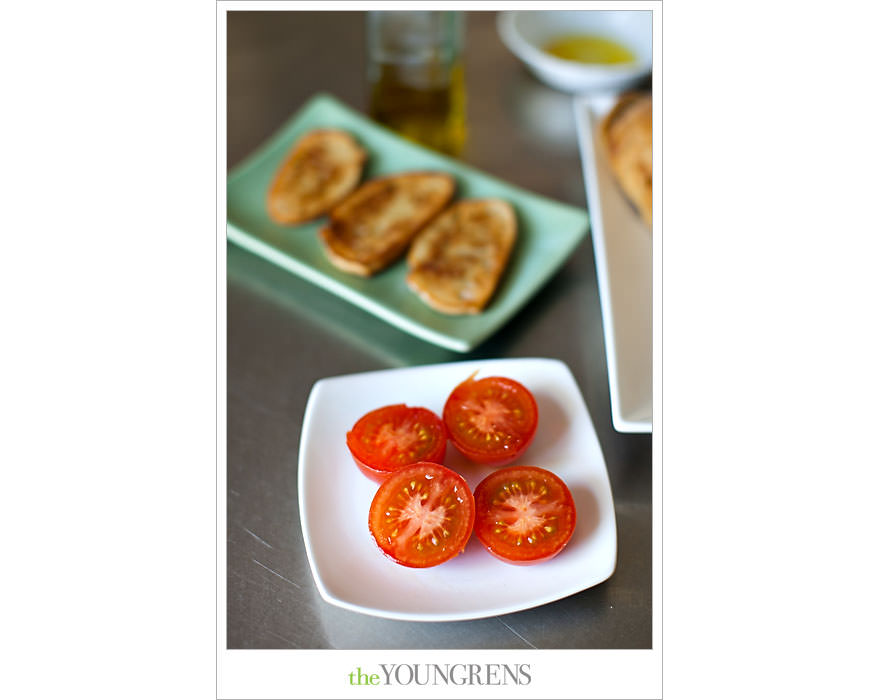 Place them face down on your skillet and let them sit until black and charred. This took a little while and I pressed down on them a couple of times to get them a little bit cooked through.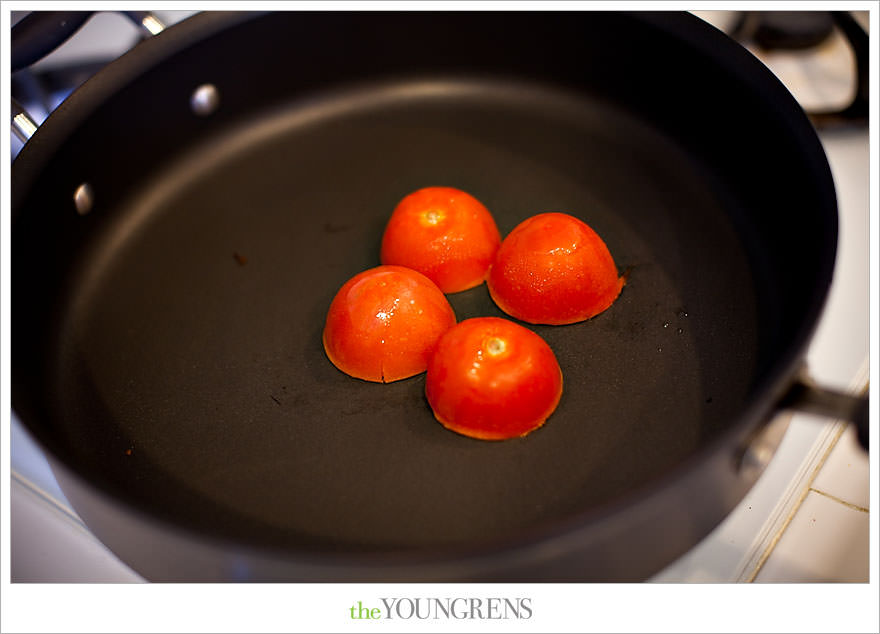 Once they're charred, carefully loosen them from the pan.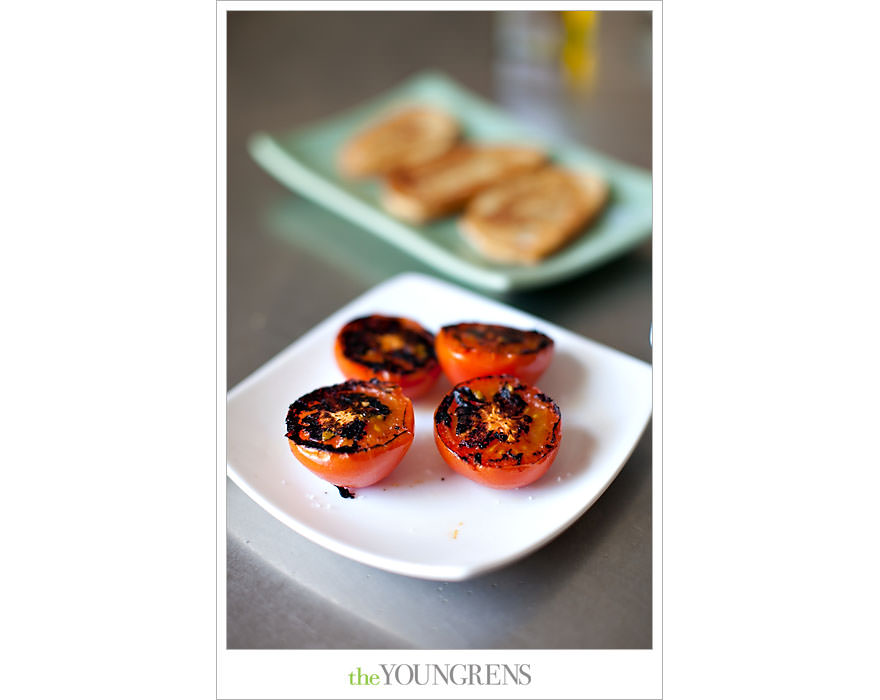 Then place them on a slice of toasted bread and press down and squish them a little. I actually cut off the rounded ends a little bit so that they would sit easier on the bread.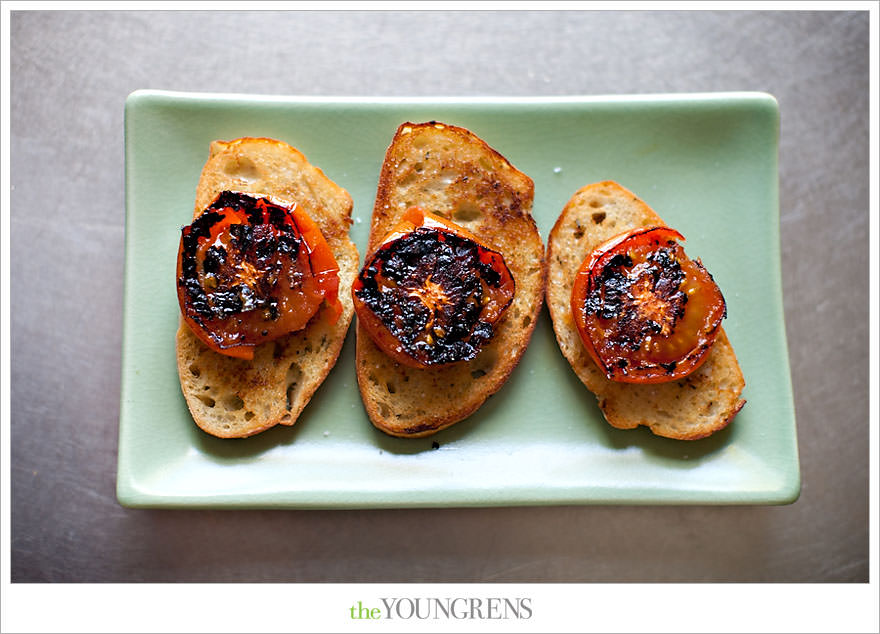 I also drizzled them with more olive oil and cracked some sea salt on top.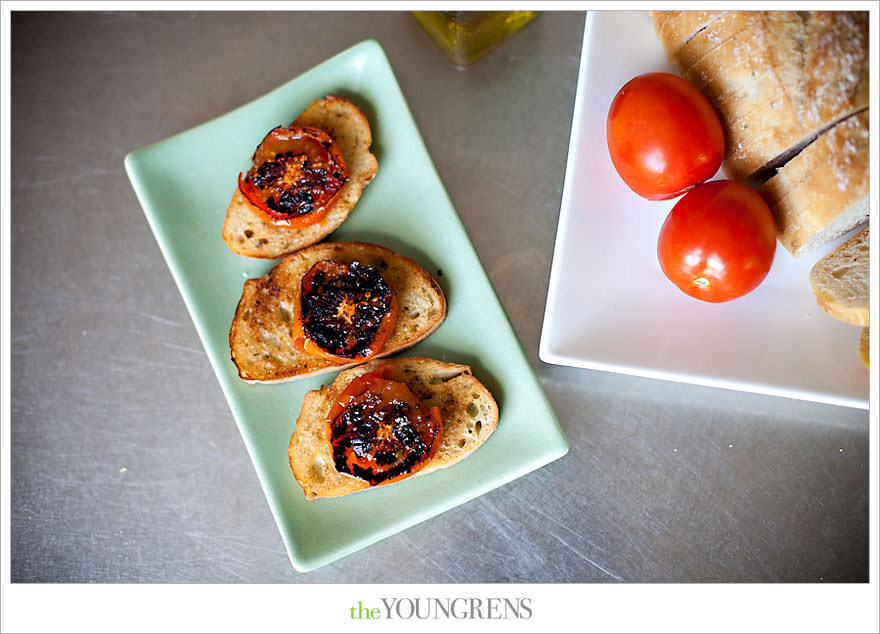 These are so YUMMY!! In fact, the next day, I totally made these again and had them for lunch. They are amazingly quick, easy, and delicious!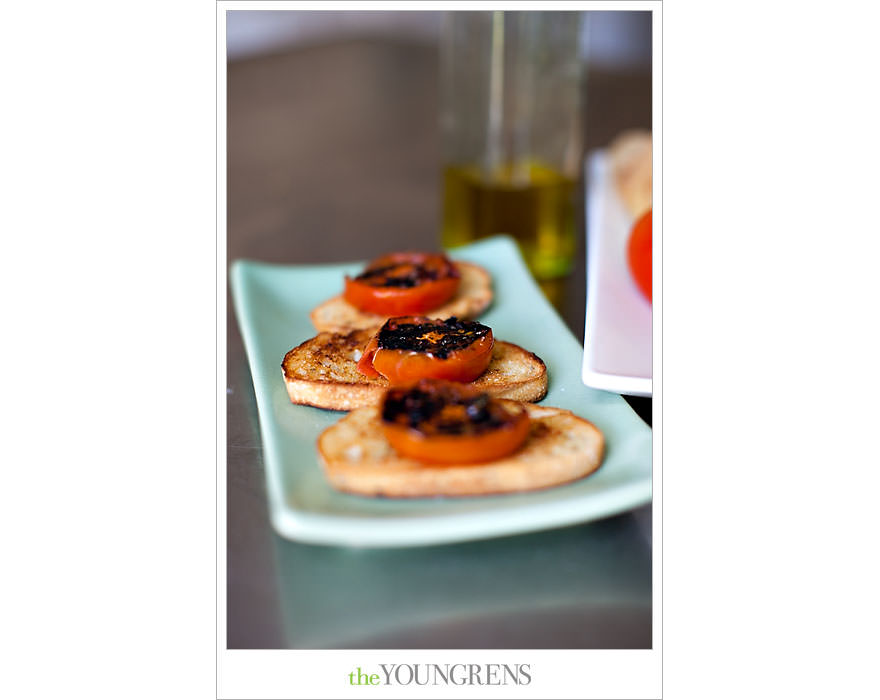 Roasted Tomatoes on Rustic Bread
Four slices of whole-grain or rustic bread
Two ripe tomatoes
Extra Virgin Olive Oil
Sea Salt (Optional)
Brush both sides of the bread slices with olive oil and place on a thick skillet, preferably cast iron. Toast both sides until browned and crunchy. Set aside. Slice tomatoes in half and slice off the rounded ends. Brush with olive oil and place face down in skillet. Roast for four or five minutes until charred, pressing down on them occasionally. Loosen them from the skillet and place on top of the toasted pieces of bread, pressing down. Drizzle with olive oil and sprinkle with sea salt if desired. Serve.
I promise that some more interesting and complicated recipes will be coming to Recipe Sunday soon. Our lives haven't gotten any less busy, but we've had some more time to try out new stuff. Can't wait to share it all with you guys!
Hugs,
Erin