Eh-Hem. Before we get started I would like to make a very important announcement: Jeff is coming home today!!! Woohoo!!!
Before my dear sweet hubby makes his way back to Casa de Youngren, however, I have a very special Recipe Sunday for everyone today. While hangin' out with the adorable Shannon at her place in Northern Virginia last week, we were charged with making dinner for her women's small group that was happening one of the nights I was there. Because Shannon is a gorgeous bride-to-be, this recipe had to be as healthy as it is yummy.  After a quick jaunt through her fridge and the interwebs, we settled on Salmon Tacos with a variety of spicy and citrus toppings that would surely make everyone's hearts melt with delight.
The actual salmon taco part is incredibly quick and easy, but no fish taco is complete without some sweet, spicy, and crunchy toppings. So we decided to try our hand at the suggested toppings of Citrus Salsa, Cilantro Crema, and Cabbage Slaw. I first started with the Citrus Salsa.
These three toppings are great because many of the ingredients do double duty and are used in at least two of the three recipes. For the Citrus Salsa, the key players are oranges and limes, along with new-to-me Seasoned Rice Vinegar. Shannon and I had never heard of such a thing before, but we found it easily enough in the Asian food aisle of the grocery store.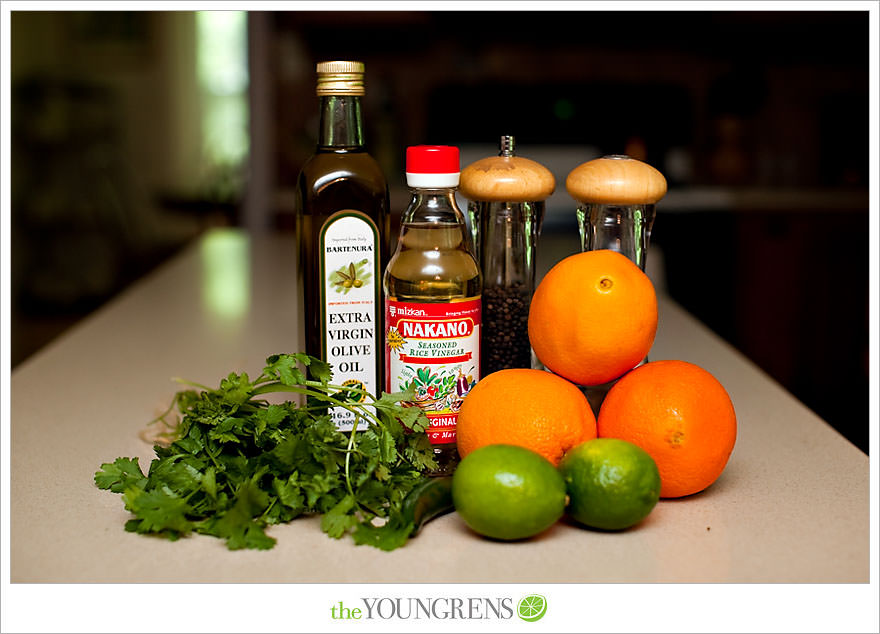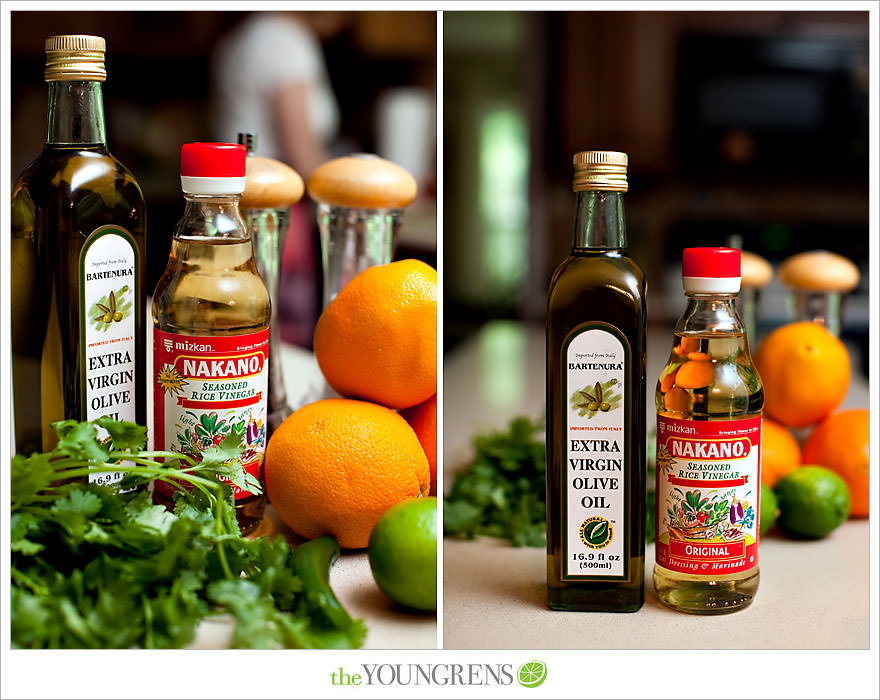 First, you'll need to peel your oranges and limes, and break them up into their separate pieces.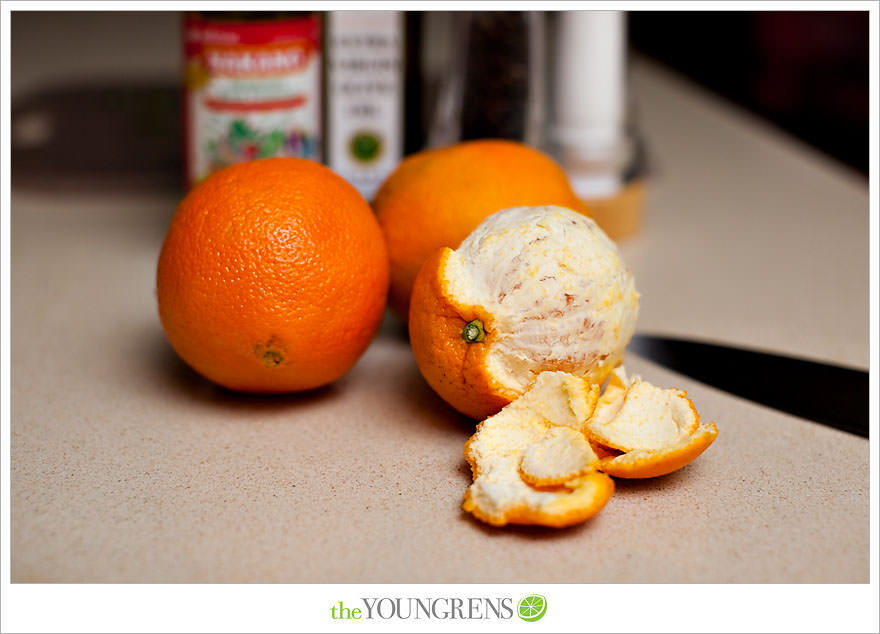 Then comes the tough part… You need to actually separate the white outer part of the oranges from the inside fruit section. It worked best when I slid a knife down the thin center portion and peeled both sides back. It's best if you set someone else to this fairly time-consuming task while you finish the other toppings.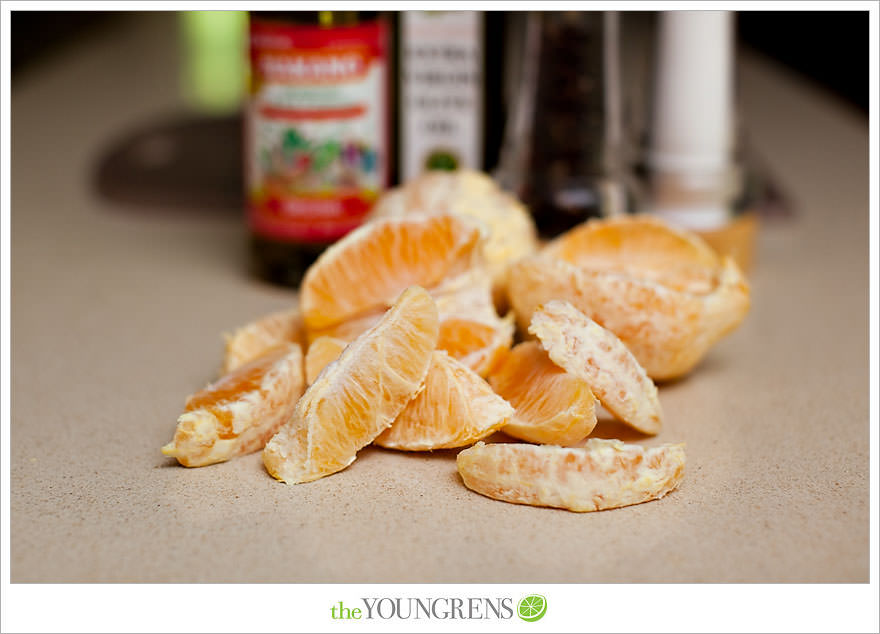 While your oranges are being peeled, get out your ingredients for the Cilantro Crema. You'll need light sour cream, scallion greens, a serrano chile for spice, cilantro, and salt and pepper to taste.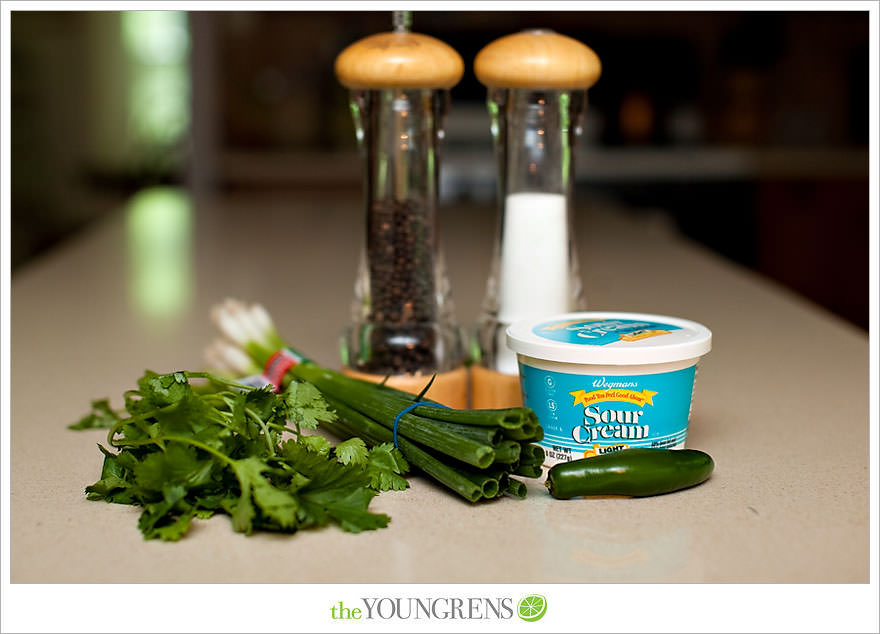 This topping is definitely the easiest out of the three. Simply chop up your cilantro and scallions…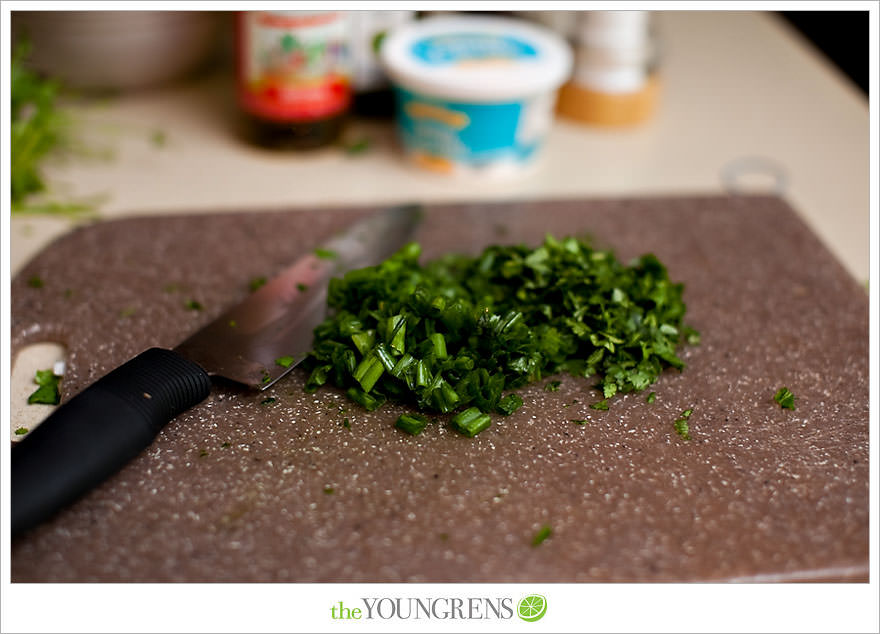 Then dice your chile into tiny pieces (reserve some of the cilantro and chile for the Citrus Salsa.)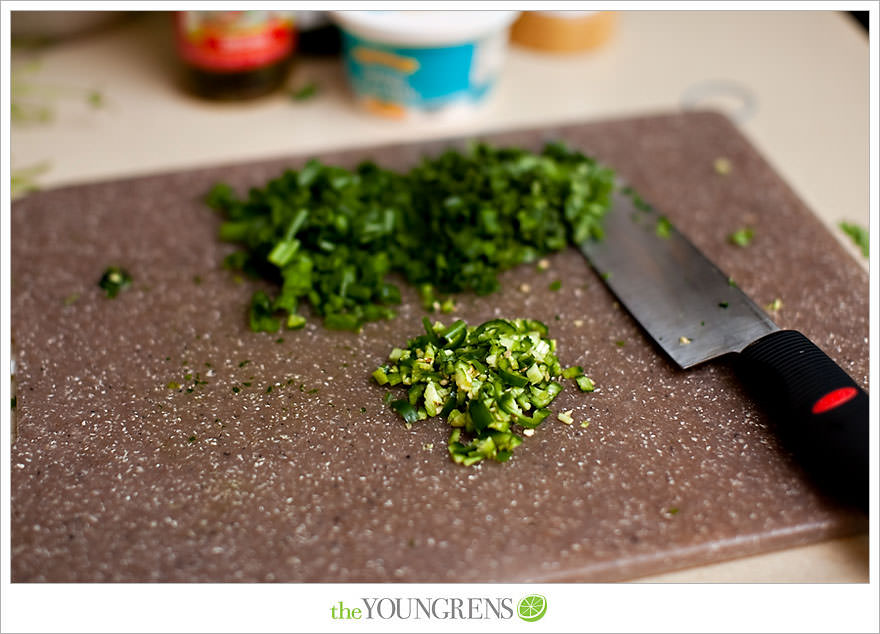 Then mix about 3 tablespoons of the cilantro, 1 tablespoon of the scallions, and 1 teaspoon of the serrano chile into one-half cup of the sour cream. Add salt and pepper to taste and add more chile if you like your crema with a kick, and voila! Transfer the crema to a cute serving dish, cover, and set it aside in the fridge until you're ready for it.

Meanwhile check on the oranges and limes… Shannon was a huge help with these little monsters that are definitely not easy to get apart. If this salsa didn't taste so good, I would just stick with mango salsa.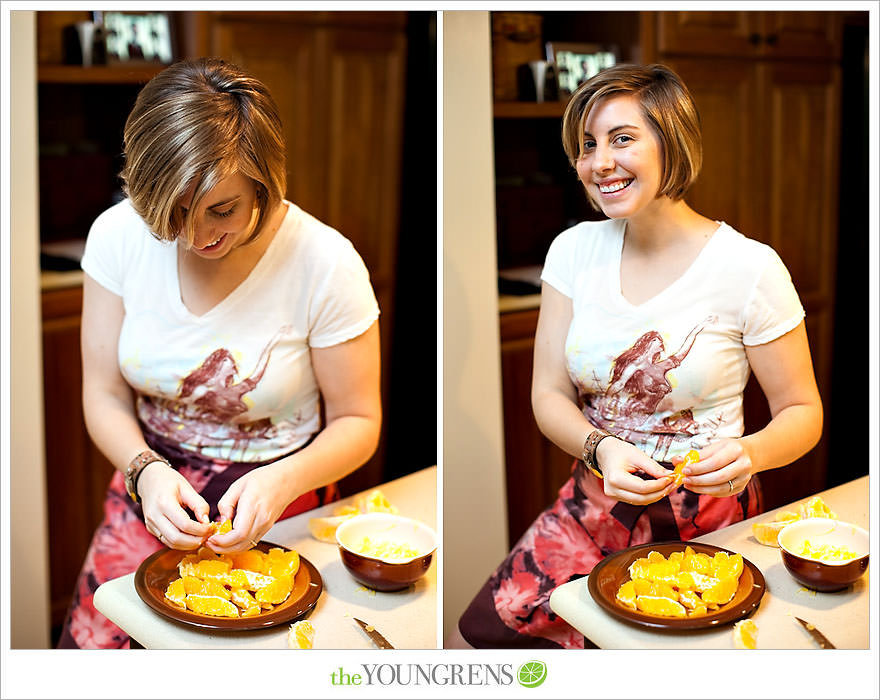 The limes were the toughest to get apart, so we gave up and just chopped them up with the white stuff attached. I really don't think it made a big difference in the taste, so I would suggest only peeling the oranges and not wasting your time with the limes.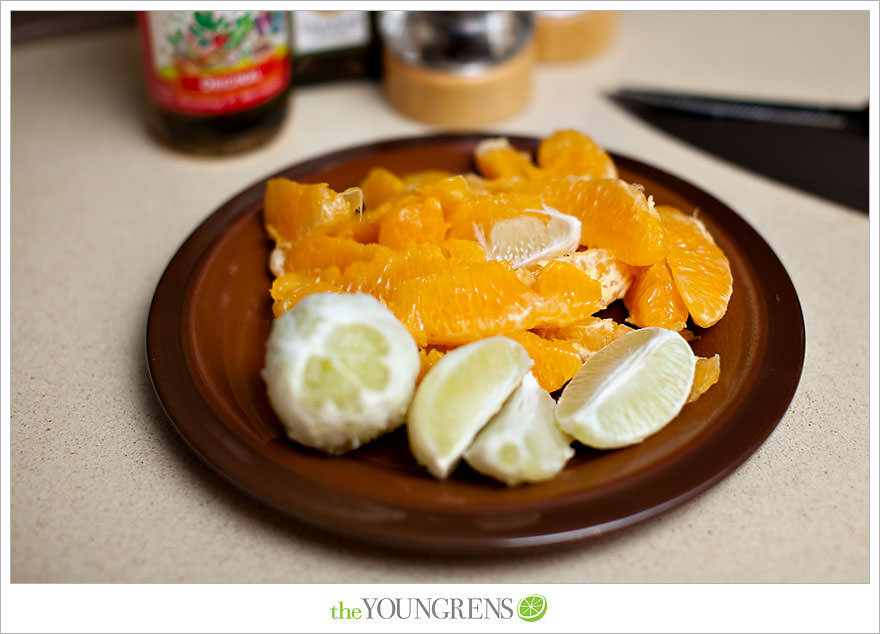 Chop up the fruit into medium size chunks.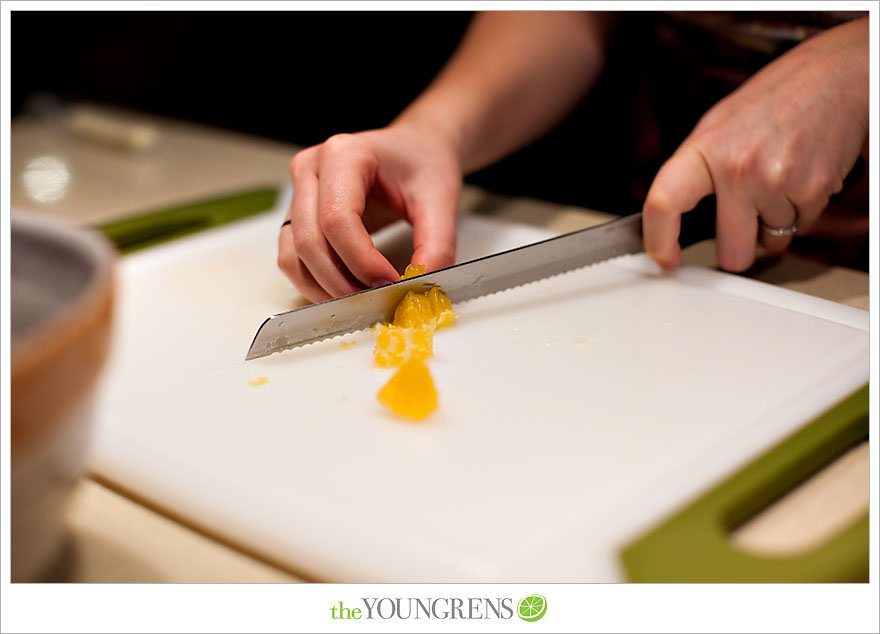 Then toss them together with the rest of your cilantro (about 1 tablespoon), your remaining minced chile, the rice vinegar, and olive oil.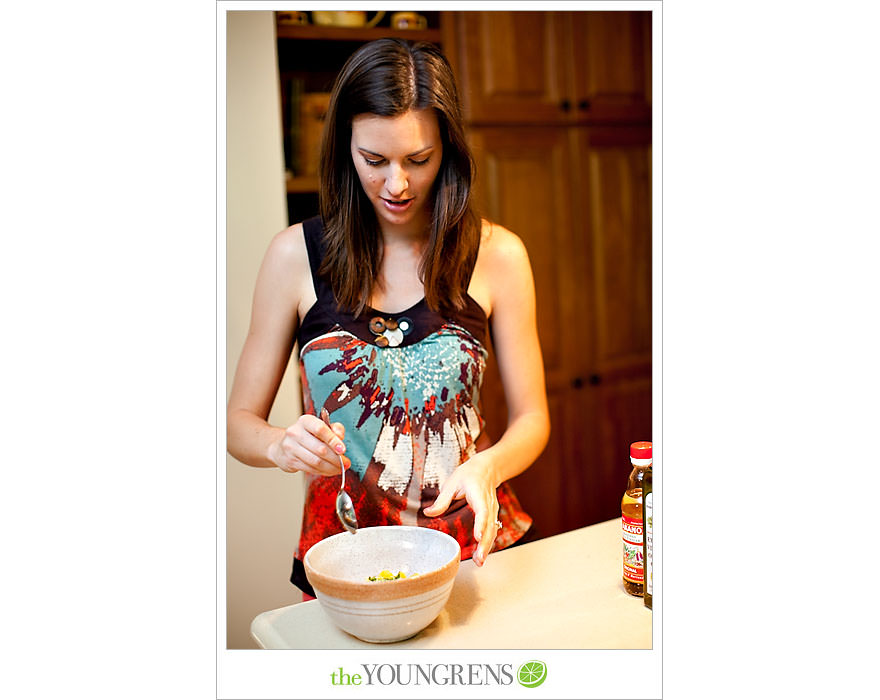 Add freshly ground pepper to taste and balance the seasonings until you're satisfied. Then transfer the salsa to a serving dish, cover, and let it marinate in the fridge.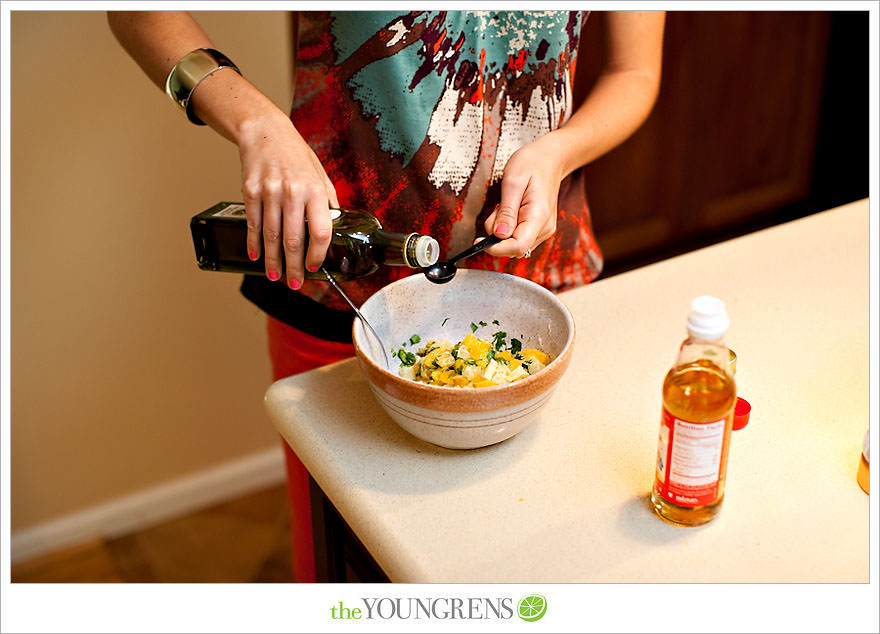 The last thing to make is the Cabbage Slaw, which adds all of that yummy crunch that I love about fish tacos. You'll need some cabbage that we found already shredded in the pre-mixed salad section of the grocery store.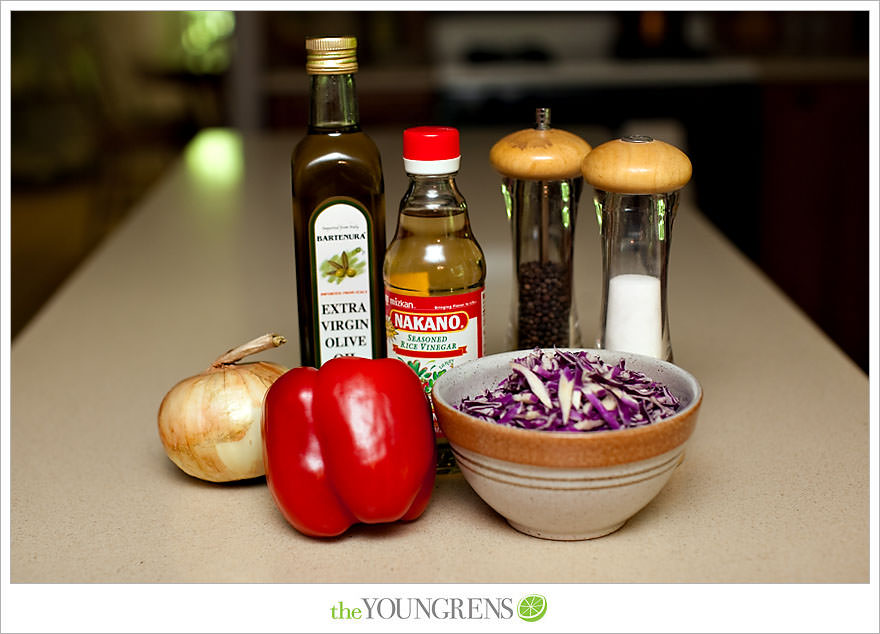 You'll also need a red bell pepper and a red onion. The store was surprisingly out of red onions (boo!) so we used a yellow one instead. You'll also be using that Seasoned Rice Vinegar and olive oil again, so don't worry, they won't go to waste.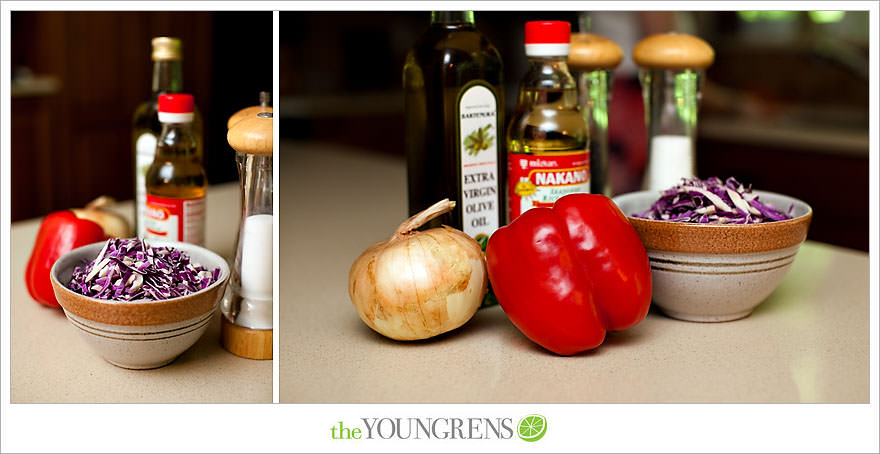 Chop up your bell pepper and onion.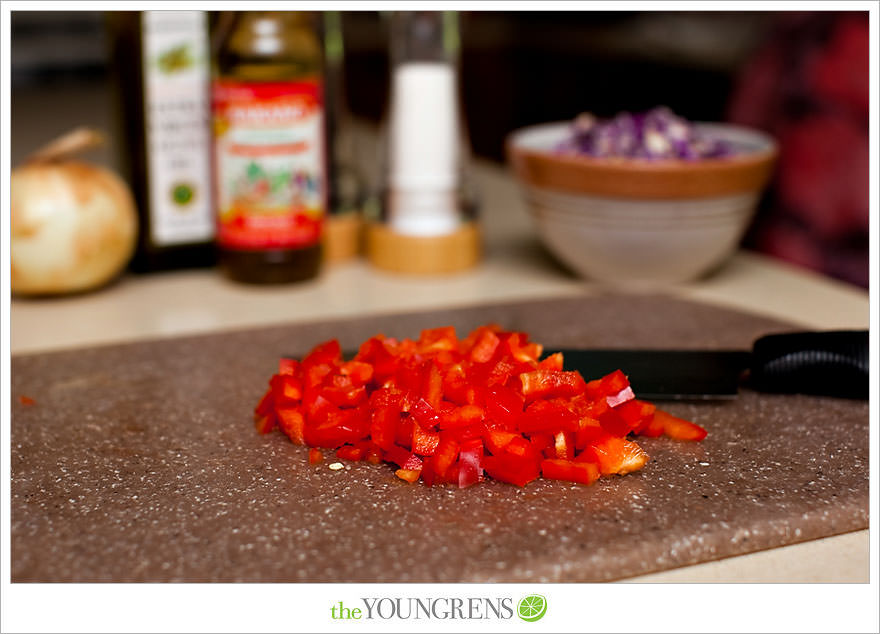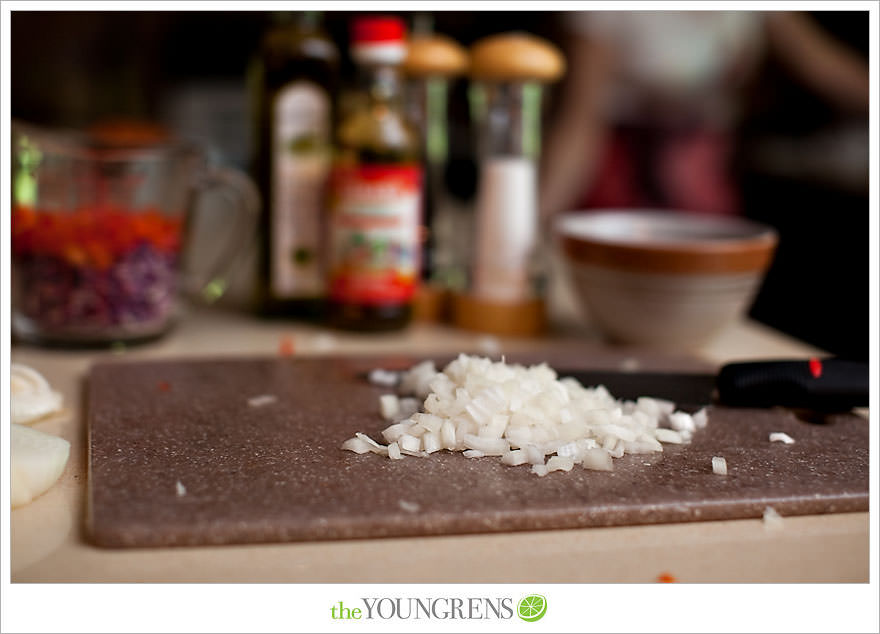 Then mix together 2 cups of the cabbage, one-half cup bell pepper, and one-third cup onion. Or whatever approximation you come up with with.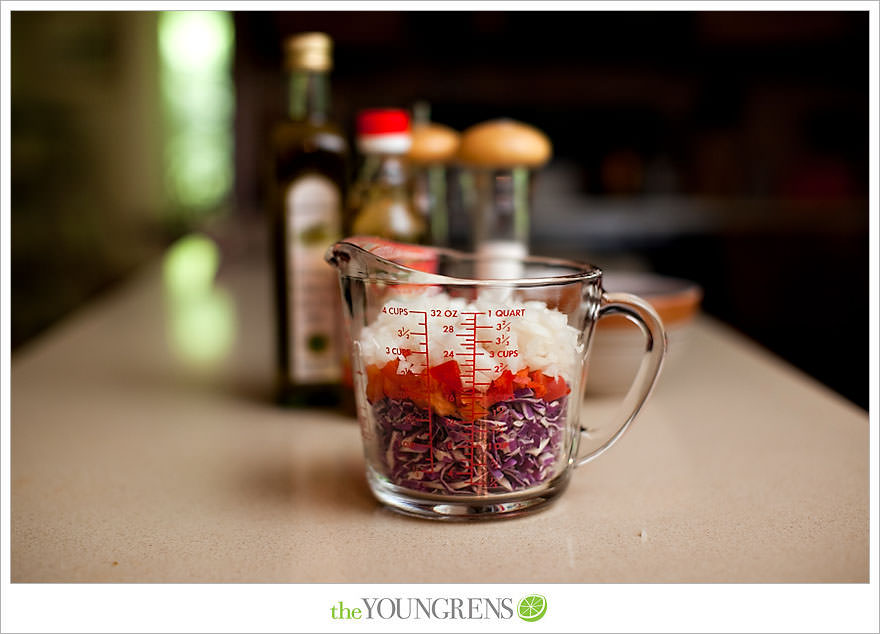 Add a few tablespoons of rice vinegar and olive oil, then season with salt and pepper to taste. Again, cover and let it marinate in the fridge until you're ready for it.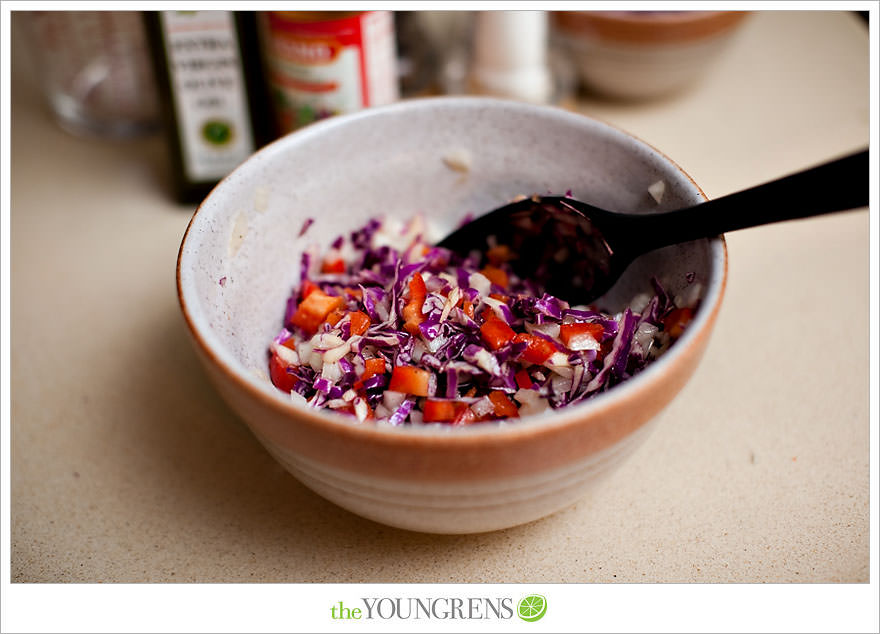 Once we were at Shannon's bible study, we got out our pre-thawed salmon and cut them up into nice taco-sized chunks. You'll season the fish liberally with lemon juice, chili powder, and some olive oil.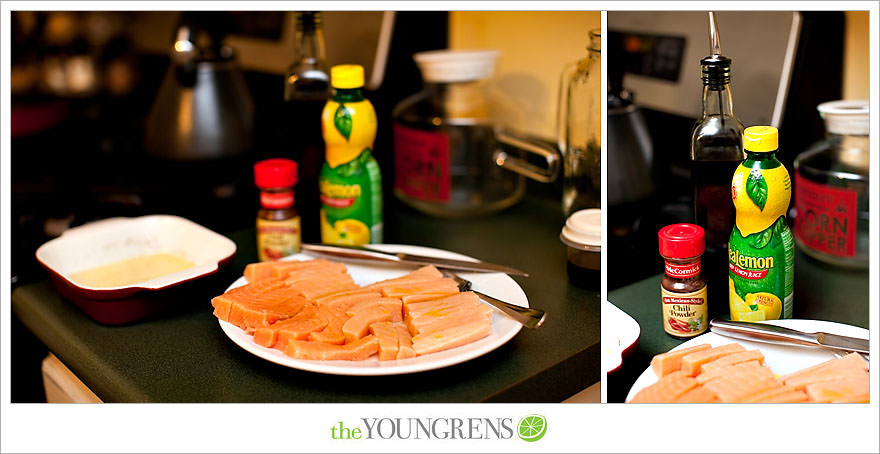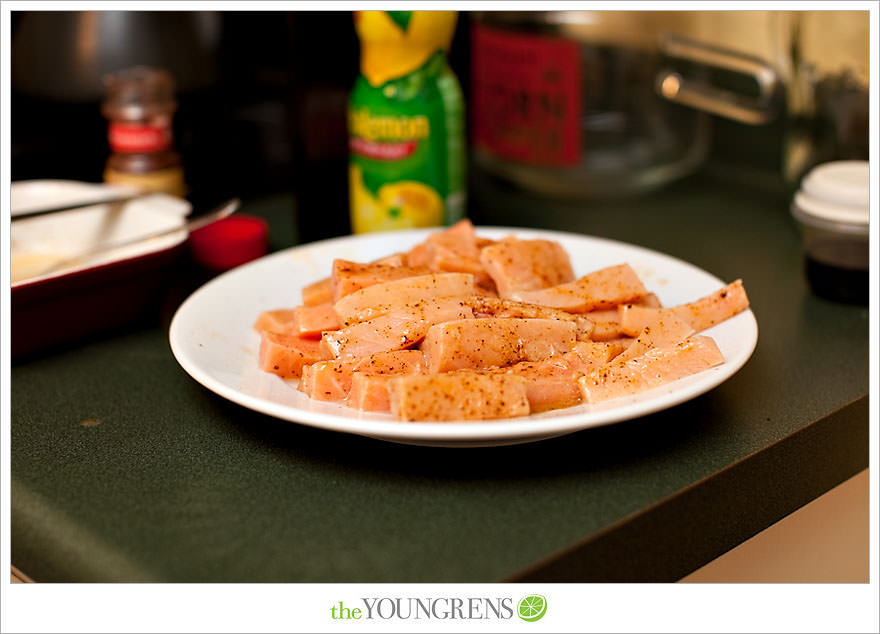 Then fry or grill the salmon until it's just cooked through.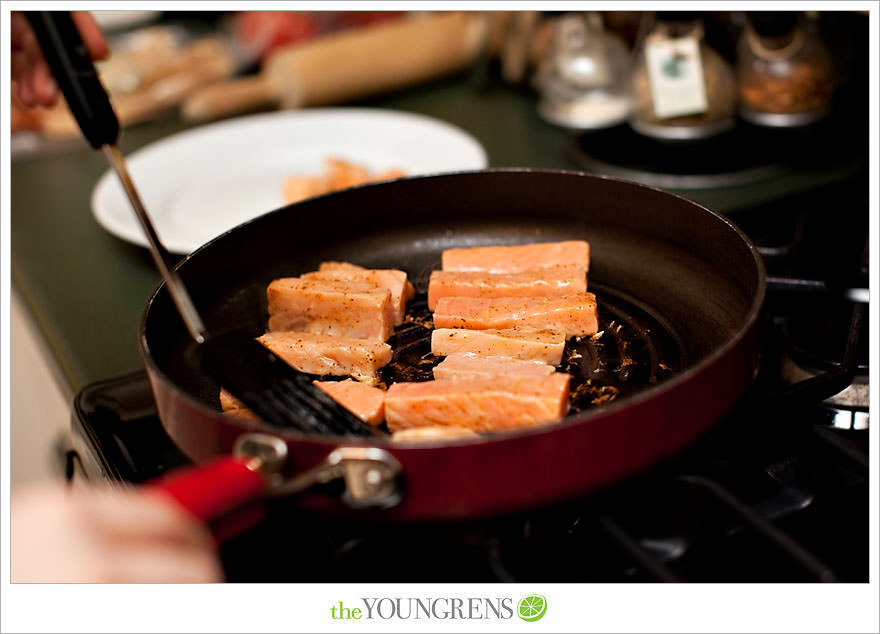 So yummy!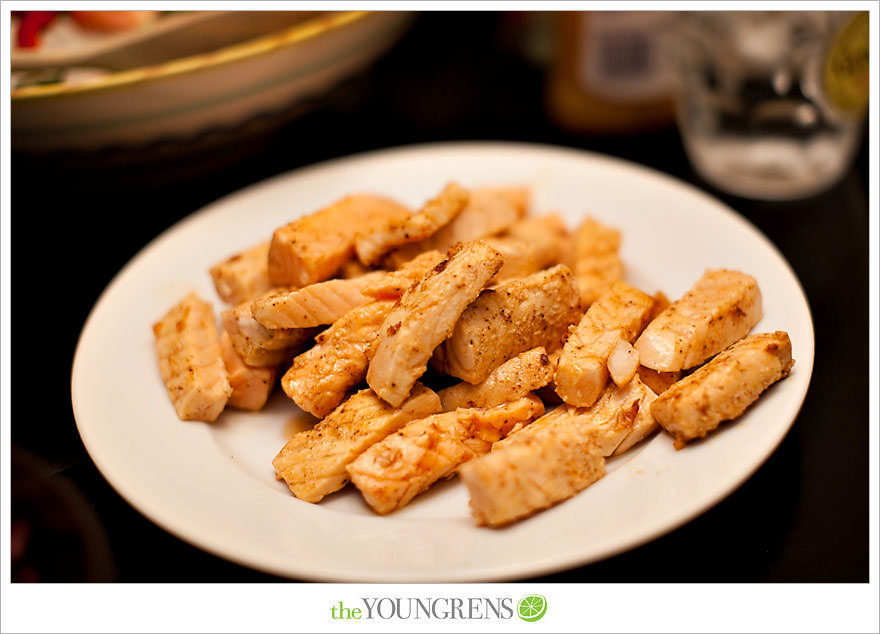 Our toppings were all set and ready to go. I love how colorful they are! They added so much personality to our table setting – I would make this recipe again just for the eye appeal.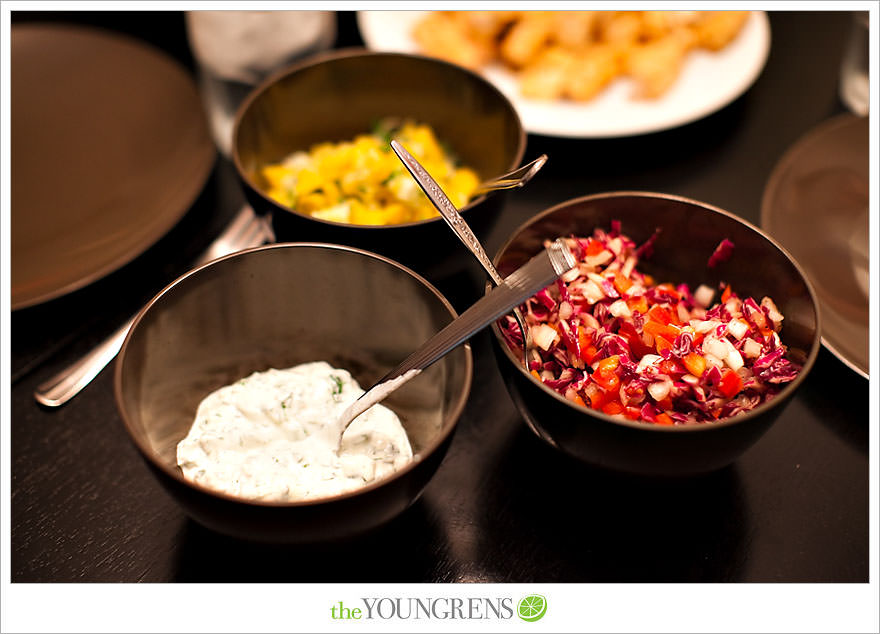 We made a big 'ol salad with tons of veggies.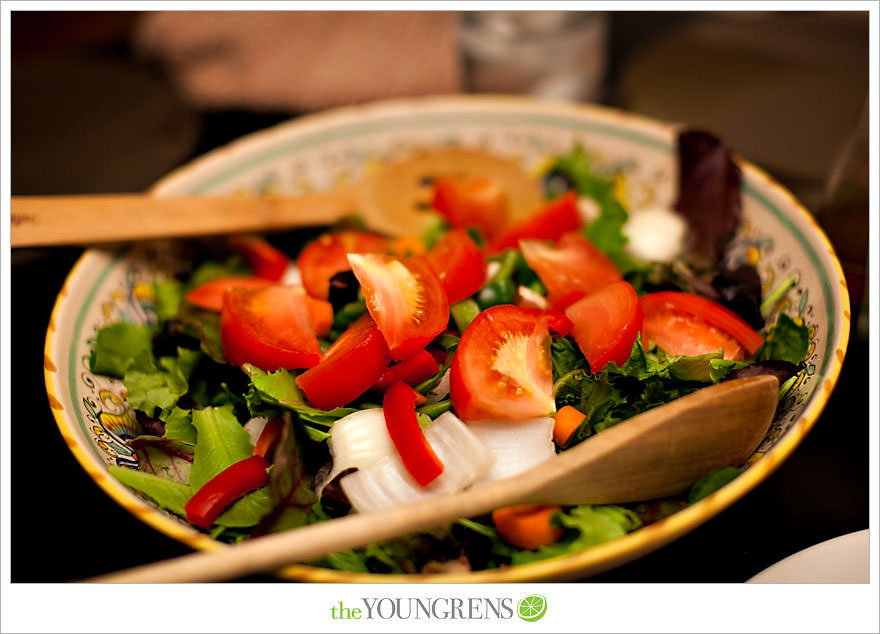 And warmed up a bunch of whole wheat tortillas.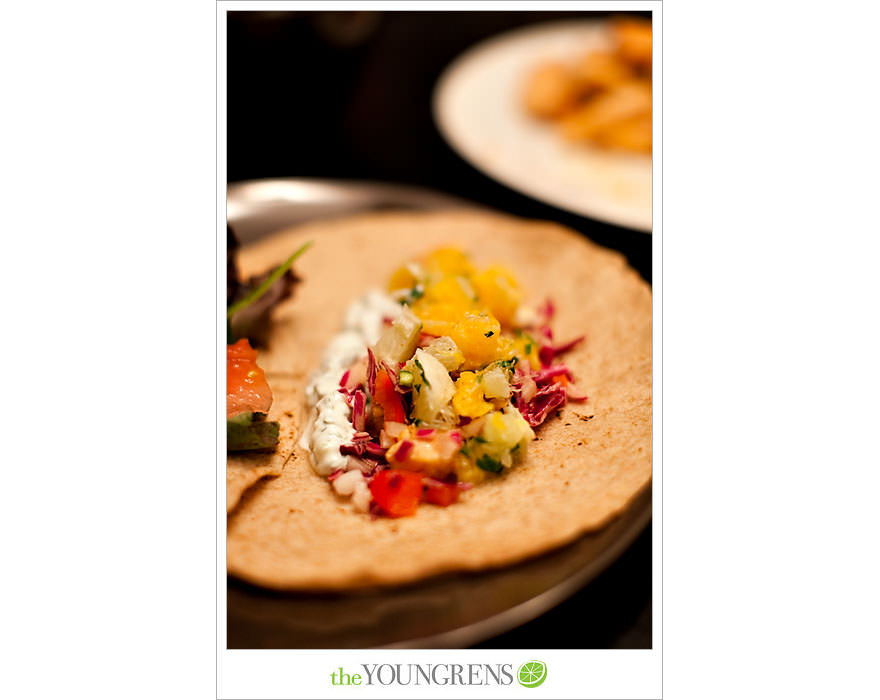 I LOVED these tacos! They were so colorful, and the toppings mixed together into a make-your-mouth-melt blend of fresh lime juice, spicy cream, herb-infused salsa, and crunchy tang. Two of these tacos were plenty to perfectly satisfy each person, and this dinner felt as healthy as it was yummy! The girls absolutely loved them, so I would rate these as a big 'ol hit!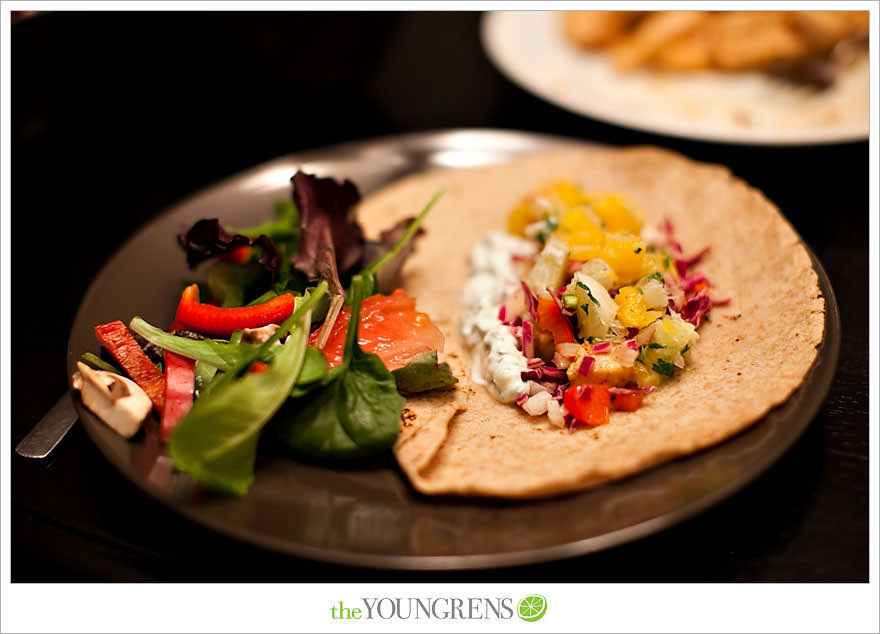 Salmon Soft Tacos w/Spicy Citrus Toppings
2 tablespoons extra-virgin olive oil
1 tablespoon ancho or New Mexico chile powder
1 tablespoon fresh lime juice
1/4 teaspoon kosher salt
1/8 teaspoon freshly ground pepper
4 4-ounce wild salmon fillets, about 1-inch thick, skin on
8 6-inch corn or flour tortillas, warmed
Cabbage Slaw, (recipe follows)
Citrus Salsa, (recipe follows)
Cilantro Crema, (recipe follows)
1. Preheat grill to medium-high.
2. Combine oil, chile powder, lime juice, salt and pepper in a small bowl. Rub the spice mixture liberally over salmon. Grill the salmon, skin-side down, until it is just cooked through, about 8 minutes. Cut each fillet lengthwise into 2 pieces and remove the skin.
3. To serve, place 2 tortillas on each plate. Evenly divide the fish, Cabbage Slaw, Citrus Salsa and Cilantro Crema among the tortillas.
Citrus Salsa
3 navel oranges
2 limes
1 teaspoon chopped fresh cilantro
1 teaspoon seeded and minced serrano chile
2 teaspoons seasoned rice vinegar
2 teaspoons extra-virgin olive oil
1/8 teaspoon salt
Freshly ground pepper, to taste
1. With a sharp knife, remove the peel and white pith from oranges and limes and discard. Cut the orange and lime segments from the surrounding membranes and coarsely chop.
2. Gently toss the oranges, limes, cilantro, chile, vinegar, oil, salt and pepper in a large bowl until combined.
Cilantro Crema
1/2 cup reduced-fat sour cream
3 tablespoons chopped fresh cilantro
1 tablespoon minced scallion greens
1 teaspoon seeded and minced serrano chile
1/8 teaspoon salt
Freshly ground pepper, to taste
1. Combine sour cream, cilantro, scallion greens, chile, salt and pepper in a small bowl until smooth.
Cabbage Slaw
2 cups finely shredded green cabbage
1/2 cup thinly sliced red bell pepper
1/3 cup thinly sliced red onion
2 tablespoons seasoned rice vinegar
2 tablespoons extra-virgin olive oil
1/4 teaspoon salt
1/8 teaspoon freshly ground pepper
1. Toss cabbage, bell pepper, onion, vinegar and oil in a large bowl. Season with salt and pepper; toss again to combine.
Enjoy!
Hugs,
Erin