If this recipe ain't fancy schmancy, I don't know what is. I mean, it's potato salad for Pete's sake. Potato salad! How in the world does a bunch of potatoes, mustard, and mayonnaise get fancy? Well, just nix the good 'ol mustard and mayo and add balsamic and feta. That's how. Plus a bunch of other veggie mumbo jumbo and you've got a whole lot of fancy of the schmancy kind. And I'm all about faking it when I can when it comes to fancy, because this salad is super easy, definitely tasty, and all around pretty. Remember that the full recipe is at the bottom of this post, so enjoy the images then skip to the bottom to try it on your own.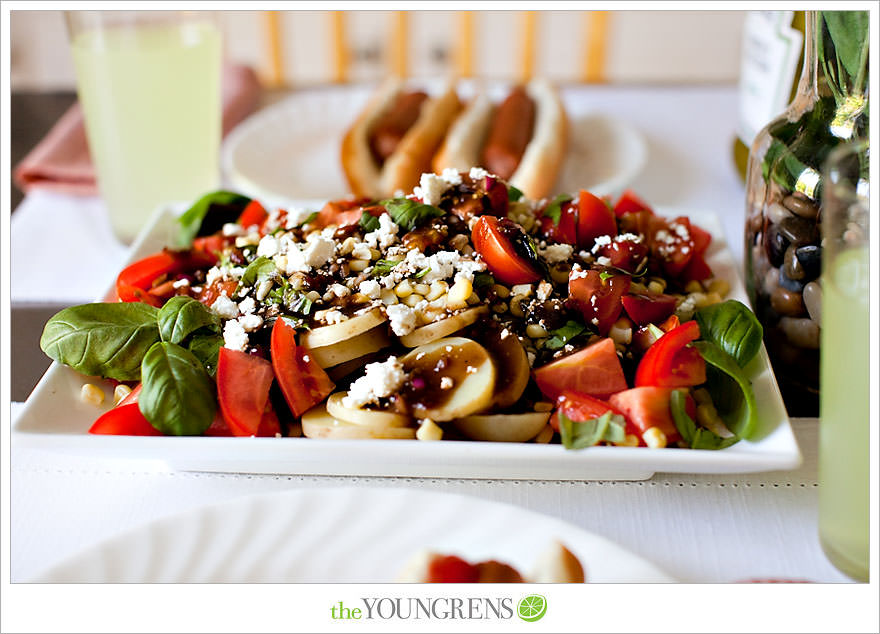 Here's the lineup, folks. Nothing special here. In fact, all of these things I could pull out of my fridge most nights which makes this recipe a winner in my book.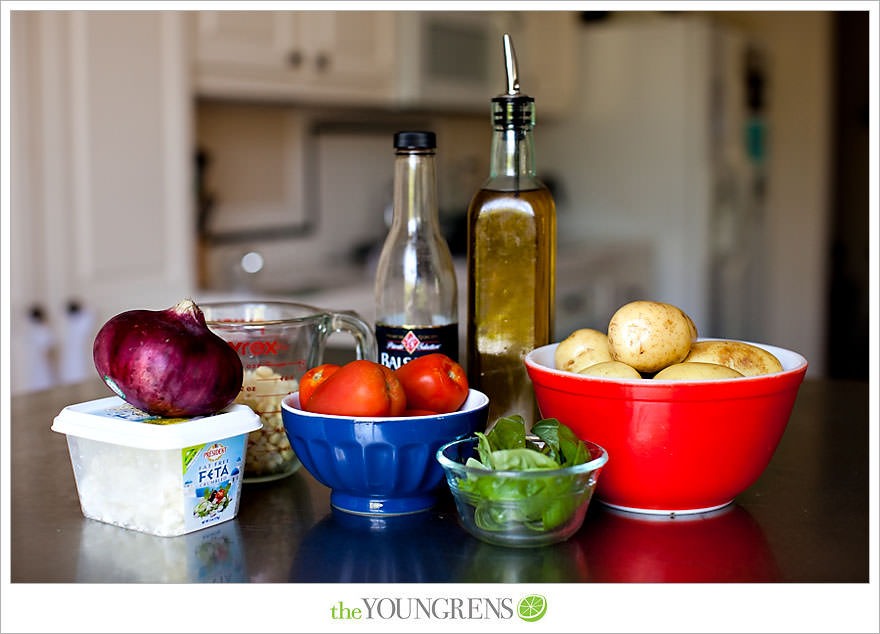 Miss Sweet Basil lends her hand to this salad.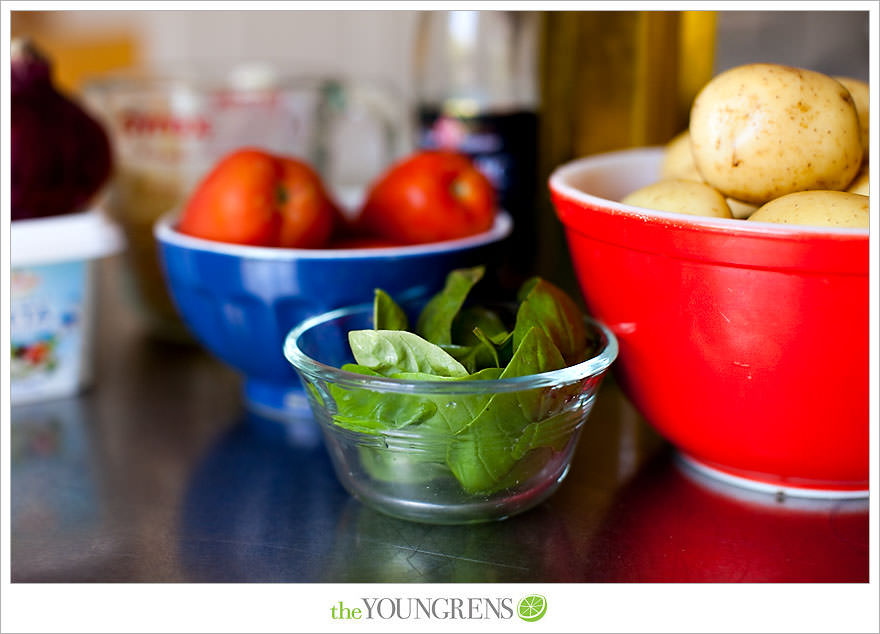 Along with tomatoes and small yellow new potatoes.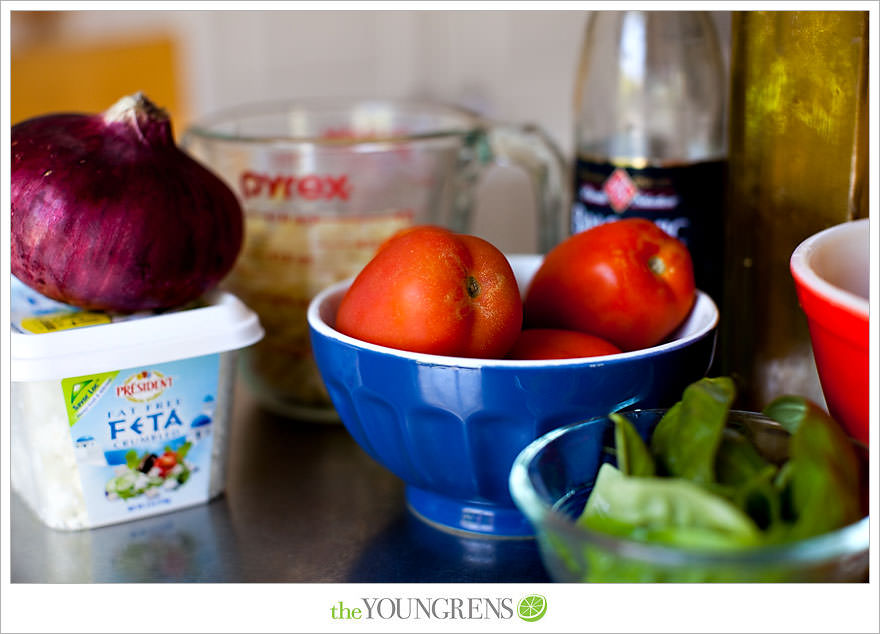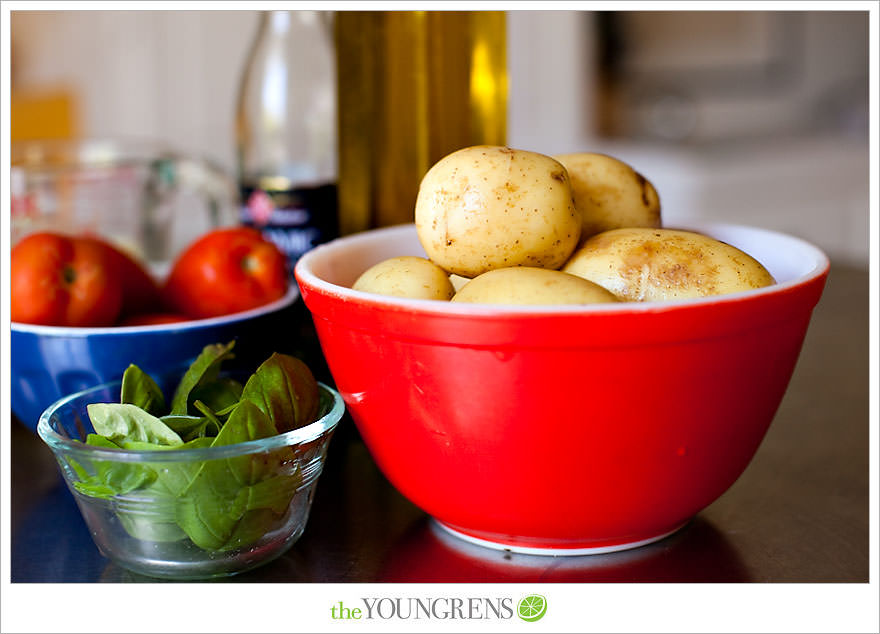 Chop up your potatoes into thin slices and throw them into a pot to boil.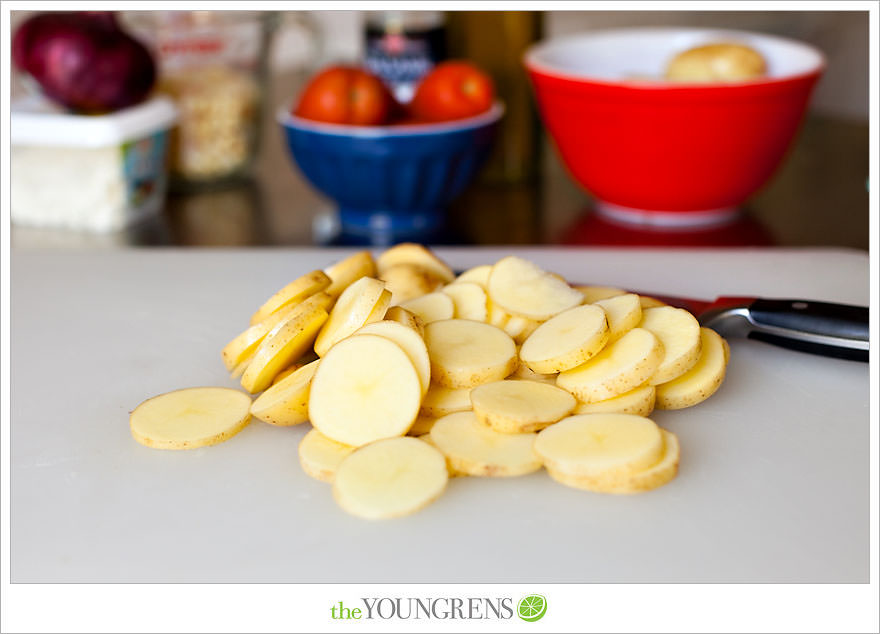 Then cut up the tomatoes into bite-sized chunks.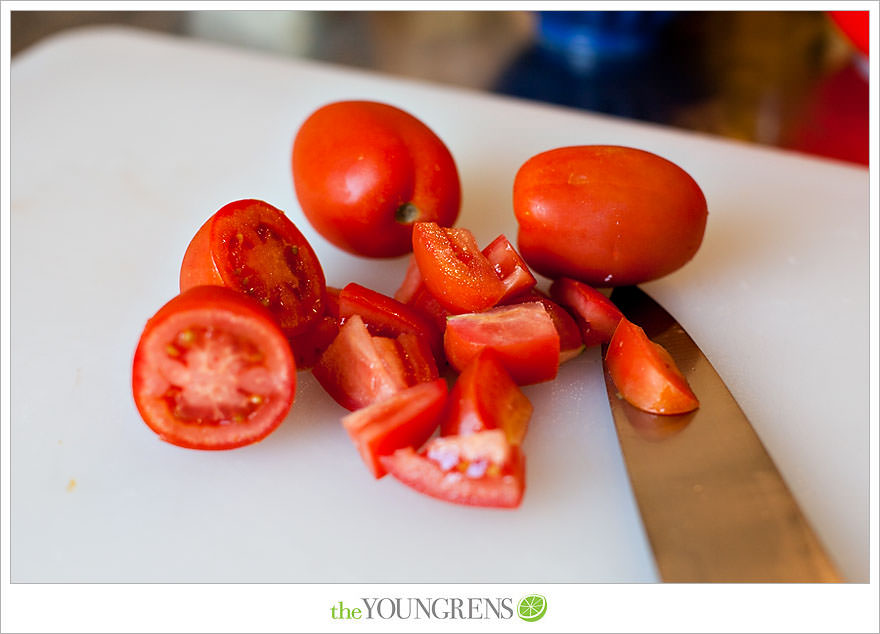 Cook the potatoes until they're just tender. You want them to balance between soft and crunchy.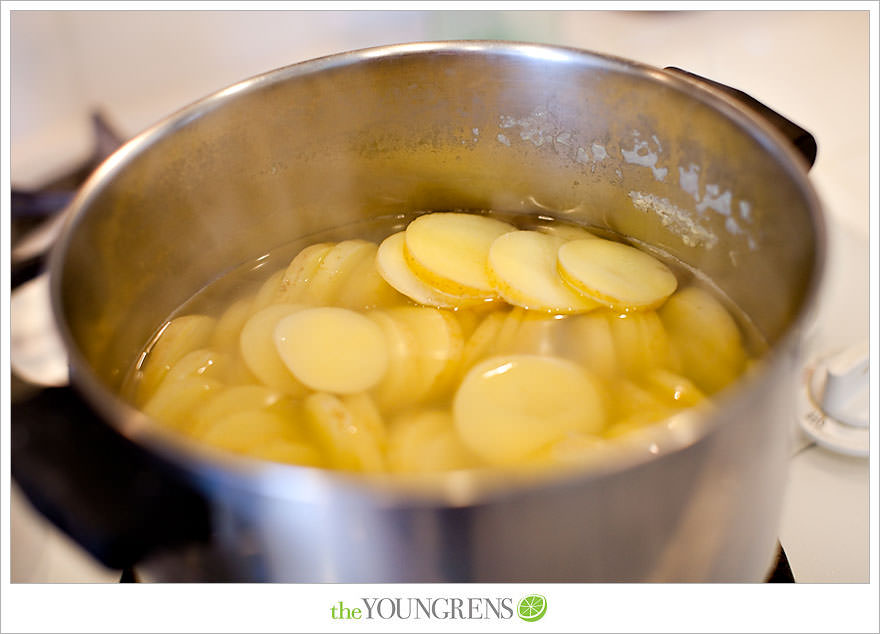 Arrange the potatoes on a platter with the tomatoes and corn.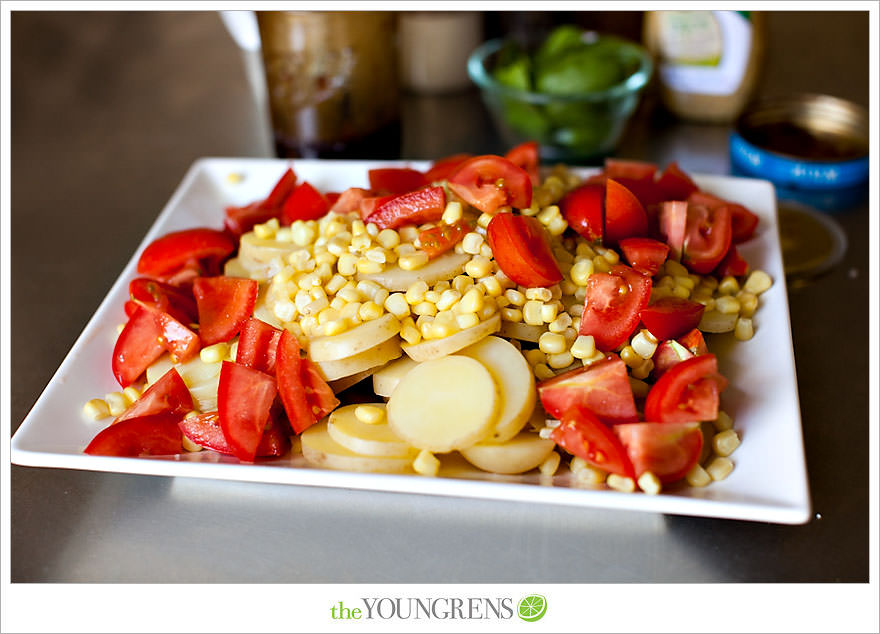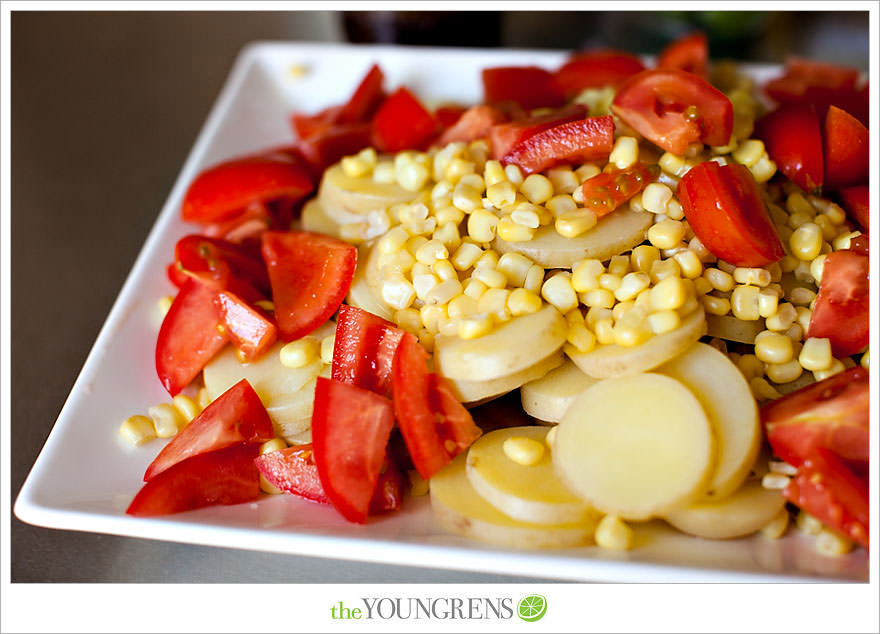 Then combine all of your dressing ingredients into a screw top jar.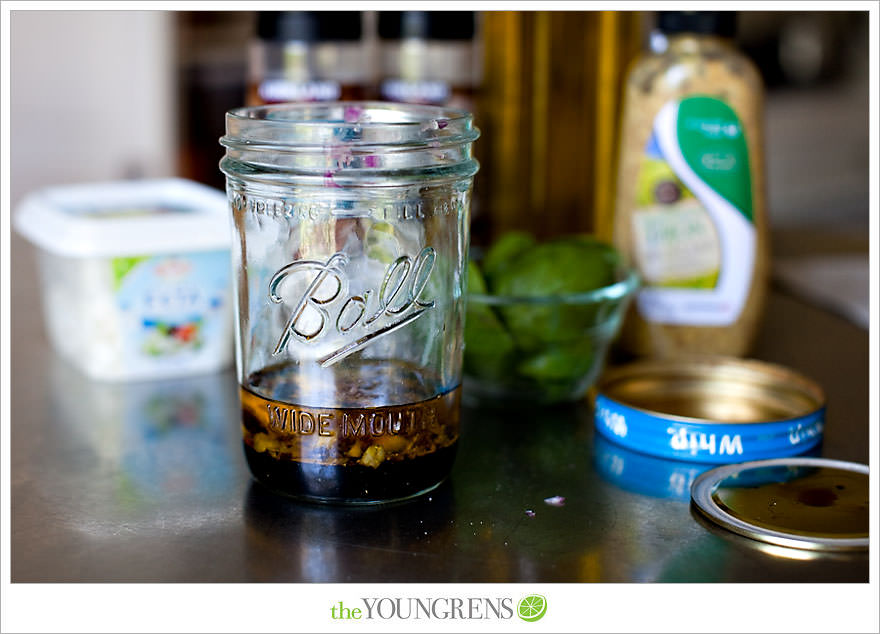 Shake it. Shake it like a Polaroid picture. You know you want to.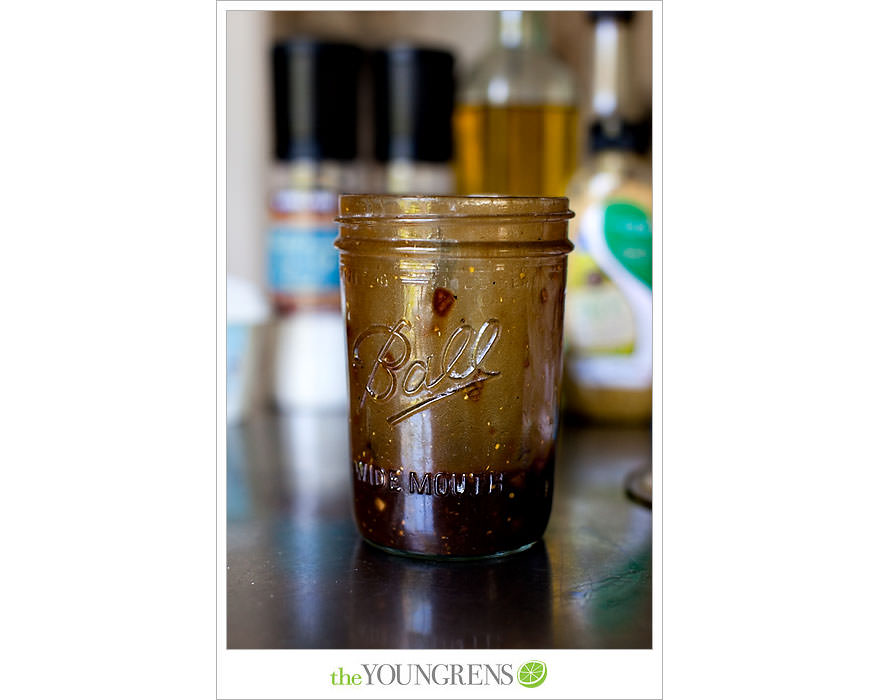 Once you're done shakin' it, pour the yummy dressing over the veggies and tear up some basil leaves and toss them on top.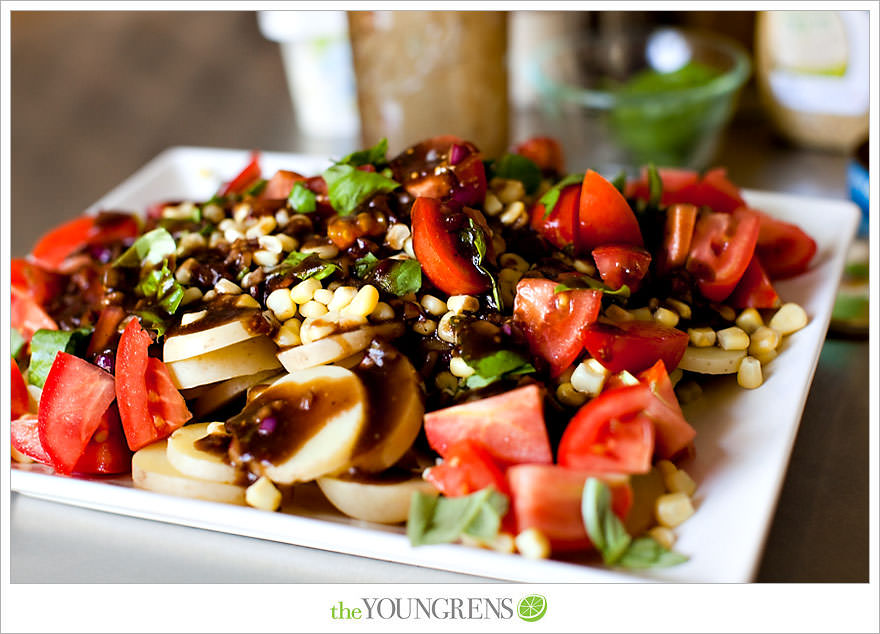 Stick the remaining basil leaves on the edges of the platter for the prettiness effect, and sprinkle on some crumbled feta.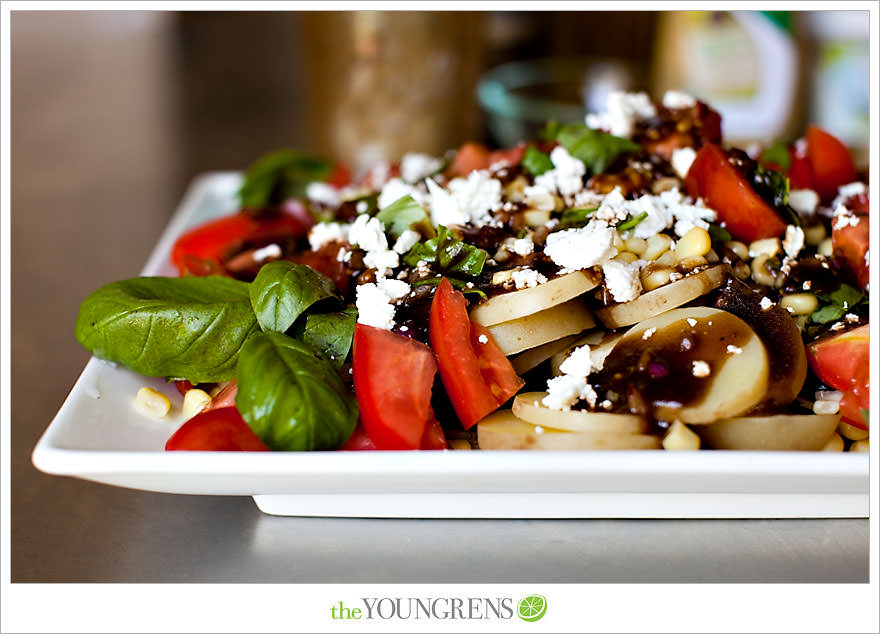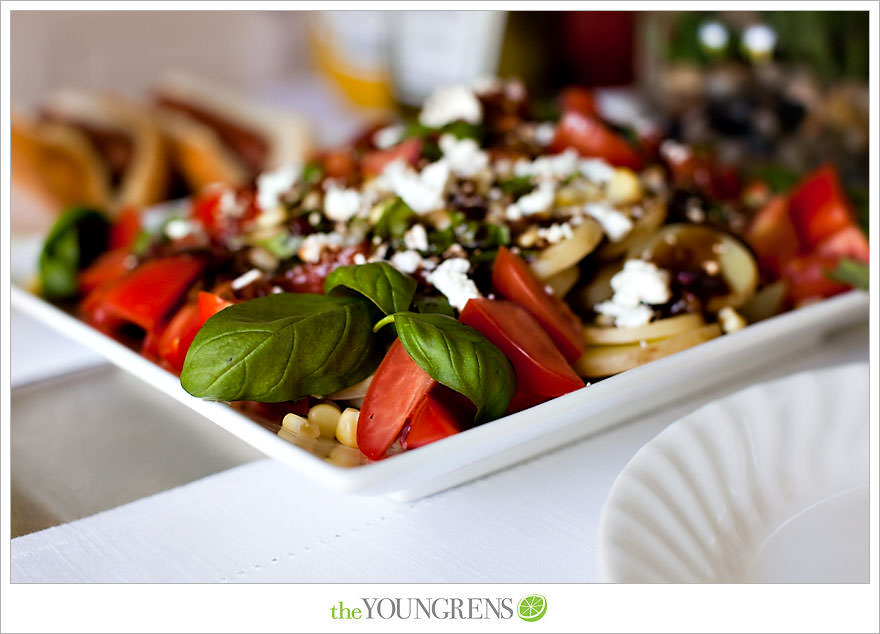 We really had no occasion for this potato salad, so we decided to enjoy it with our regular lunchtime menu – hot dogs. See folks, the key is learning how to balance the gourmet with the ghetto. I think we do a pretty good job of it.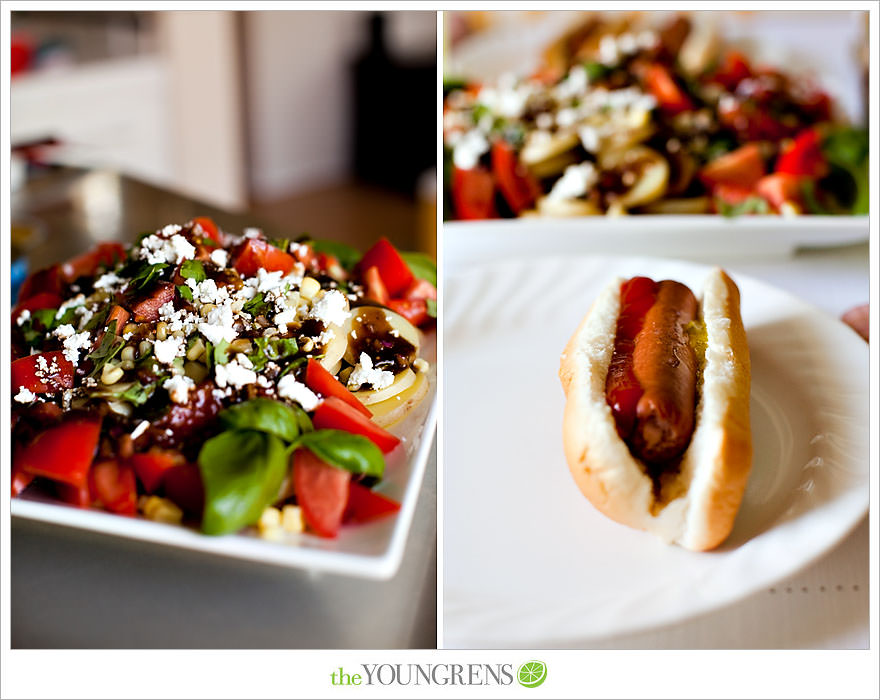 Enjoy!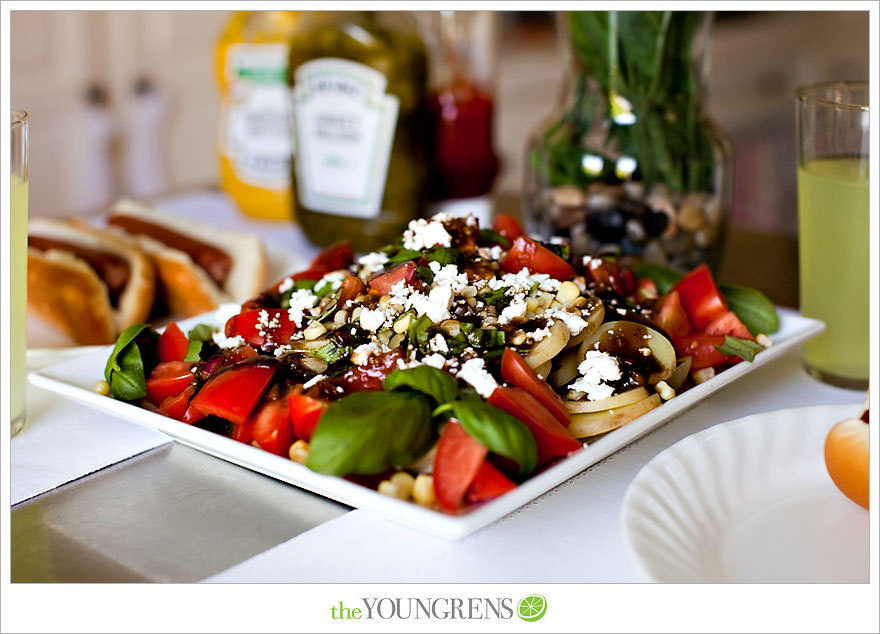 Summer Vegetable Potato Salad
1 lb. small yellow or red new potatoes, sliced

2 fresh ears of sweet corn, cooked, or 1 cup frozen whole kernel corn, thawed

4 roma tomatoes, sliced or cut into thin wedges

1/4 cup fresh basil leaves, torn

1/4 cup olive oil

3 Tbsp. balsamic vinegar

1 Tbsp. finely chopped shallot or red onion

1/2 tsp. Dijon-style mustard

1/4 tsp. sugar

1/2 cup crumbled feta cheese

Fresh basil leaves
1. In medium saucepan cook potatoes, covered, in enough boiling salted water to cover for 5 minutes or until just tender. Drain and cool. Cut corn from cob. On large serving platter arrange the potatoes and tomatoes. Sprinkle with corn and 1/4 cup basil.
2. For dressing, in a screw-top jar combine oil, vinegar, shallot, mustard, sugar, and salt and pepper to taste. Cover and shake well. Pour dressing over potato mixture.* Sprinkle salad with feta cheese and basil leaves. Makes 8 to 10 servings.
*Make Ahead: Refrigerate salad up to 4 hours. Sprinkle with feta cheese and basil leaves, and let come to room temperature before serving.
Hugs,
Erin